There are plenty of ideas for teenagers to style an outfit for summer. From a casual look to a glam party look, you can slay any event with the right fashion choices. Distressed denim, tops, shorts, and t-shirts for a really casual and comfortable look. If you want to get a little dressy for shopping or lunch dates then you can go with skirts and off-shoulder, cold-shoulder tops. If you want a cute look, then you can wear white and floral flowy dresses. You can add some accessories with every look to increase the charm.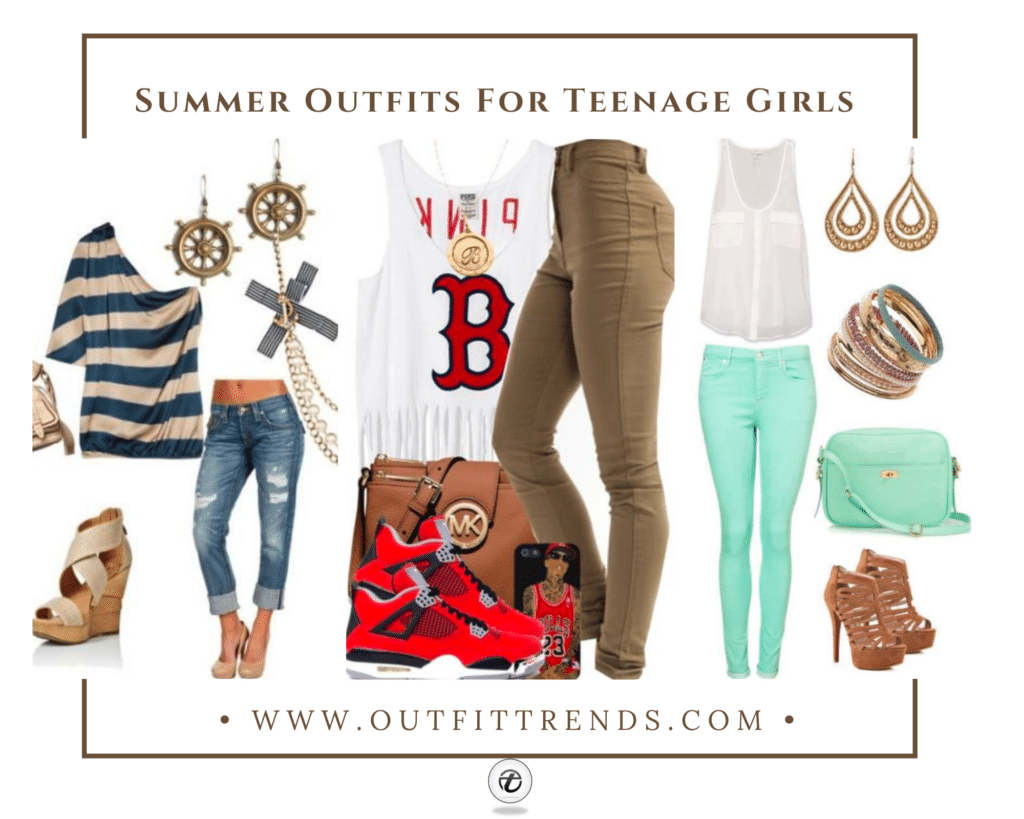 Tips For Funky Summer Outfits
You should try to go with lighter colors in summer like baby pink, white and sky blue.
Oversized outfits are preferred over fitted ones in summer to avoid sweat and to stay comfortable.
You can accesorize your summer outfits with glasses and hats, as they protect you from heat.
You should try to keep your makeup minimal, especially in day time.
Shorts, skirts and ripped jeans are few of the most common things worn in summer.
10 – Floral Top With Jeans And Colorful Bracelets
Indeed, a picnic outfit also needs some planning to get aesthetic beachy pictures. And wearing a floral top sounds like a great idea right? You can pair it up with jeans and some accessories and you are good to go. You can also wear a floral dress without jeans.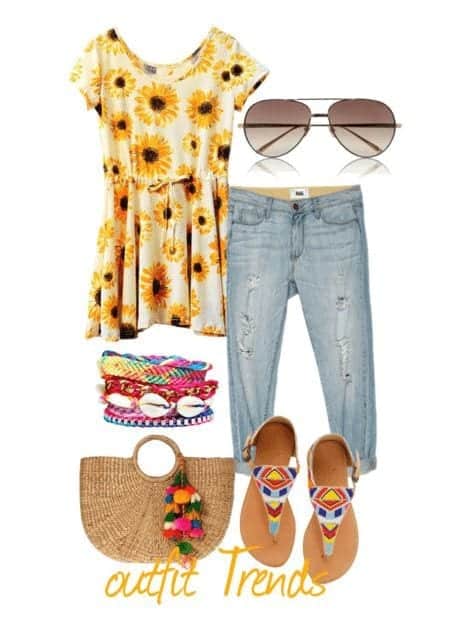 Summer Women's Sunflower Camis Tops $12.99
Women Ripped Stretch Jeans $27.99
9 – Sleeveless Top With Capris
A casual summer outfit needs no planning as you can literally grab any of your printed tank tops and pair them up with jeans and shorts and you are ready. To give this super casual look a funky touch, you can wear bright-colored shoes, some accessories, and light makeup.
Women's Tops Sleeveless Halter Racerback $16.99
Classic Sunglasses for Women $15.99
8 – Sleeveless Maroon Tank Top With Denim Shorts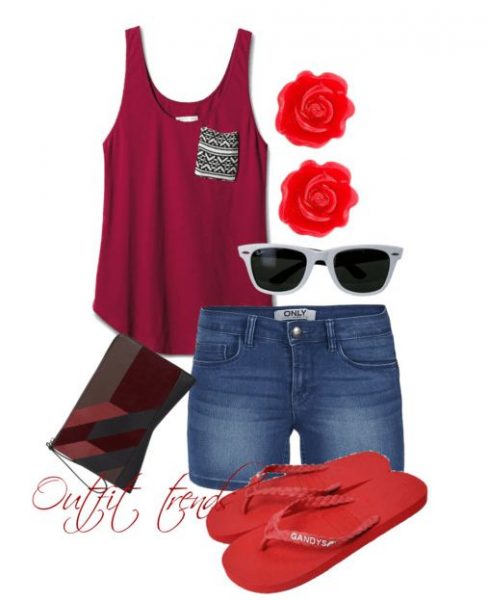 7 – Crop Top With Shorts And A Flannel
You wouldn't need to put much effort to get a sporty look. Just casually pair shorts and a black crop top with a flannel shirt around your waist. Some sporty accessories like a cap, glasses, and lastly sneakers to complete your outfit.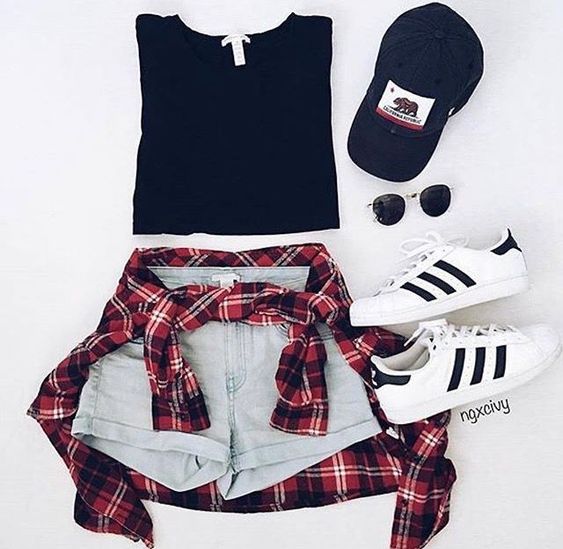 Adidas Women's Grand Court Sneaker $145.79
Women's Long Sleeve Casual Classic Plaid Shirt
Original Classic Low Profile Cotton Hat $9.45
6 – Camo Print Shirt With Ripped Skinny Jeans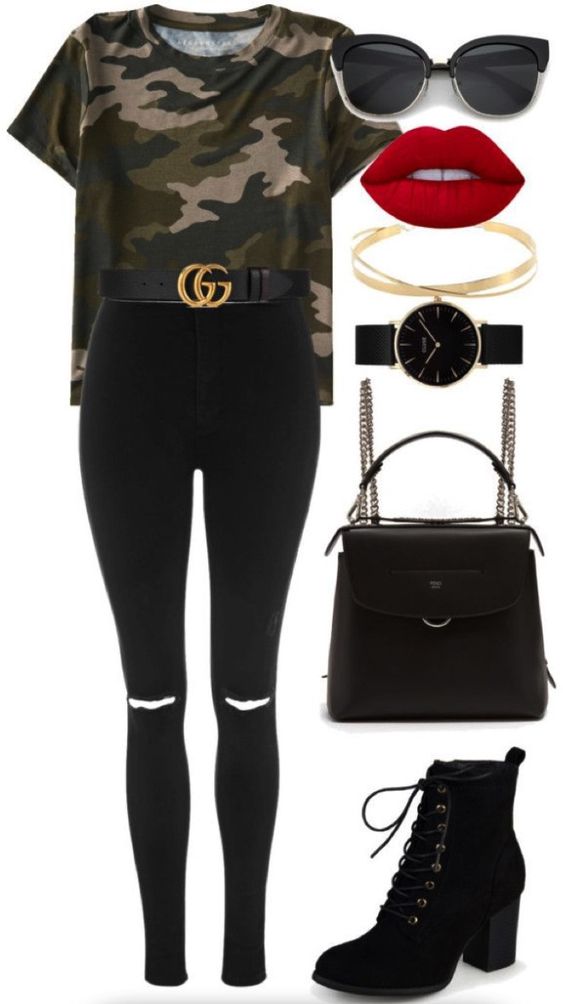 Rothco Women's Longer T-Shirt $13.99
Women's Essentials Ripped distressed Skinny Jeans $36.99
5 – Tank Top With Distressed Denim Shorts And Converse
How can we forget the concert outfit? Everyone wants to look the coolest at such events and we have got an outfit idea for you as well. The two main things are a tank top and ripped denim shorts which remain the same however to add a glam factor, you can go with a smokey eye makeup with it. Sneakers or converse shoes go well with this outfit and at last, chains and bracelets to complete your look. This outfit will give you all the sassy vibes.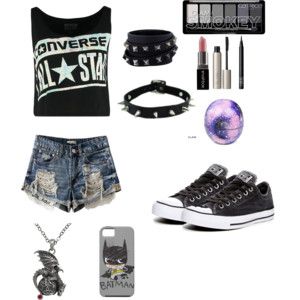 Converse Unisex-Adult Chuck Taylor All-Star Core $129.98
Women's Ripped High Waisted Distressed Denim Shorts $24.99
4 – Graphic Tee With Baggy Pants And Nikes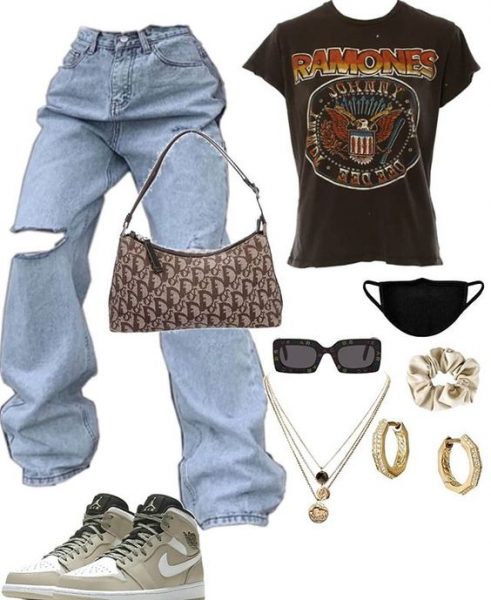 Shoulder Handbag for Women $22.99
Hoop Earrings for Women $12.79
3 – Sports Tank With Skinny Jeans And High Tops
Sleeveless top matches with jeans and high-top sneakers. Accessorized with some chic jewelry and an MK bag – A Perfect day-to-day casual style summer fit for girls.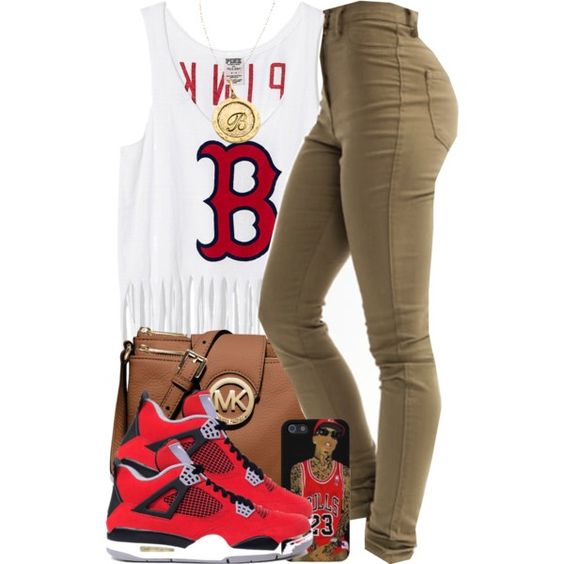 Women's Trendy Skinny 5 Pocket Stretch Pants $31.39
Women's Scoop-Neck Tank Top $11.00
2 – One Shoulder Striped Top With Straight Fit Jeans And Heels
If you want to dress cool at parties, then go with this outfit. You can pair a one-shoulder top with ripped jeans and some jewels. Carry a really classy handbag and instead of wearing sneakers, go with heels and you are good to go. You can also go with different hairstyles and makeup with this look.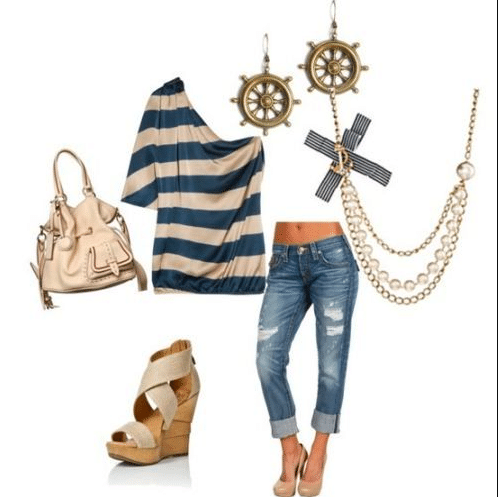 Montana West Large Leather Hobo Handbag
Hue Women's Ripped Knee Denim Leggings $72.81
1 – White Sleeveless Top With Mint Green Jeans And Accesories
Well, if you want a really funky outfit, then instead of wearing colorful and printed tops, go with simple white shirts and pair them with pants of different colors. It will give a unique touch to your entire outfit. You can also add statement necklaces and bangles with white tops. Lastly, a cross-body bag would lift up your outfit.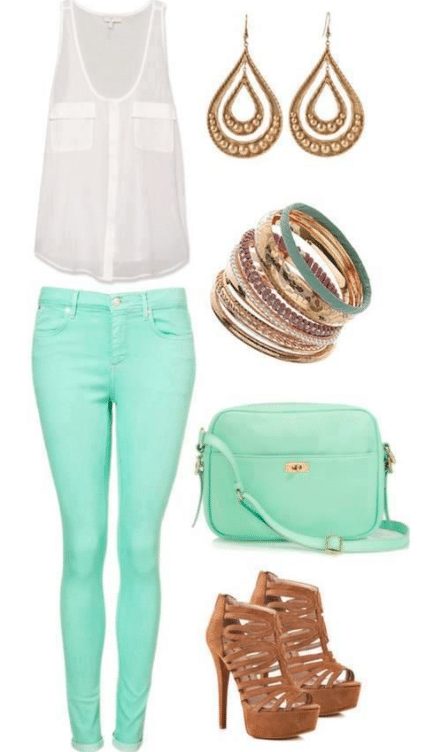 Women's Tank Tops Summer Casual Sleeveless $17.99
Chevron Quilted Crossbody Camera Bag $24.95
Frequently Asked Questions
Q. What should a teenage girl wear in the summer?
Ans. Summer is the kind of season when you can wear all the cute clothes and light colors. There are so many options for girls to style their outfits on every occasion. The coolest and easiest outfit to style is to wear a tank top with shorts or jeans. A tank top is a must-have for summer, so make sure to stock your wardrobe with some tank tops of different colors to style different outfits in summer. Some other options are cute floral dresses, off-shoulder tops, and t-shirts. Other than that you can style your outfits differently and according to the events.
Q. What color should you wear in summer?
Ans. Everyone's color preferences are different but mostly light colors are preferred in summer as they look pleasing to the eyes in the scorching heat. Pastel colors can be your real best friend for this season as they look really cute and give you a fresh look. White tank tops with denim shorts are also very common for summer. But in the end, it's all your choice, what color you want to wear and what you are comfortable with.
Q. How should a teenage girl choose a dress?
Ans. There are no hard and fast rules for choosing a dress but there are some things that you should keep in mind while buying clothes and choosing dresses for any occasion. Firstly, keep in mind what suits your body shape. Everyone has different body shapes and not everything can suit you therefore try to understand your body shape first. Secondly, what colors suits you the most and make you look most attractive. And lastly, for what event you are choosing the outfit? Is it formal or informal, should you dress casually or not? All these little tips seem minor but they can really help you in improving your fashion game.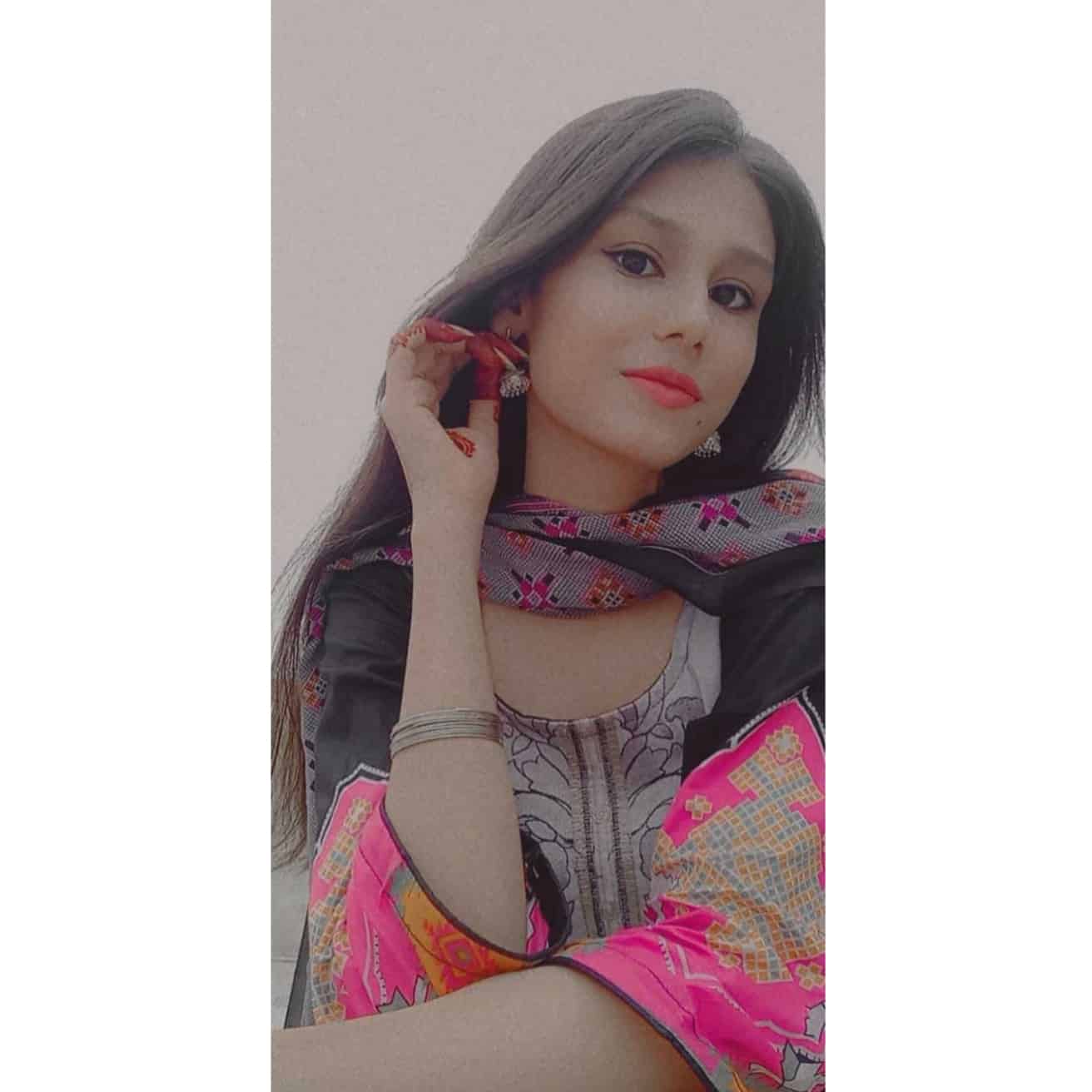 Yumna is an undergraduate business student and a freelance writer. Her life revolves around writing and reading. Being an introvert, she might not speak much but she can write for you as much as you want: )