School Outfits for Girls in Summer. The first day of school calls for many new beginnings. You make new friends, get into a new class with new teachers and so much more. Basically, when it comes to school, every single day is valuable in some way.
One of the things that make school special and so much fun is dressing up every morning. You get to show a piece of yourself with the way you dress. You don't just style for yourself; you know that people judge you by the sort of clothes you wear. Often times, on just the basis of that, students classify each other as nerds, jocks, mean girls, etc. So, while being yourself you also have to be careful about what you wear. Summer school is no exception. Here are some ideas on how you can dress to school this summer.
How To Dress For School This Summer?
Before we start, here are some guidelines on fashion for school:
Be yourself and be comfortable. The only way you can beat the heat and look stylish as well is by considering both comfort and style when choosing your attire.
Try new styles and give a chance to new trends.
Be true to yourself and never overdo the look. We also recommend that you check out these Cute Sporty Style Outfits for School Every Girl Must Try
Don't go for clothes that expose too much otherwise you might be called for a chat by the school's authorities.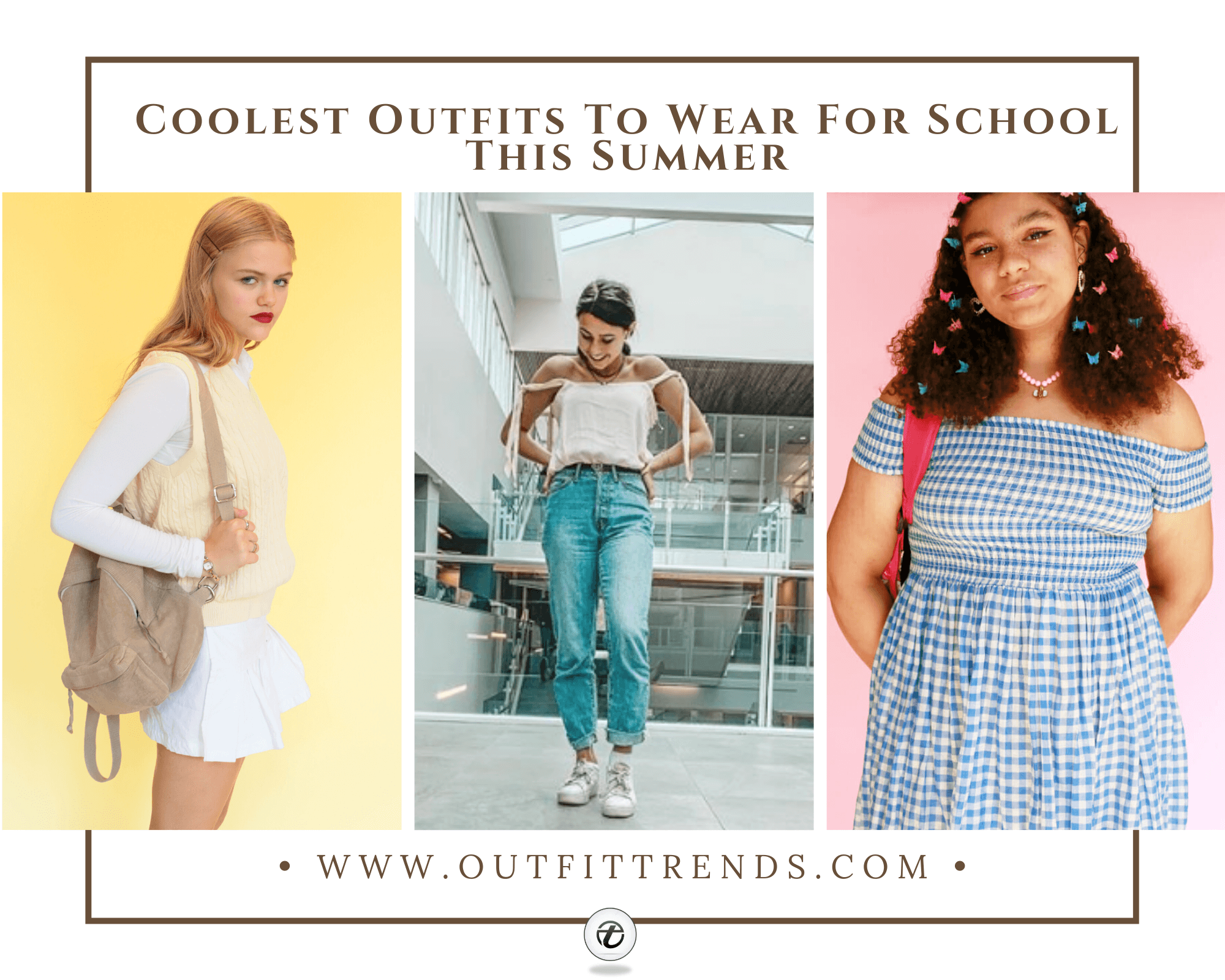 ↓ 30 – Skirt
Every season comes with its own styling perks. When in summer, dress as the weather demands. You can obviously not wear thicker clothes or layer one clothing item on another. You have to wear lighter fabrics and colors.
Take inspiration from a look like this that makes the most of bright, fun colors – perfect for summer! You can opt for a bright pink summer dress and top it off with a little cardigan or sweater that shows off some funky patterns or colors. Remember to keep the school's dress code in mind and opt for a longer dress if necessary.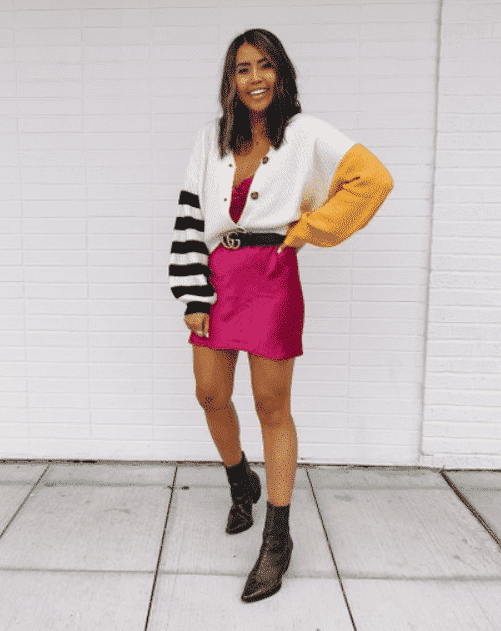 ↓ 29 – Jeans
Whether or not a particular outfit is proper for your school depends on the rules and regulations that the institute has enforced. Many schools deem it unfit to wear necklines too low or short clothes that are too revealing. Either way. style doesn't require you to be immodest. Go for jeans and tees or midi skirts with button-down shirts if you are looking for a decent attire idea for school.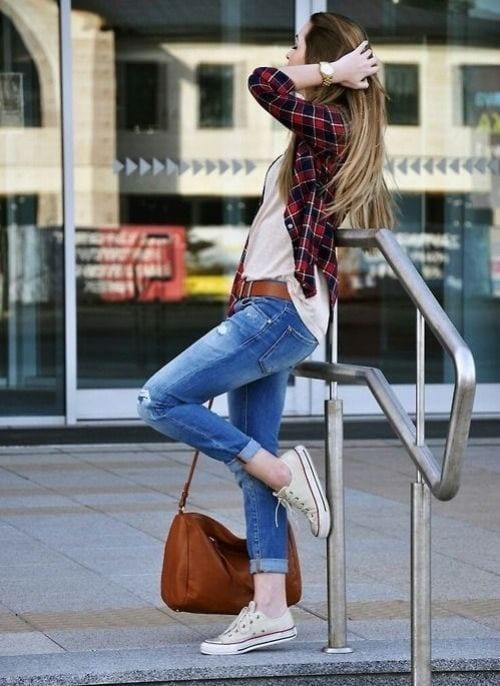 ↓ 28 – Summer Wear for Teenagers
Teens can go for shorts, onesies, pants, dress shirts, tops, frocks, and skirts. The challenging part is knowing which items to pair. In summer, white and blue make a lovely combo. You can also try yellows, pinks or lighter tones of other colors. The only exception to this rule is black. You should try to avoid a full black outfit and should go for either a black top with jeans of another lighter shade or vice versa. Do have a look at these Home Remedies for Glowing Skin for Teenagers.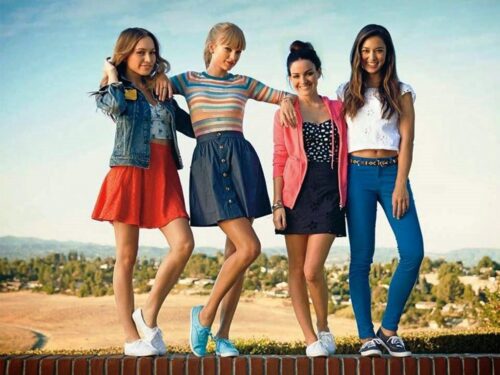 ↓ 27 – What to Wear in Summer Without Showing Legs
If you don't want to show too much skin you can opt for a pair of jeans or a long skirt. Track pants are a nice choice, too. Check out this semi-casual ensemble that pairs track pants with a muscle tank, a ropey chain necklace, and heels. Boyish and girly at the same time? Yes, please!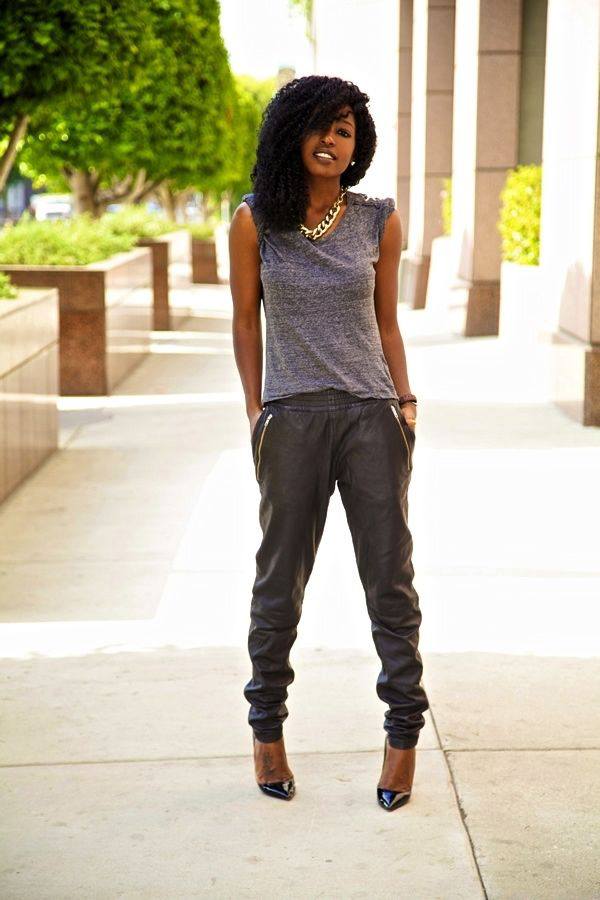 ↓ 26 – Cute Teen Girl Outfit Idea
Pair your comfy flannel tee with light blue jeans or wear a sky blue top with navy trousers. Want to go for skirts instead? No problem. You can rock a skater skirt or an A-line one with a top. Or you can skip the double clothing items and go for a yellow frock or a chiffon onesie. A white shirt is extremely important for the summer season as you can pair it up with so many outfits. Here are 18 Ways To Wear White Shirts For Girls.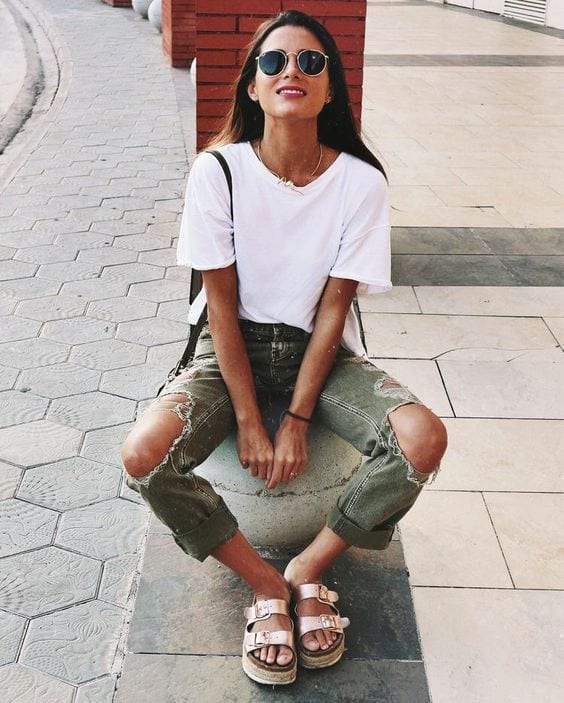 ↓ 25 – Back to School
If you are starting a new year at school and aim to take the style up another notch then don't hesitate. Wear what you love and hold your head high. You can choose to tie your hair up in a bun or high ponytail and breeze through the day or you can let it down. Keep the style laid back like you don't have a care in the world and rock those casual clothes.
Want something a little dressier? Why not try an off-the-shoulder top with a pleated skirt or ankle-length jeans.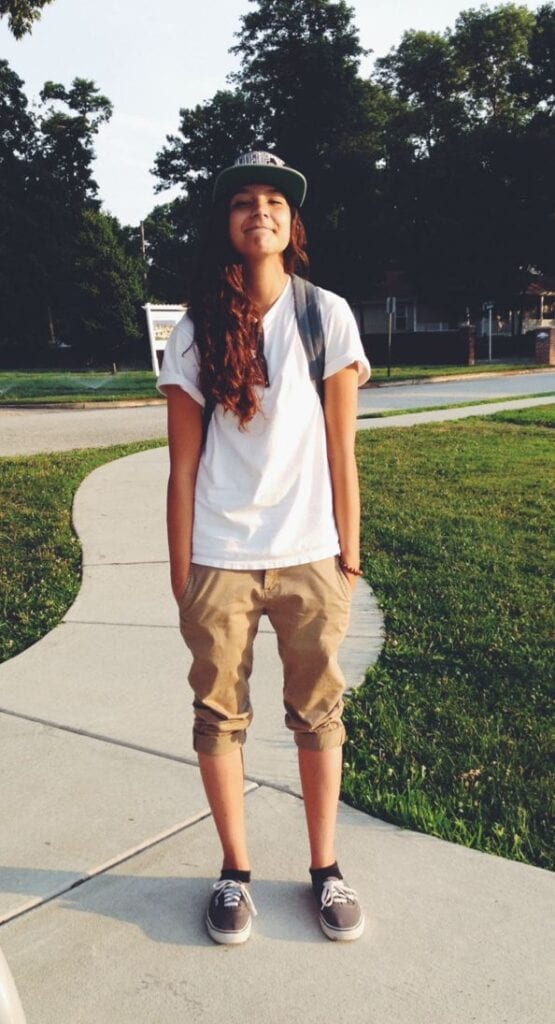 ↓ 24 – School Reunion
Ripped jeans are very much in vogue these days. Pair them with a black, white, or gray top for a stellar look. Here are 10 Cute Outfits with Jeans for School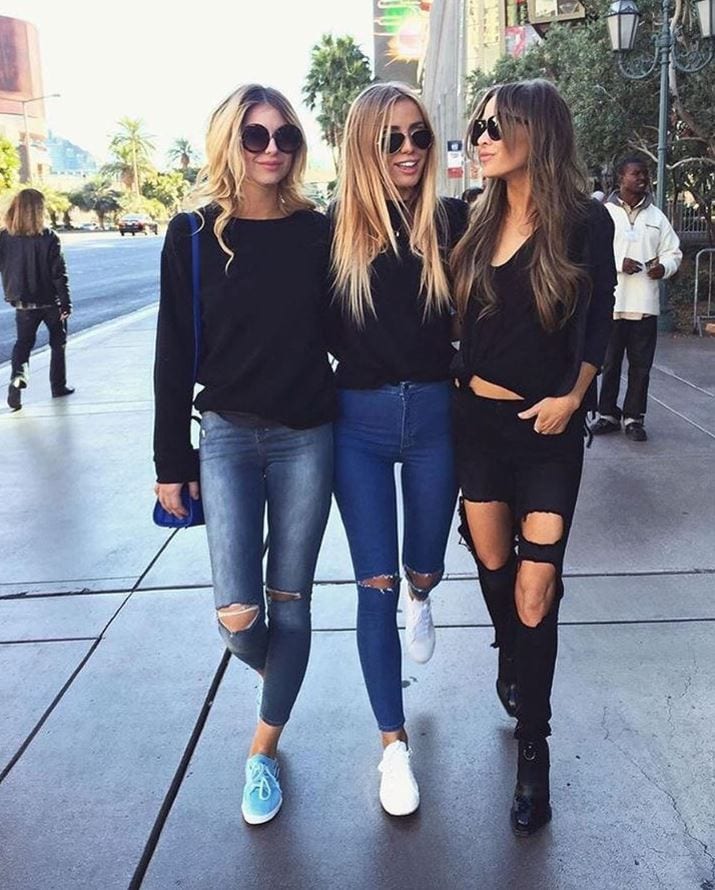 ↓ 23 – Feminine Floral and Pink Outfit
Going for the girly look? Make floral your go-to print these summers for school. Flowery prints are trending this year.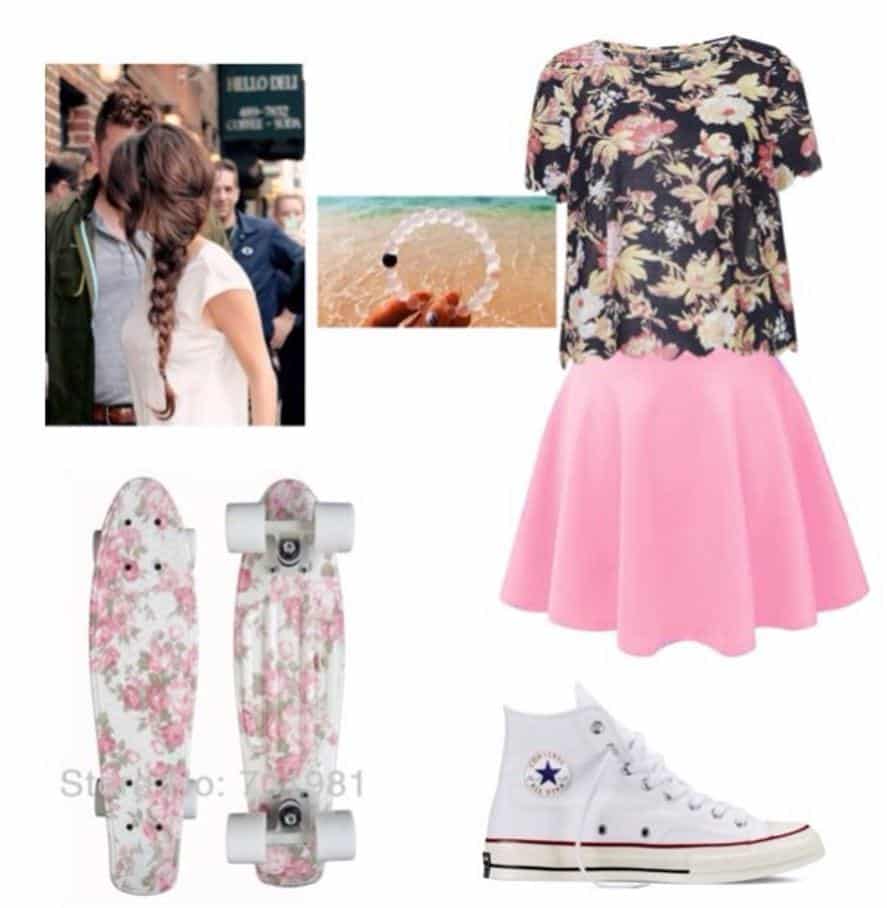 ↓ 22 – Hipster Look
If you want the ultimate hipster look slip into some high waisted shorts. Complete the look with a flannel tee. You can wear a white or black top underneath the flannel shirt and leave the plaid shirt unbuttoned. Here are some more Cute Hipster Outfits Ideas For Hipster look.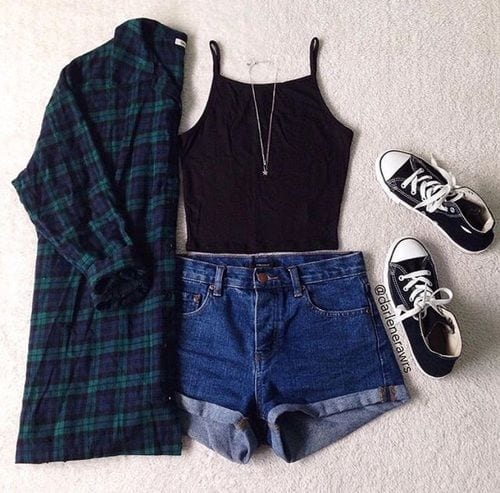 ↓ 21 – How to Dress for School Trip
Plaid shirts aren't just snazzy but they're snugly as well. Throw on a plaid shirt over a crisp pair of jeans for a simple school outfit that could work well for field trips as well.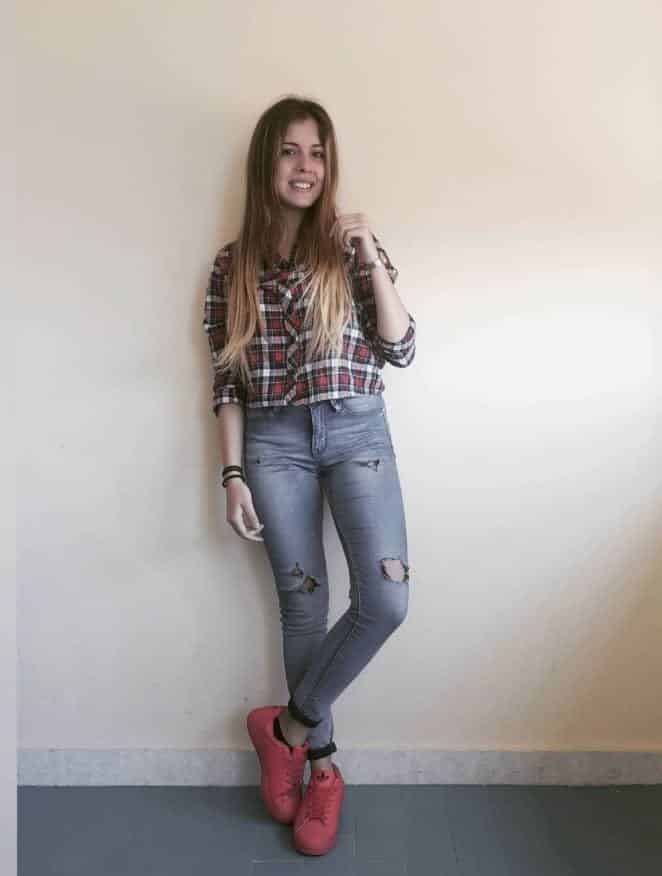 ↓ 20 – Stylish Top & Skirt
Want to show off your love for fashion and style? This outfit is the one for you. The look is both relaxed and fabulous, pairing an olive green skirt with a striped top and a woodsy brown belt that perfectly matches a pair of booties. Accessorize with a black wide-brimmed hat and a round purse. Don't miss out these Season's 12 Most Hot Casual Outfit Combinations for Girls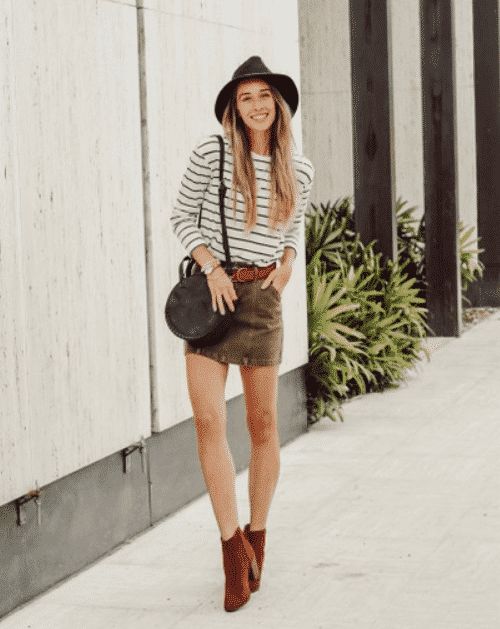 ↓ 19 – Tumblr Style Back-to-School Look
Put on a pair of ankle-length jeans with a graphic tee for the adorable yet chill look. If your goal is to look glam instead, ditch the graphic tee for a plain one and play up your accessories. This is a look even Tumblr would be proud of. Tie a flannel shirt around your waist and get yourself some black-rimmed glasses to tie the whole thing together!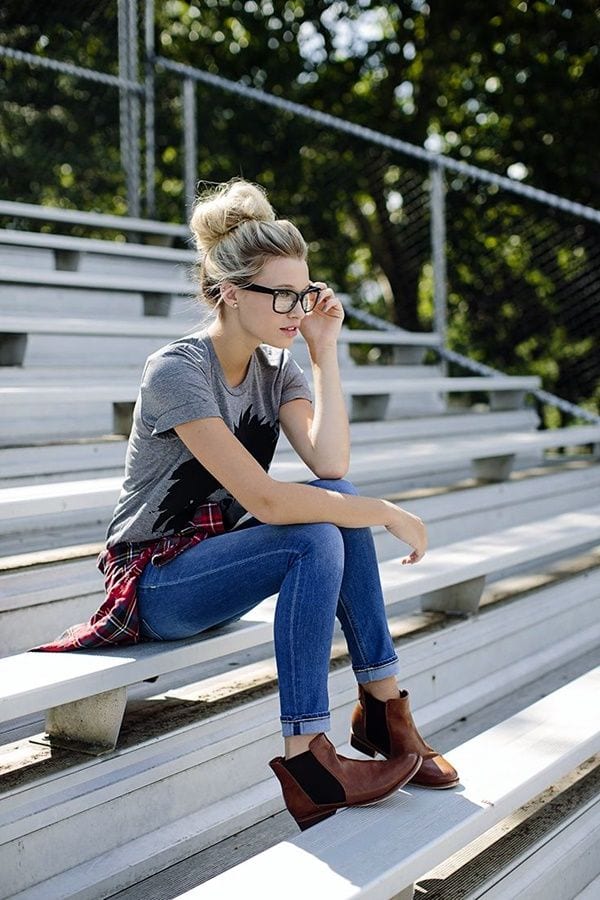 ↓ 18 – Heels
This one is for the fashionistas! Indulge your love of fashion with a classy, uber-stylish look that showcases your style-savvy. With this look, opt for a white dress that features special detailing, like this royal blue velvet collar. Pair with some knockout heels, round colored sunglasses, and a designer clutch. (Or book bag. Because that's a tad more practical.) Here are some great Tips to Dress Well in College.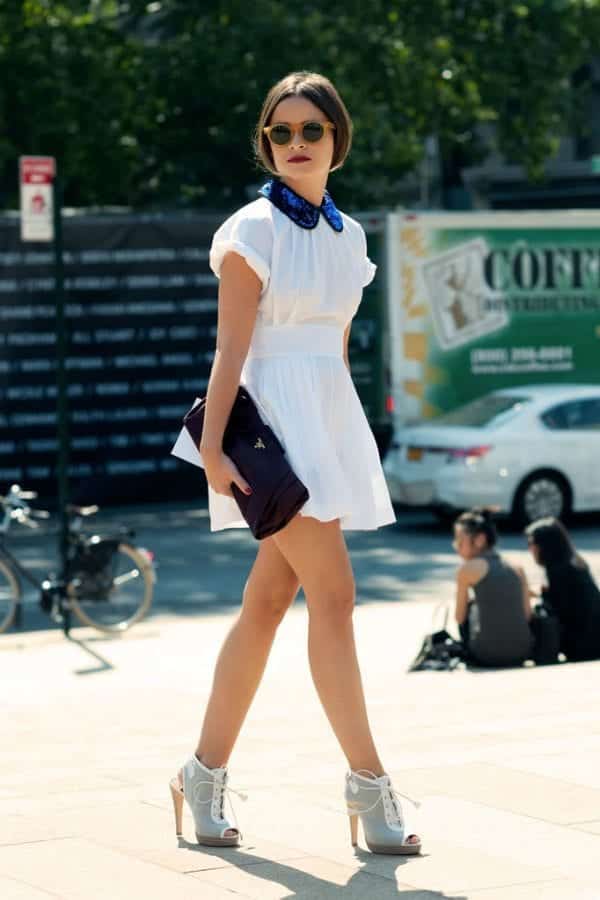 ↓ 17 – Sporty Look
You can't go wrong with this chic and casual look, perfect for summer school or back-to-school attire! Pair your favorite high waisted jeans with a fitted white top and some Adidas sneakers. Accessorize with Aviator sunnies. Go for a bold lip and straight hair to tie it together.
Remember, with casual wear, the magic is in the accessories, makeup, and hair, which help take a basic look to the next level. Fit matters too. A baggy tee or ill-fitting jeans won't look as chic as a perfectly fitting ensemble that is further complemented by great hair, makeup, and accessories.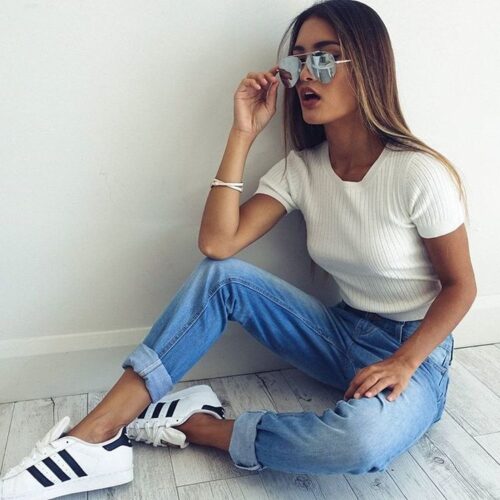 ↓ 16 – Floral
If you love an ultra-feminine and flattering look, this might be the one for you. With this outfit, the skirt takes center stage. Not only does it fall to a flattering length, but the soft and colorful print makes it extra special. Pair it with a white blouse, and points if it features a special detail like capped ruffled sleeves. Finally, choose a nude or super pale pink heel to tie the look together. Do check out these awesome Maxi Skirt Outfits for Teen Girls.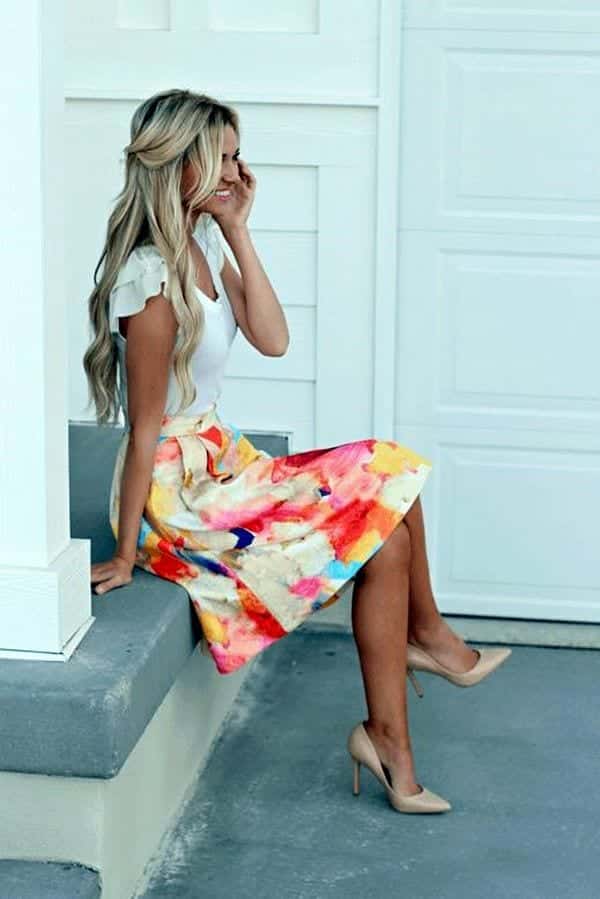 ↓ 15 – Lace Top and Palazzo Pants
Following our previous look, this classically gorgeous ensemble is one that is both feminine and ultra-stylish. Make an impact on your first day in school with a fashionista-approved ensemble. Start with a neutral-colored pair of palazzo pants or wide-legged slacks. Tuck in a white lace top and add some nude-colored heels. Some oversized or statement sunglasses seals this look as the most iconic and unforgettable look you'll rock this summer!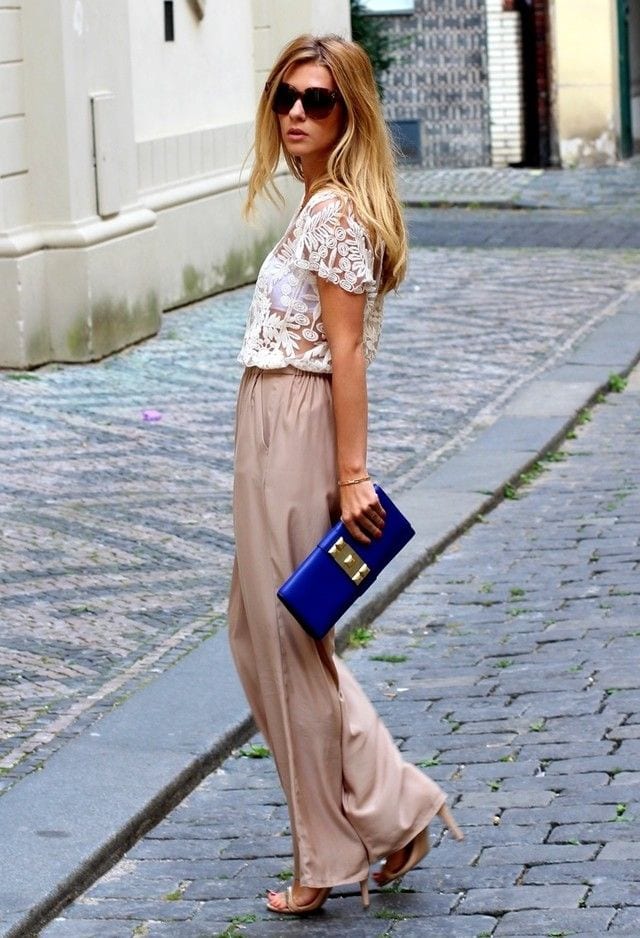 ↓ 14 – Business-Casual Look
For the gal who likes to bring a bit of the business into her casual, this is the one for you. This polished look incorporated a navy blue button-down with a darling little skirt, belted at the waist to cinch the figure. Two-toned flats make for the best footwear and are complemented with a gorgeous leather bag – perfect for stashing your schoolbooks in!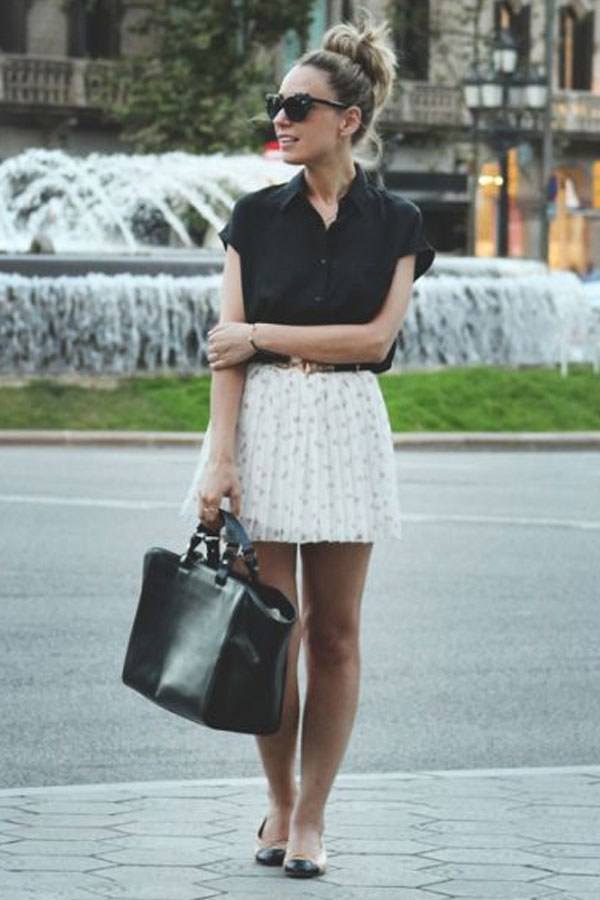 ↓ 13 – Summer Dress & Converse
You can wear an outfit like this all day long, whether you are in class, studying at the library, or running errands. Simply pair a summer dress with a pair of white Converse and have fun with your accessories. It's that easy!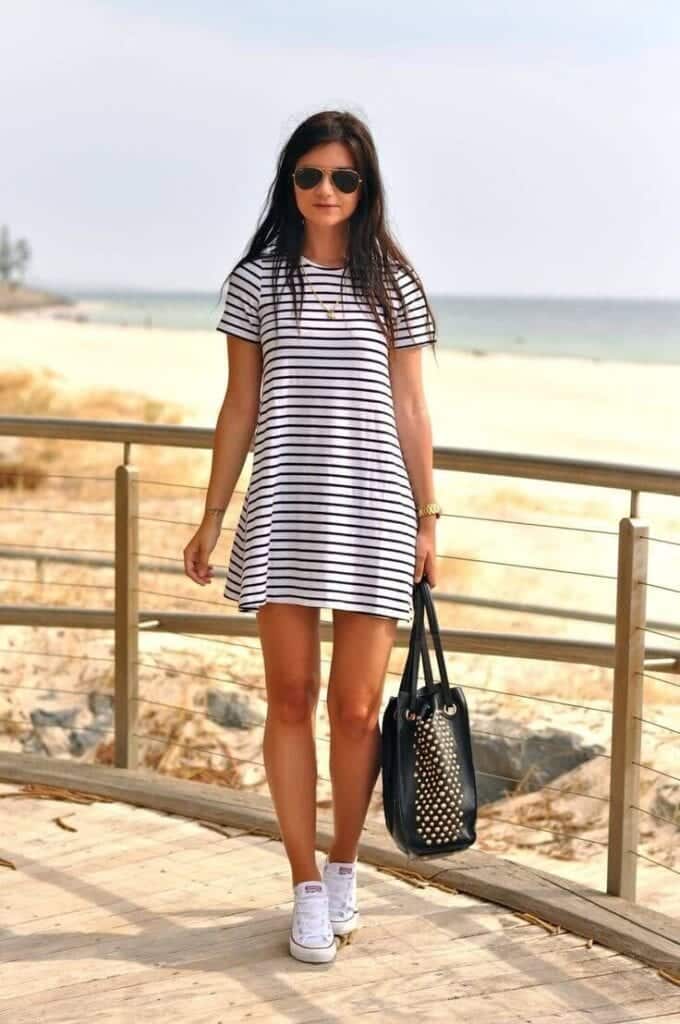 ↓ 12 – Teen Girl Fashion
Some looks will never go out of style and this is one of them. Pair a polka dot dress with some cute flats and statement earrings for a look as girlish as it is beautiful. I also recommend that you check out these 15 Cute Prom Outfits Combinations for Teen Girls.
↓ 11 – Dress Ideas for School Tour
Mix up a classic grunge look by opting for lighter colors and pairing your jeans and top with some serious platform heels.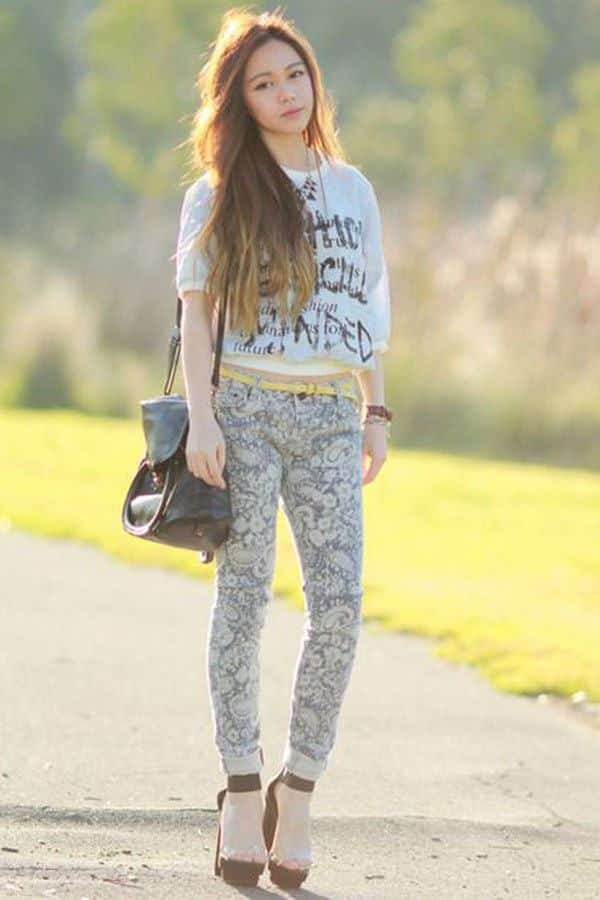 ↓ 10 – Preppy Style
Preppy is indeed the new black for school. You don't have to attend a private school to rock a cute uniform-inspired look. Keep it fresh with a well-tailored blouse and checkered skirt. Here are 18 Preppy Hairstyles for Women.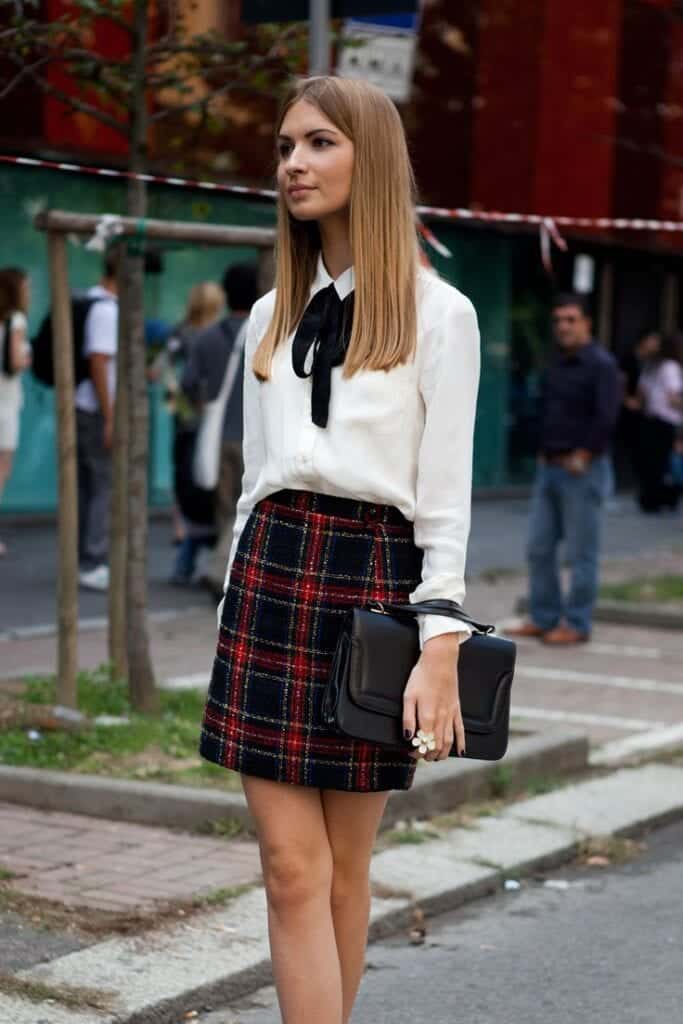 ↓ 9 – Outfit for School Last Day
For your last day of school, pull out your best accessory: a mega-watt smile! Oh, and why not rock an outfit you've maybe been wanting to wear all summer? This off-the-shoulder top is so chic, especially when worn with high-waisted navy blue shorts and sandals.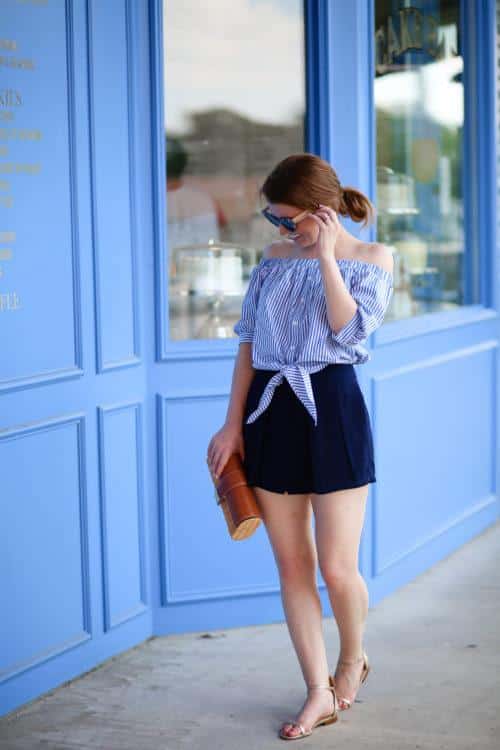 ↓ 8 – What to Wear for School Interview
This look means business, but it's also kind of casual and also super stylish. The best of all the fashion worlds? We sure do think so. Pay attention to the color scheme here as well as the fit of your pieces. Some great fitting shorts will go much farther than a baggy pair or a too-tight pair. Similarly, a well-fitting blouse won't overwhelm a petite figure.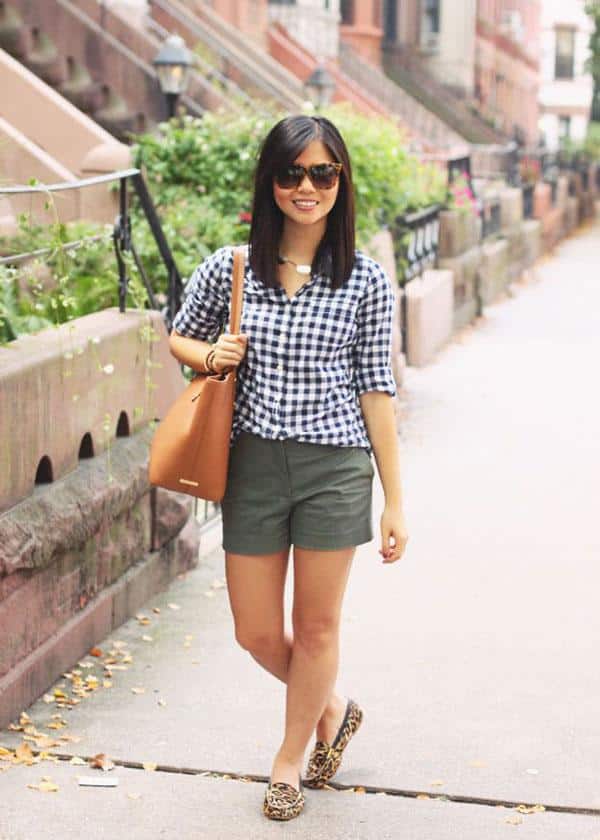 ↓ 7 – Go-To Outfit Idea for School
Every girl needs a go-to outfit to get through a rough semester and this look just might be it. All you need to do is throw on a cute summer dress, a jean jacket, and your favorite Converse. And that's it. That's the outfit. How easy was that?
↓ 6 – Denim Vest & Skinny Jeans
Another go-to outfit is this one right here. Simply throw on a white tee (fitted is always better than loose!) and top it off with a cute denim vest. Add some olive green skinny jeans and flats and you'll look like you put a good amount of thought into your look, even though it will take you no time at all to put together!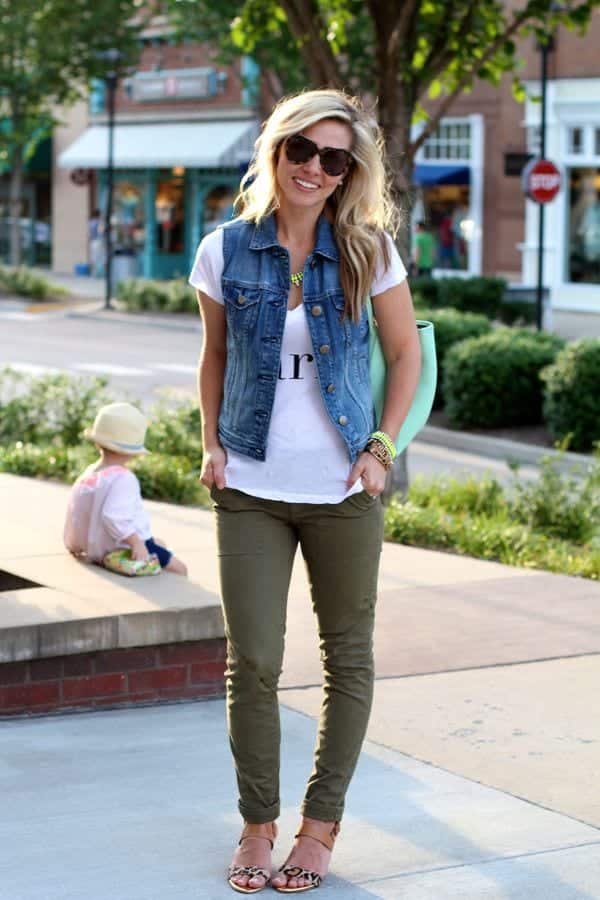 ↓ 5 – Wide-Legged Slacks and Black Top
Love a simple look that is also stylish and alluring? Give this one a try. It's comfy enough to be pajamas but also looks like you just stepped off a runway. Pretty solid combo, if you ask us.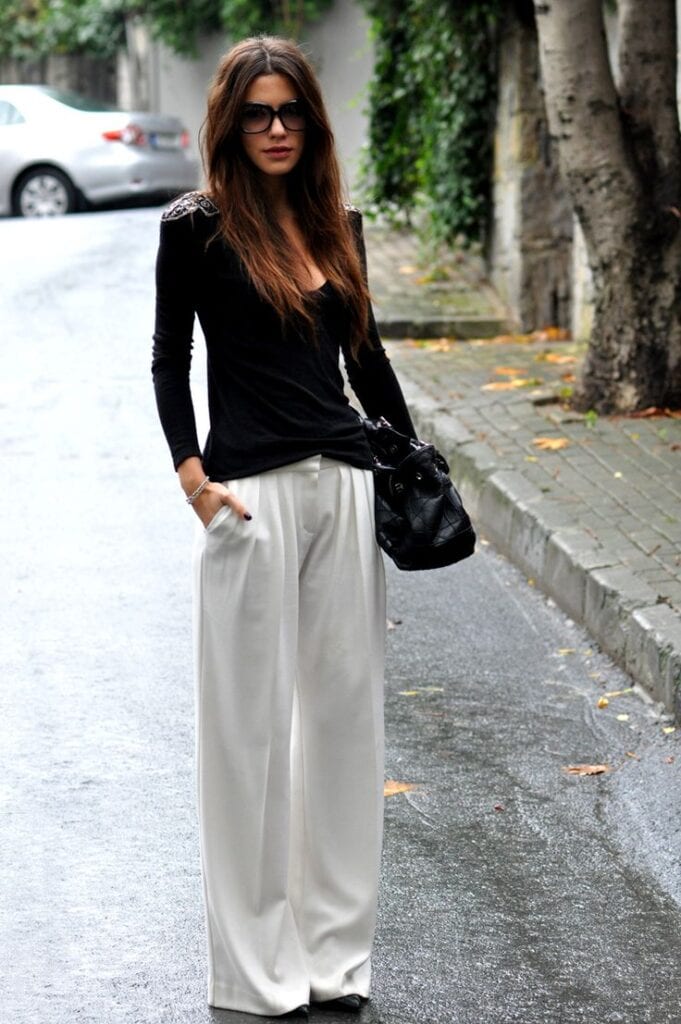 ↓ 4 – Simple and Elegant Fashion
You'll get compliments everywhere you go with a look like this. We love the fresh summer colors and the great fit of those spectacular jeans. Plus, who wouldn't kill for a pair of those gold sneakers?!
↓ 3 – Hipster Style Boyfriend Jeans and Crop Top
Now, you may not be able to get away with a crop top for school attire, but you can definitely give this style a whirl! This is how you do baggy jeans by the way. Fit at the waist and with just enough structure to show off your general leg outline. Roll at the cuff for extra style and pizzazz.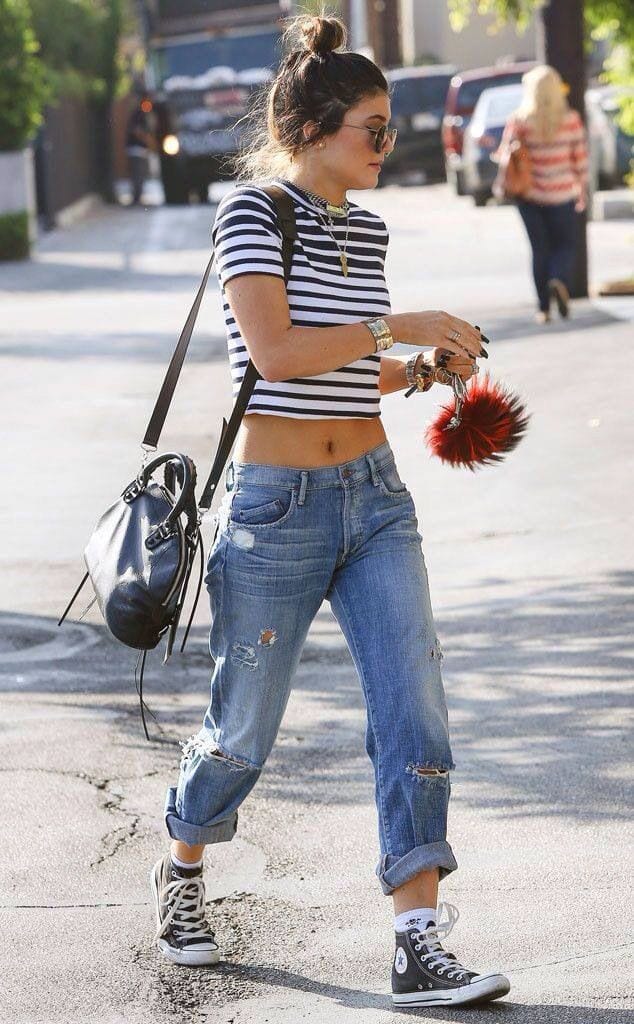 ↓ 2 – Fun & Fresh
Brighten up any classroom with a funky pair of palazzo pants that bring some fun and fresh vibes!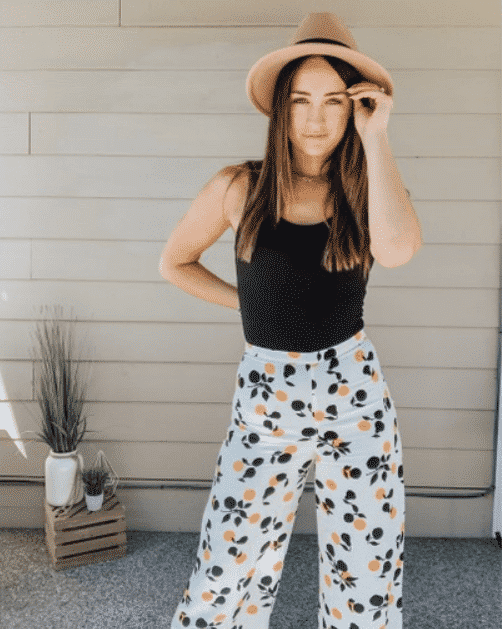 ↓ 1 – Classy All White for Summers
For our last look, give this monochrome option a try. You'll feel and look light and fresh all summer long.