Electric blue outfits: Electric blue is one of the most exciting and versatile colors to work with. Almost any outfit or piece of clothing in a shocking electric blue color will look stunning on absolutely all skin tones, making it such a popular color. Many people have been incorporating this color into their outfits either as an accent color or as a base color to plan their whole outfit around.
How to Wear Electric Blue Outfits?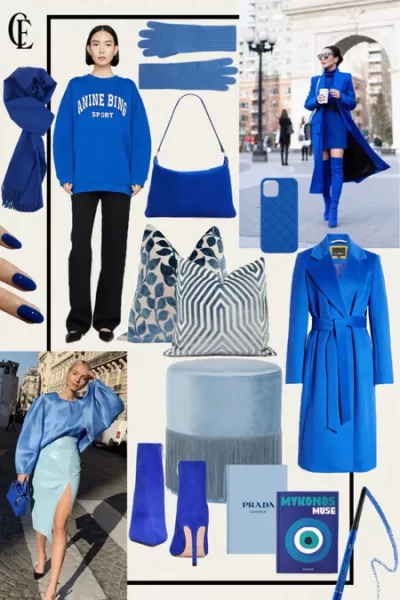 Electric blue clothing exists in all shapes and forms, any possible style or type of clothing you could possibly imagine (remember the blue bodycon dress trend?). The real question is how to style it in a way that does not look too tacky, but rather looks like an effortless statement and a sophisticated fashion choice.
Electric blue tends to look best in the form of blazers and coats, and even in pants. Business casual outfits are elevated to the next level with the incorporation of electric blue in them.
However, this in no way means that electric blue cannot be used in other clothing items.
Dresses, skirts, and even casual clothing items like sweatpants and crewnecks look amazing in the electric blue color. Therefore, this color is very easy to style and will give you endless outfits.
Tips To Style Electric Blue Outfits
Do not be pressured to find an entire monochromatic electric blue outfit. Sometimes, the shades of electric blue do not match when we put together two matching separates.
Hence, it is alright to use a contrasting color to color-block or even use another color with electric blue as an accent!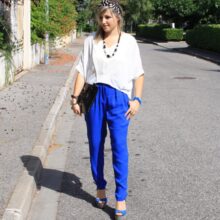 Formal pieces of clothing look absolutely stunning in the electric blue color!
Try to opt for a blazer and trouser set, as electric blue is one of those colors that truly make this style of clothing stand out!
Opt for dresses! Electric blue is very popular due to the fact that it suits almost every skin tone!
Use that to your advantage and show some skin in some stunning dresses!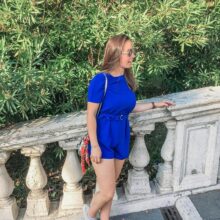 Play with different textures and materials! Do not shy away from furry and fluffy coats, or textured and pleated skirts or tops.
Electric blue looks even more dimensional when the base material of the outfit is something other than plain cotton!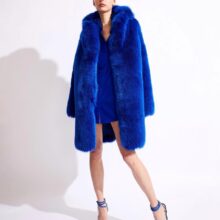 26 – What to Wear with Electric Blue Pants?
If you're buying new electric blue pants, the best decision would be to get a matching blouse or top in any style of your choice. But if you really want a different colored top, you can go with white, black, green, brown or anything metallic.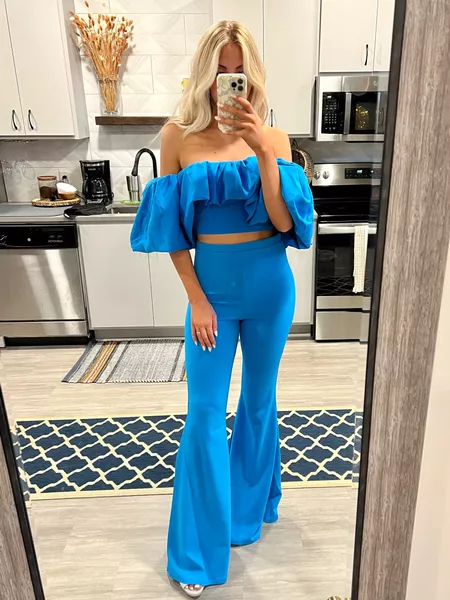 25 – The Most Dramatic Combination with Electric Blue
If like me, you too prefer dramatic looks then this is a color combination that you just won't be able to resist, electric blue and green! It works pretty well for both casual and semi-formal looks.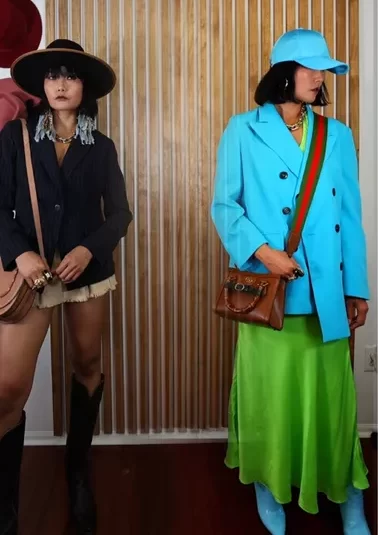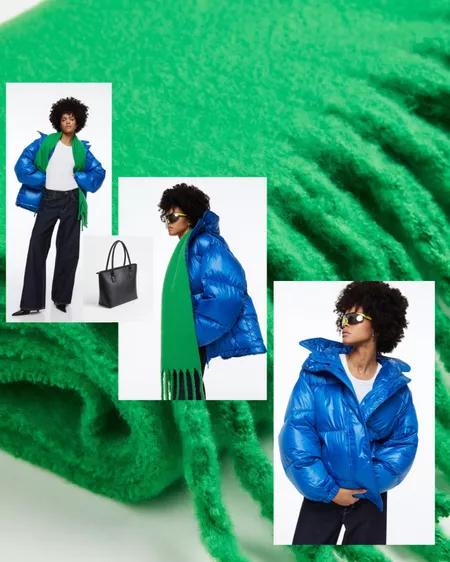 24 – How to Wear Electric Blue as a Wedding Guest
This wedding season, electric blue is going to be a big hit for not just the bridesmaids but also wedding guests.
If you're thinking of buying a new electric blue dress or gown, I would recommend that instead of something simple, you go for some sort of extra detailing – it could be cut out detailing, ruffles, or statement sleeves. You can also go for something textured such as a blue velvet dress.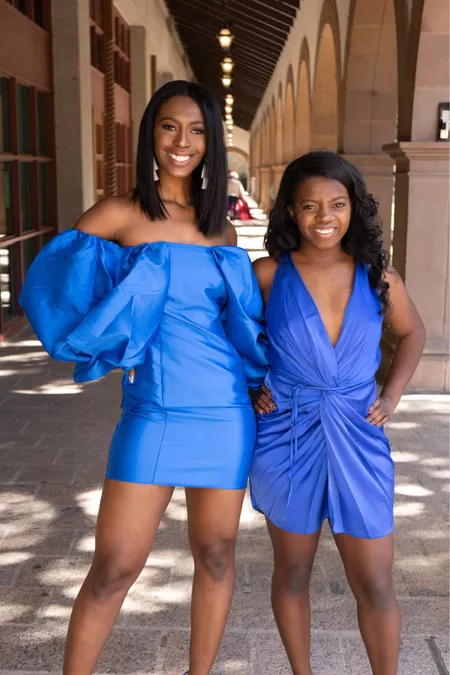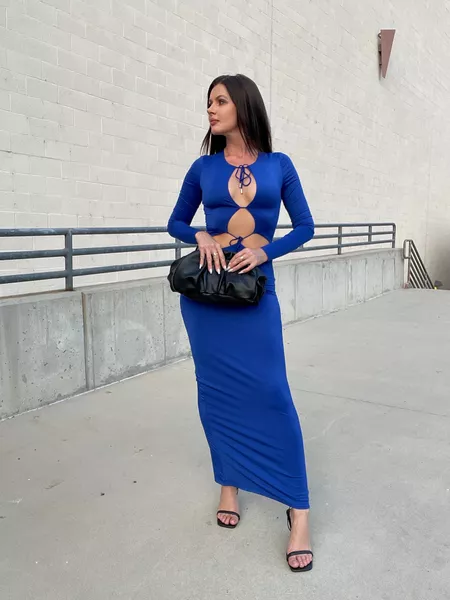 23 – Layer Your Electric Blue Outfits with White Coats and Jackets
Whether you're a teenager, a young girl or a mature woman – electric blue is a color that you can rock at any age. If you're confused about layering, I would highly recommend going for a white coat, especially for daytime outfits.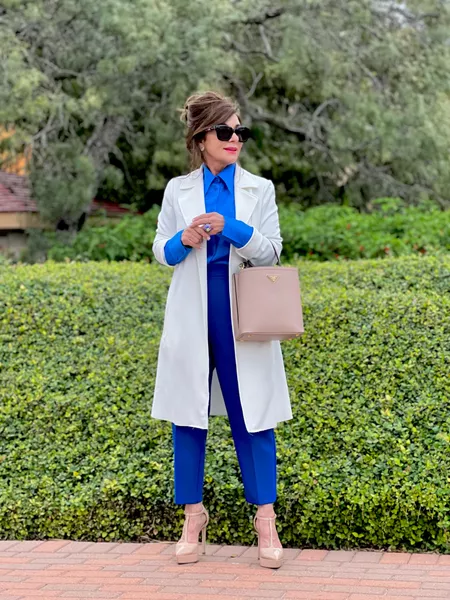 22 – What Color Jeans to Wear with Electric Blue Shirts?
If you're wearing an electric blue t-shirt for a casual look, you can pair it with both blue and black jeans.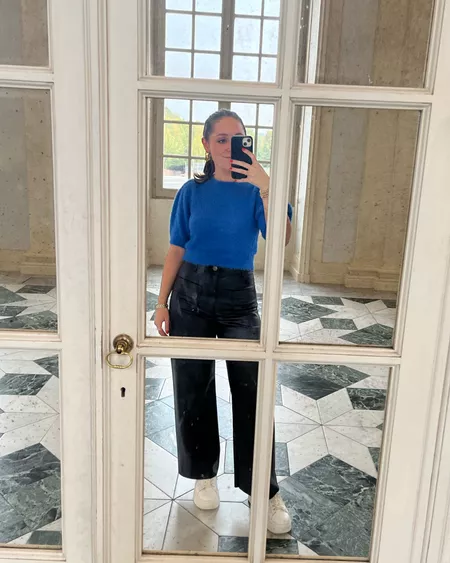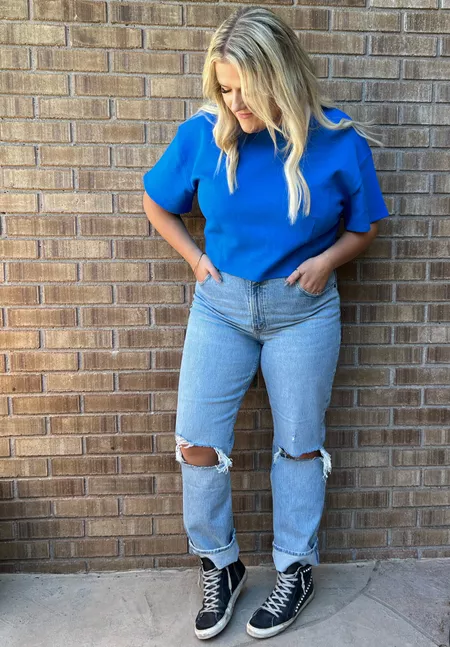 You can also try the same combination for electric blue jackets – they're definitely a must-have this Winter.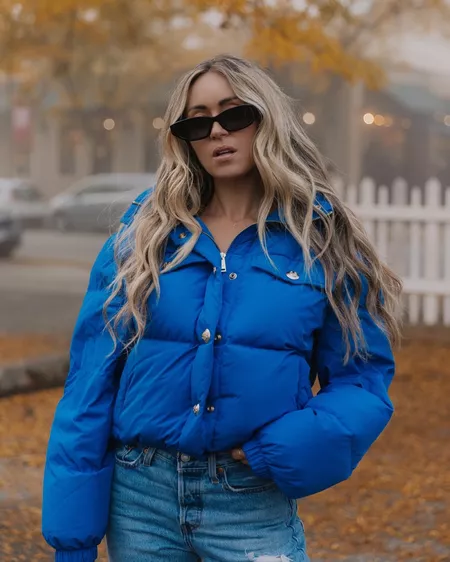 21 – Perfect Color for Plus Size Women
Electric blue looks great on all body shapes but especially on curvy women – as long as you choose the right cuts. Check out this electric blue power suit as an example, doesn't it look stunning?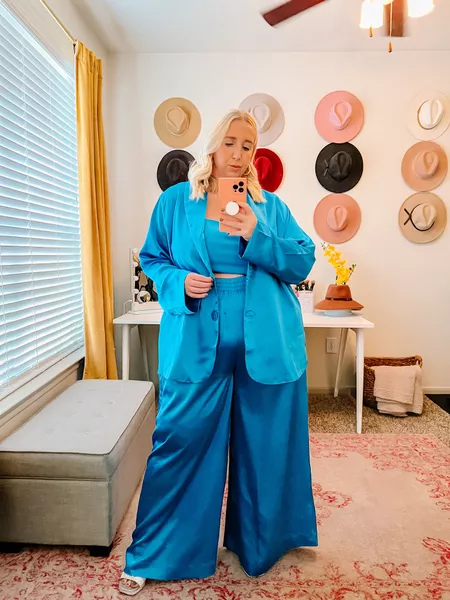 Here's another more formal or party outfit created with an electric blue midi dress and layered with a metallic jacket. It's a pretty bold look but definitely an eye-catcher. I love the choice of orange heels here.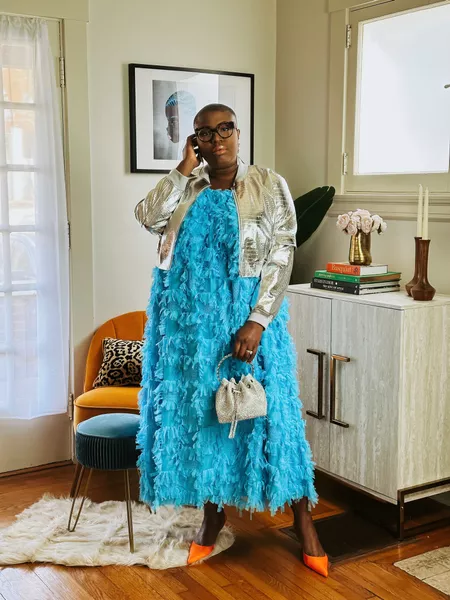 20 – White Blouse With Electric Blue Trousers
This is one of the easiest ways to style electric blue, by keeping it as an accent color in your outfit. The electric blue trousers contrast beautifully with the stark white blouse and give a good silhouette to the body. This is further accentuated by the addition of matching heels and it is perfect to wear to any occasion!
19 – Electric Blue Long Sleeved Top With Ruffles Tucked into White Pants
An inverted version of the outfit mentioned above, this one does the same thing but in a slightly different way. In this outfit, the electric blue is featured in the longsleeved top which has ruffles on them for a unique touch and is paired with white pants for a nice contrast.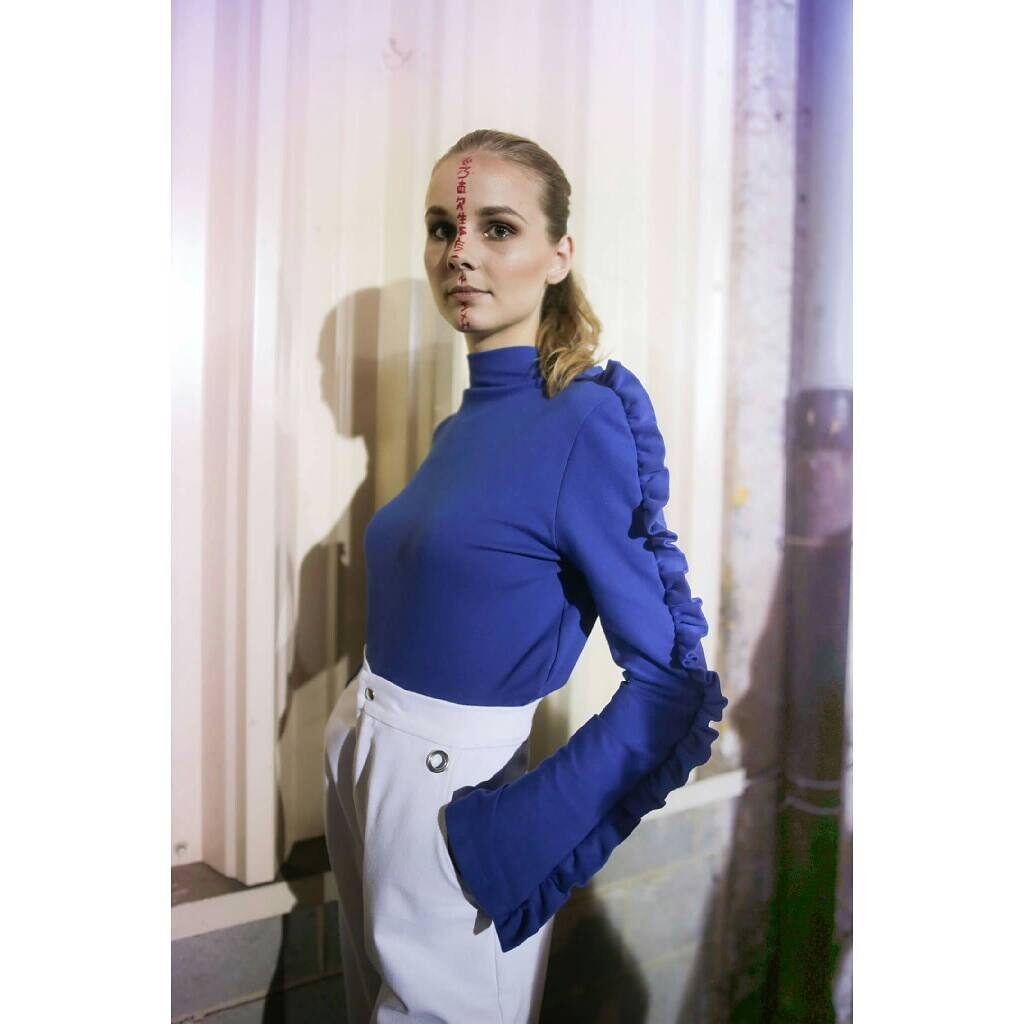 18 – Ribbed Electric Blue Top With High Waited Matching Pants
This outfit is the epitome of the perfect matching electric blue outfit. There is a ribbed electric blue top with great cut-out detailing at the neckline which is matched with an electric blue pair of pants that hug your body at the best angles.
17 – Electric Blue Hoodie and Sweatpants Matching Set
Who says electric blue can only be styled in formal outfits? Well, definitely not us! This outstanding electric blue outfit is great for those who like to prioritize comfort as well as style.
Throw on this matching electric blue hoodie and sweatpants set, and tie it with a dangerous-looking pair of combat boots, and you will look so put together, despite wearing your comfiest and loungiest clothes!
16 – Oversized Electric Blue Button Down Shirt With Baggy Straight Leg Jeans
This outfit is again a very comfortable one, but a bit more focused on the style side of it. This is an oversized electric blue button-down shirt that Is paired with these baggy straight-legged jeans.
The light wash contrasts beautifully with the electric blue to give a dimensional outfit despite being made of everyday staple items of clothing.
15 – Shirt and Trouser Matching Electric Blue Set
Here we have another comfy rendition of this amazing color seen in a matching set. The shirt is made of this beautiful, almost corrugated style texture, which the electric blue color only enhances. This is paired with matching trousers that complete the look and bring it to life.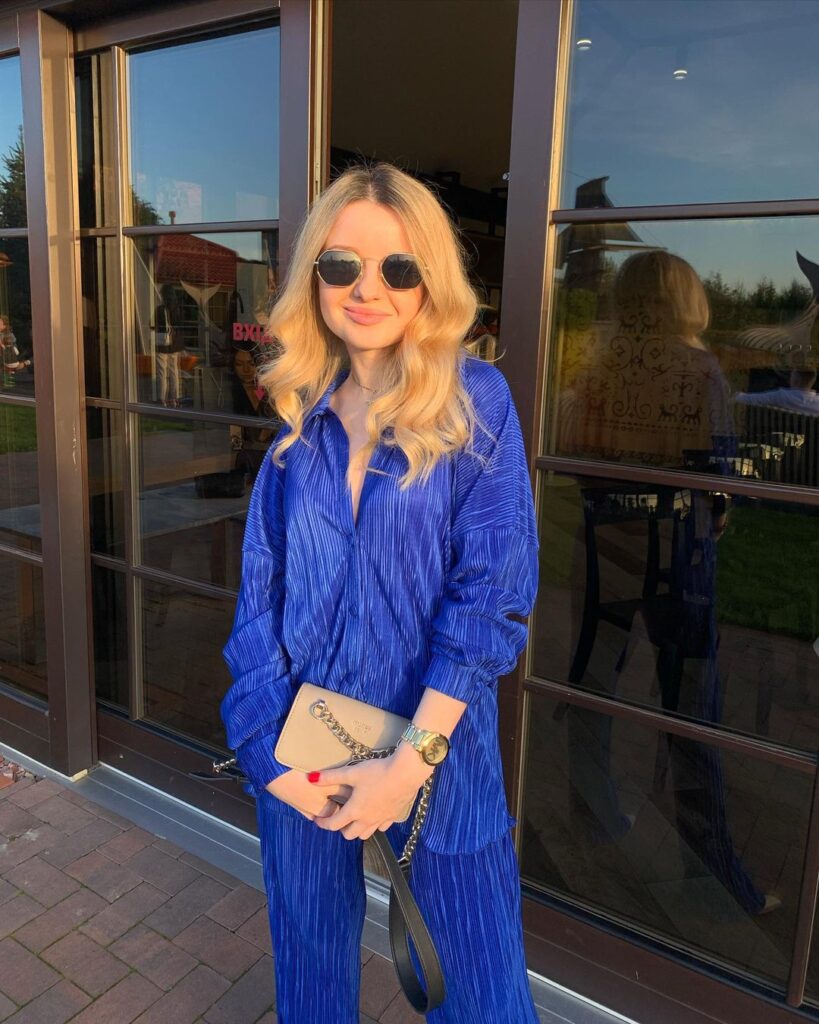 14 – Electric Blue Puffer Jacket With Dark Leggings and White Boots
Create an eye-catching color palette with this amazing color combination.
This bright electric puffer jacket is the main star of the show and it goes with dark leggings and white shoes, which work to further enhance and complement the effect of the electric blue puffer jacket and bring it to the forefront.
13 – What to Wear with Electric Blue Shoes?
This top is very unique as it is in the style of a blazer but hugs the curves of the body in a more dresslike way. This paired with its unique electric blue color is perfect to wear with matching thigh-high heeled boots, which give this outfit that extra punch and make it stand out even more.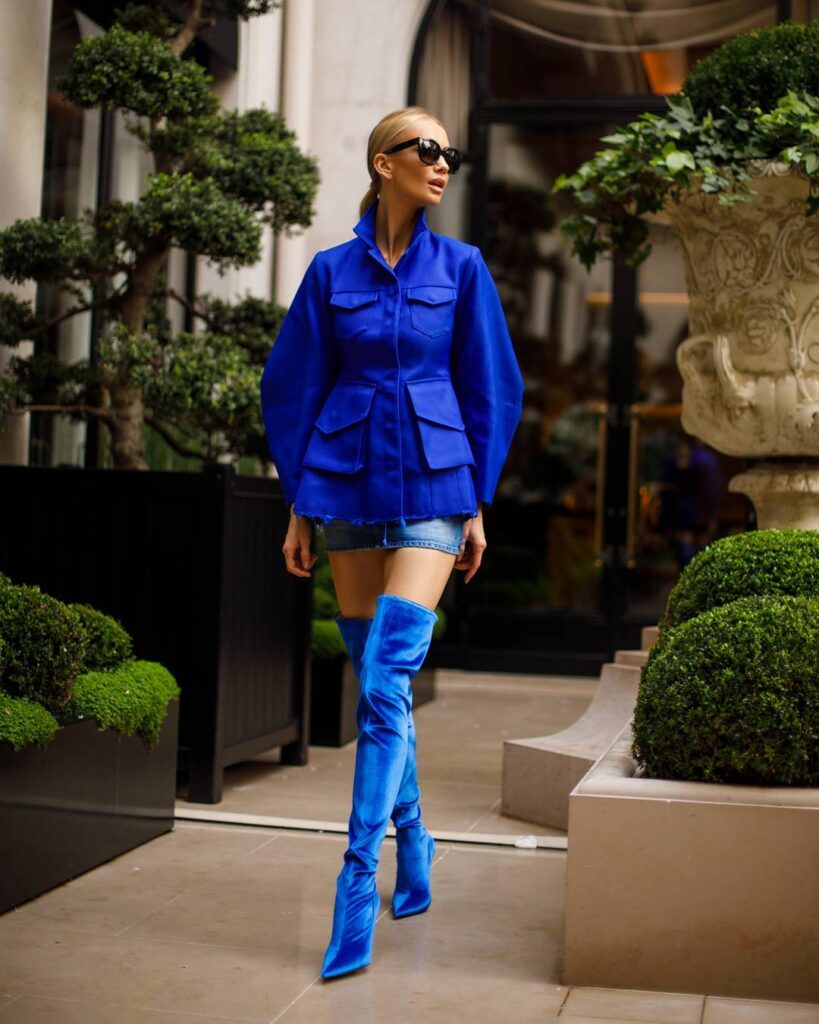 Not in the mood of a blue-on-blue look? Then give this one a try instead. You'll love this combination of metallic brown and blue – it's decent, and yet, at the same time, it looks gorgeous.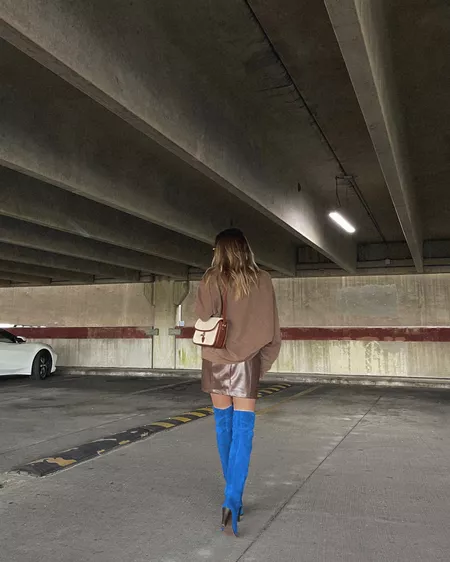 12 – Electric Blue Blazer With Matching Long Slitted Wide Legged Pants
This outfit is stunning as it uses the classic electric blue and white color combination. The electric blue blazer is matched perfectly with the wide-legged and slit pants, which not only make for a good matching moment but also attract attention to the outfit by giving the wearer a flattering silhouette.
This is perfect to wear with any white top underneath and matching white shoes.
11 – Electric Blue Matching Blazer and Trouser Set
This electric blue set is to die for. The minimal fitted blazer is draped with an oversized cover-up – one that complements the outfit and the matching trousers complete the whole look.
This outfit, paired with a set of clear heels, can bring it to life and elevate it to the next level. It is perfect to wear for any formal occasion and will definitely grab everyone's attention.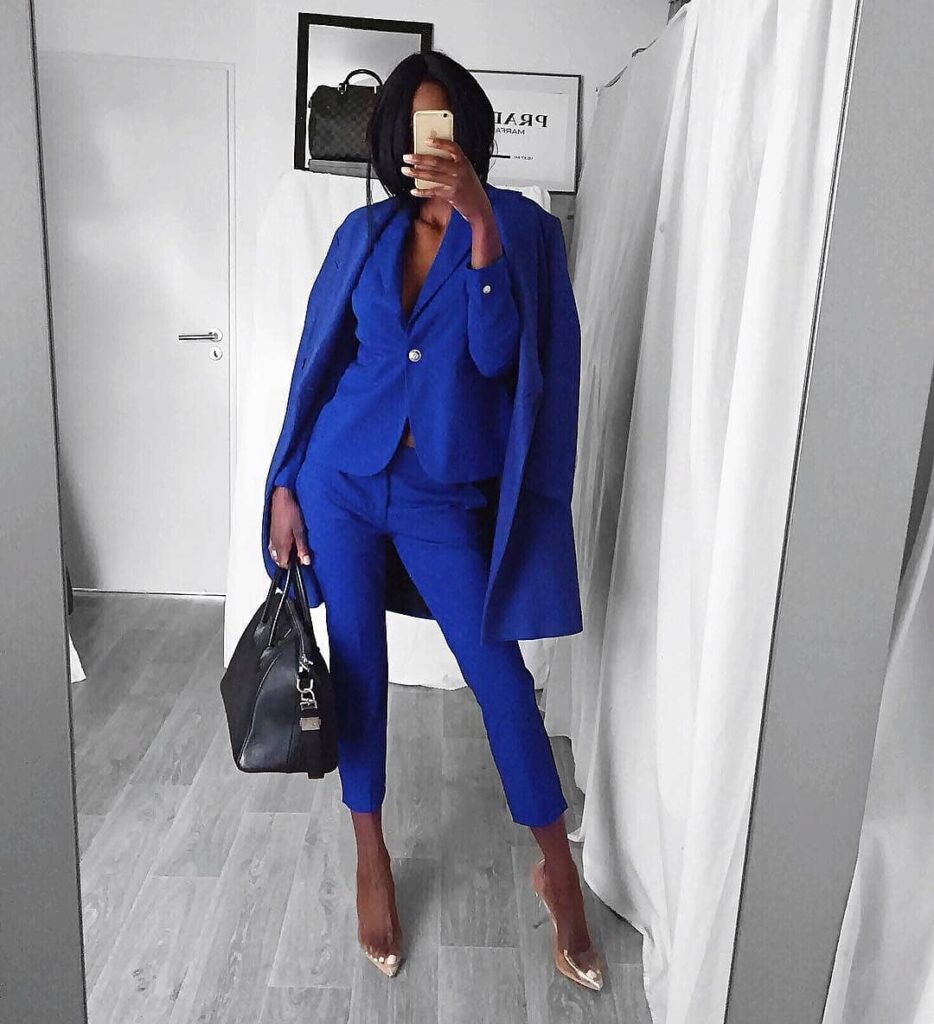 10 – Fluffy Oversized Coat Over Electric Blue Matching Dress And Heels
This is another chic example of an electric blue outfit.
Over a short electric blue dress, a fluffy electric blue coat is draped over the shoulders. The texture of the coat enhances the color even more and brings attention to it. The heels are the perfect way to top off this look!
9 – Electric Blue Matching Blazer and Pants over A Hot Pink Bralette Top
This outfit can be worn in any different variations, with an electric blue blazer set being worn on top of a hot pink top. This particular outfit accentuates the curves and gives a very unique effect by the use of color blocking in the outfit.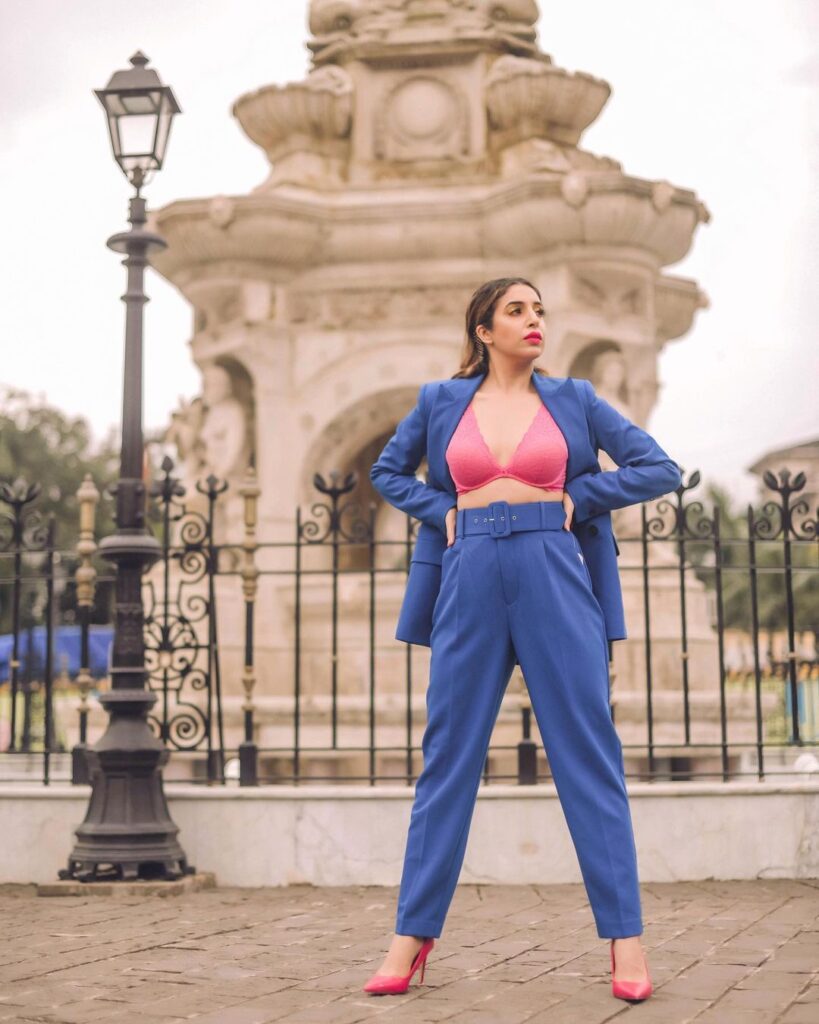 8 – Long Electric Blue Trench Coat Over A Casual Base Oufit
Want to push your basic outfit to the next level? Pair a basic white turtleneck and light wash pair of jeans with a long trench coat that is of the electric blue color.
It will instantly uplift the entire outfit and make you look so sophisticated no matter how casual your base outfit is. This look is one of the easiest ones to pull off because there is no extra effort required. Any outfit that you are already wearing, topped with an electric blue trench coat, can be taken to the very next level.
7 – Blazer with Cutout Sleeves and Matching Wide Leg Pants
Out of all the electric blue blazers we have seen, this one seems to stand out the most due to the cut-out detailing on the sleeves and the oversized wide-legged effect on the trousers.
This is a fun alternative to an otherwise plain outfit and shows a bit more skin, making it a very unique and less formal outfit. This can be paired with big and bold jewelry like chunky chain necklaces and hoops to further enhance this outfit.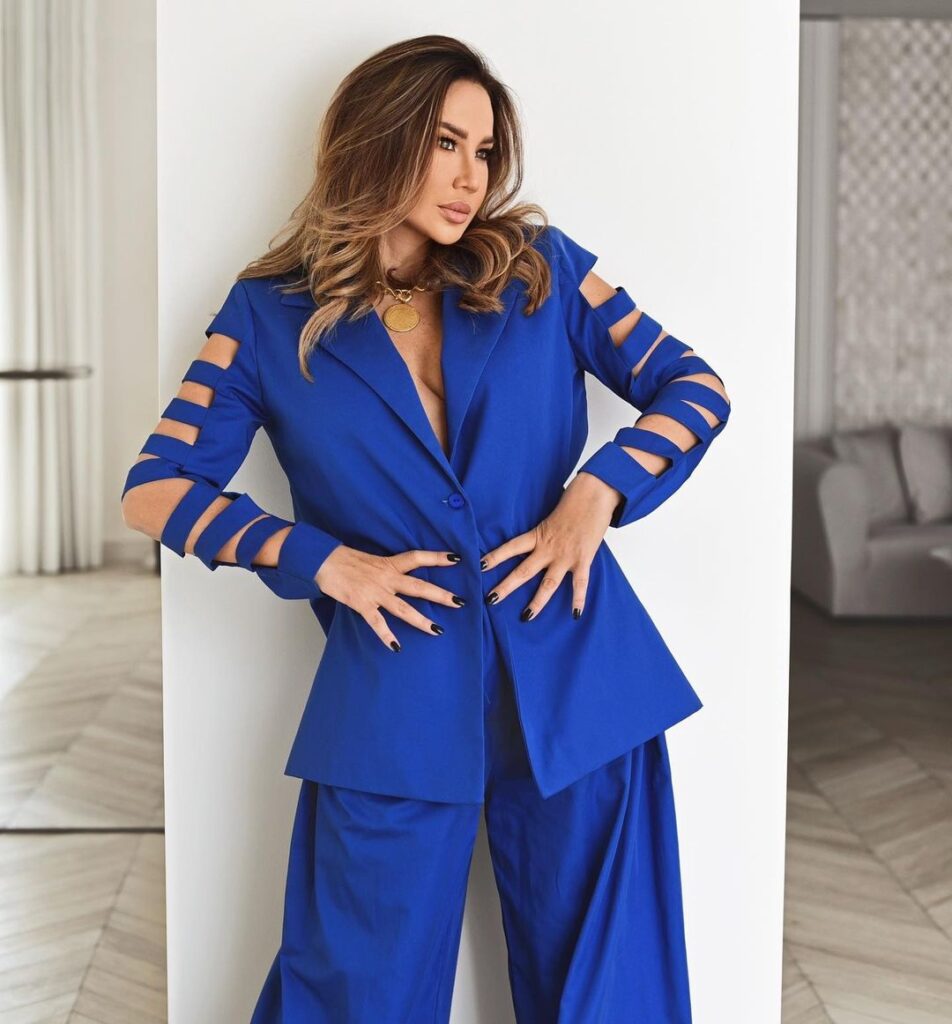 6 – Electric Blue Fitted Dress Blazer and Wide Matching Pants
This is another variation of the infamous electric blue blazer, but this time, it has a bit of a dress-like quality to it which makes it hug your curves at the waist to cinch it and then flare out towards the bottom for a very unique look in a blazer.
The look is completed with floor length wide legged electric blue trousers, which match perfectly to the blazer to give a very coherent look. You can jazz this look up by the addition of big and bold silver earrings and also a dark purse which will accentuate the blue color even more.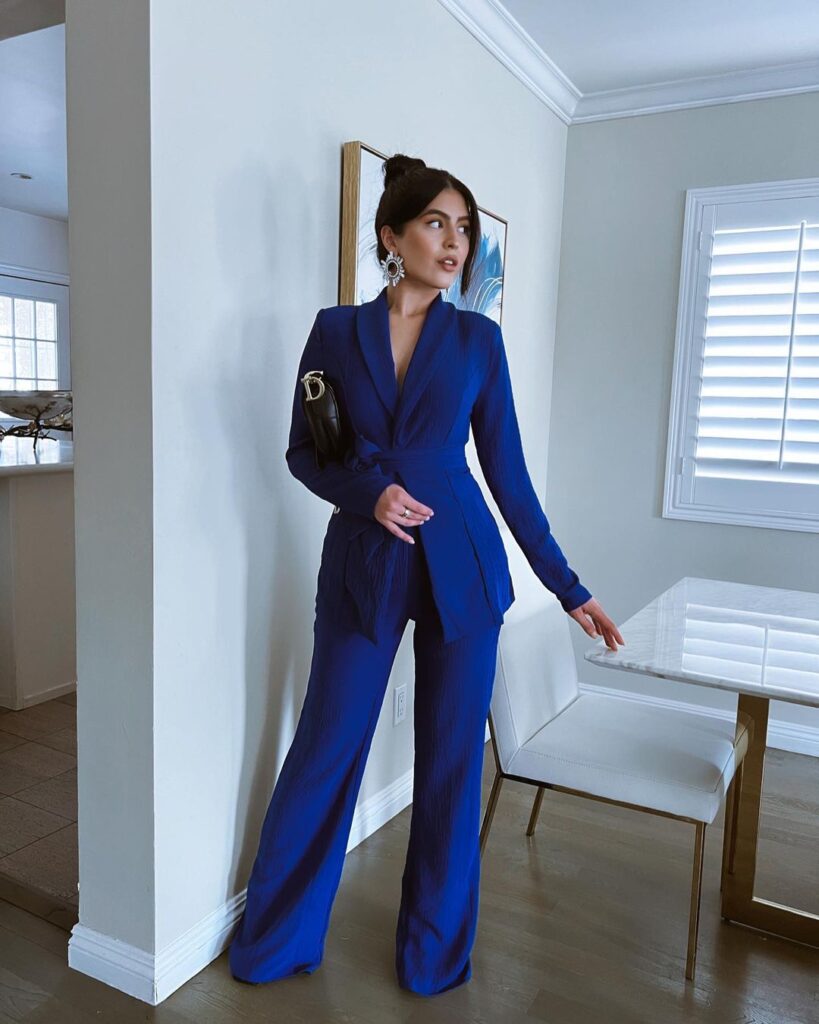 5 – Electric Blue Romper Dress With V-Neckline and White Canvas Shoes
This look is a very versatile electric blue one as it can be made formal or casual, either one, depending on your preference.
This romper-style dress has a ruffled, v neckline and is cinched at the waist to give the body some shape.
The flowy material of this dress, combined with the ruffles, makes the electric blue really pop and become prominent. This is further tied with white canvas sneakers for a casual look but can be paired with matching electric blue heels for a more feminine and formal look.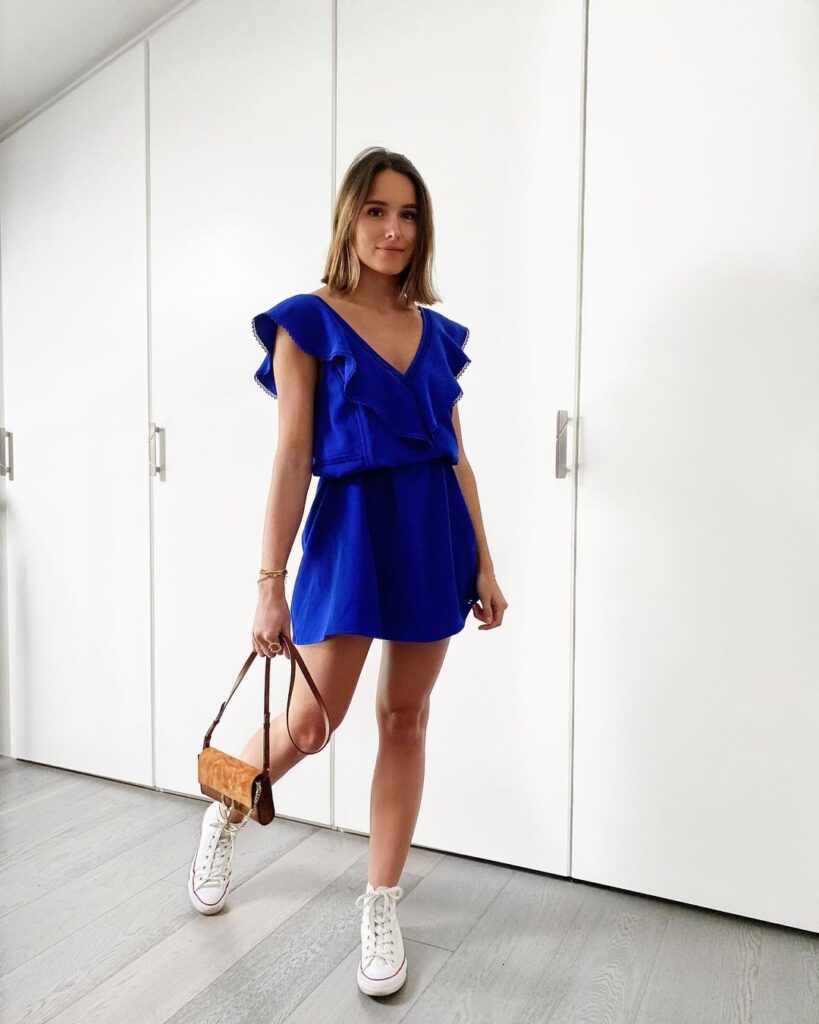 4 – Long Electric Blue Dress With Pink Cardigan
This is another fun example of color blocking in an outfit.
The gorgeous full length electric blue dress is worn underneath a dusty pink sweater that contrasts very nicely with the blue to create a beautiful outfit.
The very subtle tiers in this dress add dimension to the otherwise plain outfit. The dress also cinches at the waist to accentute the curves.
The sweater on top adds another textural element to the outfit and a complementing color too. This dress and cardigan combo can be paired with sneakers or heels, depending on preference.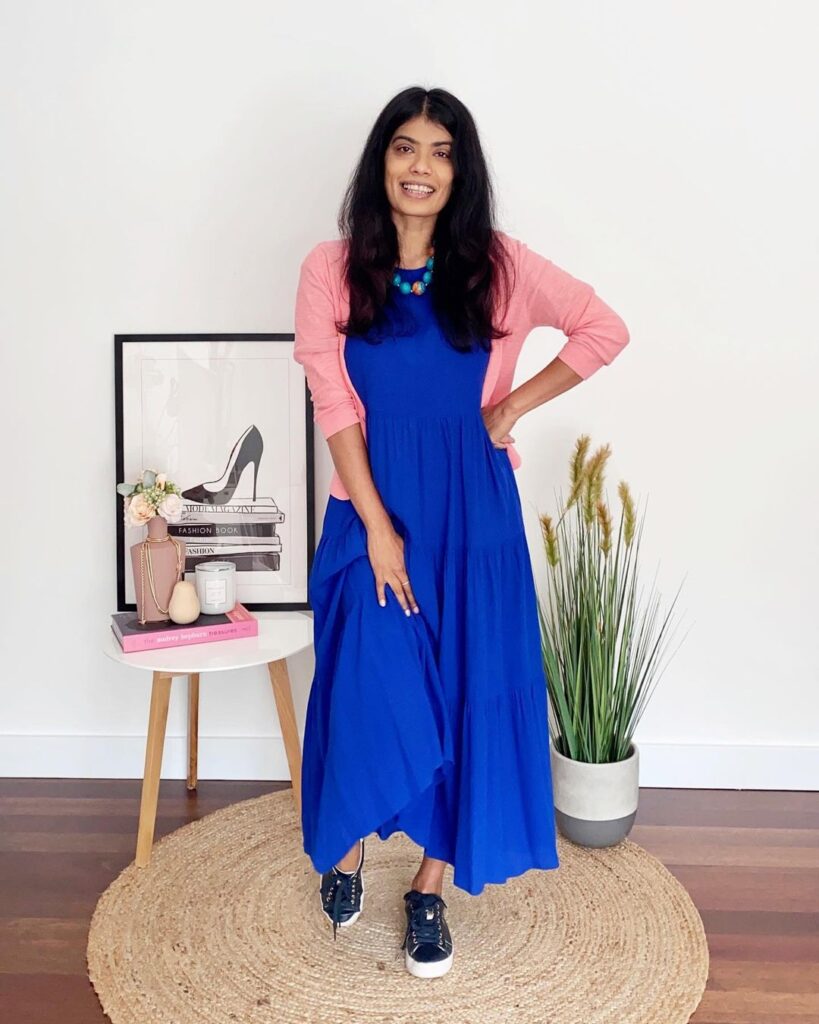 3 – Mini Electric Blue Dress With Spaghetti Straps
This is one of the most simple and minimalistic electric blue outfits that you will see. A very dainty mini electric blue dress with spaghetti straps is paired with some pink and white sneakers to create a very comfortable dress outfit.
This outfit is so easy to come up with, as it only contains two major pieces: a dress and a pair of your favourite sneakers. This is one of those staple outfits that need ot be in your closet.
It can be dressed up or down depending on the occasion by replacing the shoes with heels and layering jewelry for a much more elevated look.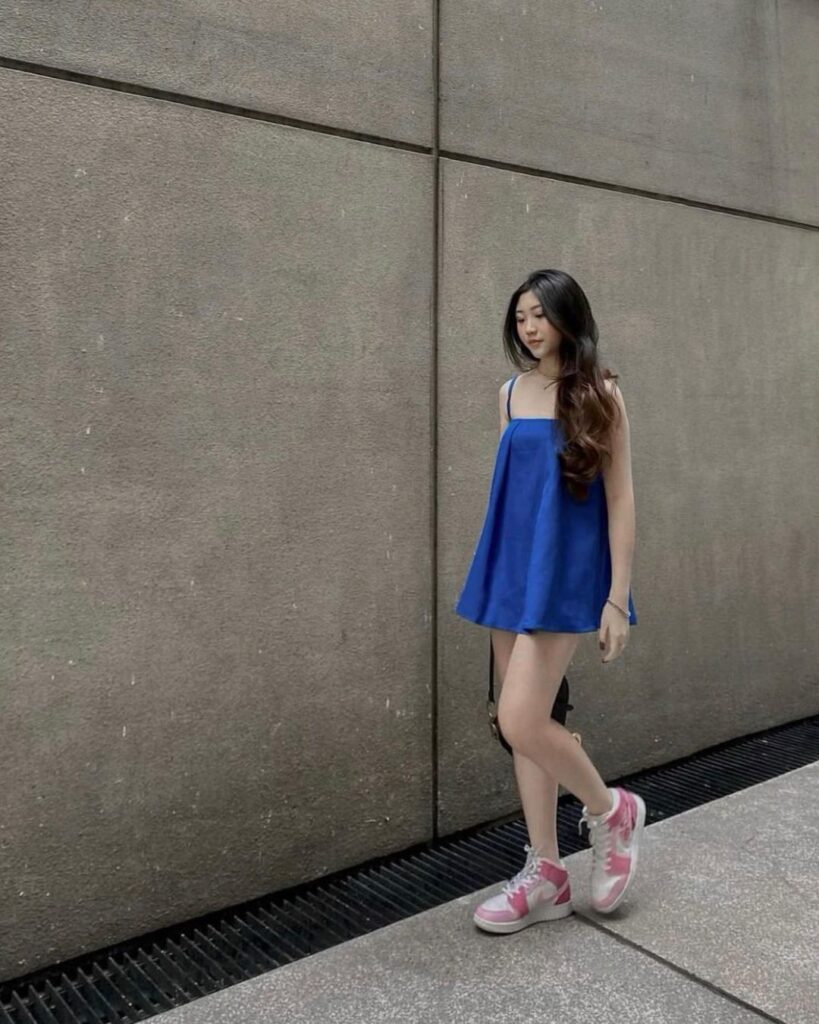 2 – Tiered Electric Blue Ruffle Dress With Long Bell Sleeves
This is one of the most amazing and easy vacation outfits. This will work for almost any outdoor occasion.
It is an electric blue dress with tiers and ruffles, which adds dimension to the outfit and is paired with a dainty bag and simple slide sandals.
The bell sleeves also accentuate the body in a way that will bring your best features to the forefront and highlight them. This outfit can also be made more formal by the addition of some heels and a fancy little purse, and also by accessorizing with silver jewelry!
1 – Silk Dress With Corset Detailing and Thigh High Slit
This dress is the epitome of the most stunning electric blue dress you will ever see. This is made of a smooth and flowy satin silk material which accentuates the color and brings it to life.
The corset upper body part of the dress makes it stand out, and the lower ruffled part frames the body in the most flattering way. The high slit is the final touch that brings it all together.
Frequently Asked Questions
Q. Do electric blue outfits have to be fully electric blue?
No, you can definitely use electric blue as an accent color in your outfit, or pair it with other colors by using color-blocking techniques. There are many ways to go about it, and no rigid rules to it, so let your imagination run wild!
Q. Are electric blue blazers formal or informal?
Both! It all depends on what accessories and shoes you pair them with. As for the color, electric blue is a very versatile one, so you can change it up in any way and it will work for both formal and informal settings.
I'm Sarah, and currently doing my A Levels. Writing is one of my passions and keeping up with the latest, and ever-changing fashion trends is one of my favorite pastimes. My two hobbies combine here at OutfitTrends to create fun and creative articles which hopefully will help anyone seeking any outfit inspiration.