Durga puja outfits: Durga Puja is an annual Hindu festival and is particularly celebrated in Bengal, Assam, and other eastern Indian states. It celebrates the victory of the goddess Durga over the demon king Mahishasura. When it comes to Durga pooja, it's not just a festival, it's an emotion, a way of life that's been deeply entrenched in Bengalis. To sum it up, it's a five-day carnival of food, festivities, notun jama (new attires), and pandal hopping.
With the festive madness about to begin, you might be looking for Durga Puja outfit ideas to grace the occasion. Coming to the part of buying new clothes for the festival, we know that shopping and planning start way before the actual festival. And as we all know, sarees for Durga pooja are an indispensable part of the festival for women.
First things first, there is no fixed kind of saree for Durga pooja. We like to wear a mix and match of all kinds of saree and other traditional fits. Basically, anything catches our eye, we hoard it for the five days of Durga pooja. Here at Outfit Trends, we have done all the research to provide you with the latest Durga Puja looks that you can easily create and celebrate the festival with style.
What can you wear on each day of Durga pooja?
Shashti – The first day of the puja is all about getting into the spirit of the festivities and bracing oneself for the next five days to come. For a Shashti morning, something light like a cotton linen saree fits perfectly. For the evening, a glamourous salwar suit with banarasi dupatta is perfect and will do justice to your glam quotient
Saptami – Pair a light-colored cotton saree, preferably a handloom one, with a sleeveless blouse or a shirt. Do not forget the jewelry this time, too. Keep your make-up light. You can also go for an Anarkali suit on Saptami.
Ashtami – For Ashtami, you can instead go for a gorgeous saree that is embroidered and embellished. Wear heavy jewelry, preferably gold. A tusser silk saree for the morning Anjali and a gorgeous silk saree for the evening are perfect for setting the mood.
Nabami – Our hearts may be filled with some sadness as Durga Pooja is coming to an end, but our saree look will definitely say otherwise. A plain lehnga choli during the day and an embellished saree for the night is the way to brighten your mood!
Dashami – Nobody can say goodbye to Maa Durga without some sindoor khela in the classic red and white saree. You can also don a vibrant saree made of crisp pure silk in any other color as well.
20 – Chanderi Silk Saree with Matching Blouse
Who is not a fan of silk sarees? These sarees are quite popular among Indian women as they reflect the traditional style and elegance. This bright purple chanderi saree is perfect for durga puja festivities.
Plus the design is sufficient enough to make you stand out and you don't need heavy jewelry with it. The gold jewelry matches really well with the hues of golden color in the saree and blouse.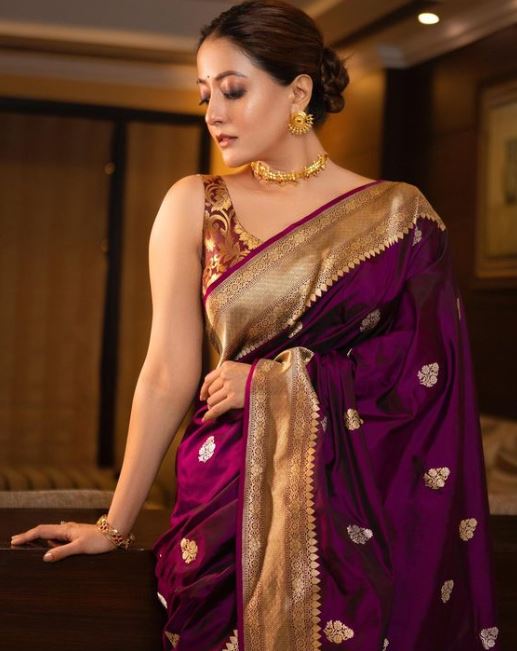 19 – Modern Saree Look with Chunky Jewelry
This is a perfect amalgam of traditional sarees with contemporary trends. The saree itself is so full of colors that you don't need tons of makeup. To add that modern touch add a cute belt with saree and your favorite shades. Tie your hair in a low sleek bun and wear a pair of chunky earrings. Go for a flushed makeup look and you are all done.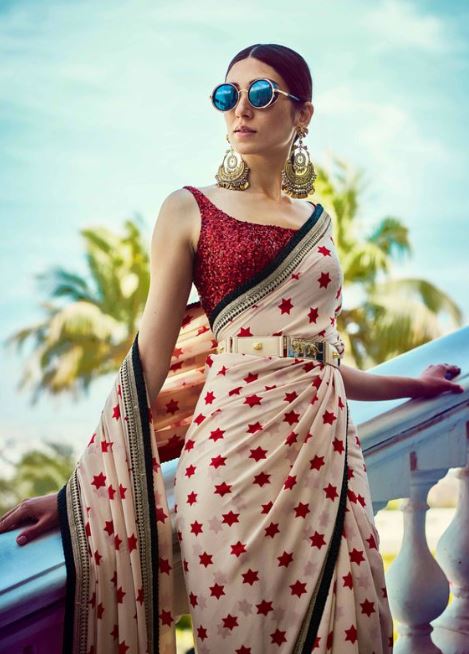 18 – Yellow Skirt Set with Jacket
This look is perfect for you if you are going for an eastern look this durga puja with a hint of something western. The matching embroidered top with your dhoti skirt fits perfectly for a formal event. It can be worn on the first day of the festivities as they are just getting started.
You can try a mix-and-match long yellow cape or cardigan to cover your shoulders if you are looking for a more modest look and do not want to wear a dupatta. Complete your look with fancy jewelry matching the embroidery on your blouse. Some yellow khussa or heels would work best as footwear.
17 – A Vision in Red
People have got to realize how important accessories are when it comes to making a basic combination look glam AF. Although it would be so wrong to call an all-red outfit a basic look. Anyways, our very own nightingale of Bollywood Tara sutaria looks like a vision in this gorgeous red saree.
Keep the saree simple with chiffon and go for a fancy blouse and borders. Tie your hair in a bun and let your jewelry and saree take the limelight. Since the saree is already bright, keep the makeup subtle with no heavy eye makeup. Go for a soft makeup look with kohl eyes and smudged eyeliner.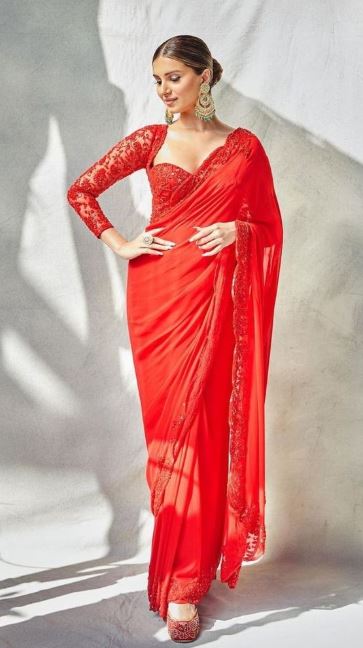 16 – Fusion of Ethnic and Western
Bring a fusion of ethnic and western in your outfits and own them completely. It looks stunning. Just like style, sarees are eternal. With them, you can be out & about, rock a party, slay the wedding look, and own that business meeting. You can slay this outfit during durga puja festivities. The details are stunning and the fit is amazing. A gorgeous choice for all the gorgeous ladies out there!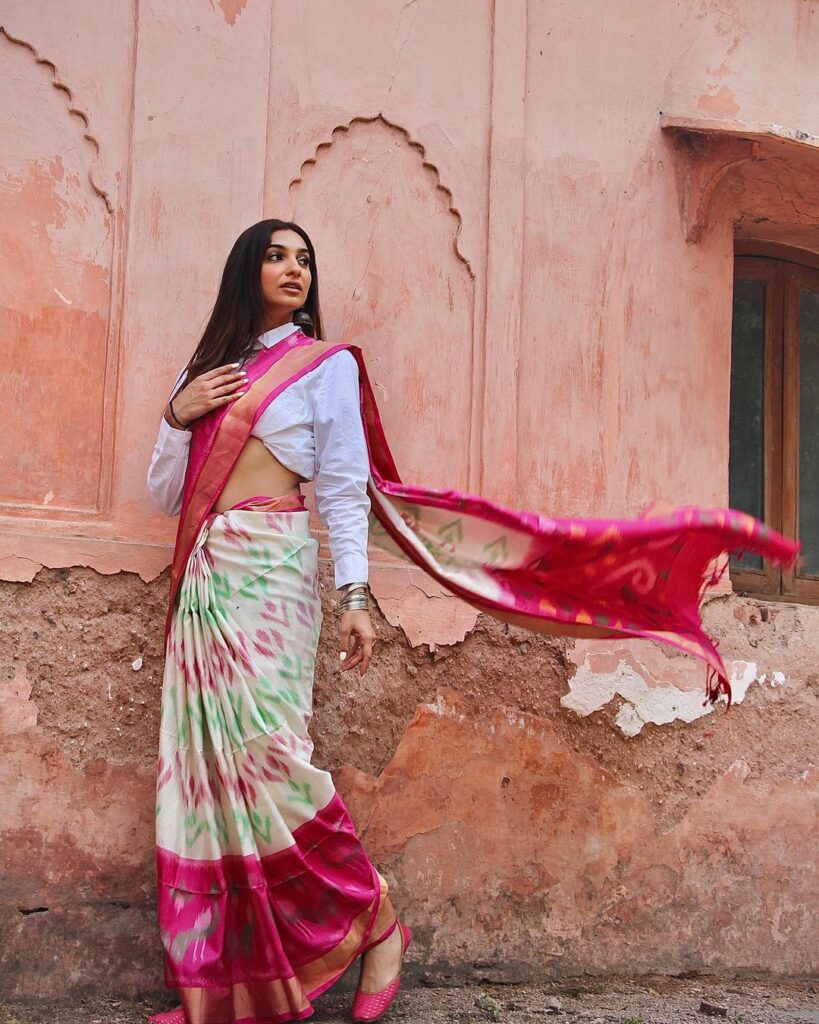 15 – After Puja Evening Outfit
Do you have a cocktail party in the evening after puja and can't choose an outfit? Well, no worries as we are here for you.
Have a glimpse of the charming outfit below and you're done. Its classic outlook will surely make you stand out at the cocktail party. Elegance and taste this dress has it all. Accentuate the look with high sandal heels. Accessorize it minimally with silver earrings and smokey eye makeup. Tie your hair nicely in a bun and you are all ready to slay!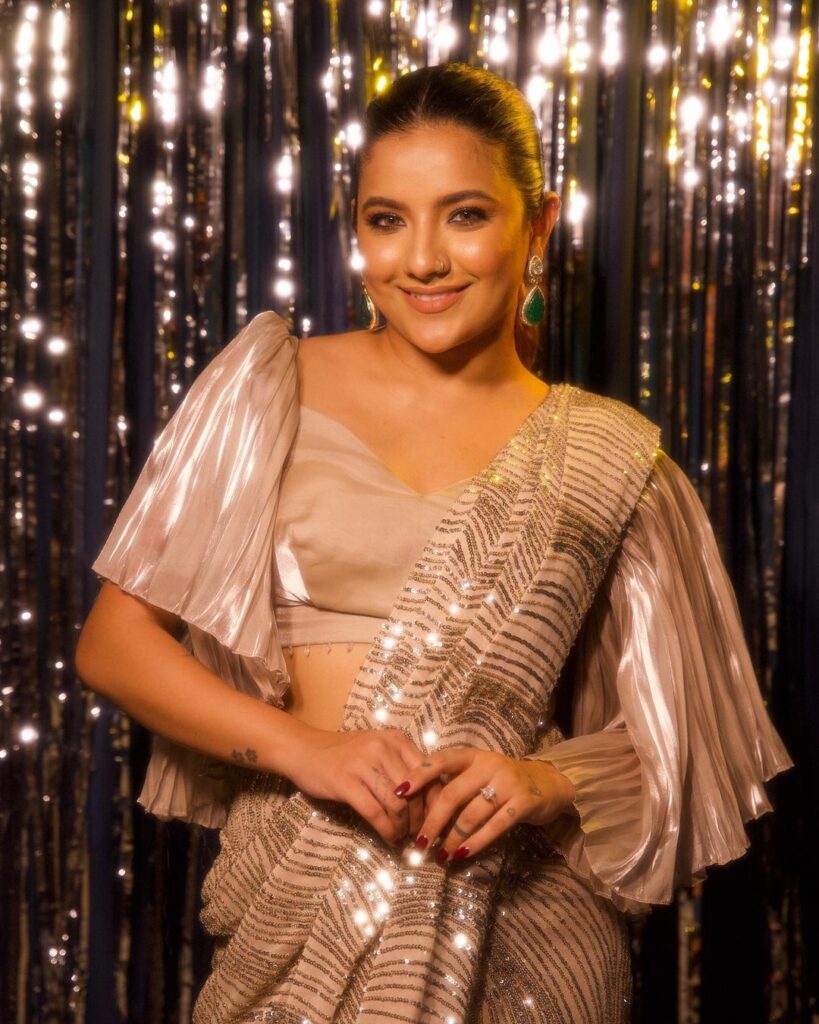 14 – Lehnga Set with Sleeve Attachment
This outfit combines a printed lehenga with an extravagantly adorned choli. The fancy choli will give you a subtle, classy, yet festive look, along with the sleeves that will act like icing on the cake for your fit. To complete the look you can go for a silver choker or a pendant and a soft makeup look. Lastly, Don't forget to wear a bright smile on your face.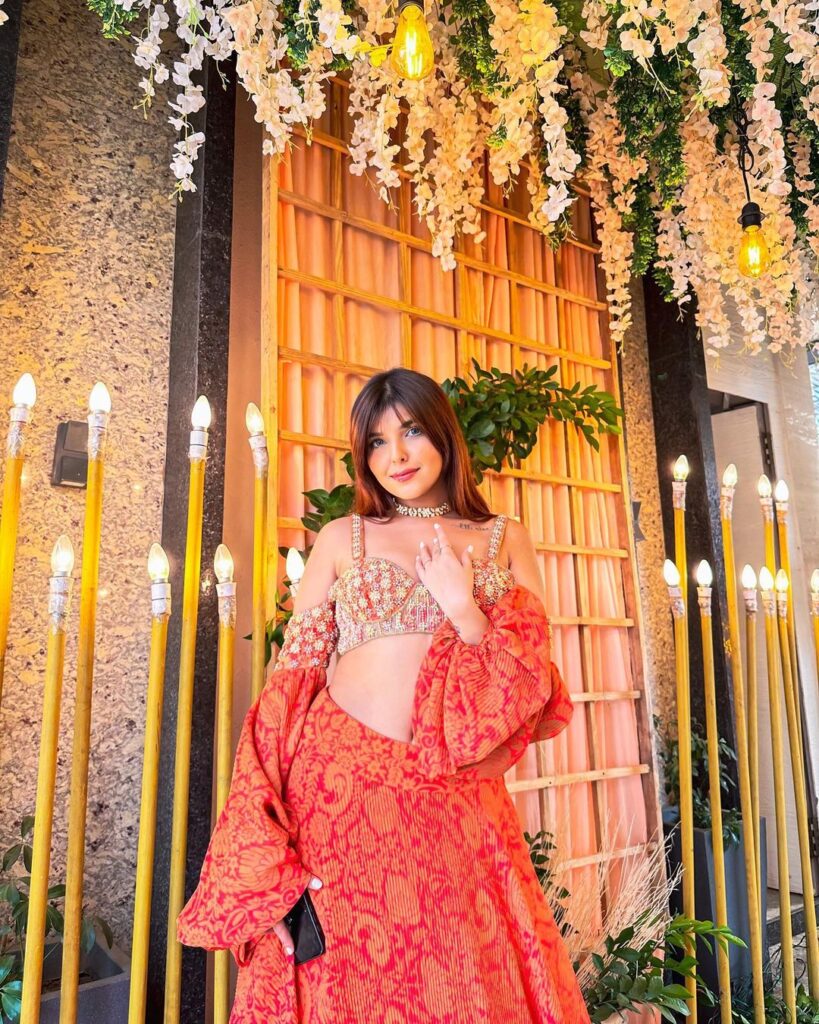 13 – Kurti Styled with Sharara Pants
Nothing is as flattery as a Kurti-sharara combo when it comes to festive season outfits. Simply marvel at the beauty that is this fun and youthful kurta and sharara pants set. Chic. trendy and stylish, this out-of-the-box number will surely make you the star of the show this festive season. Style it with a matching dupatta, minimal accessories, soft pink lips, and loose hair.
Here are some more Party Kurtas that you can try.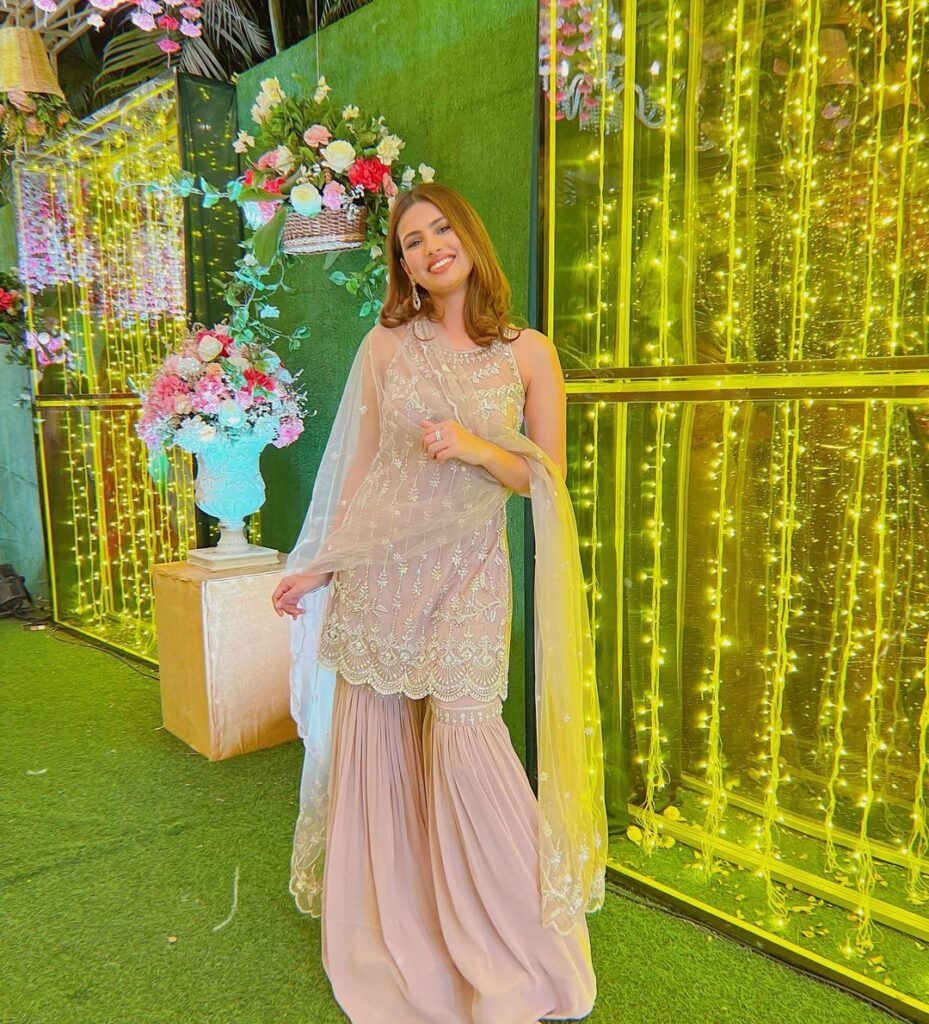 12 – Pair Frock With Patterned Dupatta
This frock is beautiful and easy to carry. Moreover, it needs a little styling. All you have to do is to pair oxidized silver jewelry, and you are ready to dazzle! Pair it with a beautifully printed dupatta. It's a subtle and low-key outfit of the day for your next brunch or dinner party during the 10 days of durga puja and enjoys yourself to the fullest.
11 – Bengali Saree with Embellished Belt
Turn your Bengali saree into a royal outfit by styling it with an embellished belt with contrasting details. The classic kanjivaram paired with an embellished belt is a match made in heaven and a perfect bengali saree durga puja wear.
Accessorize the look by opting for dewy makeup and a bold lip, a sleek bun, and a stack of bangles for a traditionally regal look.
10 – Lilac Anarkali with Choori Pajama and Embellished Dupatta
This classical attire is giving an old vintage look perfectly blended in with elegance that will make you dress up like a medieval princess. This magnificent Anarkali frock with churidar pajama is a perfect choice if you are looking for an elegant look for this Durga puja. The beauty of these silhouettes is that they look amazing on all body types and heights. It surely is a sophisticated dress giving both class and comfort.
9 – Green Silk Saree with Zari Border and Gajra
Take inspiration from none other than our diva Alia Bhatt for this durga puja and look absolutely stunning. This green silk saree with a zari border is just the right ensemble. The pretty green and golden hues will add more colors to the festivities. Along with this, go for some beautiful hairstyles with gajras to complete the Indian culture look. Lastly, add golden jhumkas and you're all set!
8 – Red Silk Blouse and White Saree
If you're heading over to a Durga Puja pandal, the classic Bengali red and white saree look is always a safe choice to opt for. But since you also need to stand apart from the crowd, give it a contemporary spin by keeping your clothes minimal, and blinging out on the silver jewelry. Don't forget to add gajra and bindi before leaving for puja.
7 – Black Never Goes Wrong
Channel your inner diva and stun in a classic black saree this festive season. Bring out your style game by pairing this timeless piece with a velvet blouse and a sleek bun for a touch of old Bollywood glam. A nude lip, and matching jewelry and you are ready to take their breath away.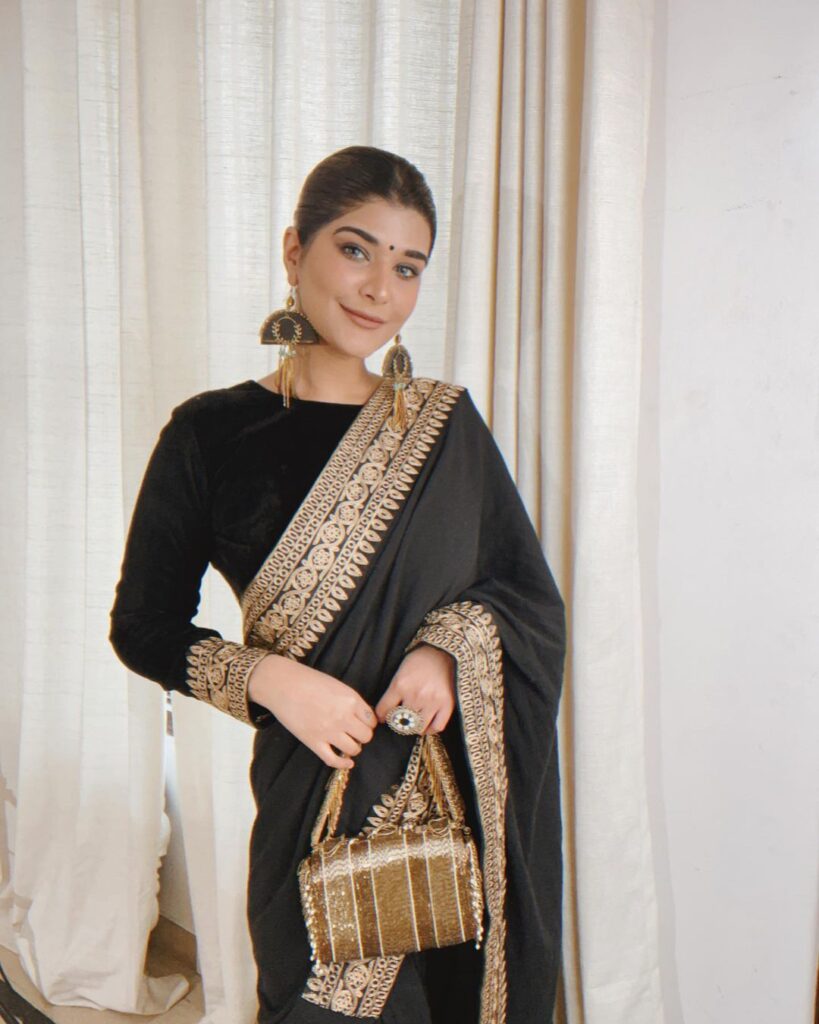 6 – Slay in Lehnga Choli
How can one ever go wrong with lehenga choli? get a simple lehenga-choli set in a bright tone like this one for all the celebration bits with your fam. It's also a great go-to for more sober desi commitments around the year! Golden Jhumkis complement the purple color, so we are rooting for some golden jhumkis with this dress.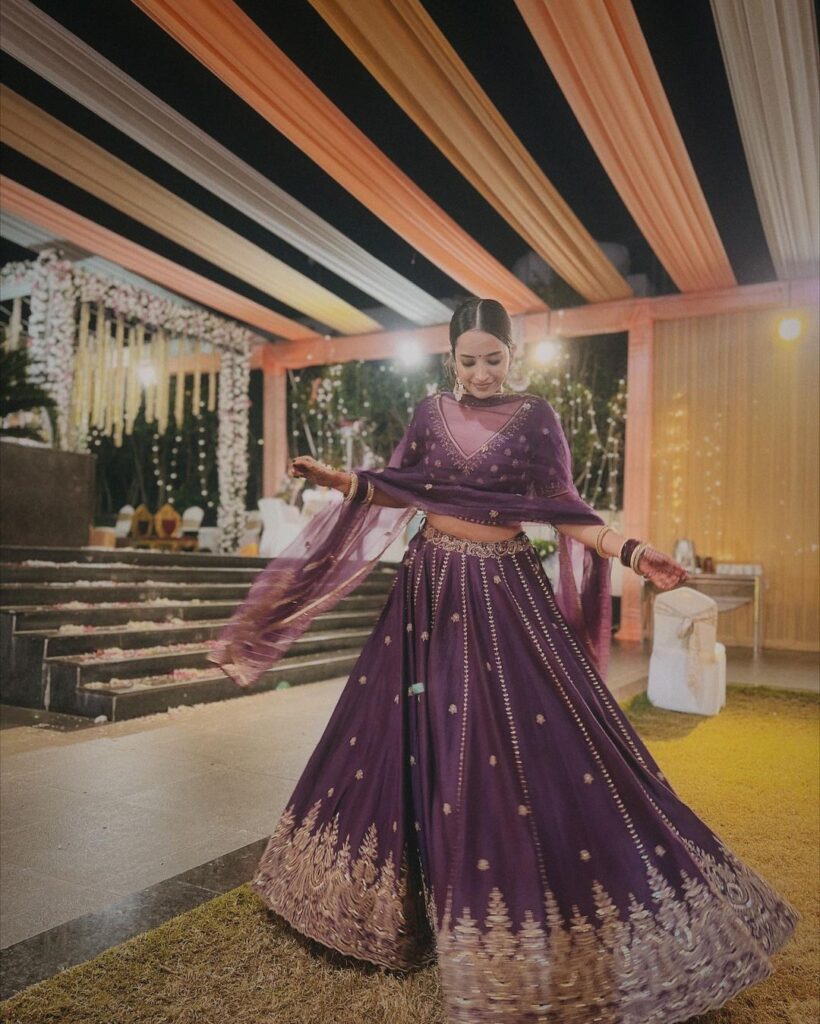 5 – Floral Lehnga Choli for Durga Puja
A low-effort yet chic ensemble, a floral printed lehnga choli is a hot choice during the festive season. As an auspicious hue, the vibrant yet elegant pink color adds to the festive vibe while the comfortable fabric will keep you cool during the festivities and dancing. Accessorize it with chic silver danglers and a stack of bangles and you are all ready to welcome Durga puja in style.
4 – Angrakha Style Frock With Matching Dupatta
We love how inclusive long angrakha dresses are when it comes to fashion. You can style them as per the occasion. Style a simple long Angrakha for durga puja festivities. Pair it with a heavy dupatta or plain dupatta with some gota kinari and your favorite silver jewelry.
3 – Chanderi Suit with Benarsi Dupatta
We absolutely adore this solid beige suit set in Chanderi silk. To complete the look you need a maroon and gold Banarasi dupatta, like the one we see in this festive look. Opt for loose hair and a pair of silver earrings or jhumkis along with some embellished juttis on the feet.
2 – Bandhani sharara pants with mirror-work crop tops
Add modern style to the festive scene with this outfit. A mirror work crop top paired with bandhani sharara pants is exactly the chic and unconventional outfit you were looking for. Style it with big earrings and heels and you have one of the most stylish and chic Ganesh Chaturthi outfits ready.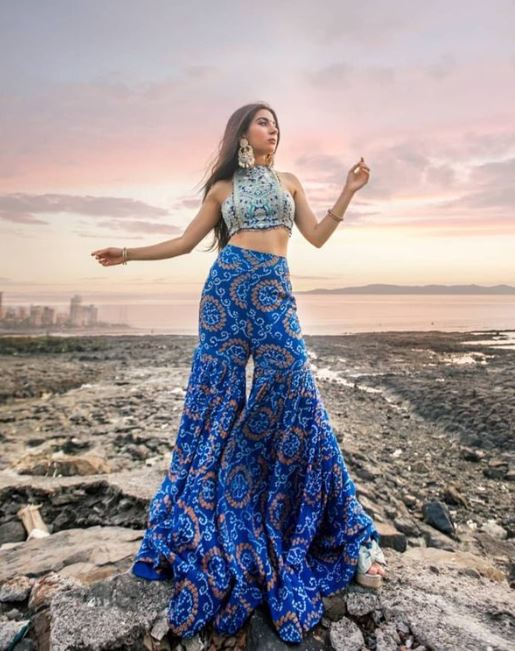 1 – Contrasting Dupattas for the Win
The color red represents passion and love. It is the most popular color for giving Chunri to the goddess Durga and is also known as the celebration color. Adding a red dupatta to your ivory-hued Anarkali kurti will surely make heads turn.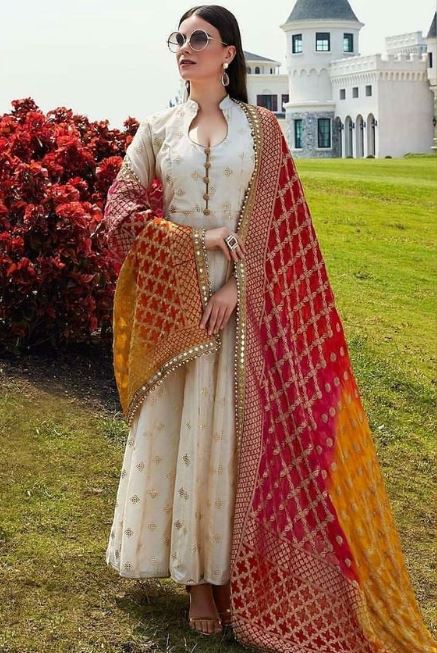 FREQUENTLY ASKED QUESTIONS
Q. Which Bengali saree is best for Durga puja?
Bengali sarees are rich in culture and history. From beautiful embroidery to luxurious fabrics, all Bengali sarees have their own pros. Opt for a muslin saree for a hot summer day, a red silk saree for a more refined and dolled-up look, and pick the Kantha work saree for an easy breezy brunch look.
Q. What would be the best traditional getup for cheap in Durga Puja?
For the Anjali, women wear cotton saari or "taant" which is a specialty of Bengal, and kajal and bindi to enhance the look. One can wear golden jhumkas if the sari is red in color. You can keep your hair open or tie it up in a bun. That is what it takes to become the quintessential Bengali beauty- simple yet elegant. Married women wear the customary sindoor during the festival season.