Gajra hairstyles: A Gajra is a flower garland that is worn by women across India and Pakistan during festive occasions, weddings, or as part of everyday traditional attire. They are made usually of various types of jasmine flowers but rose, cassandra, and barleria are also widely used in gajras.
How to Style Your Hair With Gajras?
The wedding season is just around the corner and we are sure most of you must be busy prepping your outfits and jewelry. Often, we forget to think of the right hairdo with our looks and then end up going for just anything.
However, if you want to make a statement at the wedding party, you must pay a lot of attention to your hairstyle. There are a lot of fun hairstyles that work well with most traditional outfits. If you are too confused to pick, go for gajra hairstyles.
Gajras never go out of fashion and they are a great way of making your hairdo stand out. Here at outfit trends, we have gathered some interesting gajra hairstyles which you can try this wedding season.
Here are a few tips for perfect gajra hairstyles:
Always try to coordinate the color of the gajra with your dress colour or go for a contrasting colour.
Add on hair accessories along with Gajra to further enhance and elevate the style statement.
If you have short hair but want to try a braid with your gajra then make sure that you get hair extensions beforehand.

Do not style these looks with wet hair.

Always prefer to have well-moisturized hair for an overall healthy and shiny appearance.
If you buy your gajras a few hours before the function, keep them in the refrigerator so they can stay fresh for a longer time.
20 – Exquisite Gajra Braid – Best for Long Hair
These seem to be just perfect for mehndi/sangeet ceremonies and we cannot take our eyes off this beautiful gajra braid setting some major trends. Women with naturally wavy and curly hair textures can wear this hairstyle even better.
To achieve this look, make a loose braid of your wavy hairs and tie the gajra around it, creating the twisted pattern.
Make simple twists from the front hair and voila, you will achieve this look in good 15 minutes.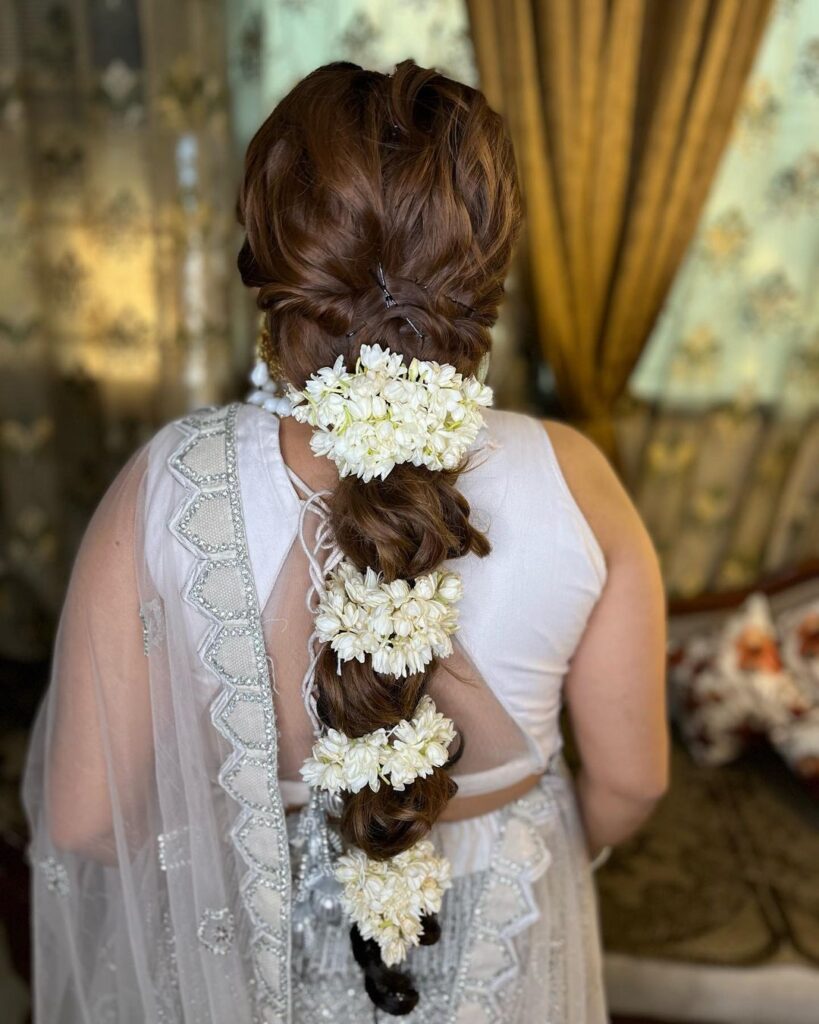 19 – Trending Hairstyles with Loose Curls
Well, this look just has our hearts. The crippled hair and that gorgeous mogra around it are what we are crushing over.
The loose curls and beachy waves are in trend for all the right reasons. We have seen so many brides flaunting the open-hair bridal style this season.
However, when we say loose curls, it doesn't stop there. These twists and knots, and mini braids are also adding more charm.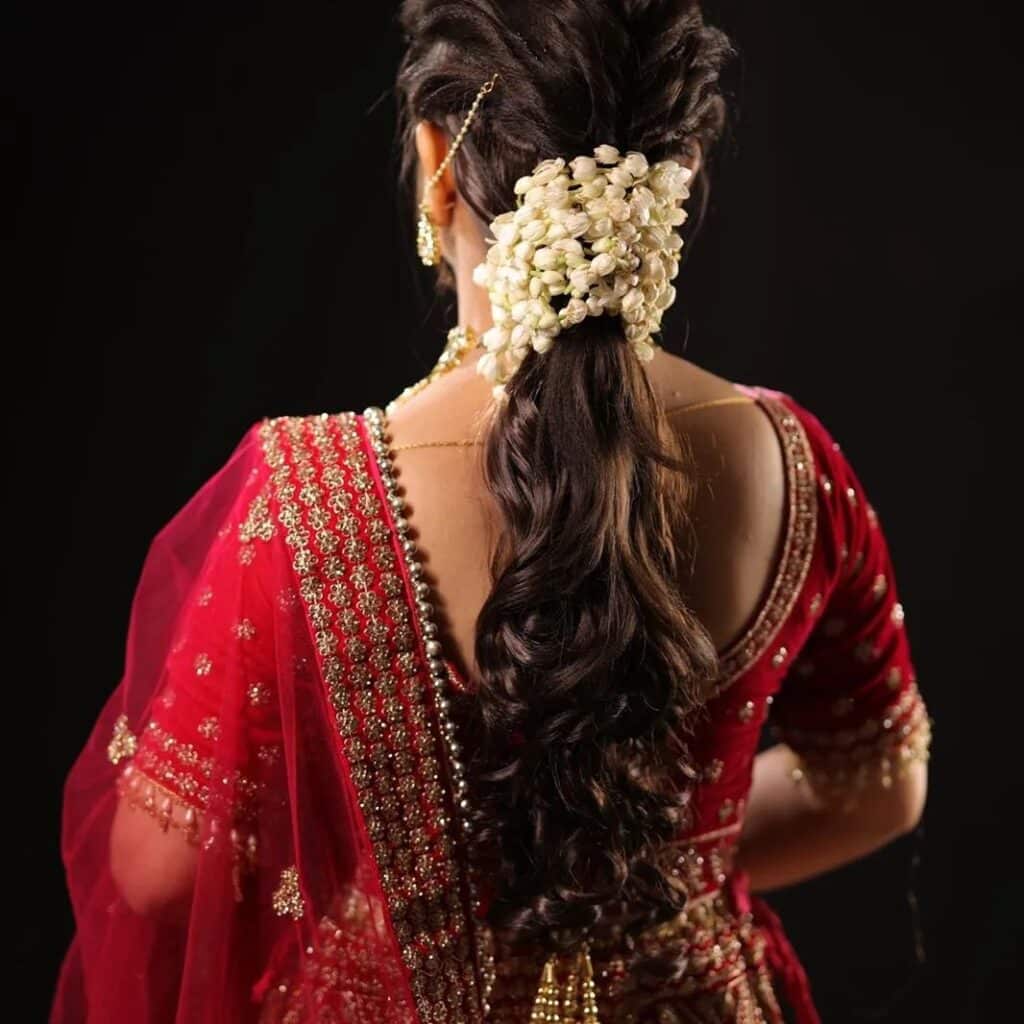 18 – Sleek Bridal Bun that we are Obsessing Over
The gajras are a great way of adorning your bridal hairstyles and we are absolutely drooling over this one. This one is a sleek bun with center-parted hair and beautiful mogras around is surely eye-pleasing. Don't you agree? Trust us, gajras are the real show stealer.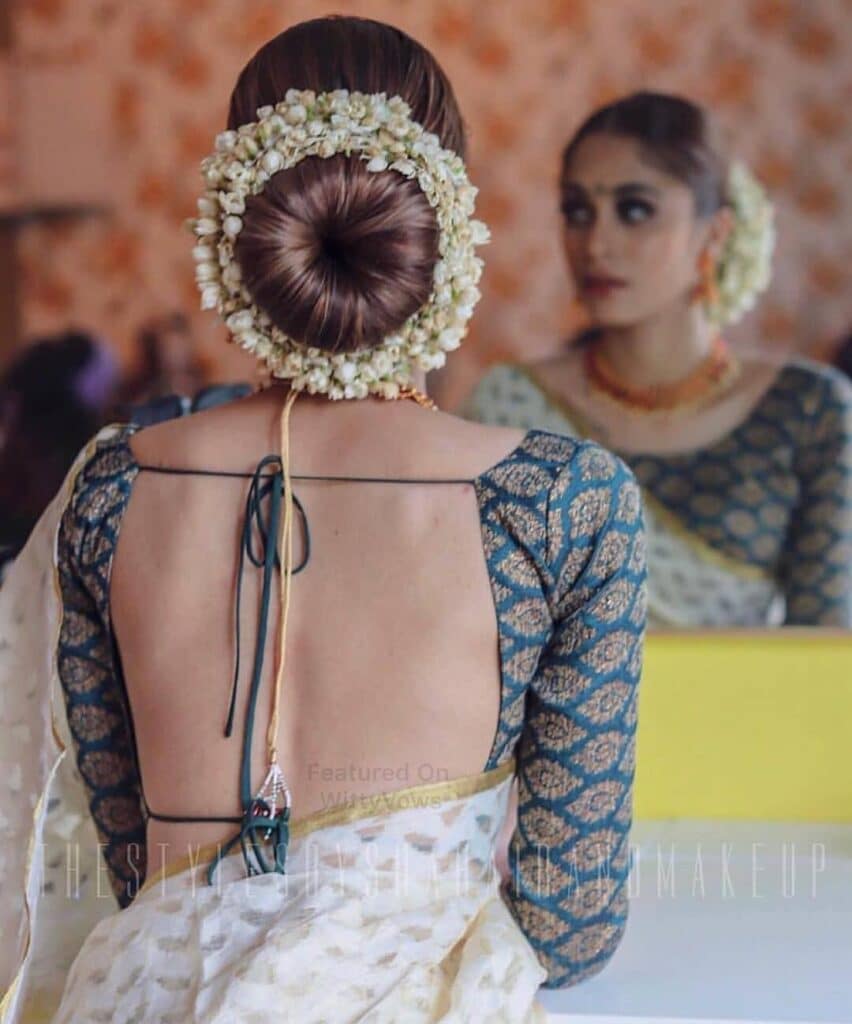 17 – Messy half updo hairstyle with Mogra Gajra
The hairstyle is a half updo hairstyle that has a half dutch braid on both sides. Gajra has been added on both sides in layers that actually create dimension and gives the hairstyle a bit of detailing.
It is an ideal gajra hairstyle for lehengas and even for women who have got round faces or short hair.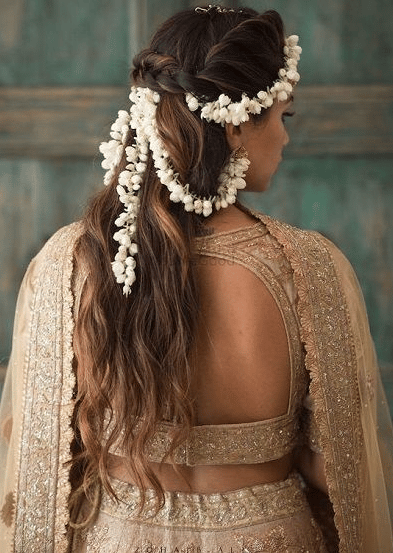 Here's the full look and we are loving it. This gorgeous lady has styled her gajra as a matha patti for the occasion. I totally adore this bride's look and her stunning hairdo with gajras all around it.
Here are some more Hairstyles With Maang Tikka/Maatha Patti that you can take inspo from.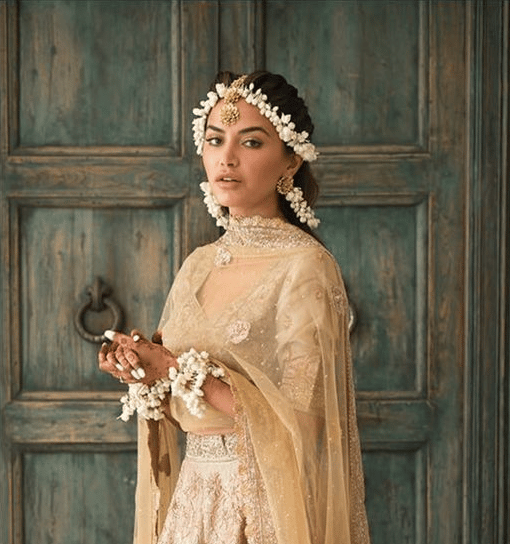 16 – Gorgeous Half Moon Bun
Complete your traditional look with this half-moon made with beautiful gajras. This hairdo works well with traditional and semi-traditional attires.
This half-moon will make your bun look classic. You can either make small braids for the front hair or some nice twists as well.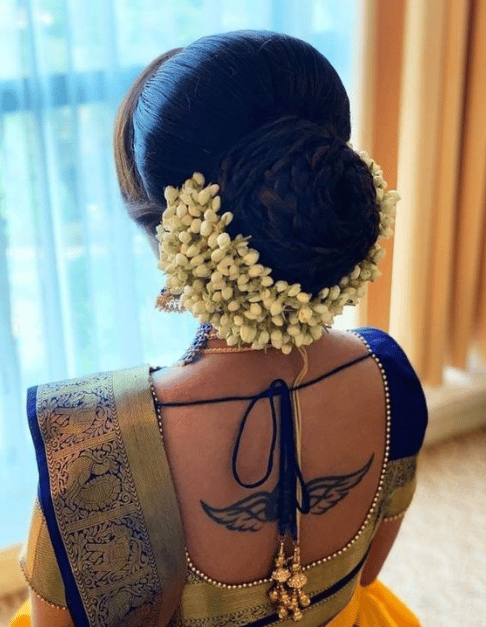 15 – Best Gajra Hairstyle for Medium Hair Lengths
This is one of the easiest and most adorable ways to don a gajra. Make a simple half updo that suits your dress.
You can play with your hairstyle as much as you want to. You can have curls, bangs, or even gypsy braids.
Once you have settled on your hairstyle, tuck the gajra in it. Let it flow and spread its charm.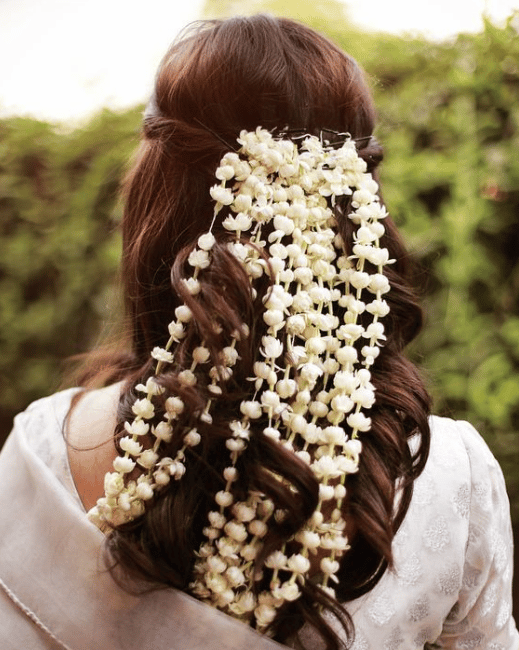 14 – Low Bun with Gajra
If your best friend is getting married anytime soon and you are still stuck on how to carry your hair, have a look at this one.
If you are not into experimenting much with your looks, you can wear a gajra in a circle around a simple bun. It is a time-tested hairstyle and looks absolutely gorgeous.
This way of putting on a gajra can never go out of style. Give your hair more depth by creating layers in your front hair.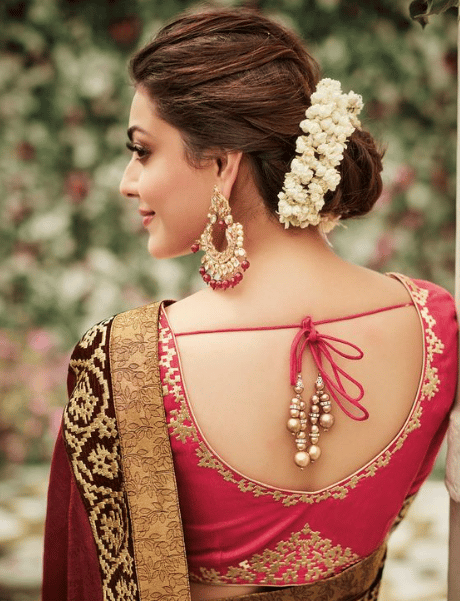 13 – Deconstructed Gajra
There is no rule that you cannot deconstruct a gajra to make it look even prettier. Just take all the flowers and place them in the formation of your choice. You can add or decrease the number of flowers as per your wish.
For this look, she is wearing it in a messy side braid with loose twists on the front. It is one effortless mehndi hairstyle that has all the elegance and style in one plate.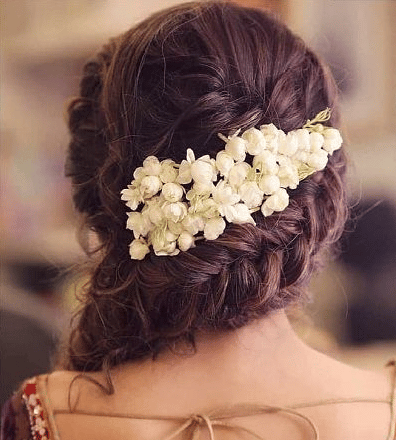 Here's another look created with a deconstructed gajra. To achieve this gorgeous and trendy look, just create some soft curls, part your hair from the middle and make cute loose twists.
Let all the remaining hair loose and add the gajra in a pattern that you like.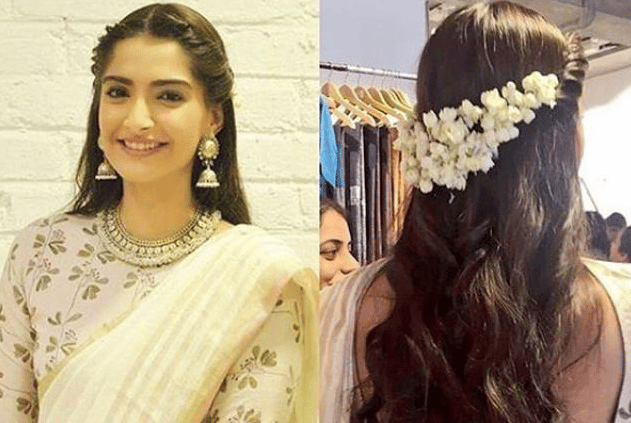 12 – Gorgeous Mogra Mud Bun – Best for Short Hair
This is specifically a wedding or engagement-appropriate hairstyle for the women in the family. This hairstyle has the regular hairstyle with the gajra covering the entire bun.
This is actually amazing and will certainly upgrade your look. It can also be an ideal gajra hairstyle for short hair since the readymade bun can be inserted and it will get covered up.
This fully mogra flower-covered bun hairstyle is also ideal for parties.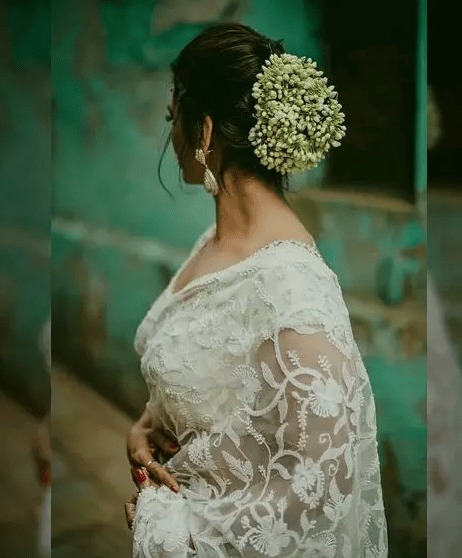 11 – Unique Dual Floral Bun For Brides To Try
Who said that the gajra has to be white? Play around with it by introducing colors of your choice. You can add flowers with colors matching your dress or set a contrast by introducing different colors. Be creative.
Some brides like to mix it up, while others choose to accentuate the dual floral bun style elaborately. With two separate hues of flowers wrapped around the bridal bun looks simply amazing! Can't get enough of this beauty.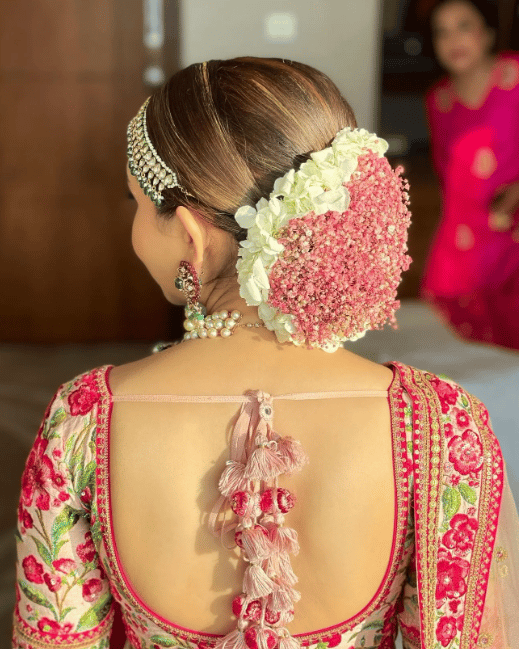 10 – Simple bun with Lots of Mogra Flowers for Reception
This simple bun is comparatively easier to make and even if it gets messy during the day, one does not have to worry about it because the gajra is covering up the bun.
This hairstyle is quite popular because of its simplicity and the way it lasts the whole event. It is mostly worn by south Indian brides. Beautiful gold jewelry adds up more charm to this look.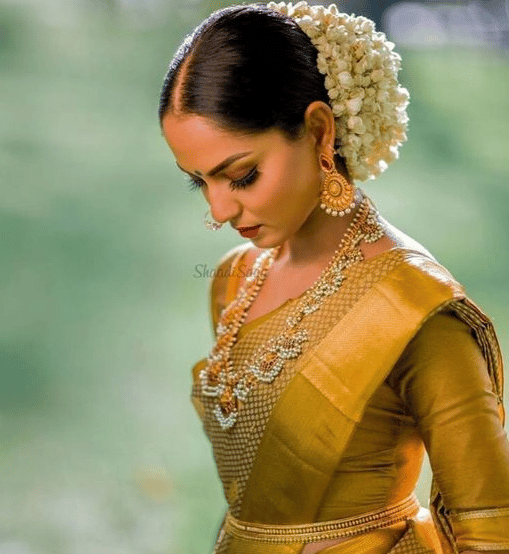 9 – Flaunt Them
If you have long, beautiful tresses, we say you leave them open on your big day, instead of tying them up. Especially if you have a winter wedding, so you won't feel that cold.
Give your tresses a good curl, either beachy waves or loose curls. Next, make a bun or a braid from the crown portion of your hair, and let the other hang loose.
Replace this clip with a gajra for a more eventful look.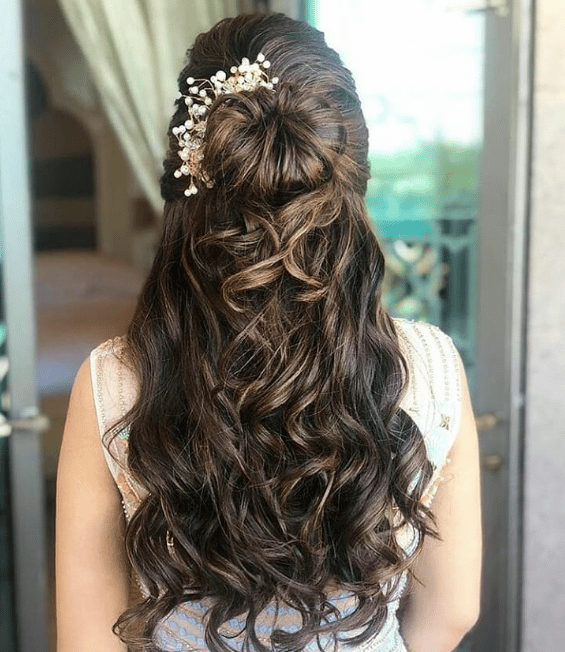 8 – Simple, Subtle, Stylish!
Add a twist to your otherwise normal ponytail with a jasmine garland and voilà, you're all set to make a statement.
Just how simple and gorgeous this hairstyle looks!
Such hairstyles are suitable for young girls. If you like to tie your hair with the traditional hair clip on most occasions, then this season, you must try going for the gajra clip.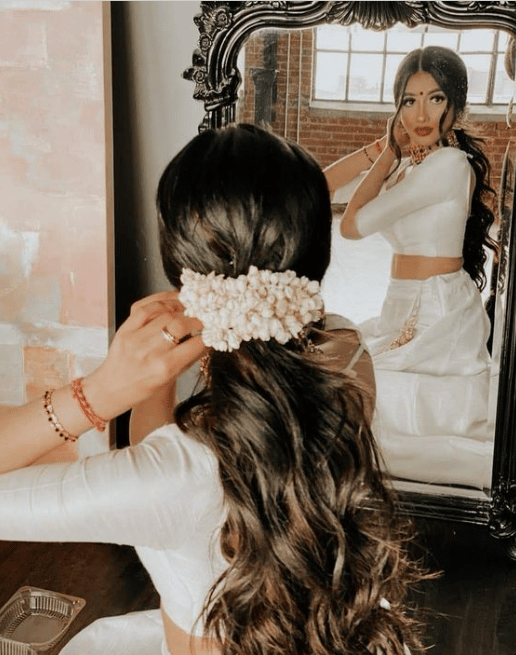 7 – A Simple Gajra Bun With A Braid
For all the brides-to-be who're searching for a new kind of option for their braids, choose to put your gajra on like a bun on top of your braid and if you're feeling extra special, add some jewelry to it!
Here are some more Cute and Easy Braided Hairstyle Tutorials that you can try.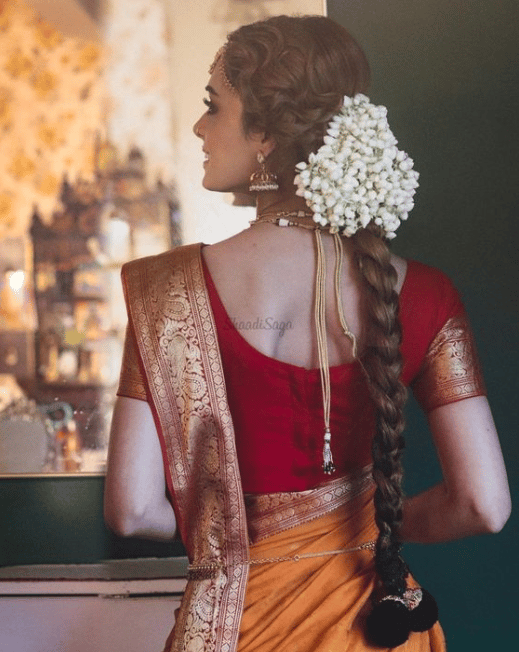 5 – Neat Puffy Low Bun With Added Flicks
This is such a feminine hairstyle for South Indian brides.
With hair poofed up at the crown to create an attractive low bun that's further adorned with jasmine flowers, everything about this hairstyle is idyllic.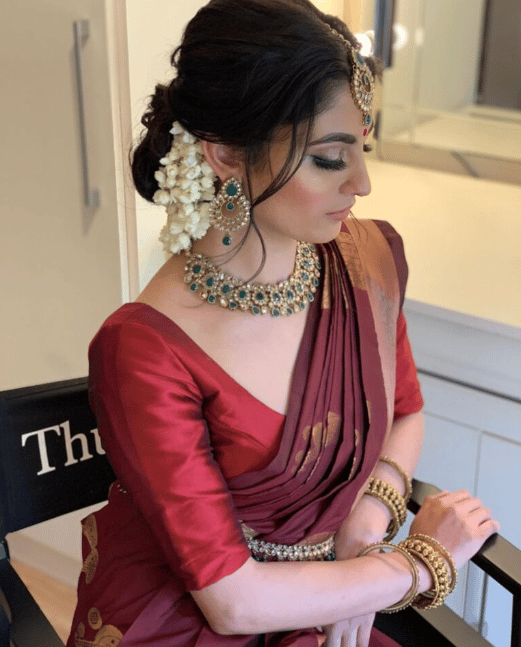 4 – Combination of Mogra & Roses
There's elegance in simplicity. Love this bride's simple floral bun with roses and a mogra garland, tightly pinned back to create a flaunt-worthy hairstyle!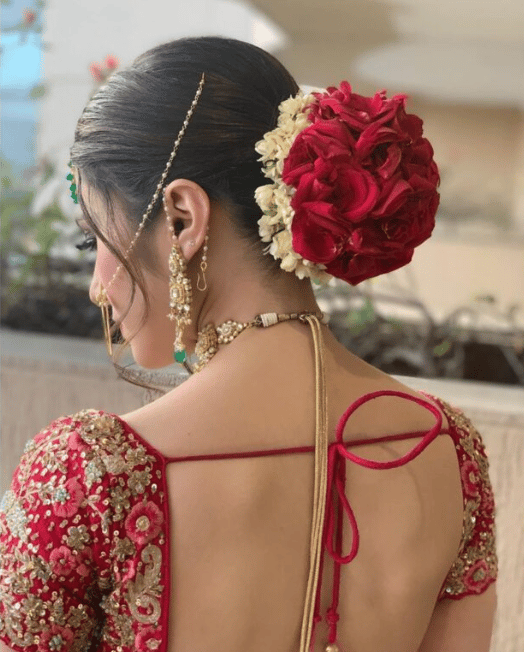 3 – Marigold Affair
These yellow marigold flowers are nothing less than a blessing for a hairstyle and look beautiful when adorned with a stunning hairstyle.
You can ditch classic white gajras anytime to achieve this stunning look for a mehndi/mayoun/haldi event.
An eye-pleasing layer of yellow flowers complements the bride's yellow dress and lends her an ethereal look.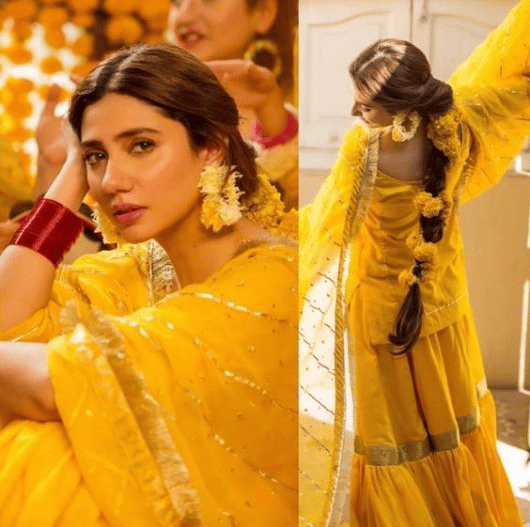 2 – Unique Gajra in a Bun
We spotted this unique gajra within a bun that might become a trend! You can carry this with a saree, lehenga, or even a suit. It is suitable to be worn by newlywed brides.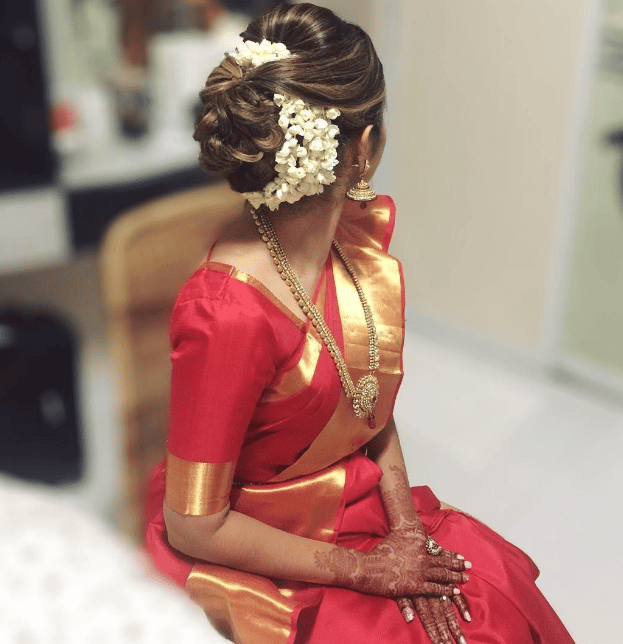 1 – Simple Gajra Bun
This one can never go out of style. The simple gajra bun works well with just anything.
This one hairdo is so easy to make that you can do it yourself at home.
All you need is some hair gel, bobby pins, and gajra.
Make a bun with the ponytail and secure it with bobby pins. Using some hair gel, set your hair in the front. This would give you a nice, sleek look. Place the gajra around the bun and secure it with pins.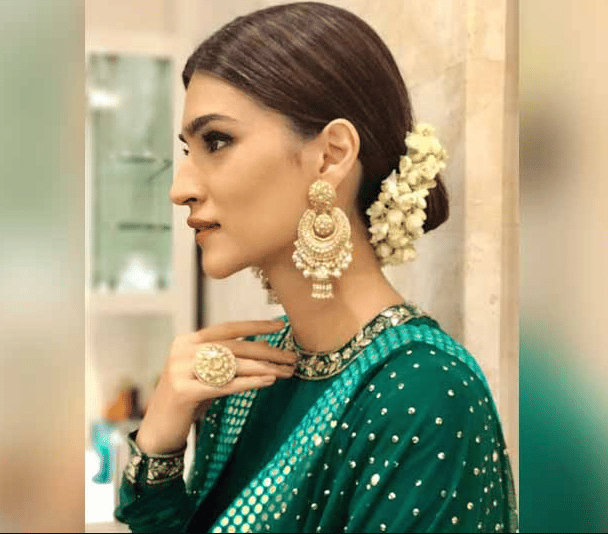 Ready to ditch those hair clips and go the-gajra-way this wedding season? Let us know in the comments.
FREQUENTLY ASKED QUESTIONS
Q. Will Gajra Look Good with A Messy Bun?
Yes, Gajra is quite elegant, and one can turn it to the preferences as they wish with different hairstyles. The messy bun can be perfect with Gajra too.
Q. Which hairstyle will go best with sarees?
If you are someone who is styling saree traditionally, go with a bun. To adorn the bun, preferably add a gajra and your traditional look is complete. If you are looking for a contemporary look in a saree. Go with loose curl & straight hair with a gajra maala.
Q. Which Gajra Can Look Suit Women Over 50 Years Old?
Jura (Bun) or Ambati Gajra style can be best for women over 50 years old, for vintage or classic look.
Q. Does Gajra Juda/Bun Suit Women in The 20s Age Group?
Gajra Juda is quite versatile. You can wear it even if you are in your 20s, but to look more contemporary, we would any day suggest preferring low bun or loose braid styles.