Fashion tips for Indian girls. Street fashion is the style that has evolved from the streets. It doesn't come from fashion shows or ramps. It is said to have its grassroots in the youth culture. Street style is now being admired by very famous designers.
If one can carry any dress well and creates his/her own style statement, then that's a plus point for that person. It is this style that has begun to influence the creators of the high fashion industry. If you go out on the streets, you might see many people with the tight-fitted jeans. Similarly, loose-flowing frocks or shirts with good material are being brought up in fashion again and set in a classier way. Once you go out on the streets in India, you would notice a lot of students, teenagers, adults dressed up. People in India are extremely fashion conscious and enthusiastic about dressing. You would see some amazing colors on the street. Usually, people are dressed up in ready-made garments. From traditional dresses to colorful bangles, from tight fitted jeans to clutches, from a casual t-shirt to comfortable flats. Jewelry can also be styled along with outfits. Let's see the collection now.
Latest Indian Street Style Trends
This post is for all the girls who want to stay updated with Indian street style fashion and want to stay trendy. Today we will talk about fashion in India and the street style trending these days. But before that, have a look at these few great street style fashion tips.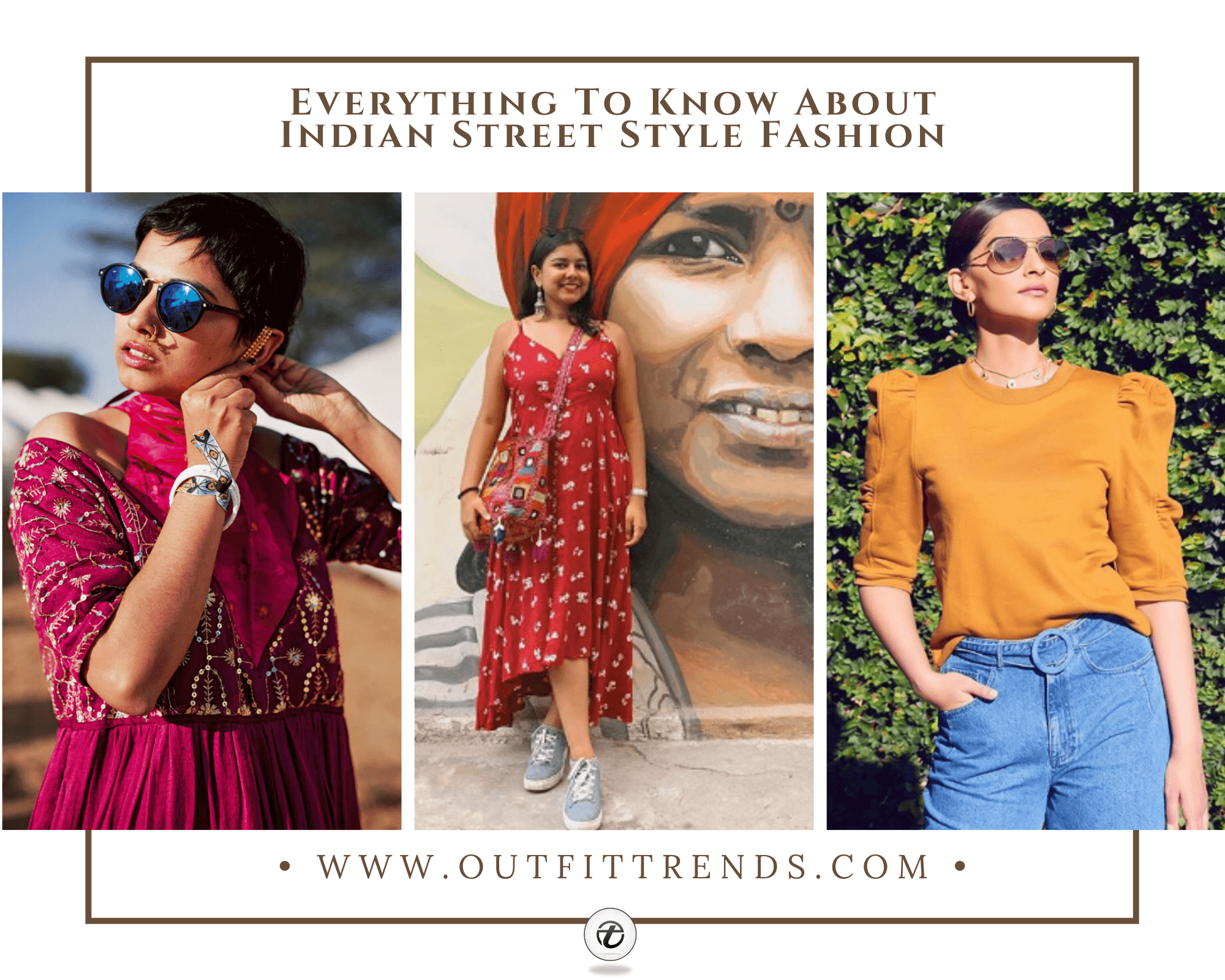 The first and most important tip is to dress up according to your body shape.
Go for regular fitted outfits instead of those that are too loose or too tight.
Do not blindly copy designers and bloggers, go for things that suit you.
Invest in proper undergarments if you want your outfit to look good on you.
Always carry a good purse/bag with you.
Your footwear must be comfortable and durable enough to cover long distances.
Shades are a must-have accessory for a daytime street style look.
Invest in accessories and have traditional as well chic jewelry pieces.
You can get a lot of ideas from this collection, like what is the latest fashion trend in India? How to get Indian street style look? Now there's no need to be styled by designers. You all can get enough ideas online by sitting at home.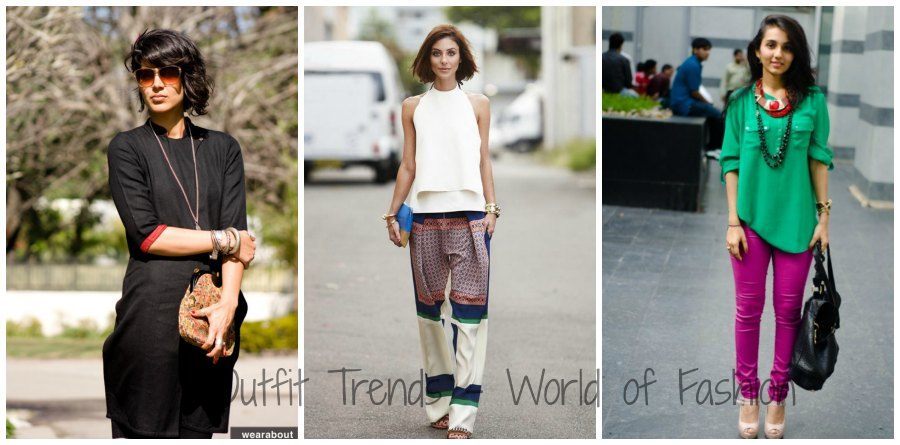 At Outfit trends, we have a vast collection of Indian fashion. Some of which we recommend you to read along with this post.
1 – 17 Latest Style Saree Blouse designs and ideas to wear them
2- 20 Ideal ways to wear dhoti pants.
3- How to dress for Holi Ideas.
↓ 25 – Traditional Dupattas With Plain Outfits
Street style is all about dressing up in outfits, which reflect your personality. If you are from India, you surely know how influential your culture and tradition are. So why not incorporate it into your outfit as well? Dress up in a plain costume; be it kameez shalwar or a frock and palazzo and wear a traditional dupatta/shawl with it. Mostly traditional dupattas have exquisite hand embroidery over them, and they look enthralling with everyday outfits. Polish off your look with sandals, clutch, and accessories. Do check out these different Types Of Dupattas that should be a part of your wardrobe.
↓ 24 – Long Shirts And Shararas
Indians have a special place in their hearts for ethnic wear like sharara. So, get up and slip into a see green sharara outfit. This long shirt and sharara with silver embroidery over it is so pleasing, especially when worn in summers. You can pair it up with silver or golden sandals and add some accessories. Let your hair open and enjoy the streets of India.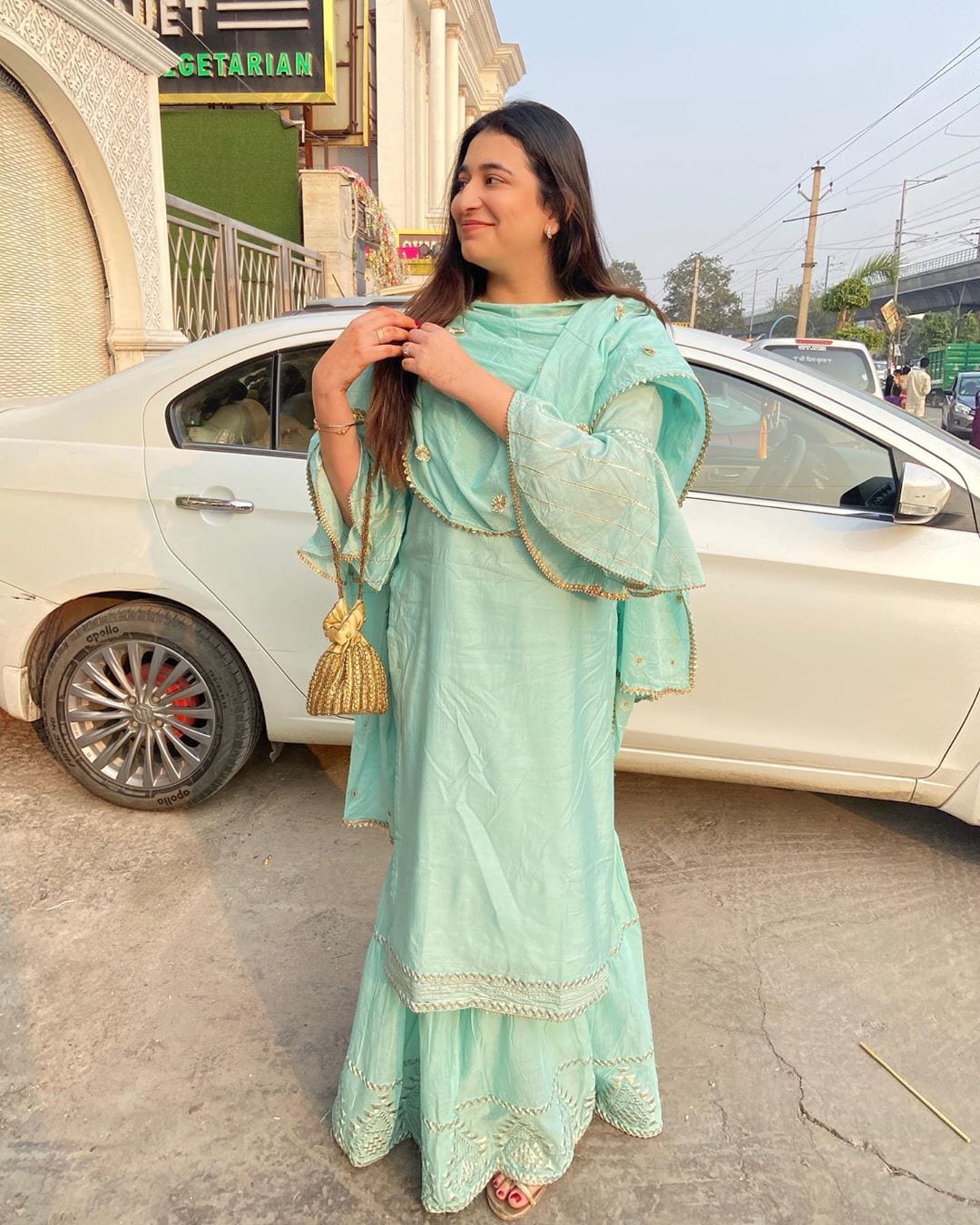 ↓ 23 – Quirky Outfits
Who says you can't wear quirky and eccentric outfits on the streets of India? Prove this concept wrong and dress up in this vibrant and energetic outfit. A purple ruffled top along with a multi-colored skirt. Polish off your look with flat sandals and chandelier earrings. Be bold enough to carry whatever outfit you are wearing with a confident smile. You'll surely turn everyone's heads once you step outside in this captivating outfit. For more ideas, head on over to our earlier, detailed post about Quirky Outfits.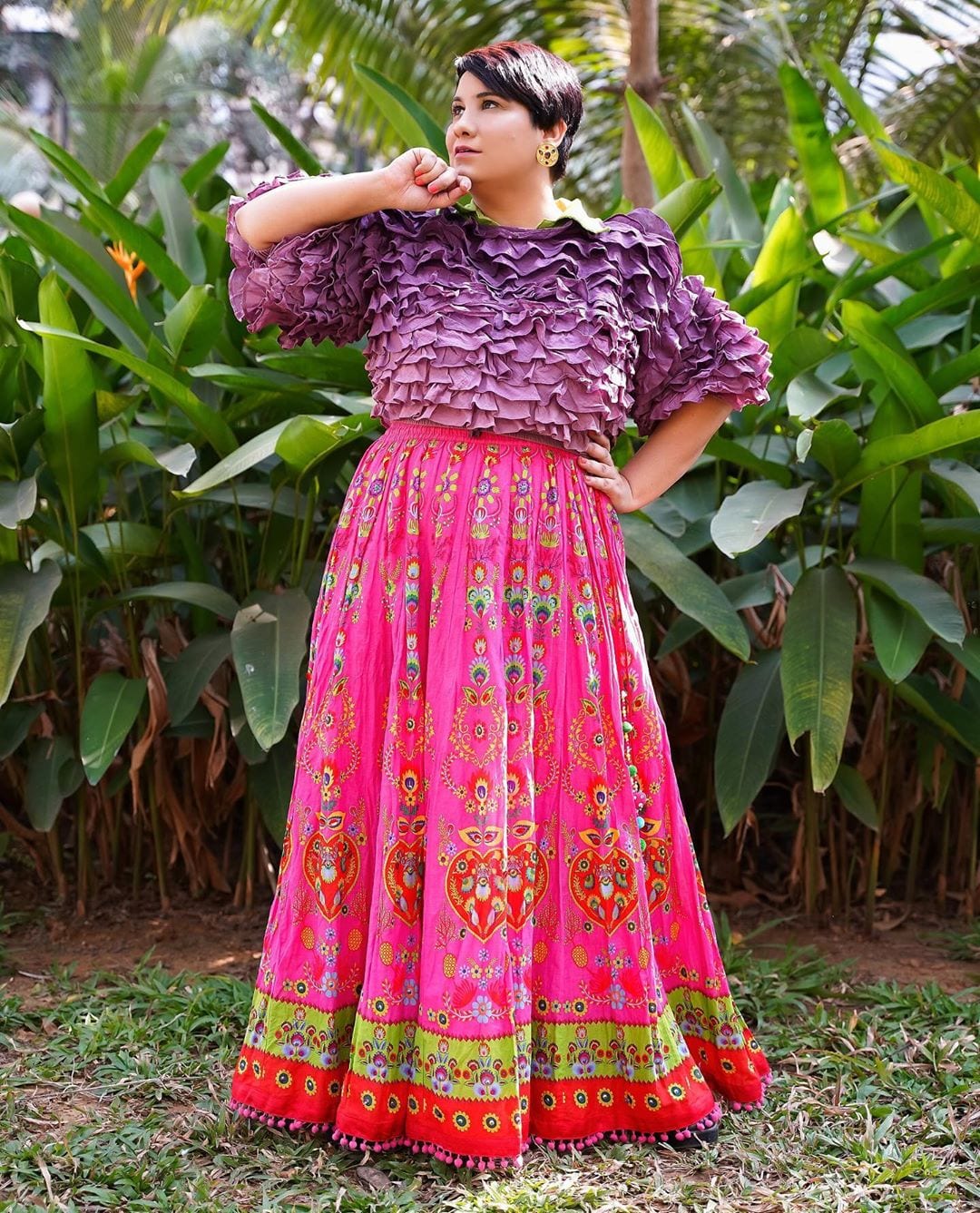 ↓ 22 – Cotton Sarees
Summers in India are pretty hot, and you might not be able to carry the traditional silk, Banaras, or satin sarees. But cotton is another great fabric for sarees. Wear cotton sarees in summer at your home, in office, at parties, or even just for the sake of creating a chic street style look.
Have a look at how sophisticated this blue printed saree looks with a casual white top. Finish off your outfit with golden sandals, straw bag, and a silver choker. One significant benefit of wearing cotton saree is that it drapes like a dream!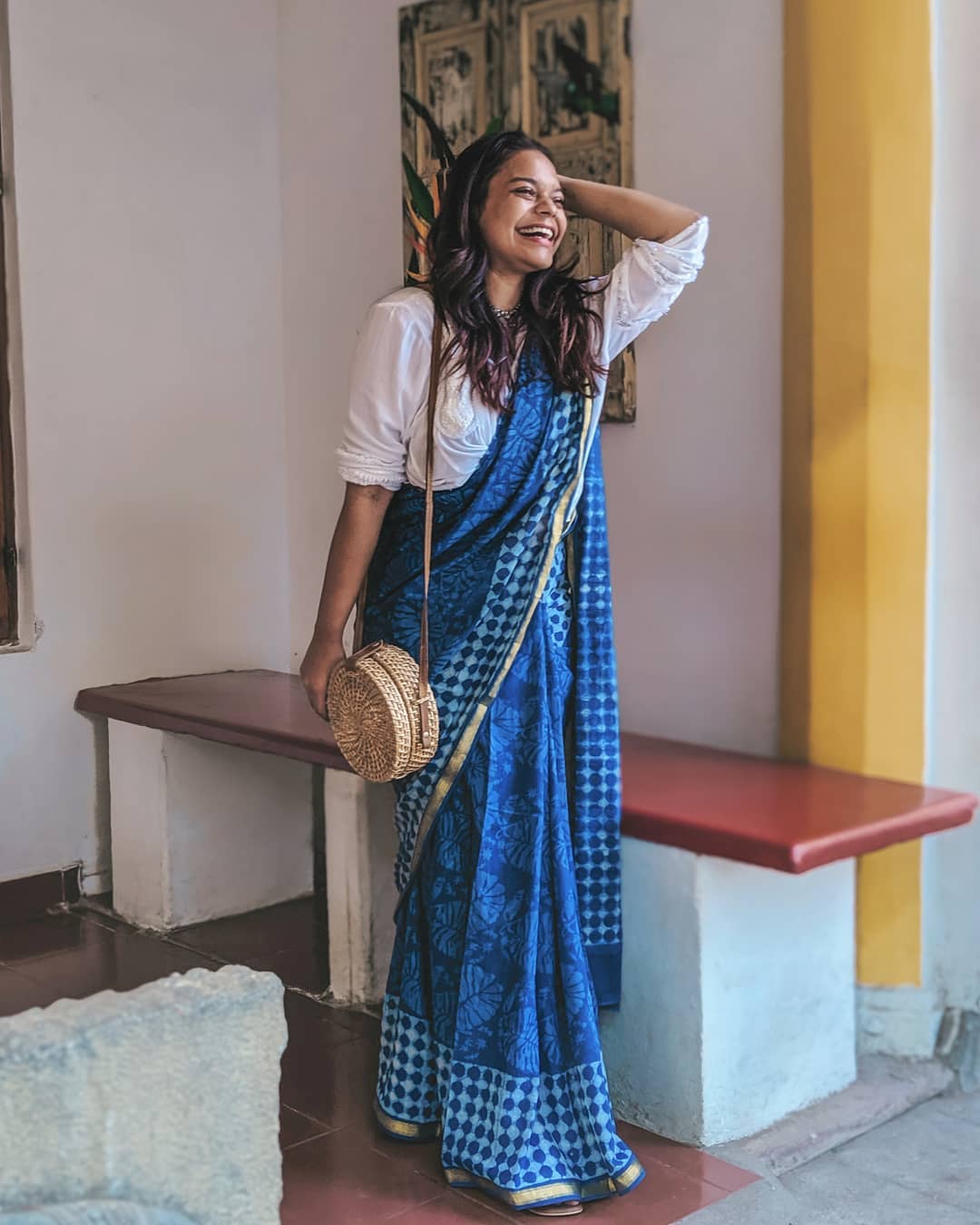 ↓ 21 – All White Outfits
All white is everyone's favourite, especially in summers. It reflects calmness and soothes. Why not spread positivity and peace on the streets with your outfit? Dress up in all white kurta and palazzo trouser and wear a solid colored shawl with this. Khussa's are the best footwear to opt with this outfit. Here you are, all elegant and enchanting!
↓ 20 – Maxi Dresses
Show the world what a great sense of style you have. Step outside your home in this teel colored maxi dress, which is featuring a V neckline and midi sleeves. The striped print on its hem and cuffs makes it look even more adorable. Wear this ensemble with black loafers and accessorize your look with a watch, bracelet, necklace and hoop earrings. Don't forget to put on a hat. Picture perfect!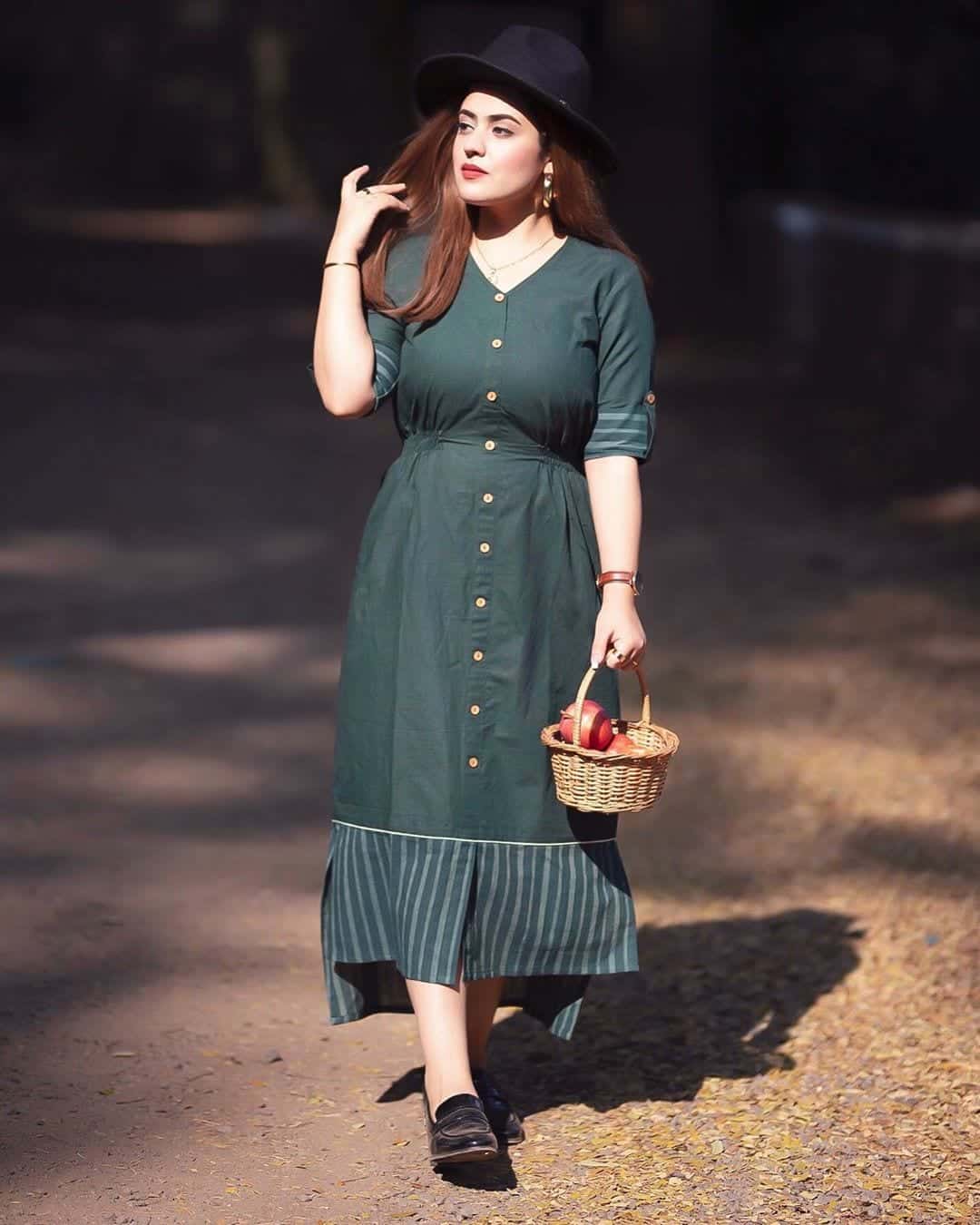 ↓ 19 – Trench Coats
Street style is all about your own style. It's about something you want, not what the designers ask you or fashion trends tell you. Go edgy, trendy, and cool with this outfit. Put on a long tee shirt and layer with a trench coat over it. Pair it up with white socks and shoes. Now all you need to do is accessorize it well. For that, you need to add a crossbody bag and studs. That's all.
↓ 18- Button-Down Shirts And Jeans
Dress up in outfits that are simple yet edgy because they are the perfect streetwear for sure. So, the next time you step out, doll up in a button-down shirt and pair it up with navy blue jeans. Accessorize your chic ensemble with a silver choker and a crossbody bag. Put on your favourite pair of shoes and grab your sunglasses. You are all set to hit the streets now!
↓ 17 – Elegant Kurta With Trouser
Tired of saree outfits and those overly complicated ethnic dresses? It's alright, take a break and go easy on yourself. You can create an adorable street style look with modest outfits as well, like Kurta set. Doll up in printed kurta trouser and wear your favourite pair of sandals with them Wear cute Jhumka's with and add on some makeup.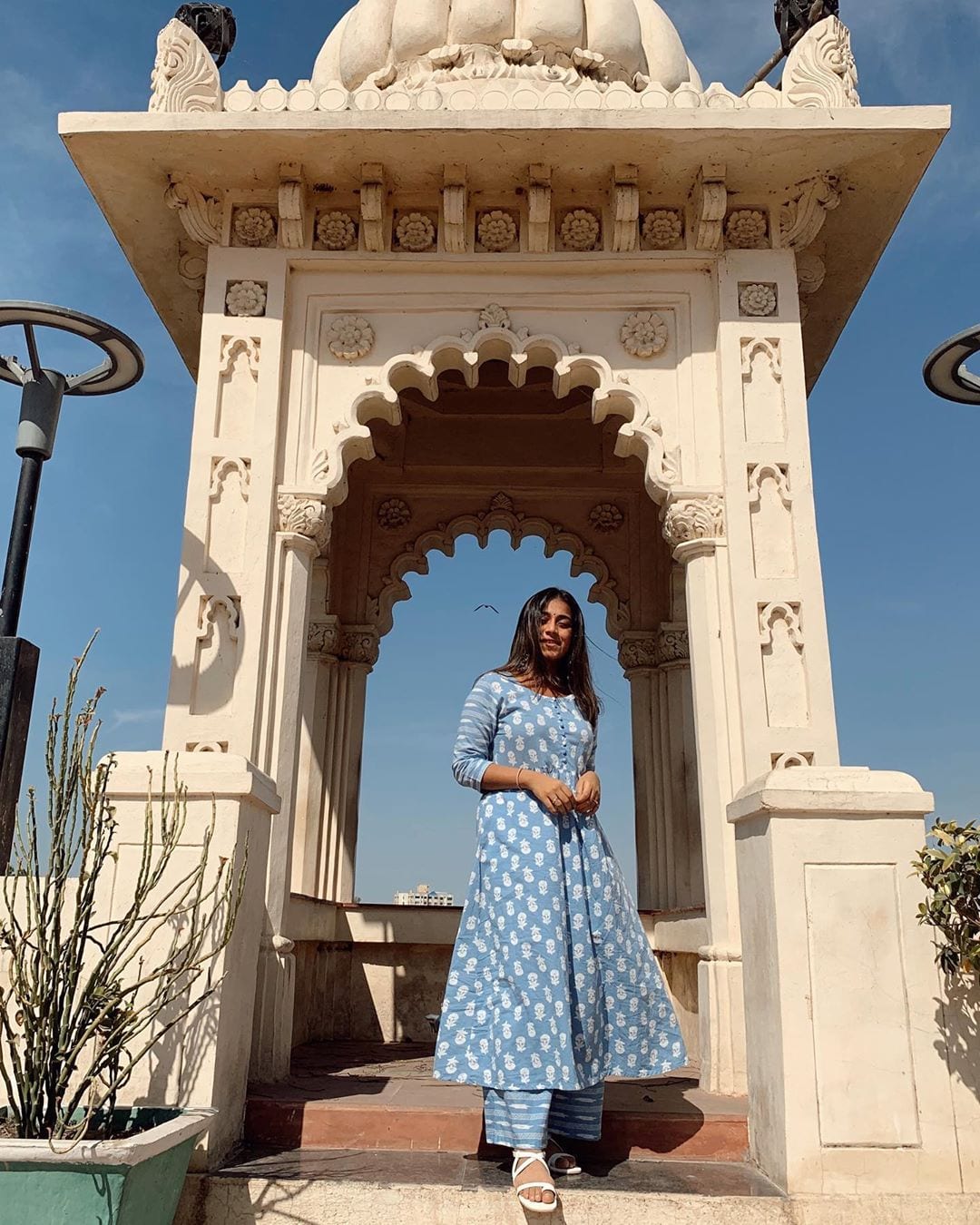 ↓ 16 – Cute Tops With Flared Pants
Is sweet and fashionable your style motto? If yes, then walk with confidence on streets in this cute little white top and blue flared jeans. Pair up your look with brown leather heels and bag. Polish off your look with a necklace and studs. Go a little offbeat and wear your hair in curls today!
↓ 15 – Bollywood Street Style
Most Indians take fashion inspiration from their favorite Bollywood divas, so it's obvious to check out what they have recently been wearing on the streets.
Let's have a look at Sonakshi Sinha in a Tommy Hilfiger dress, which gave off some Bohemian vibes. It's a fresh and casual look for Summers.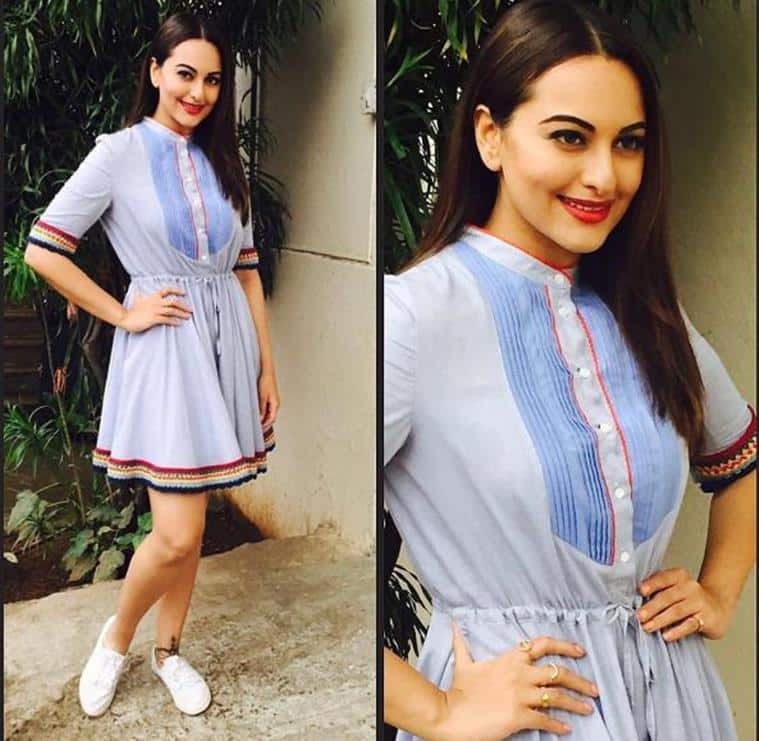 Next up is the queen B, Bebo, rocking the streets of London in her hot street style. Those shoes are worth drooling over!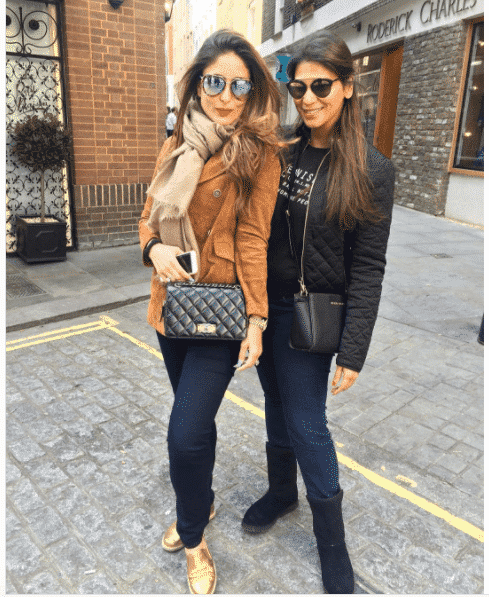 The versatile actress, Kangna Ranaut's street style look, includes her nerdy glasses, a maxi skirt with a striped tee, and a Prada bag.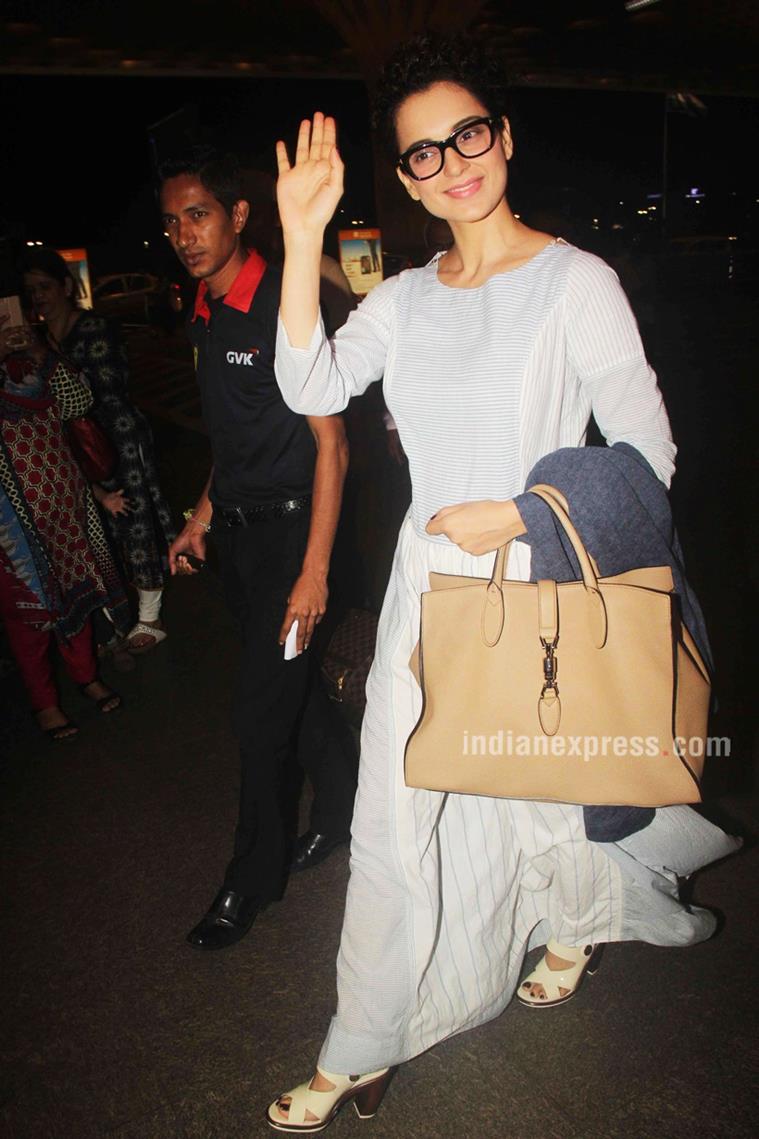 And last but not least, we have Alia Bhatt wearing a blue dress with matte red lips.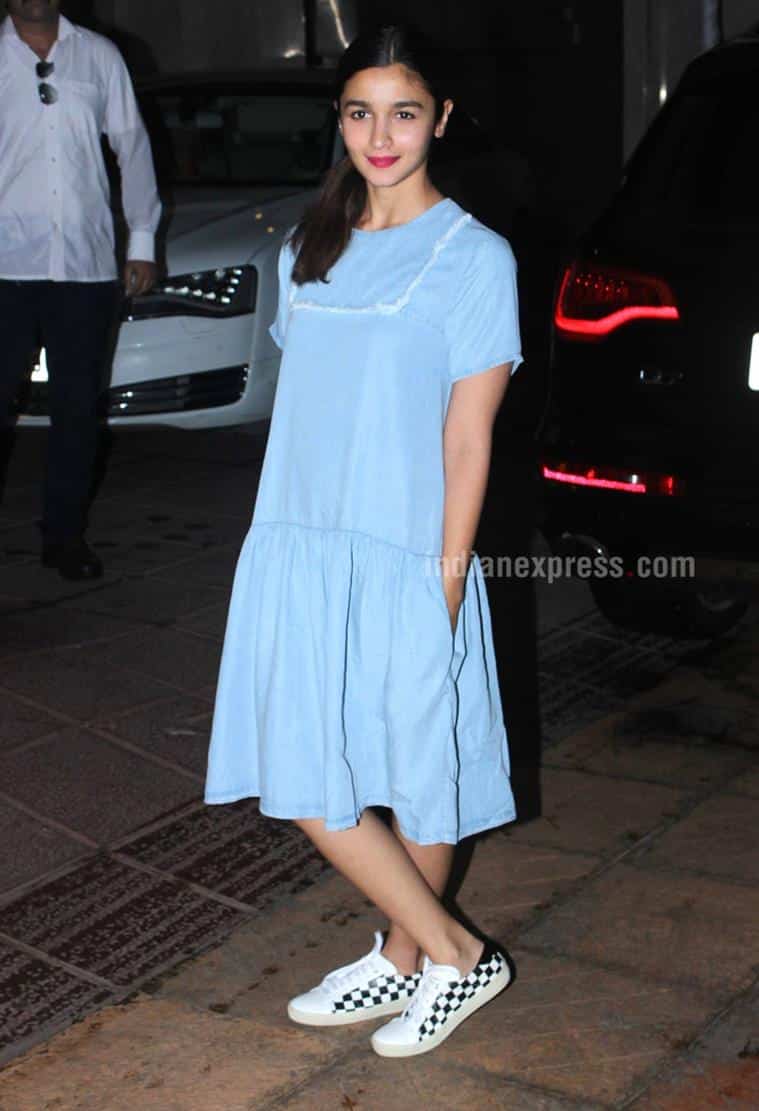 ↓ 14 – Street Style Fashion For Indian Teenage Girls
Indian teenage girls are no more into traditional wear unless it's a cultural event like Holi, Diwali, etc. All they want to take on the streets are the outfits that are comfortable yet chic. So, how about a grey tee shirt with blue shorts and a red shrug? Wear it along with joggers and put on your shades.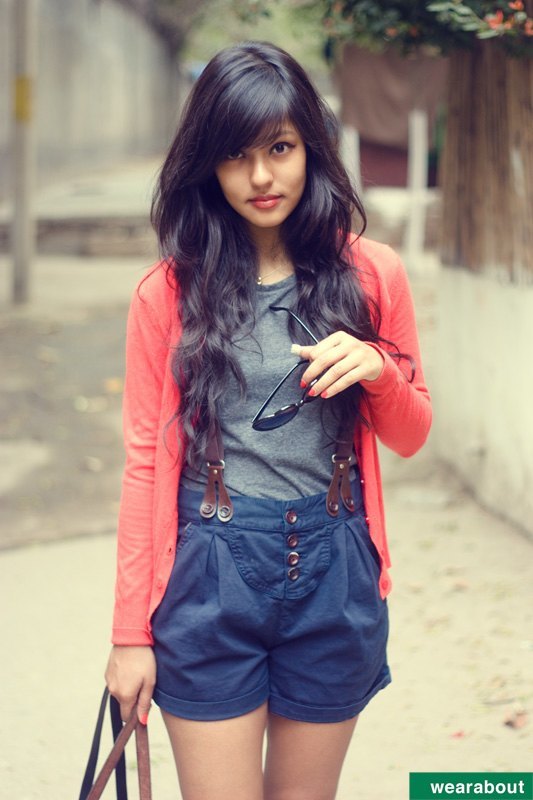 ↓ 13 – Fabulous In Long Boots
Roaming around in the streets in those beautiful glossy long boots is sure to turn all heads your way. Have a look at 22 Stylish Outfits to Wear with Long Boots This Season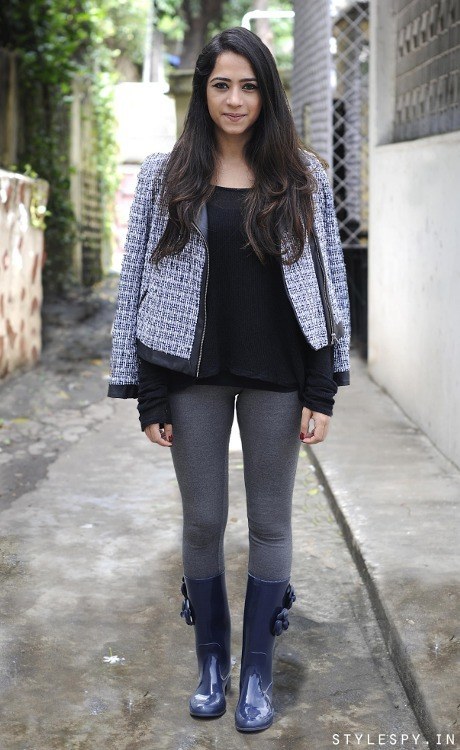 ↓ 12 – Street Style On A Budget
Tania – Mumbai: had a local tailor sew this ikat (a traditional Indian fabric) pantsuit, for approximately $20. You can get one for yourself and rock on the streets.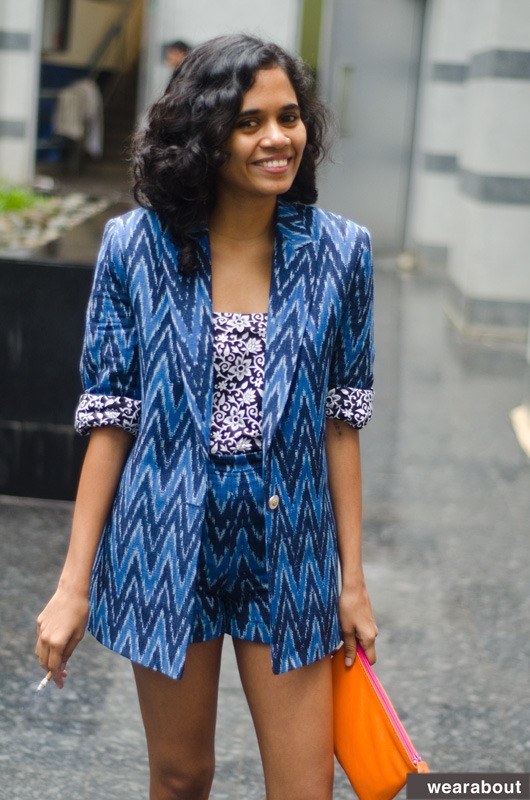 ↓ 11 – Dangling Earrings And Colorful Prints
Incorporates colors, prints, and bold pieces to get the most enchanting street style look.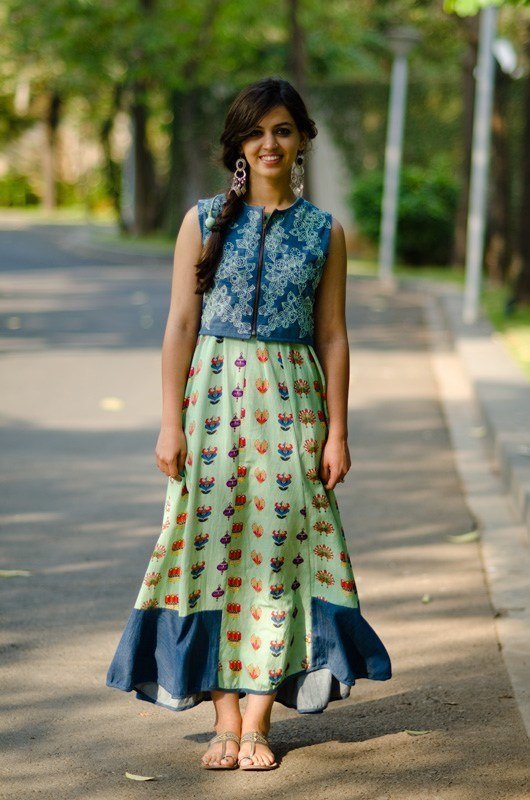 ↓ 10 – Classy Street Style
Printed pants go exceptionally well with plain white tops and even better as a street style outfit. Check out these fantastic Printed Pants Outfits for more ideas.
↓ 9 – Bloggers Choice Indian Street Style
Priya – Delhi: Founder of her store and culture blog, Bombay Electric, Priya is dressed in an ensemble that merges Indian and western aesthetics.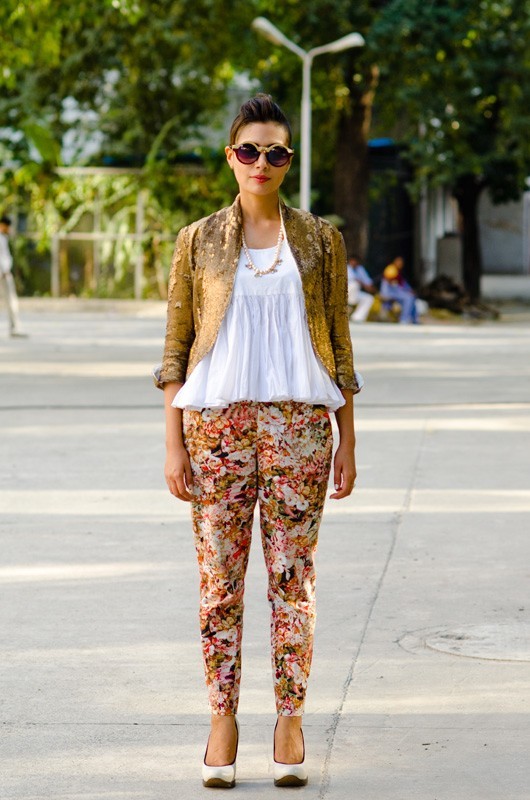 ↓ 8 – Monochrome Swag Look
Black is the safest colour and the most swag one too. It makes all girls look fierce and powerful. Pairing black with red accessories can make you look even better.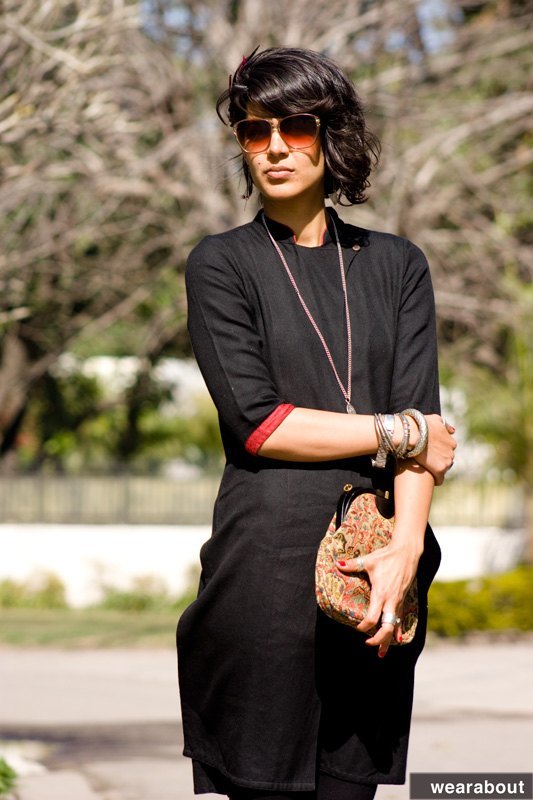 ↓ 7 – Printed Blazers
Printed blazers are something worth investing in since you can wear them for both casual and formal wear and, of course, on the streets too. They can be worn with almost all types of outfits. If you have a printed blazer and are looking for ways to style it, then don't miss out on What to Wear with Printed Blazer?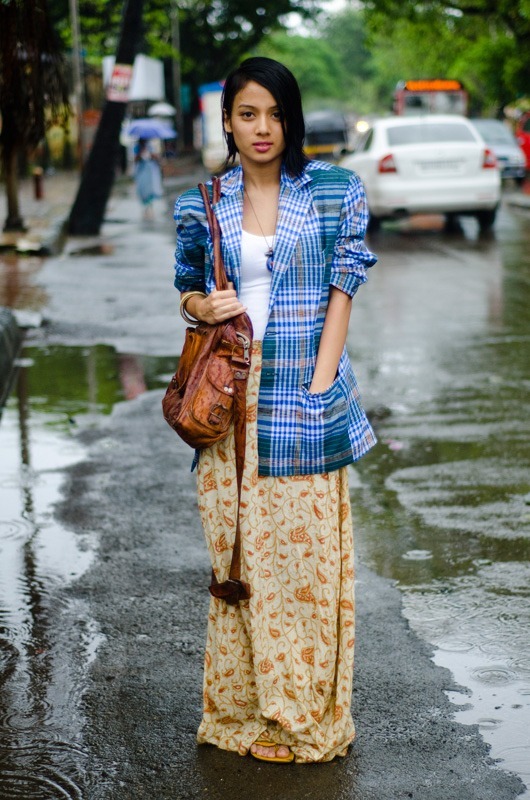 ↓ 6 – Bohemian Vibes
The funky colors and bohemian vibes of this pencil skirt make it every girl's dream skirt. The model here paired it with a white tank top, which was a great choice as it makes the skirt even more prominent. Wearing this skirt with a printed shirt would have surely killed the look. Check out these chic Outfits with Pencil Skirts.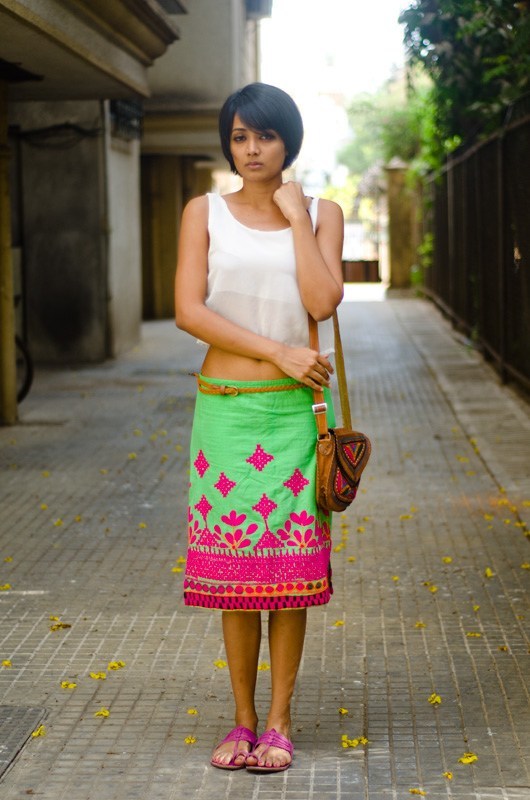 ↓ 5 – Chunky Necklaces
Even the simplest outfits can be glammed up by choosing the right accessories. The art of accessorizing involves knowing that fine line that exists between just the perfect look and the overdone look. Don't limit the potential of your jewelry by avoiding experimentation. For instance, try pairing rose gold jewelry with a silver one, and you'll be amazed by how good they look together. We believe every girl must have at least one funky and fabulous statement necklace that makes her feel as beautiful as she is.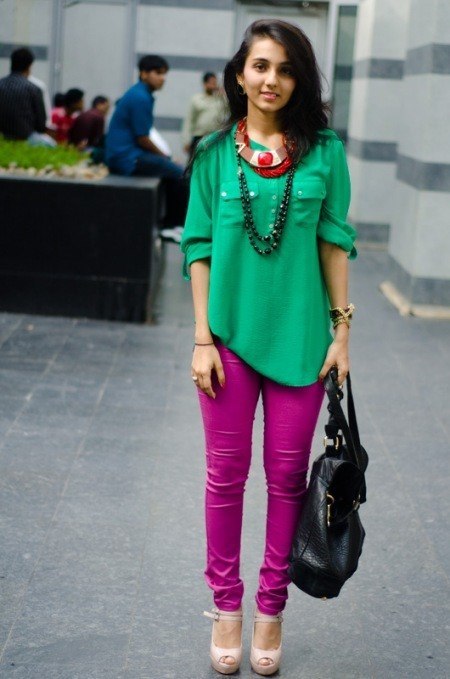 ↓ 4 – Punk Rock Style
The punk clothing trend is another one that never goes out of fashion, and if you're the sort of person who loves awe, admiration, and attention of all those around you, then this is your go-to street style look. It's all about wearing loose and boyish outfits with the coolest accessories. Plaid prints, in particular, work well for this look. The leather is the signature punk fabric, so do try to incorporate it somehow into your outfit. There are many different types of punk fashion, such as hardcore, grunge, or pop-punk, so make sure that you can maintain the theme you prefer the most, rather than mixing different looks and resulting in a confused and messed up attire.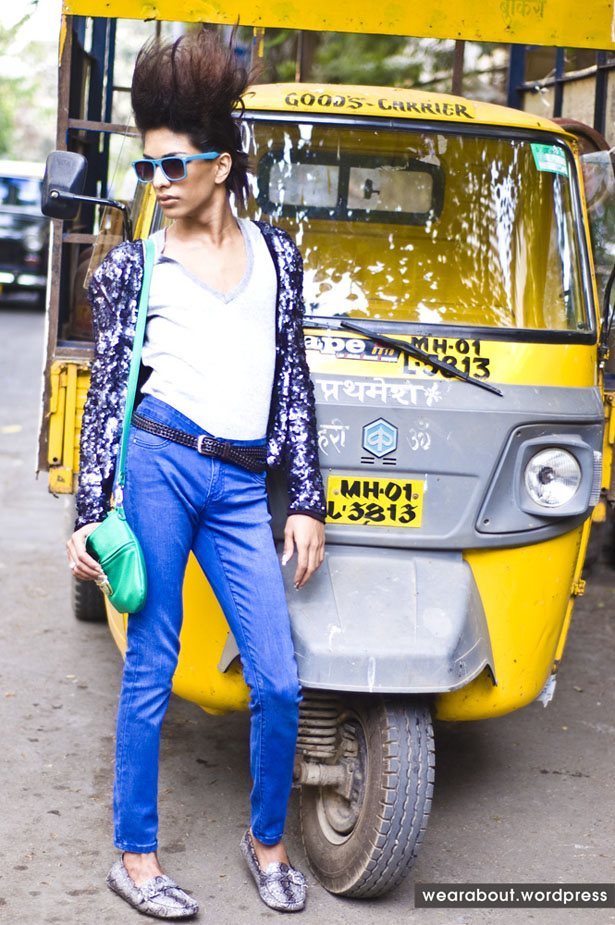 via
↓ 3 – Funky Socks
Are you a college girl and looking for an outfit that will help you stun people on the streets? Then look no more because we have a great option for you. Dress in a striped midi outfit featuring short puffy sleeves and a belt to accentuate your curves. Pair it up with a printed shoulder bad and add a quirky touch to your look with orange socks and brown heels.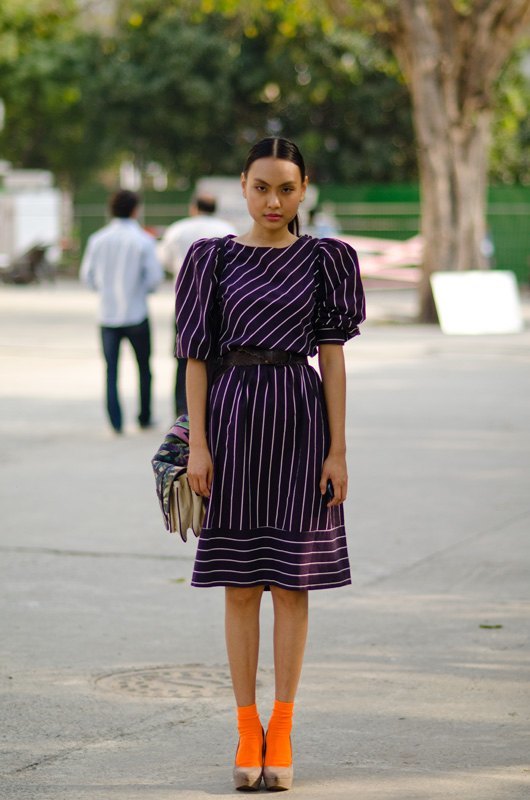 ↓ 2 – Denim Shorts
Denim shorts are the best streetwear for sure! Wear them with plain tops, and don't forget to add a belt. Accessorize your look with statement jewelry, long black boots, and a leather bag with tassel detailing!

↓ 1 – Skirt With A Chic Belt And Necklace