Bandanas Outfits: Ever thought that the 90's fashion would make a comeback? We're not talking about the butterfly hair clips or the frosted eyeshadow, but it seems like the trendy bandanas are a new craze and definitely here to stay, ladies!
Yes, you thought right, we are indeed talking about the square typically patterned piece of fabric and take our word on it when we say, it's coming back with a bang. From tiktokers to fashion influencers everybody seems to be jumping on this bandwagon and styling their bandanas in their own unique but fashionable way.
How To Wear Bandanas
Bandanas are the kind of accessory that you can easily find and although you can never go wrong with a bandana since they are back in fashion it is easy to fall into a trap for an overly priced piece and get ripped off. To save you time and hassle we've mentioned some links where you can easily find gorgeous bandanas at affordable prices.
Where to Shop for Bandanas for Women?
Here are some of the best places to shop for bandanas along with our favorite picks: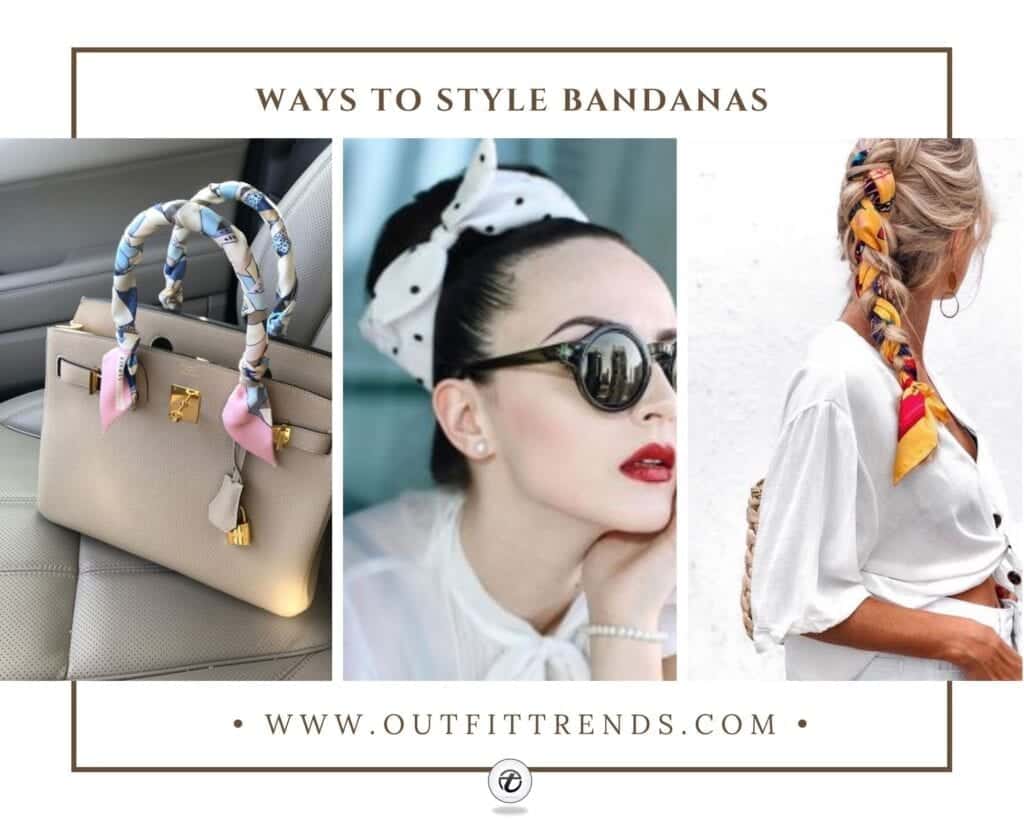 Let's take a look at how women around the world are styling their bandanas and making the crowd stop and stare in awe everywhere they go.
#16. How to Wear Bandana with Curly Hair?
This in my opinion is the best way to make both your curls and bandana shine: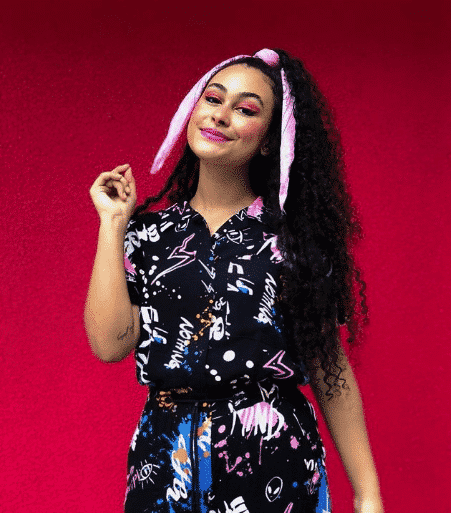 #15. Match with your pet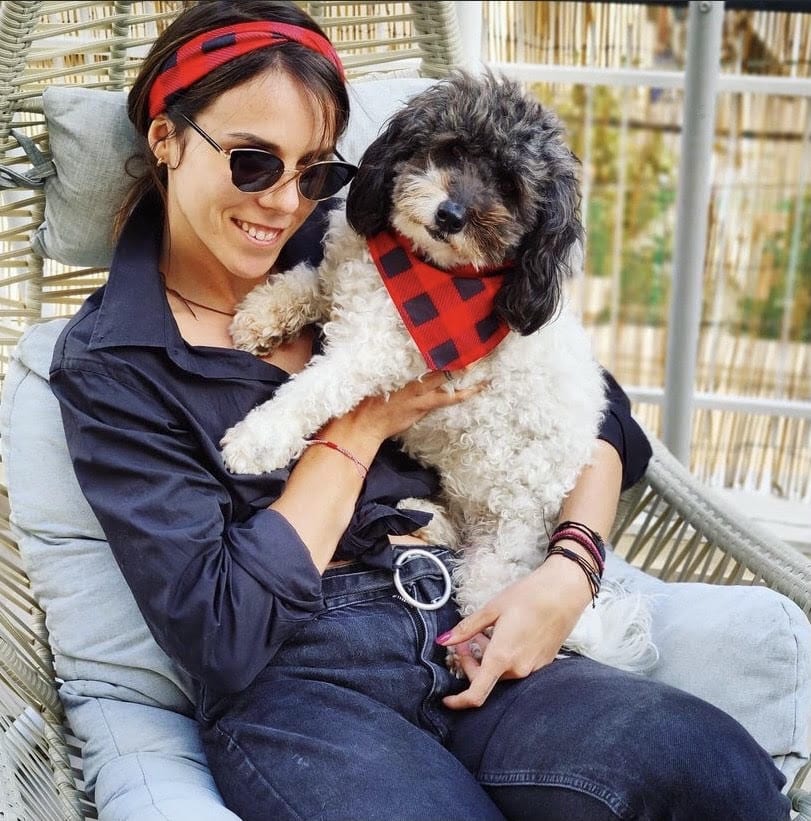 Matching outfits have always been popular in fashion. We've seen best friends twinning and setting the BFF goals and we've seen the mommy and me trend stun the world, so why not match with your little paw friends. What better way to do it than matching your bandana with your pet? Say goodbye to the pet collars and make your pet catch up on the latest trends too. Don't forget to post a story and leave your friends in aww!
#14. Bandana bag- The handle wrap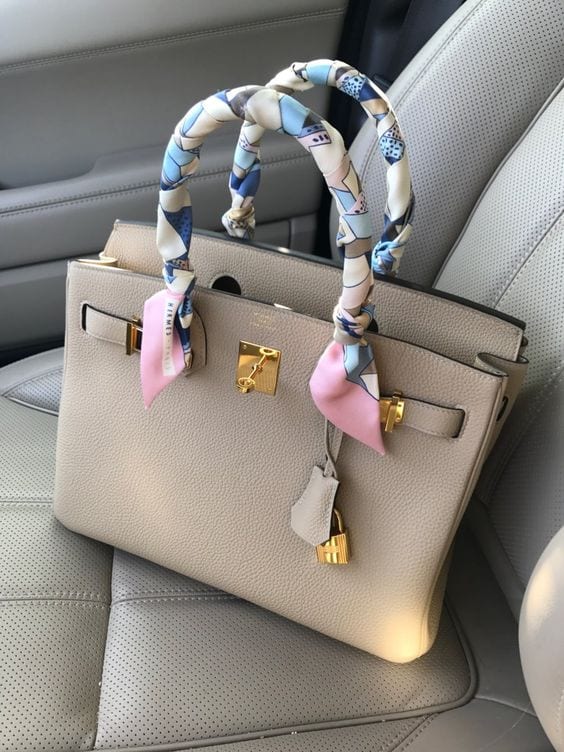 Just in now the latest rumors in town suggest that a handle wrap is a girl's new best friend. Personalize your bags with bandanas and you won't regret it because once she goes handle wrap, she never goes back! This little accessory will not only make your bag look unique, but it will make a really casual look stand out too. All you need is a silk bandana and some wrapping skills to tie your look together.
#13. Neckerchief has entered the chat!
Wondering what to pack for your ranch vacation, or want to add that extra touch to bring out your look? Style your bandana as a neckerchief and let it do the job. As for the neckerchief when in doubt stick to neutral colors because you can never go wrong with them but if you really want to rock that look then playing with colors doesn't hurt. Pair the neckerchief with a cowboy hat and howdy girl, hold your horses because you have a herd of compliments heading your way.
#12. Bandana Tops
Tired of the same old conventional tops for your summer outfit or running out of tops to wear? Turn your bandana into a shirt. We're not kidding, not only will you enjoy the DIY, but you will get some super chic and trendy tops to add to your summer look book. Our top pick has to be this bandana folded in half and tied around the torso for a strapless look. Ladies, this is a sign to be your own designer this summer and showcase your personal style through these DIY bandana shirts. After all, nobody knows you better than you do so do yourself a favor and be your own muse.
#11. Bandana as a bun accessory- Talk about serving looks!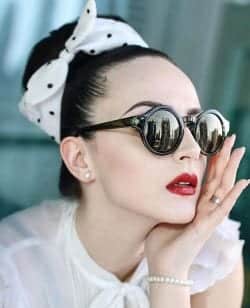 Here's a look that is timeless, elegant, and classy. Nothing speaks elegance more than a classy top, not bun paired with timeless pearls, bold lip color, and of course your favorite sunglasses to add the overall grandeur to your look. But wait a moment… some things still missing, we suggest you accessorize your bun with a silk bandana for an exceptional and unique look. Match the bandana to your outfit, tie it around your bun to make a bow and now you're ready to serve some looks.
For more amazing hair accessories check out these DIY Hair Accessories.
#10. White button up and jewellery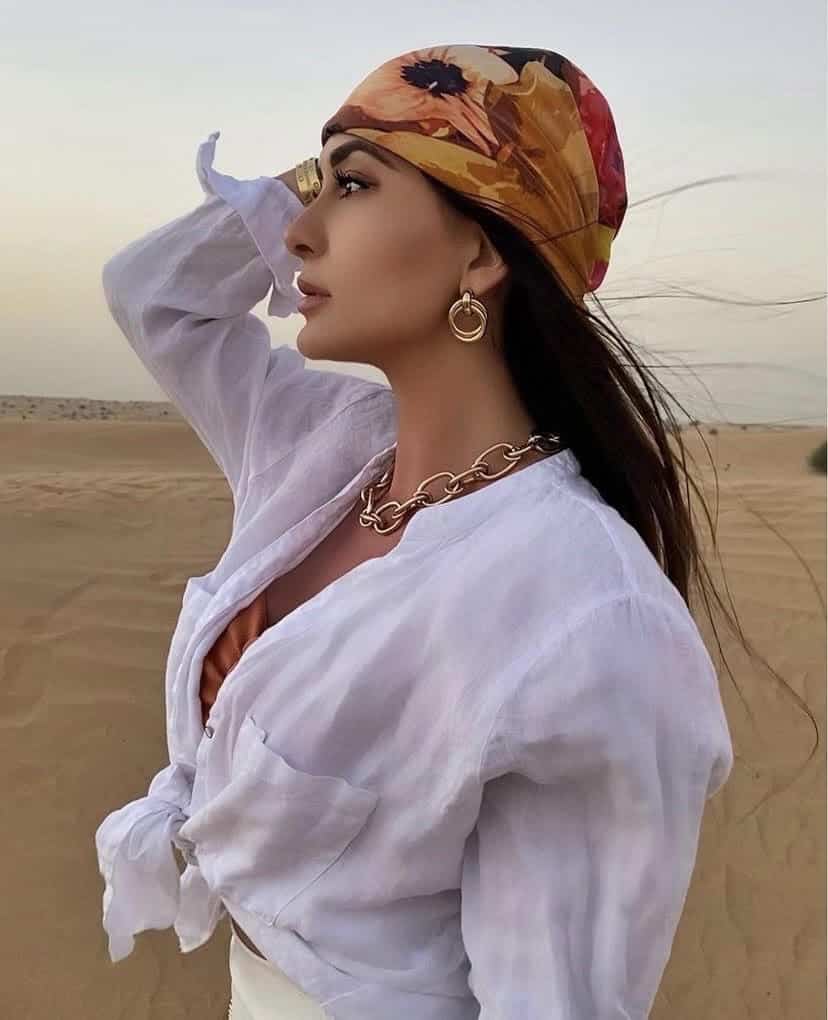 Wrap the bandana around your head and let your luscious hair flow. Pair it with a casual button-up white shirt which you can tie to the front to give a cropped look. Top off your look with a gold chunky chain necklace, golden hoop earrings, and a pair of solid golden bangles. Brownie points to the subtle, nude makeup that brings out the entire look. This quick and easy look is perfect for the summer.
#9. Retro 50's Style Bandanas for Women
Wear red paisley or dotted bandana as a pin-up bow head scarf coupled with your favorite denim, roll up your sleeves and channel your inner Rosie. A bold red lipstick, matching red nails, and minimalistic eyeliner (to make that red pop) will definitely add to the look. Make the heads turn around with this statement look because yes, you can do it!
#8. Business Casual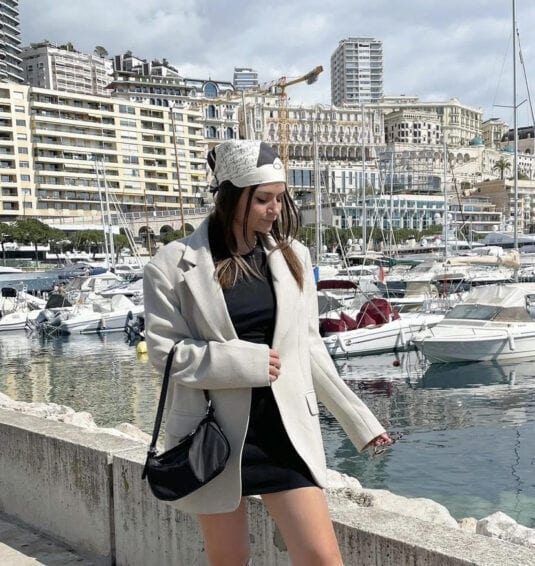 Work in the morning and a date with your girlfriends in the evening? Go for this not-so-strictly formal look. Black short dress, a matching bag, bandana as a headband and add a contrasting blazer to complete your business casual look. The bandana will give you an effortless transition from day tonight. So, consider this the perfect opportunity to have some fun after your 9-5 now that you have the perfect outfit for it.
#7. Goodbye boring scrunchies, hello bandanas!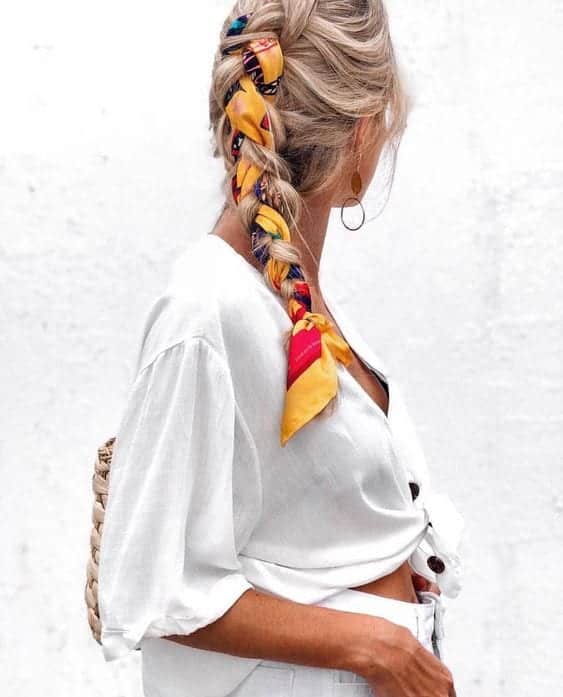 Boring hair ties? We don't know her. Incorporate your favorite bandana into your French knot and live your cottage core dreams, girl. Not only will this give your hair a fuller and thicker look, but that hint of color will make your hairstyle more prominent. Just add a pair of hoops and a bandana to effortlessly upgrade your look. And if you really want that bandana French knot to pop then go with a plain outfit, preferably white or black.
#6. Bandana head scarf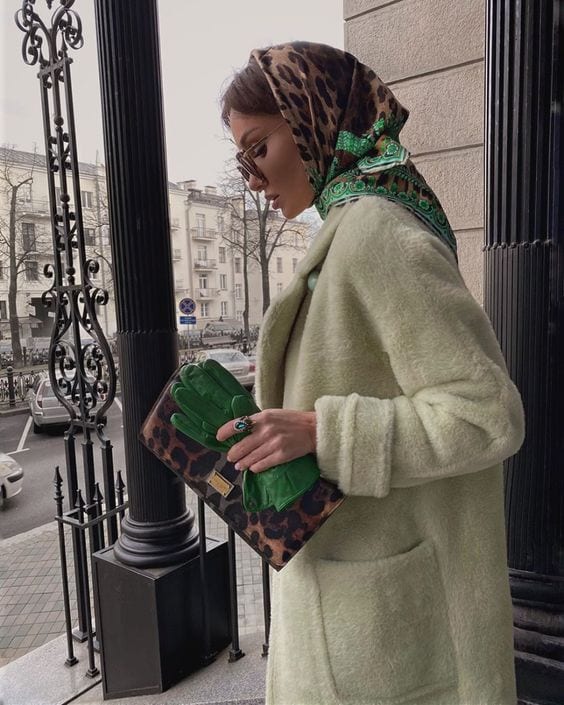 Did you know that the fashion icon Audrey Hepburn wore a headscarf on her wedding day? The headscarf has been around for decades and it is an embodiment of elegance. Make your headscarf versatile with the help of a bandana as you'll be able to carry a ton of looks (from super simple to intricately detailed) and it is an exciting technique to revamp your ensemble. If you're hoping to protect your hair on windy or rainy days or even if you need to put a look together on your bad hair days, the bandana headscarf will be your best friend.
#5. From boring hats to bespoke bandana hats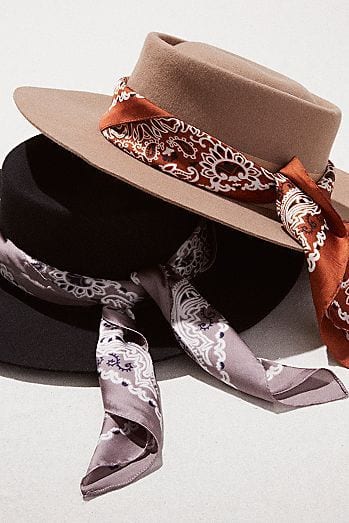 At this point, we suggest you add a bandana to shake up any look. Flaunt your personal style in an extremely fun way by accessorizing your accessories. You heard us right, give your hat a makeover and do your chic bandana justice too. All you need is silk patterned or paisley bandana to give your hat and your outfit that exciting touch. Either match the bandana to your outfit or coordinate it with your hat and have some fun while you're out there making heads turn.
#4. Up your winter game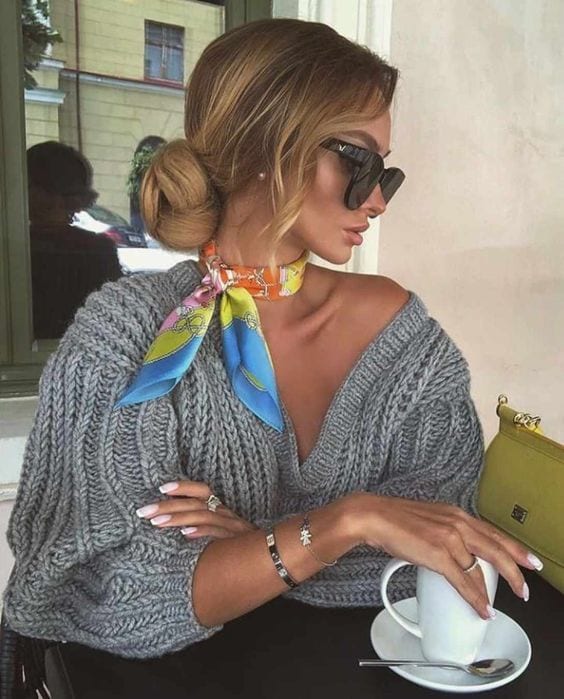 Cozy sweaters are a winter must-have. So, the question is how do you make baggy, cozy sweaters look elegant and stylish? There, there we have exactly what you've been looking for. Let the bandana choker do the job for you while you relax and enjoy a cup of tea. Pair the bandana choker with some stylish sunnies and a low bun to complement your exceptional look.
Check out more trendy Winter looks by clicking here.
#3. Bandana Silk Bracelet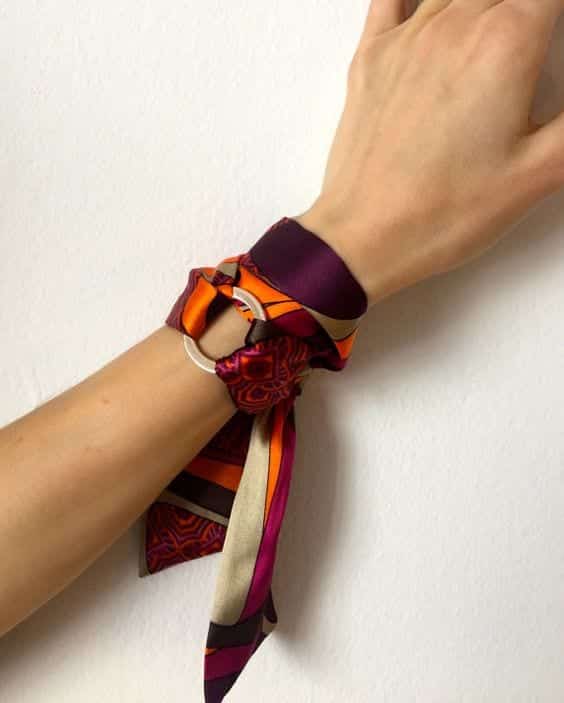 Girls are always looking for accessories to pair with their outfits but ever thought that you can turn your favorite bandana into a silk bracelet? This calls for yet another DIY, all you need is a ring and a dash of creativity to make your very own luxurious silk bracelet. The bandana bracelet will not only add color to your outfit, but it will give that classy and unique touch too.
#2. Bandana belts are a thing!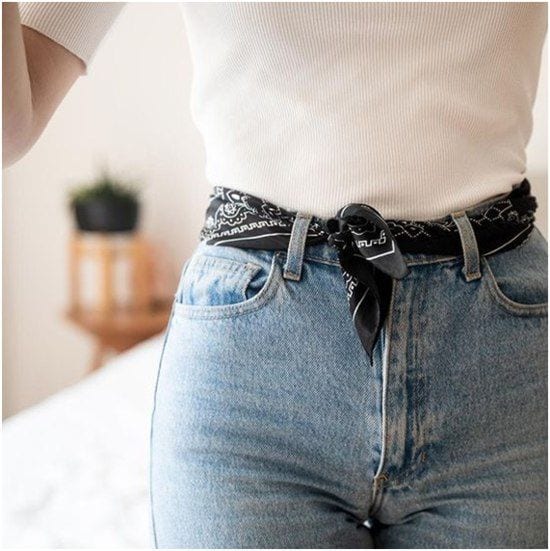 Say hello to the trendiest belts. A bandana belt gets the job done and since we've added our personalized touch to bags and hats then why not jeans too? Don't worry if you can't find a belt that matches your outfit because the bandana comes to your rescue once again. Now sit back and watch this be a game-changer for you as those around you admire your charm.
#1. Don't forget to mask up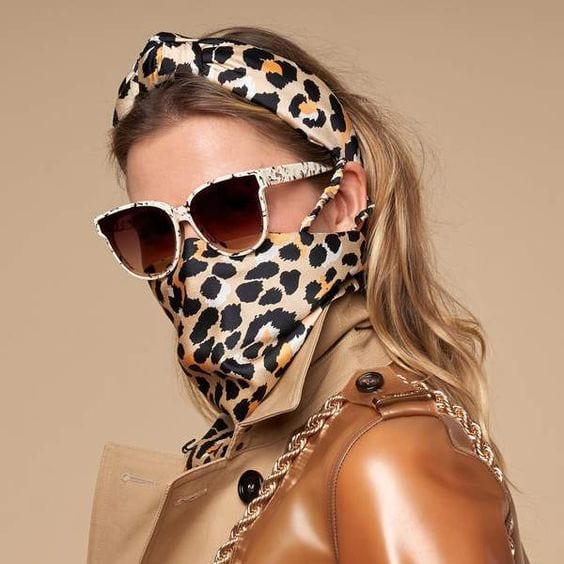 Its 2021 and no look is complete without a mask, because it's better to be safe than sorry. If you feel that the conventional masks are killing your vibe, then we got you ladies. Wrap a bandana around your face and to style your look up a bit use another bandana as a head band too. Add matching sunglasses and you can rock on a no makeup look too if you're feeling it. Now you're all ready for your trip to the grocery store!
Wondering where to shop for some cool masks? Check out our previous post on the best Designer Face Masks.
Frequently Asked Questions
Here are some frequently asked questions for bandanas, give these a read as they might help you out too!
Q.

Do Bandanas come in different sizes? And what are they made of?
A. Although the standard bandana dimensions are 22 inches (56 cm) by 22 inches, but they do come in a variety of sizes. Bandanas cater to all ages too for e.g. for children there are smaller bandanas available which measure 18 inches (46 cm) by 18 inches and if you want to use a bandana as a shirt then you can go for the oversized ones which approximately measure 27 inches (68.5 cm) on each side. But generally, the small and medium bandanas are between 14 to 18 inches whereas medium to large bandanas is around 20 to 24 inches. If these sizes don't work for you then you can always get one custom-made. Bandanas are typically made from cotton or silk and are hemmed at the edges.
Q.

Can bandanas cause hair loss?
A. Wearing a tight bandana for long hours on a daily basis can be bad for your hair as it traps moisture and damages the hair if it is too tight. Make sure to give your hair a break and also to wash your bandanas if you wear them for a long period of time.
Q.

What is the best material for a Bandana?
A. Generally, your go-to should be a cotton bandana since it lightweight, breathable, easy to wash, and relatively cheaper too.
Q.

Are Bandanas effective as masks to protect against corona virus?
A. Bandanas normally prevent the dirt and dust particles from entering the respiratory tract, but if you're looking for something safer for e.g. for protection against COVID-19 then you should either consider buying a bandana-styled face mask or wear a surgical/medical mask underneath the stylish bandana.
Q.

How to make no sew Bandana face masks?
A. You can either fold the bandana diagonally and tie it at the back of your head or you can fold the edges to slightly overlapping each other, thread through hair elastics on the ends, and fold the fabric over in towards the center, and voila you have your face mask.