White Leather Jacket Outfits Ideas: A timeless, classic, and forever stylish garment; a white jacket especially, made of leather material, is trendy and never a wrong choice.
They look good on everyone and can go with any kind of clothing. This outfit can be used to level up your outfit or help you dress it down for a casual errand, depending on how you style it. They are not only stylish but also keep you incredibly warm.
Outfits To Wear With White Leather Jackets
This timeless jacket will stand out as they are and hence, upgrade any outfit even if it's loungewear. You can style this jacket in various colors to make a statement. White goes with anything, from neutral colors like beige, cream, and earthy tones, and even bright colors like red, green, or blue, etc. The jacket can be styled with anything like turtlenecks and leather skirts. They can be worn on any occasion, making it easier for you to remain in style without much effort.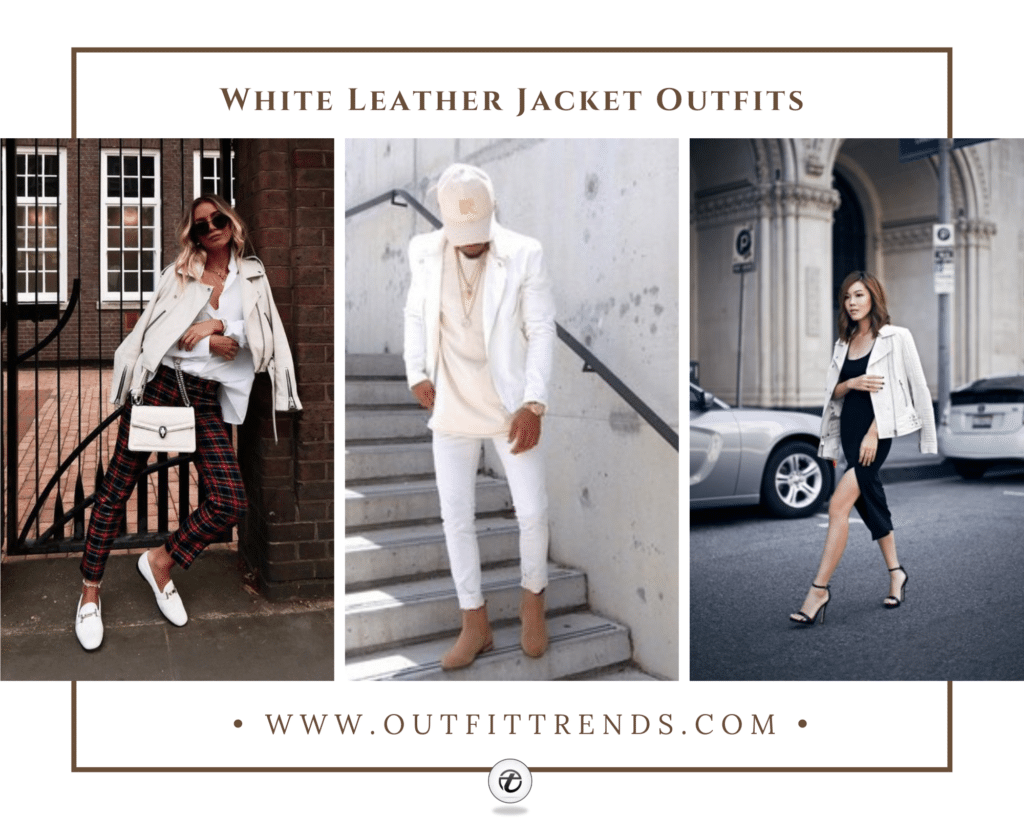 Tips For Maintaining White Leather Jackets
Hang it properly. Do not let your leather jacket crease so, never fold it and hang it properly and do make sure the hanger is the correct size i.e., not larger or smaller than your leather jacket.
Store it in a dry place. Protect your white leather from moisture, pigment, and anything sticky by storing it in a cool and dry place, covered in a plastic protector.
Use a good leather conditioner. It will restore the required moisture, keep the leather jacket supple, soft, and shiny. You can buy a highly effective and cost-friendly leather conditioner.
Protect it from heat. To prevent your jacket from getting brittle and dry, keep it away from all sources of heat especially from stoves, heating vents, excessive steam, a radiator, or iron, etc.
Get it professionally cleaned. Avoid doing it yourself if you lack experience or use the right kit for this purpose.
20 – Nail The Edgy Biker Look
You can achieve an edgy yet, cute biker look with a pleated skirt and a crop halter top accessorized with chic jewelry. Throw on your white biker leather jacket to complete the look and tie it together with a pair of sturdy combat boots.
19 – When To Wear A White Leather Jacket?
These jackets are versatile and can be elegantly styled for various occasions and places. Your workplace outfit is no exception to the rule unless it has a specific dress code. Otherwise, pick out a straight style jacket, a black tank, your favorite jeans, and make the look "workplace approved" with pointed-toe heels and minimal jewelry. 
18 – Stylish and Sophisticated
Do you want to look fly and sophisticated when you go out for casual errands around town? Grab your leather jacket, a white pair of black skinny jeans, with a light-colored top, and accessorize your look with a black statement bucket bag. You can either go for a light silver, light pink, light tan, or salmon-colored slim-fit crew neck. Now, you do not necessarily need a pair of sunglasses but, they definitely tie the look together and take it to another level. Lock the look with a messy or sleek high bun.
17 – With ALL BLACK
The splash of white looks great with an all-black outfit. You can style it in many ways but, if you are looking for a more casual yet, sporty look then add a sports hat to it. Ripped skinny jeans with a casual top, trendy running shoes, with a black leather crossbody bag when paired together will upgrade the look and make you look more put-together.
16 – Chunky Knitted Sweaters FTW!
Style your chunky knitted sweater with straight-fit jeans and a white jacket along with a pair of white loafers. Moreover, you can tuck in your sweater to balance out the chunkiness.
15 – Classic Outfit
If you want to look cute and chic while sporting a rather edgy piece of clothing then this outfit is perfect for you. If you find such outfits for women a little overwhelming then go for a simple black ribbed long sleeve dress, white sneakers, and black sunglasses to add a little edge to your look.
Go for a statement mini shoulder bag and keep your jewelry to a minimum. Maybe you could stack a few minimalistic and dainty necklaces to accentuate the look. Moreover, you should definitely go for a red lip and play a little with your appearance with that loosely crimped hair.
14 – Blake Lively's White Outfit
Luckily, it does not take much to make your outfit look expensive. All you have to do is make sure your outfit is cleaned, looks good as new, and each article is your size. It means that you don't necessarily have to get a white leather jacket from Zara and pair it with a sleek white leather skirt, a black slim-fit top, or a black turtle neck. Add a classy pair of sunglasses with a petite clutch, and you are good to go in your fierce heeled boots!
13 – Satin Skirts All Day Everyday
Nothing screams "chic" and "elegant" more than a satin skirt. What can upgrade a satin skirt outfit even more? The answer lies in a leather jacket paired with a beige satin skirt, with all white accessories. You can always swap your sneakers with a matching or contrasting colored pair of heels.
12 – Styling An Oversized White Leather Jacket
The general rule of thumb is that a leather jacket should fit you like a glove but, there is no need to fret if you have found yourself a loose and oversized one. Any oversized garment is complemented with something tight or short. For instance, a pair of skinny jeans or mini shorts look best with an oversized hoodie or sweatshirt. So, pair a short and fitted jumpsuit with your oversized leather jacket, add in some chunky boots, and complete the look with some chic and minimalistic accessories.
11 – For Business Casual Events
Satin tops and pencil skirts are the ultimate choices for business casual events. Top it off with a cropped jacket and pointed-toe stiletto heels. You can always swap the top with either a buttoned-up dress shirt or a turtle neck top with a dainty necklace and pull off this outfit for a business casual event on a chilly day.
10 – The Perfect Outfit For A Night Out
When you have no time to spare, a leather jacket and a bright short skirt are the perfect combinations for an off-duty look for a fun night out type of fail-safe off-duty outfit you need. The best part is that you can change the vibe of this look by swapping the white sneakers with a pair of fun party heels.
9 – With Lounge Wear
If celebrities and IG models can do that, then so can you. Follow the rule of mixing slim-fit clothes with something baggy. Wear a fitted lounge top with your comfy jogger pants and throw on your stylish jacket. For a more put-together look, grab a matching mini leather bag.
8 – Mixing Patterns
Patterned pants are still very much in style. Add a little spice to your all-white outfit with a pair of plaid pants. Accessorize your bougie look with your badass shades, a white leather bag, a pair of stylish loafers, and an anklet if your pants stop a little above your ankles.
7 – With Combat Boots
Combat boots will look great with skinny jeans and a loose top. Take out your short graphic tee, a fiery pair of combat boots, and throw on your white jacket to complete the look. If you want to go for a more sexy yet, casual look then swap it with a fitted graphic crop top.
6 – For Women Over 50
Fashion knows no bounds if you know how to carry it. So, grab a jacket that fits you, your slim-fit jeans, and a floral top with your favorite accessories. You can swap your floral top with a button-up shirt for a more business casual look. Swap the top with a dress shirt or even a dress, and you will look equally beautiful because clothes have no age as long as you wear them confidently.
5 – Style A Black Maxi Dress
Style a black maxi dress with your jacket and your comfortable pair of white converse to achieve a stylish and chic look. If you want to go for a more edgy yet, classy look then replace the converse with a pair of sexy stilettos. This look is so simple, sweet, and still gauges attention without screaming for it. Hence, it is perfect for anyone who wants to elevate their style without doing too much.
4 – For Plus Size Women
Fashion has no size. All you need is confidence and you will look good in anything, no matter what body type. Take out your leather jacket, a pair of blue ripped jeans, stilettos, and your fiery sunglasses to make a statement; and a stylish one at that. You can also use the same white jacket and accessories with a floral dress and slay your look with some sweet confidence.
3 – Accessories To Wear
Although this jacket is an accessory in itself so, you don't need loud or excessive jewelry to tie up your look together. Instead, style your outfits with statement pieces because the jacket will do all the required attention-grabbing.
via
2 – Cropped Jacket
Look stylish with a white jacket and a red mini dress. Put on your casual white sneakers to go for a laid-back look. The look is perfect for a picnic date, or even a brunch on a sunny day.
1 – Gigi's Casual Outfit
Pair your leather jacket with a pair of straight casual jeans, a relaxed crew neck, and your favorite bag to look like a model-off-duty. Open your lovely hair for a laid-back yet, dressy look if you choose to go out.
FAQs
Q. Can men wear white leather jackets?
Ans. Absolutely! Pair it up with black jeans and a black t-shirt and style it with a few statement pieces such as a statement piece watch, a neck chain, and Nike Air Force 1s, and you have a fresh outfit for a guys' night out.
Q. How do you dress down white leather jacket outfits?
Ans. Pairing your jacket with slit skirts, sweats, or white floral dresses and other casual pieces of garments can help you dress down your leather jacket and make your outfit look lowkey and relaxed.
Q. How can an older woman wear a leather jacket?
Ans. Choose an elegant style. A leather jacket looks stylish, graceful and does not exude a "biker" look. Besides, who said older women can't pull off a biker look? Just carry it with confidence.
Q. Should a leather jacket be tight or loose?
Ans. Ideally, a leather jacket should hug your armpits and have a snug fit. No more than 3 inches of extra fabric should be available for each point of your body. Moreover, the length of the leather jacket should not go below your belt unless it is designed like a dress.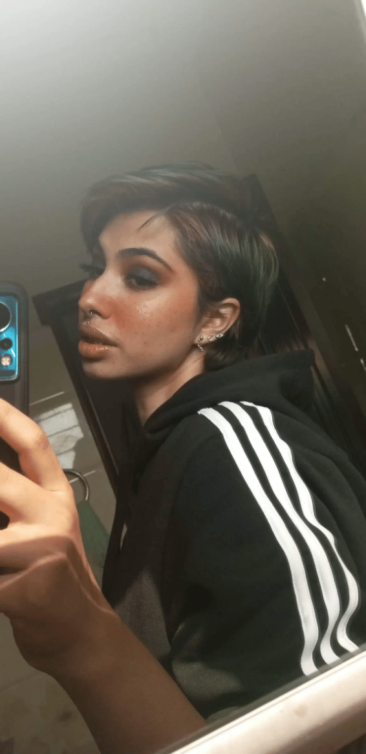 I am a women's holistic health coach and student that enjoys history, experimenting with makeup and skincare, playing sports, working out, and doing all things adventure-related.