What to wear at Wimbledon? – Wimbledon is a prestigious sporting competition that takes place in the UK and includes much more than simply tennis play. Since it has a long history and is one of the most renowned tennis events in the world, Great Britain takes pride in this occasion.
If they are lucky enough to obtain tickets, celebrities and people from all over the world come to the UK to see this event (all dressed to impress). Even for casual tennis viewers, Wimbledon takes pleasure in being a cultural force and an experience that tops everyone's bucket list.
You will undoubtedly start thinking about the social and sporting highlights of the summer event very soon, including the finest British and international tennis players, but have you thought about the high stakes in fashion?
The diverse set of people gathered in one place, all attired their best for the big event? Your worry should end here because we have created this style guide that covers everything from trendy and contemporary to smart and fashionable, to give you all the inspiration you need for your Wimbledon wardrobe!
How to Dress for the Wimbledon?
The options are endless when it comes to finding outfits for this event. Spectators are told to be attired smartly and in semi-formal clothing. Long dresses are most in fashion at the infamous Wimbledon event, most commonly worn by members of the royal family including Kate Middleton and Megan Markle too.
However, this is not the requirement and everyday clothing can also be used to create outfits with a preppy or academic vibe to them. This can include shirts and sweater vests, trousers and blazers too.
Mostly at Wimbledon, people opt for the white color to honor the players who are also wearing white, however of course other colors can also be played around with!
Do's and Don'ts of Outfits to Wear at Wimbledon
Don't opt for big hats that may block the view of spectators behind you. It may be contributing to your outfit but at the expense of others' entertainment! 
Do try to opt for light colors or shades of white. It fits into the theme of the Wimbledon event and also honors the players that are required to wear white. You could try one of these Fabulous Ideas on How to Wear White Wide Legged Pants.
Don't opt for tight-fitting bodycon dresses, as they may be uncomfortable to wear for such a long stretch of time, especially when you have to be sitting. Instead opt for flowy, loose-fitting dresses that look just as stunning and are more practical!
Do take sunglasses! Not only do they look good and enhance every outfit, but they will also protect you from the blazing summer sun!
Now let's move on to some of our favorite Wimbledon outfit ideas:
25 – Tiered White Flowy Summer Dress With Slit
This outfit is perfect to wear at the great Wimbledon Tournament, because of its simplicity and style. The dress is white in color, which is perfect and in theme with the classic Wimbledon attire. This can be worn with white sneakers or platform heels to become the perfect outfit for this event.
Its flowy and airy nature also makes it perfect and comfortable to wear in the summer sun!
24 – Plain White Button Down Dress With Raw Hem and Black Bow Belt To Cinch The Waist
This dress is so simple and elegant. It has great button-down details like the black buttons and the minimalistic black detailing all the way from the neckline to the hem. It's ruched in some places which adds dimension and it also is paired with a black belt tied in a bow, to cinch the waist and give a flattering silhouette.
The black eels match with the belt and form and overall stunning outfit which is perfect to watch a Wimbledon match in.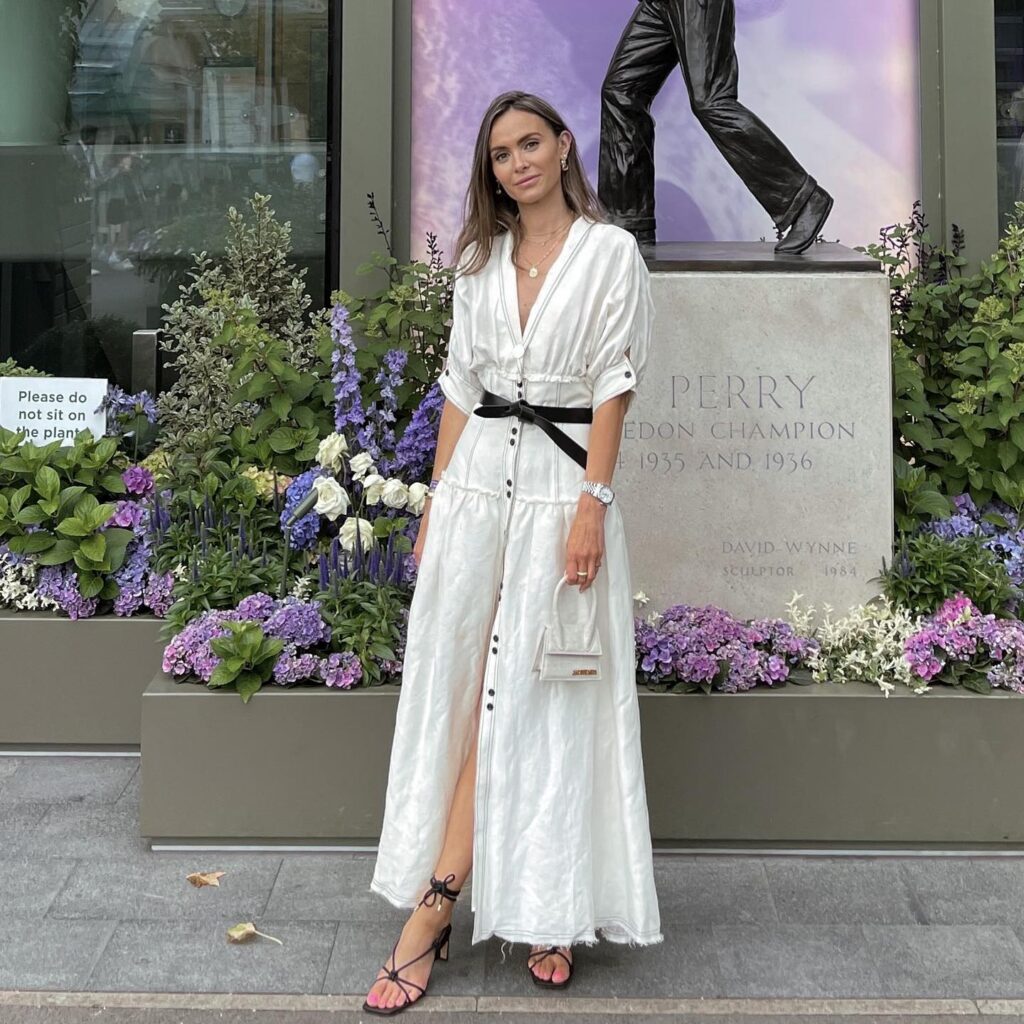 23 – Kate Middleton's Classic Green Pleated Dress
While this exact dress may not be available for everyone to buy, it is definitely something to draw inspiration from. Kate donned this simplistic dress, with pleats and capped sleeves at a Wimbledon even, and described for us all what "less is more" truly means.
She pairs this with simple white Jimmy Choo heels to create a simple but stunning outfit. This outfit can be replicated and taken as inspiration to create other similar outfits, without having to go too overboard with layering!
If you too are a fan of Kate's dressing then do have a look at these Kate Middleton Travel Outfits.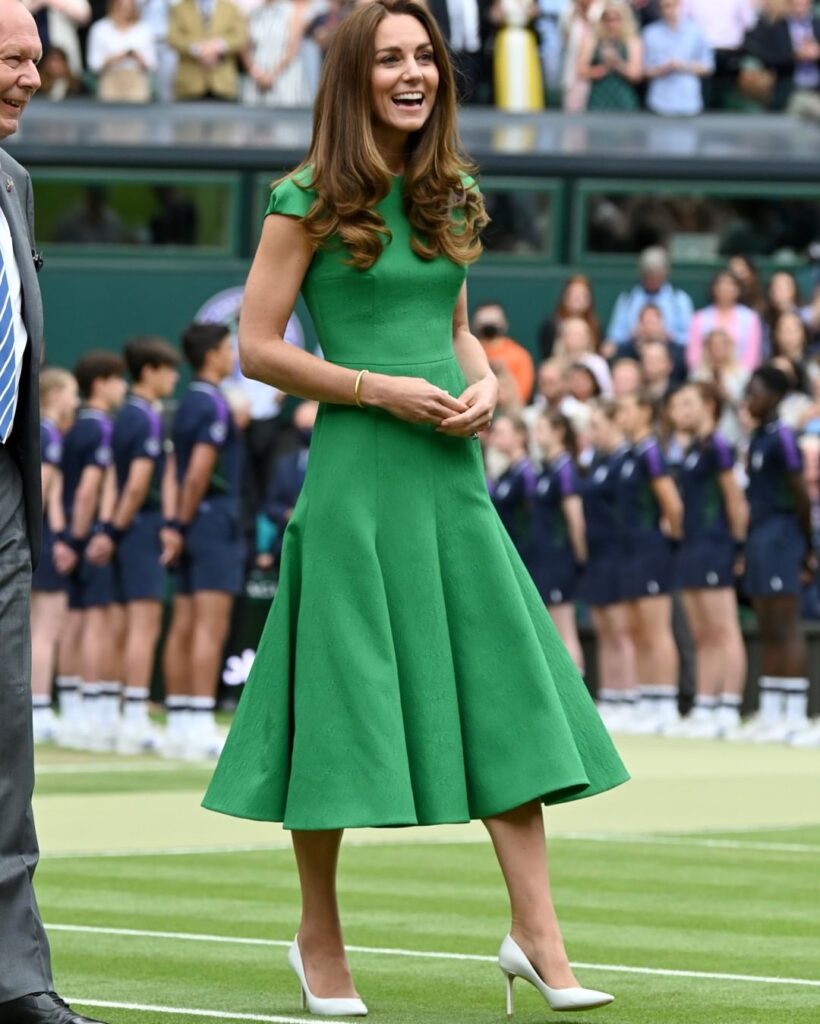 22 – Kate Middleton's Baby Pink Flowy Midi Dress
As you can clearly see, Kate Middleton never fails to impress. This pink dress is again simple, but this one has more detailing, for people who are into intricacies like belts and buttons in their dresses. The color is pale and perfect to wear at Wimbledon. Any dress similar to this may be the perfect option for the event!
21 – Striped Shirt Dress Adorned with a Golden Belt to Accentuate The Figure
This dress is another semi-formal option to wear at Wimbledon. This dress is striped and looks like a shirt in the torso area, complete with a collar and button-down details. But at the waist, there is a bold golden belt, that accentuates the figure and cinches the waist.
At the bottom, it flares out and also has a slit which adds to the style. This is simple, but another perfect outfit to wear at Wimbledon. via
20 – Light Pink Dress with Hot Pink Dotted-Pattern On It
This is a brighter option for those who prefer to wear a little color. The color is very summery and fresh, which is perfect for the season, and will suit almost all skin tones which is definitely a plus point.
Its made of light material and is very flowy which will make it perfectly comfortable to sit in for the duration of the matches. It will also pair nicely with any type of white shoes.
19 – White Tiered Dress Printed With Minimalistic Florals
This is another example of a white outfit for Wimbledon. This is perfect to wear as it is long, and comfy to be in. It has many ruffles and cinches over it which gives it a lot of dimensions and makes it stand out amongst other boring dresses. This is a great option as it is completely effortless!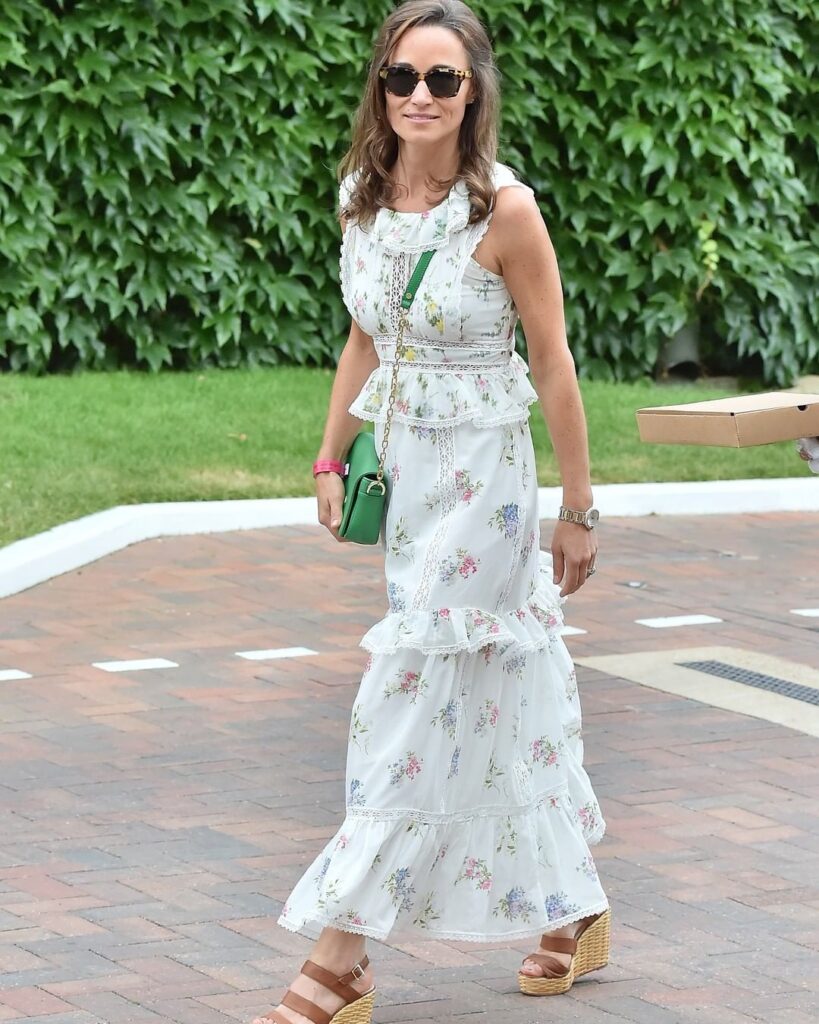 18 – Baby Blue Printed Silk Dress
This dress needs no introduction as it is so stunning and mesmerizing. The colors are bright in theme with summer, but not too flashy. The cut and cinching of the dress give the most flattering effect possible, making it a must-have. The dress seems comfy to wear at a match, and it seems to be a very valid and great option to enjoy at the Wimbledon Stadium.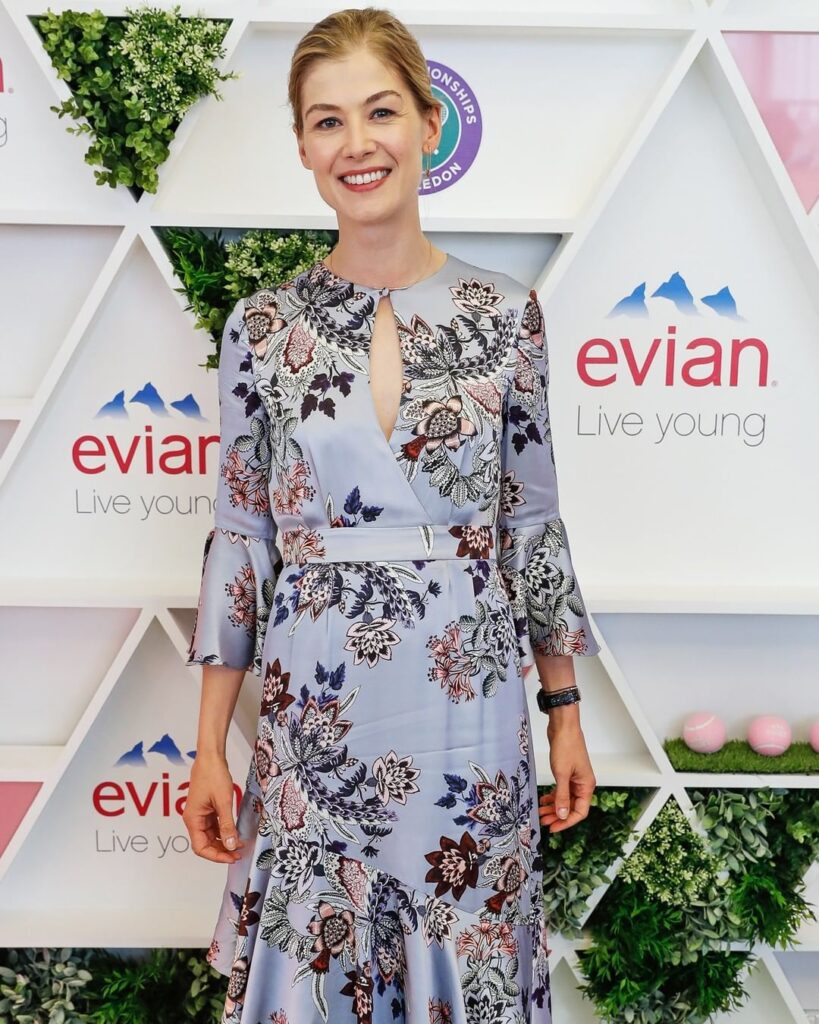 17 – Fluffy Pink Coat Dress
This is such an adorable pick for your Wimbledon wardrobe! It's a cute fluffy pink coat dress with white detailing on the collar, buttons, and pockets. The texture gives it a unique look and makes it stand out in comparison to other basic dresses. It can be accessorized with colorful clay rings and even a small pastel purse to really tie the whole look together.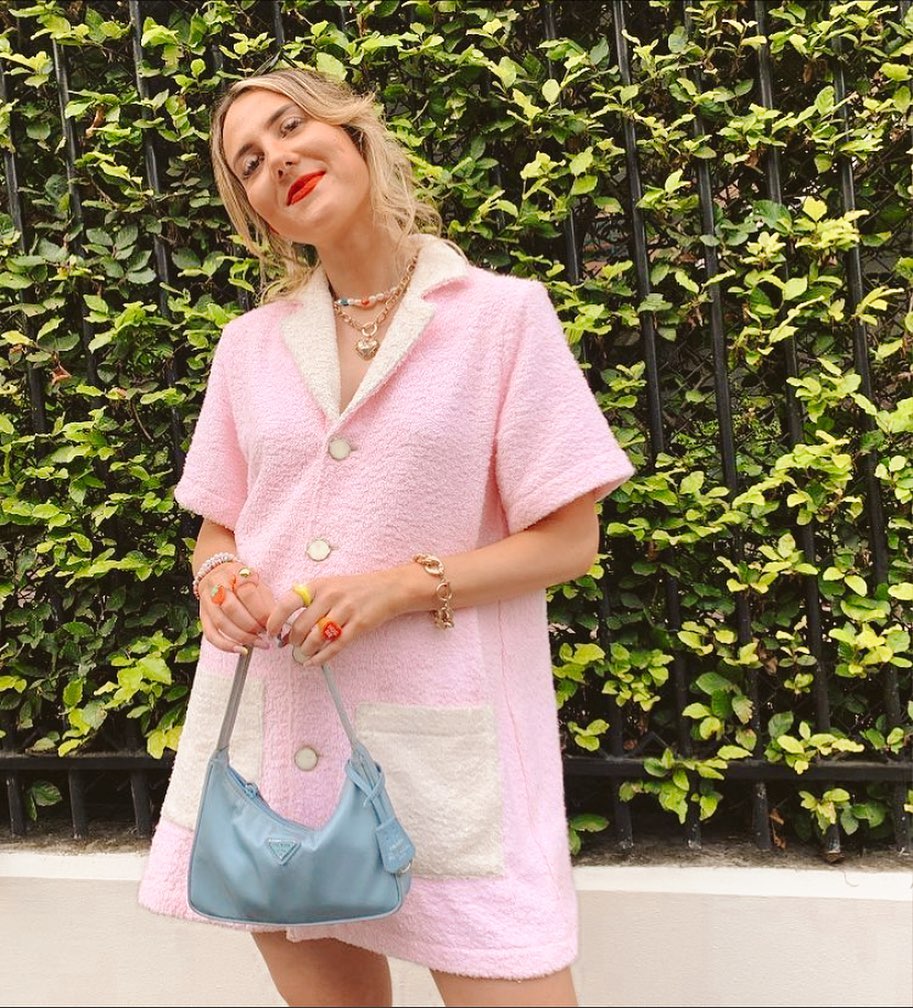 16 – Princess Diana's Cream Blazer and Skirt Combo
There is no better fashion statement than one coming from the fashion icon herself, princess Diana, who donned this cream-colored blazer with a matching midi skirt at one of the Wimbledon games. She wore a pearly necklace to match the pearl button detailing on her outfit to create a truly special look.
And since we are talking about Diana, how can we not mention Best Princess Diana Casual Outfits Of All Time That We Love.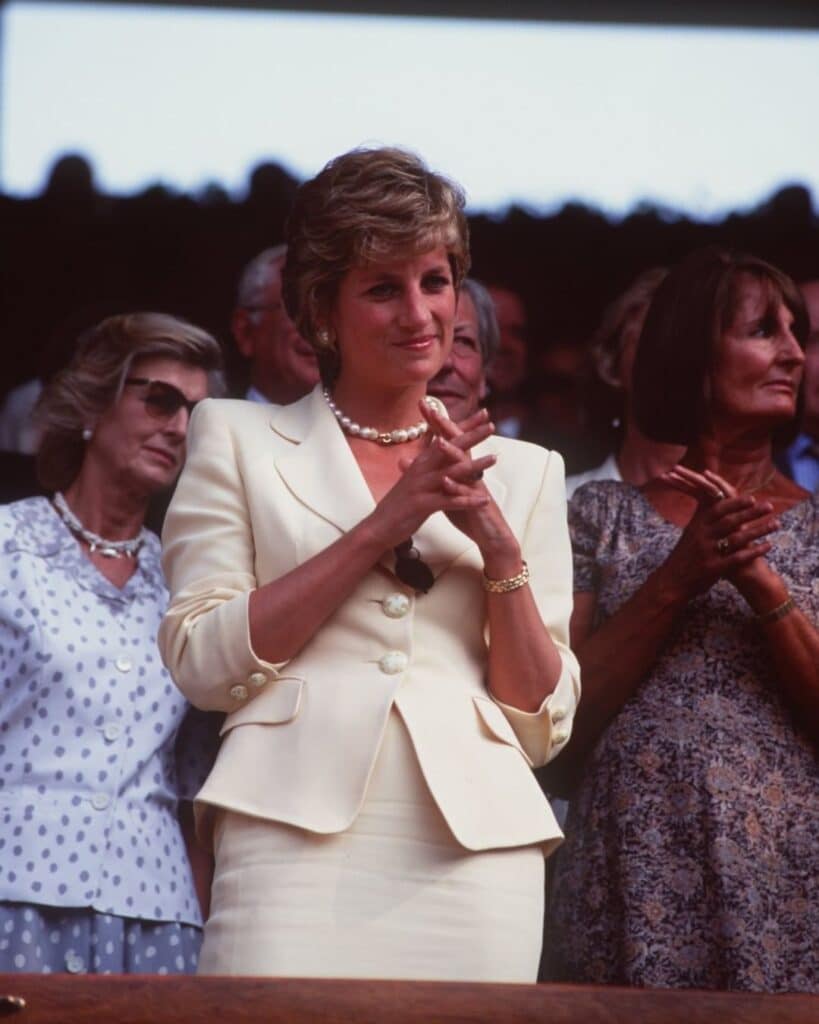 15 – Black Midi Dress with a Cropped Patterned Sweater On Top
This look is youthful and fresh, and very suitable to be worn at the Wimbledon games. The black dress is a nice even base for the cute and colorful cropped sweater to go on top. This look is very easy to style and can be mixed and matched with many different colors and styles of cropped sweaters. The versatility of this look makes it even better!
14 – Knee-length Pleated Skirt With V-necklined White Top
This is another sophisticated yet beautiful look to wear at the tennis tournament. The pleats of the skirt compliment the smooth satin v-neck top, by giving it an additional texture, and the colors can of course be mixed and matched according to preference. This look can be completed with sneakers but heels can also work if you are going for a slightly more formal look.
13 – Black Satin Slip Dress With White Button-Down Shirt and Matching White Sneakers
This outfit is very fun and playful for Wimbledon. It gives you the style with the delicacy and sophistication of the slip dress, but it becomes more casual with the fun addition of a white button-down shirt as a cover-up and matching white sneakers to give it a more youthful look.
12 – Striped Dress With Blazer on Top, Tied With Platform Heels
Another example of a striped dress would be this one, with a v shape neckline and cinching at the waist. The light blue is further complimented with the addition of a dark blue blazer which gives it a more formal look. The whole outfit is tied together with platform heels which add more dimension to the overall look and make it that much more interesting and fun to wear.
11 – Black And White Outfit With Ruffled Black Skirt and White Top
This is another fun look to try at Wimbledon. It is black and white, which you can never go wrong with, and it contains some really dimensional and unique pieces of clothing! The white top is tied at the front with strings which enhances your figure and the black skirt adds so much to the outfit with the ruffles that will be so much fun to wear!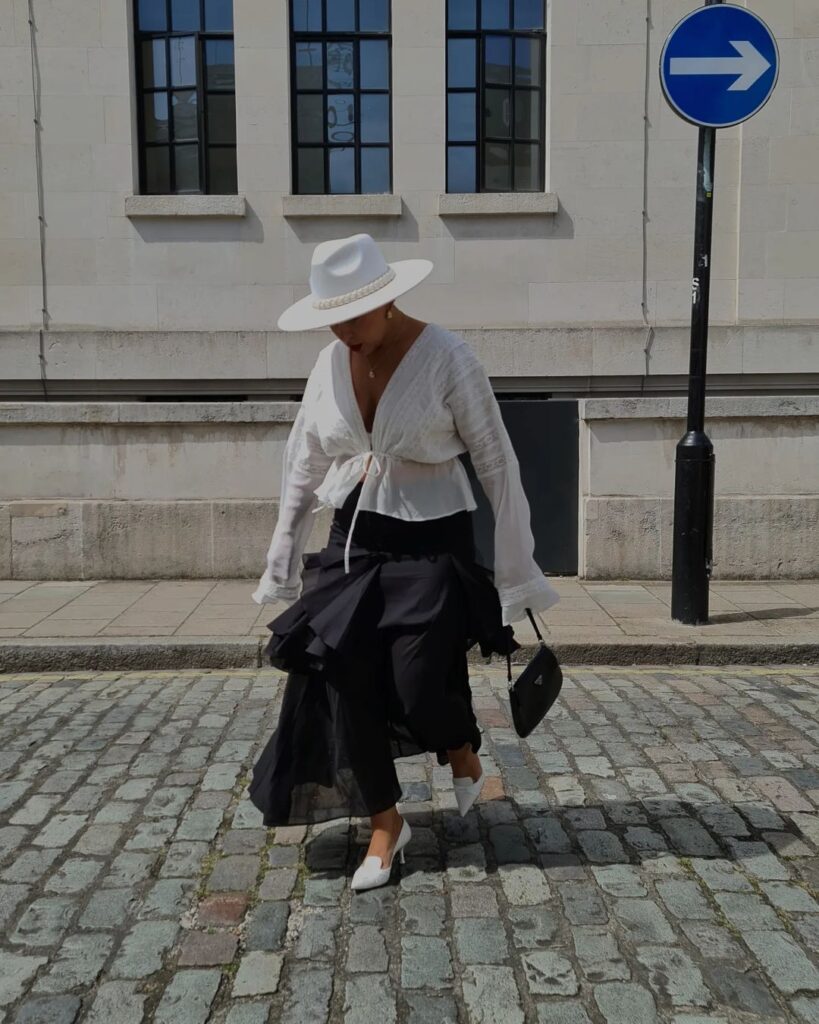 10 – White Miniskirt With Matching White T-Shirt and Green Sweatshirt Draped Over Shoulders
This is a simple outfit, consisting of everyday items that you could easily find in your closet. A plain white t-shirt has never looked so good before: match it with a textured white mini skirt and white sneakers. Over this monochromatic base, drape a colored sweatshirt over your shoulders for an added air of sophistication.
9 – White Shirt And Trousers and Beige Crewneck Draped On Shoulders for Neutral Aesthetic Combination
This is a similar outfit to the one before this, however, the skirt is replaced by trouser shorts. Paired with a white t-shirt and a cream crewneck draped over the shoulders, the color palette of this outfit is perfect for Wimbledon. The addition of a chocolate brown belt ties the whole look together.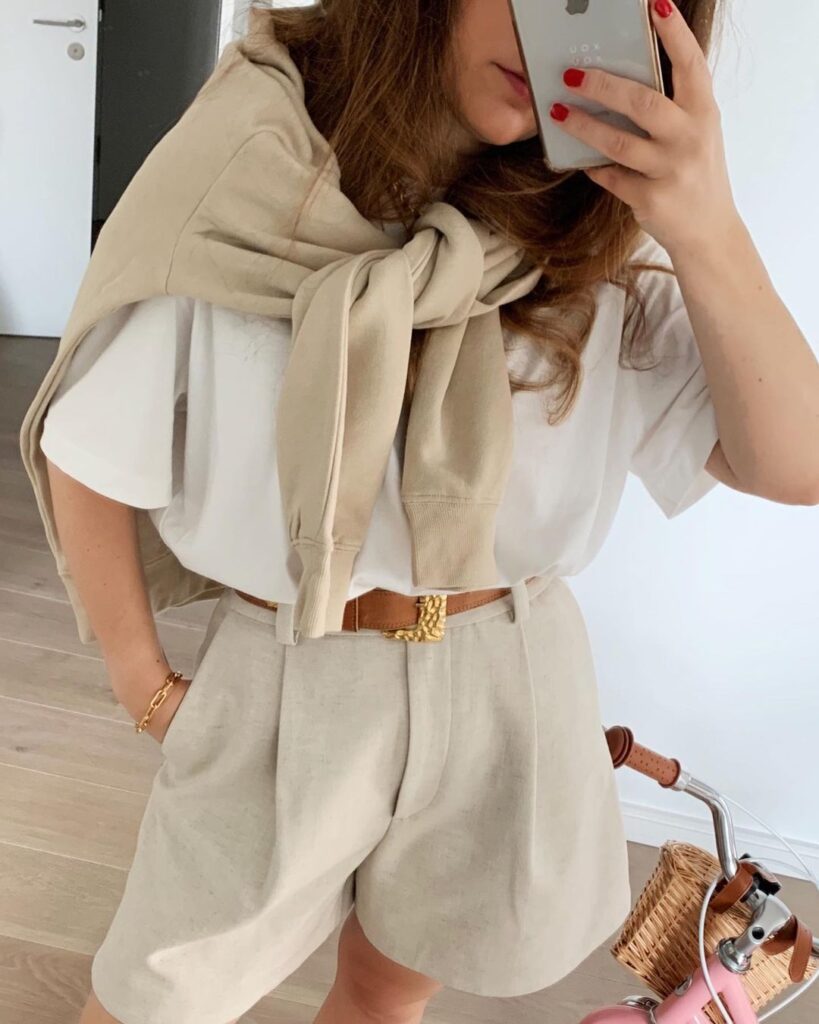 8 – Periwinkle Sweater Vest Layered Over A White Button-Down Shirt Paired With Matching White Flare Pants
This outfit is giving very academic vibes with its cute cropped sweater vest which pairs beautifully with the white flared pants. The colors are very on theme with the Wimbledon event, and the overall effect of semi-formal sophistication is perfect for such an event.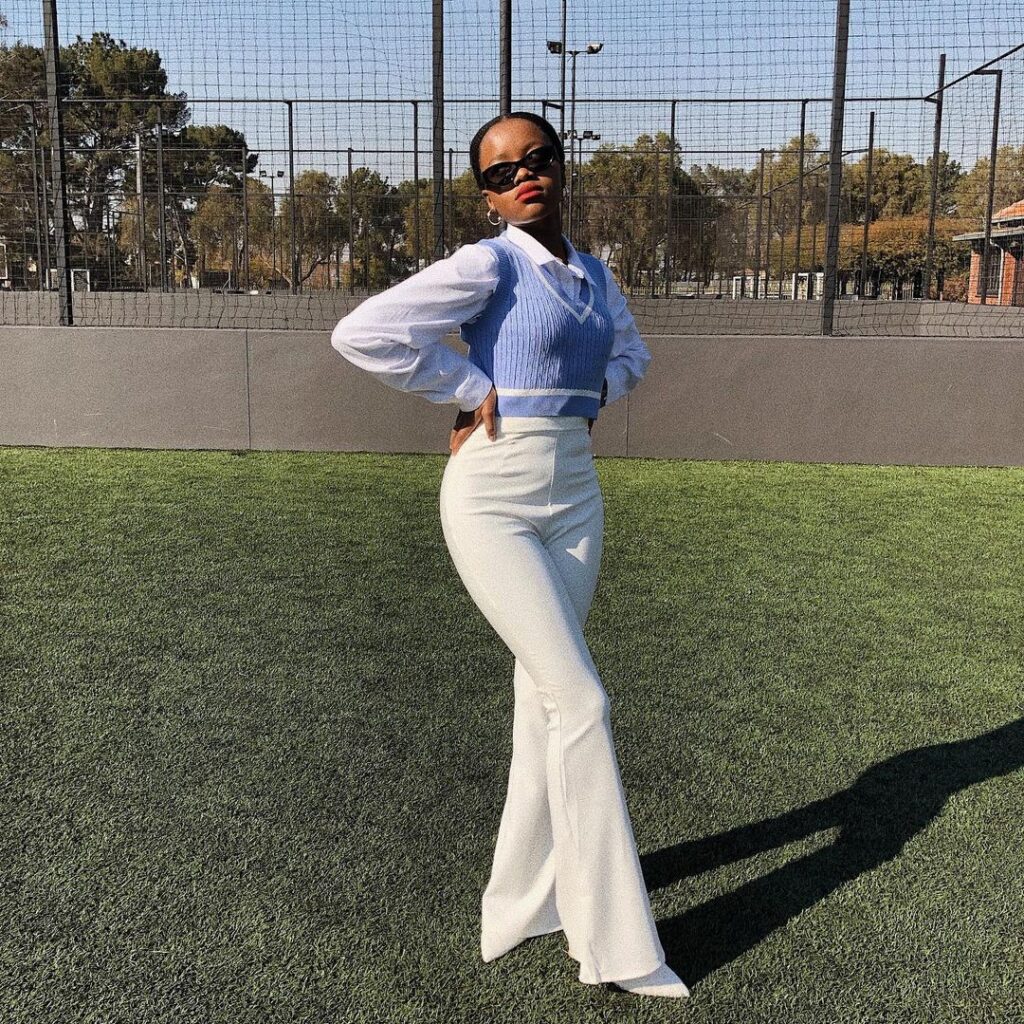 7 – Blue And White Striped Jumpsuit
Don't want to get into the intricacies of layering many pieces to form an outfit? No problem! Just grab your nearest collared jumpsuit and pair it with a purse that matches one of the stripe colors. It's a no-brainer outfit that requires zero effort and time to put together, and you most definitely won't go wrong with it!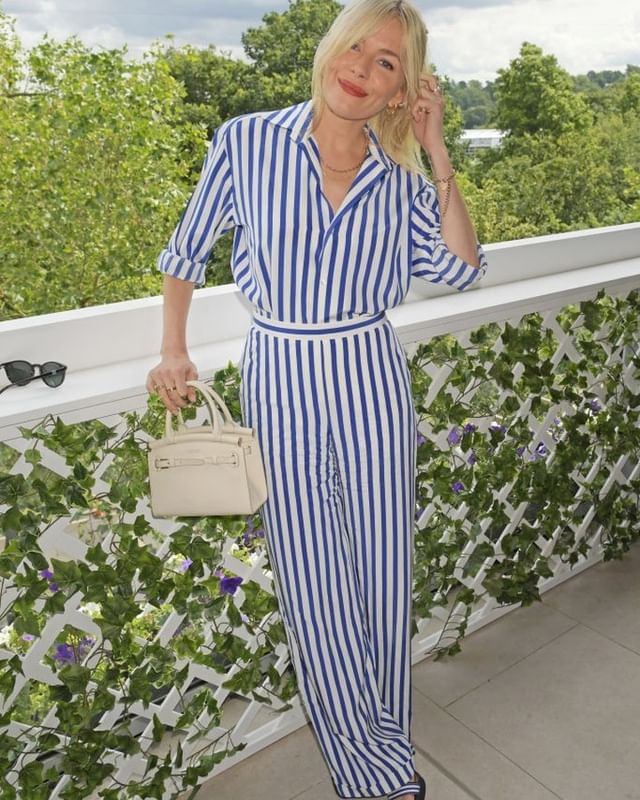 6 – Floral Skirt and White Tube Top Paired with Baby Pink Blazer
Want to get into the summer vibes at Wimbledon while also looking semi-formal? Here is the outfit for that! The skirt will give you the florals and colors of summer while the blazer will pull it all together with a toned-down pink color, that will suit every skin tone!
5 – All White Blazer and Trouser Combo With Matching Knitted Sweater
This is such a simple and easy look to pull off. The monochromatic look is perfect to honor the Wimbledon players and also be completely indulged in the tennis spirit! You cannot go wrong with this easy fit. The loose relaxed fit of the blazer and trousers is offset by the knitted sweater which also adds dimension by introducing a new texture to the outfit.
4 – Striped Blazer and Trouser Combo
This is similar to the previous example and super easy to pull off! The white inner tank top will pull the attention to the stripes that match it. The navy color is unique and bold and the fit of the trousers is feminine and flattering. This outfit must be tried, as it is such a unique fun choice!
Here are some more Boss Girl Outfits like this.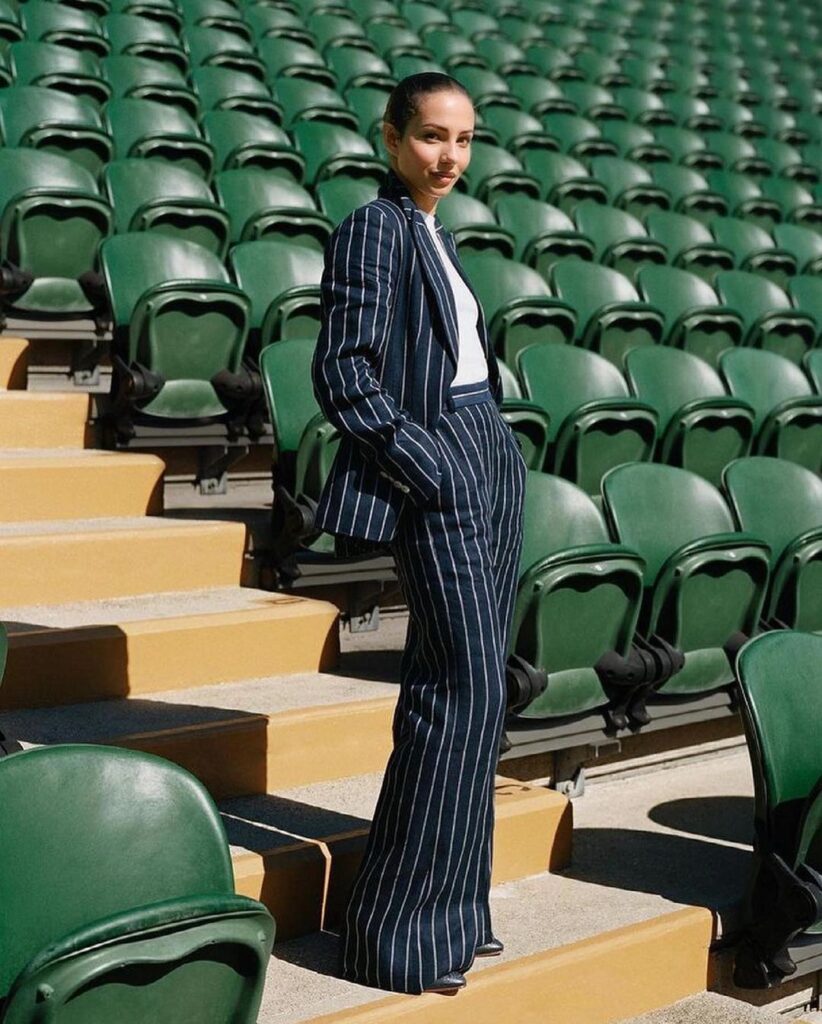 3 – Raw Hem Lightwash Denim Jeans with White Top and Green Striped Blazer
This outfit is made of everyday pieces of clothing and is so easy to pull off. Any white top will work under a brightly colored blazer for a fun, interesting look that will make you stand out at your next Wimbledon game. Match accessories like summer heels and a purse with the color of the blazer and you have yourself a great outfit!
2 – Monochromatic White Outfit
Pair a strapless ribbed top with loose-fit straight-leg white pants to create a flattering white outfit that will most definitely be a perfect fit for the Wimbledon games!
1 – Megan Markle's Striped Shirt and White Pants Combo
This look can be so easily replicated with your favorite oversized striped shirt and white pants!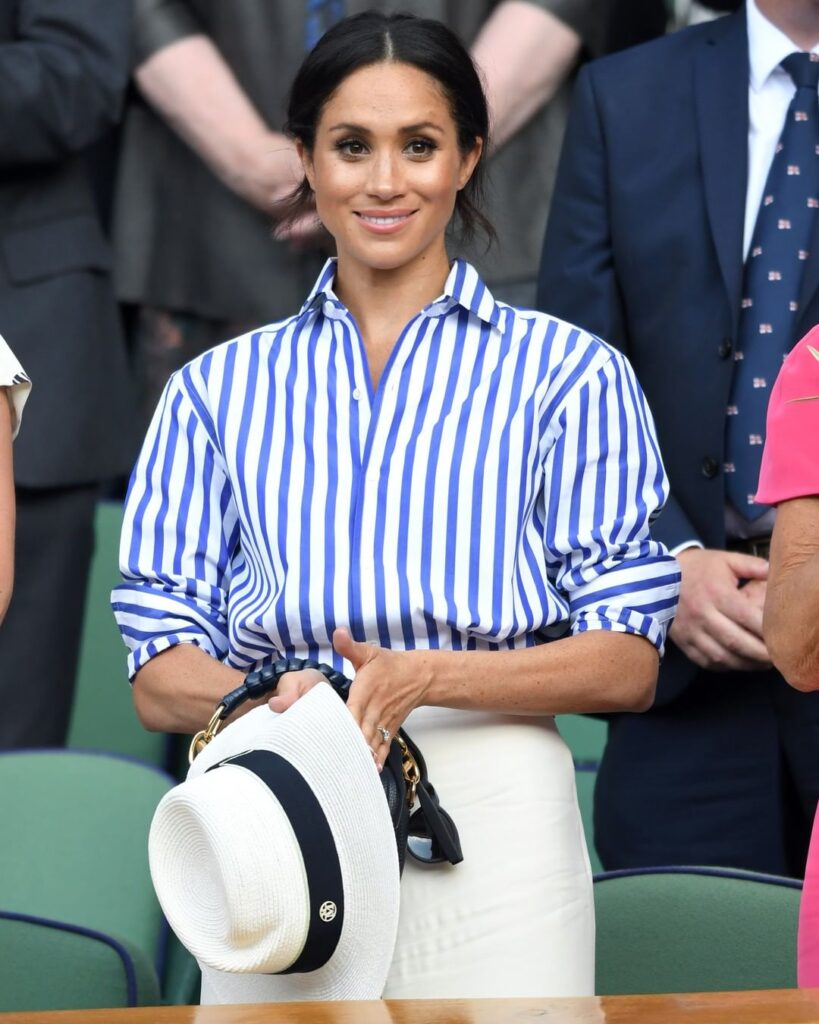 Frequently Asked Questions
Q. Is it necessary to wear white at the Wimbledon?
No, that white dress code is only for the players
Q. Is there a dress code for Wimbledon spectators?
Although there is no specific dress code for Wimbledon goers, smart dress code is encouraged. It is also advised that you consider all weather conditions when going to Wimbledon – after all, this is Great Britain!