What To Wear with Pink Shorts? This year is full of trends and fashion, and every lady loves following them. Shorts are trendy these days, and ladies love them. Shorts are the simplest and most comfortable outfit to wear since they can be combined with any top and worn in any way.
Pink, yellow, and red are popular hues these days, and most ladies include them in their outfits. If you like wearing shorts and pink is your favorite colour, these pink shorts outfit ideas are for you. Bring out your pink shorts from your closet because it's time to wear them stylishly.
How to Style Pink Shorts?
Women frequently purchase tank tops and shirts but then question what to wear with them and how to style them. Do you have pink shorts in your wardrobe and are thinking about what to wear with them? Then this article is for you.
Read on for various unique ideas to dress up your classy pink shorts in a modern and fashionable way. But, before we get into how to style pink shorts, there are a few tips and tricks that you should know about pink shorts.
Tips And Tricks For Styling Pink Shorts
There are various shades of pink, such as fuschia pink, hot pink, shocking pink, and pastel pink. Experiment with different colors of pink in your clothing.
Pink shorts won't go with something fancy, so keep your outfit casual.
To make your pink shorts look classier, try a denim jacket outfit.
Instead of wearing all pink, head to toe, consider mixing and matching colors.
Pink shorts can go with black, white, or grey clothing. Try adding these colors to your top with pink shorts.
Wear pink shorts only if you are comfortable in shorts and like wearing bright colors.
Make your pink shorts attire more fascinating and attractive by wearing printed blouses, jackets, or blazers, which will add color and attractiveness to your look.
Avoid extremely tight-fitting and super short shorts this summer to avoid chafing, instead opt for a comfortable fit or even loose fitted shorts.
Turn your pink printed shorts into the star of the show by styling them with a casual top or a simple tee.
Play with your accessories, colorful earrings or beaded necklaces are the new summer favorite accessories. Style them with your pink shorts and look like a style diva within minutes.
Shorts are a super cool way to keep cool during the scorching summers, opt for pastel shades like blush pink on a hot summer day.
38 – Light Pink Denim Shorts
Who says denim only looks good in blue? You can also get denim pink shorts that look just as wonderful as blue denim shorts. Pink can go with every hue, but white is the best colour for pink. You may pair a pretty white top with pink denim shorts and, to seem more attractive, pair your outfit with a white blazer. Complete your look with a gorgeous white purse and some jewellery. Finally, put on some stylish glasses and, you are ready to go.
37 – Printed Shorts Outfit
The combo of shorts, a button-down shirt, and a jacket is perfect. Wear your pink shirt with your printed pink shorts. Make sure the colour of your shirt is different from the colour of your shorts. Then throw on the matching printed blazer. Accessorize your look with a beautiful gold necklace and hoops. This outfit is appropriate for both day and nighttime events. Put on subtle makeup and, you're all set to go.
36 – Styling Pastel Pink Shorts
Outfits with shorts are best for summer. With your pink shorts, you can create a summer outfit look. Wear a lovely dye and dye tank top with pastel pink shorts. You can wear matching sneakers. Complete your look with some cool black sunglasses. This outfit will keep you cool in the hot summer weather, all the while looking great on you.
35 – Hot Pink Denim With Plain Tank Top
Here's another pink denim shorts outfit suggestion for you. Wear your pink denim booty shorts with a simple white tank top. If you prefer wearing flats, pair your outfit with modest and elegant summer flat shoes. Accessorize your look with an elegant long-chain pendant.
34 – Orange Is The New Black
Pink complements orange, so experiment a bit. Pair your oversized shorts with an oversized button-down shirt. Complete your look with soft white slippers, a matching white purse, and sunglasses.
33 – Light Pink Shorts With Pineapple Top
Do you need some cute outfit ideas to go with your pretty baby pink shorts? Then this cute pineapple shirt with light pink shorts is perfect for you. Put on your shorts with a pretty yellow pineapple top. Wear plain shoes and stylish sunglasses to complete your look.
32 – Pink Capri Shorts
Grey and pink are an excellent match. Your stunning capri shorts combined with a gorgeous grey fuzzy crop top make the classy look. You may complement this look with high heels and a grey purse that matches your top. This outfit is appropriate for a birthday party or a get-together with friends.
31 – Pink Paperbag Shorts
When black and pink pair up, the result is always stunning. Combine your pink paperbag shorts with a sleeveless black top. Put on a pair of elegant flats and let this footwear enhance the look of your outfit. You may accessorize this look with bracelets or a wristwatch. Your pink and black attire will look great with your grey blonde hair.
30 – Vacation Look
Pink shorts would be great as a vacation outfit because we all want to have some colourful outfits when on vacation. Shorts work best for Island vacations. These high-waisted pink shorts should be in your closet since they look great and can pair up with any top. These high-waisted pink shorts will look great with an off-white shirt with puffy sleeves. With this outfit, you may wear stunning grey heels.
29 – Basic Outfit
Sundays are enjoyable days, and when you go out to have fun, you want to wear something comfortable and stylish. If you're planning to have a good time, this attire is perfect. Wear your comfortable pink shorts with a free loose white blouse. Wear your favourite shoes with this outfit and, complete your look with a cross-body bag. You're all set for a Sunday Funday.
28 – The Beach Look
Ladies are always unsure about what to wear to the beach so here is a stylish beach look for you. Wear your pink shorts with a printed bra and a colourful blazer on top. To complete your look, put on a pair of comfortable flats. Your beach outfit with bright pink shorts is ready.
27 – Fuschia Pink Shorts
Here is another look with fuschia pink shorts. This look is ideal for you if you love to wear loose, comfy dresses. Combine your oversized shorts with a green tee. You may add neck accessories to your attire to make it look more attractive.
26 – Baby Pink Shorts With White Sneakers
If you want to look subtle and sophisticated in your pink shorts, this is a perfect option for you. Wear baby pink shorts with a crinkled stripe and full-sleeved top. Put on white shoes to go with your attire. Add a stylish grey purse to your look. You may recreate this outfit for a business meeting as well.
25 – With A Denim Shirt
If you prefer not to wear cropped tops, pair this long blue denim shirt with your pink shorts. Wear plain flats with your outfit and a dark maroon purse to add colour to your look.
Do you have pink shorts and a denim jacket? Then take it out because it's time to pair it up. Wear them with a plain white shirt and a denim jacket. Wear your white shoes and cool sunglasses to complete your appearance. You're all ready to go for a walk or a picnic to have a great time.
24 – Valentines Day Outfit
With your pink shorts, you can even create a Valentines' Day outfit. Yes, you read that correctly: wear pale pink shorts and a dark red top. Accessorize your look with red hair accessories and red earrings. To complete your look, add a pretty red and white clutch. Your Valentine's day outfit with pink shorts is ready.
23 – With a Checkered Shirt
Wear pink high-waisted bow shorts with a pastel green checkered button-up shirt. Match your look with a pair of patterned shoes. To complete your look, add a stylish purse. This look is suitable for college or university-going girls.
22 – With A White Top
Do you love wearing off-the-shoulder tops? Then here is a perfect option for you. Combine your white off-the-shoulder top with baby pink shorts. If you don't know what shoes to wear with your pink shorts then pair your look with decent white flats and a stylish jute bag. If you're attending a daytime event, you can wear sunglasses. This dress is suitable for lunch or a coffee date.
21 – Outfit For Teenage Girls
Are you going to Disney land and searching for a cute outfit? Then check out this adorable outfit. Also, if you want to contrast your pink shorts with some funky hues, go for orange. Pink and orange can make an eye-catching and vibrant combo. Wear pink shorts with an orange crop top. Wear a lovely sparkling headband to complete your appearance. Your cute pink and orange colour combination outfit is complete, and you're ready to visit Disney World.
20 – With A Kimono
Kimonos are popular nowadays, and they look great when styled in a classy way. Put on pink shorts, a light brown blouse, and a white net kimono over it. Wear a brown hat that matches your shirt. Complement your outfit with a pair of elegant high heels. You can create this look if you are going on a vacation.
19 – Printed Pink Shorts
Summer and spring are all about cool clothing that is both stylish and comfortable. To contrast your printed shorts, pair them with a white plain tank top. You are ready to go.
18 – With Blue Tops
Here's another fab going out outfit that you can create with pink shorts. Pair your shorts with a floral printed top in blue. To make your dress appear classier and attractive, add a simple hairdo and a chain necklace to it.
17 – All Pink Outfit for Parties
Pink Shorts styled with an off-shoulder top is the 'it' summer uniform for 2022. Perfect for an ice cream date, adorn this pink shorts and off-shoulder ensemble and stay cool throughout, while also raising the style meter. Style it with a french braid and layered necklace for a fun and easy vibe. Throw on a pair of shades and voila you are all set. Don't forget to pose with your colorful ice cream cones.
16. With Pink Sweatshirt
A super cute and chic outfit for a coffee run, this pink cycling shorts styled with a pink sweatshirt is a fun and fresh combo that you can simply throw on but still look put together. Feminine and flirty, enhance the look by styling it with a messy bun, wayfarers and you are ready to hit the Starbucks for your daily dose of caffeine.
15. With Matching Shirt
Vertical stripes are a girl's best friend and when it is in pink – it is pure heaven. This summer season, comfort is the memo and we are here for it. What could be more comfortable than a pair of striped shorts paired with a matching shirt?
An easy-breezy look, this fit is perfect for lunch dates with your girlfriends or for a shopping spree. Accessorize it with contrasting funky green jewelry, and green slippers, and you are all done.
14. Pink Short Co-rd Set
Hop on the pink suit trend train and turn your office floor into your runway with this super chic and fabulous pink shorts co-ord set. With a striking pop of color, this super-smart outfit is made for our boss ladies. Bring a dose of freshness to your meetings with this hip and happening hue.
Style it with a black satin top and small gold hoop earrings with a smartwatch to complete this stylish formal wear. Here are some more tips on styling matching co-ord sets.
13. With Off-Shoulder Top
Are you going to a pink-themed party and wondering what to wear with pink shorts? Then here is a pink shorts party attire for you, pair your shorts with a light pastel pink cold shoulder top. To the party, wear pink high heels and a beautiful pink purse. Make an elegant hairdo to go with your dress and wear only a few pieces of jewellery. Your all-pink party outfit is complete.
12. Polka Pink Shorts Paired with Shoulder Tie Top
Want to try the trending pink shorts trend, but the bold pink intimidates you? Fret not, this blush pink number with retro polkas is the perfect compromise. Like a breath of fresh air, polka pink shorts styled with a blush pink cami top with romantic shoulder tie detail is an effortless number that you can easily pull off without much hassle. Suitable for all body types, this striking ensemble will surely bring out the gorgeous diva in you.
11. Chic Pink Shorts Outfit
Who said pink can't be classy? This classy and sophisticated look is exactly what Marilyn Monroe would have worn wear in today's world. Chic yet luxurious, this ensemble has won our hearts. Styled with a crisp white button-down with statement sleeves, this fit is for our classic beauties who want to keep it stylishly modern with a hint of vintage grace.
Wear this to your brunch date at the plaza or for a tea party and make heads turn.
This year is all about funky jewelry, vibrant shades and bold prints as more and more people embrace the maximalism lifestyle and welcome the 90s fashion back into their lives. After the dullness of the pandemic, bold and over-the-top prints are all we need to wake up from our long slumber.
And this striking pink shorts beach outfit is exactly that. Wear your hair in braids and get ready for your beach vacay in this trendy yet comfortable outfit.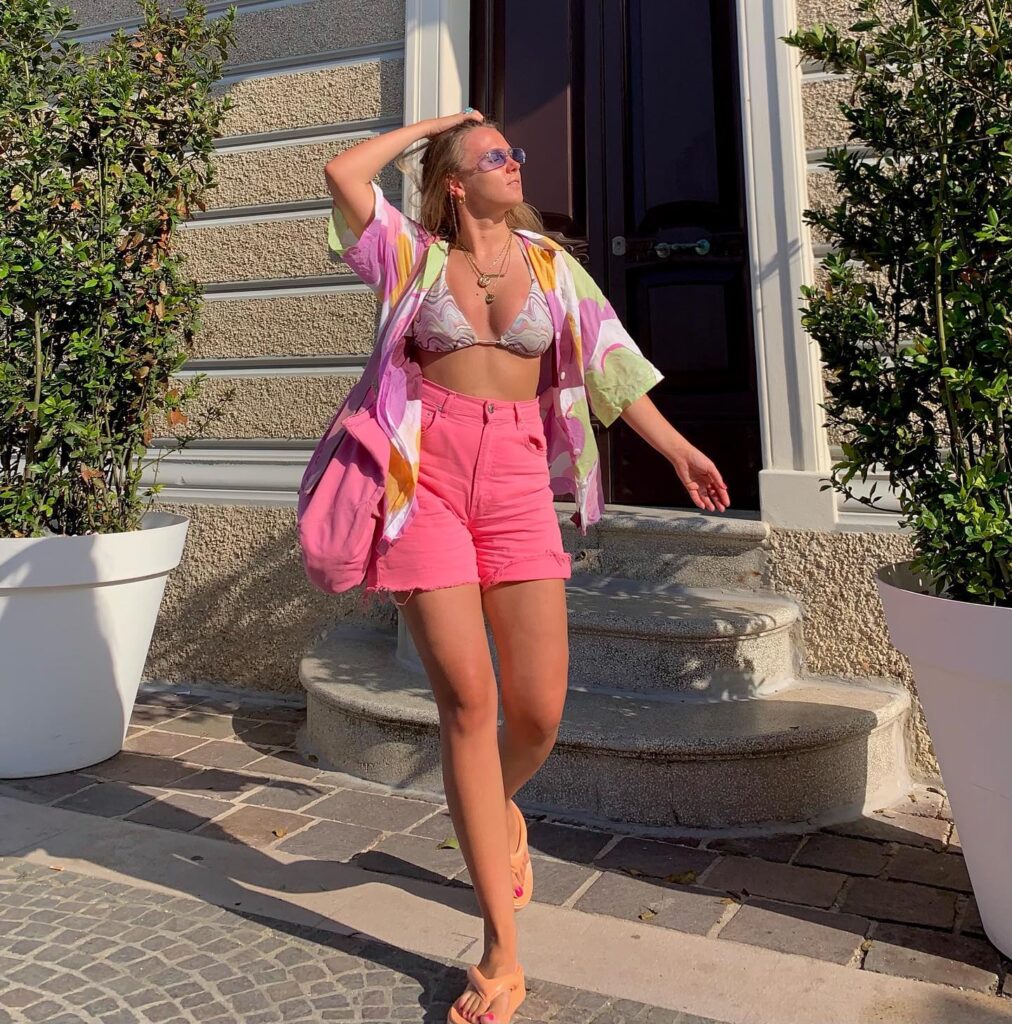 9. Pink Shorts for the Gym
Embrace the fit lifestyle and raise the hotness meter at your gym with this stunning pink shorts and tank top combo. Breathable yet chic, this is the perfect gym wear that you need to achieve your fitness goals. Accessorize it with a smartwatch and slay.
8. With a Leather Jacket
Hello to all our Instagram influencers, we have got your next favorite outfit that we are sure is going to make you squeal with happiness. Edgy with a hint of flirty feminity, this pink shorts styled with a halter neck top and the classic leather jacket is just as fabulous and unique as you.
With clean makeup and a no-nonsense look, this number is best pulled off with combat boots.
7. With Blazer Jacket
Rocking an all-pink outfit can be a little daunting. But if you love pink then we'll find a way for you to adorn it comfortably and stylishly. The hot pink shorts styled with a contrasting white blazer and top is a toned-down version of the pink-co-ord set.
Equally stylish, this set is perfect for those who want to slowly incorporate colors into their office wear. Style it with a layered gold necklace, strappy heels, and a soft nude makeup look, and walk confidently to that conference.
A super romantic ensemble, this is the perfect lunch date outfit that you need to try out this summer. Relish in the sun, with this flirty and feminine number and feel like a barbie. Style it with cascading hair, strappy heels, dainty gold jewelry, and some fresh baby breaths to add to the romance.
5. With a Printed Top
Young, fresh and vibrant, nothing screams summer better than a printed top. A casual yet splendid number, this ensemble will bring out the child in you who simply want to spend their summers with lemonade and ice popsicles. Pair this fit with chunky shoes for a laid-back summer outfit.
4. Colorblocking for the Win
An absolute winner when it comes to making a statement, this showstopper outfit is not for the faint-hearted. Bold, beautiful, and fabulous, a fantastic color blocking of pink with orange simply demands attention.
The hot pink shorts paired with an oversized orange shirt reminds us of the hot summer days spent gorging on strawberries and drinking orange colas. Make a statement with this influencer-approved outfit, by styling it with a high ponytail, and a no-makeup makeup look.
3. With Polo Shirt
Channeling your inner Margot Robbie, this regal outfit reminds us of Chanel in the 90s. Posh, sophisticated with a touch of old Hollywood glam, shorts paired with a polo shirt will never go out of style.
An easy way to turn your diva on, this outfit is perfect for those impromptu golf games or brunch at the club. Pair it with sleek Louboutins or white sneakers and a messy ponytail to finish off the sophisticated look.
2. Pink on Pink for the Summer
For the 'I don't know what to wear' days, this pink on pink number is a clear winner. Casual pink shorts styled with an oversized pink shacket and a white crop top is exactly the casual yet not so simple outfit you were looking for.
Streetwear was never this hot, but with this sexy yet casual number, turn the street into your own personal runway. Wear your hair in a sleek bun and throw on some dainty gold hoops and your high street fashion look is ready to hit the streets.
1. Floral Pink Shorts Adorned with Matching Pink Top
Just when we thought we couldn't find a better summer outfit, this divine outfit caught our eye. Feminine, flirty, and oh-so-summery, this floral number is an absolute must-have. Perfect for a beach day, or even a fun dinner date by the pool, this super comfortable yet chic pink shorts outfit is our absolute favorite. Accessorize it with feather earrings, a chunky bracelet, and pose. Don't forget to tag us in your ootd pictures.
Frequently Asked Questions
Q. What color goes well with pink shorts?
For a casual look, style your trendy pink shorts with a white cami top and some dainty gold accessories. If you are looking to make a statement, color blocking is your best bet. Pair your pink shorts with an orange top or a green shirt and stand out from the crowd.
Q. What to pair with hot pink shorts?
A bold and beautiful color – hot pink pairs well with a lot of colors like – green, black, white, or even purple. You can also pair your hot pink shorts with a black and white striped top for a more put-together look.
Q. Where can you buy pink shorts?
I love the pink shorts available on Amazon as they're super stylish and budget-friendly. For high end pink shorts you can shop at Harvey Nichols, Ssense and Harrods.
Q. What can I pair with pink shorts?
You can pair pink shorts with any colour, including grey black white, and even red. Pink shorts can also be paired with printed shirts. If you're wearing a basic blouse with plain pink shorts, you may dress up your appearance with a printed blazer or jacket. Otherwise, you can always wear pink denim shorts with a sweatshirt outfit.
Q. Are pink shorts in style?
Pink shorts are not just popular this year, but they are an all-time trend that will never go out of style. These shorts should be in every woman's closet. They are the comfiest and easy to wear, which every woman can wear in several trendy styles and ways.