Stylish Going Out Outfits for women: The summer is here and so is the time for more and more party opportunities. Whether it be going to a club, fancy dinner parties with friends, or special occasions like birthdays and weddings. An appropriate, dashing outfit for going out is a must-have for any girl this season.
Furthermore, it is imperative that we focus on what truly matters, and that is of course incorporating fresh trends into our party outfits. This year's summer trends include lots of voluminous dresses, vibrant block print colors, open backs, and platform shoes. If you are wondering how to style that, worry-not. We have it all planned out for you, just keep reading.
How To Dress According to Your Plans
Dinner Party: If you are going to a dinner party, chances are that you will be sitting a lot. In the case that you want to show off your outfit even when you're not moving around lots, your fanciest article of clothing must be your top. You can easily wear pants on the bottom for comfort, but pair them with an eye-catching top and even a large – bulky necklace.
Dancing in a Club: For this occasion, you have to invest head to toe into your outfit since all of it will be visible. Also, try playing around with colors or fabrics that would be accentuated under the club flashing lights. Something like satin for example, or clothes with crystals or embellishments that will glitter. This is one way to stand out in this setting. Here are some of the Best Casual Outfits For Clubbing.
Bar Hopping: If you are going bar hopping with your besties you must prepare for a lot of movement. This is why you need to watch out with regard to the shoes you wear. Luckily for you, platform shoes are a trend this year, and they are coincidentally more comfortable than regular heels. Moreover, we would recommend choosing clothes that will be warm enough to be outside in, and cool enough to not have to take any layers off in a crowded bar. This way you can avoid holding your jacket in your hands all night.
What to Wear When Going Out?
Now that we are done with the tips, let's look at some of our favorite outfits that are trendy and comfortable:
25 – Pair Basic Jeans with a Stunner Silk Top
Starting off the list with a super casual and easy-to-put-together outfit – you will only require jeans and a silk top. Things to look for in a top would be the material and silhouette. This one, in particular, has a very cute satin finish, therefore already looks dressed up. Although the real show-stopping quality is the asymmetrical cut.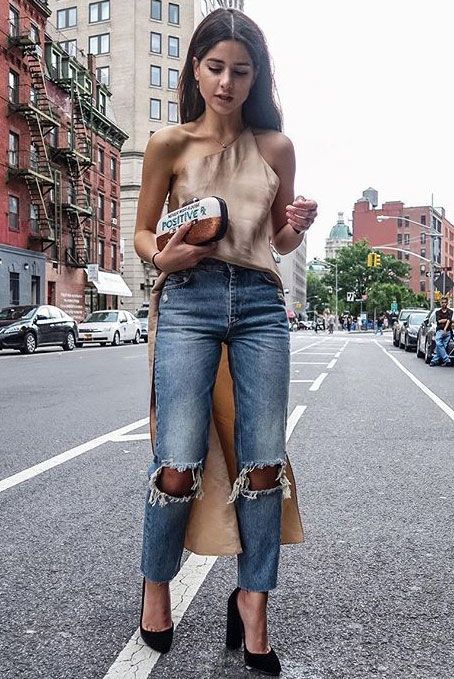 Via
24 – Casual Top with a Going Out Skirt
Inversely to the previous outfit, this one includes a casual top and a fancy bottom. For instance, try pairing a cute white t-shirt. Bonus points if the fabric is satin, as it will look more put together. Next, find a skirt that is perfect for your style and body type and you're all done.
23 – Match a Baby Blue Pants and Jacket Co-ord with a T-shirt
One trend that you can definitely expect to be part of your summer closet are co-ord pantsuits. So it is our advice that you buy at least one in a color which suits you best. For this outfit, it is quite simple. Try out a light blue pantsuit and pair it with a casual white t-shirt.
22 – Create an All-Mint Co-ord Look with a Pantsuit and Sports Bra To Match
If you want to build on the previous outfit, you can try this out. Try finding a pantsuit in a bright color that suits you. Following this – aim to find a bra top, or a sports bra top in the same color. This type of monochrome look will have you looking put together and ready for a night out. If you like this color then do check out these Tips On How To Style Mint Green.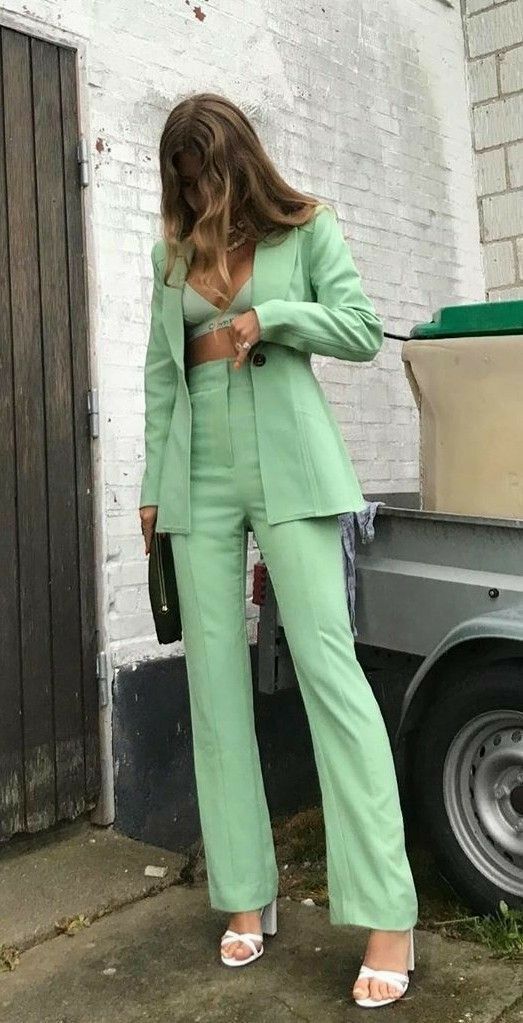 21 – Go For an All Grey Casual Tom-Boy Pant Look
Similar to the previous outfits this is a build on the pantsuit trend, however, is slightly more unique. Instead of pairing pants with a blazer in the same colorway try a vest. Perhaps you can find a matching co-ord, or try to match these yourself. But the result will be a sexy tomboy look.
20 – Go For a Daring Classic, with an All Black Pantsuit and Red Heels
It is no secret that there is a certain power that shoes have, especially when it comes to going out looks. One pair of heels, in particular, is a universal sexy classic – that is of course the red heels. These shoes are so special in fact, that you don't need to try hard to dress them up further. So pair with casual black pants and a blazer co-ord and you will look amazing.
19 – Pair Neutral Colored Clothes with one Stand Out Piece
Slowly moving away from the co-ord pants and blazer trend featured in the previous looks, this option is slightly more intricate. Although it is still super simple to complete. Since a blazer and top is very easy to find, similarly,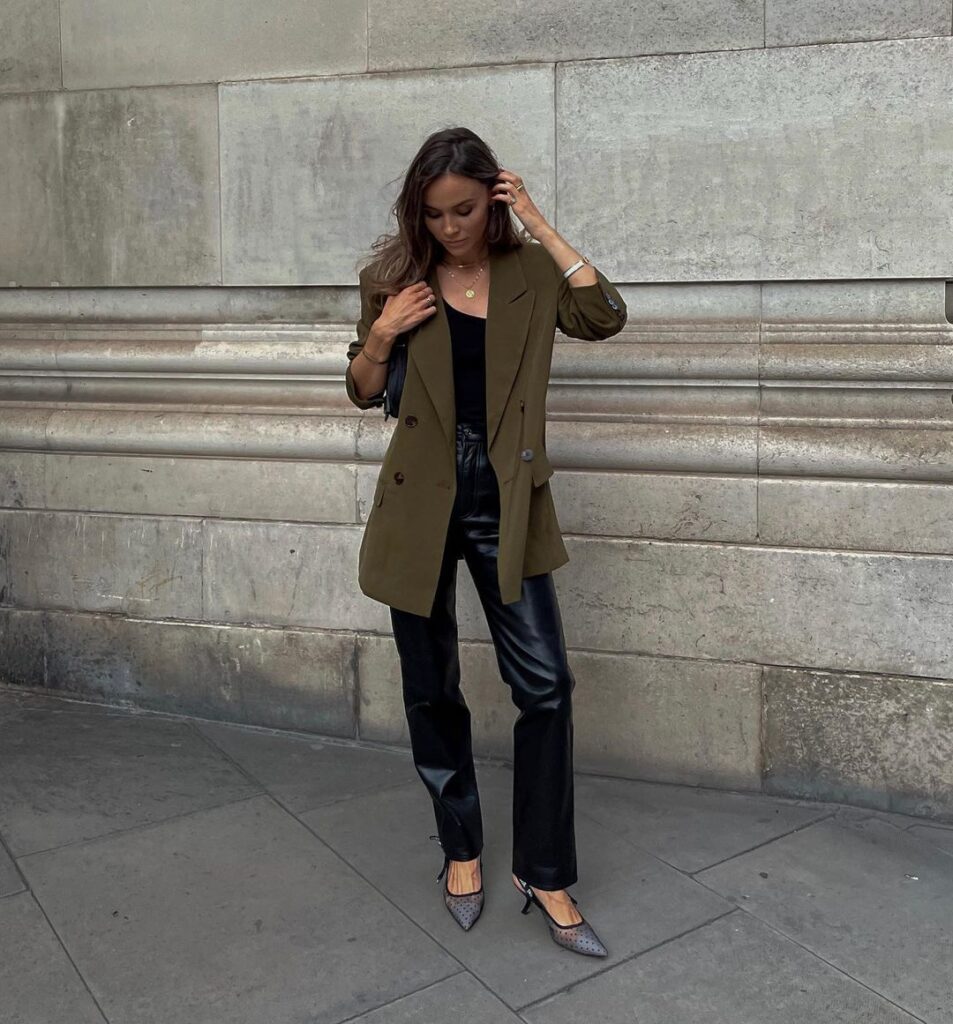 19 – Try Out a Risky Cinched at the Waist Blazer Dress
Similar to the previous look, if you aim to be super stylish in your going-out looks this summer, this look is a must-try. It too contains a black blazer, however, this time it is a dress. More specifically what makes it special is that it is a blazer dress with a deep v-cut and a lot of sinching at the waist.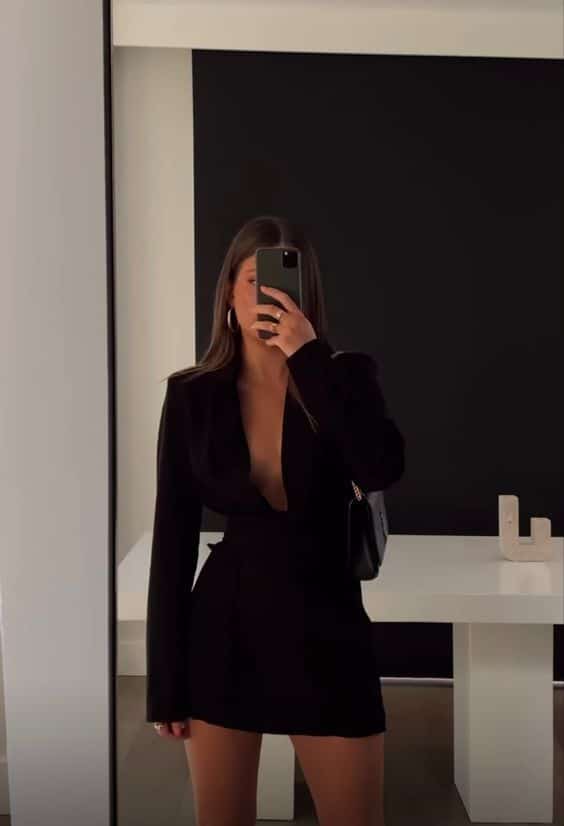 18 – Match a Tulip Mini Skirt with a Silver Top
Following these more casual outfits, this part of the list contains more mid-style options. So if you enjoy wearing skirts, tune in now. This look is quite simple to create although will look like you tried hard because of the different textures.
The tulip skirt adds volume, whilst a sparkly top provides that different texture that will make you stand out.
Here are some more of my favorite Tulip Skirt Outfits.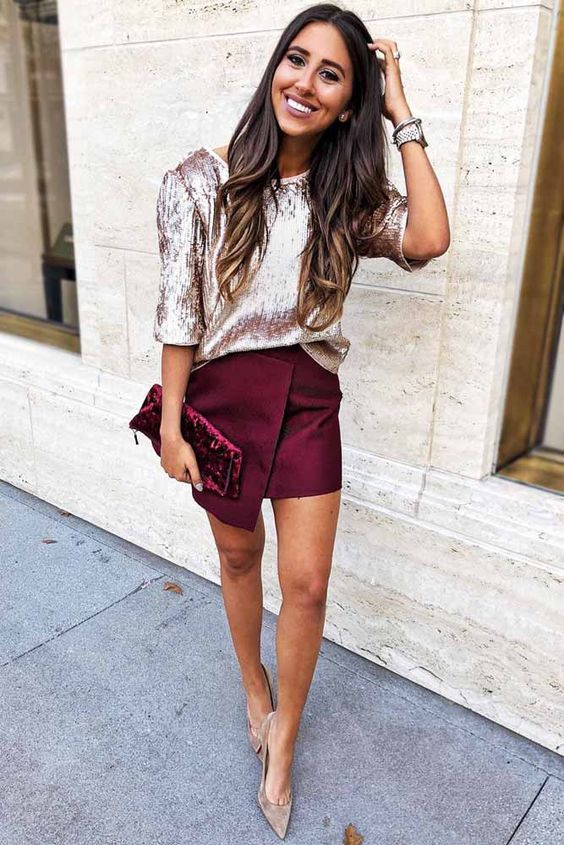 17 – Create a Classic Sultry Look with a Leather Mini Skirt and a Bright Top
This outfit similarly contains a mini skirt, however, this time it is a classic smooth leather option. This outfit will also work best for the colder summer nights, when you want to be slightly warmer but don't want to look cozy.
So our advice is to pair it with a bright red long sleeve. It is classic and will make heads turn.
Via
16 – Combine Different Prints and Textiles for a Complex Outfit
On a night out, your clothing definitely sets the mood. Therefore don't shy away from active prints and textiles. For instance, a cheetah print is a classic that mustn't be ignored. Pair that with a cute brown jacket and you have yourself an outfit that will guarantee you a fun night.
15 – Match the Color of your Skirt to your Top
As we already mentioned this season's trends include vibrant block colors. For instance, a well-balanced yellow that is both eye-catching but gives off a collected feeling. However, aim to accessorize with neutral colors that are different. For example, white would work perfectly in an outfit like this.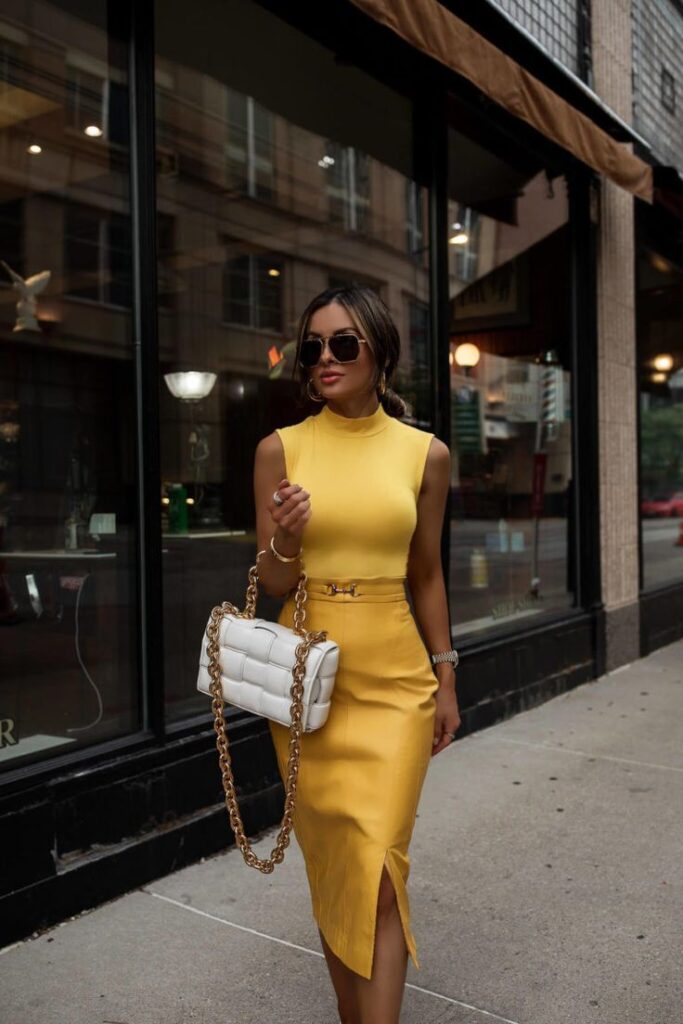 14 – Find a Vibrant Skirt to Pair with a Black Top
One of the options you might consider is having a very vibrant pair of bottoms – in this case a midi skirt with a side slit. However to contrast it with a black top. Colors that work very well with black are deep / emerald greens, purples, and blues.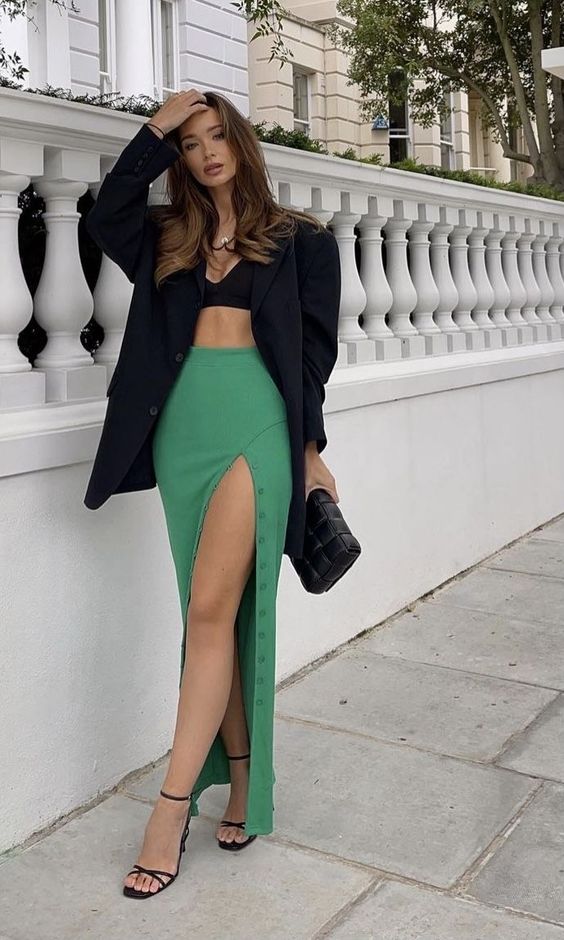 13 – Try Out the Kendal Jenner Trending Dress
This dress has become a large trend for the summer, largely because a similar design has been shown off on Instagram by Kendall Jenner. This type of dress is a multicolored long sleeve with a short turtleneck. It works very well for all sorts of going out plans, and pairs best with black shoes and accessories.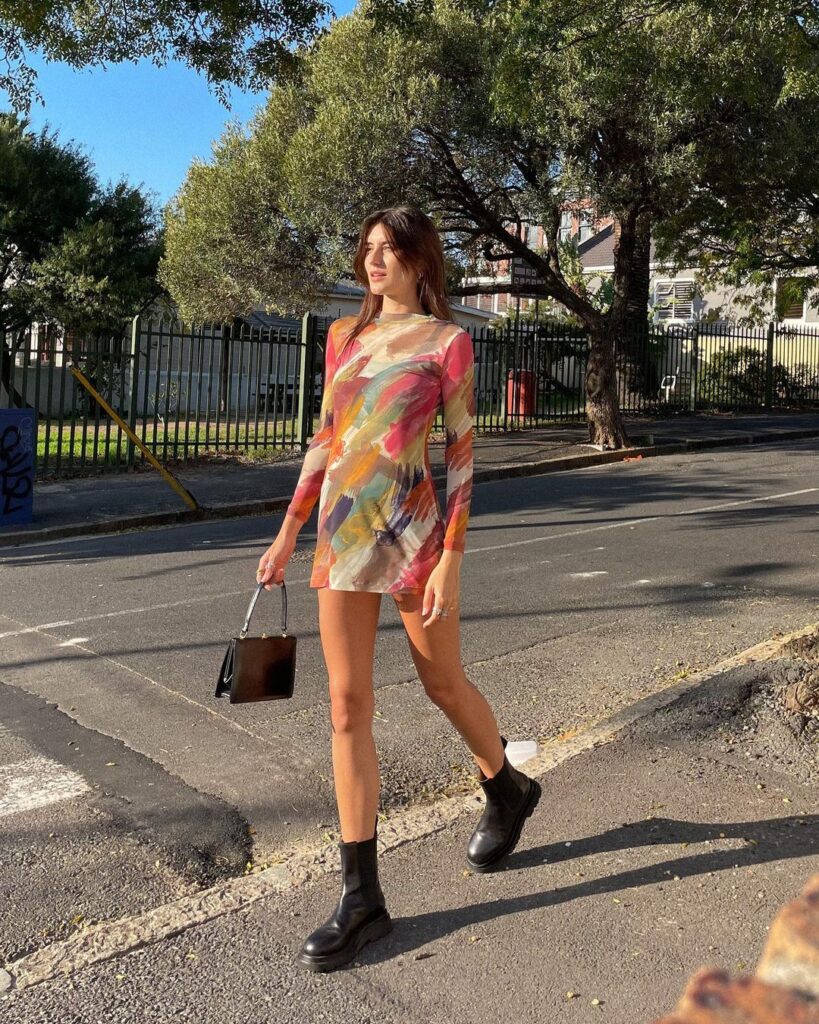 12 – Be Eye-catching with Multicolored Pants and Top Combo
One of the main trends this summer is youthful mixes of color. This outfit shows you how to do just that. If this matches your personal style, we recommend choosing the three colors you prefer most and finding clothing items that match them and have no prints. One main tip for this type of outfit is to choose colors within the same color family or to stick to cool colors / warm colors only.
11 – Combine Same Color Pieces for a Monochrome Party Look
Alternatively, to the previous outfit, it is absolutely possible to remain stylish if you choose just one color for your outfit. For example try creating an all-over sultry red look, perfect for dance parties. A clothing item that makes this outfit, especially stylish is the laced corset top.
10 – Stick to Neutral Colors of Satin Textiles for An Elegant Going Out Look
Alternatively to the outfit above, this look is much more classic and neutral. Although this look also contains pants, the appeal is completely different. Unlike the previous look, this will be the perfect look for dinner parties or drinks with the girls. An important thing to note is the combination of satin with neutral shades, which makes this highly elegant.
9 – Replace Pants with a Flowy Skirt for a Dinner Party Outfit
This outfit is highly similar to the previous one, only it is meant for those of you who prefer to wear dresses or skirts on the nights that you go out. However, the idea remains the same – satin clothing items within a neutral color scheme to look extra classy.
8 – Reach for a Satin Slip Dress In a Gem Color for a Sexy Night-Out Look
Although the previous outfits detail how satin fabrics look dashing in neutral colors, doesn't mean that they only look good in those colors. On the contrary – satin also looks very breathtaking when worn in a gem color. Like a deep emerald green.
7 – Find a Dress that Toes on the Sides to Shape Your Figure Best
One major dress trend this summer is a dress that has ties on either side of the body. These ties are adjustable and are perfect for making your body look like the idealized hourglass figure.
6 – Choose a Midi Dress with a Scandalous Side Slit For a Risky Night-Out Look
Alternatively to the previous outfit another great option for going out is a dress that has a side slit and adjustment straps on that same side. This will create an asymmetrical effect to the silhouette which could be very flattering. Since the silhouette is already out of the ordinary, the best color for this type of dress is natural – like black or white.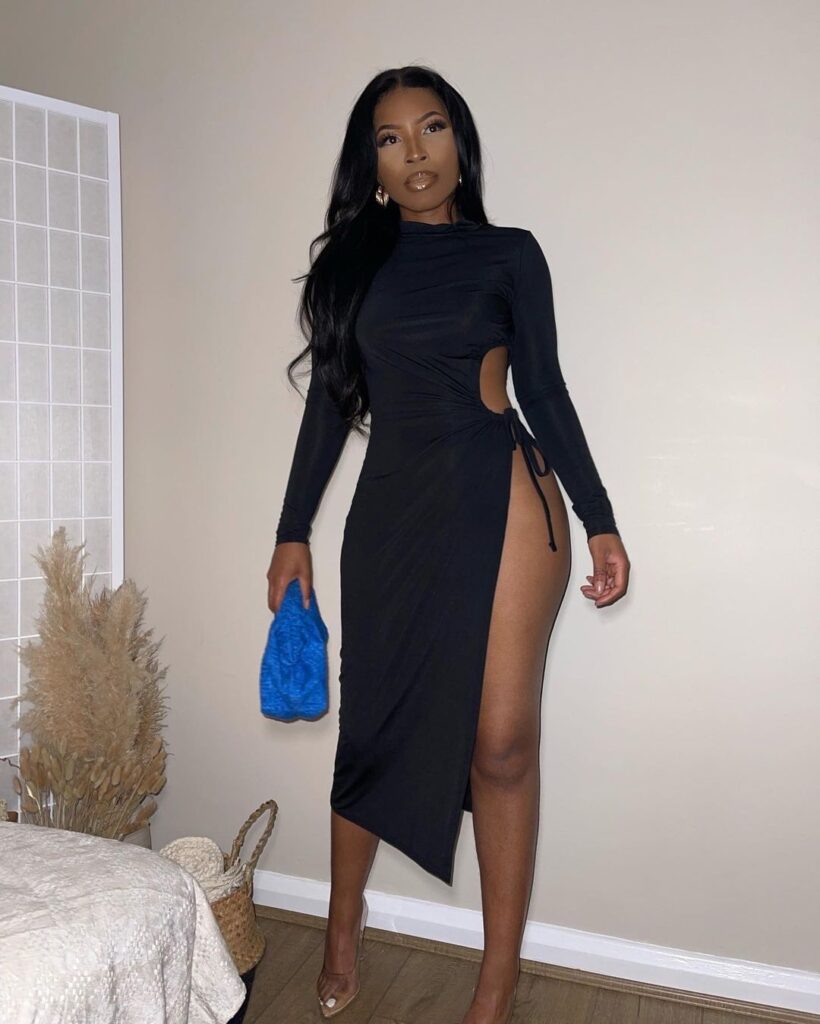 5 – Go Bold with a Unique Red Dress for a Party
Sometimes a great outfit for a night out is as simple as choosing a classic red dress and pairing it with a matching red purse.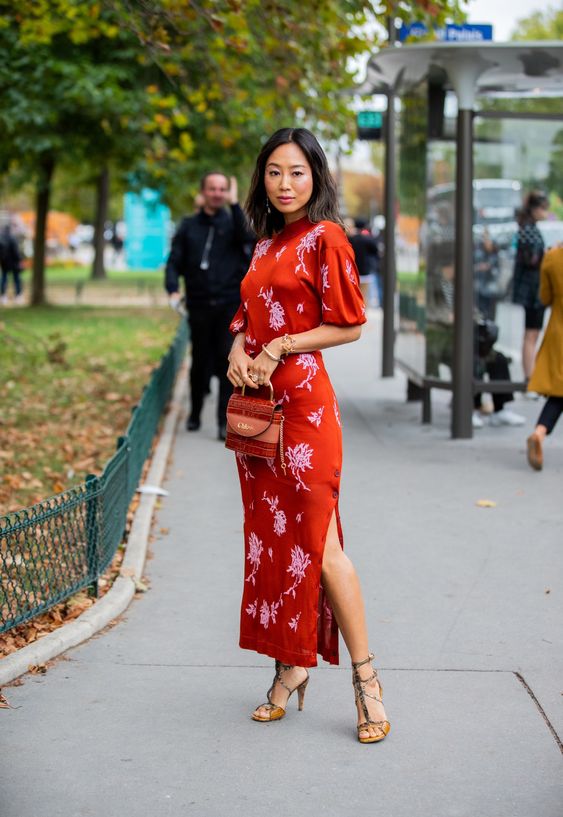 4 – Try a Little Black Dress in Sequins
As we approach the last part of this rundown, you will find the fanciest going-out outfits here. One major trend we should not ignore in this rundown is the sequence textile mania. This look, in particular, is very fancy – as it contains a classic little black dress all covered in sequins.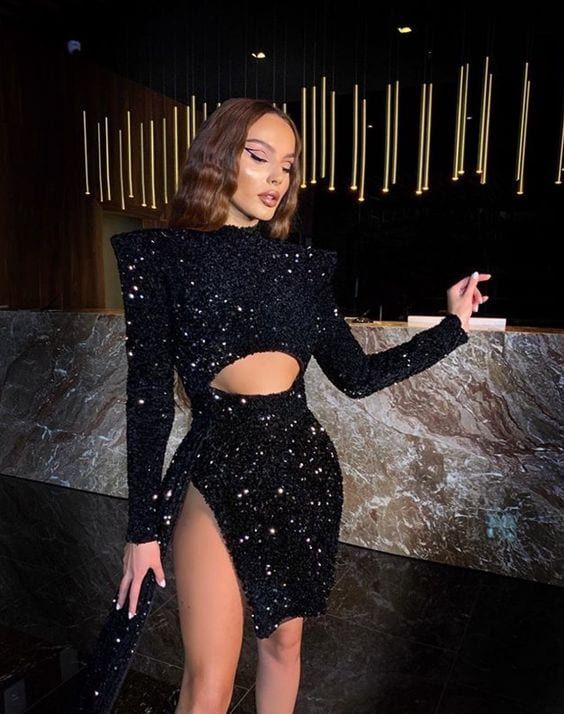 3 – Try a Red Sequins Dress for an Important Night Out
Similar to the previous outfit this is an extremely stylish look. Although unlike the previous look it is slightly fancier because the dress has a much more dramatic color red. In combination with the sequins, this look is ever more fancy.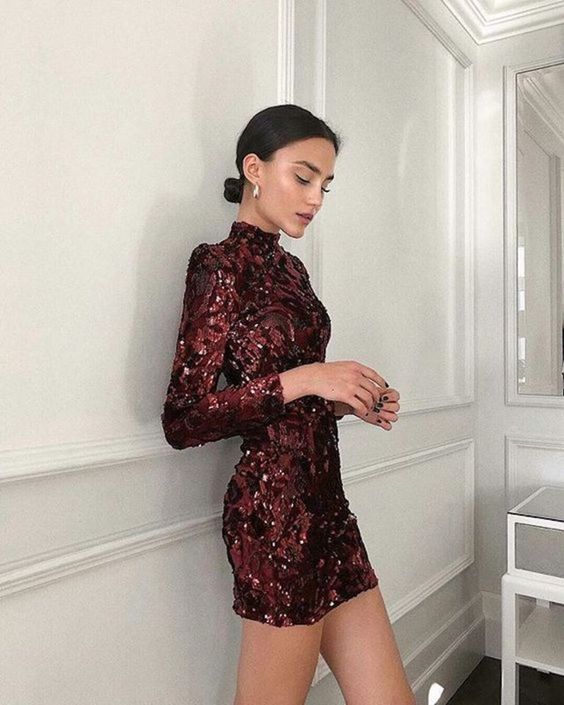 2 – Mix a Sequins Mermaid Skirt with a Fuzzy Top
This outfit will work perfectly for a night out which is slightly more chilly. The fuzzy top will keep you warm, but the pairing of the sequin skirt will maintain the fancy style.
1 – Go For a Sequin Two-Piece Pant Suit For a Fun Night Out Outfit
Last but certainly not least on the list is a two-piece pantsuit. That is of course no simple pantsuit, but a super fancy, dressed-up sequin pantsuit.
Frequently Asked Questions
Q. What Clothes are Trending this Summer?
Several clothing styles that are trending this summer and are perfect to go out in are. Sequin-covered clothing pieces – add the sparkle you need to rock any party. Satin skirts and dresses, this style is coming back from last summer. As well as coordinating blazer and pants looks.
Q. What should I wear when going out with friends?
That depends on where you plan on going with your friends – to the bar, clubbing, coffee shop or hiking as all will require very different outfits. But for a casual hangout with friends, I would go for look number 25, 19 or 12.