Sweatshirt outfits for women: Sweatshirts, being the comfiest and always in fashion, are hoarded by people who put their comfort first but do not compromise on their fashionista beliefs.
From yoga workout sessions and athletic matches to normal lounging or cruising around, sweatshirts are worn and appreciated. Furthermore, you can always count on casual and formal workwear. They are the best for layering in colder temperatures but are also primarily considered in summer seasons too. Besides, What's better than chilling around in your coziest and homely set of loungewear. I, for one, can vouch for them, and I'm sure many of you would agree. 
Sweatshirt Outfits are lowkey the best outfits out there, readily available, and takes a whole of 15 minutes to assemble? Summers or Winters, you can opt for these outfits whenever you like. You can go for a cropped sweatshirt or a fitted one, a hoodie or a set of sweats, crewneck or polo sweatshirts, a zippered one, or a fleece. Moreover, moving ahead, some are not widely known, like a Baja, short-sleeved sweatshirt, or a buttoned-up sweatshirt. The wide range of options that we have is insane.
What To Wear With A Sweatshirt?
Similar to the sweatshirt options we have, it is entirely up to us to style and adorn them in a way we like, and that's appropriate. Buy lots of pastels and dark-colored sweatshirts of all the different types and get ready to incorporate them in your daily and workwear.
You can wear these with your skinny jeans, capris, straight or wide-leg pants, flared jeans, and so on with various sorts of jeans. Moreover, on the casual side, you can wear jogger pants, sweatpants, drawstring trousers, and surprisingly with dresses! As far as the accessories are concerned, what blows me is that you can wear every one of your accessories that's put on hold because you haven't found the perfect outfit to wear it with.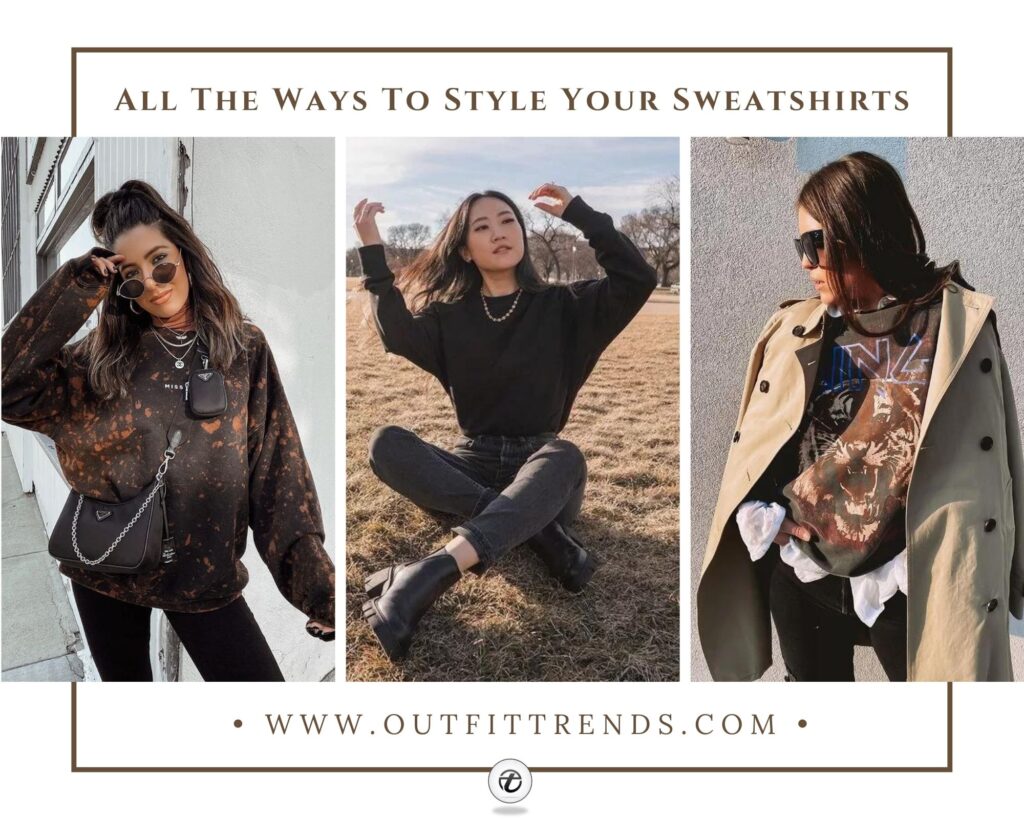 Where to Buy Women's Sweatshirts?
Take a wee bit of your time to go through these, and I'm sure you won't regret it!
ZARA: personal favorite and one of the best clothing brands out there. Their designs and ideas are definitely worth your time.
Reebok: an athletic recommendation. Pick out the most comfortable and gorgeous sweatshirts that go perfectly with your match of the day.
H&M: has beautiful designs and at such decent prices.
Lacoste: This brand, albeit slightly pricey, gives you articles that you can totally rely on and which are the finest. Their quality is fantastic.
SheIn: Their designs are perfect for a casual day out or for lounging around. What's more shocking is their prices?
Now that we've come across the recommendations, let's go through some of the glorious women's sweatshirt outfits ideas, shall we?
↓ 26 – Women Sweatshirt Outfits with Skinny Jeans


This All black outfit is a must-have for all the gorgeous ladies out there; it's so minimal and yet so elegant. You can wear this outfit with no questions to a casual day out with your friends or work. The plain and simple silver necklace is a gorgeous pick; you can pair it with matching earring studs or hoops. Wear a cardigan or a leather jacket over it if you feel like layering up, and tie your hair in a high ponytail to show off those earrings in style. Complete the look by going for one of these Shoes With Skinny Jeans.
↓ 25 – Teddy Coats' Comfort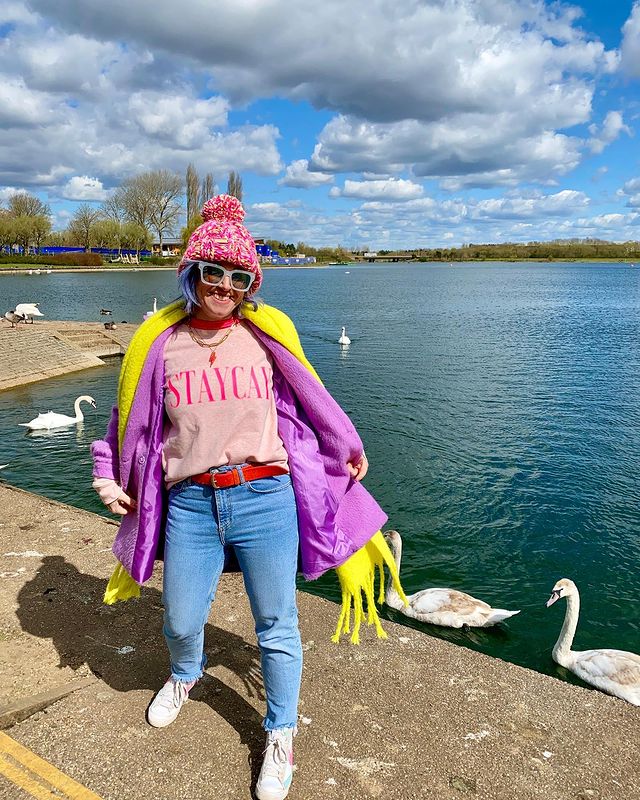 This blogger has managed to pull off this groovy look strikingly. I believe you can too. You can have fun layering up in winters with a teddy coat and a super funky or adorable sweatshirt. The knitted woolen cap is my favorite; it goes with the overall style of the look and is super trendy!
↓ 24 – Oversized Dyed Sweatshirts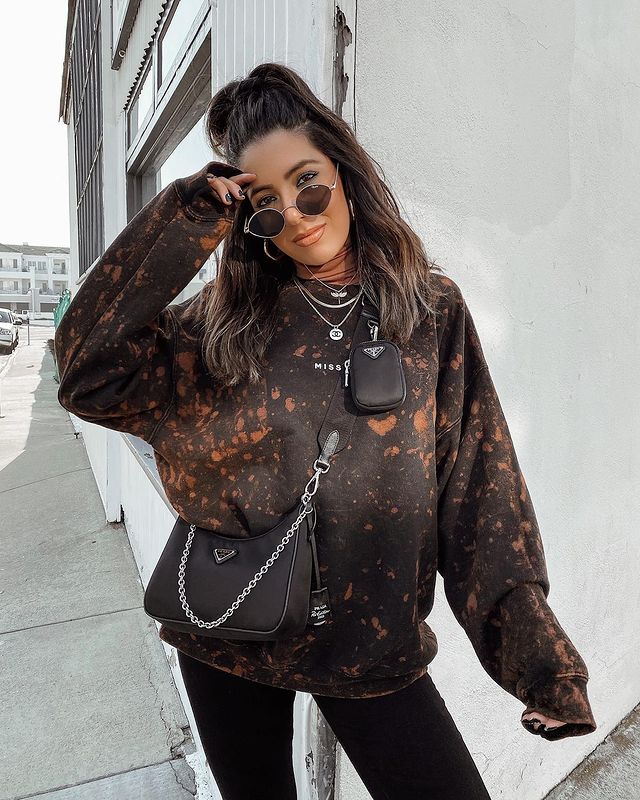 Baggy Sweatshirts are always extremely snuggly and stylish. They are fun to wear and style; you can style them up with an embellished or simple belt to give it an extra touch. To look work-appropriate, you can also opt to wear oversized sweatshirts with skinny jeans and flats. Here's our complete guide on Ideas On How To Wear Oversized Clothes.
↓ 23 – Velvet Sweatshirts for Women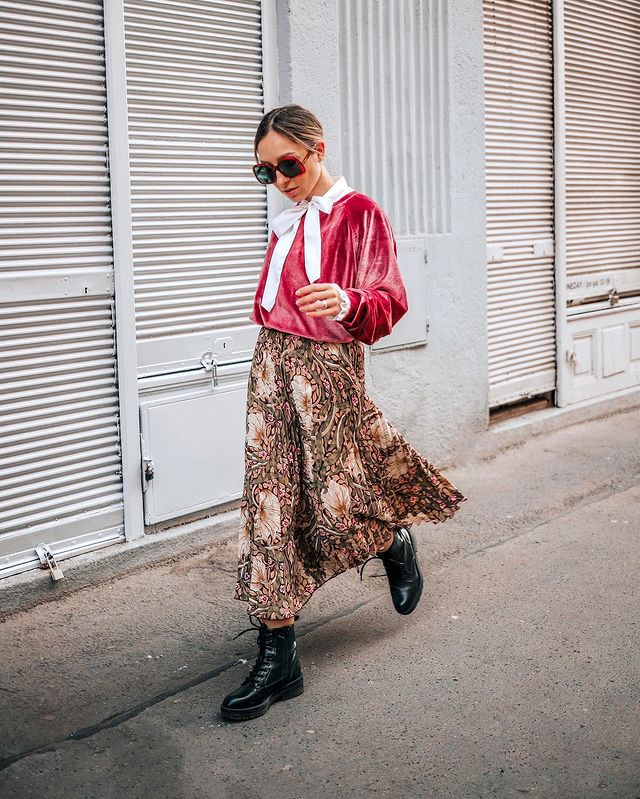 Velvet outfits are our OG and go-to looks for winter. They are the perfect way to say hello to a breezy season. This exceptionally beautiful velvet sweatshirt with a statement shirt can be one way to style winter outfits for work. Printed skirts and ankle boots or stilettos are decent preferences.
↓ 22 – Women Sweatshirt Outfits with Wide-Leg Pants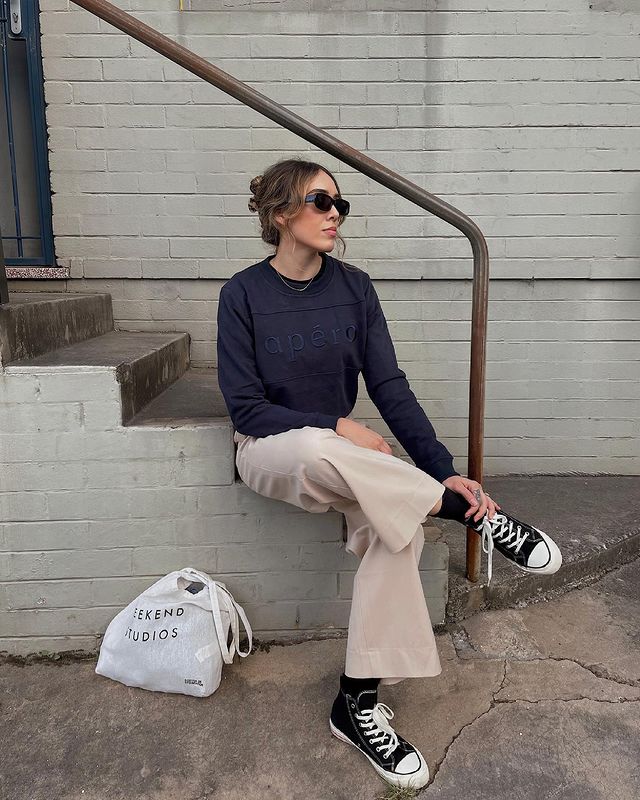 Wide-leg jeans or pants look gorgeous with fitted sweatshirts, especially for suitable business attire. You can wear all pastel ensembles or match a dark-colored sweatshirt or pullover with wide-leg jeans. Tie your hair up with a pretty scrunchie and wear huggie earrings for the final touches.
↓ 21- Pleated Skirt Theorem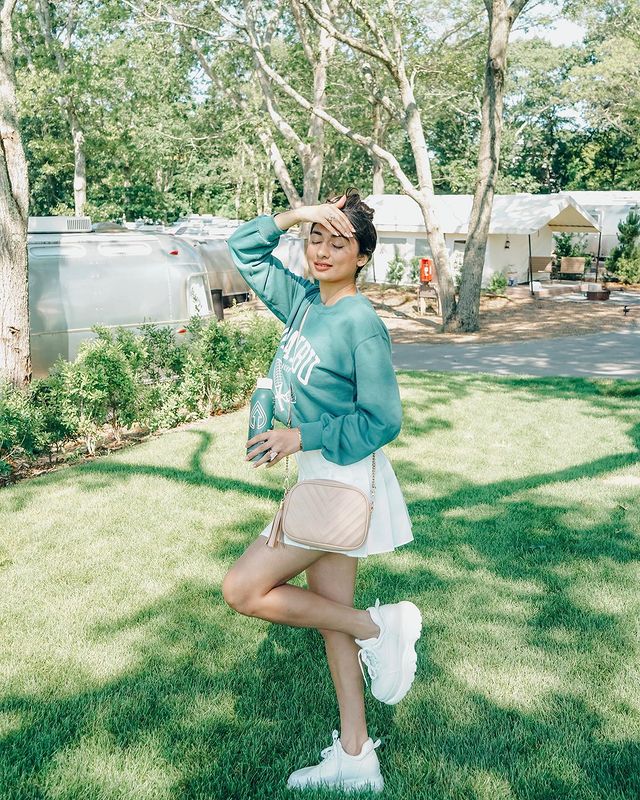 If you are searching for tennis outfits, look no further because, with this outfit, you'll be clothed in a fine array. As gorgeous as this attire is, you can get innovative and further mix it up with knee-length socks or boots.
↓ 20 – Flared Jeans for the Wins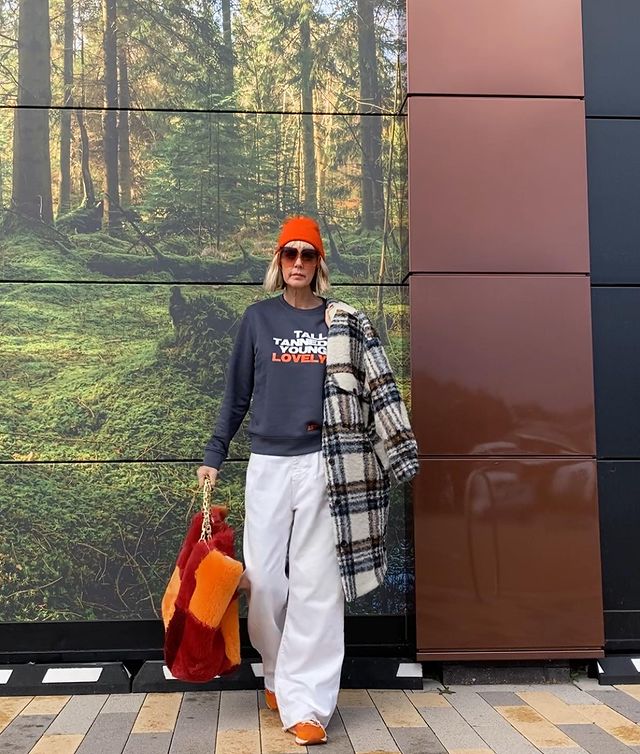 Did I hear someone say flared and ripped jeans combo? Because I'd love to style that one up. Ripped jeans or pants are a hell yes to a casual day out, grocery runs, or a day full of errands. They are up to date and can go with all of your colorful sweatshirts and shoes. Flared jeans could not be more apt for work.
↓ 19 – How to wear Women Sweatshirt Outfits with Plaid Pants?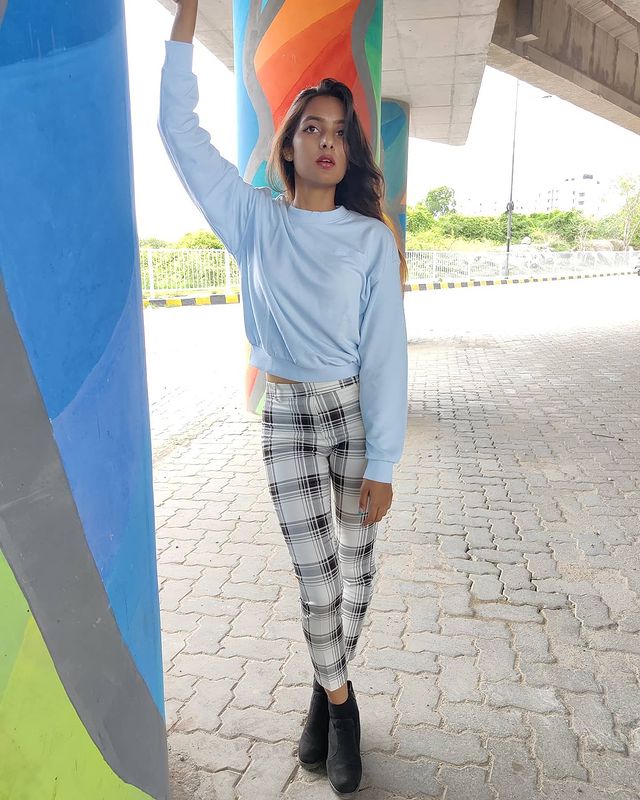 Plaids will forever be formal but in a casual sort of way. We are offered a huge range of alternatives for plaids; for instance, there's Check, Glen paid or tartans, and so much more. We can pair all of them with cute and stunning sweatshirts and flash them at work.
↓ 18 – Down Jackets are a yes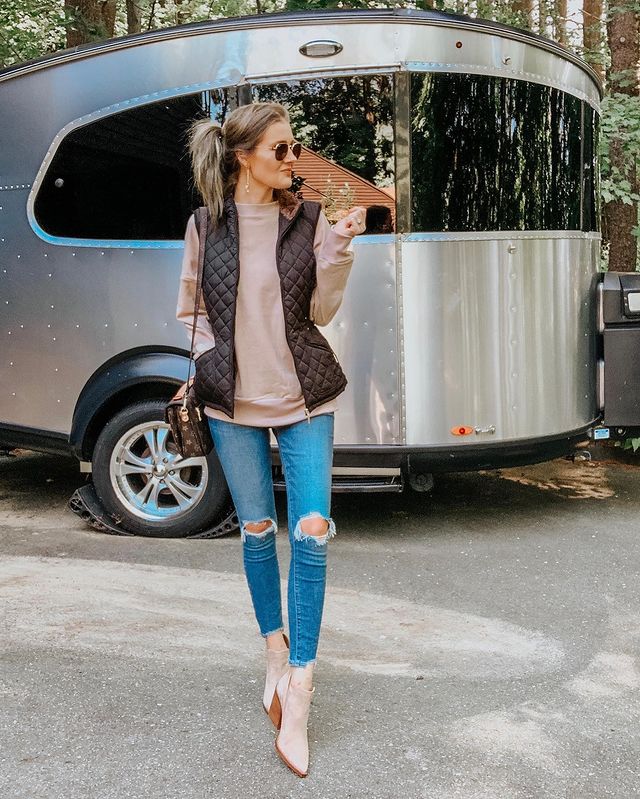 Are Down or Puffer jackets winter essentials? Yes, most certainly are. They look great with fitted sweatshirts or crewneck sweatshirts. With their quilted effect, you don't need to worry about getting frostbite, all the while looking like a breathtaking diva.
↓ 17- Leather is here to slay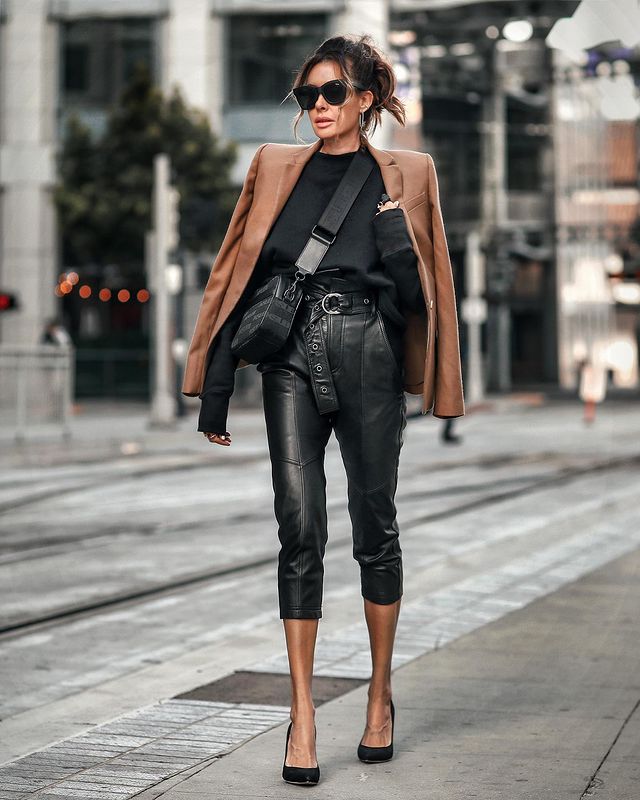 I'm a fan of how gorgeous these slayer leather pants look with a black oversized sweatshirt. I believe it's safe to say that this attire is definitely a smart casual business outfit, a rather stunning one. A collared shirt is all that's needed. You can tone it down and wear a leather jacket with pumps or vans for a casual touch.
↓ 16 – Footwear with Women Sweatshirt Outfits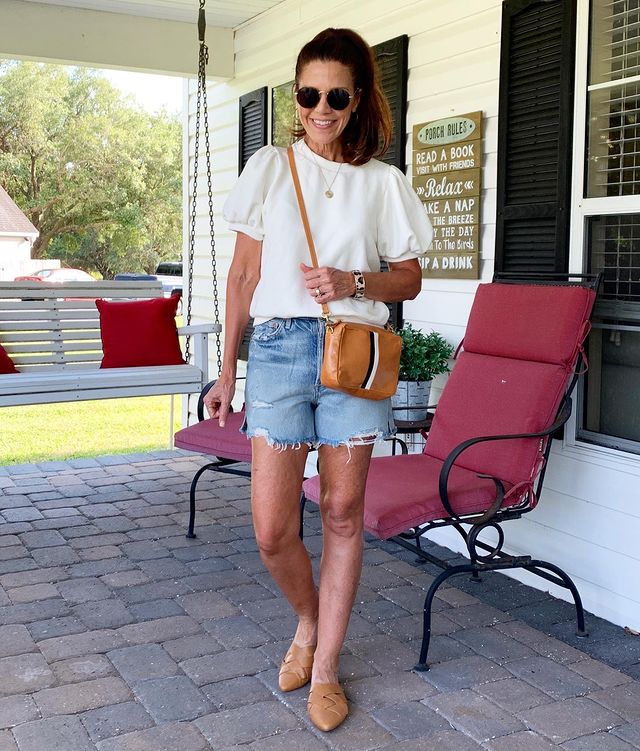 This classy sweatshirt would look great with a pair of ankle boots and Capri jeans for a formal touch. If you'd like a casual hint in it, wearing sandals or mules like these would be a good idea. An adorable set of nude wedges are a great alternative, too, with a paired dainty anklet. If you want to flaunt your pedicure, go for strappy or T-strap sandals. For a boho look, choose a pair of boho or gladiator sandals.
↓ 15- Denims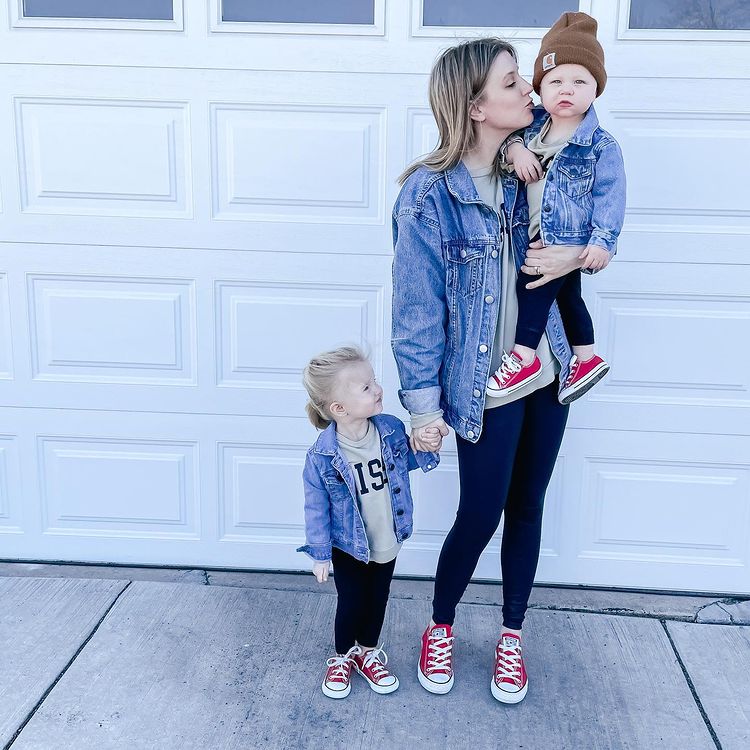 In all its adorableness, this outfit is a casual outfit fit for taking your kids out for a day trip to Disneyland. Denim is a work of art; it can go with everything you fancy, just like sweatshirts. Denim pants or a Denim jacket with a sweatshirt looks casual yet stunning.
↓ 14 – Sweatshirts with Skirts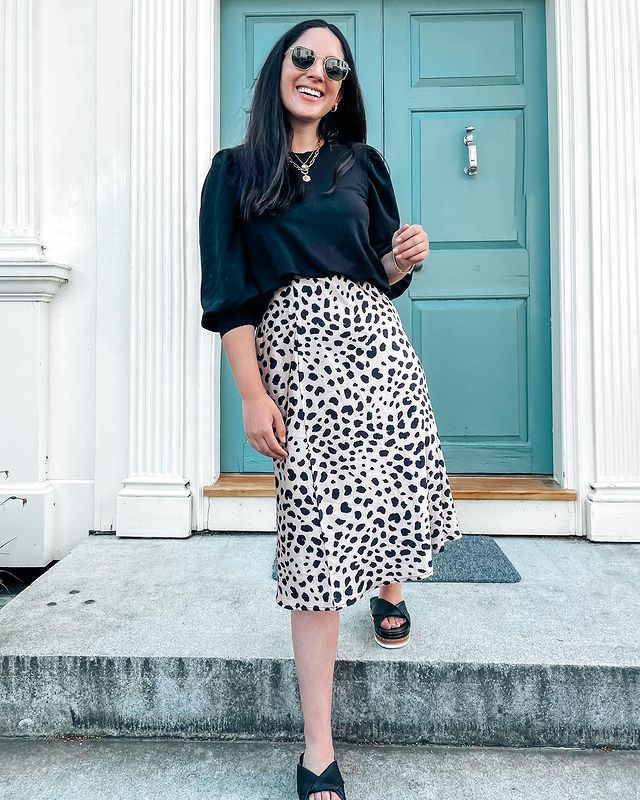 I am in awe of this look, its elegance, and its simplicity. Wearing sweatshirts with plain or printed skirts is a great alternative, one we should all try. An embellished or leather belt on top of the skirt would look gorgeous, and if you want to make use of your satin scarves, tie it around your neck. You'll end up looking like a view to behold.
↓ 13 – One with the Hoodies
Hooded sweatshirts are the most worn clothing on wintery or windy days, and understandably so. You can also wear a blazer on top of your hooded sweatshirt or a leather jacket with ankle boots beneath. Here are all the ways to style your hoodies this year.
↓ 12 – Informally Formal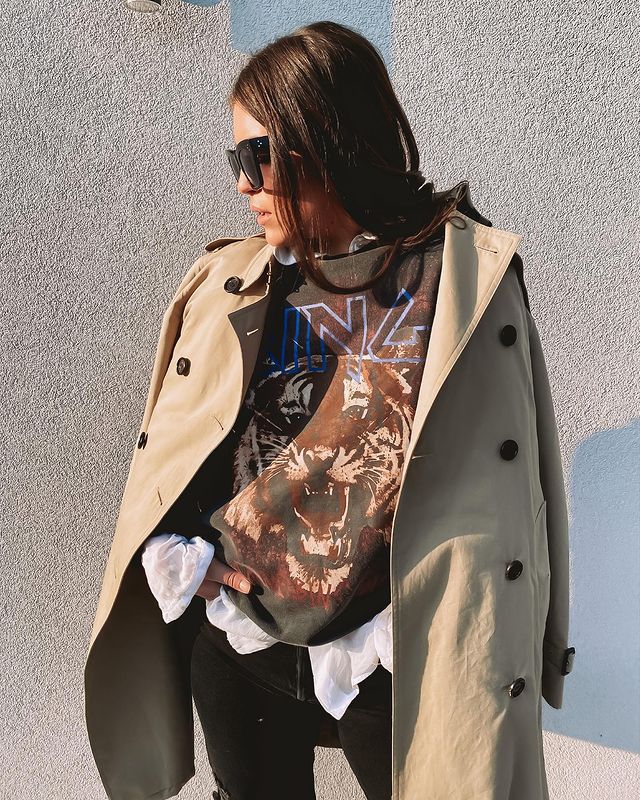 Collared shirts under sweatshirts have always been among the casual office attire list. To wear a fitted sweatshirt over a statement or collared shirt is the most informally approved look. This blogger has given you a cue to try this business ensemble out.
↓ 11 – Modish Sweatshirts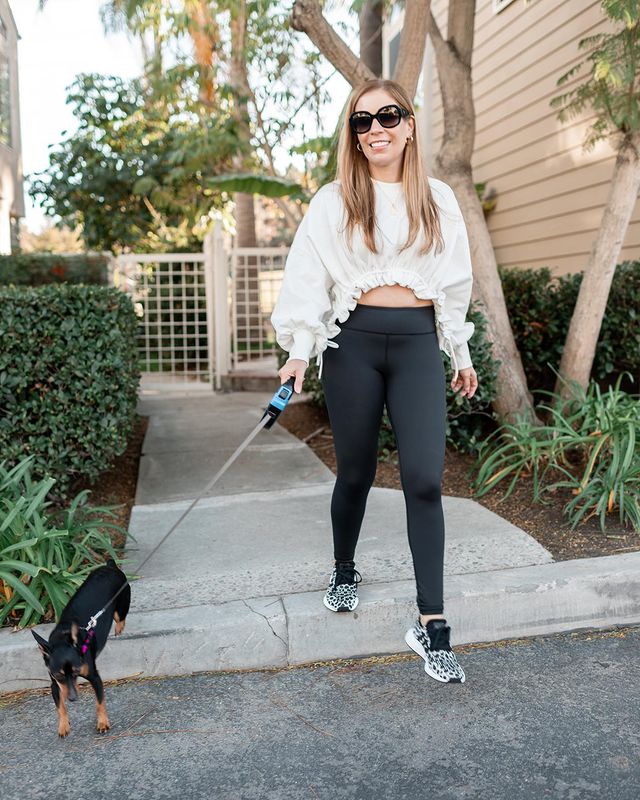 Make a statement in these phenomenal sweatshirts. You can dress them in combination with knee-length skirts, long plain skirts, or wear them over a dress. With these outfits, you'll be ready to look like a diva in any one of your brunches, bachelorette parties, or formal gatherings.
↓ 10 – Women Sweatshirt Outfits with High Waisted Pants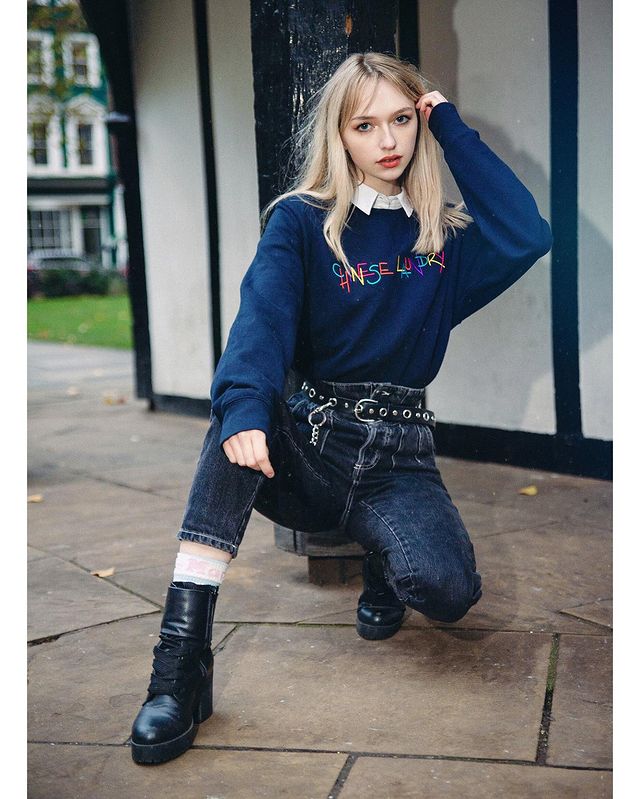 I'm obsessed with this combination; you can always go for this look when you want a unique and extraordinary touch. Wear a long coat over the sweatshirt to complete your entire outfit.
↓ 9 – For Women Over 50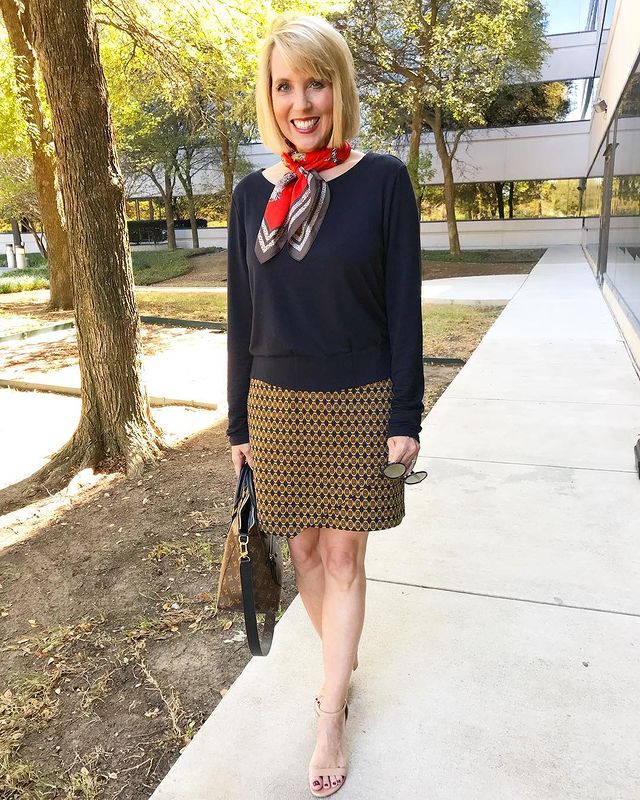 This blogger carries this attire in a glorious and sophisticated way, ideal for whenever you want to impress your higher-ups. Use your black sweatshirt in innumerable ways to pull off various outfits.
↓ 8 – For plus size ladies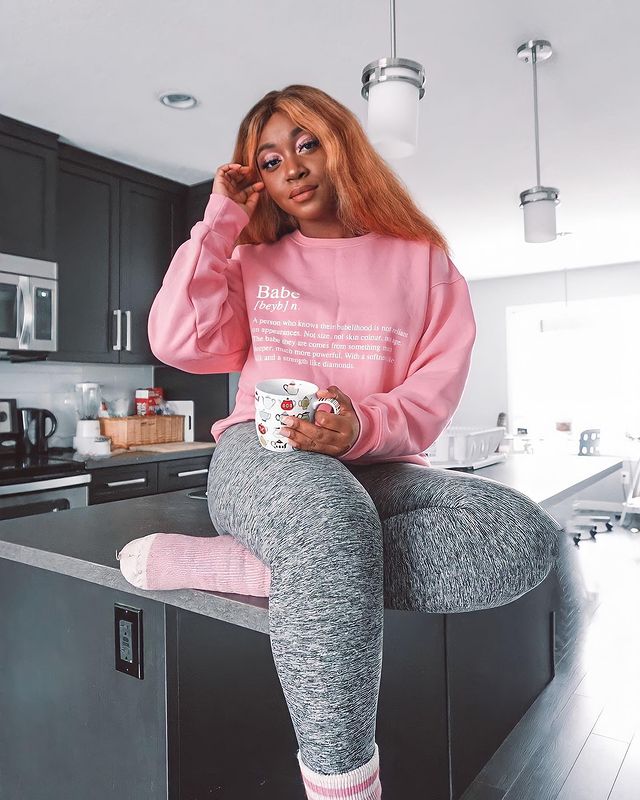 The ultimate bliss and comfort experienced after wearing this set of comfortable clothes are unimaginable. Put on this pair in the most enjoyable way while you meditate!
↓ 7 – Shirt Jackets or Shackets!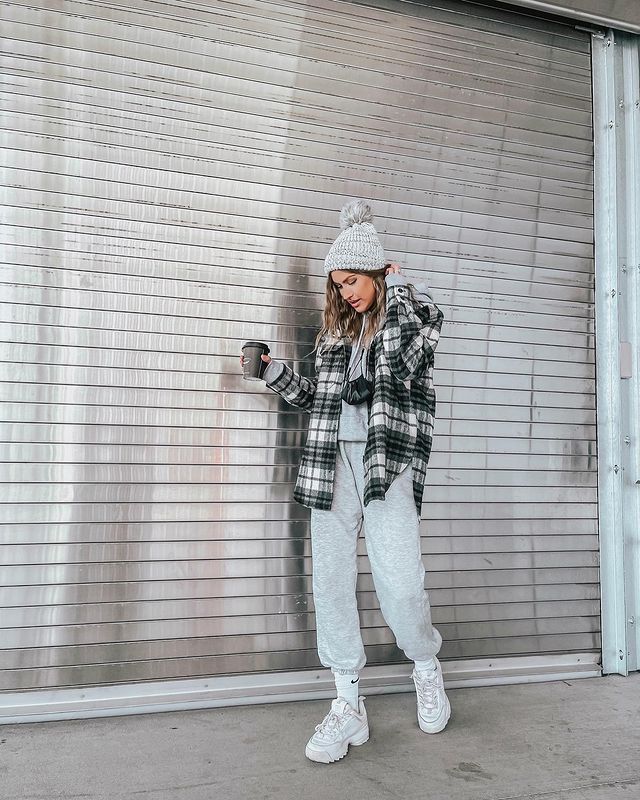 These shirt jackets are the present-day trendsetters. What's a more convenient way of sporting these than with sweatshirts. A brilliant way of adding layers and looking cute! If you love plaids and check designs, these are something that you can try.
↓ 6 – Women Sweatshirt Outfits With Ripped Shorts
Snazzy and sassy sweatshirts are all that's missing from your wardrobe! Style them up with wool pants or chinos for a workwear day. You can also dress them up with your favorite adorned skirt for a gathering with some jewelry.
↓ 5 – Cropped Sweatshirt Season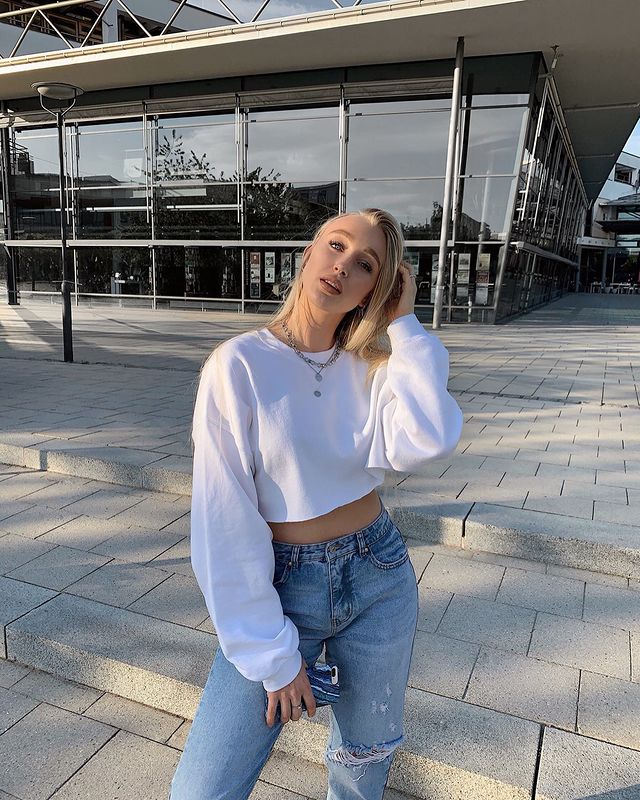 There's nothing more we like than a set of cutesy and comfy clothes in summers. Cropped sweatshirts are ideal for athletic wear or a workout session. Moreover, they also serve their purpose when it comes to doing chores in this heat.
↓ 4 – Women Sweatshirt Outfits with Overalls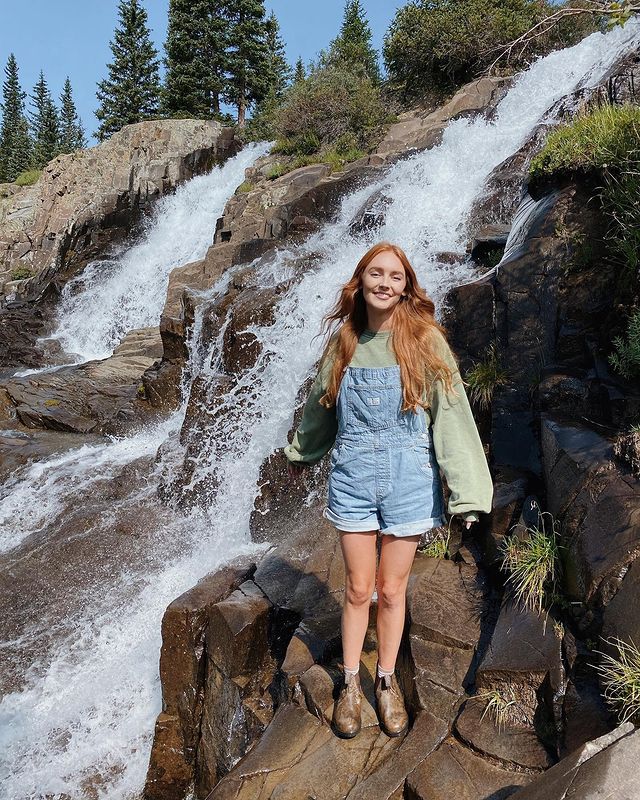 A cutesy outdoor look, perfect for hiking or camping trips. Dungarees or Overalls are both adorable and serve some serious looks. All teenagers and adults can fancy opting for this look.
↓ 3 – Sweats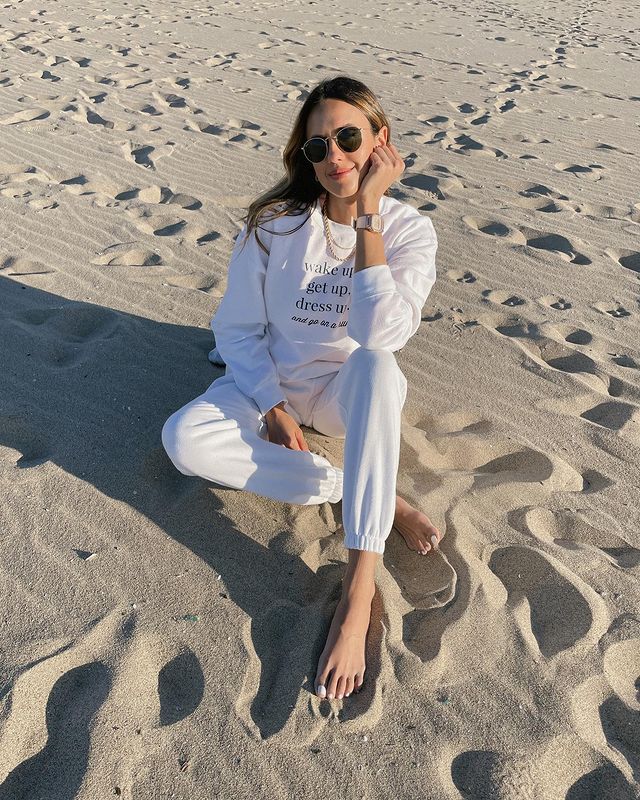 A basic set of sweats is something that we all need and have. I admire how this blogger has managed to create adorable apparel using casual sets. Vans or sandals can be a good choice to go with these.
↓ 2 – Sweatshirt Dress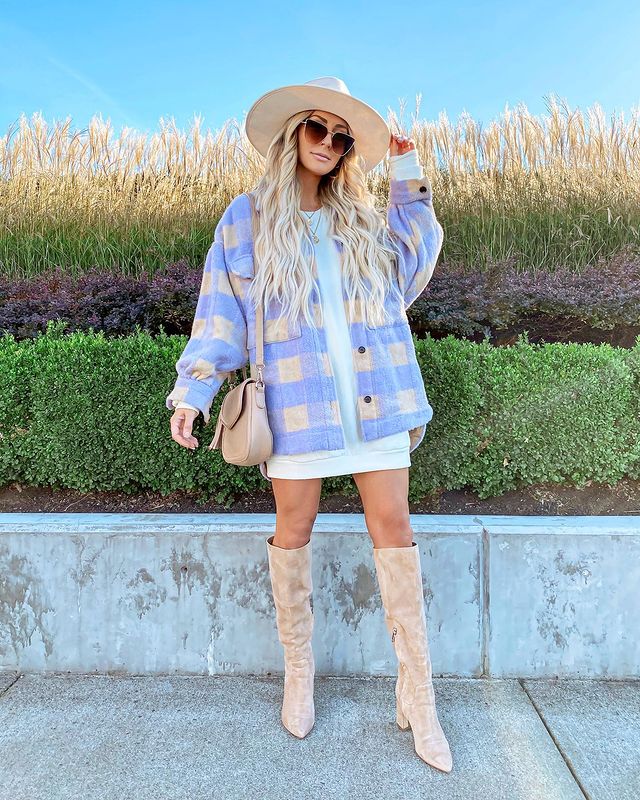 This Sweatshirt can be styled with accessories like belts, different shoes and dressed according to various occasions.
↓ 1 – Some Stylin' with Dresses
In today's episode of OOTDs, we have this beautiful one; it can be worn on casual and formal days as well as on all your events.

Frequently Asked Questions
Q. What looks good with a sweatshirt?
A. You most certainly can pull off any one of your clothing or accessories when it comes to sweatshirts.
Bottoms include Bell Bottoms, capris, split hem jeans, and so forth. Wool pants, chinos, sweats, jogger pants are also alternatives for different occasions. 
Footwear includes flats and sandals of all sorts, ankle boots, and long boots that add glamour to your outfit.
As far as accessories are concerned, you can accessorize with extra flashy or minimal jewelry, watches, belts, and so on. 
Hooded sweatshirts look best with jackets, either denim, leather, or flannel shirts. They also go with trench coats, blazers, or long coats.
Q. How do girls wear Oversized Hoodies?
A. Oversized hoodies are worn over a dress for a cutesy girly touch but can also be worn over a collared shirt or with a skirt. Long boots or ankle boots are an excellent footwear recommendation. A belt, embellished or simple, can be tied around your waist to lose the baggy touch. Similar is the case with baggy sweatshirts. These can also be worn with fitted jeans or pants.
Q. Can I wear Sweatshirts to work?
A. The answer to this question is yes, you can. To add a formal hint to your look, choose a fitted crewneck sweatshirt with skinny jeans or wide-leg pants and strappy heels. Adorn it with a dainty pendant necklace and open hoop earrings. A collared shirt under a fitted or otherwise loose sweatshirt can also be apt for work. You can create many different outfits for work by using basic sets of clothes with sweatshirts and different types.