Outfits with Hoodies For Women: Hoodies are a blessing of God. Perfect for any occasion as long as it is not hot outside. The comfort that hoodies bring is incomparable. The temperature is dropping and every day seems like a good opportunity to rock a hoodie.
But, that does not mean that you wear a repetitive style, it gets boring for the eye. Instead, here are 30 unique as well as simple ways to style your hoodies. Even the simplest ones can look brilliant if worn in creative ways. Hoodie literally is a sweatshirt with a hood. The word 'hood' is derived from the Anglo-Saxon word 'hōd', which is also the root of the English word 'hat'. Medieval monks started wearing hooded tunics and robes. I bet, they had no idea that these would become a fashionable and staple piece of garment in people's wardrobe centuries later.
How To Wear Hoodies Like A Pro
Tips on Wearing a Hoodie Without Looking Sloppy
For a sharp look, you can always opt for a well-fitted hoodie.
Experiment with different layering options, especially a leather jacket over your hoodie since it looks totally swag.
If you don't like the idea of a fitted hoodie, you can instead pair it with a tailored trouser.
To add some personality to your favorite old hoodie, try layering it with a flannel shirt and you'll love the new look it gets.
Never underestimate the power of hair, shoes, and accessories, which is why it's always best to plan ahead with your hoodie outfits.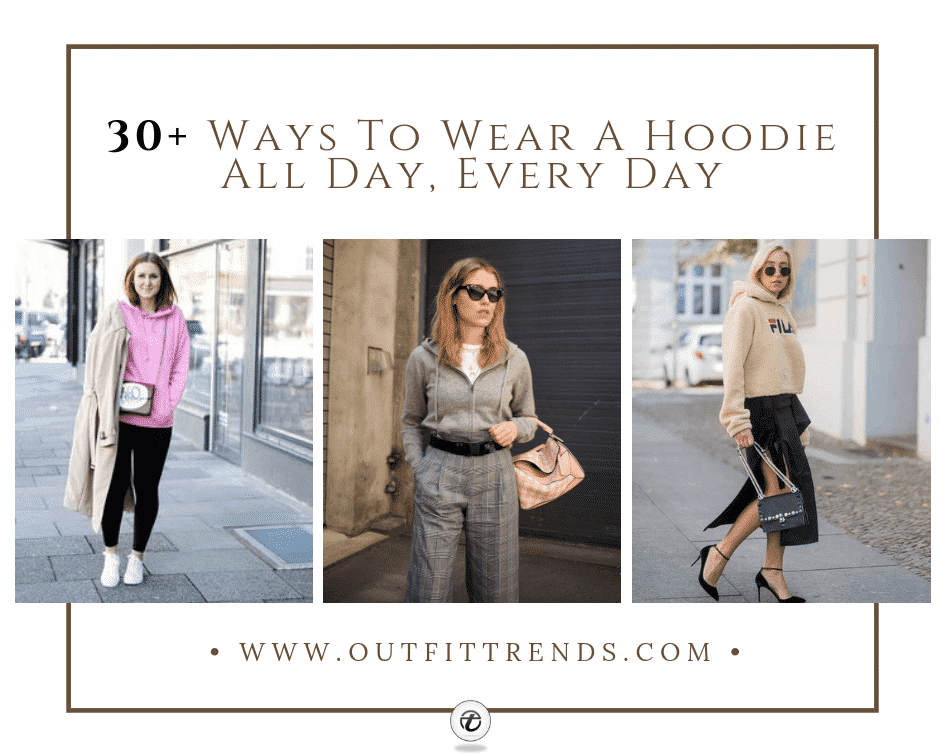 ↓ Where To Shop For Hoodies?
Here are some of our favorite spots to shop for hoodies this year:
ASOS – Whether you're looking for simple hoodies, parkas or even bomber jackets. You can find hundreds of options here, most of which are incredibly affordable. The price ranges between $ 15 and $ 500.
Zara – A brand that needs no introduction, Zara gives us trendy and budget-friendly hoodies to choose from. This season, their hoodies start from USD 69.90 and go up to USD 169. If you're an eco-friendly buyer then you should check out their bomber hoodie that comes with an adjustable hood and it's made from recycled plastic bottles.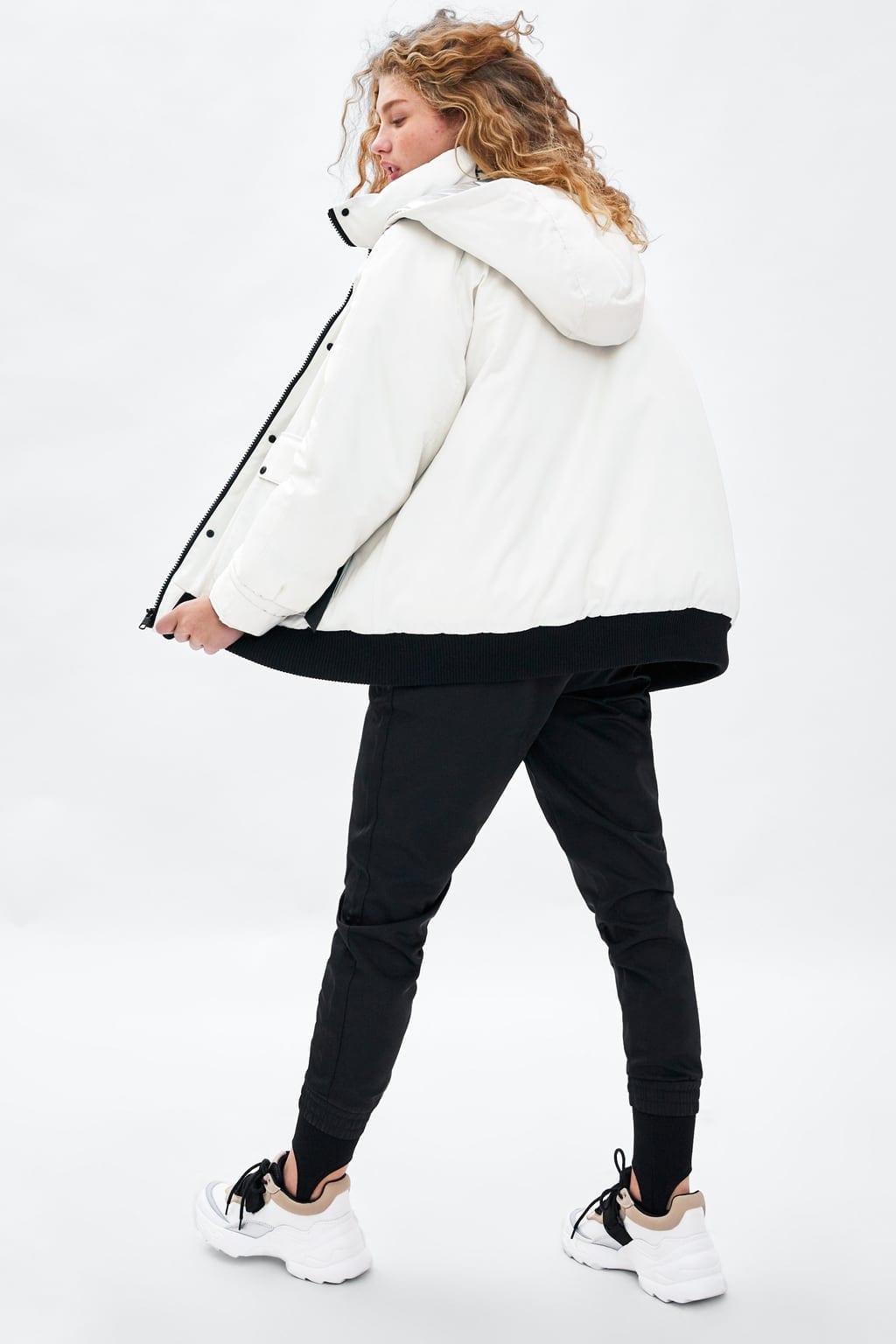 H&M – If you're looking for smart, street style outfits, this is the best place to shop. This winter, they've launched more than 250 different styles that are priced between $7.99 and $ 199.
↓ 40 – Funky Hoodies
If you're into funky and quirky outfits then you just need to get a couple of solid coloured hoodies and you won't believe how easy it is to funk them up. You can layer them over your funky tees, metallic skirts, floral blouses and what not to create some really unique and different looks.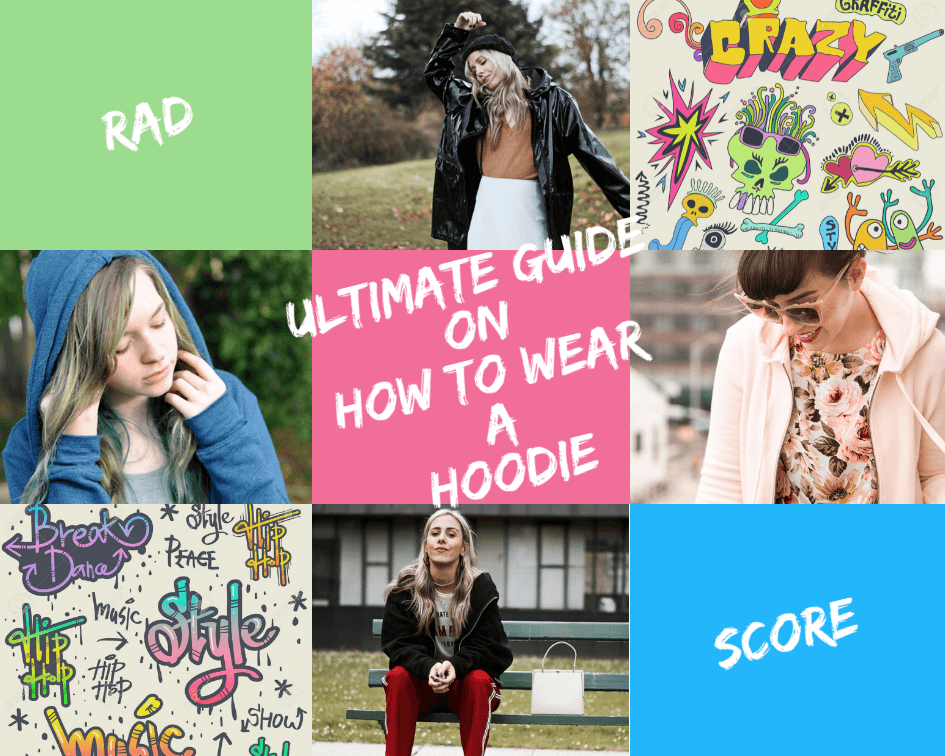 ↓ 39 – Celebrity Style
Celebrities love styling hoodies and we're totally digging Gigi Hadid's custom cropped red hoodie. Red is definitely one of the safest colors to go for when buying a hoodie: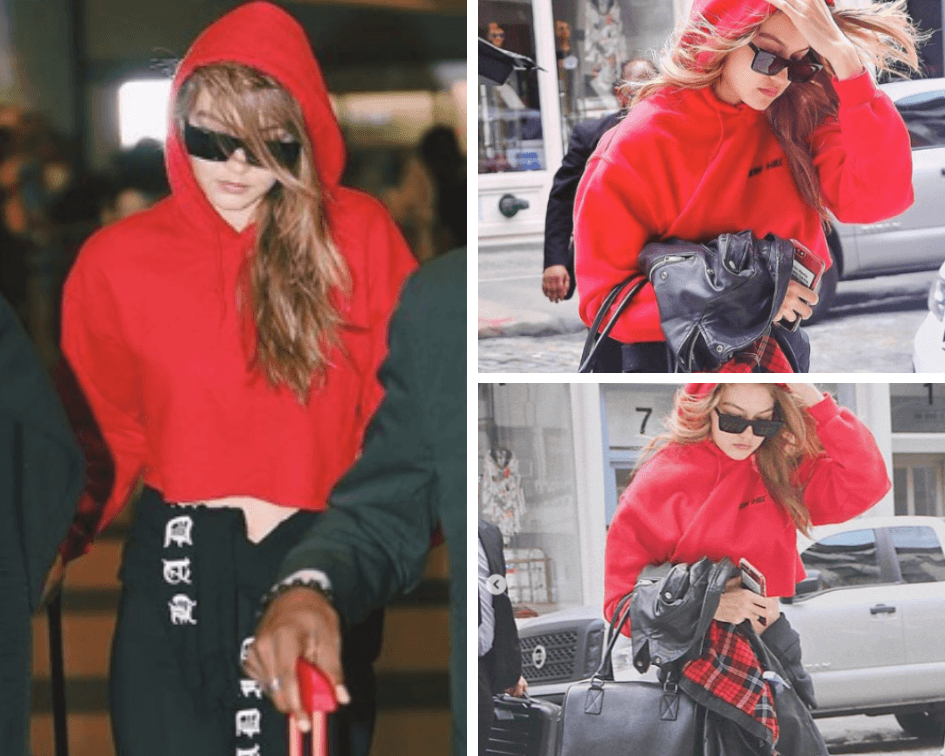 ↓ 38 – Best Layering Item For Modest Fashionistas
There is no doubt that hoodies are one of the basic layering items that you need in your wardrobe but what makes them even more special is that they're great for creating modest outfit combinations. If you're a hijabi then do try wearing fur hoodies over a nude hijab for the cutest look, as shown by the iconic Melani Elturk: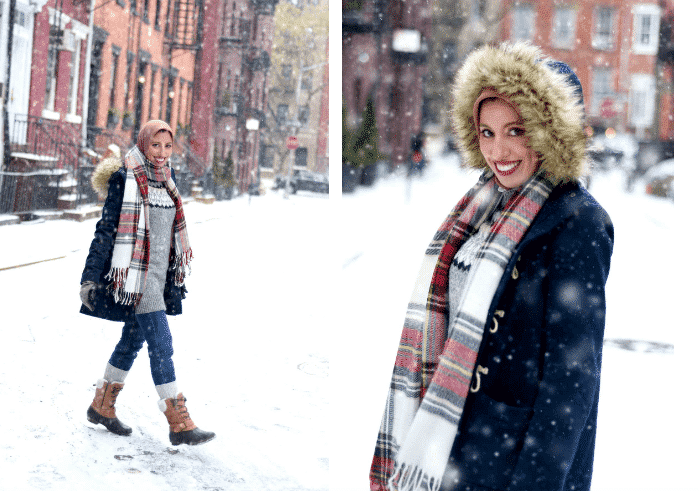 ↓ 37 – Curvy/Plus Size Hoodies
There are so many different hoodie styles that look great on curvy includes for example cropped hoodies and athletic parkas. But my personal favorite is this beautiful lace hoodie dress by Lane Bryant that you can buy here for just $20. It comes in a really soft and stretchable material which means that you can easily use it while traveling and even for working out.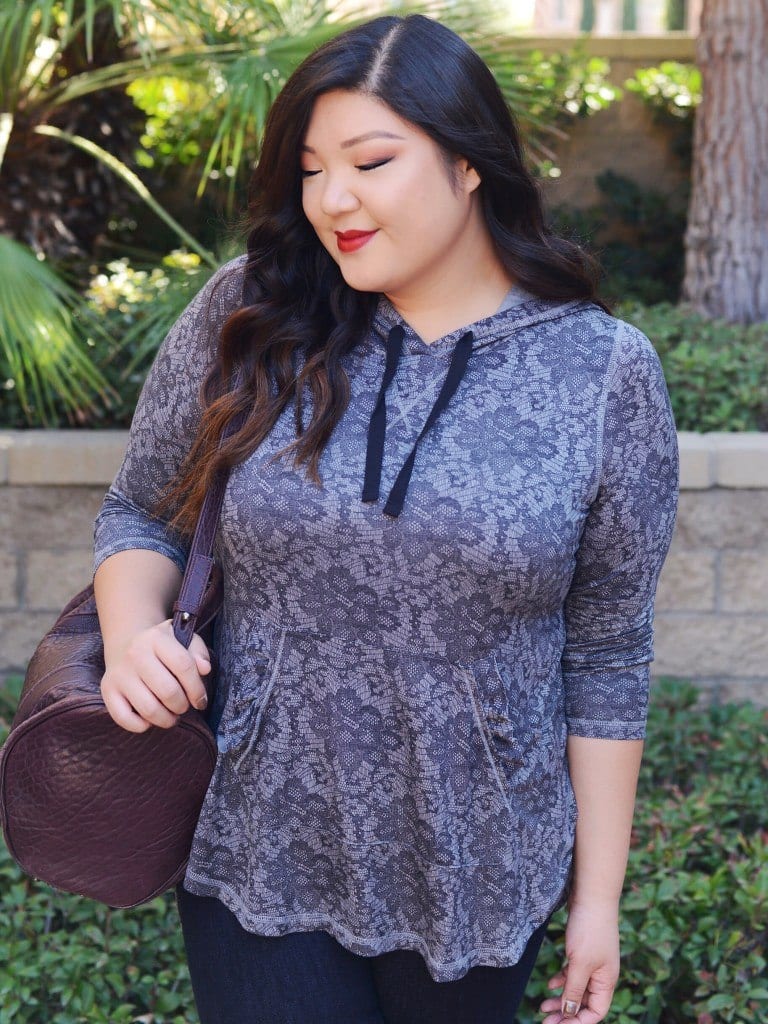 ↓ 36 – For Tall Girls
For tall girls, we highly recommend striped hoodies and this point is further proven by our favorite tall blogger, Abigail from the Classy Giraffe. You can see her wearing a striped and floral hoodie with shorts and converse shoes as a cool and cute Summer outfit. And for Winters, she's wearing converse shoes, jeans and a striped hoodie again.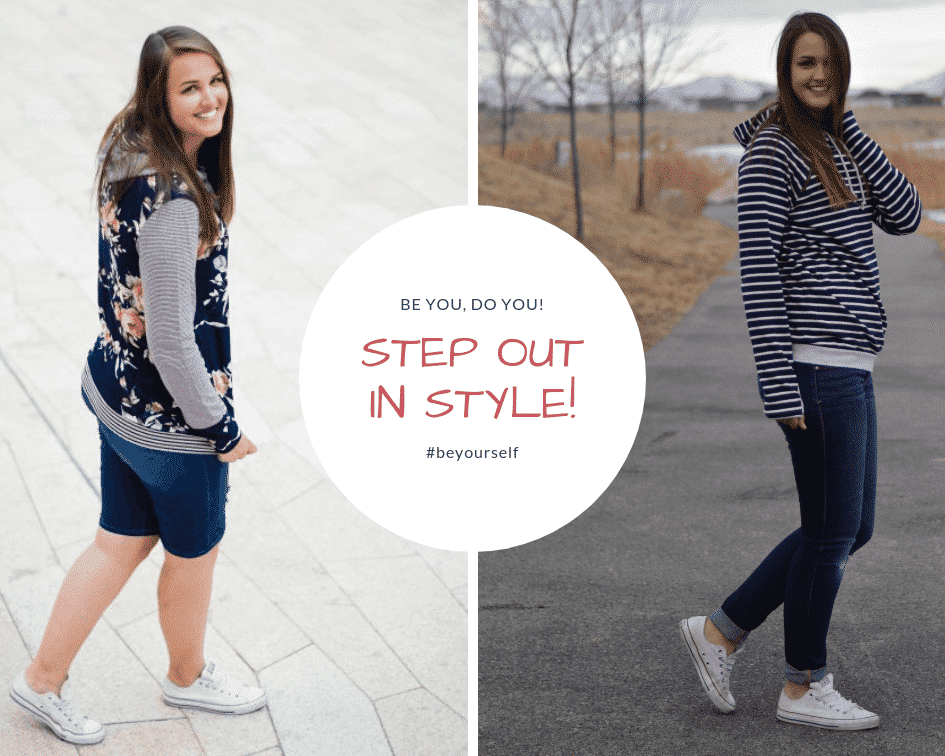 ↓ 35 – Wearing Hoodie If You're a Petite Girl
Not all styles of hoodies will suit you if you're short or fuller around the middle. Hoodie dresses, for example, would be complicated options for such body shapes. Loosely fitted and oversized hoodies are also a no-no because with a petite figure, you sort of get lost in them, instead, you should go for well-fitted ones. When it comes to necklines, hoodies with V-necks should be preferred as they make you look taller.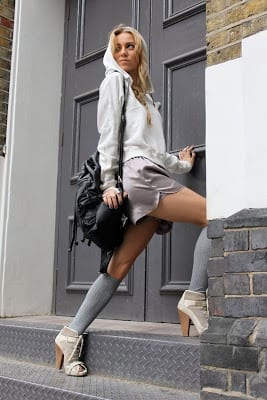 ↓ 34 – Can You Wear A Hoodie To Work?
If you know how to style them in a sophisticated way, then why not? You should also have a look at these 27 Best Winter Travel Outfits for Women Trending these Days.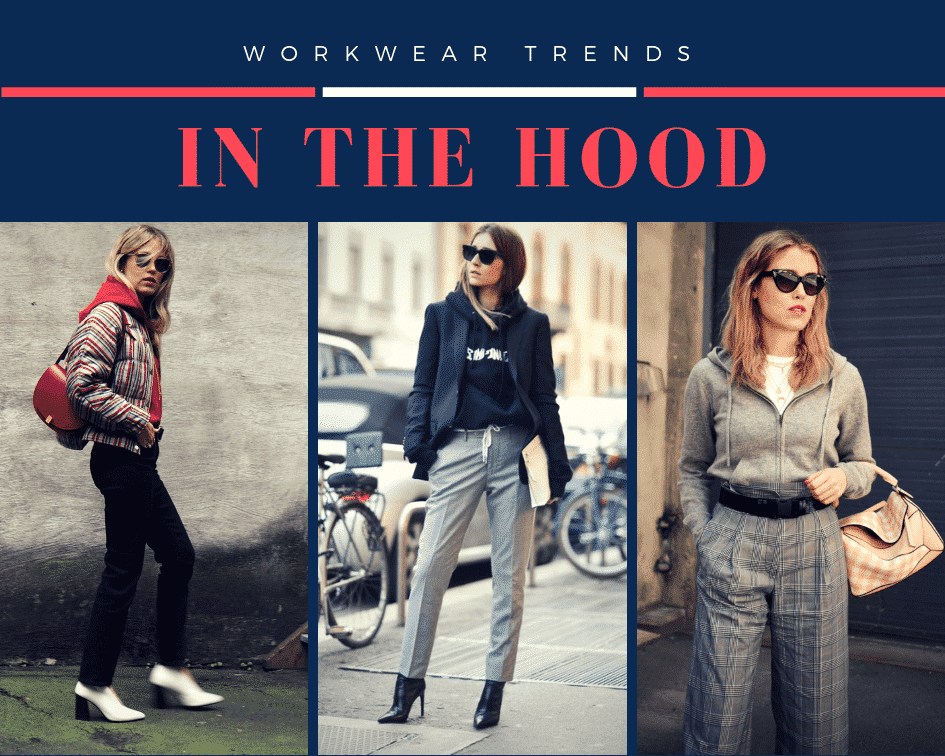 ↓ 33 – Parka Hoodie For School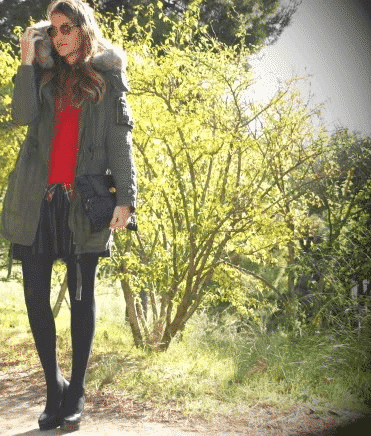 ↓ 32 – Travel In Style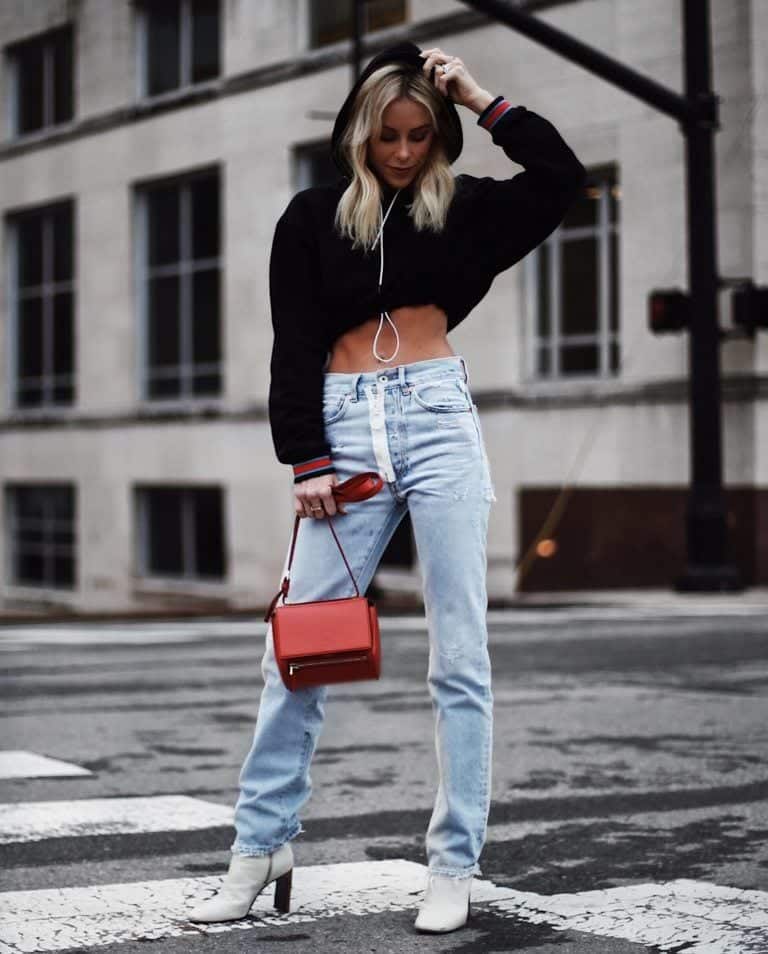 ↓ 31 – Running Inspiration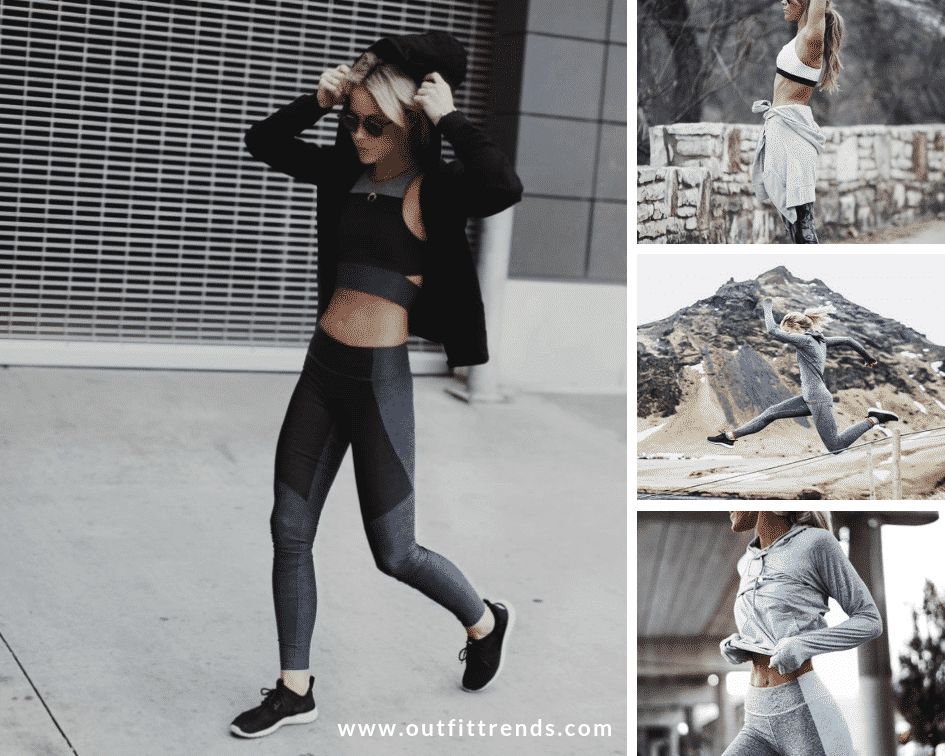 ↓ 30 – Athleisure Outfit
Cropped hoodies and shirts are all the rage this year. They make the perfect athleisure combination with high-waisted jeans and some cute boots. This look can make you look taller and leaner. The shape of your butt looks really great and sexy in this outfit, especially if you choose black bottoms. Here are 21 Best Leather Bomber Jacket Outfits for Women.
↓ 29 – Striped Hoodies
Stripes are one thing that never goes out of style. They look good in everything, from your clothes to the design of your notebook, to your wallpaper. Hoodies, of course, are no exception. You can match the color of the strips with the pants or your shoes. Or you can add contrasting accessories like gloves, scarves or beanies.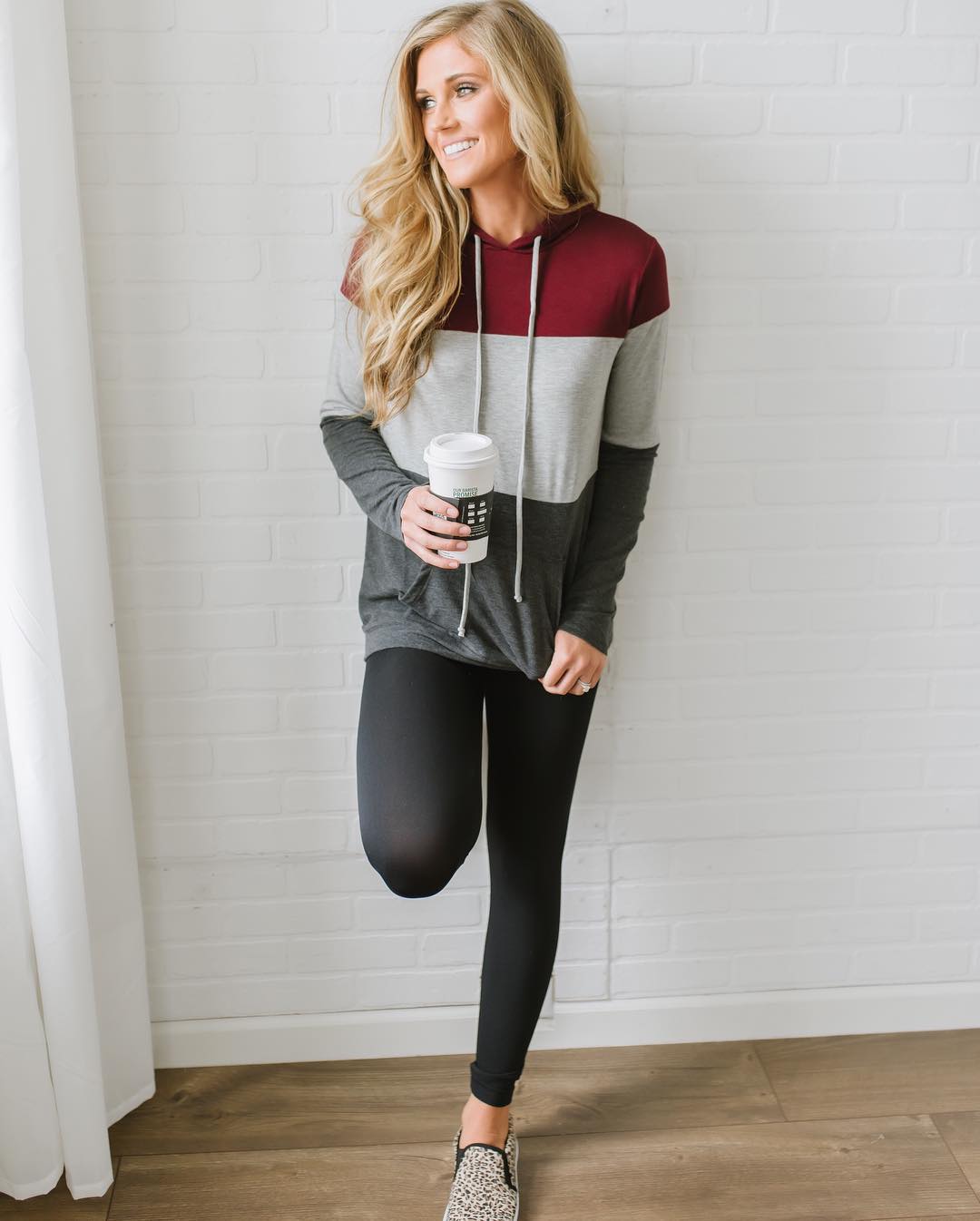 ↓ 28 – How To Style Oversized Hoodies
Anything said about oversized hoodies would be an understatement. They are the best thing to happen to us. Eaten an entire pizza because you were PMSing and now your belly looks like a pot?  Oversized hoodies. Want to put your arms inside the hoodie and hit people with the flappy sleeves? Oversized hoodies. Want to kill and disappear? Oversized hoodies.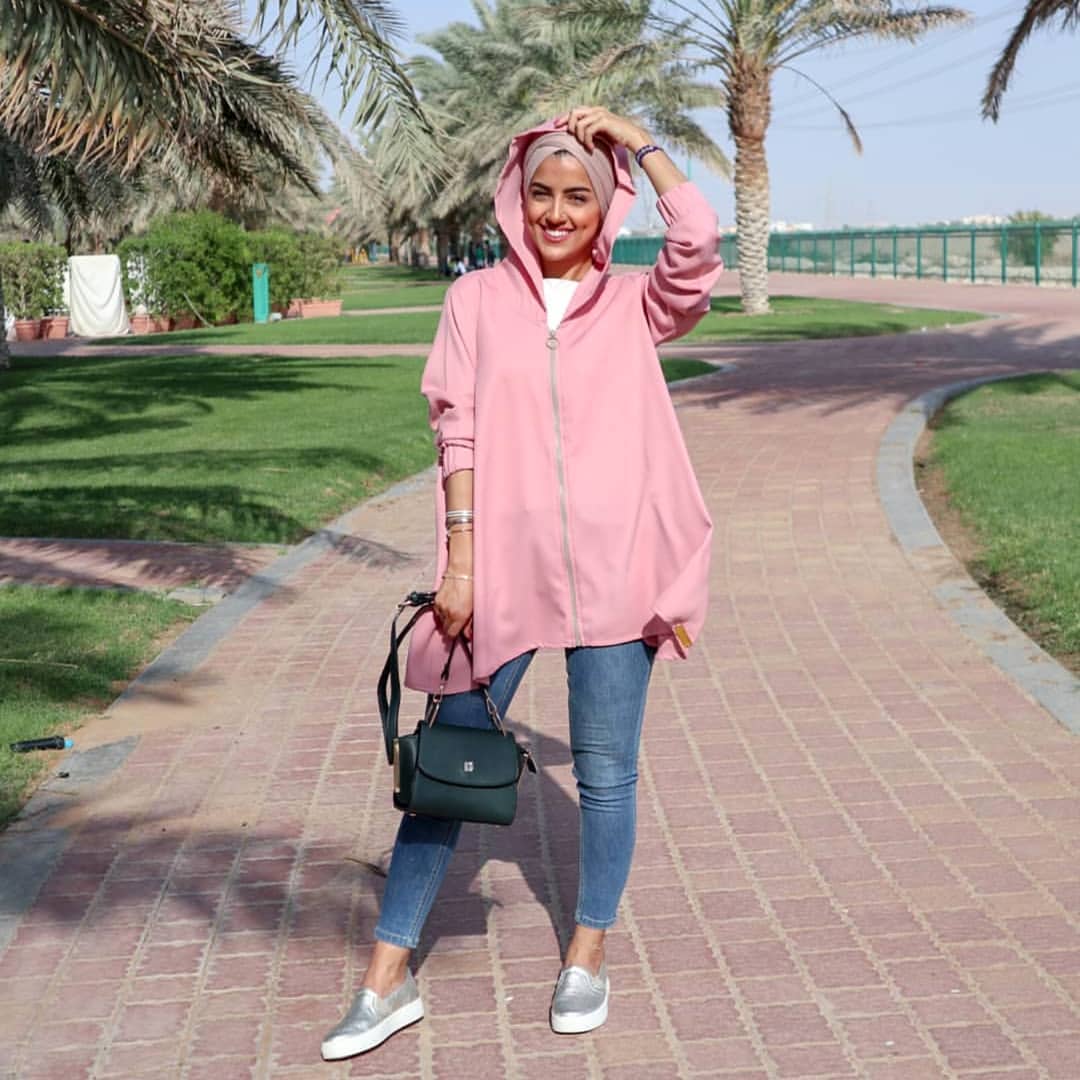 ↓ 27 – Denim Hoodies
Denim hoodies lined with fleece look really sleek and appealing to the eye. The blue automatically makes it cool and the hood is like a cherry on top. Go with basic colors such as white, black or grey to wear under the denim hoodie so that they do not steal the look.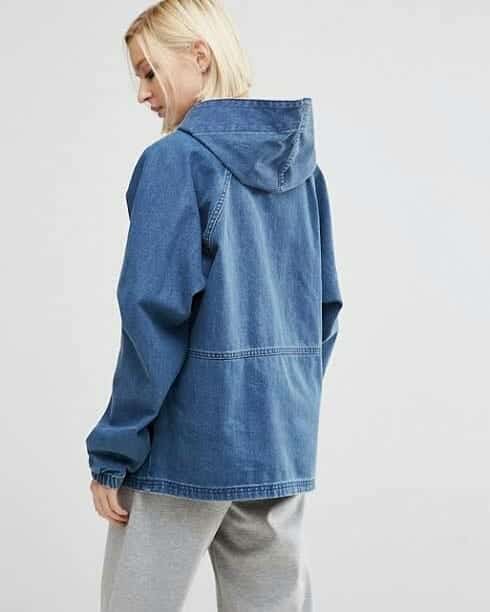 Via
↓ 26 – Chic & Sporty
Hoodie has won in this department as well. Hoodies are an extremely popular article in sportswear. They are parts of most tracksuits to help athletes protect their necks and backs from elements. Today, people wear sports hoodies even if they are not in the gym or the track. I mean, those Adidas and Nike hoodies are too good to be worn just to sweat.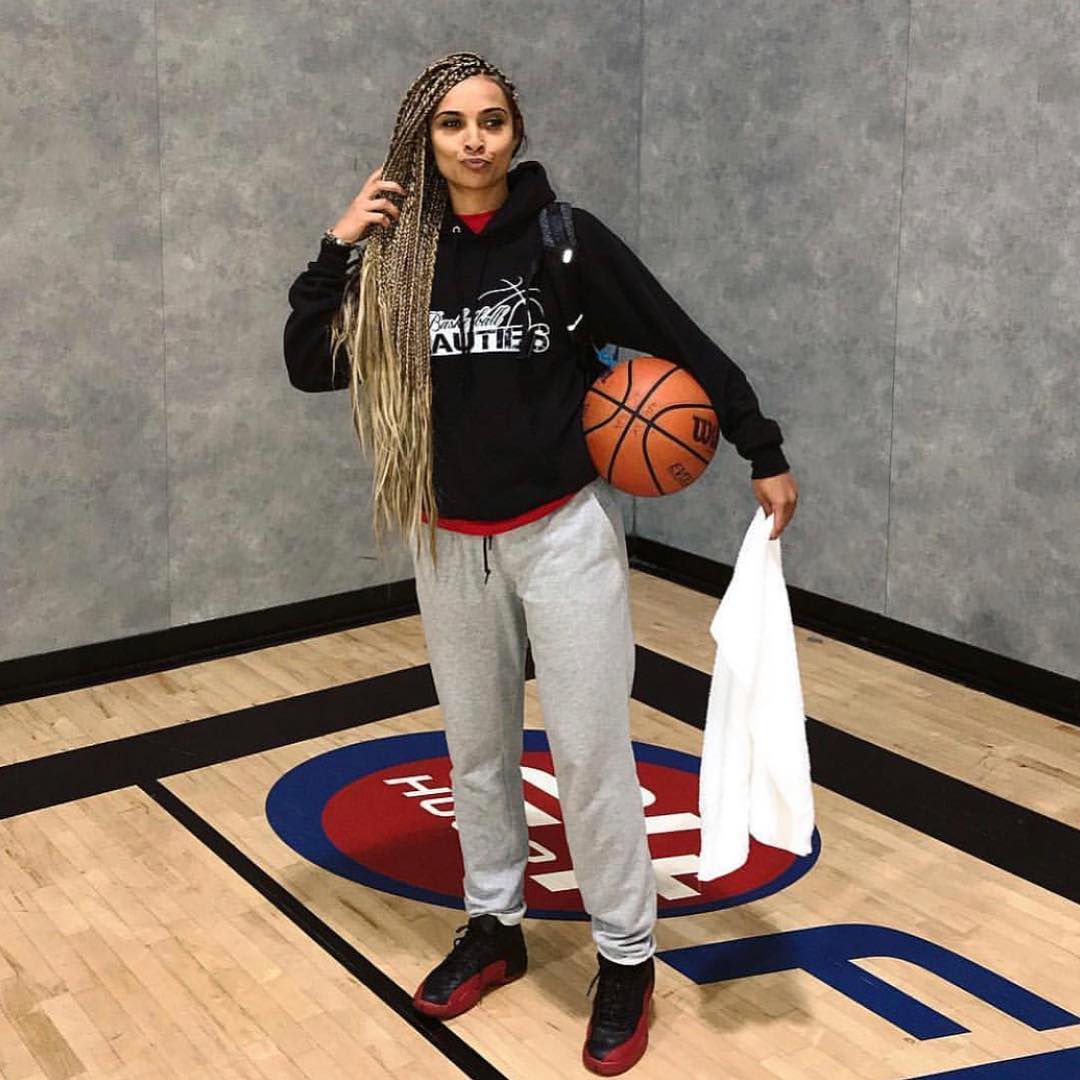 ↓ 25 – Comfy Homewear
Match your outfit from head to toe when you really feel a design, like this 100 emoji one, because you are a real life 100 emoji from top to bottom. #flawless. They make for the ideal home-wear that you can easily live in for the weekend.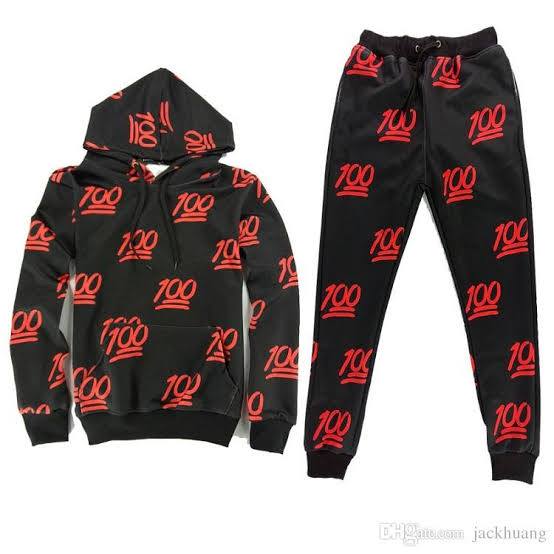 Via
Style blogger, Julla Engel shows you exactly how you can rock these as the cutest lounging outfits for home. For more ideas, check out these 33 Best Ideas on What to Wear at Home.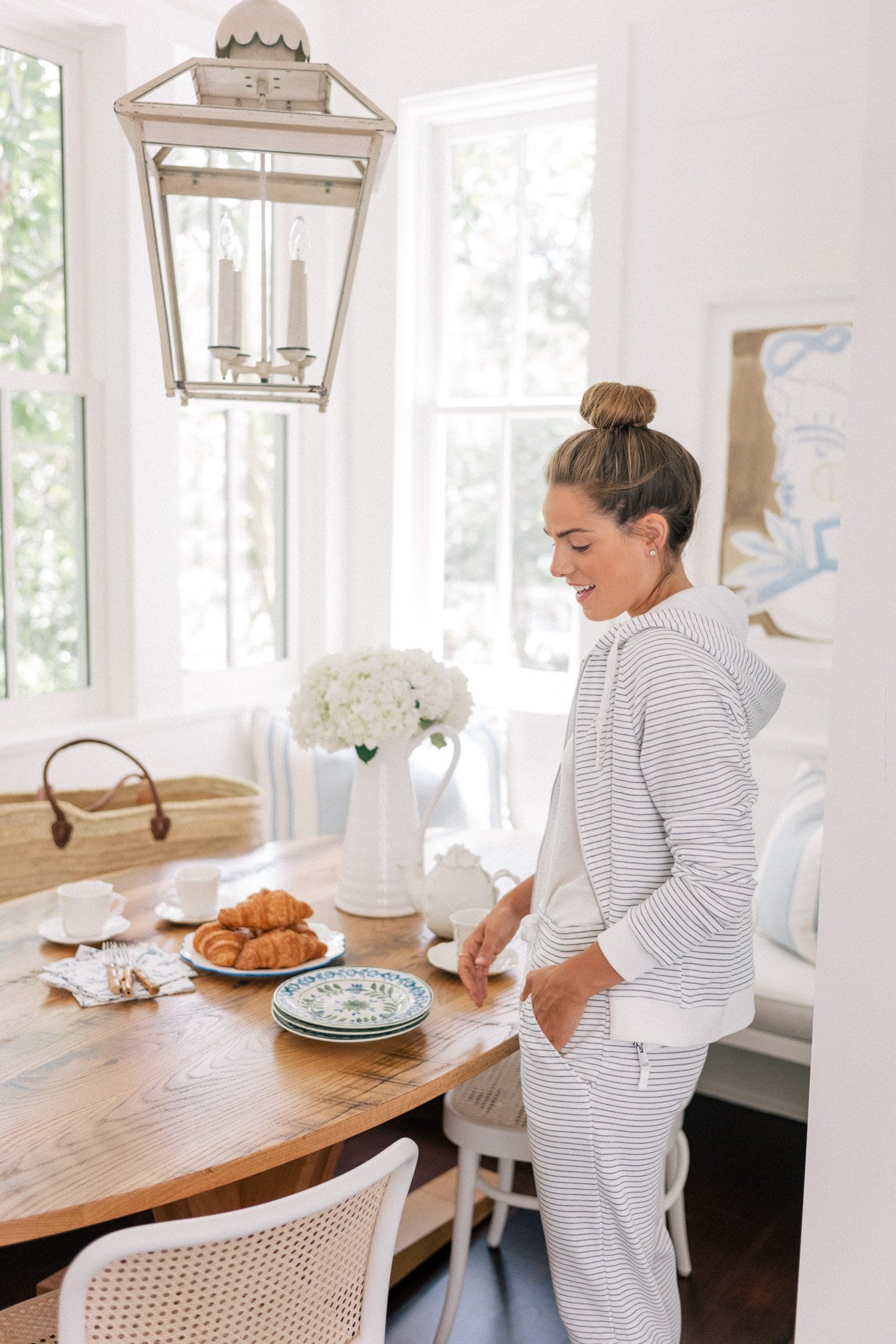 ↓ 24 – Sleeveless Hoodies
Sleeveless hoodies are really comfortable and perfect for summers when you need an extra layer to fight the summer breeze. They do not look good with sleeved shirts, except for some exceptions of course. Wear them with a bra for an edgy and sexy look.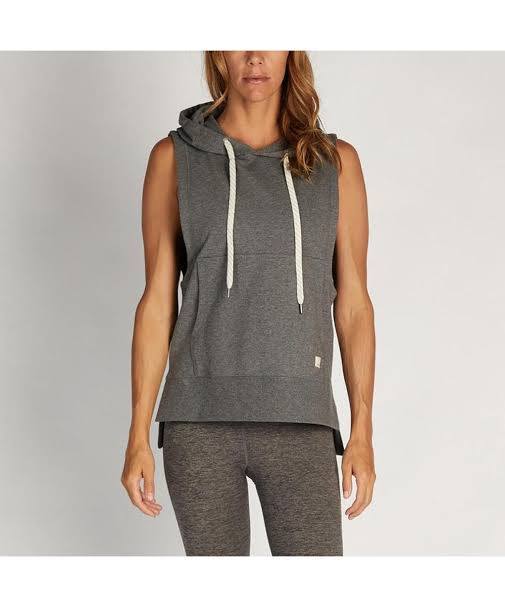 Via
↓ 23 – Hooded Jacket with Faux Fur
Why settle with a simple hood when you can go extra and add a fur lining. Faux fur will make your outfit look hundred times better. It adds an element of class in your look and you will be the best dressed for sure.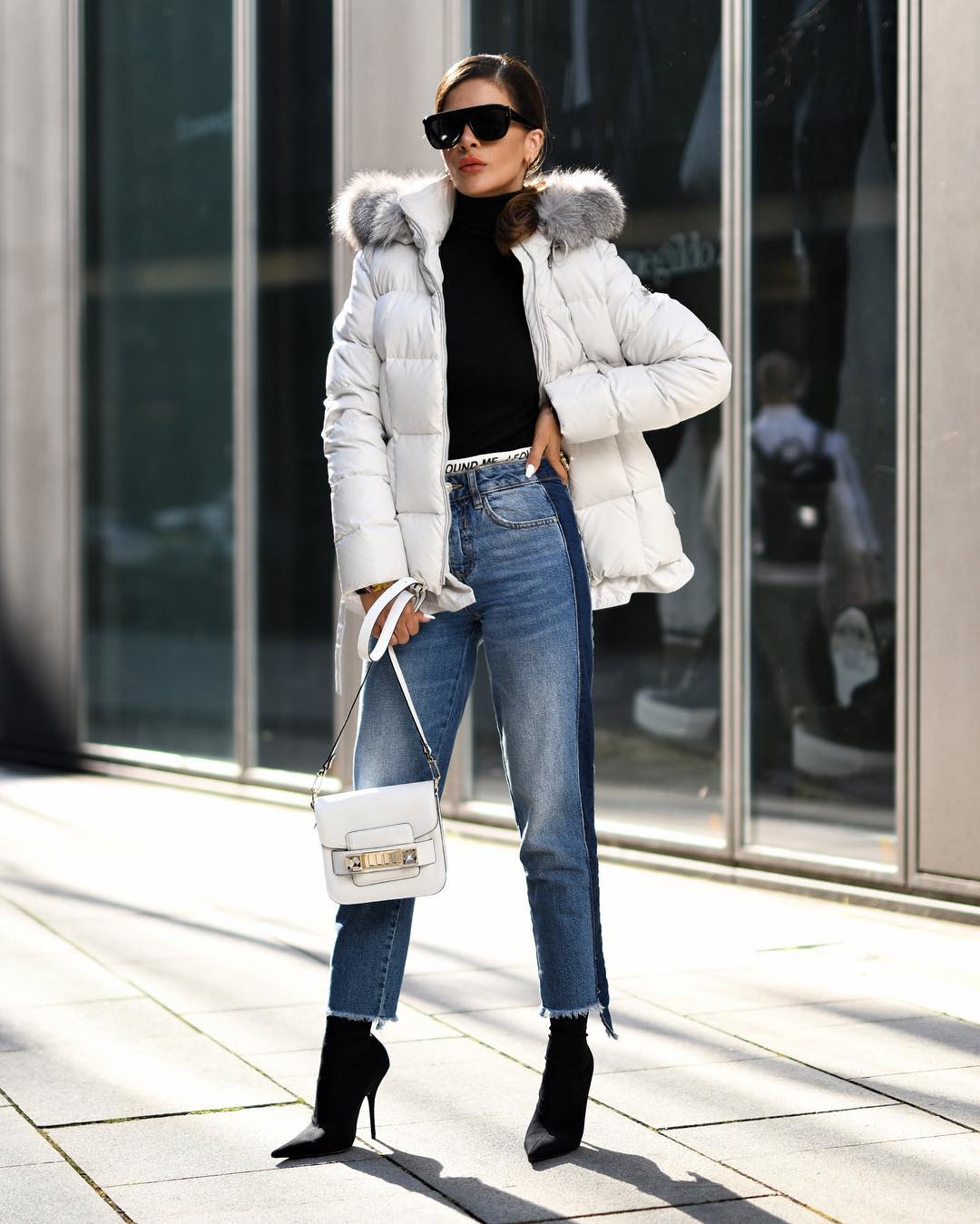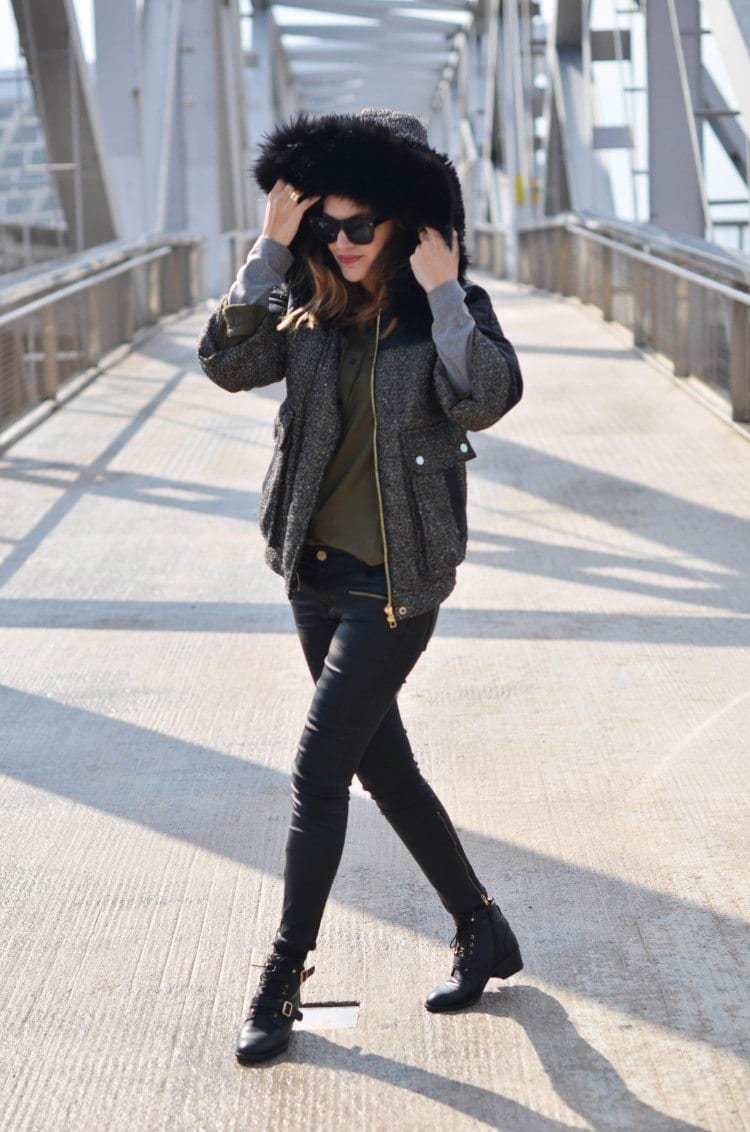 ↓ 22 – Hooded Jackets With Sweaters
Jackets with a hood are technically hoodies, just in parachute material rather than cotton. They work better for semi-formal events like dinner in a fancy restaurant or an office party. You can even try funky colors and go all the way. The spotlight will be yours. The hood on jackets are usually for show only, do not pull it up as it is huge and will ruin your hairstyle.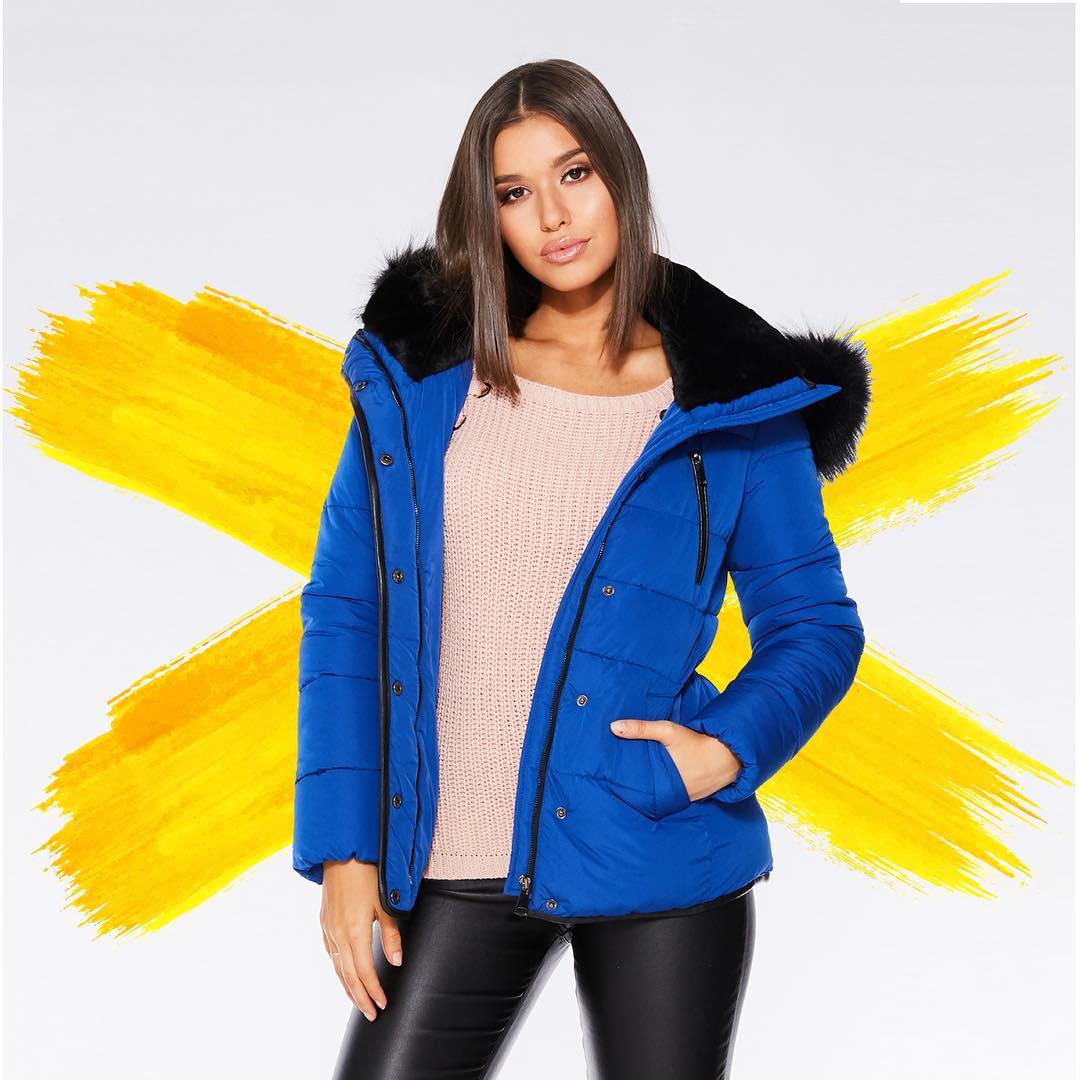 ↓ 21 – How to Layer Your Hoodies
Adding a layer on cold days is always a good day, and now you can do it fashionably without looking like your mom dressed you up. Wear a plain, simple hoodie with black jeans and wear your favorite long coat over it. Your shoes should be formal or classy to go with the coat. Do not wear sneakers, and definitely no sandals. Here we show you how to layer your hoodies with both long coats and short jackets, let us know which style you prefer: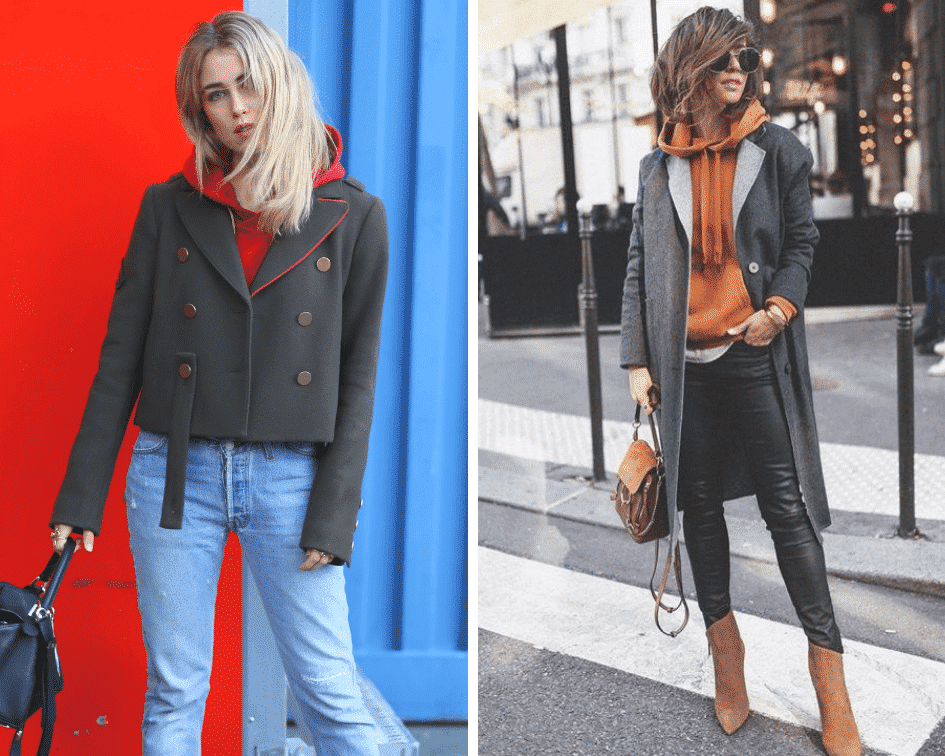 ↓ 20 – Net Hoodies
These are not to protect you from cold so don't go blaming us when you are freezing in the snow. Net is more of a summer fabric. Net hoodies are more like an accessory than a layer of clothing. It is only there for decorative purposes. Black or dark colored net is more visible and your outfit will shine from afar. But try not to overwear it, as it will only look good with certain outfits. Besides, wearing too much of the same thing and style makes it boring. Also have a look at these 19 Ways to Style Leather Jacket.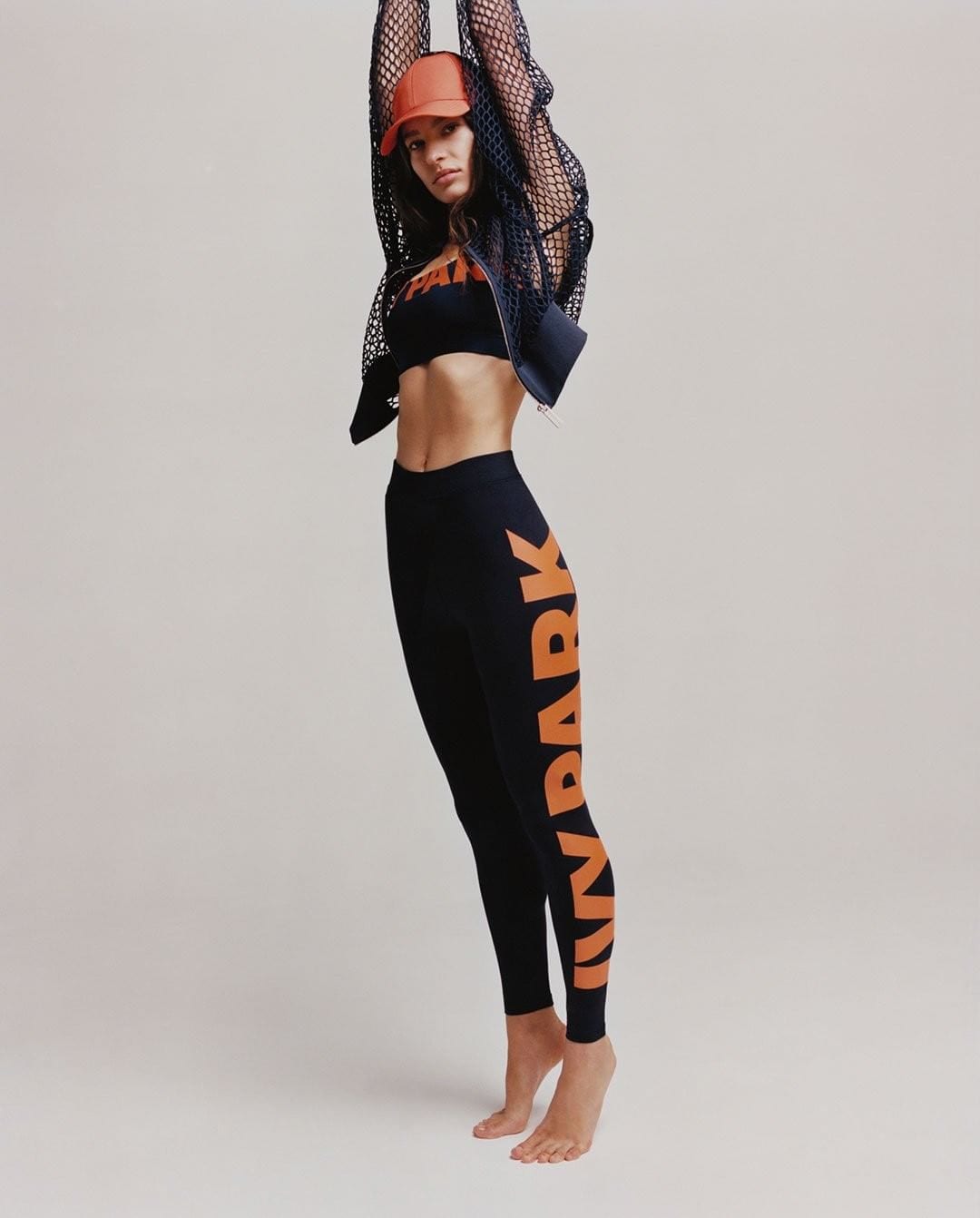 Via
↓ 19 – Hoodies with Fishnet Stockings
Are you a proud member of Team No Pants? Wear your hoodies with fishnet stocking and flaunt them sexy legs, This look will make you look like you came right out of a grunge Tumblr account. Also, it is a definite Instagram picture because this outfit will get those double taps coming.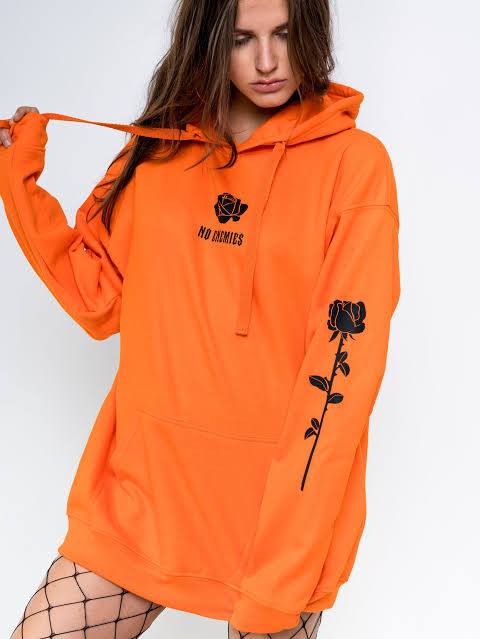 Via
↓ 18 – Zipper Hoodies
Just because it is freezing outside does not mean you will have to hide your cute top from the world. Zipper hoodies are the perfect layer on top of your favorite shirt. Just go with the right contrast so that the two compliment each other as well. You can leave your zipper open all the way down, or just put it half way up showing your figure off.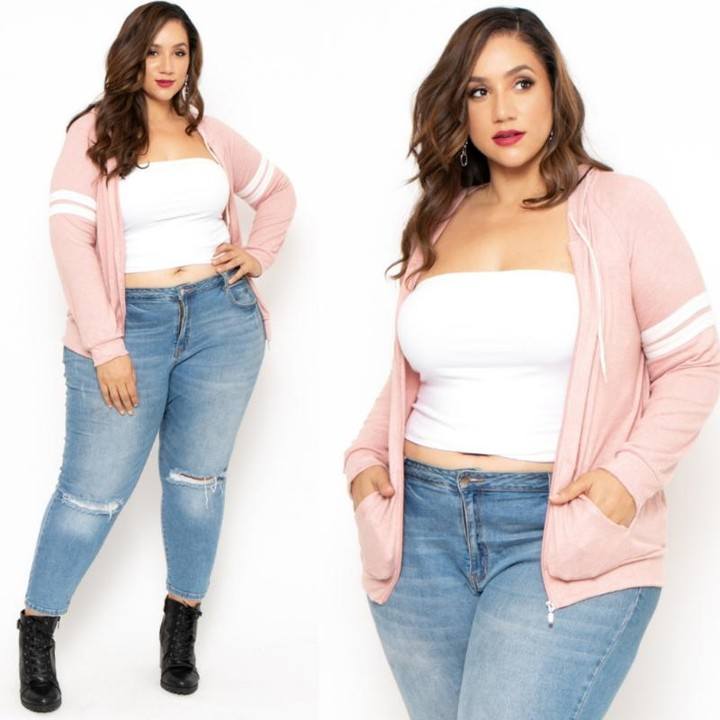 ↓ 17 – Send a Message
Your clothes can speak out loud and you will not even need to open your mouth. Hoodies are a perfect way to convey what you stand for to the world. Many come with an inspirational or funny message that makes your outfit more fun. But, be careful before buying. If there is a negative, controversial or offending text on a hoodie do not buy it. And if it really crosses the limit you should raise your voice against the brand through social media (or another hoodie, perhaps?) You can customize your hoodies to say what you want it to. But be sure to spread love, not hate.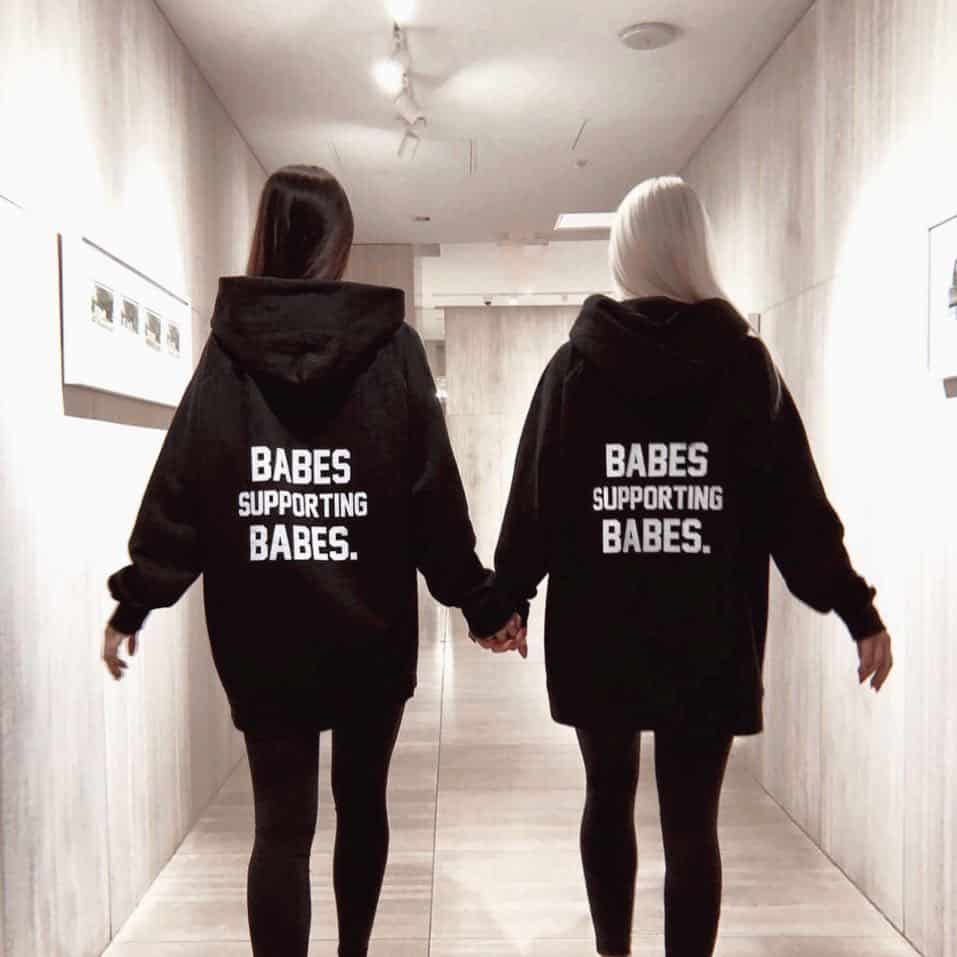 Your hoodie can shut stupid or annoying people off without you having to tell them. Or if a friend has an annoying habit that you wish they would quit but you do not tell them how without hurting their feelings, give subtle messages through your outfit. Like this one that says, "Sorry, I can't my bed needs me" it's perfect to cancel plans and letting them know that you prefer your sleepover hanging out with people, ew.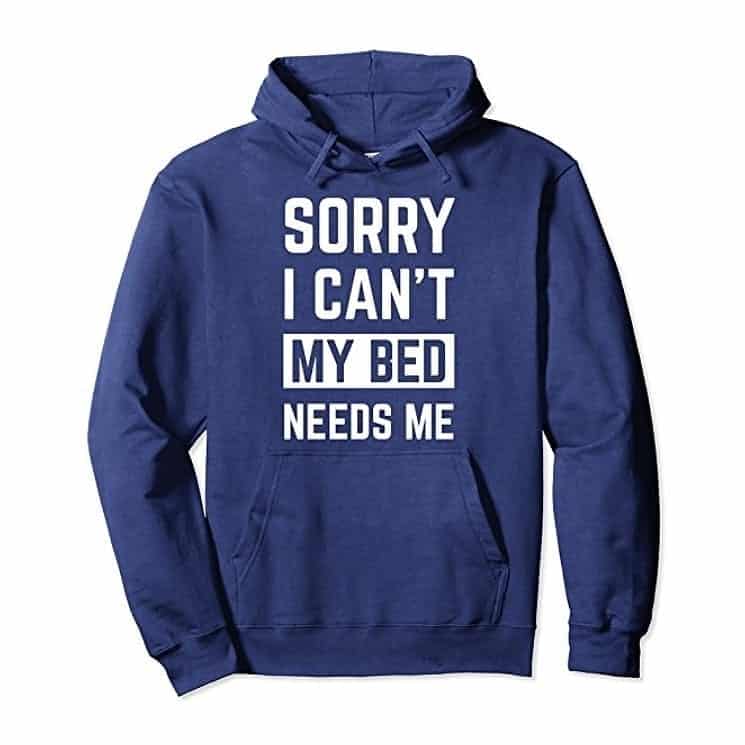 Via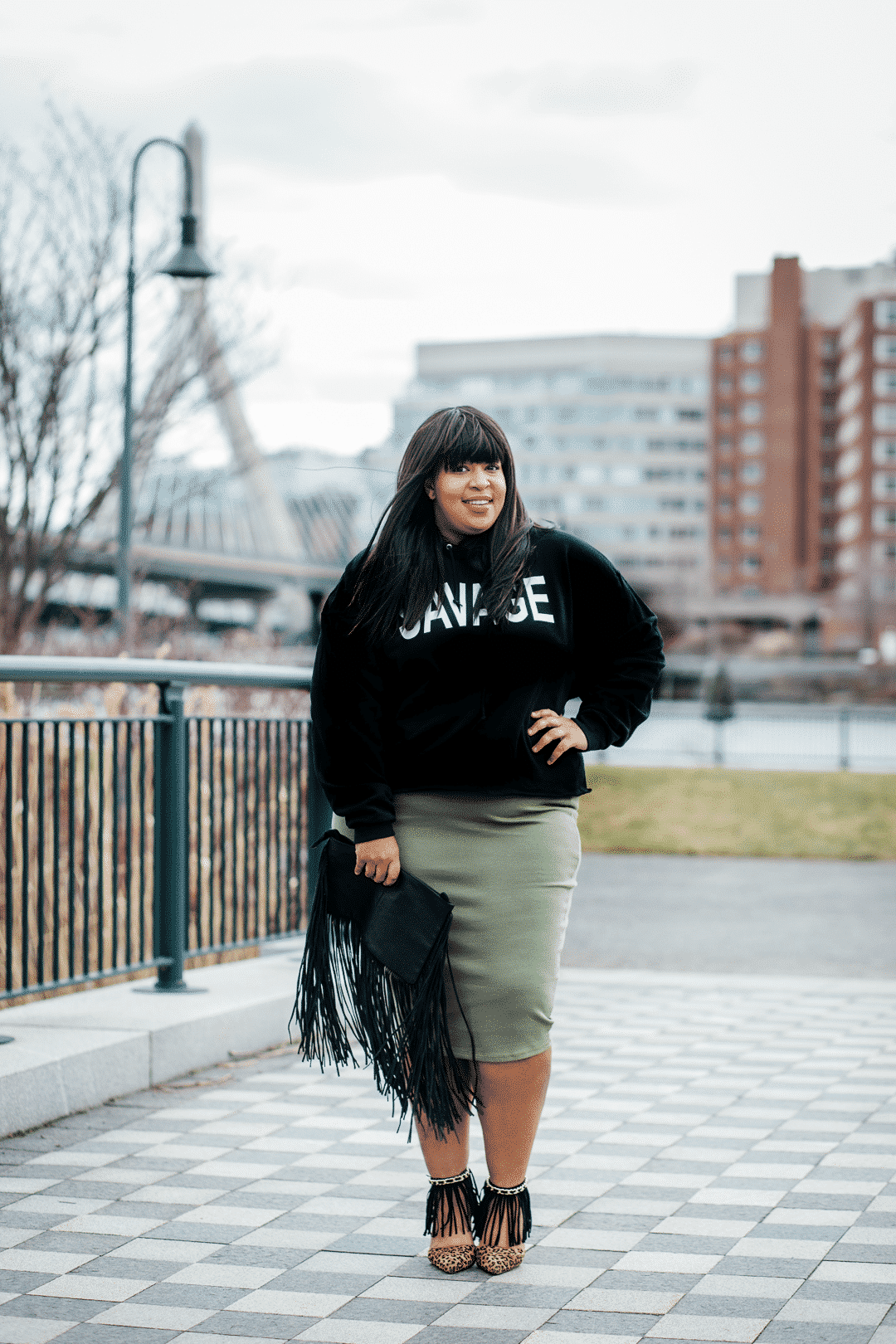 ↓ 16 -Cutest Hoodie Outfit For College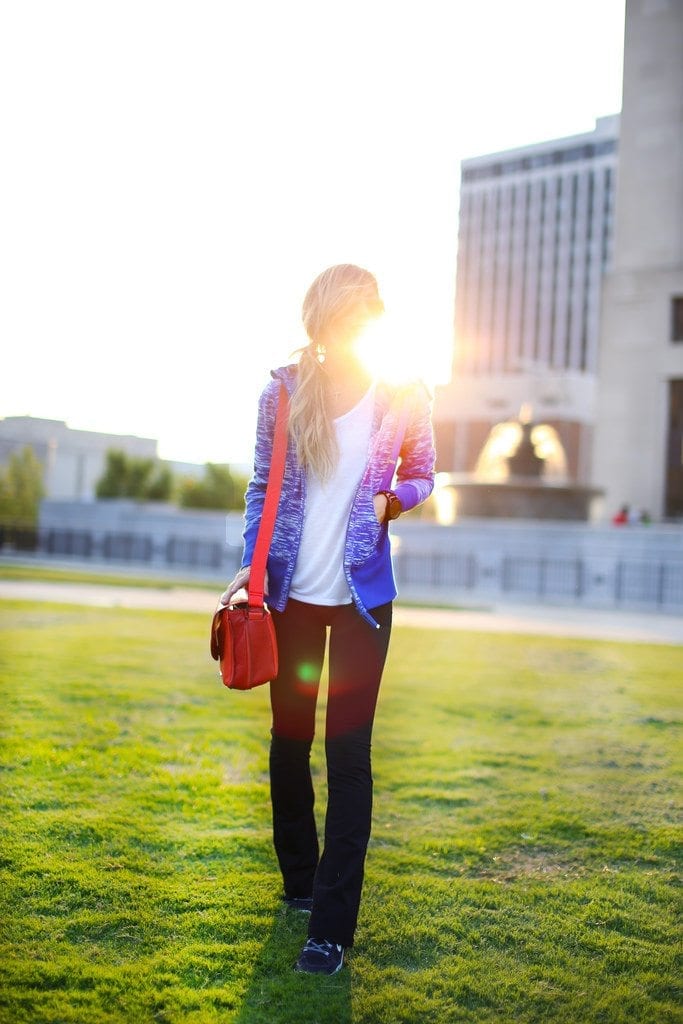 ↓ 15 – Hip Hop Inspiration
Hip-hop culture popularized hoodies back in the '90s. If you look at old rap videos you will see cars, girls, lots of chains around the neck, and huge hoodies. This was a huge contribution in glamorizing hoodies because this is where hoodies began to become cool.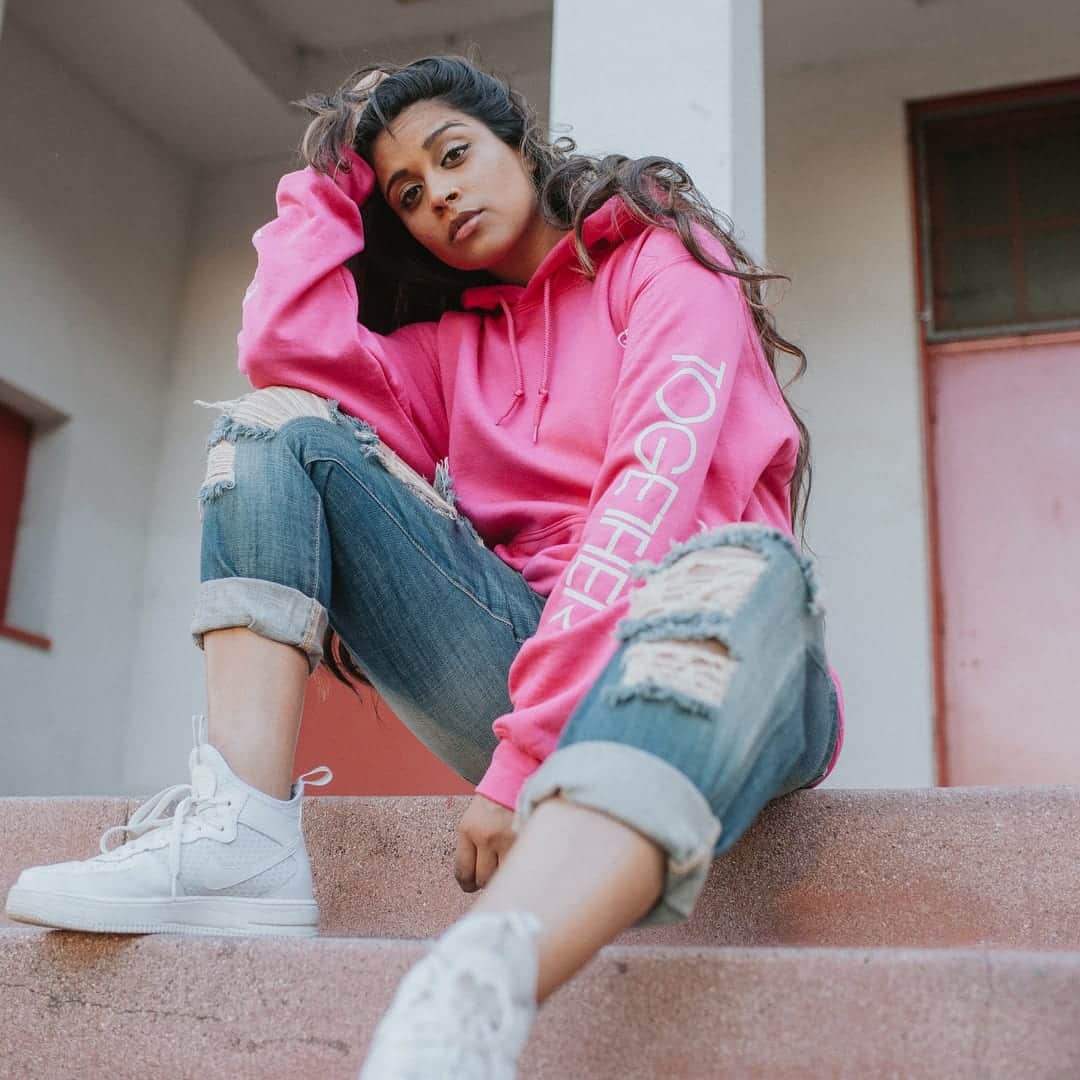 ↓ 14 – Merch Hoodies
All our favorite celebrities have their merch for us to shamelessly burn our money on. We buy this merch as our favorite stars will come with it. Some of the stars have a really good fashion sense and even people who do not really follow them, buy their merchandise, for example, Kanye West'  or Drake's. The most popular items on celebrities' merchandise are t-shirts, sweatshirts, and hoodies. Every star nowadays has their merch on the website and it is promoted through social media like Instagram as well. Go look if you can find something good.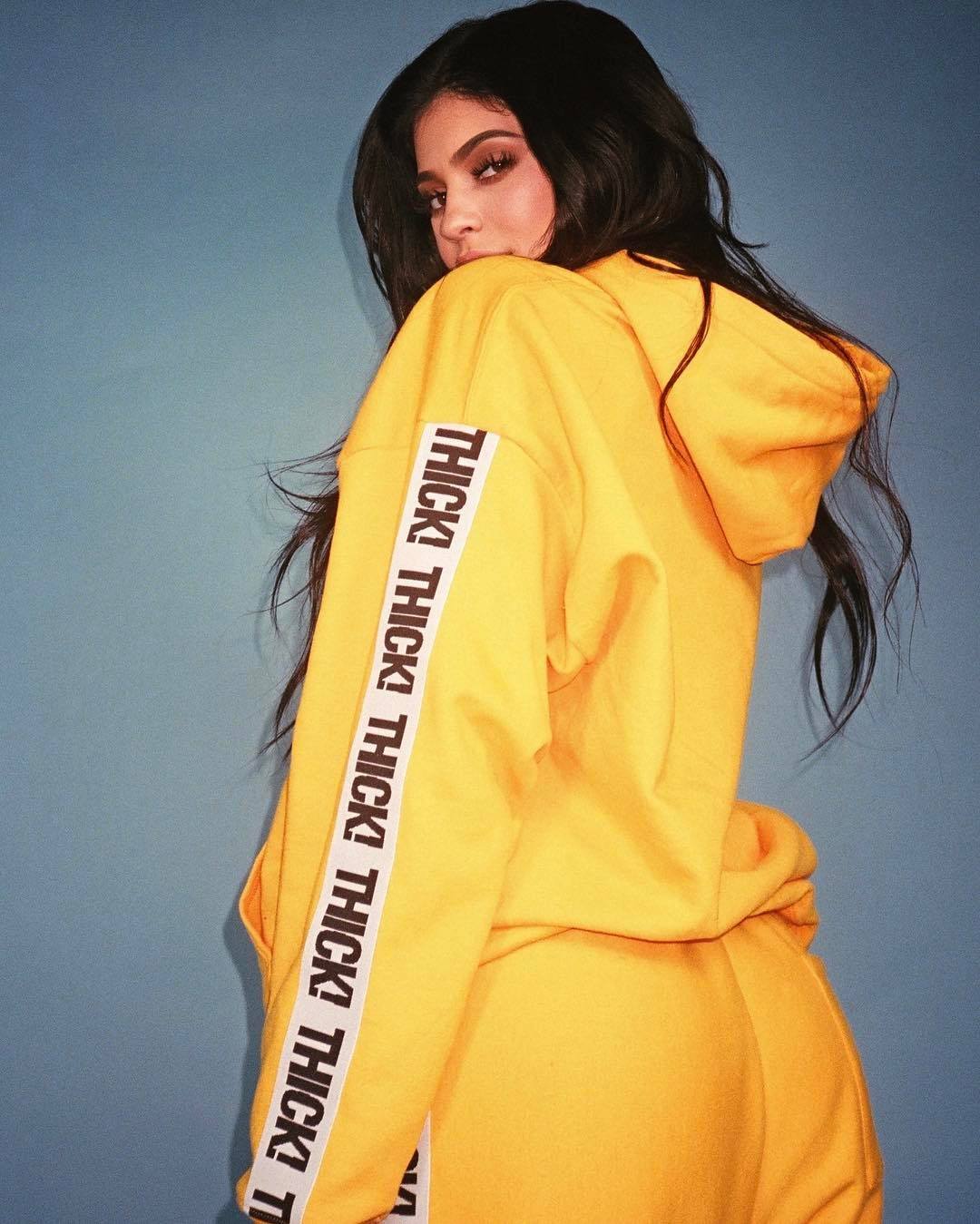 ↓ 13 – Cute Hoodies with Animal Ears
Bunny or kitten ears on your hood add cuteness to your hoodie. On a bad hair day pull your hood up and be the most adorable one in the room.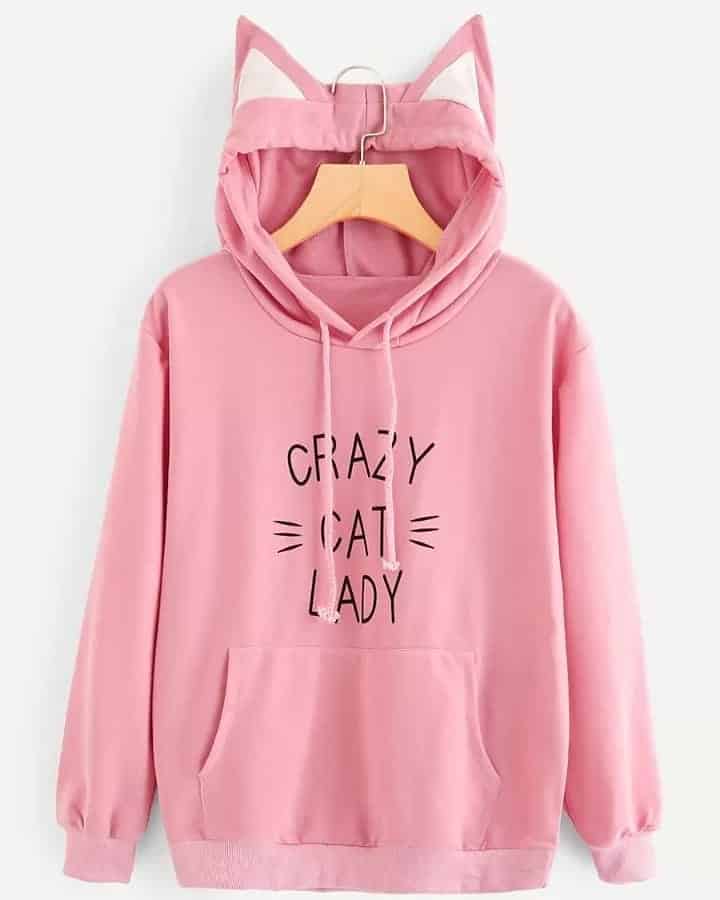 ↓ 12 – How To Wear Your Hoodie As A Dress
Hoodie dress is one of the most popular trends in 2018. They are easy to wear and easy to pull off. Nike and Adidas and other sports brands usually make hooded cotton dresses which you can wear with or without tights. You can put on your thigh-high boots for an edgy and sexy look as you walk down the street like it is your ramp.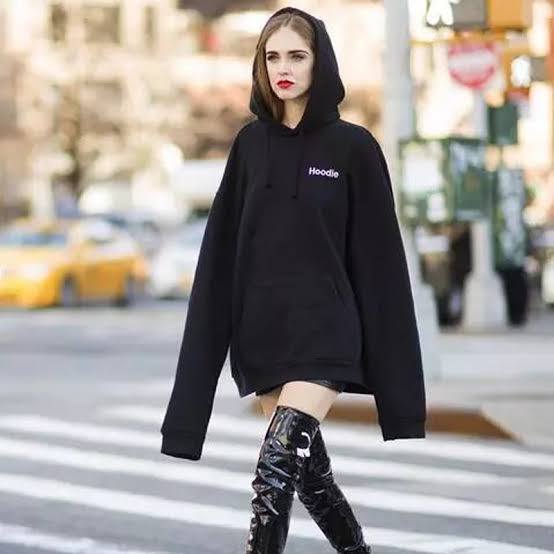 Via
↓ 11 – Hooded Fur Jacket
Fur and fleece jackets are the coziest solutions to these cold nights. And, if there is a hood attached to the back it makes it the perfect thing for winters. Just wear them with any of your sweatshirts and jeans. You do not need to add any effort to your outfit because the fur will do all the work of making your outfit fashionable itself.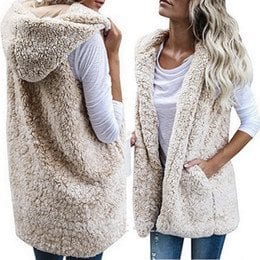 Via
↓ 10 – Long Hoodie Dress
Long hoodie dress that goes all the way down to your toes in another unique way to rock hoodies this season. They keep your legs from freezing and what more could you want! Here are 20 Ways to Wear Faux Fur Coat.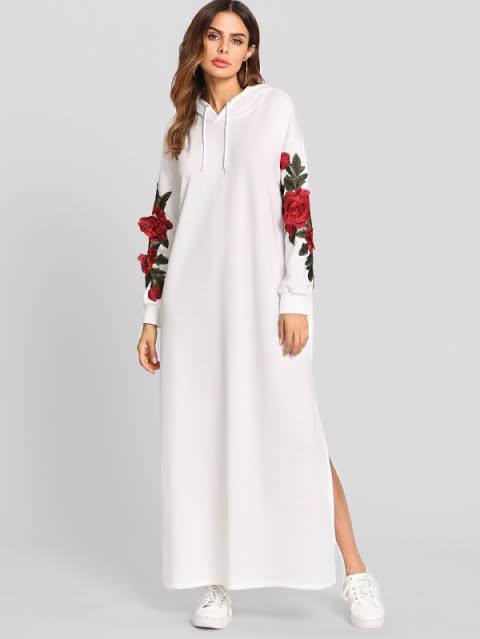 Via
↓ 9 – School Hoodies
Your colleges have their own merch. You should at least buy one hoodie as a souvenir for when you leave. Wear it like a proud student, because no matter how hard it was you made irreplaceable friends and unforgettable memories. College is an experience like none other. Ten years from now when you are all grown up, this hoodie will remind you of the time of your life.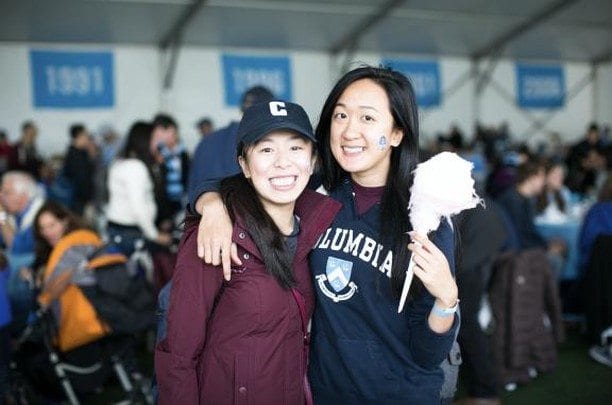 ↓ 8 – Hoodies with Jeans
Hoodies and jeans are the only things we wear when we have to go out in winters, especially to college early in the morning. It is low maintenance and you do not even need to press your clothes, saving you so much time and energy. For an even lazier look just pull your hood up, and viola today's hairstyle problem is dealt with just like that.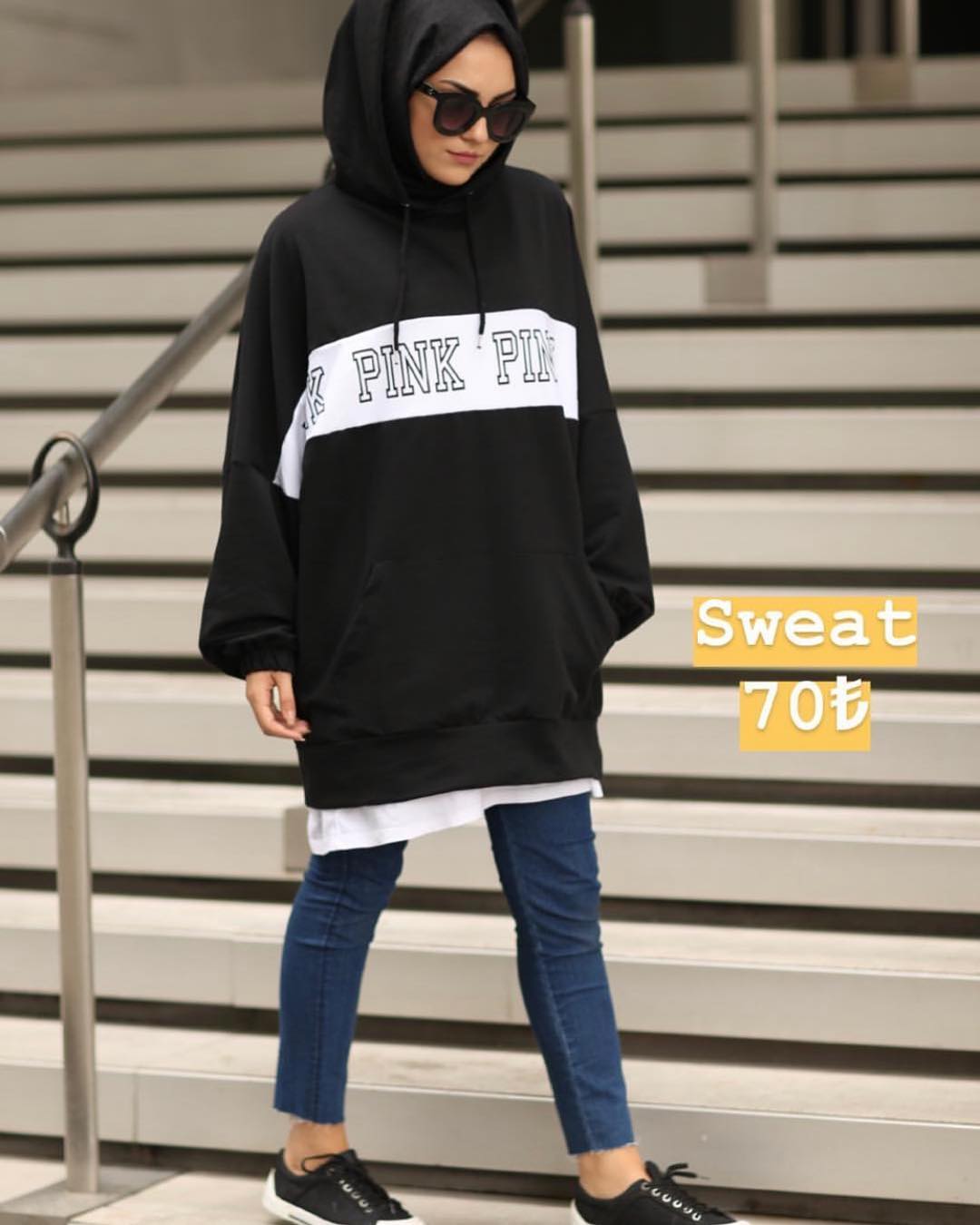 Via
↓ 7 – Hoodies with Tights
Hoodies and tights combination is the mother of comfort. Black tights, especially go with every hoodie in your closet. This look is perfect as loungewear, watching Netflix in your bed as well as for going out.
↓ 6 – Flannels over Hoodies
This outdoorsy look is perfect for Autumn. The plaid top goes really well with blue jeans and a baseball cap.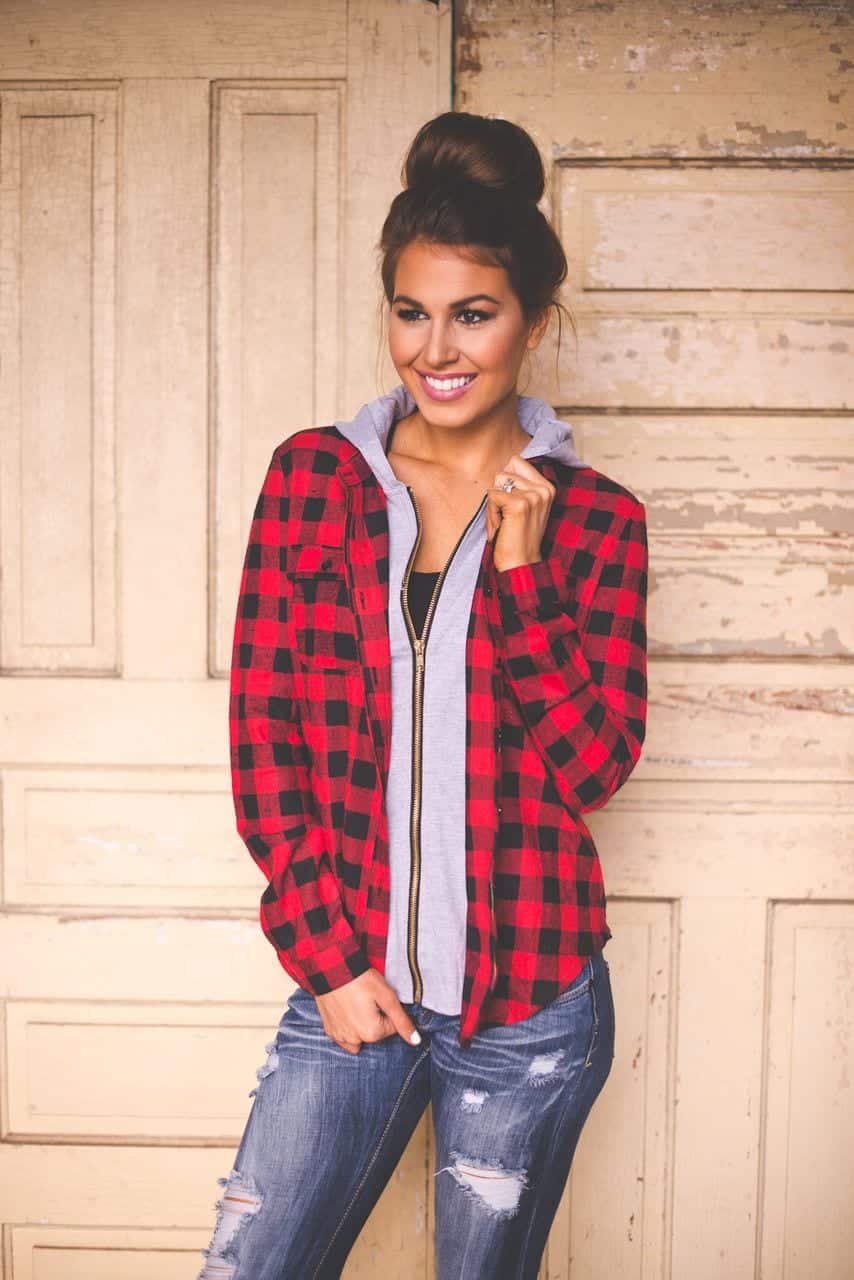 ↓ 5 – Hoodies under Overalls 
You can wear your favorite onesies in winters as well by wearing a hoodie under it. Go for a light-colored hoodie so that the overall's straps really show and it does not just look like a huge pair of pants tied way up on your chest.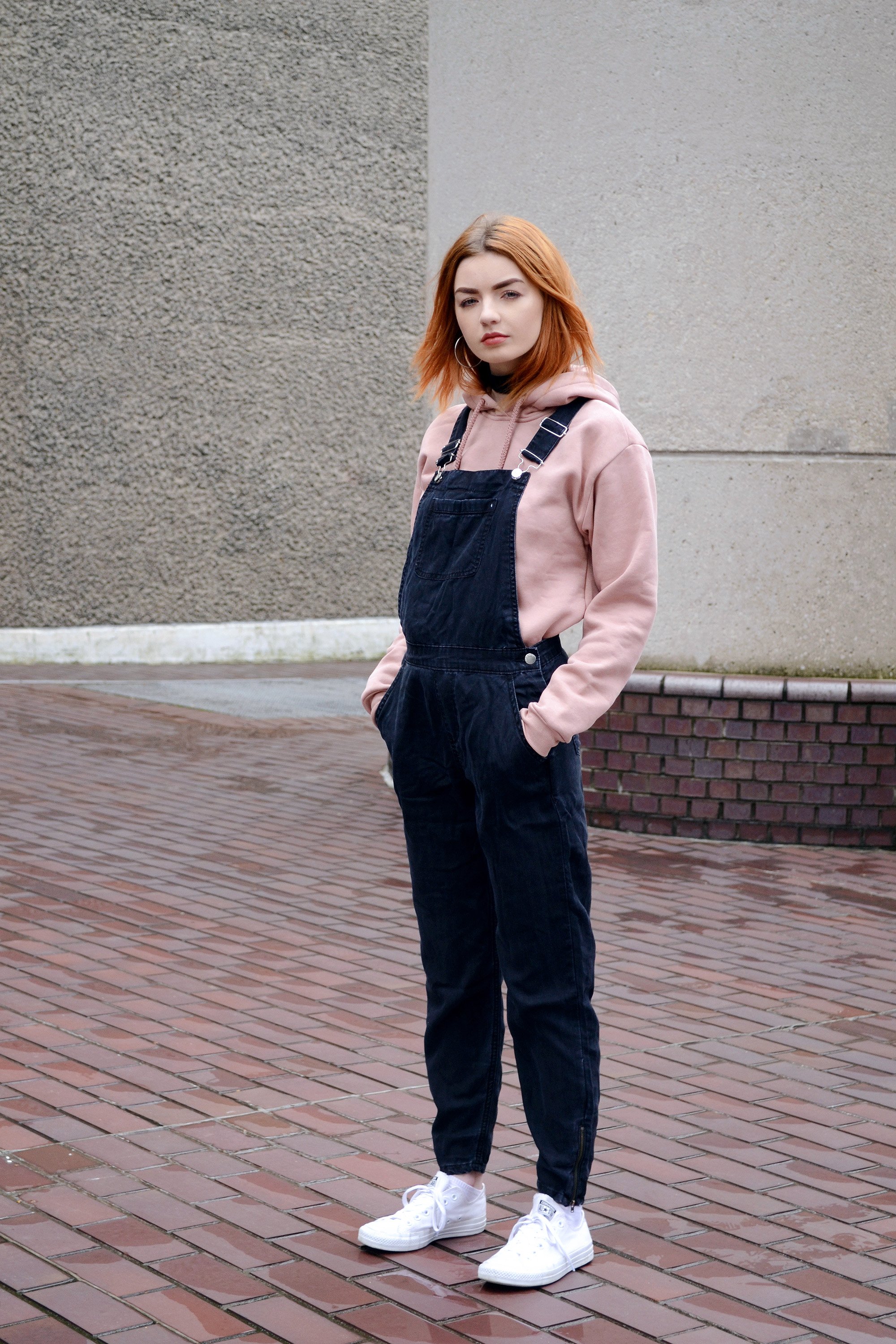 ↓ 4 – Accessories with Hoodies 
You can wear a lot of accessories with hoodies, like hoop earrings, shoulder bags, sunshades, purses, gloves etc. Just make sure they compliment your look rather than making you look overdressed. Less is more, do not wear everything at once.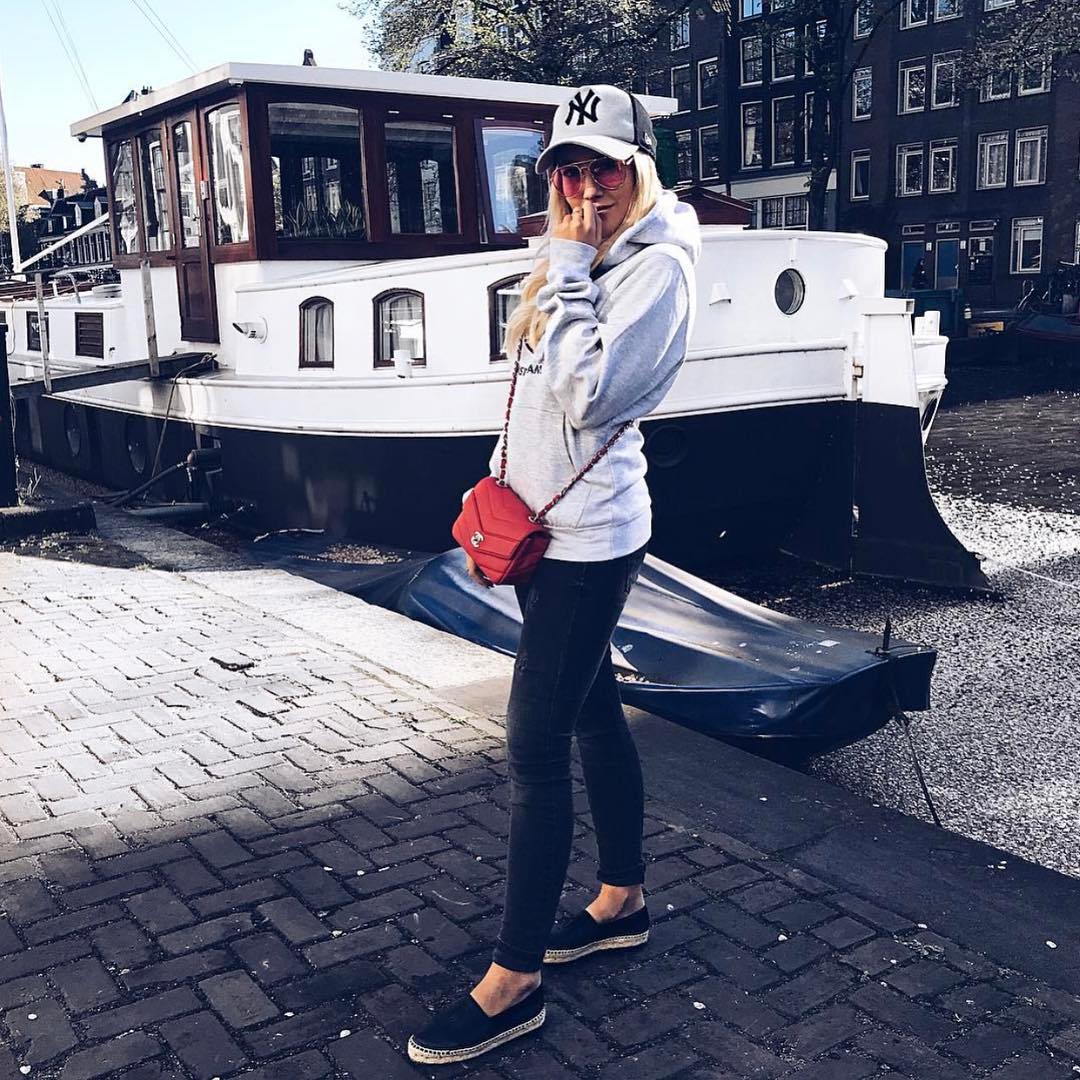 ↓ 3 – Skirts and Hoodies
Tuck your hoodies in and wear your skirt high on your waist to look thin and tall like a model.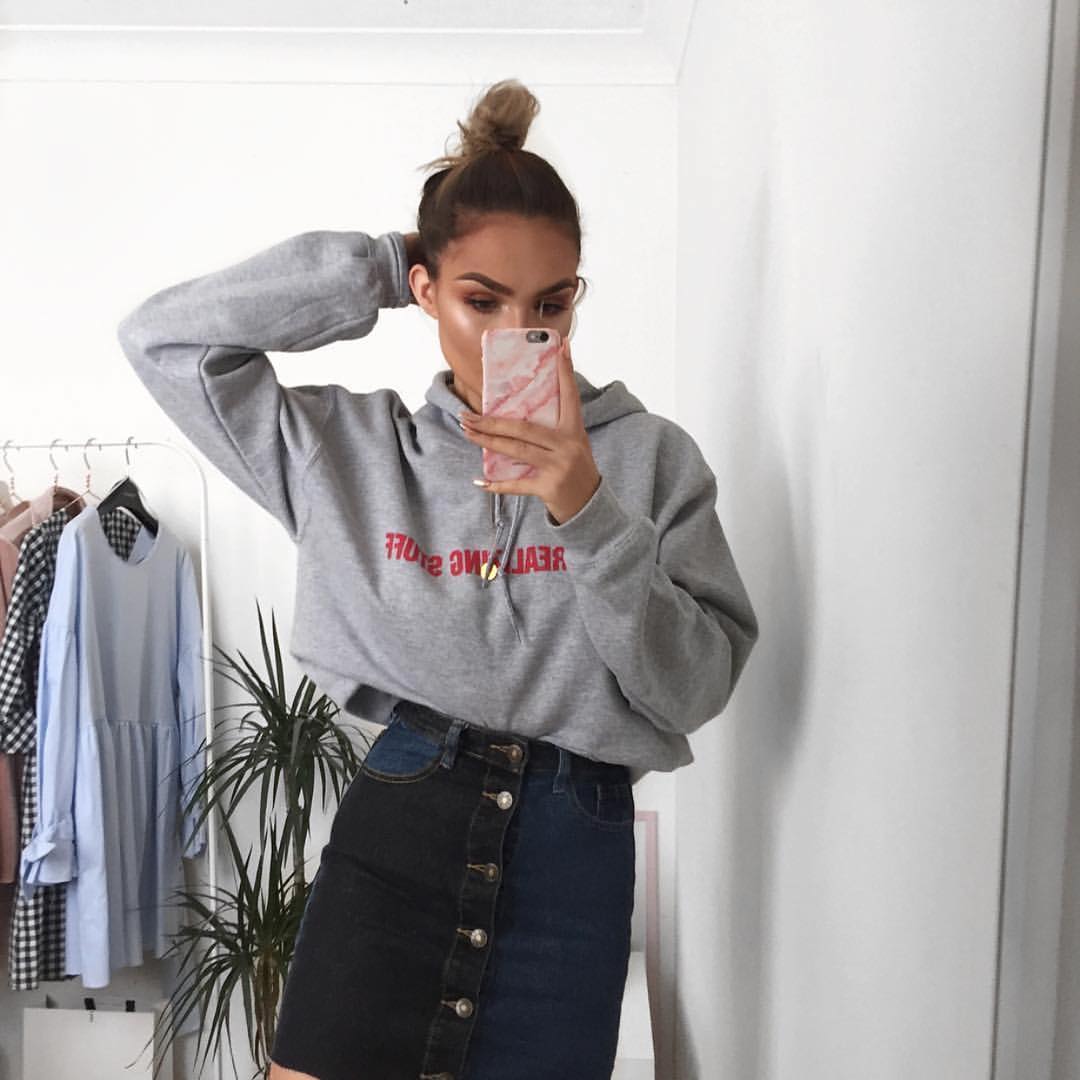 ↓ 2 – Casual And Cute
This year yellows and oranges have taken over the Tumblr aesthetic. It's all about positivity and shining like a ray of sun.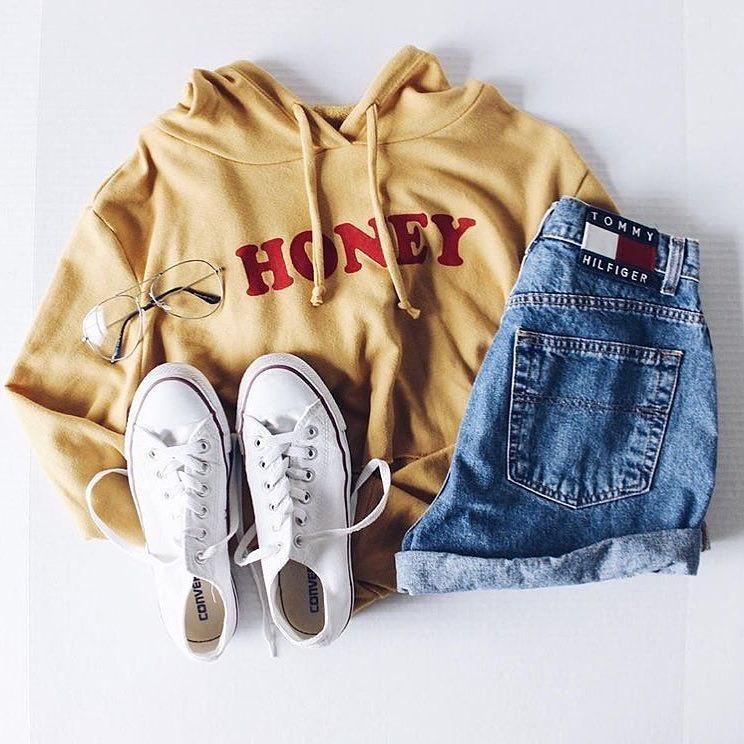 Via
↓ 1 – What To Wear With a White Hoodie
White top and blue jeans are never going out of style. A clean white hoodie looks beautiful and gives a neat finish to your outfit.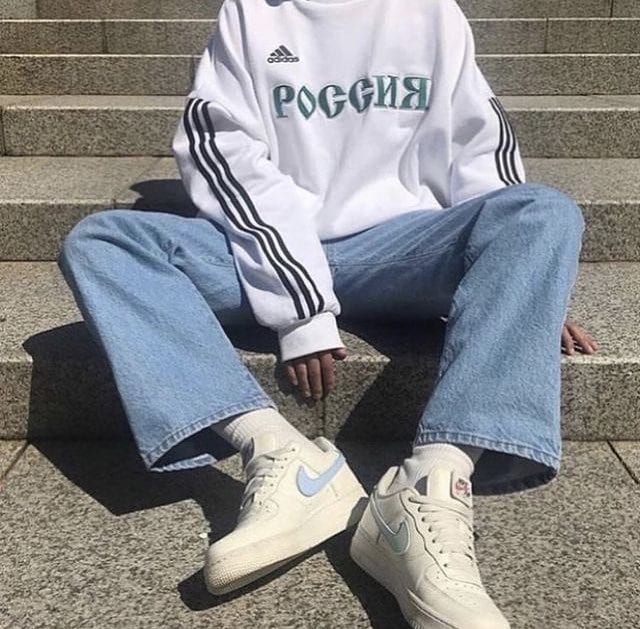 Via