White Jacket Outfits. When it comes to wardrobe staples, few things beat a classic white jacket. It is one of the most versatile pieces you can have on hand and can be worn a hundred ways – from the white blazer you wear to work to the white denim jacket you rock with a favorite sundress.
Because of it's inherent neutrality, you can pair up a white jacket with pretty much anything. And that gives you lots and lots of options when it comes to styling it.
But first things first. Let's quickly go over the kinds of white jackets available. There are blazers (both tailored and loose-fit), denim jackets, leather jackets, linen suit blazers, blazers with three-quarter length sleeves, oversized blazers, classic suit jackets, and more. White jackets can be worn year-round – they just require a little tweaking depending on the weather and the type of occasion you are wearing it for.
What to Wear with a White Jacket?
From work outfits to casual summer styling, today's post is going to cover all the ups, downs, ins, and outs of wearing white jackets. From how to style a white denim jacket to how to put together a white blazer professional outfit, we are going to be covering 16 white jacket outfit ideas so you are never stumped again on how to style one. Let's get started!
Where to Buy White Jackets?
I would be remiss if I didn't curate a list of places where you can find white jackets… as I truly know the frustration of setting out to purchase a particular item, only to find myself completely stumped as to where to find it, much less what the best options are… not to mention, where to get it at a good price! So here is a short, non-exhaustive list on where to buy white jackets that should get you started in the right direction.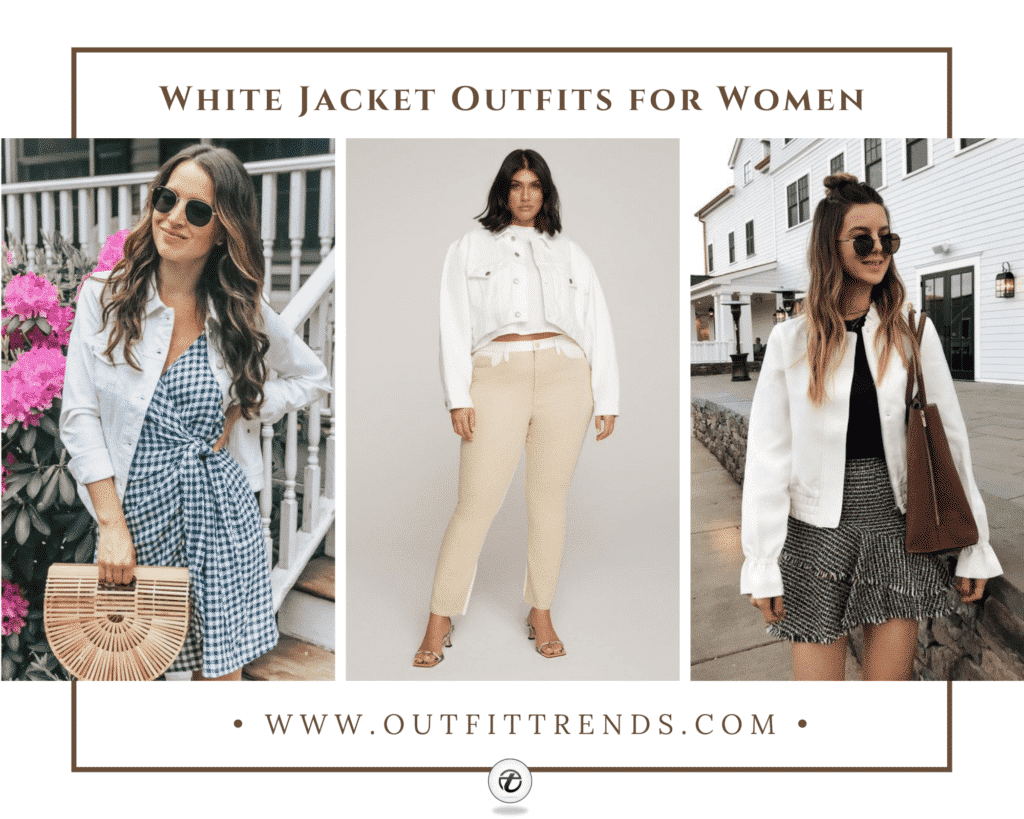 J. Crew Factory. A classic stretch linen blazer is such a fantastic staple to have on hand!
The Banana Republic. Every work wardrobe should have a double-breasted blazer like this one.
ASOS. Looking for a linen suit blazer? Snag it here.
LOFT. This fluid modern blazer goes with anything.
rag & bone. Need an oversized denim jacket? Here you are!
Neiman Marcus. A serious ruched one-button blazer makes for a great fashion statement.
Joules USA. Looking for a classic jersey waffle blazer? Joules has a lovely option.
boohoo. A fabulous ruched sleeve blazer.
Do a little search on each of these places' websites and you should find lots of options. Not sure what you are looking for? Check out these outfits and outfit ideas that will give you a great idea of what to look for to suit your needs.
↓ 17 – White Jacket Outfit with a Red Blouse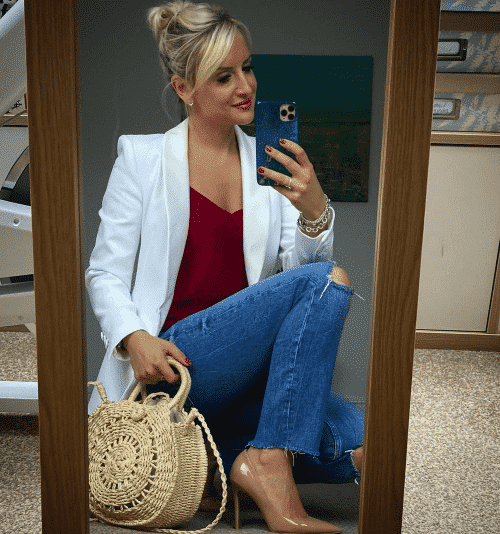 ↓ 16 – Semi-Casual & Chic
I love the idea of taking an unusual piece (in this instance, a quilted long jacket) and pairing it with an otherwise basic look. It immediately elevates the whole outfit and bumps it up to chic status. Here is an excellent example of that. This jacket with its old-fashioned buttons and the cardigan-style neckline is cozy, comfy, and ridiculously stylish. The three-quarter length sleeves keep it from overwhelming the model's frame and paired with some high-waisted jeans, a simple cami, and some two-toned heels, the overall effect is just fantastic. Here are some more of my favorite Chic And Comfy Outfits.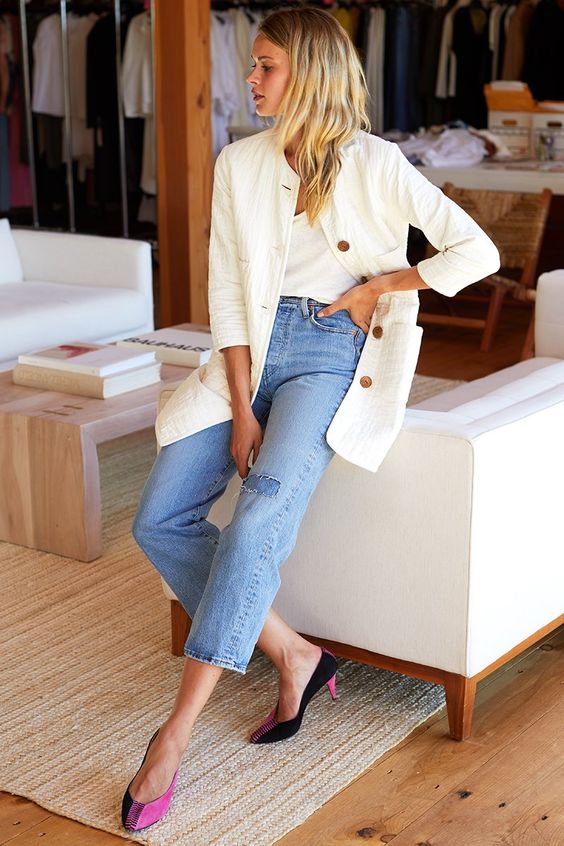 ↓ 15 – How to Wear a White Jacket with a Printed Dress?
A light denim jacket is the perfect addition to a cute summer look. In this case, it's a gingham wrap dress and a bamboo birdcage purse. It add that final touch that keeps the look firmly lodged in Stylish territory, and in my opinion, having a light jacket on hand is always a good idea. To nab this look, you want your jacket to hit right above the hips and you can roll up the sleeves as well to keep it balanced. You can wear this look with some sandals, heels, or wedges.
↓ 14 – With a Black Dress
A white, slim-fit blazer is a fantastic addition to pretty much any dress outfit, in my book. It adds a business-chic vibe, it's more form-flattering than a cardigan, and you can easily remove it or put it on depending on how cool the weather is or how covered up you want to be. This semi-formal look is wonderful for fancy dinners, dates, or even a meeting with clients or supervisors that you need to be a little dressed up for. Here are some more style tips on rocking that Little Black Dress.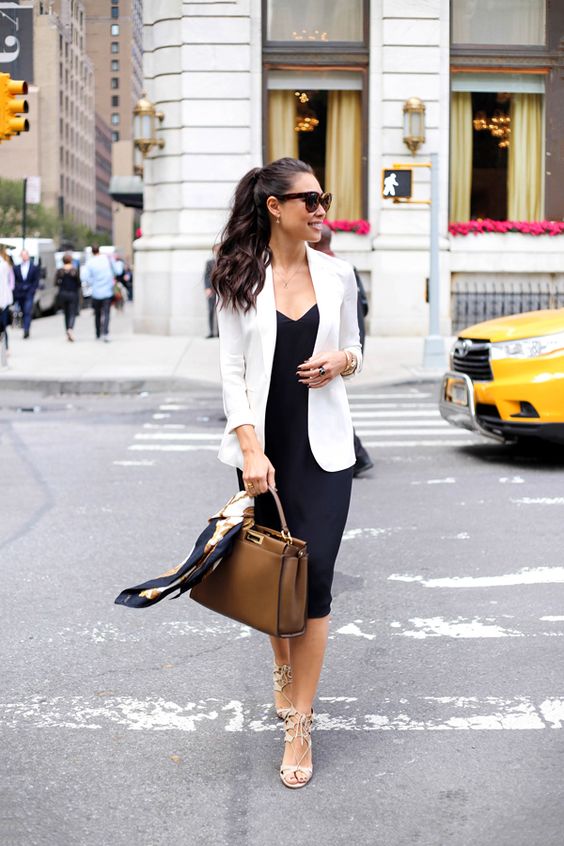 ↓ 13 – White Jacket Outfit for Work
Here is one way you can wear a white jacket to work. What I love about this particular jacket is that it has a slightly loose fit, it has a little padding in the shoulders for structure, and it's without embellishment, making it a minimalistic, highly chic option any woman would look fantastic wearing.
To steal the look, you'll want a high-neck blouse. It can be sleeveless, as long as the top reaches your shoulders. This off-white satin pick is just lovely. Pair it with some fitted black pants (be sure to tuck your top in) and some nude or taupe heels. (Any neutral heels will do.) Accessorize with a few gold pieces like a watch and bracelet, and finish it off with a neutral-colored purse.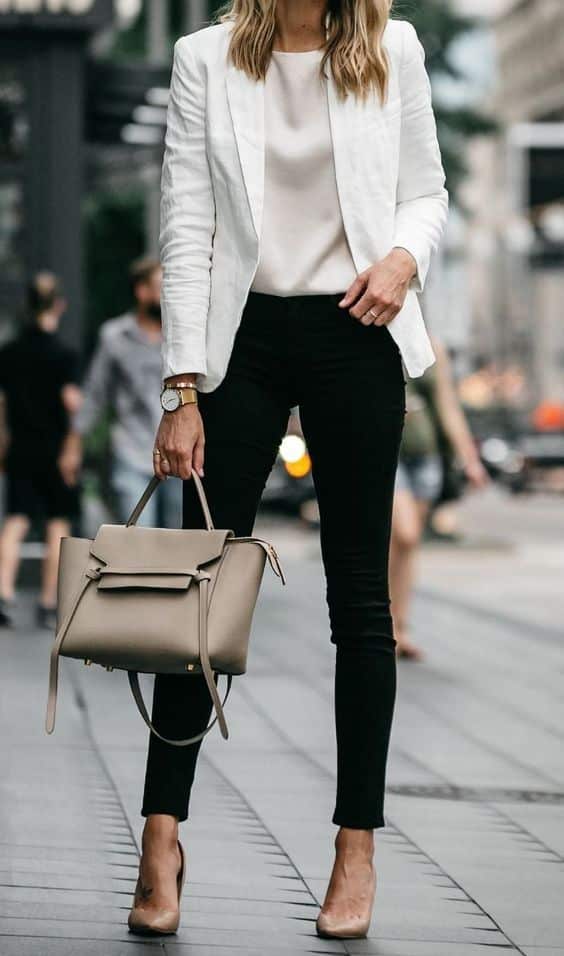 ↓ 12 – White Jacket Street Style
Feeling a little fancy? Go for a coat-inspired jacket with big, ol' black buttons, and a mid-thigh length. You can pop it on over a sequined top and high-waisted shorts or a mini dress. Finish off the ensemble with some patent leather dress shoes and a velvet-green purse.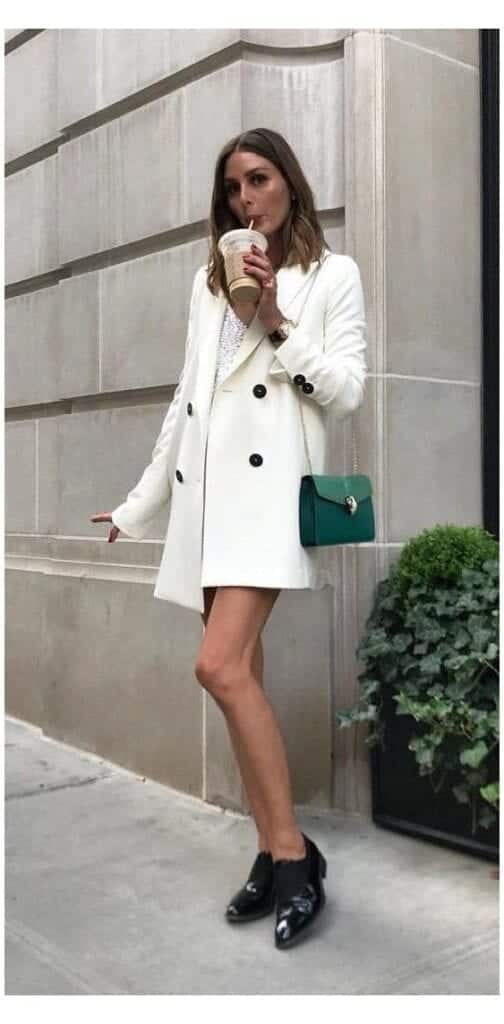 ↓ 11 – Party Attire
Headed to a party? Here's how you can style a white jacket for party wear. All you need is your choice of dress. A colorful print is always chic. Some sparkly silver peep-toe heels are your next step. Then comes the jacket. The length of your jacket will depend on the length of your dress, but a good rule of thumb is a length that hits right at your hips. Any longer and it might detract from the dress. But if you are going for an oversized jacket look, then a longer jacket would be more appropriate.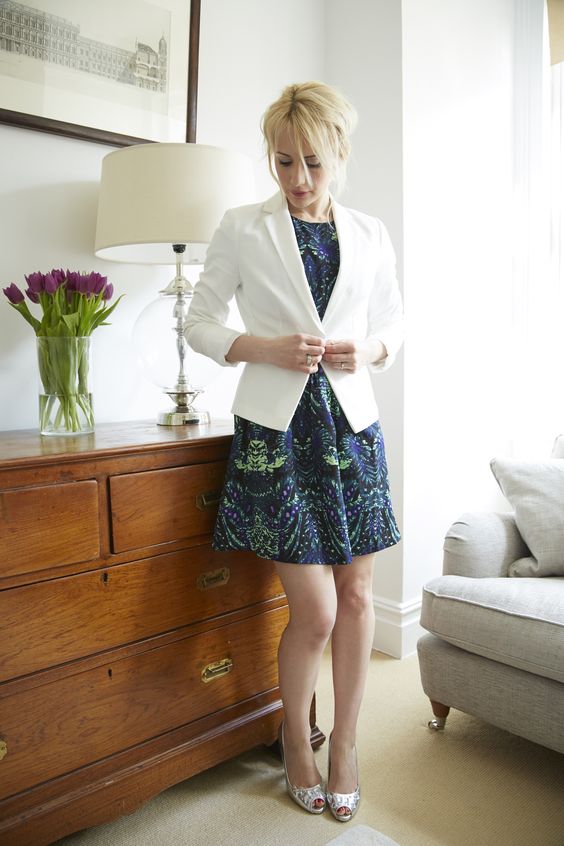 ↓ 10 – Outfits to Wear with a White Jean Jacket
A jumpsuit can be a bit of a daring look for us ladies. Sometimes the fit can be unforgiving and those little areas we prefer to conceal are left a little bit, well, exposed. If you are new to jumpsuits or just don't feel super confident when wearing them, pop a cute little denim jacket over top! Not only is it the perfect finishing touch for a look, but it will help you feel a little more comfortable in those body-hugging jumpsuits.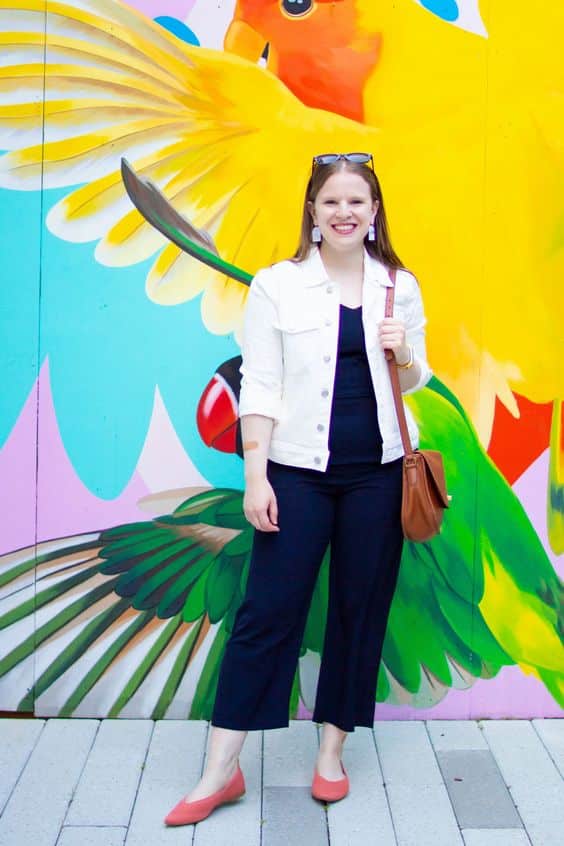 When it comes to cute outfits with a white jean jacket, what beats a fun denim miniskirt? To keep it classy (and firmly out of early-2000s style territory), keep the length mid-thigh (no shorter) and pair it with some wedge heels or espadrilles. And be sure to tuck your top in. A simple black-and-white striped top is a classic, as well as a great print to build off of.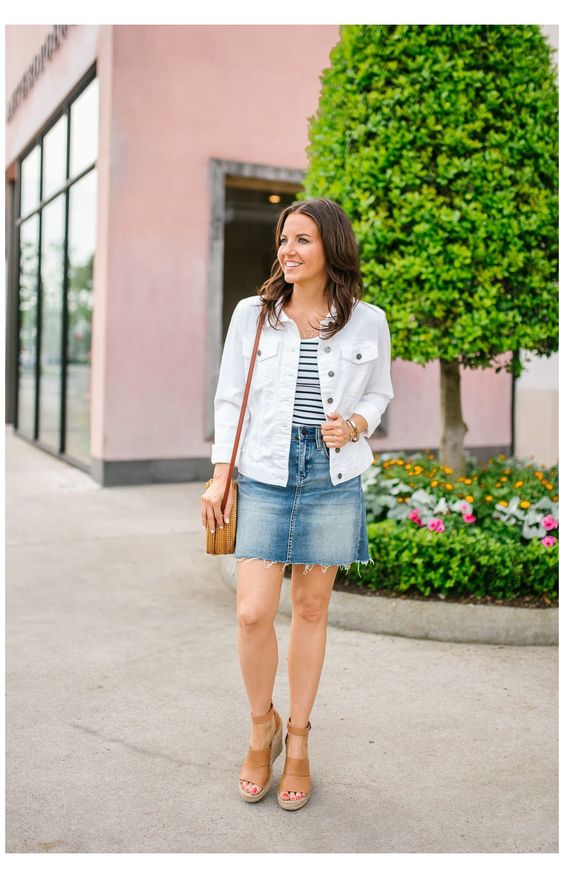 ↓ 9 – Semi-Formal Suit Jacket & Slip Dress
When it comes to wearing an oversized suit jacket, you can't get more edgy or fashion-forward than this. I love the monochrome combo of white satin jacket and full-length slip dress that seems to feature a cowl-neck (great for creating the illusion of a fuller bust, by the way). Break up the white with a black purse and finish off the ensemble with some sparkly heels.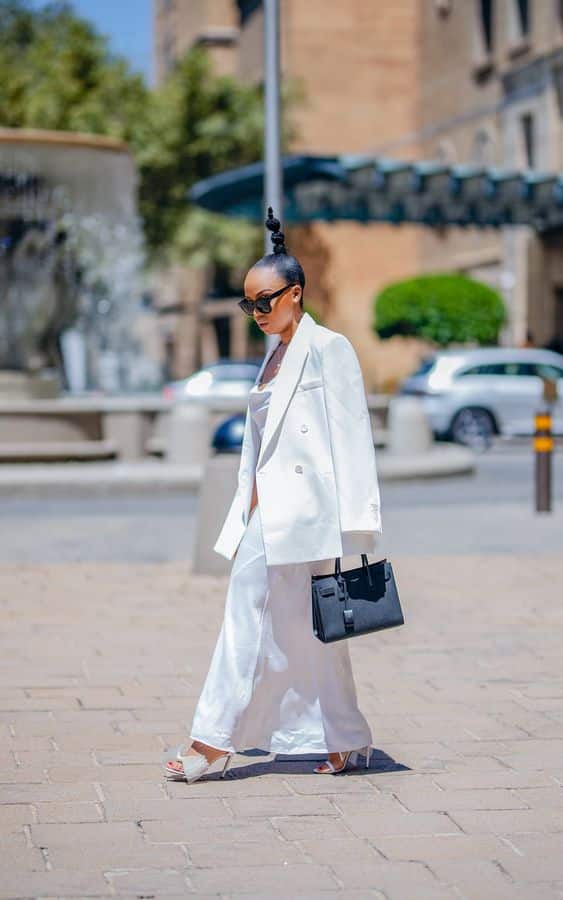 ↓ 8 – With a Graphic Tee
If you want to repurpose a pantsuit for casual wear or funky party fashion, try pairing it with a graphic tee. The tee keeps it youthful and fun and keeps the suit from looking too formal or like work-wear. One fun way to do this is to match some bright-colored heels to color in your tee. You can even match your lipstick too! A neutral purse and some round sunglasses finish off the ensemble. Here are some more Ideas on How to Wear a Graphic Tee.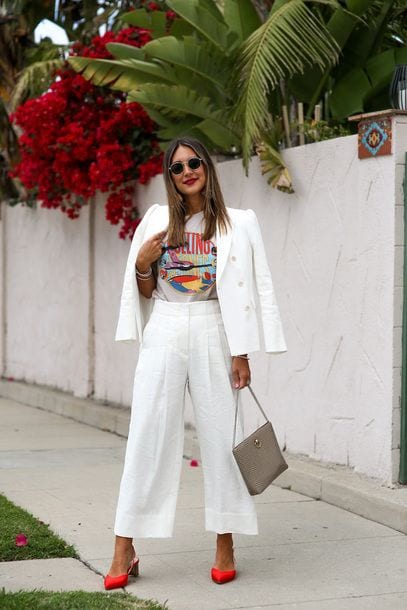 ↓ 7 – White Jacket Outfit Over 50
For a dinner date or even business-casual fashion, I love this blouse-like white jacket that ties at the waist and can be worn rolled at the cuffs. It is definitely the pièce de résistance of the outfit, so you can keep the rest of your look neutral with a gray top and navy blue pants.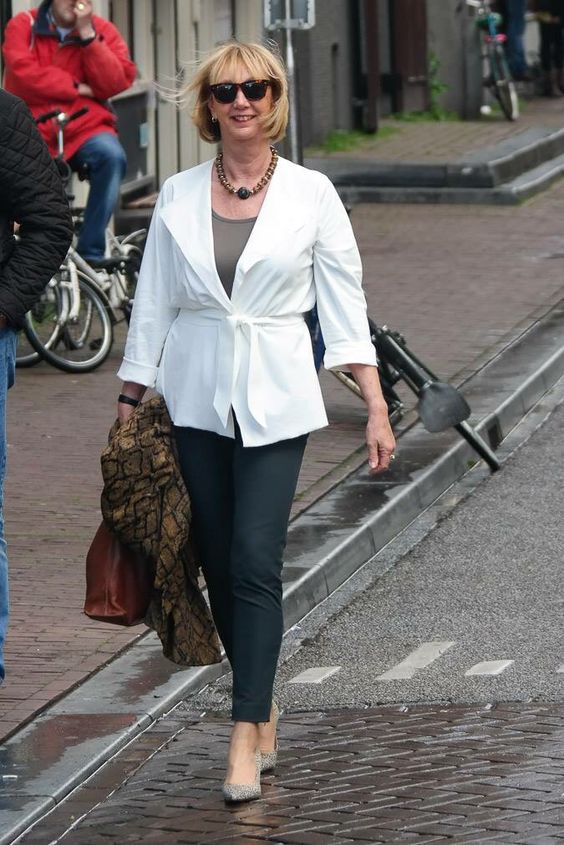 When it comes to styling a white moto jacket, I love it paired with some jeans. It's edgy and fun and doesn't sacrifice an inch of style. Try pairing yours with a lace top, stacked necklaces, and clear or nude heels for a gorgeous date night outfit you will feel fabulous wearing.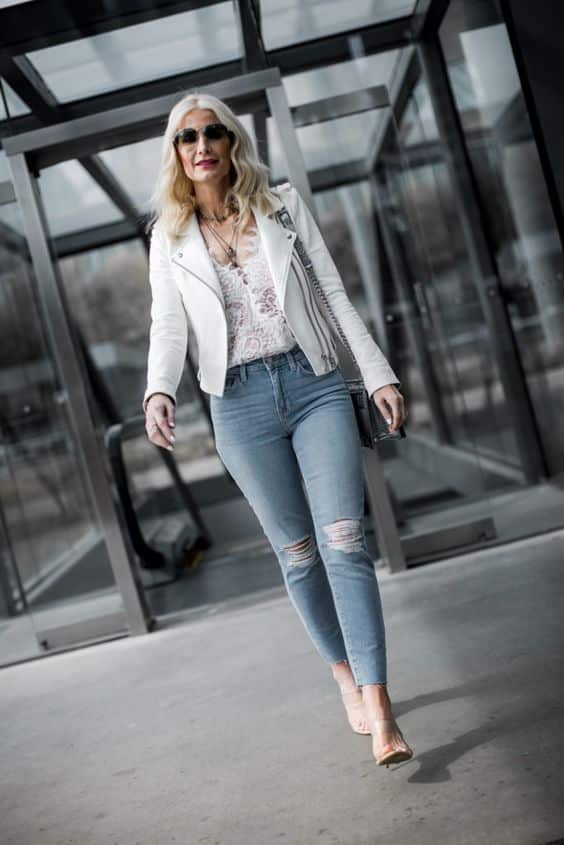 ↓ 6 – White Jacket Outfits Plus-Size
If you have always wanted to try a cropped white jean jacket, now is your time to give it a try! This almost-monochrome outfit is seriously stylish and features a slightly oversized crop jacket I wouldn't mind nabbing for myself. Pop it on over a white cropped tee and some tan, high-waist jeans. Finish off the look with some dainty heels.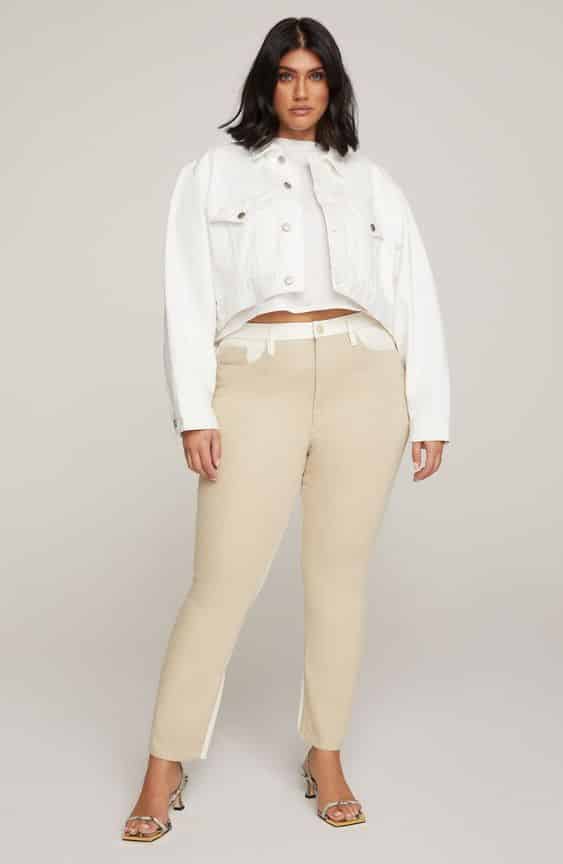 A white biker jacket is a more feminine take on the classic black moto jacket that I really love. Paired with a pink satin top and some faded jeans, this ensemble is great for everyday wear, weekend attire, or even for a coffee date with friends.
source
↓ 5 – White Blazer Outfit
This white blazer casual outfit is perfect for summer! To achieve the look yourself, you'll need a square neck top tucked into some cutoff denim shorts. To get the perfect blazer fit, try one that highs right below the hips. This will look great over high-waist short shorts. Finish off the outfit with some sandals and a neutral purse. Some stacked silver necklaces are the perfect accessory!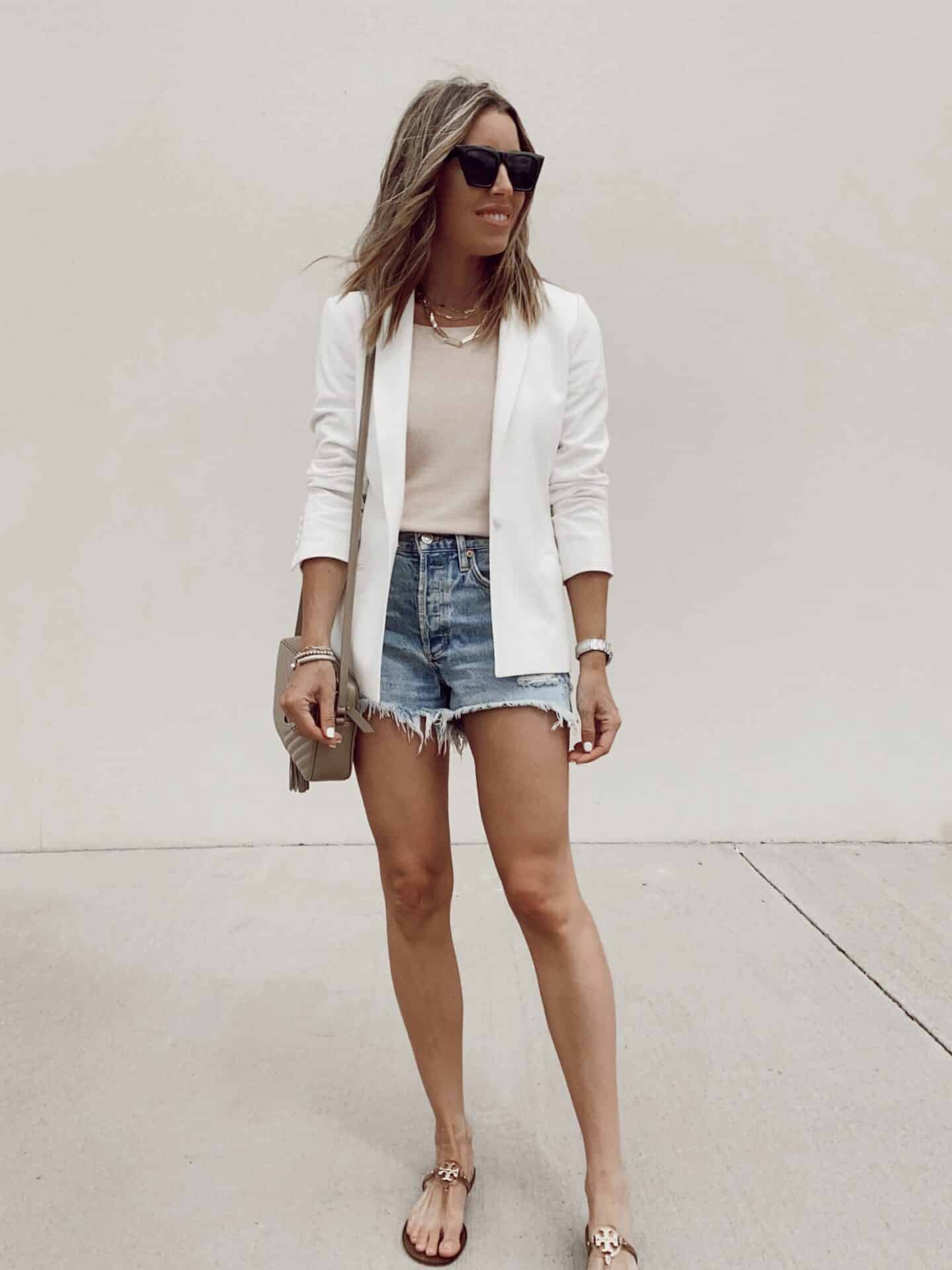 ↓ 4 – My Favorite Look – Long White Coat
Break up an all-black look by adding a long white jacket. This is an easy way to avoid looking funereal or gothic. Lace-up style heels are also great as they visually draw the eye and balance out the white jacket. This is a super slimming ensemble that you can wear for an art show, to a dinner party, or for a date.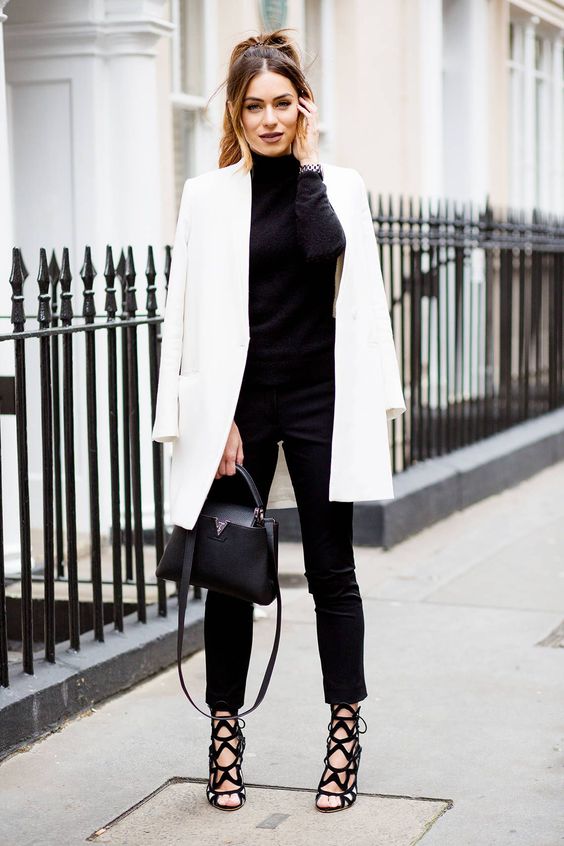 Black & White
2 chic looks from Audrey – The perfect white coat for this winter with a full look black and high boots to enhance this perfect coat for this season.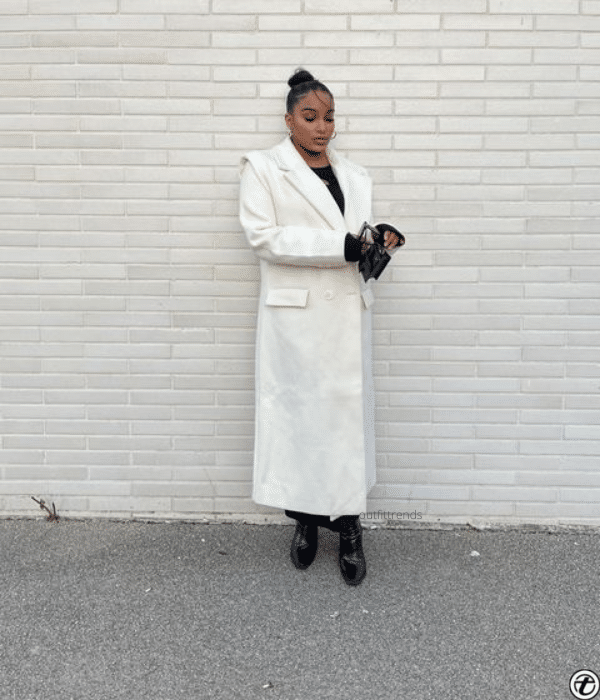 All White Look
The perfect outfit for TeaTime. With this crazy white look, you are sure not to go unnoticed with Valentino boots and bag from the new collection 2021 we remove the look and the nice Nakd coat will come in this look totally chic.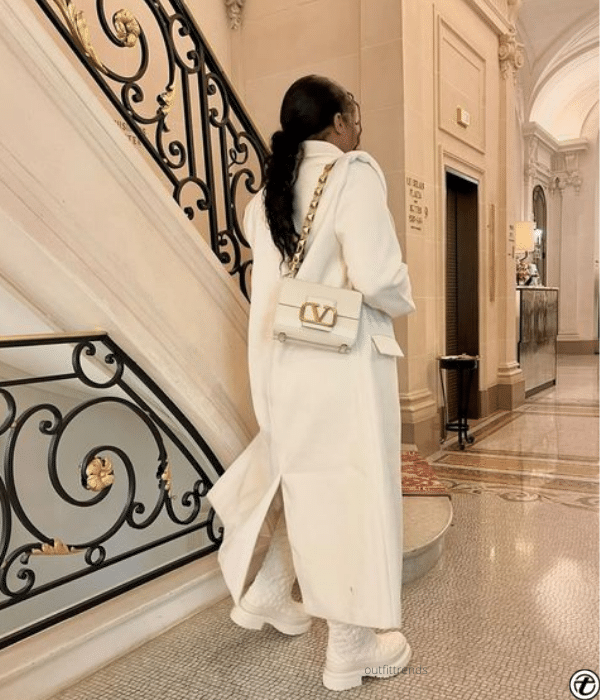 ↓ 3 – Accessories to Wear With a White Jacket
The sky is really the limit when it comes to accessorizing a white jacket. You can pretty much get away with anything. Your only limits are the type of occasion or event you are dressing for, and your own personal sense of style. This all-white ensemble provides a fantastic canvas for playing up your personal style with a distinctive necklace set, a sleek hairdo, and a beautiful purse. But if you want to get bold, try adding some contrasting colored accessories!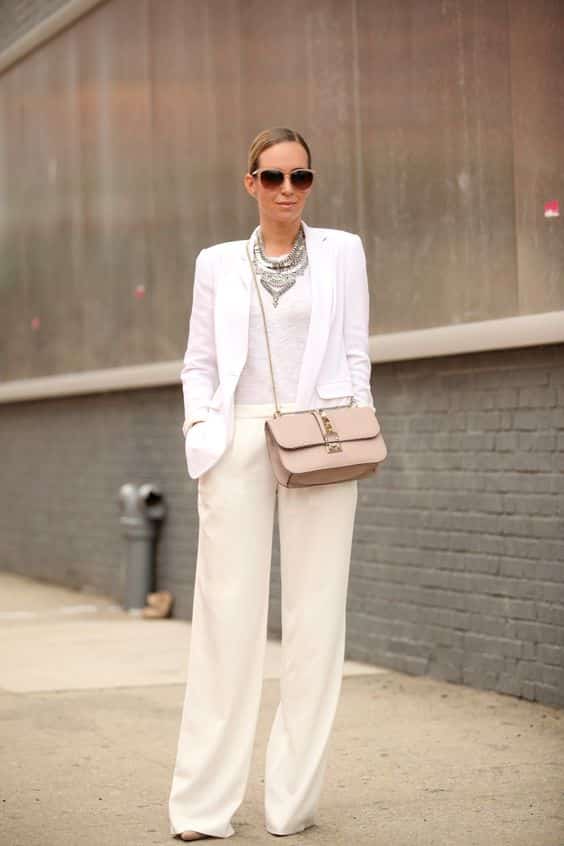 ↓ 2 – Off-White Jacket Outfit
This is an everyday chic outfit that I think would look great on any woman, no matter her shape or size. It has classic elements that won't really go out of style and it provides a lot of wiggle room for bringing in your own personal touch, whether that's a bold pair of statement earrings, some contrasting colored shoes, or just a funky-printed top. However, replicating this look piece for piece works just as well. I like that the off-white jacket complements the white top without overwhelming it.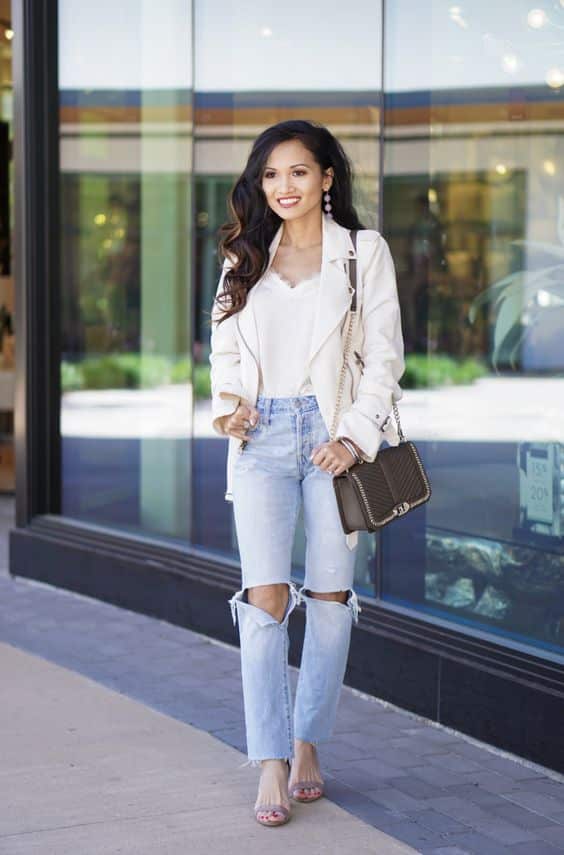 ↓ 1 – White Bomber Jacket and Ruffled Skirt
Finally, we have an outfit that brings some pretty great elements together to create an over-all super chic look, perfect for those cool summer evenings and warm autumn days.
We can start with this white bomber jacket with ruffles. It is distinctive enough that if it matches your personal sense of style, it is sure to make a statement. Paired with a ruffled wool-blend skirt and the 'oohs' and 'ahs' will be rolling in. A black crewneck top is a perfect backdrop to the two statement-making pieces, and the brown tote purse is just dreamy. I love how the model tied it all together with some round sunglasses. The perfect finishing touch! If you too have a thing for ruffles, do check out these fabulous Outfits with Ruffle Tops.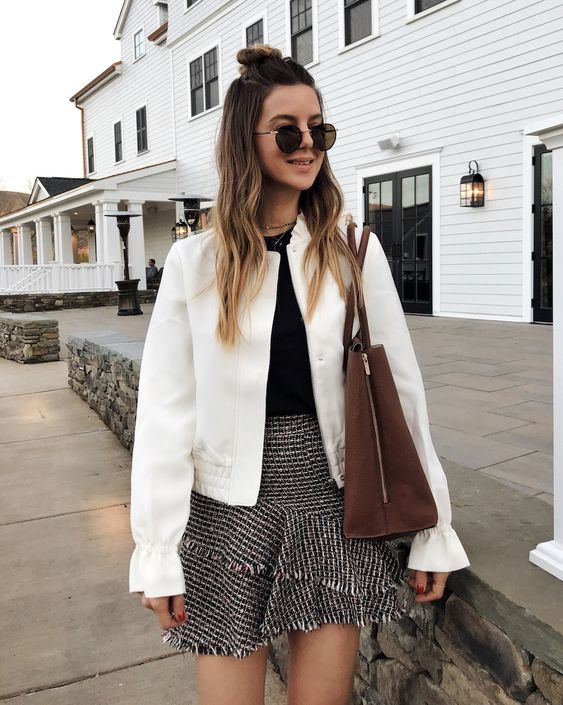 Frequently Asked Questions
And because we want to leave no stone unturned, here are some frequently asked questions about wearing and styling white jackets that should help you along as well!
Q. What do women wear with a white jacket?
A. Women can wear pretty much anything with a white jacket, as we saw in this post. Fit and cut is important, of course, as well as length. But you can pair a white jacket with anything from dresses to jumpsuits, from jeans to mini skirts. A white jacket is a perfect item to build off of and finish nearly any outfit with.
Q. How do you wear a white blazer 2021?
A. Knowing what is trending in 2021 is a good place to start if you want to know how to style a white blazer. We know that retro-style clothing is in as well as certain types of jeans. A blazer with three-quarter length sleeves is always a safe bet. Try pairing it with a paisley dress, or with a square neck top and flared jeans!
Q. Is it OK to wear a white blazer in winter?
A. A blazer may not be warm enough to wear in winter… but if it's a warmer day and you will be indoors, then yes, you can wear a white blazer in winter! Try pairing it with neutral colors like navy or with a soft inviting pink for a refreshing winter look.
And that's all for today! I hope you found this post helpful to you and that it at least gave you some fresh ideas for how to style a white jacket. Do you have a favorite way to wear one? Let me know in the comments below!