How to wear Ruffle Tops. The frilly, flowy ruffle tops are experiencing as a top trend in the fashion industry. The fluted multi layers may take you to the age four, but this girlish childlike statement has achieved a top fashion make over from the last few years. Ruffles add the volume on all the right places. They are simply super feminine. If you are confused to figure out What to wear the ruffle top in myriad ways then scroll through the following ruffled top styles to wear and make your ruffle the focal point of your outfit.
We have presented the 15 best ways to wear the ruffle top like a pro.
What To Wear With A Ruffled Top
#15- Off The Shoulder Ruffles Style
Off the shoulder trend has been going lovely and strong and imagine with the voluminous ruffles, structured bottom, pulled back hair, it looks amazing and dramatic. Wear it for hang out, date night or vacation; it looks subtle, sexy and sophisticated at the same time.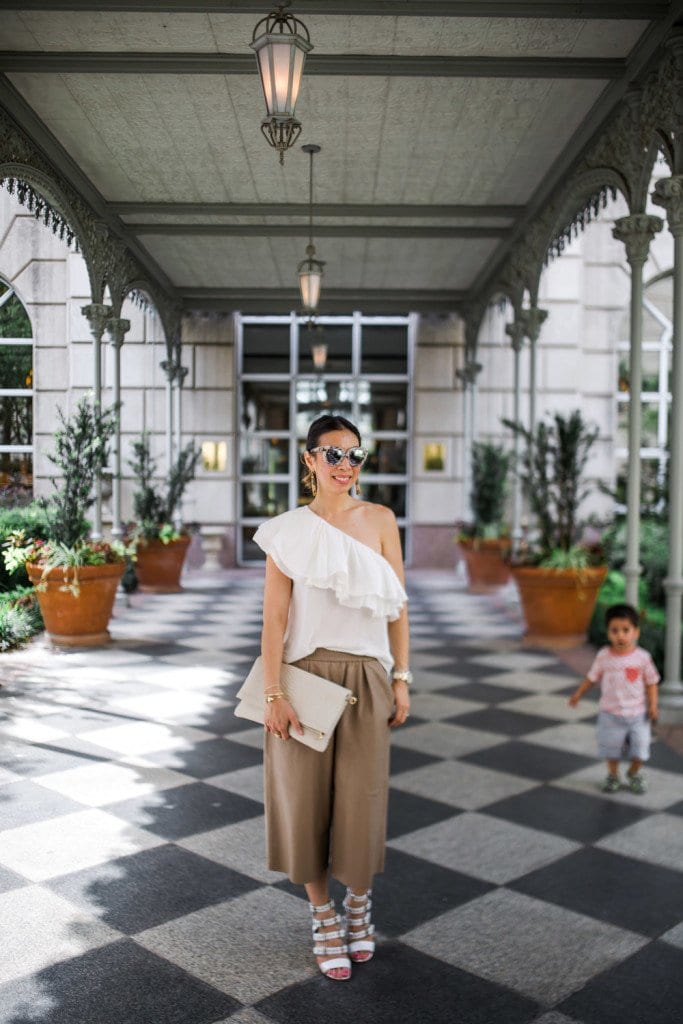 #14- WorkWear
You can make your work hours the center of attraction. Look fashionable and formal at the same time in office with your ruffle blouse. Pair it with black pants, tights or skirts and slay the work hours.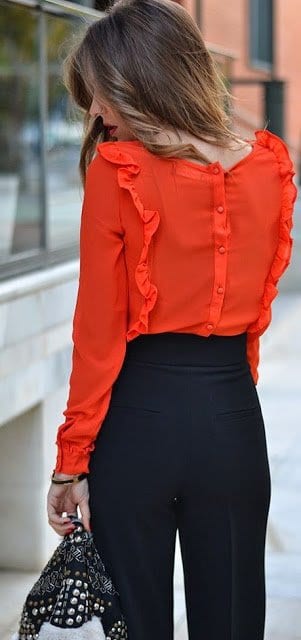 #13- Ruffle Jumper and Shirt
For a simple and relax trend prefer a simple ruffle jumper with a colorful shirt that go in a perfect line between simplicity and decency.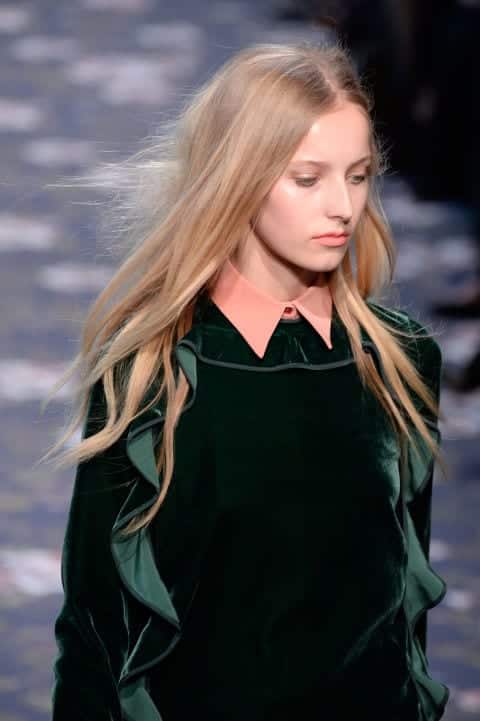 #12- All Black
Ruffle flair is the real crazy statement that does a terrific job with your bone structure. Ace the beauty bones by pairing it with a range of skirt types or distressed jeans.

#11- With Ripped Skinny Jeans
Feminine fringe long sleeve ruffle top, ripped skinny jeans with pearled heel loafers is the sophisticated and perfect combo for everyday style.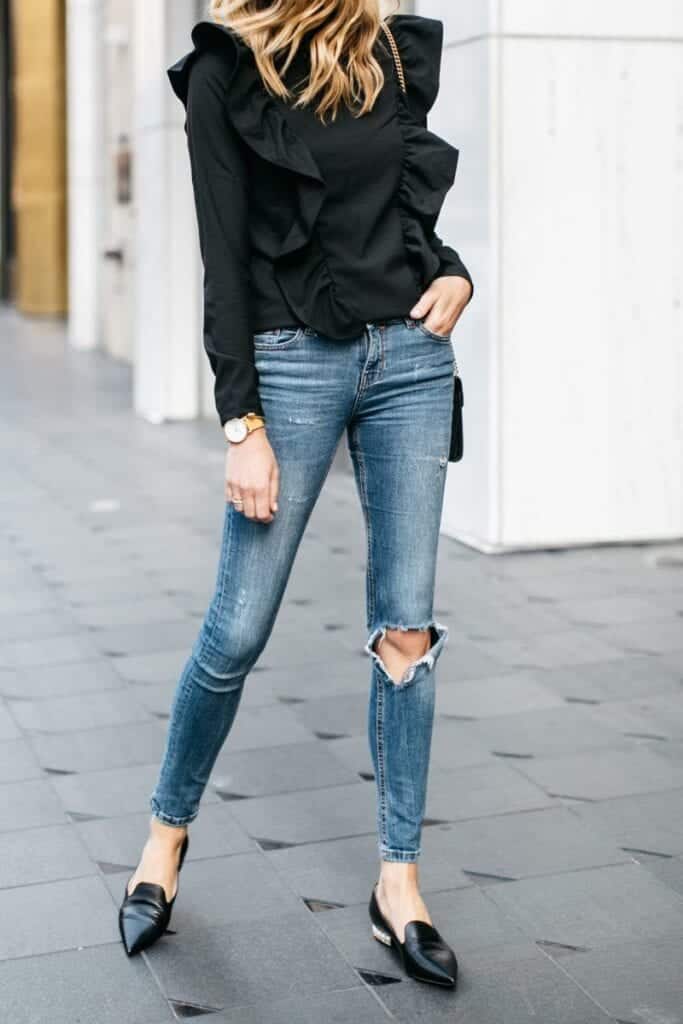 #10- Street Style
For your personal fashion style, simply add a ruffle top with high waisted pair of baggy pants and pair of cool laced shoes with a chain strap bag. Make your own personal street style with a hit of ruffle in fashion trend.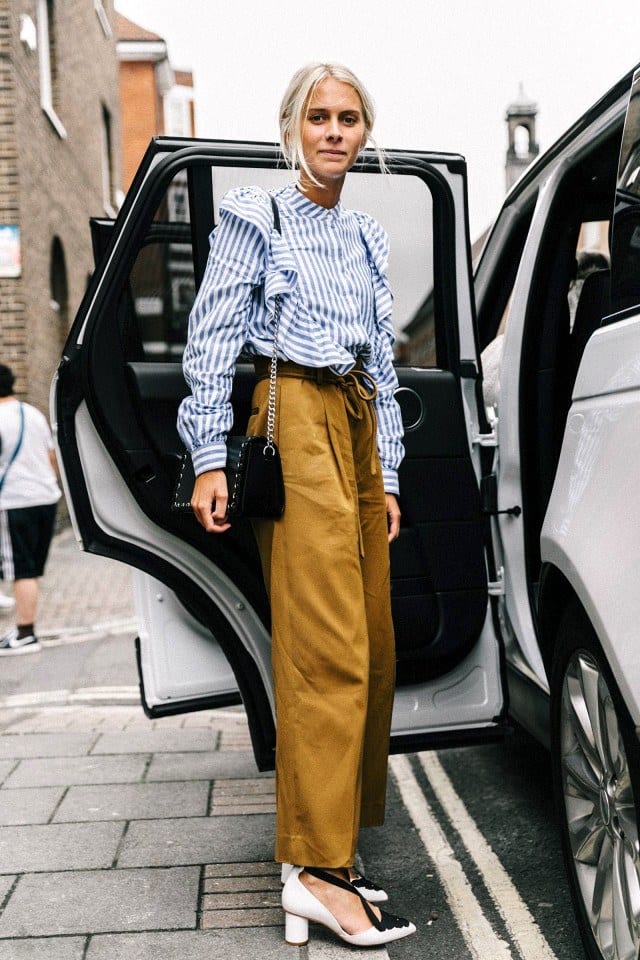 #9- Blogger Style
For the middle ground level, combine the roughness of denim dress with the sheer lace ruffle sleeved top for a perfect blogger style.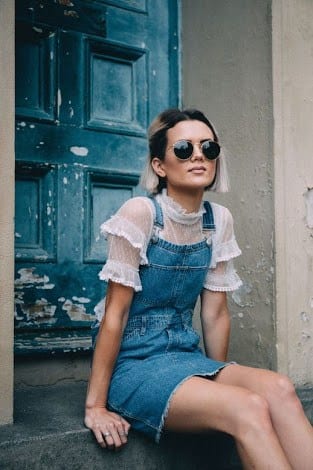 via
#8- High Neck Ruffle Top With Skirt
If you are going out, a high neck ruffled top is really a good choice if you pair it with skirt and heels to make it more dressy and casual.

via
#7- For Dark Complexion Ladies
Get creative and opt for a dramatic look by wearing a dramatic style ruffled crop top. Do not shy for the dramatic look, this would be really an amazing experience.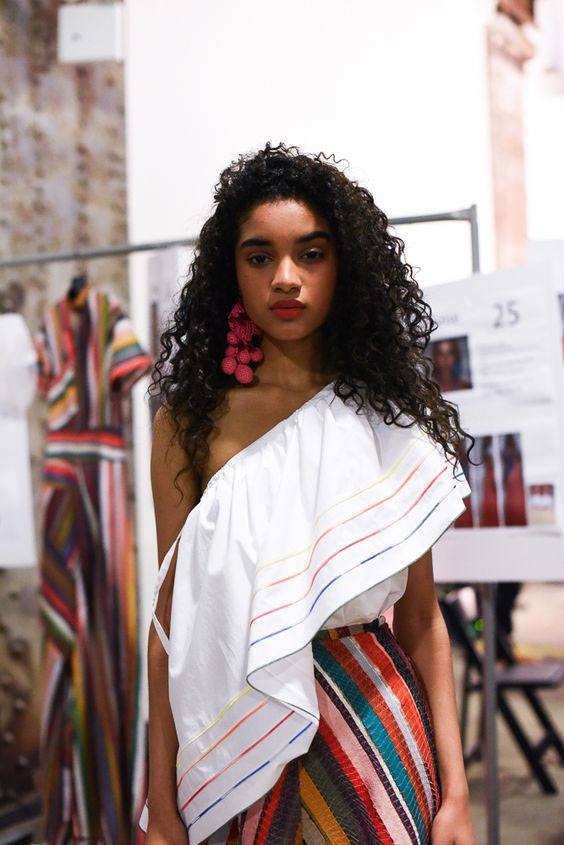 via
#6- Celebrities Ruffle Top Style
The amazing star Selena Gomez is rocking the sexy ruffle with subtle flourish hint. She is boosting a level of style and statement with chic sophistication.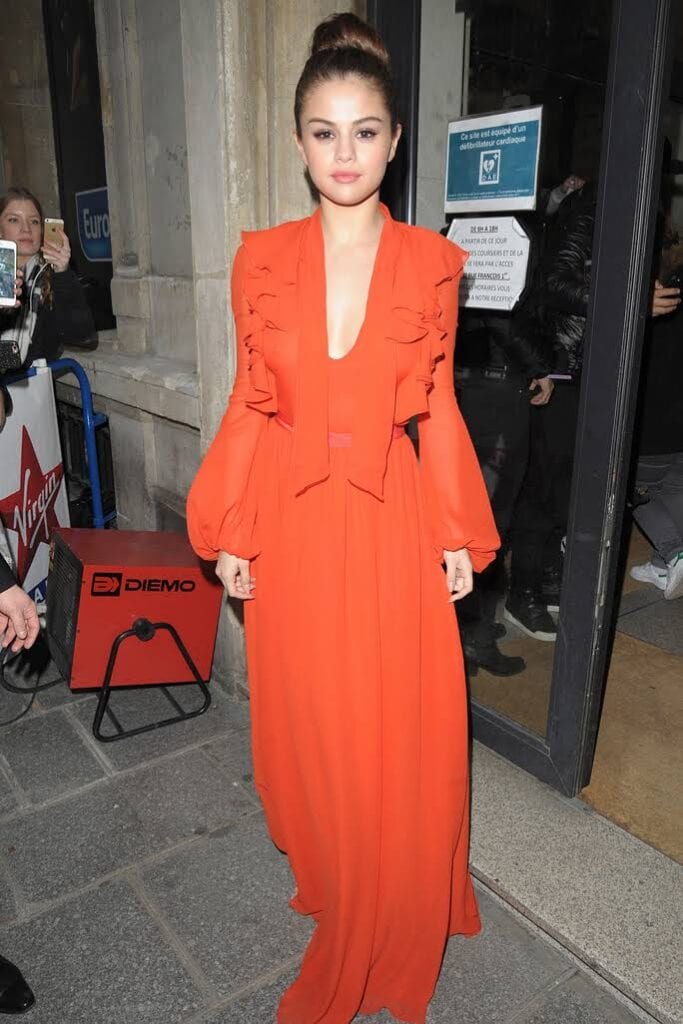 via
#5- Be Creative
Ruffles don't only mean in a form of cropped top, blouse or shirt. Go bold and choose the way to rock in another creative fashion pro. Keep the rest of the outfit simple so it look more dominant.

via
#4- Casual Outfit
Balance out the feminine voluminous ruffled frills with simple piece of statements and sneakers to be really comfortable.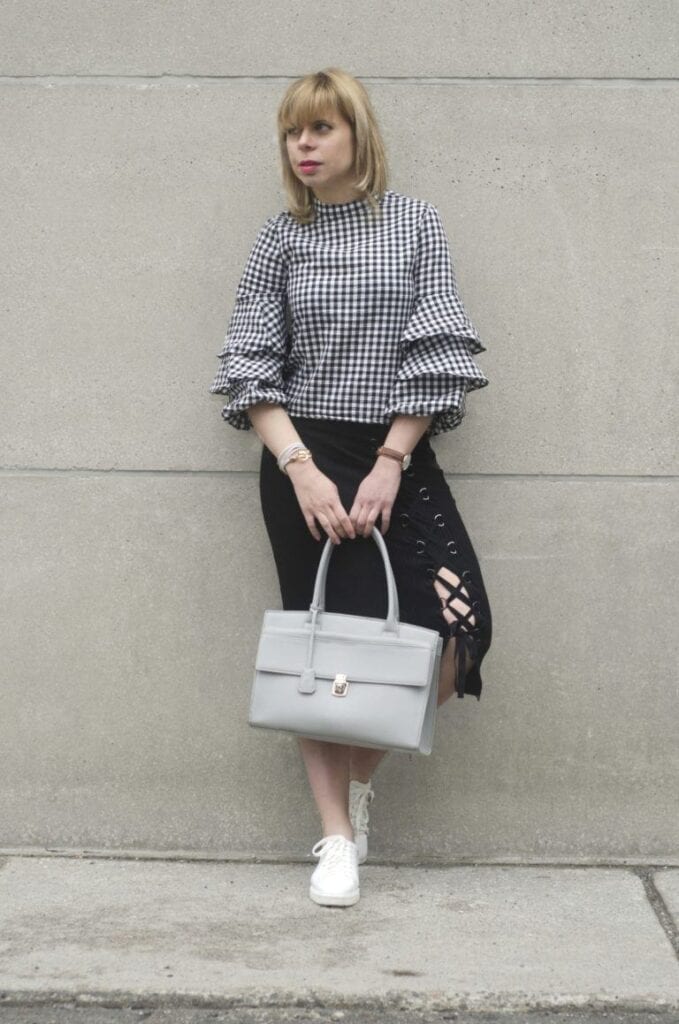 #3- Fall Pro
Go bold and feminine this fall with ruffled sweaters. You can rock the season with simple addition of classic booties and jeans with ruffled sleeves sweaters.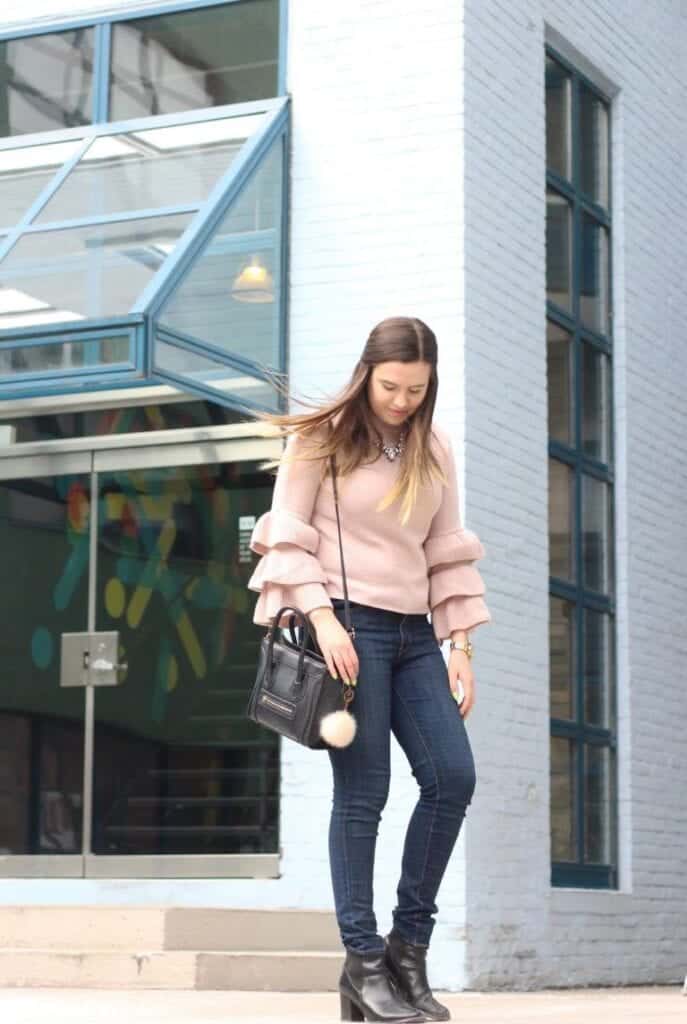 #2- Ruffled Ensembles
Create a playful and feminine look with careful prints and patterns that looks elegant and sophisticated. Be careful in the selection of prints, neither so big and nor so small. Keep in mind the elegancy and decency.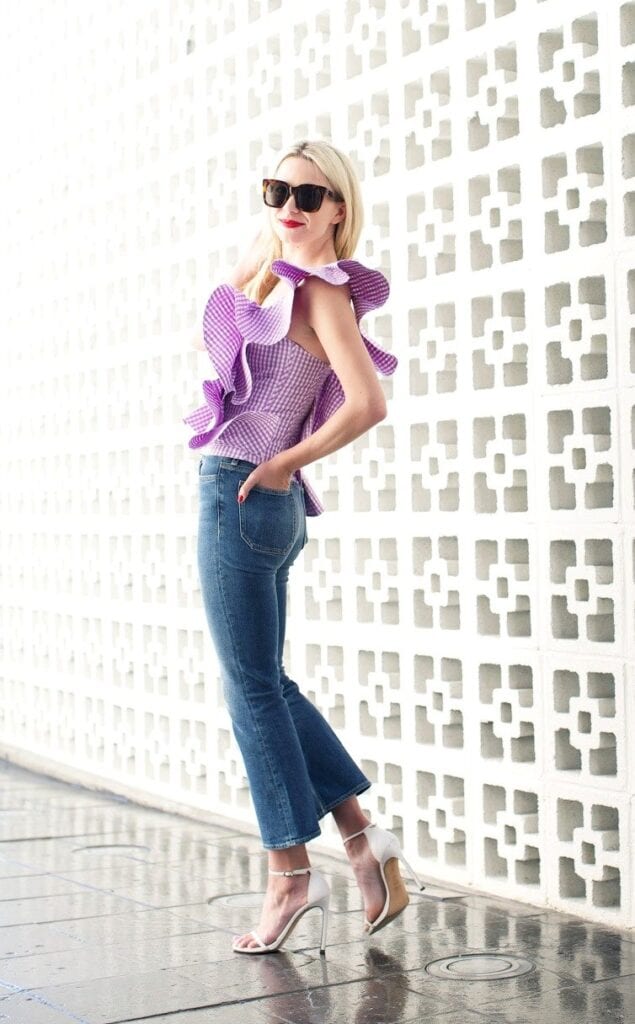 via
#1- Jumpsuit Style
You will never go away after seeing this stunning style. It is the best style for girls who simply love the frills. Very outstanding and elegant style to wear like a fashion pro.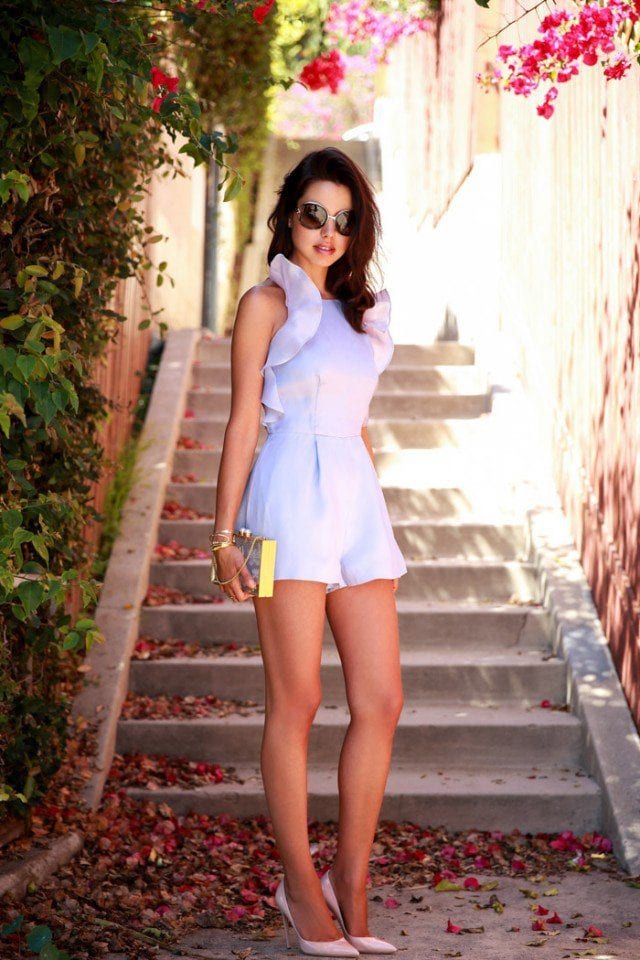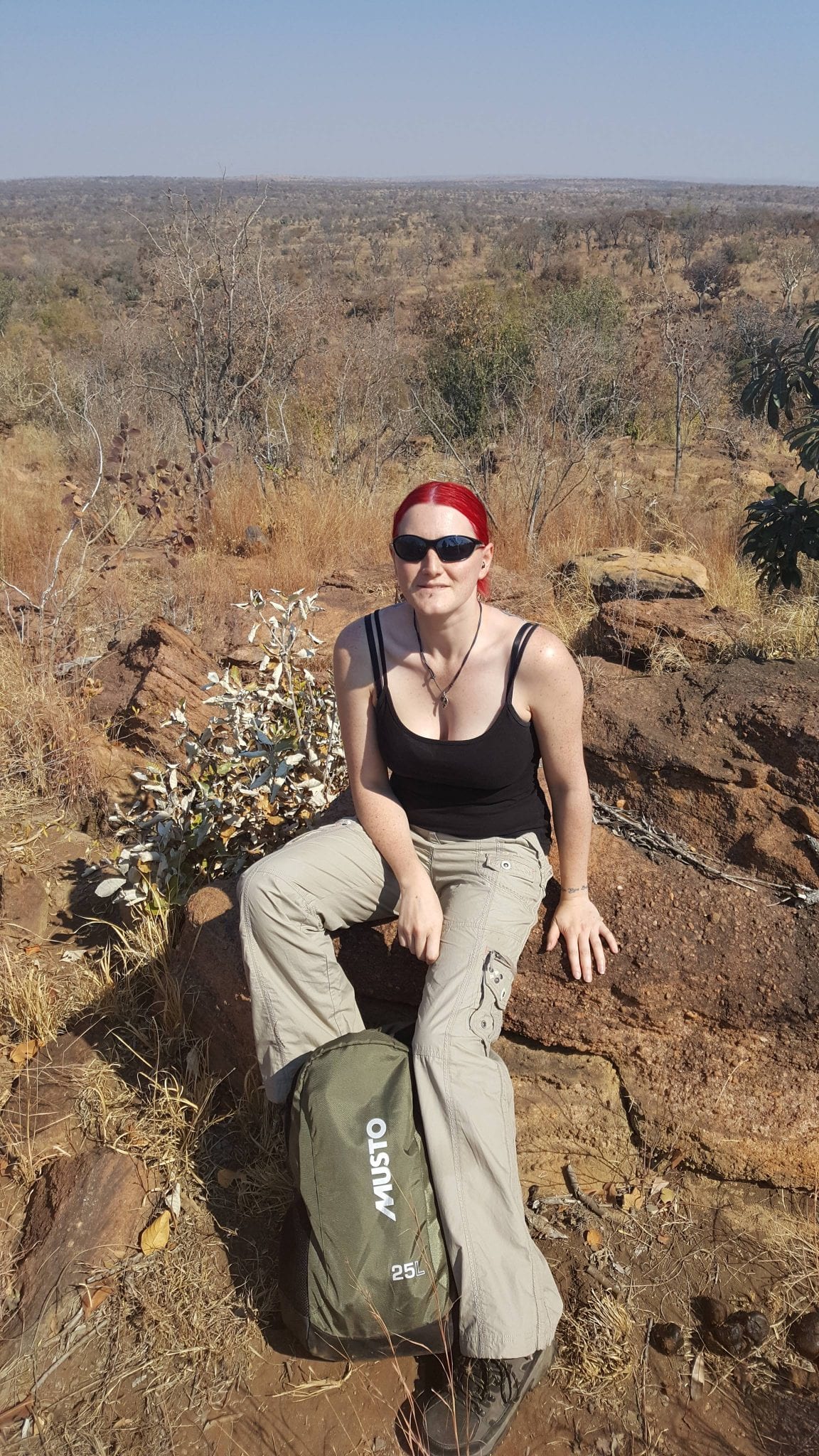 Caz, aka Vixen, has been freelance creative writing for several years. She has a lot of experience in different fields including high street fashion, tattooing art, and even the gothic and historical costumes. Caz has a Diploma in Fashion and Textiles and also a Bachelors Degree in Historical Costume and Corsetry. Her passion lies with gothic design, corsetry and any other styles considered to be taboo or unusual. Style-wise Caz has a love for Vivienne Westwood and her take on the punk era. Although Caz loves the weird and wonderful, she has a deep love for all fashion and allows this to show through her work.