Women Road Trip Outfits – Work and college can be super exhausting at times. All you need, to recover from the stress, is some beautiful and relaxing getaway. Instead of the usual air rides, why not go the unconventional way of hitting the road? Book your much-needed vacay with your friends, family or your special one. We bet you can already imagine yourself having fun with the windows rolled down, the relaxing breeze in your face and some fun music in the background.
All of this sure sounds like a hell lot of fun! However, you need to remember that you will have to be huddled in the car for several hours. It can sure be tiring and annoying if you are not adequately prepared for such journeys. As much as this sounds super exciting, choosing your outfit for the day is an essential step. You would want to stay casual and not overdressed while looking stylish at the same time. Keep in mind that traveling can be tiring and that's why you need to wear something incredibly comfortable.
What To Wear For A Road Trip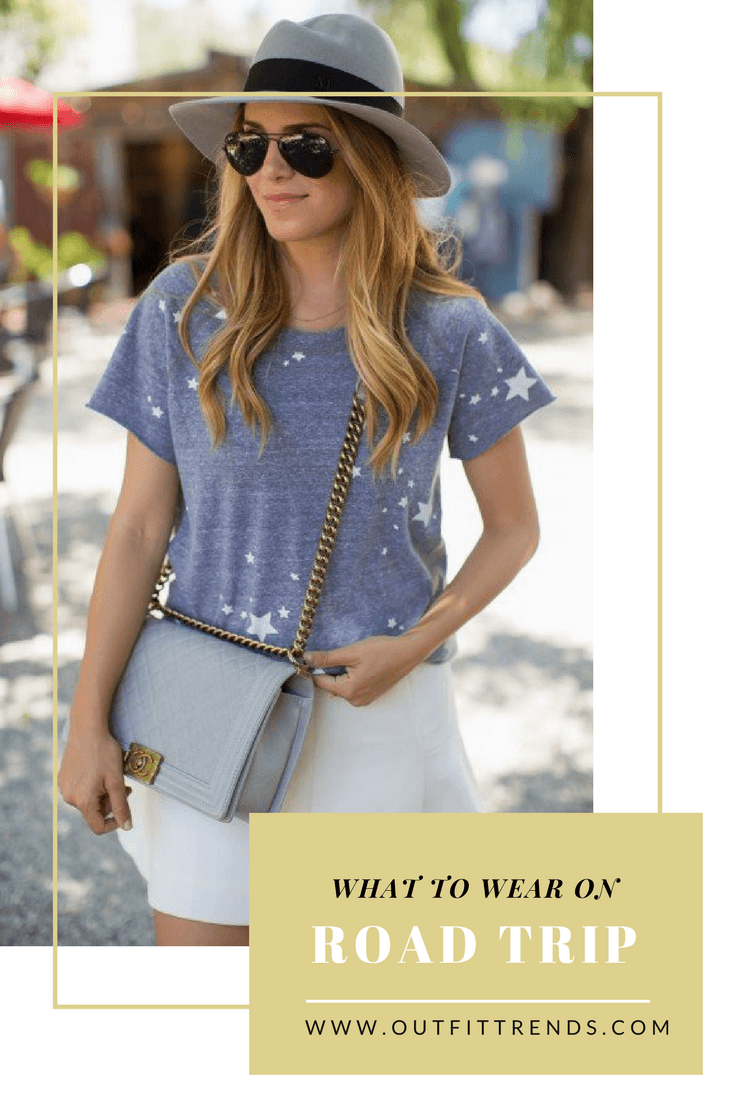 What you should wear during the road trip may vary according to the weather, etc, but as a general rule, you should go for something fresh and trendy. That does not mean you can go in your pajamas or everyday wear, that would be a little embarrassing, wouldn't it? After all, who does not like being on top of their style game? For summers, slipping into a cute dress or tee will work just fine whereas for winters you would want to go for something cozier. Here are a few tips you should know before hitting the highway:
Go for comfortable clothing items such as leggings, tees, and tanks.
Add in a comfortable sweater or jacket to brace the cold in Winters.
Do not even think about wearing heels! Flip flops, flats, and sneakers are preferable.
Carry a tote bag or a large handbag to keep your essentials handy.
Do not forget your sunglasses and cap/hat for times when the sunroof is down.
Keep your makeup and jewelry minimal and hair tied to stay comfortable.
For more ideas, check out our list of top 20 outfits to wear for a road trip that is undoubtedly going to help you pick your outfit for the day.

↓ 20 – Outfit With A Tank Top
This outfit is perfect for sunny summer days when you want to stay relaxed and yet look stylish. The super comfortable piece of clothing leaves you feeling light, making it the best travel buddy for you. We love how easy to style it is. You can pair it with a bold colored pant or just some casual leggings, and you're good to go! To cover up, you can add in a chic cardigan or sweater that will add just the right dash of beauty to your entire look. Here are 16 Cute Outfits with Tank tops.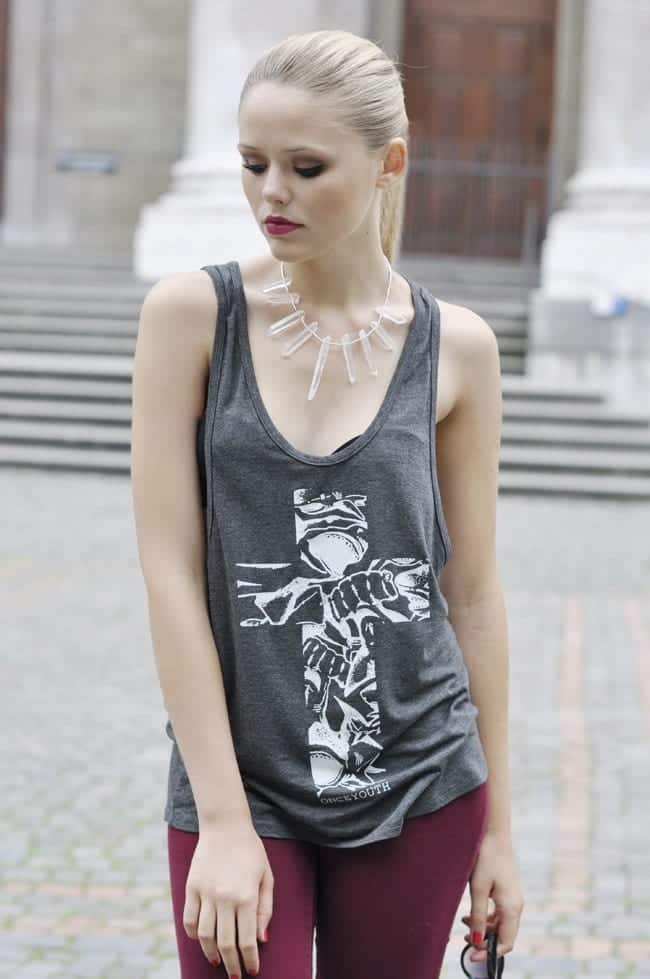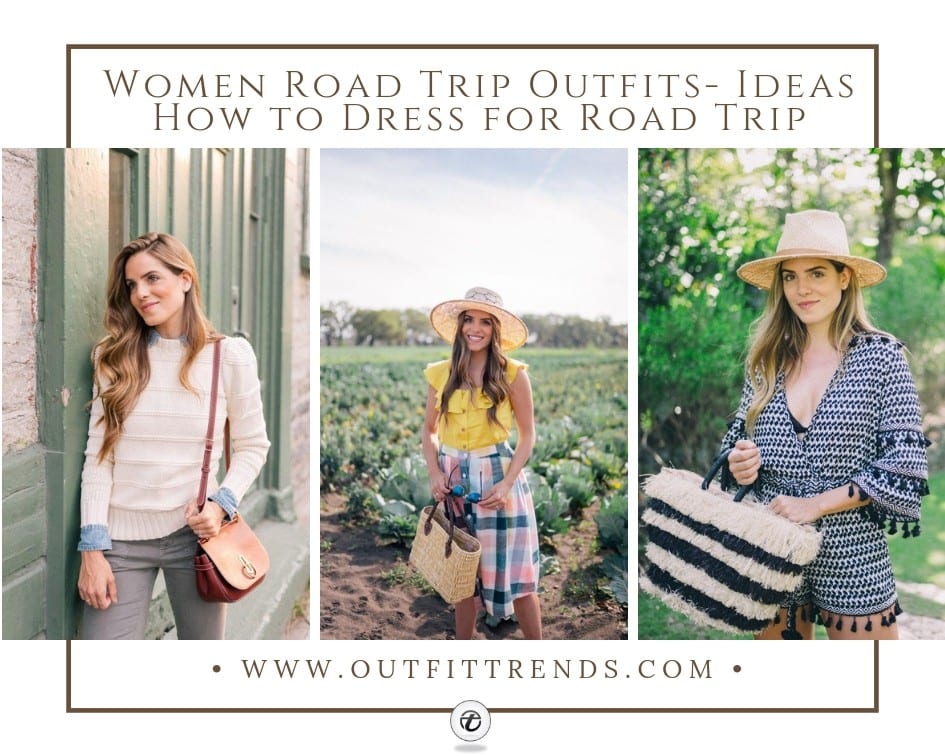 ↓ 19 – How To Dress For A Road Trip In Winters
There's nothing like spending your Winter vacations on the road. On chilly days when you want to bundle up and stay cozy in your truck, go for a fluffy woolen sweater that does the job well. Check out this neutral colored outfit with all the right fall vibes. You can add in a pop of color with a red bag or some cute hair accessory. For shoes, we recommend going for a pair of ugg boots to complete the Winter look.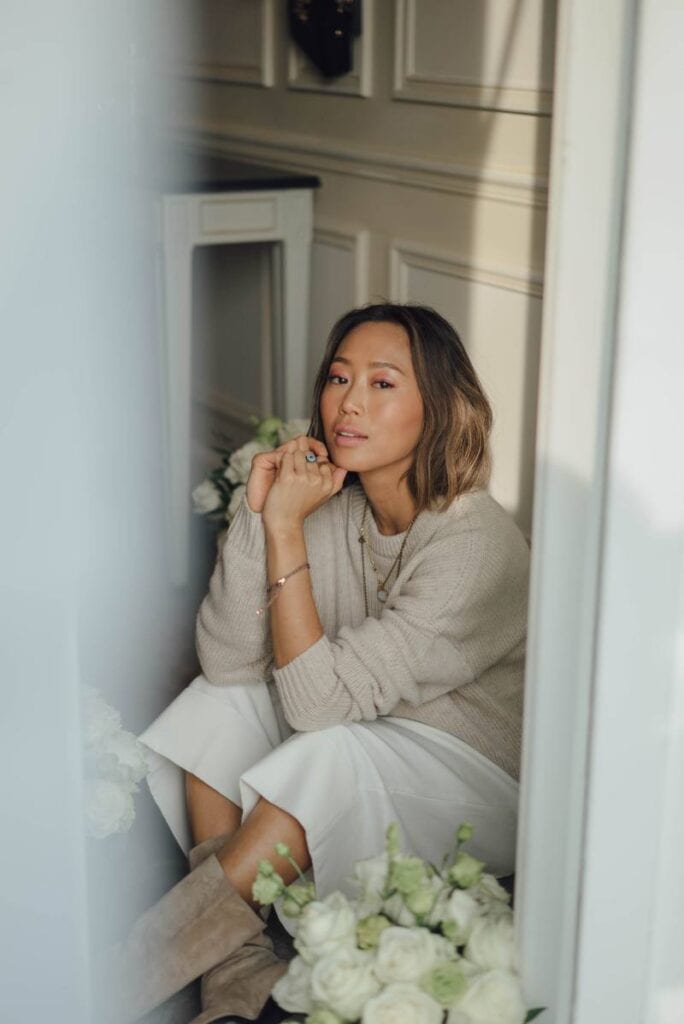 Via
↓ 18 – Leggings To Stay Comfortable
Skinny jeans can be a bit annoying, especially in summer. So the best thing you can wear on such days is leggings. Black leggings go with almost every top and color, and they look just as well with this outfit. Throw together your basic black leggings with a casual tank or tee. To rock the style away, add in a blazer or coat for a statement look. This checked piece is a beautiful addition to this all-black outfit. What better accessories to add, than some chains, sunglasses, and a backpack? P.S. Those boots seem to be doing all the talking here! Do check out these 21 Ways to Wear Black Leggings.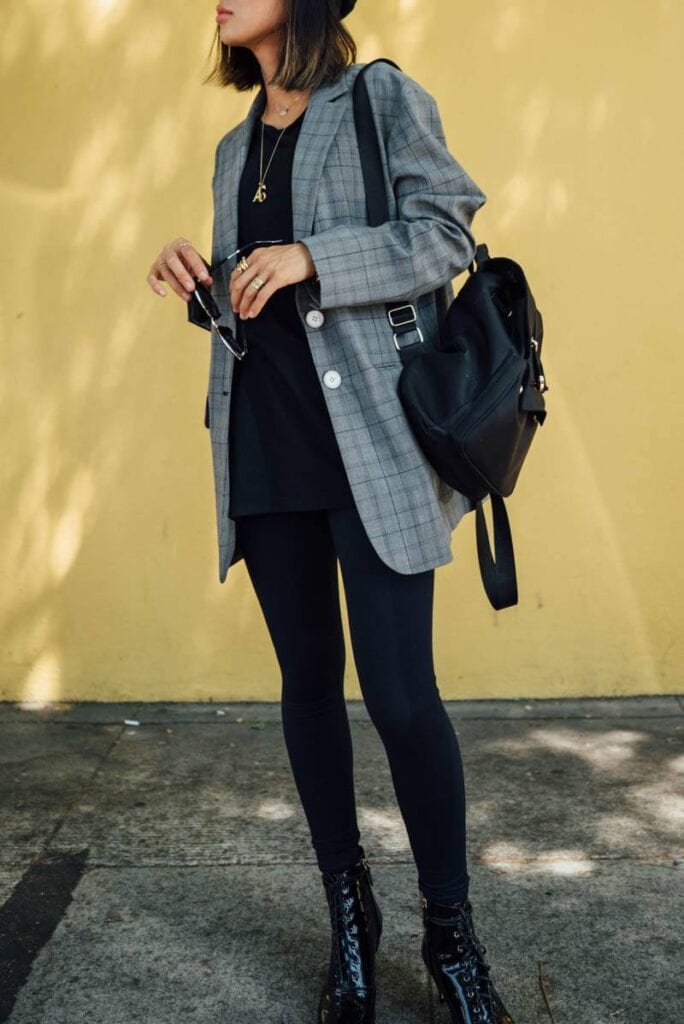 Via
SHOP THE LOOK FOR UNDER $130
Macy's Satin-Trim T-shirt $34.00
Old Navy Black Jersey Legging $12.99
SHEIN Lace-up Boot $27.00
↓ 17 – Denim Outfits
Hop on to the denim on denim bandwagon to look trendy and cool. Denim Jackets and Shirts are timeless pieces that are a must-have for every girl's wardrobe. The best part about them is how easy to style they are for both Summers and Winters! Pair them with black jeans or a pair of leggings for a comfortable journey on the road. Who says you can't look classy chic while traveling?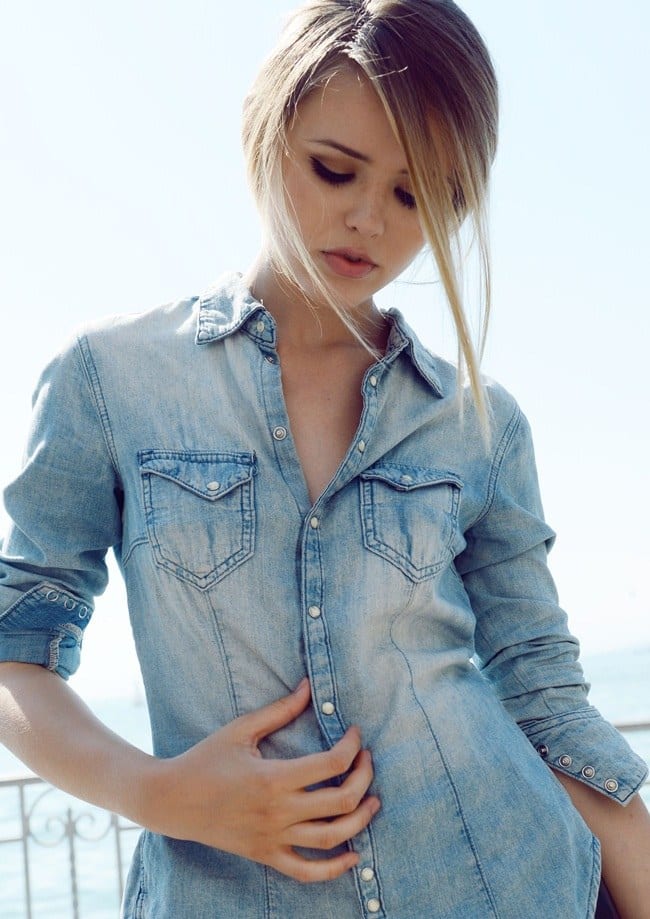 SHOP THE LOOK UNDER $20
Forever 21 Denim Button-Down Shirt $16.99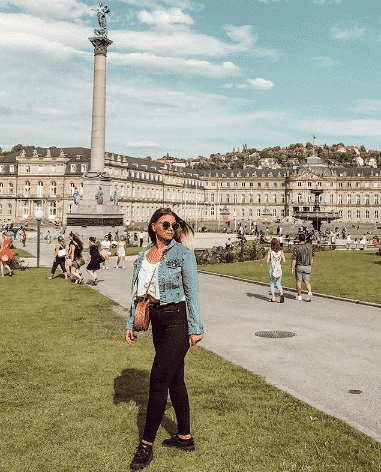 ↓ 16 – Cute Dress
These dresses are super comfortable and not just that they also look very stylish. You can wear one in a floral or some other cute print. The crossbody bag, sunglasses, and pearl drop earrings just uplifted the entire outfit. What a stunning Spring and Summer affair! This dress will leave you camera ready for wherever you stop along the way. You can also find inspiration from these 20 Ways to Dress Like a French Girl.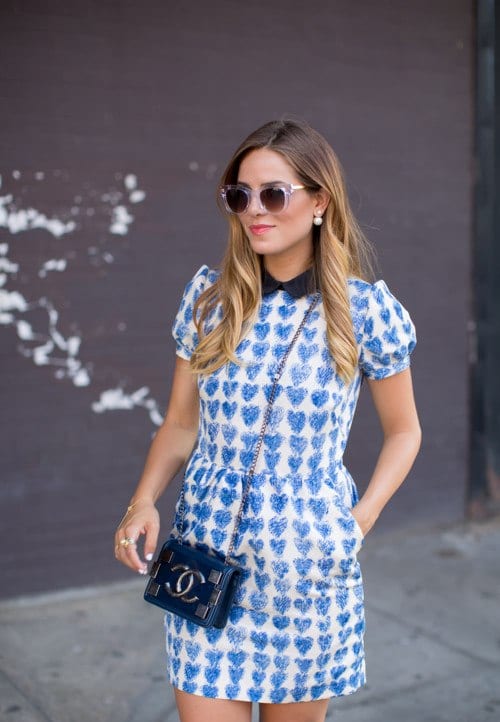 ↓ 15 – Romper For Women
Rompers are very comfortable and will make you look trendy and unique. The tassel trimming is giving this black and white romper a super cute appearance. You can carry a matching handbag to keep your essentials and a cool hat to keep the Summer vibe going.  Cane and Jute bags are great alternatives to this furry tote. We'd give it 10 Points!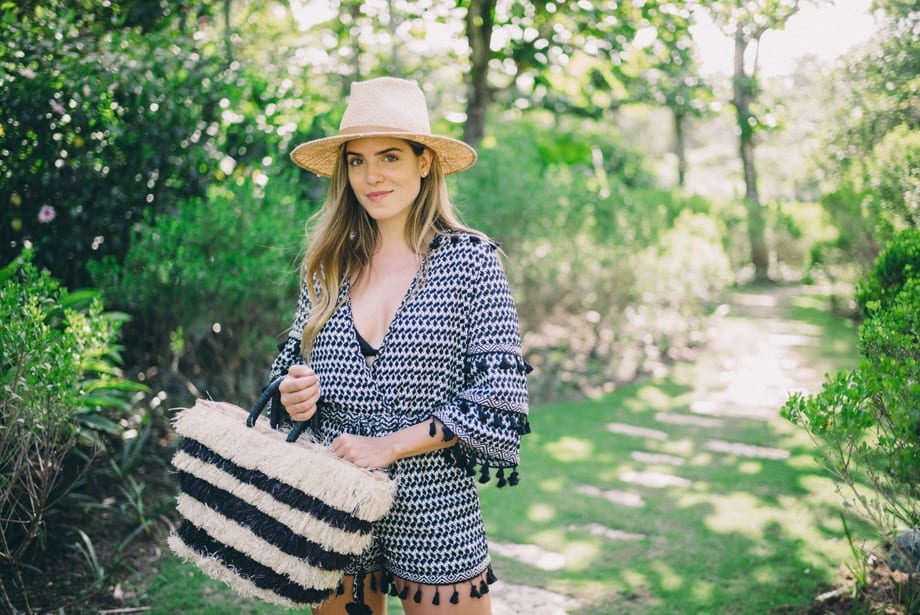 SHOP THIS LOOK UNDER $65
↓ 14 – Jeans To Wear While Traveling
Wearing skinny jeans and fitted pants can get uncomfortable if you have to sit in that car with limited space for hours. Go for something loose such as bell bottoms to avoid discomfort. Bell Bottoms and Culottes leave plenty of breathing space for your legs, making summer vacations a dream! You can pair a denim one with a warm-toned blouse for the ultimate Fall look! The tucked in shirt gives a brilliant look, giving you a snap-ready appearance at all times. Alternately, you could also go for a bodysuit to get the outfit right. Some chunky earrings, a chain bag, and you are good to go! Here are 20 Best Pin roll Jeans Outfits for Women.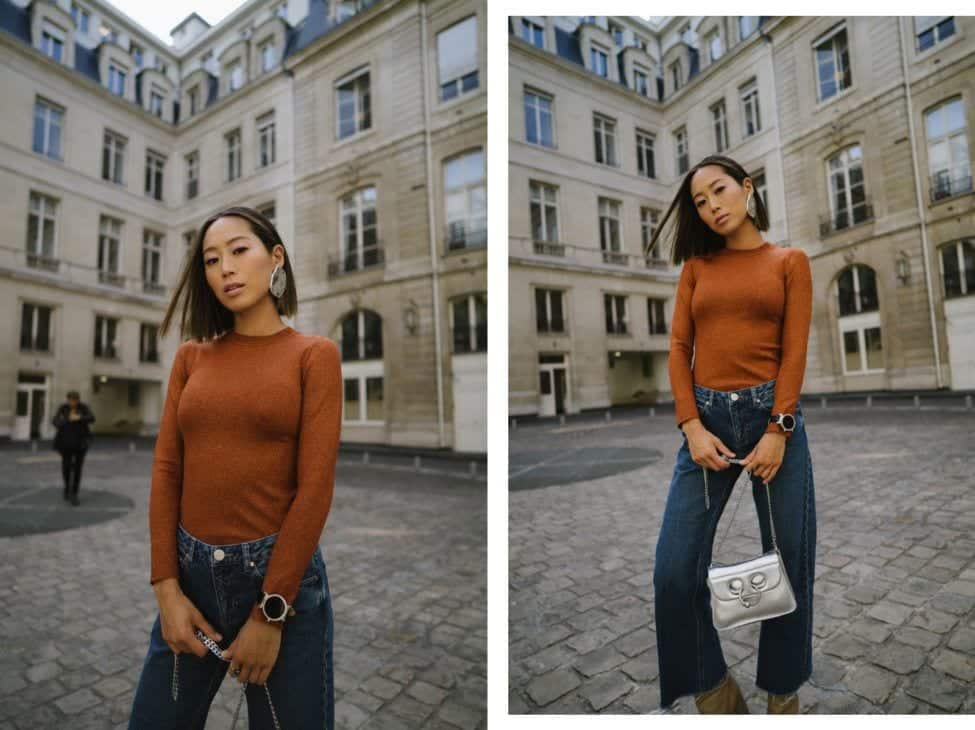 Via
SHOP THIS LOOK UNDER $45
FashionNova Bell Bottoms $29.99
Forever 21 Ruched-Front Bodysuit $12.90
↓ 13 – Road Trip Essentials
Some of the absolute must-haves for a long journey include comfortable outfits such as a cute t-shirt and footwear for starters. You should carry a bag for some basic makeup, sunscreen, sunglasses, moisturizer, deodorant, water and snacks, camera and emergency kit. If you plan on stopping along the way to explore new locations, don't forget to add in sunglasses and a hat to protect yourself from the harsh sun rays. These pastel hues look apt for Spring and Summer seasons.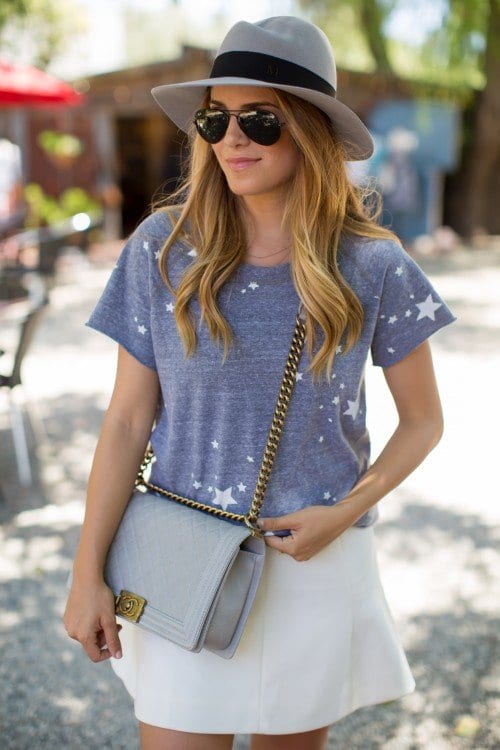 ↓ 12 – Road Trip Footwear Ideas
Since heels are a big no, you could wear pumps, ballet flats, sandals, flip flops or sneakers. Choose colors that work well with all outfits. For example, this pair of neutral shoes look stunning with this blue outfit. Here are 27 Sockless Tips for Women.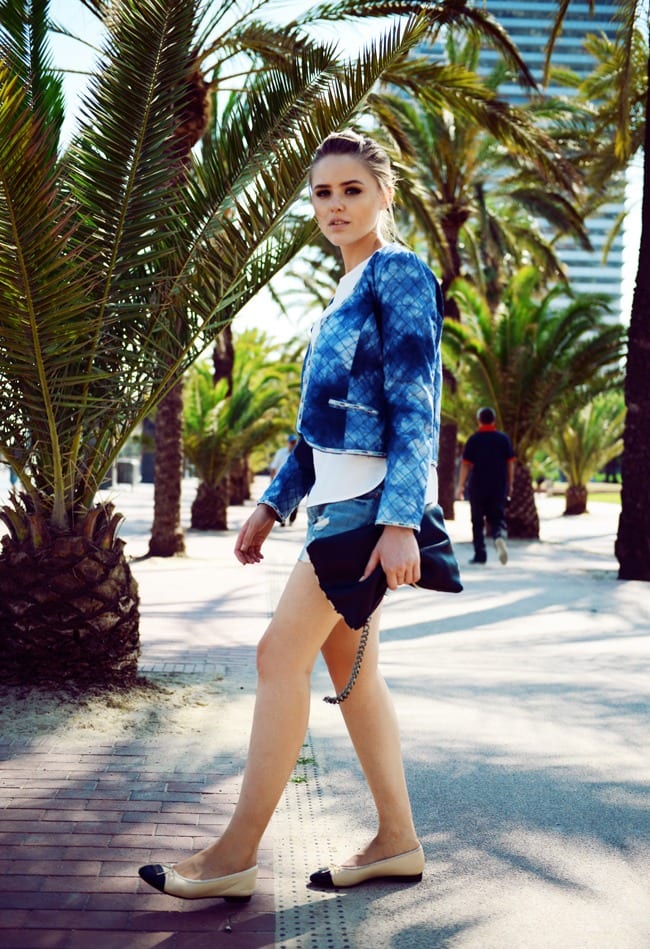 Sneakers can be a girl's best friend when trying to stay comfortable. Wearing heels for long can hurt the feet and cause swelling. Instead, sneakers will surely come in handy for trips where you plan on taking multiple stops.
Moreover, sneakers like these go well with almost any and every colored-outfit. You can add them to a bold colored outfit or a neutral one. Plus, you can wear them in all seasons! What more do you want? Here's some inspiration for you featuring statement denim jeans, a furry overcoat, and some white sneakers. Altogether, this is one look you cannot miss.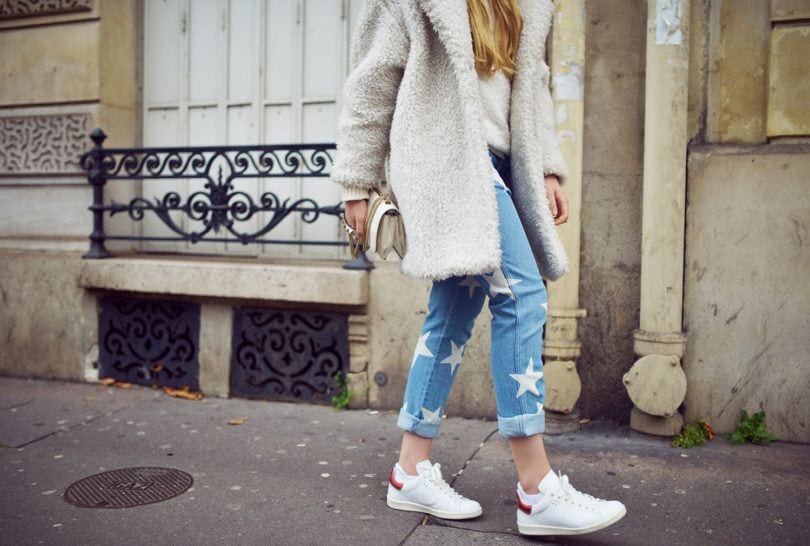 ↓ 11 – How To Wear A Scarf
Just the simple addition of a scarf can make your outfit look much better. You can let it loose in your neck or tie it around the neck like a bow. A printed, colorful scarf can uplift any white or pastel blouse!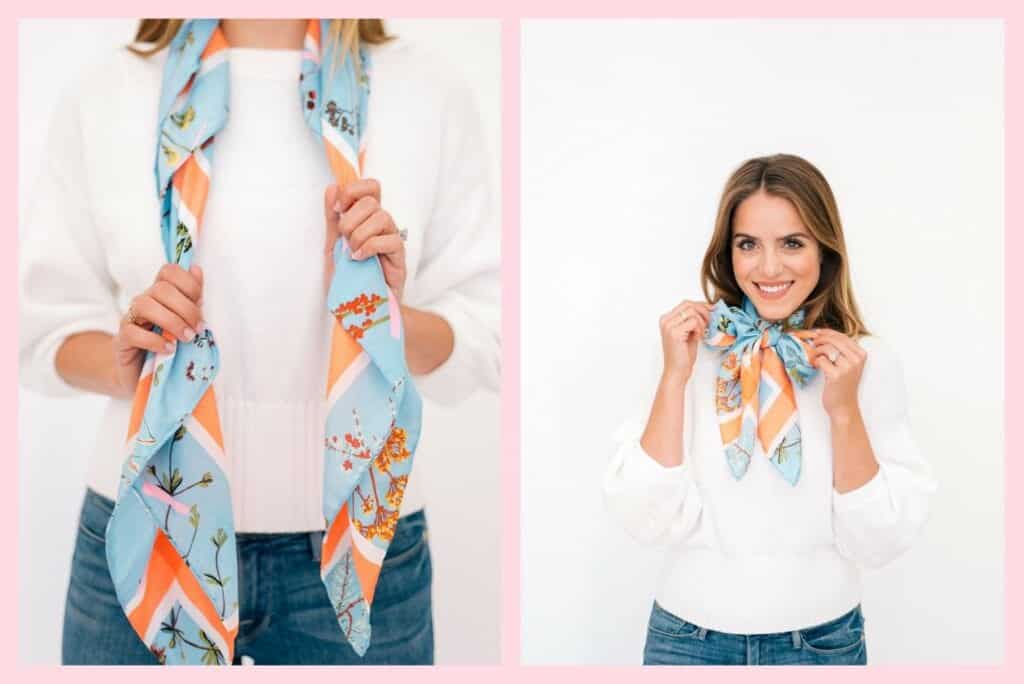 ↓ 10 – Outfit With Sweat Pants
Let's admit it; everyone loves wearing sweatpants. Wear it with a matching shirt for a casual and chic look. Activewear feels super light on the body and surprisingly is a go-to for frequent travelers. Most passengers choose tracks and sweat pants for easy commuting and zero hassle! Add in white sneakers and a large tote to get travel-ready. Do check out these 20 Shoes Women Can Wear With Sweatpant.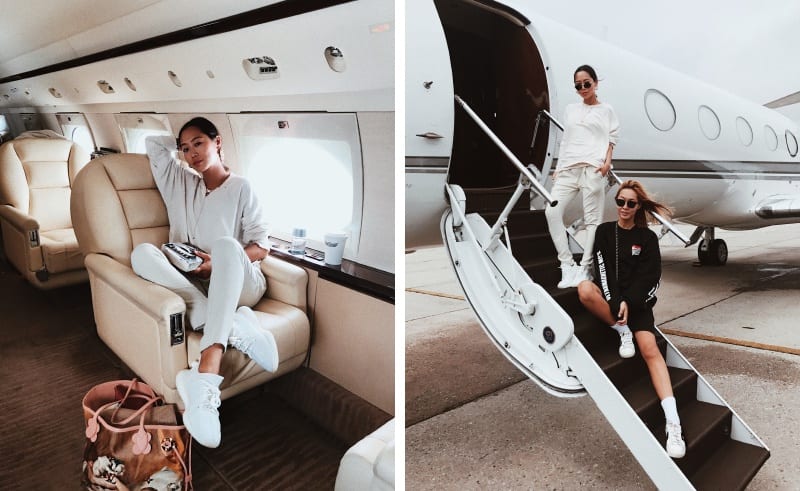 Via
↓ 9 – Stripes Or Checks
Because everyone has tonnes of striped and checkered shirts lying around, now is the time to wear it! You can never go wrong with some classic stripes. Pull out a striped t-shirt, crop top or sweater, they all work just fine. A traditional top like this can go well with a pair of denim jeans or shorts. Doesn't this outfit look cute for hitting the road with your gal-pals? Adding in a watch or bracelet seem like the perfect additions for this classy, yet comfortable travel attire.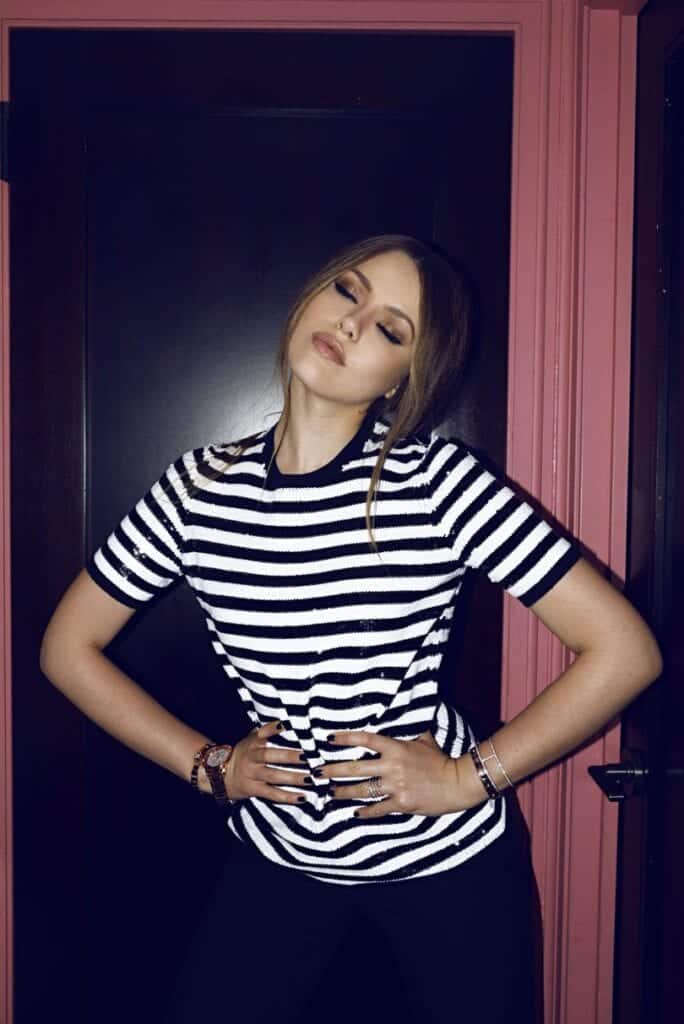 ↓ 8 – Road Bike Trip
If you're taking a road trip on a bike, biker shorts are the trendiest outfit choice. Check out these Ideas on How to Wear Bike Shorts for Women.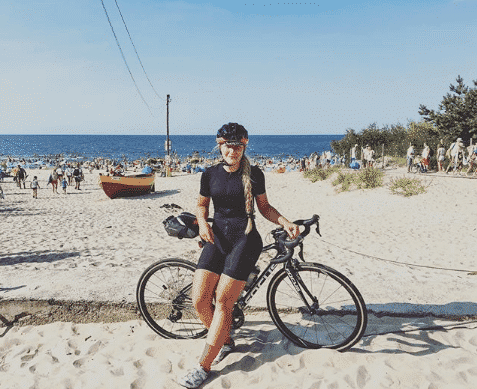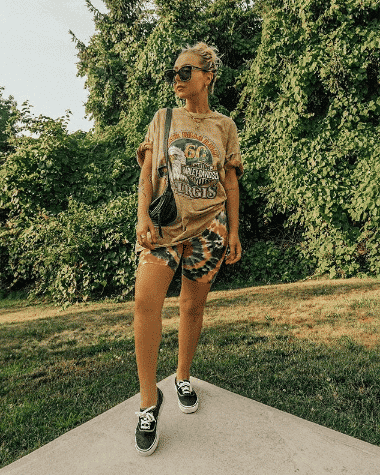 ↓ 7 – Classy Top Ideas
If you want to look unique, you can go for a trendy top with white pants. A knotted front and rolled up sleeves, what better way to look chic on the street? Act all touristy, looking your best in this Summery outfit. Slip on some metallic slides and a net bag for the look of your dreams.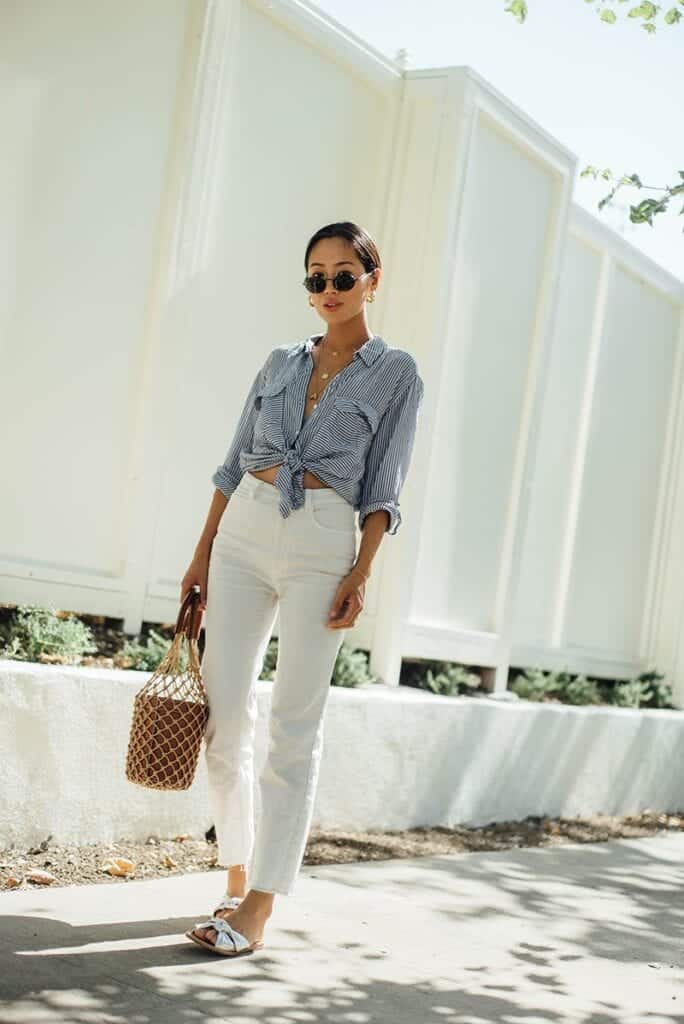 Via
↓ 6 – Road Trip Outfit To Stay Warm In Winters
You will need to do a lot of layering in winters and here is one such look you create. Check out this textured white sweater worn over a denim shirt. It seems like a great idea to upcycle an old denim shirt! This elegant outfit will make you stand apart. The crossbody bag gives a beautiful look to this neutral attire. Here are 13 Cute Minimalist Outfits for Winters, that are great for getaways.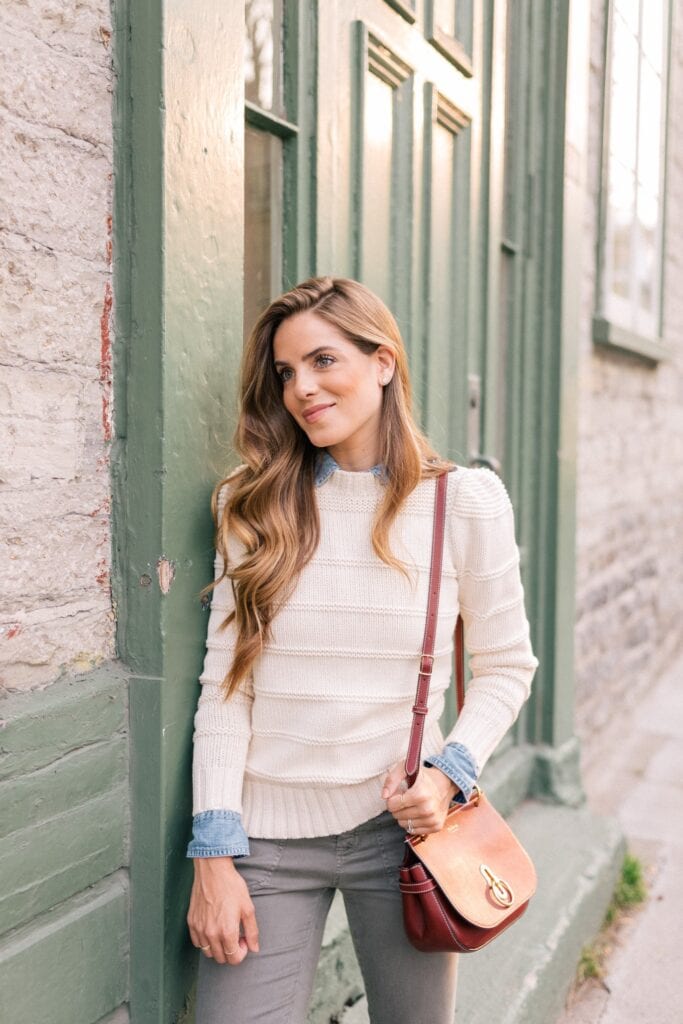 ↓ 5 – Funky Colors For Day Trip
Heading to the Country Side in Summers? Here's an outfit that's going to get you looking like Sunshine. This yellow, ruffled top with a plaid skirt is just what you need.  This bright and peppy attire will surely get you in the Vacation Spirit. Oh, and the Jute Hat and Bag have us wanting to book a Summer vacation ASAP. You can experiment with bright color combinations as they look super adorable. Do not forget to add in some reflective Raybans!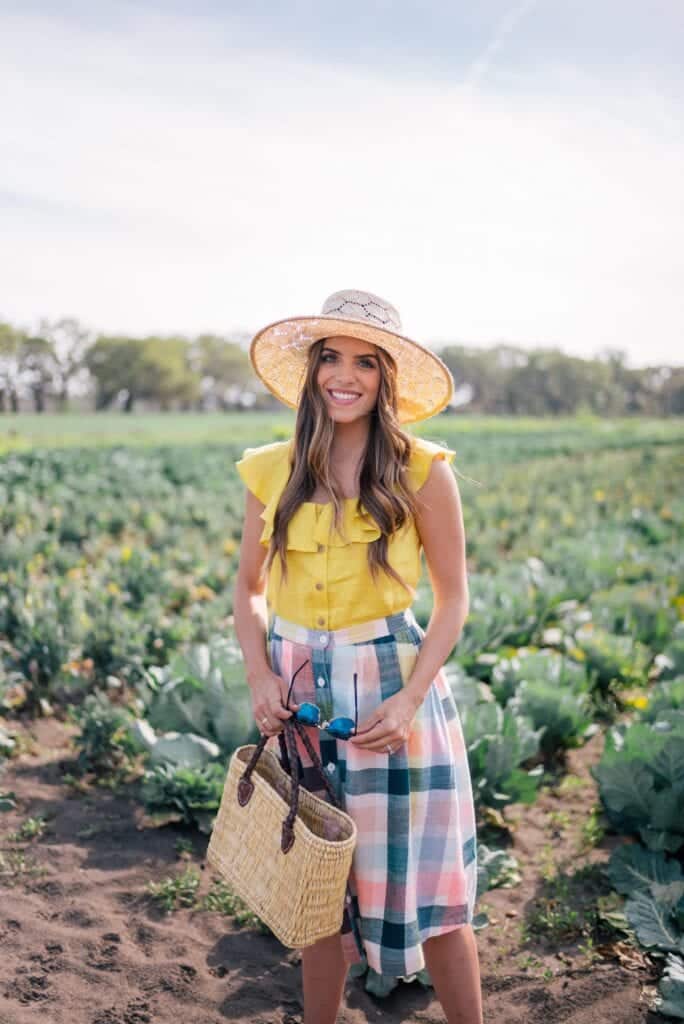 ↓ 4 – Short Skirt For Summers
Shorts and skirts are apt for hot days. You can pair them with a t-shirt, tank top or your favorite top! This outfit looks chic and youthful and is always in demand. Black is a particular favorite when it comes to creating a fun outfit. Give your girl gang fashion goals with this ultimate girly look. Oh, and how cute is that bag? Check out these Stylish Wrap Skirt Outfits.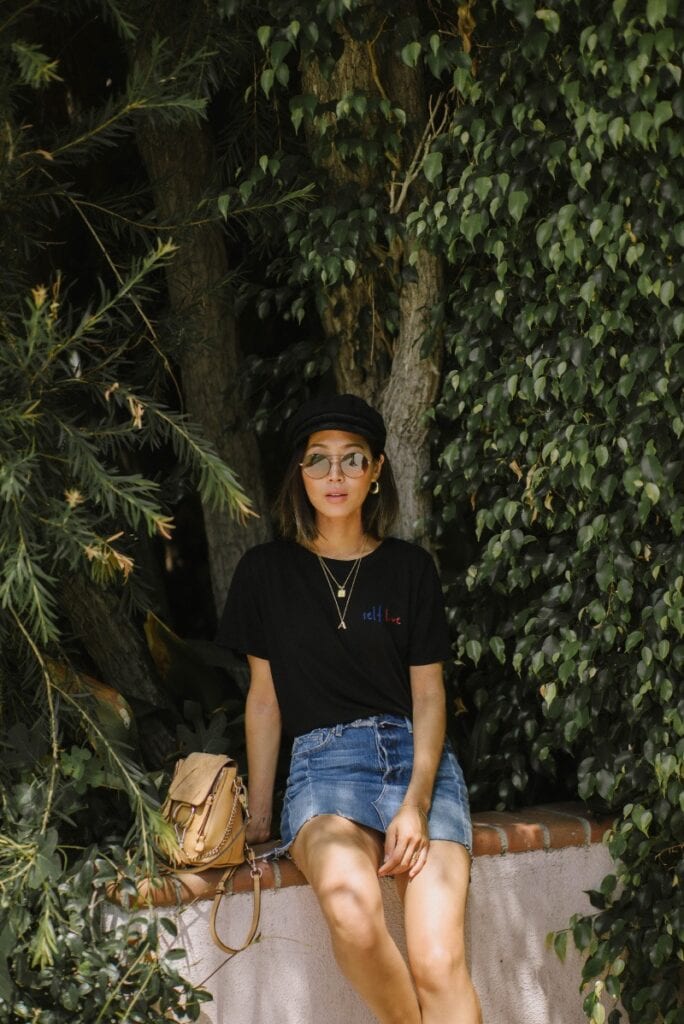 Via
↓ 3 – Jumpsuit For A Chic Look
Who says you can not wear a jumpsuit while traveling? Unless it is not a very fancy one, you can pull it off in style. A cotton or linen jumpsuit can feel light and airy in Summers and will have you feeling comfortable. Keep a light cardigan together to pull over in case it gets breezy! To give this elegant piece of clothing a fun take, add in an envelope clutch bag, and some summer slides for an effortless look. Here are some Cute Jumpsuits Outfits.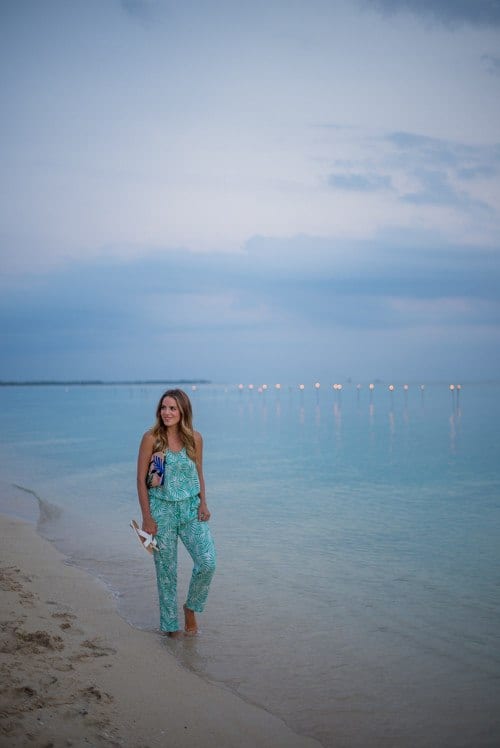 Via
↓ 2 – Oversized Sweater For Girls
Doesn't this pink sweater look amazing? Oversized ones give a relaxed and casual vibe. They look fantastic when added to embellished jeans or just some basic leggings. This super girly outfit is just what you need for your New Years getaway! Here are 18 Best Styles of Sweater for Women this Year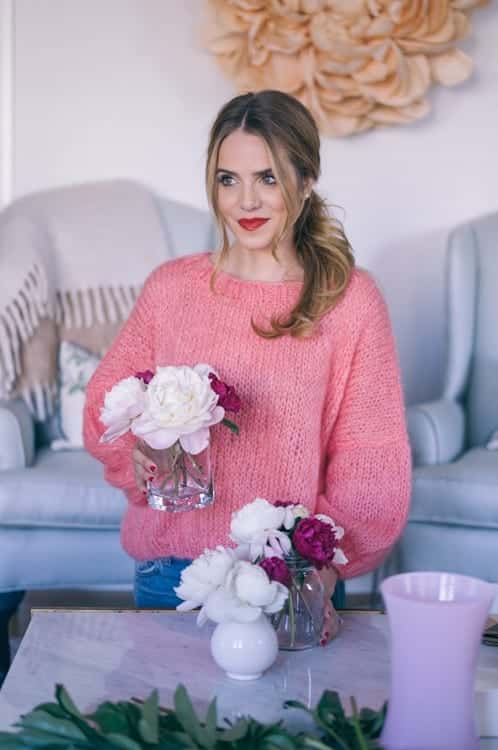 SHOP THIS LOOK UNDER $30
↓ 1 – Hair Style Inspiration
Handling your hair can be a big hassle on humid and hot days. If you want to stay carefree and enjoy then go for a ponytail hairstyle or bun. This easy-go hairstyle can go well with almost any look. The white T-shirt and statement denim skirt look uber classy paired together.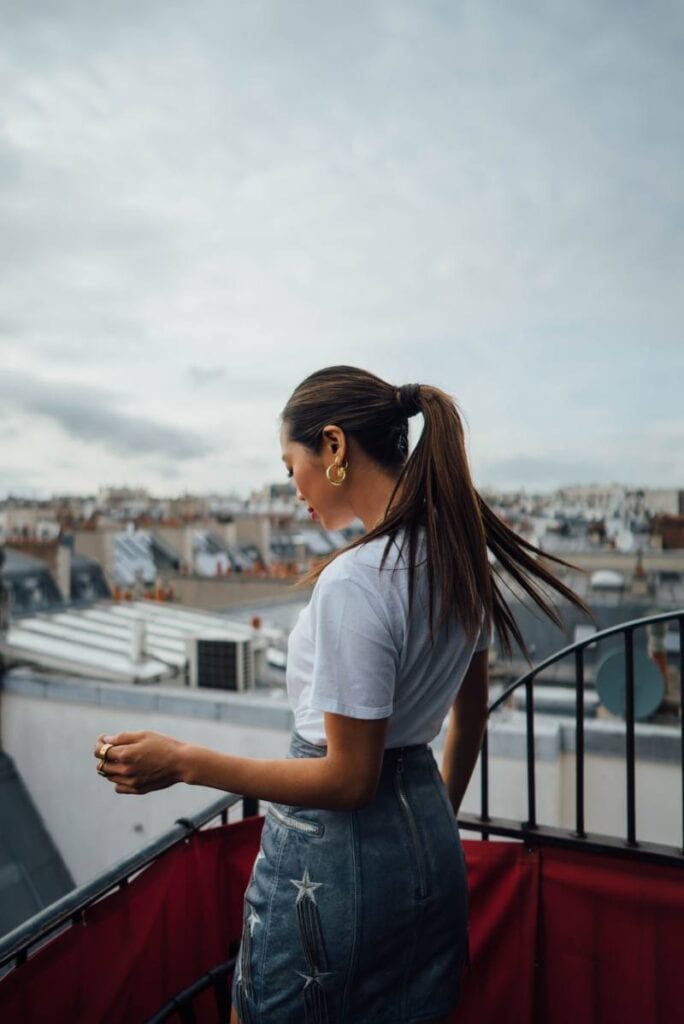 Via
SHOP THE LOOK FOR UNDER $50
Forever 21  Willie Nelson White Tee $17.90
SHEIN Statement Denim Skirt $16.00
Always remember that comfort comes first; there is no point of wearing something that looks good but is out of your comfort zone. If you keep all these ideas and tips in mind, we guarantee that you will have the best trip of your life. We hope you liked this article. Do not forget to give us your feedback in the comments!