Bike Shorts Outfit for Women: When a fashion trend gets introduced by Kim Kardashian, you normally don't have a good feeling about it till you see it being endorsed by several other celebrities and that's exactly the thing about Bike Shorts.
Though the trend has its root with Princess Diana, it was not until now that we saw the bike shorts being flaunted by the celebrities and fashion bloggers alike. Whether you approve of it or not yet, bike shorts trend is slowly getting more and more popular. Shorts are the perfect summer staple and bike shorts might just be the next best thing if you know how to carry them well and have no problem in strutting those sexy legs. We have gathered some of the most gorgeous and easy 30 bike shorts outfit variations that you can use any day of the week and feel totally on fleek.
How to Wear Bike Shorts With Grace
Here are a few things you should keep in mind:
Test your bike shorts first to know well in advance that they fit perfectly and won't ride up to create any major embarrassment for you.
Avoid going for sheer or flimsy fabric for bike shorts.
You might feel a bit bold by wearing bike shorts, but don't hide them under or over unnecessary layers of garments. The beauty is in boldly displaying the trend.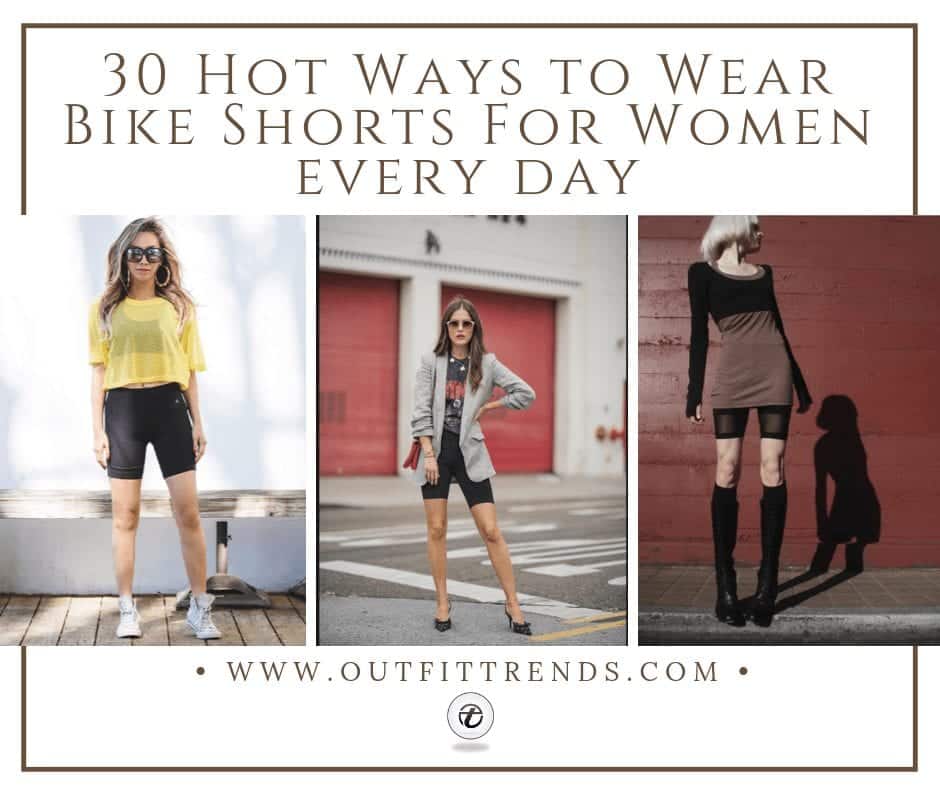 ↓ 30. Bike Shorts Outfits
You can wear the bike shorts in multiple manners irrespective of the season by making a few changes. In summer, flaunt them with cute crop tops and in winter, you can wear them with heavy overcoats and long boots. Here are some more Stylish Outfits to Wear with Long Boots This Season.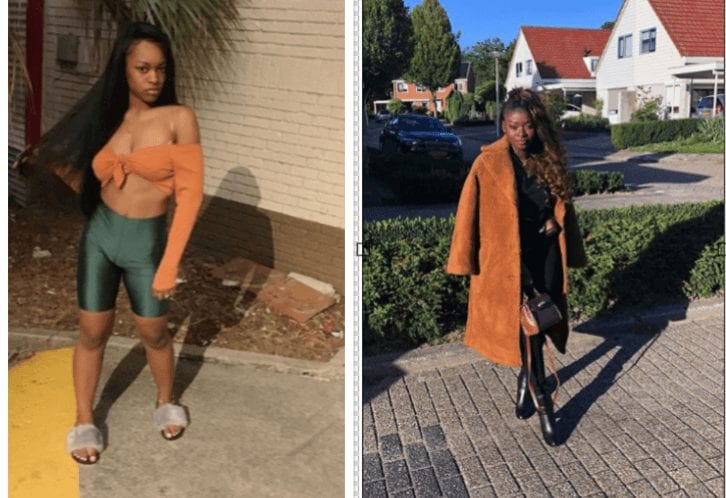 ↓ 29. High Waisted Bike Shorts
High Waisted Bike shorts are both super sexy and sporty at the same time. You can wear them with tied crop tops or bralettes in summer for a perfect casual appearance. For winter and/or a more formal look, you can wear them with blazers or crop hoodies. You can find similar shorts here.
↓ 28. Lunch Outfit Ideas
For a summer lunch outfit, you want to wear something that is easy breezy so that it will keep the heat and sweatiness off you along with giving you a polished appearance. You can wear your favorite tee along with black bike shorts made from a breathable and stretchy fabric. To complete the outfit, wear a summer blazer made from softer fabric like linen or chambray and you will be good to go in no time. You can add some chunky statement jewelry to the look for a chic look.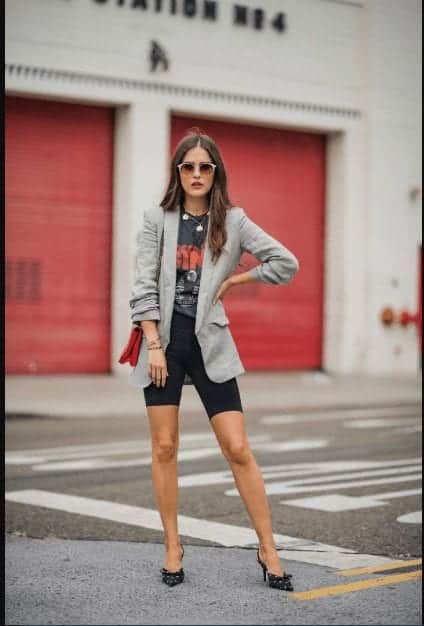 ↓ 27. Camo Bike Shorts
How about killing two birds with one stone? That roughly translates to following two popular fashion trends at the same time. Camo bike shorts are a summer essential for your everyday wardrobe and are so versatile that they can be easily paired with both simple graphics or camo tops or with more fancy lace tops. Camo bike shorts are available in a variety of colors and you can find some amazing ones here and here.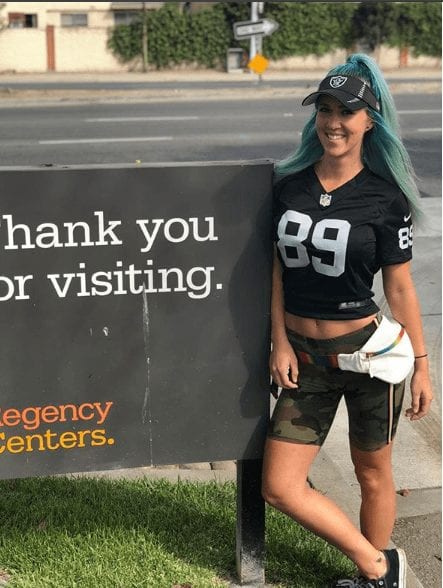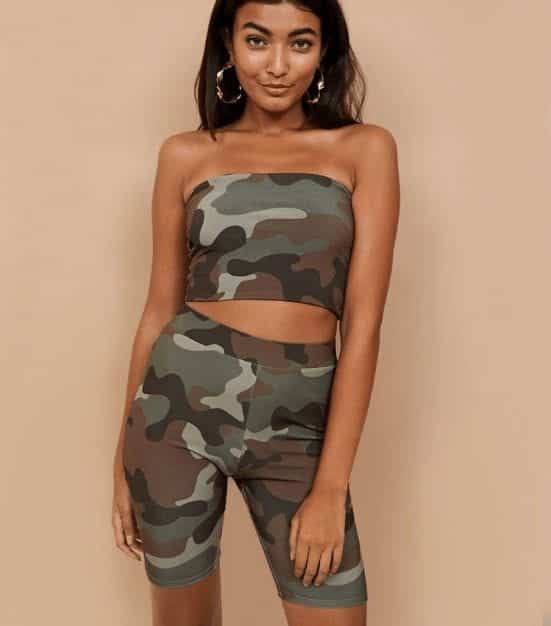 ↓ 26. Easy Weekend Outfit
A little white dress that you might feel a tad bit uncomfortable in, can be worn with black bike shorts for an easy weekend outfit that is both comfortable and elegant at the same time. Dress it up a notch with sheer white heels and a blingy purse that is perfect for a girl's night out. Check out these Top 20 Weekend Outfits for Women Trending in 2018.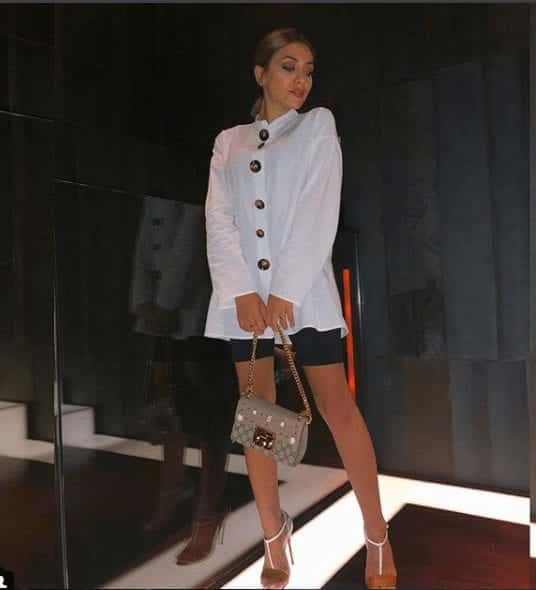 ↓ 25. Clever Travel Outfits
When traveling for leisure or business, the wisest thing to do is pack versatile and comfortable pieces that will act as strong basic pieces to build an outfit around. The appeal to appear classy and Instagram worthy for traveling is huge so we suggest you pack bike shorts along with you. Not only is it awesome to wear because all the celebrities are currently flaunting this trend but also because you can be comfortable and rock it with various different tops.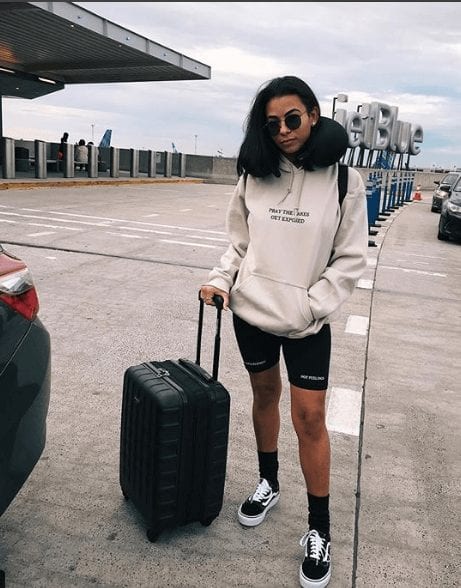 Via
↓ 24. Summer Ready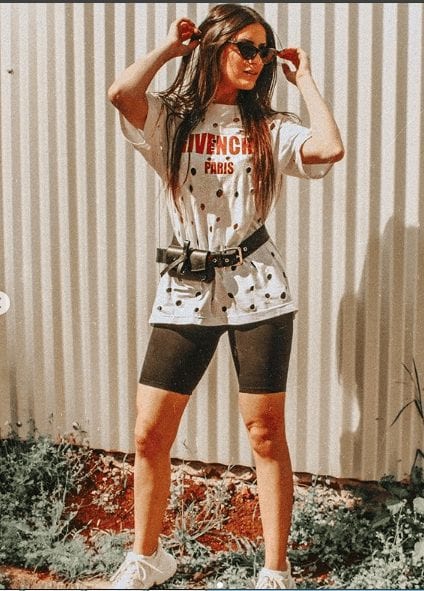 ↓ 23. Bike Shorts with Halter Tops
Halter Tops will always be loved and though the days of their glory are long past, they still give you a uniquely feminine look. Choose a halter top in flattering tones according to your choice and match it with a similar colored or black bike short. Add huge silver hoop earrings and heels to the look to add the chic urban vibe to it. This look is ideal for springtime. Here are 18 Cute Ways to Wear Halter Outfits Every Day.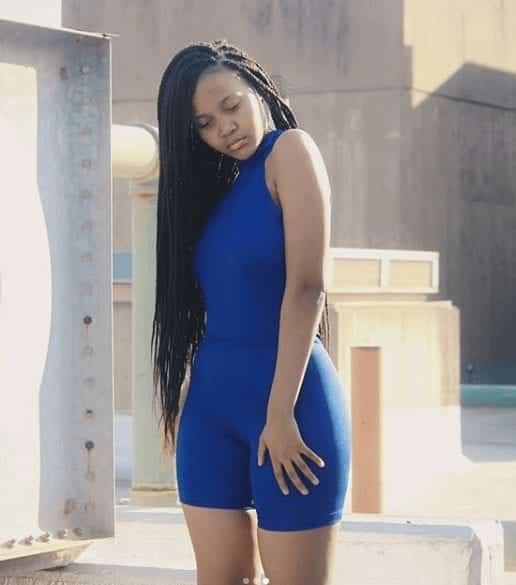 ↓ 22. Retro Vibes
If retro and vintage-inspired tops are your thing, what would be more brilliant to pair these up with the bike shorts for a noteworthy amalgamation? Thrive on the pair of abstract print retro style top with black bike shorts and for a nice modern touch, add black and fawn heels to the mix. You can always use retro accessories to pull up a great 80's inspired look. Remember to not forget the cat-eyed liner!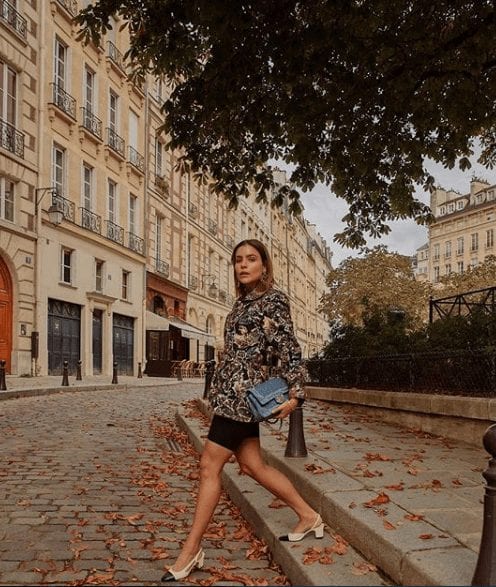 ↓ 21. Trendy Fall Outfit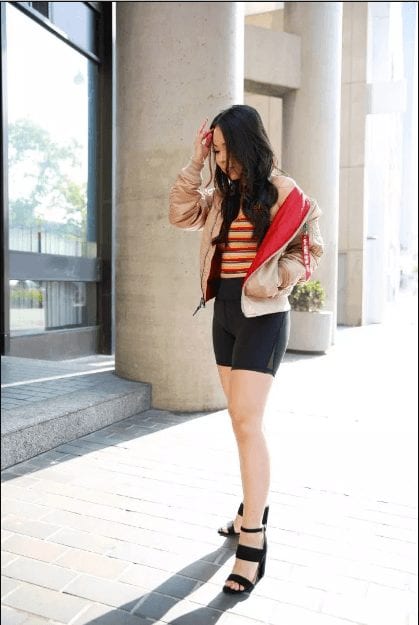 ↓ 20. Celebrity Style Outfit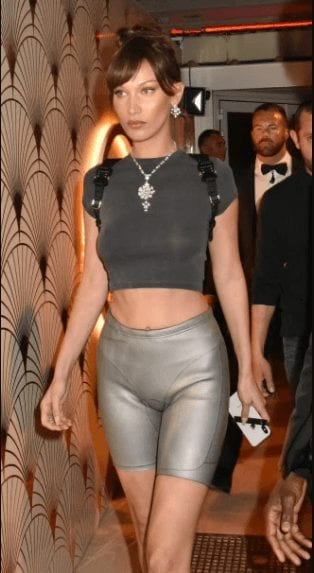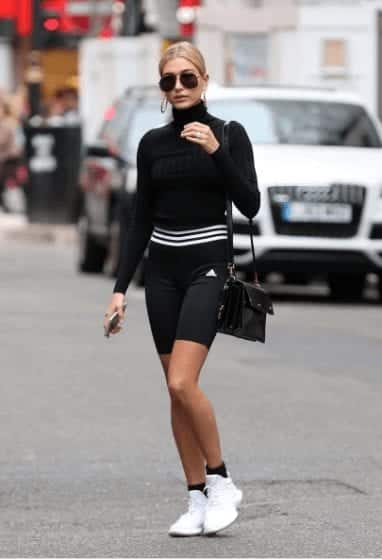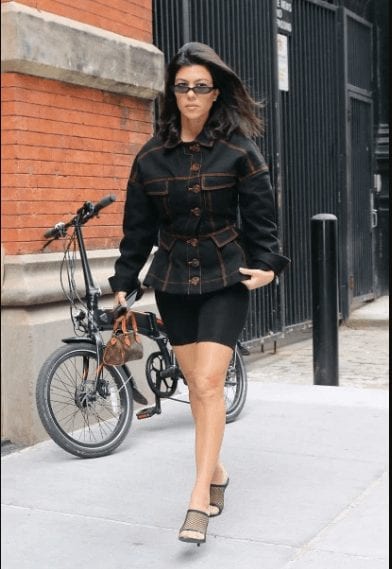 ↓ 19. Revival Fashion Look
This is a trend that has been plucked from the past so why not practice it accordingly. Wear distressed denim shorts over your bike shorts or go for denim bike shorts for a change instead of plain old jeans to match with your white tee.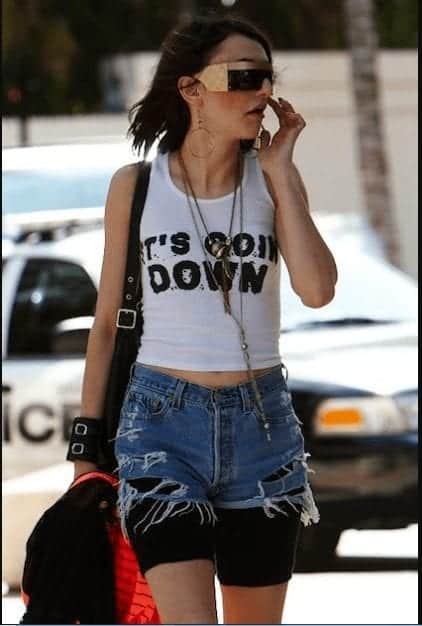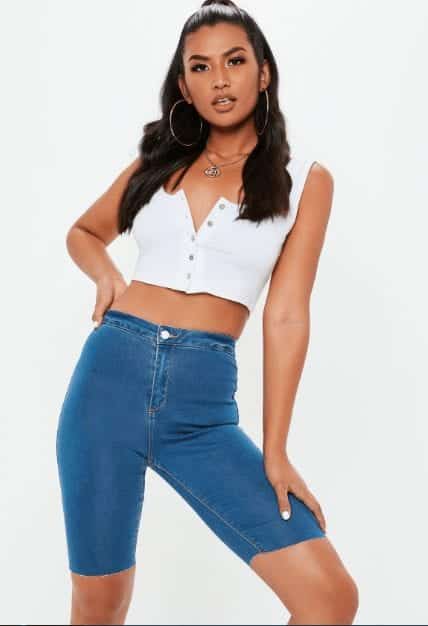 Via
↓ 18. Chic Outfit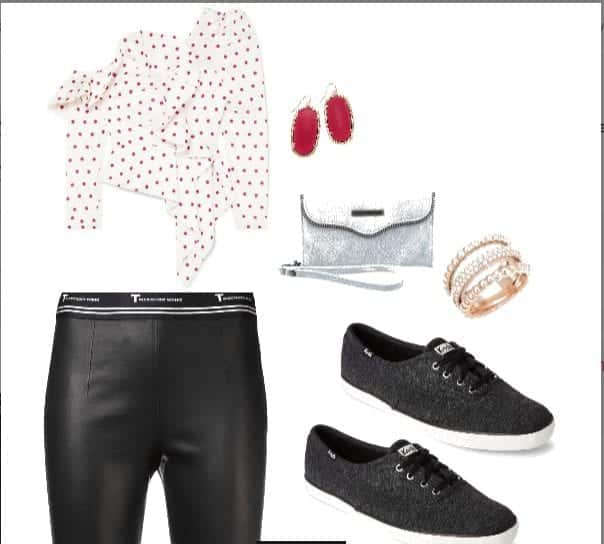 ↓ 17. Rock Concert Outfit for Summer
Planning to attend a rock concert soon? The combination of denim and mesh bike shorts is sensational. You can wear a sleeveless black top with a denim mesh bike short and add black sneakers to give the outfit a more edgy and dark vibe. Color your nails black and you are good to go!
↓ 16. Floral Bike Shorts
Floral print has been widely popular and might have even overstayed but we love it still. Wear a knitted woolen crop top with floral bike shorts to create an outfit that will make you look leaner and appear taller. You can wear sneakers and add a long warm overcoat in blush color to complete the look. Don't miss out these 40 Ways to Style Floral Shorts.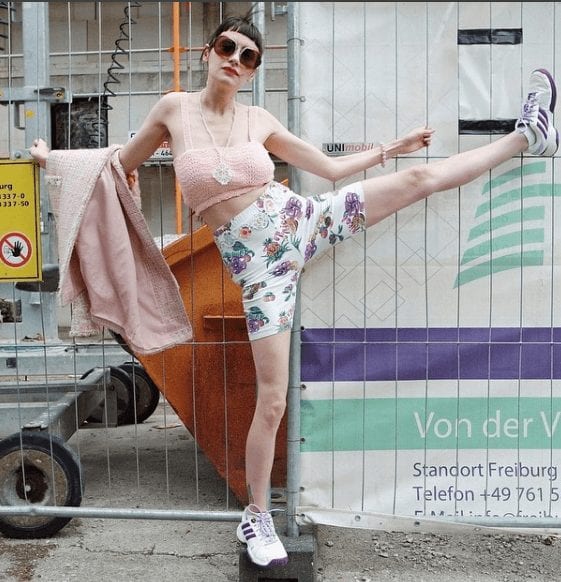 Via
↓ 15. Layering with Bike Shorts
If you feel uncomfortable with bike shorts and feel reluctant to try the trend, you can totally try layering it up so the whole prospect of it is less daunting to you. Wear white bike shorts with a mini dress and layer an asymmetrical halter crop top to complete the look. Wear this outfit with red or black boots for a classic look.
Via
↓ 14. Spring Vibes
Spring is all about fresh prints and phenomenal colors. You can ditch your typical black or white biker shorts and instead opt for some beautiful turquoise colored printed biker shorts along with a matching top.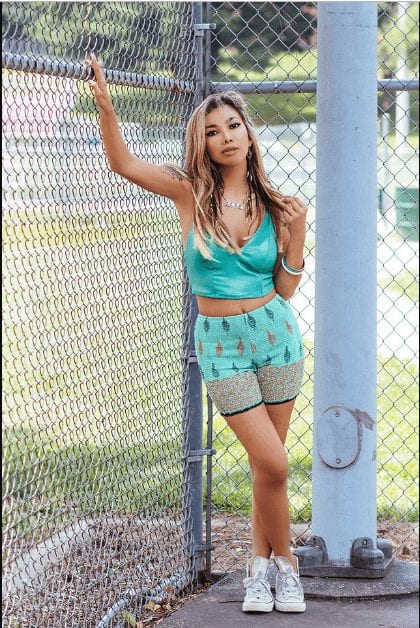 Via
↓ 13. Bike Shorts with Sheer Tops
Sheer mash tops are not only really sexy but also adds a lot to any plain outfit. You can wear your simple black bike shorts with bright colored mesh top and a black bralette and invade the fashion world with a look that is truly impeccable. Check out these 30 Ideas on How to Wear Sheer Outfits.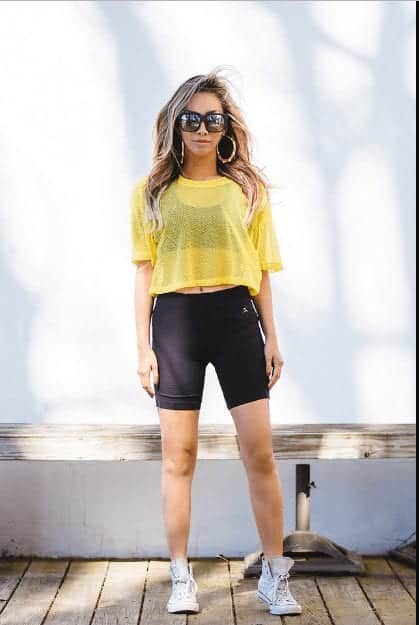 Via
↓ 12. Glamorous Outfits
If plain old black bike shorts are too average for you, we suggest you check out something more glam for yourself. You can go for metallic bike shorts in silver and match it up with an emerald sweatshirt or crop hoodie for a luxe look and go for some glitzy converse to go with the outfit.
Via
Another great option is to choose a beautiful metallic sequins bike shorts if you are feeling typically fancy and want to adopt the Kylie Jenner 21st Birthday style. You can find these shorts here.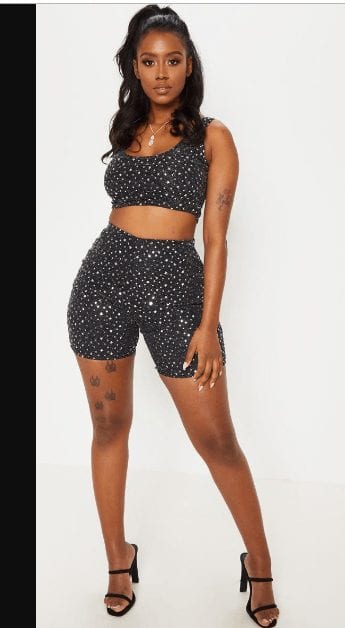 ↓ 11. Sexy Outfits with Denim Jacket
Red and burgundy are the bomb colors that can straight up score you big points for sexiness. If you have perfected the simple plain black and white bike shorts outfits, now it is your turn to go for something bolder. Wear your red bike shorts with matching red bralette or crop top. Don a denim jacket for a more street style look.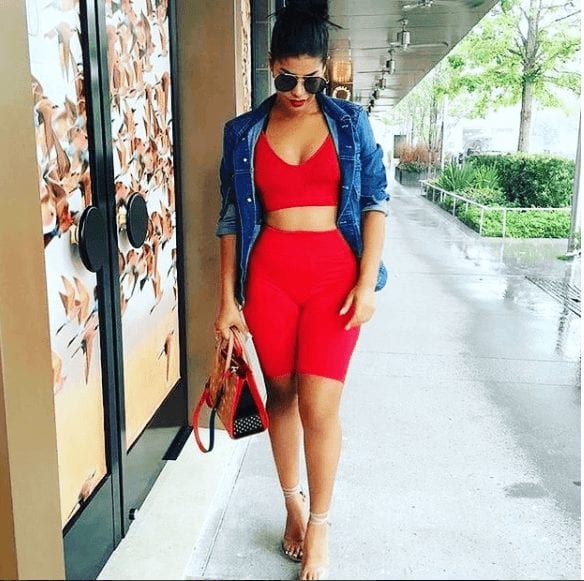 Via
↓ 10. Funky Prints
Funky prints can add a lot to your look, however, be careful to not overdo it. Go with a matching set of the animal print crop top and bike shorts this year. You can even add a hat to the look and you can also tone it down by wearing a black or grey denim jacket with this matching pair. Big and bold pieces of jewelry are essential and go with a simple brown purse.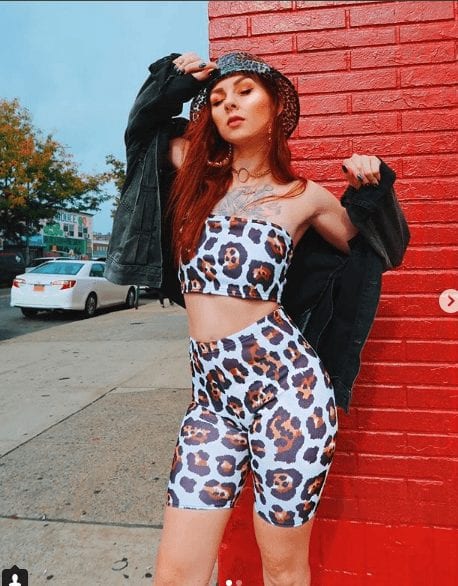 Via
↓ 9. Athleisure
Nothing inspires us more than the athleisure trend taking off with all its might. It is uncomplicated and comfortable and now you can dress up various items from your closet without feeling like it is something you can only wear to the gym. You can wear bike shorts with an oversized sporty shirt, and tie a denim shirt around your waist for a smart casual look and add in some gorgeous pair of white sneakers to create a solid look.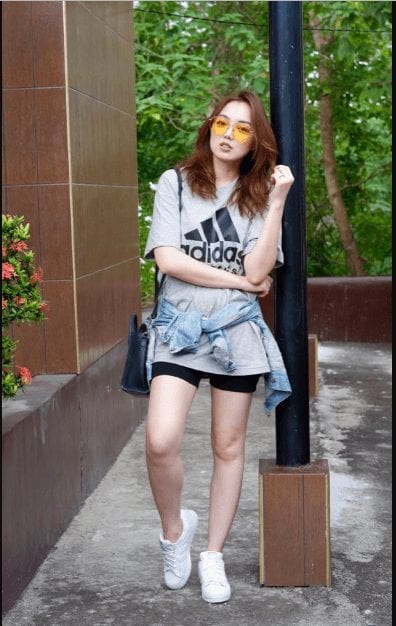 Via
↓ 8. Essential Graphic Top with Bike Shorts
Graphic tops can be the most convenient to dress up with bold bike shorts. You can wear a flimsy sheer maxi skirt or a kimono for an alluring look. Wear nude heels and white puffy earrings for a dressed up look that perfectly goes with the outfit.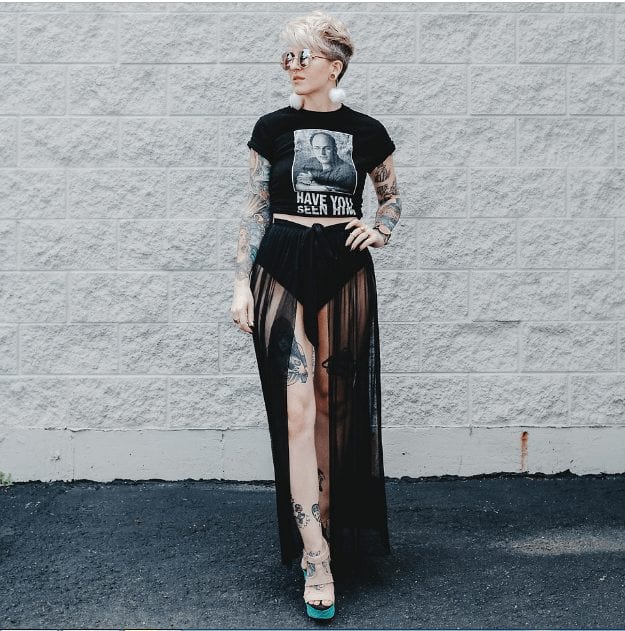 Via
↓ 7. Street Style Attire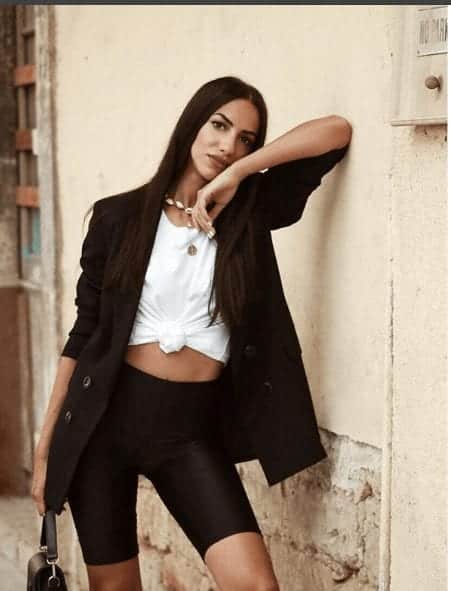 ↓ 6. Trendy School Outfits
Most of us are just in dire need of some different and affordable dressing options when the school season starts. Wearing a new outfit each day can be very frustrating for some of us and therefore bike shorts are the perfect option. You can wear long bike shorts under a skirt that might be too bold for your school code policy along with any tee. Pair up the outfit with white converse for a trendy look.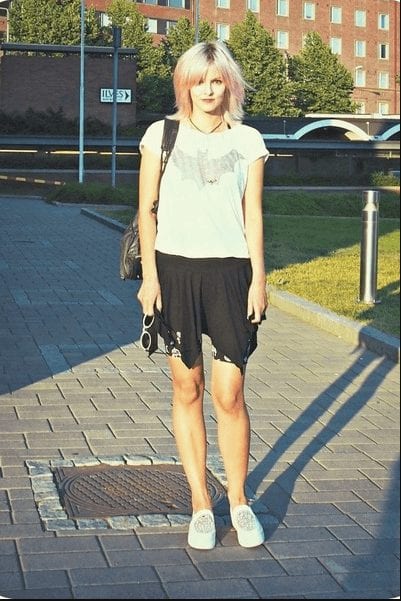 ↓ 5. Curvy Girl Fashion
If you are a girl with a beautiful curvy body, this trend is perfect to show off. Wear a bold tee with black bike shorts and tie a plaid shirt around your waist for a distinctive look. Wear black strappy heels to elongate your figure and add some classy bold accessories. You can find some great plus size bike shorts here.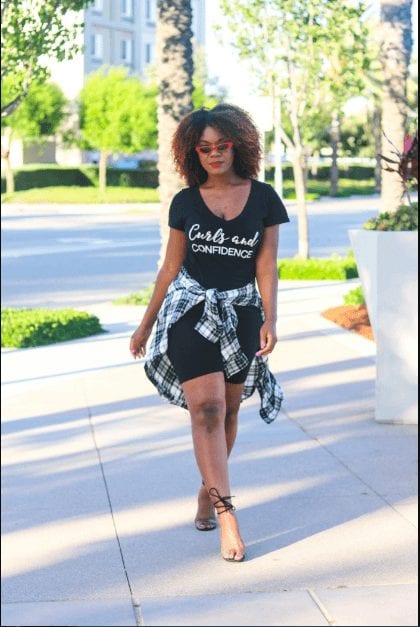 Via
↓ 4. With a Dress
Wear your favorite dress along with bike shorts and it can make the whole combination look amazing. Together the pair will make you feel more comfortable and you will be creating a beautiful minimalist outfit.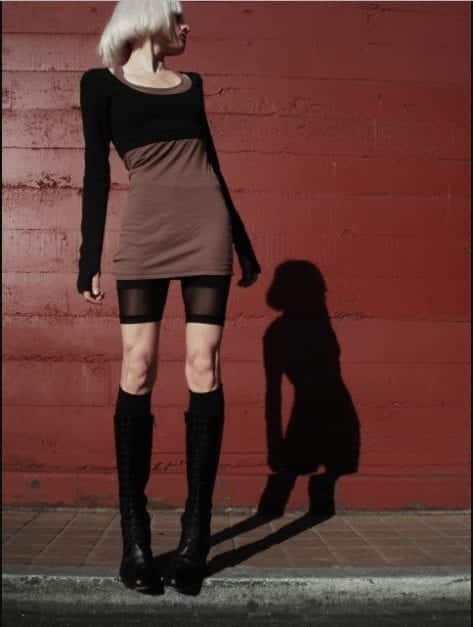 Via
↓ 3. Striped Shorts
Who wouldn't want to have some fun with their outfits when the whim strike? Pair up a vibrant rainbow striped bike short with soft pastel shirt in yellow for the perfect girl-next-door look. You can get these awesome shorts here.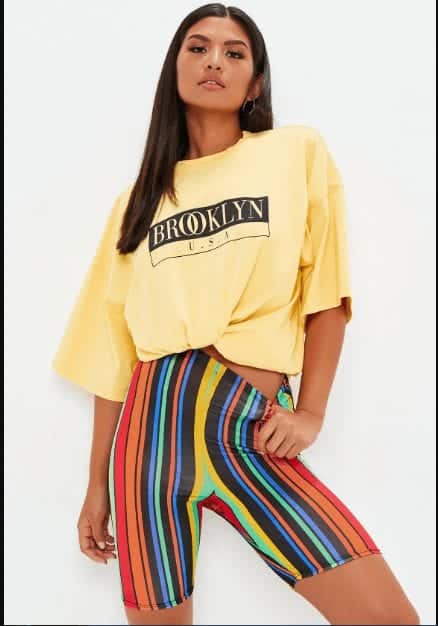 Via
↓ 2. Footwear
With the right footwear option, you can perfectly upgrade your outfit or keep it muted and comfortable.
For a more comfortable and sporty appearance, always go with sneakers. The pair of bike shorts and sneakers is the one made in heaven and perfectly complement each other. You can find these superstar black on white strips sneakers here.  For Winter time, these awesome black waterproof over-the-knee boots are both chic and extremely cozy and will upgrade your simple bike short outfits. You can find them here.
For a flamboyant summer look, go with some patterned booties to go with your outfit. You can find these sleek leopard print block heel booties here.
You can also favor these black sandals for a smarter and more dressier look and you can find them here.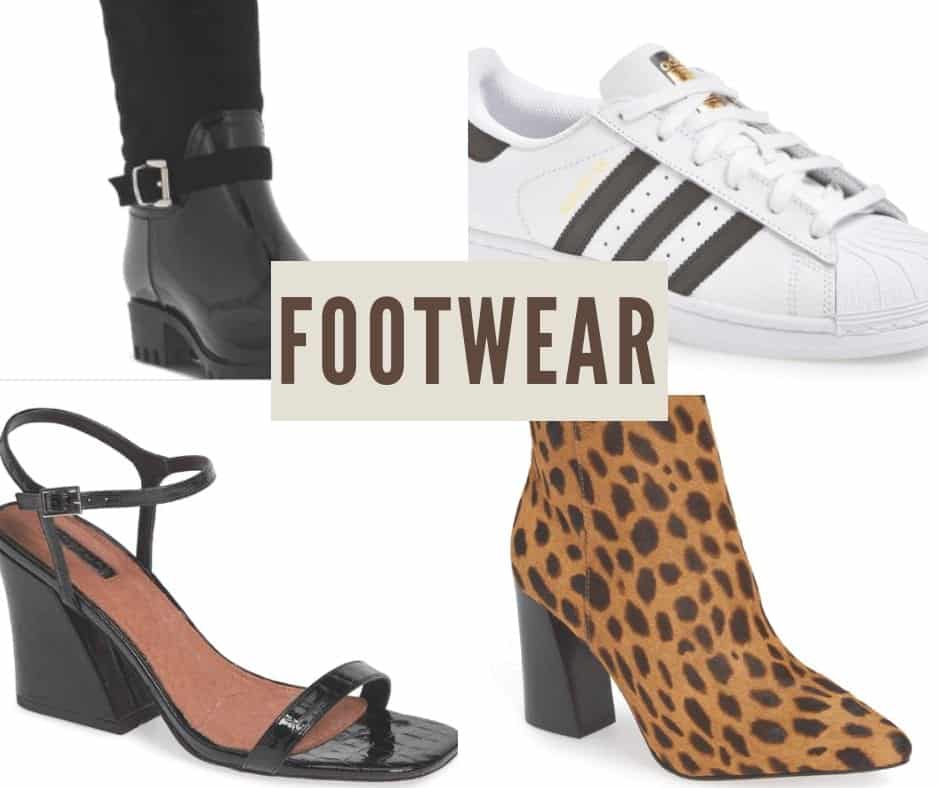 ↓ 1. Accessories
Accessories help create some glam and drama that sets the tone perfectly for any outfit and gives a strong statement about your style. With the bike shorts outfits, crossbody bags and fanny packs look super awesome. You can get this edgy black crossbody bag that is perfect for carrying things with you when you have to hurry here.
These tinted lenses sunglasses are your perfect companion for outside world and you can get them here. A black choker is the easiest way to grab some attention and you can get your hands on this leather wrap choker with crystals here.
This leather belt with framed Gucci logo is super cool and trendy and perfectly creates a slim look by hugging the waist. You can find it here.