Outfits with Floral Shorts: The mere thought of dressing up in summertime makes me sweat, and having to wear fancy, heavy fabrics has me completely drenched in sweat. Gladly, we do not need to worry because floral prints have been the rage among women for some time now. Thus, this is the main reason why there is a plethora of floral shorts available in the market in all sorts of colors and designs.
Be it simple vintage-inspired shorts or black and white or conspicuous colors; they are every girl's obsession these days. An extraordinary way to elevate simple dresses or tops is by pairing them with floral shorts. Floral shorts are versatile and worn all year round. The main reason behind their popularity is the infinite ease and elegance they bring with their wear. Therefore, it is no surprise that women opt for this elevated version over traditional denim shorts. And the best part is, there are so many ways to style them!
What to Wear with Floral Shorts?
It all comes down to your comfort and a whole lot of trial and error to find what suits you best. However, there are a few classic looks that can not go wrong. Pair your shorts with a white button-down or a bright solid crop top. And throw on an oversized cardigan or denim jacket on top. Furthermore, you can wear them over tights with a blazer or long coat to look fabulous in winter. And lastly, do not forget to accessorize and choose the perfect pair of shoes to match your outfit!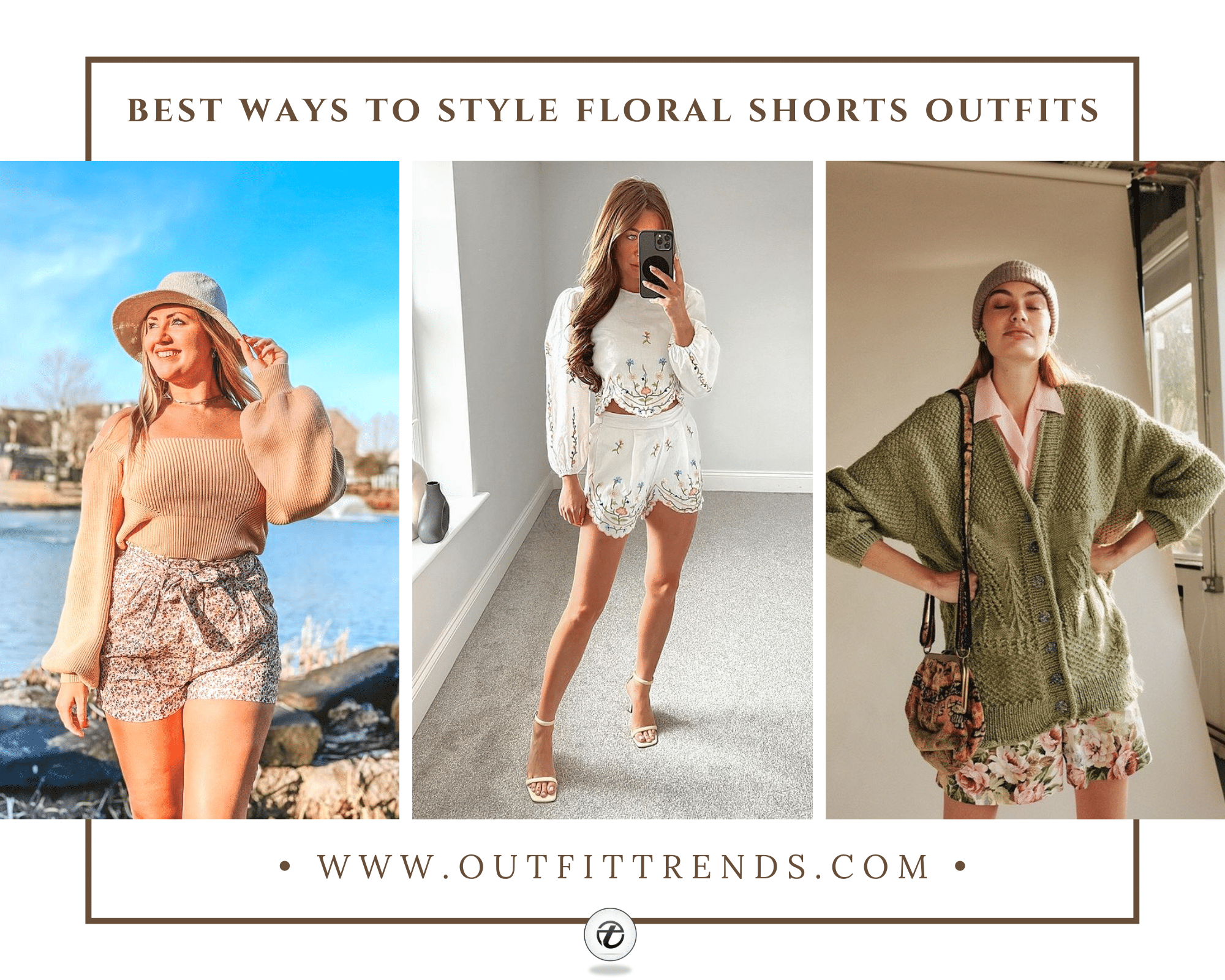 Tips on Styling Floral Shorts:
Solid tops or blouses in pastel tones pair best with printed shorts.
Print on print can be very trendy. However, avoid mixing prints (unless you know what you are doing) if the patterns are not complementary.
You will find ankle boots and chunky white sneakers to be your comfort shoes with floral shorts.
Experiment with different hairstyles such as ponytails, messy buns, and half-up, half-down looks.
Match your lip color to the bright shades in the floral pattern of your bottoms.
Reach for matching sets if you feel like you might not be able to style this clothing item to your best.
Never compromise on jewelry and accessories.
Below are 40 different styles to choose your outfit and get inspired. You can also get ideas about what shoes, accessories, and outerwear to opt for a perfect look.
40 – Add on a Denim Jacket for a Casual Look
The flare of the shorts imitates a skirt and makes it easy to pair a fitted crop top with it. You can throw on a white shirt for outerwear or swap it for a denim jacket for a more everyday casual outfit. Overall, I give this look an A-plus for style, effort, and execution! Here are some more of my favorite White Jacket Outfits.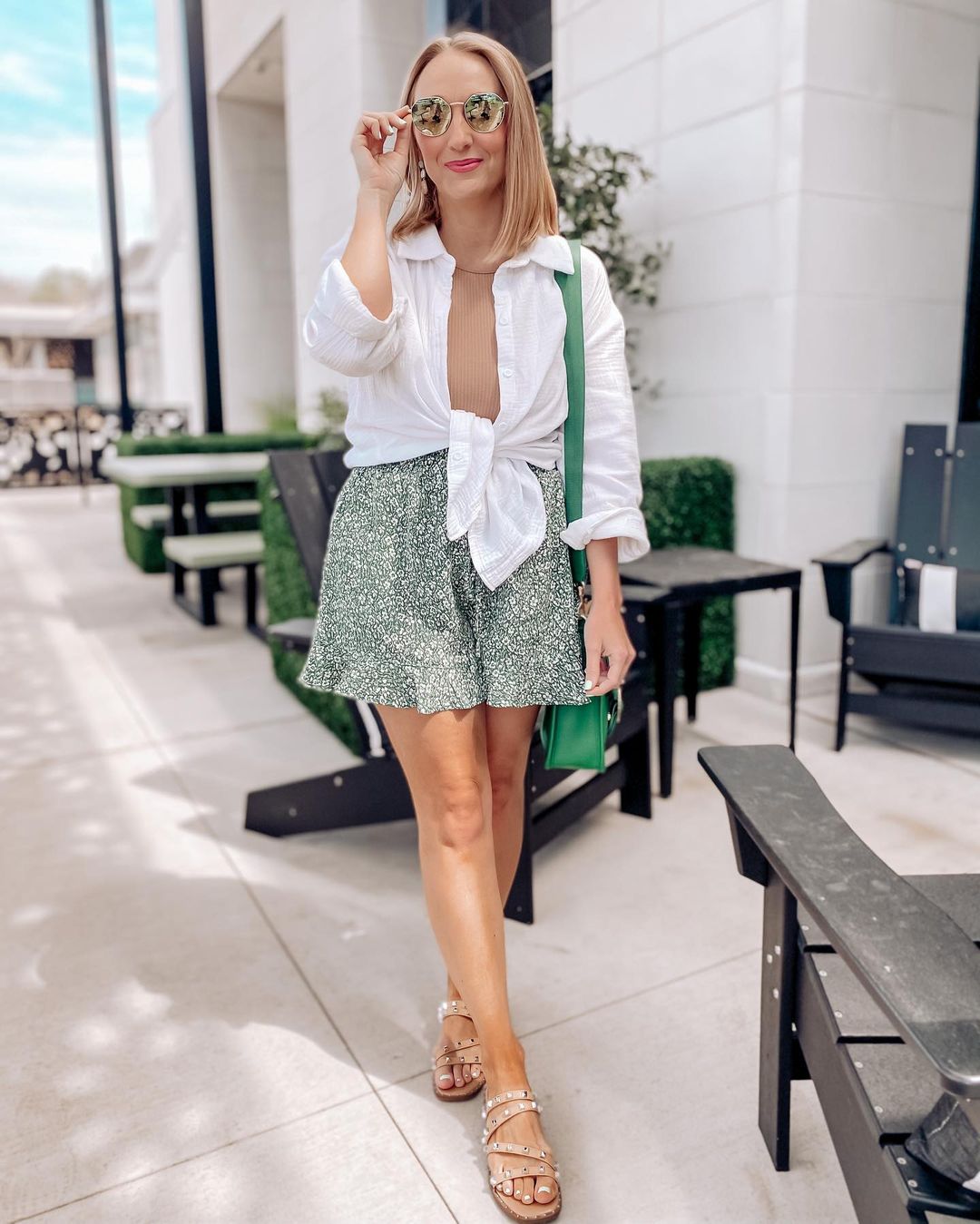 Shop the shorts:
Also, have a look at these tips on styling High waisted shorts outfits.
39 – Make your Fit Office-Casual with Floral Print
Floral Prints have been oozing charm, and you can always opt for the same floral printed blazer and shorts with a plain white top inside for a little formal gathering. You can also wear a similar look for an office gathering!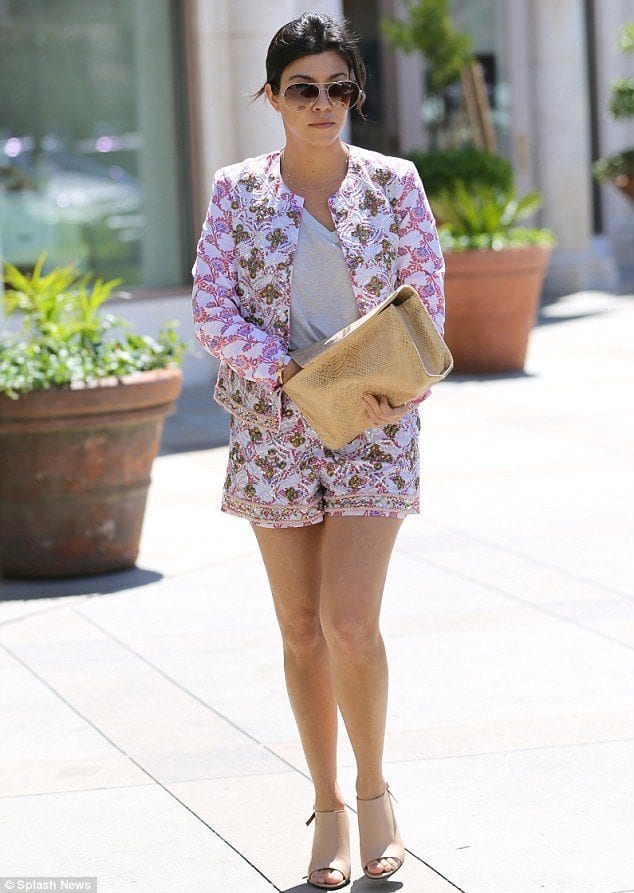 38 – Add a Chunky Knit Cardigan for the Breezy Days
This gorgeous, bright, and colorful outfit screams spring and summer times! I love the minimal gold jewelry, and white sneakers make this look super trendy. Throw on a chunky oversized white cardigan for the breezy and cool days of the hot weather. It will blend in seamlessly and match the shoes perfectly!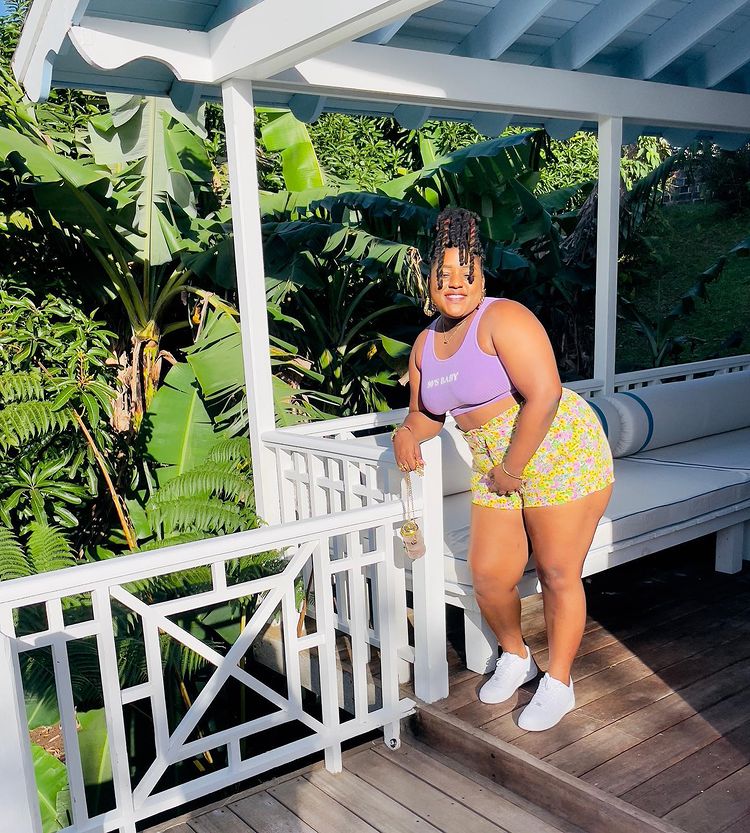 37 – Go for a Bold Top to Complement the Floral Pattern of Shorts!
Heading to the beach or a carnival?! This look is the way to go! It is colorful, bold, and comfy enough to keep you on your feet all day. Furthermore, I love how the top highlights the red tones of the shorts. Now, this is the ideal way to play with colors in your outfit!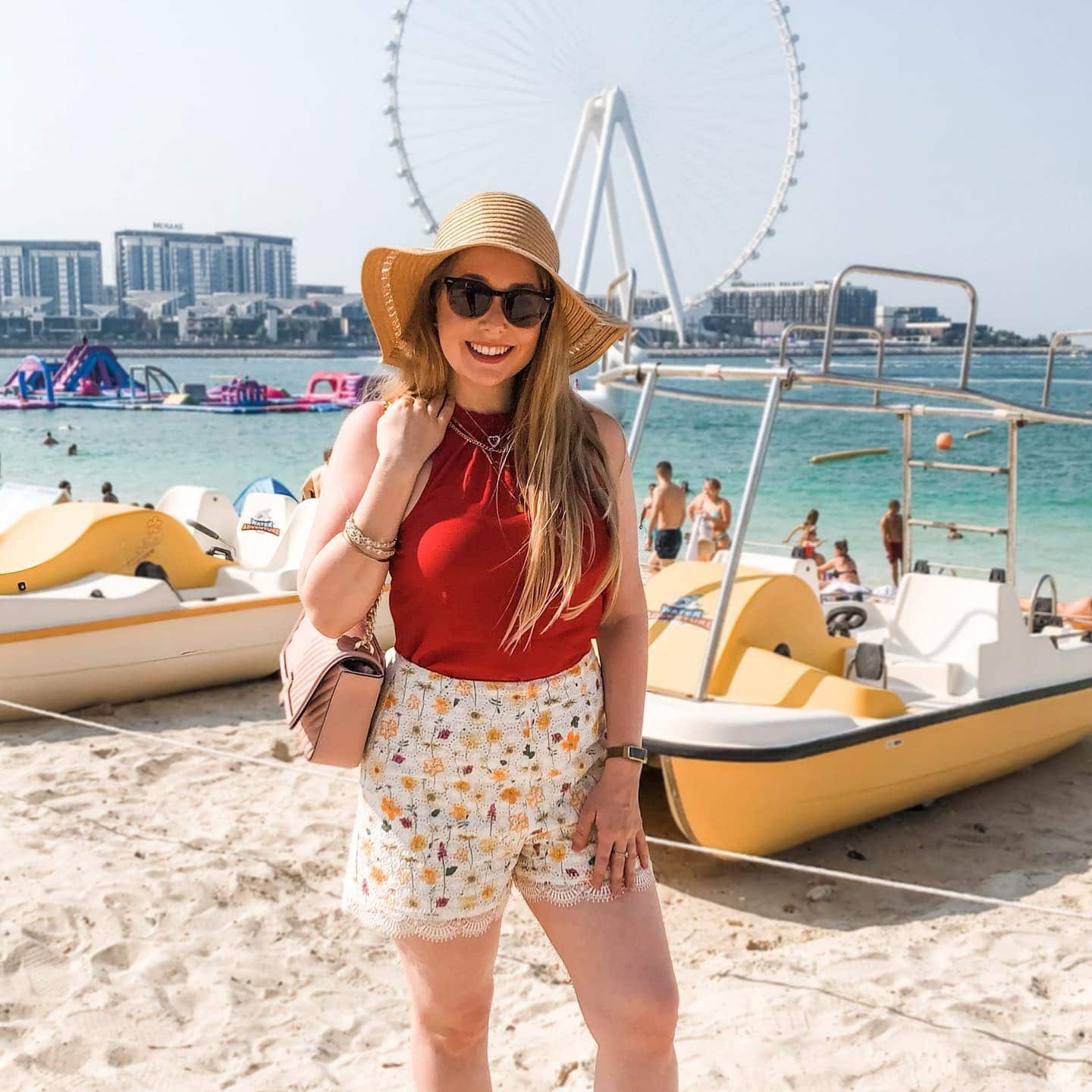 Shop the look:
Floral Crochet Trim Shorts $12.48
36 – Add a Pop of Color Through Jacket & Blazers
A jacket always adds oomph to the otherwise simple outfit. Add a little color to this outfit with this gorgeous peach jacket is the perfect way to stand out in a crowd!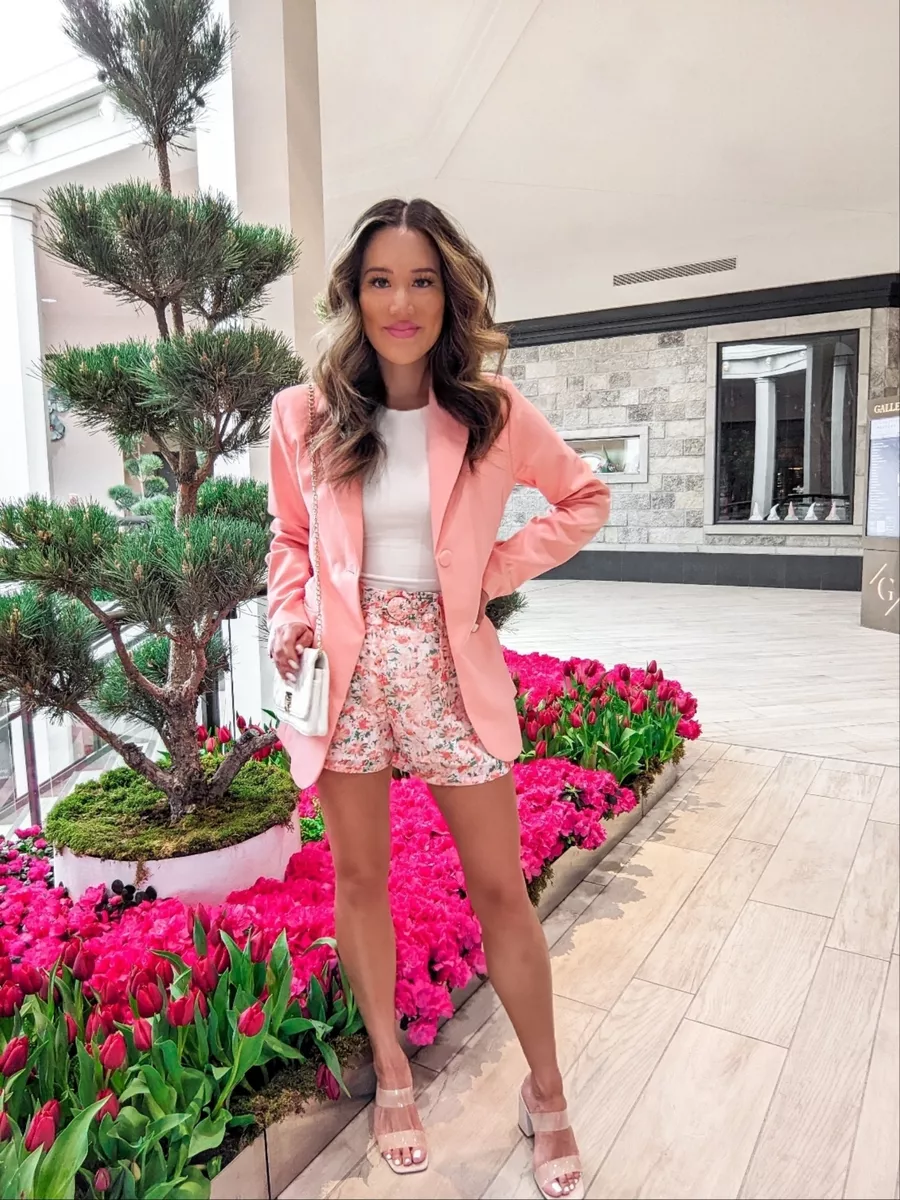 Grab a similar coat and shorts:
Don't forget to check out Cute outfits with shorts-27 chic ideas on how to wear shorts
35 – Get that Rockstar Look with Platform Combat Boots
Floral shorts are a great way to amp up your look and make it rockstar. You can add further edge to your outfit with the right accessories, make-up, and hairstyle. This look is an accurate example of how to make floral shorts rockstar! If you don't know what to wear with black shorts then just take that old leather jacket out and pair them up!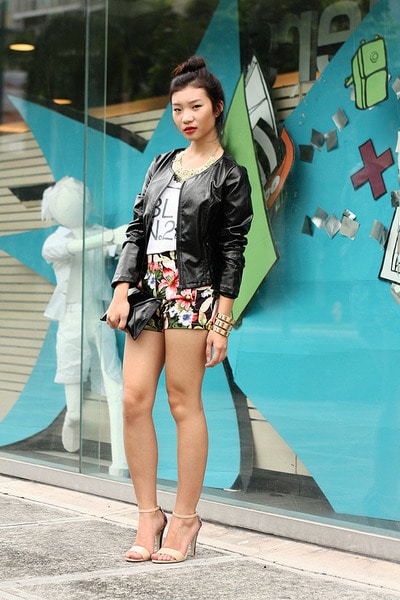 34 – Opt for a Red Scarf for a Brighter Look
This all-white look is a hit! It is simple, elegant, and looks super cute! I would advise adding on a red scarf or red shoes to bring out the color of the shorts and make your look brighter.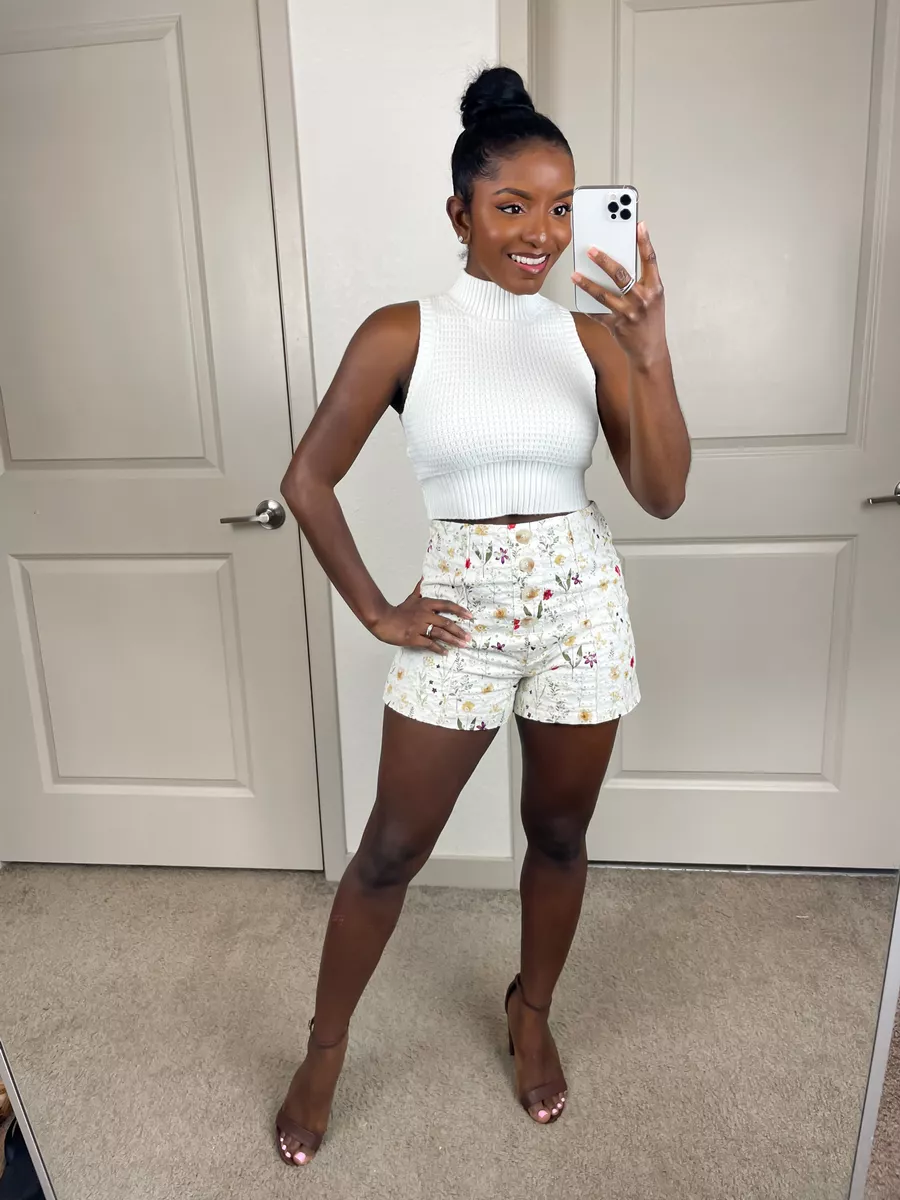 Buy the shorts:
33 – Olive Green Cardigan with Shorts & Beanie
I have got all my lovely hippies and indie lovers covered with this comfortable and stylish look! The olive green of the cardigan complements that of the shorts nicely, and the pop of pink peeking through is just enough to brighten up the look.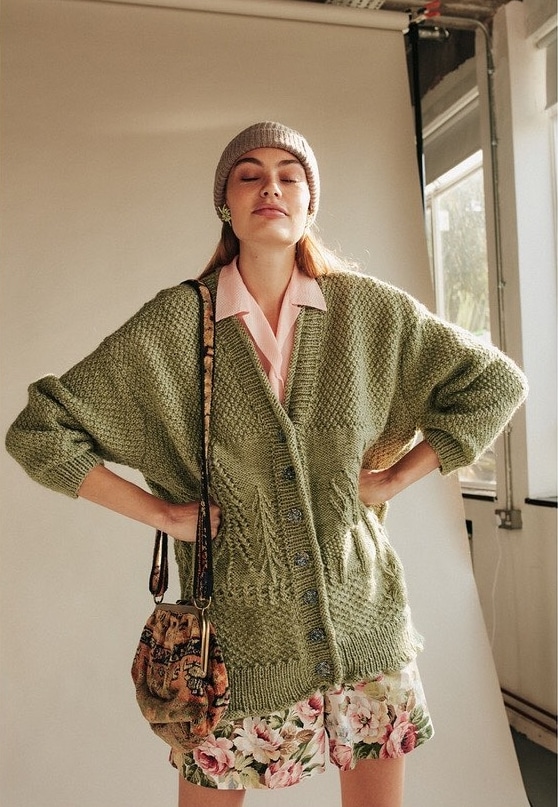 32 – Throw on a Studded Leather Jacket on the Top
Cropped tops look sleek if you prefer them. Pair your regular cropped white top with black floral printed shorts and sneakers if working out; otherwise, white heels for going out. Throw on a cozy black denim jacket or cardigan to keep yourself warm! Oh, and do not forget silver hoops!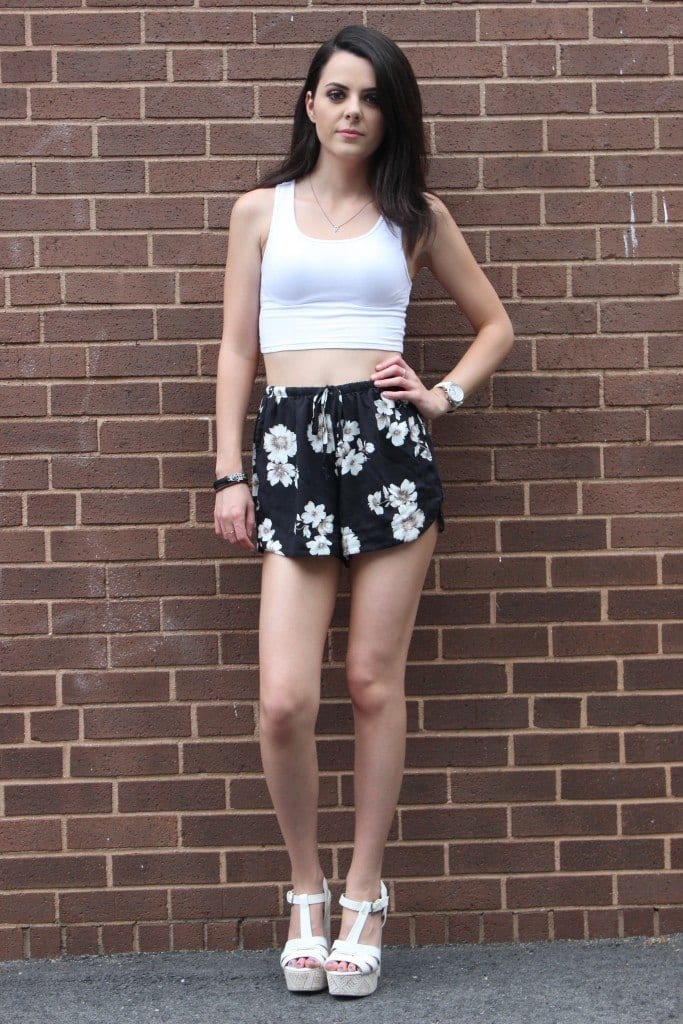 31 – Be Trendy with a Nautical Top & Gold Accessories
This look is the perfect pick for a chill day hanging out with your loved ones or running out to run some quick errands. Pull your hair back in a messy hairstyle to keep it classy and lowkey. However, add on gold accessories to upscale your look and make your outfit stand out more!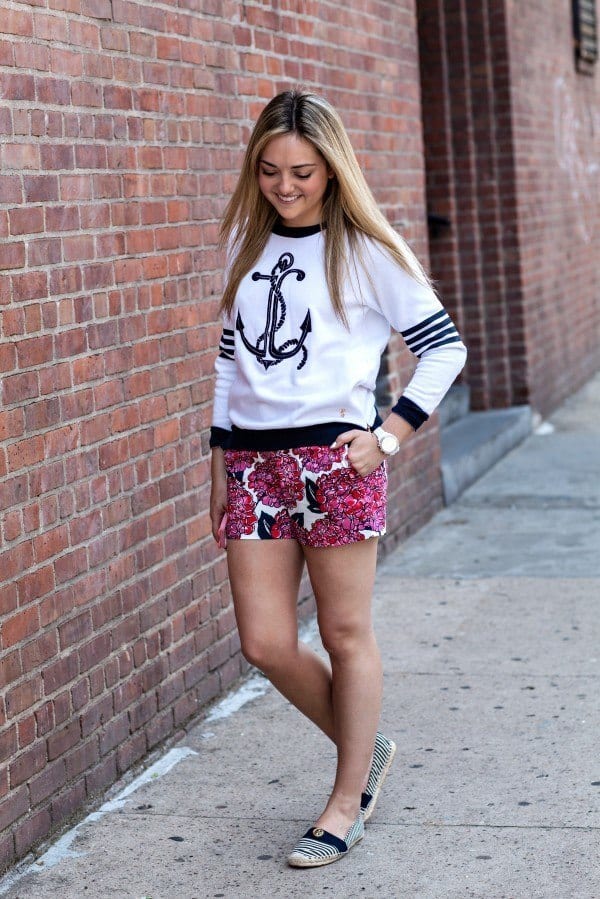 30 – Choose Baby Pink for a Classy Spring Outfit
Baby or pastel pink is becoming the preferred choice of color for many women as it looks cool and lovely during the summertime.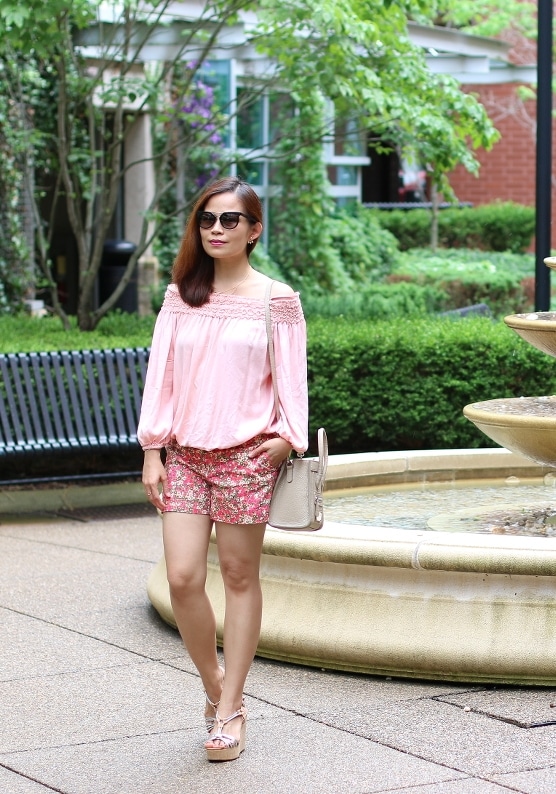 Do check out Boyfriend shorts outfits.
29 – Opt for Stiletto Nude Heels for a Formal Look
Go for matching two-piece blazer and shorts outfits to look like a boss lady! It is just the right amount of feminine and formal for a fun day at the office. Add on a pair of nude heels to strut your way through the day!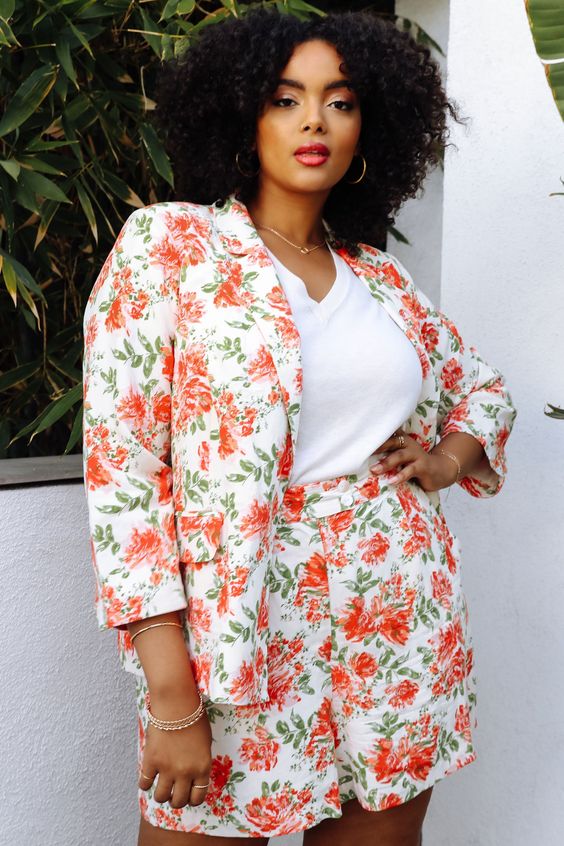 Buy the shorts:
28 – Go Bold with a Lime and White Combo!
Color blocking is a great way to make your outfit stand out and make you look put together and sophisticated. The best shade to pair with lime during the spring or summer is white. So get those colors together to create a look that will exude confidence on your part!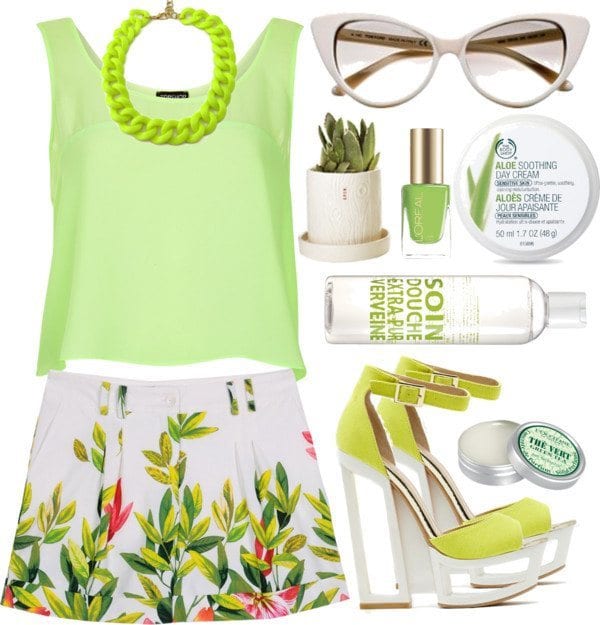 27 – Accessorize with Rattan Earrings
This gorgeous complementing two-piece outfit is a winner. I mean, it just does not get any better than this. The ivory shade, stunning minimal embroidery, and attention to the tiniest details are praiseworthy. The best way to pull off this set is to let the outfit do the talking! Keep your accessories and shoes simple and you are good to go!
Get the set:
Embroidered Floral Shorts $65.00
26 – Throw your Hair in a Ponytail and Add a Hairscarf
Another great way to make this outfit stand out, even more, is by pulling your hair back in a low ponytail and adding a hair scarf to match your skirt to the look!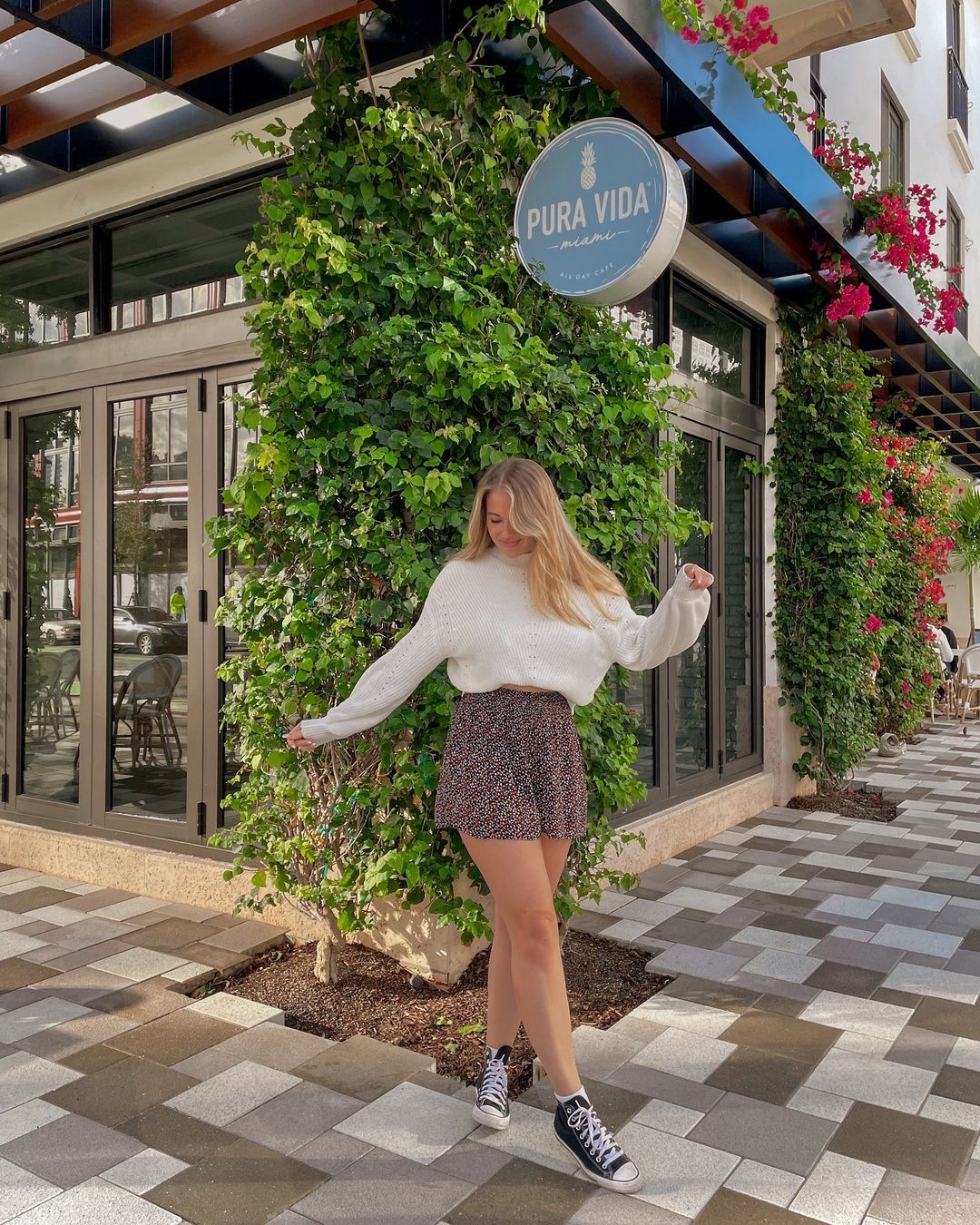 25 – Grab a Bright Bag & Head Out!
This look is simple and sophisticated, and the perfect way to add to the outfit is with a neon handbag. Keep your accessories minimal to balance your ensemble, and let your outfit speak! If neon is your thing then do check out these Neon Outfits for Women.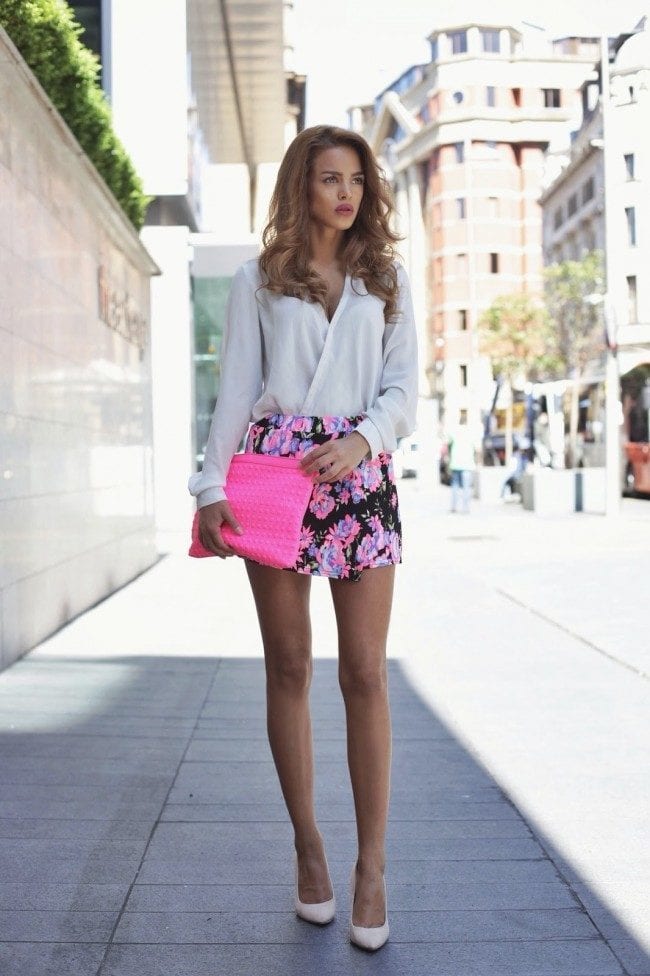 24 – Get the Perfect Fall Look in this Outfit
What a cute way to get that fall and winter look in the bag with this gorgeous outfit!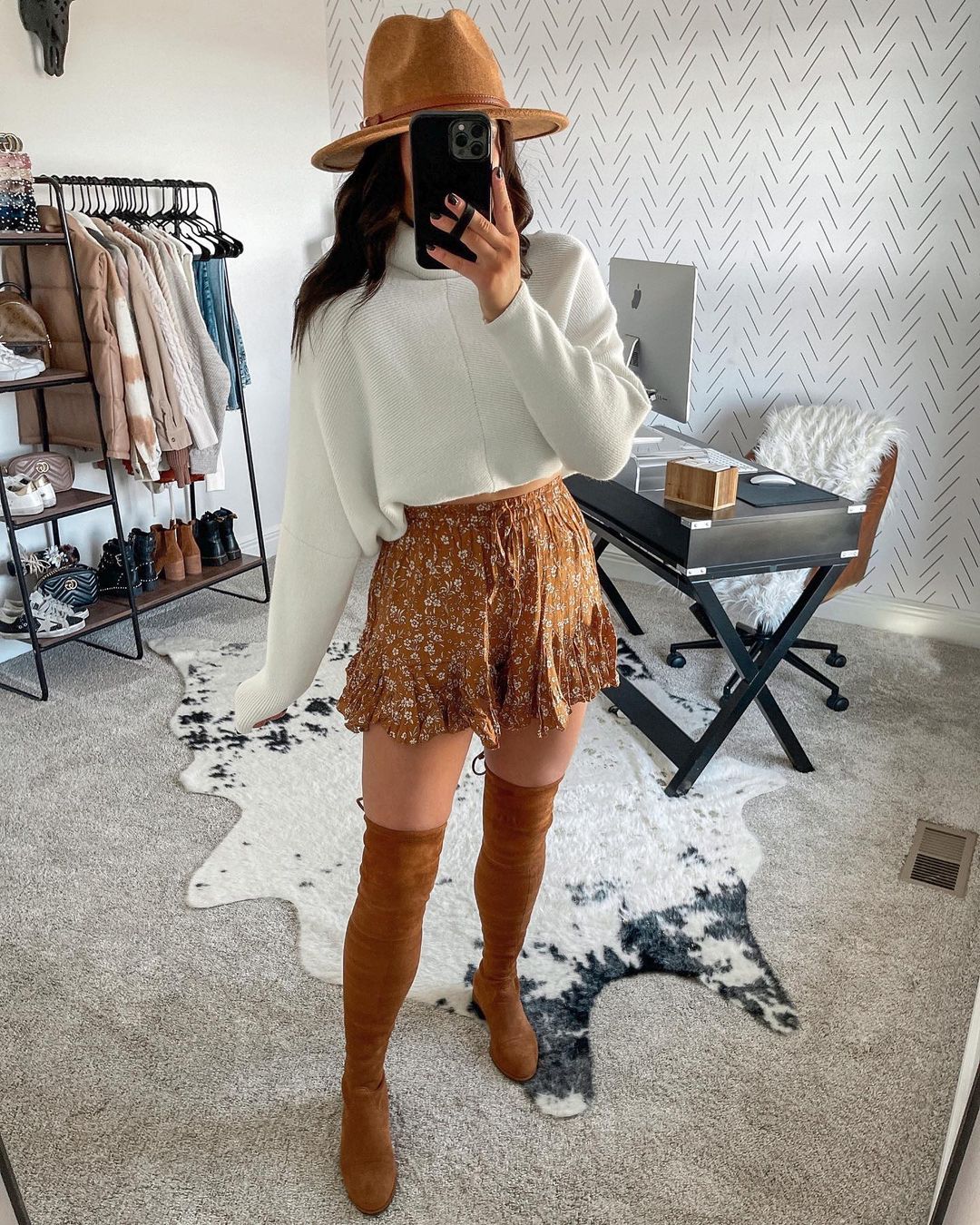 Shop the shorts:
23 – Go for Longer Cowboy Boots for the Ultimate Country Look
Opt for high-waisted shorts with the top tucked in to bring out your waist for a chic look. And choose longer cowboy boots to complement your outfit!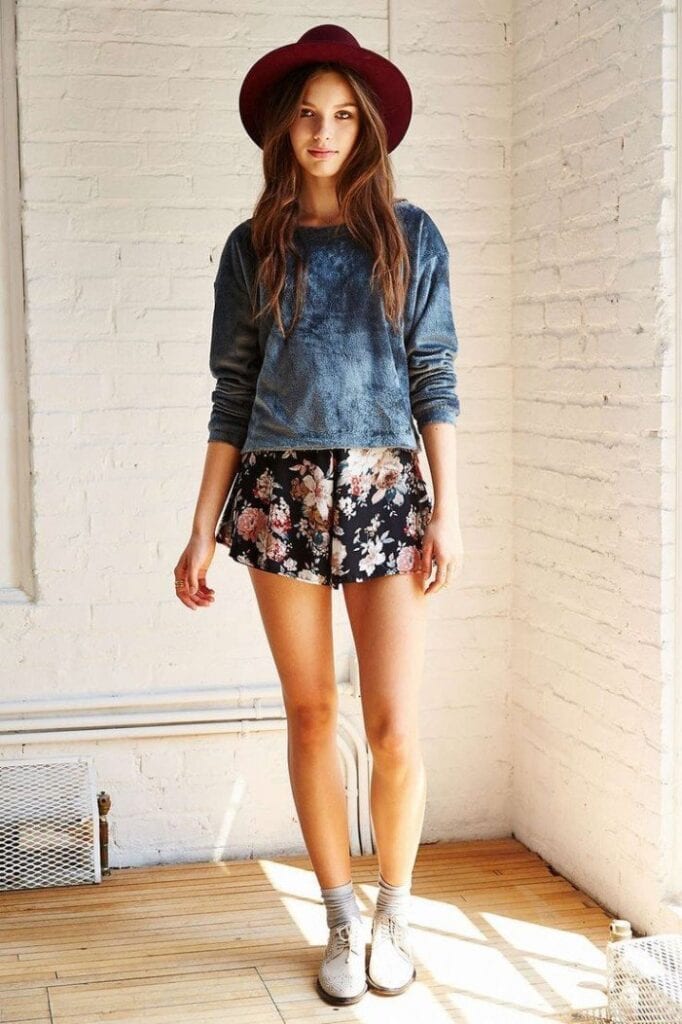 22 – Add Stockings to Make your Outfit Winter Appropriate
Pull your hair back in a half-up half-down hairstyle to bring out your beautiful features. I would advise adding a crossbody purse to create the perfect look!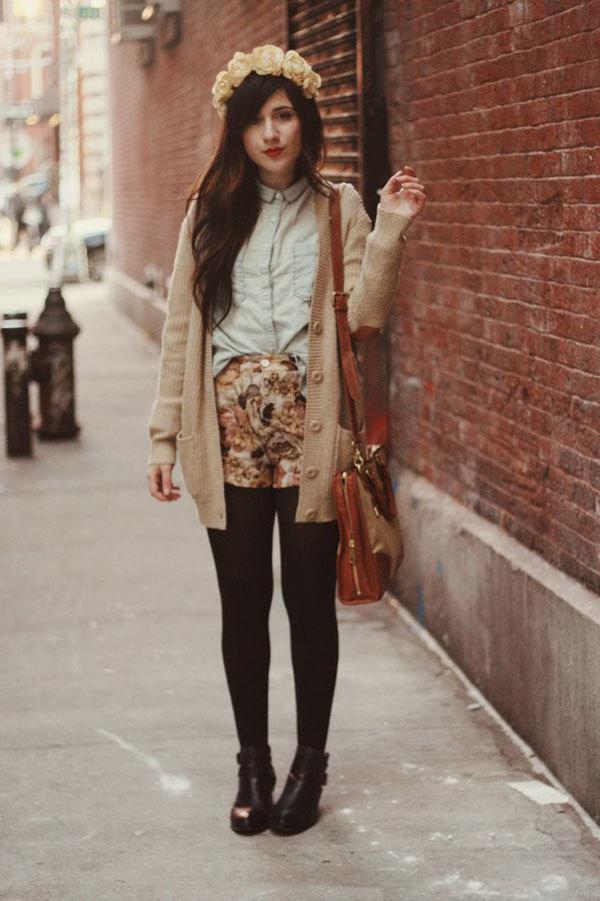 21 – Mix in a Long Fringed Lace Kimono for the Perfect Beachy Vibe
Make this outfit perfect for the beach with lace kimono to add boho vibes!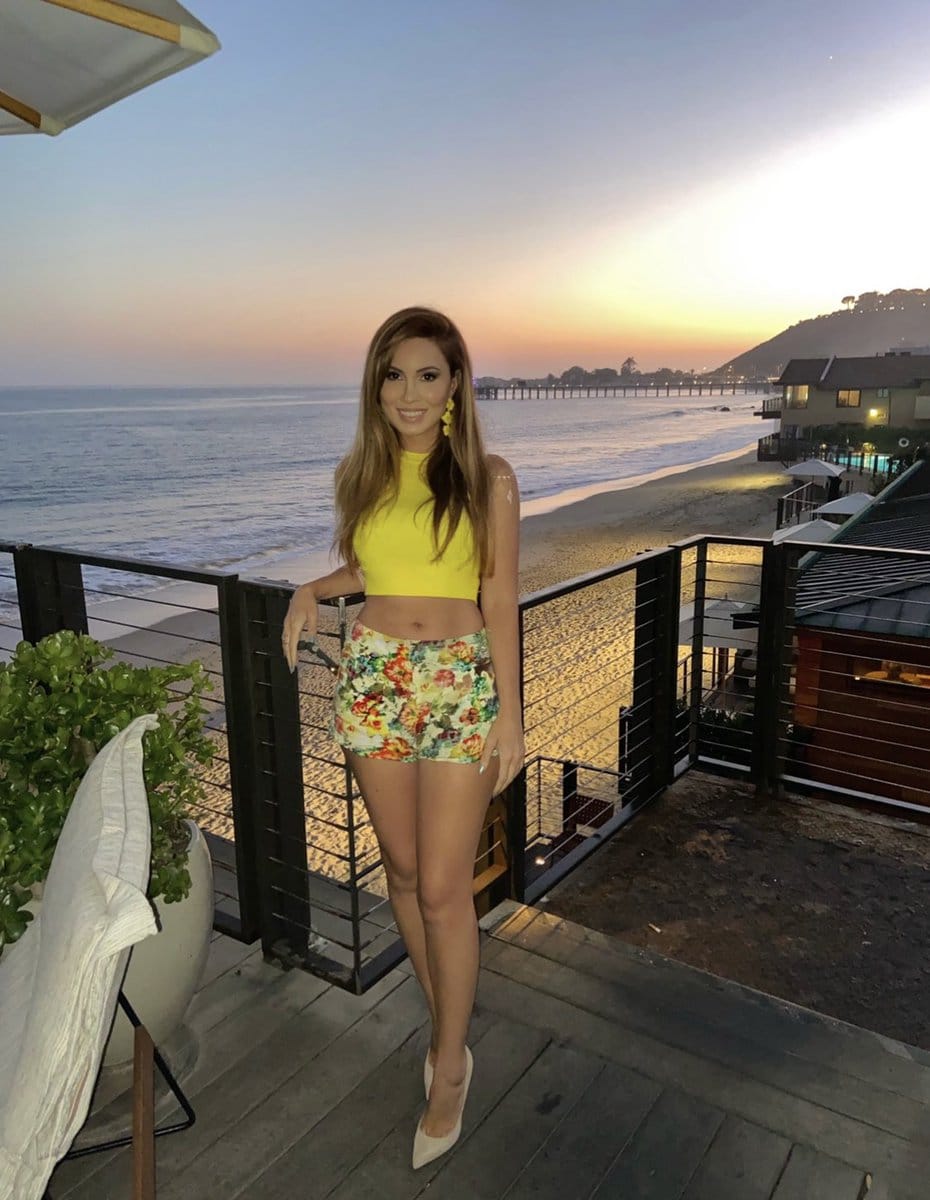 20 – Opt for High Waisted Shorts & French Tuck!
French tucking your top is a safe way to make your outfit stand out and add a bit more character.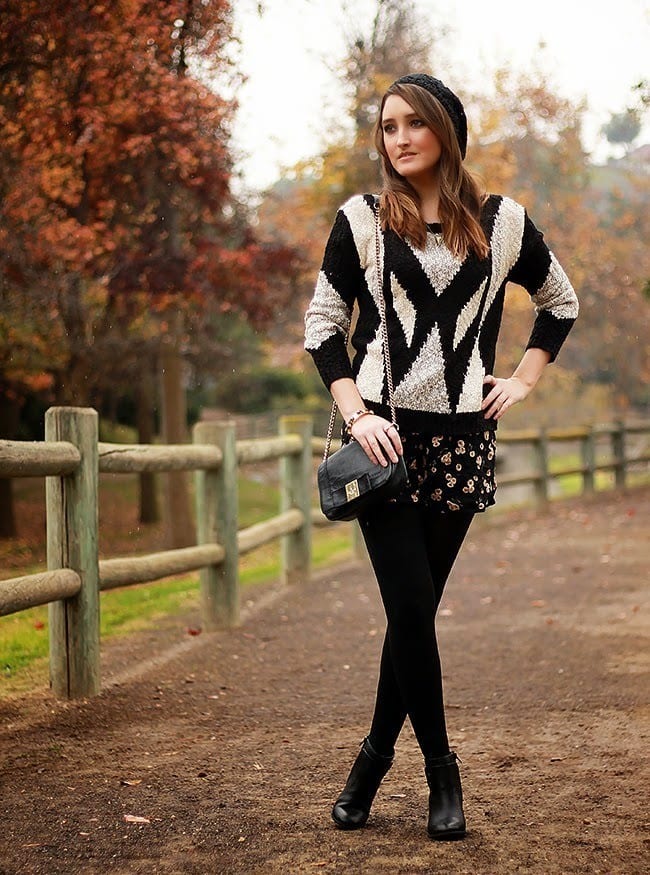 For some amazing celebrity style ideas, have a look at 80 stylish and hot pictures of Kendall Jenner in shorts.
19 – Pair Plain Tops with Printed Shorts to Look Classy
If you feel overwhelmed styling a pair of floral shorts, grab a solid cami or crop top in one of the dominant colors of the pattern of the shorts.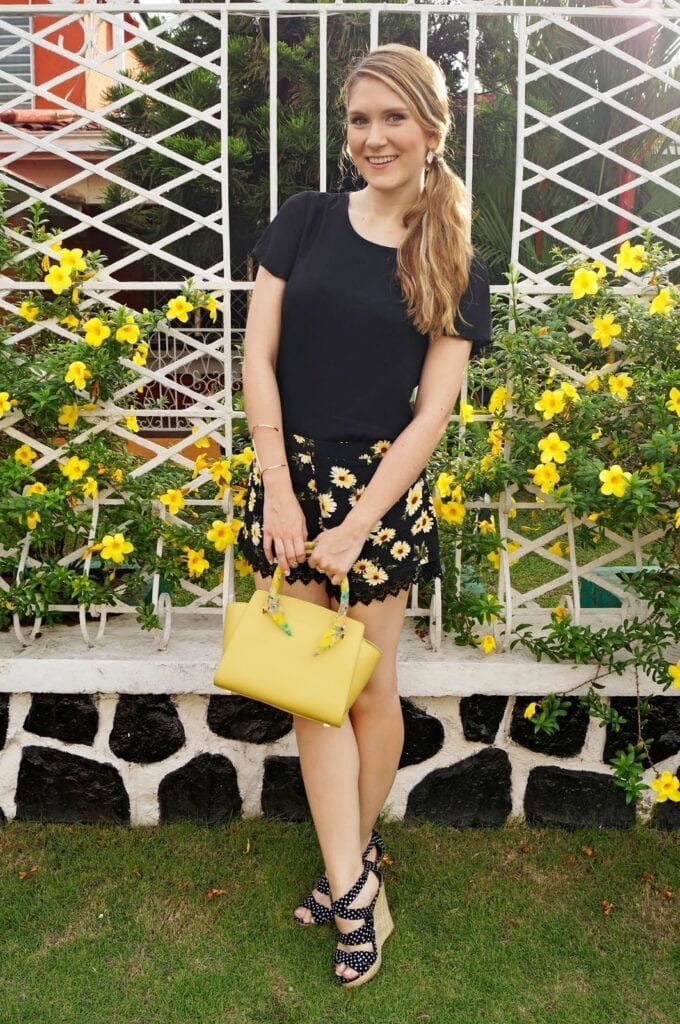 18 – Quick & Easy Get-Up to Run Errands
This outfit is the way to get up and head out the door!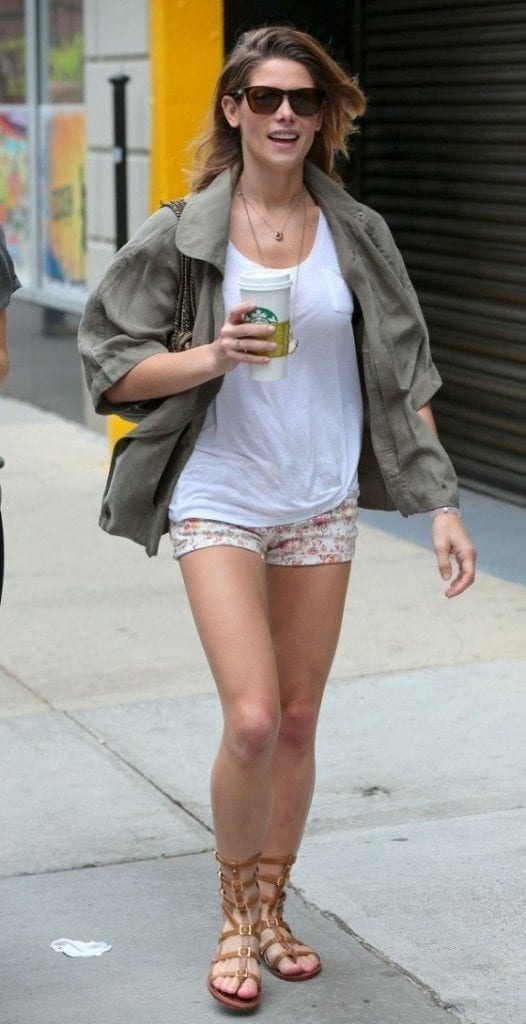 17 – Go with a Bold Lip to Stand Out
This dress is perfect for attending a wedding, bachelorette party, or a fancy girls' get-together for brunch. It is the ideal amount of romantic and classy!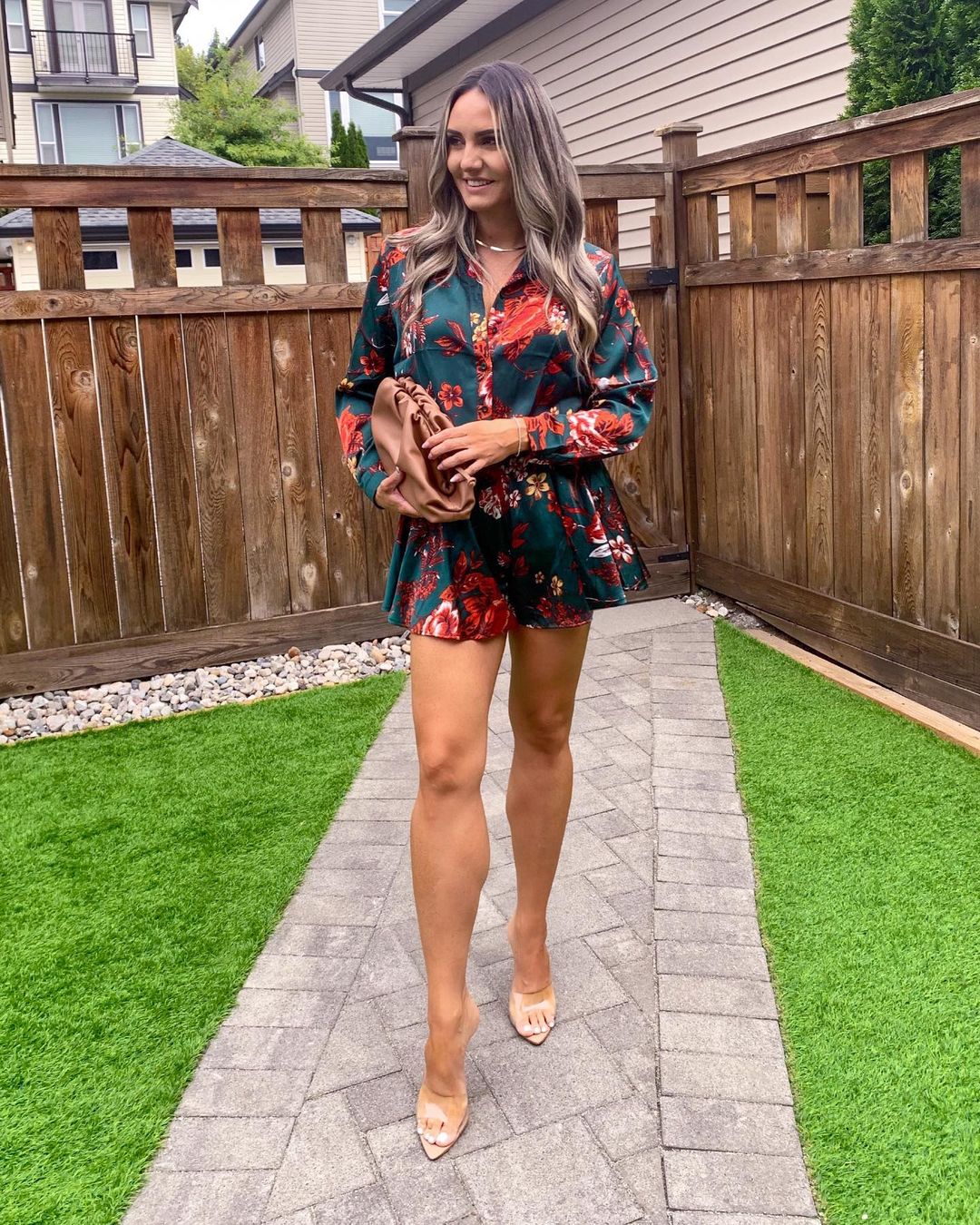 Grab the matching set:
Printed Oversized Shirt $48.00
16 – Choose a Black Bag to Color-Block with the Shorts
This amount of orange in an outfit can easily overwhelm anyone. However, opting for a black purse instead of orange is a great way to color blocks and carry yourself gracefully and confidently!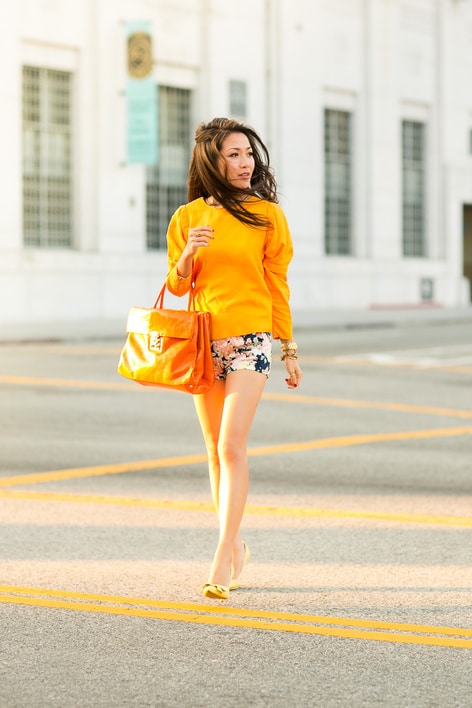 15 – Go for a Darker Pink Top to Match the Oriental Shorts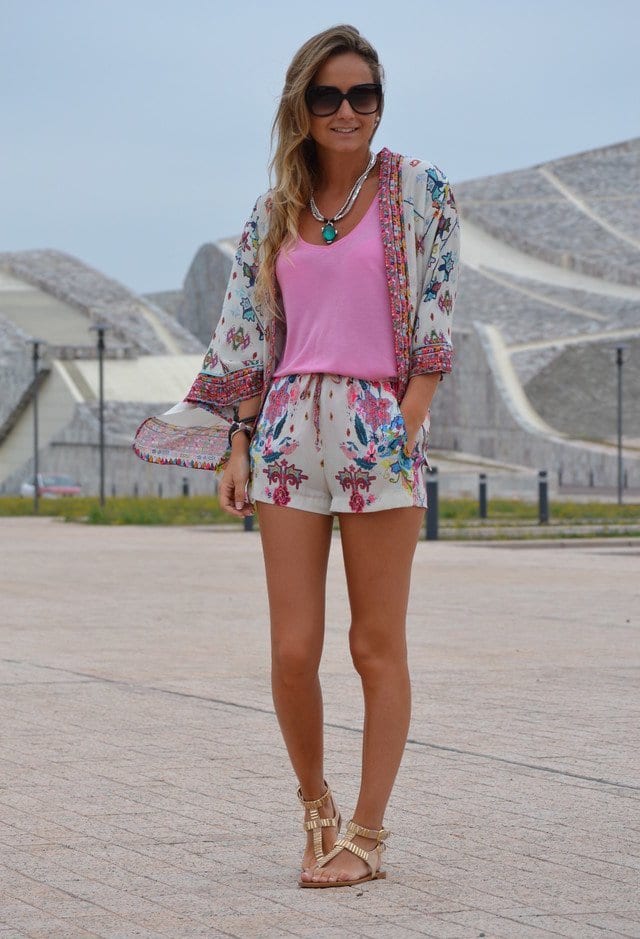 14 – Styling Ideas for a Summer Party
How cute is this outfit layout?! It is perfect for a pool party or spring break shenanigans!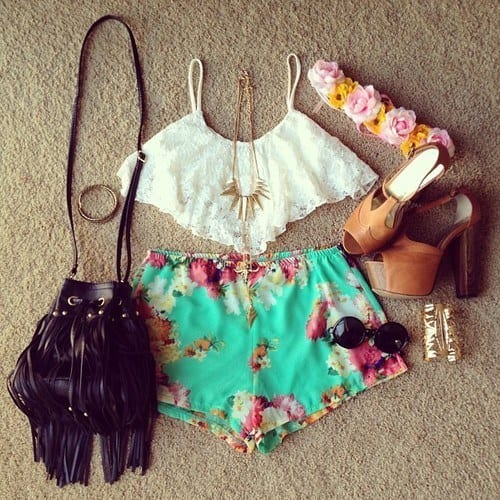 13 – Pair Print-on-Print for a Trendy Look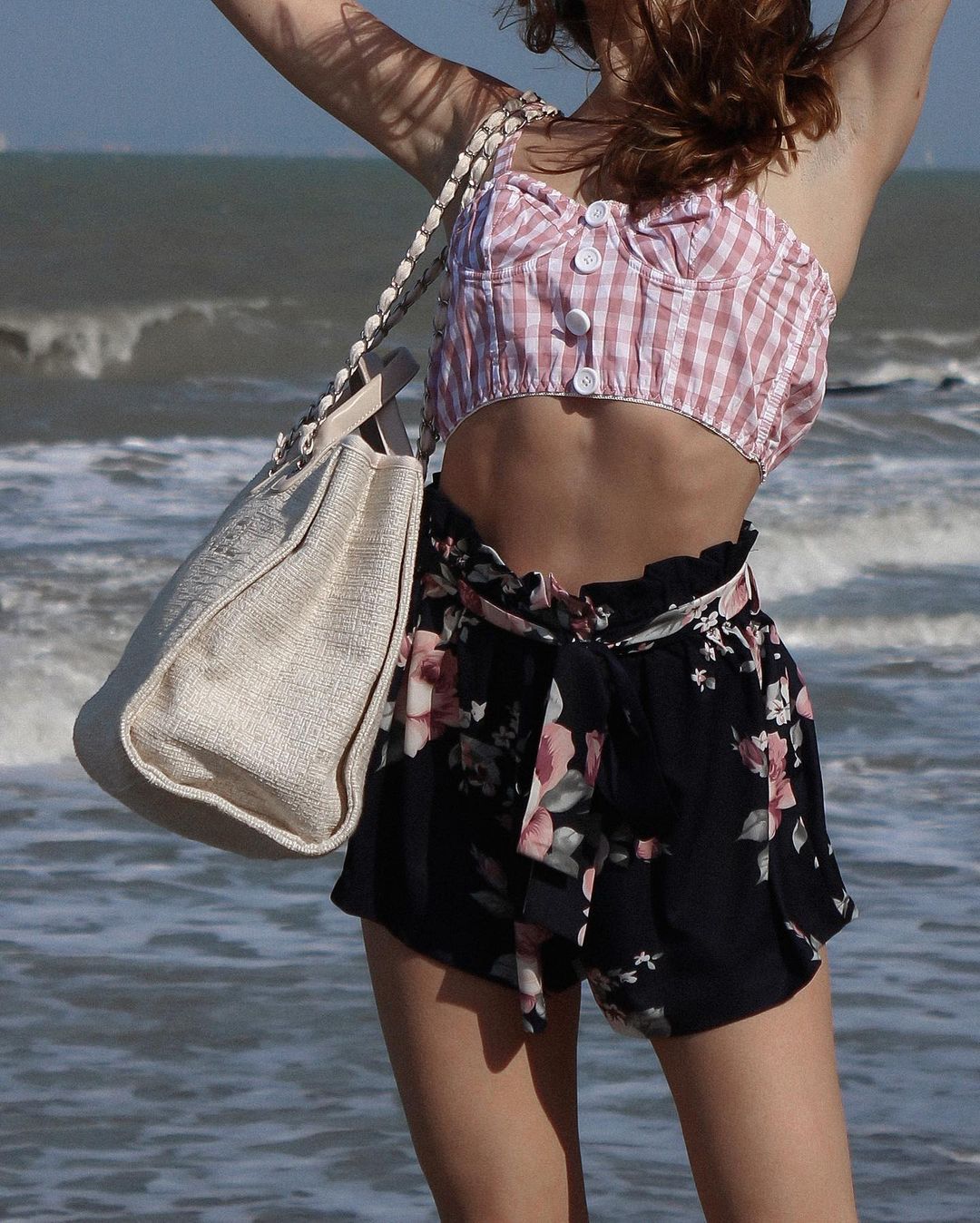 Buy the shorts:
12 – Perfect the Semi-Formal Look with a White Blouse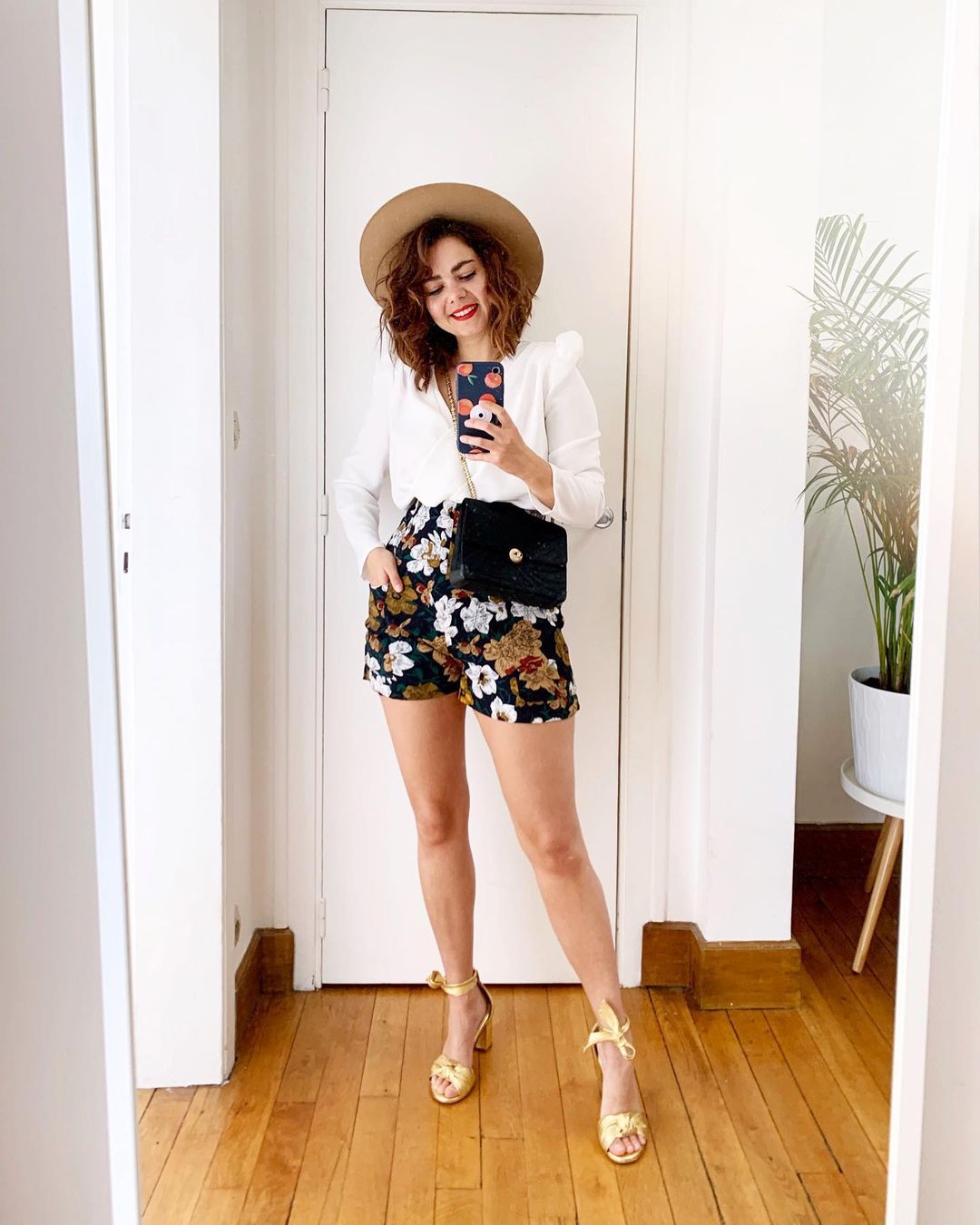 Buy similar shorts:
11 – Cool Peach Attire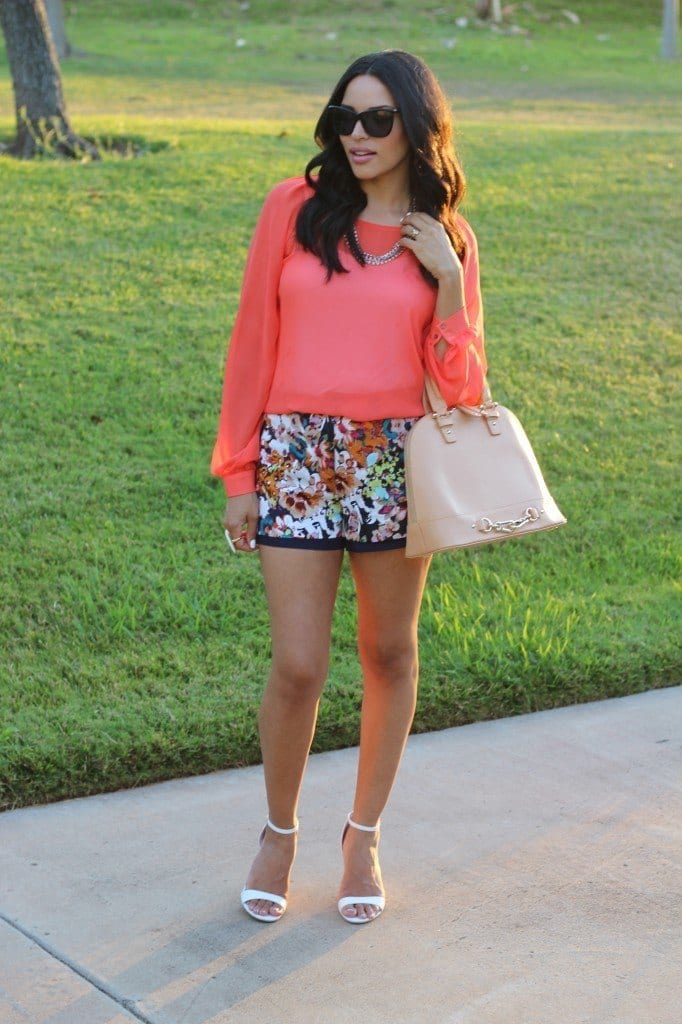 10 – Cute Everyday Outfit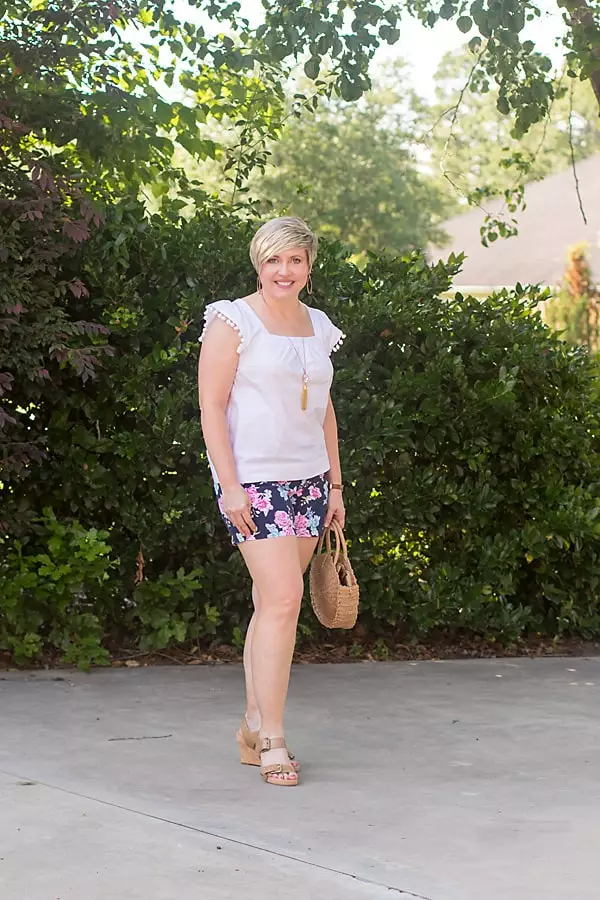 09 – Twin with your Best Friend on Beach Day!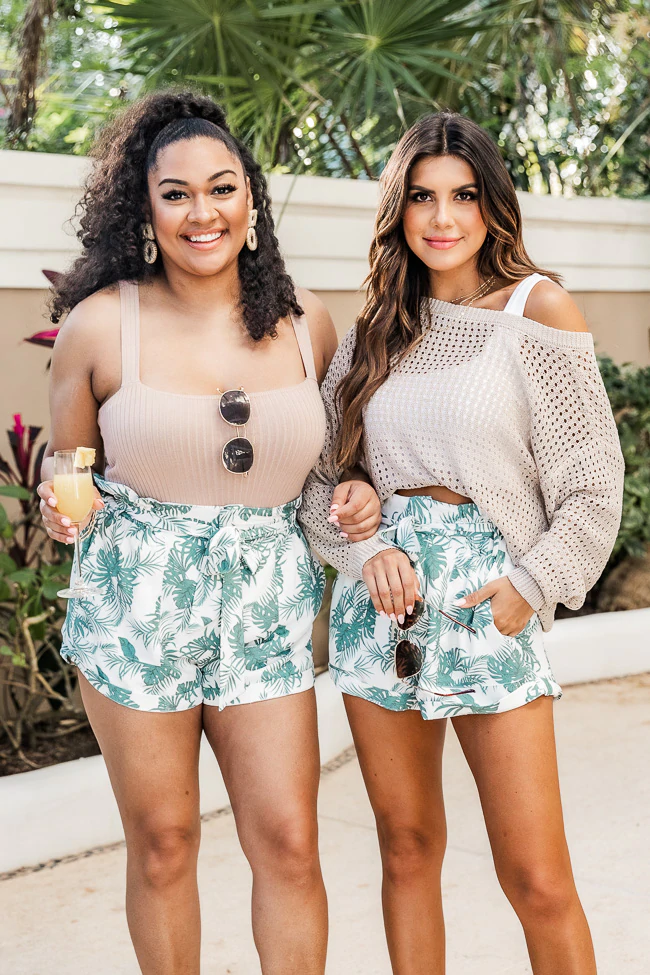 Shop the shorts:
08 – Mix Denim with Floral Prints
07 – Add a Nude Belt to Match the Shoes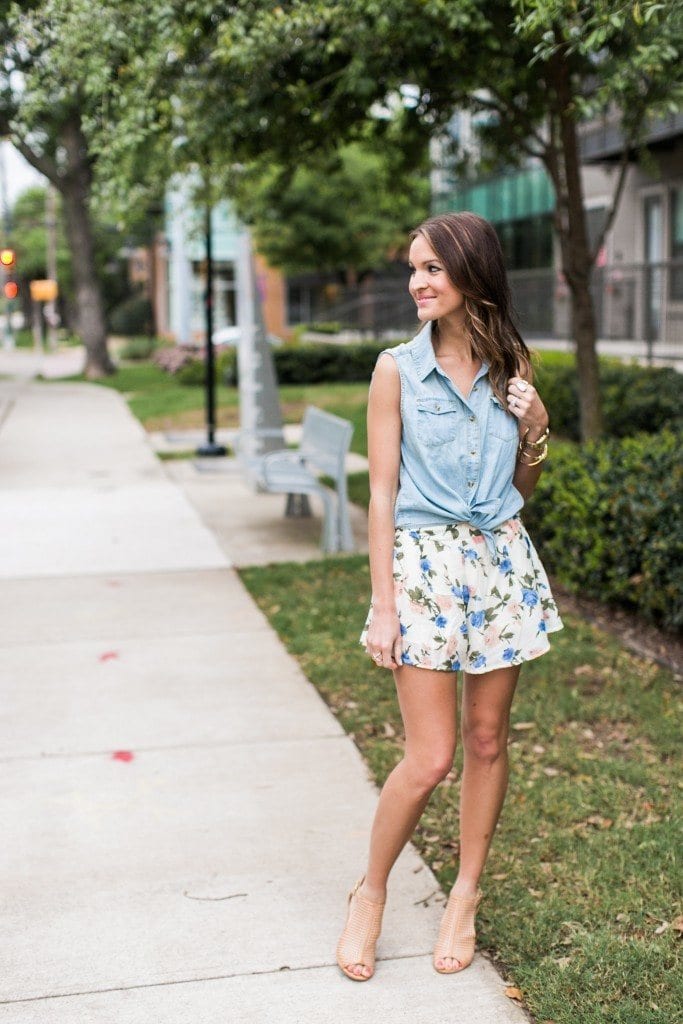 06 – Pull your Hair Back in a Half-Up Half-Down Look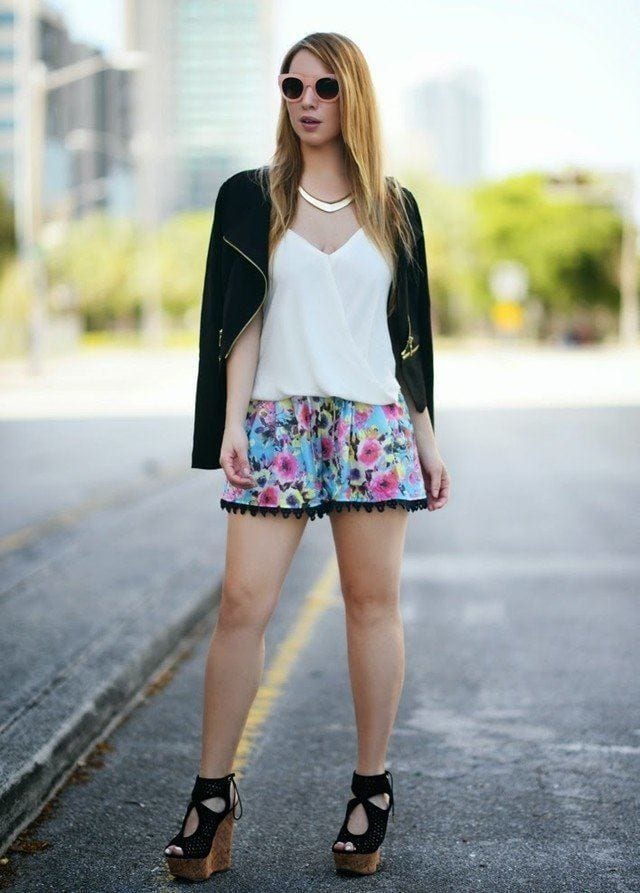 05 – A Little Sparkle with Floral Prints for Warm Weather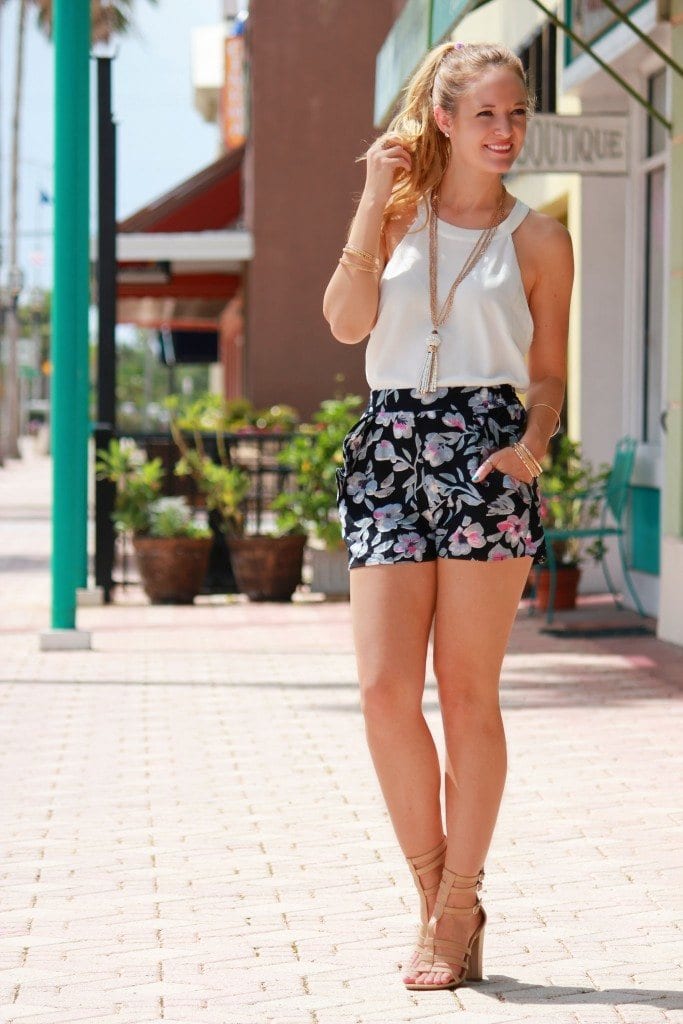 04 – Play Around with Muted Tones for the Perfect Fall Outfit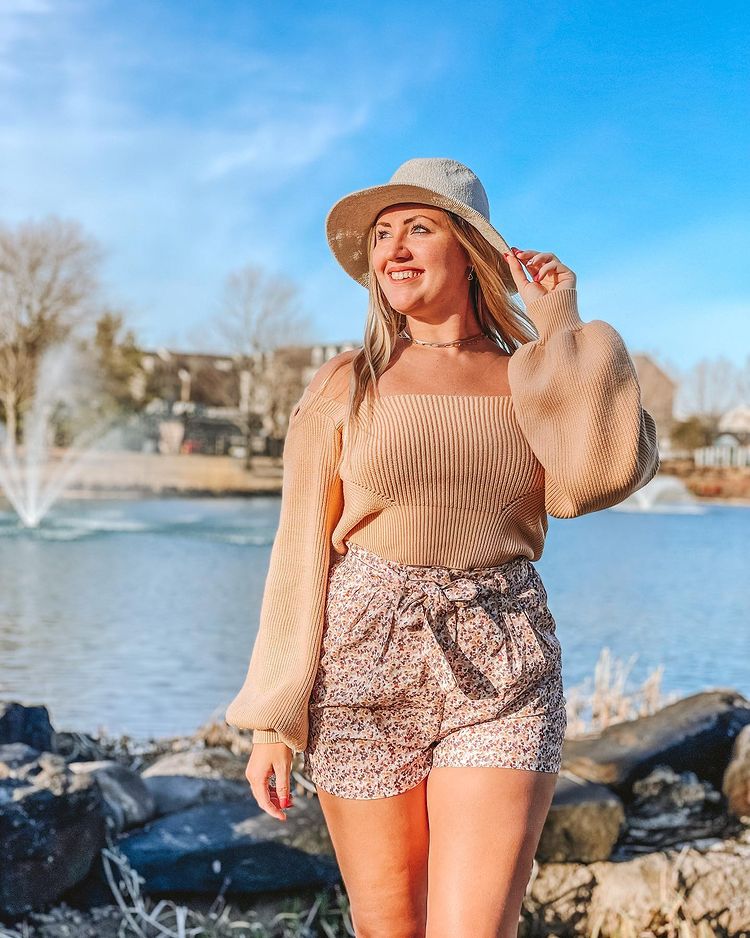 Grab the shorts:
Paperbag Waist Belted Shorts $8.00
03 – Combine Oversized Men's Shirt with Floral Shorts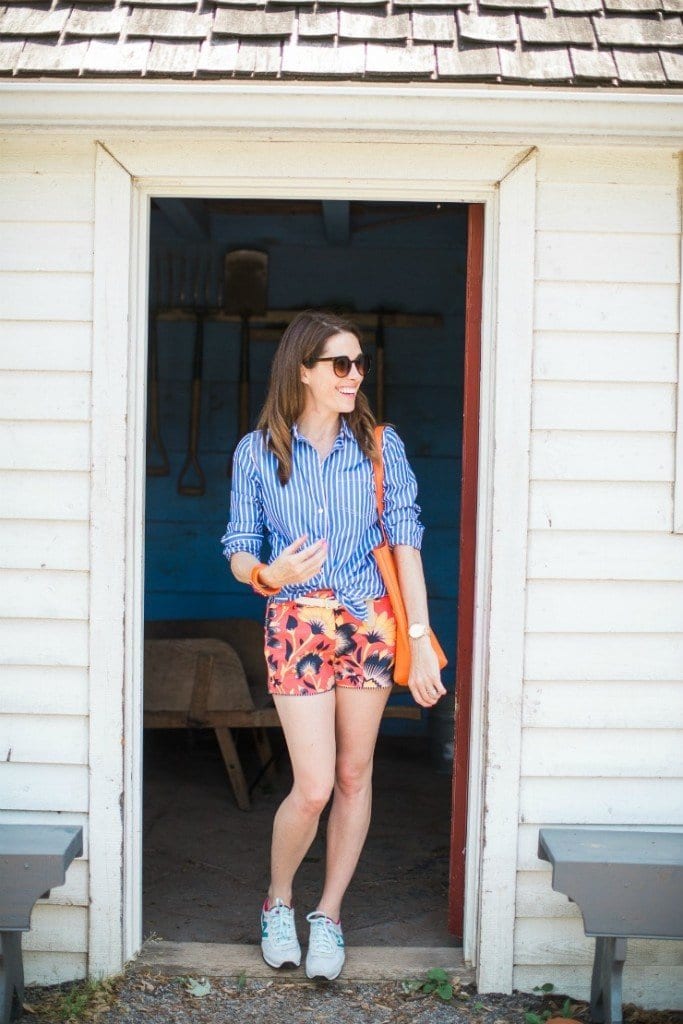 02 – Opt for Shoes with a Touch of Turquoise to Match the Necklace
A pair of strappy turquoise heels are a better option for this outfit as they will match the necklace and create a more cohesive look.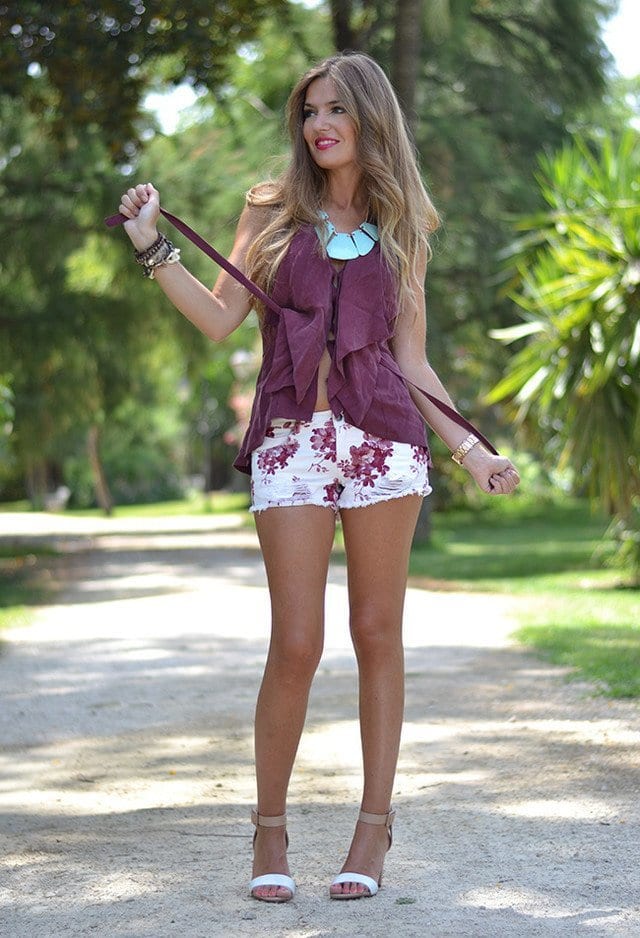 01 – Switch Those Summer Sandals for White Sneakers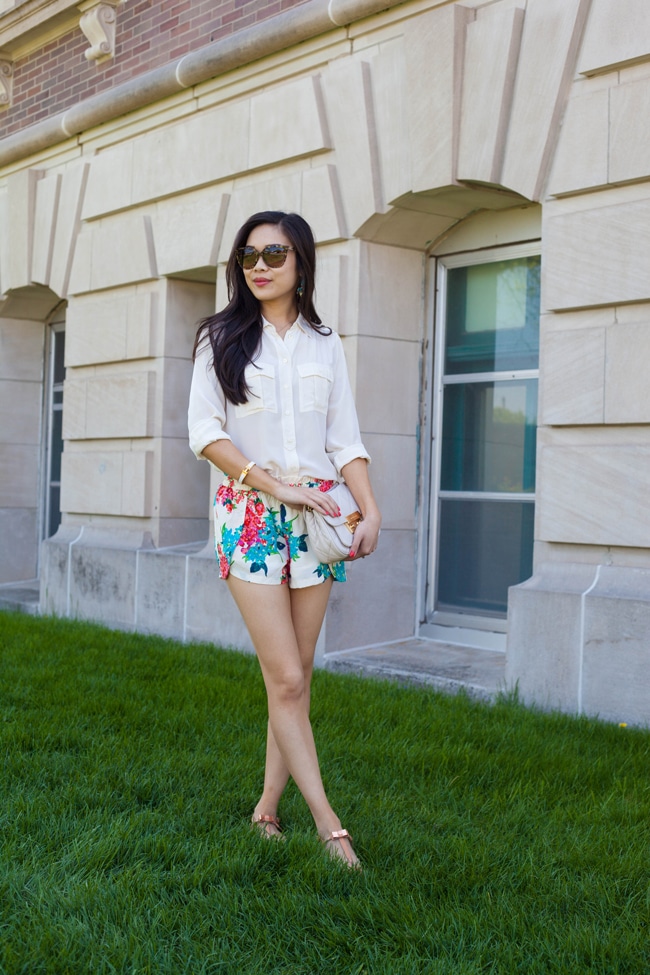 Frequently Asked Questions
Q. How to style printed top with floral shorts to look trendy?
Styling print on print can be tricky, but with these tips, you can put together a phenomenal look seamlessly!
Choose prints that complement each other. Since the floral pattern of the shorts is dominant, discrete designs will pair well with it, such as polka dots, stripes, plaid, and gingham patterns.
Pick out the non-repetitive color in the pattern of the shorts, and pair your top according to that color.
Keep your accessories minimal or monotone.
A monochrome look is bound to look effortless.
Opt for plain shoes rather than printed ones for a balanced look.
Q. What tops look best with floral shorts?
For high-waisted ones, flowy blouses and bralette tops look best. You can also pull off oversized shirts tucked in with a belt at the waist. I find the majority of types of tops work well with high and mid-rise shorts. On the other hand, wear loose or fitted crop tops with low-rise jeans to show off your waist. To avoid a muffin top, opt for loose blouses falling below your waistline and slightly longer low-rise shorts for a balanced look.
Q. Where to buy floral shorts for women?
Here's a list of all the best places to shop for floral shorts!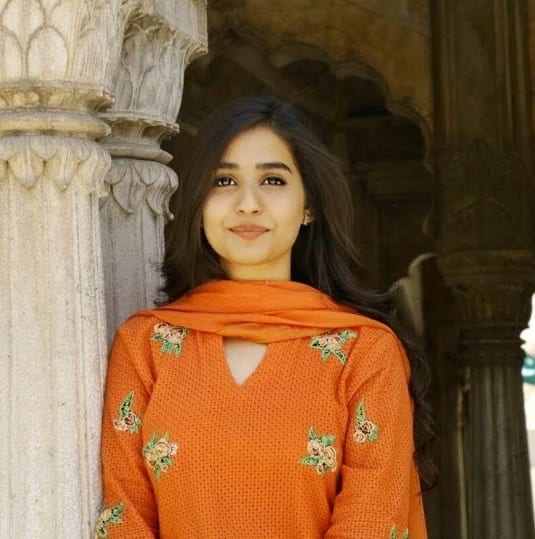 Janeeta Khan loves to write and loses herself in the world of fiction during her free time. You will probably find her curled in the corner with a Harry Potter book and a steaming mug of hot cocoa.