What To Wear With Black Shorts? – If you're tired of wearing the same old black shorts but don't have the budget to buy new outfits, this is the post for you! It's totally understandable to want new cute fits but they can be very costly so mixing and matching old staple clothes can really be helpful.
Black shorts can be styled in numerous ways and we've got you covered. So without further ado, let's hop right in!
How To Style Black Shorts?
If you're confused about what to wear with black shorts then don't worry because this article covers every type of black shorts!. Everyone has some black shorts, whether they're denim, cotton, long or short. However, on their own, they get a little boring and bland. To add some spice to your black shorts, we have curated twenty looks for you to get some fresh inspiration from.
The looks range from casual everyday outfits to meeting your friends for lunch day or even going on a mini vacation somewhere to de-stress from the extremities of life. Not only can black shorts be worn casually, but they can also be styled to look more formal-esque.
Dos And Don'ts Of Shorts
Make Sure You Style Them Right. Shorts can be long, short, loose, or fitted so it is important to pair them correctly. If you're wearing loose shorts, it's important to pair them with something that's more fitted and vice versa.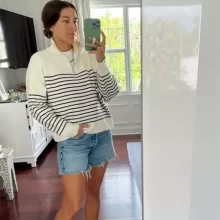 Check The Front AND The Back. With shorts, it's extremely important to check the back as well when you're wearing them. We often forget to check the back pockets and fitting which is equally important as the front.
Choose The Right Material And Size. To avoid chaffing, choosing the correct material and size is essential. Picking an uncomfortable material that irritates your skin or a size that's too tight can cause some nasty rashes which none of us want.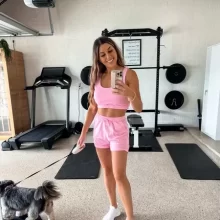 Don't Forget To Step Out Of Your Comfort Zone. Shorts can be super comfortable but that shouldn't mean that you just stick to one basic style. Wear different patterns and styles, step outside your comfort zone and you'll be surprised at what you find.
20 – Black Denim Shorts With Knee High Boots And A Cowboy Hat
Black shorts can be paired with anything but if you want something funky and a little out of your comfort zone, this cowboy look is the one for you!
This fit can be paired with a white cross spaghetti top with strings running down the bottom. On top of that, wear a cowboy hat with long knee-high black boots with white embroidery, and voila, you have a complete look!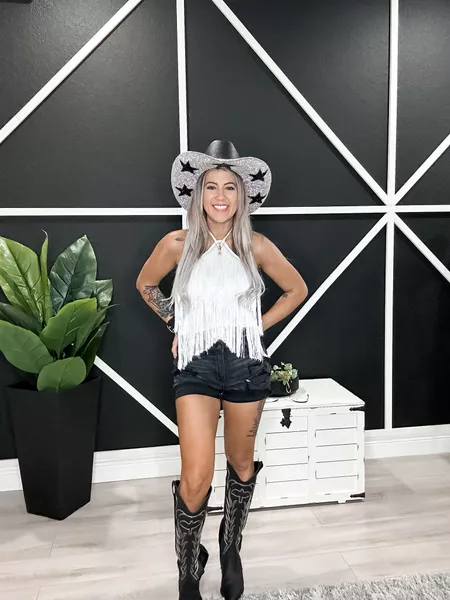 19 – Knee-Length Leather Shorts With Cream Square-Fit Blazer
If you're unsure of how to style your black leather shorts, then this look is the one you need. It not only features sexy leather shorts cuffed at the bottom, but it also features a cute off-shoulder black top to match it.
Secondly, to bring the look full circle, it also highlights a cream blazer, some black shades, and a shoulder bag to top it all off.
18 – Velvet Black Cheerleader Shorts With Printed Long Shrug
When you're going out on a date with your friends or to a cute little lunch with your partner, this look can help make you feel good.
Velvet black cheerleader shorts with a knitted turtle neck topped with a long printed shrug. Additionally, throw on some knee-length black heeled boots, add in a cute hat and you're ready.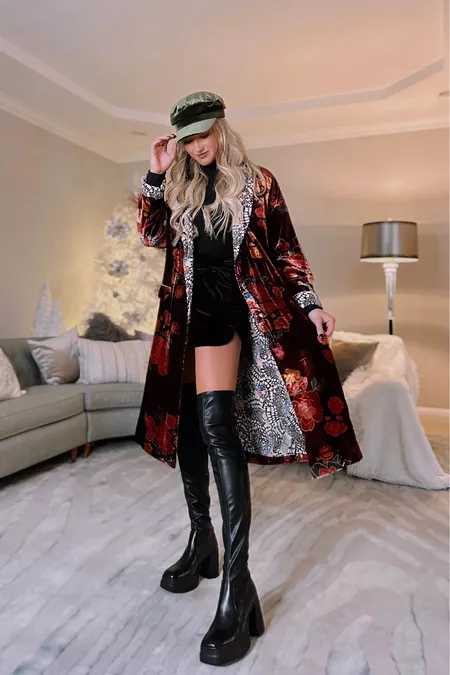 17 – Mini Shorts With Sleeveless Check Sweater And Long Boots
Shorts come in all shapes and sizes and these ones have the cutest mini size. This outfit featured a black mini short with a black and white check knitted pullover that has a square-cut neck.
To add some bling to the look, add some black long boots, take out your black chain bag and conquer the world with this look.
16 – Pleated Black Shorts With Black Mock Neck Sweater
Bermuda shorts might not be seen as a fashion statement but this entire look begs to differ. The look highlights black Bermuda shorts with a belt going across the waist. Paired with this are a tucked-in classic black long-sleeved turtle neck and a white and grey shrug with a pocket at the front. To accessorize the outfit, add in some gold chains and throw on a pair of heeled long white boots.
15 – Distressed Shorts With Floral Hald-Sleeves Blouse
If your closet is full of black denim shorts like mine then this is the look for you. This look features mini denim shorts that have rips across them. Paired with the shorts is a floral blouse that has baggy half sleeves.
To top it all off, throw on a black Fedora hat, and wear some beaded bracelets and your casual but gorgeous look is complete.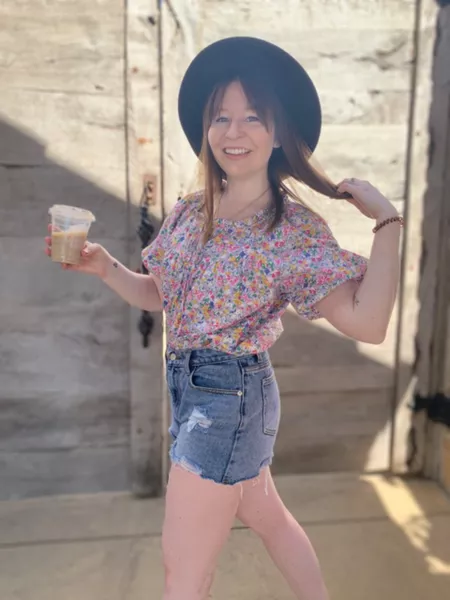 14 – Ripped Black Shorts With Grey Knit Cardigan
You can never have denim in your closet, it's just too hard to resist! If you're looking to style your black denim shorts then this may be the way to go.
Distressed black mini denim shorts paired with a grey sleeveless crop top. On top of that, throw on a cream oversized buttoned cardigan, wear some shades and a gold pendant and your look is complete.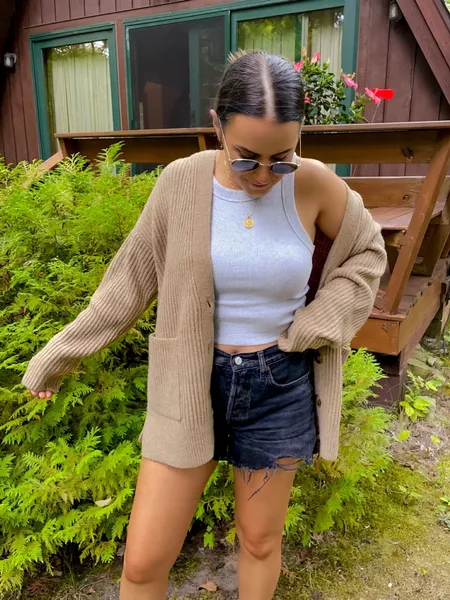 13 – Plaid Pleated Shorts With Black Off-Shoulder Blouse
These pleated and patterned shorts are the next fashion statement you should be making. Paired with these funky black shorts is a black off-shoulder blouse cuffed at the top and tucked into the shorts. To complement the outfit, take out your sexy black-heeled boots and some silver jewelry to go with them.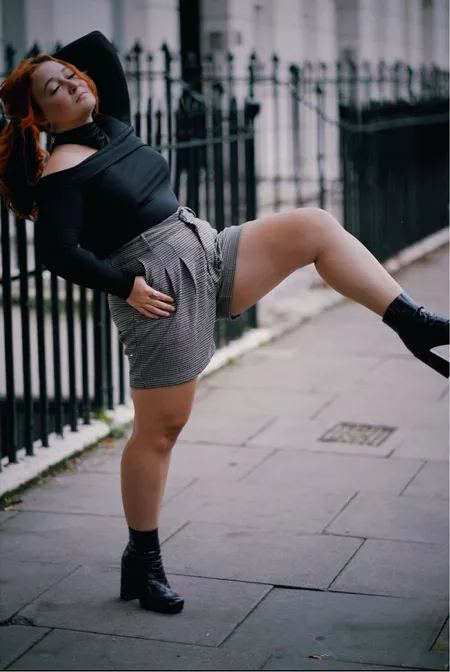 12 – Mini Shorts With Sleeveless White Sweater And White Button Down
If you're tired of the same old fashion looks, then this might be right up your alley. This fusion of summer and winter clothing is trendy and in fashion.
Mini ruffled silk black shorts with a tucked-in white collared and full-sleeved button-down. On top of that, add a cream pullover sleeveless sweater, some long white pencil-heeled boots, and a white padded chain bag.
11 – Ruffled Black Shorts With Cream Mock Neck And Long Knee-High Boots
If you're anything like me and you're wondering how to style those black silk shorts you bought on a whim, then look at the outfit below for some inspiration.
Pair your silk-ruffled shorts with seamless stockings and big chunky white boots. Put on a cream knit sweater with an exaggerated neck, throw on a patterned coat, wear a black fedora and take out that cream handbag.
10 – Fany Pack With Mid-Length Shorts And Zipped Top
Sometimes you just want something with the 3 C's: cute, casual, and comfortable. This look is all of that and more! Pair your fitted black shorts with a cute little black crop top with a zip down the center and a connected pocket below.
Match your outfit with a rounded fanny pack, some classic white sneakers, and a cream cap. Don't forget to wear some white socks as well!
9 – Leather Shorts With Long Cream Boots
Leather shorts can just never get old no matter what anyone says. If you want an outfit that's not too layered then grab your leather shorts with an elastic waistband that is cuffed at the bottom.
Pair it with a leather cropped tank top with a square-cut neck, and add in some classic cut beige knee-high boots and a white watch.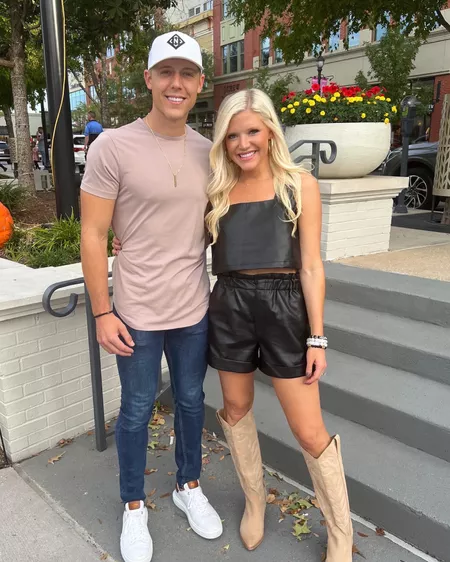 8 – Velvet Co-ord Set With White Pull-Over Sweater
The article can't possibly be complete without mentioning velvet shorts! These velvet black shorts are a combination of a skirt and shorts, a skort if you may.
They can be combined with a belt across it, paired with a matching black velvet blazer with a white knit pullover sweater tucked in the skort. We don't want you to catch a cold so add in some seamless leggings and your favorite black combat boots!
7 – Black Mid-Length Shorts With Cream Shrug And U-Neck Top
Going out for lunch with your friends or family? This look is the one for you. Mid-length black shorts paired with a matching black top tucked in the shorts with a u-neck.
On top of that, there is a long oversized cream shrug with cuffed sleeves. Match this with white sneakers, a cute black handbag, and some brown shades.
6 – Black Buttoned Cardigan With Thigh-Length Shorts
This cozy outfit is not only comfortable but fashion-forward. This co-ord set features a cozy fleece thigh-length short paired with a black buttoned cardigan with a v-neck and cuffed sleeves, tucked in the shorts.
This simple look can stand out with just a tiny pop of color from your favorite pair of funky socks!
5 – Black Denim Shorts With Cream Square-Toed Heels And White Blouse
More denim shorts!! This look features high-waisted black denim shorts with a white blouse tucked inside. The white blouse has a strap going down the side while the other side is strapless.
Pair this look with some square-toed cream-heeled sandals and classic black sunglasses and a long strapped black bag to take some Instagram-worthy pictures.
4 – Black Denim Shorts With White Crew Neck And Grey Blazer
Mini shorts are sexy and they allow you to show off some extra skin. The outfit showcases black mini denim shorts with a white crew neck blouse tucked inside.
Additionally, add a patterned white and black blazer with rollover sleeves and black combat boots. To bring the look together, put on some rings and tada you're all done.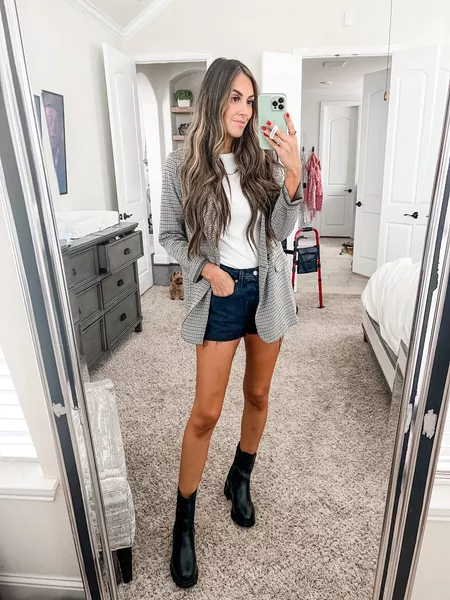 3 – Seamless Black Blouse With Comfy Shorts
Looking for something that's a bit riskier and out there? Then this is how you should style your black shorts. Take out your mini loose and flowy black shorts with a stretchable waistband.
Wear a funky-colored sports bra on top like the look below showing an orange padded one. Put on a seamless mesh black crop top that covers your hand, add in some sneakers and the look is complete.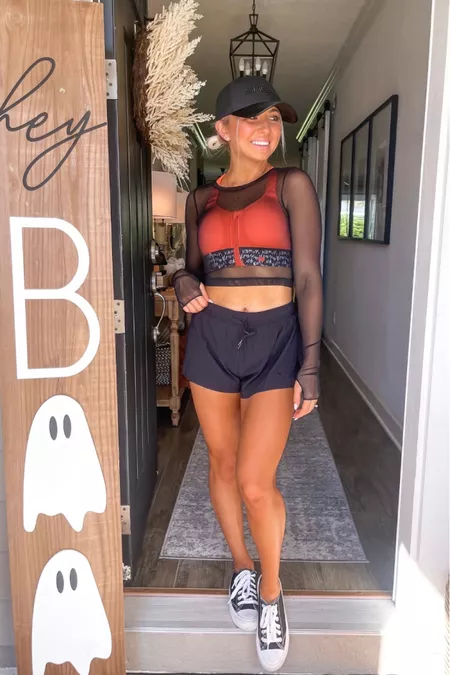 2 – Distressed Black Denim Shorts With Square-Cut Baby Pink Blouse
While these may be denim shorts, they are a little unique. These distressed and ripped black high-waisted denim shorts are presented as a skirt so essentially a skort.
They can be paired with the cutest baby pink body con with a square-cut neck tucked inside the shorts. Combine them with white sneakers and you have an entire look.
1 – Black Puffer Jacket With Biker Shorts And Black Blouse
The last look but definitely not the least features a fitted mini short paired with a black top tucked inside the shorts. Matched with the outfit are a fany pack going across the waist and a cropped warm puffer jacket with cuffed sleeves.
Pair it with white joggers and matching white socks to complete the look. Don't forget to add a cute little muffler for that pop of color (and to stay warm of course pfft).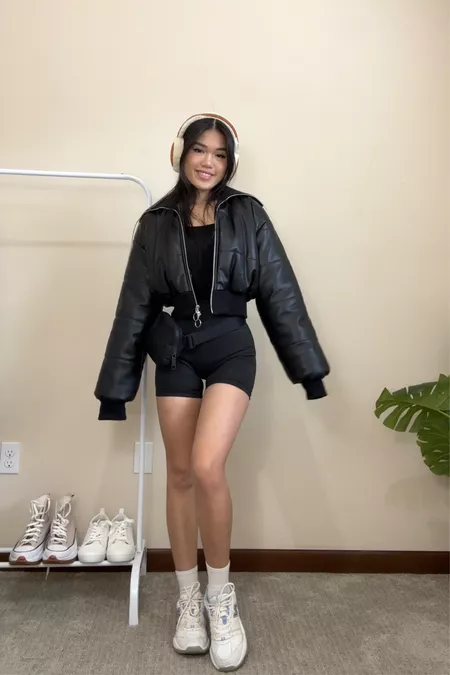 Frequently Asked Questions
Q. What shirt goes well with black shorts?
A. The answer to this question depends entirely on what you're going for. If you want a more wintery outfit, pick darker colors to pair with it, and if you want to go for a softer and contrasting look, go for pastels and whites. Either way, there is just no going wrong with black shorts because they're such a staple item.
Q. Are black shorts hotter to wear?
A. The color black generally absorbs more heat by absorbing more wavelengths while lighter shades or white, in particular, reflect those wavelengths and hence do not absorb as much heat making it a better color for summers and black a better color for winters.
Q. Does black make you look slimmer?
A. Yes, it does! This is because it draws your eyes more toward the hands, head, and arms making you appear taller and slimmer. It also helps hide the bumps and bulges that might look more prominent in light colors as they highlight the areas and contours due to the shadows which are more visible. So, in short, black does help make you look more in shape.