Cowgirls are well known for their unique fashion sense involving cowboy boots, hats, and fringes. Living in the city, you can sport a similar look by adding a few of these staples to your wardrobe.
Go through our gallery of 25 different styles to help you dress up like a country girl. Here's everything that we'll cover:
Video Summary
Styling Tips
A

denim shirt

is a classic cowgirl staple. Choose a fitted or slightly oversized shirt to wear as a top layer.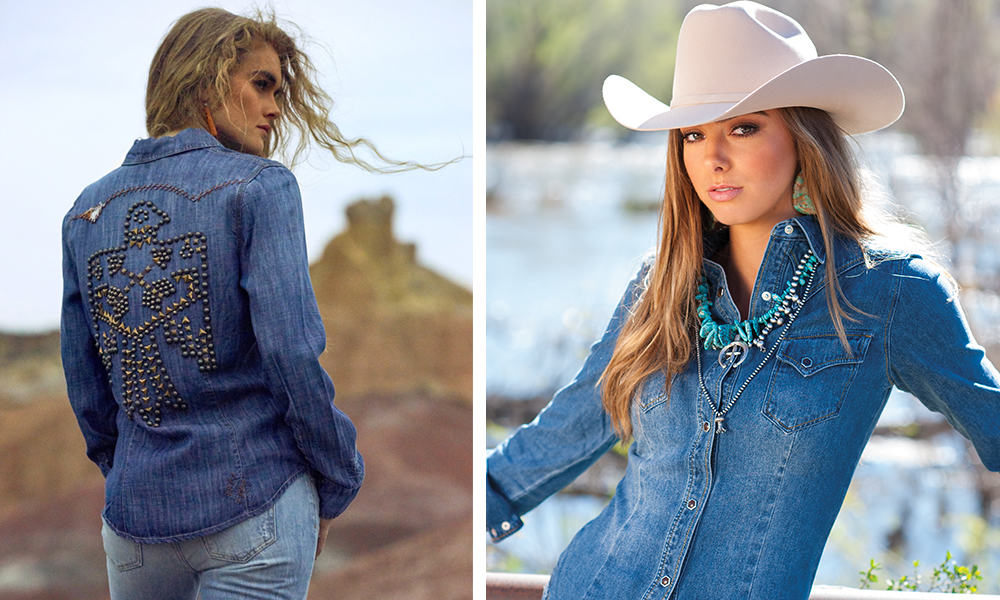 Intricate and embellished leather jackets can be part of your casual outfit, and they are a great symbol of the countryside style.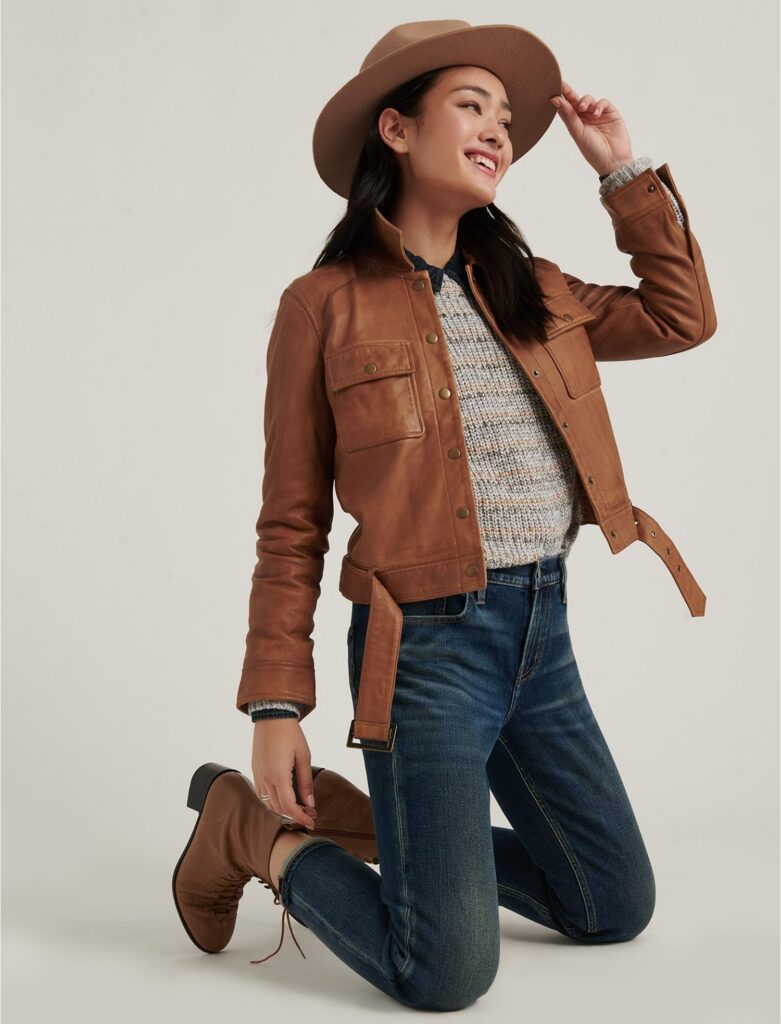 Choose a pair of fitted jeans or denim shorts to wear with your shirts. Make sure they're comfortable and easy to move in.

A belt with a large buckle is a great way to add a touch of Western style to your outfit. Choose a leather or suede belt in a natural color such as brown or tan.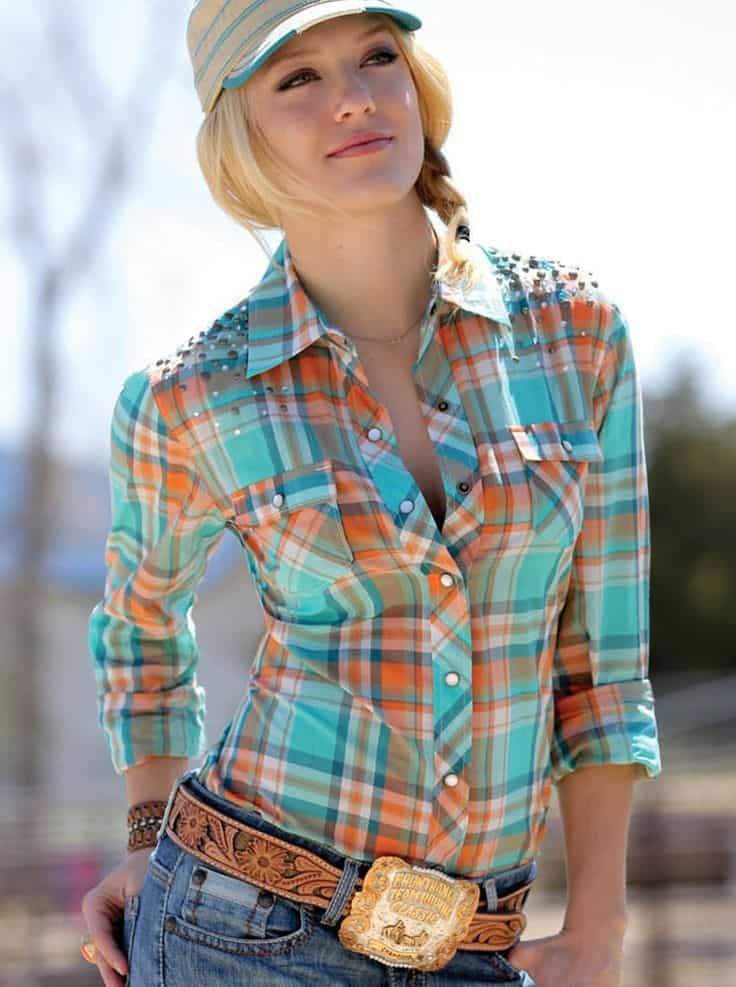 You may add tall cowboy boots to your casual outfit.

Go for eye-catching accessories

like beaded neckpieces that can totally steal the show.

A hat is a signature cowgirl accessory. Add some Western-inspired jewelry such as a turquoise necklace or a silver bracelet.

For Fall or Winter, a denim jacket is a versatile layering piece that can complete your look. Choose a fitted or slightly oversized jacket in a classic blue denim color.

Dresses

25 – Cute Country Girl Look for School Prom

This beautiful gown is an amazing idea for a country girl look and is also great to wear at daytime weddings, prom, or other formal functions.

Light brown boots look fabulous with a pastel-colored dress like this one. The waterfall braid with curls is an excellent idea to sport to a formal event.

24 – Country Girl Look

Do you want to do the country girl look without looking overdressed in a casual setting?

Wear your tribal print dress with high boots, and pair the look with a lovely handbag.

The fringes go well with the entire theme; however, if you aren't too fond of them, you can surely give them a miss.

Altogether, this brown and red combination is subtle yet beautiful, and we would not mind wearing this out with friends.

23 – Fashionista Outfit

This black and white combination looks fabulous with wild accessories such as black thigh-high socks and heeled booties. Black hat, chains, statement ring, smokey eye makeup, and curled and blow-dried hair for the proper look.

22 – Embellished Top

This ethnic-style embroidered tunic is great for a classic look. With these lovely chocolate boots, you can incorporate a nice black wide-brimmed hat for any summer day.

21 – Gothic Theme

Gothic-inspired people love to dress up in black, lace, and vintage, and this all-black, laced getup is a charming idea for Halloween.

Also, you can take some inspiration from the dress, such as having lace leggings incorporated with a pretty frock for an evening invite or these nice shoes with a summer dress for a high tea party. Here are some more tips on How to dress Goth.

20 – Country Style Wedding Dress

Weddings nowadays are far more complicated than a couple of years ago. With the recent trend of organizing themed weddings, we would understand your concern about dressing up as a cowgirl while being a bridesmaid.

However, there is no reason to worry anymore as we bring you a super glamorous and comfortable look to sport at your best friend's wedding. This ruffled lace dress is a great outfit idea for bridesmaids.

You can find such dresses in multiple colors that are appropriate for weddings. Furthermore, to keep up with the theme, you can either wear a funky jacket or some boots to stand out among the crowd.

19 – Wedding Gown

A flowy Western-style wedding gown is amazing for country-themed weddings. Ever seen a bride this beautiful and happy? We adore this cowgirl look that this bride sported on her Big Day.

If you are a country girl or even a big-town girl wanting a cowgirl look like this one, all you need is a funky and cool jacket. Cowboys and cowgirls are known for their trademark style involving jackets and boots with intricate embroideries.

18 – Leather jacket With Maroon Plaid Dress

Plaid patterns are countryside favorites and the best part is that they are incredibly easy to style.

You can go for the plaid print, wearing it as a cool top, or you may go for a long plaid dress instead. While going for a plaid dress, we recommend throwing in a leather jacket or a fringed cardigan to keep with the theme.

Another lovely idea is to wear plaid tunics and tie belts around them to accentuate your figure.

If you liked the plaid look shared below, you would also love these 18 best check-shirt outfits for more inspiration.

17 – Beautiful Lace Dress

Despite being minimalistic, this lace dress indeed makes for a great look. The light minty shade of blue with some white lace detailing is just what you need for the upcoming Spring season. The brown boots and a similar colored fringed jacket would be the right additions.

16 – Taylor Swift's Country Look

No one pulls off a country girl look better than Taylor Swift. Taylor has always branded herself as the girl next door with her beautiful blonde hair, bangs, and innocence on her face. Her songs have only affirmed that.

What makes it all true is also her choice of outfits that are simplistic and easy to pull off. You may replicate her look by adding a cute Summer hat or some boots for the ultimate cowgirl style.

Jeans & Shorts

15 – Wide Boot Cut Pants

If you have been following the recent fashion trends, you would know how popular denim bootcut pants have become. They have been sported by several celebrities recently, like Kendall Jenner in the West and Kareena Kapoor Khan in the East.

They can help you get deep into character when paired with the right kind of clothing and accessories.

This asymmetric top with a hat and long necklace gives us major Texan girl vibes. What is important to note is how that trendy bag adds just a bit of the needed finishing. The fringes on the bag are just like a cherry on a beautiful cake.

14 – Fashion Runway Inspiration

This cowgirl-themed runway outfit is also an innovative attire for a winter outfit. You can pull off a leather jacket with it.

13 – Plaid Shirt with Jeans

This is the simplest and perhaps also the easiest look to recreate.

12 – Selena Gomez Inspired Look

Animal prints can also look nice with any country outfit as shown here: denim shorts and a white tank top with a belt, animal print scarf and booties.

11 – Winter Casual

Grab a wonderful sweater like this one with a black hat and boots for a casual winter look. While dressing up according to a theme, it is essential to do justice to it. You can do that by getting all the elements right.

10 – Jeans with a Monroe Tank top

9 – Summer Look

Getting a themed look during summer may not seem easy, but it isn't too hard. Grab a printed top and wear it with some shorts, ideally leather ones. Throw in some black boots and a hat to achieve perfection.

8 – Modern Cowgirl Attire

Here is how to look your best at a girls' night out. Why look for an excuse to carry a gorgeous branded bag like this one? The plaid shirt tied around the waist is precisely why we love this attire. For more ideas, check out these fabulous girl's night-out outfits.

7 – Cowgirl Turns Cowboy

Check out this blend of cowgirl and tomboy look. Put on a hat to enhance it some more or go for any of these Menswear Inspired Outfits Ideas.

Skirts

6 – Denim Day for Winter Outfit

The flowy white skirt looks amazing with this navy blue denim shirt.

Always remember that belts are a must-thing in your wardrobe if you are a cowgirl or planning to be inspired by their dressing style.

With this outfit, let your hair down for a stylish look and take a brown leather clutch. Next, notice the fancy brown boots which complement this outfit.

You can also try black over-the-knee boots with it.

5 – Pair Basic Colors with a Tribal Print Skirt

While tribal prints have nothing to do with cowgirls, we do not see a reason not to wear them because of their vintage feel.

Accessories & Shoes

4 – Pair Blue with Natural Colours

These dresses can be easily used as casual wear, and their beautiful accessories create a lovely look.

3 – The Sheriff Look for Halloween

Wear this dress with a wide black leather belt as an accessory, and you are good to go to any Halloween party.

2 – Cowgirl Hat

You cannot pull off a cowgirl costume without a hat like this one. Wear it over a casual outfit to make a style statement while taking a stroll or on vacation.

We recommend going for a plaid pattern shirt to go for the real feel of it. Additionally, we would love to appreciate these stunning chunky necklaces added for a tribal look. The blue stones make an attractive appearance and add the right color to any dull-looking outfit.

1 – Cowgirl Shoes

While purchasing boots, I would recommend a trendy and unique style like this one.

The suede look, lace-up design, and block heels make them look super comfortable and modern. You would want to wear these to your next vacation. Put these together with a gorgeous little dress for the ultimate Summer look.

These hot red western-style boots are another lovely footwear idea for a cowgirl look. Too hot to resist! The best way to uplift an ordinary outfit is to wear it with some statement shoes or great accessories. Looking at these red booties, we would totally want to steal these to pair with our outfit.

If you want a casual look without going overboard with the theme, you can go for these heels with a leather jacket, and you are good to go. You can also wear these heels if you plan Valentine's date with your girl gang or significant other.

Our Favorite Cowgirl Outfits & Items to Buy This Year

The cowgirl fever really had us searching different websites to look for outfits, shoes and accessories that are actually wearable. We went for pieces that can easily be incorporated in everyday looks, without feeling out of place. Here are some of our personal favourites:

This white skirt with fringes is a pretty versatile piece as you can pair it with a number of different tops. For colder days or just to make it look more modest, you can wear tights or leggings under it.

As a fabric, chambray has pretty much all the characteristics of denim but it is much softer and more comfortable to wear. This is why we love this country-style dress and its cutest puffy sleeves. The smocked detailing at the top are a stand-out feature of this dress, especially at such an affordable price.

Another very useful neutral item for your collection. It looks great when worn with a cowgirl themed graphic tee and shorts or jeans.