Best Snakeskin Print Outfits: Animal prints have always been a big part of fashion, be it shoes, handbag, clothing items, or accessories. But this season, snakeskin print outfits are for the win, and women around the world are taking over the fashion world with their jaw-dropping snake print pieces and the way they style them. It's versatile, it's regal, and the best part is you can pull it off with almost anything.
Snakeskin print has dominated the fashion world for over a year now, and from what we can tell, it's here to stay because it's showing no signs of stopping anytime soon. So, ladies, it's time to get slithery and bite back!
How to style snake print?
If you're hoping to jump onto this slithery bandwagon, then you came to the right place. In this article, we've got plenty of inspirations for you on how you can style snake print.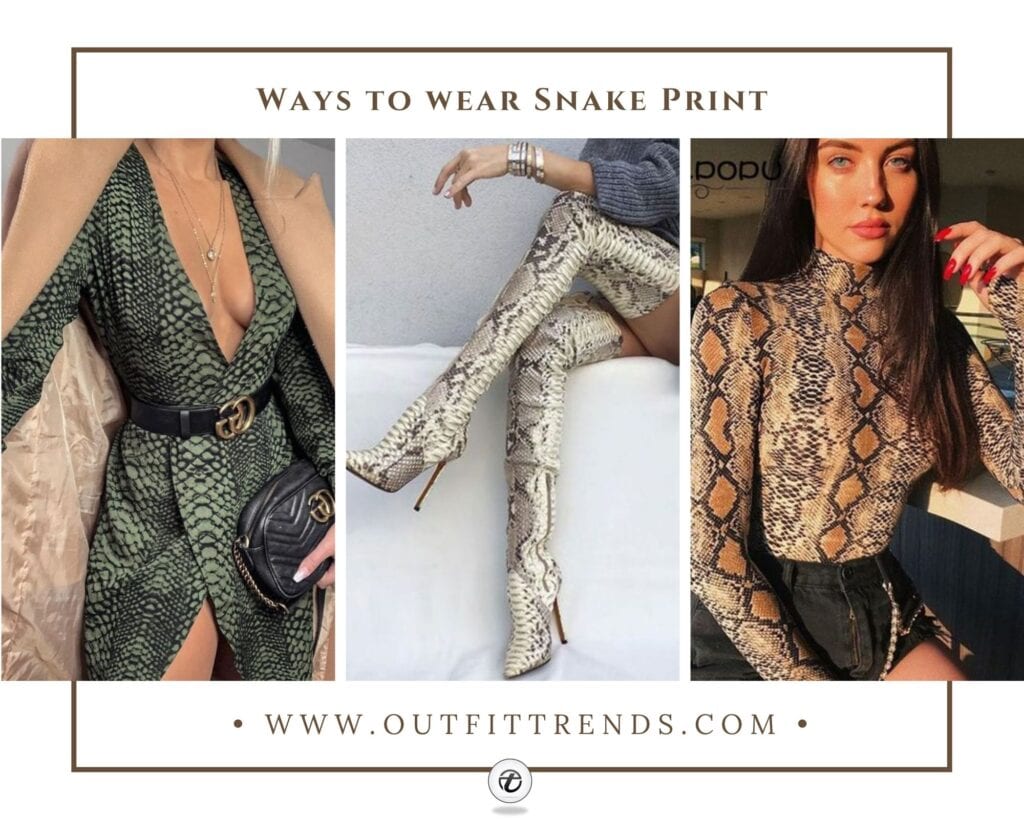 Where to buy Snakeskin print outfits?
If you want to be a part of the fangs gang, then check out this list of snakeskin print must-haves because it's time to shed your old skin.
Urban Outfitters Neon Snake Print Funnel Neck Top
Miaou Lex Snake Print Cropped Jacket and Beatrice Snake Print Trousers
Jessica Simpson Snakeskin-Print side tie swimsuit
Treasure and Bond Snakeskin Print Belt
ZARA snake print dress
Amalfi by Rangoni lacopa Snakeskin Print Bootie
ASOS Unique21 Hero Plus Oversized Coat in Snake Print
Uterque Snakeskin Print Shirt
French Connection Desta Snakeskin Print Jacquard Long Sleeve Minidress
ZARA Snake Print Trousers
#34. All Snake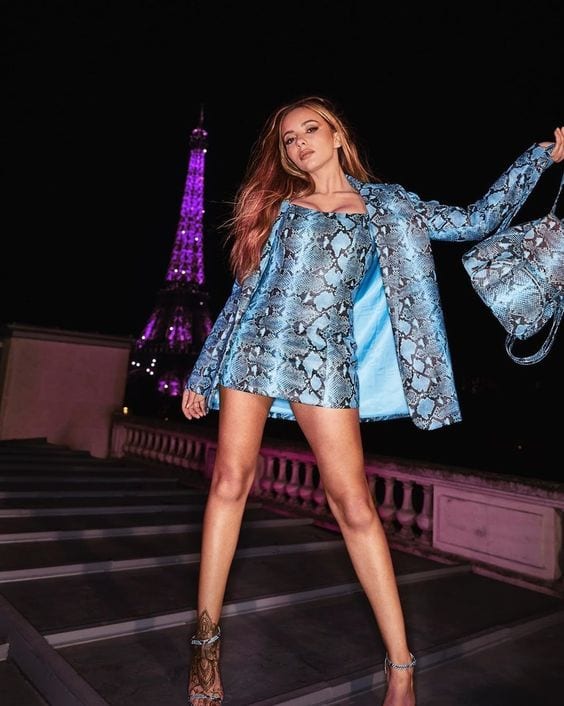 If you're heading out to Paris, then you can always outshine the Eifel tower in all Snake; bodycon, overcoat, and your backpack all in matching snakeskin print, and you're ready to take over the city of love in style.
#33. The Snake will always bite back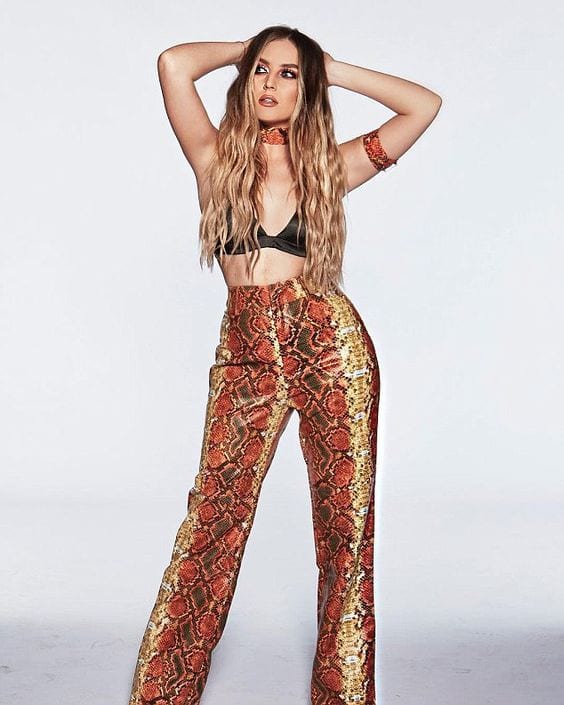 Trousers, choker, and armband in snake print, this looks like a Coachella-worthy look. The beach waves surely add to the look. What're you waiting for? Get your Coachella tickets now that you have the outfit for it!
Check out more cute animal print outfits for women to wear this season.
#32. Snakes are friends, not fangs!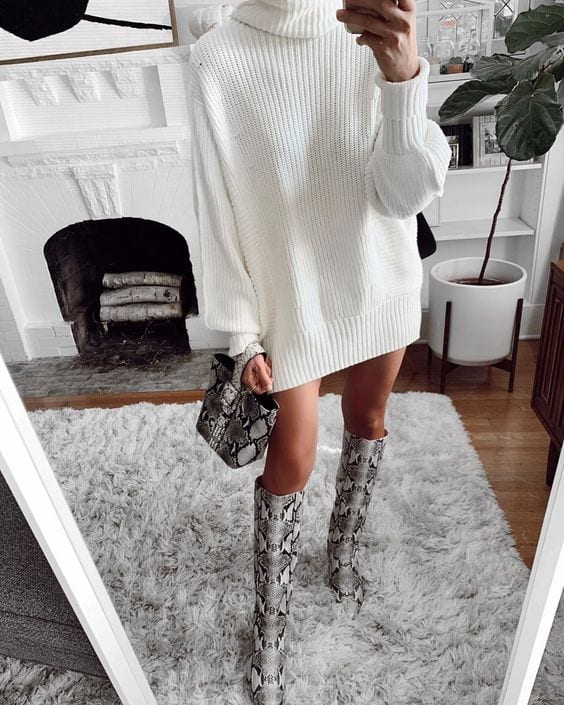 Accessorizing this white sweater dress, the matching snakeskin print long boots and handbag are serving as its friends without a doubt. We love how effortlessly chic this attire looks.
#31. Bodysuit
As regal as snakeskin print is, get yourself a snakeskin print bodysuit and pair it with almost anything, and it will surely add to your look. Be it leather pants or denim, a snakeskin print bodysuit looks like a banger on everything.
#30. Long Coat and Silk Skirt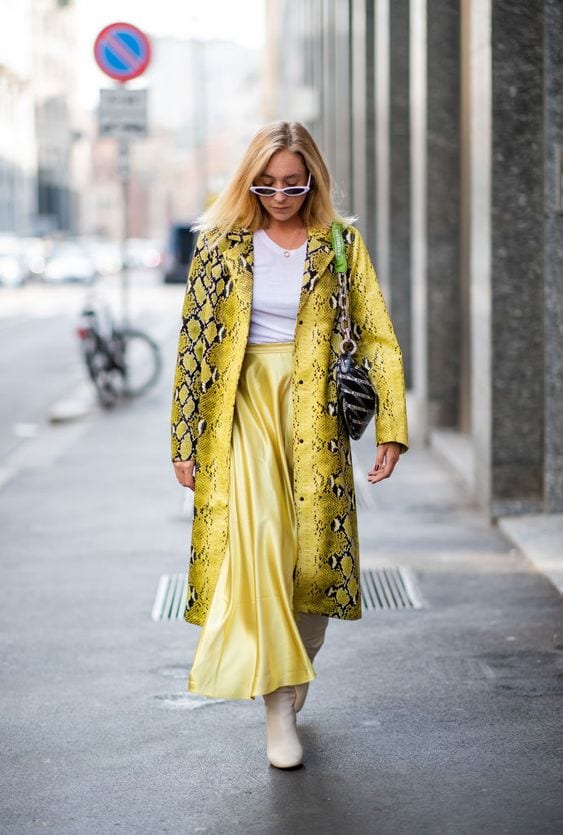 Take over the streets in style with this ever-so-chic long snake print yellow overcoat teamed with a long yellow skirt. This is a statement look for sure, and you'll be leaving the crowd stunned.
Check out more ways to style your long coats the upcoming winter.
#29. Stole you heart in Snake
source
We already love turtlenecks so much…But hear this out, a fitted turtleneck in snake print. We love how the red nails and the black denim shorts complete this look, making you look like the heartthrob you're meant to be.
#28. Snake all day, every day
Girl, making jaws drop in casual attire is a thing! Hop into this tube top and biker shorts snakeskin print set, take a round around the block, and you'll see for yourself what we mean by that. Complete your look with a high ponytail, polarized sunglasses, and a crossbody bag.
#27. Slithery Serpent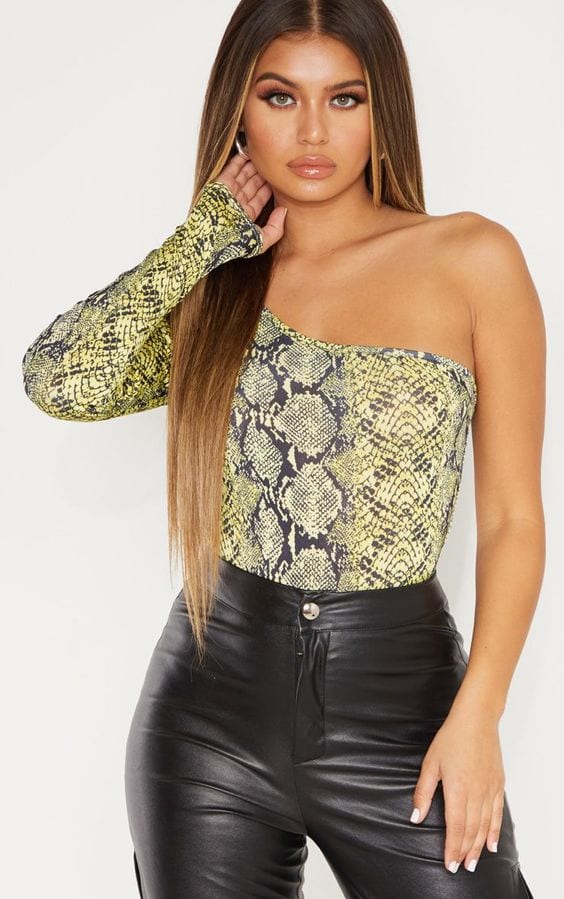 One-shoulder snakeskin print bodysuit paired with leather pants, and you're out there making heads turn in awe! This might just be the perfect outfit for a night out with the girls!
#26. Spoil your Snake!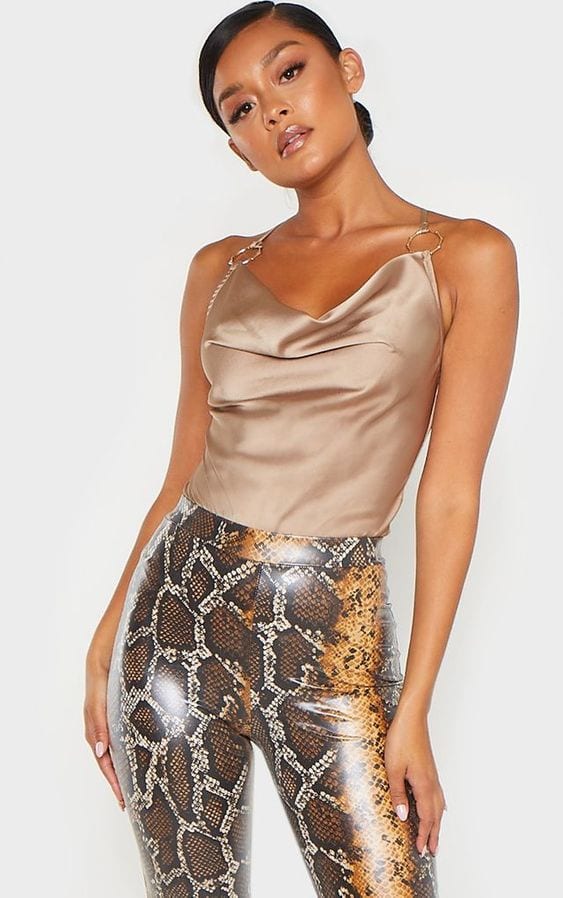 If you're looking to style your snakeskin pieces up a notch, then pair them with silk. We're a sucker for how good this silk top and snake print leggings combo looks!
#25. Show some skin in Snake!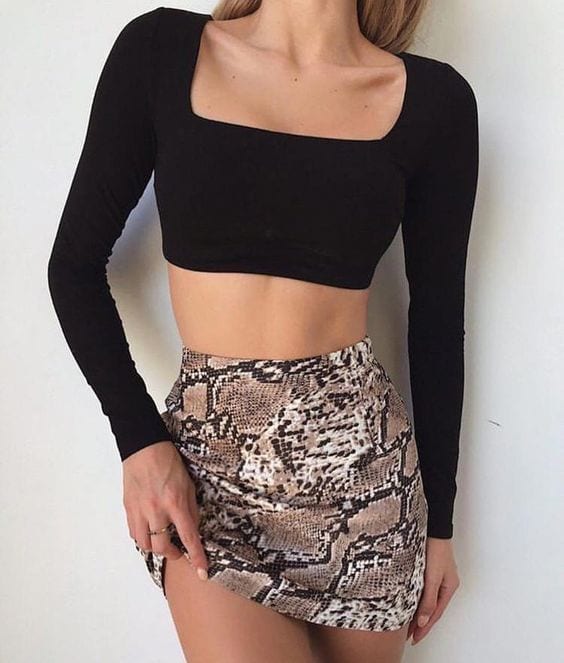 Minimalistic yet eye-catching, this look is how it's done, ladies! A snake print mini skirt with a black crop top will make the Snake print stand out, and all eyes will be on you wherever you go.
#24. Bell Pants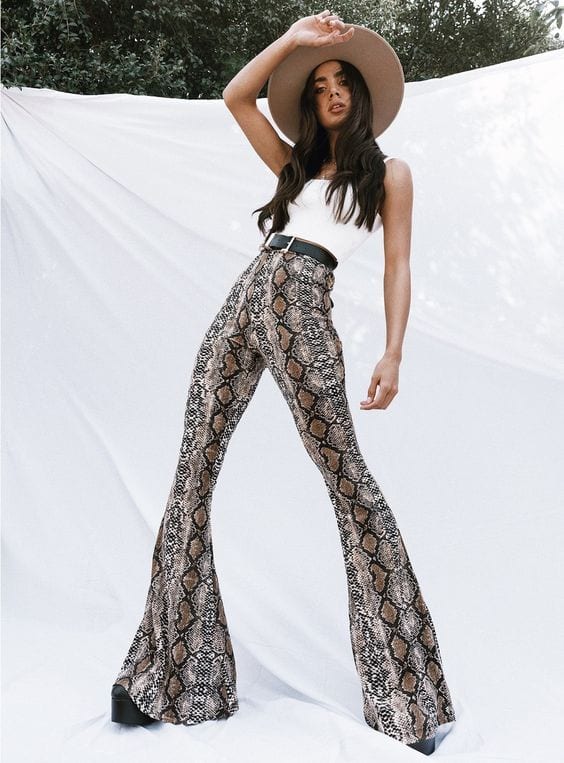 Bell pants are lightweight and breezy hence a must-have for summers, and what better time to let your Snake print shine than in summers. Pair with a hat and a sleeveless top, and it's the perfect way to beat the heat!
#23. Sss-spaghetti Strap Bodycon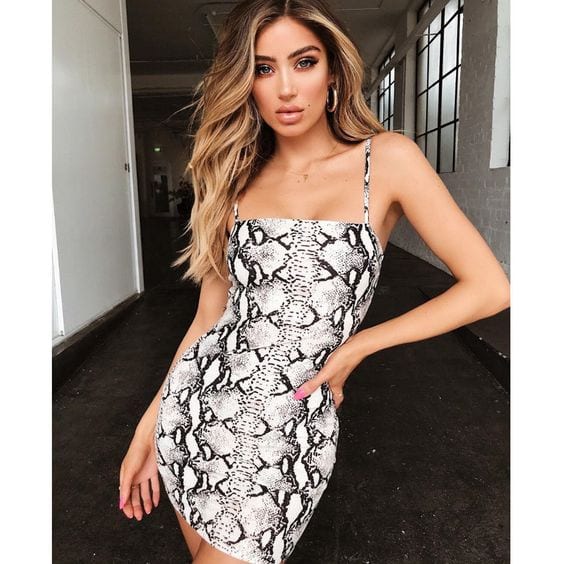 We've said it before, and we'll say it again bodycons are a girl's best friends. Show off your summer body and your latest snakeskin piece all in one look; what more could you want, ladies?
#22. You're gonna get bit!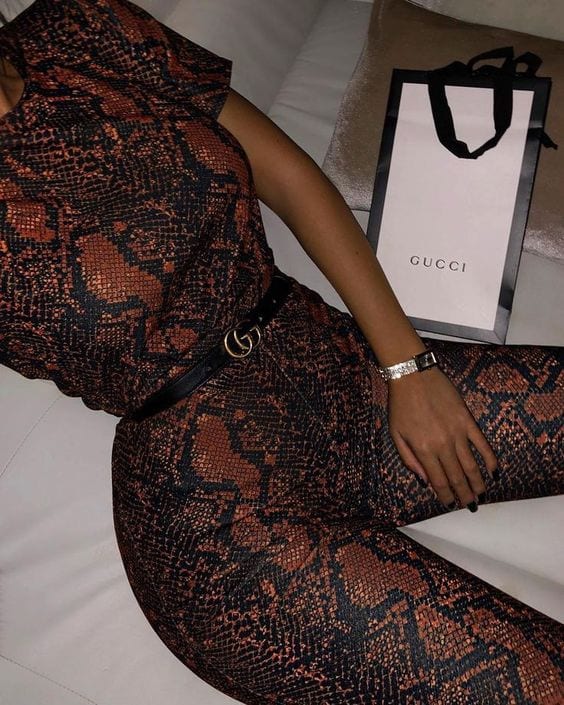 Bite em' back with this one-piece snakeskin print jumpsuit. Tie the look together with little or no accessories to let the snakeskin print have its moment like it's supposed to!
#21. Snake on Snake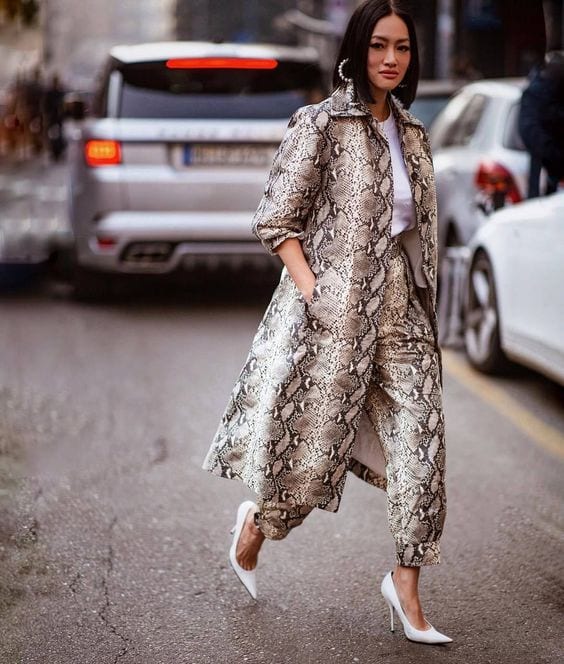 A little snake on snake magic will do wonders for your look, so get ready for all those compliments heading your way!
#20. Pink for the win!
Pink is always for the win when it comes to us girls. We've had a soft spot for pink ever since we got our first Barbie doll. Let a strapless pink snakeskin print jumpsuit with a matching bag do the job for you while you're on vacation or just having fun on a night out!
#19. Sheer fear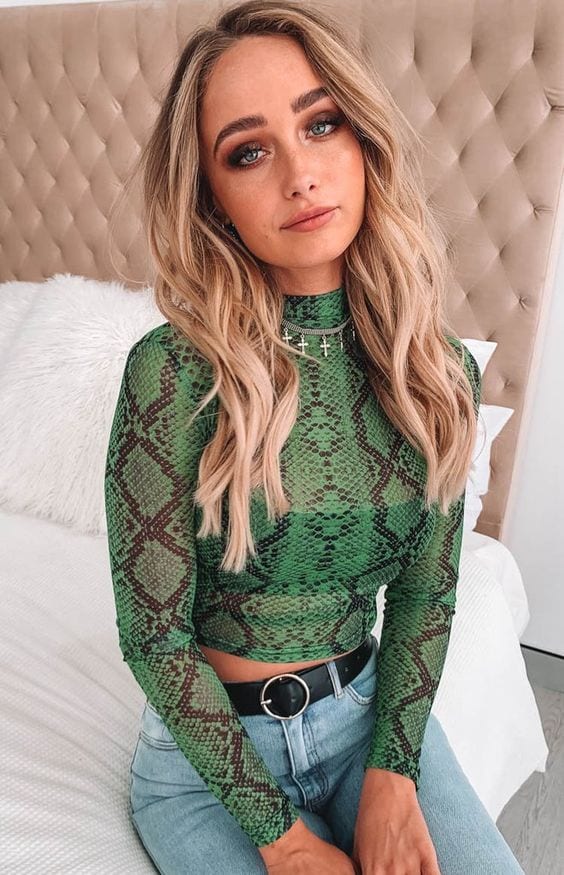 Sheer tops have a special place in our wardrobes, and they have to be our favorite pieces. Up your sheer top game with a Snakeskin print sheer top. Tie the look together with jeans and accessories and let the world admire you as you should be.
Explore more ways on how to wear and style your favourite light wash jeans.
#18. Front Knot Shirt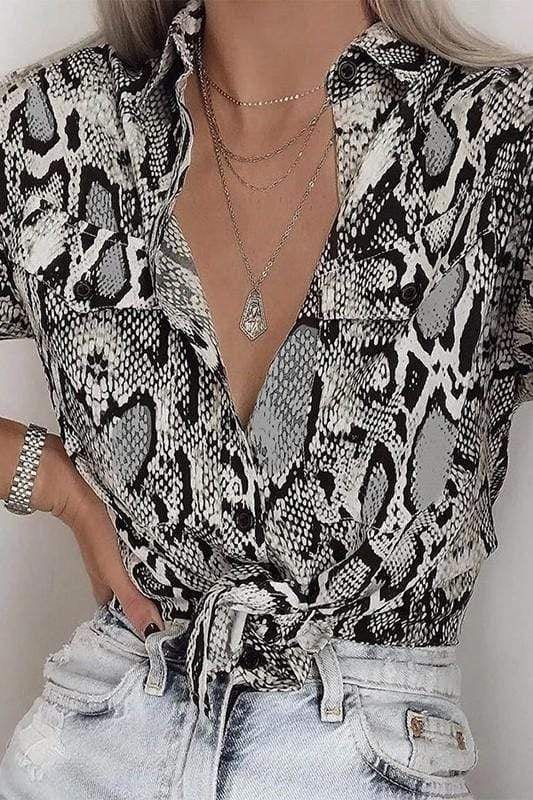 Front knot shirts get the job done, and if they're in snake print, then there's nothing better. We love how the layered necklace completes this look!
#17. Camel over Snake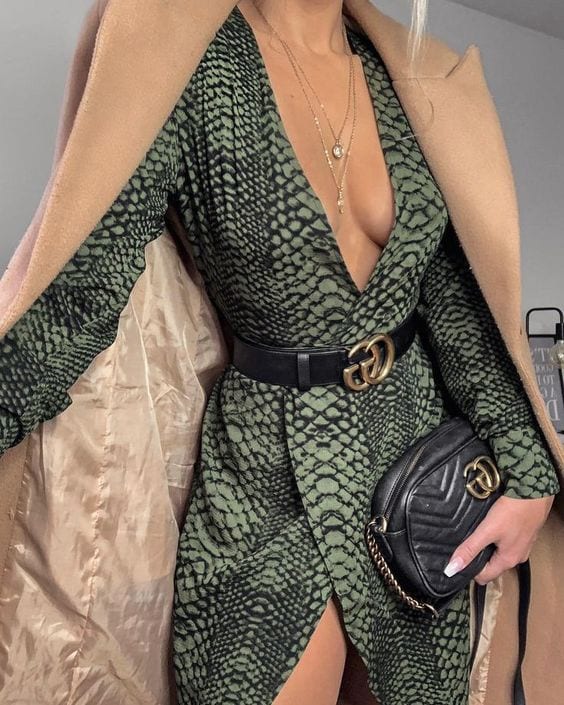 Ok, this look is to die for; camel over Snake, who would've thought? Elegant, classy, and stylish as ever; if it's getting a little chilly out there, then just let your camel coat hang over your shoulder while you show some skin with the green snakeskin print slit dress. Be it a formal dinner or a date night, this attire is the way to go, ladies.
#16. Double-Breasted Belted Coat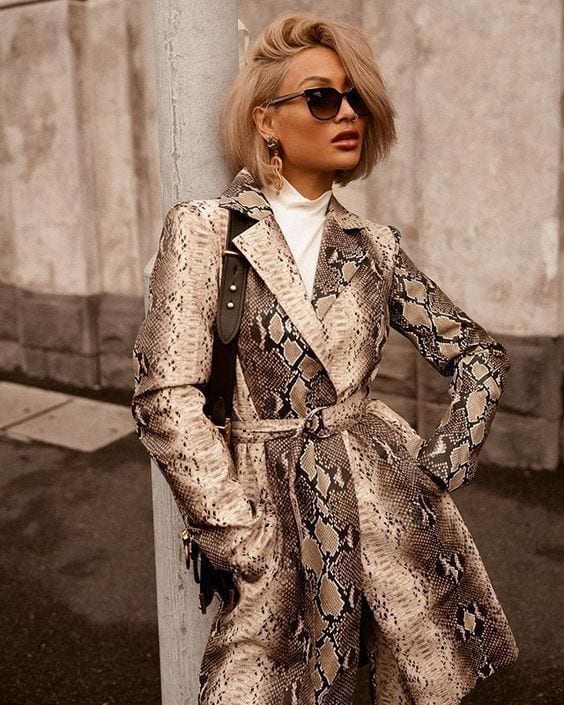 Talk about serving looks. The double-breasted snakeskin print belted coat is meant to leave everyone in awe. Tie the look together with your favorite shades, and you're looking no less than a celebrity.
#15. Snakeskin Print Leather Dress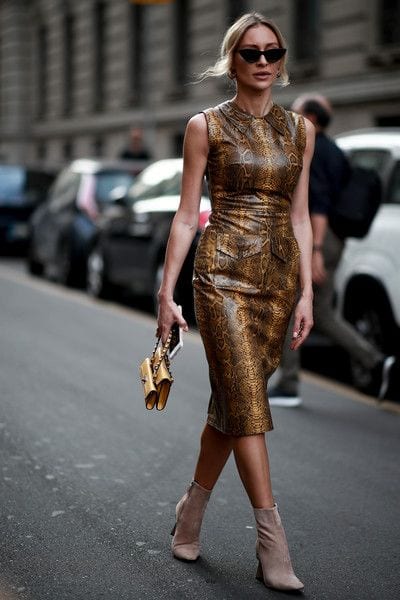 A dress with collars and that too in snake print; it's true, ladies, dreams do come true. Strut around town in this outfit, looking like the fashion icon that you are!
#14. Slither in Neon!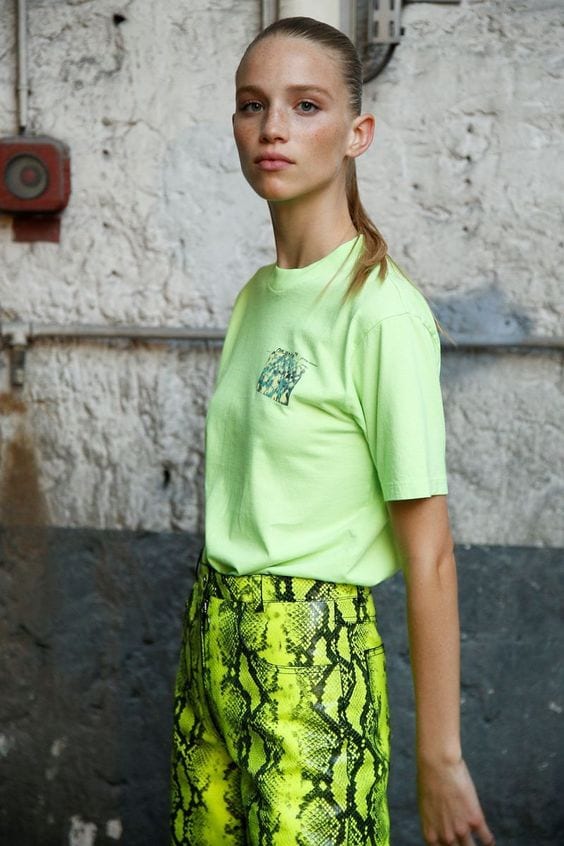 Neon looks are the strongest looks, and these neon python print pants are everything you've been looking for. Complete the look with a plain tee so that the pants can stand out because it's surely their moment to shine!
#13. Swimming Serpent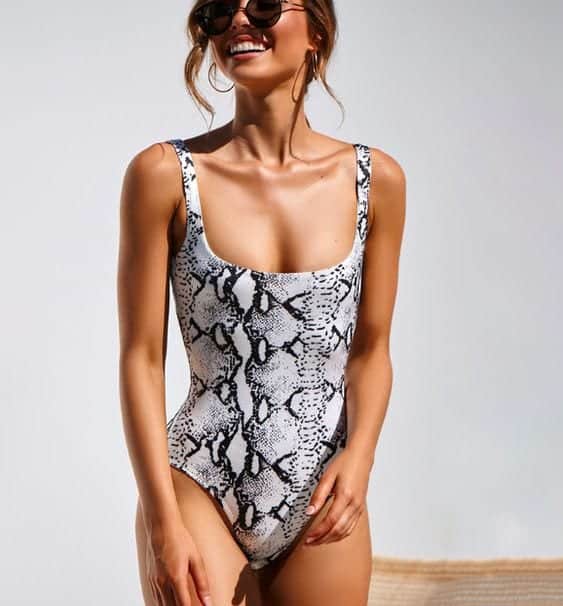 Give the other swimsuits a run for their money and go for a snake print swimsuit because who said you couldn't keep up with the latest fashion trends on the poolside?
#12. Maxi Dress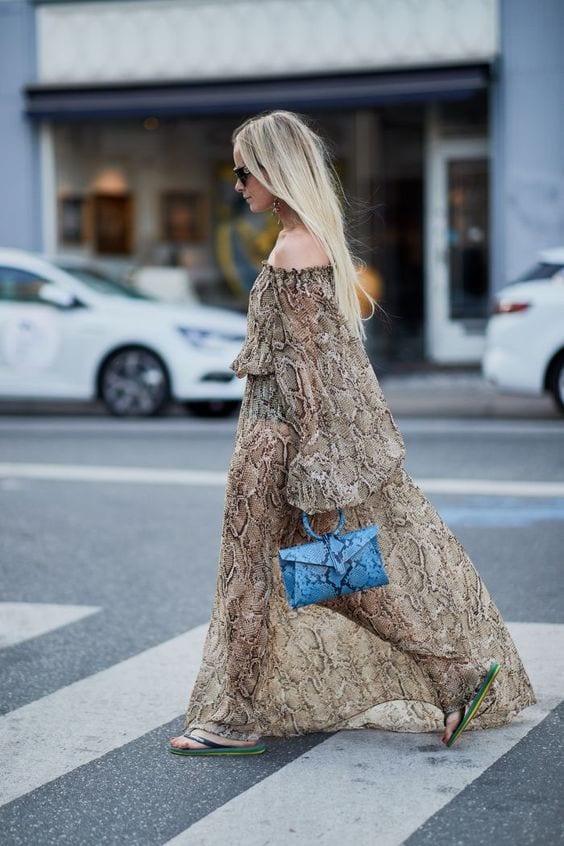 Maxi's are such a wearable summer look. Be it going out for groceries or a brunch with your girls, a snakeskin maxi dress will be your best friend on the hot summer days.
#11. Green and poisonous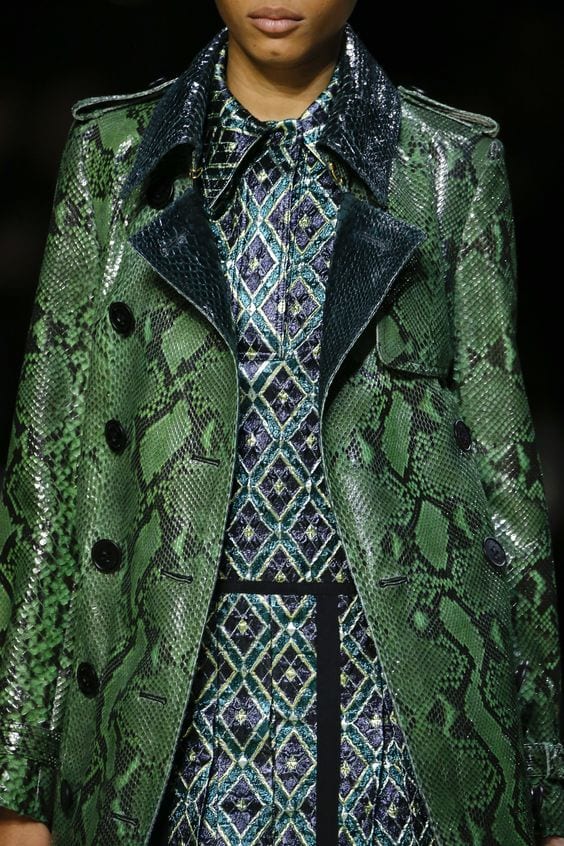 Did we say how deadly this green snakeskin coat looks? Throw on one and let the world know that you're a force to be reckoned with, and you'll take down everything in style!
#10. Blues Clues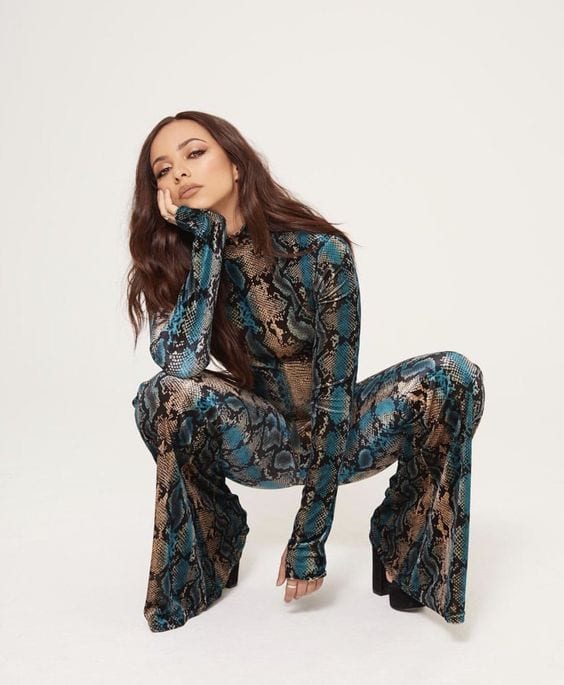 Going off-track from the usual neutral snake prints with this blue snake print jumpsuit is the best way to shake up your wardrobe!
#9. Leather Jacket and Pleated Skirt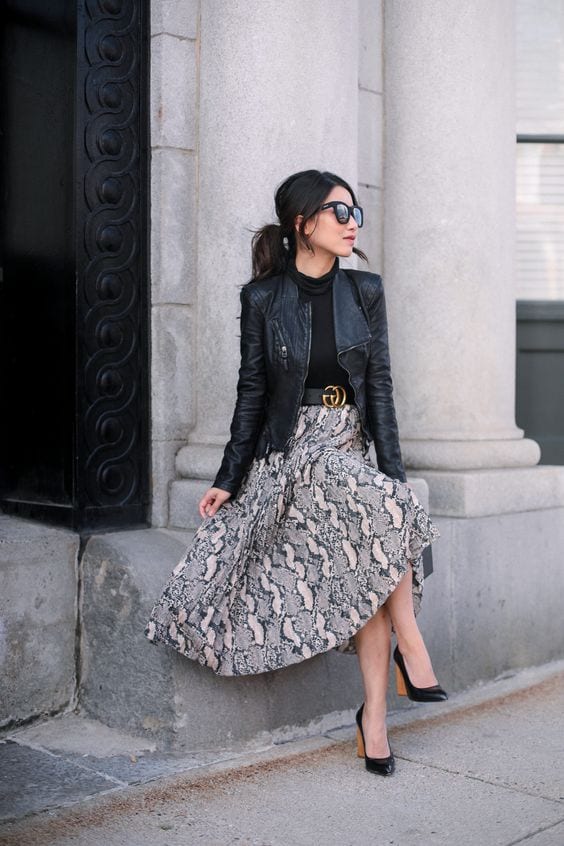 If you're wondering how to style your pleated snakeskin skirt, don't shy away from throwing on a leather jacket. It's an unconventional look, but it's all about how you carry it, and in all honesty, we think the snake print skirt is unparalleled when it comes to styling your leather jackets. Style it will accessories, and you're off to go leaving everyone awestruck!
#8. Snakeskin Hooded Sweatshirt and Pants set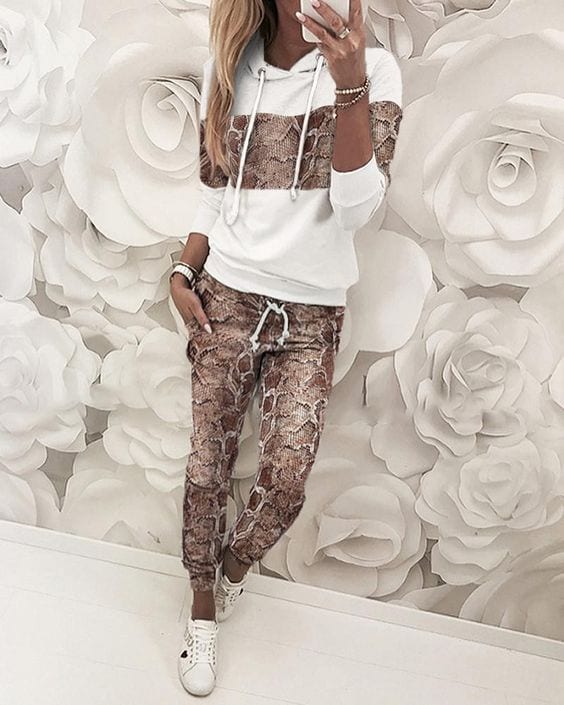 Take your casual wear to the next level by adding snake print to your loungewear. Be it chilling at home or a quick grocery run, leaving fashion behind is not an option! This is a sign to upgrade your sweats, ladies.
#7. Blouse and Sweater Skirt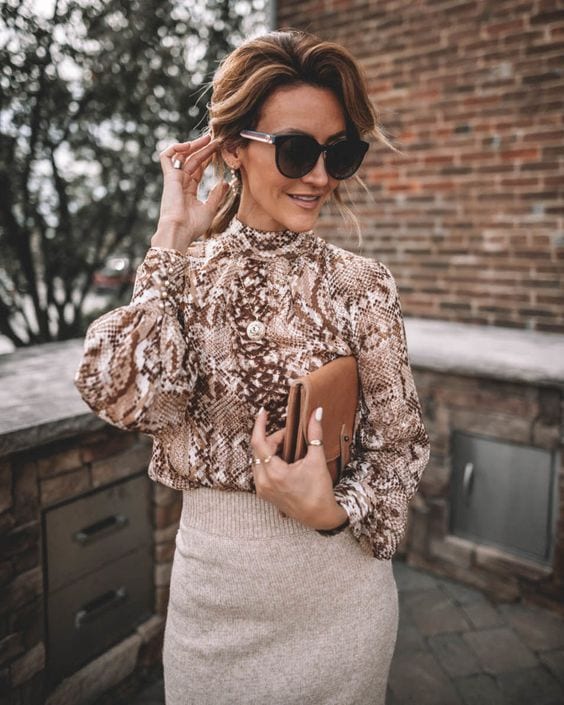 The cuffed sleeves of this snake print blouse give it a very formal look, and you can even wear it to the office if you're looking to add snake print to your office wear. If it's getting cold out there, you can always style it with a sweater skirt. Take over your office in style like the boss lady you're meant to be!
#6. Always carry Snake!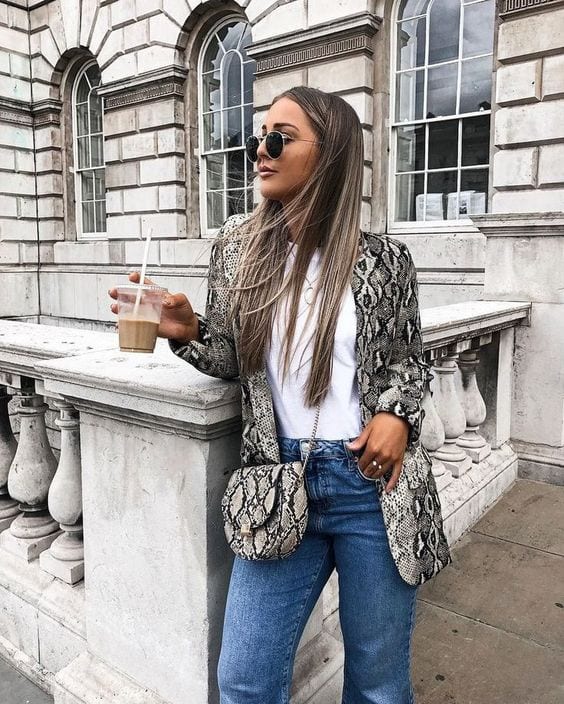 We love matching snake print pieces, and we can't lie that this jacket and bag look amazing together. It gives off a not-so-strictly formal look and makes you look stylish as hell. Pairing with a white shirt and jeans just brings out the Snake print more, and we're here for it! Grab yourself a drink because it must be exhausting looking so hot!
#5. Belted Romper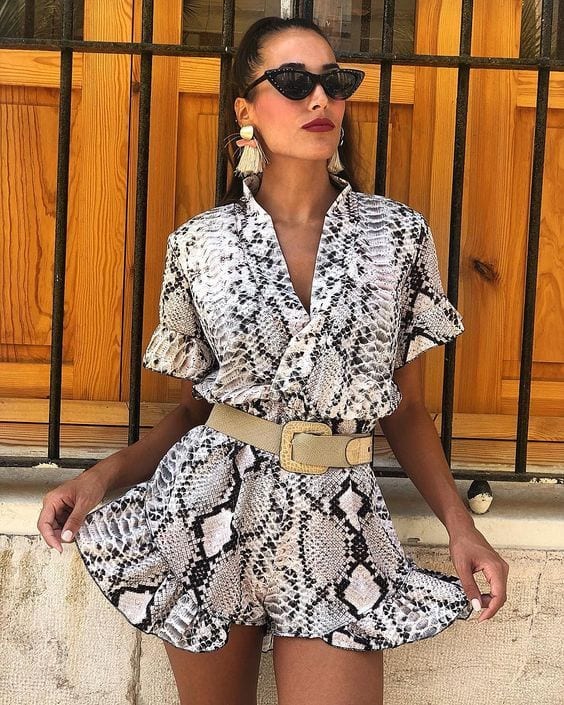 Rompers and summers go hand in hand, and it's the perfect opportunity to add snake print to your summer wardrobe. The easy-breezy romper will make you super comfortable in the summer heat, and with the snake print, you'll be looking more striking than the sun itself. The belt, earrings, and shades also do wonders for this outfit and give it that perfect summer attire vibe. So, ladies, you're ready for the summer tan while looking fabulous as ever!
#4. White Pants and Button Down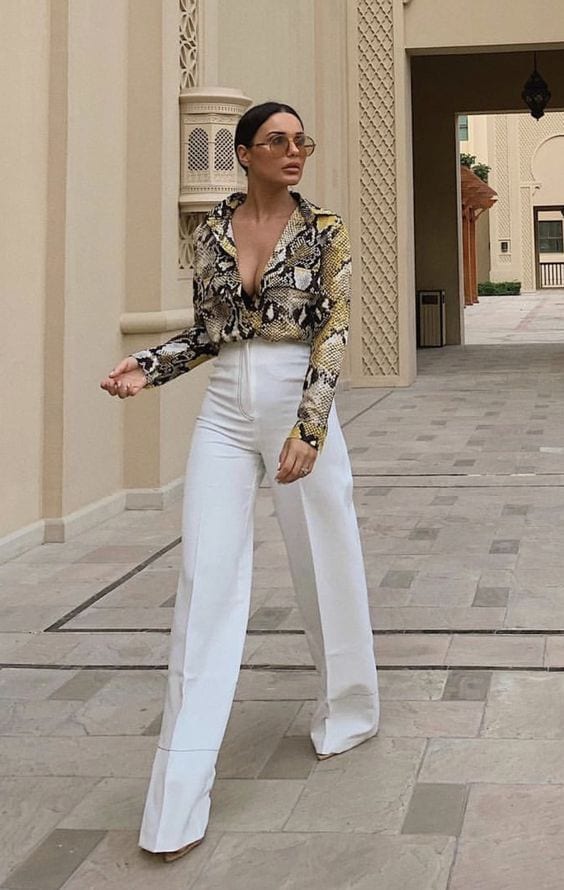 Pair your button-down snake print shirt with white palazzo-style pants, and it looks like you're dominating the fashion world as well as the corporate world! The shades just add to the look and add that extra touch of glam.
#3. All black and a hint of Snake!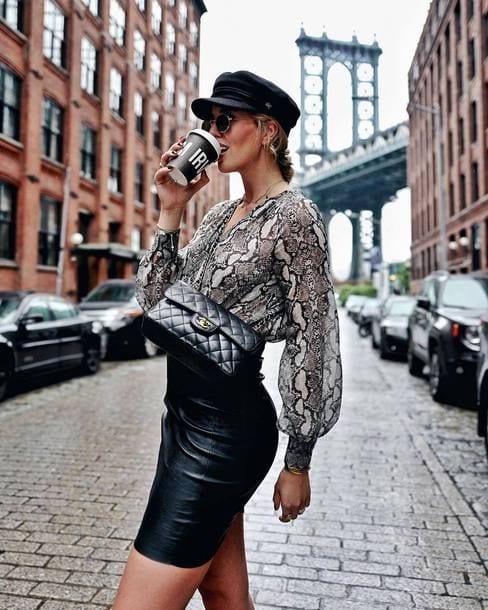 All black with the hint of Snake to make the world your very own runway. As chic as the beret and leather skirt are, this look is without a doubt incomplete without the stylish and classy snake print sheer blouse—top off your look with black shades and a cross body bag. You're serving some major looks, and we're not complaining because wow, girl, just look at you!
#2. Stilettos in Snake
Thigh-high boots have the power to make an outfit go from a 1 to a 10. If you don't believe us, this look serves as an example of how the snake print thigh-high boots just transformed a casual baggy sweater into an extremely chic and fashionable look. So ladies, toss out the leggings that you usually wear with your oversized hoodies or long baggy sweaters and buy a pair of thigh-high snakeskin print boots instead because these stiletto boots definitely add the glam to your oversized pieces!
#1. Snakeskin Print Slit Dress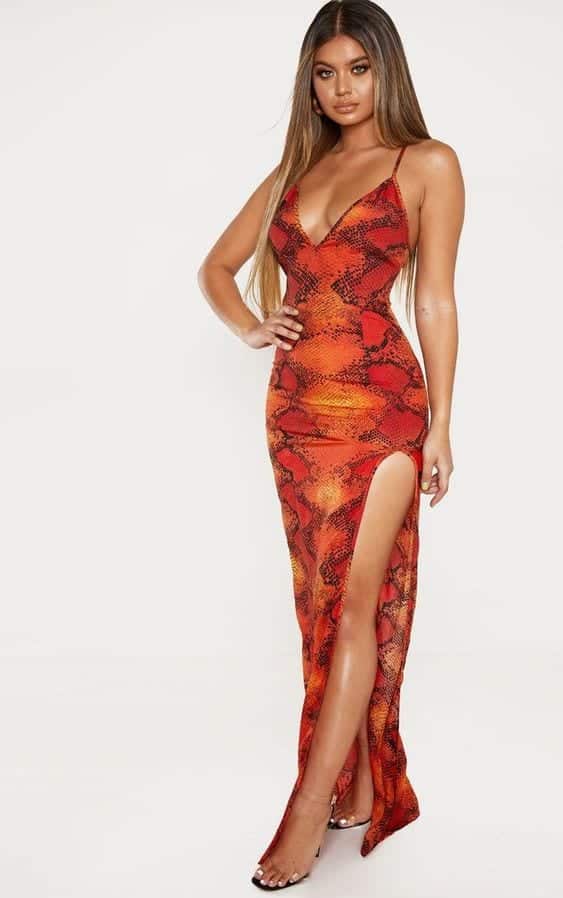 A dress with slits is how the ladies love it. This orange snakeskin slit dress is a statement piece and a must-have! The orange adds color to your wardrobe, and the snake print adds style to it, so it's really the best of both worlds, and you're hopping onto the trend in the best way possible! Be it a cocktail party or a beach party; you won't regret going out in this dress while those around you admire how stylish you look! So head out and bless their eyes because you'll surely be looking like one hell of a snack!
Frequently Asked Questions
Q.

Can Snakeskin print be worn to work?

A. Absolutely ladies. You can wear a snakeskin print to work. You can pair a snakeskin print blazer with an all-black attire or even add to your office look with a snake print bag or footwear. There's so much variety when it comes to snakeskin print pieces that there's always a look for any occasion or event.
Q.

Is Snakeskin still in style?

A. Although Snakeskin print has been dominating the animal prints for over a year now, but they never went out of style, ladies. Be it bags, shoes, or shirts, all of us own snakeskin print one way or another, and we let them have their moments every now and then.