How To Wear Sperry Boots Outfits – If you've ever been caught in the rain wearing white sneakers or snow boots with no tread, you appreciate the value of functional footwear.
This year, make sure your winter shoe collection is ready with Sperry boots, especially if you're planning a trip to a colder area, with muddy or wet areas. These boots are wardrobe must-haves not just because they keep you dry in the rain and snow, but also because they're stylish and fashionable. Sacrificing style because the forecast predicts a light storm isn't practical, so a fashionable shoe that can survive the weather is a must-have for everyone's wardrobe.
Sperry come in many different styles and shades and can work with many different types of clothing and outfits especially as they come in different color combinations, from the body of the shoe to the laces too. They can be personalized according to one's preference and that is why they are considered so versatile as they can be made to work with numerous different outfits. Known for their durability and comfort. The inner lining is also extremely soft, like a fuzzy blanket for your feet, which is especially important in the cold. Any boot that can provide a touch of aesthetic while still providing comfort and durability is a winner.
Outfits to Wear with Sperry Shoes
Sperry boots are both functional and chic. The boots' rubber texture and cozy micro-fleece inside make them ideal for chilly, wet days, but the on-trend chunky Chelsea silhouette makes them worth having in your closet regardless of the weather. Leather leggings with a thick knit sweater are a simple and easy way to wear them. They'd also look great with something like a sweater dress and simple tights for a somewhat more elevated look. The possibilities are truly unlimited, especially with the wide range of color combinations available.
Styling Tips
Don't opt for Sperry for formal events. Essentially, these are boat shoes and they will not work for very formal events and occasions as they will look very out of place. They will not tie in with the sophisticated and clean look of the formal attire.
While the thick knit sweater and tights look is a classic that you can never go wrong with, be open to other options too. For example, a sweater layered over a simple daytime dress would look great with the them!
Don't opt for baggy jeans or pants with the Sperry. They will hide the boot and prevent the dimension that the boot brings into the outfit. They work best with skinny jeans or tights.
If your duck boots aren't quite as tall as typical riding boots, DO tuck the edges of your pants inside the boots for a polished appearance.
20 – Fluffy White And Beige Boots with Matching White Sweater and Beige Pants
This neutral outfit combination is minimalistic and cute, and it gives light academia vibes. The classic Sperry boot over here is taken to the next level by elevation with the white fur detail which draws attention to it and adds another texture to the outfit, making it all the more unique. The shoes match perfectly with the color palette of the outfit and are so easy and effortless. This can be styled which gold rings, sunglasses, and a dark brown statement purse.
19 – Blue and Brown Boots With Matching Turtleneck and Jeans
These high-tops boots come with a faded leather finish and a dark blue color. This color combination is widely seen in many outfits during the wintertime and that is why is it very versatile and easy to style. This shoe can be best styled with skinny denim jeans and a matching blue turtleneck top. In this particular example, white socks have been worn over the jeans and matched with a fluffy jacket on top to create an accent color in the overall look.
18 – Pair Classic Black Sperry with Any Color Combo
Black is a color that can look good with anything. Just like how you can tie a pair of simple black sneakers with almost any casual outfit, the same can be done with these amazing and simple black boots. This specific outfit is a cute mauve cropped sweater paired with skinny light wash jeans, that are tucked neatly into the boots.
17 – Go Neutral With Neutral Beige Boots and A Matching Beige Sweat Set
This winter look is very simple and unique and can be effortlessly be pulled off by anyone. With your neutral beige Sperry, match a comfortable sweatshirt and sweatpant combo on your way out during the harsh winter days. To add more dimension to the outfit, add more texturized elements like a matching beanie and a matching puffer jacket, and you will look extremely put together, with the most simple, affordable, and easy to pull off clothing!
16 – Blue and Beige Sperry With Matching Beige Coat and Flannel Scarf
This look is the perfect look to pull off during the chilly wintertime, whilst also looking effortlessly put together and composed. These beige and blue boots work wonderfully in this outfit, as they are complemented well by the matching short coat and skinny blue jeans. A flannel/plaid scarf adds another pop of color and breaks up the monotony of the outfit by adding a pattern. This look is simple yet a no-brainer, you can never go wrong with it!
15 – With Leather Tights
Usually, Sperries are worn with tight-fitting items such as tights, skinny jeans, etc. This is another alternative that will add dimension to the overall outfit. Try pairing boots with leather tights to create a unique look. Not only are they flattering, but they will also be very nicely paired with numerous different items and accessories. It's bold and different, and definitely a look to be tried out!
14 – With A Cute Everyday Floral Dress Top
While Sperries are usually seen being worn with leggings and a top, this outfit easily is able to proves that boots can look good with dresses too! This is a cute everyday dress, with small minimalistic flowers on it that have been paired effortlessly with matching black tights. Underneath this, especially on a boating day or perhaps even a fishing day, one can pair black boots, to tie the whole look together and also to be very practical footwear for such occasions!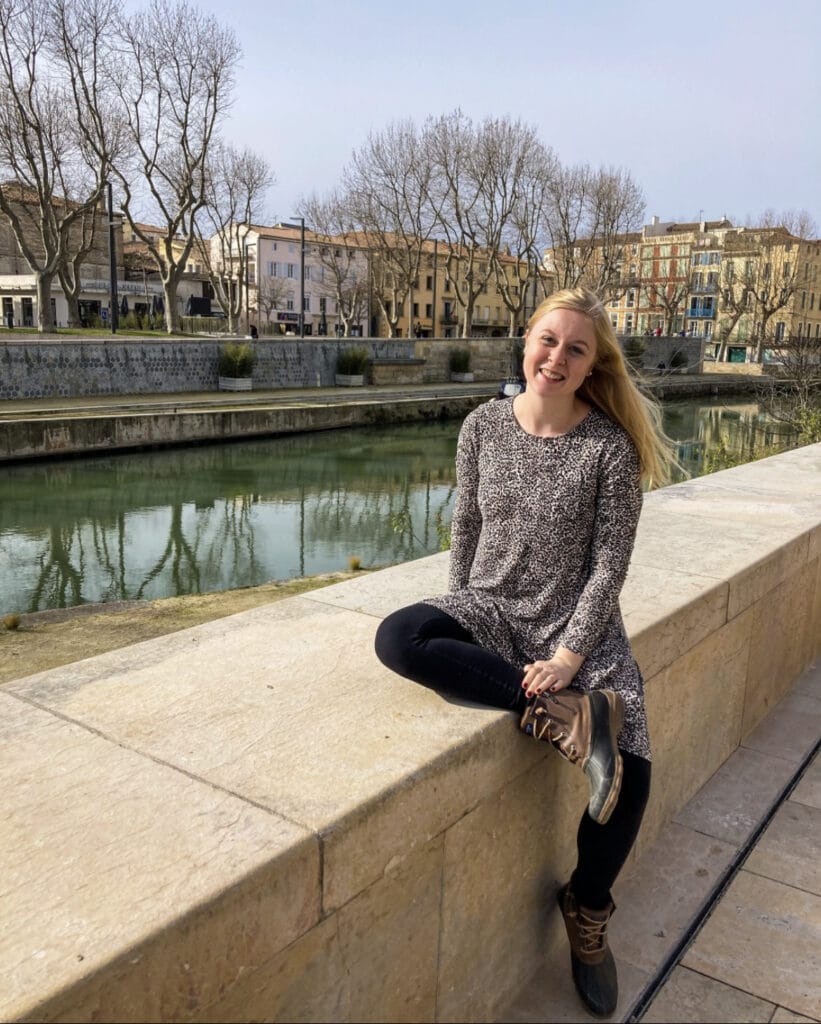 13 – With A Neutral Top/Sweater
If you are a fan of neutral colors and looks, this Sperry boot outfit is for you! Pair light pink boots with your favorite neutral sweater or top to create a cute matching moment. This look can be complete with a classic blue pair of skinny jeans, but for a more elevated and formal look, it can be worn with matching/contrasting neutral, tight-fitted pants or perhaps even light-colored leggings. This look brings a sophisticated look and creates a minimalistic impact that you can never go wrong with. Plus, the light pink color is a rarely seen color in Sperry and will get you loads of compliments!
12 – With An All White Outfit, with Light Pink Accents
Here is another neutral-pink outfit option with the unique light pink boots. Along with a plain white hoodie with light pink accents, pair white and ripped skinny jeans to really add dimension and texture to the outfit. this is a very unique look, not only due to the clever accenting of the beautiful light pink color but also because of the texture added by the striking white skinny jeans and the rips in them. This can all be put together with the boots, which make the outfit coherent and stunning.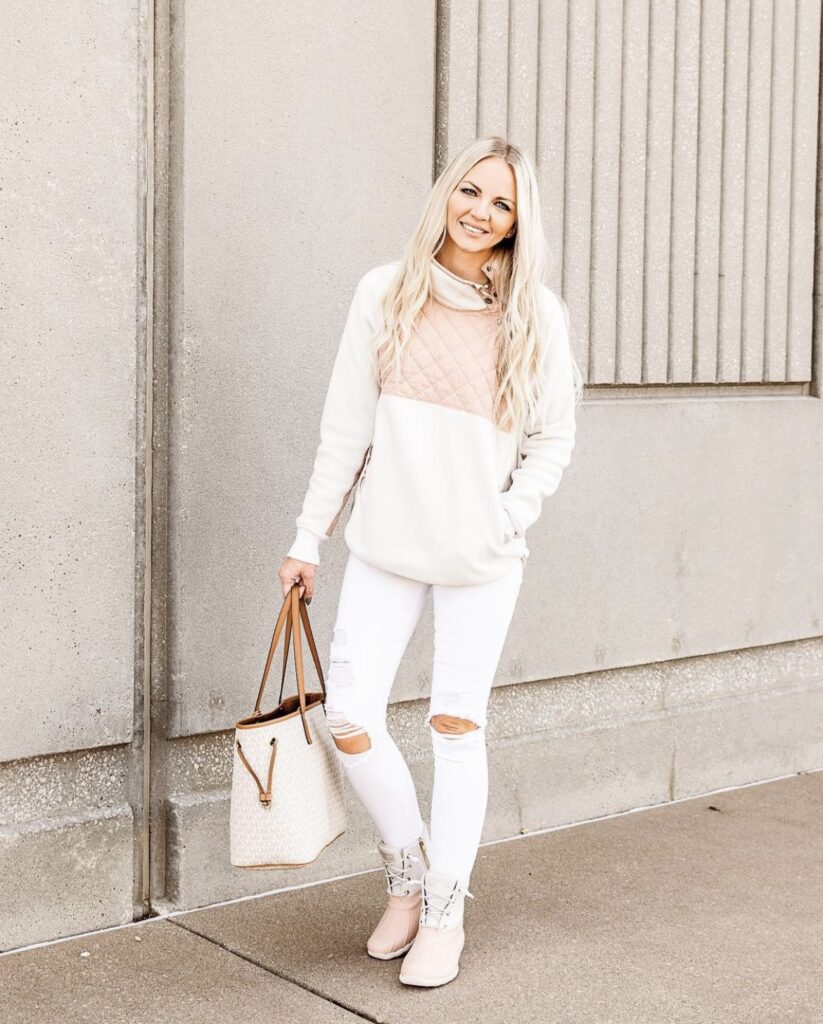 11 – With Puffer Jacket and Matching Hat
Sometimes it can become hard to find pieces of clothing to match with your footwear. This is when the focus shifts to accesories and other add-ons that can be used instead. In this specific situation the blue of the Sperry Shoes is matched with the cap rather than the puffer jacket. This way more attention is also drawn to the shoes and the matching does not look to obvious either.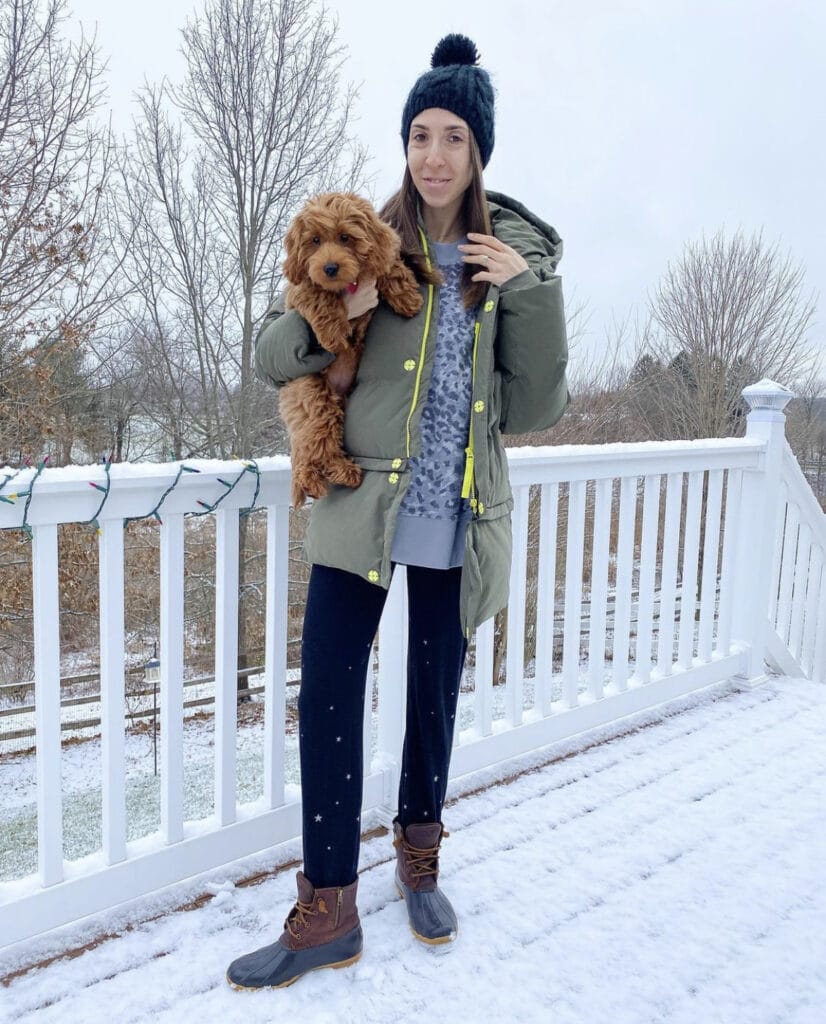 10 – Fur jacket with black skinny jeans and handbag
Sometimes, its less about showing off the boots than it is of using the Sperres to draw attention to another integral part of your outfit. Use the black Sperry to help create your all-black base, with matching black tighs and matching black bag, and then add your statement piece on top. Over here, even the the sage green fluffy jacket is not the boldest or the brightest of the colors, it still looks like the main statement of the outfit as it is accentuated over the all black base.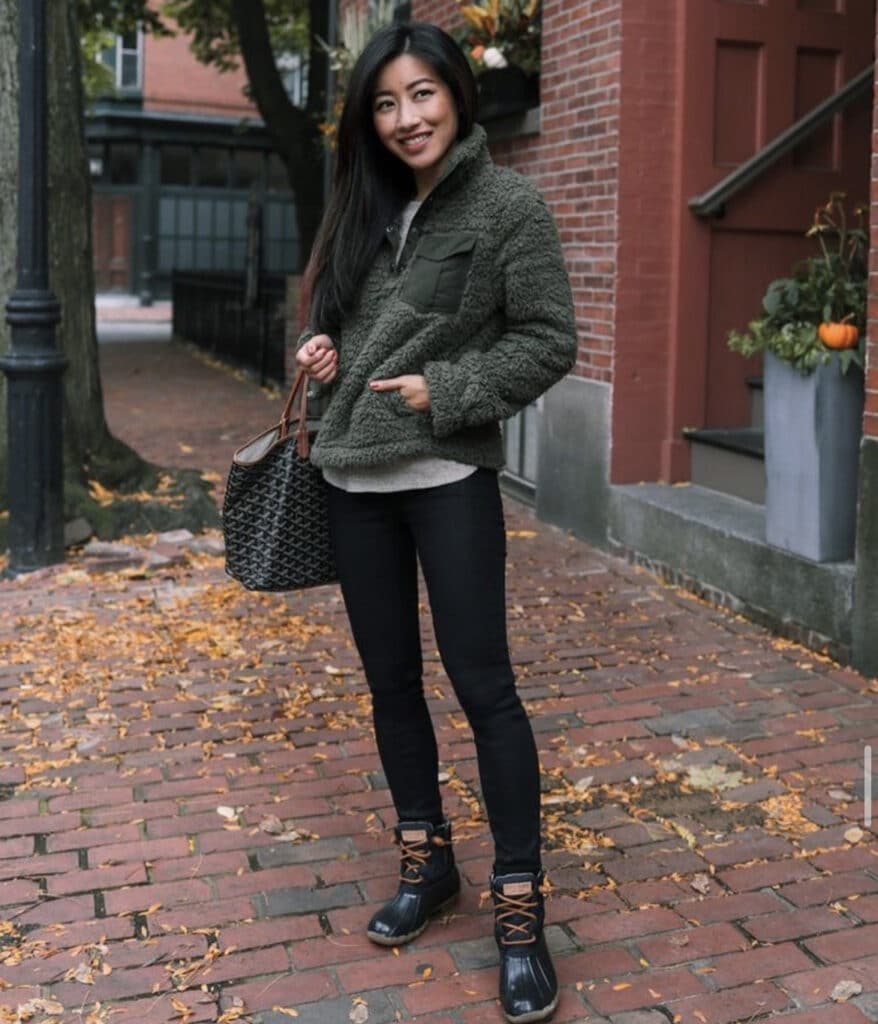 9 – With Flannel Poncho and black jeans
Add some dimension and uniqueness to your outfit by going for something other than a simple top or sweater. Over a base layer, which could be a plain sweater or perhaps anything else, layer a poncho, designed with a flannel print. The trick to really nailing this outfit is to match boots with it that belong to the same color pallete as the poncho, so that it really ties the whole look together. This look can be elevated even further by the addition of matching accesories for example this cute white beanie hat.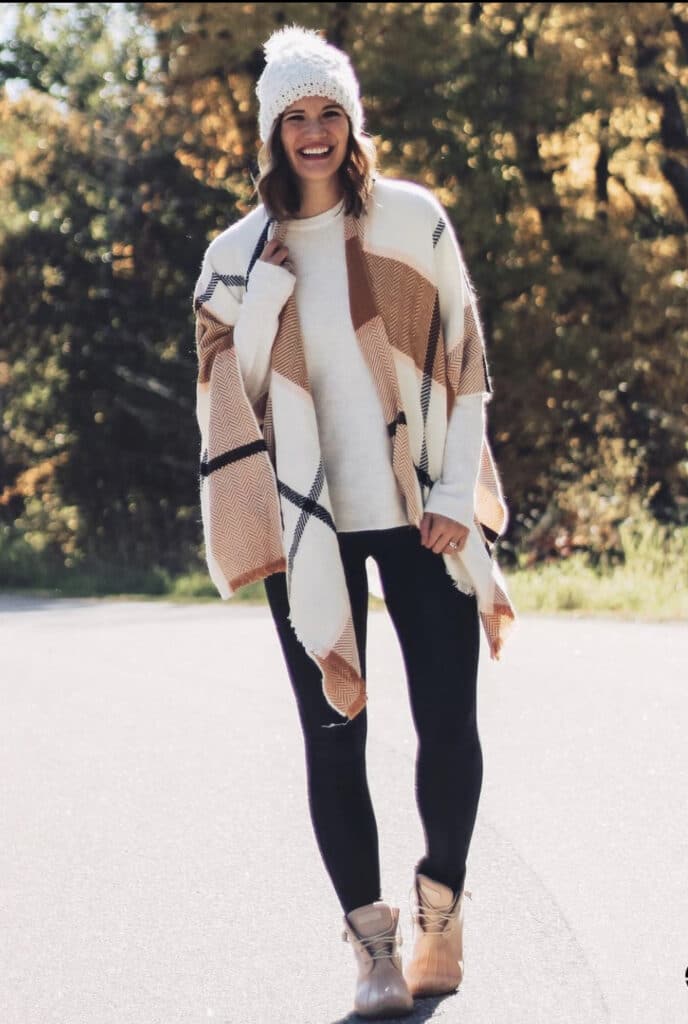 8 – With A White Knit Sweater and Lightwash Blue Jeans
This is a simple winter look with very cute and frosty vibes, which will especially work very well during the snowy weather. Not only does the stunning white Sperry add practicality to allow you to enjoy the snowy weather, it also adds a delicacy especially matched with the white knit sweater to the overall outfit. Straying from the usual legging/dark skinny jeans combination, this outfit thrives with the light wash element of the jeans which really accentuates the white of the shoes, hat and sweater to give an overall flattering effect.
7 – With a Teddy Jacket and White Sock Detail
These beige and black high top sperry boots are such a statement piece and are perfect to wear with a soft, comfortabl brown teddy jacket. The color pallete brings beautiful fall vibes and is perfect to wear during the winter, as it is super easy to pull off by anyone. In this specific outfit, there is the addition of white socks which add another accent color to match with the white layer underneathe the teddy jacket to tie the whole outfit together.
6 – With Teddy Jacket
Here is another alternative to the teddy jacket outfit. Instead of matching the colors of the outfit and the teddy jacket with the shoes, a different version could entail opting for boots that are a contrasting color, such as white. This adds more dimension to the outfit and makes it a lot more interesting to look at. The best part is that it can be matched with accesories and add ons such as a cute white cap!
5 – With a Grey Color Palette
These white boots are timeless and classic with their simplicity and their simple monochromatic and striking white color. They are a staple piece that belongs in every girl's closet as it can be used with almost any color palette in your outfit. In this specific example, the white Sperry boot is used to accentuate the accent green in the grey color palette in order to make the look effortless and simple. The shoes do not drag any attention away from the green top, but at the same time are a good base color to complement the other colours and textures in the outfit.
4 – With an All Black Outfit and Flannel t Shirt
This outfit has many different colors and textures which complement the pop of color by the flannel and and the Boots.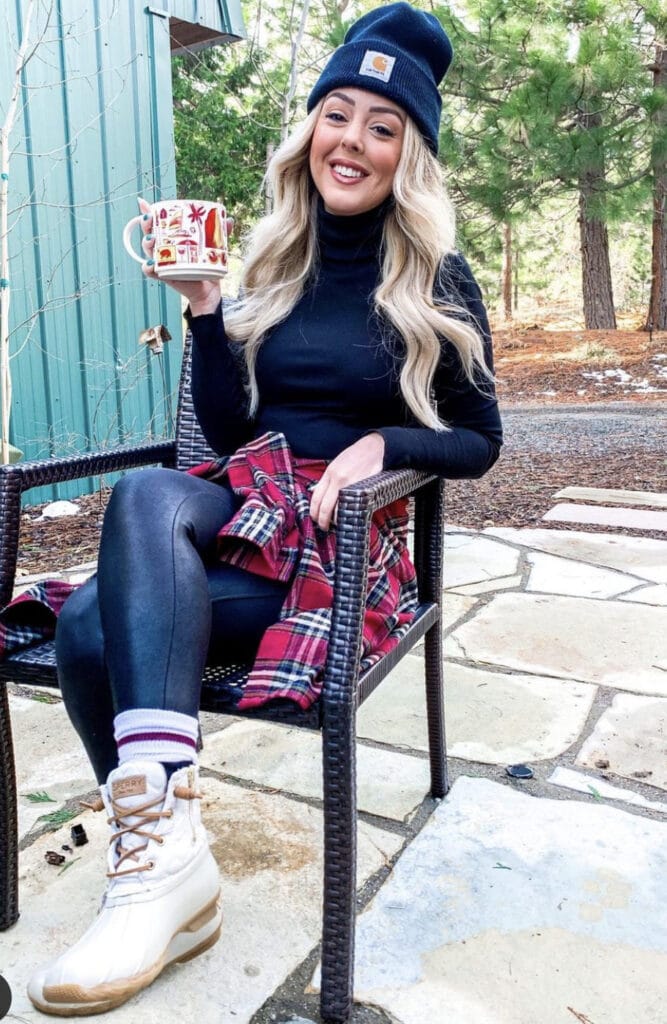 3 – With a Simple Athletic Outfit
Sometimes, all you need with Sperry is a cute hoodie and tights, and you have a great running outfit for the wintertime.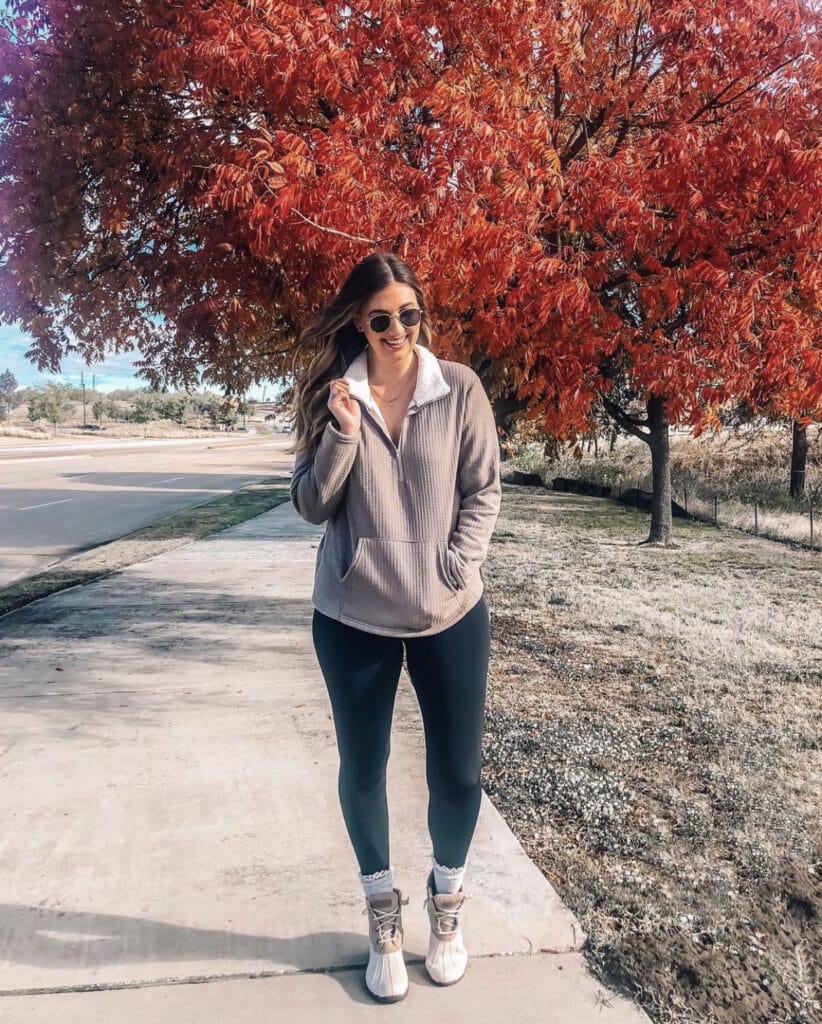 2 – Artistic Black and White
These mocassin like shoes are perfect to go with a preppy black and white outfit!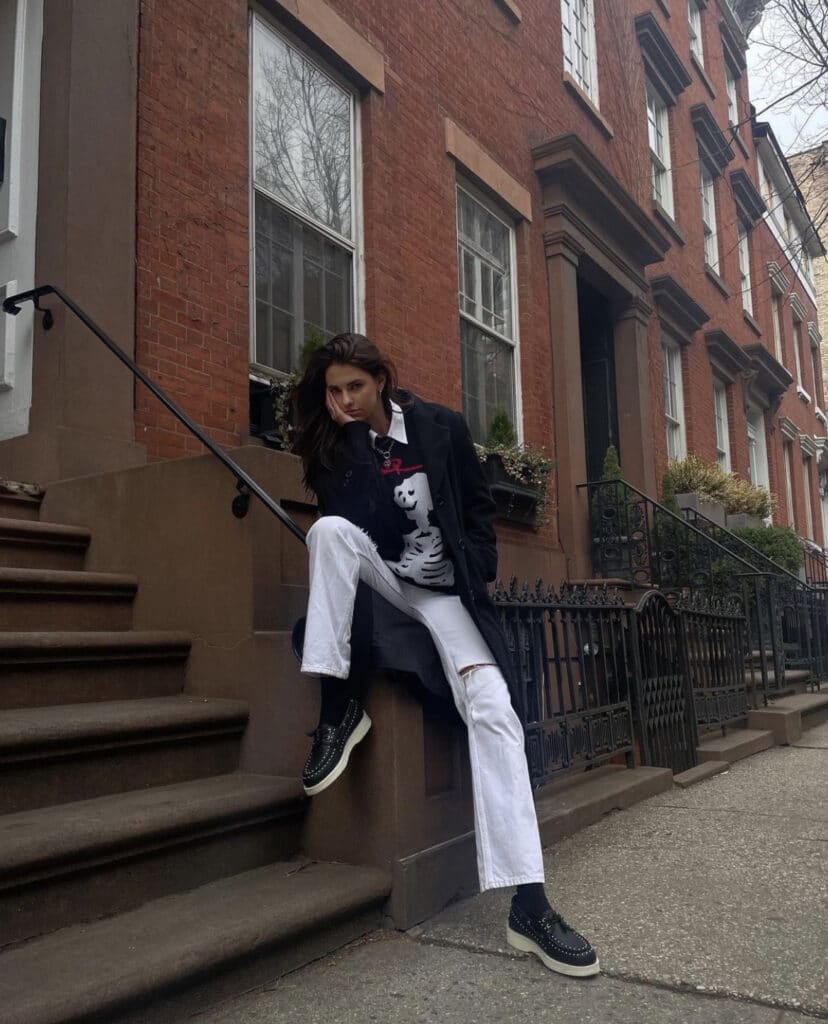 1 – With Lined Skirt and White Sweater
This outfit is cute and simple for the winter time and you cannot go wrong with these complementing colors and textures!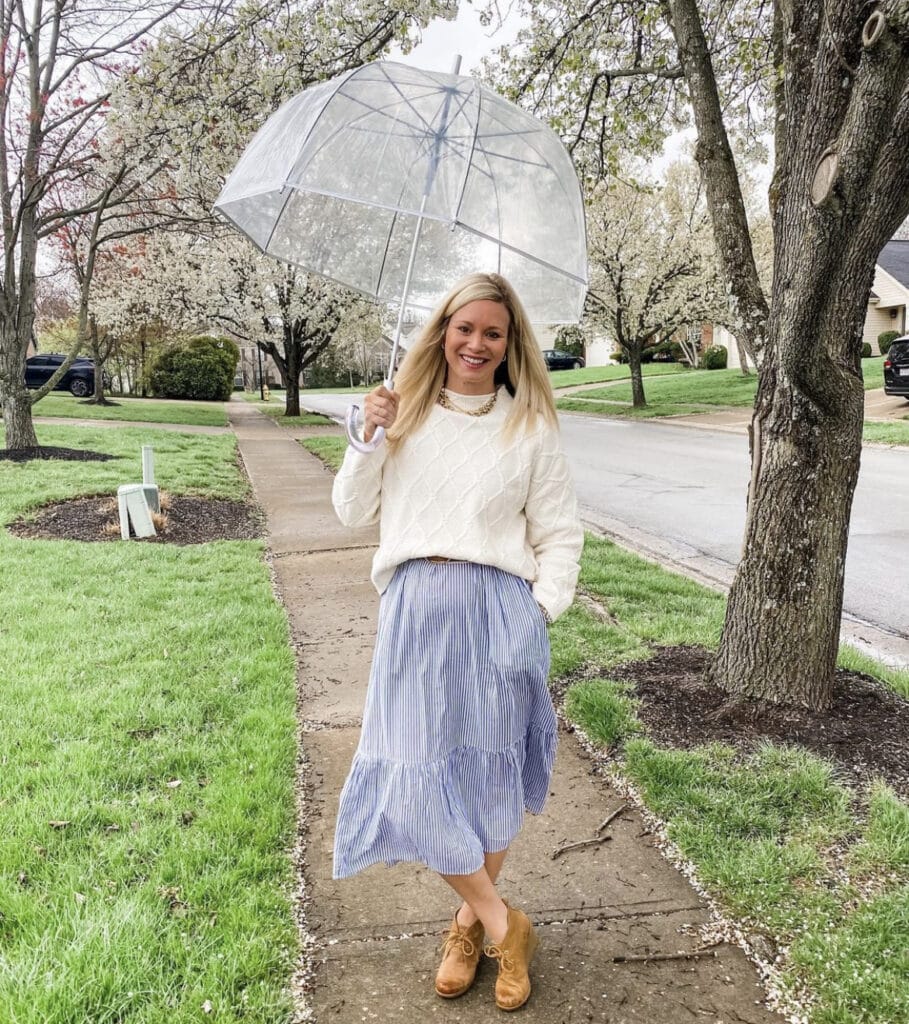 Q. Are Sperry duck boots for rain or snow?
A. Both! They work in all types of harsh environments for example snow, rain, hail, etc.
Q. Do you wear socks with Sperry?
A. Sperrys should be worn with socks. Wearing socks with Sperrys is suggested for improved comfort, personal health, and to extend the life of your shoes.
Q. Are Sperry boots comfortable?
A. The waterproof properties of the boot are predominantly responsible for the footwear's comfort. By preventing water from permeating your duck boots, you can protect and alleviate your feet from moisture, dirt, and discomfort that can occur when wearing non-waterproof shoes.