How to Wear Puffer Jackets For Women? Oh, the weather outside is frightful, but that doesn't mean we can't continue to look delightful (ly fashionable).  Even when it's bone-chilling cold with temperatures in the teens (bbbrrrr), many ladies don't want to skip fashion for warmth.
But we have excellent news – it is possible to wear a puffer jacket and not look frumpy and out of style. Believe it or not, you can look and feel unstoppable in a puffer jacket. According to a recent Boston Globe piece, "Any woman who has shopped for a puffer understands there are tiny style distinctions that take on outsized importance, which sometimes allow a woman to think her coat is — however marginally — cute: The slightest shaping at the waist. A faux fur ruff around the hood. A sophisticated silhouette."
Outfits to Wear With Puffer Jackets
Here are more than two dozen ways to brave the elements this winter and remain super stylish while wearing a puffer jacket.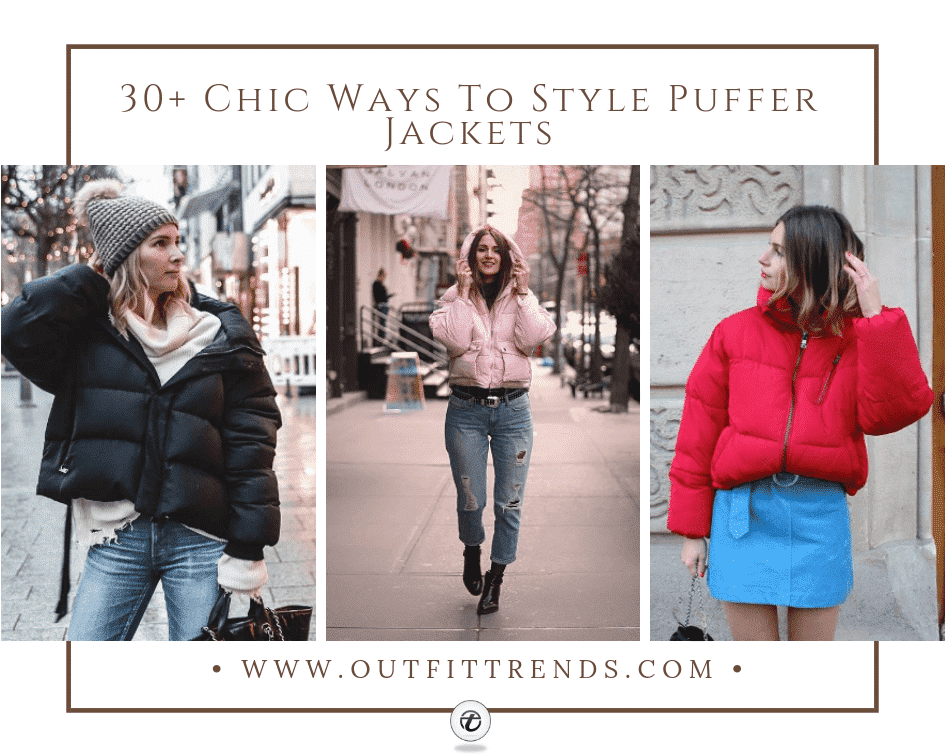 ↓ 31. Go for the gold!
The Skyler down-filled bomber jacket by Sam-NYC is crafted from densely woven nylon. The surface has been treated to obtain a lacquered look. It is lightweght, yet protective of wind and wter, and filled with goose down to achithe warmth and an ultra-soft feel. The jacket features a racoon fur trimmed hood, centre front zip closure with snap plactwoet, 2 lower pockets, a knit waistband, and spandex thumbhole cuffs. This small number will cost you a suggested retail price of $695.00. If you're into bomber jackets, have a look at these 21 Best Leather Bomber Jacket Outfits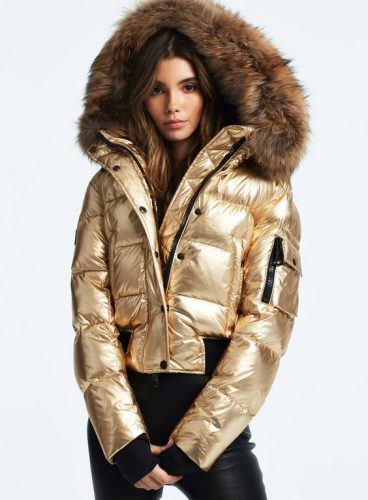 ↓ 30. Champagne Tastes on a Beer Budget
You can never go wrong in a neutral monochromatic coat, especially mes from, H&M for as little as $124. Pair with asos high waist jeans, Nike air max thea sneakers, a.Geneveneve bag, and what who what wear collection top. You'll look like a million bucks while barely even trying. And have money left over to splurge on guilty little pleasures, like lattes, all month long.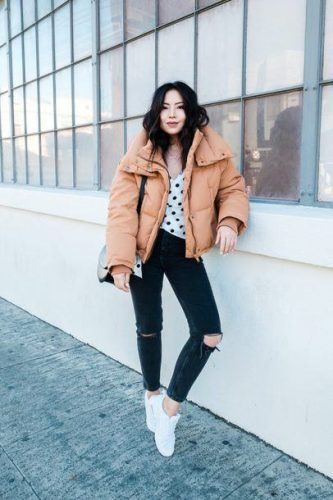 ↓ 29. Living in a Material World
How cool were the 1980s?! Channelling Madonna, Cyndi Lauper, Boy George & Culture Club. Life would be so much better if neon pink could reapp in every decade! This jacket brights up your complexion and turns you into sunshine. The best par is it'll be super easy to identify which coat is yours at the end of the night.
↓ 28. Jewel Tones
Sometimesust need a break from basic black. Michael Kors understands this and offers this winter coat in rich jewelled hthat can easily matchd to your amethyst and emeralds. Treat yourself to a matching mani too! You'll sparkle like the precious gem you are.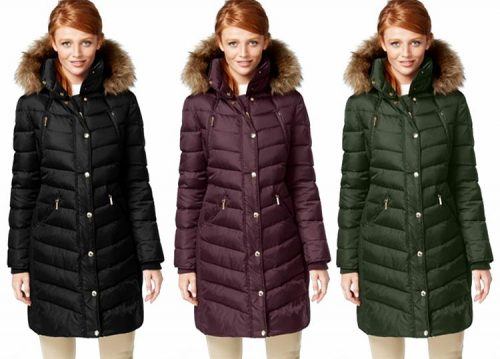 ↓ 27. Go big or go home!
Stay toasty warm from head to toe. This belted "puffy compilation" from Imgur lets you flaunt your tiny waist and not look like a big shapeless blimb. Dress it up with pumor ps, boots with a kitheelsheel or keep your feet planted firmly on the ground in a pair of Uggs or fashionable kicks.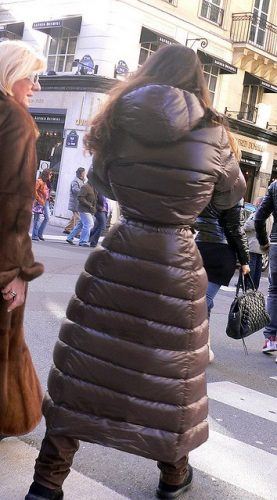 ↓ 26. Show The World You Have the Winter Blues
The colour blue has a moment in home décor. Pinterest board ares full of cobalt blue kitchens. Fashion follthe interior design. Step out looking boho chic in this warm 90% duck down warm parka quilted coat. Best pist if the removable scarf.  On sale for only $125.55 at Boho Gipsy Store.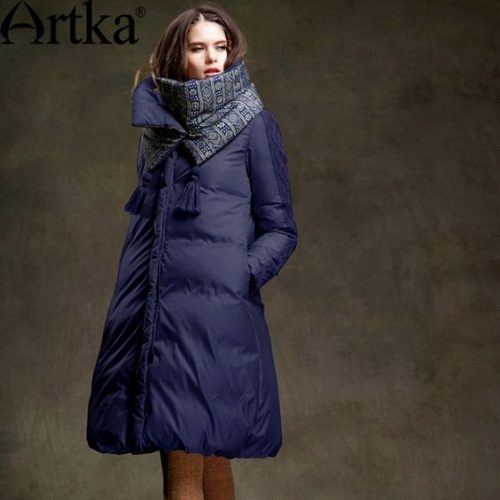 ↓ 25. With Shorts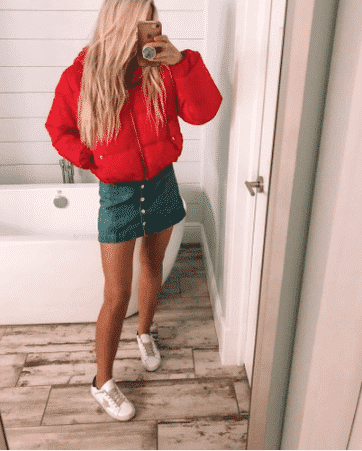 ↓ 24. Pinkies Up, Dutchess
Let them question if you're part of the royal family in this majestic purple hooded winter white duck down jacket witha  natural fox fur collar. It's even available in plus sizes. They will be shocked if you tell them it's only $217.27 at AliExpress.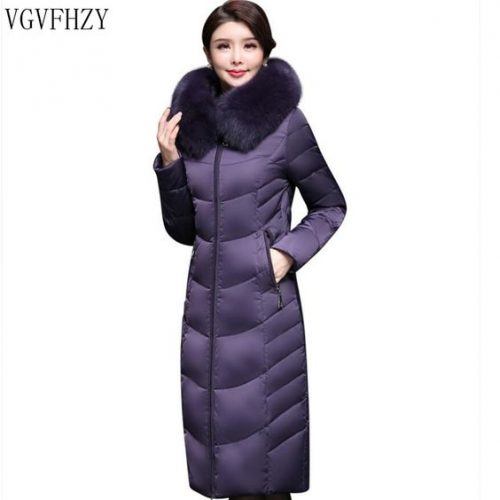 ↓ 23. Imitation is the Sincerest Form of FlattWould you wishWish your closet could be filled with Balenciaga, but worried if you can even afford this month's rent payment? The Orolay is the thickened $100 down jacket that looks a little bit Balenc and bit Scai, and is selling like hotcakes. I spotted three women checking into spin class on the upper east side of Manhattan, New York ,City this morning. Snag it for only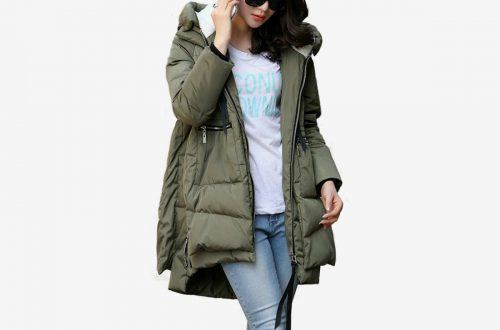 ↓ 22. Keep Your Hands in Your PockCome on'mon, admit it, what girl doesn't go crazy when they realize their dress ual pockets?!? The H-line Casual Pockets Hoodie Coat offers front pockets. What a score! Gloves optional. Did we mention this jacket has front pockets?!?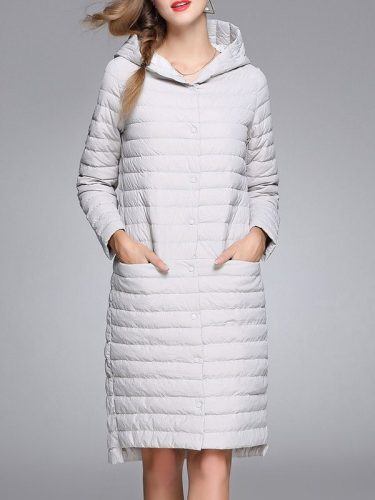 ↓ 21. Eye See You
Ward away from the evil eye and make sure everyone is watching you closely while prancing through the streets in this very noticeable puffer from Rivaynyc.com | Rivay® OfficIt pairsPairs nicely with a classic Chanel bag. The girl who wears this is certainly an "It Girl" wanting to be viewed, admired, appreciated and remembered.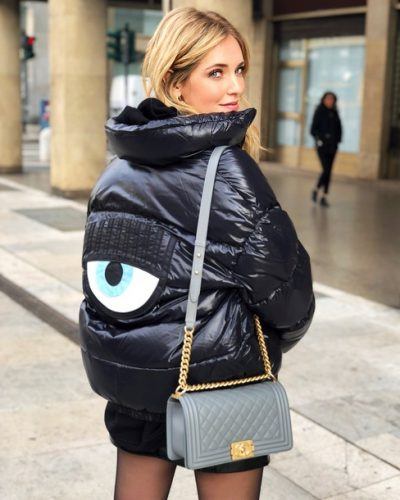 ↓ 20. Headed to the Gym
Puffer jackets are the perfect way to winterize athleisure, whicisbe so in style right now. This Aritzia super puff jacket comes in so many different color options. The key to styling the perfect puffer jacket is to a slightly cropped onepped because it emphasizes your waistline and creates a feminine silhouette. For more ideasworkout out clothes, check out these 10 Super Cool Gym Outfits for Women.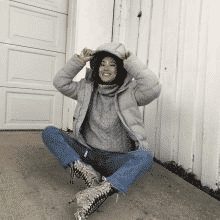 ↓ 19. Wine Time
Easily a perfect jacket to throw on before a girl's wine night out or meeting friends at the pub. Pairs well with black pants and heels. It's practical and unfussy, even if you're not.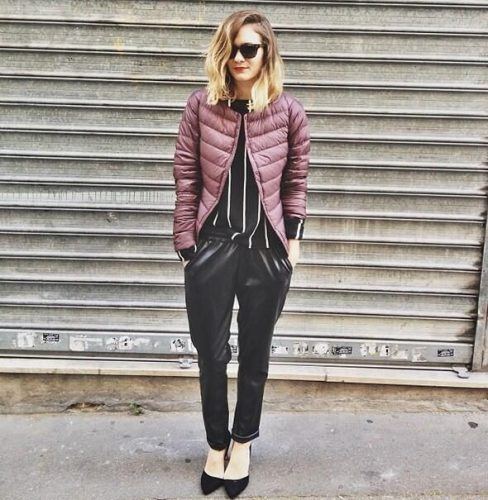 ↓ 18. Grading on a Bell Curve
This trusty quilted Alice + Olivia is by far my absolute favourite. The jacket means serious business both in terms of warmth and sensational style. The bell curve on the hips adds just the perf of flounce and flair. A great pair of shoes is all that's needWhatat's she's wearing underneath is meaningless because this detailed jacket screams, "Here comes a fashion plate."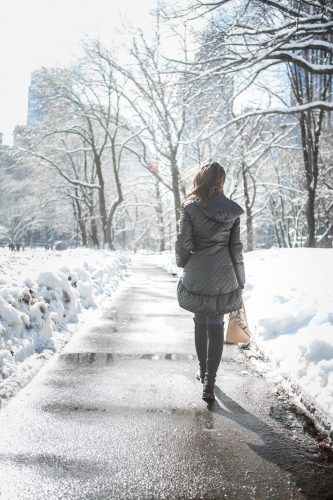 ↓ 17. Green with Envy
Strut yourself in a, big bold emerald green jacket and skinny black stirrups. It's almost possible to feel the heat radiating off of this classy lady. This seriously could be Meaghan Markle in her pre-Dutchess days. Do you see the resemblance?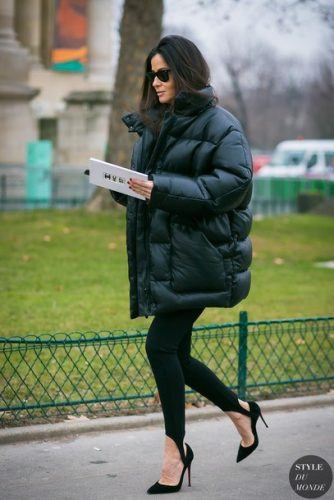 ↓ 16. Styling Long Puffer Jackets
The long puffer is a must-have staple in every female's closet. It protects you, exposing only a tiny portion of your legs. Keep that part of your legs covered in heavy tights or thick wool pants. There's no better option for those living in a city with lots of precipitationandr low temperatures. Feel free to take a bold chance on your shoes and accessories simostrity of your body will be coveredby  up the coA pufferffer coat + cropped jeans + ankle boots equals a winning equation every time. Now you do the math.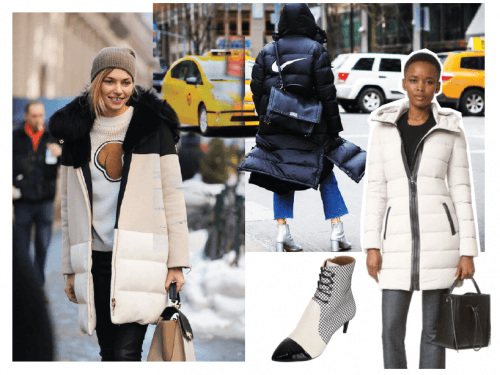 ↓ 15. If You See a Shiny Penny, Pick it Up…All Day Long You'll Have Good Luck
Glossy magazines will never be completely out of Vogue. There's something so rich, luxurious, eye-catching and worthy of s,hine and tely includes shiny nylon down jackets. This is a bespoke shiny/PVC/vinyl down winter coat made of high-quality 4-way stretch vinyl. It hasoil-slicklick look wa ith really smooth touch (latex imitation). In a class by itself and not your usual nylon puffer. You may think it looks familiar because it mimics the Moncler styl, butit  is much more glossy.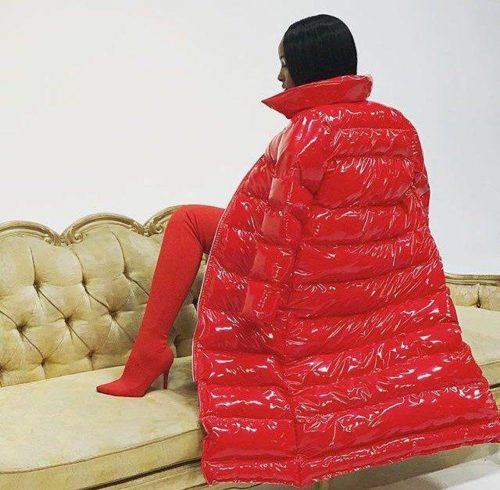 ↓ 14. Celebrity Style
An eccentric design cally polish a pladullring coat. Gigi Hadid provides some awesome tips with this bold, sassy, comfy puffer coat. Remember that you don't have to put too much effintowith your other clothing because the coat itself can do the magic. Just like that, you can look effortlessly chic.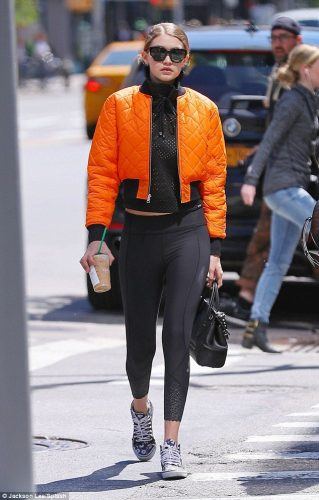 ↓ 13. Walk as if You are a Painting in a Museum
Patterns can be risky, but there's just something so beautiful and unique about this White Floral Turtleneck Long Sleeve CoMeanteant for the confident fashionista who wants to stand out from the crowd and differ from the masses all huddled together in their basic, boring, black winter gear.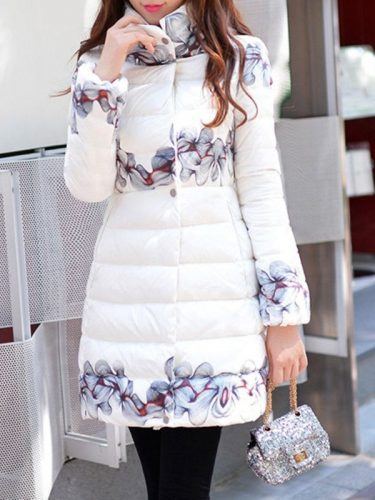 ↓ 12. What To WWithwith Short Puffer Jacket
This short camo puffer jacket from Denim & Supply Ralph Lauren Down Snorkel Jacket is guaranteed to keep you toasty warm. It's also available in a men's version if you want to twin with your mate. Requires nothing more than a chic pair of jeans and rugged combat boots. Spend less time getting ready and much more time having fYou you can even pair this jacket with Camo P for a statement-making lookants.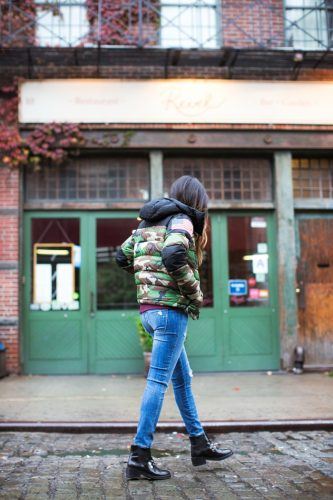 ↓ 11. You're Making Me Blush
Puffer jackets with a slim silhouette like this blush pink renew lightweight puffer jacket are endlessly versatile. Simply toss it on over workogear on your way to or from the Gym, or style it with a sweater and your favourite jeans for the perfect, low-key weekend look. The mock neck collar complememanyrent layers, from turtlencks, to crewneck shirbutton downs, and, to hooded sweatshirts. Add a little extra warmth on cooler days by wearing it over a simple cashmere swe—purePure perfection.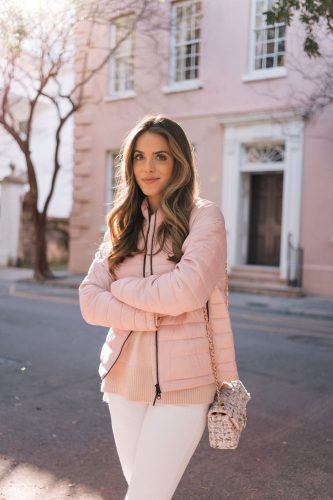 ↓ 10. Two Tone
This two-tone puffer is so attractive and easy on the eye. Roll up the sleeves for an extra pop of colour. I can't help but wonder if it's reversible. That would mean two fabulous coats for the price of one! You should ae a look at these 20 Ways to Wear Long Coats This Winter.Regardingt the reversible puffer jacket, Gigi Hadid's look is simply winter goals.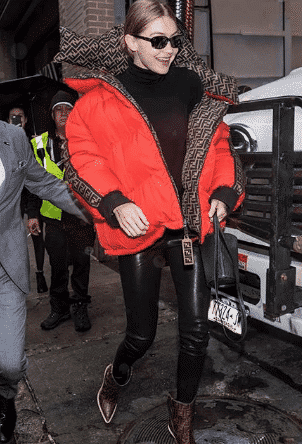 ↓ 9. Mid-LenAny type of individuals can wear mid-length jacketsuals, whether you are a plus size or a petite woman. The length keeps the whole ensemble flattering because it provides a positive balance. She looks put together in a pair of black leggings,a  big handbag and eye-catchy boots.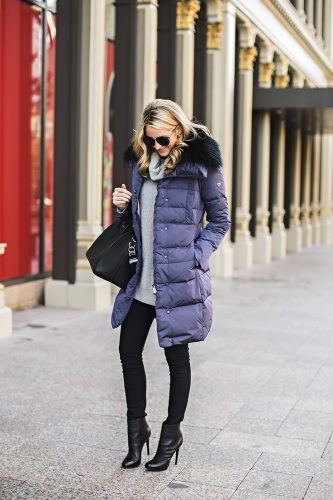 ↓ 8. It's a Cinch
Puffer coats with beltsbeautifulctive and convenient. You can manipulate the comfort and style level by adjusting the belt. This accessory promises that you will never difficulty time finding the perfect fit because the coat itself is adjustable. Zippers and belts are a fantastic combinatioemphasizeis on your body.
↓ 7. What To Wear With a Cropped Puffer Jacket
From the upper to the bottom, you undoubtedlyinly affirm that this girl knows how to style a cropped puffer jacket. The design of the top and colourslors of the cropped puffer jacket perfectly mesh together. oh, long flarelong jeans were an ideal match to the mini short puffer jacket.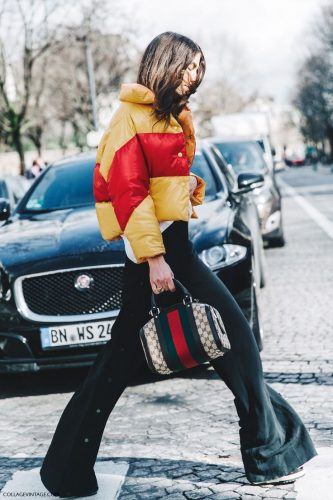 ↓ 6. Don't Skirt the Issue
One might wonder: can you pair a puffer jacket with a skSoly so! (All while keeping your legs warm too!)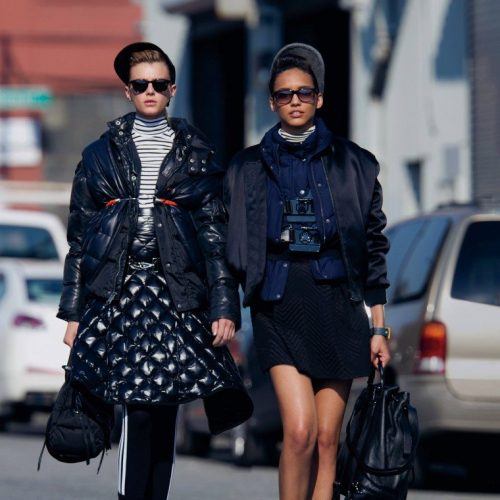 ↓ 5. Mad for Plaid
Plaid is always current. Bring it out for hayrides and bonfires in the crisp fall weather. Add a red or green scarf for a true festive holiday feel in December. Rest assured, you don't look like a lumberjack. But you may just get picked up by one. Love plaid? Then don't miss out these 18 cute Outfits with Plaid Coats that will make you want to buy one asap.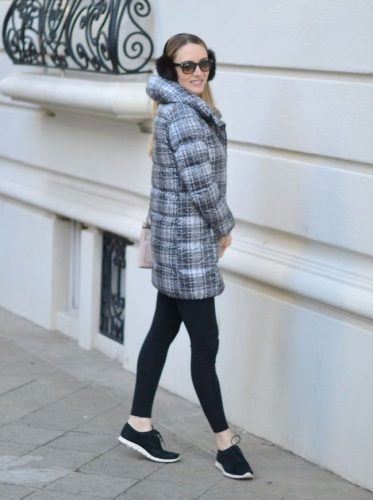 ↓ 4. Got a Problem with the Paparazzi? 
Hmmm, is it possible that the puffer coat has made its comeback courtesy of celebs being spotted in them right before stripping off for red carpet event to get photographed in their revealing dresses? Or, because it's this jacket they choose to wear when running errands in cold temperatures and hiding from the paparazzi? Well… they're obviously wearing them for style reasons.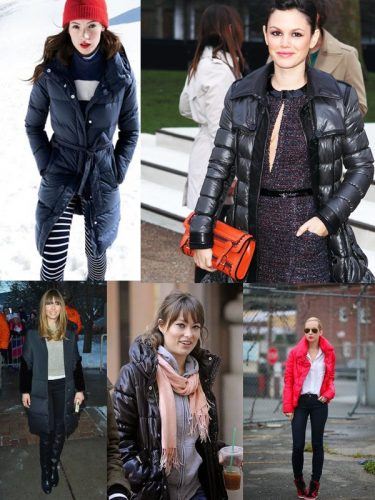 ↓ 3. Don't Throw Shade at Me
What if I told you all you all need is a great pair of shades to compliment your puffer coat. So stick your chest out a bit more and stay incognito hidden behind a great pair of sunglasses that flatter your face.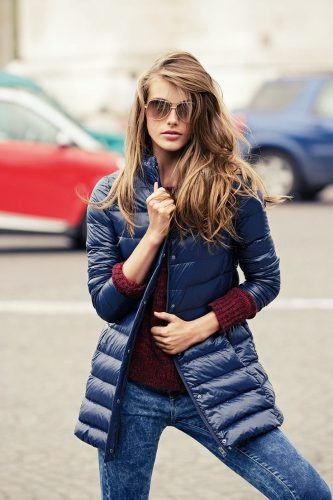 ↓ 2. Countdown to Spring
Better days are coming. They're called spring and summer. Let winter know you are breaking up with him. Show him, it's not you, but I'm gravitating towards warmer weather filled with lilacs and pretty flowers.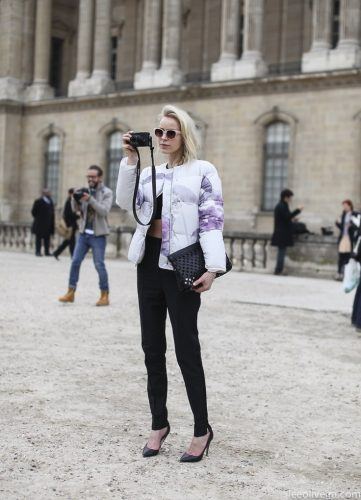 ↓ 1. Invest in Your Future
If you can afford it, go above the budget and treat yourself to a timeless and classic beauty such as Moncler, Canada Goose, etc. Be vigilant about taking extra good care of it and plan to pass it along to your daughter once she's grown into it. Because when your daughter covets your clothing, you know you're a super cool mom! Now if only she could give you her perfect skin.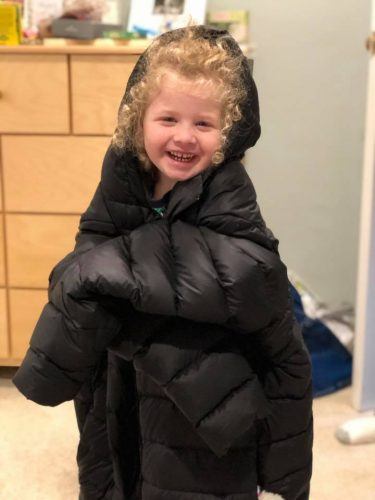 Bundle up, stay warm and have the best winter ever