Best White Jacket Outfits For Men. White jackets are versatile that you can imagine. They are both functional and aesthetic when done right. Since color white is a universal shade, it would be like painting on a blank canvas. And nothing's more interesting than mixing and matching various pieces together.
White, especially the pure bright shade, is usually seen in school uniforms and lab gowns. And you can always opt for other shades to be stylish and fashion-forward this season. Just make sure you play by few simple rules.
First off, be extra careful when wearing white jackets. Not only are they prone to dust and dirt, but it's also hard to remove stains on a white cloth. However, some said that you could use a dry cloth and sparkling water to clean them. Others may recommend bleach, but they may only cause more harm than good. And no one wants extra work, right? So consider yourself warned.
How to Wear White Jackets for Men?
Tips On Wearing White Jackets
Fit and Construction. The thumb rule that applies to all outfits: "Never too baggy and never too loose." That said, it's essential to be aware of your body measurements. It's also a good idea to visit the tailor to have your jackets altered if you want.
Shades. White doesn't mean your options are limited to "bleached white." But you have the leeway to opt for off-white, ivory, cream, and dirty white variants.
Fabric. For instance, the jacket is made of lightweight materials, and it would be best to pair it with lighter fabrics like linen shirts and cotton trousers. These fabrics can help you stay fresh even in hot situations.
The Seasons. Consider the climate in the region you're living in. As such, men in warmer parts of the world should steer clear of variants like puffer jackets and parka. Since you won't be using them more often, it's better to save your money for much lighter jackets like bomber and denim.
Be A Minimalist. Since white is a contrasting color, it's a good idea to pair it with neutral tones and solid hues like black, navy blue, grey and brown. And this is a slick move for those not bold enough to play with colors and flashy patterns. No one ever looks "out of style" for being a minimalist.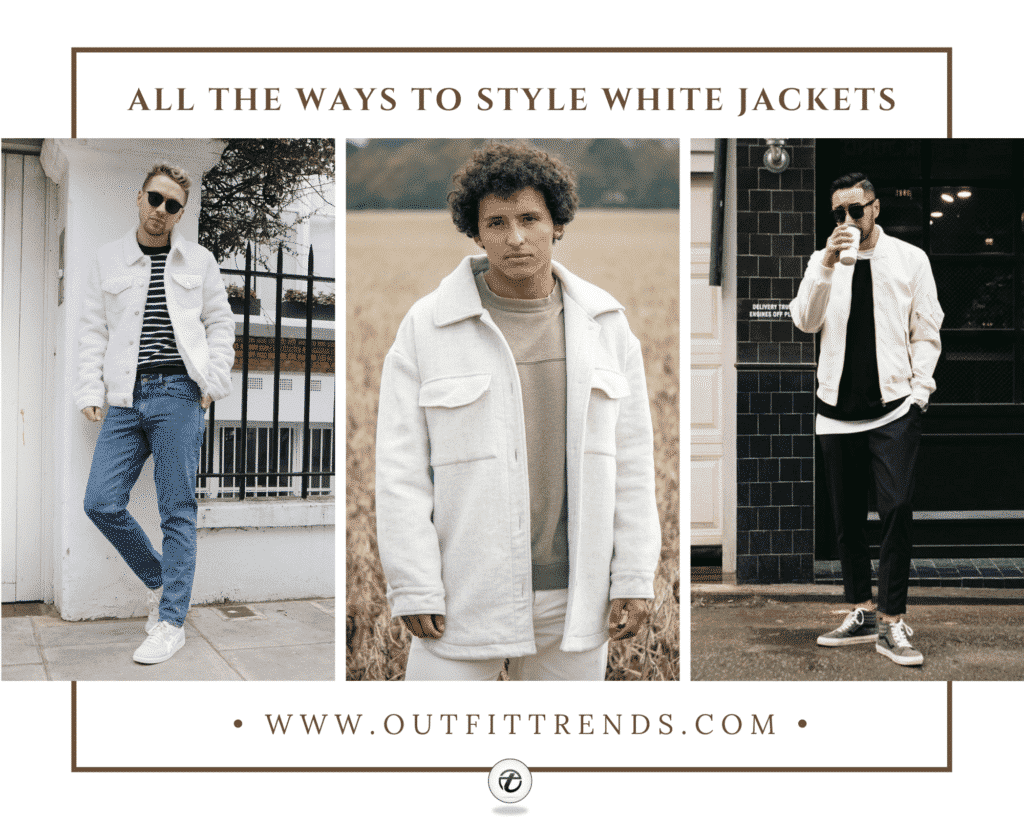 What To Avoid
Wearing Long and Baggy Undershirts. If you wear a basic tee or a shirt as an undershirt to your white jacket, make sure they're not getting too much space.
Wearing white jackets for camping, hiking, and other activities in the wilderness. It is likely that you'll encounter unwanted bodies out there: insects, twigs, and mud, to name a few.
Wearing white jackets on rainy days. For instance, rainwater may damage a white leather fabric, so it's better to put it away for now. Instead, opt for puffer jackets, raincoats and parka.
Wearing white jackets for formal and corporate settings. The only exceptions are overshirts and bomber jackets, which by the way, can be dressed up with the right set of outfits. But streetwear staples like Harrington and windbreaker are off the table.
Wearing the same shades together. Remember that monochrome is not for everyone. And if you feel like it's not for you, try to incorporate other shades of white (e.g. beige, cream, chalk) into your outfits.
Where To Buy White Jackets
If you plan on buying new outfits, start your shopping journey with Mango and River Island. And if your preferred types of jackets aren't there, maybe you can find them in Nordstrom, Amazon, and Zara. You can also search for WHITE JACKETS FOR SALE MEN online to learn about affordable and trendy white jackets today.
There's something interesting about white jackets. So make sure you style them right. Before anything else, it's important to know that the jacket should be the main focus of your overall outfit. Try not to overdo yourself by incorporating clashing garments into your ensemble.
But worry not! I am here to give you some ideas on how to wear them:
↓ 30 – For Short Guys
Short men will look their best if they opt for trimmed styles of white jackets. The garment should fit just right, and the hem must fall just somewhere in the waist. It would also help to wear your pants higher than you used to. Another useful tip is to tuck your shirt into your trousers to create a lengthening effect. Here are some more ideas on the different Ways to Wear & Style Stripes.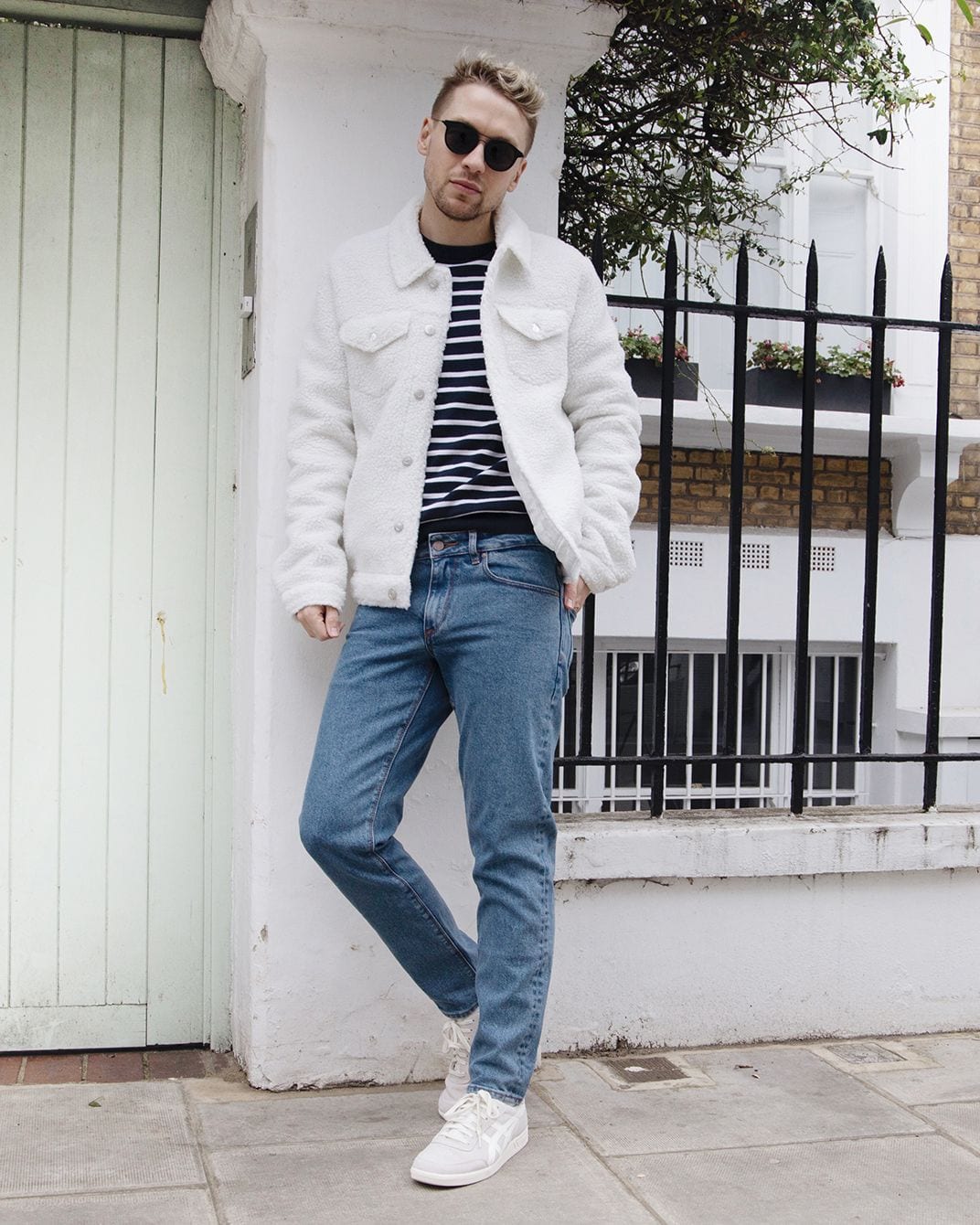 ↓ 29 – With Chinos
You don't want to be swamping in too much fabric, so opt for the right cut of chino pants. It would be great to try shades you haven't worn before.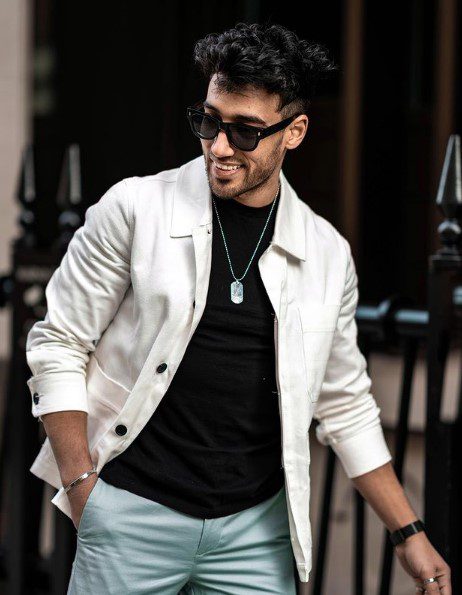 ↓ 28 – Winter Wardrobe
This is your chance to layer your white jacket. For instance, throw it over a wool roll-neck sweater of a similar shade. Winter is the time when you can wear thicker fabrics for added protection and coziness.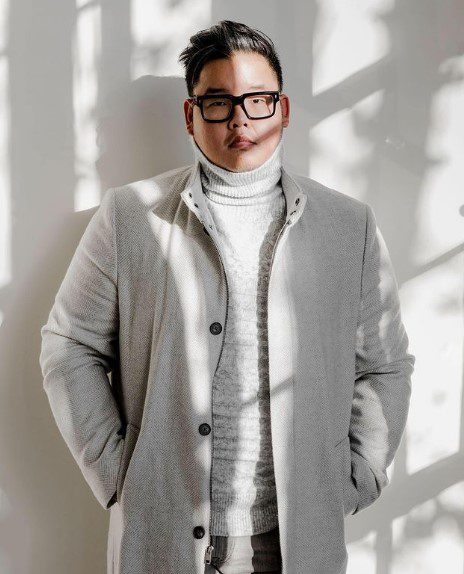 ↓ 27 – As A Top Layer
Use your white jacket as a layering piece. For instance, layer it on top of a grey hoodie. And make sure that the undergarment fits right and does not create a bulky effect. You should wear denim over the hoodie without the feeling of discomfort.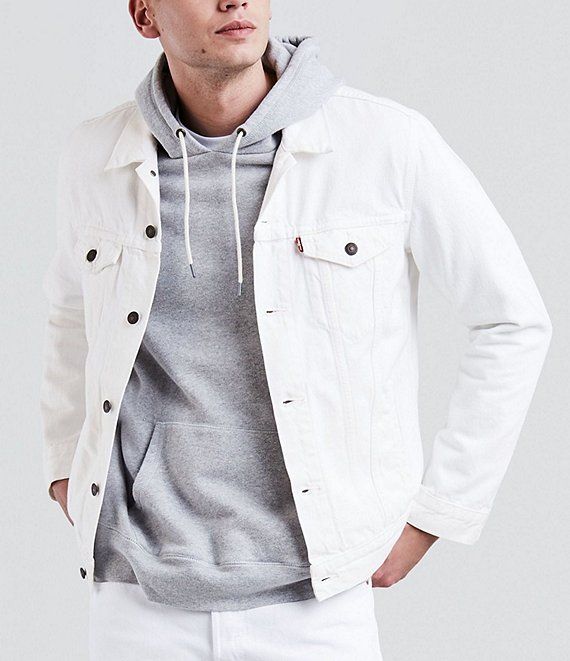 ↓ 26 – Fall Outfit
Fall is just another cool weather when you can don outfits made of thick materials. For example, a white puffer jacket can be considered a fall essential because of its functionality, not to mention. Not only does it protect you from the freezing weather, but it is also stylish, especially when paired with the right outfits. But puffers can be heavy at times. So you might want to opt for lighter trousers like joggers.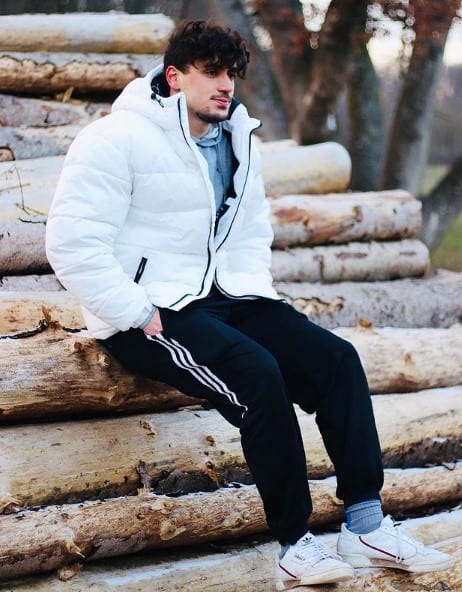 ↓ 25 – How To Layer White Jacket
Wear it with the shirt of your choice, like a tee or button-down. And if you're not into shirts, pick turtleneck sweaters, hoodies, and pullovers. Just make sure that they will blend in well with the jacket. Most of the time, the colors and fabric will play a significant role in layering your outfits. As such, always strike a balance between style and comfort.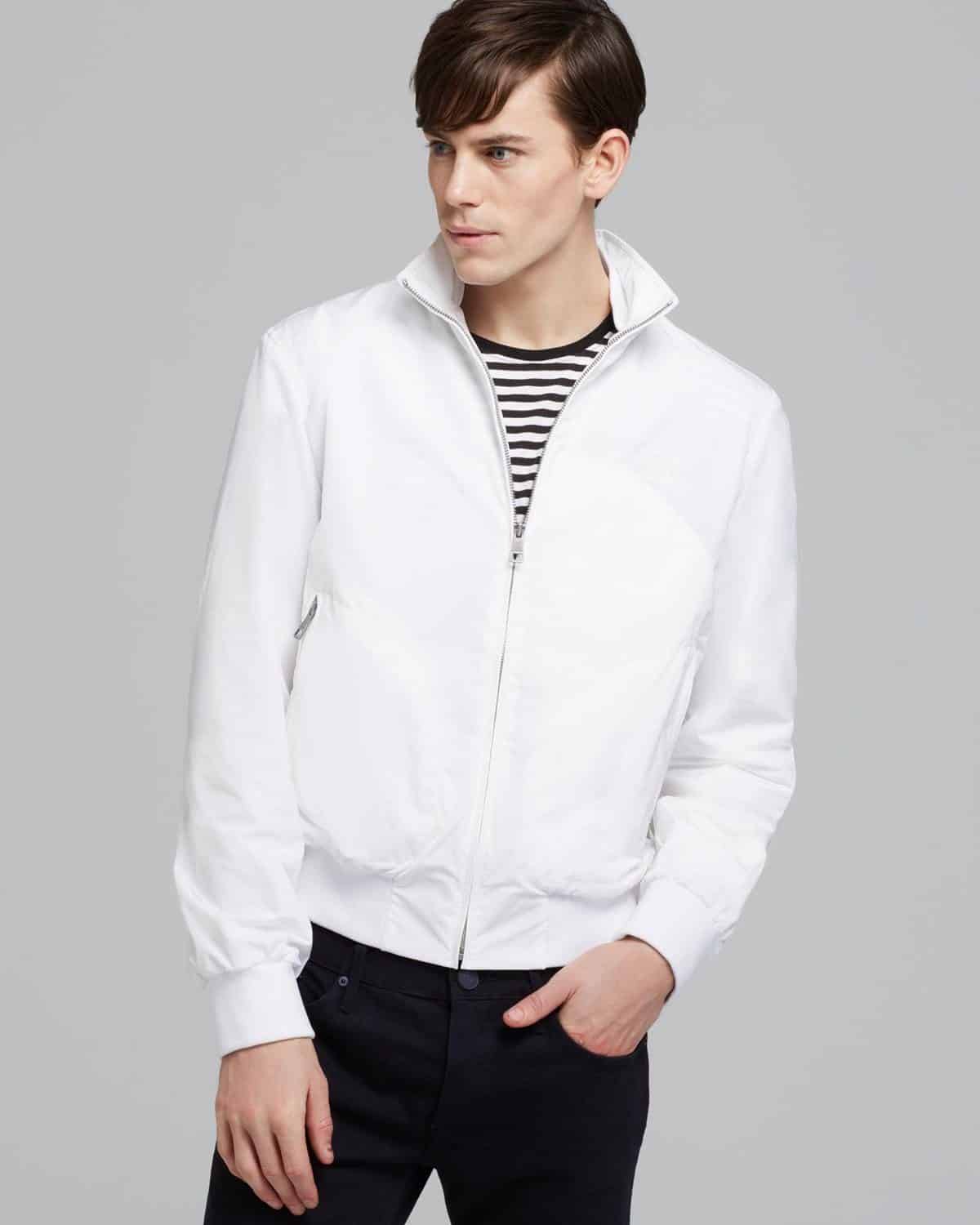 ↓ 24 – Shirt Jacket
It is made of lightweight materials, which makes it both functional and fashion-forward. Plus, it has pockets where you can put your wallet, phone, and charger.
↓ 23 – Casual Look with a White Jacket
White jackets are casual garments, so it's not cliche to pair them with other casual pieces. For instance, try to pair a white denim jacket with a black T-shirt and slim-fit ripped jeans. And accessorize with a wristwatch and dope sunglasses.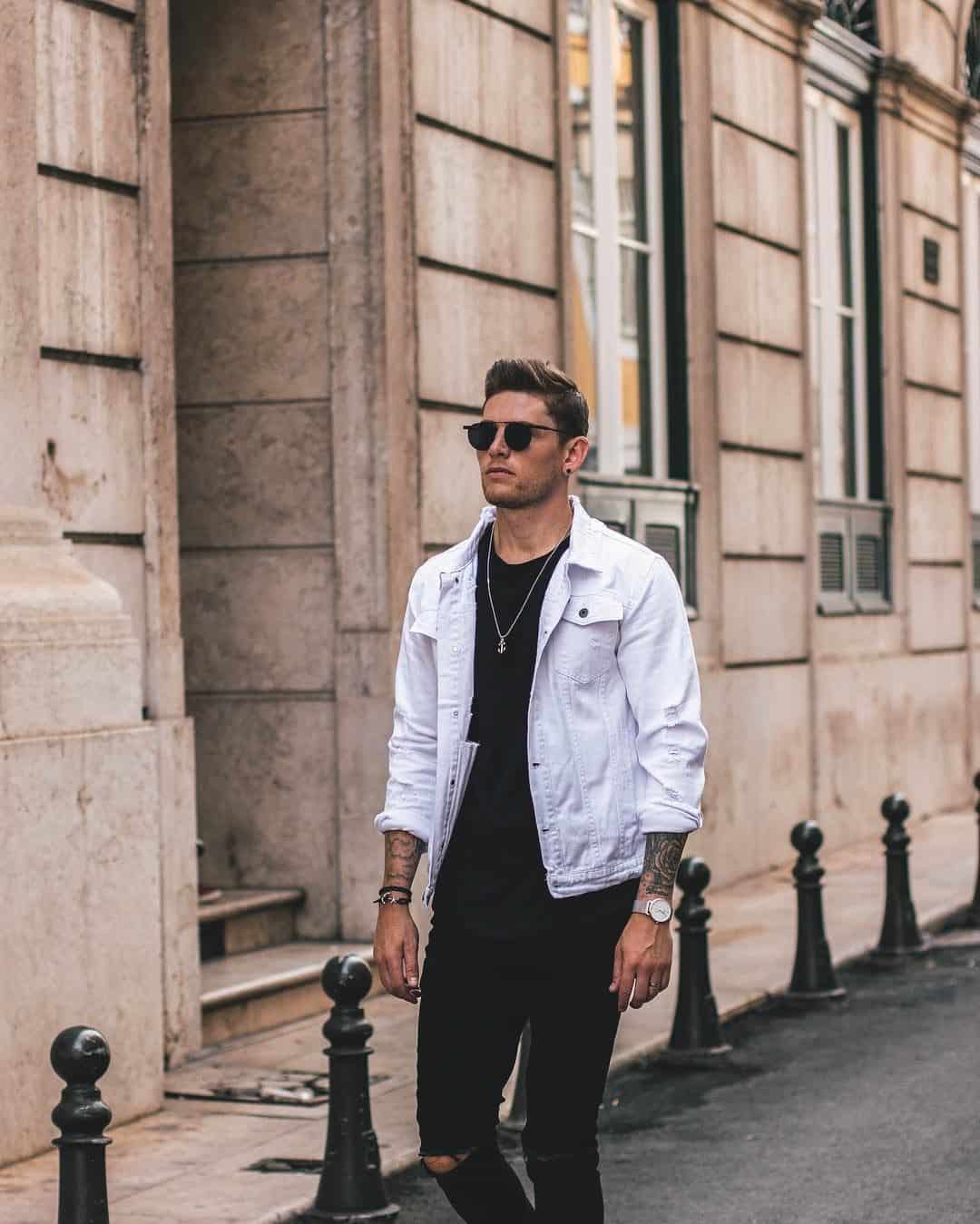 ↓ 22 – Chic Outfit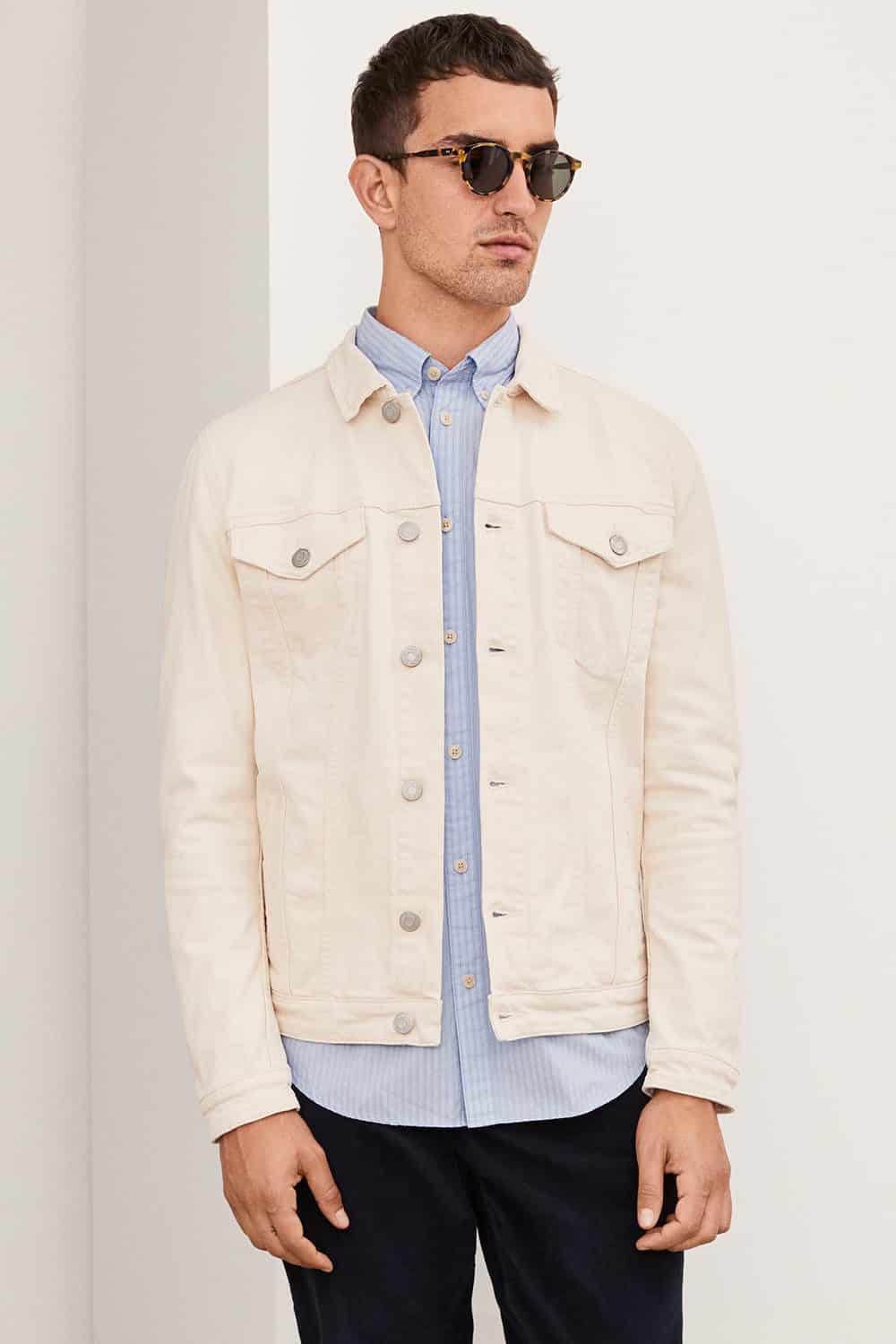 ↓ 21 – With Shorts
I understand that you want to feel less irritated by the hot weather. Luckily, there's a stylish outfit perfect for summer and spring activities. A jacket and the right pair of shorts would make a great combo. Pro tip: your jacket should not be too long so it will not swamp your shorts.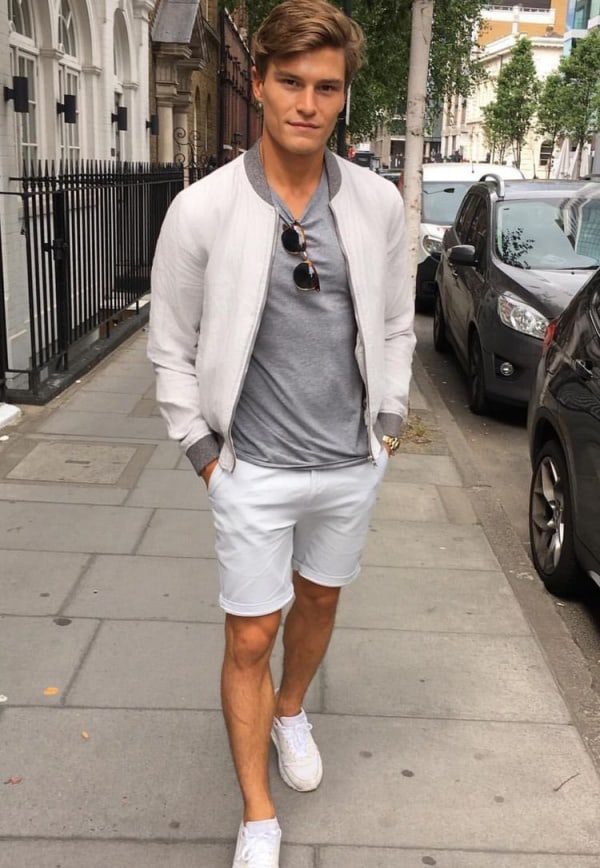 ↓ 20 – For Plus-Size Men
If you have a boxy body shape, wear anything you want. There are no restrictions, but there are some ways you can look stylish. Stand out from the crowd by wearing a white jacket. It's better to keep the overall ensemble minimal to avoid clashing contrasting shades.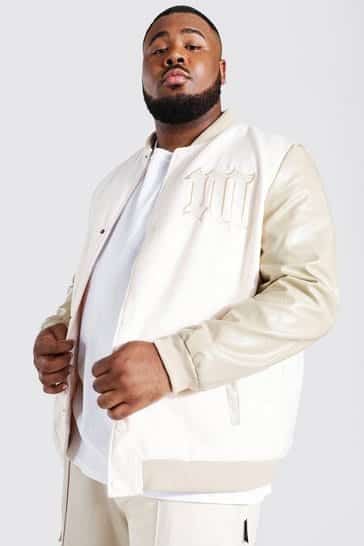 ↓ 19 – Sherpa Jacket
Denim usually comes in blue and black. However, white denim jackets also exist. In fact, you can find a variant in a sherpa style with those distinct collars. This outfit is perfect for first dates and casual hangout with friends.

↓ 18 – White Parka
This is ideal for the cold weather. It has a hood often lined with fur, authentic or faux. Parkas were originally worn by men whenever they go kayaking and hunting in cold regions. If you love wearing jackets, you have to check out my previous post on Types of Jackets for Men & How to Wear Jackets Them.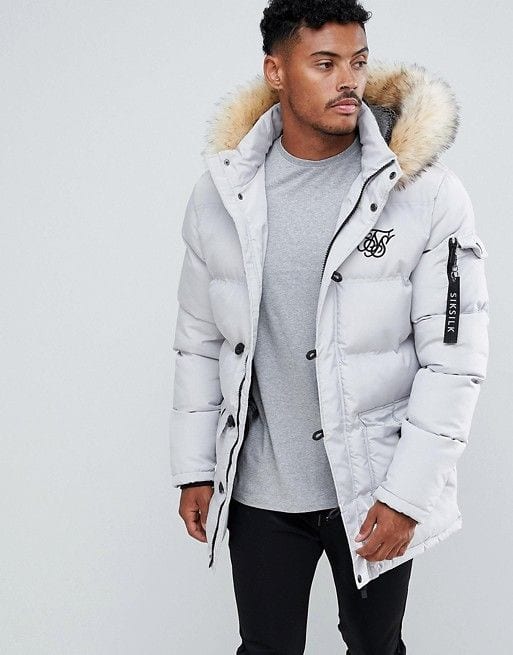 ↓ 17 – White Varsity
Varsity players and jocks wore letterman jackets in the past. Since then, it has been a menswear staple, especially for stylish men. These jackets usually come with a crest embroidered on the left or chest part. However, you can get a minimal design with less fancy details like this one.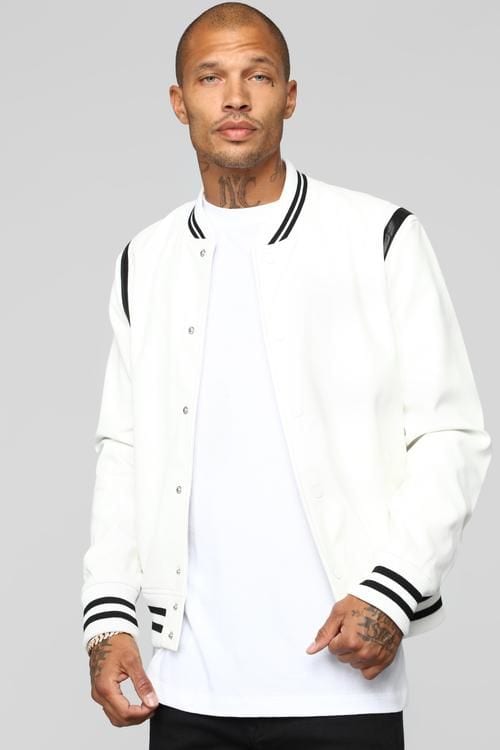 ↓ 16 – Minimalist Outfit
If unsure how to rock a white jacket, it's better to play safe for now. As such, pair it with other minimalist pieces like a brown undershirt and white pants. This laidback yet stylish outfit won't let you down as it's versatile enough to suit many occasions.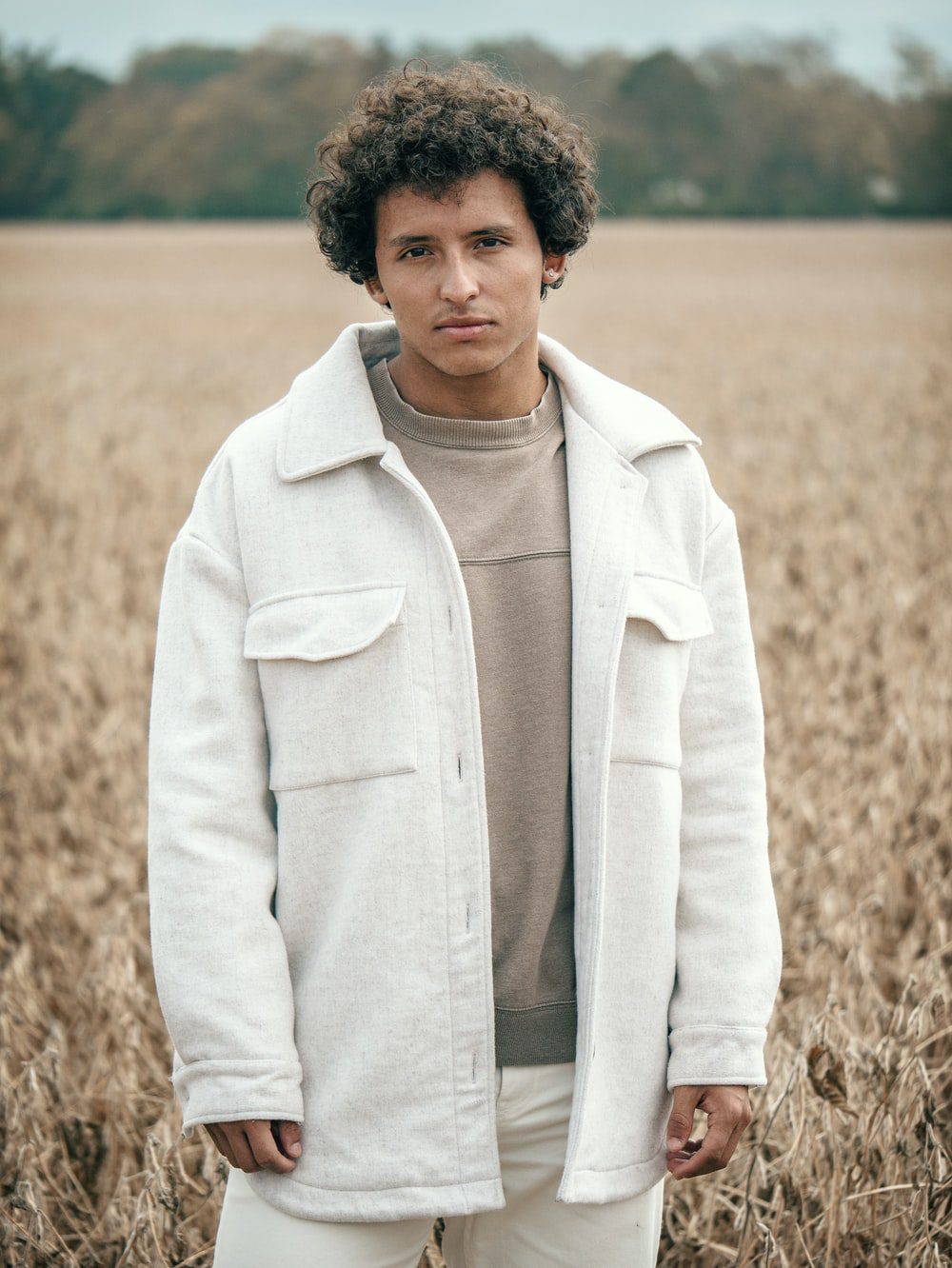 ↓ 15 – With Jeans
You won't go wrong with an outfit consisting of a white jacket and black jeans. You can also opt for blue wash jeans, but black is better. And to maintain a sleek appearance, make the undershirt black as well. Steer clear of flashy and bright colors if you're going for this look.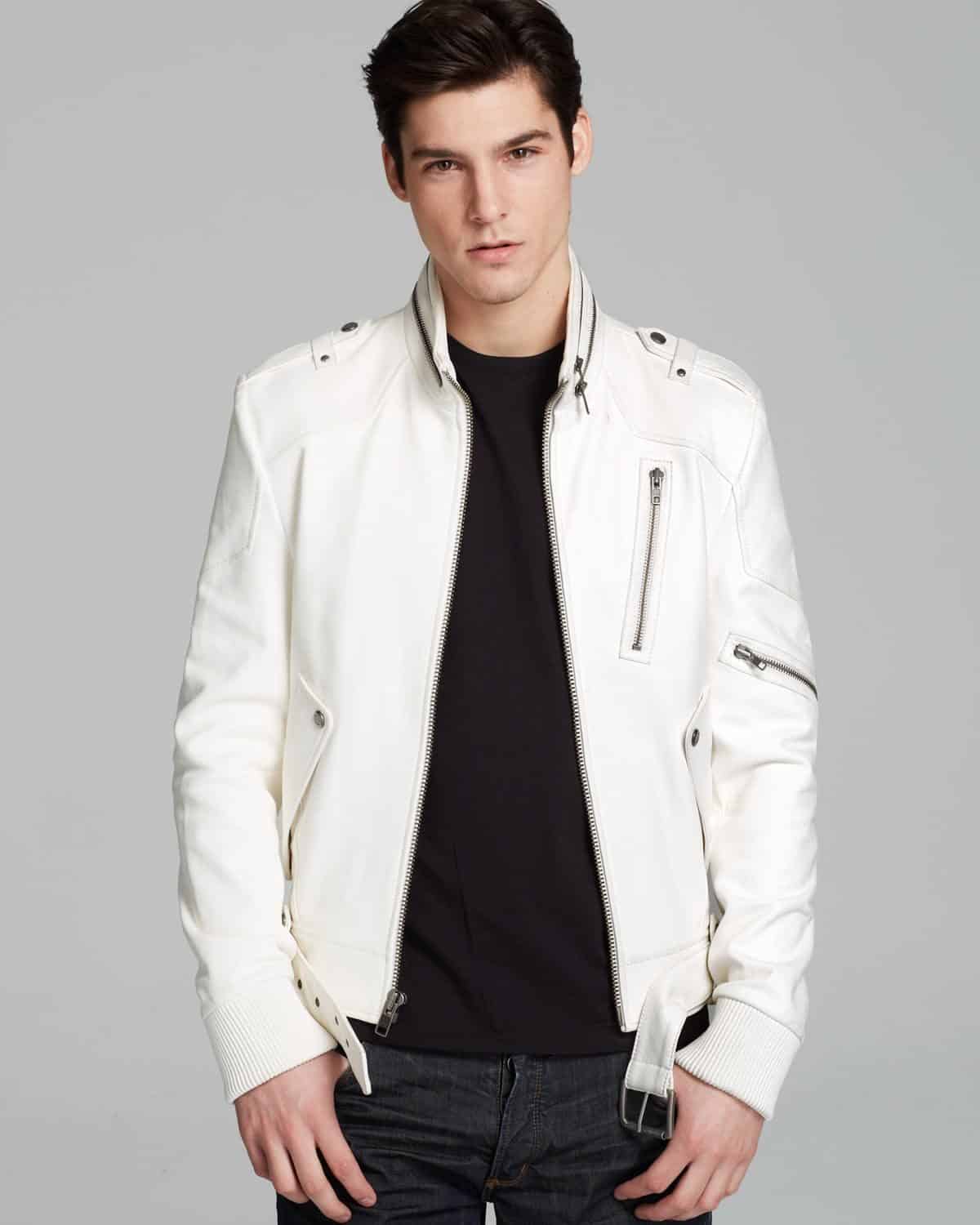 ↓ 14 – What To Wear With White Jackets
Wear a white jacket with a knitted garment underneath (preferably in grey), and team them up with blue wash jeans. You can cuff them to show the edges of your shoes. Plus, it gives an extra stylish effect to your overall appearance.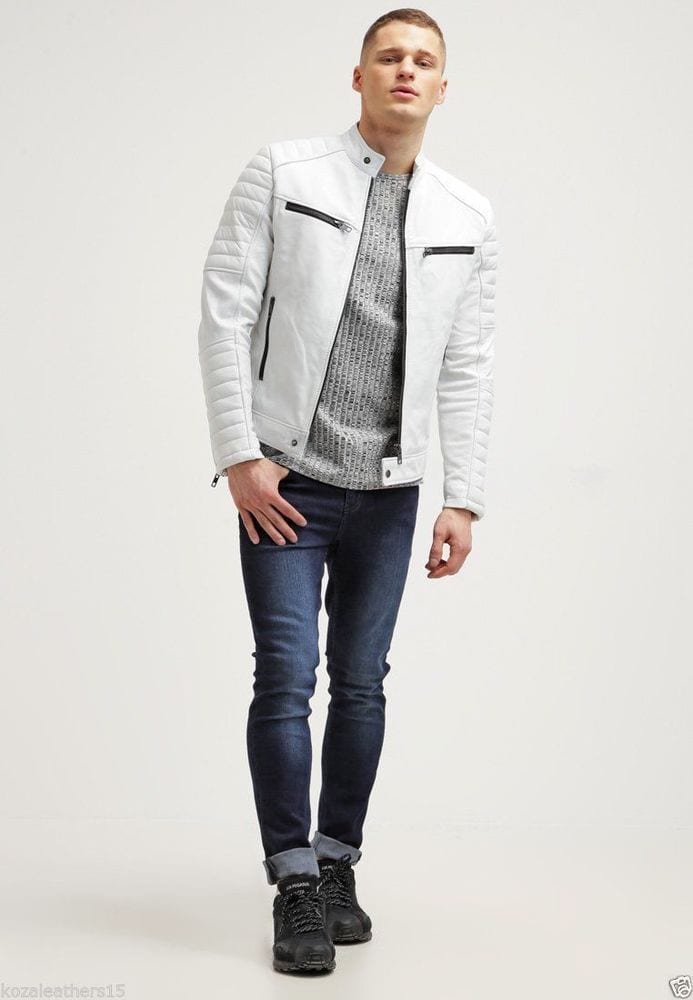 ↓ 13 – With Striped Shirt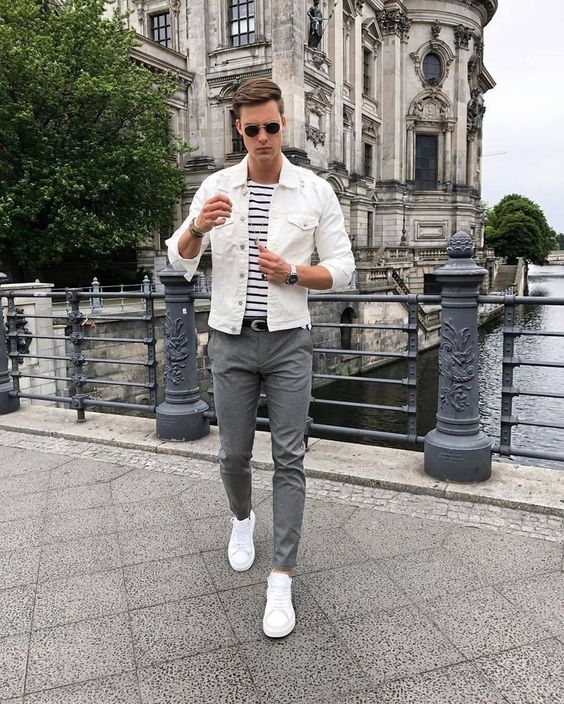 ↓ 12 – Monochrome
If you're feeling confident, then go all-white. However, you can create some balance by adding a pop of colors to your ensemble. For instance, you can do it through your accessories and shoes. And this will keep you from looking so monotonous like a bedsheet.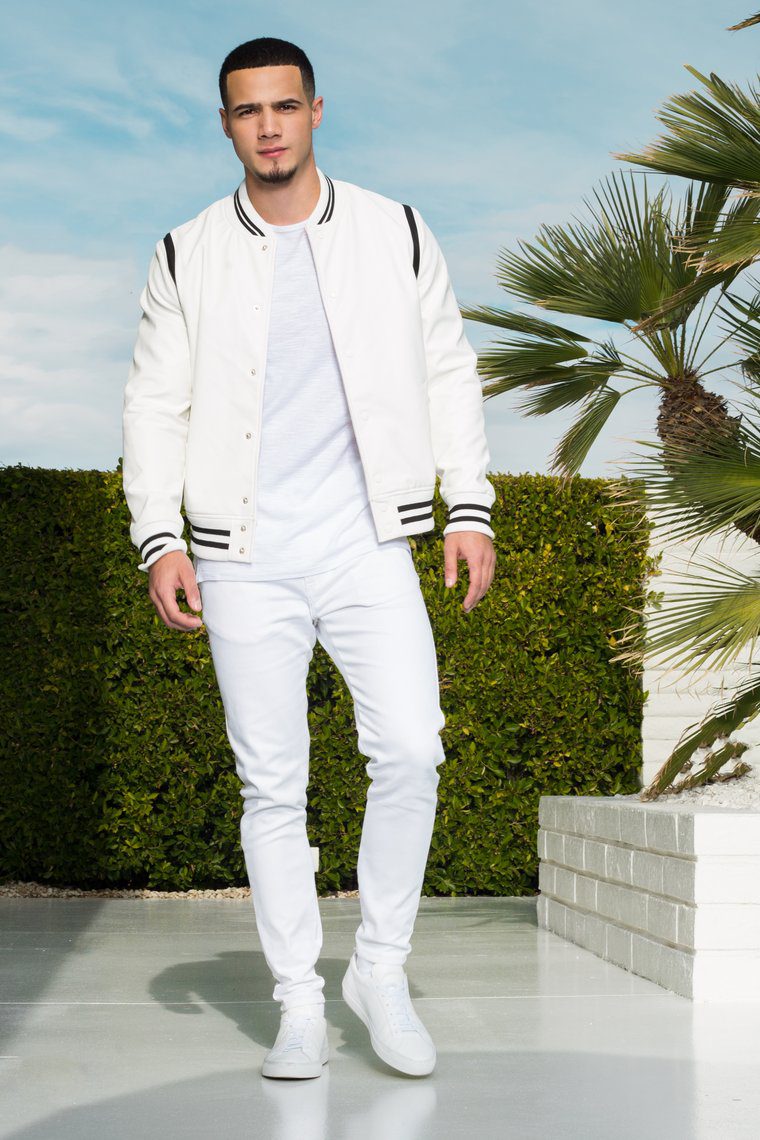 ↓ 11 – With A Hoodie
Team up your white denim jacket with a black hoodie and jogger pants for an instant streetwear getup.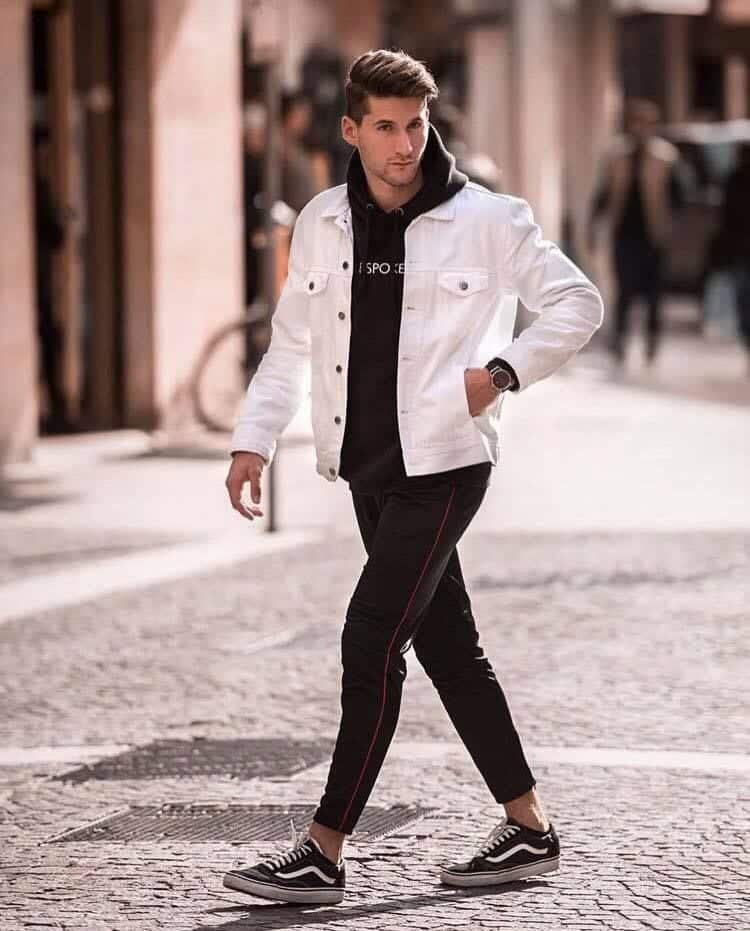 ↓ 10 – Bomber Jacket
I suggest you stay minimal with this one. Throw a cream-white bomber jacket over a white tee, and then pair them with black jeans. Here are some more of my favorite ways to wear Bomber Jackets for Men.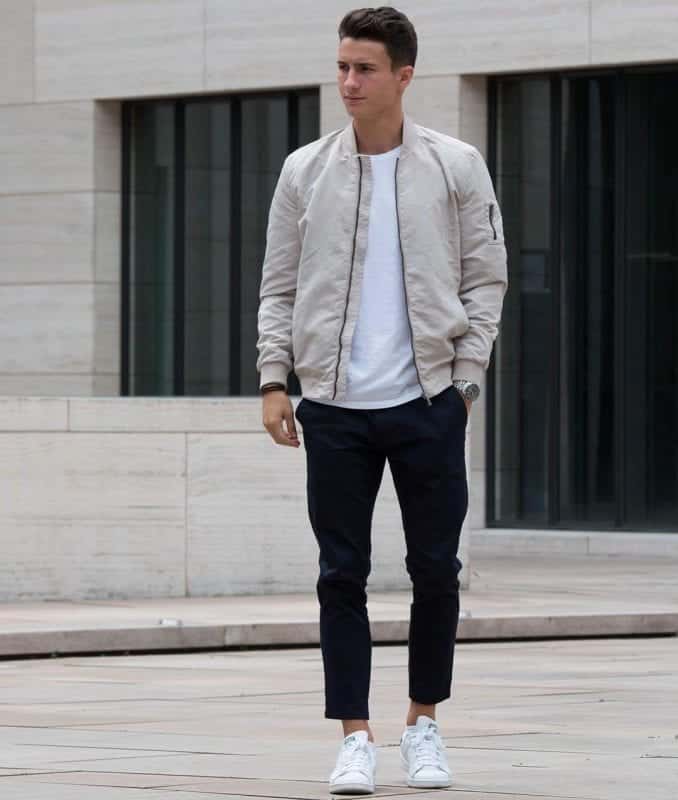 ↓ 9 – White Leather
Leather is usually seen in black or brown. But how often do you see this fabric in white? Be one of those few who are brave enough to don t his outfit. A friendly tip: ditch the biker-inspired design if you're not into it. This is also available in a restrained style.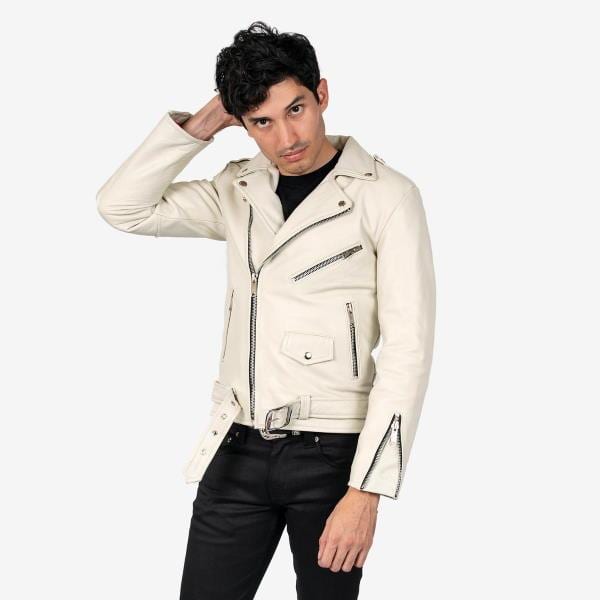 ↓ 8 – White Denim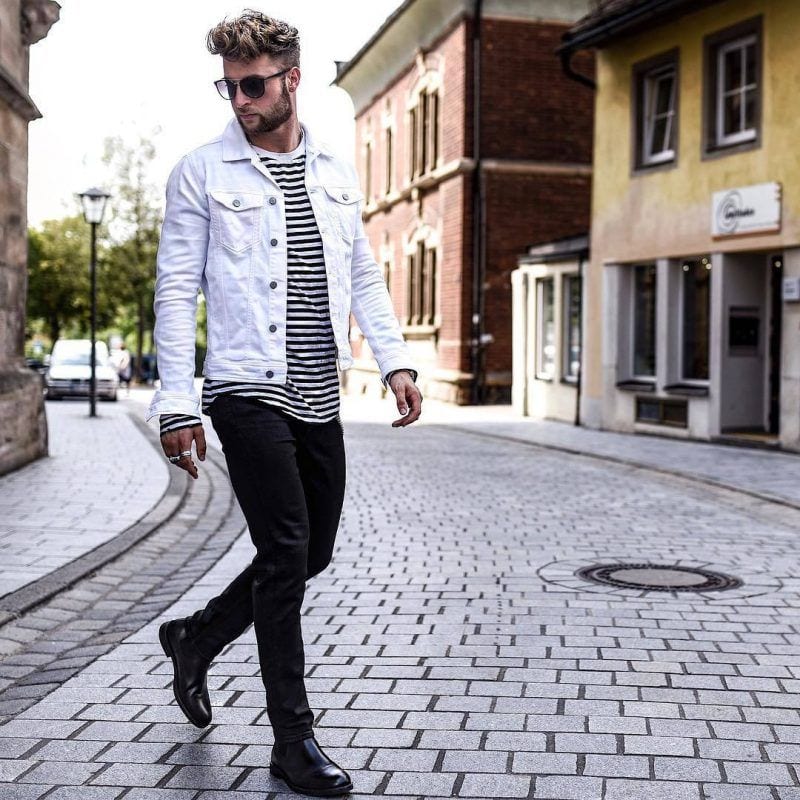 ↓ 7 – White Puffer Jacket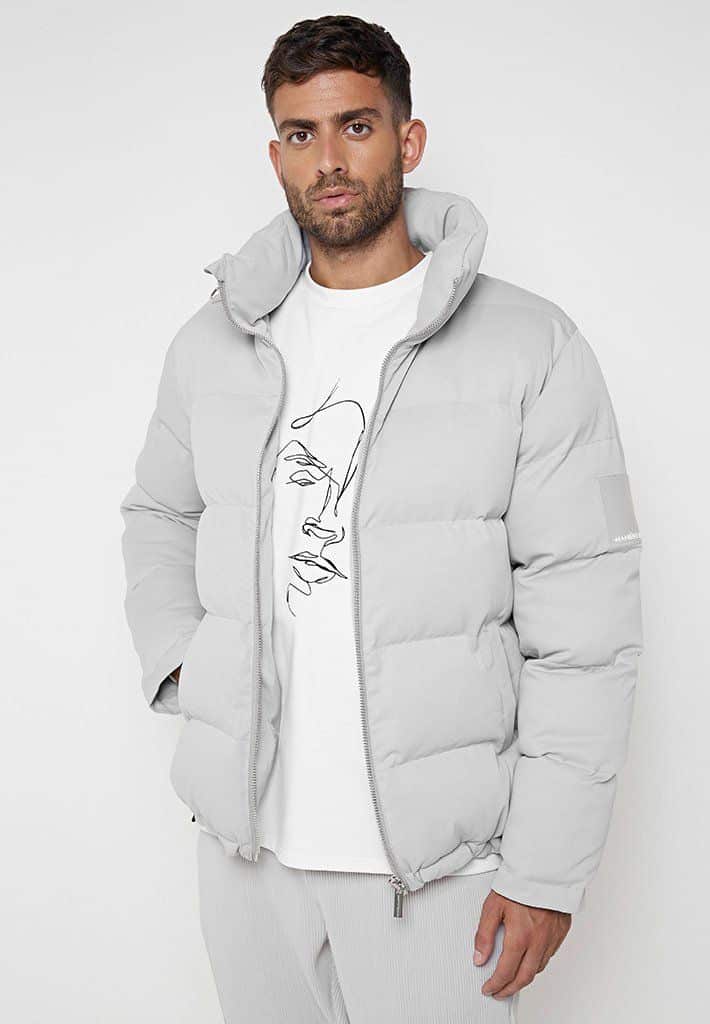 ↓ 6 – White Harrington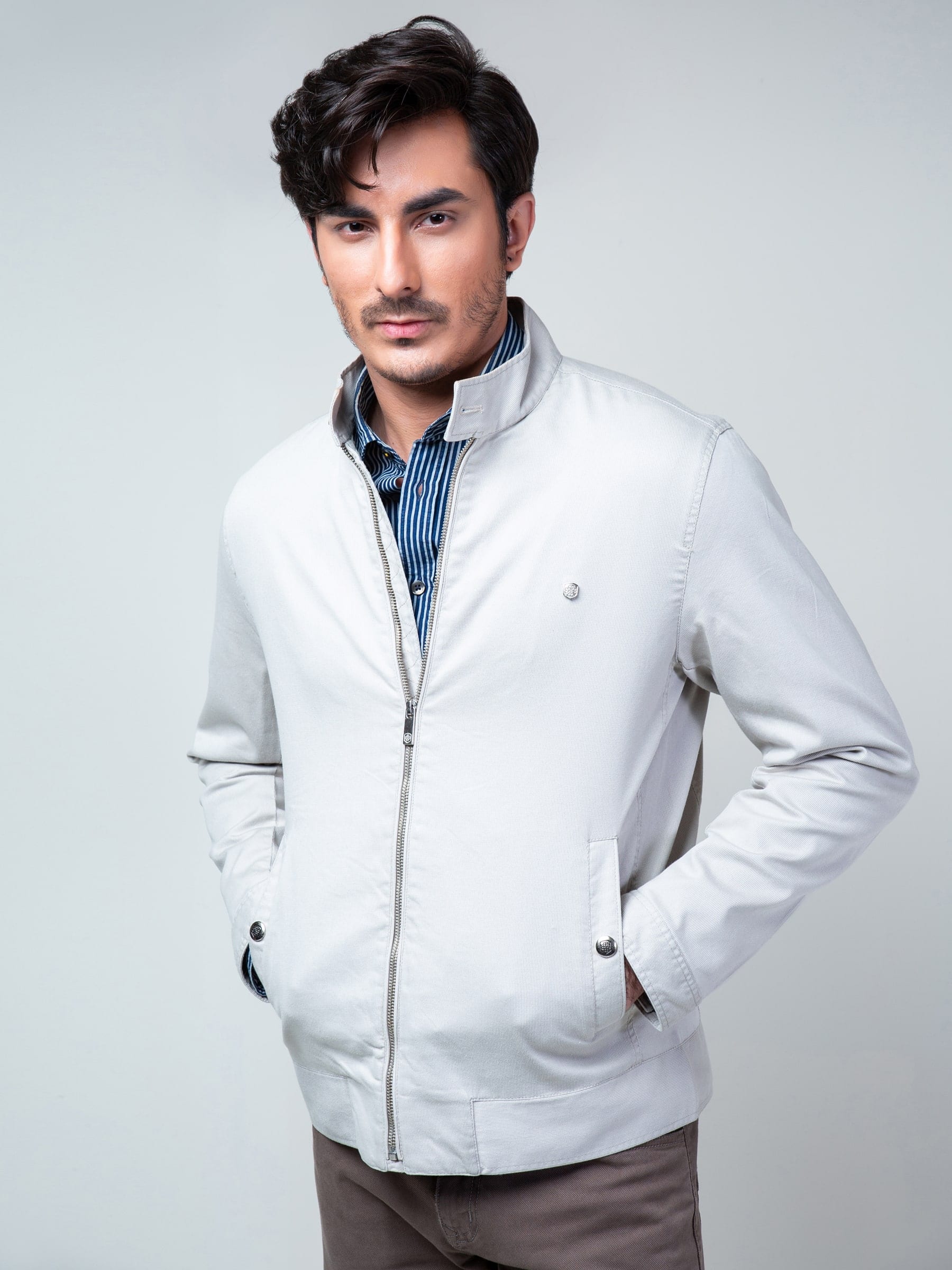 via
↓ 5 – For Athleisure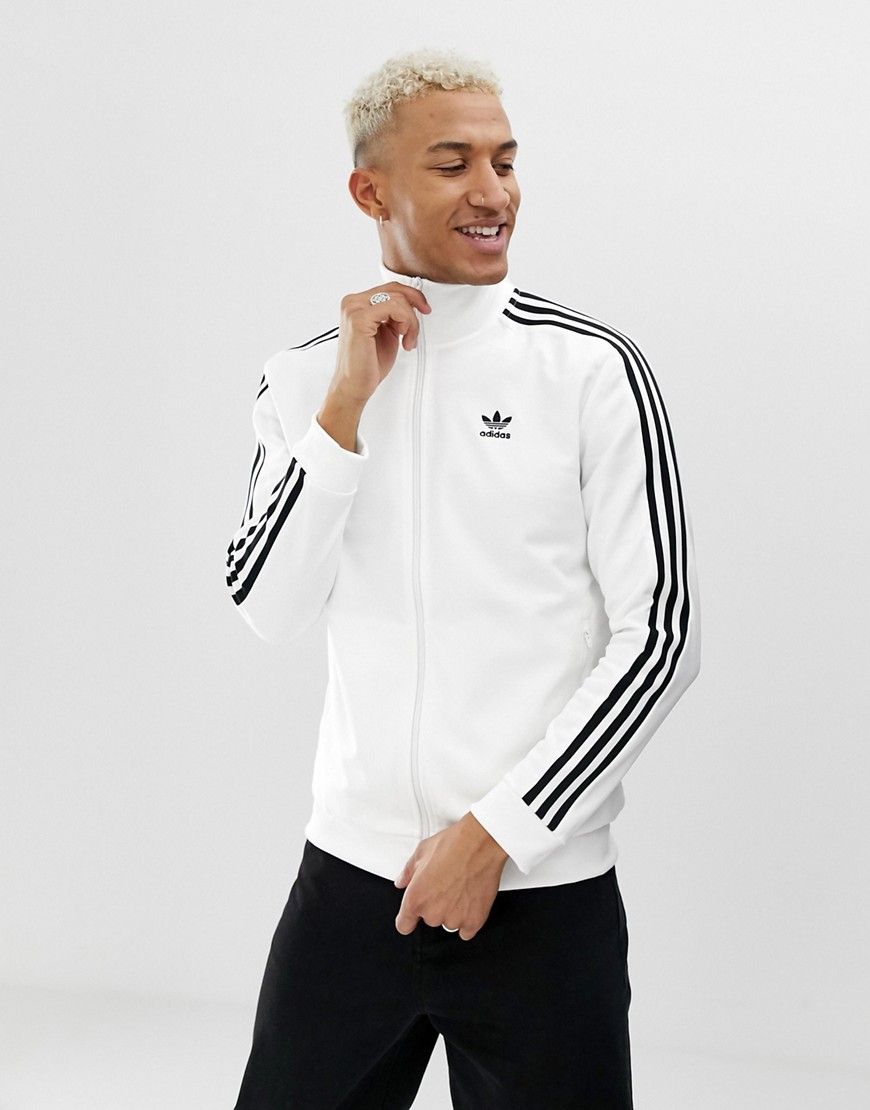 ↓ 4 – White Windbreaker
It became popular in the 1970s. It's not called windbreaker for no reason. This jacket's sole purpose is to resist wind and winter chills.
↓ 3 – Accessories For White Jackets
Sunglasses and watches would do. Try not to overdo it when accessorizing your outfits. Besides, your white jacket should be the focus and not something else.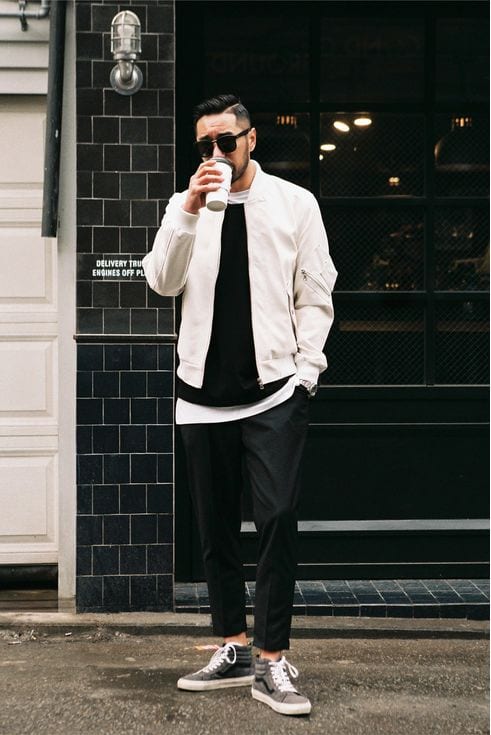 ↓ 2 – Best Shoes For White Jackets
Jackets are casual, so it's best to wear sneakers with them. But loafers look great as well – they are laidback yet luxurious in style.
↓ 1 – How To Dress-Up White Jackets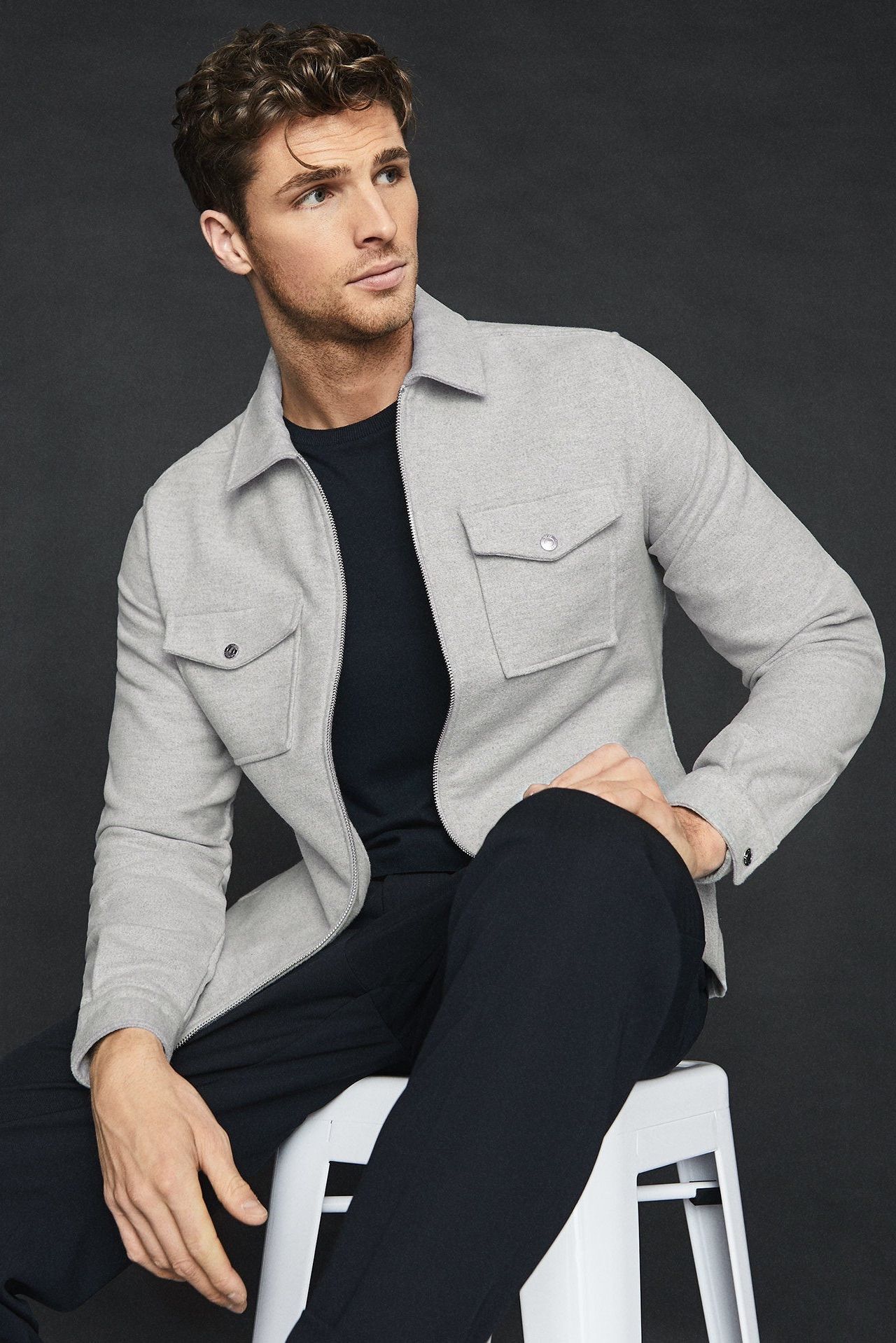 White outfits prove that you don't always need colorful clothes to look stylish and pleasing to the eye.
Frequently Asked Questions
Q. Are white jackets in style?
A. Men have been wearing white jackets for a long time now. In fact, the Harrington jacket's origin dates back to the 1930s. But Americans have a rule of not wearing white outfits after Labor Day. Then they will resume doing so comes Memorial Day. This is the only time to dislike white jackets, and it won't hurt you to abide by this – especially if you're from the USA. Other than that, white jackets are surely in style this year and aren't going anywhere soon.
Q. Is a hoodie a jacket?
A. No. They are called hooded sweatshirts, so they are more like pullovers than jackets. But they are both casual garments.
Q. Are blazers considered jackets?
A. Yes. Blazers are categorized as coats or jackets. Even dinner jackets for black-tie events can be called jackets. However, they are not usually seen in casual and streetwear scenes, so that some people will claim otherwise.
Q. Are jackets and coats the same?
A. Yes. But not all the time. The point is some jackets aren't considered as coats as the latter is longer in size. For instance, trench coats can't be jackets, as well as peacoats. But other variants like raincoats and sportscoats can be called jackets.
Q. Are white jackets casual?
A. Yes. But when we hear "white jackets," it can mean lots of things. For one, a white jacket is something you wear as part of a suit. For instance, a white dinner jacket is generally seen in black-tie events and formal functions. And a white unstructured coat or blazer is under the corporate dress code. But the facts and images in this post are all about casual white jackets.
Q. How should I wear a white jacket at work?
A. If your boss allows it, opt for a minimal white bomber jacket or overshirt. Wear it to the office but make sure to do it right. As such, throw it over a plain tee and pair them with chinos. This may not be appropriate for Mondays, so wear it on Casual Fridays and Saturdays. This is also ideal for a work-from-home wardrobe.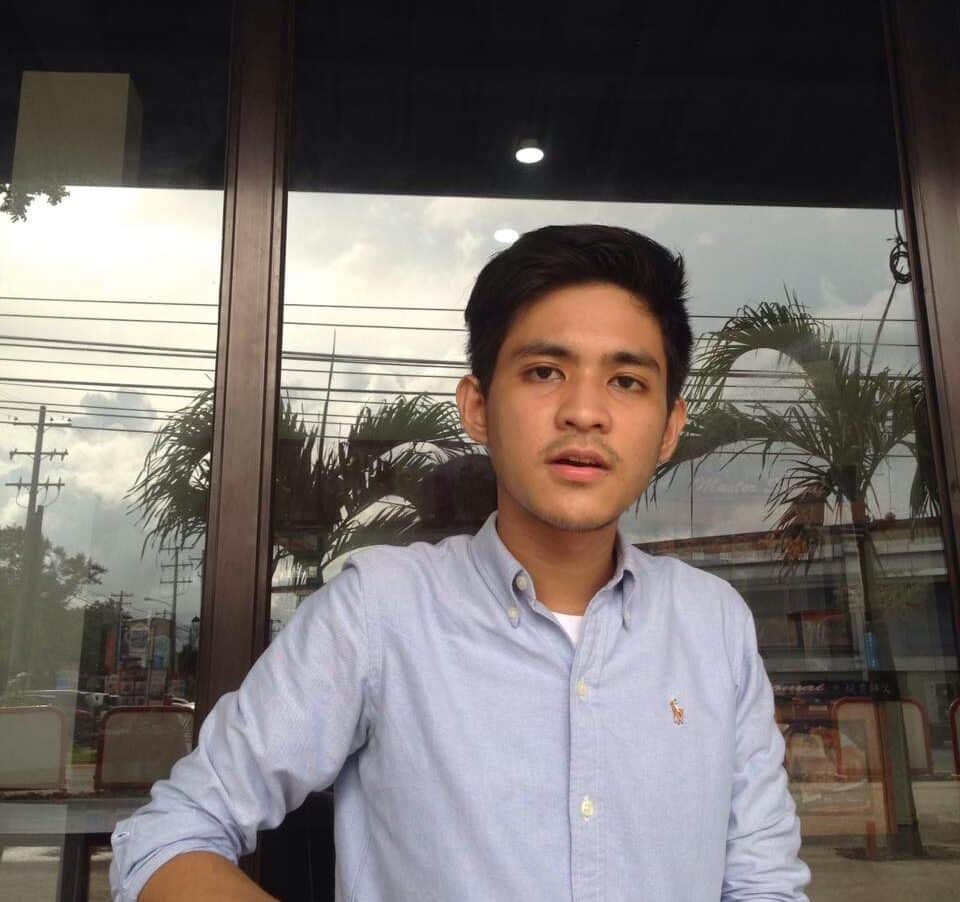 John Vincent studied Communication Arts in the Philippines.
Growing up, he's always had an eye for aesthetics. He enjoys writing a lot. Books, TV series, and movies are a big part of his life. His all-time favorites are Harry Potter, Game of Thrones, and Marvel films.
He believes that fashion is a pure form of art. You express yourself through your personal style – it's something you can't replicate.