Bar Hopping Outfit Ideas. It is summer, and you might have brave plans of bar hopping on your agenda for you and your friends. Similarly, if you are just looking for some going-out outfits you might benefit from this article as well. There are some unspoken rules on how you should dress for a night out – and if you are struggling with figuring it out, this article is perfect for you.
You want to remain stylish while indulging in some drinking with your friends, and you probably also want to look your best.
How to Dress for a Pub Crawl?
Below we mention 3 of the most popular pieces that we're seeing in the bars this year:
Black Bootie Heels: Having a pair of black heels on a thick and sturdy heel is the best option to go for, when you aim to roam around various bars at once. Not only are they dressy and perfect for going out, but unlike really thin heels – will not hurt your feet. Not to mention they match any outfit.
White Mini Skirt: This is not only a very easy item to style into a going-out outfit but matches the latest trends. It will make you look cute and put together – without taking too much effort.
Leather Jacket: A leather jacket brings out your confident self like no other clothing article, which is something we all can agree on. Therefore it is the perfect option for when you are going out – because who doesn't want to feel ultra-confident? Furthermore, it is the perfect item to keep you warm and hang off your shoulders while you're inside.
And now, let's review some inspiring outfit ideas for bar hopping:
Casual Bar Hopping Outfits for Ladies
21 – Funky Color Blocking
Oranges, reds and pinks can be paired together to create a funky, color-blocked outfit – casual and yet so put-together.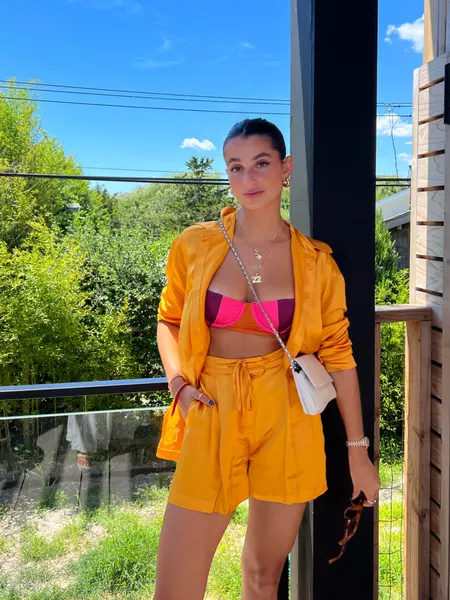 20 – Create a Sexy Look with a Leather Tube Top
A very simple way to dress up an outfit with jeans depends entirely on the material of your top. For example, in this outfit, the use of leather through the top allows you to dress up the outfit effortlessly. Additionally, the cropped fit of the top will also dress it up a lot without any extra effort.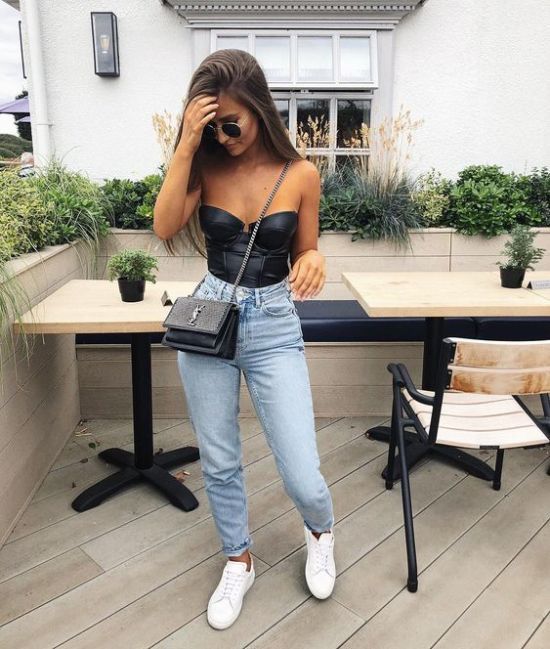 19 – Use a Bright Colored Tank Top for an Eyecatching Bar Hopping Outfit
Alternatively to the aforementioned style tip, there is another easy way to quickly create a going-out look without trying too hard. Also, start with some skinny blue jeans; all you need is a brightly colored tank top.
In this particular outfit, the tank top is a bright red. However, it is your choice if you see yourself in a different bright color. A jewel green or a cobalt blue would work very well.
18 – Contrast the Loose Fitting Jeans with a Tight-Fitting Tank Top
Alternatively, you can also contrast the loose fit of your jeans. After all, if you are looking for a street-style-inspired bar hopping outfit, you must remember the rules of street style.
This fashion style is based largely on the combination of various elements, oftentimes which are largely contrasting. Therefore if you choose loose jeans, and match a skinny-fitting animal print tank top, you will achieve your goal.
17 – Casual & Comfy
This plus size bar hopping outfit is all about comfort!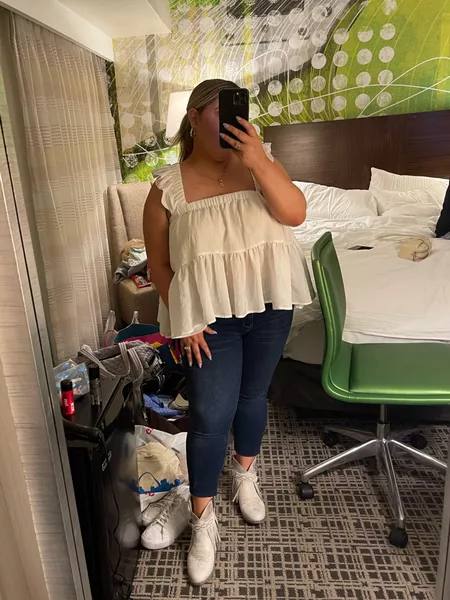 Bar Hopping Outfits Summer
16 – Bar Hopping Road Trip Look
If your plan involves going from city to city or perhaps coast to coast on the road then you need something that's vibrant, stylish and comfortable. A bodycon dress is a good choice for a 'girly cute' look. Here are some Ideas on How to Dress for Road Trip.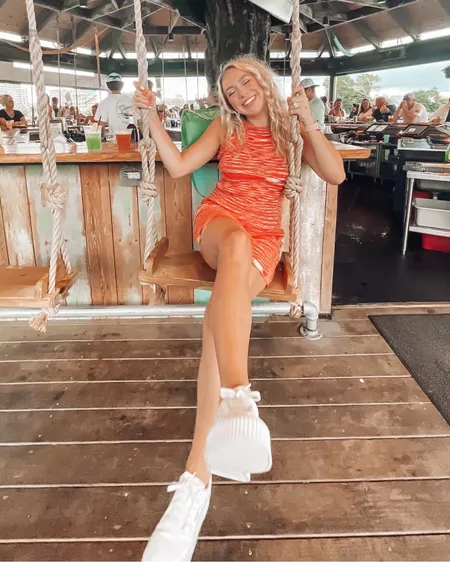 15 – Go For a Seethrough Top for an Edgy Outfit
Alternatively, you can contrast the put-together look of the white denim jeans, with an edgy top. And nothing contrasts these pants more than a seethrough grey top. This one, in particular, is special because it has metal detailing. It is unique, and wearing something like this to a bar is going to make you feel dressed just right for the occasion.
14 – Try Out a Pastel Colored Maxi Body-Con Dress
Last but not least outfit on the list is a dress, although we wanted to offer you an option that is not basic. For instance, you might be surprised by this very stylish yet refreshingly unique maxi ribbed body-con dress. Especially since this dress in a very unique colorway.
13 – What to Wear Bar Hopping During the Day Time?
Starting the list off with a simple option, all you will need to complete this look is a black tank top of your choosing and some jean shorts.
Here is a similar look created with a white top and black jeans: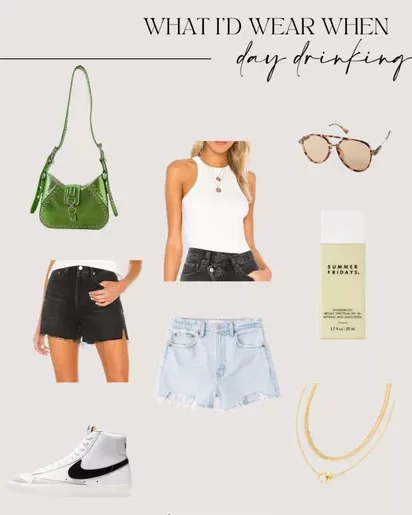 Bar Hopping Outfits Fall
12 – Pair a Black Longsleeve Blouse with Skinny Jeans
A similar alternative to the first outfit is modified for colder weather. You might think about finding a black blouse that has long sleeves. Yet one which maintains the going out the appeal, with specific cutouts. Pair with some blue skinny jeans and some cute black heels.
11 – Pair Nude Shoes and An Animal Print Top
Alternatively, you can try to ditch the blacktop and go for something with a print. Although since we are still in the more casual part of the list, this outfit is based in neutral shades.
For example, a cheetah print top, still has dominant nude colors. Thus it pairs perfectly with nude heels, although will not seem as plain as the previous outfits, with simple black tops.
10 – Black and White Combo
No glamorous outfit section would be complete without a classic black and white outfit. So try out a pairing of some high-waisted white jeans and a deep-cut black tank top.
The outfit will look much more put together if the pants have a more professional fit. For instance, with some creases in the front as seen in this particular outfit.
Here are some more of my favorite Black and White Outfit Ideas For Women.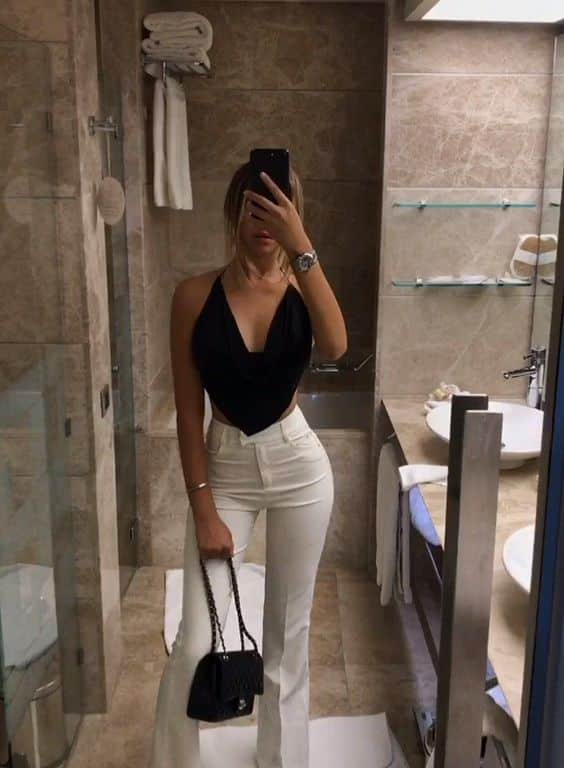 If you aim to wear one of the aforementioned black and white combo but feel like something's missing, try this trick:
We recommend incorporating bright colors in the details like the shoes and the bag. This way, you will be comfortable and the outfit will be simple to create; however, you can be sure to look fancy enough for the night out due to the color.
9 – Create a Cute & Girly Look with Baby Pink
The same pants from the previous outfit would also look very good with a more dressy top. For instance, a baby pink fluffy fuzzy top tube top. To make the outfit look complete, try wearing pink shoes. This particular example contains very tall heels, although we recommend sticking to boots with a thicker heel, for greater comfort.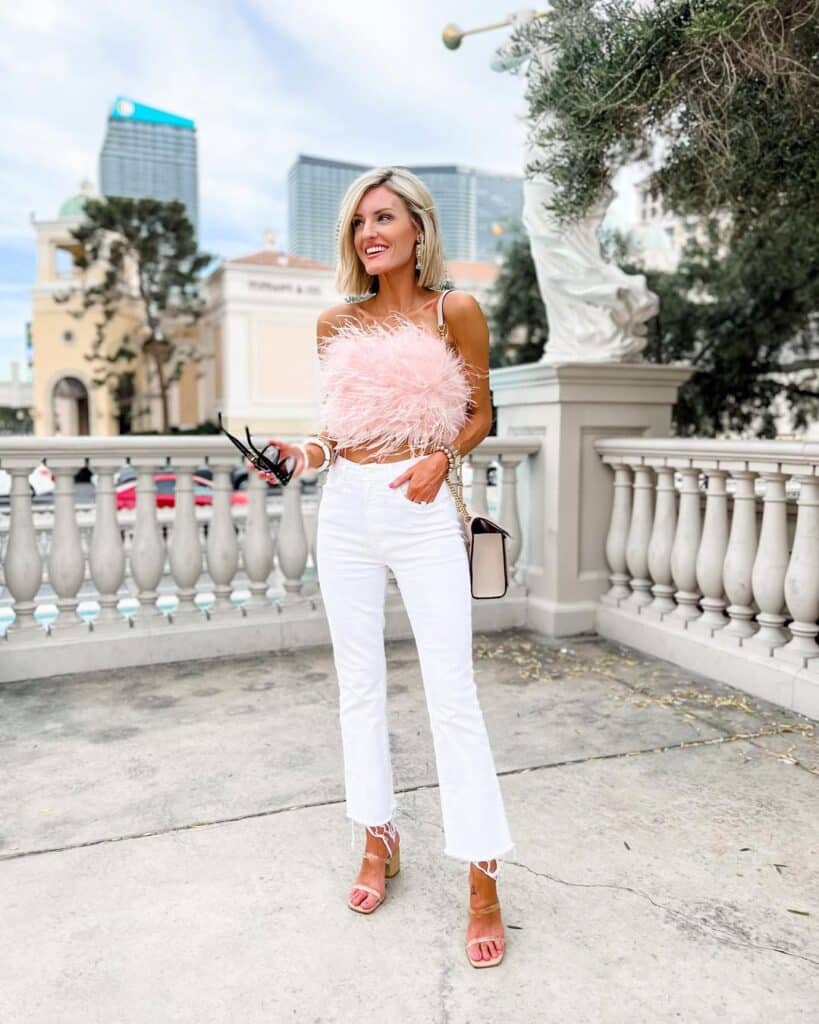 8 – Go For Some Black Leather Pants for An Edgy Look
As we near the end of the list, you can expect to find all the dressiest outfits. This option entails a pair of leather pants, paired with a black top. The way to make the outfit more special, especially if you feel let down by an overhaul of the color black, is definitely through a shirt with interesting cutouts. This way, even a monochromatic outfit will look intricate and unusual.
7 – Match Different Colored Denim in Your Bar Night Look
Similar to the advice in the previous outfit, mixing elements can also mean mixing different colors and textiles. For instance, notice that this outfit contains two different colors of denim. As a result, you can see that although all clothing items are relatively casual, the outfit looks very put together.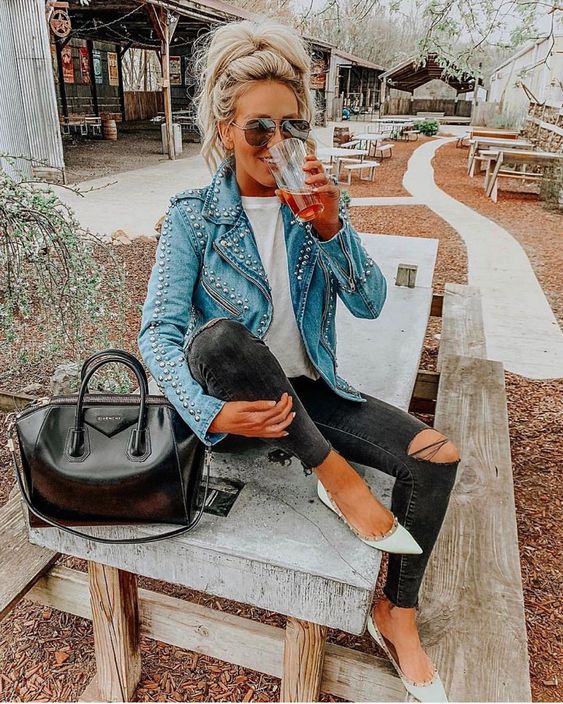 6 – Effortlessly Cute Bar Hopping Outfit
As we move further down the list, expect to see more intricate outfits. This however is still rather simple, although has a different edge to the previous few. The main factor which differentiates this style is the fit of the pants. The mom jeans create a street style aesthetic instantly. Add to this with a loose-fitting denim jacket.
5 – Go For a Slick Look with Skinny Jeans, and Black Knee-High Boots
Another way you can easily spice up some skinny jeans is with tall black knee-high boots. Then, to contrast on the top, try to pair it with a top that shows off more skin. For example, a thin black tank top with lace. To complete the look pair it with a leather jacket.
Winter Bar Hopping Outfits
4 – Go For a Unique Pant-Suit Outfit
Another absolutely wonderful outfit to wear to the bar is a pants and blazer. Although don't feel disappointed yet – the outfit is far more exciting, in part due to the color and finish of the textile. For example, you can see in this particular outfit the blazer is a very defined light grey shiny color. Therefore, this blazer is more special and more event appropriate.
3 – Wear Jeans and a Jacket to Go Bar Hopping with Coworkers
If your co-workers have asked you out to a bar and you want something cute but appropriate this is the perfect option. Pair some jeans with a lacey one-piece top, and wear a blazer on top. Although your top is going to be lacey and fun while the blazer will make you look decent enough to be with your coworkers.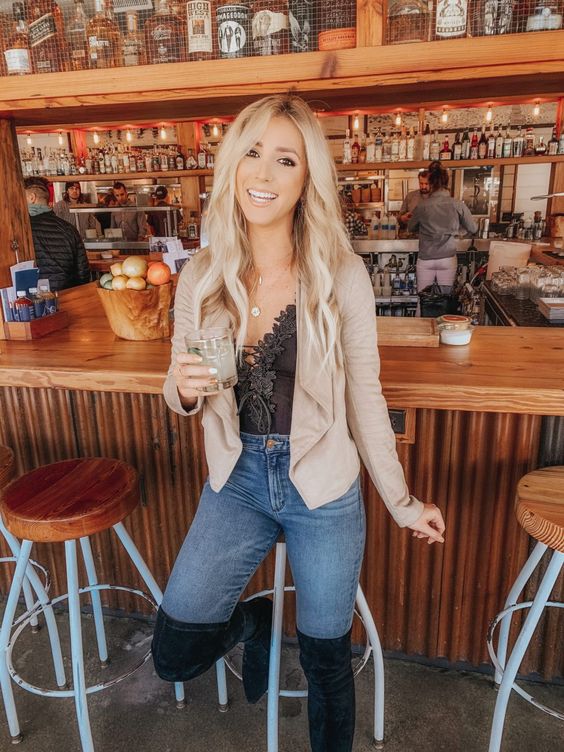 2 – Pair All White Garments for a Classy Outfit
In this section, expect to find some classy-looking, glamorous pub crawl outfits. Starting off with a simple one, an outfit that contains all white/cream-colored garments. Try out pairing some wide-leg white jeans with a white tank top and a cream cardigan to pair.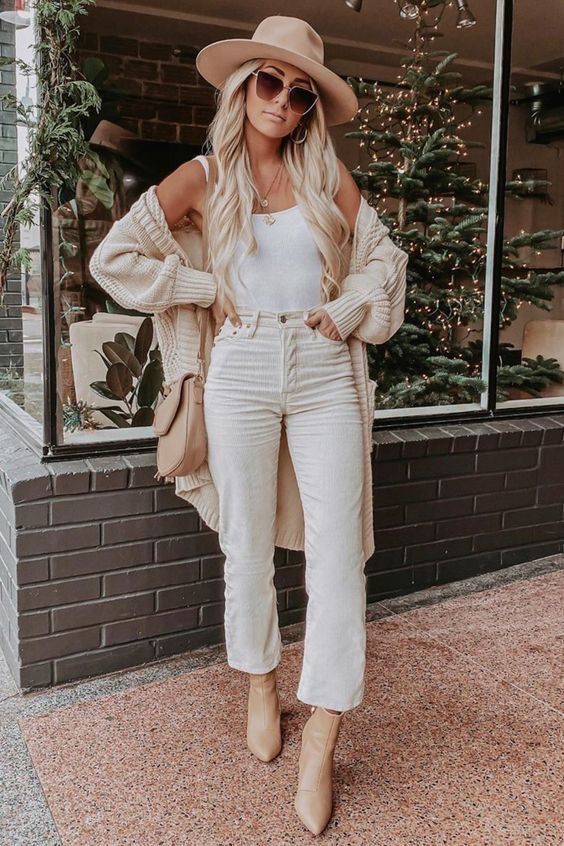 1 – Match the Print of Your Shoes to the Print of Your Shirt
Try out the power of intricate pattern pairings. For example, you might want to wear out a pair of really unique snake-printed boots. Although to elevate the outfit evermore, you can also try finding a matching snake print top and pairing it together.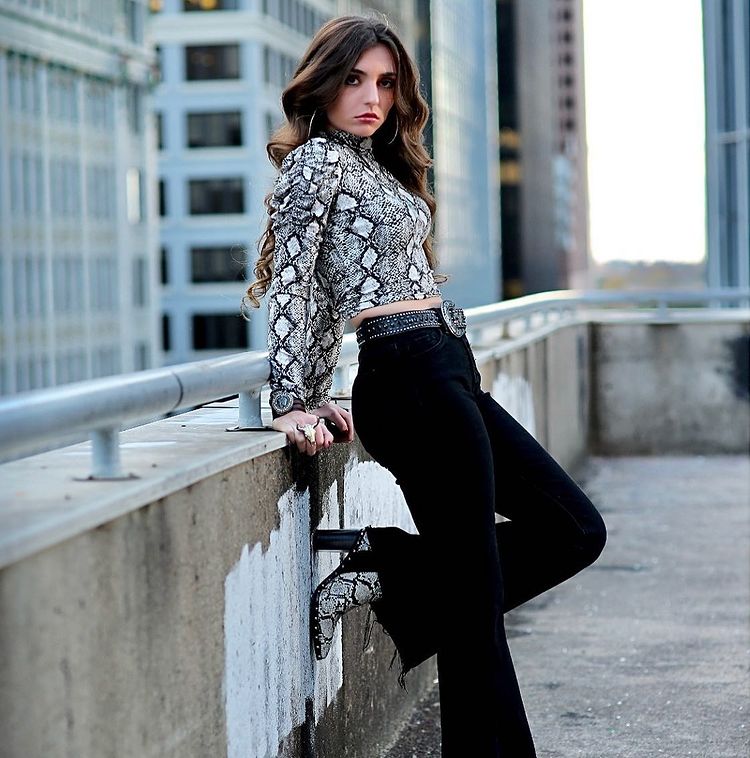 Frequently Asked Questions
Q. What you should not wear to a bar?
Try to stay away from clothes that are warm. Nobody wants to be too constricted when they are walking around from bar to bar. Not to mention it will also make you more comfortable in terms of feeling more attractive. So why not wear something that is more open and resembles your personality better?
Q. Can I wear jeans to a bar?
Although you might not expect jeans to be a good bar clothing item, it might surprise you. Just don't think of jeans in the most basic sense. They do not only need to be skinny blue jeans, there is a plethora of loose-fitting and casual-looking jeans. Some of these options can really release your personal style, which is perfect for a bar hopping outfit. Since you will feel not only comfortable but also really confident in yourself.