Outfits with Leather Pants – Are you tired of wearing mainstream trousers and jeans? Then it's high time to wear some cool leather pants. You can wear them with simple tops (see stylish tops collection here) and ankle boots that look simply fabulous. Or to give a more formal look for special occasions you can pair them with coats/jackets and heels. Wearing leather pants is a bold fashion move and could be hard to pull off But, you do not need to worry we have all the tips you will need to rock leather pants effortlessly.
Black leather pants have always been in fashion. They go with any color. But don't restrict yourself to black only. You do not need to be reluctant to try other colors as well. Nowadays red leather pants and blue pants are emerging as a new trend which makes it easy for you to match your other colorful accessories. From this collection, you can get a lot of ideas on what to wear with leather pants? How to wear it? Just see how these girls have paired it with different outfits to get a glamorous look.
Wearing leather pants can enhance the casual look. You can wear different kinds of shirts with leather bottoms. If you plan to head to a cocktail party, you can wear them and look stylish anytime. They are very trendy and in fashion this season. There are different kinds of leather pants which also includes leggings. This is one of those trends that have been successful throughout the year. Classy pants give you a chic look. You can wear those for a retro look. Leather pants are also fashionistas' favorite. They embrace this style to grab everyone's attention. Below are the pictures to give you plenty of ideas and to show you how you can wear leather pants and with what kinds of outfits. Just make sure that you wear them with a perfect combination and colors. The pictures below are very helpful to let you decide your outfit combination. Check them out.
 How To Wear Leather Pants?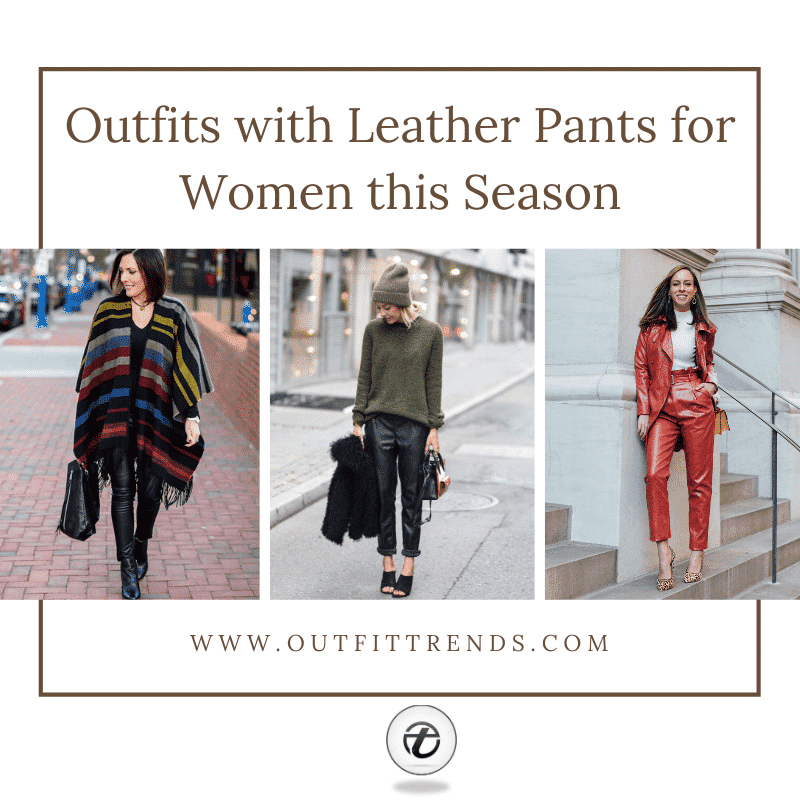 Fashion Tips for Wearing Leather Pants:
Do not wear leather pants with leather jackets. Double leather items just do not work
Wearing pastel colors and shades can make your pants stand out more
Better to add a layer of jacket or blazer with leather pants for a complete outfit
You can wear your leather pants with a denim jacket
Do not wear leather bottoms on a hot summer day
Try to pair your pants with a casual shirt, but avoid something too casual like graphic tees
Do not go for a monotone outfit, it is better to add some contrast
Choose muted shades of tops instead of bold, screaming colors
Avoid wearing leather pants to formal events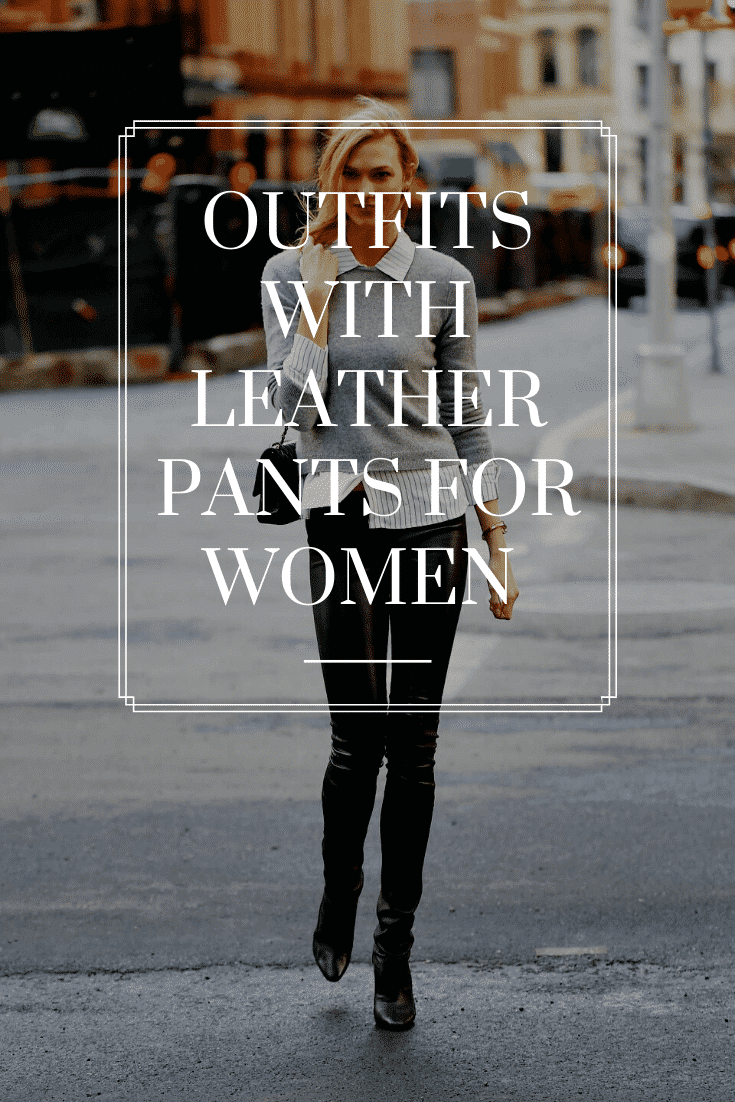 ↓ 17 – Leather Pants with Lace Top
Leather pants with lace top make the best combo in the world. As much as comfortable they are, they are elegant looking at the same time. For the color combo, it is very obvious that you must o for white colored or any other light-colored lace top and then wear chocolate brown colored leather pants. For more spice in your dress, you can wear a belt in brown color over your lacy top. Don't forget to wear a brown colored cap and brown colored messenger or side bag. Lace tops are delicate and adorable. You can pair a nude-colored lace top with black leather pants. Add a blazer on top (go for a black one, though shades of gray might also look fine). Lace tops look best with delicate jewelry. If you can find a tiny necklace or maybe some earrings then add them to your look.
The best thing about this outfit idea is that you can wear this outfit to any casual occasion and even to work on to college. This look works on more casual places such as a mall or brunch with your best friends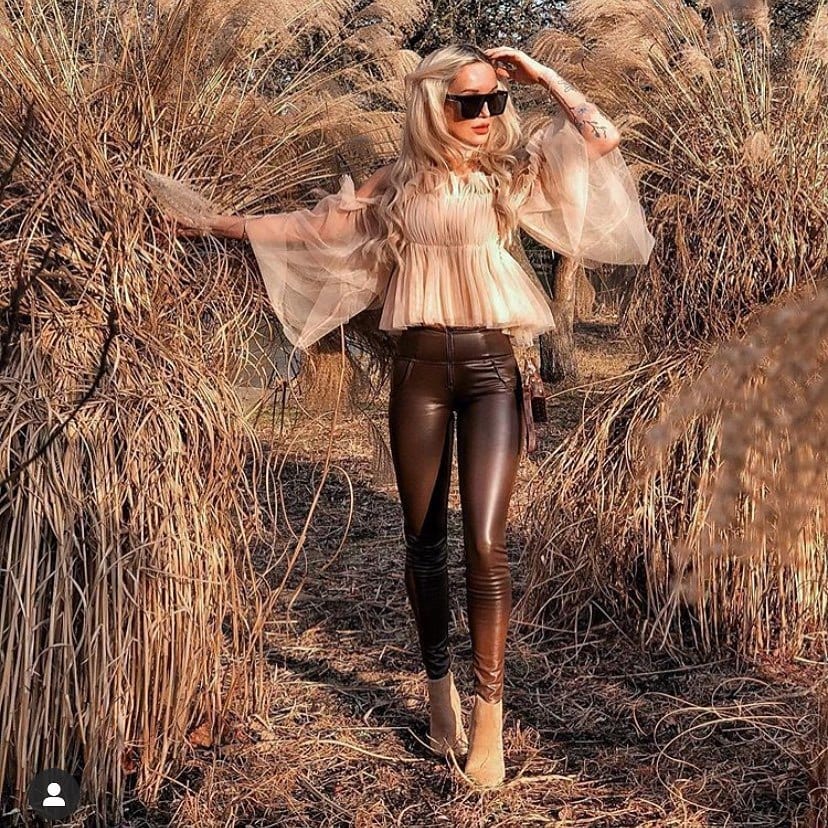 ↓ 16 – Leather Pants in Winter 
Leather pants are the perfect thing to wear in winter because they will keep you warm throughout the day. For the perfect winter combo, you can wear black colored leather skinny pants and then wear a formal shirt over it, then wear a cream or beige colored sweater over the shirt. If the winter season is at its peak then you can wear an overcoat in black color over the sweater. You can wear a scarf as well and also wear gold-colored bangles and add a long necklace over the sweater. For shoes, go with heeled pumps or some big black boots depending on how casual your look is.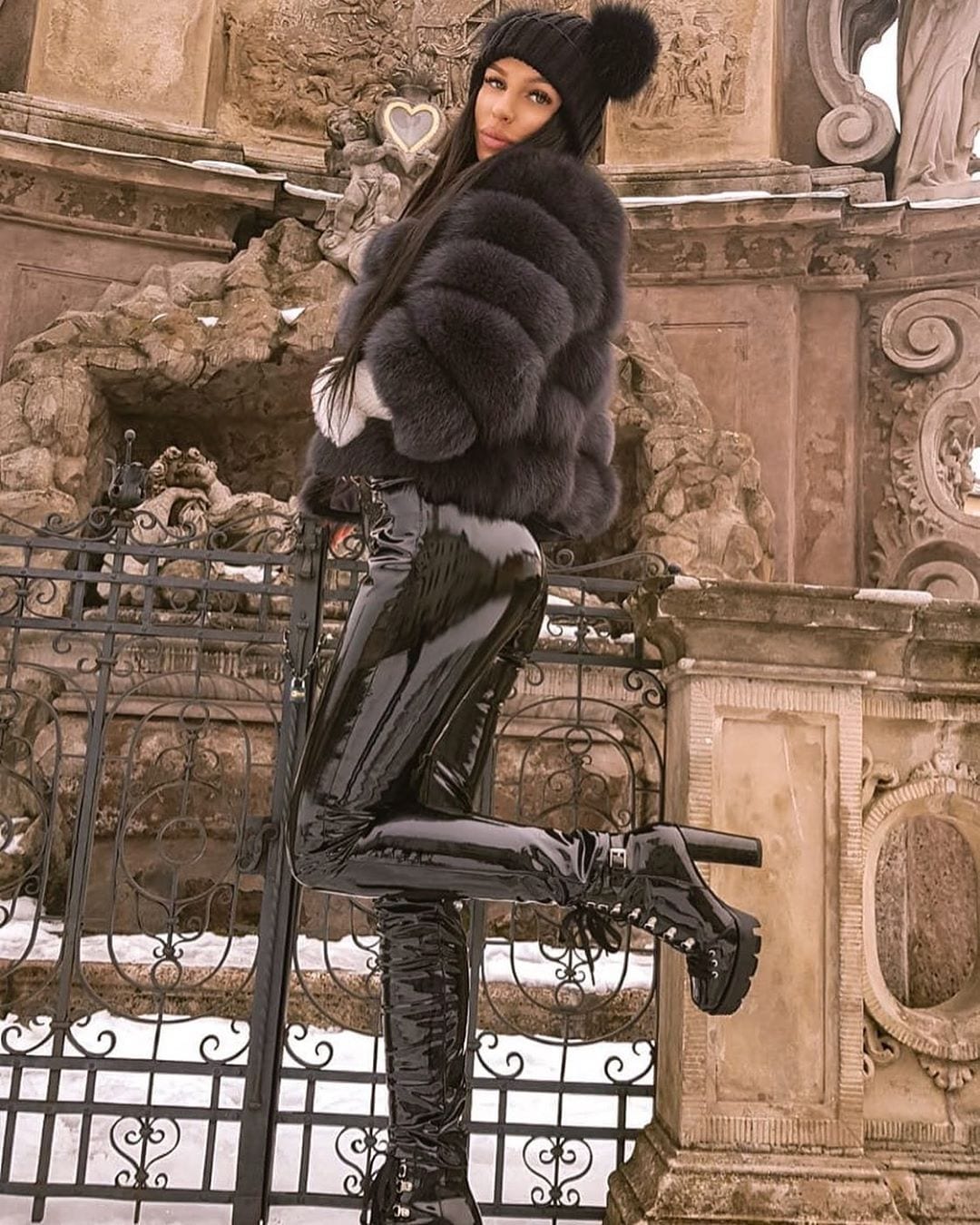 ↓ 15 – Wearing Leather Pants to a Party
Ditch the mainstream dress everyone would be wearing and opt for some leather pants next time your friends throw a house party. If you are about to hit a party or go to a get together at your friend's place then you can wear these leather pants and look the best there too. For combo like this, you need to wear black colored leather pants with a fur jacket. The jacket should preferably be in vibrant colors and should be fully coated in fur so that it will look like a formal and semi-formal dressing combo. Accessorize yourself with black colored jewelry with gold specs in it. You can also go for golden colored jewelry like golden bangles, golden rings, and even gold rings along with the outfit. For the shoes make sure you wear high heels to add to look like the baddest girl in the house.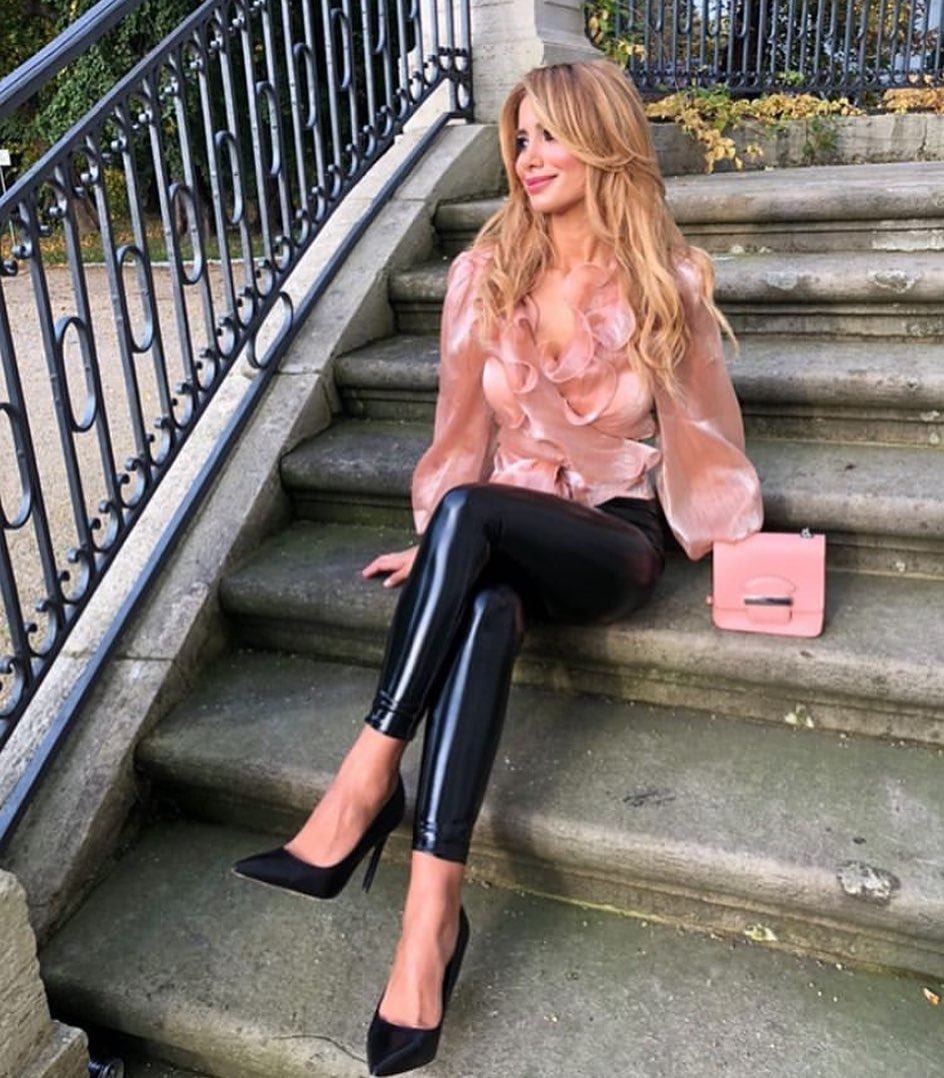 ↓ 14  – Black and White
The classic black and white combination is ever gold. No matter what the trends are, black and white looks will always top them off. When confused about what to wear with your black leather pants, go for a plain white shirt. If you want to step up your game then wear bright colored orange high heels along with black colored leather jeans and then wear a white-colored tee over the leather pants. You can also add a black and white mesh patterned coat for the ultimate combo.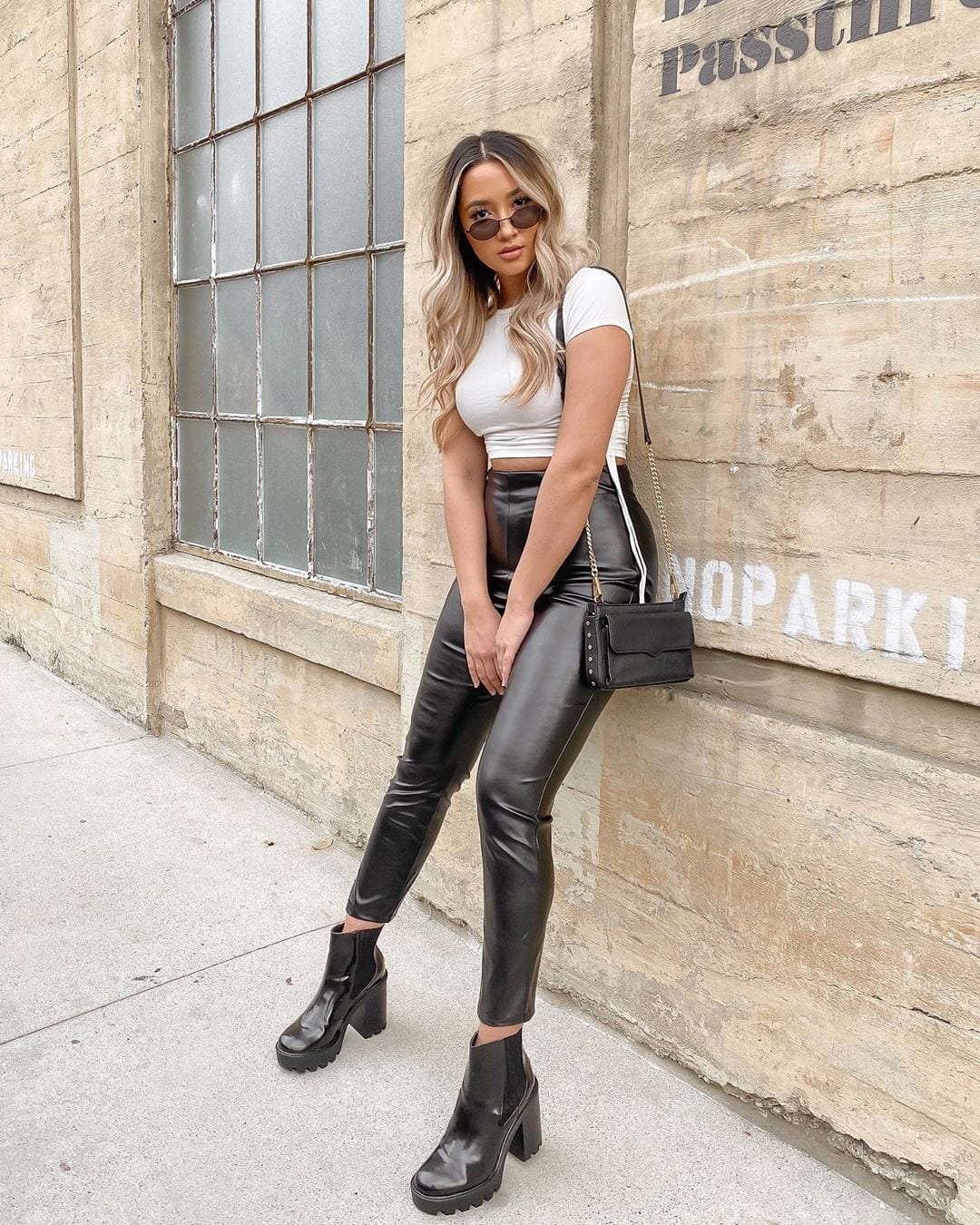 ↓ 13 – Colored Leather Pants
Leather pants don't have to be in black color only you can wear them in maroon or any other non-black color as well. You can then go for a nude-colored top over the pants and tuck it inside for a perfect look. Don't forget to wear a golden colored jewelry statement necklace.
When choosing colors for your pants be really careful to go for something you can pair with most of your tops. Avoid neon colors as the pants themselves are bold enough you do not have to go overboard with it.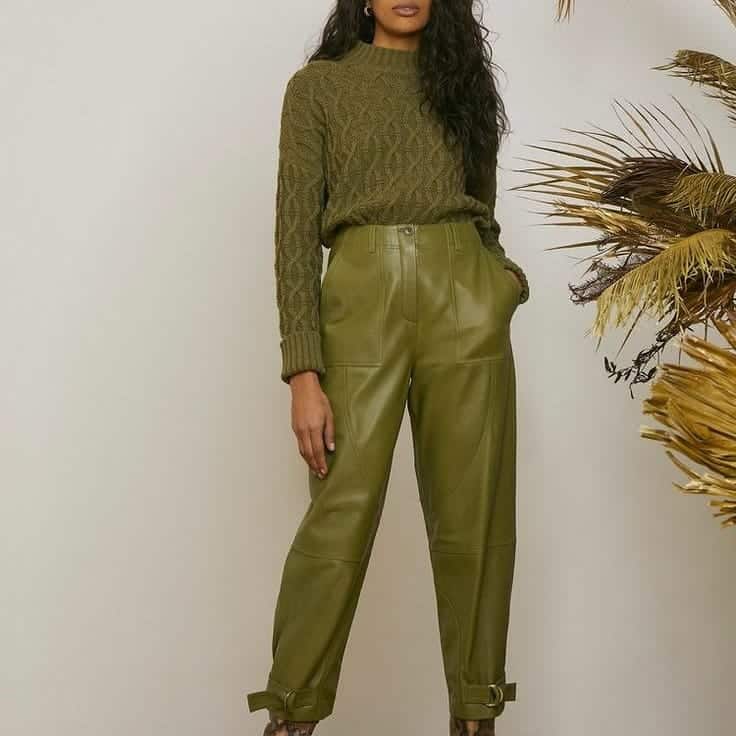 ↓ 12 – All Black Outfit
Black leather pants can be paired with a black top for a gothic look. This look works better at night and winters, as dark colors are preferred in these conditions. You can add a black layer on top, but make sure not to wear a leather jacket. Only one piece of leather per outfit.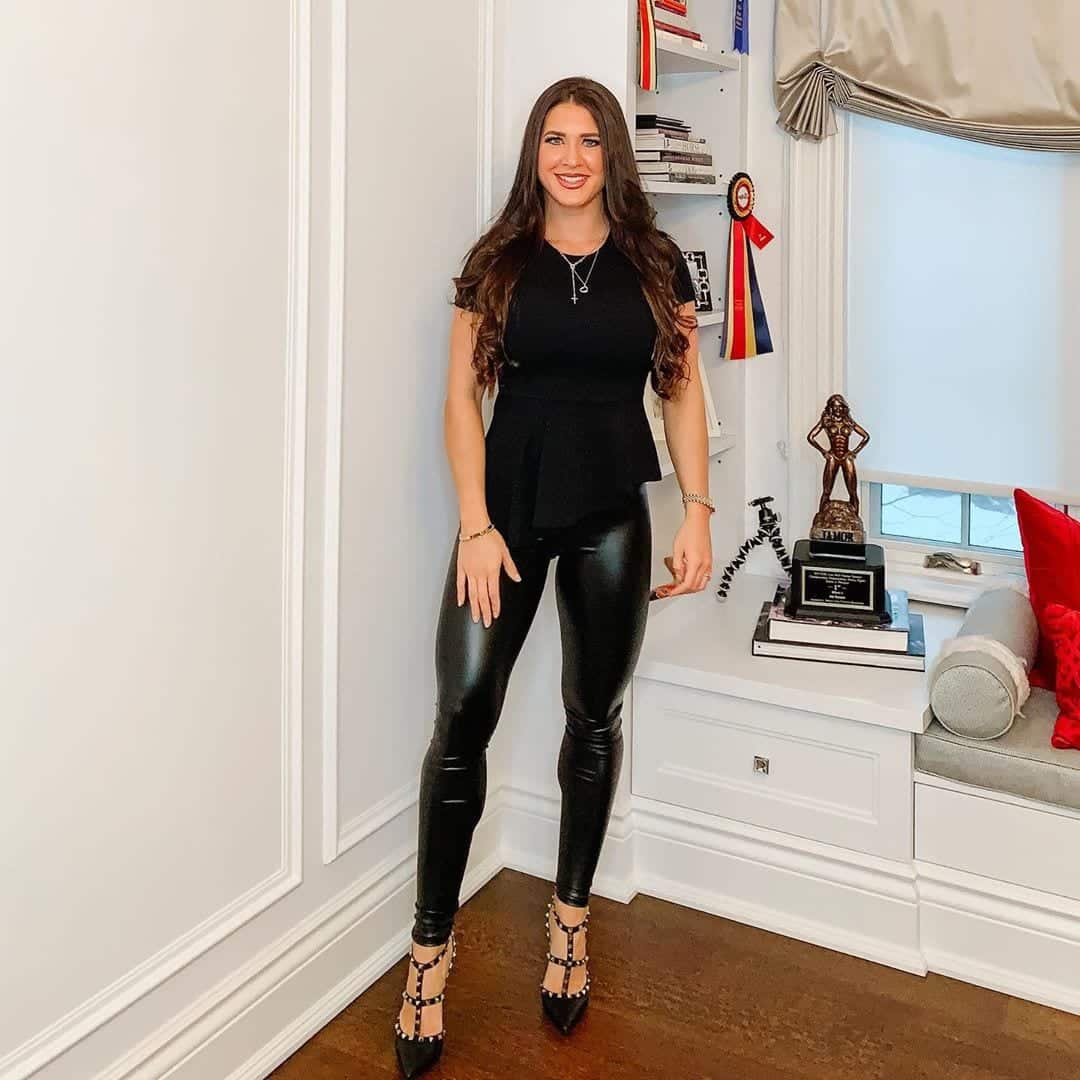 ↓ 11 – Nude Leather Pants
Ever since the Kardashians made nude famous, we want everything from our lips, to nail color to pants in nude. It is a tricky color to pull off. If you are wearing caramel-colored pants, avoid wearing neon tops or pairing it with flashy colors. When it comes to contrasting, nude goes best with white, or some other contrasting shade.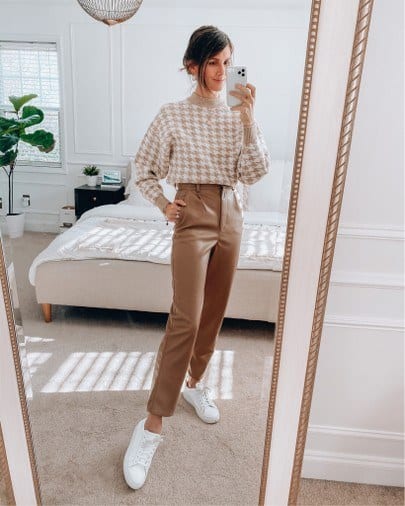 Get the look:
H&M – Free Knit Sweater in Beige – $19.99
ASOS DESIGN – Premium Leather Tapered Pants – $190.00
M.Gemi – The Palestra Minimo – $198
↓ 10 – Skirt with Leather Pants
As bizarre as it may sounds, skirts and pants together make a cute look. Replace the conventional stockings with a pair of black leather pants in chilly winter nights. High waisted short skirt paired with a tucked-in sweater and leather pants will make the perfect outfit for a night out in the city, hitting the club or a mall.
Get the look here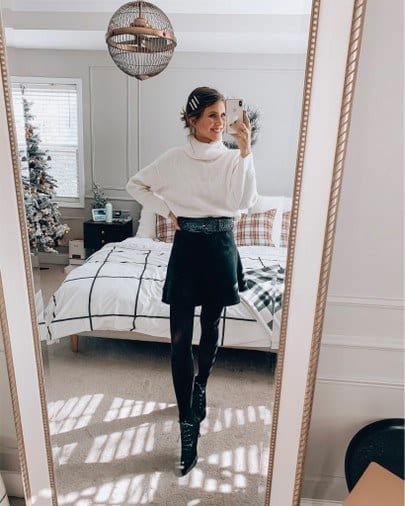 ASOS Design – Fluffy Sweater with COwlNeck – $40.00
Boden – Bardon Ankle Boots in Black – $118.00
↓ 09 – Green Leather Pants
Faded Green Pants in leather is an addition to your closet you never knew you needed. Green pants and white shirts make a simple look that you can wear on your casual weekdays. This look makes a good outfit for wearing to classes or a day out with friends.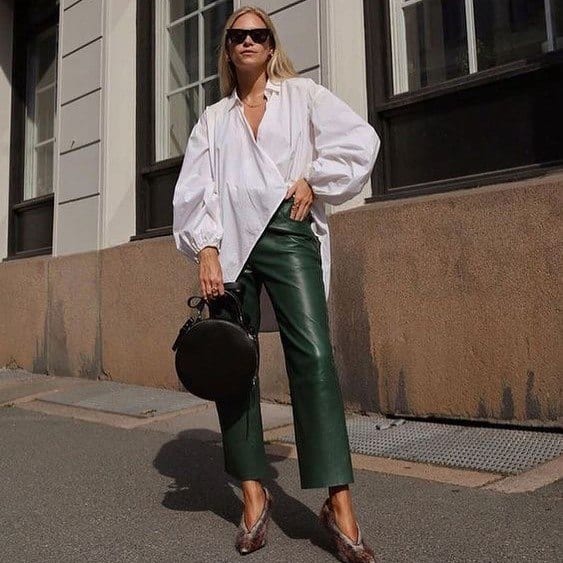 ↓ 08 – Long Coat with Black Leather Pants
A knee-length coat is something you must have in your closet for winters. This works with almost every piece of clothes you own. When shopping, try to make sure to go for a neutral colored or nude shade of the coat. Leather pants and a simple plain shirt can be perfected by a coat. Add some boots to complete the look. Long coats are a staple for winters and they can make simple outfits semi-casual.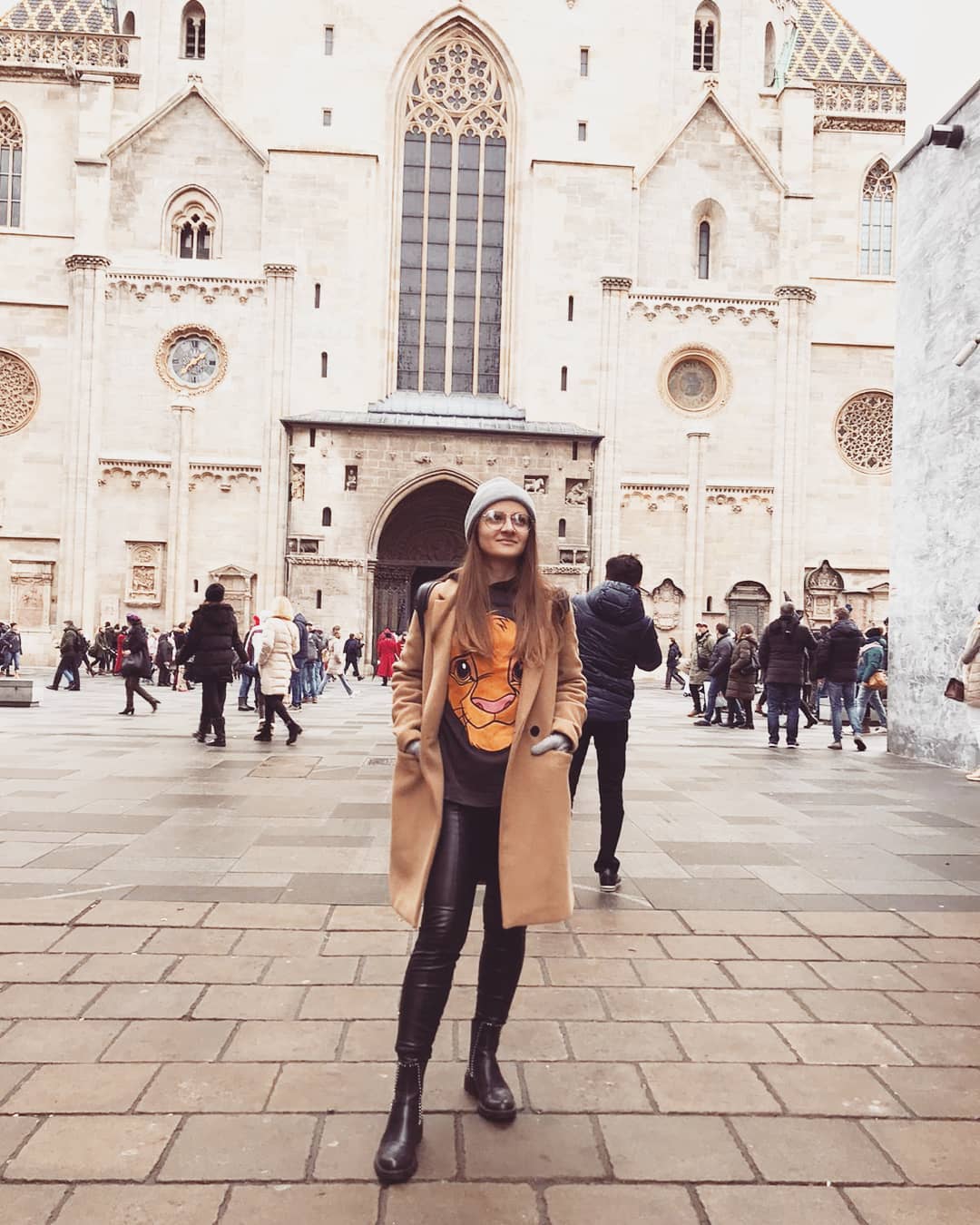 ↓ 07 – Slit Leather Pants
Take your leather pants up a notch by DIY-ing a small slit at the bottom of your pants. This might seem like a small thing, but it can really add sophistication to your pants. Slit pants can be worn with high heels and some hoops to give a bad bitch vibe. Or pair it with ankle boots for a winter look. Make sure to choose your top wisely. It should not outshine your leather pants. Keep it subtle as simpler is more.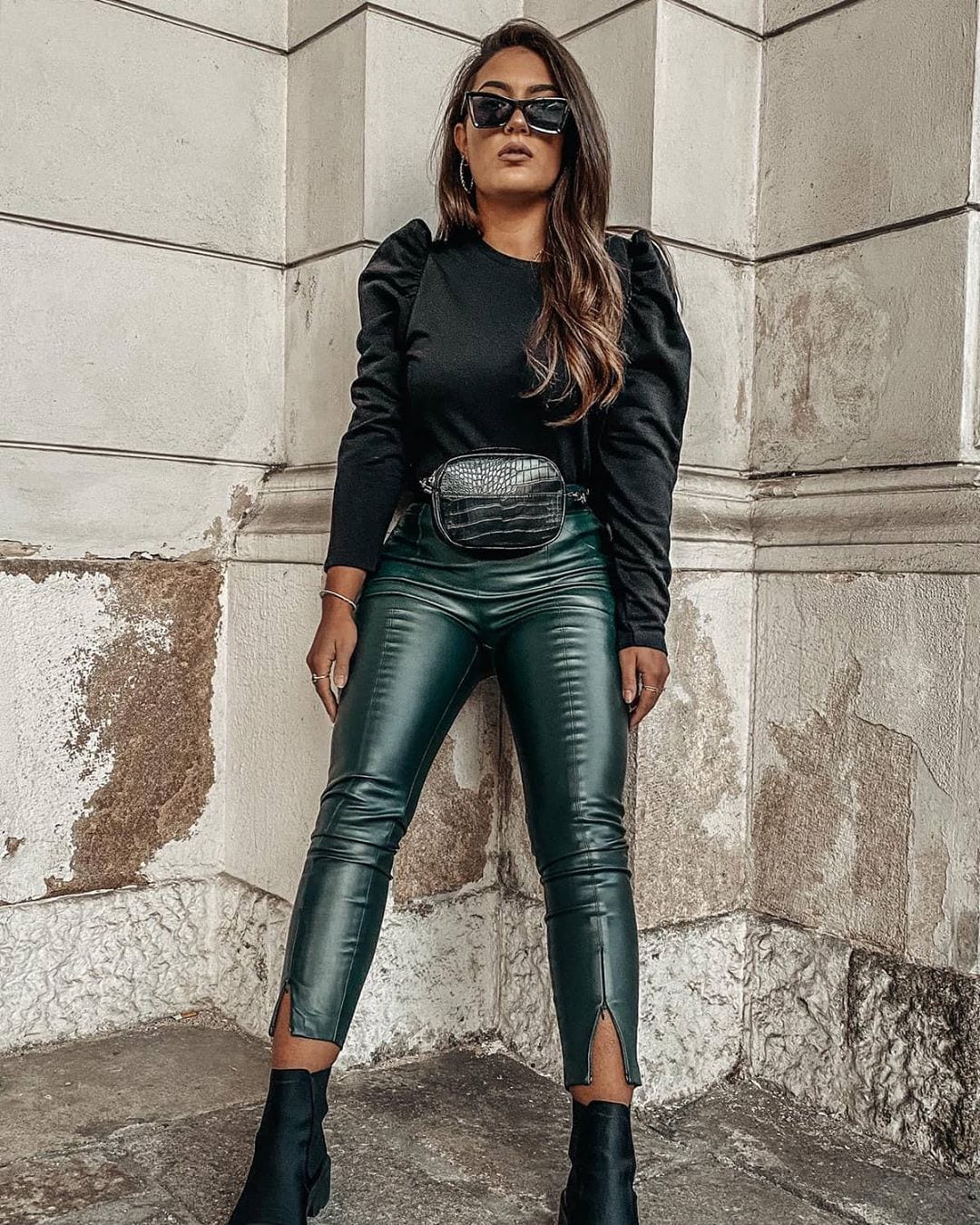 ↓ 06 – An All-White Look 
All white angelic look can be just what you need this winter. All white look gives a winter wonderland vibe. White leather pants with matching white shirt, tucked in, can be just what you need for this look. You can even add a layer of a white blazer, coat, or hoodie, This outfit shines better during the day but you can rock it any time. Since this a monotone outfit, bold makeup will look amazing. Go with eyeliner winged so sharp, it scares the boys. For lip colors, wine red, plum, and maroon are your best choices. And make sure that highlighter pops blinding all your haters.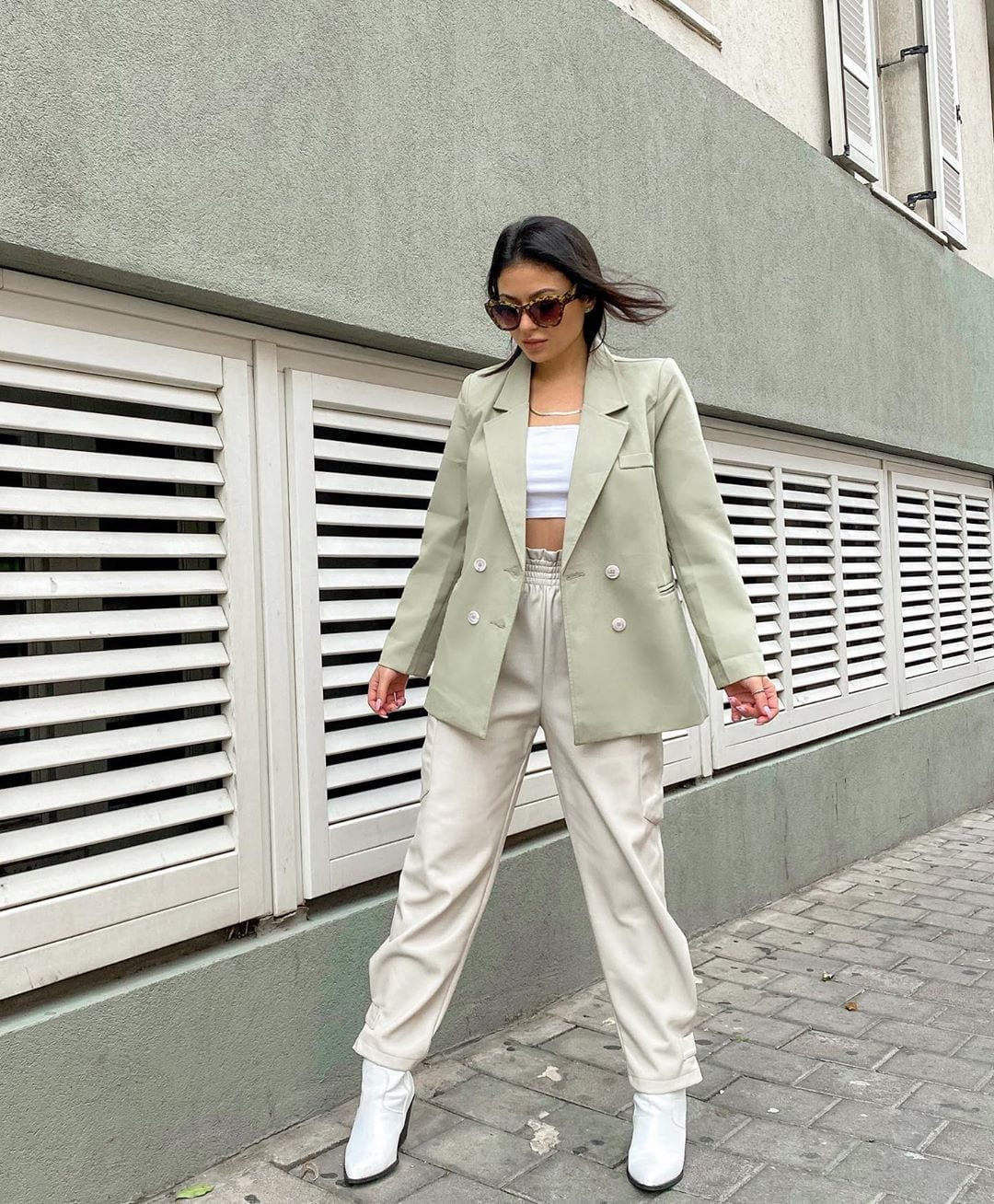 ↓ 05 – Skinny Leather Pants
Step up your skinny jeans game with skinny leather pants. High waisted skin-tight pants can be worn with a tucked-in top to appear taller and slender. You can add a jacket on top to beat the weather. Faux fur is really seen on all the ramps and boutiques nowadays. Fur coats can be worn to casual as well as semi-formal events. With skin-tight leather pants make sure that if you wear ankle-high boots, then your pants must be tucked in.
↓ 04 – Leather Joggers 
Leather joggers are something you would never expect to be seen on an averagely dressed person. If you are fashion-forward and bold enough to experiment with your dressing then try athleisure with a new twist. Obviously, leather joggers are not made for running but only to look pretty. They are not a substitute for your regular sweatpants or gym clothes.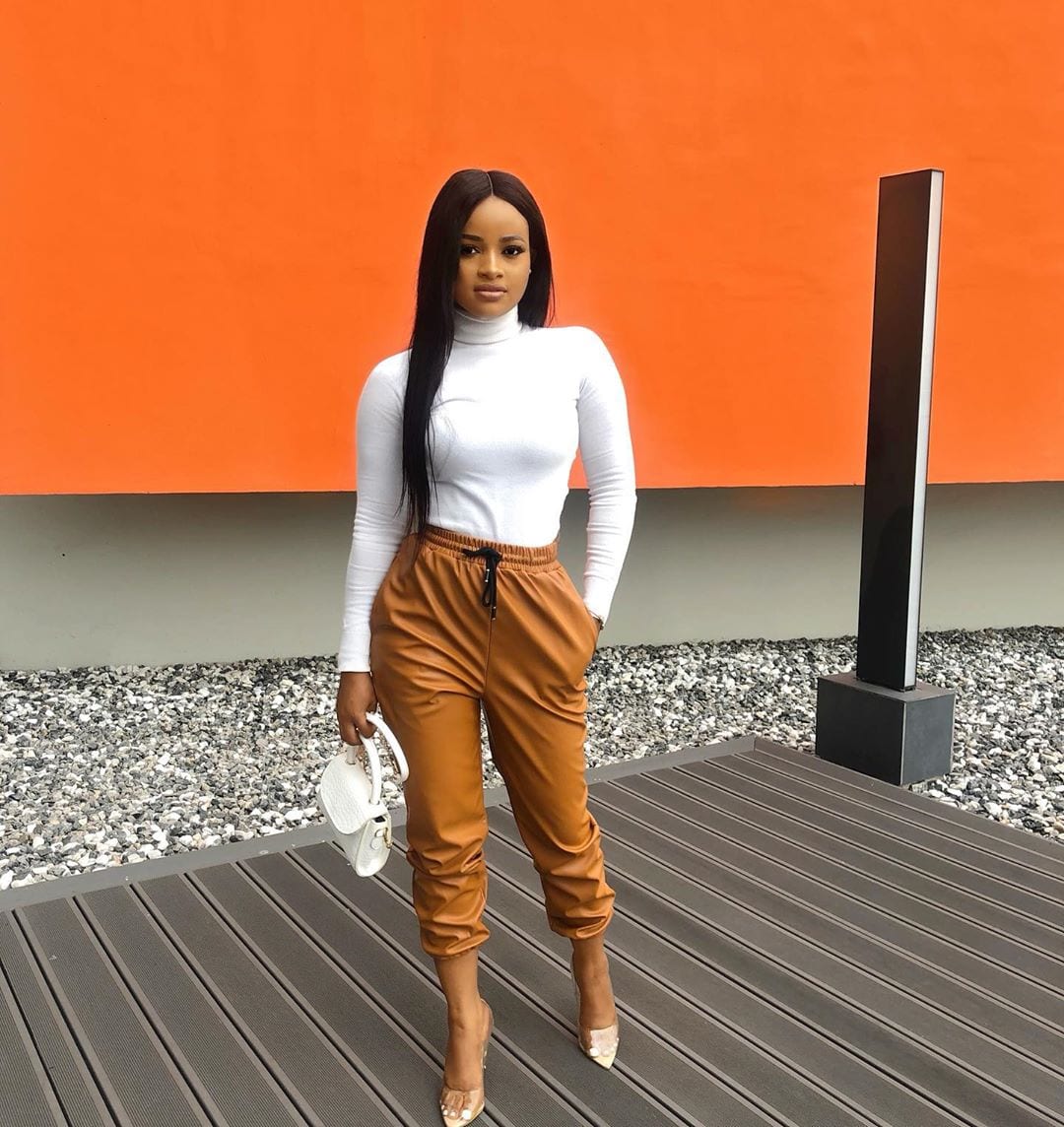 ↓ 03 – Leather Boots and Pants 
If you want to wear leather pants but don't feel too confident then we have a little, fashionable hack for you: hide the pants with knee-high boots. This way you can have your dream of wearing leather pants while also being too conscious about it. You can match the shoes to the color of pants or add a contrasting pair. This only works in winters, though. Do not wear any other leather item unless you want to look like you just raided a leather store. Add a fur or fleece coat to balance your outfit.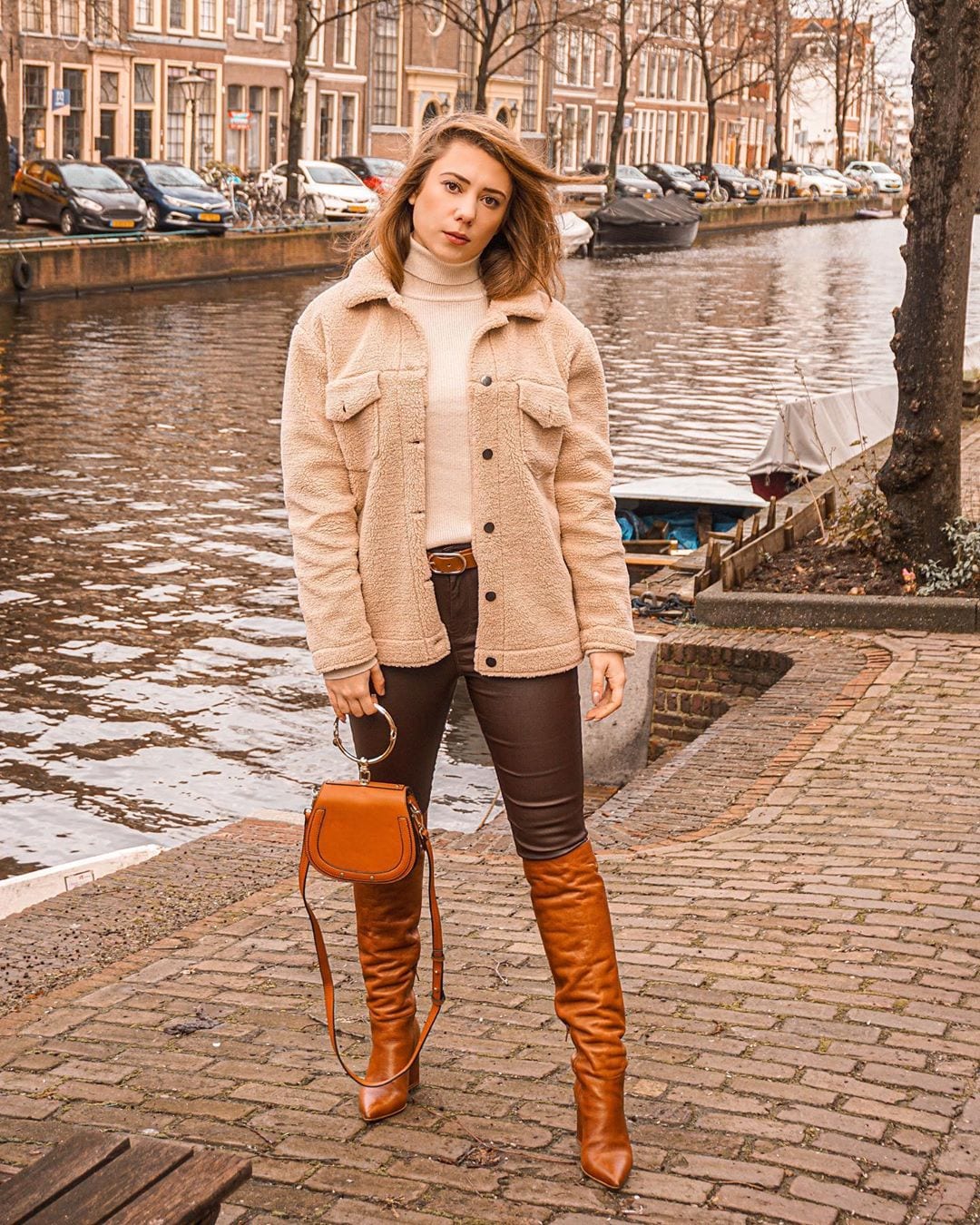 ↓ 02 – Vibrant Colored Pants 
Here is another extreme look. Leather in vibrant colors is a new kind of confidence. Walk out of your house like nobody's business and show them how it's done. Vibrant colors can only be pulled off with one key element and that is confidence in yourself. Being bold, you can wear any color be it yellow, orange, red, green.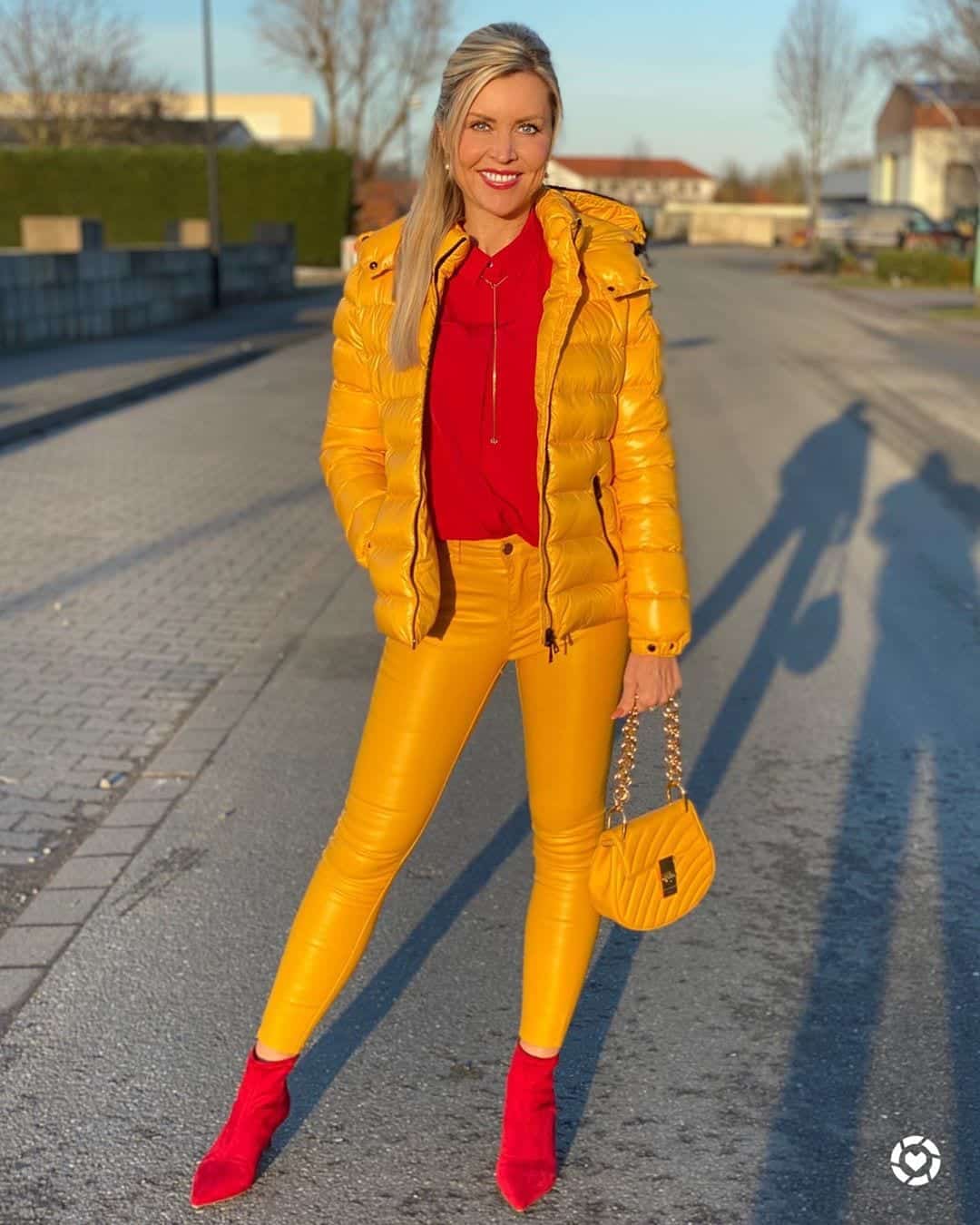 ↓ 01 – Pants With  A Long Dress
A slit dress with leather pants is a unique look you can pull together. You probably already have a long dress shirt or something in that area in your closet. Most dresses do well with black leather pants. This is something you can wear in summers. Add a pair of high heels to make it a semi-formal look.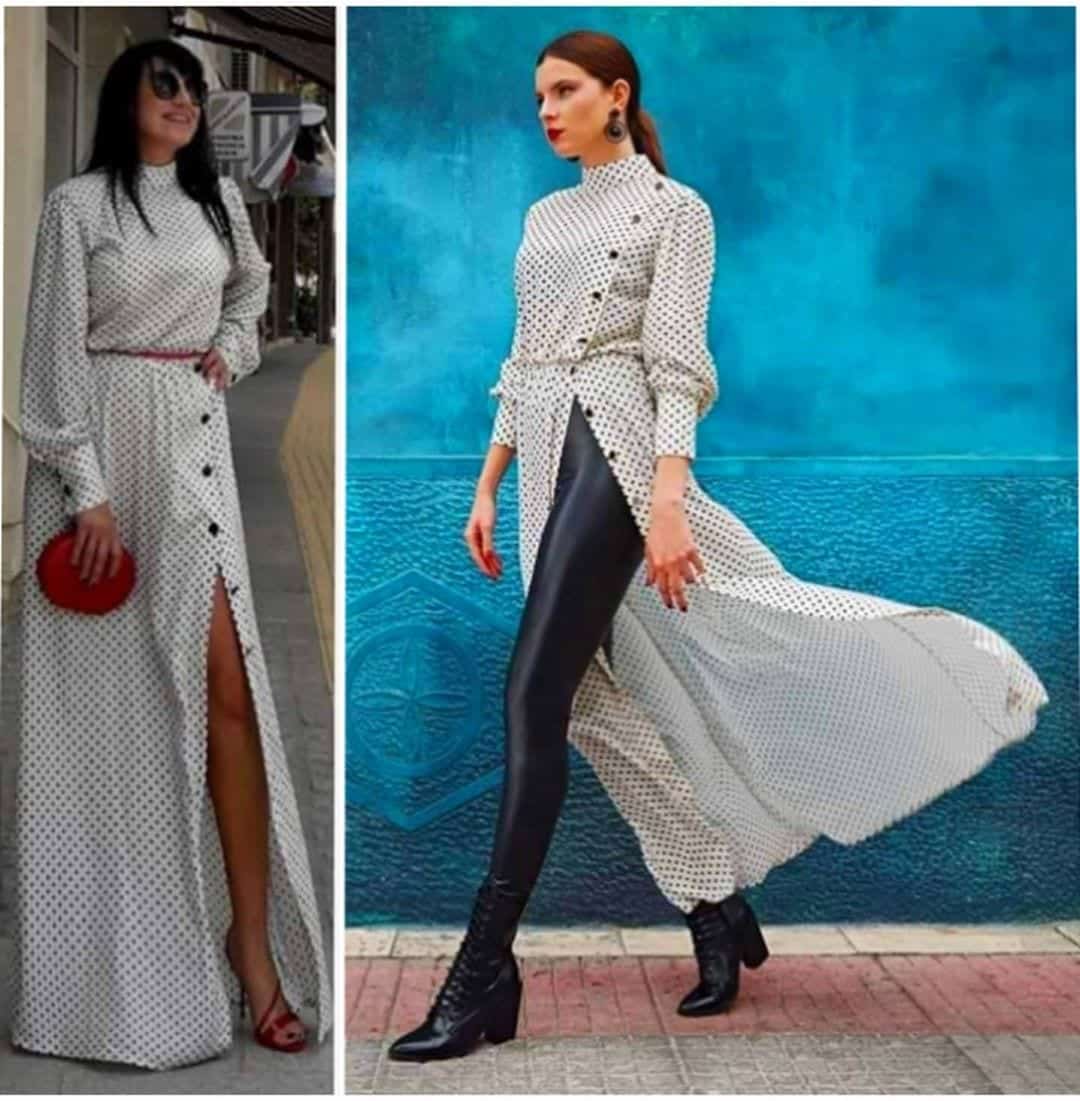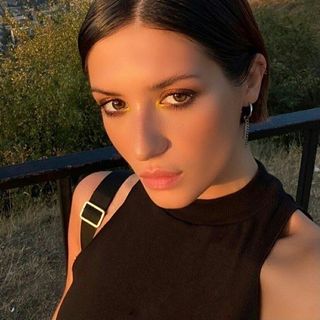 Avid reader and Fashionista. London Based freelance lifestyle editor