Cargo Skirt Outfit Ideas: They are a 90's classic! A trend that should never have left. The style of the skirt is true to fashion trends in the 1990s, inspired heavily by military field wear. This is why the traditional fabric finish for the skirt being – rough denim, is not surprising. Originally these skirts were such a hit that they were seen on nearly every red carpet show of that decade. Similarly, a plethora of 90's celebrities like the singers of Destiny's child were constantly seen rocking it.
An important hallmark of this skirt is the trademark stiff, and durable fabric finish. As a result of which this article of clothing is highly durable and versatile. It can easily be dressed up or down – especially in correspondence with its length. Other staple elements of this skirt style are the presence of patchwork pockets and the finish is a natural earth tone – color palette. As a result, this piece of clothing is highly wearable and versatile for day-to-day.
What to Wear with a Cargo Skirt?
Now let's look at some of the best outfits to wear with cargo skirts for different occasions: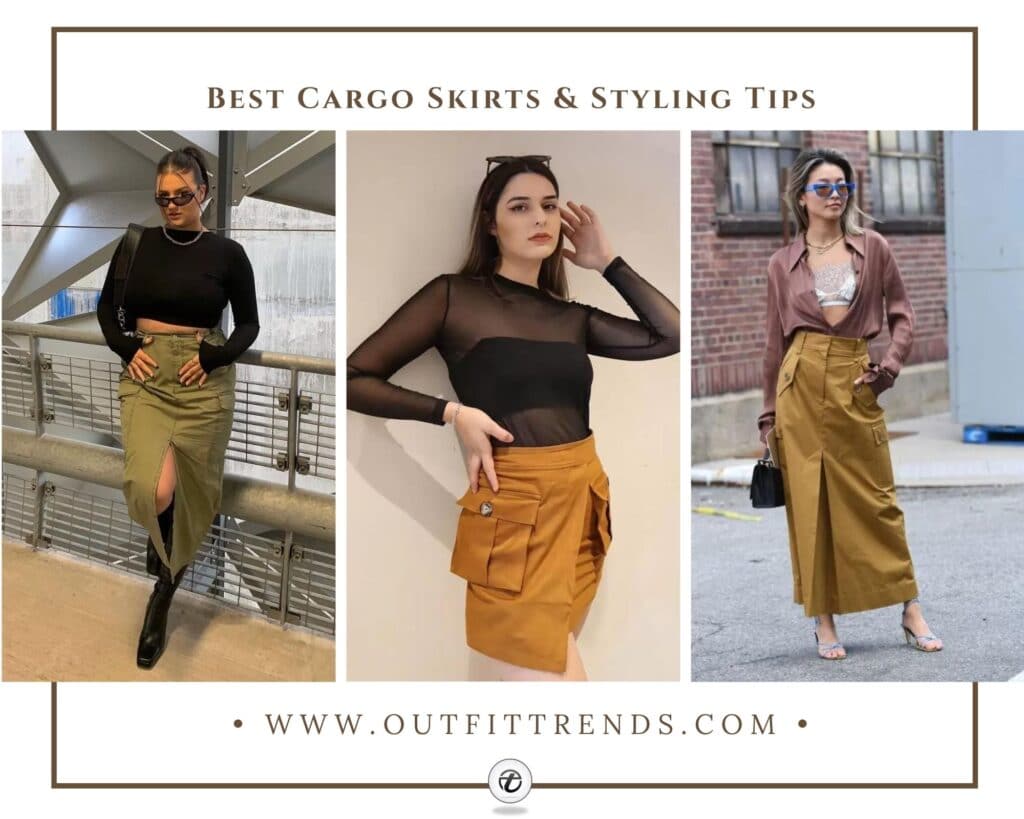 16 – Work Within A Limited Color Palette For A Quick Look
Starting off the list with a very casual option for this outfit. Although it is understandable that it is tempting to style this marvelous skirt style in a flamboyant way, to counteract its casualty.
We recommend embracing it instead. One great tip to remember when you want to put together a quick and casual look is limiting your color palette. Secondarily the fit of the clothes must also work in unison in a simplistic style.
15 – Counteract A Bland Brown With A Printed Top
As we mentioned earlier in the article, this skirt style is known for being colored in natural colors. And although this is another casual option on the list, sometimes it is nice to spice things up. For instance, if you find that a brown skirt is too bland – pair it with any top that has a vibrant color and a print.
Additionally, add little styling details. For example white socks with fringe that peek out from your shoes. It is the details that count.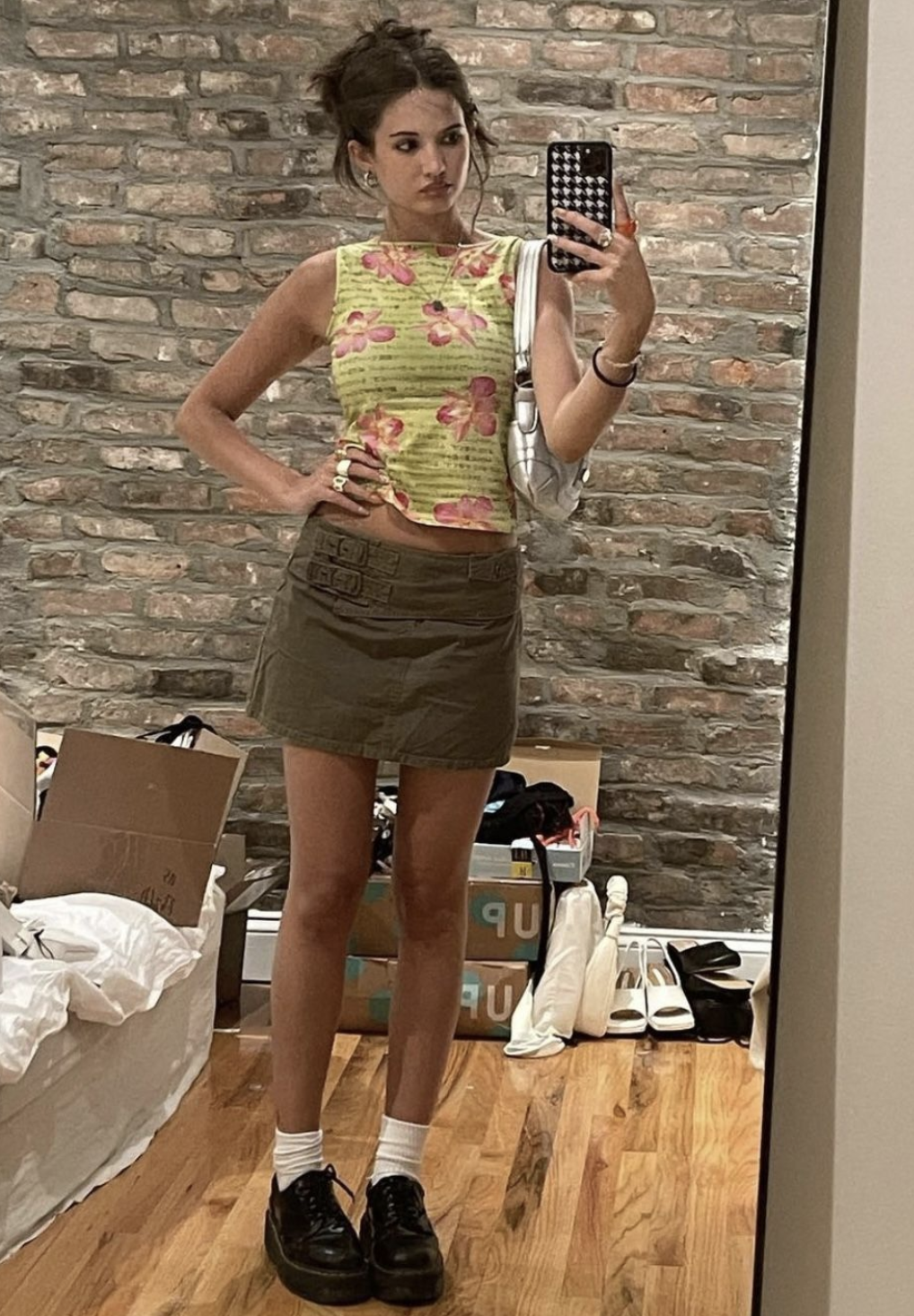 14 – Go For A Statement Piece Color To Liven A Casual Look
Another option to spice up a basic skirt and top outfit is by going bold with the color of the skirt. However it is rare for this style of skirt to be manufactured in a unique color like mustard yellow, we still recommend you look for one. It will pair best with colors that are completely inverse. Try out a black, dark brown, or deep navy.
13 – Style A Long Cargo Skirt With A Cropped Top
As we gradually move through to less casual styling options for this garment, we must mention the length. The length of a skirt has a very drastic effect on the look of the outfit. It has the potential, however, of making you look less youthful or overly formal.
To counteract that we suggest that you pair it with a lively top. This can be a crop top or a top with an excentric cut.
Here are some more Maxi Skirt Outfits that you can take inspiration from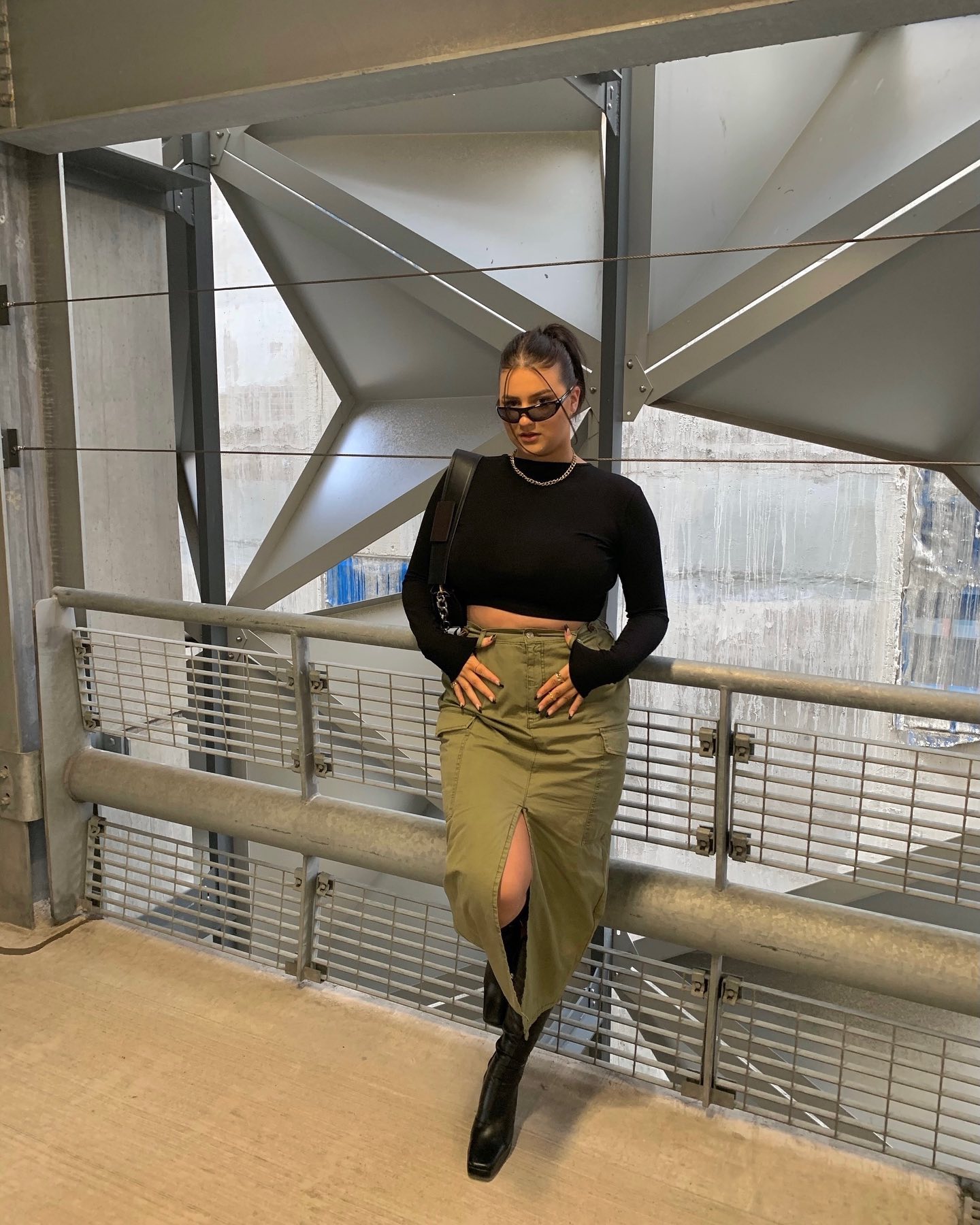 12 – Match A Satin Finish Throughout Your Outfit To Look Formal
Wondering how to wear a cargo skirt to a party? Even if this skirt type originates from a decade of parties and "joie de vivre" – it is not a reason to think you can't create a formal outfit with it.
Primarily – choose one that looks most elegant. This means fewer fastenings and less defined pockets. Secondly, the finish of the fabric is crucial – choosing something like satin will make your skirt look a lot less grunge.
11 – Layer Colors And Garments For A Spring Time Look
Although this skirt has a tendency to steal the show, don't hesitate to cover it up with layers. Playing around with several colors and layers is a great idea. Firstly, it will make the outfit wearable. Especially throughout the transitional seasons, such as fall or spring.
Secondly, playing around with these accents can make this look your own. It is always best to try to adopt a trend in a unique way! Here is a list of the Different Types of Skirts We All Need to Own This Year.
10 – Achieve A French Look With A Black And White Colorpalette
As this list transitions into more classy and elegant ways to wear this skirt we can not exclude a French Chic aesthetic. Most importantly, the skirt you choose must be black, and it will be ever more elevated if the stitching on it is white. Pair it with a white blouse, and accessorize it with black shades. Or better yet, a true style french beret.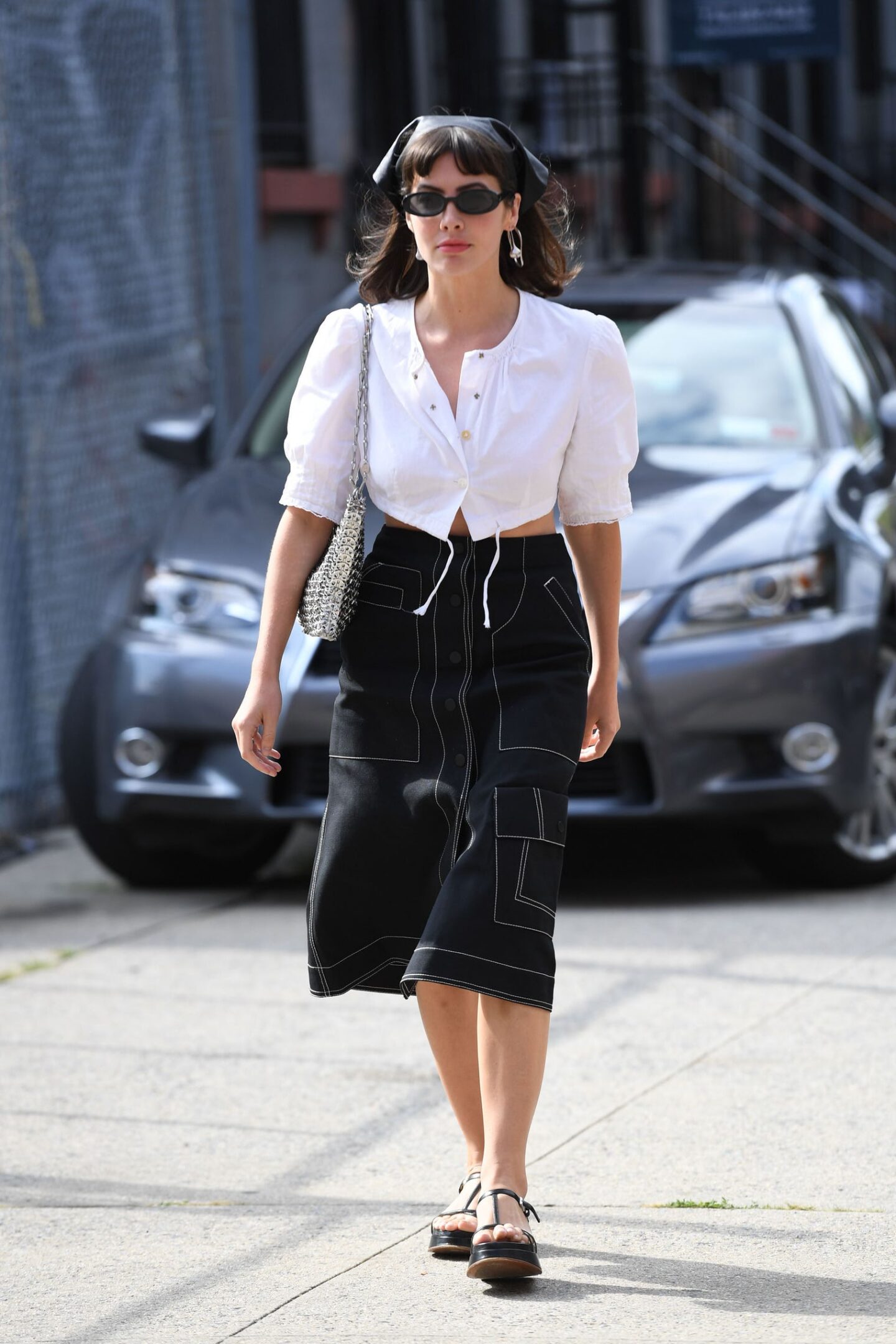 9 – Achieve A Minimalist Look With Nude Shades And Box Cut
The minimalist look which also falls under an elegant style can be very easily achieved. The best part about this outfit is that most of the complementary garments are already in your closet. You need a white t-shirt, a white pullover and you're all set. However, take into account that the details on the skirt are crucial to really portray a minimalist look. Preferably search for a skirt with very square, and box cut design elements.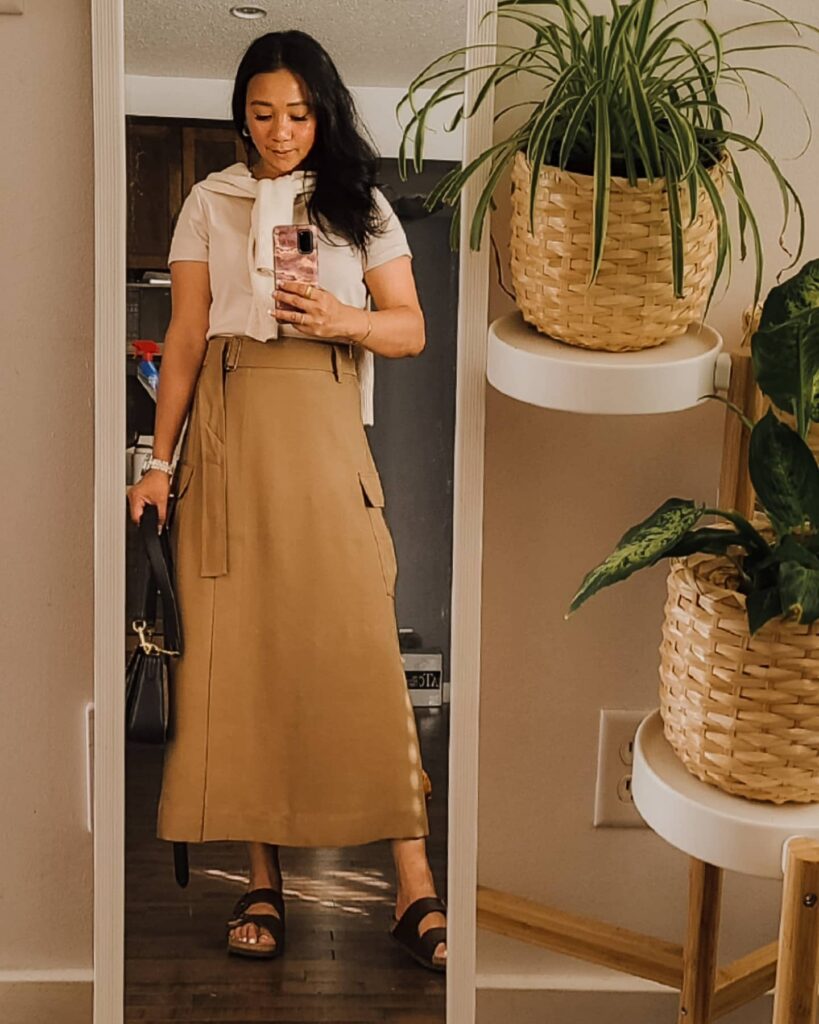 8 – Try Out A Tulip Cargo Skirt For A Date Night Look
This skirt style can be very uniquely made in a tulip skirt shape. Take advantage of this design option, especially if you are very into elegant girly outfits. Pair the skirt with a pair of heels, and preferable a same-colored cropped top. Accessorize the outfit but do so subtly – since the skirt fabric is still a more sturdy one, you want to avoid your jewelry looking too out of place.
For more information on how to style a tulip skirt shape, check out this article.
7 – Hand Make A Cut In Your Skirt To Achieve A Streetstyle Option
The following options are based on a street style aesthetic. Starting off with an outfit that entails a little bit of DIY skills. In case you don't find a long skirt with an asymmetric cut – do it yourself. All you have to find is one that looks best on your body type and adjusts the look of it to your liking. This distressed skirt style would be best paired with some chunky sneakers.
6 – Pair A Stripped Sweater With A Long Skirt For A Relaxed Streetstyle Effect
An alternative way to style a maxi version of this skirt is to indulge in its preppy look. Perhaps you have a comfortable knit sweater, that is not very form-fitting. Pair the two together, however, remember to play around with the color pairings to achieve a street style aesthetic.
5 – Style Your Look To Give The Effect Of Low Effort
One interesting element of street style aesthetics is the amount of detail that can go into creating an outfit, and yet it will remain very laid back. Almost as if the person wearing it didn't try at all, and effortlessly looks cool. This option explores specifically this approach. It is important to choose a skirt that has a unique detailing, for instance, this one is collected at the sides. Secondly mix and match shoes to be contrasting, for instance very sporty looking sneakers.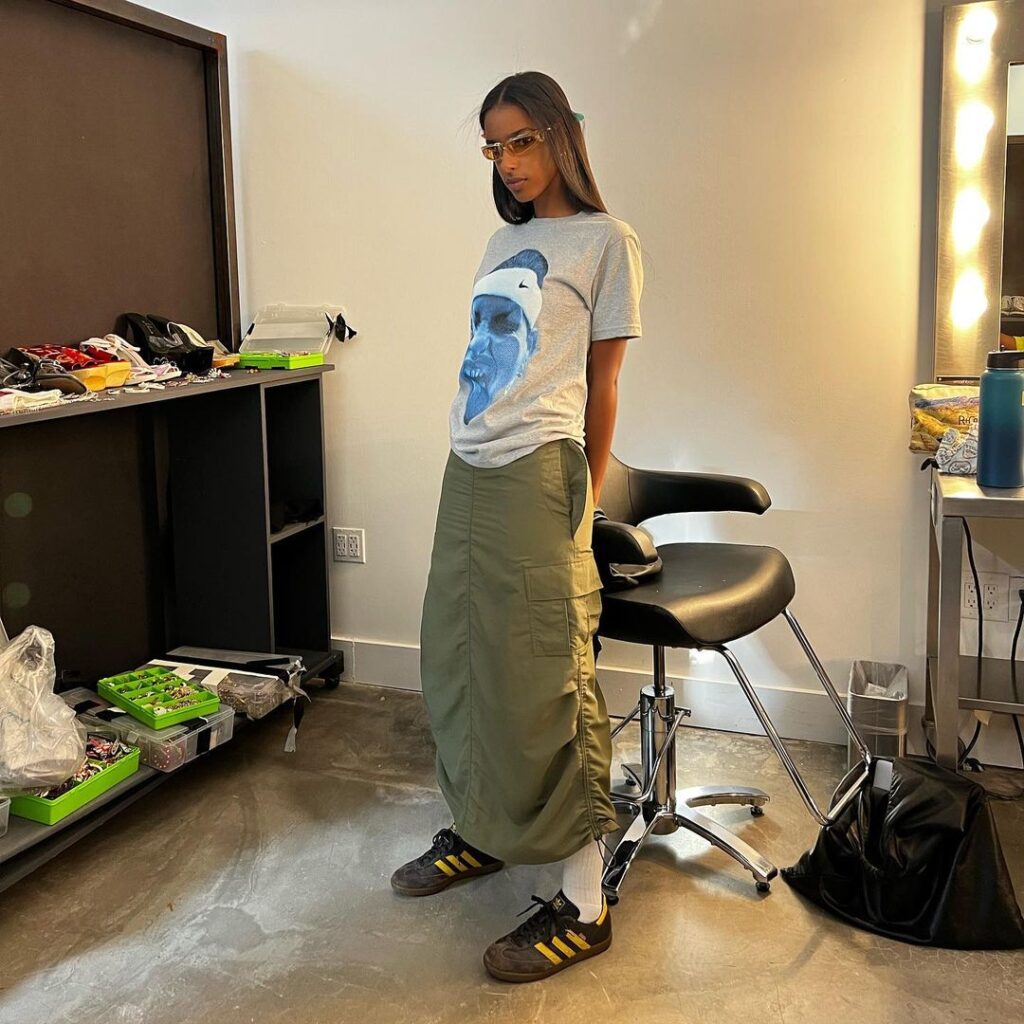 4 – Go For All Satin And Lace For An Elegant Streetstyle Look
Earlier in this list, we have discussed the use of a satin finish fabric to achieve a preppy classy look. Although that is not the only appeal those fabrics can have.
At first glance, this outfit compares a lot to the first one, although pay attention to the way the clothes are worn. They hang loose on the body, reveal lacey undergarments, and are not fully buttoned up. These alterations really change the look of your outfit.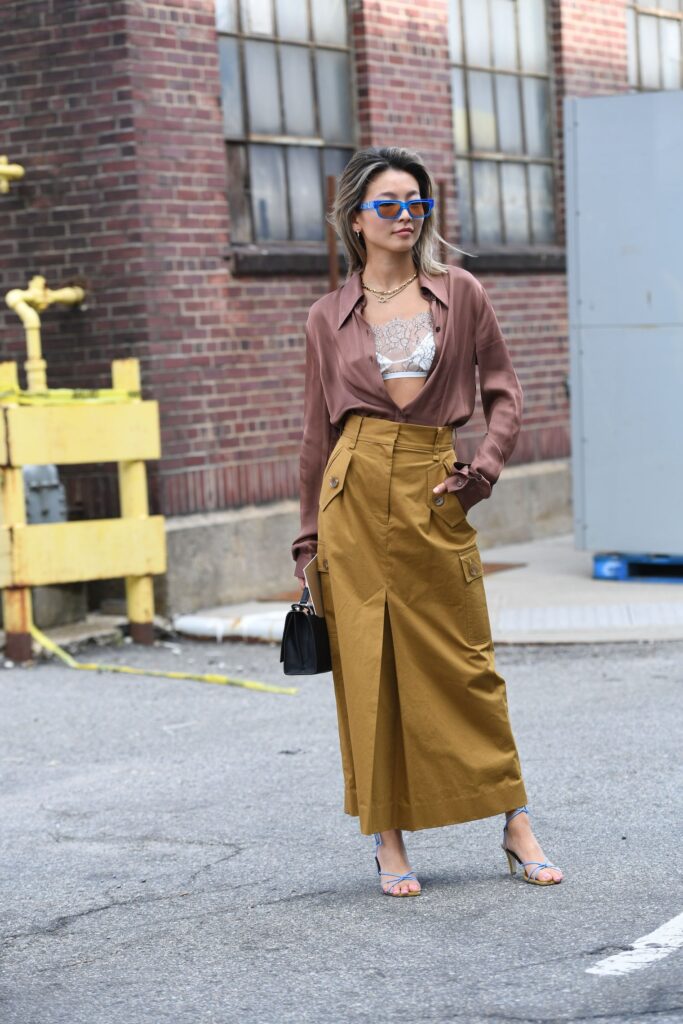 3 – Opt-In For Leather For A High-End Look
As we are reaching the end of the rundown, we want to bring your attention to several high fashion looks. The first in this segment is an outfit comprised of a daring leather bottom, paired with a black and white printed blouse. An important consideration is the material of the blouse, try out a more sheer, lightweight one to contrast the firmness of the skirt. Here are some more fabulous leather skirt outfits.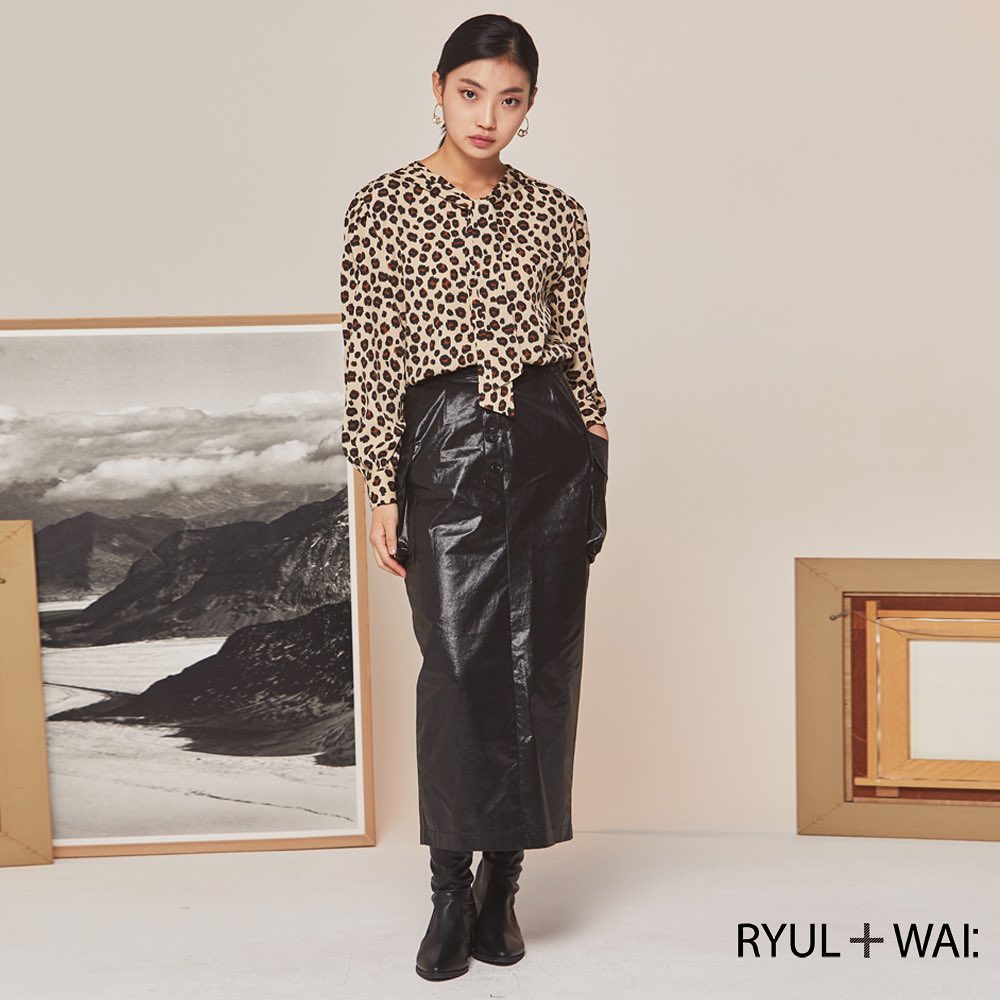 2 – Pair Pleats And A Quilted Pattern Jacket For An Elevated Fashion Outfit
One of the possible ways to elevate an outfit into something more high-end is the mix and match of different patterns and dimensions. As a result – the outfit immediately seems the more high-end fashion. Similarly, we recommend that you restrain yourselves to only a few hues in one distinct colorway. As it adds sophistication.
1 – Go All Out With A Colorful Print
Last but certainly not least on our list is the highly colorful and fancy option. It is the modern take on this skirt style to decorate it with very bright colors, yet maintain the sturdy utilitarian look. Take advantage of this style elevation and rock the colorful skirt. Match it with neutralizing colors.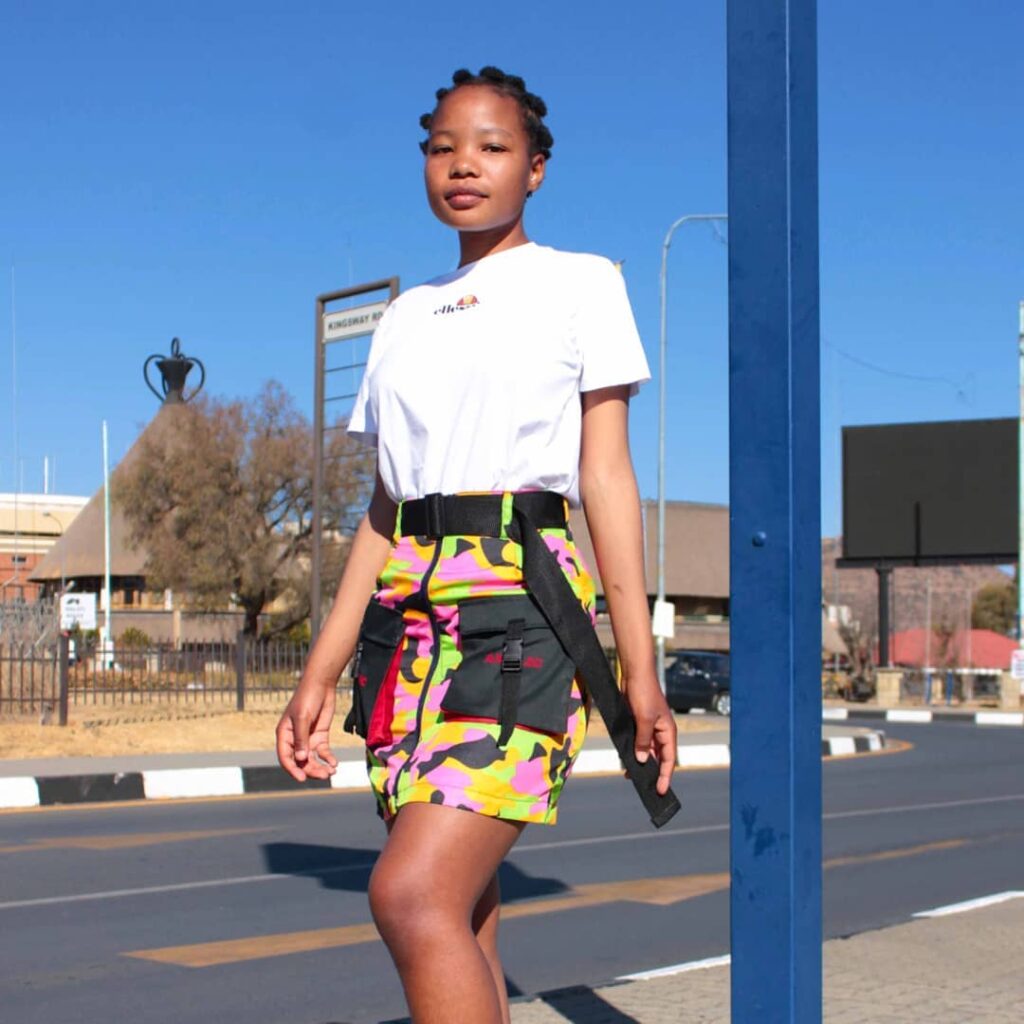 Frequently Asked Questions
Q. If Cargo Pants/Shorts are considered not cool, are cargo skirts cool?
It is true, and it is possible that we have all heard the opinion that cargo shorts, or cargo pants – are a strictly anti-fashion article of clothing. Although we must say that conversely to the cargo pants, the cargo skirt is very much cool. It is far more fashionable mainly due to the fact that many designers/brands play around with the length, symmetry, or asymmetry of the silhouette and detailing (such as pockets, and fastenings). As a result, it is not as bland and basic as the cargo pants, this is considered a very trendy clothing item.

Similarly, it's important to remember that trends in the fashion industry have a circular lifecycle. And anything which is coming around again is rated at a better more stylish level. This style being a resurgence from the 90's – immediately gives it an appeal of a desirable piece.
Q. What is the best color to buy a cargo skirt in?
We completely understand that with so many trends emerging in the fashion industry, at what seems like a daily frequency – it is hard to keep up and not splurge. Often times we are faced with the hard decision of choosing only one option. Cargo skirts are no different. Although, make sure of is to be strategic with your choice. Firstly we recommend that you choose something that will either mix well in your existing clothes. Or conversely, stand out, but in a complementary way. Similarly, it is possible that you might want to go for a one with a print. These skirts are so basic in their fabric, that playing around with a bright print might be fun.
Q. Where to shop for cargo skirts?
Amazon: If you are looking for a skirt outfit in a more casual style, Amazon will have what you need.
ASOS: Asos is known for its array of modern trend-based clothes. The options you will find here are going to be of a relatively unique design and will look greatly elegant.
Farfetch: However the price tag on the skirts at FarFetch is significantly larger, there are some advantages to shopping here. The options will be of a higher difference in style and composition, it is possible that more interesting fabric finishes will be included in the range here. Similarly, the higher price tag, promises for the quality and life cycle of these skirts to be longer and better.
BooHoo: BooHoo will propose to you a highly stand-out, youthful and daring option. If you are looking for a brightly colored, or faux-leather finished skirt – you will find it here.
NA-KD: Another option with highly elegant, and unique-looking skirts. Longer lengths and tame colors are this brand's specialty when it comes to this skirt.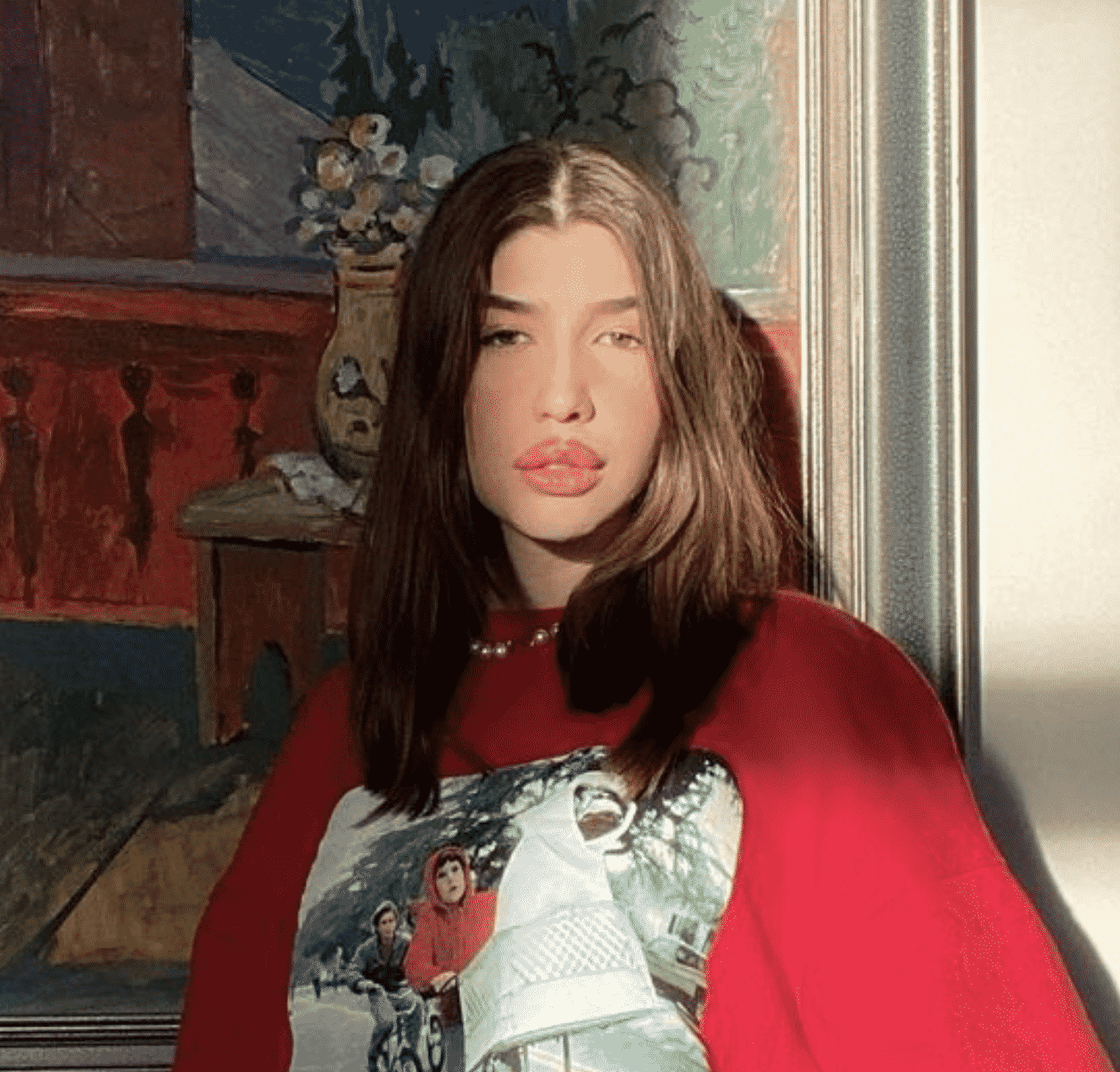 Lyuba Bessarab studies Fashion Management at the London College of Fashion.
She is from Kyiv Ukraine originally and is based in London now. Although she doesn't live in Ukraine now, it has a very huge part of her identity.
As an artist, she does not only get inspired by her cultural heritage for her fashion choices, but she also incorporates it in what she makes.