Tulip Skirt Outfits. While there are a number of skirt styles and shapes to choose from these days, one style skirt that may have escaped your notice is the unassuming tulip skirt.
This style skirt – characterized by it's upside-down tulip flower shape – is one we may not recognize at first glance. But once you know what to look for, you are sure to start seeing them everywhere!
How to Wear a Tulip Skirts?
Did you know that the tulip skirt originated back in 1953 when famed clothing designer Christian Dior first created and debuted it? Yep! That's some good old-fashioned haute couture for you. They were then rather dormant a trend until 2006 when they regained popularity.
But just in case you are still wondering what is a tulip skirt (first off, you are not alone! It's not a description you hear very often these days) first you will want to remember that a tulip skirt is essentially an inverted tulip. One side of the skirt will often overlap the other.
It will have a tapering hem and it often cinches the waist. It can look quite similar to a wrap skirt. The tulip style skirt is super flattering, by the way, especially if you like creating a rounded silhouette.
Styling Tips
Because a tulip skirt will cinch the waist or hips, opt for a slim-fitting top that tucks into your skirt… or a crop top if you are creating a casual look.
A tulip skirt can be short, midi, or maxi. Any skirt that has that layered paneling and that inverted tulip shape can pass for a tulip skirt!
A tulip skirt looks best when worn with heeled sandals or heels in general.
If you prefer a street-style look though, don't be afraid to switch out heels for some trendy sneakers! You can easily "dress down" a tulip skirt to give it that more casual look.
If wearing a tulip skirt to work, opt for a dark, conservative color and an appropriate length. They are similar to pencil skirts in shape, but with an added twist. Adding a tulip skirt to your work wardrobe is an easy way to jazz up a basic wardrobe.
Now, without further ado, let's get into all the ways to wear tulip skirts for women!
↓ 23 – With Sleeveless Top
For a great afternoon date look, try pairing a sleeveless top with a contouring tulip skirt style. The ruched fabric and slit up the leg is pretty romantic! If you want to keep the look from being too dressy, pop on some flats. But if you want to take it to the next level, try this outfit with some heels.
↓ 22 – Tulip Skirt Outfits for Women Over 50
We love a versatile piece and this one is no exception. Great for ladies of all ages, here is how this over-50 gal rocked hers. If you are known for your youthful style and love staying on top of trends, this is one outfit you will want to try!
Simply pair up a tie-dye puffed sleeve sweatshirt with a clingy black tulip skirt. You can tie off the look with some funky combat boots.
↓ 21 – All About that Waist
If you love to highlight your waist, then a long tulip skirt with a tucked-in top might just be the thing for you. You can go with a chambray or a chic work-style button-down. Some animal print heels and oversized hoop earrings make this one killer outfit you can wear for anything from a date to a party.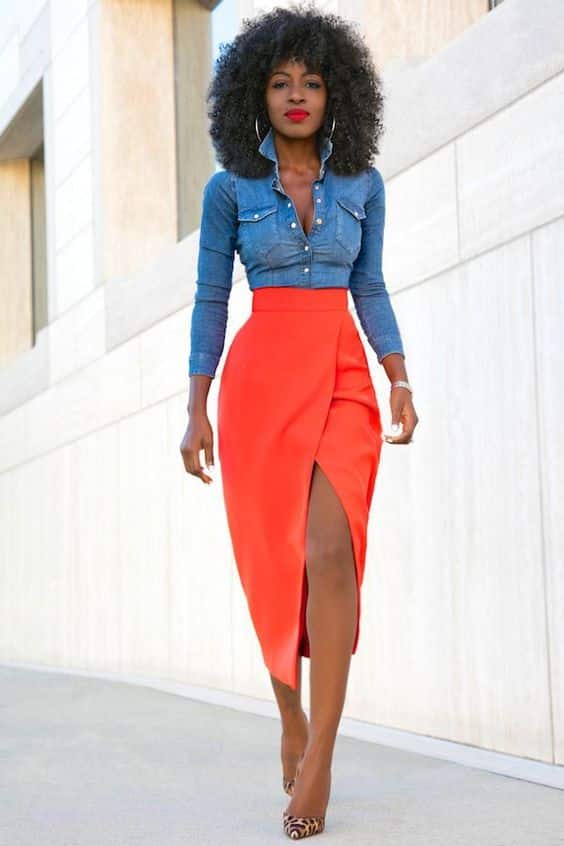 ↓ 20 – With Blouse and Heels
Tulip skirts have a definitive old-Hollywood, classic fashion vibe to them. You can play that up by pairing yours with a sleeveless or cap sleeve blouse, retro styled waves, and a great red lip. This outfit sticks to neutral colors which are great too. Plus, I am a fan of this style sandal which almost mimics the tulip skirt above!
↓ 19 – Midi Tulip Skirt
As aforementioned, a tulip skirt is very similar to a wrap skirt. What you want to look for is that scooped hem that overlaps… however, you can get a similar style by just opting for a wrap skirt. Whichever you go for, wearing yours in a way that feels fresh, young, and casually chic is super easy to achieve.
I love this floral skirt paired up with a cropped button-front sweater, both of which pair beautifully color-wise. Here are some more of my favorite Midi skirts outfits.
↓ 18 – Long Tulip Skirt
Here is how you can style a long tulip skirt to get that perfect autumnal outfit. Pair yours with a thin gray long-sleeved top and tuck it in, topping it off with a soft brown belt. Match your belt to your boots for extra style points.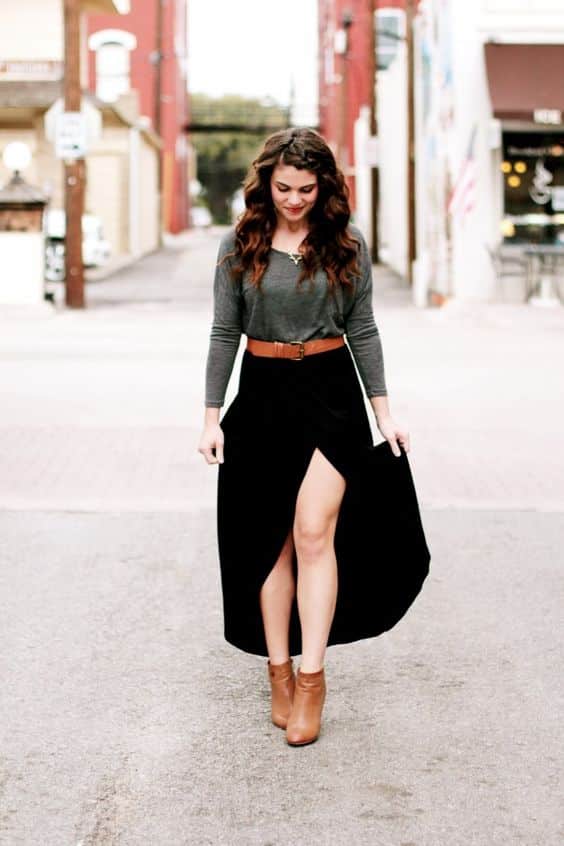 ↓ 17 – Tulip Skirt Formal Outfit
If you are headed to a wedding, this lovely, ultra-feminine outfit is just the thing. From the lilac blue skirt to the floral camisole top, everything about this look is soft, inviting, and pretty. Finish off the ensemble with some nude heels and a delicate necklace. What's not to love!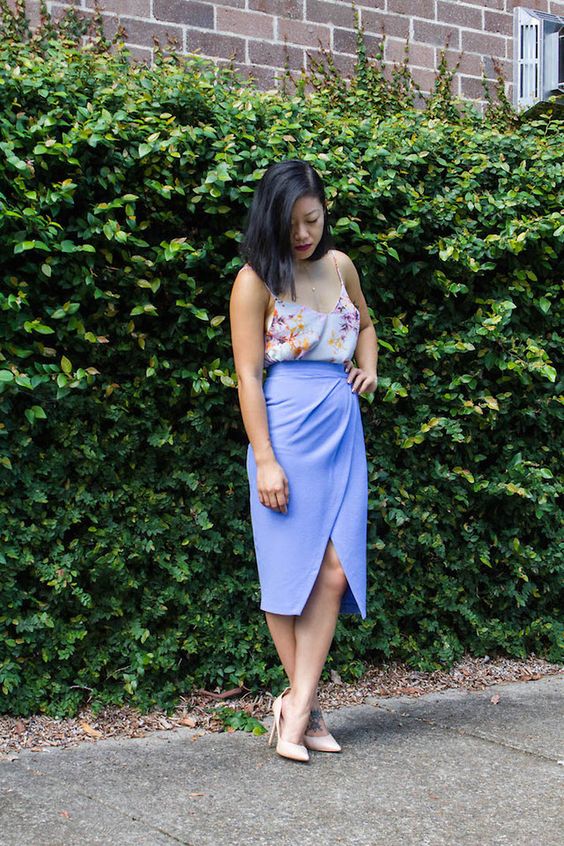 ↓ 16 – With White Off-the-Shoulder Top
Few things conjure up images of summer like a white off-the-shoulder top. It has a breezy, lighthearted feel to it which is just perfect for that warmest of seasons. I love the pairing of this top with a super high-waisted skirt, as well as this color combo.
Every bit of it offers presence and sophistication, which is not the easiest thing to achieve. Here are some more tips on What to Wear With Cold Shoulder Tops.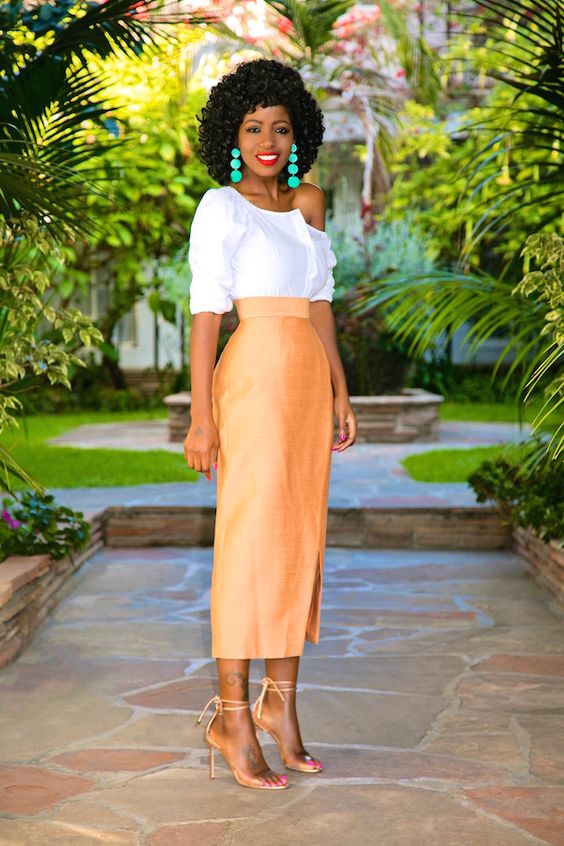 ↓ 15 – Tulip Skirt Short Denim
If you are looking to create a casual weekend look, opting for a denim skirt paired with some sleek white booties is the kind of outfit that demands a second glance. It screams confidence as well (not everyone can pull this kind of look off, after all) so if you are game, go for it!
The soft sweater gives it a definite autumn feel so hurry up and try this look before it gets too cold.
↓ 14 – Wear This in the Fall
Throw it back with this classically autumnal look, perfect for Thanksgiving dinner with the family. It's all about the right color with this outfit so stick to the classic brown, red, orange scheme of fall and backdrop it with a long-sleeved black top and black leggings.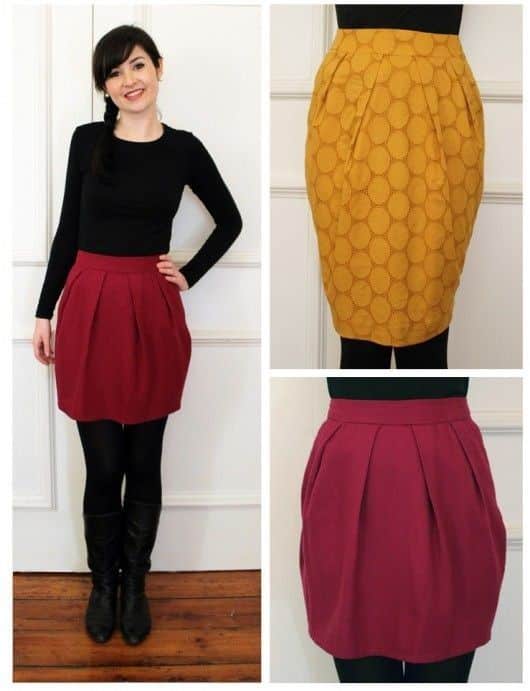 ↓ 13 – With a Tank Top
If you live in a place where you get more hot days than cold, having a few go-to outfits is a must. Here's a simple one that just requires a short white tulip skirt (this one is more of a sporty skort but the idea is there) and your choice of sleeveless tank. This is a good outfit to wear with sneakers.
↓ 12 – What Footwear to Wear With a Tulip Skirt?
I think some of the best kinds of shoes to wear with a tulip skirt is any type of heel or sandal. It's really all about the event or the kind of day you plan on having, so if you are feeling more dressy, bust out those super high stilettos.
Or if you need something a little more practical, consider some heeled sandals. You can never go wrong with nude or neutral tones so if you are feeling stumped, opt for one of those.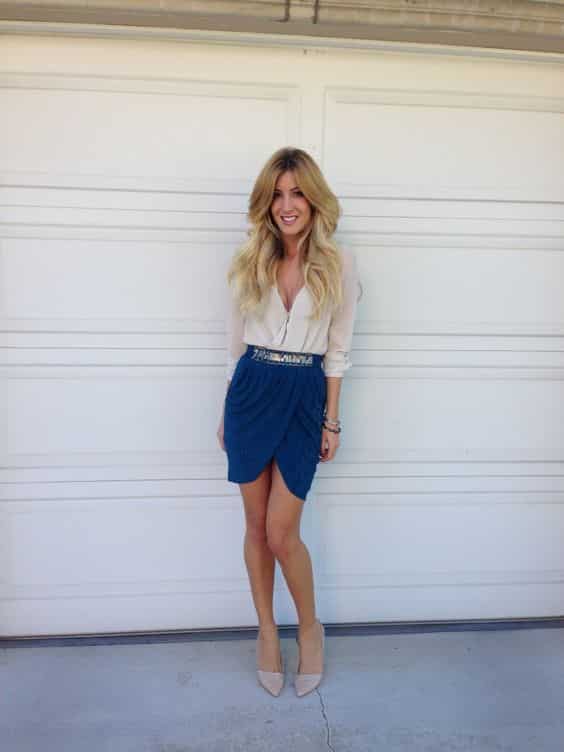 ↓ 11 – With Striped Tee
This outfit is a great example of a casual style that still feels put-together. A striped tee is classically laidback, but when paired with a tulip skirt and clutch, it levels up to a lunch date outfit or a look for brunch with your best gal pals.
Pair it up with some sandals and you are good to go.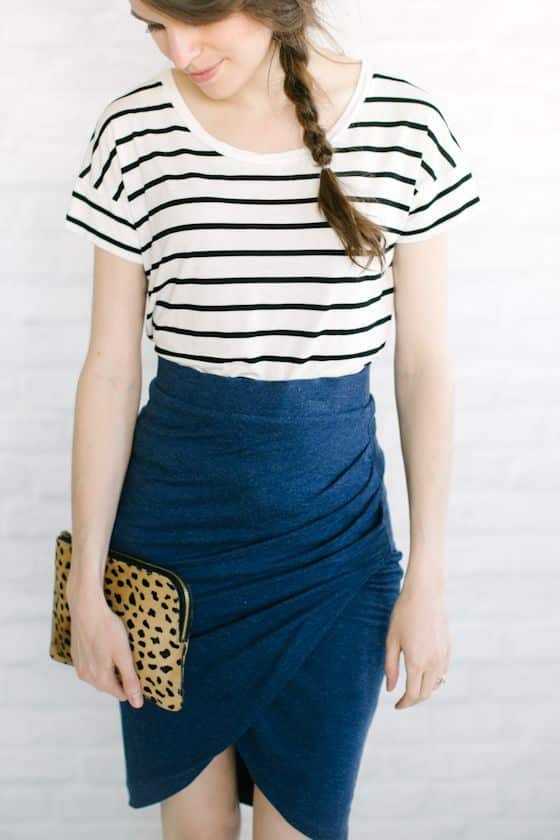 ↓ 10 – Tulip Skirts for Teenagers
When it comes to wearing this style skirt as a teenager, you can try a neutral colored skirt paired with an off-the-shoulder crop top. For instance, this outfit right here.
It's a great base to work from as you can add your choice of heels and purse. You can stick with neutrals or add a pop-of-color.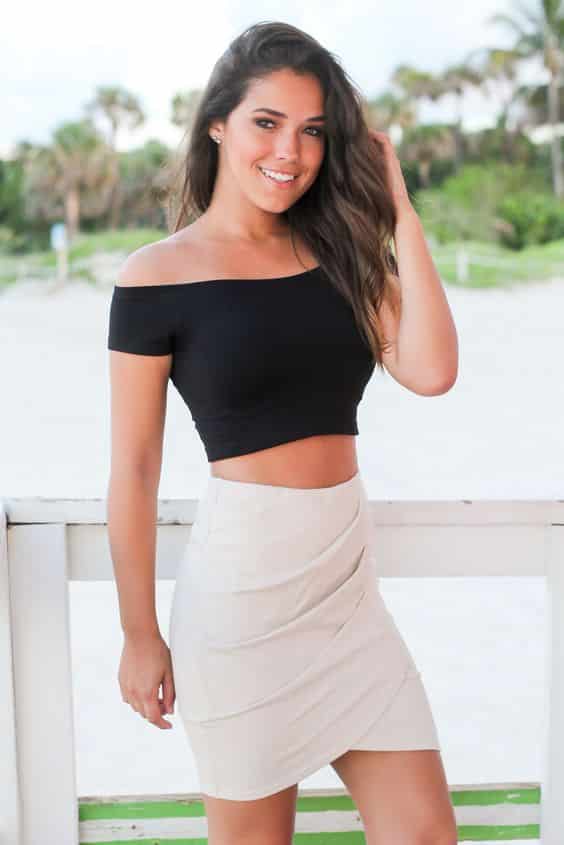 ↓ 9 – What Accessories to Wear With a Tulip Skirt?
The sky is the limit when it comes to picking out accessories for your ensemble. Keep in mind what kind of overall look you are going for. Is it fun but dressy? (Like this model's look.) Or is it more formal? Are you looking to create a very casual look?
Consider all this when you are picking out your accessories. For this look, a felt hat, clutch, and gold watch gave this outfit plenty of personality without sacrificing any style.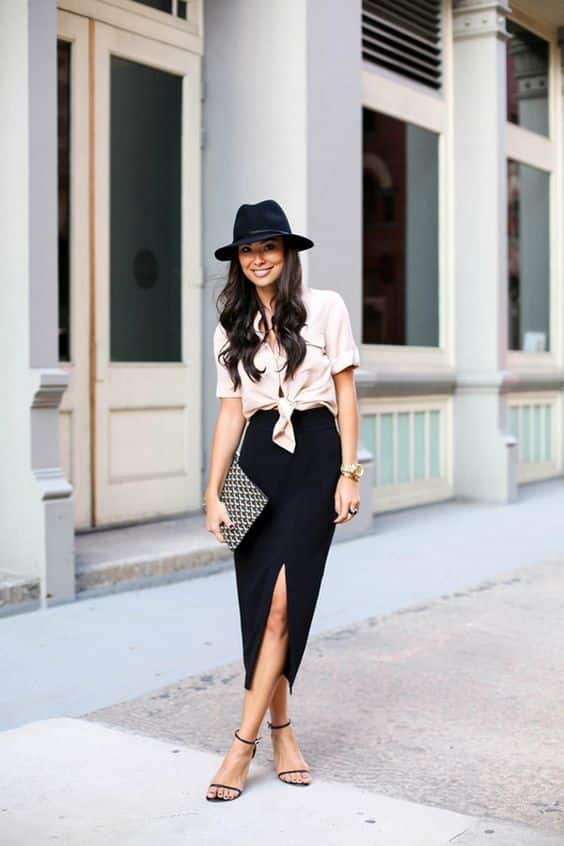 ↓ 8 – Tulip Skirt Outfits for Plus-Size
Once again, the versatility of the tulip skirt is limitless. Great for accentuating full hips, this elegant skirt style is sure to enhance your figure in the most flattering of ways.
A couple of things to note with this look: the lovely model has her contrasting stripe skirt belted at the waist which creates a gorgeous hourglass shape.
Her top is tucked in (no excess fabric to detract from the look) and she's wearing some lacy sandals which further elongate her leg and also mimic the skirt print. Add a long necklace and you are good to go!
↓ 7 – What to Wear with a Blue Tulip Skirt
Every bit of this outfit has a defining element to it. From the peeping collar of the white shirt underneath to the diamante-wrapped sleeves of the top to the satin-finished skirt, this outfit is great for aspiring fashionistas.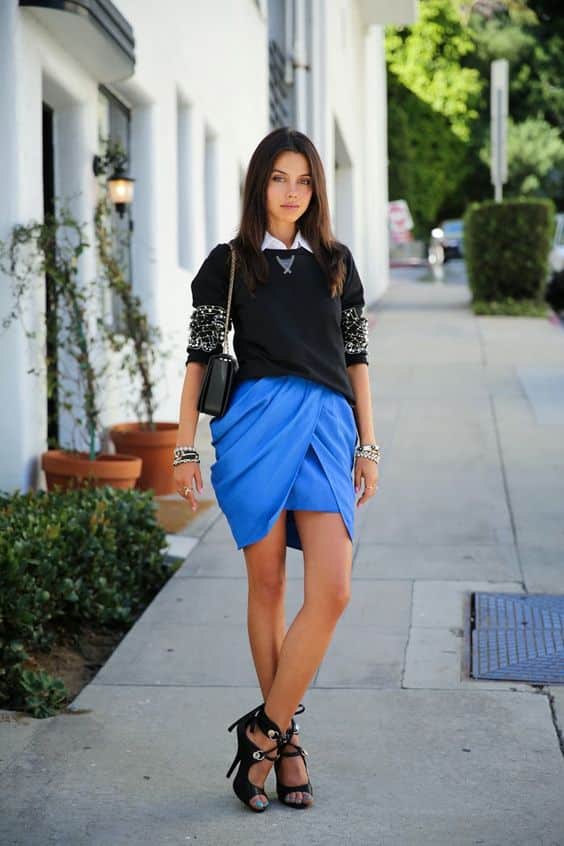 ↓ 6 – How to Wear a Tulip Skirt for Work
This skirt is a right-side up take on the tulip skirt which is a little different but fun. To wear your tulip skirt to work, stick to conservative colors and be sure you go for the right length as too short a skirt would not do at all.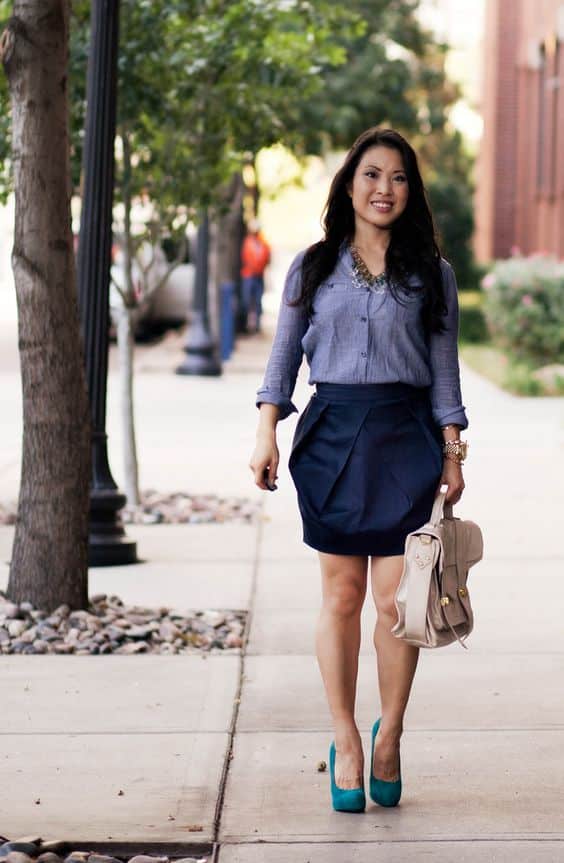 ↓ 5 – Workwear Style
Here is another option for the working lady.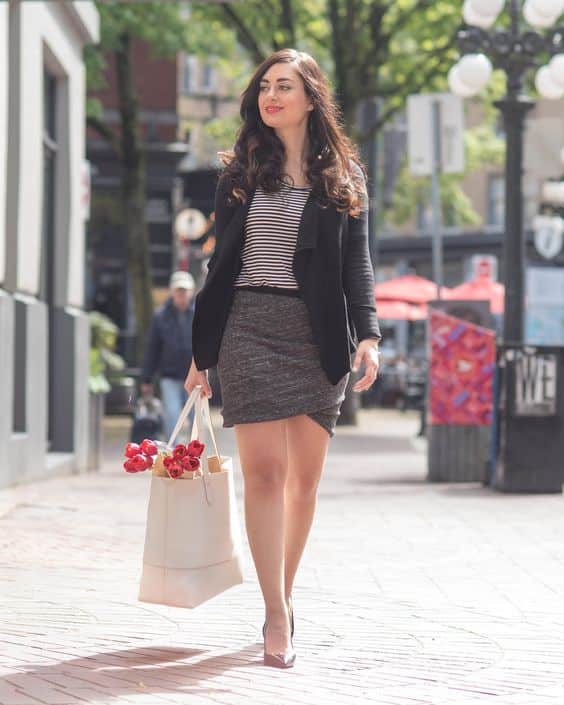 ↓ 4 – Flowy Skirt & White Top
This ensemble is flowy, fun, and fabulous. I love the pairing of the slightly sporty top with the flowy, silk-like skirt. So perfect for spring!
↓ 3 – Embroidery & Denim
A little white top with embroidered sleeves paired with a short denim skirt is just the thing for a coffee date with your best friends.
↓ 2 – Black Tulip Skirt Outfit Ideas
From date night to party queen, this va-va-voom look is stylish and commanding. I love the softness of the sweater paired with the more clingy skirt. Tuck that front bit of the sweater in the make sure you are getting that hourglass silhouette.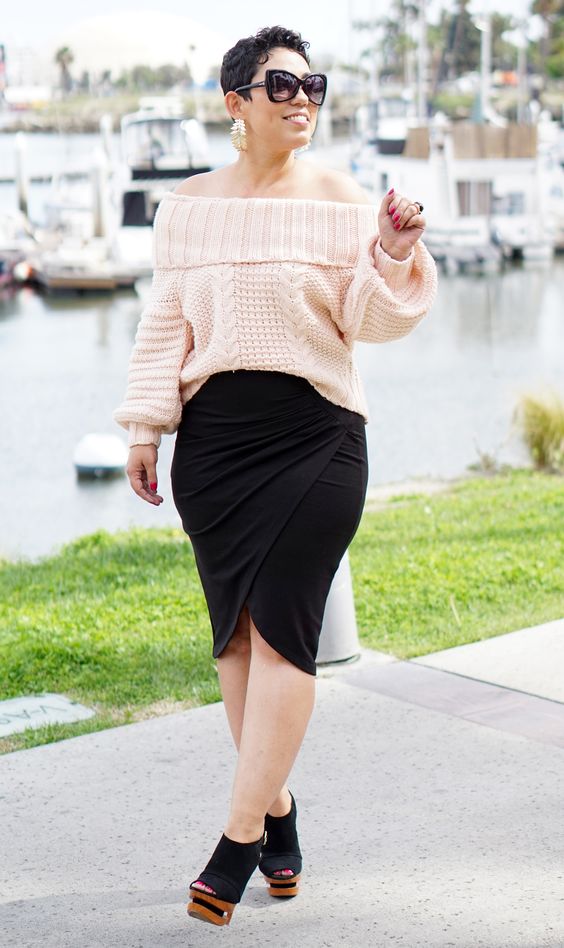 ↓ 1 – Tulip Skirt Wedding Dress
Finally, if you are attending a wedding, a tulip skirt dress might be just the thing for you. This absolutely stunning floral number is great for a spring or summer wedding and needs little accessories as it stands very well right on its own.
Moreover, we can also see what a proper wedding dress looks like when you opt for a tulip skirt dress! This very classic look will have you feeling like a princess as you swish down the aisle.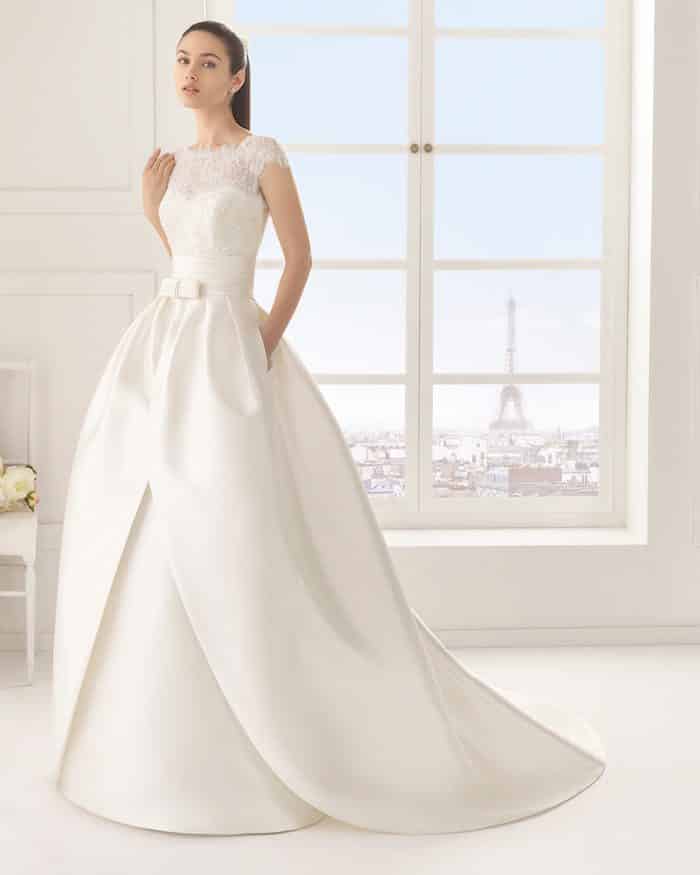 Frequently Asked Questions
Last but certainly not least, here are some frequently asked questions about styling (and finding) tulip skirts. Check them out!
Q. What goes well with tulip skirts?
Tulip skirts pair well with a variety of types of tops. From crop tops to sleeveless tanks to work blouses, a tulip skirt outfit is as good as you make it. Sweaters, camisoles, and off-the-shoulder tops are also great choices. Because it's a skirt, you can play up your look with some fantastic heels or sandals. You can even go for the street-style casual look of popping on some trendy sneakers.
Q. How do you wear tulip skirts in summer?
For me, it all comes down to the fabric. You will want something lightweight, nothing scratchy and stiff like wool or polyester. Rayon, cotton, and linen are all great material types to wear in the summer. This goes for your top as well. Light, eye-catching colors like white or soft pastels are also good picks.
Q. Where to shop for tulip skirts?
There are plenty of stores and brands that carry tulip skirts. Here are a few to check out, in no particular order but with a few higher-end options as well as more affordable picks:
Urban Outfitters
Lulus
Forever 21
SHEIN
Macy's
Sivana
I hope you found this post helpful as you explore the many wonders of a simple tulip skirt! Did you have a favorite look? What kind of skirt best suits your figure? Let me know in the comments below!
R.H. Elias is a freelance writer, aspiring author, and freelance transcriptionist. She is a homebody all the way and loves curling up on a cold, rainy day with a good book and a warm cup of tea. Her favourite pastimes include reading, writing, and watching period films. She currently lives in Puerto Rico.