How to wear skirts when pregnant. You're pregnant, congratulations! Now it's time to make sure you look dashing through this period. Yes, it will become hard to keep up with the trendiest silhouettes at a certain point. But that is only temporary.
Thankfully, many maternity fashion options have emerged in the last couple of years. Options that are not only extremely comfortable but also well suited for those who aim to remain stylish.
The trick to maternity fashion is mixing classic pieces. These outfits will not be very complicated because comfort and efficiency are still the aims of this style. However, you will be able to express yourself slightly better than with just sweatpants.
This specific article is geared towards skirts. Read along to find the best skirt outfits every pregnant woman needs to try.
Best Ways to Wear Skirts with a Baby Bump
Color Blocking: Keep to classic colors. Blacks, whites, greys, and browns are all the colors you should be reaching for. The reason is – the ease with which they will pair with comfortable shoes. It is not a secret that during your pregnancy, you will most likely stick to flats or sneakers. When pairing skirts with sneakers or generally less fancy shoe options, color is of great help. So stick to the basics.
Length: Try to find skirts that are long, maxi and midi skirts are your friends. They will most likely be lowrise, which will be very comfortable to work around a bump. However, they will also allow great integration into your closet when your pregnancy is over.
Waist Ties: Avoid clothing that relies too much on how it fastens and ties on the waist. Your bump will be growing and it is of the highest importance for you to keep it comfortable. Therefore seek-out skirts that have other focal points in the silhouette. Therefore have an elastic (soft) band.
Now, let's look at some stylish maternity skirt outfits:
20 – Create a Cute Black and White Outfit with a Striped Skirt
Black and white colors are the most reliable during pregnancy. As we already mentioned – most sneakers and flats will go so well with a skirt in one of these classic colorways.
However, this doesn't mean the outfit has to be boring. Instead, it can be very cute. Try this elegant – sporty look with a striped midi skirt, and a plain white tee.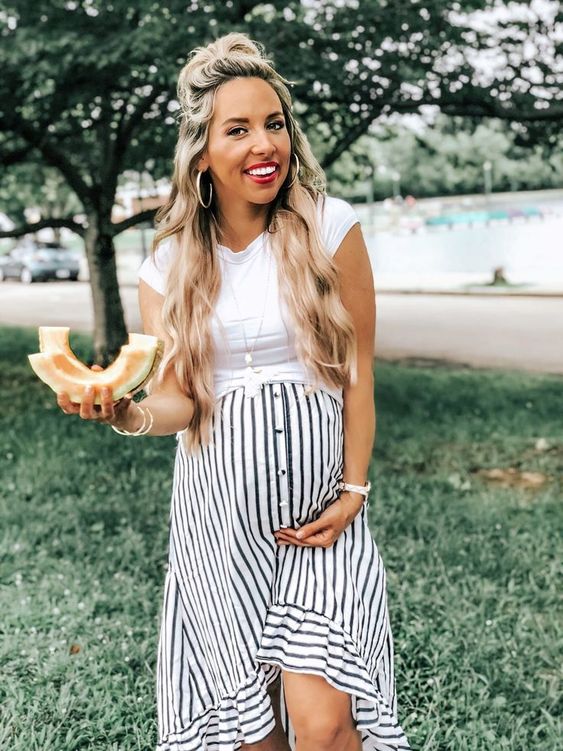 19 – Go For a Floral Flared Skirt and Pair it with Brown Sandals
If you are in the mood to wear some sandals, and you would love to create a super elegant outfit, this one is for you.
This flared, maxi yellow floral skirt is the perfect maternity option. It pairs easily with a white t-shirt which you most likely already have in your closet. For an extra oompf, pair with a woven bag and some brown studded sandals.
Via
18 – Combine a Colored Longsleeve Shirt with a Lacey White Skirt
This outfit is very cute and unique. All you need are clothes you most likely have in your closet. Firstly, denim or colored shirt is needed. Then pair with an elegant, white lacey skirt. The pairing of light blue or denim and white lace is exquisite and we highly recommend it.
17 – Go For a White Pleated Skirt and a Floral Blue Top
Similar to the previous outfit, the combination of a light blue top and a white skirt prevails. Only now the top is not as casual but more elegant as well. A floral light blue top of your choice is perfect. To create this look, try finding a pleated white skirt. The vertical pleats will not only hide your bump well if that is what you aim to do but will contrast the elegance of the floral top well.
16 – Go For an All Beige Look for Extra Comfort
Beige and white, especially in a fuzzy comfy fabric, are the way to go for maternity clothing. Not only will a fluffy nude sweater keep you comfy all day. But when paired with an equally elegant ribbed nude skirt will also be a major fashion look. Thankfully this type of outfit also pairs perfectly with sneakers – a shoe option you will most likely gravitate towards a lot during pregnancy.
15 – Try Sticking to Pink Hues When You Want Increased Elegance
Similar to the previous outfit, you might want to feel like a special princess one day. To ensure that, you might want to try out a light pink color theme.
A maxi pink flowy skirt is not only super cute but will be a comfortable option. Pairing it with a white long sleeve will add lots of style. Especially when you choose a more deep v-cut in the top.
14 – Go For a Caramel Theme Outfit
Continuing with the theme of block-colored outfits, this caramel-colored look might be your pick. Try pairing a tube skirt in a light caramel tone, and completing the look with an equally cozy loose light brown cardigan.
To add more style to the look, you can always find a matching light nude round hat to go along with this look.
13 – Cute Maternity Skirt with Tied Shirt
In theme with the previous outfits, this too is a play on a monochromatic cozy look. This outfit requires a cute and stylish grey skirt, preferably with a print that will make it stand out.
Secondly, find a grey sweater that will be comfy and loose around your bump. A cute way to style a sweater or cardigan during pregnancy is by tieing a loose knot at the front.
Via
12 – Go For All Black On the Lazy Pregnancy Days
Some days, you will not want to get out of bed or think too much about the clothes that you wear. Although if you are like us, and want to remain committed to looking put together, or have an occasion that requires it.
This outfit is perfect for you. Just find a ribbed black skirt, and pair it with a matching ribbed black t-shirt. The reason for the short sleeve is the heat – black attracts the sun, and you will most likely benefit from a short sleeve more. Here are some more lazy day outfits for you.
11 – Pair a Low Rise Skirt with a Long T-shirt
Although the rest of the outfits on this list consist of high waisted skirts, this one differs. Nevertheless, it is an extremely comfortable option. If your bump is getting too much in the way of a high waist, don't fret – and get yourself a low-rise maxi skirt.
To cover up the bump to your comfort, simply pair it with a long white t-shirt. Regardless of the print on the shirt, a basic white tee will always match well.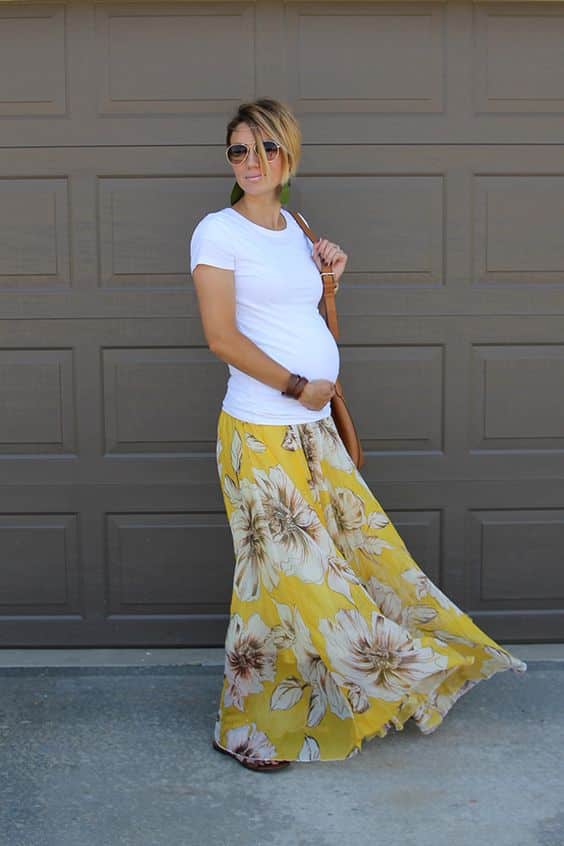 10 – Pair a Gentle Satin Skirt with a Cozy V-neck Sweater
This option is slightly more dressy, however, it maintains comfort perfectly. A comfy top is a necessity. We recommend a simple white knitted sweater. Possibly a v-neck for an extra stylish kick.
The skirt is equally comfortable however the satin fabric adds so much style to the look. In this particular example, you can see the dashing pairing of a copper colored skirt with a white top.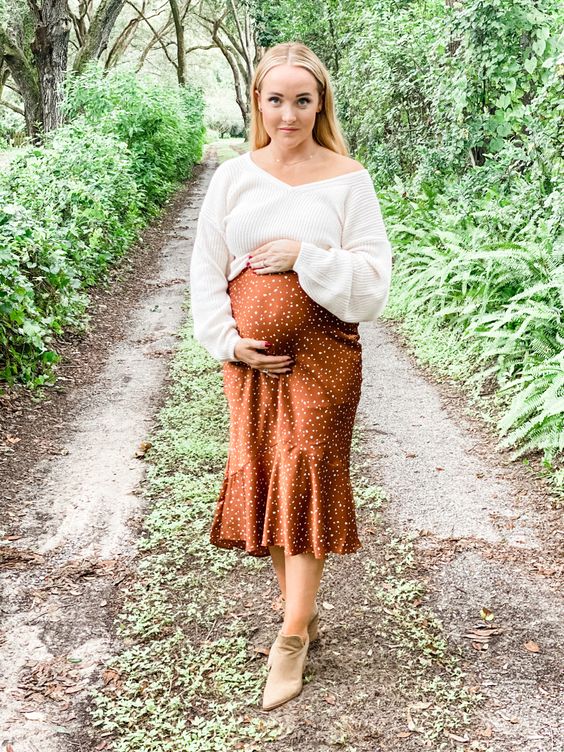 9 – Style a Satin Top Together with a Knitted Button Down Skirt
Inversely to the previous outfit, the top is the focal point of this look. Just like in the previous outfit, the top is satin which, although comfortable, looks very fashionable. Whilst the bottom takes a more practical turn. We recommend you style a button-down skirt, which will allow for a lot of stretch and adjustment. That is so important during pregnancy.
Via
8 – Go For a Deep Green Layered Skirt and a Black Shirt
Try to go for something natural that pairs well with nude flats. A shoe option that will definitely be one of the most comfortable options during pregnancy. Nude flats go very well with naturally colored clothing items. Therefore this deep green skirt is the perfect option.
7 – Go For a Semi-Casual Maternity Outfit With a Tee and a Bright Skirt
This outfit begins this list's transition towards more glamorous outfits that you might need to wear on occasion during your pregnancy. Yet it is still semi-casual. Mainly due to this loosely tied white t-shirt. The focal point, however, is the brightly colored red skirt.
6 – Pair Cute White Sandals and White T-shirt with a Floral Skirt
A simple way to make seemingly casual items seem more elegant and dressed up is color coordination. Try coordinating your shoes with your t-shirt. We can almost guarantee that this is easiest with a pair of white sandals and a white tee. Next, find a layered maxi floral skirt, and you're done.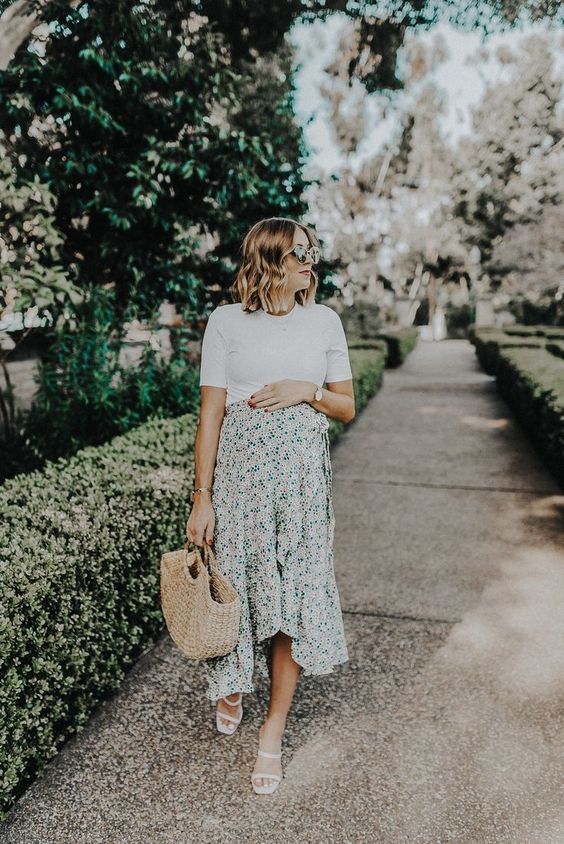 5 – Match an Animal Print Skirt with a Nude Round Hat
Another option of how to dress up your outfit is accessories. More specifically, hair accessories. Try to coordinate them also. For instance, if you have a brown animal print skirt, try matching it to a nude round hat.
4 – Get a Bag with Lots of Fringes to Pair with a Pleated Skirt
Another advice we can give to spice up an outfit quickly is through matching textiles or textures. In this specific instance, a pleated skirt is paired with a band tee and a bag with lots of fringes. That correlation of vertical lines of fringe and pleats gives the desired fancy effect. Even if the t-shirt is so simple. This way you can ensure low effort for a fancy outfit.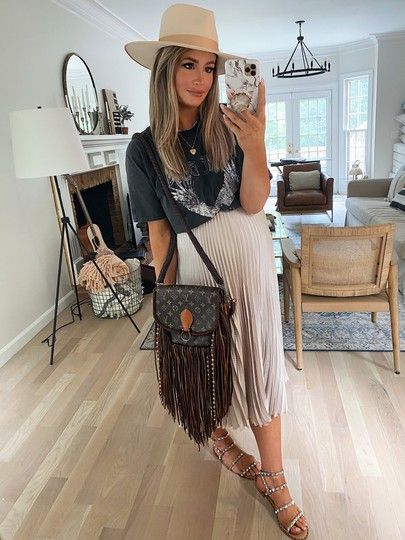 3 – Contrast Pleats on a Skirt to a Horizontally Striped Shirt
Conversely, it is also possible to use these lines in contrast to create a stylish effect. For instance, find a pleated skirt and a horizontally striped shirt and you're all set.
Most importantly, however, try to maintain the same colorway. Because when you contrast one visual element, it is important to choose another that will remain similar and create balance and cohesion in the look.
2 – Pair an Elegant White Flowy Dress with a Flared Shirt
If you really have a special occasion to get dressed for, this outfit might be just right. It requires a flowy white skirt on the bottom. Complimented by a flared and layered top. For the most favorable combination try finding this shirt in a blue or a blue and white striped print.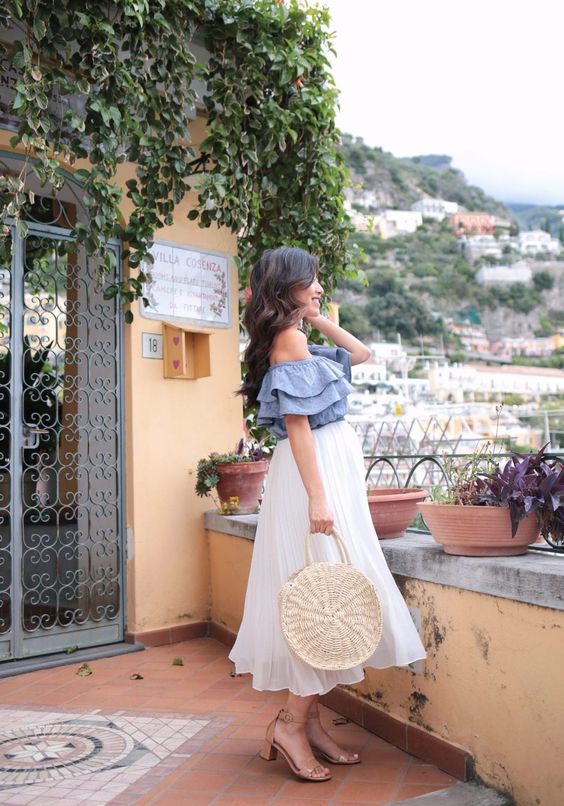 1 – Pair a Cute Black Tank Top with an Animal Printed Skirt
Another way to pair an animal-printed skirt with a top is to complement one specific color on the print. Preferably the dominant color – which is black. Simply find a cute black tank top that will pair really well with this skirt. An extra step you can take to make this even more stylish is to match it with sneakers that also have an animal print on them.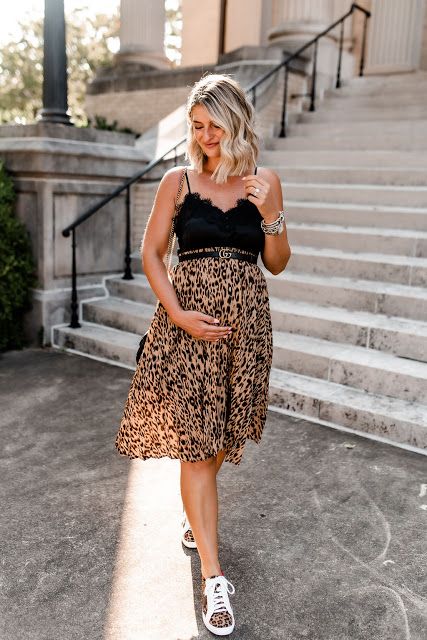 Frequently Asked Questions
Q. Is it normal to look more pregant than I really am? How can I hide it?
Absolutely! Pregnancy is a beautiful thing and you should be embracing every single change that comes with it. However, if it would make you feel more comfortable if you hid your bump as much as possible, that is alright too. Thankfully we know just how to do that. Firstly try to wear very baggy clothes, something that won't outline the shape of your body. Specifically, with skirts, we recommend trying out a maxi flow skirt. If you bring it high up above the bump, the fabric will flow over your bump and make it less obvious.
Q. How to dress during pregnancy without buying maternity clothes?
We understand the desire to spend as little as possible on maternity clothes because you don't want to produce waste. The biggest tip to transforming your regular clothes into maternity wear is to add elastic waistbands to them. This is especially useful for skirts. You can easily transform your denim skirts, or satin skirts into maternity clothes. With minimal effort.
Q. Can you wear a skirt when pregnant?
Skirts will be your best friend during pregnancy as they'll allow you to create stylish looks without having to feel uncomfortable. We know how jeans or pants can be hard to wear, especially after the 7th month, which is when skirts come in. We've shared plenty of ideas above to help you create some chic maternity skirt outfits.
Q. Where can I shop for maternity skirts?