Pink Pants Outfits: Have you been looking for newer, cooler pants but never really knew which ones to get? We are here to tell you that pink pants might just be the new trend. These pants are ideal for the summertime as the pink color will be cool and bright enough for you to have some fun looks during the summer solstice. You need to get your hands on a pair if you still haven't. These pink pants will have you looking your best in no time.
It's super easy to incorporate these pink pants into your wardrobe just by wearing them with t-shirts or striped shirts. You can wear pink pants in the wintertime by pairing them with a black turtleneck and overcoat. You can even wear this to the office by pairing these pink pants with a blazer and heels. Platform heels are trending and look super cute with such jeans.
How To Wear Pink Pants Outfits?
There are lots of styles available in pink pants, bell bottoms, straight pants, palazzos, you name it! You just have to decide which style of pants goes with your outfit that day. If you're going to the office, wear straight pants with a blazer. If you're going out for lunch with your girlfriends then wear bell bottoms with a cute striped top. It is extremely easy to style pink pants as long as you love what you're wearing. We have put together the 19 best pink pants outfits for you to try in this article.
Tips on What to Wear with Pink Pants:
• Always make sure to wear pink pants with colours lighter than pink.
• Pastels colours can be worn with any other colour as long as it is pastel.
• You can wear pink pants in the summer and the winter, pink is the perfect colour for all seasons.
• Try to wear different coloured belts with pink pants as they will look unique.
• Platform boots/heels look the best with bell bottoms.
• You can wear shoes of any colour with pink pants as long as you are creating a contrast with the top/accessories you are wearing.
↓ 19 – Pink Cheetah Print Pants
These pink cheetah print pants are the cutest thing we've seen! Incorporate these into your style easily by pairing them with a plain white crop top or if you want to be extra then a matching pink cheetah print top would look stunning. Matching accessories are extremely important so make sure to grab matching shoes and sunglasses to look like an absolute diva.
via
↓ 18 – Pink Straight Pants
These pink straight pants will be of a lot of help to you. They will be extremely versatile so you can wear them with a lot of different outfits. You can wear these to the office, dinner, or just as a semi-formal outfit by pairing them with a plain grey shirt. Wear heels with this outfit to look classic otherwise, you can also pair it with sneakers for a laid-back look.
↓ 17 – Pink And Blue
We all know pink and blue are the ultimate duo. Everybody loves to wear these two colors together so you should definitely try it too. Pair a blue shirt with pale pink pants for a super cute and fun look. You can make this look formal by wearing heels. You also wear sandals with this outfit if you don't like heels. Who knew you could have a cute outfit just for running errands?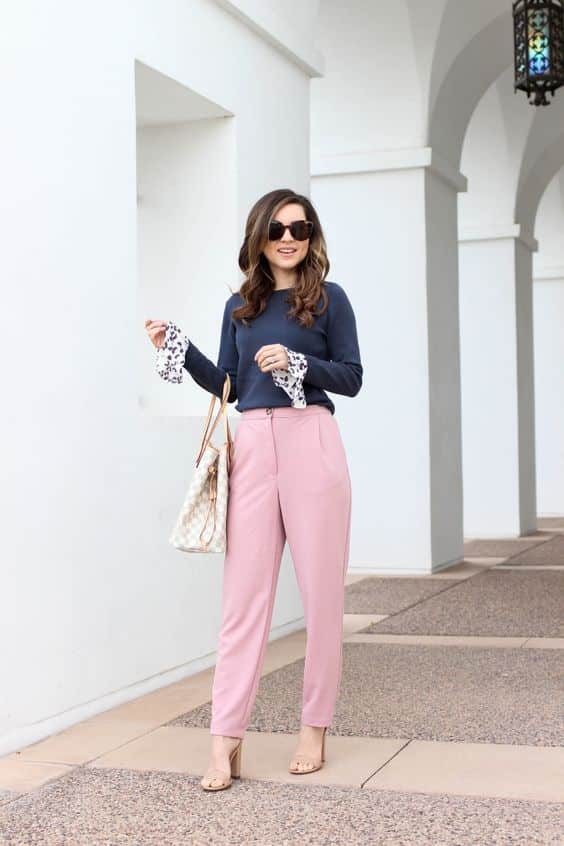 ↓ 16 – Pink Palazzo Pants
Got a dinner or baby shower to go to? This is the outfit you need. The pink palazzo pants with a matching blazer will be the perfect fit for such events. Don't forget to wear matching nude or pink heels and gold jewelry. You can curl your hair for some added glam. Here are some modern ways to wear palazzo pants.
↓ 15- Pink Linen Paants For Teenagers
This outfit is super laid back and fun which is perfect for teenagers. These pink pants look super cute with the white tank top and crocheted sweater. The matching ugg slippers look amazing and bring the entire outfit together. You could wear this out for a lunch date with your friends or just a meetup in the park, everybody will love your outfit!
↓ 14 – Sarah Jessica Parkers Pink Pants
Sarah wore these stunning bright pink pants with a red mesh shirt. The heels are white which also look quite beautiful and the contrast of all three of these colors together looks breathtaking on Parker. Their hair is in light waves and makeup is relatively simple and it looks graceful. Try this look for when you've got to attend a formal party.
↓ 13- Pink Hearts Pants
Wear these super cute pink heart bell bottoms with a matching pink crop top or t-shirt. You can also wear these with a red shirt or a brown shirt, it's up to you how you want to create a contrast. Matching pink heels and a bag would complete the outfit. This outfit can be worn to a date night or just when you feel like dressing up for yourself and going out.
via
↓ 12 – The Sophisticated One
Striped oxford shirts will always be the love of our lives. It's always fun to play around with different prints and colors. You can pair a striped shirt like this with pink pants and that would be a different outfit that not a lot of people would have the confidence to wear. This outfit would be great for office, running errands, or meetings. Throw on a pair of black pointed heels and you're good to go.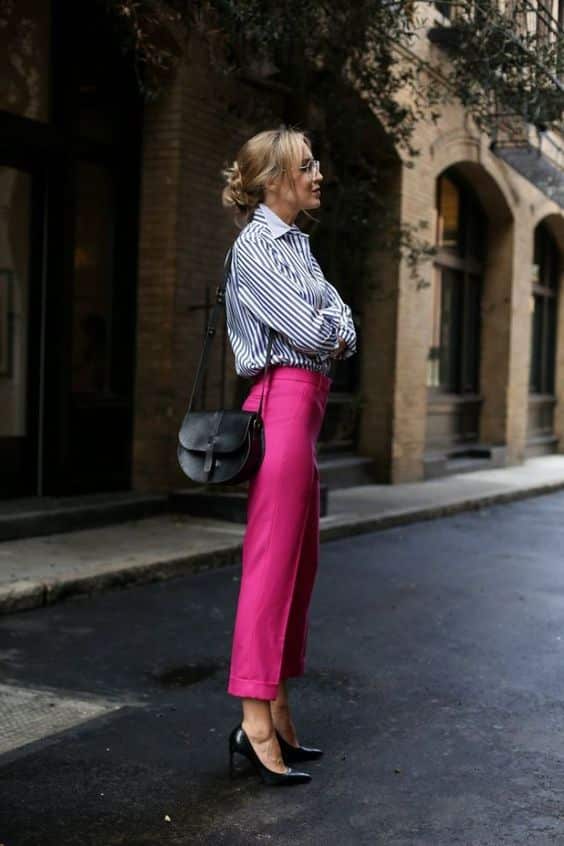 ↓ 11 – Pink Bell Bottoms
These bell bottoms will be the best item of clothing you invest in. You can wear them with multiple shirts and tops. You can wear them with crop-tops or T-shirts. A striped shirt would look classy with these pants and make you look super cool. Pair this outfit with some sneakers and a saddle purse and your look will be complete!
↓ 10 – The Perfect Pink Outfit!
If you still don't know how to wear pink pants, this outfit should help you. This is another way that you can wear pink pants by pairing them with a white blouse and a blazer in a brighter pink. This will create a gorgeous contrast between the different shades of pink. This outfit can be worn to any formal event such as a birthday or engagement party, bridal shower, or a meeting.
↓ 9 – Nudes And Pinks
Nude colours also go very well with pink if you don't know what colours to wear with pink pants. You can wear a nude sweater and a matching overcoat with it. This outfit will be for the winters but that's good because that means you can wear your pink pants all year round.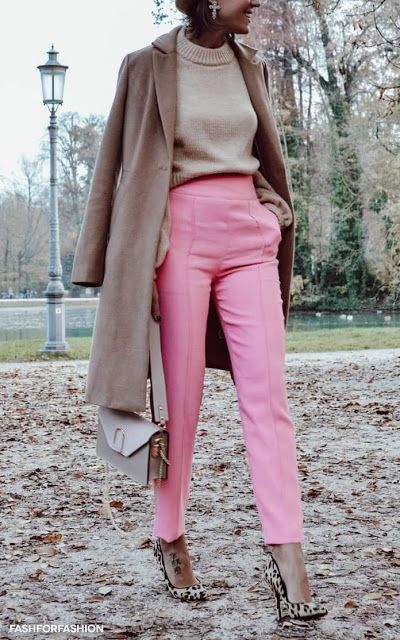 ↓ 8 – Purple And Pink For The Win!
Purple and pink are another one of the best colour duos out there. They both go well together and look great no matter what. You can wear a purple crop top or sweater with pink pants. If you own purple heels or sneakers then wear those because they will really tie the outfit together otherwise black shoes would also work. Wear this outfit for a lunch date with your friends and surprise them all!
↓ 7 – Pale Pink Pants
Oversized t-shirts are the best item of clothing out there. They are extremely comfortable to wear and can be styled with almost anything and everything. So you can style an old vintage oversized t-shirt with these stunning pale pink bell-bottoms and rock them. This is a gorgeous outfit that not a lot of people would like to wear but if you like it then you should definitely go for it! Be sure to check out outfits with bell-bottom pants.
via
↓ 6 – Retro Style
If you are somebody that likes retro style then we have found the outfit for you. This is another easy way to style pink pants by going old school. Wear a yellow top with a pale pink blazer and put your hair up in a bun. The bright pink pants will compliment all the other colors in your outfits perfectly. This look will be one for the best of days so make sure to wear it when you feel like it is well needed!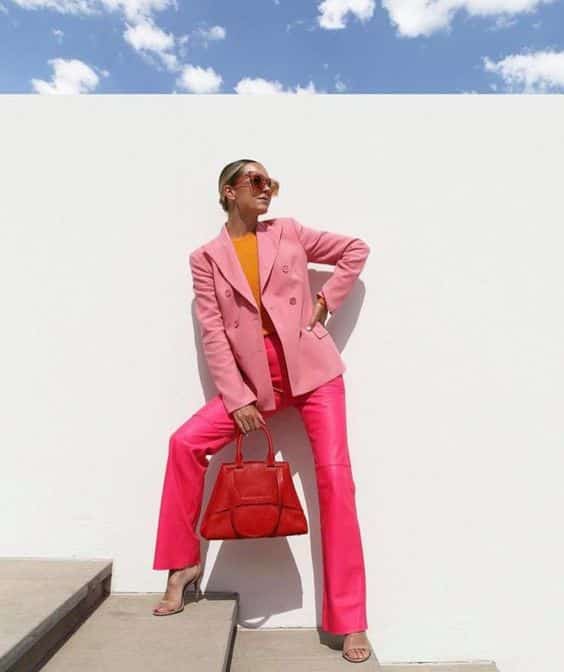 ↓ 5 – Gigi Hadids Pink Pants Look
Gigi wore these gorgeous bold pink pants with a black leather t-shirt. Gigi really showed us how easy it is to wear pink pants. They wore all the colours we never thought could possibly look good with pink. The blue heels are really the star of the show and of course the matching blue-tinted sunglasses!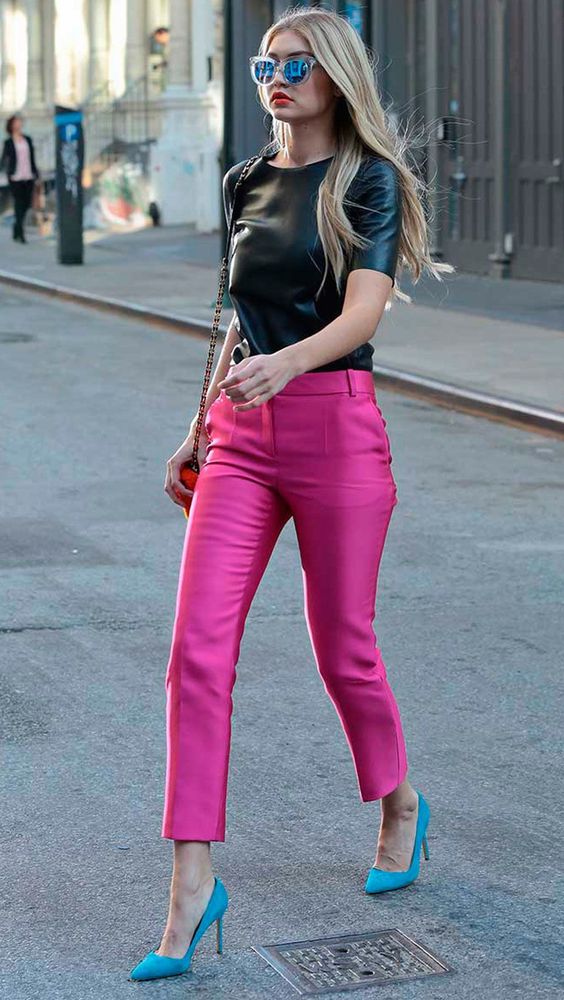 ↓ 4 – Black And Pink
Black looks the best with pink and we all know that. Try pairing a black top with bright pink pants if you're really stuck with what to pair with your pink pants. A black overcoat will add class to your outfit and you will definitely love it. You can either wear black heels with this fit or even heels if you're into those. Add some bling by wearing some chains.
↓ 3 – Victoria Beckhams Pink Pants
We all know Victoria Beckham is the queen of style so of course, we had to refer to one of her pink pants looks for this article. Victoria wore light pink pants with a plain white collared shirt and nude stilettos. This look would be great for meetings or dinner.
↓ 2 – Pastels For Life!
You can never go wrong with pastel colors so check out some cute pastel outfit combinations. Pastel purple and pink go together very well. Pair a pink shirt with some pastel pink pants and you're good to go. A small matching purple purse will complete your look!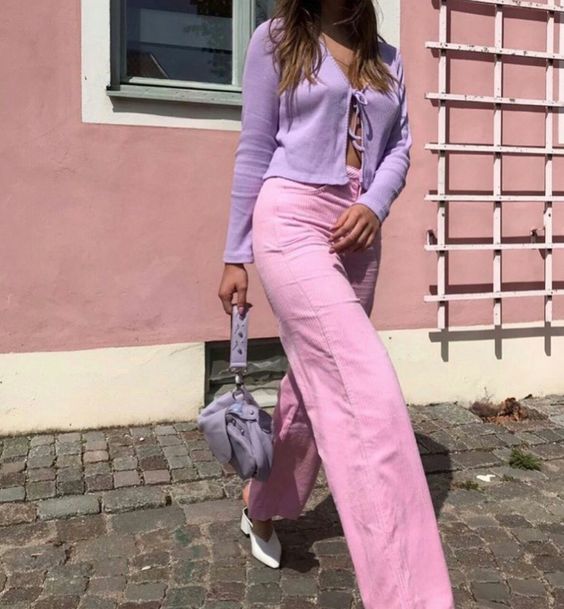 ↓ 1 – All Pink Beauty
This outfit can be the one you choose when you really don't know what to wear. Just pair pink pants with a white top and matching pink overcoats. Overcoats are a lifesaver and all you need to do is get one in pink color. Life will become easier for you and you can always just throw it on whenever you wear your pink pants!
Frequently Asked Questions
Q. What color shirts go with pink pants?
Ans. There are a lot of different colored and printed shirts that you can try wearing with pink pants. A light pink shirt would look good with bright pink pants. You could also try wearing a pastel purple or dark purple shirt, depending on the pink color of your pants. If they are bright pink then pastel purple would look good and if they are light pink then a dark purple shirt would look good. You can also wear a green shirt with pink pants and of course, a white shirt will be the best option. Striped shirts would be a good option as well.
Q. Are pink pants trending 2021?
Ans. Yes, pink pants are super in trend these days and everybody wants to wear them. Get your hands on them before everybody gets bored of them! There are a lot of ways you can style pink pants so don't think that if you buy these pants you'll be stuck wearing pink with them. That is not the case because there are lots of different colors that you wear with these pink pants. You can wear almost any color you want if you know how to incorporate it into the outfit properly. For example, if you want to wear a yellow shirt with these pants, you can wear yellow shoes, jewelry, or carry a yellow handbag.
Q. How to style pink pants?
Ans. You style pink pants with crop tops, t-shirts, bodysuits, bikini tops, and whatnot. You can wear pink pants with matching bikini tops for when you're going to the beach but want to look cute. A pink bodysuit would look super cute with these pants. Crop tops in any color would make these jeans look amazing. You can wear platform heels or sneakers if you like. If you own any resin rings in the color pink then they would definitely complete your outfit. Lastly, if you like oversized clothes more then you can wear an oversized vintage tee with these pants and you'll look stunning nonetheless.