Women's Suits With Sneakers. People may think that suits are more, for formal wear or business wear. These days though suits for women are so versatile that even adding simple footwear such as sneakers can change the look from formal to casual. Although suits have mostly been thought of as a masculine fashion, women have made taken on the style and look just as good as the guys.
The addition of sneakers with a suit can give a sleek city feel, a causal twist or can keep the formal look with a hint of practicality.
How to Wear Sneakers with Suits for Women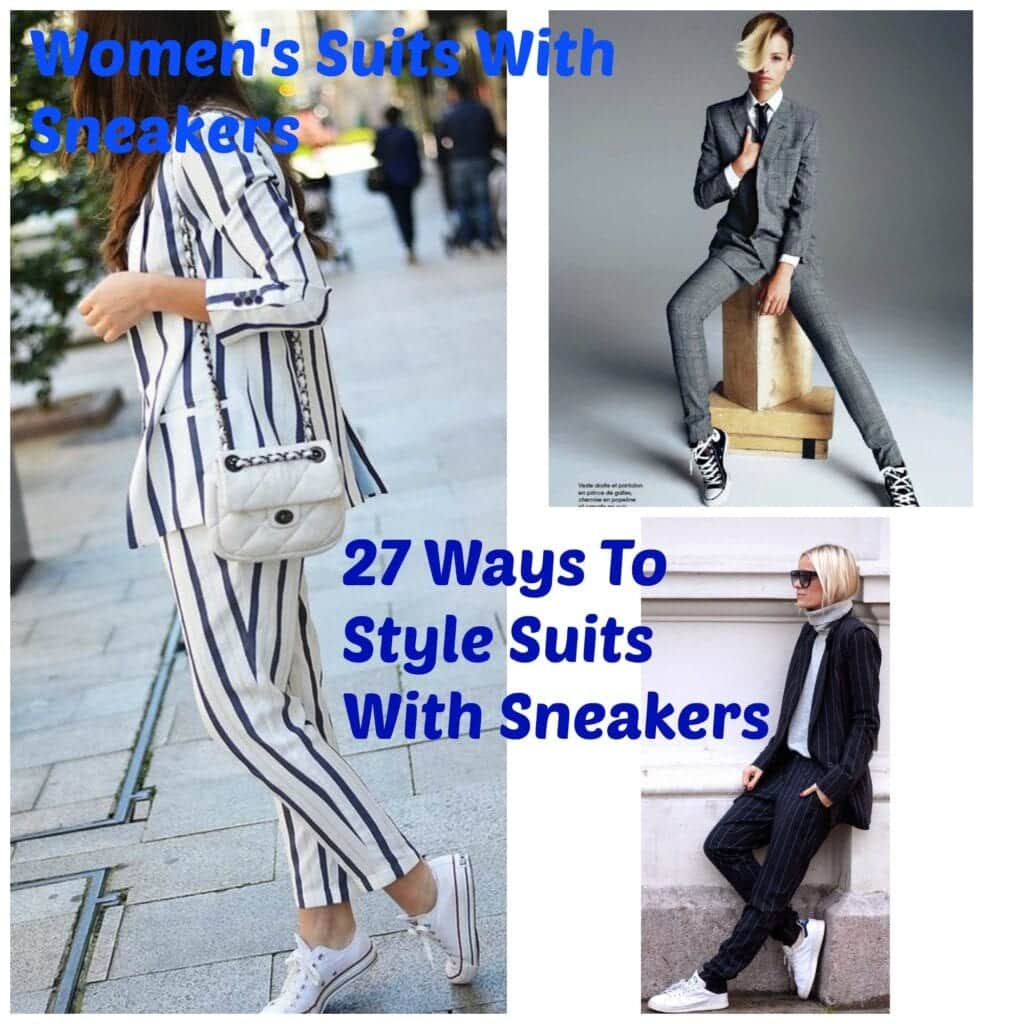 RECOMMENDED: [highlight]Women Outfits with Oxford Shoes-18 Ways to Style Oxfords[/highlight]
 #27 – Business Style. A great way to pair patterned suits with original black and white sneakers. Ideal fashion for women who love to make a statement.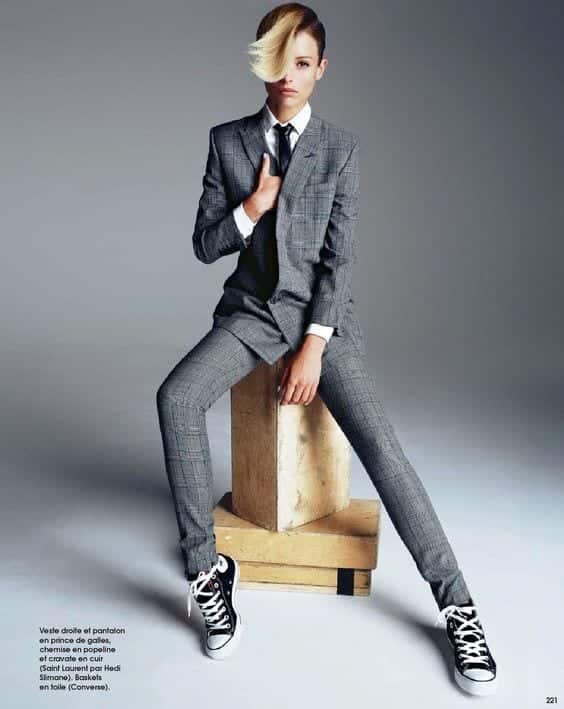 via
#26- Lauren Hutton Red Carpet Look. Crisp white suit with matching crisp white sneakers. A great look for formal events or casual days out.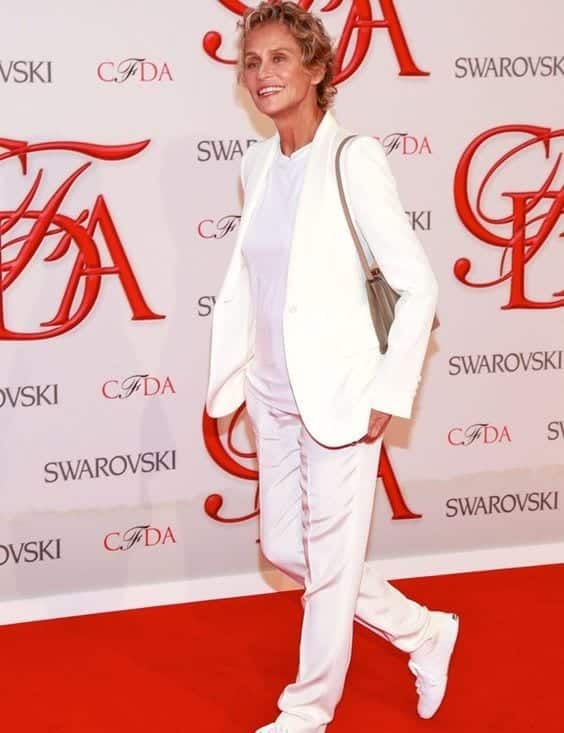 via
Also check out [highlight]Bralette outfit ideas-20 ways to wear a bralette confidently[/highlight]
#25 – City Swag Style. A powerful look filled with confidence! Striking red suit, open with bralette and matched with red converse.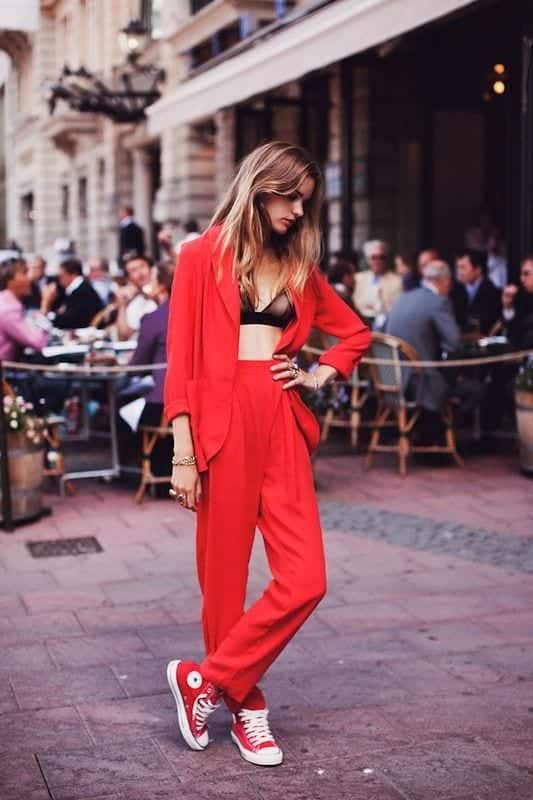 via
#24 – Simple Neutral Toned Suit. Subtle silver toned suit with plain white top. Match this with white sneakers for a simple and practical look.
via
Don't miss out [highlight]25 Celebrities All Black outfits Styles for Fall to Copy[/highlight]
23 – Rhianna at Fashion Week. Even dress suits look amazing with sneakers. Rhianna's purple suit dress with matching sneakers is perfect for formal dinners or even weddings.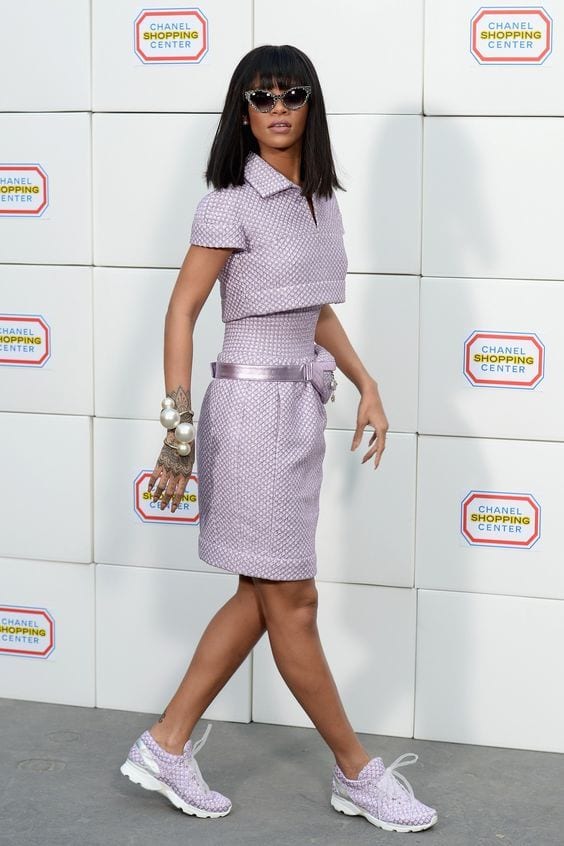 via
#22 – Nautical Suit Style. A great style of suit for the beach or summer. Blue and white stripes give a nautical feel and the white sneakers give a casual feel to the whole outfit.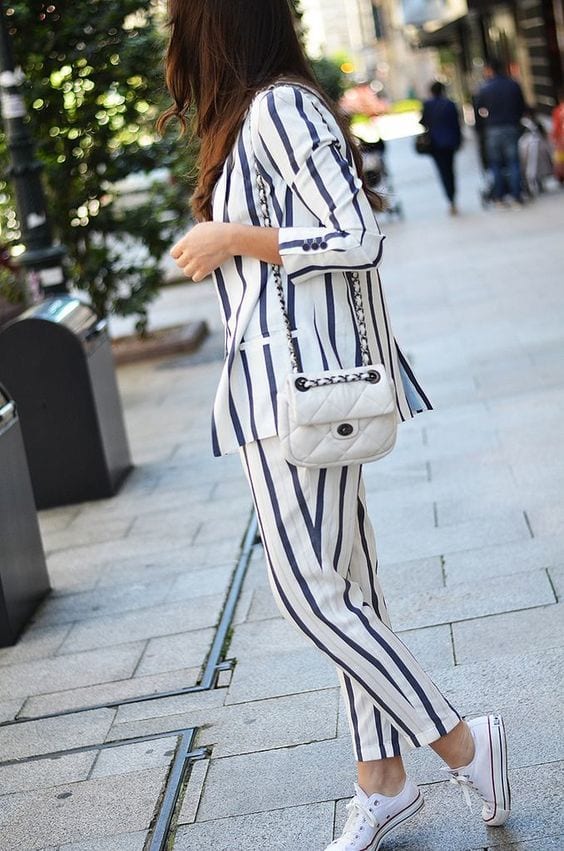 via
#21 – Pinstripe Suits And Sneakers. Keeping a suit oversized will give a masculine feel. The turtle neck top and sneakers give the whole look a more casual feel. This look is great for city days out.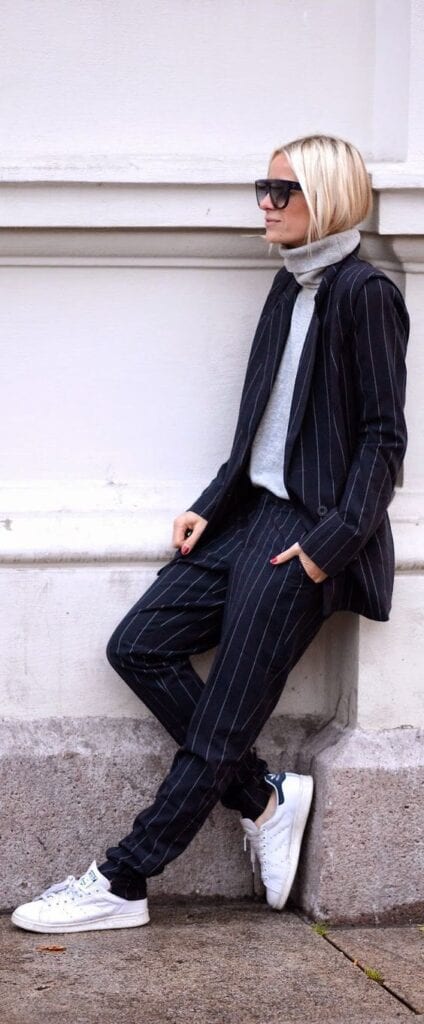 via
#20 – Mix And Match Suit. Who said a suit had to be matching? Suit trousers and blazer is contrasting colours is risky but if done right can look amazing. Adding sneakers to this style creates a casual look with a touch of attitude.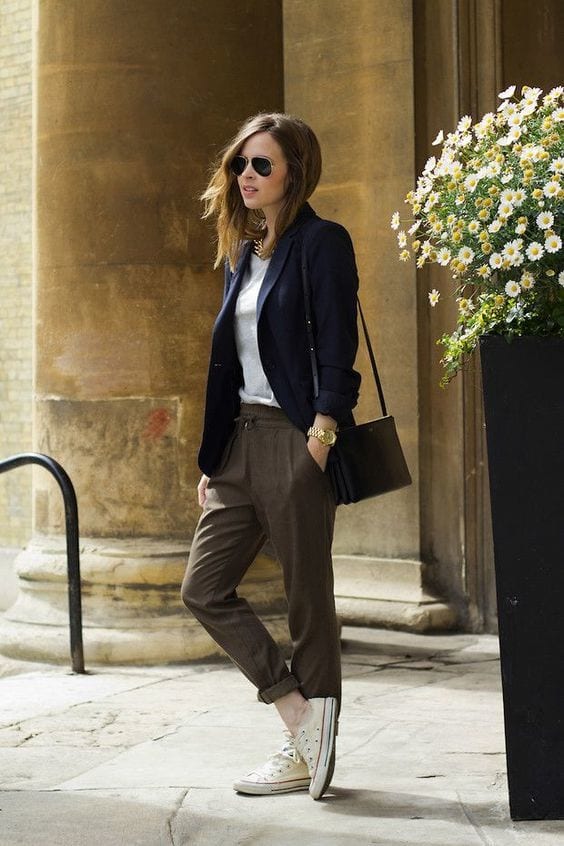 via
#19 – Summer Suit Idea. Short sleeve suit top and three quarter trousers with white sneakers is a great combination for summer.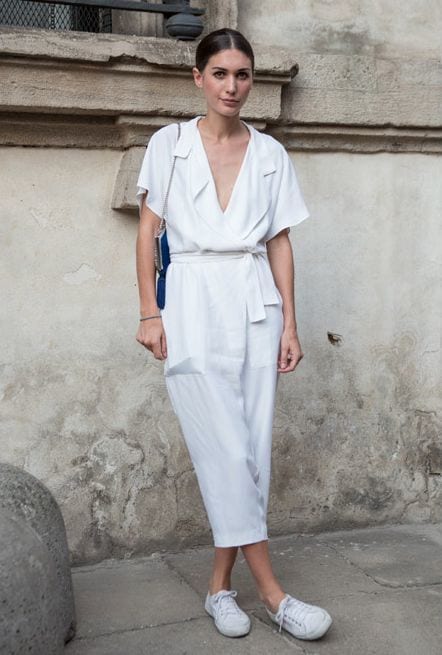 via
#18 – Suit Jacket And Sneakers Idea. Elbow length suit jacket over a plain white top paired with black trousers. Use with combination with white sneakers makes for a great casual outfit.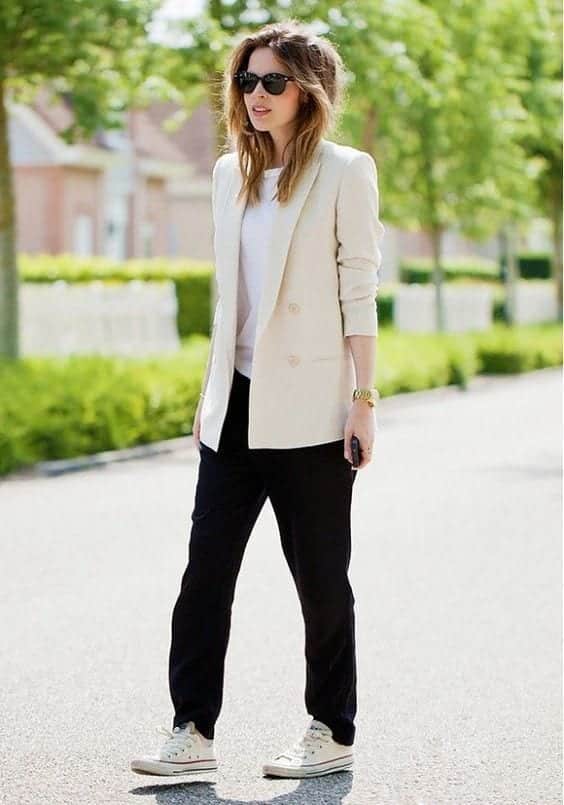 via
#17 – Cropped Suit Combination. A great look for students! Printed blue shirt with open suit jacket. Why not add some sunglasses to this style for a truly summer look?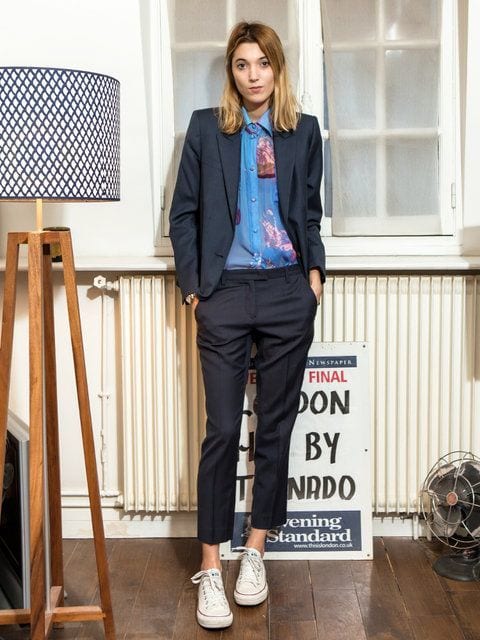 via
#16 – Mismatch Spring Combination. The suit shirt and tie creates the formal side of this outfit with stripey crops and sneakers covering the casual element.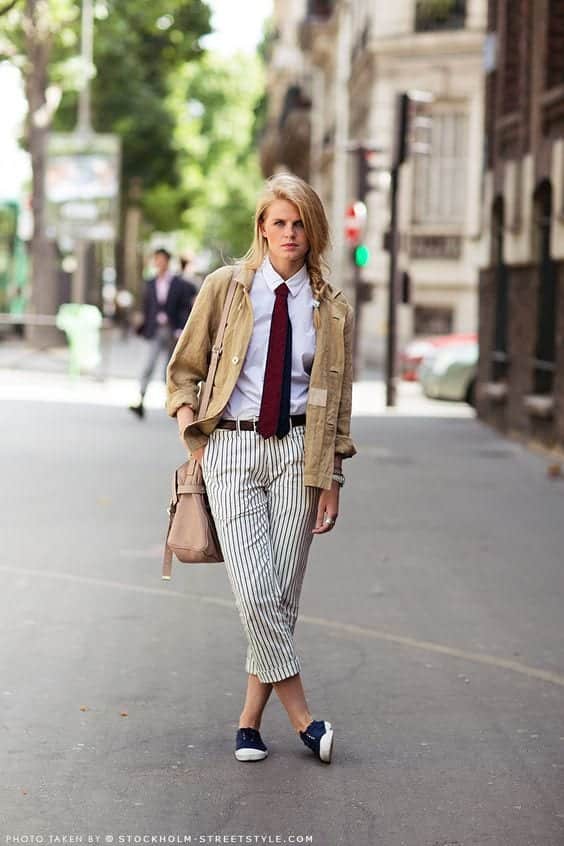 via
#15 – Kate Moss Rock Suit Style. Blue suit with AC/DC t-shirt with simple sneakers makes for a great outfit from Kate Moss.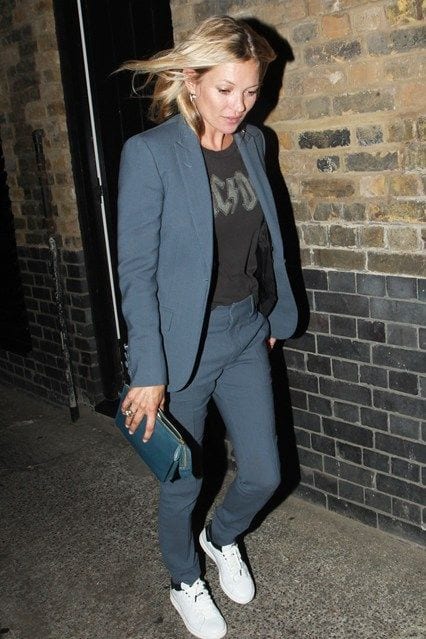 via
#14 – City Spring Style. Satin look suit with white top matched with either sneakers or trainers is a great look for spring in the city. Adittional querky bag gives a fun feel.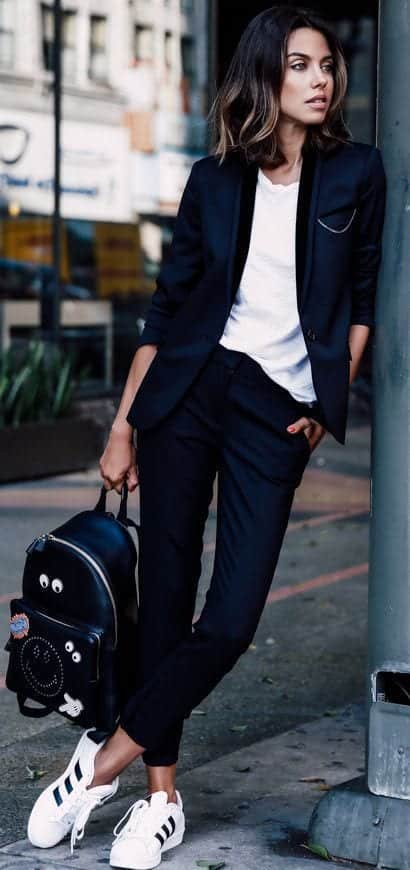 via
#13 – Classy Suit Style. All black suit with sneakers. Chunky belt breaks up the colour and gives a focal point.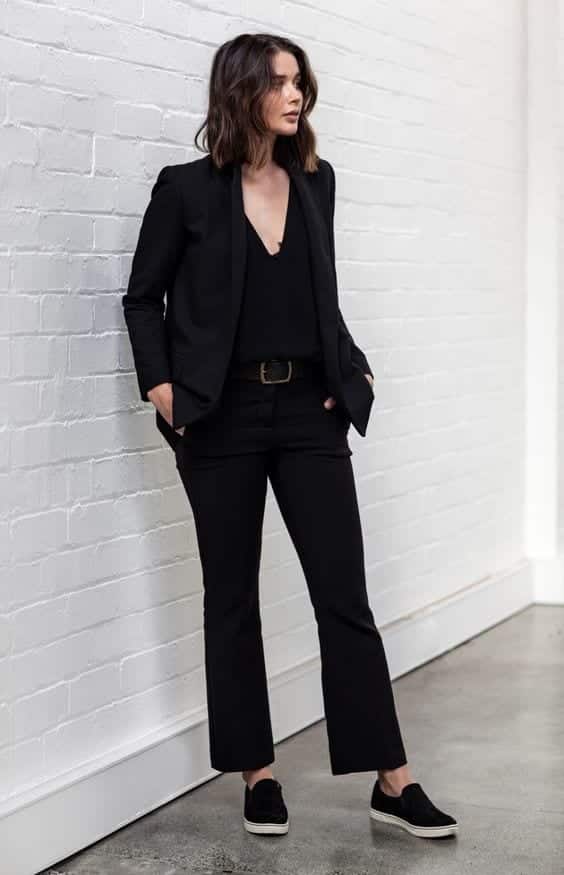 via
#12 – Blue Crop Suit Fashion. Great look for spring and summer with blue cropped suit and sneakers.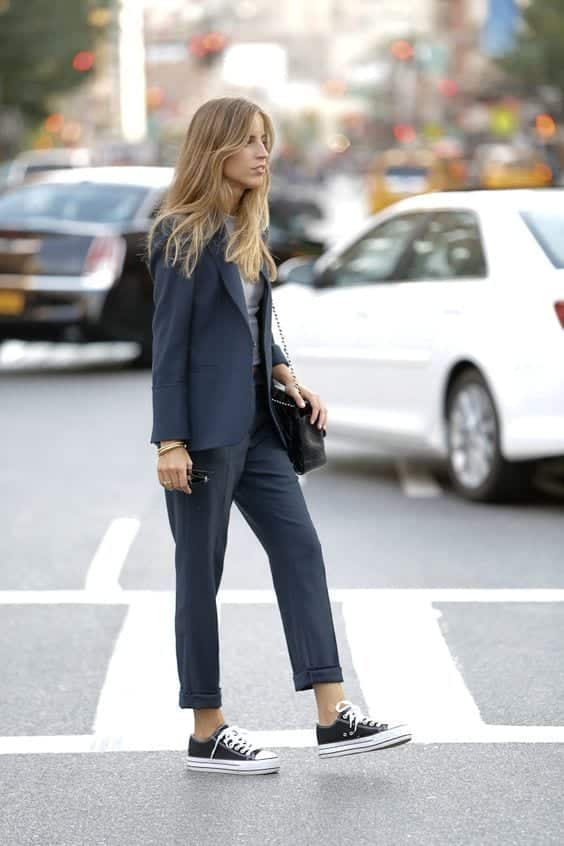 via
#11 – Shaped Suit With Sneakers. Gorgeous shaped suit with cropped bottoms complete with crisp white sneakers.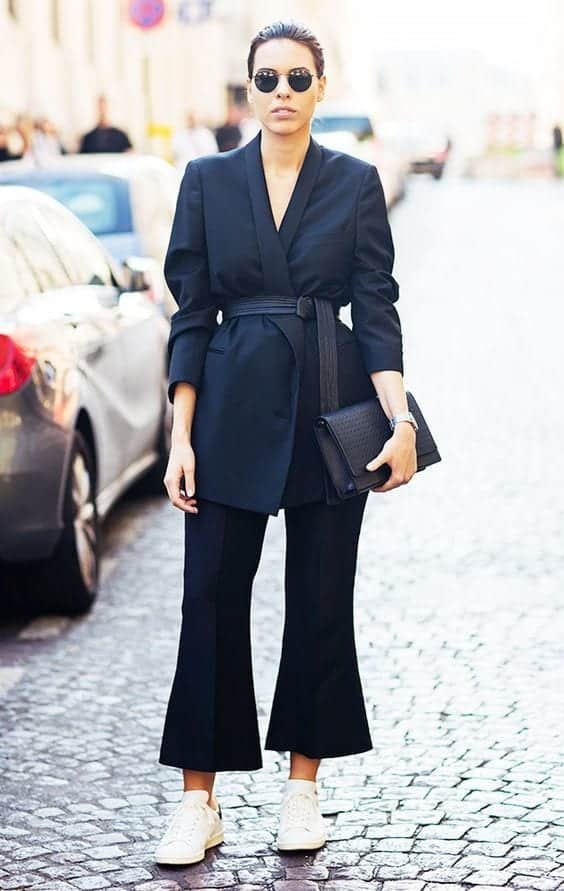 via
#10 – Great Winter Style. This is a great winter look for students incorporating sneakers with shirt, jumper and long suit jacket.
via
#9 – Terracotta Palette. Stunning terracotta plunge suit with bright white sneakers. Sleek city style for a confident woman.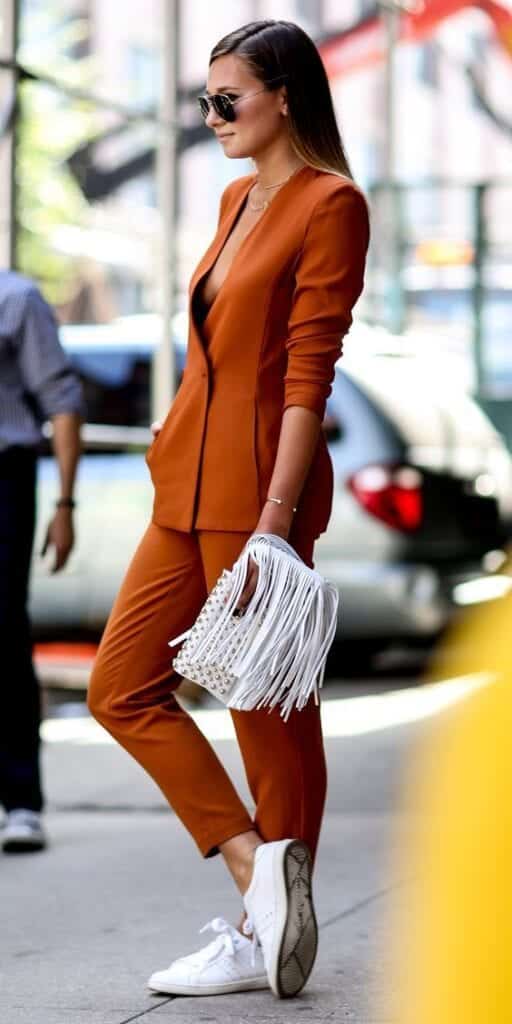 via
#8 – Black And White. Feminine white suit with bold black sneakers. Perfect summer style and also a fantanstic look for business travel.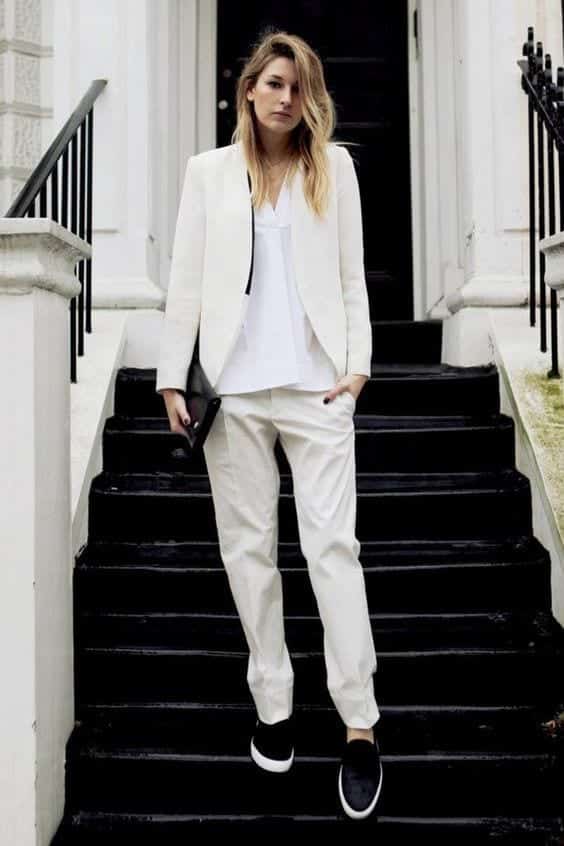 via
#7 – Suit Jacket With Heeled Sneakers. Heeled sneakers are a great addition to a suit. Keeping the casual look, they also create a touch of femininity.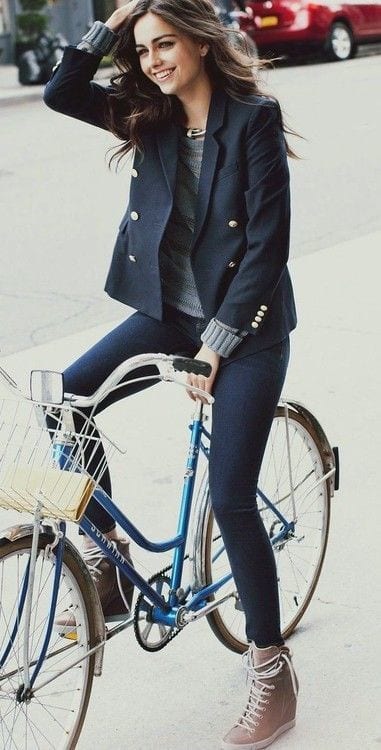 via
#6 – Grey Toned Suit. Grey suits are a favourite for both men and women. Why not brighten them up with a white top and white sneakers for a truly stylish feel.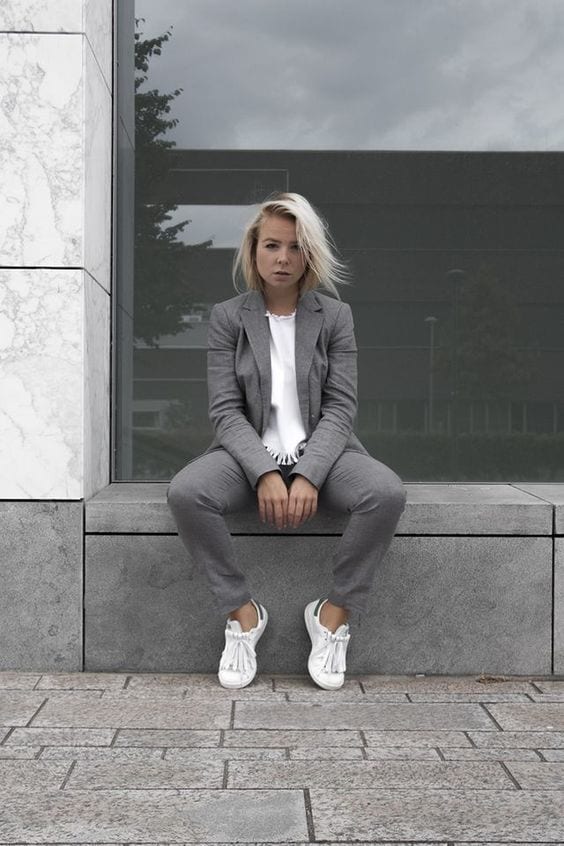 via
#5 – Suit With Braces. Braces are a top addition with most suits so why not use them to their potential and match them with sneakers for a more androgynous look.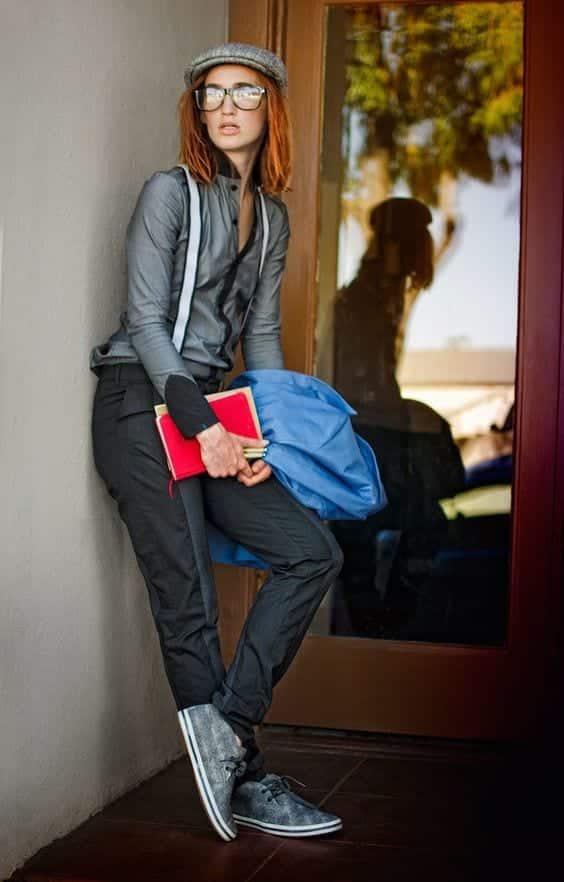 via
#4 – Suits With Flares. Shaped suit jacket with gorgeous black flares is a great comination and paired with sneakers will give a simple yet effective look.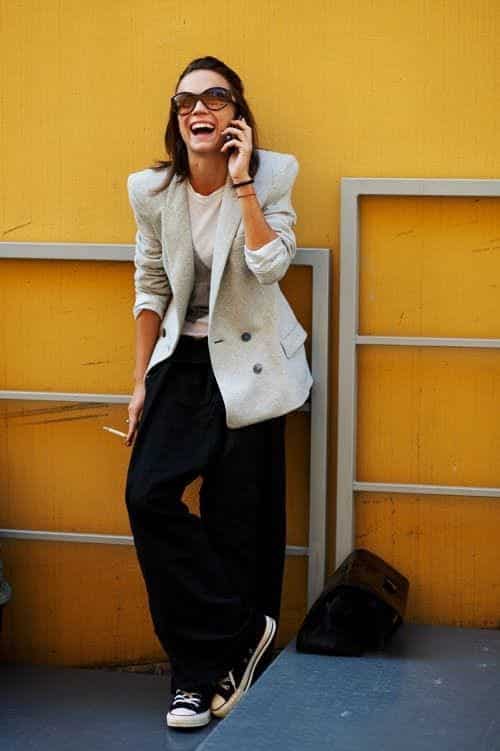 via
#3 – Business Woman Look. Stunning pale blue suit with white turtleneck and white sneakers. A perfect colour palette for a winter style.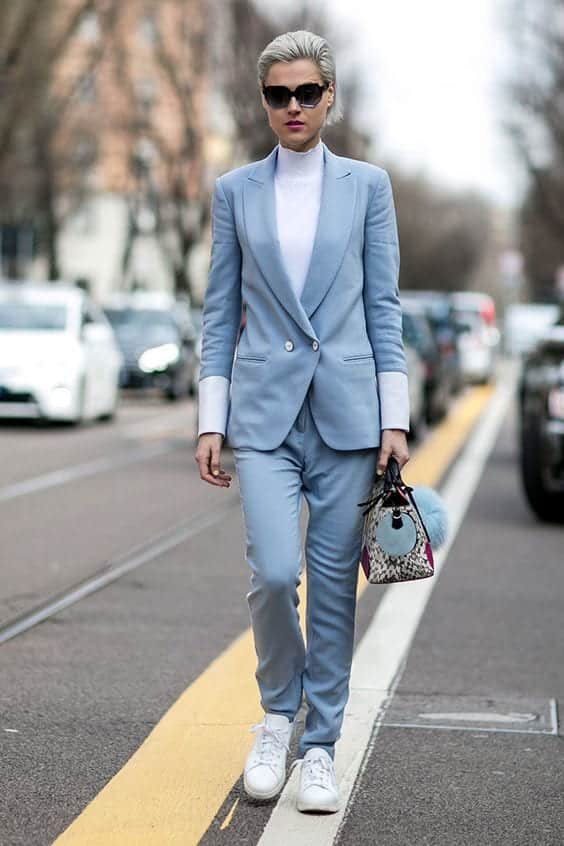 via
#2 – Perfect Pinstripes. Everyone loves the pinstripe suit so why not add to it with sneakers and a chunky belt for a stunning silhouette.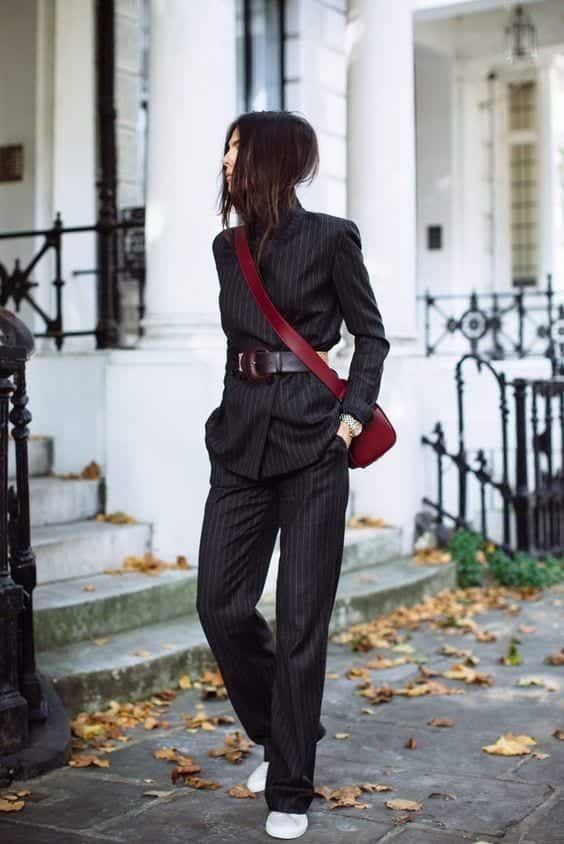 via
#1 – Simple Navy Blue Suit. Plain navy blue suit with white top and white sneakers is an awesome combination for summer parties.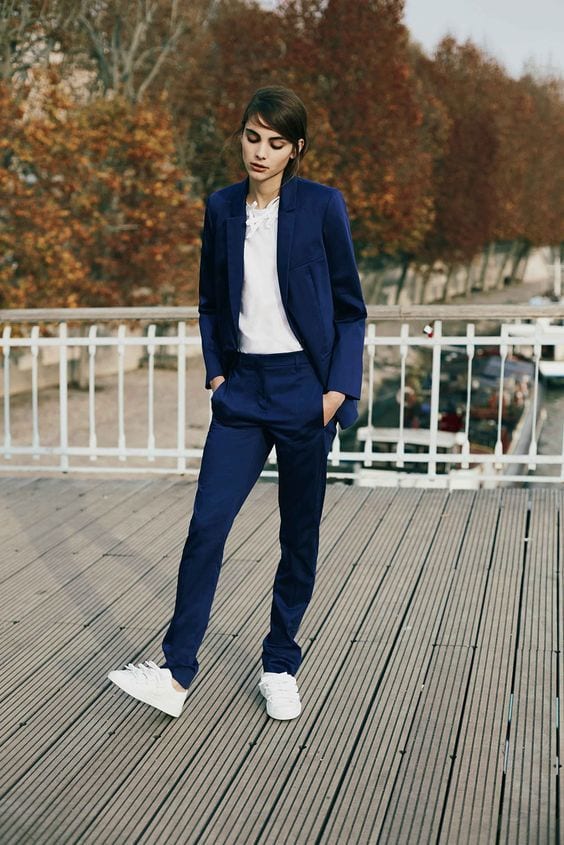 via