Elegant Outfits Ideas for Teachers  – Whenever people think of teachers, the first image that comes to mind is the formal suit and hair scraped back, but with summer coming in nicely, it is time to tone down the formality go casual.
But what attire should teachers wear? How to dress like a teacher. How do you do makeup suitable for a teacher? And what accessories can you wear? Outfit Trends has this post to educate on these matters.
You can, of course, be a teacher and yet follow the latest trends for an age-appropriate look. Whether you are in the public or private school system and teaching younger or adult students, your appearance can significantly affect how you are perceived.
Wearing an outfit intelligently with confidence will surely get you more respect and attention from both the students and adults. We have a complete guide that will help you become more aware of your many choices to dress up as a compelling teacher.
Fashion Tips For Teachers
Have a look at the following tips for great styling options:
Get out of the safe pencil skirt and cardigan combination and instead go for other unique options.
Don't wear the same colored blazer and pants all the time; instead, go with contrasts.
Take care of the dress codes, and don't show off more skin than necessary.
Keep comfortable footwear options and avoid stilettos because they can strain your legs in the long run.
Go with bright accessories like a vibrant scarf or statement necklace.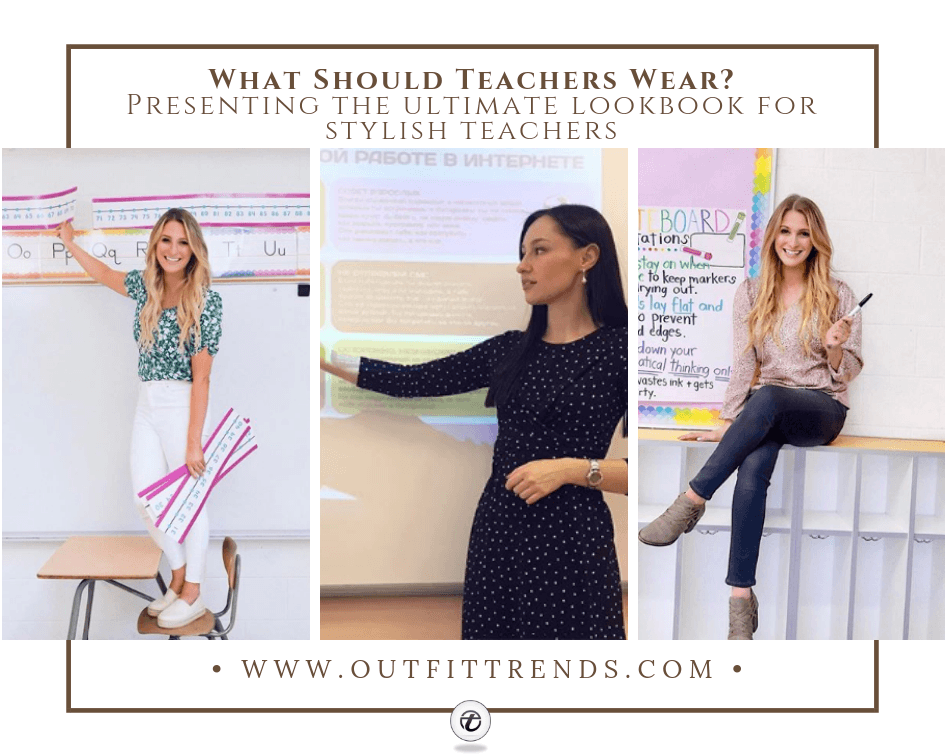 ↓ 20. Casual Blue and Brown Ensemble
Teachers are role models for their students, which is a powerful reason why a teacher must always dress elegantly without looking out of sorts. This outfit look is perfect for the teacher who wants to look more inspirational.
All you will need is a knee-length dress, or you can also turn any knee-length shirt into a knee-length dress just by adding a belt. Choose soft fabrics, like chambray or cotton dress, that won't stifle you. Layer up on this dress by wearing a long kimono, matching shoes, and a bag. To follow the latest trend, check out these fabulous Ways to Wear Halter Outfits every day.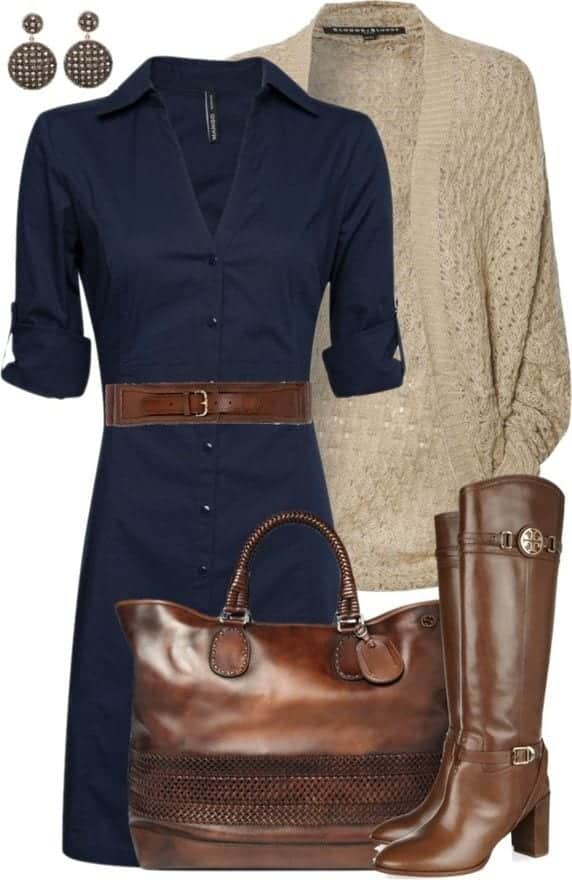 ↓ 19. Bold Retro Look
Being a teacher does not mean that you can not wear bold colors. You can choose to wear bold and exciting colors to keep your students engaged in the classroom. Go for neons or turquoise c0lor for more fun in your outfit.
The best way to do this is by mixing retro prints in subtle shades and brightly colored structured blazers or skirts. To bring the whole look together, go with white or beige footwear to bring out the vibrant colors of your outfit in a perfect manner.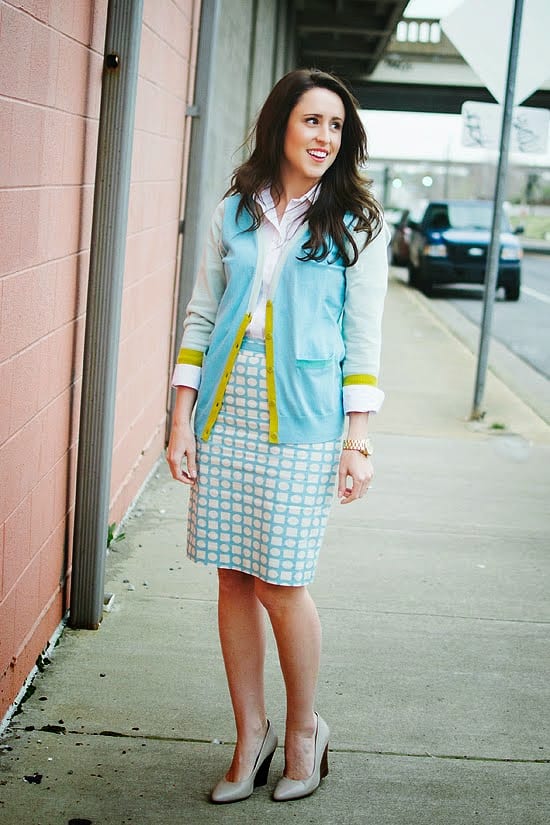 ↓ 18. Winter Dress
This outfit is ideal as it has a variety of colors, so one can easily pair it up with different contrasting things. In this outfit look, you don't have to keep the colors in one tone, and you can wander away according to your imagination.
Go for a green knee-length skirt, and a white shirt with black polka dots, and bring everything together by wearing a short black coat. Another great option is to wear a plain outfit or tee and wear it with skinny jeans and a printed blazer. Printed blazers look chic when worn by teachers so do look at What to Wear with Printed Blazer?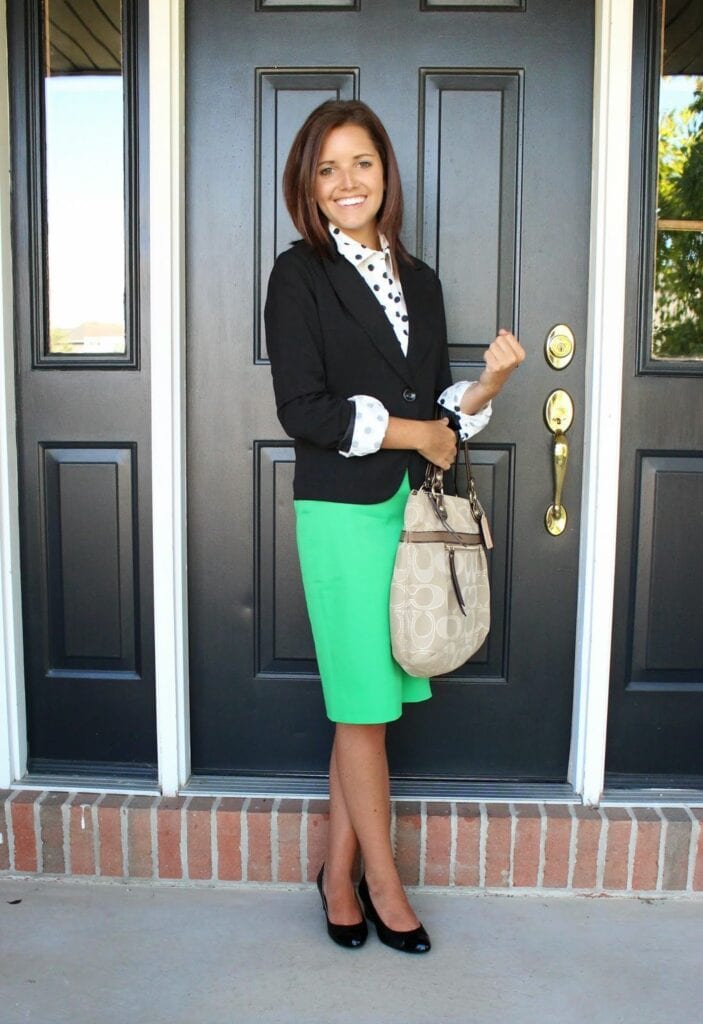 Get the Look here:
↓ 17. Pink Flared Top and White Trousers
Flared or peplum tops look gorgeous on mature women as they add a stylish twist to even the most simple or plain-looking outfit. They look at a short but elegant dress. You can pair your favorite flared top with plain-colored trousers.
For example, if you love pastel colors, you can wear a light pink flared top with white pants and add some cool-looking white and pink jewelry. As for bags and shoes, you can keep them in nude shades.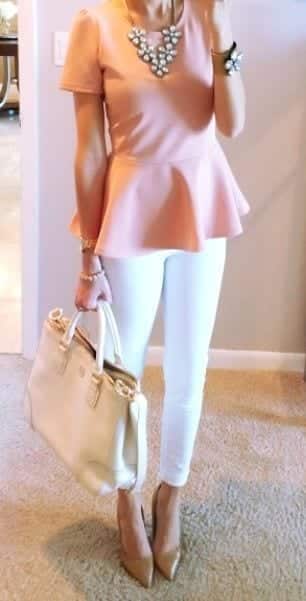 Shop the Look:
↓ 16. Denim and Stripes Outfit
Knee-length skirts are the best option available for teachers out there. There are so many different patterns and styles that you can opt for while going for these skirts. The best part about them is that you can wear anything with them. It can be a matching top or a contrasting top.
You can wear a black and white striped knee-length skirt and match it with a denim jacket or plain white top. Don't forget a  black Parada purse. You can wear animal print pumps with this outfit to tie the whole look together.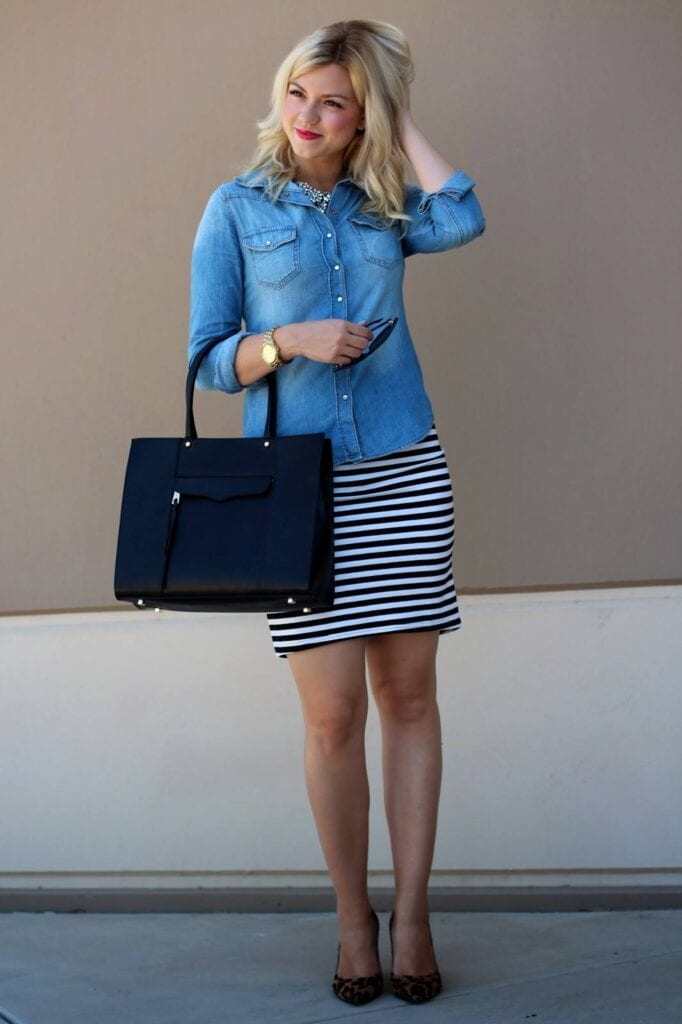 ↓ 15. Casual Summer Skinnies
You don't have to wear knee-length skirts all year round just because you are a teacher. It is always a good idea to bring some change to your everyday dressing. For a more casual look to school, wear a pair of skinny jeans in different shades with your favorite elegant top and match it up with a piece of contrasting jewelry like a statement necklace or broach.
Look at this woman rocking this look with cute wedges that look super cool for the season and are comfortable enough to move around efficiently. Remember that how you dress doesn't just help in making an impression. Still, it also affects your personality and behavior, as elaborated in our earlier post on The Psychology of Dressing Well.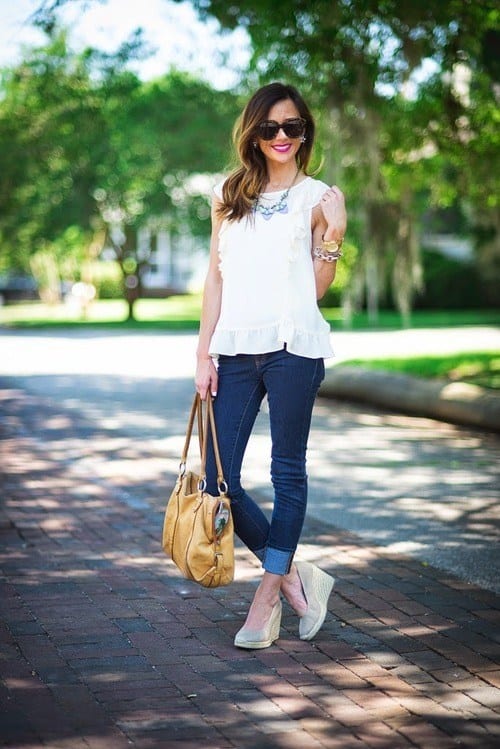 ↓ 14. Light Outfit Style Idea with Boat Shoes
When you don't want to make much fuss about your dressing or feel that you don't have the time, it is a great idea to have already some basic combinations planned. We all know that light shades of different tunics look best with white pants.
Always have a white or black purse ready to go along with your outfit. You can opt for a chic nautical theme by pairing a blue and white outfit with white or blue denim boat shoes that are comfortable and easy to style.
Select some minimalistic silver jewelry and pick up your shades. You are all ready to move in a matter of minutes!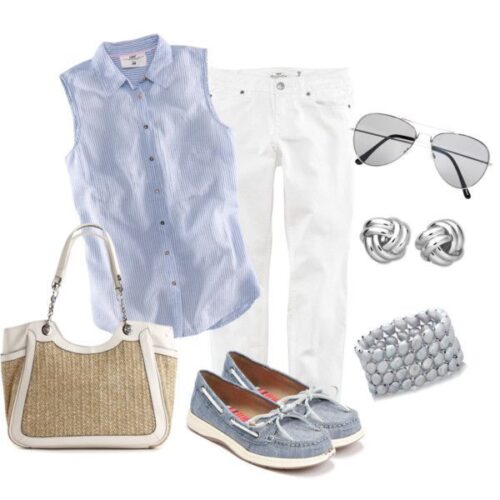 ↓ 13. Subtle Pink Outfit
Pink is an ultra-feminine shade, and you can never escape from it. However, for the teachers who are not such fans of pink, you can go for alternative shades on the same spectrum, like blush or peach. Contrast your pink ruffled collar shirt with khaki or grey pants and casual pumps in similar colors.
Opt for high-waisted style belts and pair your look with pear drop or heart-shaped earrings.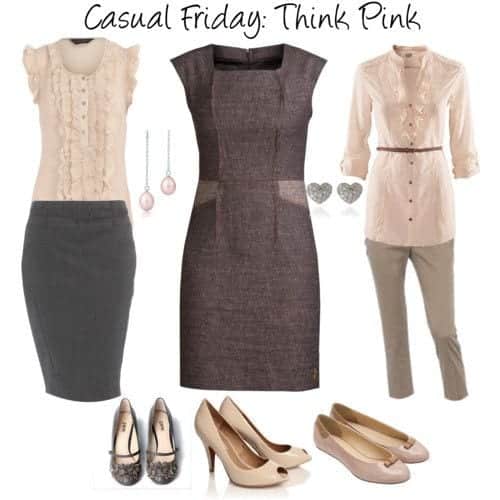 ↓ 12. Flowing Pleated Skirt Ideas
Are you tired of those similar-looking skirts which seemed mainly designed for a dull look? So, how can you beat that? Well, we have pleated midi skirts outfit to rescue you. Not only is the length suitable for a teacher's dress code, but the style of wrinkles has a very flattering movement that lends you an air of elegance and sophistication.
So, how to wear pleated skirts? If you have a dark-shade pleated skirt, opt for a plain white tee, while pastel and light shade skirts would go well with powder blue or soft grey tees. The pleated skirt will not be able to show its true magic without high heels, so you should opt for wedges or a stiletto, whichever you are comfortable with. Here are some more of my favorite Pleated Skirt Outfits.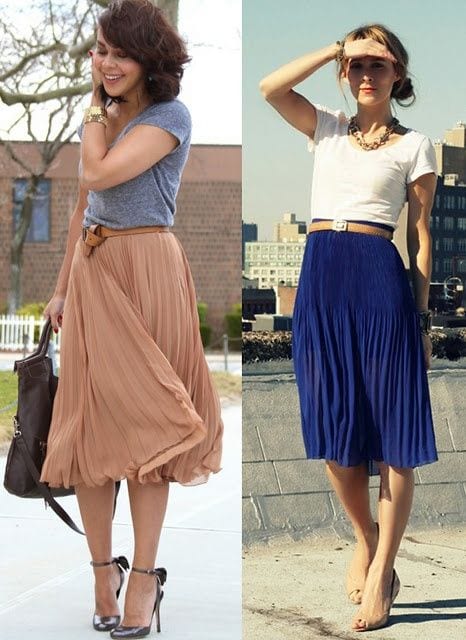 ↓ 11. Accessoriese It
Are you in trouble with your choice of summer accessories? Wondering which colors will go with most of your outfits? The natural and subtle shades of brown have your back. With brown and beige colored hats, belts, and shoes, you have got it all figured out.
Other than that, go for striking jewelry shades like bright blue, purple, and emerald, which can uplift even the dullest outfit. Keep some minimalistic golden necklaces and bracelets with you to pair up with different outfits.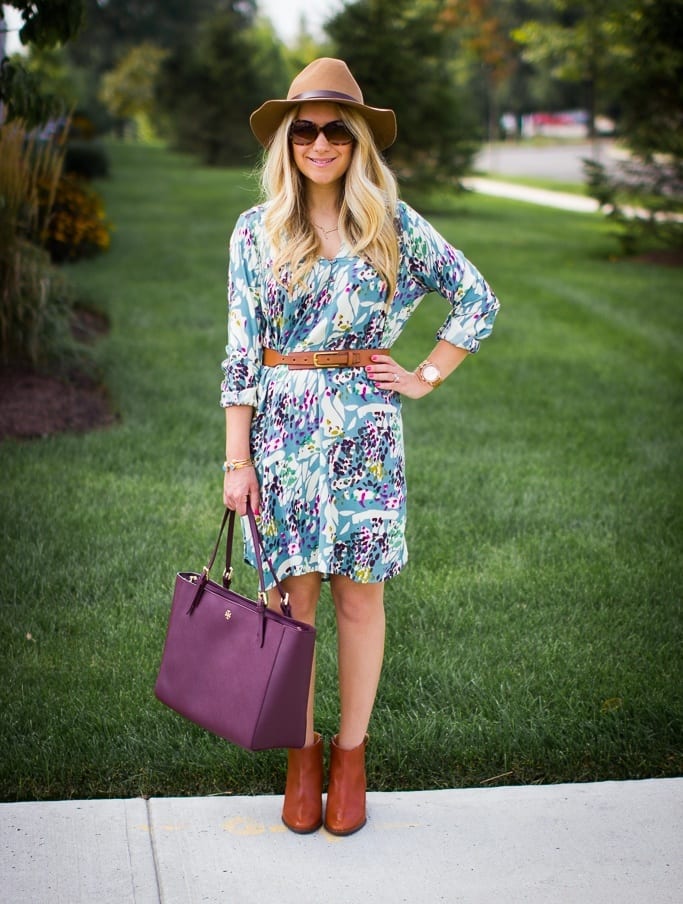 ↓ 10. Ideal Dress for University Teacher
Are polka dot tops too cliche for you? This polka dot craze has spread like crazy, and it might not be everyone's cup of tea. However, you can pair up a polka dot shirt in amazing ways to ditch the current retro trend craze.
Go with a bright shade cardigan or blazer with a beige skirt, and you will have successfully left behind any traces of going retro. Double-shaded pumps would be an excellent fit for this ensemble.

↓ 9. Polka Dot Top with Skinny Jeans
Another option for skinny jeans lovers is pairing your skinny jeans with a loose top. You should then tuck the top inside your jeans for a funky look. For example, you can go with pastel pink skinny jeans and a loose white shirt with black polka dots on it. Here are some more amazing Outfits with Jeans.
Do wear matching accessories with this outfit look to enhance its beauty.

↓ 8. Spring / Fall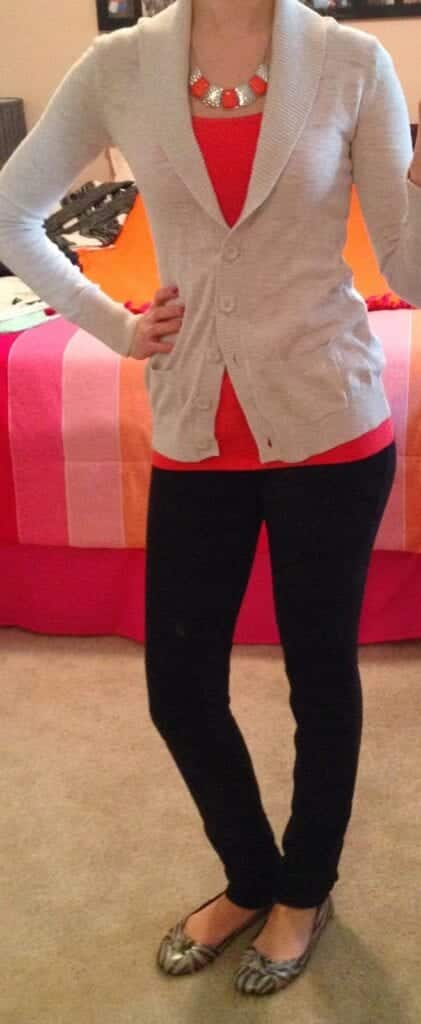 ↓ 7. Summer Outfit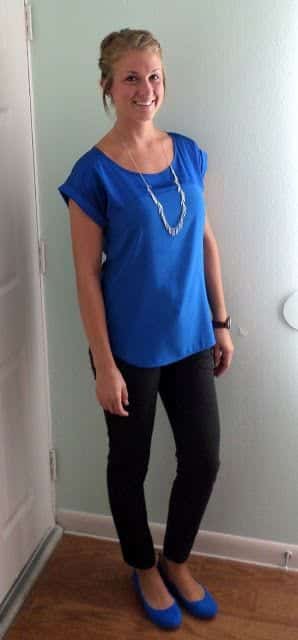 ↓ 6. Plus Size teacher Dressing Combo
You can wear a knee-length skirt, a long sweater, and wedges to school. Flared frocks are also a great choice; you can opt for loose-fitting high-waisted trousers with tops.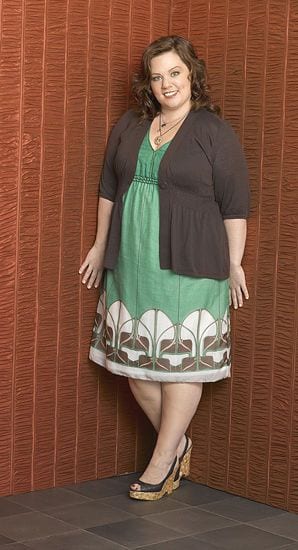 ↓ 5. Outfit with Long Boots – Cute  Professor Dressing style 
Long boots are a great choice if you are tired of all the flat shoe styles. You can pair them with your colored jeans and an embroidered or lace shirt for an effortlessly chic teacher look. Add a green necklace and a colorful scarf to the outfit if you are a kindergarten teacher.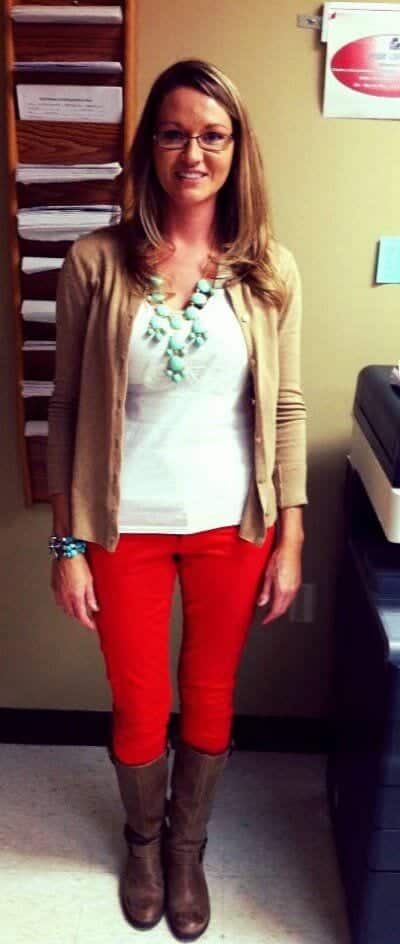 ↓ 4. Spring Outfit Combo
The accessories and color combination make this outfit a great choice for any functions you organize in your school for spring. You can also ditch the necklace and replace it with a vibrant scarf to celebrate this special season.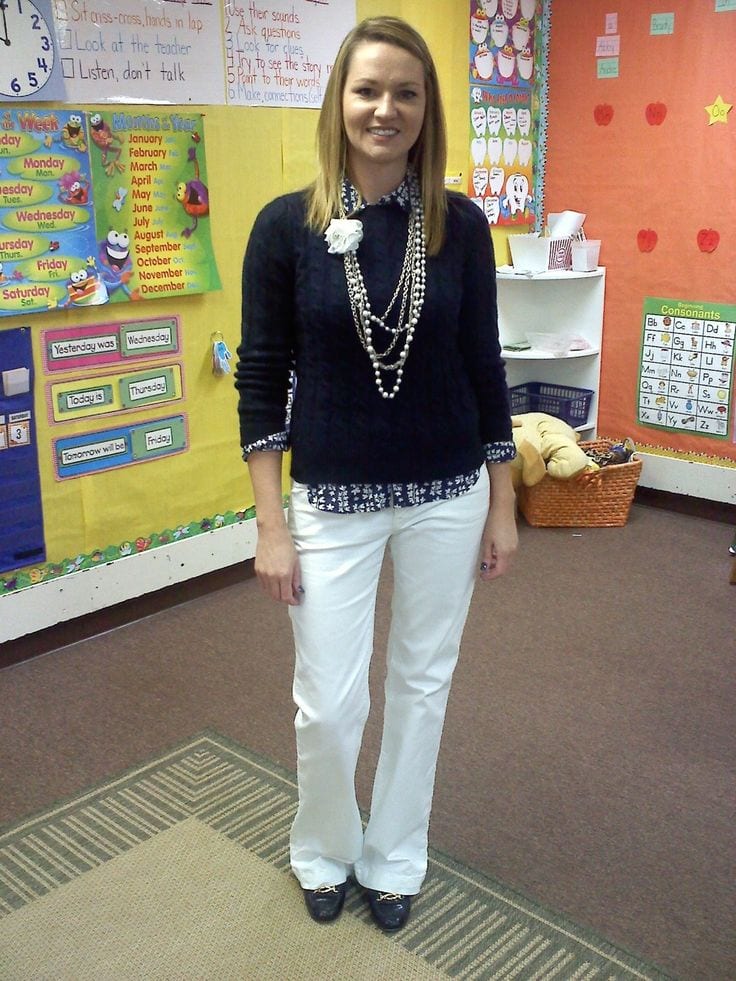 ↓ 3. Accessories
Depending on what you teach, accessories are great for adding more bling to your outfit. As with make-up, though, it should ideally be kept to a minimum and not overwhelming. Too much jewelry with an already exciting outfit can destroy the look you are trying to achieve. Instead, choose colors that suit you and keep it simple. If you are more of a silver than a gold person, then choose an elegant bracelet and a small necklace. If you are more gold, go for gold earrings, which will add color at the top and not clash with your outfit.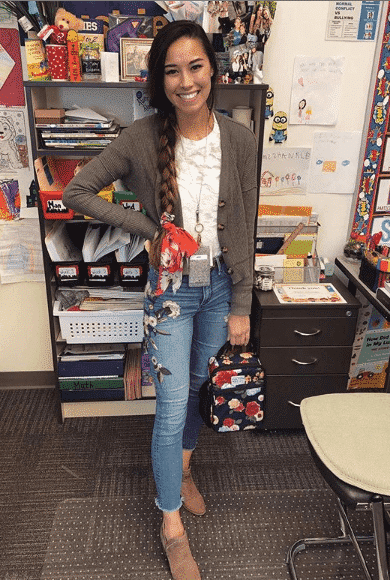 ↓ 2. Make-Up and Hair Ideas for Teachers
Because of the nature of the job, a teacher's make-up and hair must look appealing but also subtle. Too much make-up is never a good look for a teacher, so keep shades toned down or even neutral. Pale pinks, bronze, or peach, are all great shades when it comes to eyeshadow as well as lips.
However, there is no harm in going for burgundy or red shades of lipsticks for special occasions by keeping the eyeshades and the blush on a softer side to complement the look.
Always keep a great face powder to remove any creases or sweat marks. With summer, hair can be left down to add a casual feel, or simple buns or ponytails are acceptable. You can also get away with plaits or braids if done correctly.

Joyelle Zealous, a New York-based ESL teacher shows us some fabulous accessories of her that she chose to wear for Black History Month at her school: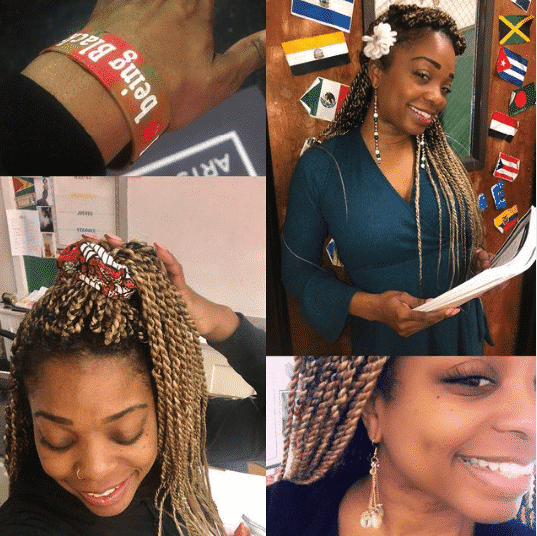 Here are some more fabulous classroom outfits of Joyelle, and I love her use of the striped blazer and hoop earrings – perfect accessories for teachers, aren't they?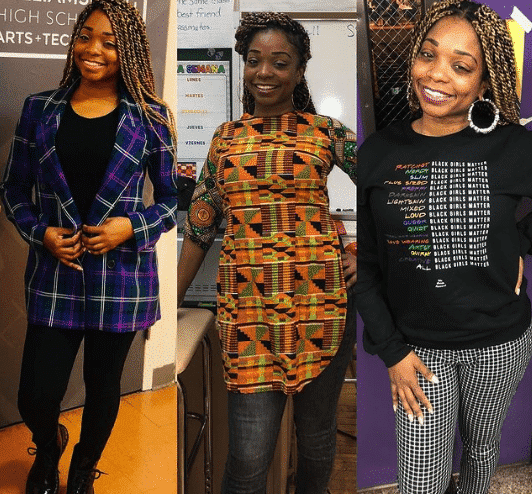 ↓ 1. Ideal Footwear for Teachers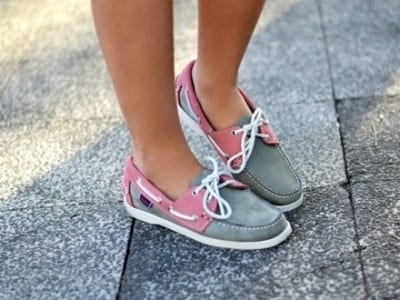 High heels are for the formal businesswoman and so not great for teachers. Especially as this job requires a lot of time being on your feet, go for more small heels or flats. Boat shoes, loafers, or ankle boots are all acceptable footwear ideas for this particular job, and you must remember that younger generations look up to you. T-Bar pumps, caged heels, and sandals are more nighttime footwear, so do not choose these.
Where to shop for teaching outfits?
As you go through our list of outfits, you'll find that most of these products are readily available at the usual brands you shop at. But if you're looking for something unique that is completely role-oriented, I highly recommend checking out breezy bilingual and trendy teachers. Both of these websites sell some amazing tees about the love of teaching.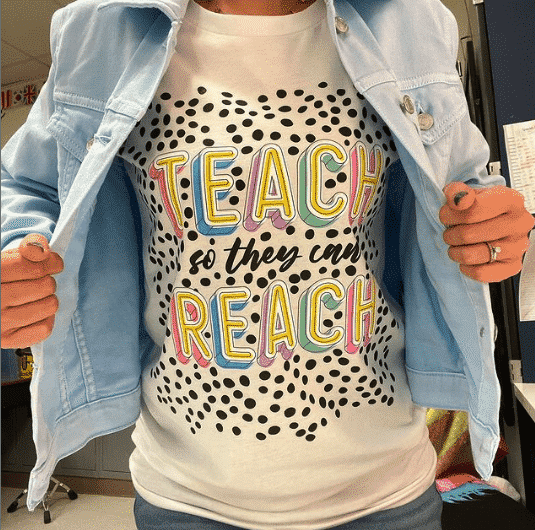 Available here for $25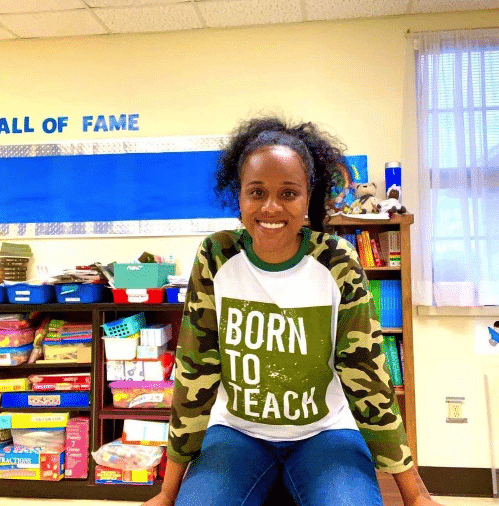 Available here for $9.99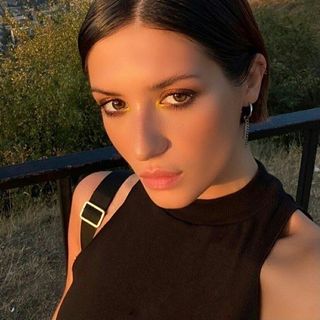 Avid reader and Fashionista. London Based freelance lifestyle editor