Skinny Jeans footwear – A girl wants to be dressed up to the notch from head to toe. Be it for any occasion. She wants to look her best, and so every girl has had that dilemma when putting together a fantastic outfit; what to put on with the perfect dress or perfect shoes.
You're absolutely rocking your skinny jeans, but what shoes do you wear with them? Well, different styles require different footwear especially skinny jeans as they are designed to show your figure and to make sure that you look dazzling and glamorous Outfit Trends is going to cover some ideal footwear to match with skinny jeans which will compliment your entire outfit.
27 – Sneakers
We have already made an exclusive collection of 23 different outfits to wear with sneakers. Sneakers are the number one iconic shoe seen absolutely everywhere and what better shoe to match with your skinny jeans? Sneakers are available in a wide range of colors although try to steer away from outrageous patterns as this can throw off your entire outfit and make it completely unbalanced. Instead go for shades such as navy, black, grey, and brown. This type of footwear is brilliant for a casual outing or even on an informal first date.
26 – T-Straps
T-Straps break up a square shape on the bottom half and are ideal for exposing that little bit of flesh. Heeled T-Straps are ideal for dates, nights out, and parties as they create a sleek and sexy look. These are also acceptable in bright and bold colors with skinny jeans as they give a sense of fun and adventure and will also denote confidence. If you find beaded ones in these do grab them as they will be extra glam for the spring season outlook.
25 – Loafers
Loafers are the perfect preppy shoe so have a look at the preppy outfit for girls and boys too! This type of footwear is more for comfort than for show; however, traditional styles will give a classic look. Loafers give a touch of education and intelligence, and when matching them to your skinny jeans, what better way to achieve this look. You can also see how to style an outfit with loafers in different ways. When dressing up with loafers do wear silhouettes not just in jeans but also shirts with a statement leather jacket or a loose grey sweater is up to you but these different clothing elements add a bit of drama for the onlookers to see.

24 – Pointy-Toe Flats
Pointy-toe flats can look stunning with skinny jeans if worn correctly. Try not to overdo it with embellishments and details with these! Overly decorated pointy-toe flats can overkill an otherwise simple outfit. Instead, keep them simple, you can even get away with a touch of animal print with these shoes. Try to keep prints in neutral tones though, as garnish colors can also ruin your desired look. But on the same note right tone of conspicuous shades can also uplift any dull outfit but they should not have any embellishments on them as earlier told. Invest in a pair of black pointy toes they can work best with any color of denim.
23 – With Wedges
High Rise Super Skinny Jeans $79
22 – Boots
Ankle boots, whether they are flat, heeled, chunky, platform, or cage, are great for adding a bit more volume to skinny jeans. Black and brown colored boots will compliment skinny jeans as well as your complexion. Stiletto heels with skinny jeans will add that va va voom to your outfit. Chunky platforms look amazing with skinnies. Not only do they have a sense of attitude about them, but they will also keep the focus on your leg shape. Cage boots will give your outfit a touch of cheekiness, especially if they are open-toe.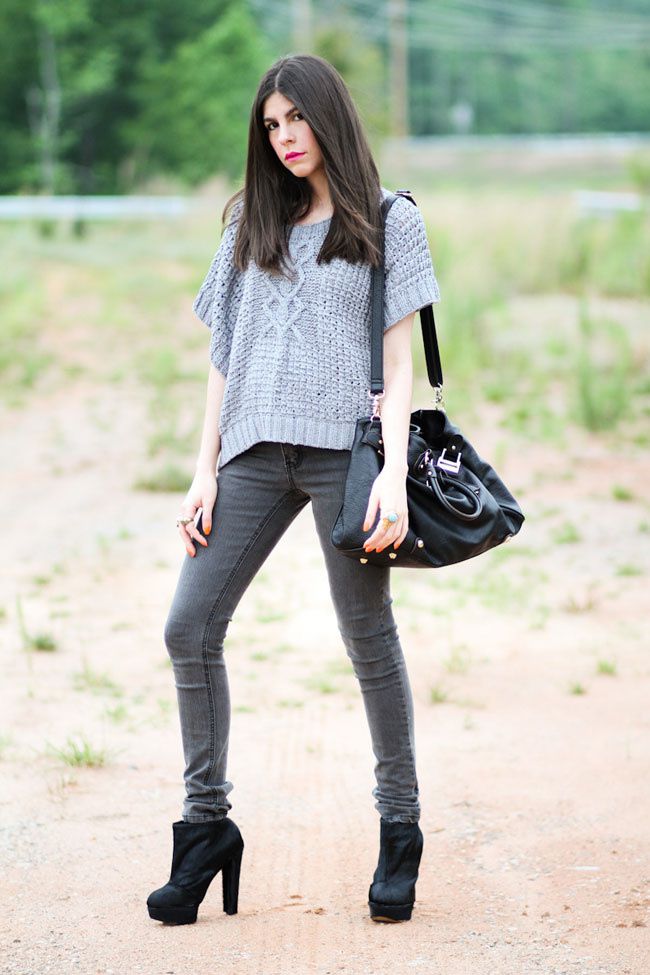 Why not have a look at the following images(via) of different footwear and choose a shoe style that is perfect for your skinny jeans look.
21 – Skinny jeans with Long Uggs
Uggs are one pair of shoes that look glorifying when worn with skinny jeans. A casual white top with a poncho is giving off a stylish vibe, and that beanie is rocking the whole ensemble. If you are not a beanie person, try on a fedora hat and heeled boots as another option.
20 – Skinny jeans with Black Heels.
A perfect "go to the work" outfit. The double oomph factor looks at the simplicity and neatness of the pieces and what a collision it is of perfection when they are put together — a sweater with simple jeans and heels with a matching bag and a splash of red on the lips. You will rock the day.
19 – Heels with White Skinny Jeans
Preppy girls' outfits are shades of pink for the spring season. Again a gorgeous combo put together in white and pink. A long jacket is equalizing the cropped pants and adds formality to the whole look. Bags with this kind of look is a must-have.
18 – Flip Flops
High Waisted Ripped Skinny Jeans $88
17 – Sneakers with High Waist Skinny Jeans.
Super comfy and a sporty outfit for the girls on the go. High waists have made their way back and with shortstops or tucked-in button-down shirts as in the picture, you will look ultra-mod and hip. White sneakers to complement the look.
16 – With Pointy Boots
A maroon turtleneck/sweater will look good with this pair of blue jeans. As the outfit is chic invest in a good pair of matching pointy boots and glasses. You should try wearing some makeup with this look as it will enhance the whole feel. Tie up your hair either halfway or in a bun with some studs as earrings.
15 – With Grey Boots
Grey and yellow. Eccentric for some awesome for others. Keep your inner clothing profile in neutral shades when going for a bold jacket color like these grey pants and a white top and grey boots.
14 – With Espadrilles
Gucci Leather Espadrille with Double G $710
13 – Shoes with Red Skinny jeans
Kim Kardashian looks at body-con dressing in color and heels.
12 – Skinny jeans with  Mango Heels.
Cuffed sandals/heels look nice with jeans.
 11 – With Combat Boots.
10 – Over-the-knees boots
SHAYA COGNAC Steve Madden $129.95
High Waisted Looker Skinny Jeans $228
9 – Wear Red Booties with Skinny Jeans.
8 – Black Jeans with Black Combat Shoes.
The tomboy look is achieved perfectly with leather pants and boots.
 7 – Heels with Ripped Skinny Jeans.
6 – Flat Sandals
DAMARIS BLACK Steve Madden $59.95
5 – With Patent Croc Cleated Sole Ankle Boots
4 – College girls' shoes with Skinny Jeans.
 3 – Work Wear Shoes.
 2- Camouflage Pants with Leather Boots
 1- Black Tight jeans with Chuck Taylor
I am a third-year MBBS student. Alongside my studies, I aim to utilize my excellent writing skills and fulfill my childhood passion for creative writing while helping people who need expert writing. But, it is not all boring, as I am always ready to have a friendly chat about various topics and TV shows, especially if you are a FRIENDS fan.