What to Wear With Sneakers. There are more sneaker options today than there ever has been before. It can get a little overwhelming with so many different kinds, types, and styles! Plus, just how should you style them? What can you wear with them? How can you pull off a classic sneaker look? Here at Outfit Trends, we will be answering these questions and more!
Before we get started, let's talk about some common questions you might have regarding sneakers. We'll start by answering some of your most-asked questions.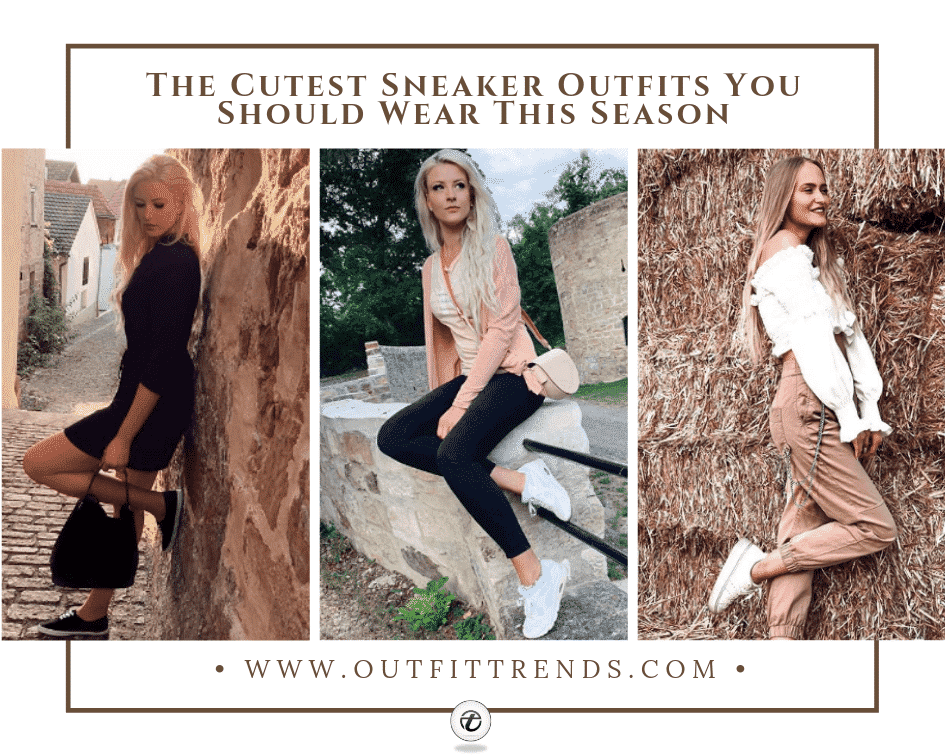 Can you wear sneakers with a dress?
Absolutely!
In fact, this is a trend that has been around for a couple of decades and has recently made a comeback.
While it does boil down to personal style and what you are most comfortable wearing, a really cute look you might see is a short to midi length dress paired with some cute white Keds or maybe a pair of Converse. Or, for a more high-end look, you could go for Nike or Adidas sneakers.
As white goes with everything, this is probably the most common look you will see. But feel free to mix it up to make it more you!
Can you wear running shoes with jeans?
Again, this is a solid yes.
We recommend skinny or straight leg jeans over boot-cut. Jeans folded at the hems are also a really cute way to shine the spotlight on your cute footwear.
Do you wear socks with sneakers?
Ideally, Yes! Those Instagram model girls showing off their seemingly bare ankles? They are wearing Peds or some other small sock, you can be sure of that!
Going without socks will only lead to stinky feet (and shoes). So to keep your shoes in tip-top condition… definitely wear socks.
A trendy look these days is to wear them really obviously. So you might consider busting out your favorite white tube socks (Nike seems to be the reigning champion if the ol' Instagram feed is any indication) to wear along with your favorite pair of faded Levis.
Can you wear sneakers in the winter?
Well, yes… and no.
Is it a cold, snowy day where the ground is covered in a fine layer of wet, mushy snow?
Probably not the right day to bust out your favorite sneaks.
A cold but dry day? Yeah, you could totally wear them!
But consider that light, breathable sneakers do better in summer, as they won't keep the cold out (and trust me, your poor little feet will notice).
Sneakers of more durable material will be your safest bet.
Sneaker Outfit Ideas
↓ 19 – Styling Low-Top 
Converse are some of the most versatile shoes out there. You see them on high-school kids, elementary kids, and college buffs; even your average stay-at-home mom has a pair of these tucked in her closet.
With a beloved shoe like that, you might be wondering just how you can wear them yourself… if so, you'll want to check out this outfit.
Great for sight-seeing new towns, shopping at the mall, or grabbing coffee with your gal pals, this look is cute, stylish, and super comfortable. Your feet won't be complaining as you jet-set around your favorite local hot spot, and you will be picture-ready as well in case your sister decides to whip out the iPhone for an impromptu photoshoot.
For this look, just pair your favorite long-sleeved shirt with a pair of white skinny jeans. With low-tops, you can turn up the hems on your jeans to make sure those cute sneaks get all the love. Accessorize with sunglasses, loose curls, a couple of bracelets, and a bold red lip.
Cart along a big old tote to keep your shopping in or simply to bring a note of sophistication to your look!
↓ 18 – Wearing Slip On
Who says you can't be ultra stylish and comfortable simultaneously?
This look is perfect for traveling or even grabbing lunch with a work colleague. It's high-end fashion with the added bonus of supreme comfort.
Start with a white blouse paired with some white high-water or capri pants. Slip on a blazer or suit jacket to add instant elegance and professionalism to this look. Then, accessorize with a cutting edge tote bag purse and sunglasses. Last but not least are some stylish slip-ons your aching feet will thank you for.
↓ 17 – Sneakers With Skirts
There are no hard and fast rules when it comes to wearing sneakers with skirts.
It boils down to your personal sense of style and what best expresses you and your personality.
Are you more of a leather skirt with bright red high-tops kind of a girl? If so, pop on your favorite graphic tee and let your hair down. This is an edgy, but still girly look that will really highlight your adventurous spirit! Check out these cool Leather Skirt Outfit Ideas.
More of a long, flowy skirt and bright pink lip kind of girl? Why not add a leather jacket and slip on your favorite low-tops.
Feel free to play with your wardrobe until you find the look that best expresses you and your true sense of style!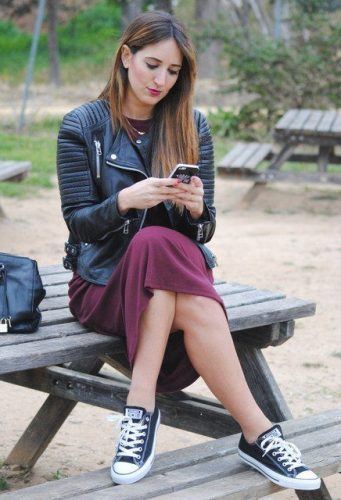 ↓ 16 – Styling Sneakers with Jeans
Ripped jeans with sneakers are hands down the best combo, and every girl has probably worn this outfit at least once in her life!
The choices are endless when it comes to styling sneakers and jeans.
Need a dressier look? Simply tuck in a blouse to some skinny jeans and add a blazer or jacket.
Touring New York City? Pair your favorite tee with some jeans, a leather jacket, and some white sneakers.
Need a casual look for a day about town during the fall? How about a long-sleeved tee, thick jacket, jeans, and running shoes?
Check out the examples below. Do check out these 15 Ripped and distressed Jeans Fashion Trends for Women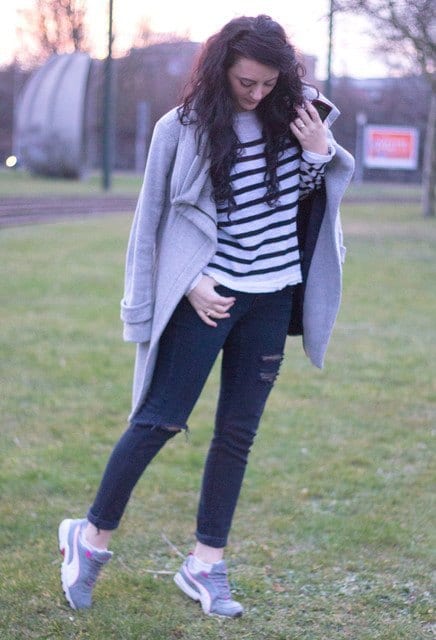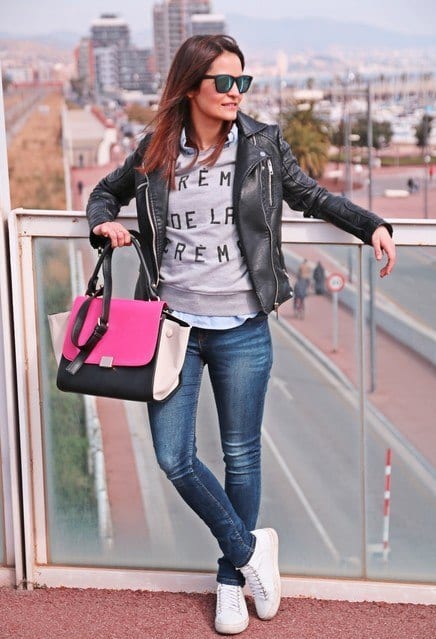 ↓ 15 – All-Black Outfit with Pop-of-Color Sneakers
Contrasting colors are always fun to wear. For example, you can wear this all-black outfit, including black jeggings, a black tank top, and jacket and pair it with some adorable bright pink sneakers. Accessorize with stylish sunglasses, a pink lip, and a statement bag. Here are 25 Celebrities All Black outfits Styles for Fall to Copy.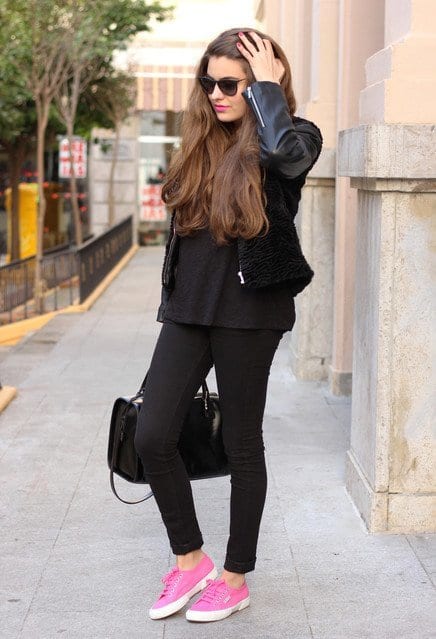 ↓ 14 – Cute, Sporty Look with Vans
This look is by far our favorite airport look!
It really brings the best of all worlds to the table. Having a bad hair day? This black beanie has you covered (no pun intended!). Need some comfortable pants to fly in, but don't want to bust out your worn-out leggings? Check out these cute fitted joggers. Want to dress up a plain white tee? Pop on a leather jacket, a cute bag, and some round sunglasses. Last but not least are these adorable shoes. Comfy and trendy? Yes, please!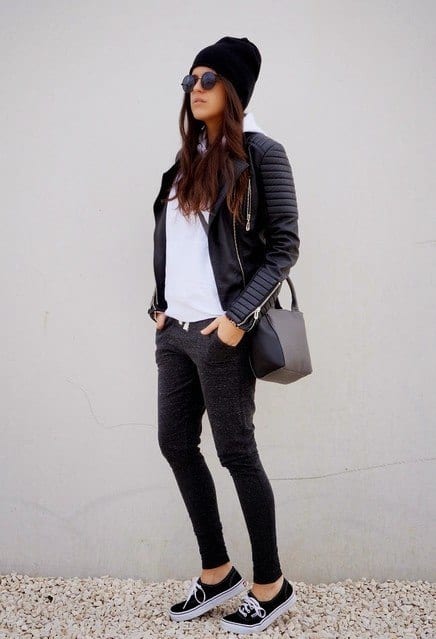 ↓ 13 – Wearing Sneakers With a Dress
Who remembers that Demi Lovato bop where she croons about wearing Converse with her dress, oh, baby, that's just me... er, her, that is.
Just me? That's cool.
Well, guess what? You don't have to remember Demi Lovato bopping away to pull off this look today!
It's cute. It's fun. It's versatile.
Really, what's not to love?
It's all about expressing your style. So whether you're a girly girl that loves a bit of a sporty look, or you're a trend-setting fashionista who likes to play up prints and colors, there's something for everyone with these looks. Great for summer wear, beach parties, or simply hitting up the mall. Try them out for yourself!
To go with your summer outfit, here are 16 Cute Summer Hairstyles for College Girls to Stay Cool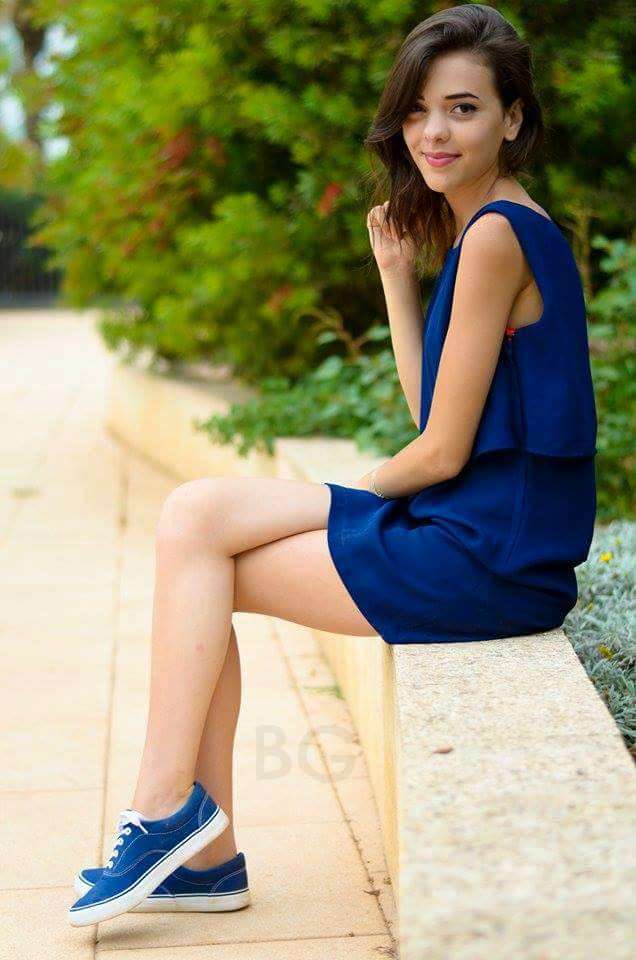 Image Source: brandedgirls.com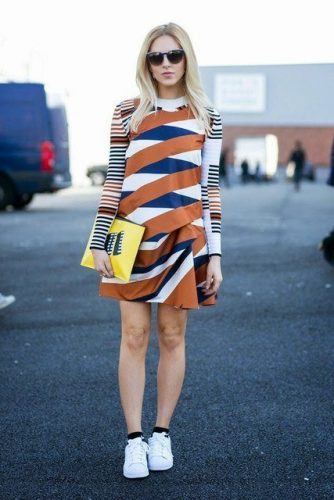 ↓ 12 – Black and White Sporty Look
There is something super trendy about this look.
Wear it in winter; wear it to the grocery store; wear it for a photo shoot if that's what makes you happy. Point is, wear it!
Pair some skinny white jeans with black and white slip-on sneakers and a thick black and white sweater. Accessorize with a watch and your favorite sunglasses.
↓ 11 – What to Wear with Converse Shoes
Converse are probably the most well-known make of sneaker style. They are such versatile shoe that they will match pretty much any outfit. (Though we don't recommend pairing them with formal attire or businesswear. They may be versatile, but they don't scream professionalism.)
Paying for quality might mean shelling out a couple of extra bucks. But keep in mind that this will save you time and money in the long run. Cheap shoes are cheap for a reason, and you'll just spend more as you buy replacement pair after pair. So don't be afraid to get the real thing – and make sure you get lots of use out of them if you do!
Here are a few outfits to inspire you to create a couple of outfits using everybody's favorite footwear!
You can also see 20 ways to wear converse with different dresses.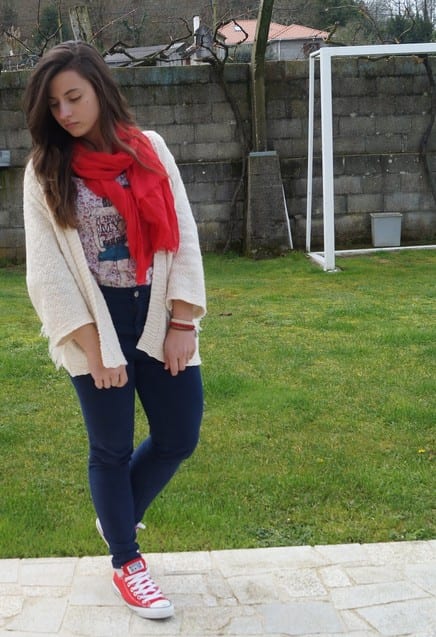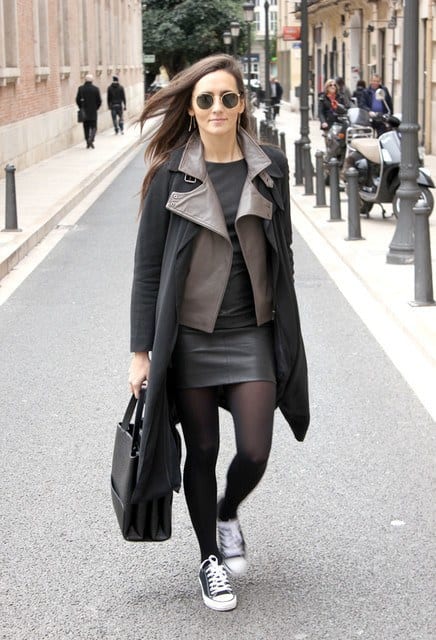 For School Girls
The possibilities are endless when it comes to sneakers for schoolgirls. Whether you're in middle school (or have a daughter who is!) or you're in college, sneakers are probably the best choice out there for you. Between walking on campus or dashing across the school to make it to your next class, sneakers are comfortable, cute, and versatile and they will hold up to the high demands of your schooldays. Plus, you can wear them with just about any outfit out there.
↓ 10 – Sneakers for the Middle Schooler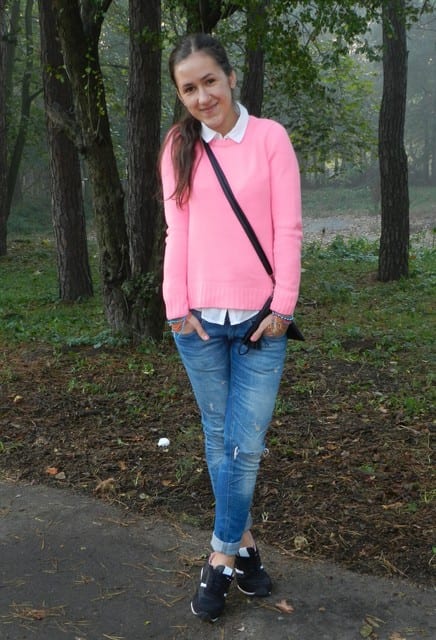 ↓ 9 – Outfit for High Schooler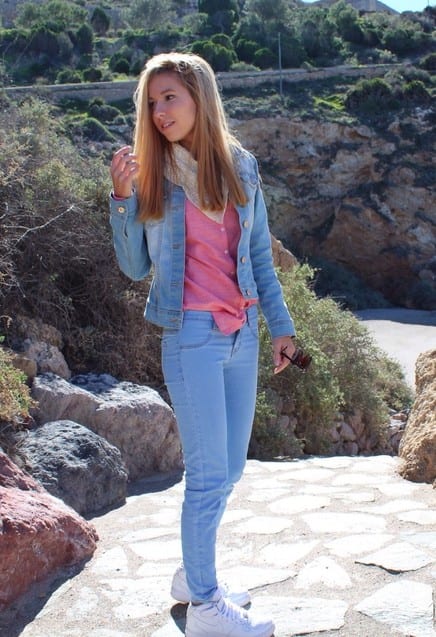 ↓ 8 – Outfit for the College Girl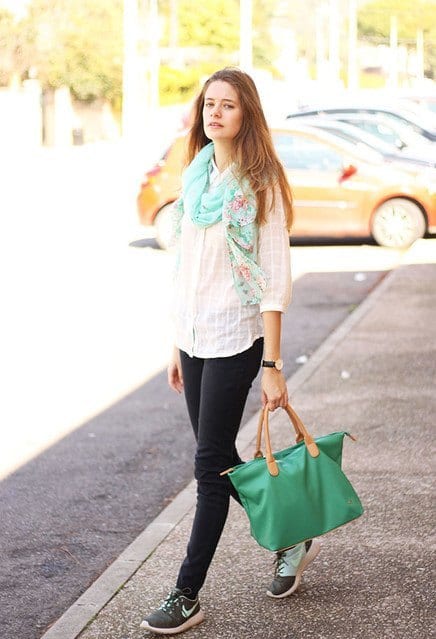 ↓ 7 – What to Wear with White Sneakers
Who doesn't love a good white sneaker?
There are so many ways to wear them. Plus, when done right, they can be the most trendy and stylish item in your wardrobe!
Check out these beautiful looks below.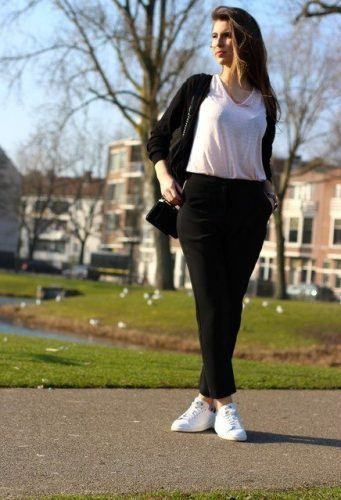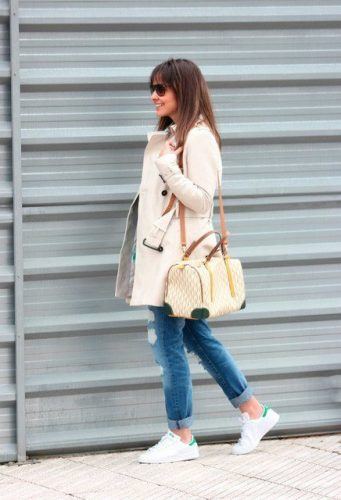 ↓ 6 – Casual, Sporty Look with Sneakers
If you are going out jogging or you are going to hit the gym, then this is the outfit for the job!
Casual, pretty, and stylish, you might even consider running all your errands wearing this as well.
Pair some light blue jeggings with your favorite hoodie over a plain black tee. (In chillier weather, you can swap out the tee for a long-sleeved shirt or switch the jeggings for some thicker pants.)
Pop on some all-white low-top Converse or Keds to finish the look off.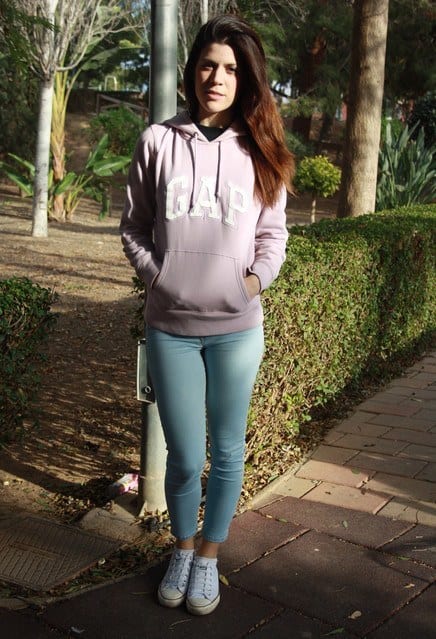 ↓ 5 – Sporty Sneakers for the Plus Size Gal
Need a cute outfit to hit the trails this summer? Check out the look below!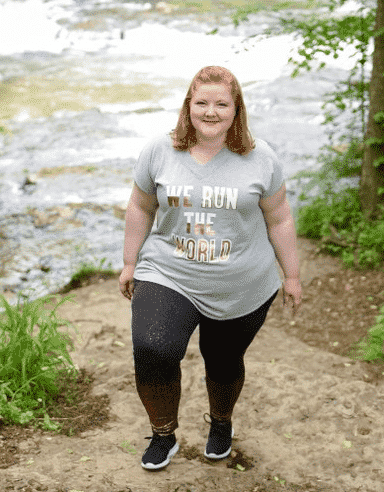 ↓ 4 – Super Stylish Attire for Fashionista
We love how this outfit effortlessly bridges the gap between fashion-forward and casual wear, between style and comfort.
With this look, the sneakers do the talking… fashion-wise, at least. Pair them with some black, belted pants and tuck in a statement tee. Over that, a long black jacket… we love the length on this one, as well as it's general cut and shape. It's close-fitting, which keeps the material from overwhelming a small frame.
Accessorize with layered necklaces, drop earrings, and a bright lip.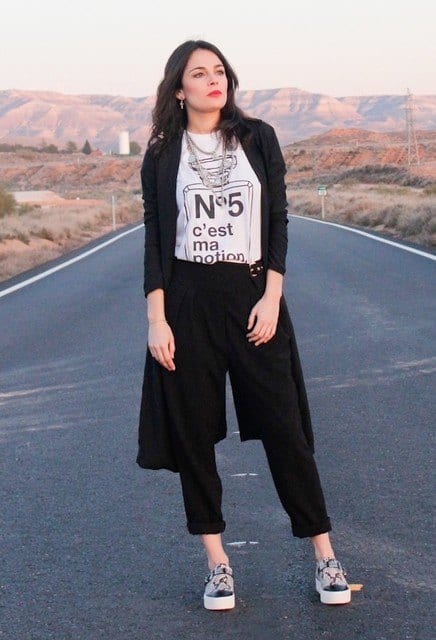 ↓ 3 – Summer Style with Shorts 
What better shoe to pair with your favorite summer shorts than a cute white sneaker or a funky slip-on?
For the girl that loves some classic summer wear, check out the looks below!
When in doubt, a brand name tee or a cute tank looks great when paired with some simple shorts and your favorite sneaker. You can keep accessories minimal and play up your favorite features. Maybe it's your hair or your big eyes. This is the time to let them shine!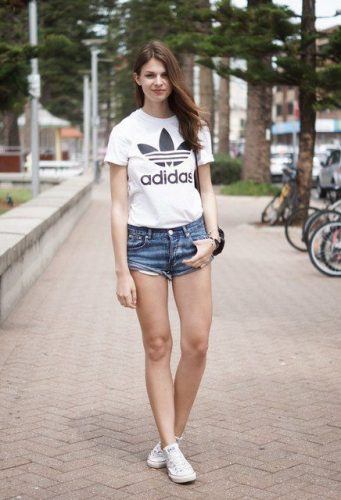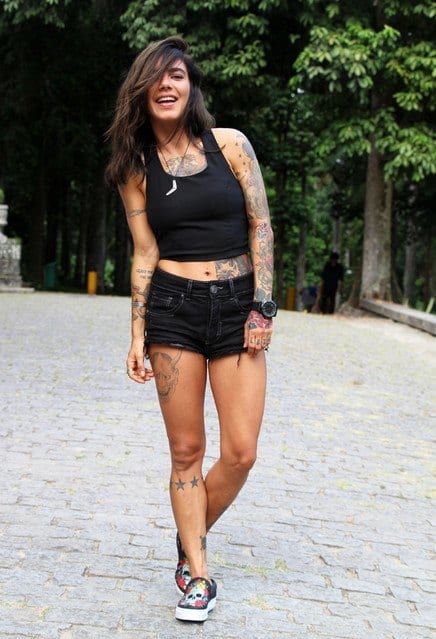 ↓ 2 – For Teen Girls
Who runs the world? Girls!
Here are some cute outfits to inspire your own teen fashion!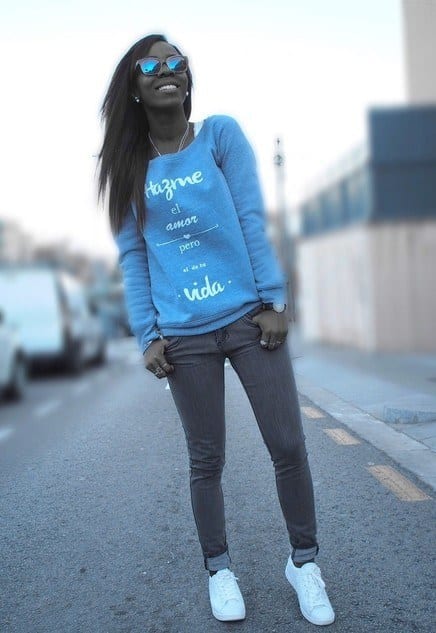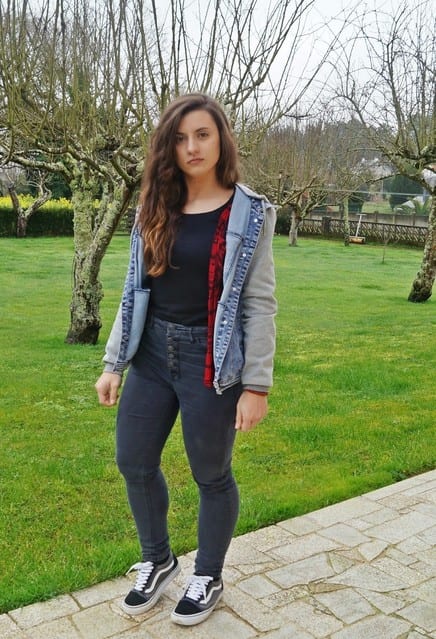 ↓ 1 – Cute Autumn Look
Leggings, a long-sleeved sweater, and a cardigan, plus a totally cute orange beanie, really create the perfect blend of comfort and trendiness.
Some wedge sneakers and a cute orange purse bring the look home!