Outfits with Tan Boots. When it comes to colors, you can pair them with anything and everything; tan is at the top of our list. It is a neutral color that adds elegance and sophistication to any look. Plus, it's a helpful shade to coordinate outfits around… and that is where tan boots come in.
We firmly believe every gal should own at least one pair of tan boots. They are one of those staple items that can finish any number of outfits. Even a minimalist should consider owning a pair of these bad boys. They can bring new life to even the most tired of outfits, and you won't have a problem creating half a dozen looks all based around a single pair of boots!
What to Wear with Tan Boots?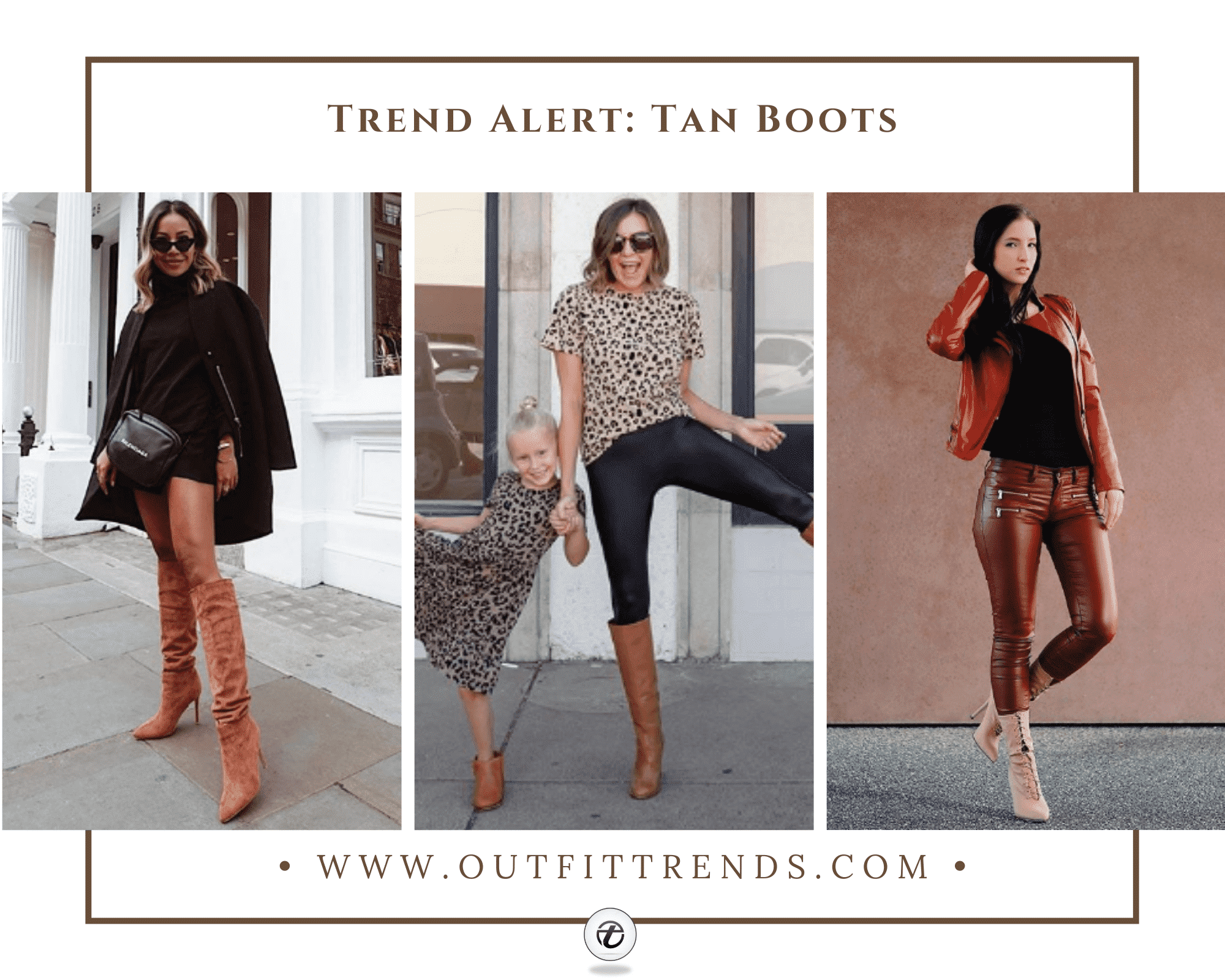 ↓ 30. Chic Monochrome Vacation Outfit
When it comes to once-in-a-lifetime experiences, you need a once-in-a-lifetime outfit! But this outfit doesn't need to be just for special occasions. Pair a white puff-sleeve turtleneck with a cream-colored skirt and matching boots. Finish off the look with a cross-body purse. This monochrome outfit is as memorable as a fantastic vacation experience!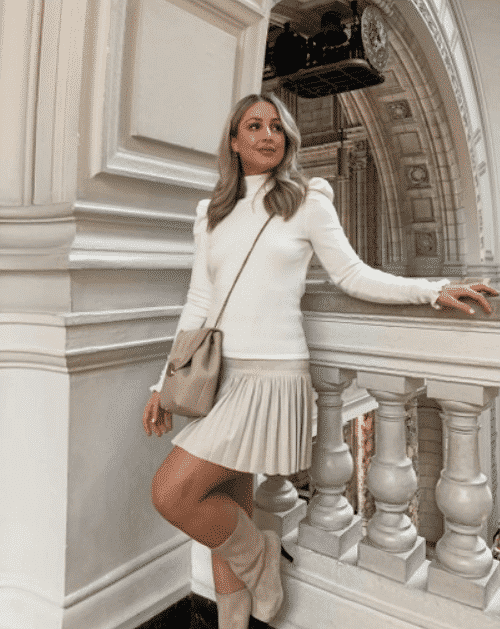 ↓ 29. Easy Plus-Sized Style for Fall
If you love light shades and colors, here is a lovely fall look for ladies of all sizes. Pair a pale gray turtleneck with white jeans and over-the-knee-laced boots. A shawl or wrap in light lavender provides the finishing touch of elegance for an outfit you could wear to walk, run errands, or for a lunch date. Keep your accessories minimal and let down your hair to keep the look of softness.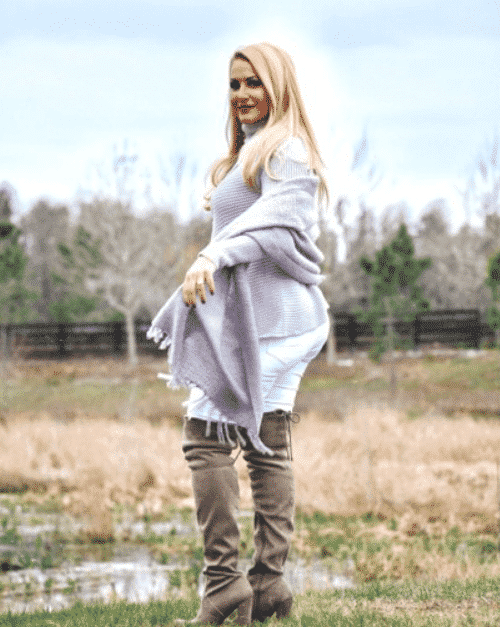 ↓ 28. Tweed Jumper Dress
If you love tweed, you will love this look! This adorable tweed jumper worn over a black turtleneck top with over-the-knee boots makes for a great date night look. You could also wear it to go shopping or grab lunch with your best friends. Keep your accessories minimal to make this dress's tweed and button detailing stand out.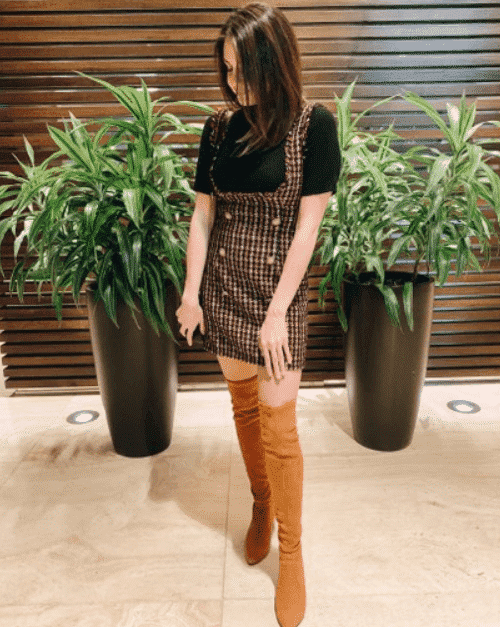 ↓ 27. Stylish Hiking Outfit with Combat Boots
Here is a cute hiking outfit with tan combat boots that you can rock today. Combat boots are some of the easiest boots to style. They go with almost anything, plus they are versatile and great for many different types of activities.
Namely, hiking! Style a pullover hoodie in dark tan or light brown for this look with Spanx faux leather leggings (always super flattering!) and your favorite tan combat boots. You can keep your accessories minimal or add stud earrings. And that's it! Now you are ready to hit the trails.

↓ 26. How to Style Tan Western Boots in Fall
If you are wondering how to style tan boots for a fall outfit, here you go, lady! When in doubt, tan colors go well with black (also white). So, if you have a pair of gorgeous tan Western boots that you are just stumped on, try pairing them with a little black dress.
This long-sleeved tiered dress is great for fall; you can dress it up or down depending on the occasion. Accessorize the look with a fedora hat and silver dangle earrings. And voila! A perfect fall look.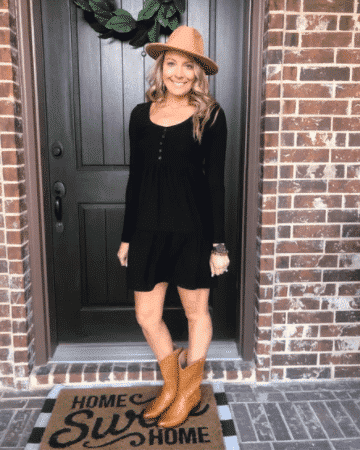 ↓ 25. Sherpa Pullover & Red Dress
Here is a gorgeous winter dinner date look you could throw together in just a few minutes. You only need a red dress, tan knee-high boots, and an optional pullover or jacket.
A sherpa pullover will keep you cozy and is good for walking to and from the car or going for a short walk after dinner… boots will also keep your legs warm, which is a must when wearing a dress in winter or even late fall.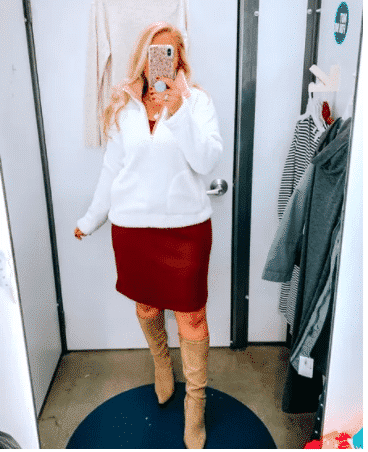 ↓ 24. Winter Outfit with Tan Boots
Whether you are facing the dead of winter and are desperate for some color or you are perhaps planning Valentine's Day outfit, here is an adorable look to try. This cute white sweater and bright pink skirt combo will surely bring a smile to everyone you meet. We love this pom-pom beanie and how it perfectly matches the sweater.
Plus, who could overlook those gorgeous knee-high boots? They will keep you warm while bringing the final touches of chicness to your look, so go ahead and try them!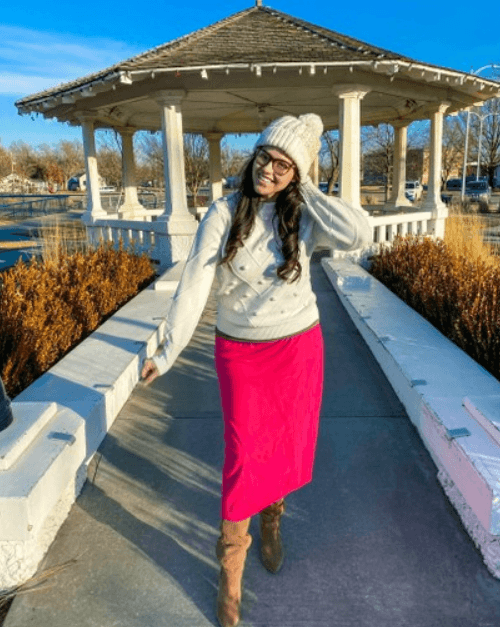 ↓ 23. Cute Spring Mini Dress
Having a few special outfits in your back pocket is necessary as spring unfurls around us. Not only will it pave the way to having a stress-free experience when special occasions pop up, but it will help you feel much more on top of things.
Here is a simple outfit that is super chic, which you can wear to a date, to a movie night, or to a picnic at the park. Get yourself a cute, flowy mini dress and pair it up with some fringed tan boots. We love the combo of soft white and tan to light brown. Accessorize with silver jewelry and statement sunglasses.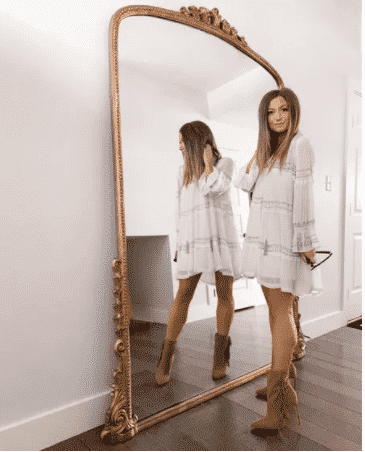 ↓ 22. Bold Pink Top with Tan Boots
Another fun way to style a pair of tan boots is with a contrasting color. A solid pink ruffled top is a great example of that. Pair yours with dark wash skinny jeans tucked into tan booties. This is a fabulous spring or fall outfit, especially if you like mixing things up and breaking out of the traditional fall colors rut!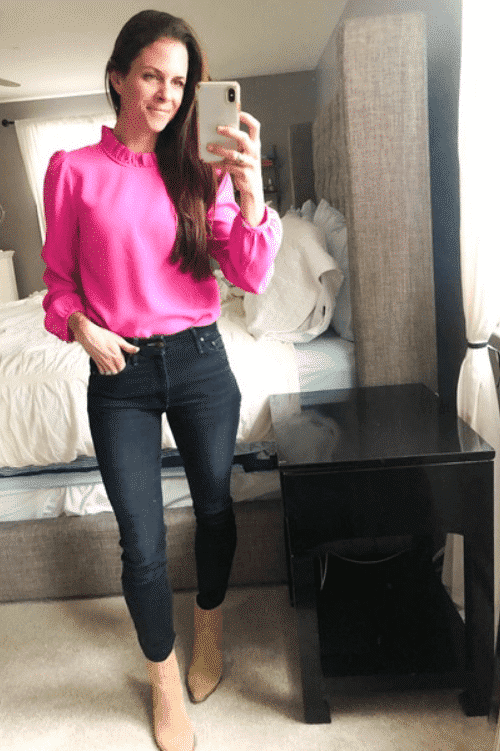 ↓ 21. Boho Midi Dress
Try pairing a bohemian midi dress with knee-high cowgirl boots for beautifully feminine summer fashion. You can belt the waist and add other tan accessories (like a purse) to bring the ensemble's elements together. Finish off the look with a flower crown or wrap headband that matches your dress!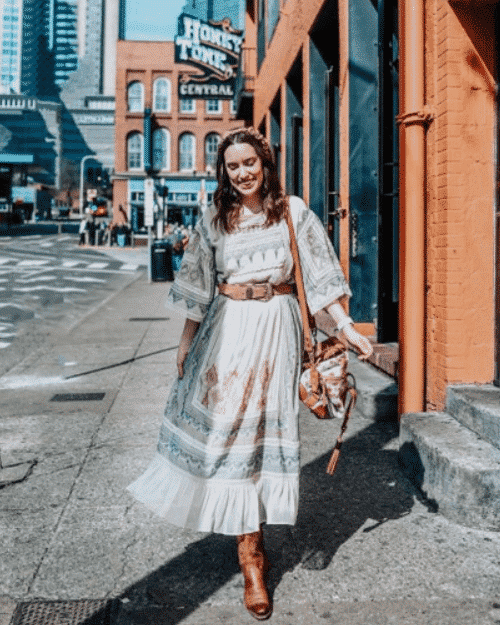 ↓ 20. Comfy and Chic
Give your casual look a classic twist. Match up your favorite t-shirt or sweater with dark-washed jeans and over-the-knee tan boots. Add up a couple of gold bangles to tie your outfit together. Look at these 60 Cute Outfits to Wear with Boots for Girls.

↓ 19. Semi-Casual Fall Outfit
Create the perfect cozy fall look by pairing your soft tan ankle or Chelsea boots with a light sweater and your favorite pair of jeans. This casual but stylish outfit works for all sorts of occasions, whether running errands or grabbing lunch with your guy.

↓ 18. Matching Skirt Set & High Knee Boots
Take your style to new heights with a gorgeous matching cardigan and skirt paired with tan knee-high boots. This ensemble is perfect for weekends at the country club or brunch dates with your best friends. Keep your accessories classy and your makeup neutral.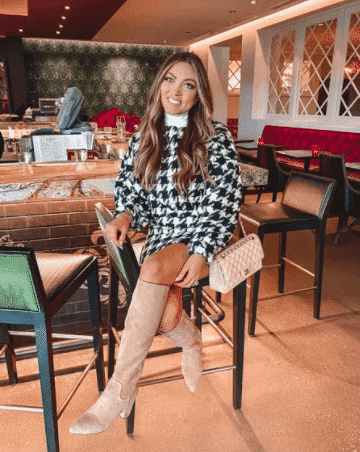 ↓ 17. High Fashion Paris Outfit
This look is perfect for a fall brunch or a mid-winter lunch with your girls. Or maybe you are visiting Paris for the first time and want to show off your love of fashion. Maybe you live in Paris and are just looking for new looks to show off while you model in front of the Eiffel Tower. Whatever the case, this seriously stylish look won't let you down.

↓ 16. Lacy Culotte Pants and Moto Jacket
Try out this look for a stunning outfit that you can wear on vacation, touring a new city, or even sitting down for lunch in your hometown. Pair a white cropped sweater with lace culotte pants and a short leather jacket. Finish the outfit with tan boots, gold jewelry, and a chain-strap purse.

↓ 15. Sleeveless Smock Dress for Date Night
Here is a perfect example of how to match those tan velvet booties with a sleeveless smock dress. Don't be afraid to experiment with your style! Add a narrow belt around your waist and two gold bangles to tie the look together. Here are 20 Best Outfits to Wear to a Date.

↓ 14. Colorful Shawl
Whether you wear tan Chelsea boots, combat boots, or ankle boots, all go perfectly well when worn with an outfit like this. A perfect afternoon lunch date outfit can be achieved by sporting this chic yet comfy shawl wrapped around and cinched at the waist with a belt over jeans and paired with an oversized tote bag.

↓ 13. Chic Monochrome Outfit
Overalls are the ultimate go-to, one-and-done looks. Elevate your work style by pairing tan heeled boots with a monochrome outfit of tan overalls and creamy white sleeveless turtleneck. Add a pair of silver hoops and statement sunglasses to complete the look.

↓ 12. Chic Floral Dress & Clear Boots
Want to add a twist to a cool outfit? Match up a brightly colored red, rust, or sunshine yellow dress with knee-high clear boots. An ooh-la-la look that is a proper chic outfit for brunch with your girls.

↓ 11. Peep-toe Booties
For a gorgeous date night look or party ensemble, pair some tan peep-toe booties with a gorgeous black bodycon dress with a choker neckline. Add a gold bracelet to jazz up your look, and go for a neutral makeup look or a smokey eye.

↓ 10. Chic Parisian Girl Style
Get that edgy yet sophisticated look by pairing your favorite heeled, patterned tan boots with your casual work attire. Guaranteed to turn heads. Check out these Celebrity Work Outfits for Women.

↓ 9. Sweet Fall Fashion
Need an outfit for your daytime date? Match up your knee-high block-heeled tan boots with an ivory sweater. Jazz up your attire with a soft up-do and pearl studs.

↓ 8. Clubbing Outfit for Fashionistas
Add a long furry vest in color blocks and killer-heeled tan boots to take your clubbing style to another level. This edgy look will make you the hit of any party.

↓ 7. Soft Pinks for Cold Weather
Wearing boots with skirts can get a little tricky. Pair some tan ankle booties with a soft pink floral skirt to create a romantic outfit for your date. Throw a coat over your shoulders if the weather gets chilly.

↓ 6. Boho Chic for Summer
Do you love a boho-chic outfit? So do we! And an easy way to create this style is by pairing a bohemian dress with over-the-knee boots. You can also match your accessories to your dress to give this ensemble the finishing touches it needs to dazzle.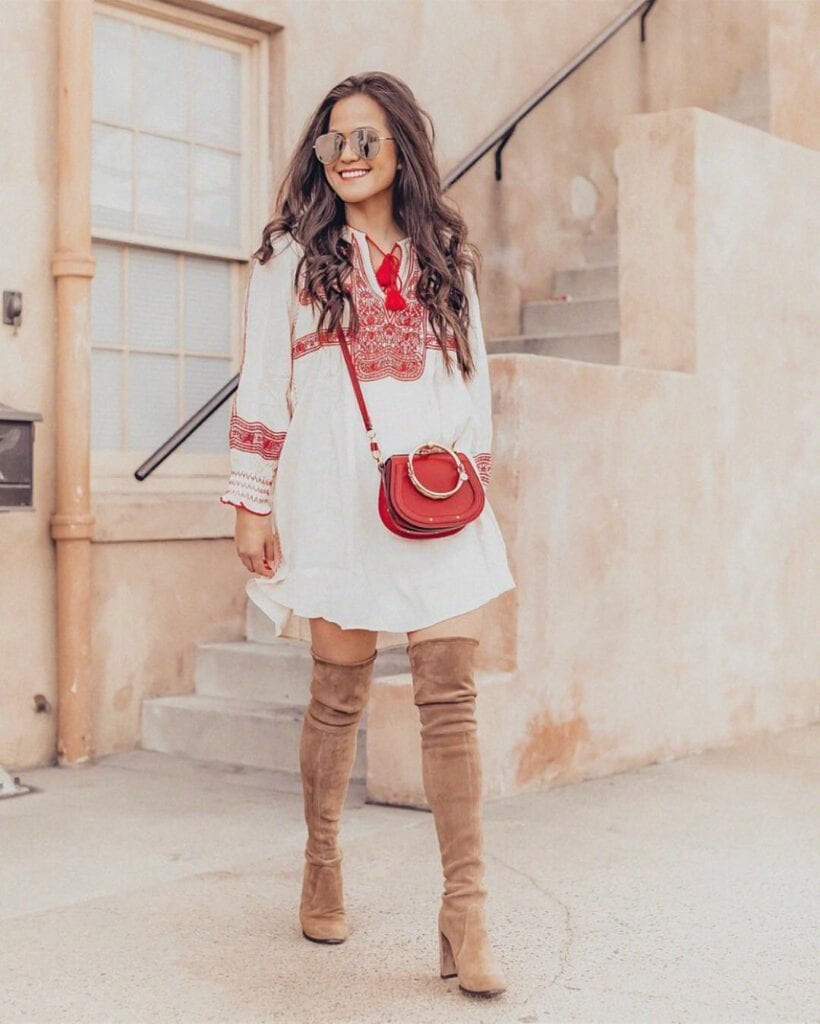 ↓ 5. Chic Paris Style Fashion
Everybody loves an all-black ensemble. Add a pair of patterned tan Chelsea boots to achieve the perfect swoon-worthy outfit. Guaranteed to make heads turn. Have a look at these 25 Celebrities' All-Black Outfit Styles for Fall to Copy.

↓ 4. Casual Everyday Look
Tan boots are your best friend when you need to pull off an outfit for a casual stroll around the town or a lazy workday. Throw a light woolen cardigan over your t-shirt and jeans combo, and pair it with your tan ankle booties to take your work style up a notch.

↓ 3. Instagram Model Style
Channel your inner Instagram model by pairing cargo camo pants with tan lace-up boots and a shaggy fur coat or jacket. Add a pair of chunky hoops to this gorgeous outfit for an extra edge.

↓ 2. Denim on Denim
Wearing knee-high boots with a short skirt can be a perfectly stylish outfit for a night out at the club with your girls. Sport a denim skirt with a plain black or printed shirt and a denim jacket. Add a pair of slim, tan long boots and elevate your look by styling your hair in beach waves.

↓ 1. Warm Yellow for Fall
Make heads turn by sporting a sunshine yellow turtleneck with your favorite tan slouch knee-high boots over mid-washed jeans. Add extra oomph to your outfit, mid-washed large hoops, and a simple gold chain.

R.H. Elias is a freelance writer, aspiring author, and freelance transcriptionist. She is a homebody all the way and loves curling up on a cold, rainy day with a good book and a warm cup of tea. Her favourite pastimes include reading, writing, and watching period films. She currently lives in Puerto Rico.