What Shoes To Wear With Tunics. Tunics are the ultimate love because they are comfortable, stylish and available in a huge variety. You can find short tunics, long tunics, tunic dresses, tunic shirts, tunic maxis and what not. But the question I always end up with is "what shoes do I wear with this tunic?"
So here are some of the most beautiful outfit ideas with tunics that you can wear to school, college, work, parties and simply everywhere! But don't forget to take note of our preferred shoes that you should wear with the different types. And we also have some amazing shoe ideas for mummies, mummies-to-be and some super awesome celebrity style tunics and the shoes that they wore with them.
The Right Shoes to go with Tunic
Trust me when I say this, your shoes can either make or break your look. Choosing the wrong kind of shoes can ruin a great outfit by spoiling your overall look. We've already discussed in our last post some Beautiful Tunics Top Outfits for women this season. And now we'll be talking about all the shoe options that you can opt to wear with them and for what occasion you should choose them. Starting with a small summary, note that all these styles will be discussed in more detail below, along with pictures:
Choose nude heels with denim tunics for semi-formal wear.
Boho style tunics look best with strappy sandals.
For Fall, nothing beats the classic combination of plaid tunics and booties.
If you want to wear tunics to work, you can find lots of good shoe ideas from our earlier post on Best Business Casual Shoes For Women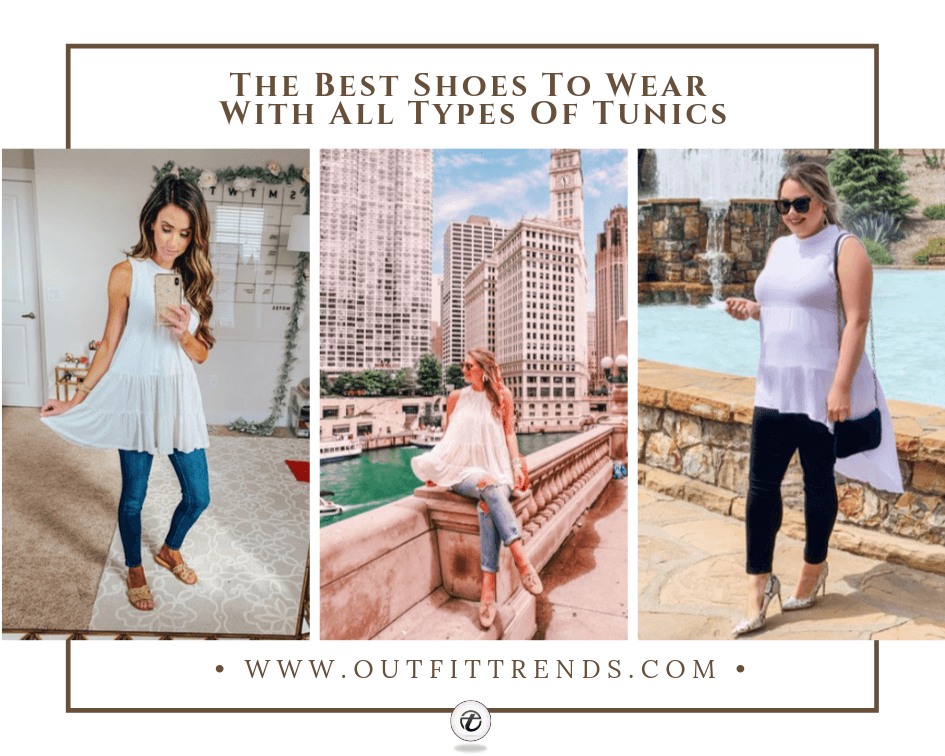 ↓ 22 – Formal Tunics and Heels
Who doesn't love this combination! If you're wearing tunics for formal or even semi-formal occasions, then heels are perfect. You can wear almost any type of heels with them, as long as you feel at ease.

↓ 21 – Boho Tunics with Strappy Sandals
For some odd reason, nothing works with boho tunics as strappy sandals do. So if you're looking for the ultimate boho look, you need to get a nice pair of strappy sandals.

↓ 20 – Casual Summer Tunics with Sneakers
Another thing to love about tunics is that they can be worn by girls and women of all ages. Every girl looks cute in a tunic and for the casual look, you need to wear them with sneakers.

↓ 19 – Tunic Dress with Sneakers for Fall
Here are our favourite tunic looks for Fall. Wear flowy tunics in fall or turtlenecks in shades of grey or burgundy with either Sneakers or Pumps. That's because we all know that Fall can be a rainy and messy season so these shoes will keep you safe and make you look spectacular.

↓ 18 – Casual Tunics with Flat Pumps
Don't feel like doing anything on the weekend and just want to be lazy all day long? Or perhaps you'll join your bestie for a coffee break? In either case, a casual tunic with flat pumps will make the hot casual outfit combination that you need.

↓ 17 – Maxi Tunic Dress with High Heel Pumps
If you're more of a high heel pumps girl then remember that they look best with tunics that are longer in length. Check out Kendall Jenner's hot look for instance in that all-white outfit, she's wearing a long maxi tunic with a slit and white tights with pink heel pumps. All other options seen here too are equally fabulous and the common thing in all of them, of course, is a beautiful pair of heel pumps.

↓ 16 – Work Tunics with Pointy Pumps
Looking for a professional work outfit? Wear your tunic with a blazer, some statement jewelry or handbag and a gorgeous pair of pointy pumps.

↓ 15 – Plaid Tunics with Leggings and Booties
Plaid tunics are lovable and look best when worn with leggings and booties. You can wear any kind of boots that you have with them.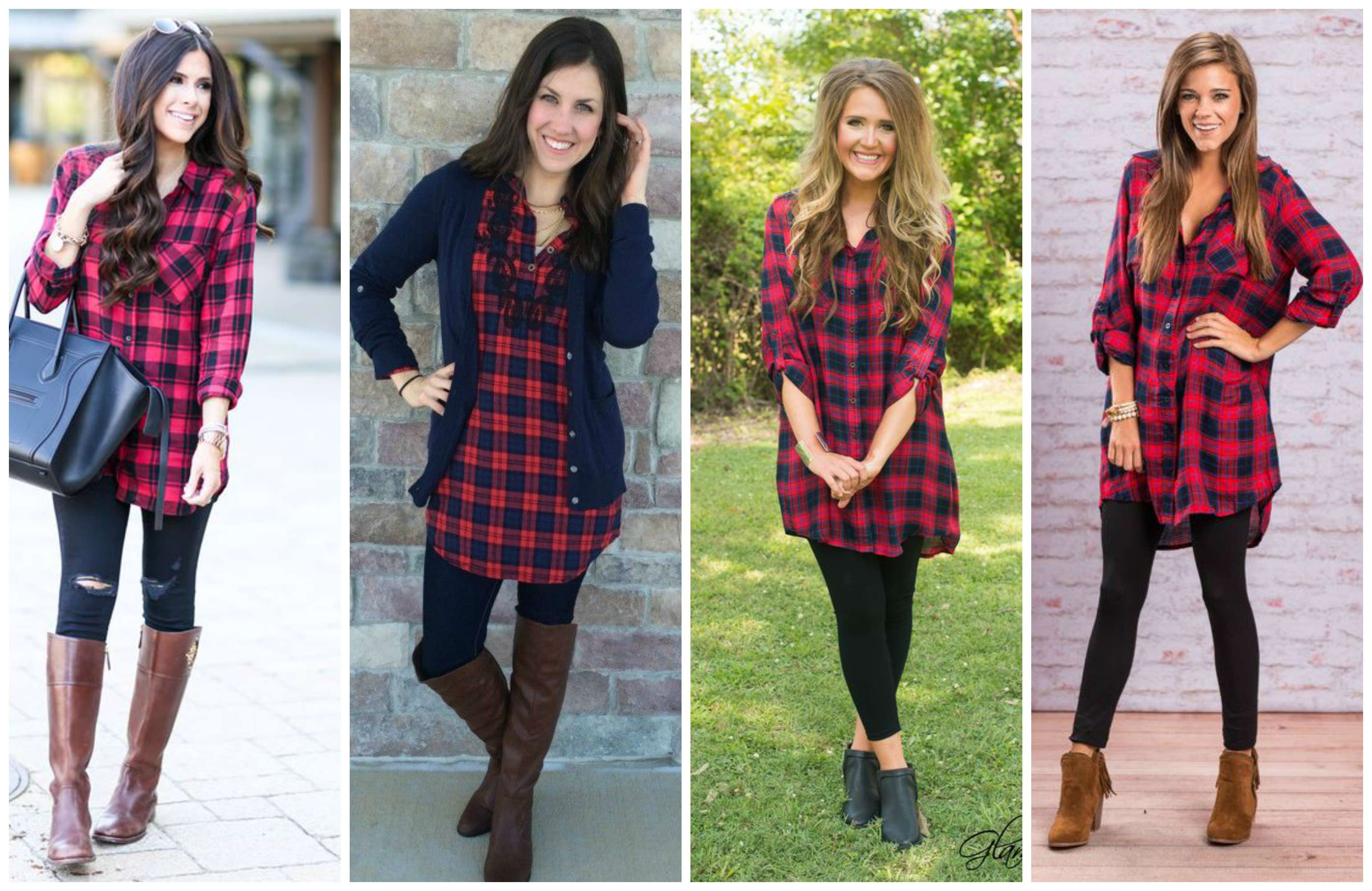 ↓ 14 – Modest Tunic Swimwear
Tunics are one of the most modest outfits around and that is why they make for one heck of a modest swimming costume! Wear them with flip flops, waterproof pumps or sandals to the beach or the pool.

↓ 13 – Minimalist Chic Tunics with Loafers
Want to look modest but stylish? Then these minimalist looks are what you're looking for and you just need two things for these: Tunic and Loafers.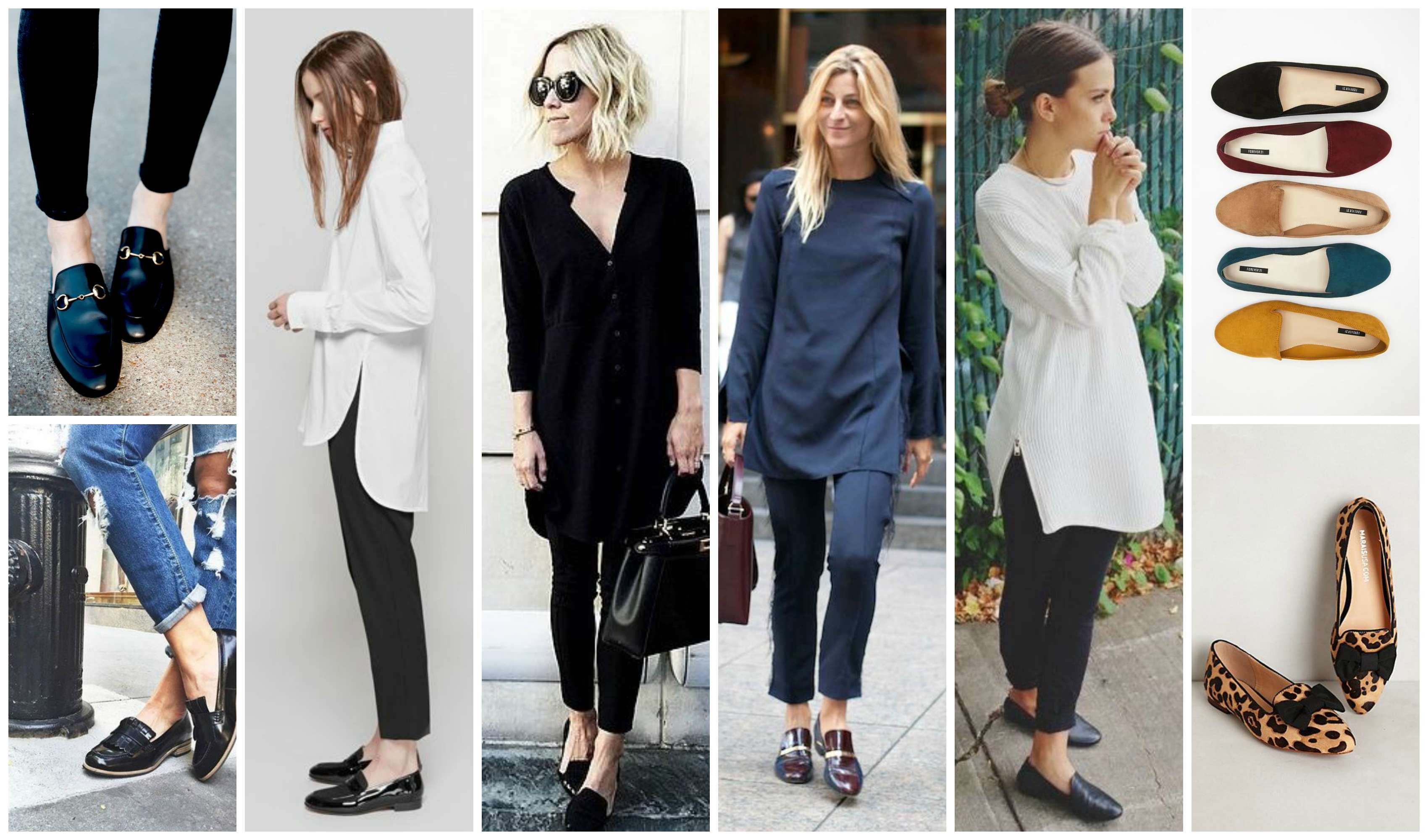 ↓ 12 – Maternity Tunics with Wedges and Peep Toes
If you're one of those mummy-to-be's who can't go around without heels then peep toes and wedges are definitely the safest options.

↓ 11 – Maternity Tunics with Sandals
And if you aren't comfortable in heels then, of course, you can wear any sandals you love.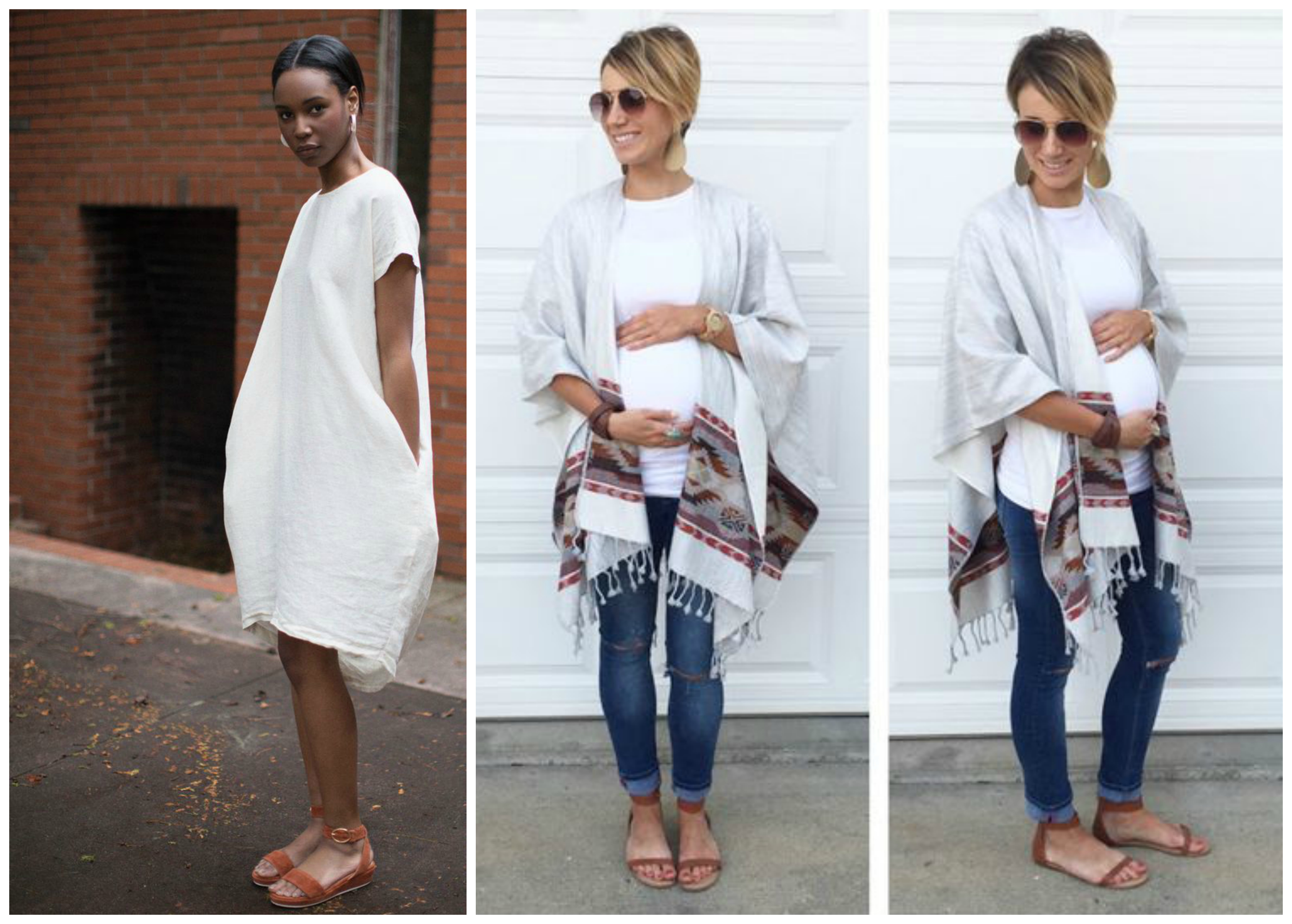 ↓ 10 – Plus Size Tunics with Pumps
For plus size or curvy girls, tunics and pumps create the perfect look.

↓ 9 – Summer Tunics with Espadrilles – Outdoors
Here's how you can wear espadrilles with tunics for outdoor events like hiking, a trip to the beach or a poolside party.

↓ 8 – Summer Tunics with Espadrilles – Indoors
And here are the type of espadrilles that look best for indoor events. They're called ankle-strap espadrilles and should be preferably worn with the more formal looking tunics..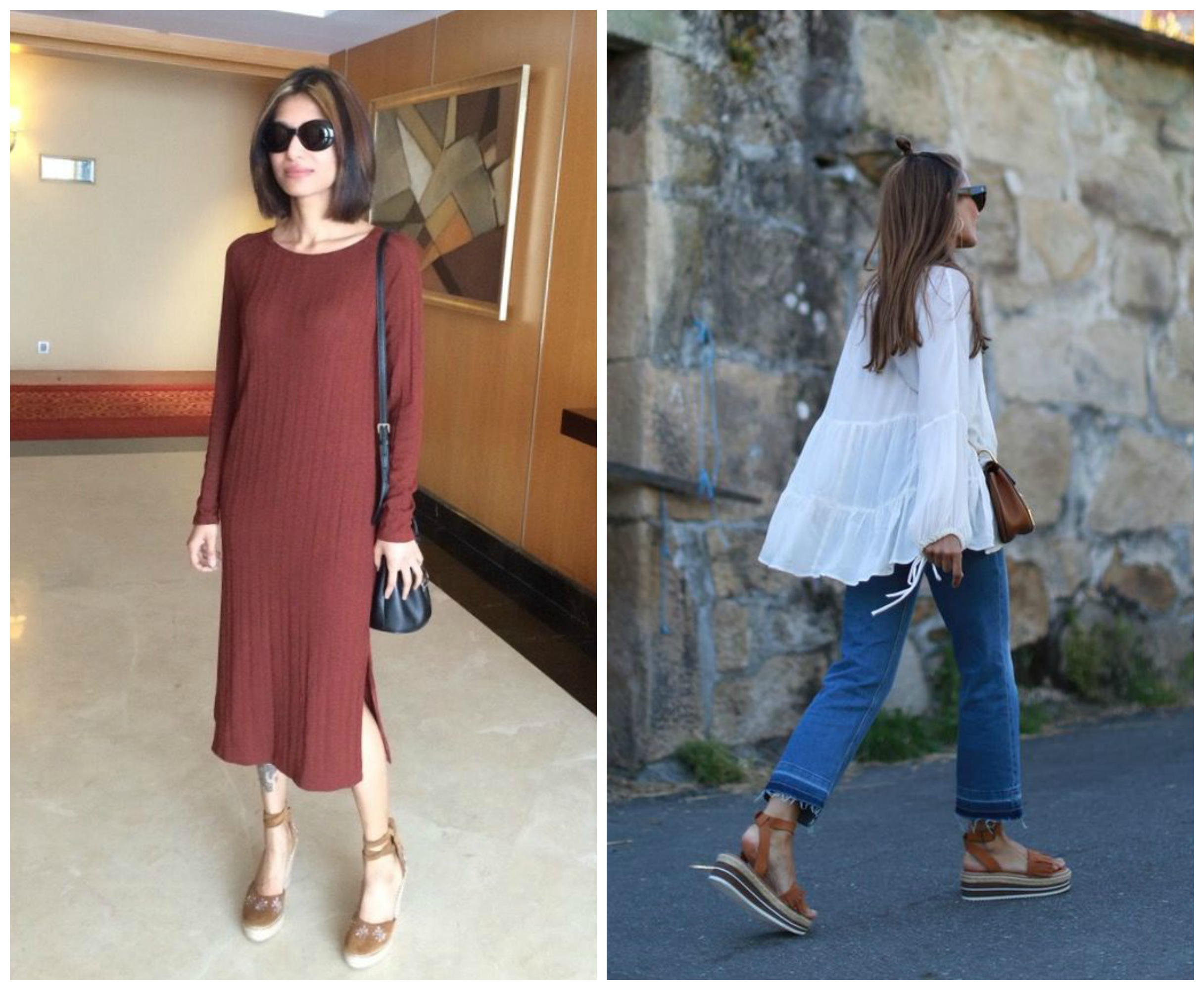 ↓ 7 – Tunics with Sneakers for Winters
The coziest winter looks with tunics and sneakers!

↓ 6 – Wear Tunics at Parties
For Winter parties, we suggest you wear Oxford shoes with tunics and tights, as shown on the rights side.
And for Summer Party look, choose a sleeveless or shoulder dress with jeans or shorts and wear it with suede shoes for a chic look.

↓ 5 – Swag Tunics with Peep Toes
Swag girl outfits are all about having a keen fashion sense and being confident about it.

↓ 4 – Street Style Tunics with Over the Knee Boots
Right now, street style fashion is being ruled by tunics and over the knee boots. They give the real cozy and comfortable urban vibes that one looks for. And how amazing does Gigi Hadid look in that grey sweater-dress tunic and matching boots! It's the ideal evening wear. Find out more about her outfit here.

↓ 3 – Classy in the Classroom
Whether you're a teacher or a student, look classy in the classroom with a tunic and canvas shoes. You'll easily be able to spend the whole day in comfort while maintaining your style statement. The best choice, of course, will be a pair of beautiful printed canvas shoes.

↓ 2 – Beach Tunics, Flip Flops and Funky Sandals

↓ 1- Celebrities Wearing Tunics
Wondering what shoes celebrities wear with tunics? We have the answer to that too, here are some latest pictures of gorgeous celebrities wearing tunics. Starting from far-right, first up, we have Taylor Swift wearing a printed tunic with ankle booties and looking spot on as always.
Next we have the 'Vampire Diaries' star Nina Dobrev wearing a white lace tunic with a chunky belt and silver pumps for shoes. And next in line, there is the beautiful Duchess Kate Middleton. This picture is from her recent visit to India where she's seen wearing a colorful boho long tunic with Wedges and Yes! She is actually playing football in them!
Just like Kate Middleton, Angelina Jolie too, never fails to give us some amazing mummy goals. Angelina is seen shopping with her kids and wearing a plain black tunic with low heel pumps.