High Top Sneakers Outfit Ideas: High-top sneakers are a classic type of shoe that is worn by almost everyone. They are simple, comfortable and one of the most versatile types of shoes that can work with any outfit and can make them look beautiful and youthful. They come in many different styles and in a large variety of colors that will work with any colored outfit.
They can elevate an outfit by adding a pop of color and can also enhance the outfit by adding a touch of youthfulness through the athletic look of the high-top sneakers. High-top sneakers are worn by people all over the world, especially by younger people.
How to Wear High Top Sneakers?
One of the best things about high-top sneakers is that they go well with almost any style of clothing, which allows them to be worn with everyone's favorite clothes.
They can be worn with sweats, gym or athletic sports clothes, or jeans to keep it basic. On the other hand, you can flip a complete 180 and choose to wear them with dresses and skirts. The options are endless.
While they may not be very formal shoes, people have found many different ways to style them so that they also work with formal clothing! Not only that, people have started to incorporate this shoe as one of their go-to, staple shoes, that will work with whatever they choose to wear that day. This is why it is so popularly known as one of the most versatile types of shoes.
Styling Tips
Do try to opt for white high-top sneakers. They go with almost everything and you can never go wrong with them!
Do not opt for bold neon colors for your sneakers. Earthy tones like maroon and brown may work (especially during the fall for winter outfits) but not necessarily for other outfits in summer. So try to choose plain and neutral colors for your shoes.
Do try to match your sneakers with an element in your outfit. The matching might scare some people, but if done right, it can create a wonderful outfit.
Do not be afraid of wearing sneakers with more feminine clothing pieces like skirts and dresses. It gives a wonderfully youthful effect and looks absolutely stunning!
20 – White Platformed High-Top Sneakers to Go With A Bright Pink Neon Graphic Tee
This first outfit is a very simple way to style high-top shoes. Take a neon pink graphic tee and pair it with your favorite light-wash jeans. Throw on a pair of high-top sneakers and you have the perfect casual but chic outfit to wear on your day out with your friends. The white of the shoe does not take away from the neon shirt, in fact, it ends up complementing it.
19 – Baby Pink Ruched Top With Puff Sleeves To Go With Grey High-Top Sneakers With Pink Accents
This top is so cute and stylish with its ruching detailing and also the puffed sleeves which make the top stand out. The grey high-top sneakers are a great neutral addition to the outfit that enhances it even more without drawing so much attention away from the main pieces of the outfit. It will complement the outfit and make it so much better.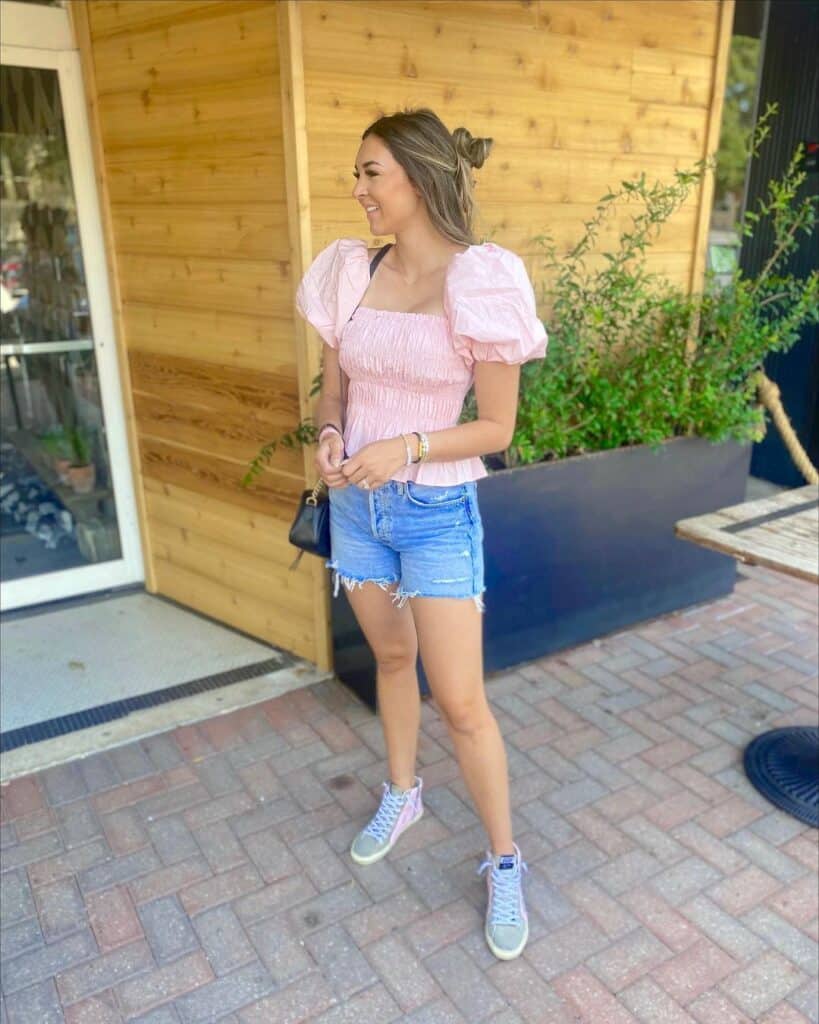 18 – Baby Pink Tube Top, Button Down Shirt & White High Top Sneakers
This is again an effortless way to style white high tops in an outfit. The combination of pink and white never goes wrong, and this outfit is the perfect example of that. The Layering of the matching pinks adds dimension to the outfit and its combination with the white high tops makes it so much better.
17 – Basic White Baby Tee Matched With White High-Top Sneakers and Lightwash Jeans
This is another staple, basic outfit that you can wear when you have "nothing to wear". This outfit can be dressed up by the addition of layering gold jewelry and is made more effortlessly a casual chic look by the white high tops that complement the look so well. They are also platformed, which adds to the illusion of looking taller and basically enhances the outfit so easily.
16 – Neon Yellow Cropped Top With Ripped Jeans and White High Top
This outfit contains minimalist pieces like the simple, plain neon cropped top and the straight leg jeans. This is further complemented by the addition of the white high tops that are so simple but add dimension to the outfit by the addition of another color. They also tie in really well with the color scheme of the entire outfit.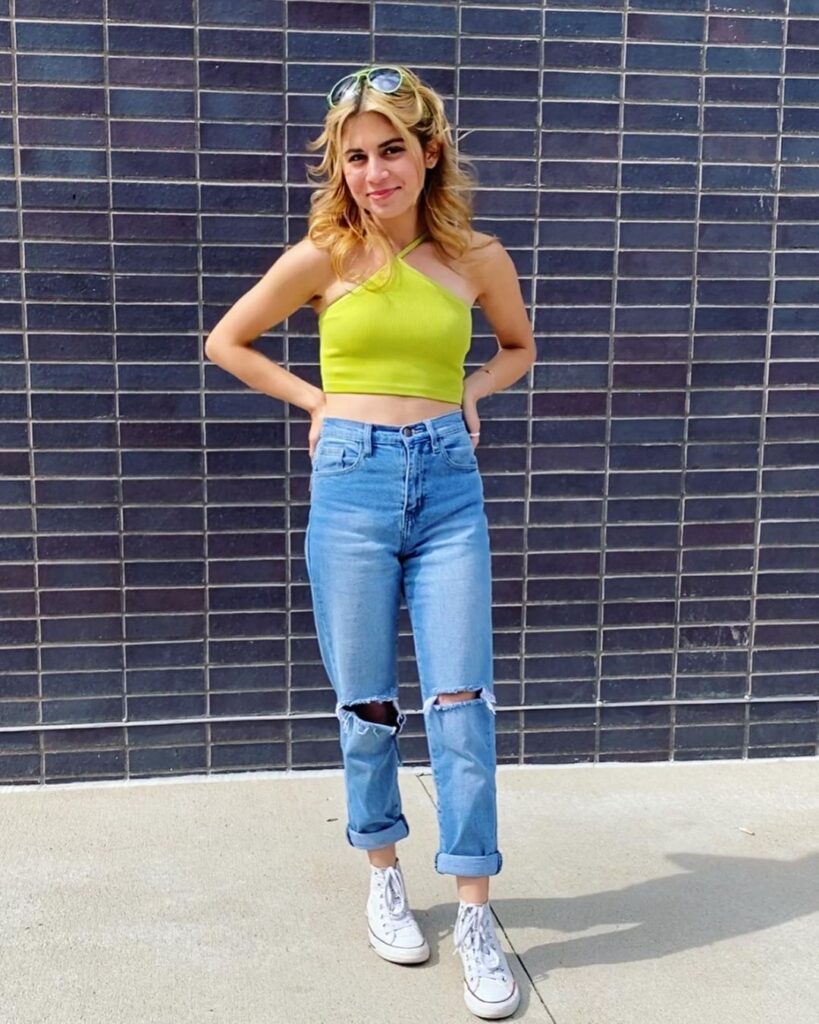 15 – Fall Outfit With Rust Colored Sweater, Faded Jeans, and a Pair Of White High Top
Channel the fall vibes with this outfit which is perfect to wear as autumn approaches. The mock neck rust sweater works wonderfully with the faded jeans and the white high-top sneakers add to the overall look by tying it all together. It is a great look to wear and can work on all types of bodies, especially because all the colors combined create a very unique and flattering color palette.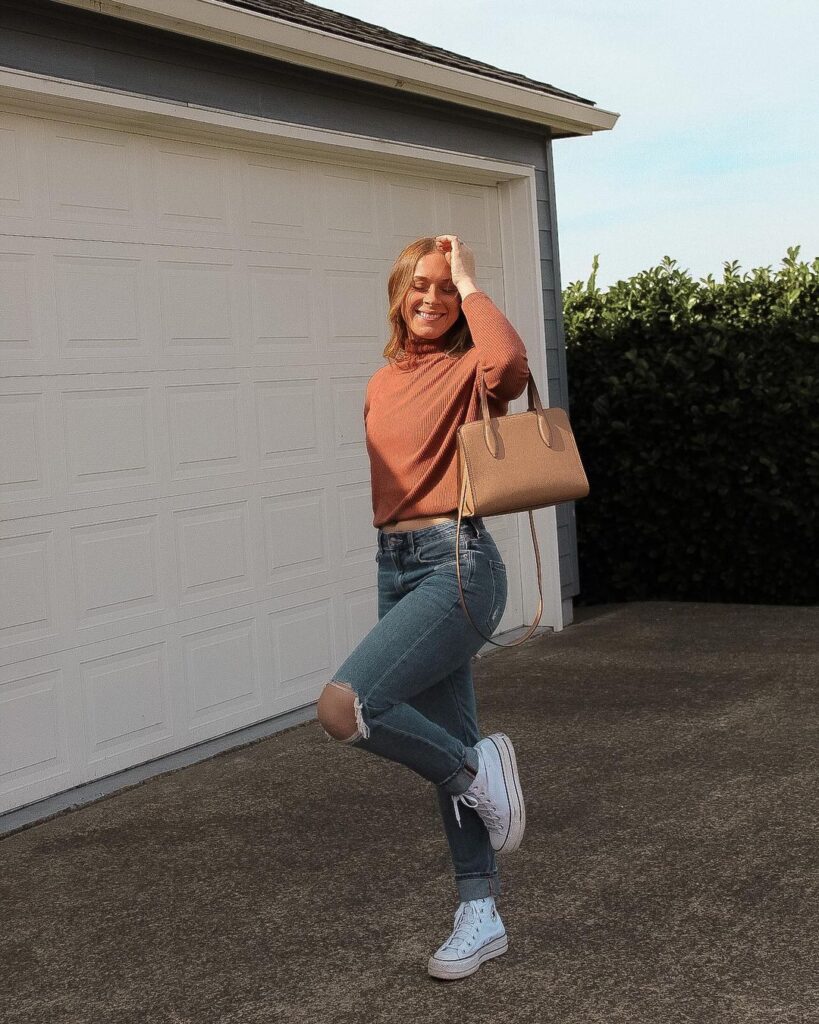 14 – Basic Grey Sweatshirt With Ripped Jeans and White High Tops
This outfit is one of the simplest outfits that you could put together, but it is a no-brainer one that will never fail! This has a basic crewneck sweatshirt and is paired effortlessly with ripped skinny jeans. This tied with a pair of white high-top sneakers makes the most comfortable outfit ever, but also with a touch of youthfulness and style.
13 – Cream Top With Light Wash Jeans and Black Sneakers
This outfit creates a neutral color palette. The cream top is paired with a simple pair of straight-leg denim ripped jeans that combined with a black high-top sneaker, makes the whole look come together in a minimally effortless way. This is the perfect look to wear out with your friends and is so unique despite being made with some of the most simple pieces ever.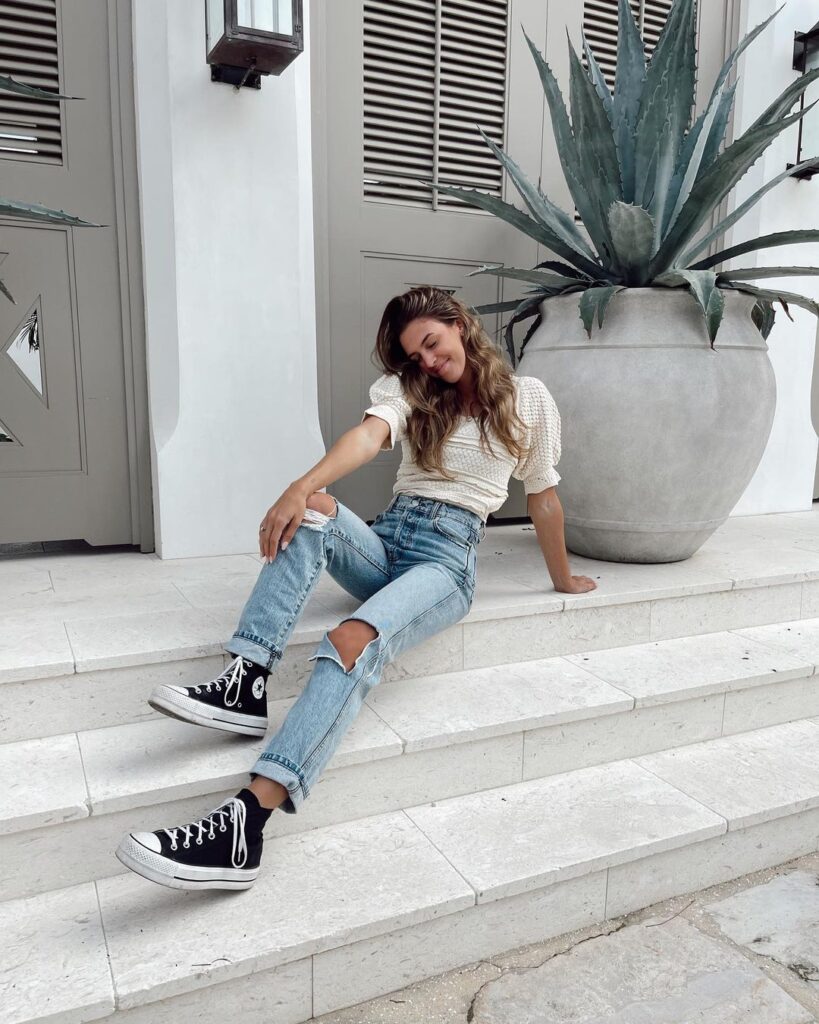 12 – Green and White High-Top Sneakers Paired With A Green Matching Blazer
This green blazer is everything with its bright and bold style which will definitely catch everyone's attention as it is one of the most flattering styles to wear. This is paired with a pair of green and white high-top sneakers. The white highlights in the sneaker prevent the bright and bold green color to become too monotonous with the matching but it also adds a little pattern to an otherwise plain outfit. This outfit is comfortable and stylish and you need to try it as soon as possible!
11 – Oversized Pink Button-Down Top With White High-Top Sneakers
This outfit is again the perfect example of how the pink and white colors are made for each other. These two colors go perfectly together as the white of the shoe enhances the neon pink color of the button-down top. They complement each other perfectly and the shoe completes the look by adding a certain flair and silhouette to the otherwise oversized look.
10 – White High-Top Sneakers to Match With the White Cropped Top Layered Under a Flannel
This outfit is also one of the fall-themed outfits. Comfort is most prioritized in this outfit, but the fall-themed colors of this look make it so much better and more stylish. The gorgeous color palette makes the outfit stand out with its rustic and fall-neutral colors (which are further accentuated by the flannel). The whole outfit is then tied together wonderfully by the addition of white high-top sneakers.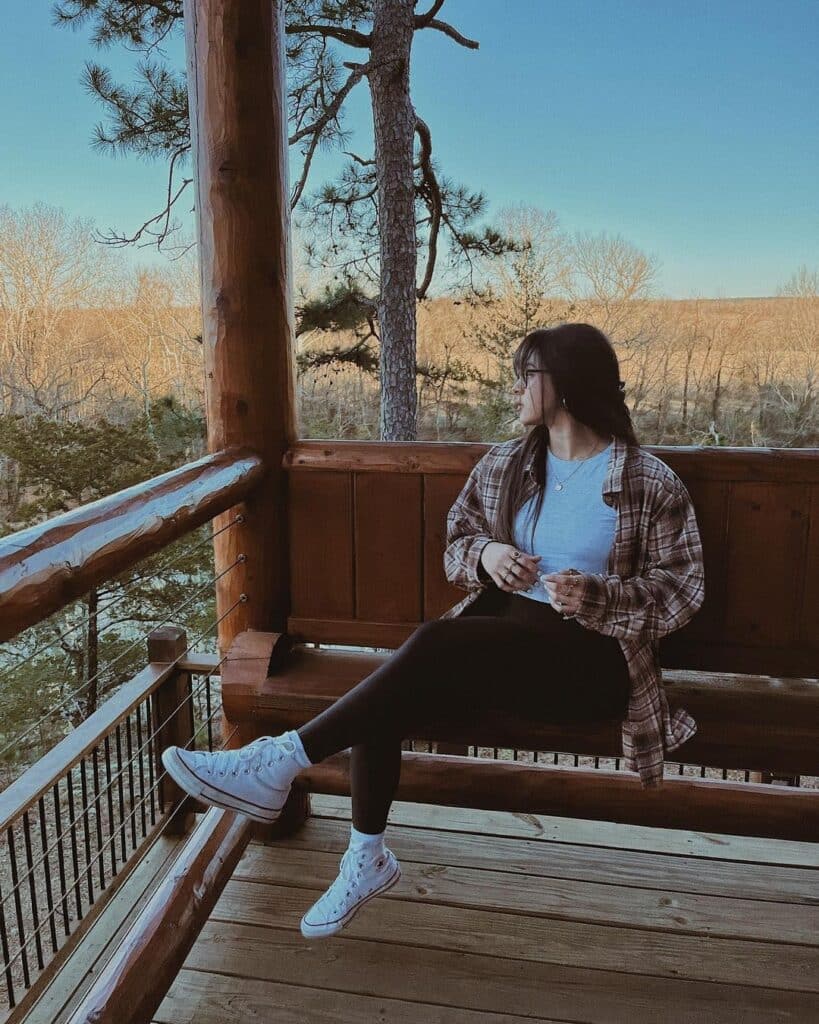 9 – White Tank Top With Biker Shorts Paired With White High-Top Sneakers
This outfit is wonderful as it gives off such an athletic and youthful vibe. The sports clothing make the outfit comfortable and simple, something perfect for a gym session. The addition of the white high tops is what makes all the diference to make this outfit stand out though. They are simple white high tops but have an addition of pink accents which makes them pop even more.
8 – Brown Rustic Teddy Suede Jacket With High-Top Sneakers
This outfit is perfect to wear in the winters as the color of the teddy jacket complements the fall vibes perfectly. The shoes paired with this outfit are black and white high-top sneakers that match perfectly with the black base outfit and the white purse that is carried in this look. The overall color scheme made is most flattering and very fun to wear when the weather starts to get colder.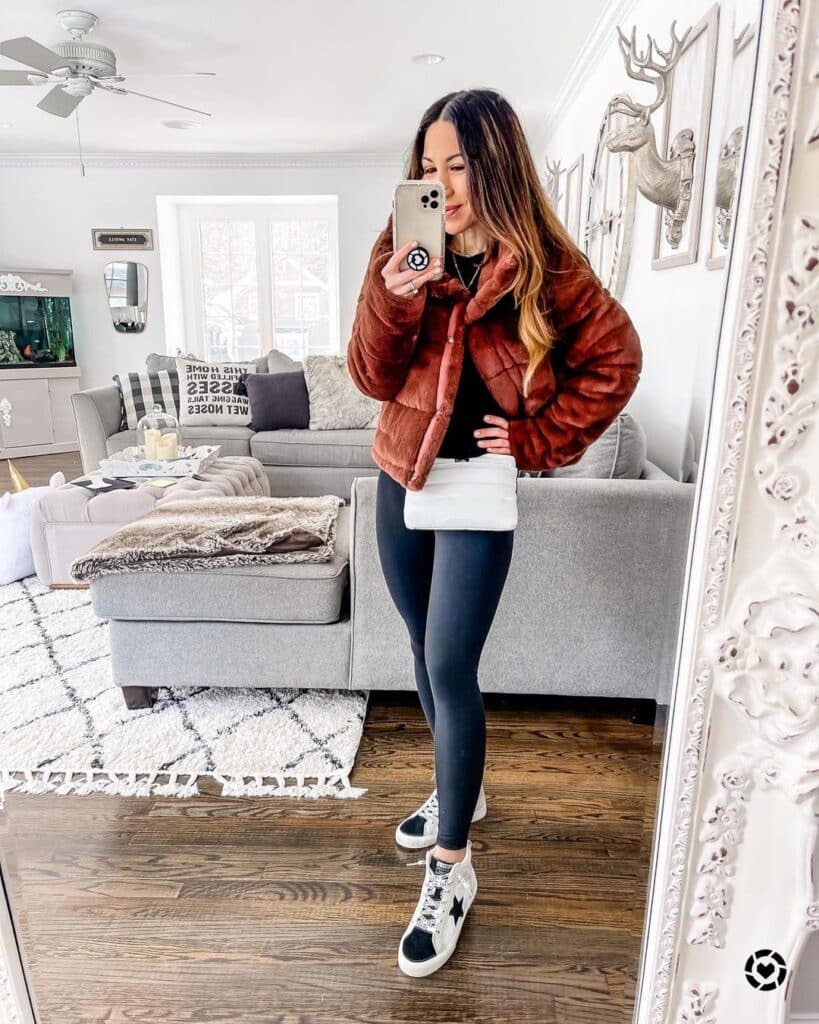 7 – White Base Outfit With a Flannel Layered Over it, And Matching Brown Sneakers
This outfit consists of simple everyday clothing items but it looks so put together and perfect that it will definitely be something that grabs everyone's attention. The white base outfit is made of white denim shorts and a white tank top. This is layered under a flannel with brown fall tones in it. To tie the whole look together, brown high-top sneakers are worn that will create a very coherent look.
6 – White Cotton Spring Midi Dress With Matching White High-Top Sneakers
This outfit is the perferct example of a monochromatic outfit with white being the main color. This white cotton midi dress is perfect for all body sizes and will definitely make you give off fresh, it-girl energy. Complete the look by pairing it with a pair of plain white sneakers that will make the look so much better.
5 – White Striped Romper With Matching White High Tops
This is another variation of the all white type of outfit. This time, a shorter and more comfortable alternative is chosen: a white romper. It is then paired with matching sneakers to bring a more sporty look to the outfit by adding a touch of youthfulness. This is a great way to take two items in your closet and combining them to make an effortlessly beautiful outfits.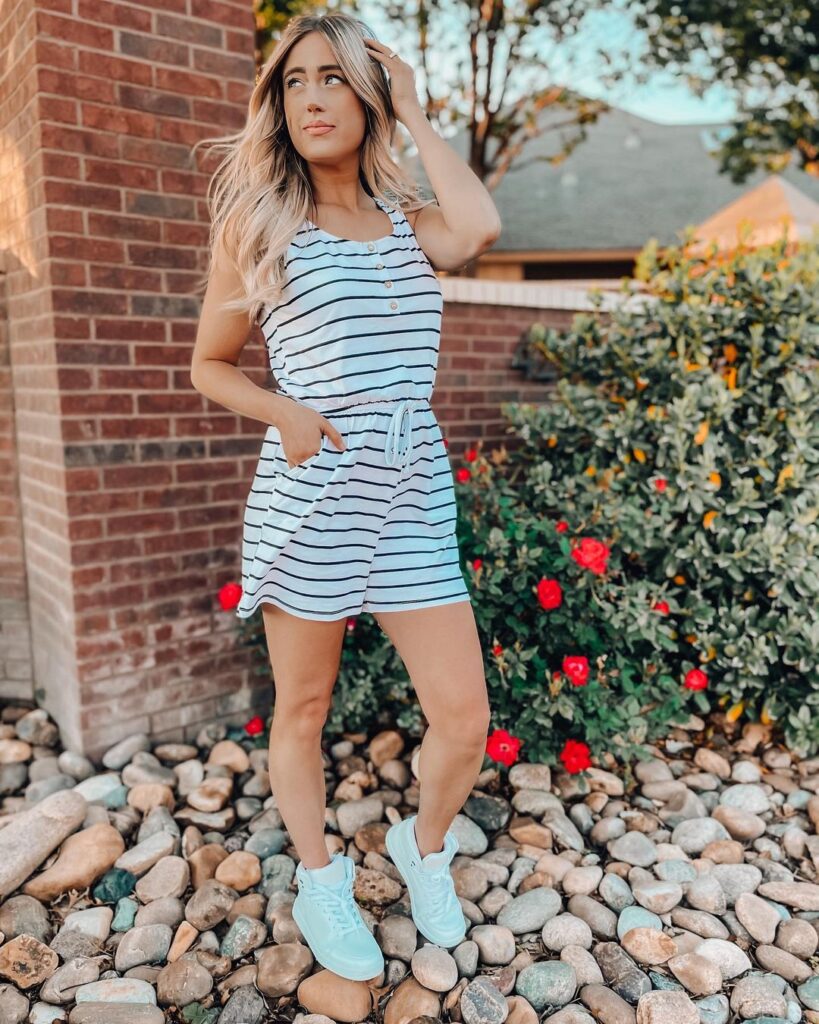 4 – Baby Blue Dress With White High-Top Sneakers
Who says you can't wear sneakers with dresses? This outfit is the perfect way to refute that misconception that sneakers do not usually work with minimalistic and delicate dresses. This is a classic cutout periwinkle baby blue dress that is worn with white sneakers. The sneakers add a touch of youthfullness and bring life to the outfit.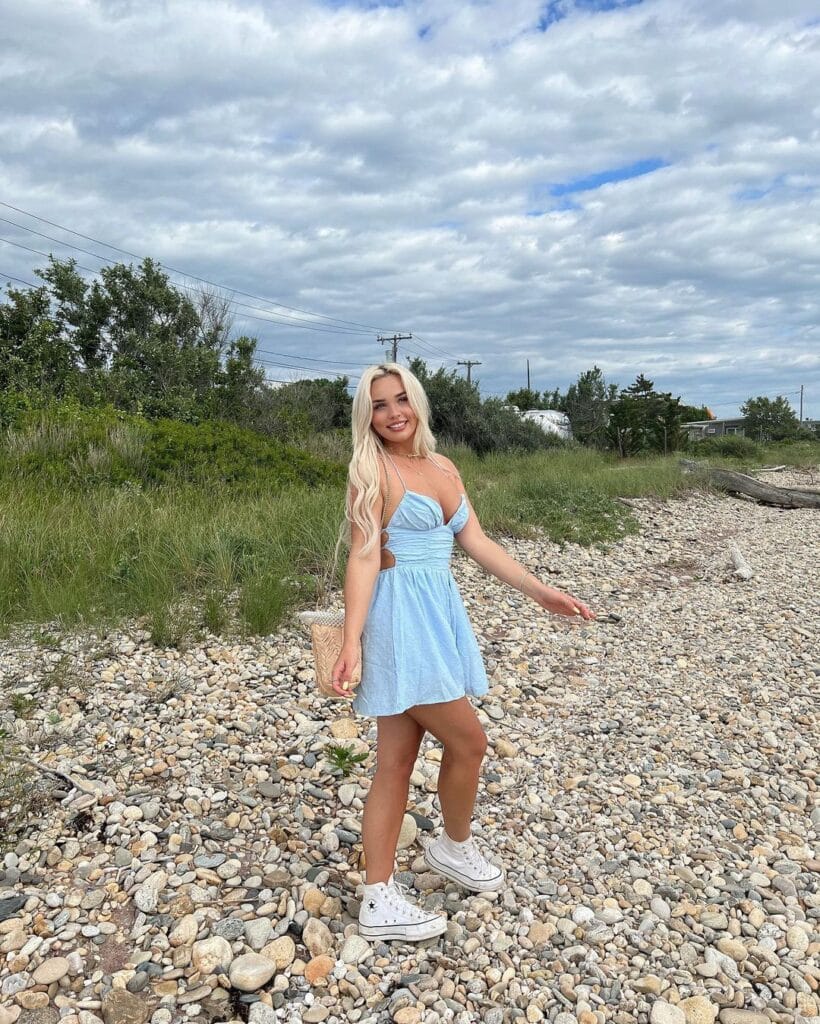 3 – Navy Romper Dress Matched with Black High Top
This outfit is anothet monochromatic look but this time with a deep and dark bold color like navy blue. This romper dress is minimalisitic and cute and ties perfectly with black sneakers. This is a completely no brainer outfit and there is no way you could go wrong with it!
2 – Colorful Floral Printed Bralette Top With White Mini Skirt
This outfit is a simple and sporty look that you could wear to an outing with your friends in the summer. The sneakers match perfectly with the cute mini skirt and the colorful bralette top make the outfit pop due to the addition of print and color (not to mention the pattern from the florals). It is an easy one to pull off, you must try it!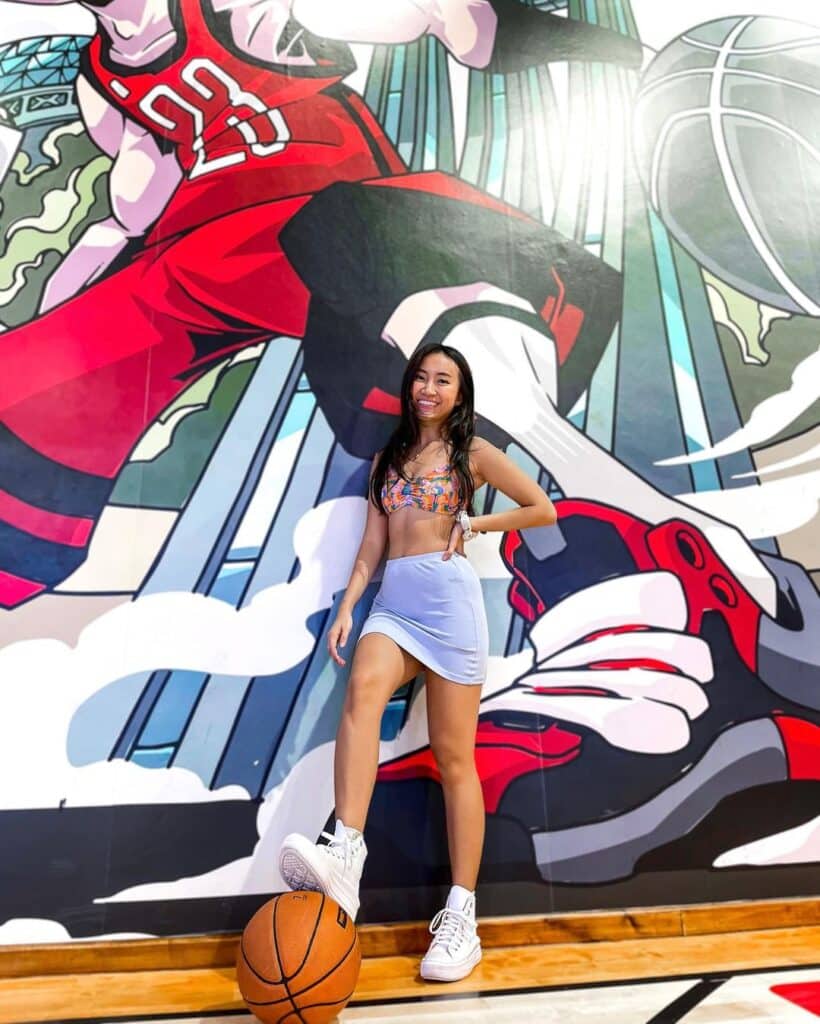 1 – Sweatshirt Tied with A Lacey Skirt With Matching sneakers
This outfit is perfect in its style and also in its comfort. The white high tops are matched perfectly to the stunning lace mini skirt and the sweatshirt adds a pop of color. The whole outit is perfectly balanced and the high tops only work to enhance the overall look in order to create a flattering effect. This outfit is pretty and can be worn by anyone and pulled off easily.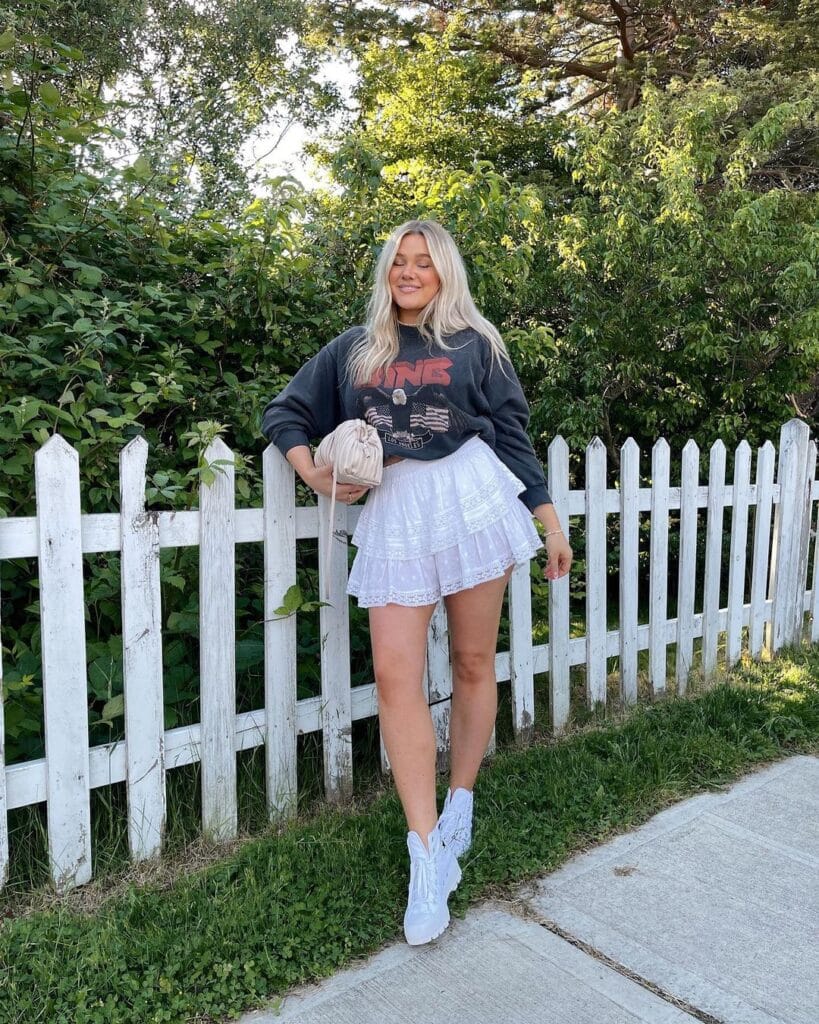 Frequently Asked Questions
Q. Can I wear high top sneakers with jeans?
Ans. The answer is yes! Some people worry that high-top sneakers do not usually show fully when the hem of the jeans covers their feet, but despite that, high-top sneakers can look very fitting with any kind of denim jeans. If you really want to show them off, opt for raw hem jeans!
Q. Can I wear high tops with differently colored laces?
Ans. Yes! Differently colored laces add so much creativity and color to an outfit and can reflect your fun personality so it is always definitely a fun option. Just be careful and remember to choose colors that are not too distracting from the main components of your outfit!
I'm Sarah, and currently doing my A Levels. Writing is one of my passions and keeping up with the latest, and ever-changing fashion trends is one of my favorite pastimes. My two hobbies combine here at OutfitTrends to create fun and creative articles which hopefully will help anyone seeking any outfit inspiration.