Tomboy Outfit Ideas – Maybe you want to know what the latest fashion trends are. Today outfit trends will reveal some great and simple tomboy styling tips.
Tomboy or androgynous style is perfect for teenage girls who are not precisely into anything 'pink princess.' I was never really keen on girly things; hence, I experimented with these styles for a while.
Essential Tomboy Accessories
The main accessories are hats and ties. Trilbies are a perfect androgynous hat for a perfect look. They add an 80's feel to any outfit and a sense of wealth. Trilby's were previously worn by well-to-do folks and were often seen at horse races.
Ties are also a great accessory and add that touch of masculinity to any outfit. Being a tomboy, playing around with ties is even easier; why not experiment with it by only showing part of it? Or are you wearing it loosely? Chunky, colourful ties are brilliant for breaking up a plain-coloured button-up shirt.
Tops
Tops consist mainly of button-up shirts and boat neck tops or jumpers. The button-up shirt is typical men's attire and comes in such a wide range of colours and styles that finding your ideal one is easy. Patterns are acceptable in the scene, as are pockets, so do not be afraid to experiment with either. Pockets are a great way to create the illusion of a not-so-busty chest which is essential for the tomboy look. Boat neck tops are fantastic for the same reason. Why not leave a button-up shirt hanging out under a boat neck jumper? This gives a sense of relaxation and comfort and does not come across as too formal. Open blazers are also very consistent, and these match correctly to button-up shirts and even plain or patterned t-shirts. You should also check out these Menswear Inspired Outfits Ideas for more ideas.
Bottoms
Jeans are the traditional style of legwear. There is a style called 'boyfriend' jeans which are very popular in teenage scenarios; however, skinnies are also acceptable. If jeans are not the style for you, then why not try some drawstring trousers?
These can change a whole silhouette with minimal effort. Why not pair skinnies with colored sneakers? Why not match tartan sneakers with a tartan shirt? Tartan is a beautiful pattern that can be easily paired with a plain blazer. Do not use too much tartan, though as this can overwhelm an outfit.
Long coats are also frequently seen with tomboys. The perfect length for these is between the hip and knee. They, too, have a certain silhouette that adapts beautifully to the female figure and adds a touch of masculinity.
How to Get A Tomboy Look
This is an accurate version of a country tomboy working in the fields who would like to show their masculinity or just a band member composing songs. Either way, it's a flattering copy to complete your "head-on attitude" look. Dungarees are very helpful as they can be worn on some occasions, and look how nicely it is styled. If you are not into too much skin, wear a cropped top. No makeup and no jewellery with white sneakers
# 15 – Where to Shop Tomboy Outfits?
If you've been wondering where to shop for these dresses? Then you have to check out Wild Fang, a brand that strictly focuses on the tomboy style and with a number of amazing menswear-inspired clothing items to choose from.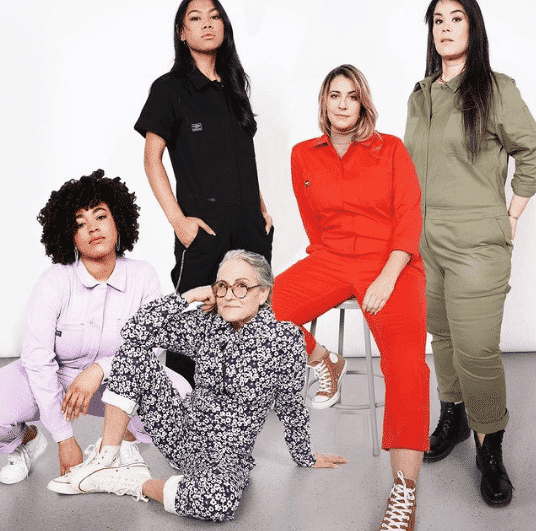 # 14 – Striped Button Downs
These shirts are a must-have for your wardrobe, and they can easily be paired with trousers, pants, jeans or any other bottoms of your choice. I also recommend that you follow Erika Linder on Instagram to learn from her effortless styling.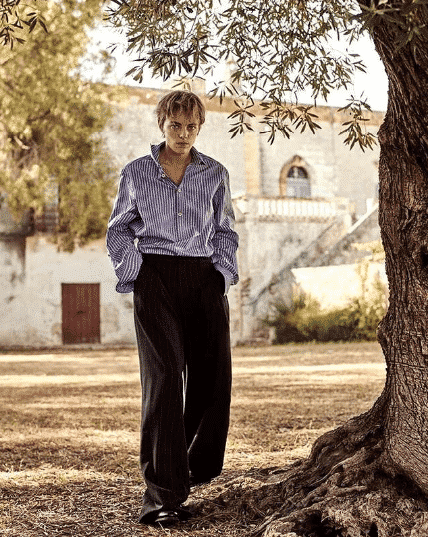 # 13 – Dungarees
Tomboy fashion has evolved over the course of time. Previously, the only two options were either to only buy men's clothes or get shapeless baggy clothes. But now times have changed; designers and clothing brands are creating unisex pieces, they're more into comfort rather than the dilemma between female or male body structures.
Fashion items such as boyfriend jeans or sweatshirts have totally transformed the ideology of "specifically for women and men". In today's age, you can do what you desire and how you want it, you are your own stylist. Your upcoming style might become the next big thing or you might trend and go viral.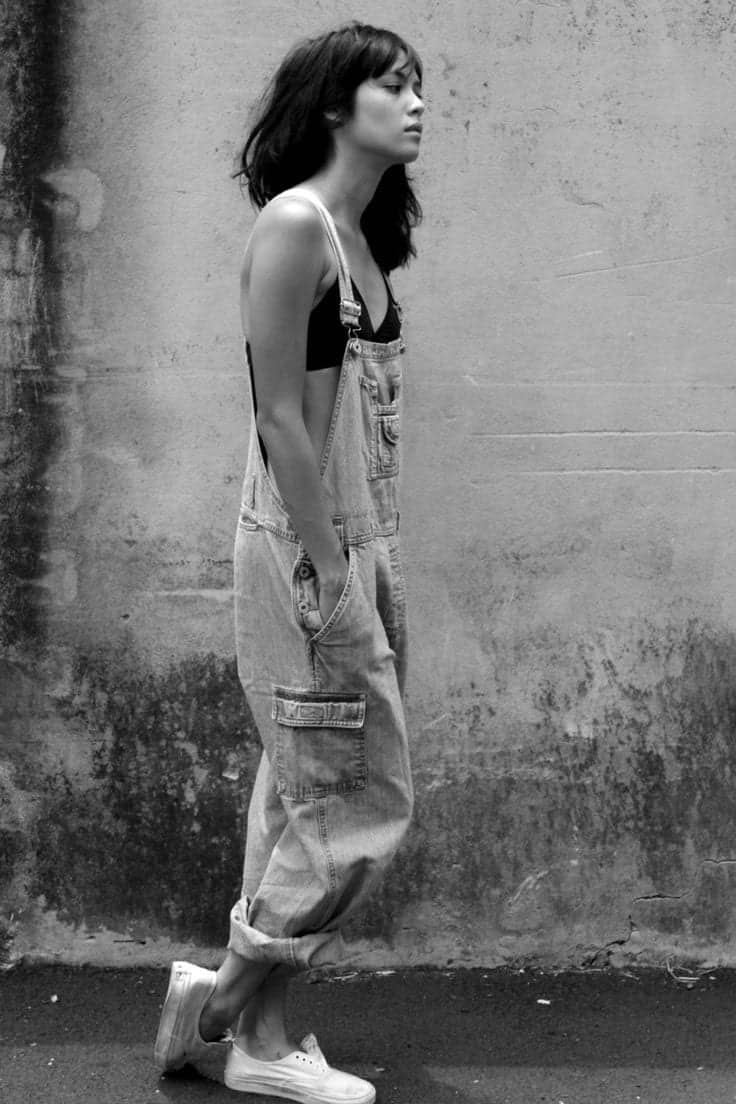 # 12 – Boyrfriend Jeans
Boyfriend jeans have been making rounds in the fashion world for some time now and what better way to show your strong side than wearing a pair of ripped boyfriend denim with a striped crop top. A high bun and shoulder bag are good enough to complete the look.
Remember, whenever you are dressing up as a tomboy only sneakers or boots will do as shoe wear. Aviators or a chunky watch should be your only accessory. Sunglasses will also help you create and pull off the whole look together. Here are more ideas on Boyfriend Jeans Outfits.
# 11 – Shirt Around the Waist
Girls who love to skate and show their skills but also are not comfortable with their clothes this sleeveless tank top with a white logo is good with skin-tight leather pants: a flannel shirt to cover yourself up from the cold and a beanie for extra points. Contrasting shoes will be needed hence the white sneakers.
# 10 – Button Down Shirts
A clean and simple yet classic dressing style for all tomboys out there. A polka dot button-down shirt with wrinkled jeans, heavy construction boots, and a baseball cap. With your glasses, you can have a high ponytail or a braid on the side. You can always try the boy's section for shirts or hoodies.
# 9 – Jackets
Cara Delavigne will show herself in the most beautiful ways but at heart, she is a tomboy, and most of the times you will find her dressed up in that manner. Denim shorts with a sweatshirt and a blue jacket with ankle-high black boots. A good big shoulder bag will be enough you have some things to carry around with a red beanie and no makeup.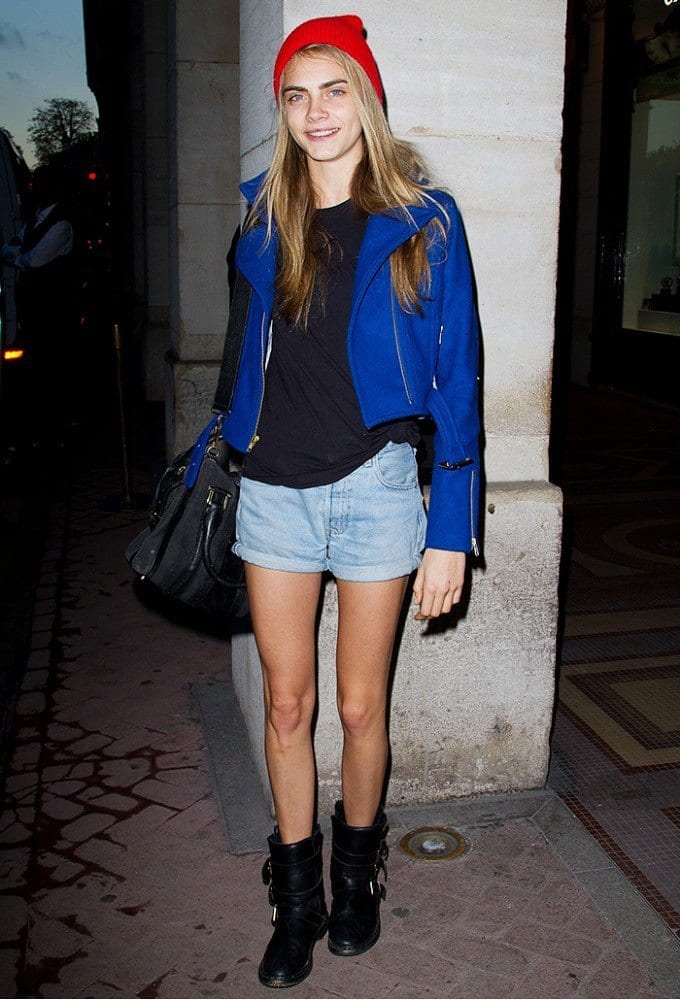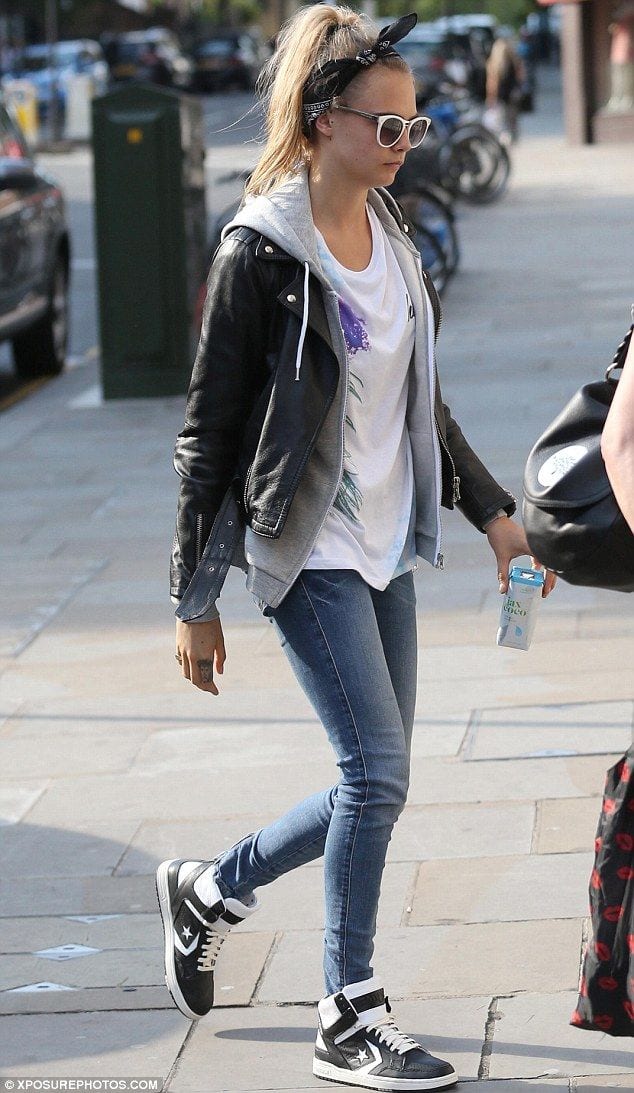 # 8 – Celebrity Style
Mother jeans rolled up in black, and a white full sleeved top is all that you need for a street look with low top Chuck Taylors. Wearing masculine shades/sunglasses will also help enhance the overall look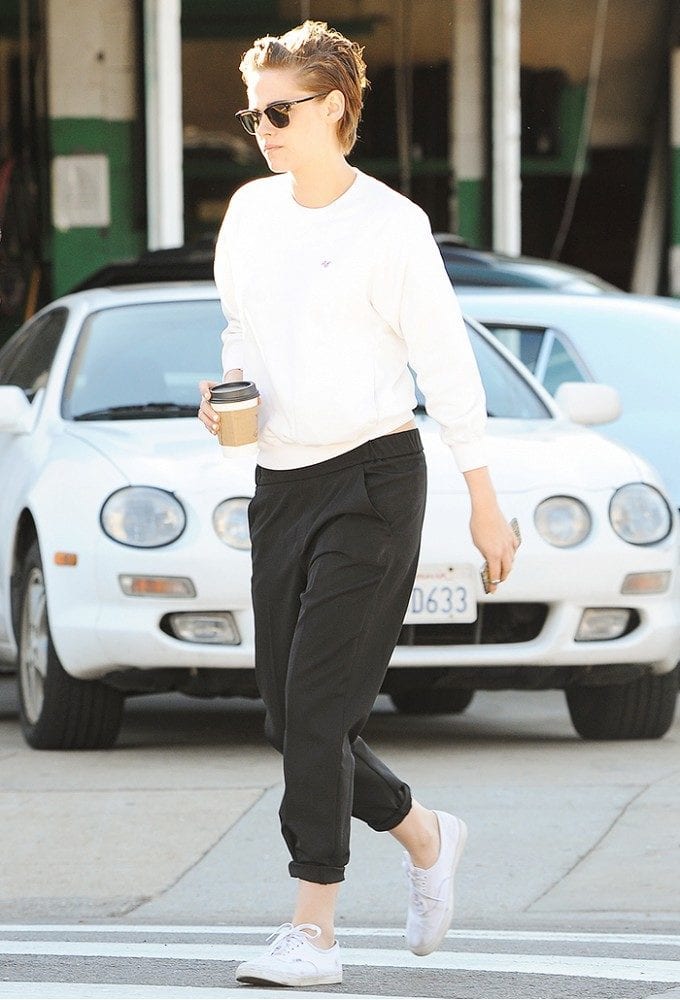 # 7 – Tomboy Accessories
Okay, another must-have are the suspenders in any color you prefer, but red is good enough if you want to wear them with a white and black combo. A long chain and a good pair of loafers will finish the outfit.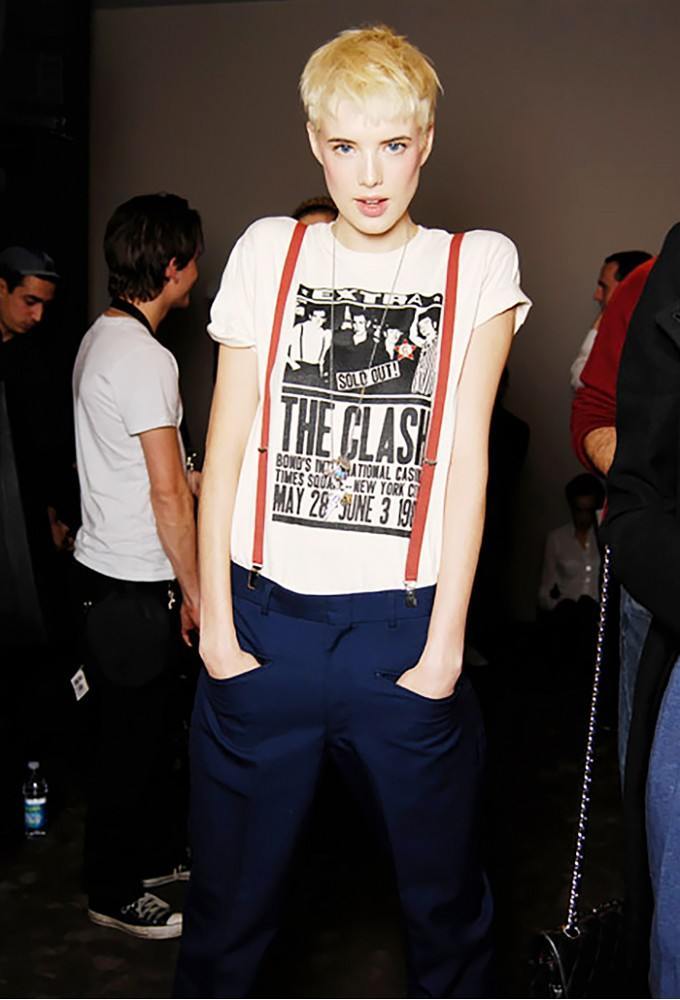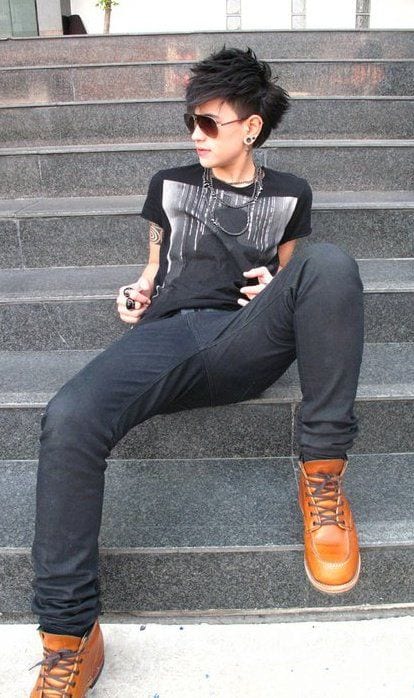 # 6 – With a Skirt & Beanie
Yes, you can wear a skirt for for this look.
Being a tomboy doesn't mean you cannot wear skirts or dresses. You just need to wear them in a manner that shows off your strong side or a little power. Plaid and pleated skirt with a plain top and black heeled boots. The usage of more classic colors in this clothing style is very important for instance, black, blue, brown, etc, because if you use light colors it will give a more feminine look.
Also, it is important to see the print of skirts and dresses, like abstracts and lines or plain colors. Floral designs will not give a tomboy look. Therefore, it is vital to select carefully from the print to colors to style in order to achieve your desired tomboyish look. To finalize the whole look, you may add a beanie and stockings and, finally wear boots to complete the look.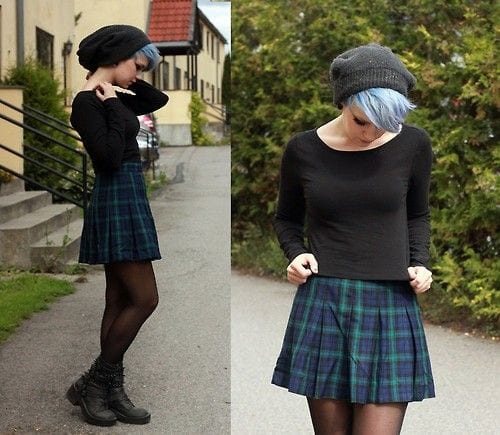 # 5 – Accessorise with Caps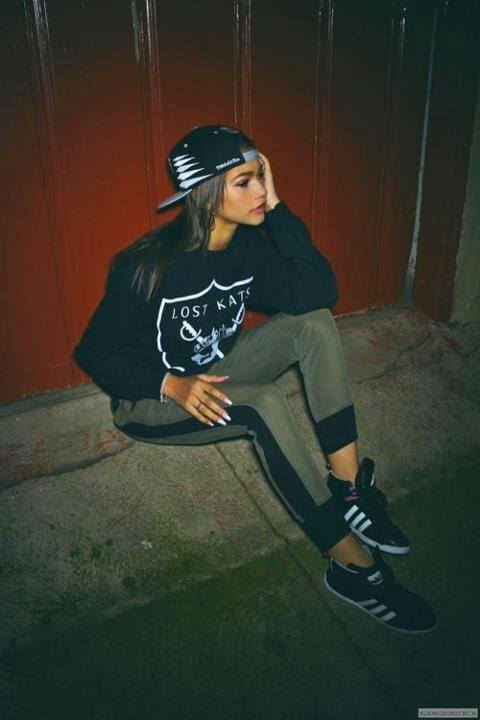 # 4 – A perfect Tomboy Hairstyle.
Mostly prefer short hair cuts, boyish looks, spikes, and different colors, but that doesn't mean you cannot have long hair. Just tie them or do different braids. Dying your hair immediately changes your entire look and to add more of a masculine look, style it with hair gel.
Longer pixie trims are the ideal fiery girl hairstyles for round faces. This sort of hairstyle is a consistent mix of coy and restless, because of the more drawn-out bangs and milder layers which loan the best edge to your face. There's nothing cooler than the sharp side shave hairstyle.
This lovely and sensational fiery girl hairdo for short hair assists you in trying different things with the shaving sum and the hair length. You can likewise style your bounce trim haircut aimlessly to accomplish the easygoing and untidy rough-and-tumble look. Decide to accept the regular hair surface as opposed to styling your sway.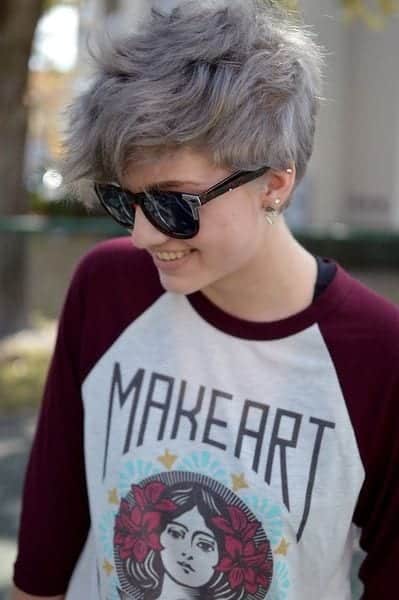 #3 – With Ripped Jeans
Wearing Ripped jeans is the ultimate look for girls who want to look messy and stylish at the same time. Ripped jeans can be paired with tees as well as formal shirts or even graphic tees for a more tomboy-ish look.
So for motivation, we can extend back to Marlene Dietrich, Greta Garbo, Coco Chanel and past, and afterward quick forward to Rita Ora, Alexa Chung, Ellie Goulding and last however never least, Cara Delavigne, to track down that the fiery girl style is perfectly healthy and living as supermodels and so forth. Reference Diane Keaton in Annie Hall for cool approaches to wear petticoats and ties! It has the distinct benefit of taking care of into each style – right now, it's a characteristic fit with the menswear pattern, for instance – so let its unceasing allure illuminate your decisions each season.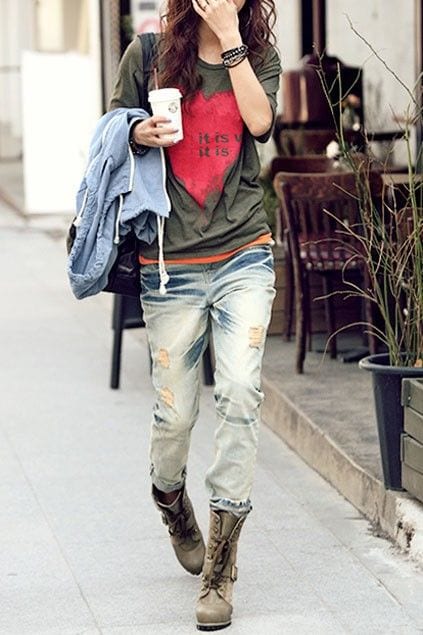 #2 – With Graphic Tees
You can style a graphic tee with a pair of high-waisted mom jeans and white sneakers or you can boss it up with oversized monochrome suits or you can make it even cooler with an oversized hoodie. Graphic tees look fierce and cool under a nice Denim jacket.
You can even try the long lost denim on denim trend with a graphic tee. In order to pull of the entire look a baseball cap and boots will do the job. Cool-girl tomboy vibes can be achieved with oversized graphic tees and bike shorts.
For more ideas, do check out these Graphic Tee Outfits.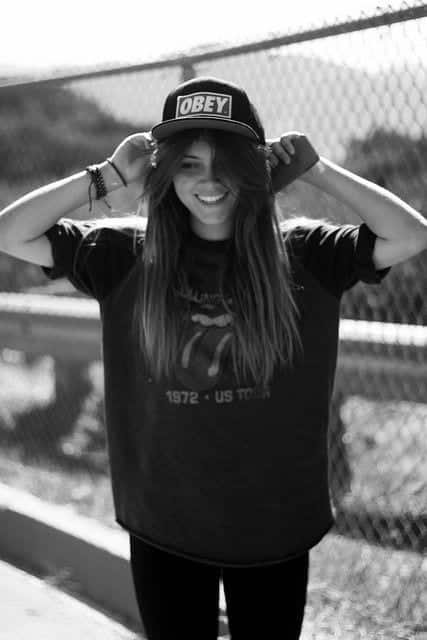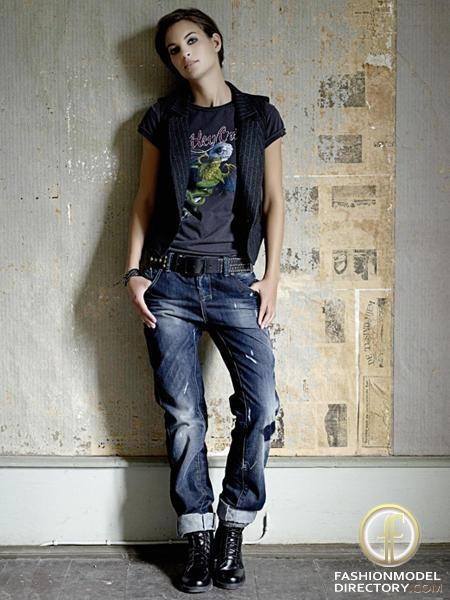 # 1 – With a Snapback
Snapbacks were commonly used by men but, now they are very common for girls as well. Try to choose for snapback colors that will compliment your whole outfit. The key is settling for caps in combination colors with your outfit.
Think about the occasion and then try on a few options before you finalize your style. But try to keep it as minimal as possible; simplicity is always a great option.
Best Hairstyles
Hairstyles are also important when wearing and styling snapbacks; some styles can be the following:
With short hair – Do you have a bob or pixie cut? in any case, you can totally rock a cap. You can wear the cap facing backward and your hair go with the flow. Also, keep the color as light as possible.
With braided hair – Fishtails or French braids? You choose, and with both, you can wear and simultaneously rock a snapback. Bonus if you have minimum shoulder-length hair.
With a Ponytail – Girls and ponytails are forever. Be it messy or sleek; snapbacks are easily compatible with ponytails. Leave some hair strands from the front, which will automatically shape your face. This might be your next sexy look.
With curls or straight hairstyle, your hair nicely and try wearing the cap as you wish. You can also make loose low buns with caps to give your look a messy, sexy look.
With a casual look – Snapbacks for a casual look is the most underrated thing. Especially for girls who do not prefer makeup or other girly accessories, snapbacks can pull of your entire look.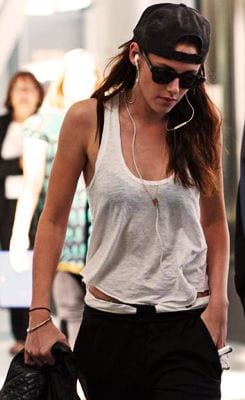 Frequently Asked Questions
Here are some frequently asked questions about how to dress like a tomboy:
Q. How can a tomboy look cute?
A. It depends on how you style your entire look. They can look messy and cute at the same time. For instance, if you wear oversized sweatshirt with mom jeans and pair it with white sneakers, it will automatically look comfy and cute.
Q. How do you dress like a stylish Tomboy?
A. To achieve the ultimate stylish look make sure you include 'Layering' in your outfits. Layering will make your whole look tidy and unique. For example, put on your favorite sweater and layer it with a cool leather jacket or a denim jacket and pair it with some dark jeans.
Q. What makes a girl a tomboy?
A. A girl who's attributes, likes, and dislikes resemble a boy. Some characteristics include dressing up like a boy, being tough, and being interested in gaming and other physical activities.
Avid reader and Fashionista. London Based freelance lifestyle editor