Lazy day outfit Ideas: Fashionable girls exist in all shapes, sizes, personalities, and types. The lazy kind is the one who wishes to stay in their PJs all day and just relax. They do not wish to spend a lot of time getting ready and putting too much energy into fashion. Such girls still like to look good but in an easy manner. Lazy chics can wear a ton of cute outfits for Sunday brunch, birthday parties, office functions, or lunch dates. What matters to these girls is high fashion and easy style. So for all the relaxed girls out there – here is a list of the most amazing fashion tricks every lazy girl needs to know.
Some Outfits To Wear On A Lazy Day
Many girls prefer comfort over styles these days. And what is better than finding an outfit which is both comfy and stylish and also super easy to style. Tank tops are ideal for lazy girls in summer. They can be paired with leggings, denim, shorts, and skirts as well. You can also add accessories like scarves and caps with them. Similarly, sweatshirts are also preferred by girls in winter. You can wear them with skinny jeans and thigh-high socks, they create cute fits as well.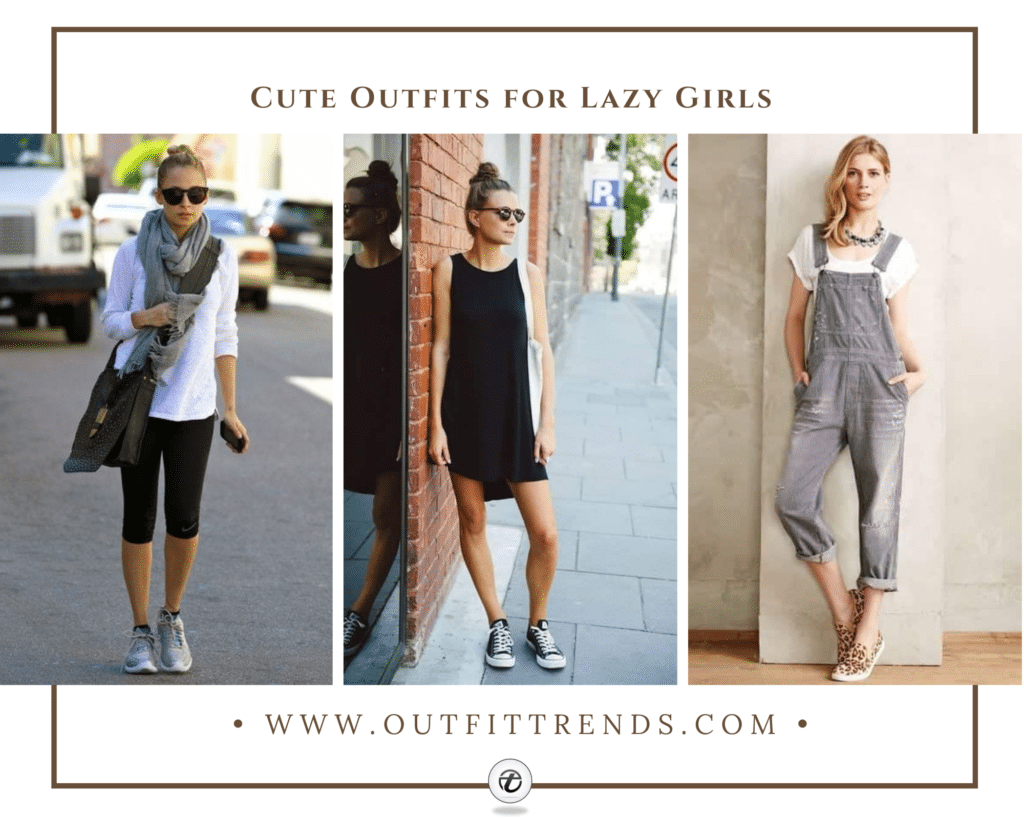 Fashion Tips for Lazy Girls
Oversized clothes can be your best friend if you style them properly.
The perfect hairstyle for lazy girls is a high ponytail or a messy bun.
Sneakers or pumps can go well with lazy outfits.
Add a layer of jacket or cardigans to your outfit, if it seems too boring.
15 – Hipster Yet Sporty With Hoodie And Skinny Jeans
Lazy girls often tend to be sporty girls. So for someone seeking sporty fashion style, pair a woolen hoodie (in case of the winter season), with a woolen cap, black skinny jeans, and low-rise converse sneakers.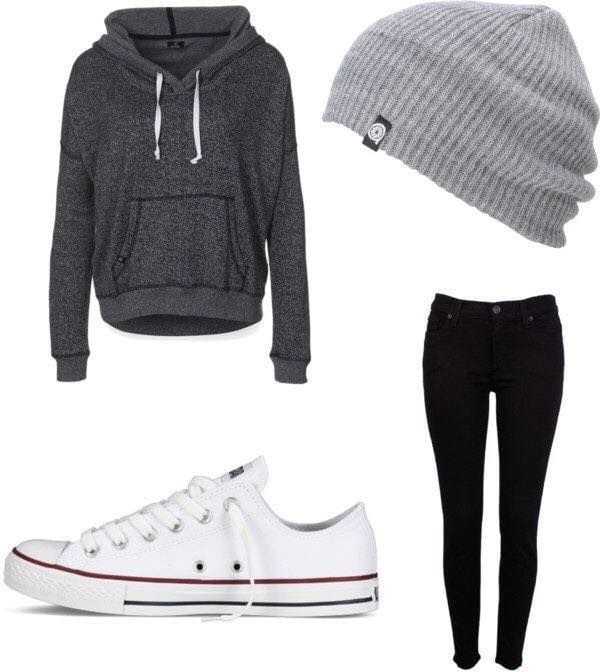 Women's High-Rise Skinny Jeans $49.10
14 – Pink Crop Top Paired With Ripped Denim
For elegant girls, they can pair a pale pink crop top and pastel blue pants for a summer outfit. Black leather boots can also be paired with it. Light beach waves in your hair and a small clutch would complete this outfit perfectly.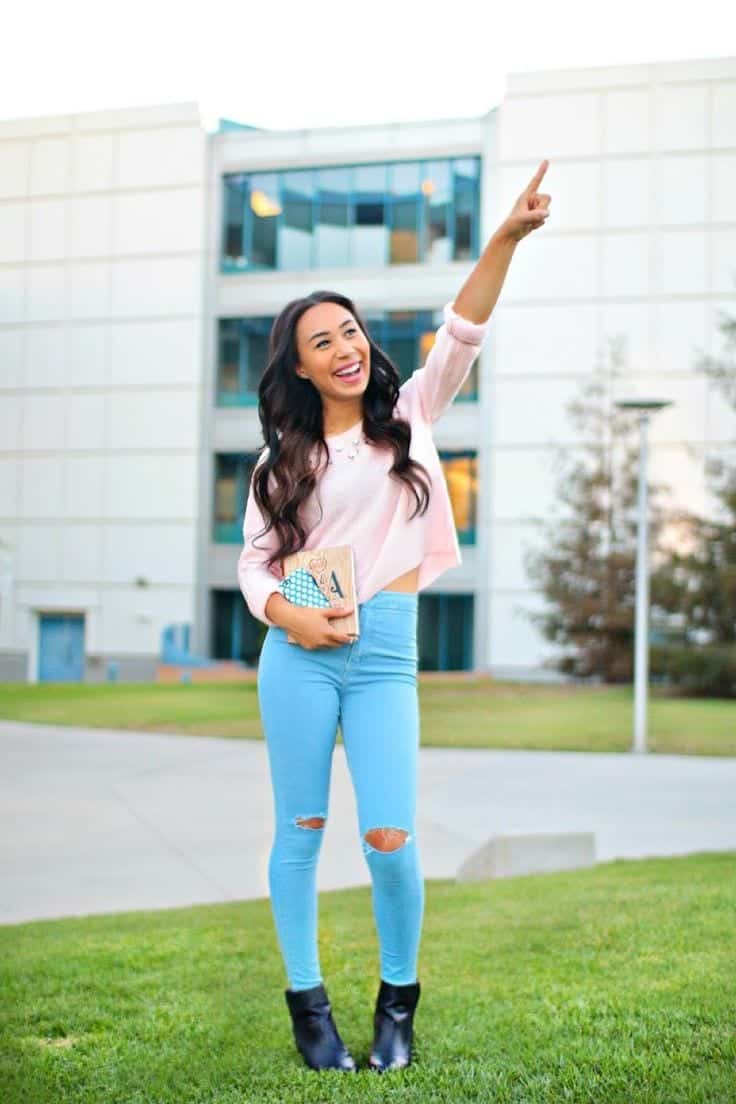 Women's Square Block-Heel Chelsea Boot $33.92
13 – Sweatpants With Spaghetti Strap Top And Sneakers
All the lazy girls like me, this is one outfit you must keep in your wardrobe. Be it winter or summer just pull it off with any top and shoes, you are good to go. You can wear sneakers, joggers, and slippers with it. However simple slippers and flip-flops are ideal shoes for a lazy day.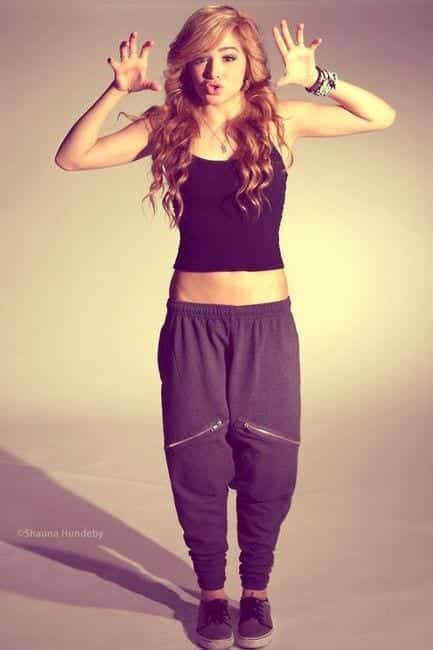 Women's Organic Cotton Camisole Tank Top $17.74
12 – Cozy Oversized Top With Jeans For Street Style
If you are a working girl living in the city, you need a quick outfit. Grab a large hobo tote, with a loose navy blue sweater and cropped jeans. Flat shoes would be quick and comfy to wear with this outfit.

Also see:14 Minimalist Styles for Summers
11 – Simple White Ruffle Gown For Social Events
Summer events can be hectic for choosing an outfit. When attending a social event, pair a white embroidered dress with metallic heels. This outfit is easy to wear and looks amazing in the summer. You can also wear this to weddings.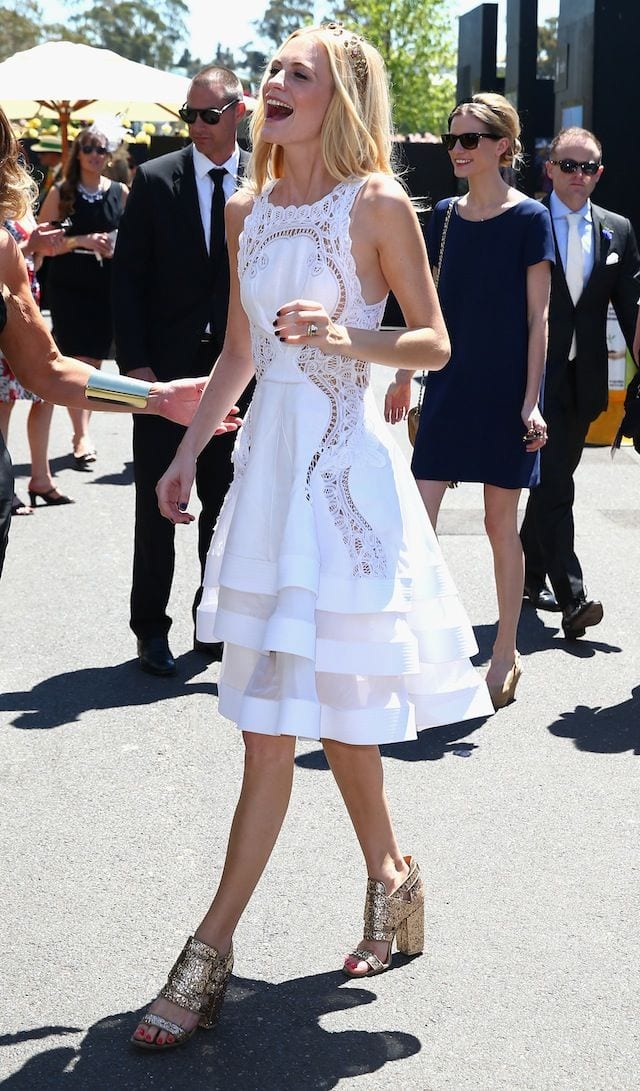 10 – Spring Outfit Idea With Bell Sleeve Dress
If you are in search of an autumn wardrobe, then opt for maroon shades. Pair this maroon bell sleeves dress with a large hat and long necklace for bohemian chic fashion.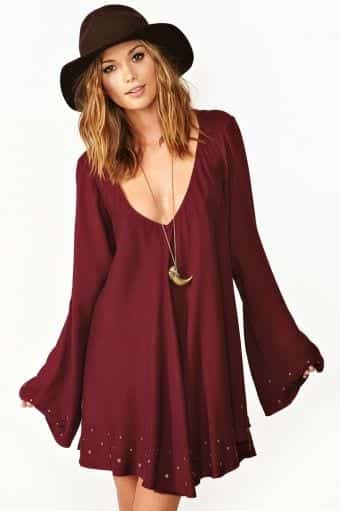 Long Cape Sleeve Mini Tunic Dress (Similar) $14.9
9 – Wear Leggings With A Top For Gym Outfit
Nicole Riche knows how to get ready quickly. Pair a white, loose top with cotton scarves, aviators, and sporty cropped trousers. This can also be a perfect gym outfit.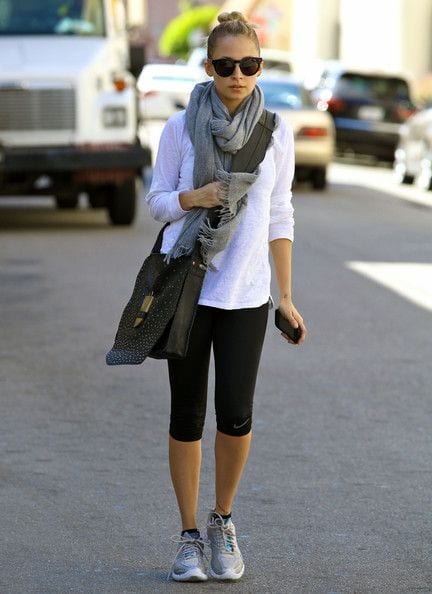 Women's Talia Capri Cotton Stretch Shaping Legging $41.70
8 – Oversized Cable Knit Sweater, Jeans, And Red Heels
For high-end fashion, wear a pure white cable knit turtleneck sweater with jeans and bright red heels. This will make the perfect colorful wardrobe.

Women Casual Turtleneck Long Sleeve Sweater Cable Knit Sweater $35.99
7 – Matching Green Mini Shorts Paired With T-Shirt
If you're not in the mood to get ready, then simply wear mini shorts with a t-shirt.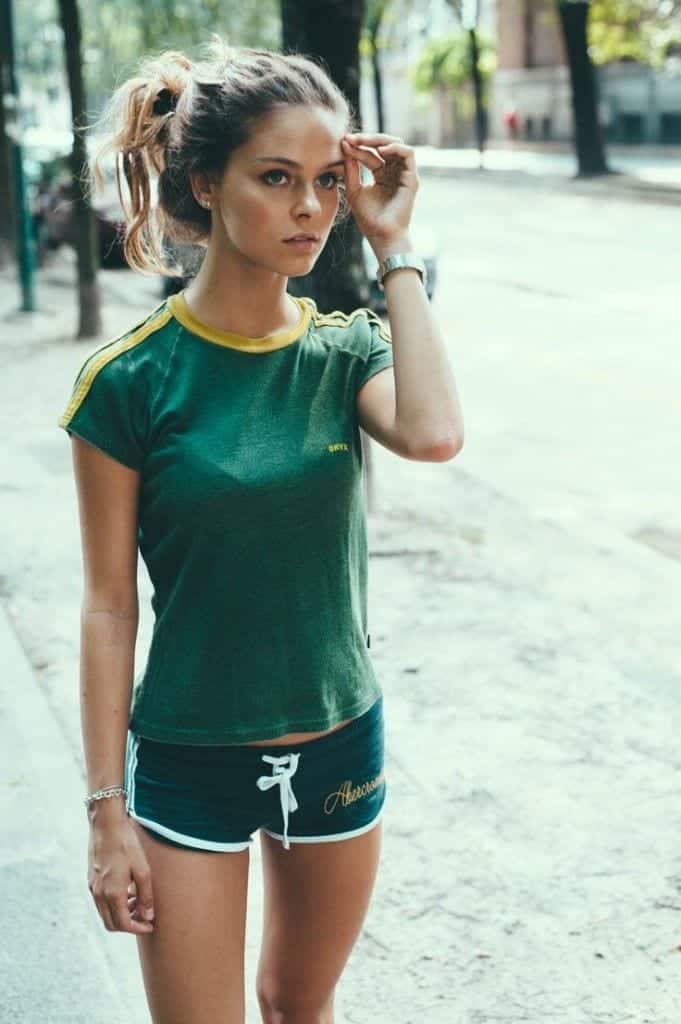 6 – Black Dress Paired With Converse Shoes
A black dress can never look bad. If you are also a black lover like me, then this is an ideal outfit for you. Simply wear a black tank top dress with sneakers or converse shoes. A messy bun and glasses complete the look. You don't need to waste time on styling this outfit as it takes minimum time.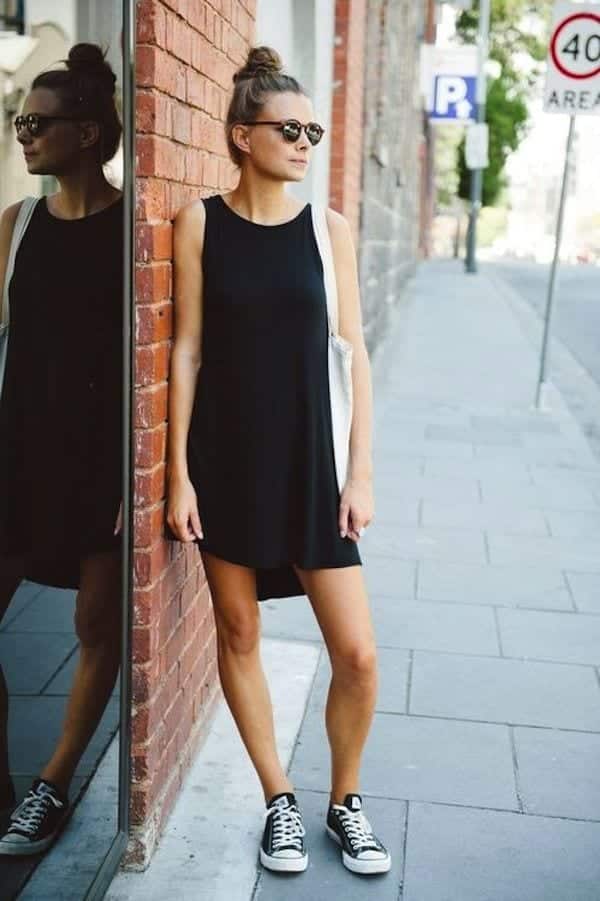 Women's Standard Tank Swing Dress $20.80
5 – Grey Overalls With Cheetah Print Shoes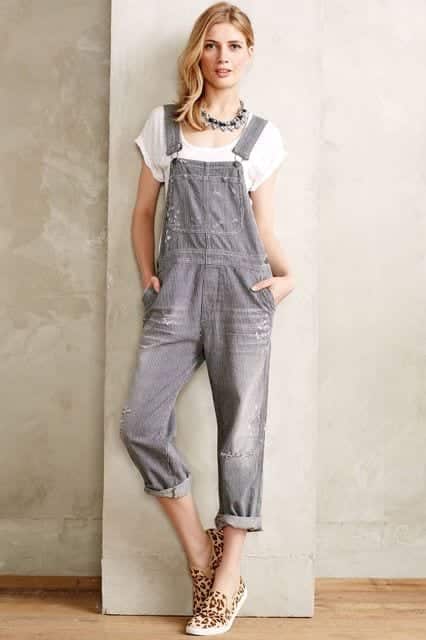 Women's Classic Denim Overalls Jeans Pants $44.99
4 – Wear A White Top With Sweat Pants And Cardigan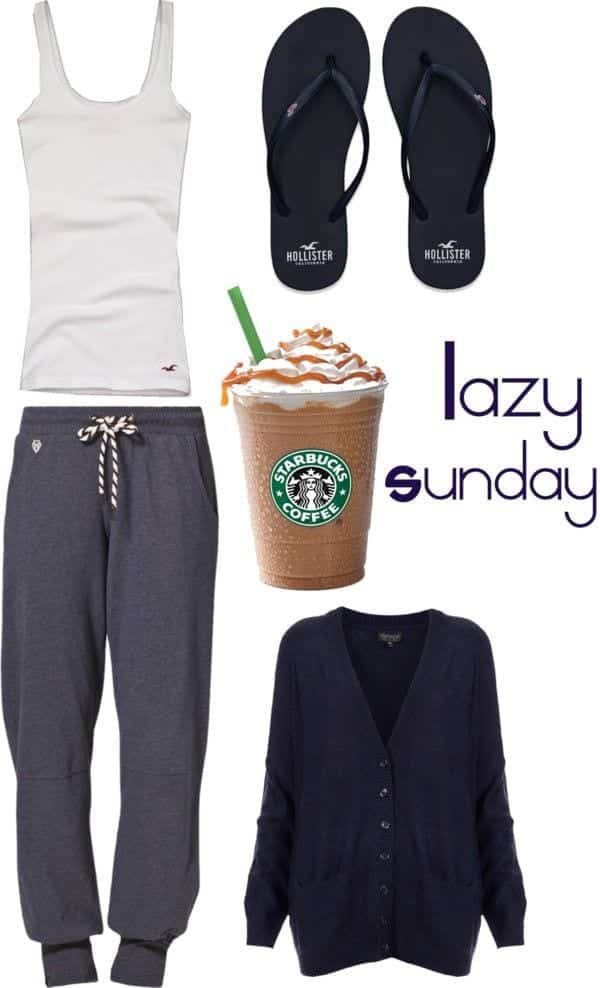 Recommended: 10 timeless Dresses You Need to Have in Your Wardrobe
3 – Thigh High Knit Socks And Pink Sweater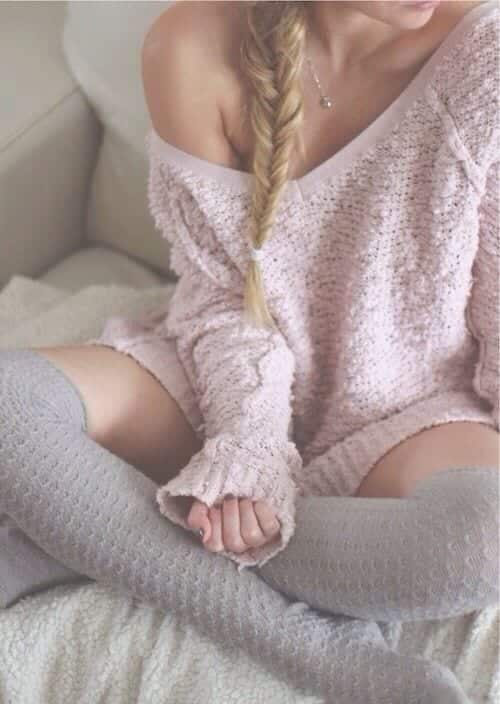 2 – T-Shirt, Skinny Jeans, And Flats For College Girls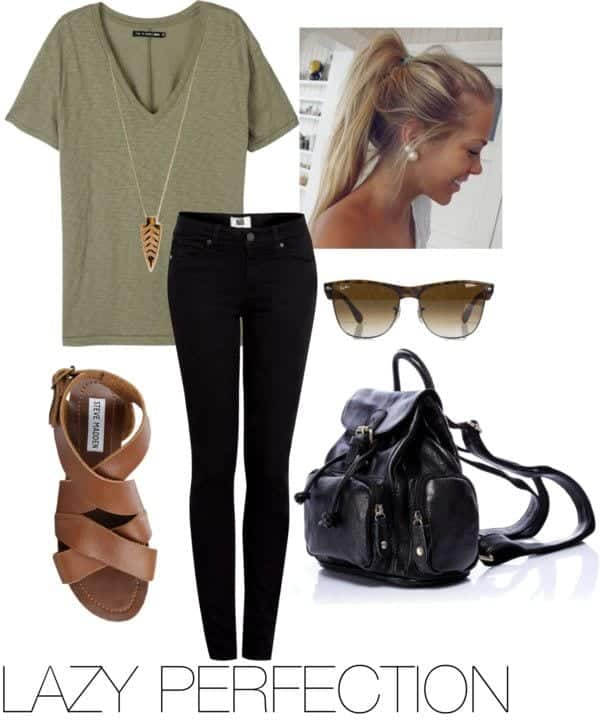 1 – Crop Top With Sweat Pants And Sneakers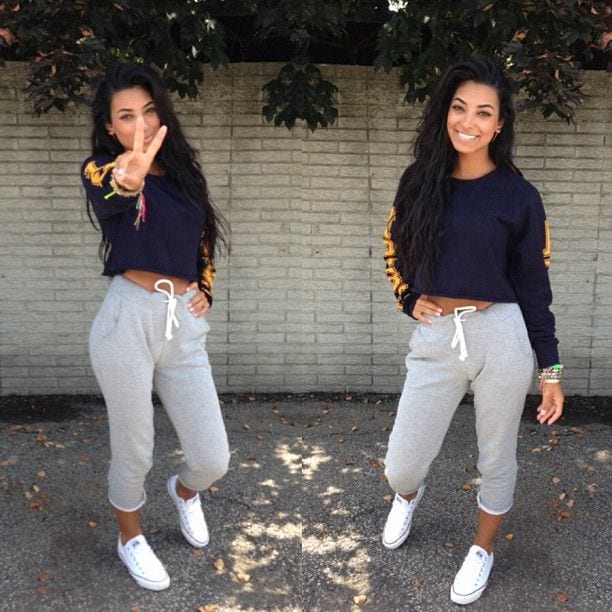 Frequently Asked Questions
Q. What should I wear on a lazy day?
Ans. Even if you are a fashionista, there are some days when you don't want to dress too much or don't want to put much effort into your outfits. So for those lazy days, you can simply pair a simple t-shirt or top with skinny jeans or sweat pants for casual wear. You can wear sneakers and hoops with this look. Another idea is to simply wear a mini dress with light jewelry and a high bun. There are a lot more outfit ideas for lazy days in this article.
Q. How can I look cute on lazy days?
Ans. You can wear simple and comfortable outfits and still look cute. The key is to style them nicely. You can wear cute hoodies and oversized sweaters in winter with a messy bun and sneakers. It is the kind of outfit that takes the least time and looks adorable. Crop tops and off-shoulder tops paired with mini shorts can be an amazing outfit for summer. Hairstyles like a ponytail or front braids would add charm to these looks.
Q. What are some college outfit ideas for lazy girls?
Ans. Finding a new outfit every day for college is not an easy task, especially for girls who are lazy like me. Here are some outfit ideas for you. Wear a cropped tee with skinny jeans and layer a jacket over it, a simple yet stylish outfit. Pair an oversized hoodie with thigh-high socks, a cute and comfy outfit. Oversized t-shirts with denim shorts is another cool outfit idea for lazy girls.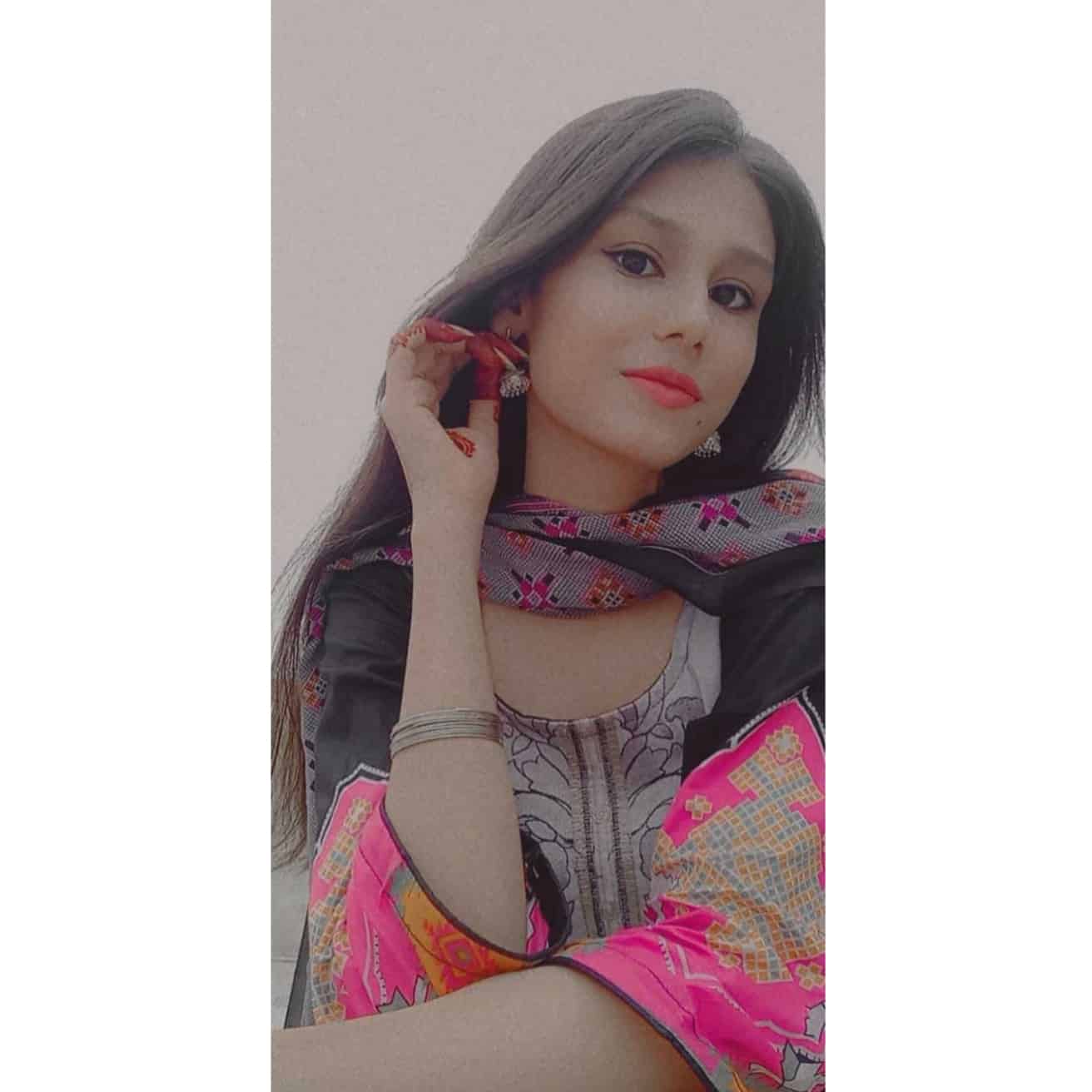 Yumna is an undergraduate business student and a freelance writer. Her life revolves around writing and reading. Being an introvert, she might not speak much but she can write for you as much as you want: )