How to Wear a Chenille Sweater: We are moody aff. Women love to make a change, especially in our daily outfits. We jump to Instagram, Tumblr, and magazines only to grasp new ideas and styles we are looking for or we haven't ever thought of them.
Many of us have these chenille sweaters in their wardrobes for a long time. It's a global essential cloth like jackets and pullovers for winter. We feel bored for wearing the same thing repeatedly when we don't variegate our style.
Chenille Sweater Styling Tips
I know we are the laziest and sluggish to think about rocking outfits in winter. If that's the case, I am gifting you simple and stylish ideas on how to wear a chenille sweater to capture the eyes of everyone around you.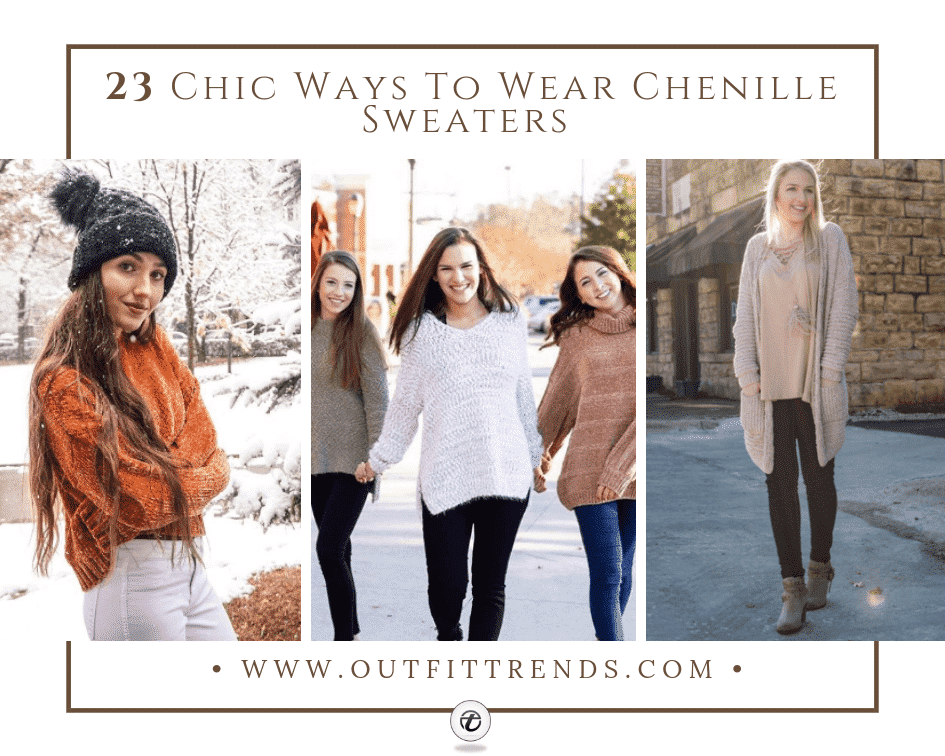 ↓ 23 – Styling A Chenille Cardigan
You can add a chenille cardigan to any outfit for the cutest and girliest look. Even if you're not a sweater or cardigan person, if you wear chenille, you'll love how soft and luxurious it feels on your skin. While this particular cardigan is now out of stock, you can get a similar one here in a rose-wine color for $54.99. And for more ideas on wearing a cardigan, check out our earlier post on 13 Stylish and Trendy Cardigans Collection for Girls.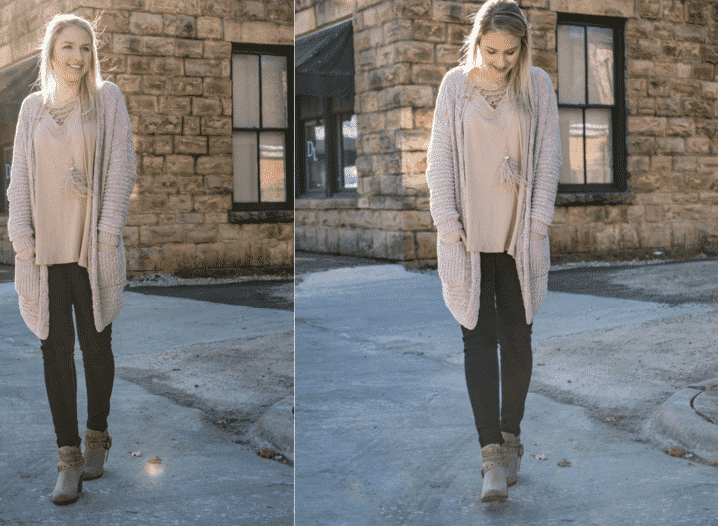 ↓ 22 – One Chenille Sweater – Three Outfits
We love how blogger Amanda Miller shows us three different ways to wear a simple cable knit chenille sweater (on the shoulder, off-one-shoulder, and off-shoulder).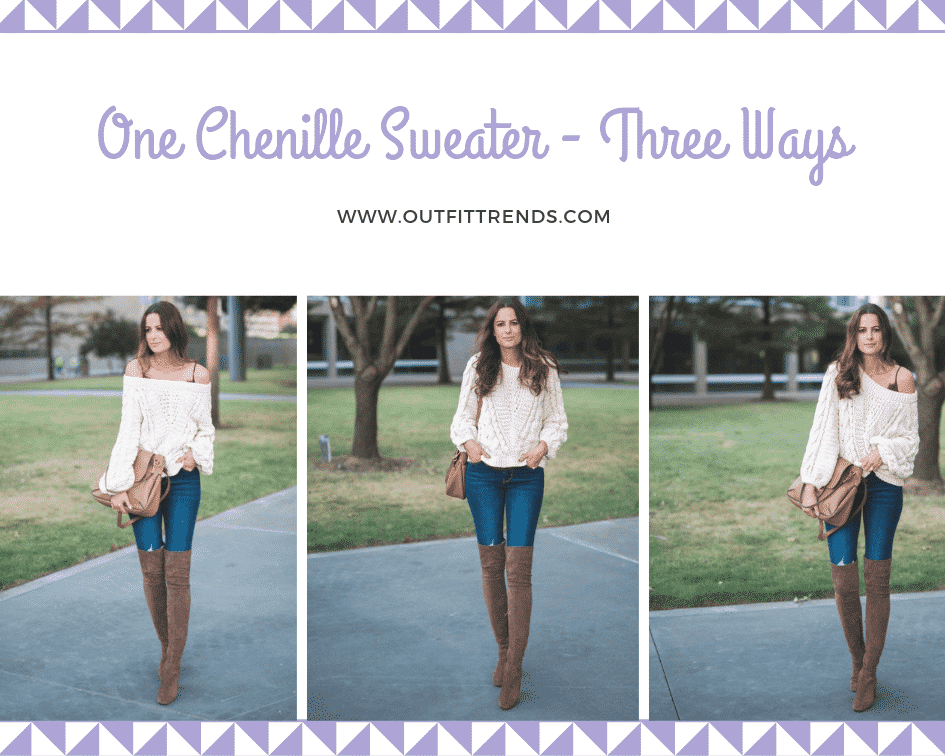 ↓ 21 – Wearing A Striped Chenille Sweater In Fall
The colors of this chenille sweater are perfect for the Fall season! We love how the sweater has been paired with simple denim jeans and loafers to create a chic and cute casual outfit. If you like this look, you can get this 'Free People All About You Striped Knit Sweater' here for $68.00 only as it is on sale while the Steve Madden Women's Jill Slip-on Loafer can be bought here. Have a look at these 23 Ways to Wear Sweaters with Stripes.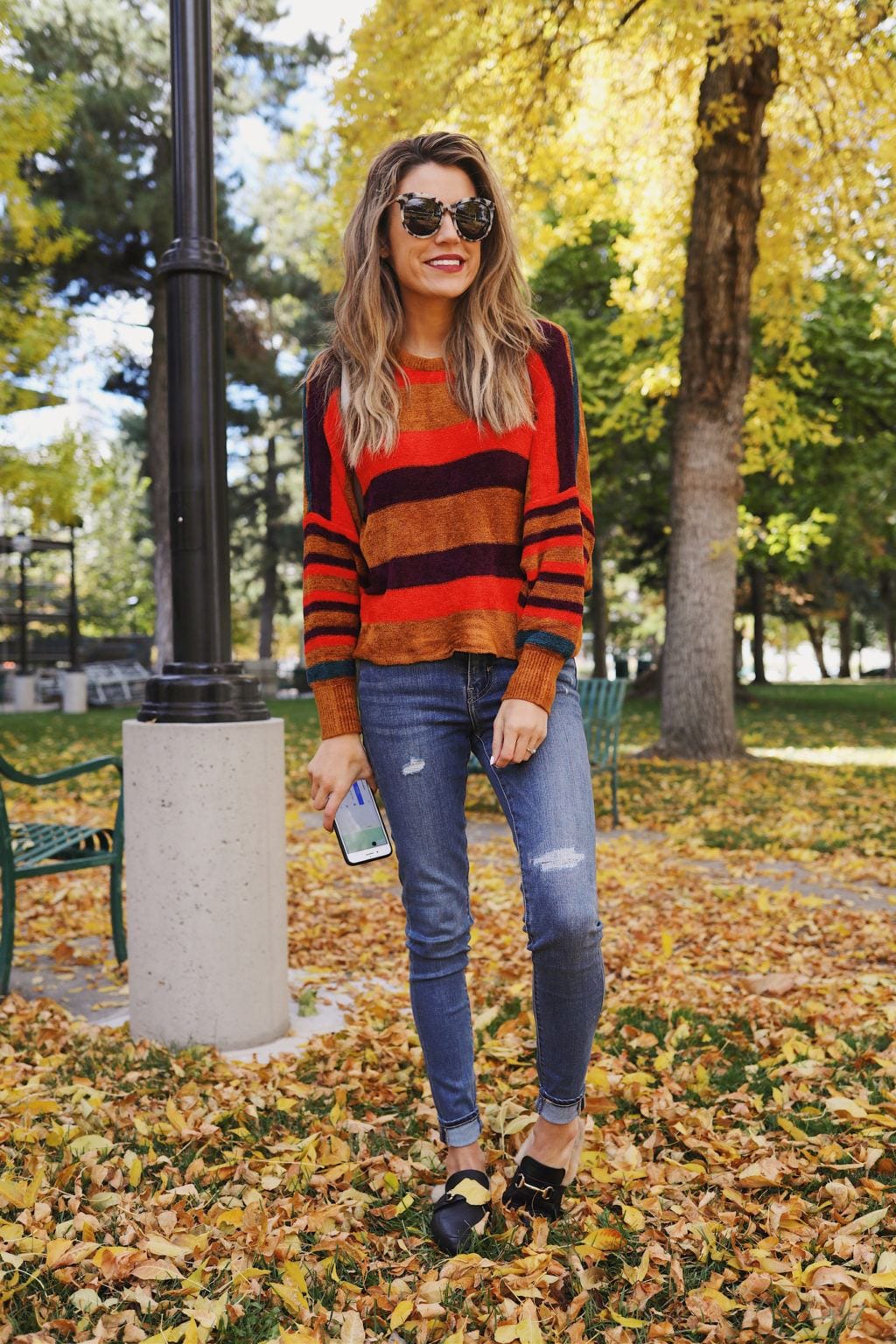 ↓ 20. It Never Gets Old
The fashion world is shaking for all the 90s' comebacks, chiefly for the article's topic, chenille sweater. We used to watch our moms wearing a cable knit chenille sweater when we were young. It's cool for us to still look fashionable wearing it today like our mom's back then. You can wear this long sleeveless black vest jacket with slim tapered pants and converse sneakers. If you wish to apply the aesthetic trend of today's modern fashion, tuck your chenille sweater into your trouser, but pull its hem out slightly to make it looks baggy at the abdomen, back and waist areas as shown in the picture. Here are 20 Best Outfits with Mustard Sweaters for Women in 2019.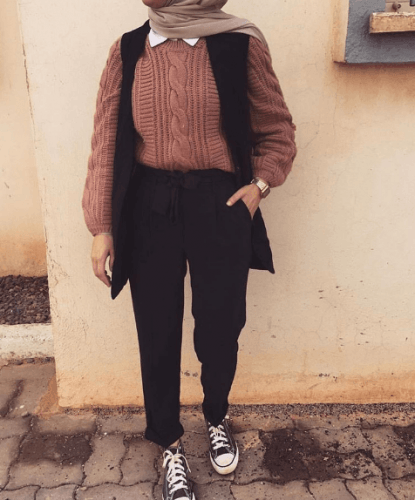 ↓ 19 – Off-The-Shoulder in Winter? Hell, Yeah!
Who says wearing off-the-shoulder garments are only for summer? Winter isn't always windy and rainy. You can enjoy your off-the-shoulder white  ―or any color of your favour― chenille sweater in chilly weather. The pair of black skinny with Knee-high heel black boots would give you a breathtaking look. Try to make your hair wavy loose and wear glistening dangle earrings. You can wear a pinkish bag and a white top if you are comfy with it. The advice I have for you is to never set a limitation for yourself whether in your personal ambitions or your daily outfits choices. It doesn't matter which season it is as long as you are happy with your dress. As long your selections won't make you suffer later from the flu. Hahaha.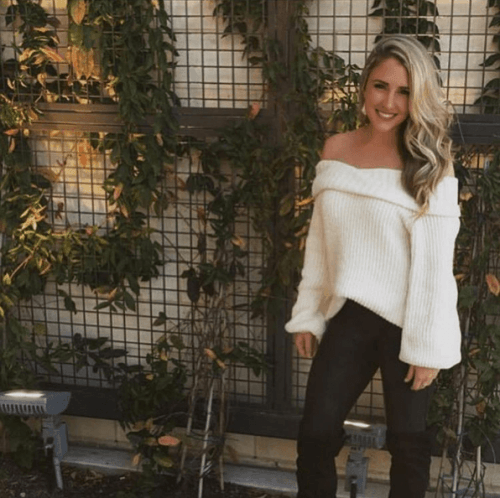 ↓ 18 – Turn The Sweater Into A Dress
Imagine you have a date or an important meeting, but, you haven't enough time or money to shop a dress. You can still rock it and be the most attractive lady in the place. All you need is to grab your long baggy chenille sweater from your wardrobe to wear and put on lace-up boots. This remarkable bag would capture many eyes including the man you love.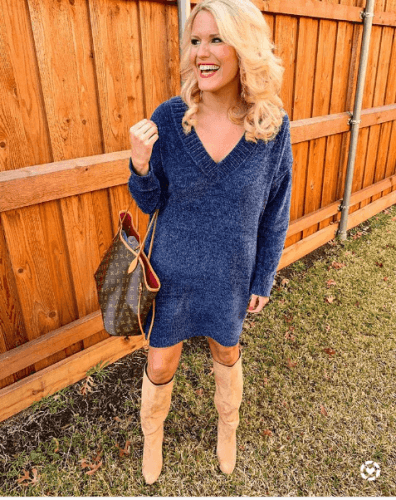 You can also always add in a belt to create a nicely shaped dress from your long chenille sweaters. Add in a hat and boots for the cowgirl look. You can get this sweater dress here for $50.99, the tan suede boots here for $163 and the Fedora hat here for $16.45. And if you like wearing hats, you'll love our last post on 22 Ideas How to Wear Hats with Different Outfits.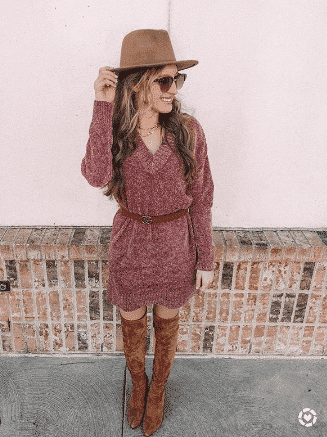 ↓ 17 – It's Summer in Winter! You Can Wear A Cropped Sweater
Sometimes there are sunny and hot days in winter which is a super great opportunity to try out a cropped pink chenille sweater. It will set you a feminine and sexy appearance. Having these gold plated hoop earrings on the lobe of your ears with straightening your hair would smarten your look. Insomuch as cooler weather, you would look appealing if you put on Marilyn Monroe and Katie Holmes' favorite, high-waisted boyfriend jeans. I guarantee you will look on fire!! For more ideas, here are 25 Ways To Wear A Cropped Sweater.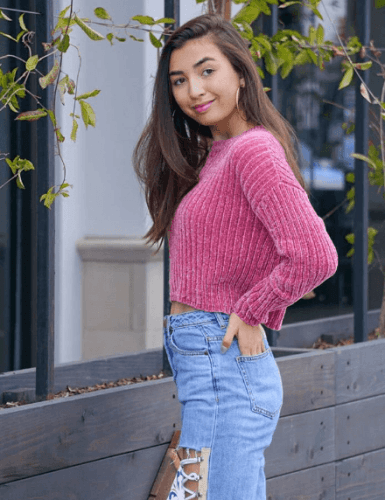 Via
↓ 16 – Other Method with Jeans Instead Of Cropped Sweater
You want to wear something different from the passers-by, aren't you? Everybody is warm in their pullovers and sweatshirts, nevertheless, you are looking for a change. But, you still don't want to end up freezing at the street. If it's too cold for you to wear a cropped sweater, you can shift your ordinary style to this modish rounded hem off-white chenille sweater with any pants or shorts you have. In case of a sunny day, you can wear it without a top underneath with denim jeans. I recommend you to shove on slim jeans, it's preferred to be high-waisted ripped pairs.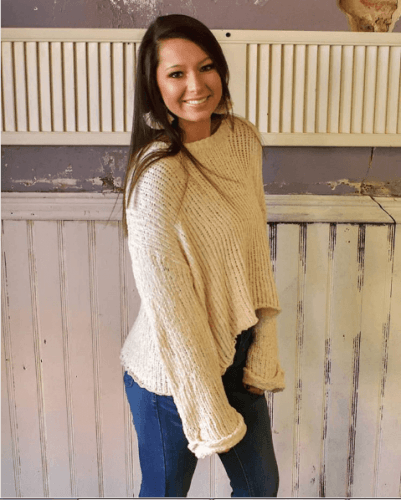 ↓ 15 – I know It's Not Halloween Yet, But…
Fun fact, chenille is the French word for a caterpillar. The caterpillar is which the yarn regarded to resemble. You can shop white skinny pants and this round neck medium strip scallop chenille sweater that has the caterpillar's skin colors.  It would be catchy and mysterious to wear it for the next Halloween instead of taking such an effort to find a crazy and funny costume which resembles the insect. It will leave people insane thinking you are pathetically moronic for wearing such an ordinary cloth. However, you will throw everyone into confusion for their lack of information about fashion and garments history. You can fasten a caterpillar brooch to the textile of the sweater to leave a token for them to solve the ridiculous riddle.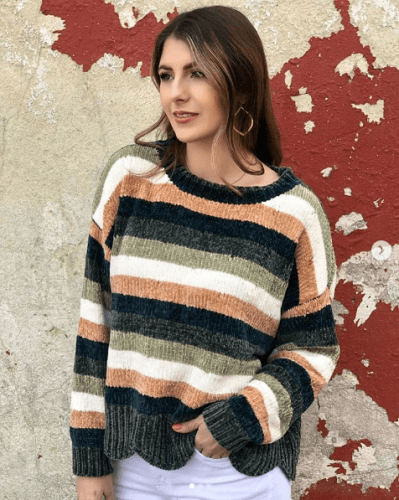 ↓ 14 – Make A Statement
You aren't a doll to wear whatever they dress you in. You can possibly break the routine of your medial style with trying on a balloon sleeves sargasso sea chenille sweater. This clothing piece would emerge neatly with black or white flared pants. Wear simple make-up like only a pink lip gloss and a mascara. If the weather is sunny, you may pick leather sandals or just converse navy blue/ black sneakers. According to the choice of Sargasso sea, the shades of blue would render you and the others around you feel peaceful, tranquil and satisfied. This isn't a theory made, it's proven by psychology. Have a look at these 18 Best Styles of Sweater for Women this Year.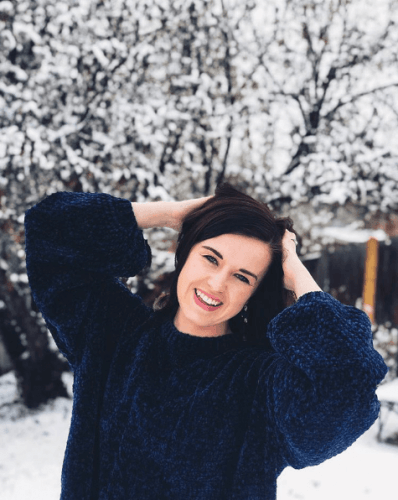 ↓ 13 – Nah, I Will Pick That Color With A Trench Coat
If you are interested in fashion and read all about the industry's recent activities and news, it's likely you have already known Ceylon yellow is one of the chosen colors of this season. In case, you weren't informed, now you know! Bwahaha ― You can buy a Ceylon yellow chenille sweater with tofu or martini olive trench coat. Yes, they are the colors of this season, too. You can use your curling iron to curl and pump up your hair. Likewise, bohemian natural feather tofu earrings and dark wash denim jeans would match up with the rest of the outfit. You can wear a simple tiny pearl ring in your index or ring finger, of course, I mean a fake one.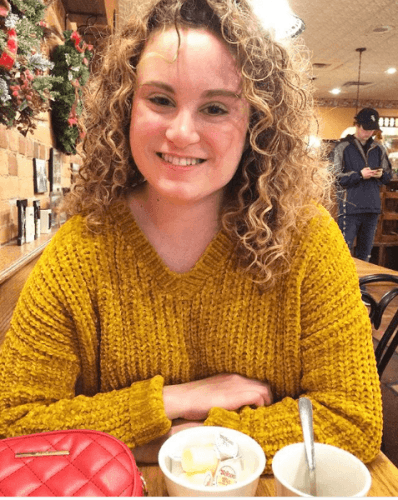 ↓ 12 – Not All Chenille Sweaters Have To Be Worn With Trousers.
Have you ever got sick of trousers? You've worn all your chenille sweaters with all the skinny, tapered and cropped pants you have. Despite, their different type, they are all under the trousers category, some people believe that skirts are only suitable for blouses and aren't feasible and practical for every day's kinetic works. This is technically untrue. In contrast, pants can be annoying, itchy and adhesive ― because it's in close contact with your skin and tight for your hips which restrict your body movement and trigger skin rashes. You can wear your chenille sweater with a maxi flower print black skirt. I ensure you it will make you feel at ease and more flexible. Don't forget to do the voguish part, in which you have to tuck your sweater into the skirt waistbands. This is highly recommended for the hijabis because they make sure all the time to look more modest and also stylish.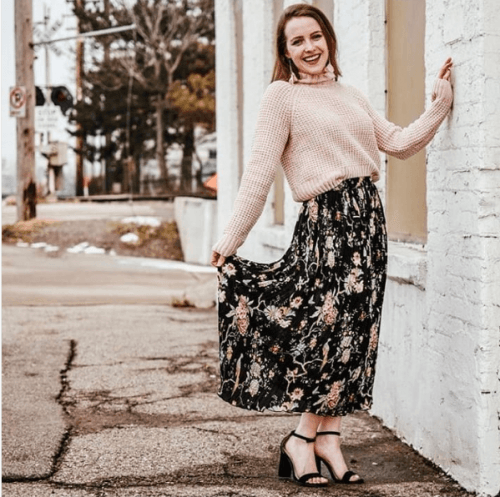 ↓ 11 – What About Chenille Sweater With Medium Wash Denim?
This one is fast, practical to wear and gorgeous. These medium wash denim jeans would harmonize with a grey chenille sweater. I prefer it with these denim jeans.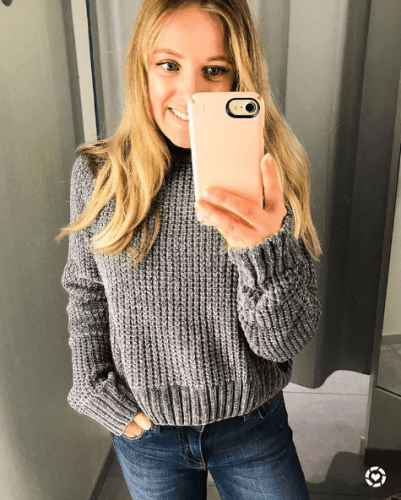 ↓ 10 -Party-Ready In Chenille Sweater With Pleated Skirts
One of my favorites I am suggesting to you is a v-neck baggy pink chenille sweater with this big navy leather bag. As mentioned multiple times before, try to tuck your chenille sweater into a mini knife pleated skirt. You can wear your favorite sunglasses with dangle earrings and a gold bracelet. And a hot pink sweater like this is sure to make you the star of any party, right? Don't miss out these 18 Ways to Wear Pink Sweaters.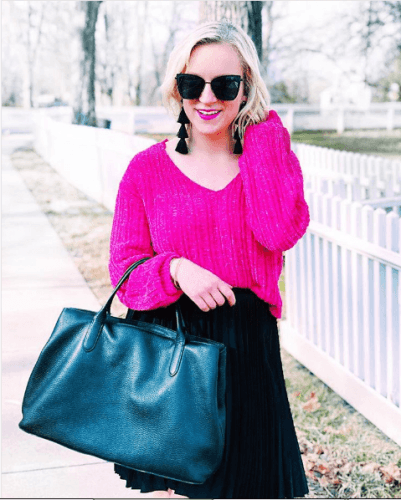 ↓ 9 – Wearing Chenille On Hotter Days
If you are hanging out with your girlfriends and looking for a comfy piece of garment that would fit with your chenille sweater, you can try on a hot short with sneakers and it is particularly recommended for the warmer Fall days. This selection would, of course, ease your movements and make sure that you enjoy your day but if you're trying it in winters, remember to bring your trench coat in case of any sudden climatic changes.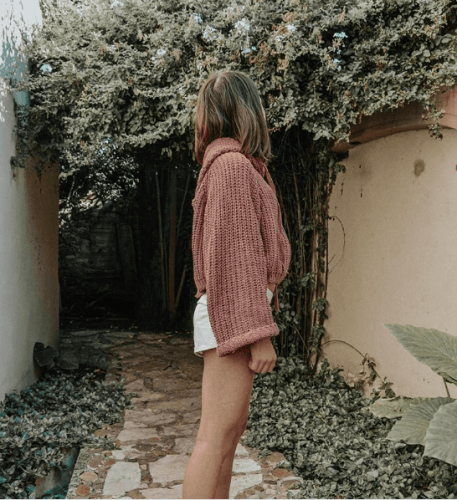 ↓ 8 – A Turtleneck Chenille Sweater 
On some days we fear getting a sore throat, we get distracted by our cold neck and shivering body, thus, you can wear a turtleneck chenille sweater to block the cold air from sneaking to your body. Moreover, I suggest having a bump jacket for extra warmth. This idea will make you cozy and look neat. A tip for hijabis, tuck the borders of your scarf into the turtleneck of the sweater to look elegant and feel comfortable.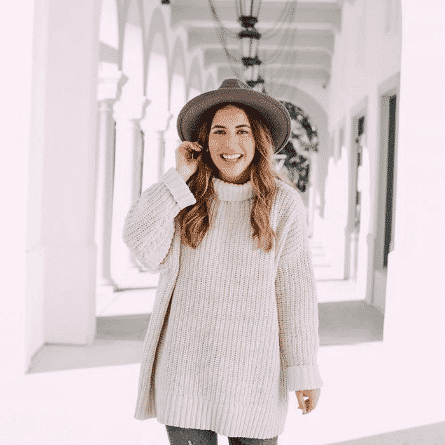 ↓ 7 – I Am Feeling Quetzal Green Today!
 Some sources say that Quetzal green covers you with a faithful feeling. This luminous and deep sweater suits a day at the mosque, church or a temple. It's a common knitted one. Additionally, You can wear denim jeans or emerald skinny pants with it.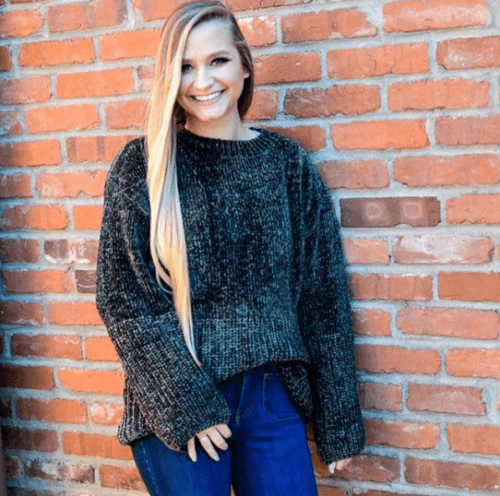 ↓ 6 – Wear It With Embroidered Jeans
Have you ever wear embroidered jeans? Why not? Aren't you sure about it? Don't worry you won't look like a kid walking out of his elementary school. You had a bad experience? Maybe your choices for the outfit in whole was scrubby. I guarantee this time would work. All you need to look classy is a white shirt, brown chenille sweater, purse, ankle boots and of course, embroidered jeans. Put in mind to emerge the collar of the shirt over the boat neck of the sweater.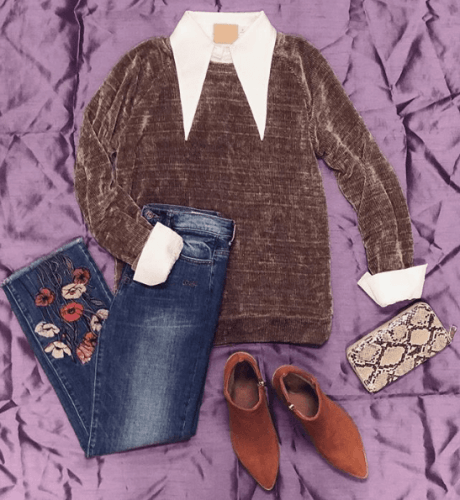 ↓ 5 – Styling An Oversized Chenille Sweater
If you get sick of your long chenille sweater, thinking it makes you feel embarrassed because it doesn't match with your size but still makes you comfortable and cozy. You have to try out this idea I have for you, you can wear your chenille on leggings with these knee high-boots as shown. In addition to this, it would be tricky to pull the boat neck of the sweater to your shoulder turning its type into a cold-shoulder. People may think this is the actual design. They would be oblivious about your interest in creating new ideas by yourself. Here are 17 Ways to Fashionably Style Sweaters with Different Outfits.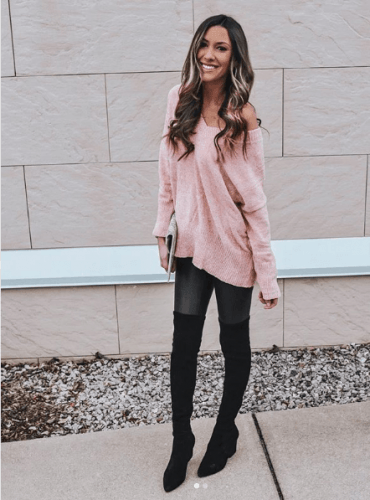 ↓ 4. How To Accessorize Your Chenille Sweaters
Most fashion article writers forget all about advising women to wear accessories. Accessories or jewelry are a basic embellishment to your replenish look. Some clothes look plain until you loop around your neck a freshwater pearl necklace. I am suggesting you take accessories or jewelry into consideration when you dress up in a casual outfit. You can wear a bold red chenille sweater and accessorize with any long necklace you have. Layered gold necklaces with matte red lipstick and timberland boots are highly recommended.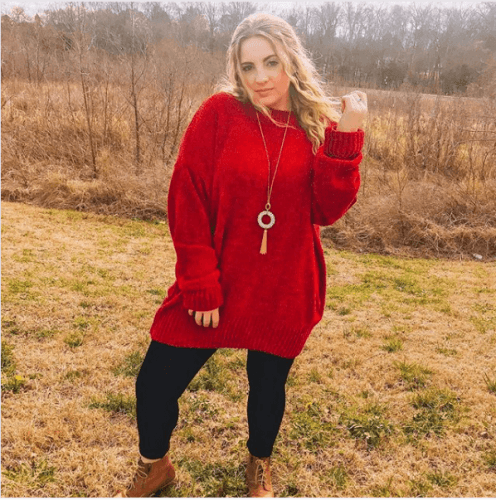 ↓ 3. A Beanie Always Makes It Better
We all forget about beanies when they are twice useful. They make our heads warm and look good. For a polished appearance, wear a pom beanie with an orange chenille sweater and white skinny pants. I think wearing dark lipstick and light makeup is the best for this choice. Don't make your hair into a bun, but leave it loose.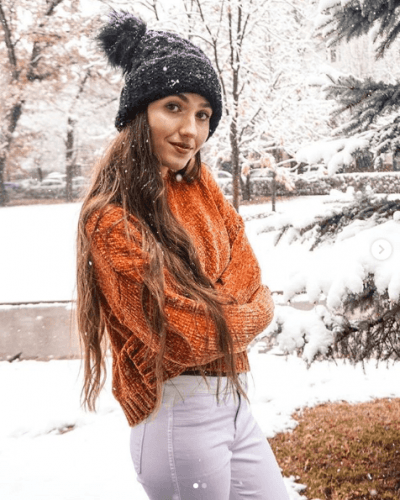 ↓ 2 – Cute, Cozy & Convenient
Some of us are in a hurry in the mornings, so I have a simple outfit for you. A turtleneck trumpet sleeves stripe chenille sweater with denim jeans and knee-high boots. Such a convenient set of clothes for work or college.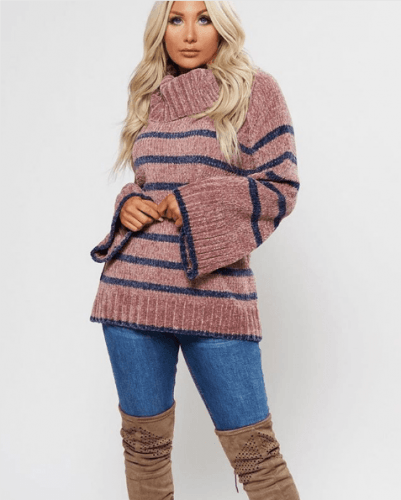 ↓ 1 – How To Layer A Chenille Sweater Like A Pro
Are you looking for an exceptional and superb idea to wear with your chenille sweater? Yup, they say save the bests for lasts, right? Here's an aesthetic one to own the glamour. I induce you to have on a beige chenille sweater and a baby blue stripe shirt underneath. You can leave the hem of the shirt shown without guzzling it into this micro jet black skirt. It's fascinating how you can wear stockings with a two button double breasted with flap pockets grey suit. This new idea will defeat your boredom and provide you with an independent and exceptional look. Of course, the outfit is entire with illustrious aurous trinkets.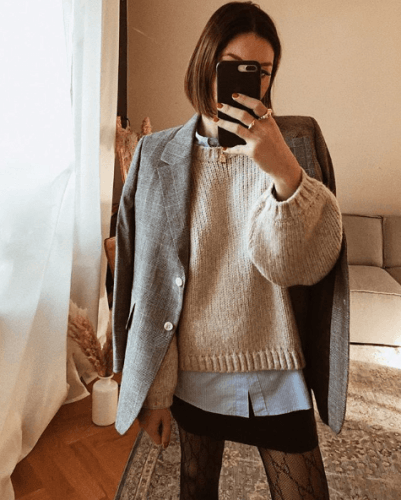 R.H. Elias is a freelance writer, aspiring author, and freelance transcriptionist. She is a homebody all the way and loves curling up on a cold, rainy day with a good book and a warm cup of tea. Her favourite pastimes include reading, writing, and watching period films. She currently lives in Puerto Rico.