Outfit with Pink Sweater. Girls love pink! The color pink is associated with girls and the femininity and elegance that they have. This is one reason why parents love dressing up their baby girls in pink clothing and decorating their rooms with pink colored decorations. Thus, pink has always been a color of women, and that is a universal fact.
When it comes to clothing, pink and rose-toned colors look super cute and are always trending in the world of fashion. For this reason, women's clothing stores usually have a separate section for all the pink and pretty items that they have. Pink is not a color but a whole concept in itself. This color screams femininity, beauty, and elegance. Not only does it make you look delicate and beautiful, but it also compliments your feminine nature. All women love hoarding pink clothes and are generally inclined towards pink ever since their childhood. So, don't be surprised if the women in your house love hoarding pink color even though their closets are already full of it! Name one woman who does not like pink; well, you probably can't. Pink is chic; pink is adorable, pink is always fashionable. So, this time we have compiled for you a list of pink dresses that you can wear this winter and flaunt your style boldly with all shades of pink.
What to Wear with a Pink Sweater?
Pink is the color for you if you want to look elegant yet fashionable. You can never go wrong with pink. Whether it is the lightest shade of pink that you see in cotton candies or the brightest hues of hot pink, pink in all its shades is classy and always in style. Check out the list that we have made for you to try this winter. Believe me, after this post; you will fall in love with Pink once again.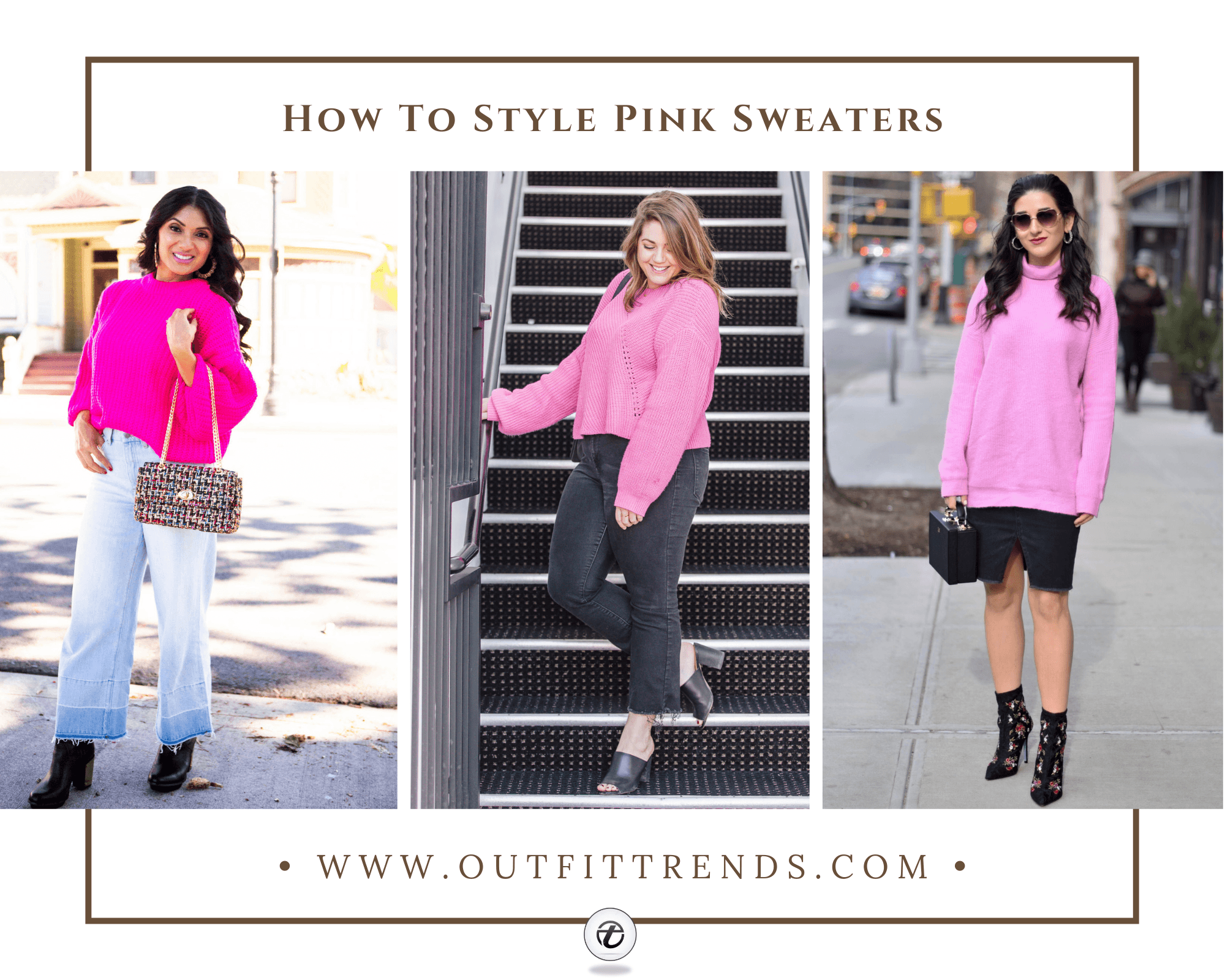 Some do's and don't's to keep in mind before filling up your entire wardrobe with pink clothing: 
Do not overwhelm your outfit by adding too many pink clothing items. Add some contrasting colors as well. 

Red or extremely bright hair colors do not go too well with hot pink clothing. 

Light-colored denim jeans look best with pink shirts. 

With floral pink dresses, wear simple statement necklaces or bangles. 

Pink tunics go very well with beige as well as black leggings. 

Wear contrasting shoes or sandals, and do not wear them in the same shades of pink as your outfit. 

Pink dresses look best with black or white heels.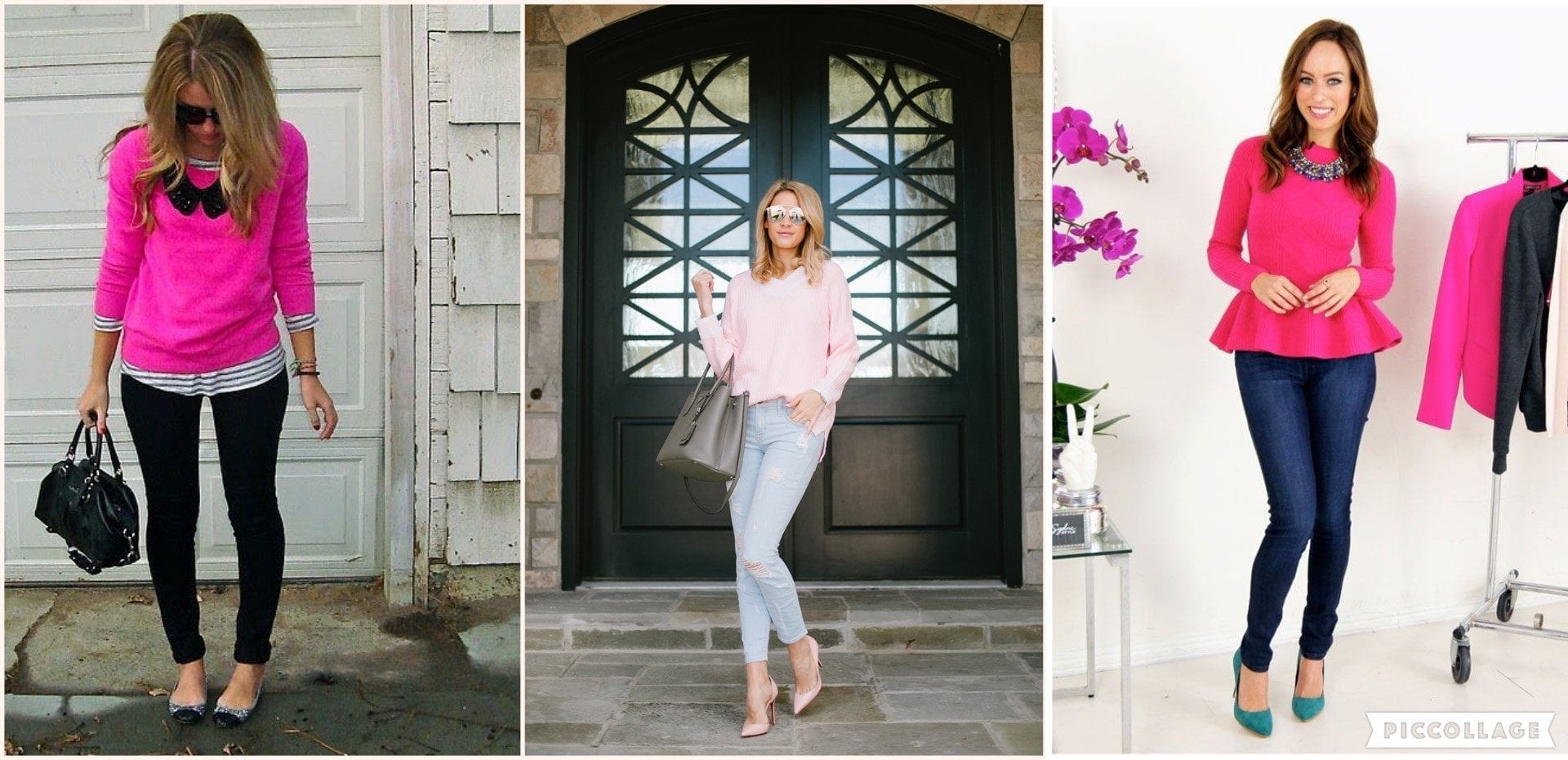 ↓ 20 – Celebrity Style
It's a proven fact that celebrities follow the best fashion trends and have a better sense of style than regular people. This is why a lot of people follow their styling sense religiously and imitate everything they do.  Let's first have a look at how some of our favorite celebrities are wearing their pink sweaters; let us know which of these is your favorite look:
Priyanka Chopra's Pink Sweater Dress

Taylor Swift's Pink Crochet Sweater

Beyonce's Pink Butterfly Sweater and Skirt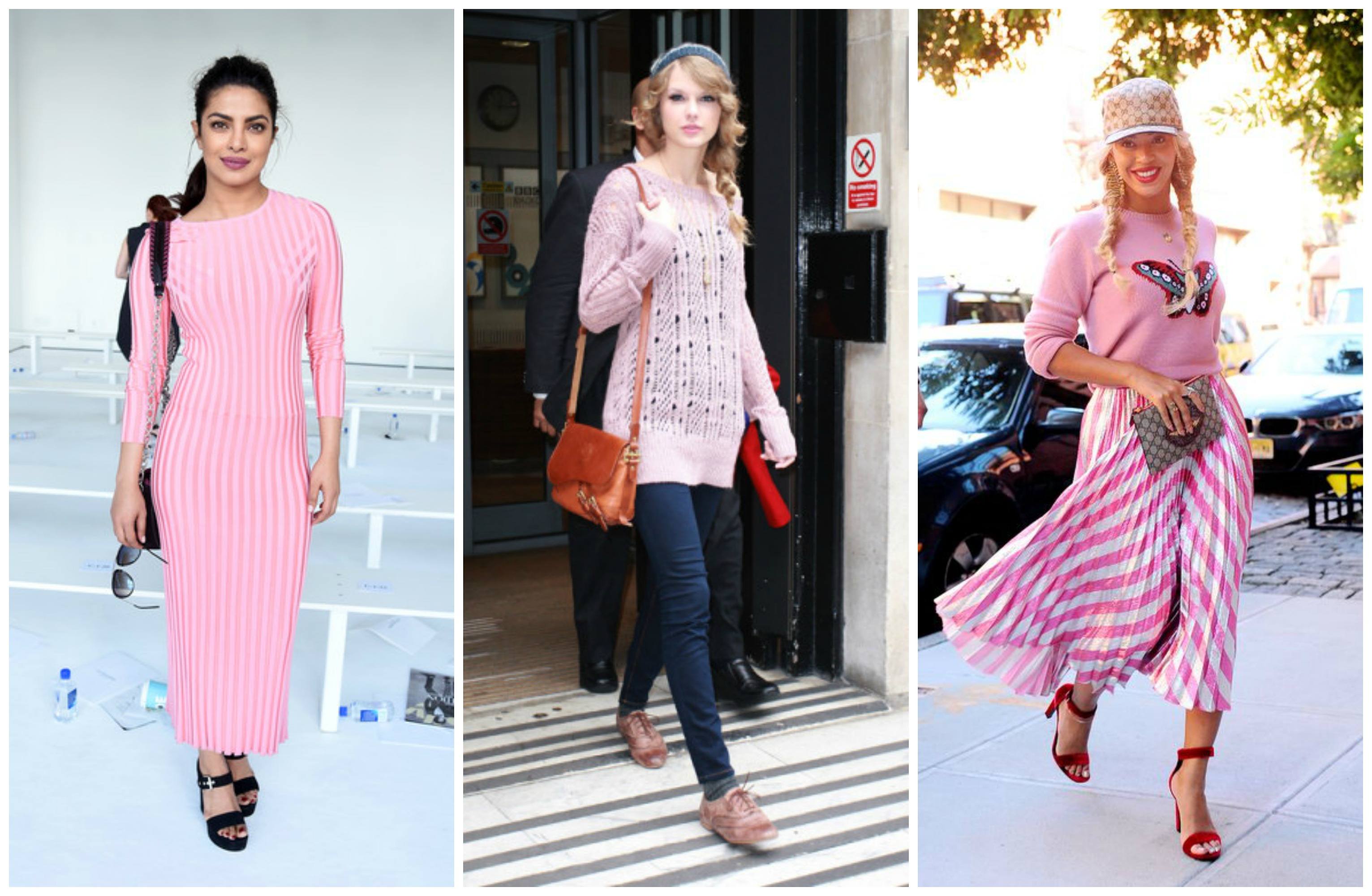 ↓ 19 – Best Hairstyle to Wear with a Pink Sweater
You can also see from the above pictures that one of the best hairstyles to go with a pink sweater is braids! Sweaters look best when paired with a ponytail or braids as they don't have the same effect as open hairstyles. You can either go for a side braid, high pony, pigtails, or any other similar hairdo that you prefer.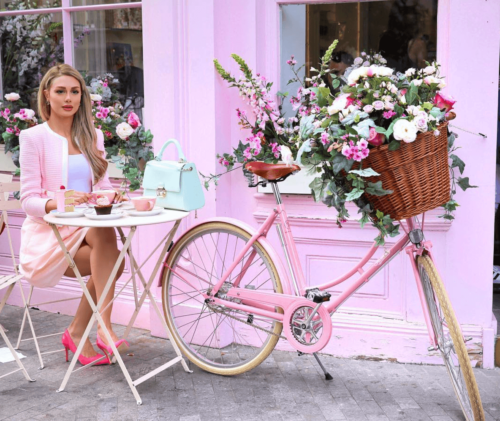 ↓ 18 – Chic Everyday Look in a Pink Sweatshirt
If you're a fashionista, you can never let go of your style, even if you're sitting idle at your home. So for all the fashion gurus out there, wear your hot pink sweatshirt with Aztec print tights in the color of your choice, and voila, your super stylish look is complete. Pair it up with a messy top bun to bring the X-factor to your look. Check out here 20 Cute Outfits with Top Bun Hairstyle to Compliment Style.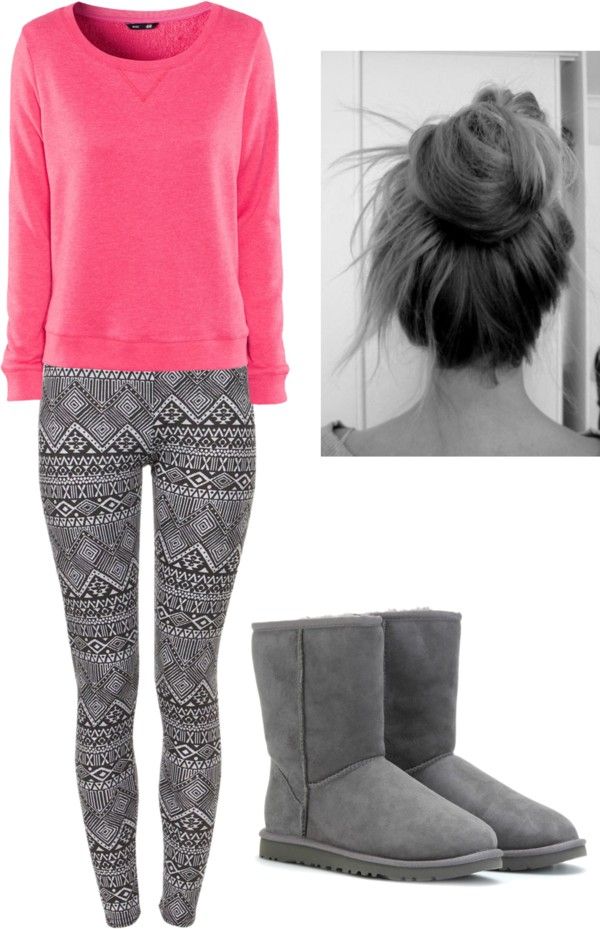 via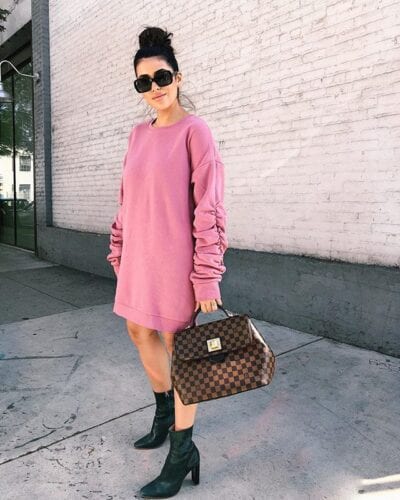 ↓ 17 – Sporty Look
Who says a girl can only be feminine or play sports? Prove them wrong while excelling at your favorite sport wearing pink! Go to your routine sports practice or your daily walk with the comfortable, warm pink hoodie with a pair of bell-bottom pants. Don't forget to wear your joggers to complete the Sporty look.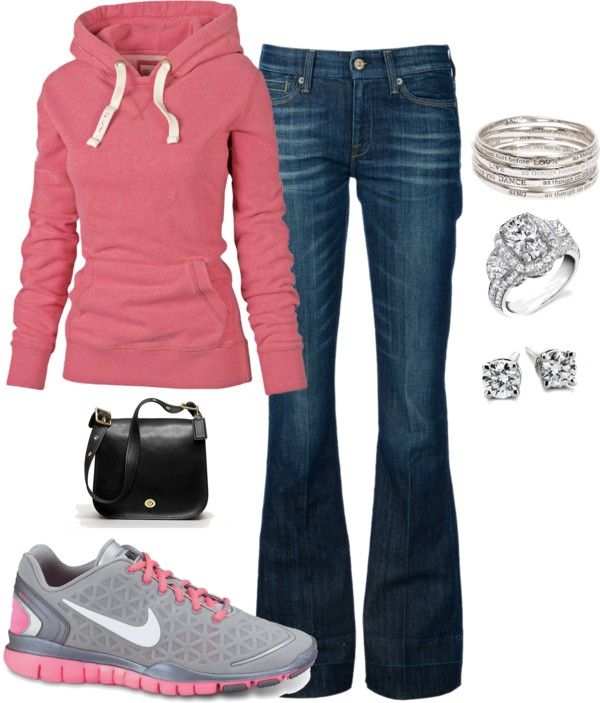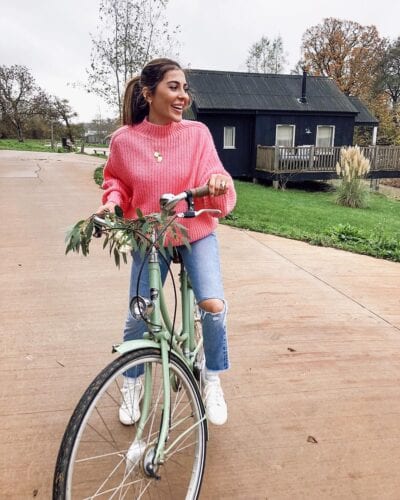 ↓ 16 – Sweater Dress for Work Place
A common misconception is that work clothes can only be sober and boring. This is not entirely true because you can also incorporate cute, fun colors in your office outfits. Why be boring when you can wear this hand-knitted pastel pink sweater with a pair of casual white pants to your workplace. Tie your hair in a ponytail and wear pearl earrings, the lovely yet super comfy look. Here are 17 Cute Winter WorkWear Outfits For Women who want an Elegant Look.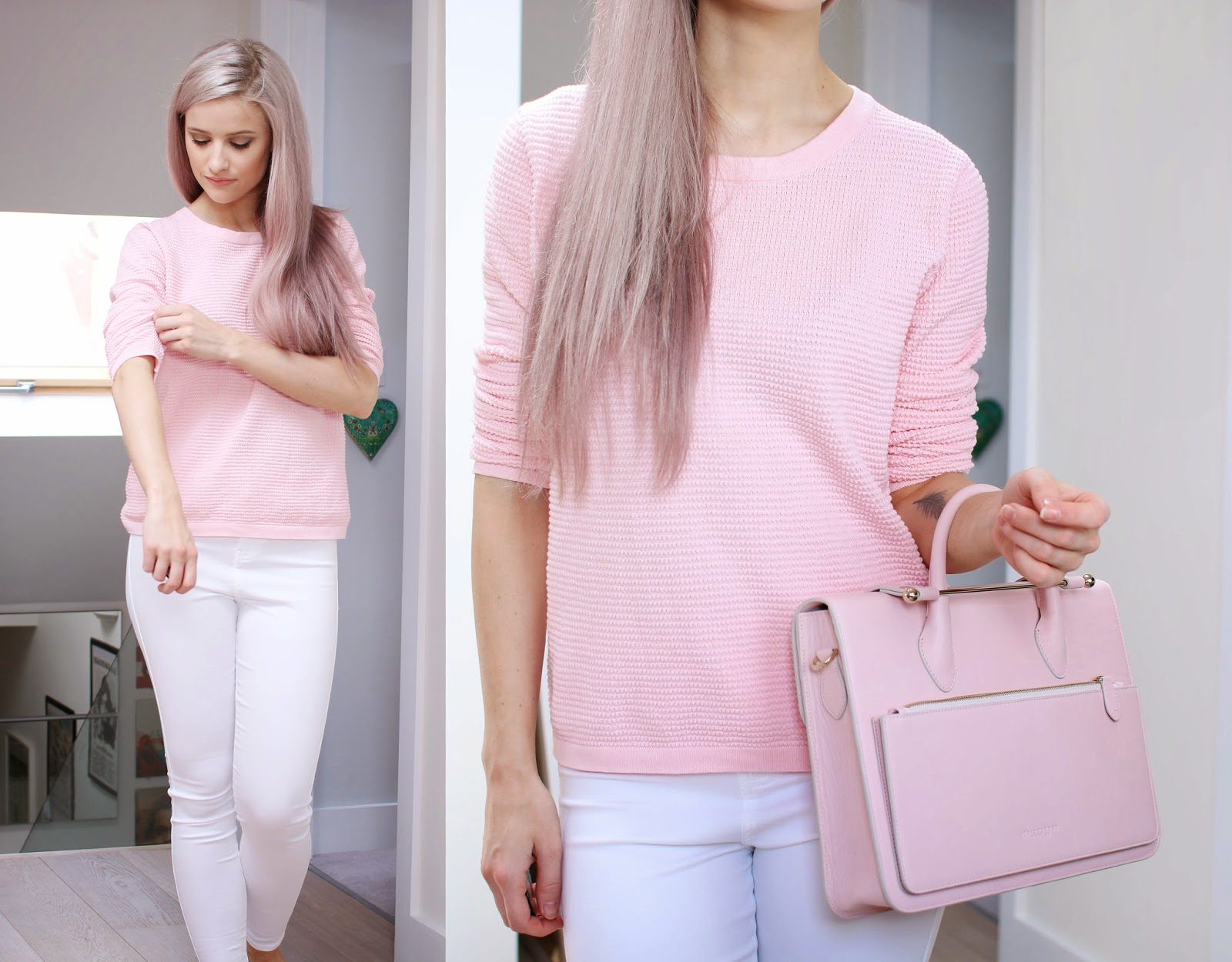 ↓ 15 – With Jeans
Street style is known for being edgy and badass. But, you can also put your little twist to it. Ripped jeans look classy, but how about wearing it with a Barbie pink sweater. A perfect fusion of street and elegance.  Wear your nude colored high heels, and you're all set for the positive attention you'll grab.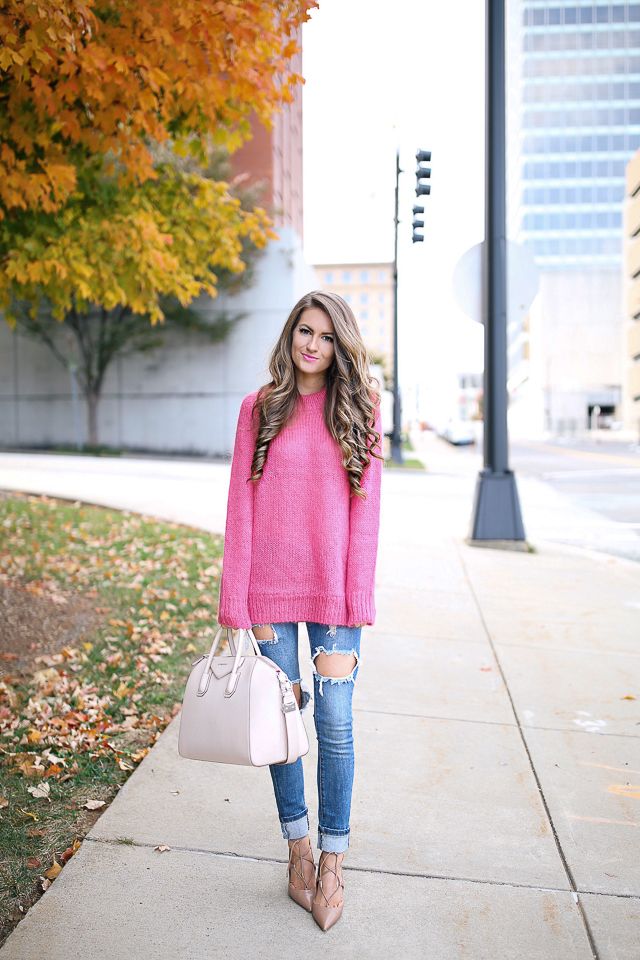 via
↓ 14 – Dark Pink Sweater for Church
Go casual yet chic with black jeans and a striped shirt, pairing it up with a beautiful hot pink sweater to add glamor to your look while still looking modest and elegant. Metallic Bangles and Statement Necklace would look great with this look. Here are some more Church Outfit Ideas.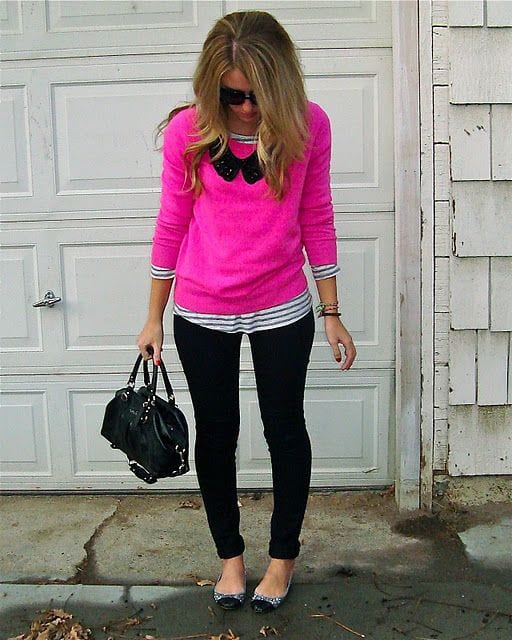 ↓ 13 – Dress-Up for School in Light Pink Sweater
If you want to look cute and casual, then a loose hand-knitted pink sweater, paired up with a neck warmer of your choice and chocolate-colored tight is the right dress for you. Curl your tresses for the perfect look.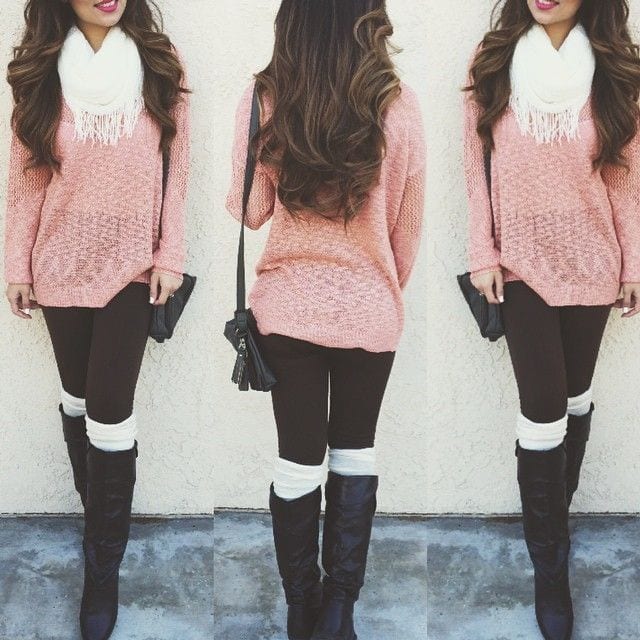 ↓ 12 – How to Wear a Pink Peplum Sweater
One doesn't need to always wear dull colors to the office or workplace. If you have a meeting, but you want to look formal yet trendy, go for a shocking pink peplum sweater and faded jeans. To add glamour to your look, wear a neon-colored statement necklace and stilettos. Do have a look at our guide on How to Wear Peplum Tops in Winter.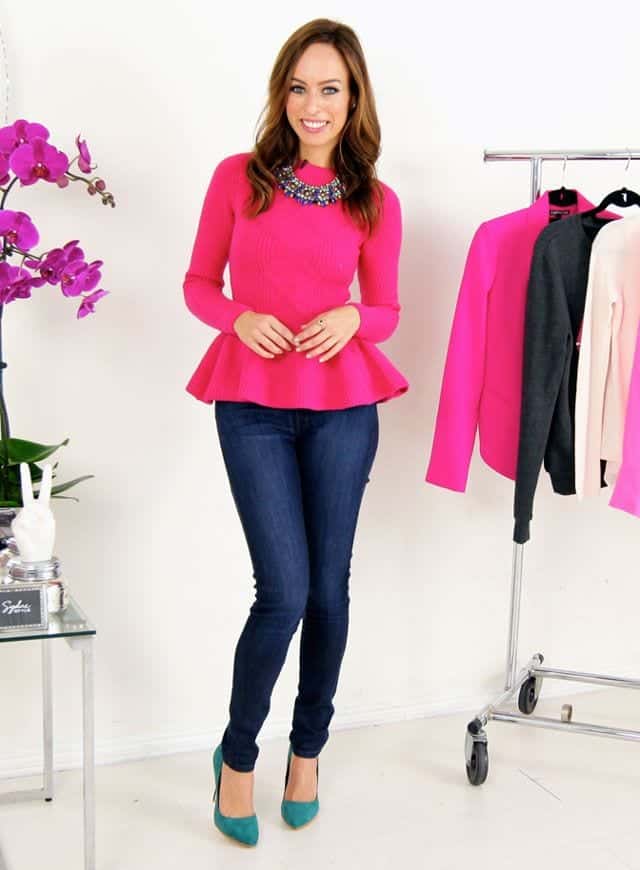 ↓ 11 – Party Attire
If you are a party animal but can't attend any due to the weather conditions, then fret no further. This comfortable, soft pink cardigan and faux fur jacket will keep you warm while letting you enjoy your party as always. Here are some more Night Club Outfit Ideas.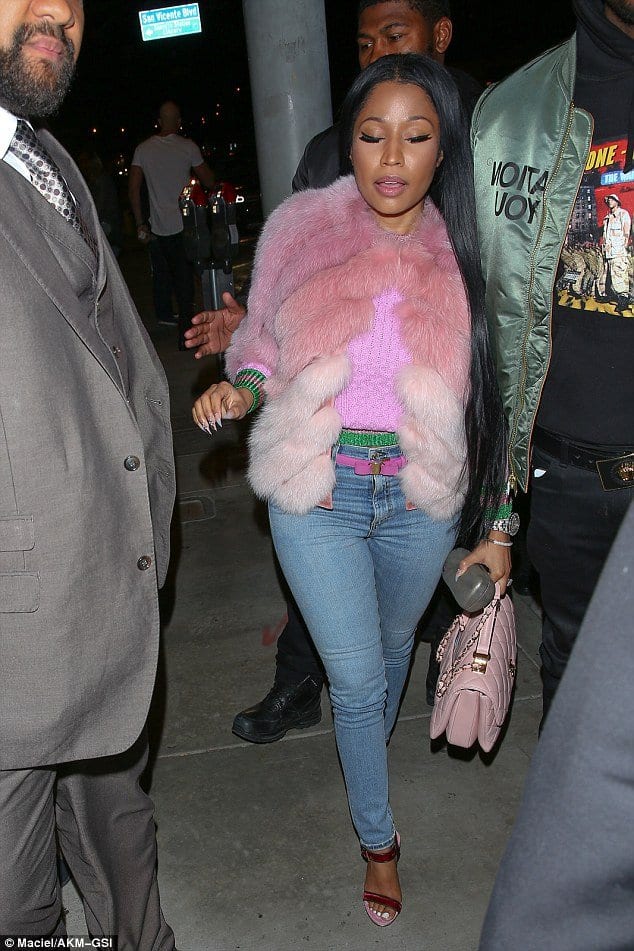 ↓ 10 – What to Wear With a Pink Sweater Coat
While many think pink is not the color to be worn at the workplace, well, you're mistaken. This sophisticated long coat in baby pink color is not only exquisite and warm; it looks perfectly right for your office-wear too. You can pair it up with faded blue or white jeans.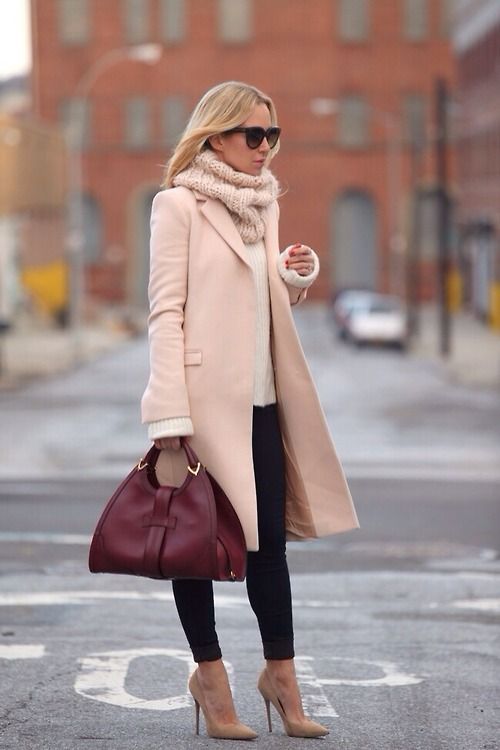 ↓ 09 – Sweater Outfit for Work
Pink and grey can never go wrong, so if you have a plan for work lunch, or dinner this weekend, wear your check patterned grey pants with a neon pink sweater- trust us, you will look gorgeous in it and will surely get the attention you deserve for your style. This style also suits teachers and college students because it is highly appropriate for workplaces or college.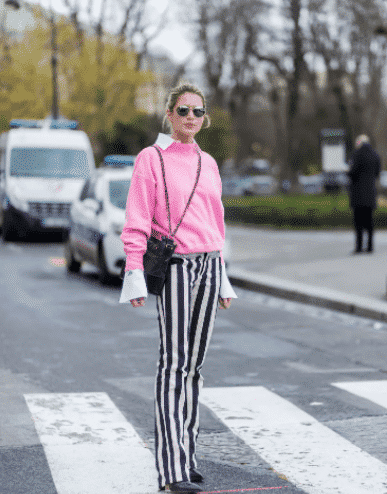 ↓ 08 – Boho Front Open Sweater Outfit
At times we like to laze around, so all the lazy souls out there who love winter sunshine, how about an Aztec printed shrug with a pink sweatshirt and jeans to wear when you go out for a walk in the late afternoon. Keep your hair untied and let them enjoy the sun too.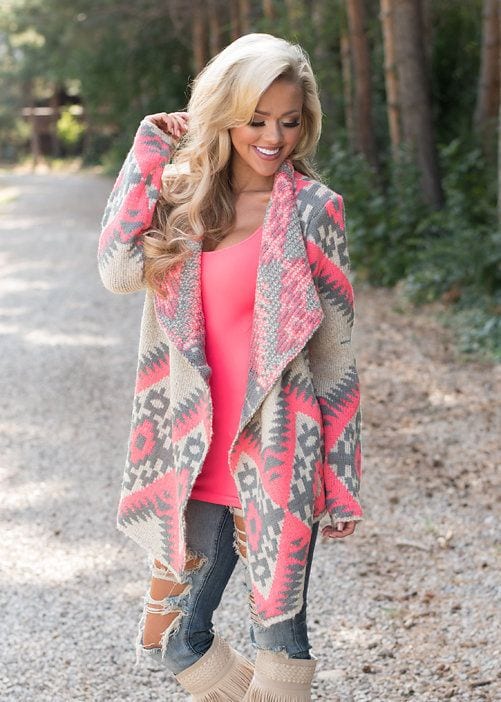 ↓ 07 – How to Wear Sweater Over a Collared Shirt
When with friends, our priority is always to look fabulous yet be comfortable in our dress so that we can enjoy the time to the fullest. This casual check shirt and jeans would look lovely with a baby pink sweater. Nothing heavy at all because simplicity is elegant.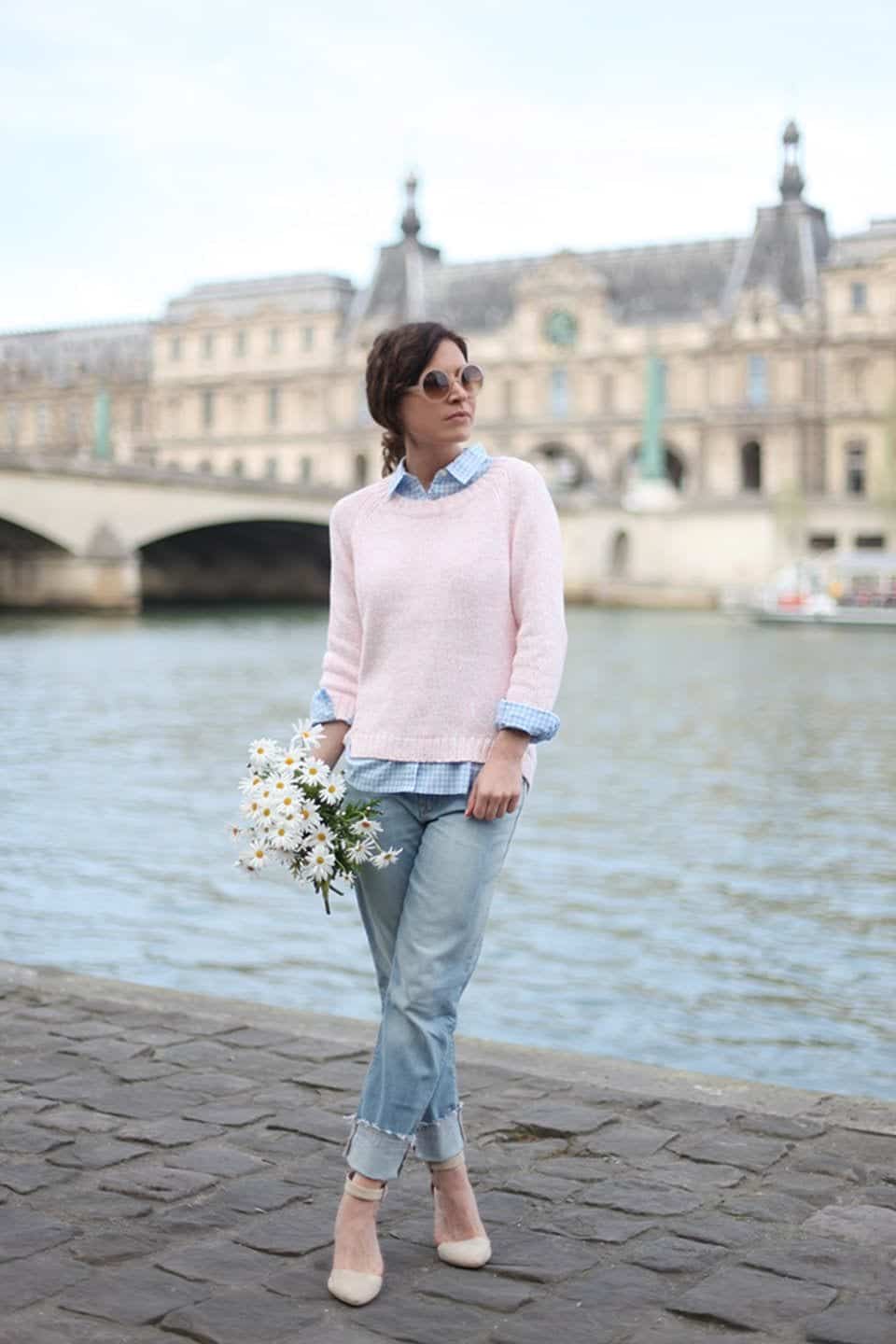 ↓ 06 – Preppy Sweater Outfit for School
Show the diva in you with this super adorable dress- a lovely ruffled skirt with lace and a pretty pink turtleneck sweater. Why wear boring dresses for your study place when you can look like a model straight from the fashion magazine. Complete the look with pink or white canvas shoes. Don't miss out on this amazing guide on How to Look Preppy.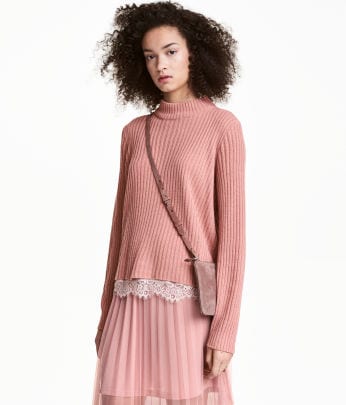 via
↓ 05 – Tucked In Sweater with Skirt for Dinner Date
Here's how to wear a hot pink sweater! Hot Pink is one color that can go with every other dark shade, be it emerald green, magnificent purple, or charcoal black. So if you're planning to go on a dinner date with your special one, go for the hot pink shirt and a short, printed pencil skirt. A high ponytail and dangling hoops will look fab with this attire.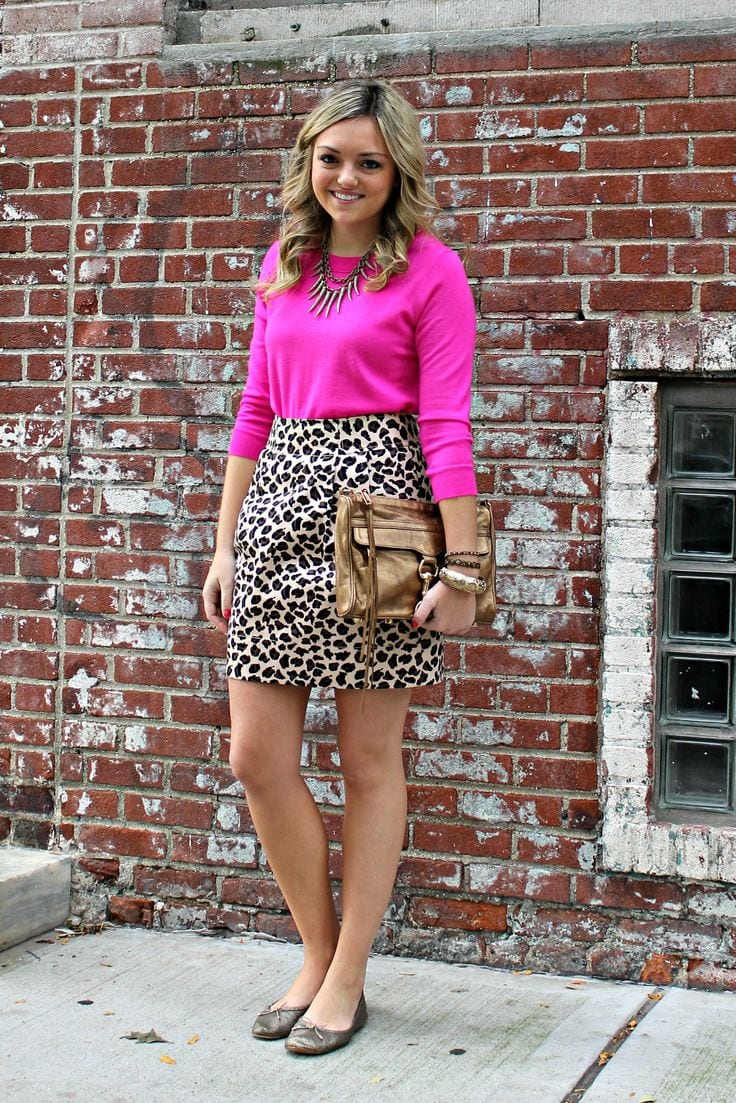 ↓ 04 – Sweater with Striped Pants
Arranged a family dinner at home? Stay stylish, even when you have a lot to do for arranging the perfect party, with this pretty pastel pink cardigan and striped straight pants. Not only the style is very sophisticated, but it is also effortless to carry too. This outfit can also be worn for daily day to day errands.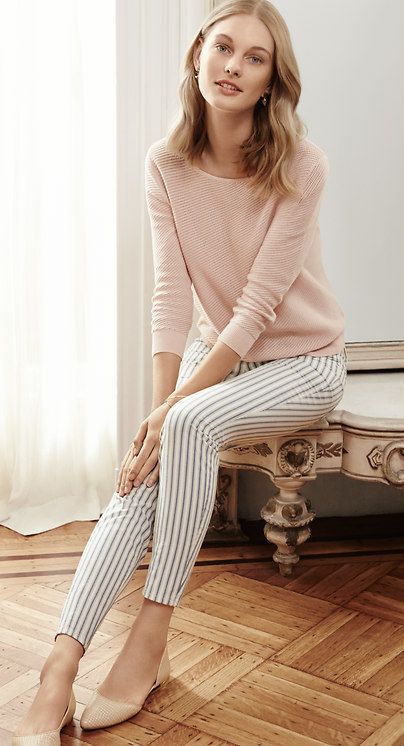 ↓ 03 – For Coffee Date
Coffee dates are cute and snuggly. Even at night, you have to look your best while also keeping yourself warm. Because it is winter, coffee is a must, so when you plan a coffee date, wear this sweet loose pink sweater with your casual jeans; it is warm and adorable. Check out these Date Outfits for Women for more ideas.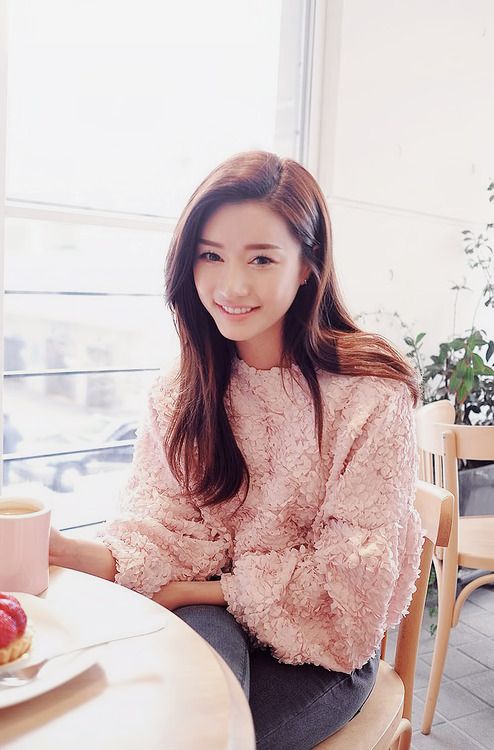 ↓ 02 – How to Wear Pastel Pink Sweater Casually
Hand knitted sweaters are everything one needs in the freezing winter weather. Enjoy your winters with this adorable hand-knitted sweater and a plaid, bell-bottomed pant. A high bun would look lovely with this cute look, so make sure you loosely tie your hair in a bun.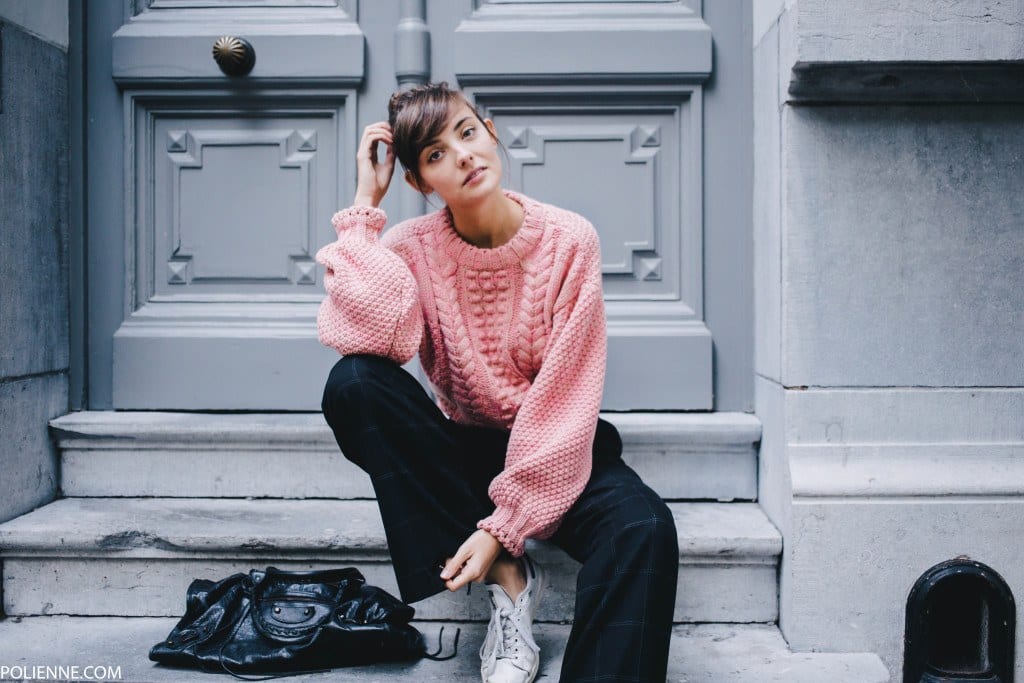 ↓ 01 – Chunky Sweater Outfit
Well, well, winter does not mean we should keep ourselves indoors and not enjoy the weather. Shopping is one essential we can not miss out on, even in winters. So get all dolled up this winter, in this hot pink turtleneck and gray jeans. Hound-tooth heels would be a chic add on to this look.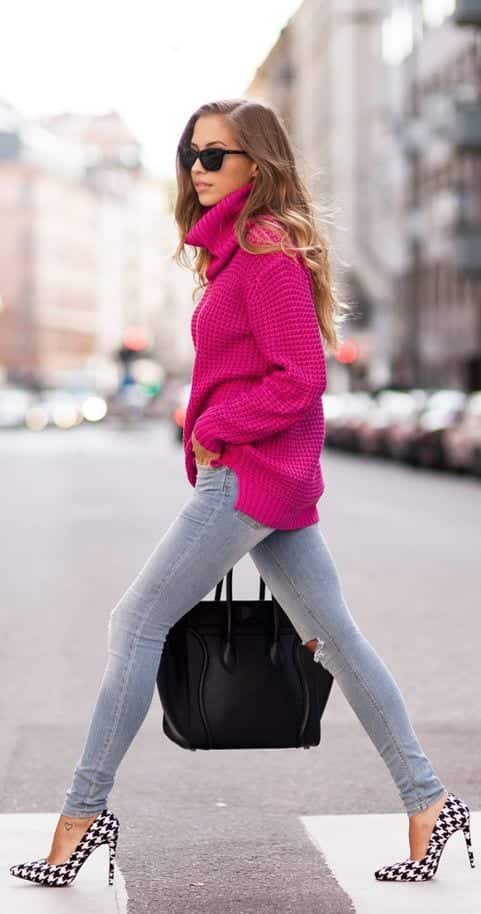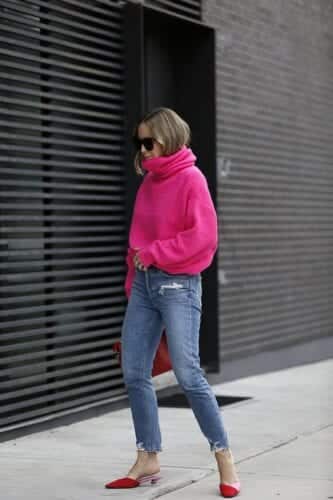 These are some of the most popular questions people ask about how to style their pink outfits while looking beautiful and glamorous.
1- What color shoes look best with a pink sweater?
Your outfit can never be on point if you do not give proper attention to your shoes. Pink sweaters go well with white and pastel-colored shoes. Do not wear shoes in the same shade of pink as your sweater to avoid a redundant and boring outfit. With pink sweaters, go with ankle-high boots, and with simple tees, try wearing chunky shoes or plain sneakers. 
2- What color pants go well with a pink sweater?
Pink sweaters can be styled with a lot of colors and still look very cute! They go best with white, light blue, and beige colored pants as well as leggings. They can also be worn with denim skirts and wide-legged trousers. 
3- Can I wear all pink?
If you are going to a pink-themed party or love the color a little too much and want to wear an all-pink outfit, go for it. Fashion has no rules and restrictions as long as you are feeling good! Pair up different clothing articles in different shades of pink and radiate cute and positive energy all day.
4- What to wear with a hot pink turtleneck sweater? 
Since turtlenecks are so in fashion, wear a hot pink turtleneck with dark blue jeans and black ankle-high boots for a very chic casual outfit. For a more formal look, wear your pink turtleneck with grey or black straight pants and black heels. You can also style your outfit better by adding accessories such as necklaces and a watch to complete your look. 
5- Where can I buy a pink sweater from?
Pink is the new black, and there is no denying that fact. Therefore, you will easily find your perfect pink sweater if you try to look for it online as well as on your next shopping spree. Try checking out brands such as Zara, Forever 21, and AliExpress for a wide range of pink sweaters.