Garden party outfits: Summertime is here and so are garden parties. Garden parties are something everybody loves. However, they are something nobody finds easy dressing up for. Apparently, outfits for outdoor parties are extremely hard to put together? No way. We got you covered. It will become super easy for you to figure out what to wear to the next garden party outfit if you go through this article.
Garden parties are a great way to socialize with people especially during COVID-19, this is the only party you can attend with proper social distancing as there is less chance of catching the virus in an open environment. Garden parties are easy to dress for. Just make sure that you are dressed in pastels and florals. Make sure you wear your sunblock and grab a drink as you enter because you need to stay hydrated in the hot weather.
What To Wear To A Garden Party?
If it is your first time attending a garden party then don't worry. They may seem a bit too much at the start but they're not. You just have to make sure that you dress appropriately. This article includes 20 different chic outfits that you can try for a garden party. Be sure that you are dressed in something you are comfortable in. Don't forget to like what you wear of course! If you don't like what you're wearing, you won't be confident in it! The weather might change, it could either get warmer or colder so keep backup for both cases. Keep things light in warmer weather and in the colder months, you can do a little more.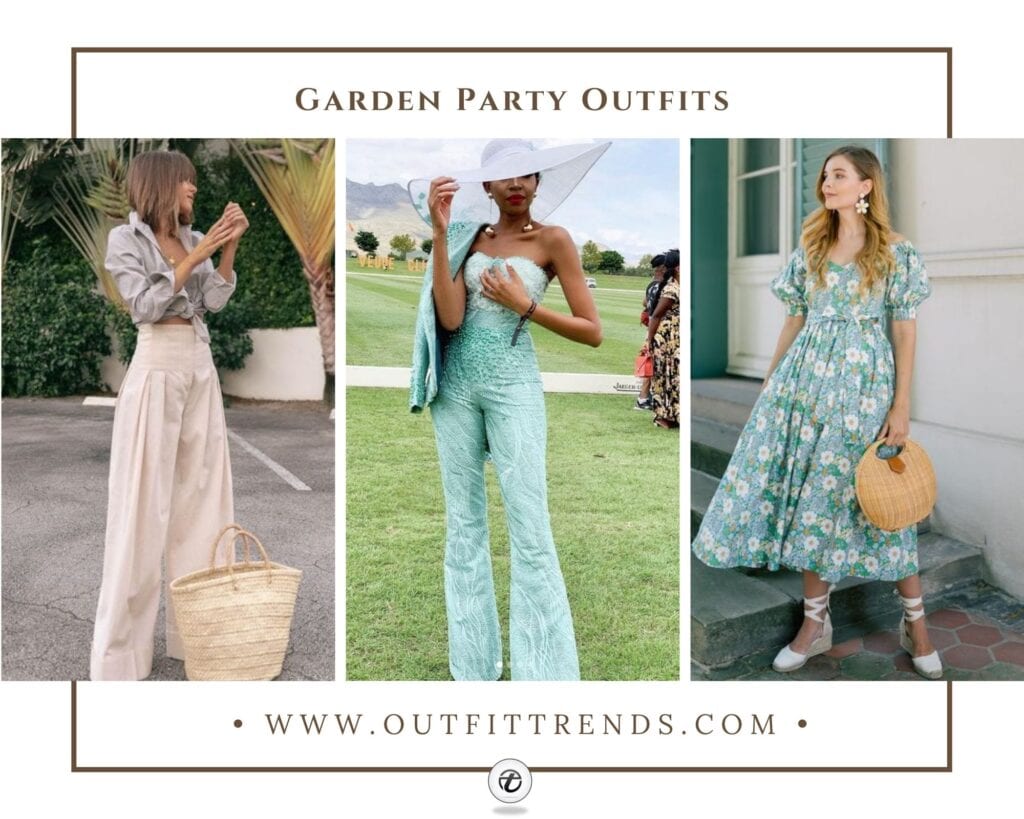 DOS AND DONTS
• DO wear something comfortable.
• DO wear weather-appropriate clothes.
• DO wear a sunhat if its sunny outside.
• DONT forget to wear sunblock.
• DONT forget to bring a gift for the host, its a nice gesture.
• DONT wear dull colors.
↓ 20 – Red Sundress
This red polka dot sundress is super cute! It's perfect for a cute garden party. Wear this sundress with some cute sandals or slip-ons and style it with a sun hat and some shades. A sundress will get you so much attention because almost everyone loves a cute sundress and you will be asking questions about it all day! The best part is that you don't have to wear a lot of makeup with it or do your hair because a sundress on its own looks super classy and it doesn't need any accessories. You can also get some more ideas like these from our previous post on Sunday Brunch Outfits.
↓ 19 – How To Wear A White Jumpsuit
White is the best color for summer. It's cool and it looks great. This plain white jumpsuit looks stunning and would be perfect for an outdoor party. You can pair this jumpsuit with some nude heels and a nude clutch. Don't forget to wear some pretty earrings and a necklace because it would look good with a deep neckline.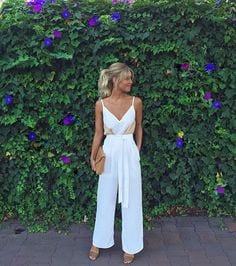 ↓ 18 -Pastel Dreams
This pastel embroidered dress is stunning. It is like something right out of a fairytale. If you wear this to a garden party everybody will be asking you where you got it from. Wear this dress with some pastel heels or sandals. The embroidery on this dress will glimmer in the sunlight and make you look mesmerizing. Let your hair down for a true Disney princess vibe! Here are some more of our favorite Pastel Outfit Combinations.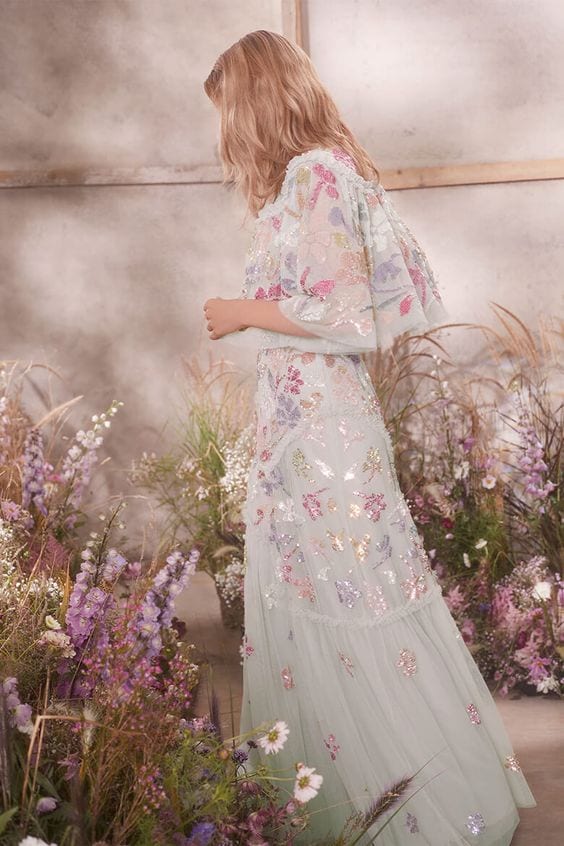 ↓ 17 – Kate Middleton's White Dress
Kate wore this white dress which has a nettop with design on it and the bottom part is plain white. Kate paired it with white heels and some pretty pearl earrings. Her hair is blow-dried and glossy as ever. Kate is wearing rings as well but just two. Wear this look to an outdoor party and look just as stunning as the duchess of Cambridge.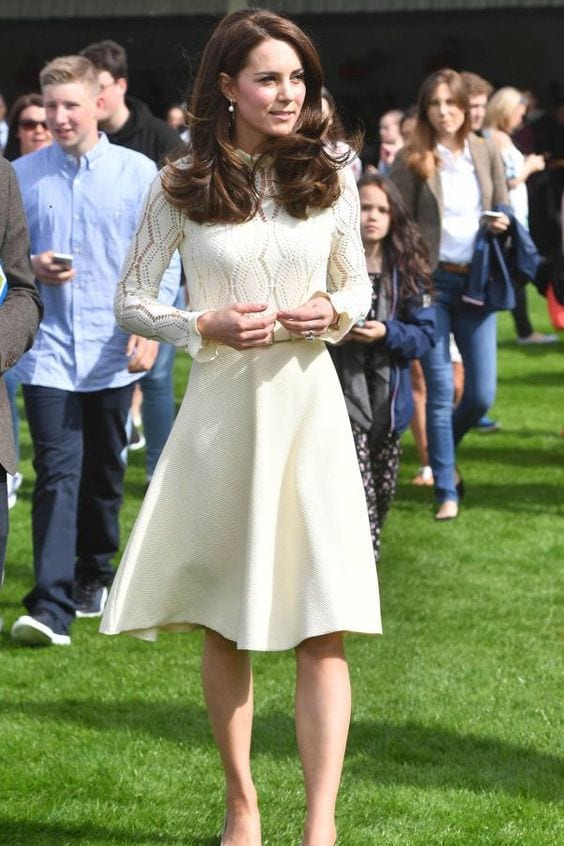 ↓ 16 – Palazzo Pants With Silk Shirts
Wear a beige palazzo with a grey silk shirt. Pair this outfit with a gold chain or pendant necklace. This outfit would be perfect for a garden party as it will keep you looking good and won't be too warm for an outdoor party either. It is the perfect mix between chic and fun. Wear this outfit for a dope vibe and dozens of compliments! For a the most comfortable combo, check out these tips on how to wear Palazzo Pants with Sneakers.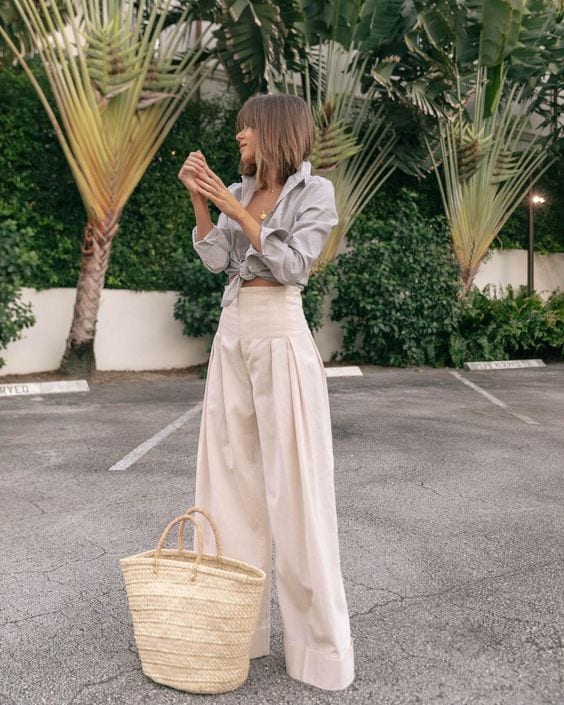 ↓ 15 – Fairy Dreams
Wanted to look dress up as a real-life fairy as a little kid but never could? Well, this is your chance. This pastel purple dress with frills is so stunning it will make everyone's fairy dreams come true. This dress would look gorgeous in the sunlight and be the perfect outfit for a garden party. Wear it with sneakers if you like those or some pretty purple sandals and your outfit is ready.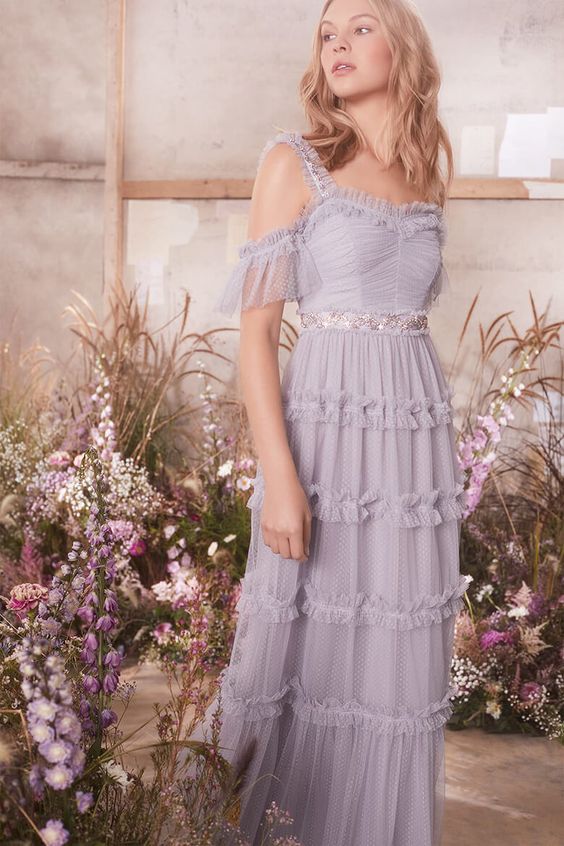 ↓ 14 – Button Up Shirt With Skirt
Button-up shirts with skirts are trending nowadays. This outfit is really cute because it's not super girls either if you're not into that. It's easy to put together and will look good no matter what. Wear a plain white button-up shirt with a beige full-length skirt and some sandals. Wear makeup or no makeup and rock this outfit!
↓ 13 – How To Style A Suit for a Garden Party
Wearing all white seems like tricky business to most people but it's really not. White is one of the easiest colors to style. An all-white suit is a power move. Pair a white blazer with white formal pants and a white undershirt with either white heels or in some other color to create a pretty contrast. Wearing golden jewelry will really bring out the white in your outfit.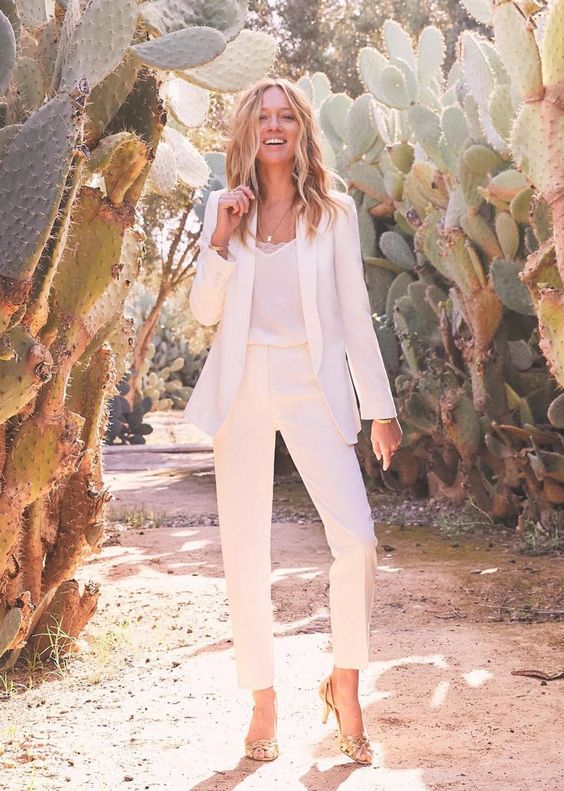 ↓ 12 – Cute Summer Outfit
This outfit is perfect for an outdoor party because white is the perfect color for summertime. This puff-sleeved shirt is super cute and the deep neck looks stunning. The white linen pants are easy to wear and comfortable as well. A straw bag is a cute accessory and looks cute in the summertime. Wear big hoop earrings and some necklaces to add to the glamour.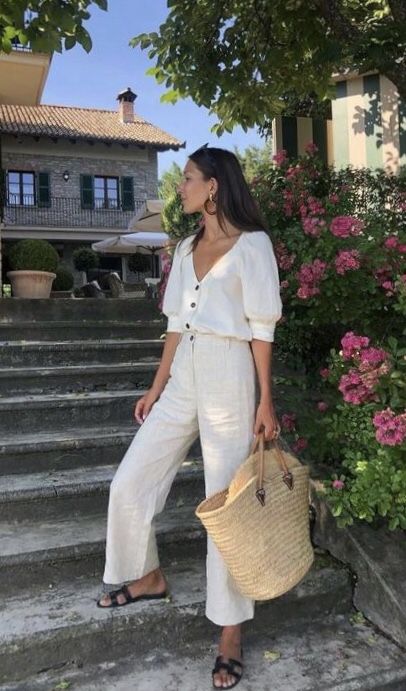 ↓ 11 – How To Wear A Floral Dress
Floral prints are the stars of the show. This floral dress is super cool with one full sleeve and one side with no sleeve. The green leaf print on the dress looks great in the summertime and it is a cool color. Wear a headband with the dress and carry a cute pink bag and be the star of the show!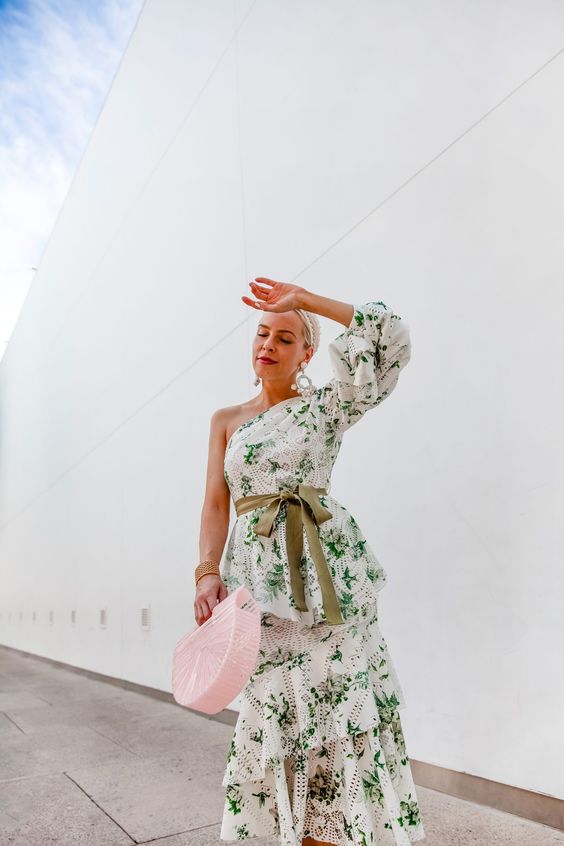 ↓ 10 – How To Wear A Ruffle Trim Top
This top and bottom set is exquisite. This outfit will be easy to put together and even easier to rock. This is a statement piece and something you will never regret wearing. This is a formal outfit but you can rock it if you have confidence. Pair it with white heels and some gold jewelry. Here are some more ideas on styling Ruffle Tops.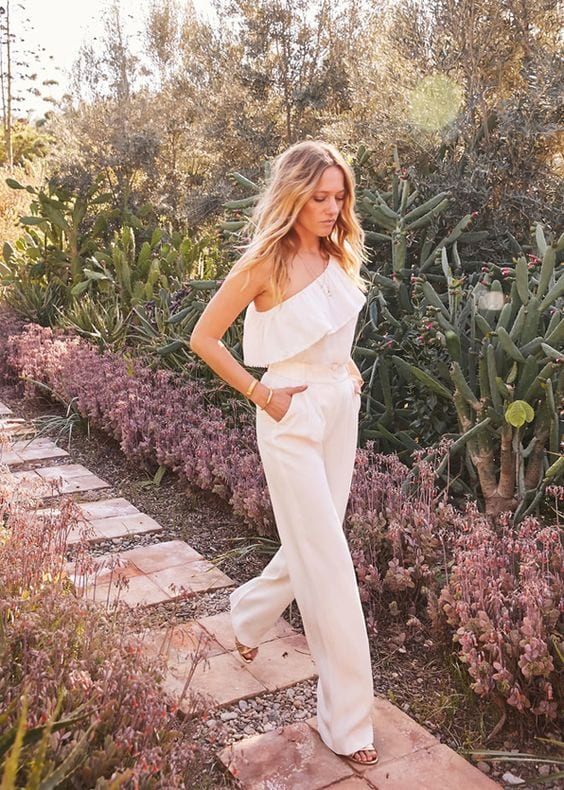 ↓ 9 – Turquoise Jumpsuit
Turquoise is a stunning color for outdoor parties. This sleeveless jumpsuit with a matching blazer is a statement. The design of this jumpsuit is exquisite. The matching sunhat is such a boss move! This whole outfit is made for a baddie. If you got confidence then go for it. The golden ball earrings are what make this outfit even better.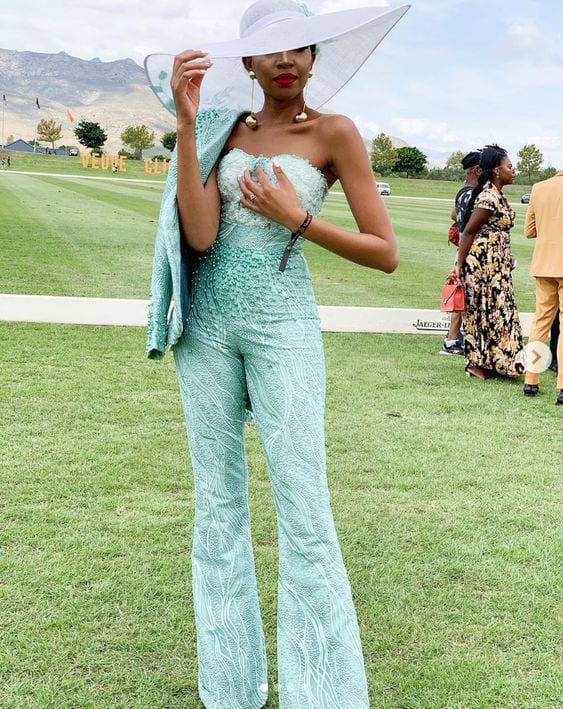 ↓ 8 -Blue Gown
Dresses are compulsory for outdoor parties. This dark blue cross-neck detail dress is super cute for a garden party! You can choose to keep it simple with minimal makeup and jewelry or you could switch it up and wear high heels with some bling jewelry and heavy makeup. Curl your hair to complete this look!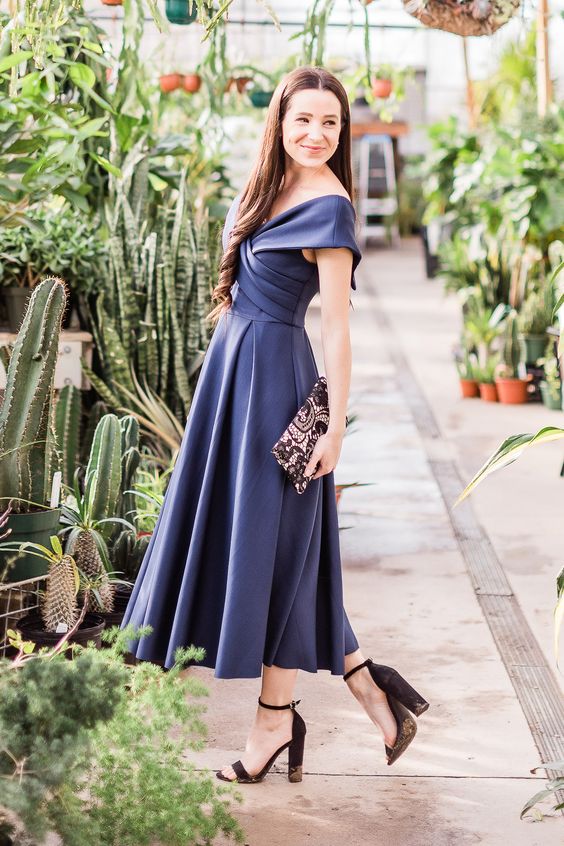 ↓ 7 – Printed Garden Party Outfits
Printed dresses are essential for summertime. This green dress has white flowers printed on it. White sandals look super dope with it and the flower earrings are the best thing about this entire look. Straw bags are something that will complete your outfit so don't be afraid to buy one!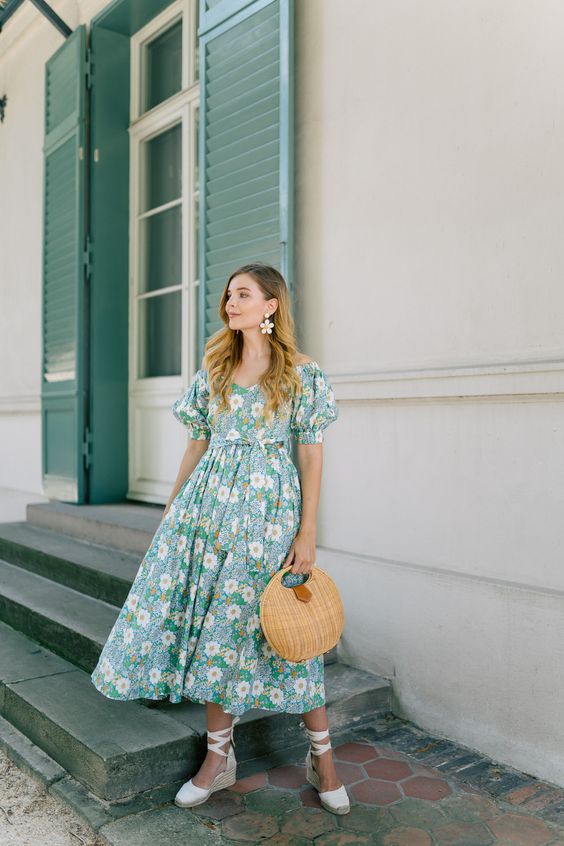 ↓ 6 – Polka Dot Pink Slit Dress
Polka dots are perfect for garden parties. They are cute and always in style. This pink polka dot slit dress is perfect. The straw hat and matching bag look great with this dress. This dress is sexy and cute too! Let your hair down or tie it up, this dress will look great no matter what!
↓ 5 – Floral Printed Romper
Rompers are trending and for a good reason! Rompers are easy to wear and are super comfortable in the summertime. If you want to stay casual then grab a cute romper and wear it to that garden party. You can wear cute sandals and carry a small bag and your garden party outfit will be complete. This light blue printed romper is super cute! Don't forget your sunglasses.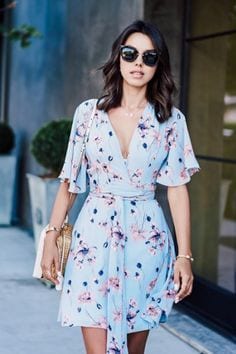 ↓ 4 – Black Dress
The black dress that everybody wants. This black dress will have you turning heads. The plunging neckline is sexy. The dress itself looks super comfortable to wear and it's not too out there as well. If you like to dress simple then you will like this. Wear some gold jewelry to bring out the black color even more and carry a simple shoulder bag.
↓ 3 – Black Slit Skirt
This black outfit is simple and sexy. The black blouse looks great paired with a black slit skirt. Slit skirts are perfect for outdoor parties because they show the perfect amount of skin. Pair this black outfit with black sunnies and some necklaces and bracelets and you are good to go.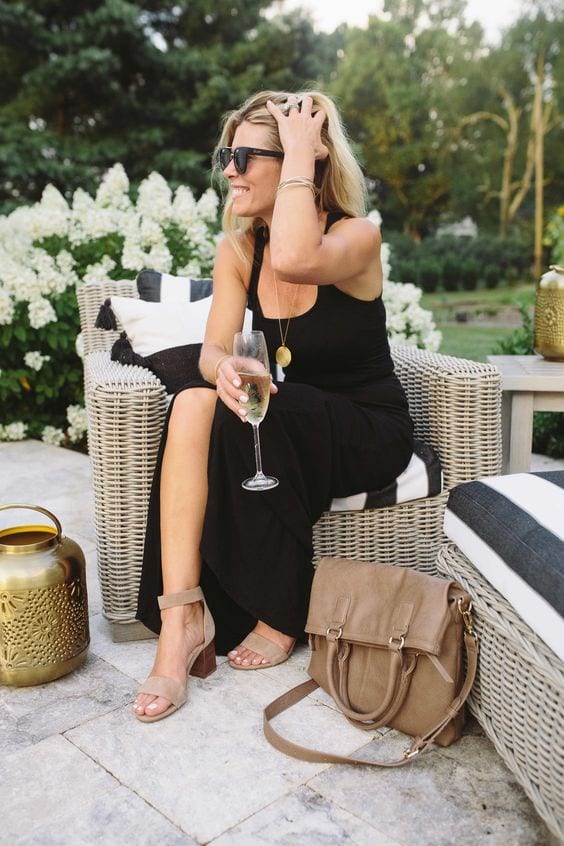 ↓ 2 – How To Style A See Through Shirt
The shirt is see-through and has a flower pattern on it. See-through shirts are trendy and chic. They are an item of clothing that not everybody is bold enough to wear. This white shirt is paired with white shorts and it looks great with simple makeup and almost no jewelry. White or beige sandals would look great with this outfit.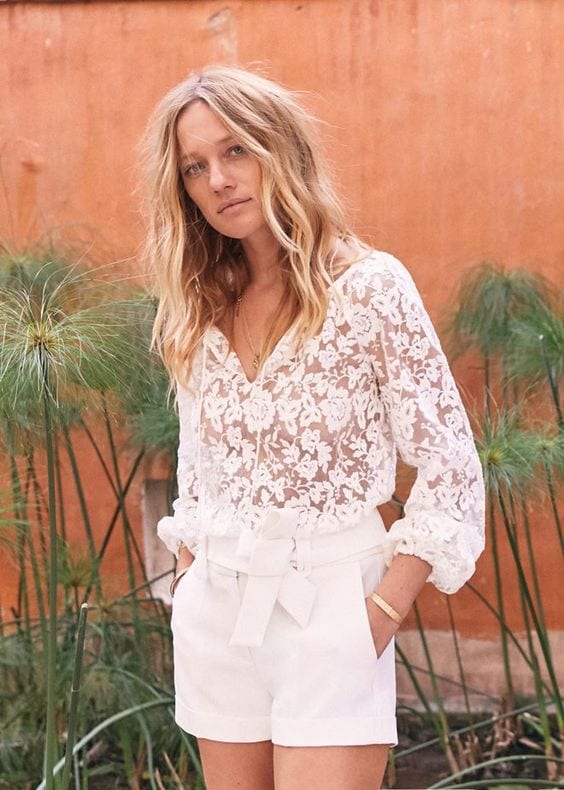 ↓ 1 – White Ruffle Sleeve Dress
This is a very basic outfit yet so chic. This dress is simple and comfortable but it still looks so sexy. Anything paired with heels will look sexy. The heels in white and the headband in white look great. This look is great if you don't want to get super dressed up but still want to look good.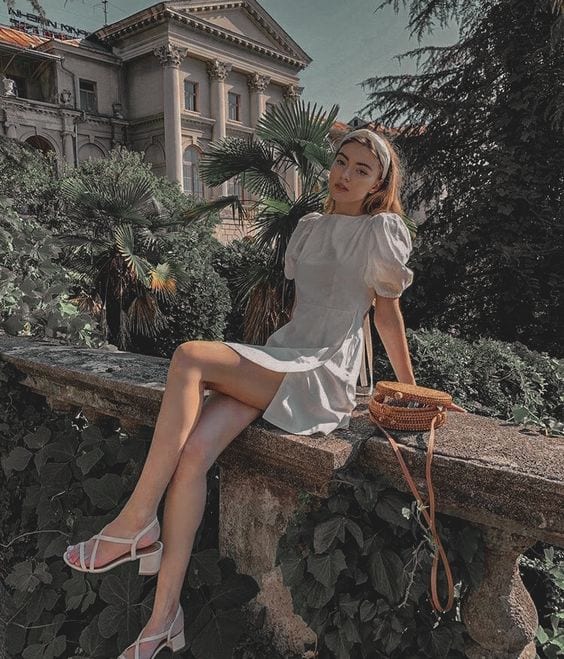 Frequently Asked Questions
Q. What is garden party attire?
A. Garden party attire involves dressing in colors similar to the outdoor environment. Floral prints, soft pastels, and monochrome dresses are all good options for garden party outfits. Garden party attire will usually be light and comfortable but also sexy at the same time, showing a bit of skin if you want to as well.
Q. What to wear to an English garden party?
A. When it comes to British outdoor parties, it is always best to dress according to the weather because you never know when it may change. An umbrella and a lightweight jacket should always be on you. The rest is easy, the dress is pretty formal florals and dont forget to wear a hat and some gloves. Wear it all with confidence and you'll be good to go.
Q. What does a man wear to a garden party?
A. Men can also wear outfits along the same lines as women. Pastels, monochrome and floral prints will be appreciated. Fun shirts, chinos, jackets, and accessories depending on the dress code. There is no set code for men or women, they can both wear whatever they want to but just follow the rule of wearing light and fresh colors.
Q. Is it easier for dress for garden parties or indoor parties?
A. There is not much difference between the two, of course, it depends more on what you prefer. The thing with garden parties is that the weather plays a huge role but with indoor parties, you dress however and control the temperature on your own. Other than the temperature factor, I believe it is easier to dress for outdoor parties because the outfits are lighter and in pastels and florals and can be semi-casual but for indoor parties, you will almost always have to dress formally and wear darker colors with heavier makeup.