Palazzo Pants for Summer: Confused about what palazzo pants are? Everybody tells you to go buy a pair but you don't know how to style them? Or have you already bought them and are clueless about what to wear with them? Do not worry. Pair them up with some chunky sneakers and a cute crop top and you are good to go. Not your style? don't worry you can wear them with an oversized blazer and platform heels too. Palazzo pants have been in and out of trend since the 1960s. They are a versatile piece of clothing that is essential in any fashionistas wardrobe.
This article will provide you will all the information that you will need regarding palazzo pants. Whether you want to know if striped palazzos are cool enough or if they look good with halter tops or graphic tees or if you just think you don't have the right shoes to wear with them, we have got you covered. This article will cover all the basic summer outfits you can style with accessories, footwear, and just a pair of palazzo pants.
How to Wear Palazzo Pants in Summers This Year?
Palazzo pants are the easiest to style during the summertime. If you consider yourself a newbie in the fashion department and just want to amp up your style in an easy way, buying some palazzo pants will save your life. You can just pair them up with a crochet top, halter top, off-shoulder crop top, or even a tube top for a more formal look.
Palazzo pants can be worn on all occasions if styled properly. Moreover, they are also extremely comfortable so if you have a full day or night event then you will for sure be super comfortable in them. Palazzo pants can be worn on birthdays, parties, dinners, anniversaries, or lunch with friends.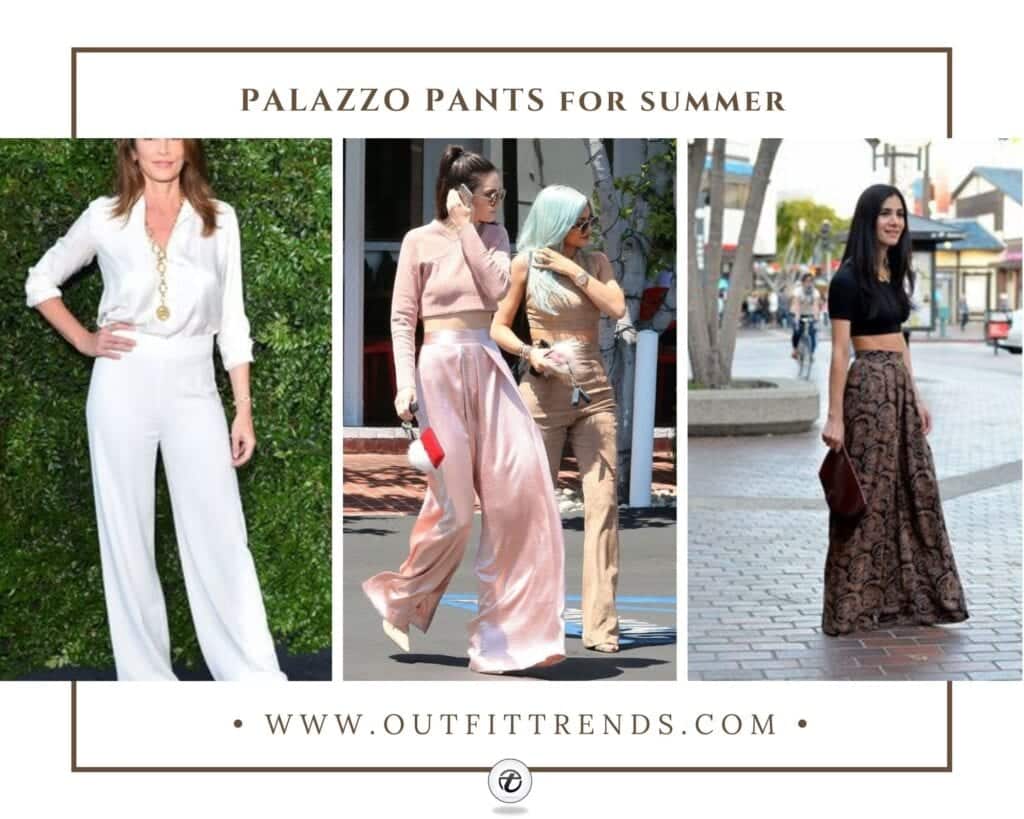 DOs and DONTs
Here are a few dos and don'ts of wearing palazzo pants.
•DO make sure your palazzo pants fit you well.
•DO keep a handbag with you because these pants don't always have pockets.
•DONT wear palazzo pants if you are not comfortable in them.
•DONT walk too fast in palazzo bottoms as it can be dangerous because they tend to get caught in your shoes.
↓ 20 – How To Pair Palazzo Pants With Corset Tops?
Undoubtedly this look is the easiest to achieve and it looks so sharp without a lot of effort. Just put your hair up or down, grab a pair of heels or sneakers and you're good to go. This look is simple, elegant, and classy. A camel-colored palazzo and a white corset top go well together. Stick to the basics to make it easier to style. Also, have a look at Corset Belt Outfits-35 Ideas On How To Wear A Corset Belt.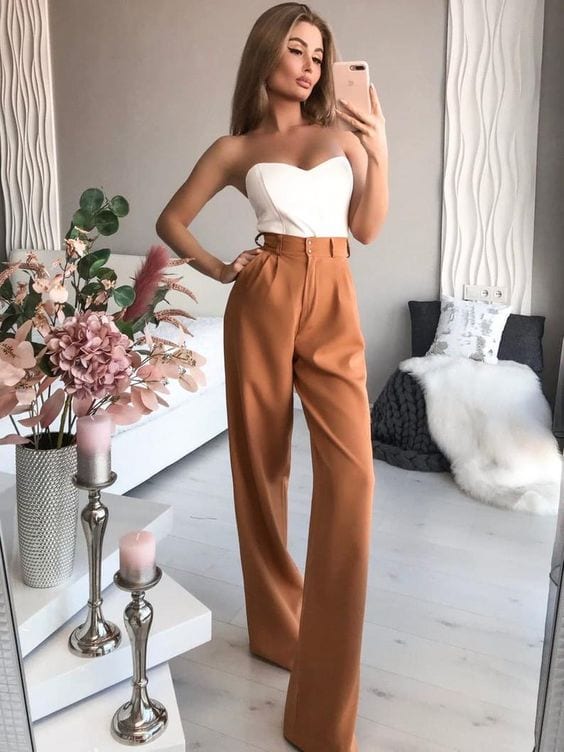 ↓ 19 – What To Wear With Button Up Shirts And Palazzo Pants?
Need an outfit for the office? We got you covered. Just grab a palazzo, striped, plain or floral (we recommend plain for the office) and a white/black/grey button-up shirt and there you have it, an effortless office look. Accessorize with some gold chunky hoops, a layered necklace and black heels.
You can also check out here for more ways to style pants.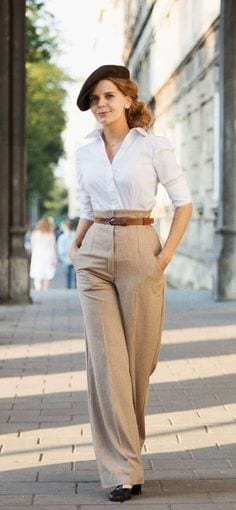 ↓ 18 – Bodysuits And Palazzo Bottoms
Bodysuits are the easiest and most comfortable to wear. They are extremely trendy these days and everyone wants to buy one. a bodysuit goes well with palazzo pants because they are looser and a bodysuit is skintight so this is the perfect combo for a summer outfit.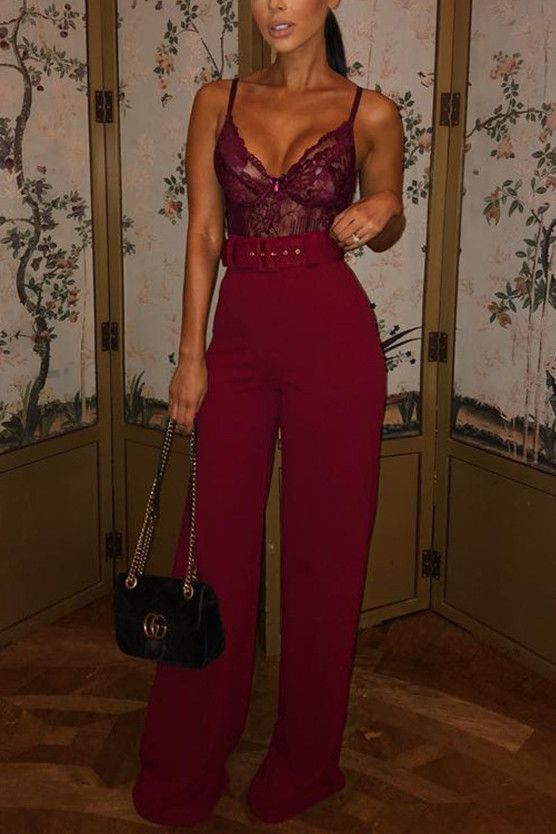 ↓ 17 – How To Wear A Graphic Tee With Palazzos
Graphic tees are the best to amp up any outfit. They give your outfit the street style look so if you're into that then this is the perfect summer outfit for you. A checkered palazzo will look stunning paired with a Metallica graphic tee and voila! You have yourself a semi-casual outfit.
To know more ways to style Graphic tees click follow.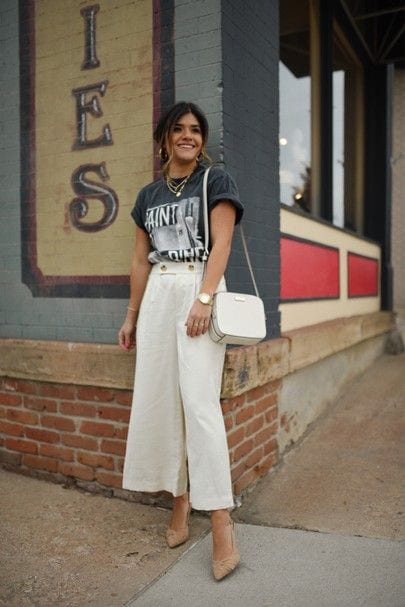 ↓ 16 – Cami Tops With Palazzo Trousers
Pair high-waisted palazzo pants with a plain or printed cami top and watch yourself turn heads! Just a plain palazzo and cami top will work. That is the simplest outfit there is but it still looks gorgeous if worn with confidence. Keep that confidence girls!
↓ 15 – How Cindy Crawford Styled All White Palazzo Pants
Cindy pulled this look off with just everything white! White heels, a white button-up silk shirt, and an all-white palazzo, and a gold statement necklace. We think Cindy looks stunning as ever in this all-white ensemble. Put together this outfit along with accessories of your choice and watch yourself be the star of the night/day.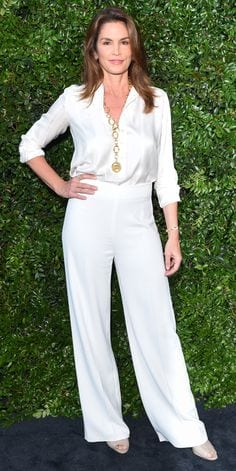 ↓ 14 – How To Style Palazzos With Tube Tops
Tube tops are a summer staple and they are the easiest to style with basic colors. Pair a tube top with a printed/floral or even plain palazzo with some layered bracelets and a necklace because deep necklines always call for necklaces. Click on the picture to find the items and get yourself this effortlessly chic look!
↓ 13 – Palazzo Bottoms With Off-shoulder Shirts
Off-shoulder tops and palazzos go well together. It can make a casual outfit a semi-formal/formal outfit and a formal outfit into a casual one if you just know how to style it properly. This makes a gorgeous outfit and because the shoulders are showing you are bound to catch all the attention there is!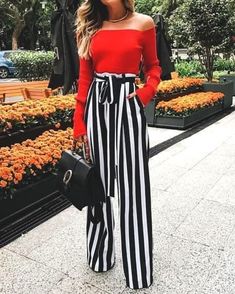 ↓ 12 – What To Wear With Palazzo Pants And A Blazer
Blazers can make any outfit look done up. It's an easy way to look a little more formal if you have an interview or a meeting. Just throw on an oversized or snug fit blazer with some palazzo pants and you are good to go. Pastel colors are trending these days and this sky blue blazer looks striking with this blue palazzo. Also, have a look at Summer Blazer Outfits-20 Chic Ways To Wear Blazers In Summer.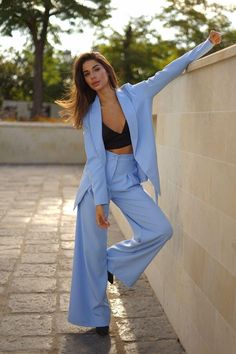 ↓ 11 – When To Wear Printed Palazzo Pants
Printed palazzo pants are striking and they catch another person's eye immediately. Not a lot of accessories are needed to pull this look off either. Just a plain t-shirt or crop top and some shoes to go with it. Vibrant colors look even better in the summertime.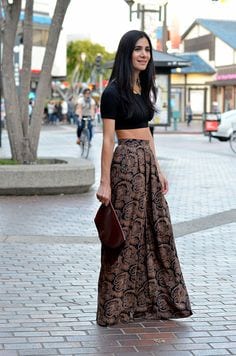 ↓ 10 – Striped Palazzo Pants
Striped palazzo pants are another stunning piece of clothing that can be paired with just about any top that is plain. They make a super stylish outfit and with no effort. Throw on some gold chunky earrings or chains for added glamour.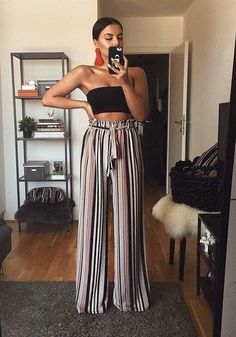 ↓ 9 – How To Wear Palazzo Pants With Tshirts
Tshirts with palazzo are a very easy way to wear palazzo pants without looking formal. Tshirts could be plain, printed, floral it doesn't matter as long as it is a T-shirt, you will look great.
↓ 8 – Palazzo With Deep Neck Shirt
Full sleeves shirts are another way to style palazzos. It is a very simple look and can be worn for lunch, birthdays, or even on vacation with a sun hat. Full sleeves shirts are great if you are allergic to the sun or suffer from eczema. Pair this shirt up with a saddlebag, sandals and gold jewelry.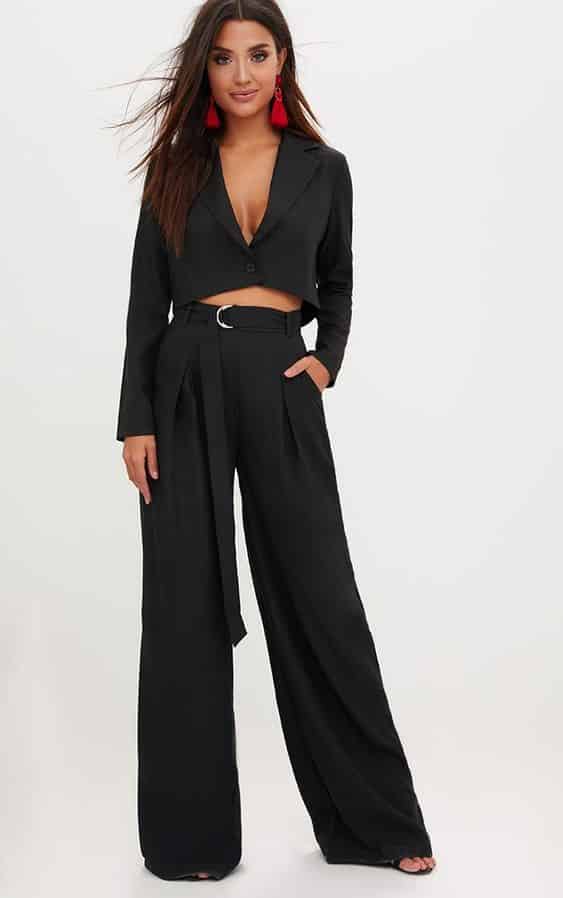 ↓ 7 – Vibrant Colored Palazzo Pants
In the summertime, vibrant colors look pretty. This statement red palazzo looks stunning with a plain black top and black heels. Black and red is a color combination that goes way back. Do your hair sleeked back with this outfit and you can wear this to a formal event.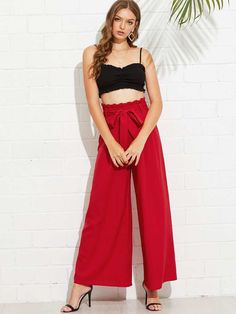 ↓ 6 – How Kendall Jenner Wore Rose Gold Palazzo Pants
Kendall Jenner is seen wearing a rose gold palazzo with a matching top. Kendall put her hair up in a high pony and threw on some rose gold shades too. She is also wearing white pointed heels which look great with this daytime semi-casual look. Kendall kept this look super simple and everything still looks on point!
For more Kendall Jenner looks click on go.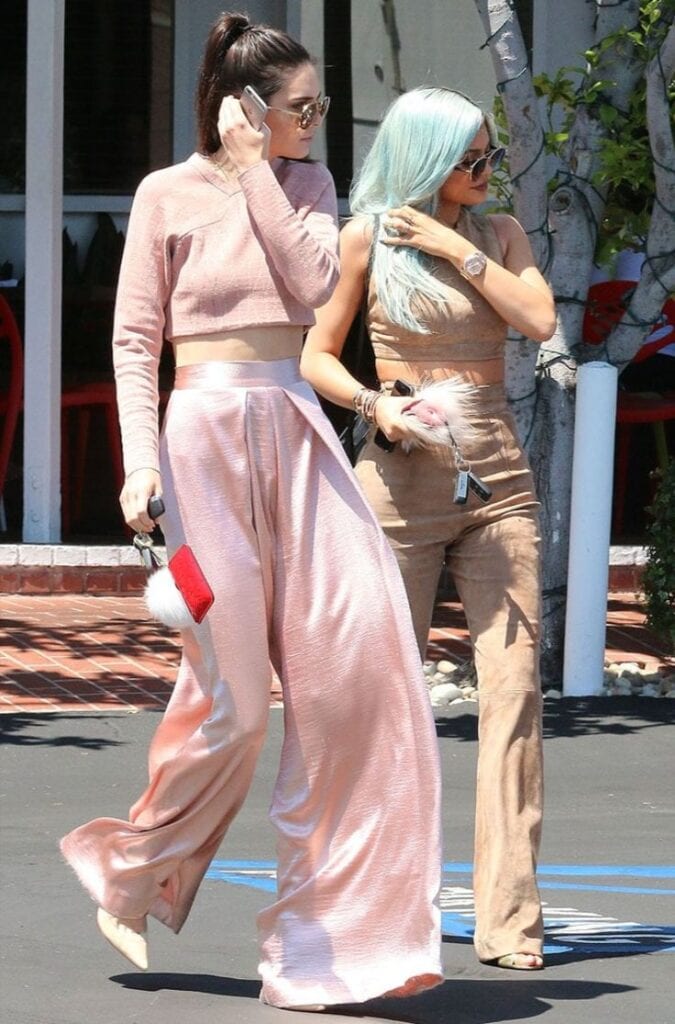 ↓ 5 – Kourtney Kardashians Velvet Palazzos
Velvet palazzos may not be ideal for the summers but they could still work. They look extremely chic and are very eye-catching. It will seem like you have put in a lot of effort into your outfit. Pair them with a t-shirt, crop top, or dress shirt and grab all the attention.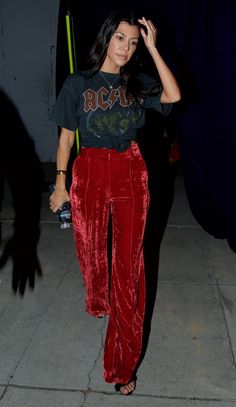 ↓ 4 – What To Wear With Palazzos And A Mesh Shirt
Mesh shirts are fashionable and trendy and look good with just about anything which is why they can be paired with palazzo pants too. Just wear a mesh shirt with some cool shades and layered necklaces and look dazzling. Try it out for yourself, thank us later!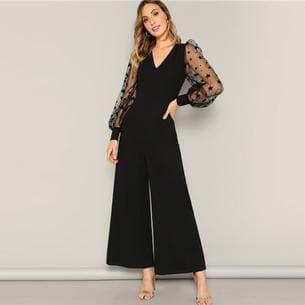 ↓ 3 – How To Wear Palazzo Pants With Bishop Sleeves Shirts
This is a very classy outfit and bishop sleeved shirts look extremely elegant when paired with proper accessories such as gold/silver jewelry, a clutch, and some heels. This is the perfect outfit for when you need to look formal.
↓ 2 – Rosie Huntington's Printed Palazzo
Rosie paired her floral printed palazzo with a plain white full sleeve top and she looks as stunning as ever. We are so jealous of her style. She paired it with a black watch, a golden clutch, and some simple makeup.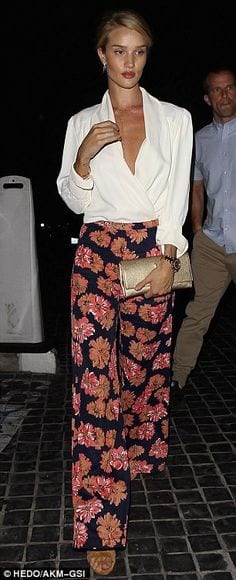 ↓ 1 – What To Wear With Cropped Palazzos
Cropped palazzos are perfect for the summertime because you feel hot in everything so the less the better. They are the perfect way to let your legs get some air. Style a cropped palazzo with a crop, cami, or halter top, and your summer outfit is ready!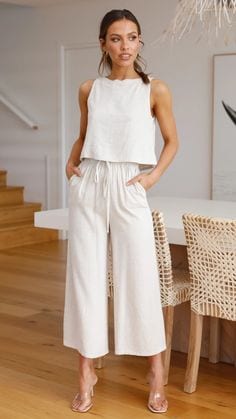 Footwear to Wear With Palazzo Pant Outfits
Converse
A pair of classic black or white high-top converse would go perfectly with palazzo pants and give your outfit that little touch of style that It might be missing.
Heels
Throw on a pair of heels if you want to go for a more formal look or if you are an everyday heel person then go for it. We love people that can rock heels every day!
Platform oxford shoes
Oxford shoes are trending again and so are platformed shoes so the two of these combined together are the perfect shoe to pair with palazzos for when you just want to look good.
Sandals
Sandals will look perfect during the summertime. Go rock those sandals! Oh and don't forget to get a pedicure before that.
Black chunky boots
These boots go with just about everything and they can be worn in any weather too. Pair them up with your palazzos and go light the world on fire!
Accessories to Wear With Palazzo Pant Outfits
Chains
You can never go wrong with a few (or too many) chains. They add the bling to your outfits. Incorporating jewelry into your outfits is always a good idea.
Bandanas
A bandana to keep your hair back always works. Bandanas are gorgeous accessories for your hair. They look cool, trendy and everybody always asks you where you got one from!
Rings
Whether you like big chunky rings or delicate simple rings, wear them with these palazzo outfits and look exquisite.
Frequently Asked Questions
Here are some frequently asked question on how you can style or wear Palazzo Pants for summers.
Q. Can I wear palazzo pants for an interview?
A. Yes, why not? Palazzo pants can be worn on any occasion given that you know how to style them. For an interview, you can pair palazzo pants with a blazer and some heels and you are good to go. Just make sure you look formal, you don't need to worry about the palazzo pants because what matters is how you wear what you wear not what you wear.
Q. Can palazzo pants be worn in winter?
A. I believe so. They can be worn in the wintertime with stockings underneath them and because they are so loose nobody will be able to tell whether or not you are wearing leggings or stockings underneath. It might look a little weird to some people but don't worry about what people think, if you want to wear them in winter then go for it.
Q. Are palazzo pants still in style for 2021?
A. Yes, palazzo pants are in style yet again. People are seen wearing them with blazers, crop tops, full sleeves shirts, and whatnot. They are worn with just about everything these days so don't worry about them not being in style because they most definitely are!
Q.

What are palazzo pants?
A. Palazzo pants are long pants cut with a loose, extremely wide leg that flares out from the waist. Palazzo pants are popular in the summertime because they are made of light and airy fabrics. These pants can be worn by anyone, no matter the age. They are extremely comfortable to wear. They can be paired with just about anything and worn to formal or informal occasions both. People often worry that palazzo pants only look good on a certain number of people who have a specific body type but that is not the case. These pants look good on everyone, as long as they know how to style them.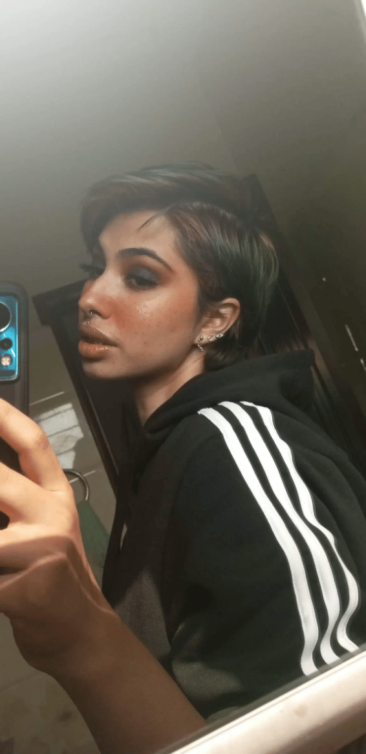 I am a women's holistic health coach and student that enjoys history, experimenting with makeup and skincare, playing sports, working out, and doing all things adventure-related.