Outfits to wear with ballet flats: -The ballet flat trend is back and it's here to stay! Not only are these shoes incredibly functional with their easy slip-on mechanics and lightweight soles, but they also have more traditional origins reminding us of an era long gone.
These shoes are the literal embodiment of Audrey Hepburn's custom-made flats and fashion icons; Coco Chanel and Karlie Kloss who revolutionized fashion for all of us today.
Most recently, Bella Hadid was spotted wearing a chic sweatsuit with ballet flats and giving us some serious airport travel goals!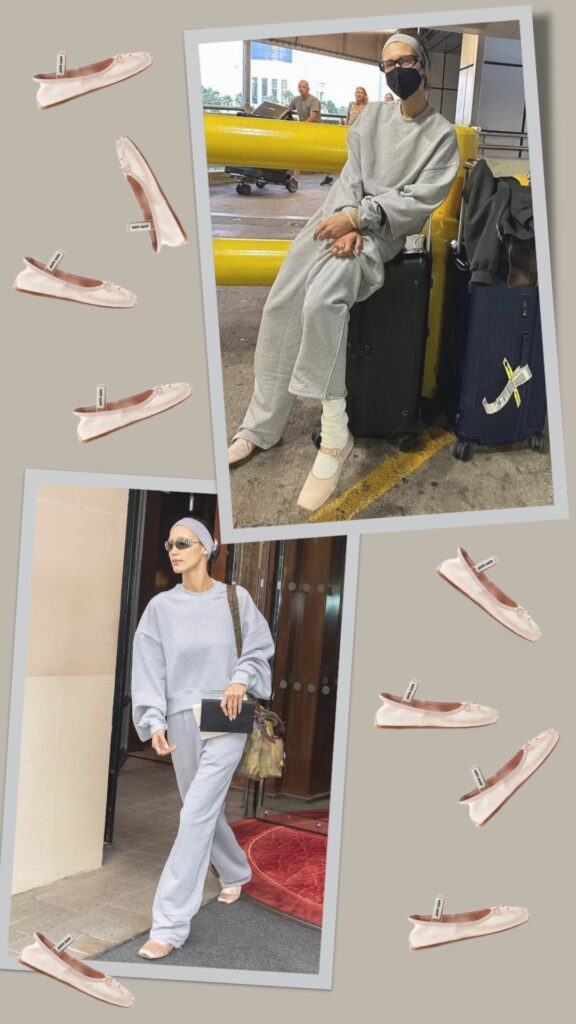 If they're rocking the aesthetic, then we definitely shouldn't be missing out on it.
These shoes have a huge variety ranging from metallic ballet flats to something more formal like a pair of satin ballet slippers, but you need not worry because they can be worn by everyone on any occasion. Whether it's a more formal event or a casual day out or even something more seasonal, these slip-ons add pizzazz to any outfit!
If seeing Miu Miu's fall 2022 fashion show brought you to this article, welcome! All the models strutted down the runway in gorgeous ballet flats paired with chunky socks and looked absolutely phenomenal. Naturally, I had to put my inspiration to good use and round the most incredible outfits featuring ballet flats for you to try!
Let's ballet our way into finding out what all the excitement is about!
How Do You Dress Up In Ballet Flats?
The beauty of this gorgeous pair of shoes is that you can style them for any occasion without compromising on your comfort, whether you are heading out the door for a quick run to the groceries or going to work. You only need to worry about making smart decisions when putting together your fit to appear polished, comfy, and classy!
Style your flats with a pair of straight linen pants and a chiffon button-down in solid and neutral shades. Throw on your oversized statement blazer, and you have a fantastic outfit for work.
Contrarily, pair your ballet shoes with a flowy dress or flared jeans and a crop top for a casual day out! Choose complementing items of clothing and accessories to dress your ballet flats up or down according to your mood!
Do's And Don'ts Of Wearing Ballet Shoes
Material Matters. When choosing a pair, make sure to pick a more comfortable material that fits right. Something that looks cute but hurts your feet is not worth it, especially since you'll mostly be wearing them without socks. Beauty is not pain, girl!
Nude Colors Make Your Legs Look Longer. If you're a bit shorter and struggling with ballet pumps, don't worry because wearing neutral and nude colors will help make your legs appear longer. So if heels are not for you, these can definitely be your hail marry!
Show Off That Skin. Flat shoes look more appealing when you don't cover your ankles. This doesn't mean you can't wear long jeans or trousers, though, because you can just roll them up and rock the fit. Again, this is not a rule, and if the weather calls for it, you can easily style these shoes with socks and with your legging outfits.
Avoid Thick Straps. Thicker straps make you appear shorter so it is ideal to get ballet flats with thinner ankle straps that also look sleek and elegant.
Choose the right bag: Since these shoes are considered to be more on the casual side, they look best when paired with tote bags or crossbody bags.
Opt for trendy clothing items to pair with ballet flats for a unique and modern look – slouchy trousers and an oversized cardigan (french tucked if you want) will look chic with ballet flats.
Add a masculine clothing item to a feminine one for a balanced and more thoughtful look. Thus, pair your dress with a leather jacket and ballet shoes.
Avoid pairing extraordinarily bold and unique prints with the ballet flat; rather, opt for pinstripes, florals, or more classy patterns to complement your shoe.
Overall, keep things classy and minimal when it comes to styling ballet flats. In their case, less is always more!
What to Wear with Ballet Flats?
Now let's look at some outfit inspiration, starting with casual fits and then moving on to formal ones because these shoes are perfect for both.
Casual Wear
43 – Add Chunky Gold Jewelry to Complement the All-Black Outfit
This outfit is a favorite because it just appears extremely comfortable and effortless. I love the addition of contrast through the coat to this look, and the tiny purse is super chic. Everything about this outfit seems wholesome, and I am here for it!
42 – Add a Leather Jacket
This outfit is another excellent example of an all-black fit brought to justice! The leather jacket adds an edgy touch to this look and makes this outfit very street-appropriate.
Adding a choker to the mix would further amplify the street aspect of this look. Contrarily, if you want to achieve a snatched look, go for a trendy sleek bun secured to the top of your head.
41 – Color Block Your Outfit With the Shoes in an Oversized Blazer in Beige
These types of flats come in different colors, and you can get clever, and color block your fit to the colors of your shoes. In this instance, adding a lighter beige/ cream blazer or trench coat would knock this look out of the park. Or a simple scarf in lighter shades would do the trick too! And as you can see here, high-waisted pants are one of the best types of pants you can wear with ballet flats.
40 – Replace the Skinny Jeans with a Pair of Slouchy/ Flared Denim
You must know about these fabulous Chanel ones if you are a ballet flat lover. They are available in different colors and varieties; thus, you are bound to find one to your liking. And the best part is you can dress them as up or down as you want to.
This outfit is a fantastic take on styling Chanel flats. However, I would replace the skinny jeans with a pair of baggy pants or flared jeans for a trendier look.
Shop the shoes below:
39 – Oversized Black Turtle Neck With Skinny Jeans And Snake Print Ballet Flats
Heels can be extremely arduous to wear, especially as part of your outfits for work.
With a nine-to-five job, no one wants sore feet and flaky ankles. This work outfit is paired with some chic snake-printed pointy-toed ballet flats which will not only look fabulous but are also very comfortable.
The outfit paired with these shoes highlights an oversized black turtle neck paired with some classic black skinny jeans. Don't forget to throw on a white patterned shawl to complete the look.
38 – Light Grey Open Sided Ballet Flats With Dull Green Pleated Mini Dress
Looking for cute outfits to wear with ballet flats? This might be exactly what you're looking for. Simple but elegant, this outfit features a comfortable ribbed dull greyish-green pleated mini dress with full sleeves that is a staple piece in every closet.
Additionally, add light grey open-sided ballet flats and wear some matching nail polish to bring the look full circle.
37 – Dull Orange And Black Side-Slit Oversized Sweater With Suede Ballet Flats
Whatever season it may be, these shoes can be the showstopper if worn right. This fall outfit features a long side-slit oversized stipped dull orange and black cardigan with black denim skinny jeans.
The star piece of this look is the suede camel brown ballet pumps that tie the entire look together!
36 – Brown Crochet Cardigan With Mom Jeans And Bowtie Ballet Pumps
Short. People. Can. Wear. Ballet. Flats. Too. Yes, you heard me, these pumps can be worn by anyone even if you're not very tall.
This outfit features a cute little brown crochet cardigan that has buttons and full sleeves.
Matched with them are some classic black mom jeans and some ski-colored bowtie pumps that fit perfectly.
Don't forget to add in your favorite cat-eye black sunglasses to look even more classy!
35 – High-Waisted Grey Belted Pleated Pants With Black V-Neck Buttoned Top
While you can lean into hard ballet core outfits, it is definitely not a requirement to wear ballet shoes. You can just as easily pair some pants with your ballet flats and look chic.
This outfit is a testament to that by featuring some long high-waisted grey pleated pants with a thin black belt across them.
Tucked inside is a black full-sleeved button-down. Put on your open-sided ballet flats with it and look like a diva!
34 – White Crew Neck Ribbed Sweater With Printed Check High-Waisted Pants
If you're looking for ways to wear ballet shoes in winter, then this is the look for you. It showcases a white crew neck ribbed white sweater with a black turtle neck underneath. French tucked inside are some checkered black high-waisted pants.
Add in a cute dark green purse and your classic staple black ballet pumps to bring the entire look together.
33 – You Can Not Go Wrong With Denim-on-Denim
And this, ladies and gentlemen, is how to dress flawlessly for any occasion! Denim-on-denim is a timeless trend in the fashion industry because it is modern and classy and exudes retro vibes that we are here for. Moreover, throw ballet flats into the mix, and you have got the perfect look.
The sleek ponytail and gold accessories accentuate the smartness of double denim, and the ballet shoes are just what is needed to bring this entire look together.
32 – Match Your Accessories to Your Shoes for a Cohesive Look
This look is perfect if you want to nail the soft, feminine, and romantic aspects of ballet flats. Everything about this outfit screams dreams and a whimsical state of mind, from the bows in her hair to the gorgeous summer dress!
31 – Pair Your Unique Ballet Flats With Trendy Clothing Items to Stand Out
If soft and feminine looks with ballet flats are not your style but you still want that touch of femininity in your look, I have got the perfect solution for you. Simply throw an oversized blazer or leather jacket on top of a dress to add a hint of masculinity and create a very balanced and modern look.
Get the blue beauties below:
Pia Ballerina – Bermuda $395.00
30 – The Perfect Outfit for an Everday Look
Whether you are running around campus, catching up with friends, or planning on spending your day running errands, this outfit will not fail you. Make it fancier with the appropriate accessories and hairstyles if needed!
29 – Get the Date Night Outfit Right With Leopard Ballet Flats
I find tiny details in the outfit adorable and truly elevate your look. The matching of the earrings to the shoes is endearing and works effortlessly with the simplicity of the classic red dress!
28 – Embrace the Cozy Life With the Comfiest Pair of Shoes
27 – Opt for a Ballet Flat Outfit While Travelling to Stay Comfortable
You can throw on a pair of sweats and ballet flats for maximum comfort for your travel outfit!
26 – Pair Your Shoes with a Tennis Skirt for a Formal Teacher Look
Throwing on a smart blazer will make your outfit stand out immensely and give you an extremely professional look! This outfit is an excellent pick for teachers, especially preschool and elementary school, where you have to run around the kids all day long.
Formal & Semi-Formal Wear
25 – Go For a Different Color for Leg Warmers & Cardigan for a Unqiue Look
While this outfit is a pretty good fit on its own, I have a few suggestions that might help you elevate this look. Introducing color blocking to your clothes will make this outfit stand out immensely, and the appropriate accessories will make or break your fit.
I would advise opting for a similar colored cardigan and leg warmers to add contrast. A soft cream shade will complement the black dress and shoes phenomenally, but if you wish to go bolder, orange or a deep maroon would do the trick!
24 – Get in the Holiday Spirit With Ballet Flat Outfits
What better time to show off your Tory Burch ballet flats than Christmas?! Not only will you be comfortable amidst all the happenings and festivities of the day, but you will also be looking classy and stylish all day long!
If you wish to make this outfit less holiday appropriate, simply swap that skirt for another great option like this corduroy skirt from Lulus. Now you have an outfit that is wearable for a variety of occasions!
23 – Add a Black Denim Jacket to Make This Look Stand Out More
Do you want to channel your main character energy? This outfit is the way to do it! Not only would you look like you just stepped right out of a magazine, but you will also be comfortable and cozy all day long. Throw on an oversized denim jacket in black to complete your fit. Side note, that shade of pink is to die for!
But these cute shoes:
Sam Elderman Ballet Flats $120.00
22 – Go for a Fun & Feminine Look with Ballet Flat Outfits
This look is for all my girly girls out there! The plaid skirt complements the statement red ballet flats wonderfully. And pairing a black top and stockings adds attention and makes the shoes stand out even more. Moreover, the off-shoulder details on the top add a little something extra to this look! Absolutely stunning!
I would advise pulling your hair back in a gorgeous half-up half-down hairstyle!
21 – Get the Perfect Trendy Work Outfit with Ballet Flats
If you are wondering whether you can wear ballet flats to work, this look is the answer you have been looking for. It just proves to reach for the right items can make or break your outfit. In this case, the pinstriped, long coat is definitely the star of this ensemble and is complemented wonderfully by the shoes.
Moreover, you do not have to compromise your comfort by opting to wear uncomfortable stilettos all day long. Pull your hair back in a sleek bun at the nape of your neck for a further professional look.
Grab the flats right here:
20 – Style Your Chanel Ballet Flats for a Classy Winter Look
This outfit is the perfect example of color blocking done right! From the shoes to the blazer, everything about this look is stunning and ideal for the winter because it will not only keep you looking classy but comfortable and warm too!
19 – Opt for Black Accessories to Match your Black Ballet Flats
The fawn blazer oversized is a stunning piece everyone needs to have in their wardrobes. For a more official look, I would advise a longer pair of similar-colored pants.
But for a casual and lowkey affair, this looks is the way to go. And the best way to incorporate the black of your shoes into your outfit is through accessories!
18 – Wear Ballet Flats with Leather Pants and a Scarf
You can never go wrong with an all-black outfit, especially if it features different textures, such as leather and rib knit.
While this outfit is fabulous as it is, adding a satin square scarf in monochrome will elevate this look and make it unique. Moreover, leave your hair down or pull it back with a claw clip.
17 – Multi-Colored Check Button Down With Bright Green Loose-Fit Jeans
We wanted to start off the list with something bright and cheerful. This outfit features a multi-colored check button-down tucked inside green high-waisted loose-fit denim jeans.
This look cannot be complete without the sexiest pair of suede hot pink ballet flats, the hot pink padded clutch bag, and the oversized black glasses.
16 – Black And White Striped Crewneck Sweater With Beige Khaki Cargo Pants
Ballet flats don't discriminate against no age group! These pair of shoes can be rocked by more mature women as well and this look proves that.
It features a black and white striped crewneck sweater with a collared blue button-down underneath. Paired with it are some oversized vintage beige khaki cargo pants.
Starring at the bottom is a gorgeous pair of black ballet pumps with a zig-zag pattern and a cute little bow tie on top. You can add in some white gold studs and look like a queen.
15 – White Maxi Dress With Pleats Paired With Metallic Pointy Ballet Flats
I know what you're thinking, ballet flats with a dress? Well, prepare to be stunned by this look that showcases a long white v-neck maxi dress with a metallic silver print on top. This dress is loose and flowy with pleats going down from the waistband and some tassels.
The dress is complemented by wearing dazzling pointy-toed silver ballet flats with some white leggings and white feather earrings.
14 – Blue Shimmery Knee High Fitted Dress With Warm Fleece Black Leggings
To add some oomph to the outfit, pair your favorite plain ballet flats with some power pieces from your closet. The look showcases a bright blue sequin fitted mid-length dress that has a u-neck paired with black fleece leggings.
The streamlined fit of the dress goes perfectly with the pointy-toed black ballet flats shoes with a golden buckle on top. Match a fluffy poodle-like black handbag and go dance the night away!
13 – White Mock Neck With High-Waisted Black Pleated Pants And Black Bag
This outfit features a fusion look where casual work attire meets a modern aesthetic to match perfectly with the ballet pumps. The hero piece is definitely the pointy-toed black and skin-colored ballet pumps with some thin black tinted socks.
The outfit has a white mock neck tucked inside some black high-waisted pleated pants and a snuggly warm full-sleeved white shrug on top. Accessorize the look with a huge black faux leather bag and you're ready to go to work.
12- Navy Blue Full-Sleeved Mock Neck With Green And Blue Plaid Side String Skirt
What in the name of Blair Waldorf is this outfit? If you didn't catch on to the gossip girl reference, you need to go watch the show after reading this article.
This outfit gives major gossip girl vibes with its blue and green plaid long skirt with a side string tied bow at the side.
Tucked inside is a full-sleeved navy blue mock neck and paired with it are some black ballet flats with a thin strap behind lifting the entire look!
11 – Bright Green Fitted Leather Dress With Teddy Bear Embroidered Ballet Flats
Thought you'd seen it all? We're here to prove you wrong because this outfit highlights the most adorable teddy bear embroidered ballet flats with their cute little ears poking out at the top. Paired with these shoes is a bright green u-neck fitted leather dress, a black leather jacket, some thick shades, and a beige handbag.
10 – Co-ord Set With Turquoise Suede Turtle Neck And Cuffed Turquoise Pants
There's a great misconception that ballet shoes are childish which is just simply not true. All you need to know is how to pair outfits for older women and voila!
This outfit is one for all turquoise lovers with its matching co-ord set featuring a long suede turtle neck, some cuffed turquoise pants, and a long-sleeved turquoise coat with large pockets.
This outfit acts as the perfect segway to the black ballet suede pumps that add that much-needed contrast and helps complete the outfit.
9 – Baby Pink Ballet Flats With V-Neck Lace Top And Black Side-Slit Skirt
Wearing ballet shoes can't stop you from channeling your inner quirky and preppy goddess into your outfit. This outfit highlights a cute white lace deep v-neck top with baby pink sleeves. Matched with it are a black side-slit mini skirt, some white patterned leggings, and a pink beret hat.
To foolproof the preppy aesthetic, add in some white socks with some baby pink bowtied pink flats along with a mini beige handbag.
8 – Deep Neck Shirt With Rolled Up Denim Jeans And Cheetah Printed Ballet Pumps
The ballet shoe trend is one of the biggest ones of the season so we should definitely get creative with it.
These cheetah-printed point-toed ballet shoes paired with a simple u-neck tee, some black rolled-up denim, and a checkered cardigan might just be the Instagram outfit inspiration you need.
Add in some jewelry and a big black handbag to accessorize. The look may be simple but the shoes don't have to be!
7 – Long-Sleeved Black Mock Neck With Elastic High-Waisted Layered Long Skirt
You thought we'd miss the opportunity to show this pair of bad boys with a long skirt? Nope, we didn't. These black ballet shoes have a simple v in the center however the outfit with it is not as minimal.
The fit highlights a trendy long high-waisted and layered shimmery skirt with a long-sleeved black mock neck on top that is tucked inside. The studs help take the fit one step higher!
6 – Maroon Turtle Neck With High-Waisted Trousers And Checkered Ballet Flats
Wondering how to wear ballet flats in winter?
This look helps mix modern winters with just a little bit of spice with its maroon full-sleeved turtle neck tucked inside high-waisted trousers with the drawstring in front and some 70s checkered ballet flats to go with it. Don't forget to carry your black mini purse with you!
5 – Orange Suede High-Rise Pants With Red Ballet flats And A White Button Down
This fall outfit features an orange suede high-rise pant with a tucked-in white button-down. Matched with this are some cute red ballet flats. A simple yet sophisticated look.
4 – Checkered Black And White Blazer With Blue Jeans And White Ballet Pumps
Last but not least, this outfit has a check blazer with a black turtle neck. Paired with it are some classic denim jeans, a beige Chanel bag, and some white bowtie pumps.
3 – Get Glammed Up for a Night Out Without Compromising Your Comfort
Celebrity Style Inspo
2 – Jennifer Larwence
Jennifer shows us here how even the classic Mary Jane Ballet flats are good enough for business casual outfits as she heads off to a meeting in Beverley Hills while wearing a blazer, shorts and these ivory-colored ballet flats.
1 – Bella Hadid
If you were looking for celebrity-inspired outfit ideas then this is the fit for you! Starring the queen herself, Bella Hadid puts the F in Fashion with those red criss-cross ballet flats. The outfit she's wearing highlights a black off-shoulder top ruffled at the top and across the sleeves.
Paired with it are bright red leather pants with a belt across them. Tied with the whole look is a matching red handbag that adds to the entire aesthetic.
Here's another stunning look from Bella. This outfit has so much going on, but somehow, all the pieces seem to complement each other effortlessly. These denim overalls are definitely not for the faint-hearted, but if you enjoy much bolder, out-there looks, you should play around with similar pieces.
Moreover, it is time to get those unconventional items in your closet that do not seem to go with anything out and dusted. The leg warmers and chunky accessories in Bella's look are proof that you have to put yourself out of your comfort zone to get your most unique yet fabulous look!
FAQs
Q. Are ballet flats in style?
The trend was revived back in 2022 and is still going strong due to the dynamic and multi-functional design of the shoes themselves, so in short, yes, they are!
Q. Can you wear ballet flats with leggings?
Leggings and ballet flats can definitely be worn together but you have to make sure that the cut of the shoe isn't very low or it just won't look good.
Q. Are you supposed to wear socks with ballet shoe?
We've been seeing a lot of celebrities effortlessly styling socks and leggings with ballet shoes and they look pretty good. So it all depends on the weather and your personal preferences – if you feel like wearing socks with your ballet shoes, go for it.
Q. Can you wear ballet flats with a dress?
Of course! Ballet dresses wear beautifully with dresses, specifically midi dresses. While they look super adorable, you might end up with a look too feminine for your taste. If that does not float your boat, I would advise adding a leather/ denim jacket or an oversized coat/ blazer. That ought to balance your look and help you achieve timeless elegance!
Q. Where to buy ballet flats?
There are countless brands out there carrying a vast variety of ballet flats. You could check out Ferragamo, like Audrey Hepburn, or more affordable luxury brands, including Repetto, Tieks, and Charles & Keith. If all else fails, you are likely to find something to your liking at Walmart, Nordstrom, or Amazon!
Q. Do ballet flats go with jeans?
Of course! I believe one of the easiest and simplest ways to style a ballet flat is with jeans. You can simply throw on an oversized white button-down shirt and tuck it in at the front. And voila! You are good to go. Add a pair of chunky gold hoops, pull your hair back in a chic bun, and you look like you just stepped out of a fashion magazine!