Outfits with bootcut jeans for women. Thanks to classic sitcoms like Friends, '90s clothing is making quite the comeback as of late. And sprinkled in with all the scrunchies, high-waist mom jeans, and Keds are the quintessential 1980s/1990s staple: the bootcut jean.
Easily one of the most recognized of its class, boot cut jeans have been around for several decades. They have been mostly overshadowed by skinny or straight jeans and yet, when worn right, they remain a totally cute and classic clothing item that, yes, you can definitely still wear in 2020! It's all about how you style them. Keep in mind that the classic bootcut jean is not the same as bell-bottom jeans or flared pants. Those are probably what you think of, especially if you are looking at '80s fashion! The classic bootcut is not as excessive or in your face as flared jeans or bell bottoms. They are much easier to work with and style! So let that encourage you in your quest to wear bootcut jeans in 2020.
 What to Wear with Bootcut Jeans
Bootcut jeans are often more comfortable to wear than tight-fitting skinny jeans which made them the hallmark staple of women everywhere for years! But you may be wondering, how can I pull these off without looking like I have been digging through my mom's closet? (Or your grandma's, for that matter.) Rest assured, it is totally possible to rock these classic jeans in a way that feels true to you and your style while keeping up with the trends of the day!
Here are 26 ways you can wear bootcut jeans!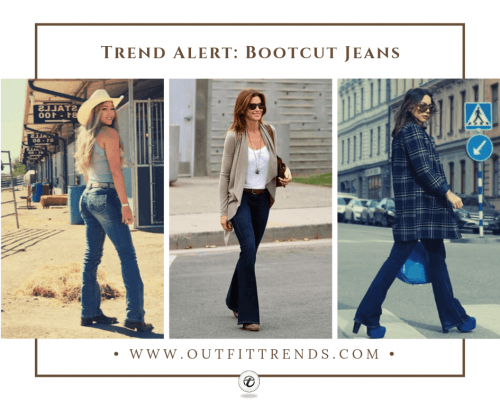 ↓ 26 – Cute Ripped Jeans & Graphic Tee
Graphic tees and ripped denim will always be in style! There, it has been declared! This is one outfit that you really can't go wrong with. Simply pair your favorite graphic tee with some high-waisted ripped bootcut jeans. (Pro tip: tuck the top into the front of your jeans to add a little bit of structure to your figure and highlight your waist.) Wear with wedge heels and your favorite crossbody purse. Keep accessories simple and voila, you are ready to go.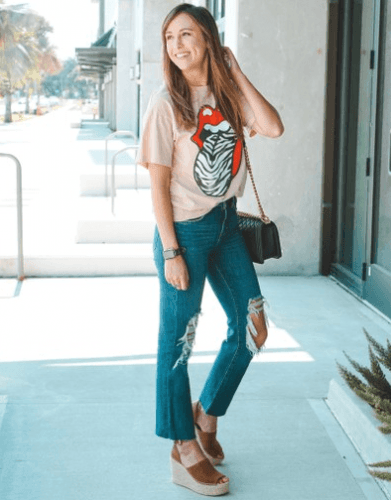 Get this outfit for yourself!
L'AGENCE Jordan Ripped Crop Bootcut Jeans
Marc Fisher LTD. Women's Adalyn Ankle Strap Espadrille Platform Wedge Sandals
↓ 25 – Gorgeous 1970s Style Outfit
For a totally gorgeous retro outfit, check out this outfit board! All the pieces are linked below so you can get this outfit for yourself!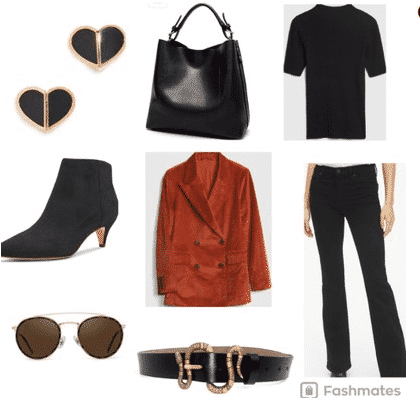 Get all the outfit details below:
GAP Mid Rise Perfect Boot Jeans $69.95
GAP Ribbed Short Sleeve Mockneck $44.95
XYD Kitten Heel Ankle Boots $49.79
Kate Spade Heart Stud Earrings $48
VINBAGGE Women Satchel Tote $29.99
JIM HALO Round Sunglasses for Women $17.99
↓ 24 – Classic Bootcut Jeans Style
Let your inner Jessica Simpson free with this classic boot cut jeans look!
Pair your medium wash jeans with a pale blue embroidered top and pop on your favorite boots or closed-toe heels for this outfit. Accessorize with Aviator sunglasses and a clutch. This is a simple, everyday look you could wear to grab a coffee, run errands, or hang out with friends.
↓ 23 – How To Wear Bootcut Jeans To Work
We love the versatility of this look. Whether you are headed to work or going to meet with clients, this is a lovely, professional outfit that is both stylish and modern. A white jersey blouse is paired with some plaid bootcut crop pants. The neutral tone is very chic. Wear with loafers and throw on a blazer if you need that extra layer! Opt for minimal accessories.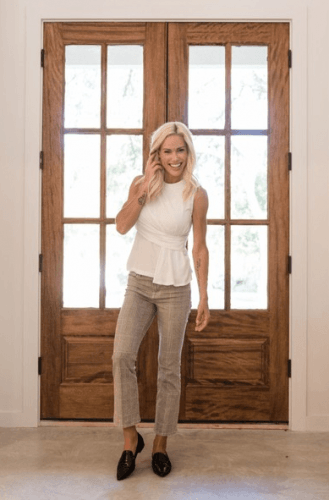 Get the outfit details for yourself:
Le Cropped High Waist Plaid Bootcut Jeans
↓ 22 – How to Style Cropped Bootcut Jeans
Cropped bootcut jeans are on a whole new level of cute. Opt for black or super dark wash and pair with heels to make sure you are adding some length to your legs. (Cropped jeans can often shorten the leg if not styled correctly.) Pair with a brightly colored top (this mustard yellow looks beautiful with a red lip) and top it off with a blazer or jacket of your choice. Accessorize with a small purse, bracelets, and earrings.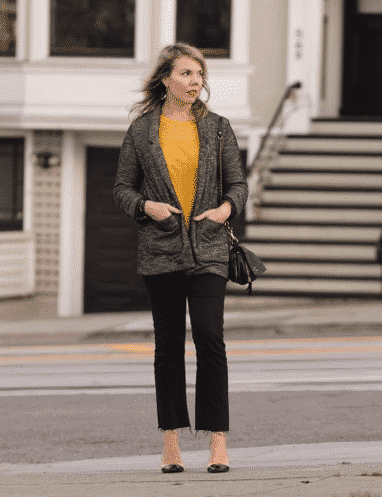 Get the outfit for yourself:
Eileen Fisher Classic Collar Knit Blazer
Madewell Cali High Waist Crop Demi Boot Jeans
Bobi Crossbody Bag
↓ 21 – Casual Outfit for Lunch
Check out this super cute outfit – great for grabbing lunch with friends, attending an outdoor event, or going to the theater.
Opt for well-fitting mid-rise jeans of a medium wash. Pair with a white top bedecked with a defining feature: in the case of this top, it's the bows on the straps. For footwear, a closed-toe boot or heel in a pale brown is the perfect way to really emphasize your long legs. Accessorize with statement earrings (go for oversized, eye-catching, and coordinate with your top) and a thin belt. Don't forget some bracelets and/or rings!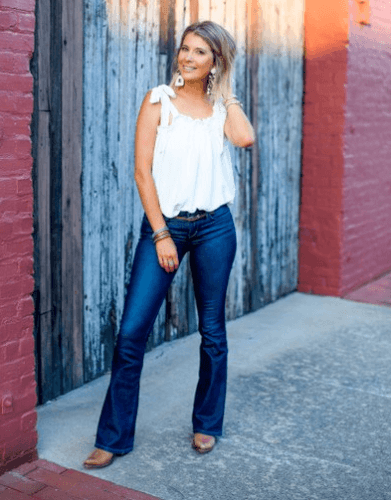 ↓ 20 – Business Casual in Bootcut Jeans
For a look that is effortlessly chic, check out this business casual ensemble.
This is a great outfit for fall or colder weather. Pair a cool gray turtleneck with some bootcut jeans or trousers. We love the dark-wash look; it's classy and chic. Pair these with some black pumps or stilettos. Accessorize with bracelets and choose a warmer toned lipstick. And to complete your look, do check out these Best Business Casual Shoes For Women.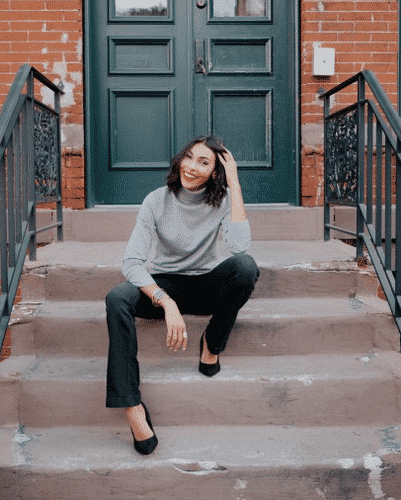 This is a super affordable outfit. Grab it for yourself at the links below:
No Boundaries High-Waisted Bootcut Jeans $14.98
Time and Tru Turtleneck Sweater $11.86
Time and Tru Point Toe Heel $14.82
↓ 19 – Modern Work Attire with Bootcut Jeans
You can easily wear bootcut jeans to work without having to worry about whether or not they are too provocative for the office (as some might deem skinny jeans). Pair up your bootcut jeans with a sleek, professional-looking button-down shirt in a neutral shade and tuck in. Wear with heels or wedges, perhaps even ankle boots if you prefer a closed-toe look.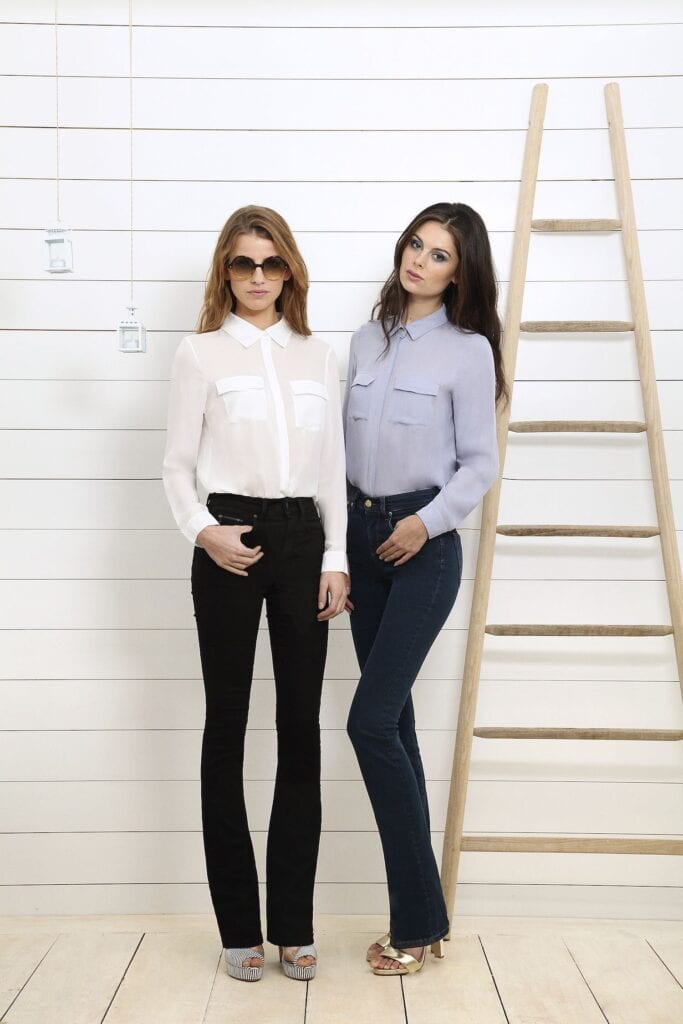 ↓ 18 – Cute Business Meeting Outfit
With bootcut jeans, you are visually creating some width on the lowest third of your body. Some like to wear an extra layer or two up top to balance out that width. For an example of how to do this, check out the outfit below. This is a cute, easy look, great for business meetings, casual workdays, or grabbing lunch with colleagues. Opt for dark wash jeans to keep it looking professional and avoid rips or tears in your denim. A polka dot blouse is a classic, especially when paired with a neutral grayish lavender open blouse. Sleek hair and statement earrings and high heels round off this fun little outfit!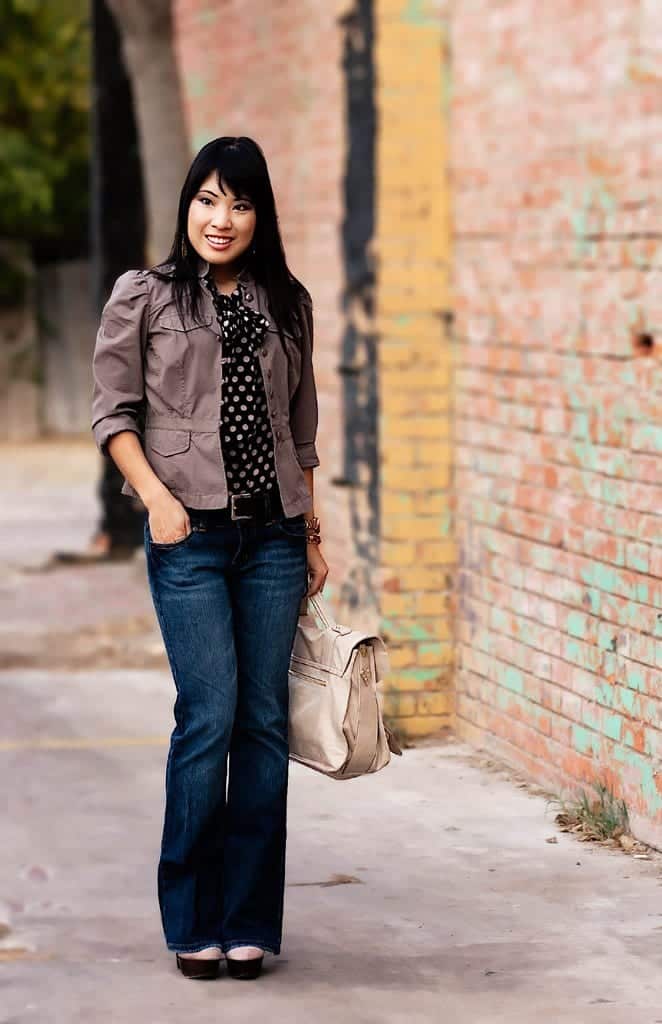 ↓ 17 – Casually Stylish: How to Wear Bootcut Jeans for Moms
Fitted, high-waist jeans will keep you cinched and feeling fabulous, mamas. You can go for a lighter wash and pair your jeans with heels to further lengthen your legs. (Switch out the heels for flats for a more comfortable ensemble.) For this look, opt for a button-down plaid shirt and tuck it into your jeans. Accessorize with a statement bracelet, dark sunglasses, and a pendant necklace.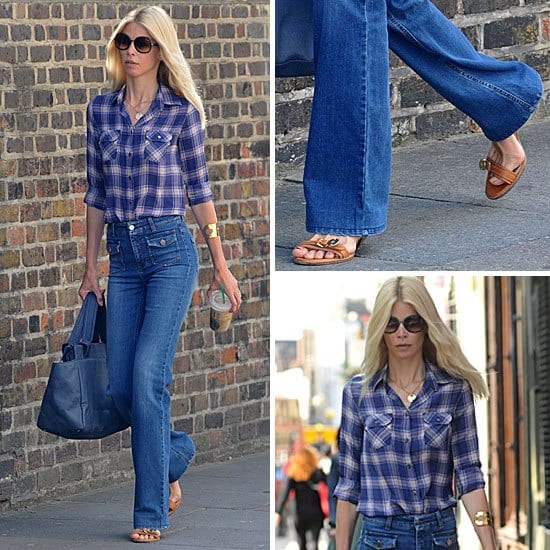 ↓ 16 – Stylish, Chic, and Modern Look with Bootcut Jeans
For a slimming and chic look, check out this beautiful outfit.
It's simple but makes quite a statement! Opt for well-fitting dark-wash jeans and pair with a pale blue chambray top. Black heels or boots are the footwear of choice. For accessories, this gorgeous wide-brimmed hat matches the shoes and adds instant glamour to the ensemble. Add rings, bracelets, and a fashion watch.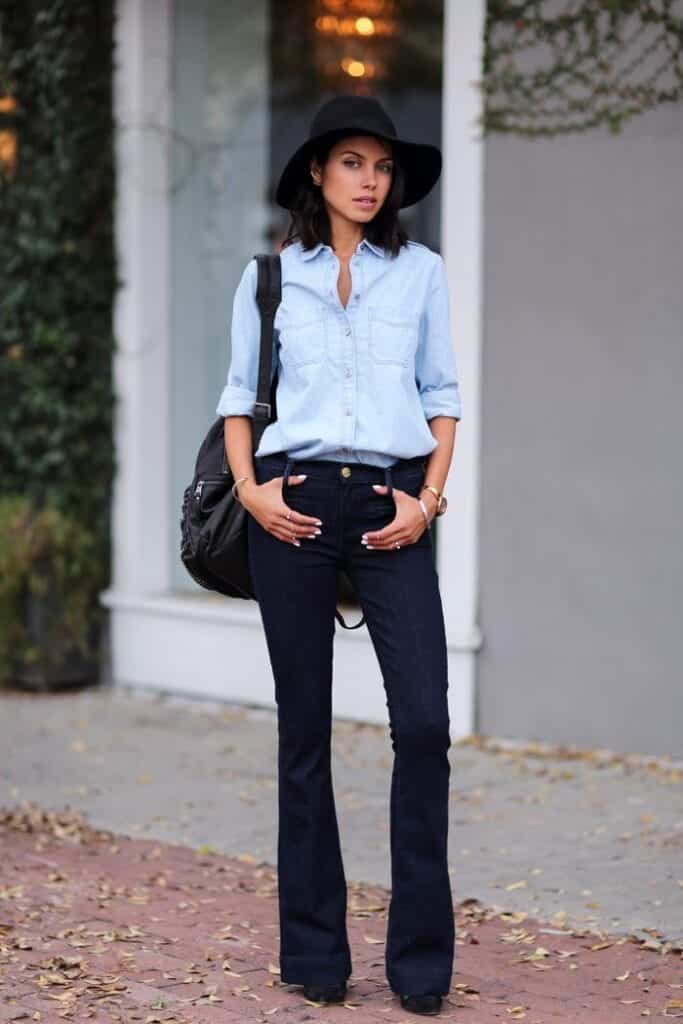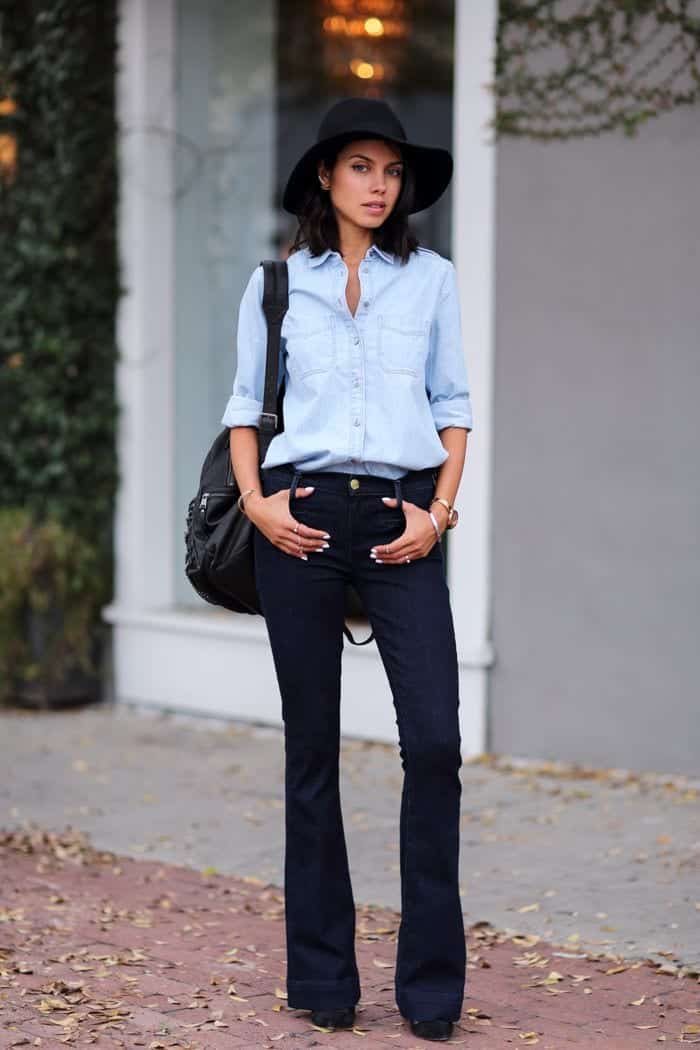 ↓ 15 – What To Wear With White Bootcut Jeans
This beautiful look features a couple of trend-setting elements that fashionistas everywhere will appreciate! From the unique take on the bootcut jean to the flared sleeves on the top, these features are what make you stand out as someone who knows her stuff when it comes to fashion. Check out these White Shirt Outfits For Girls.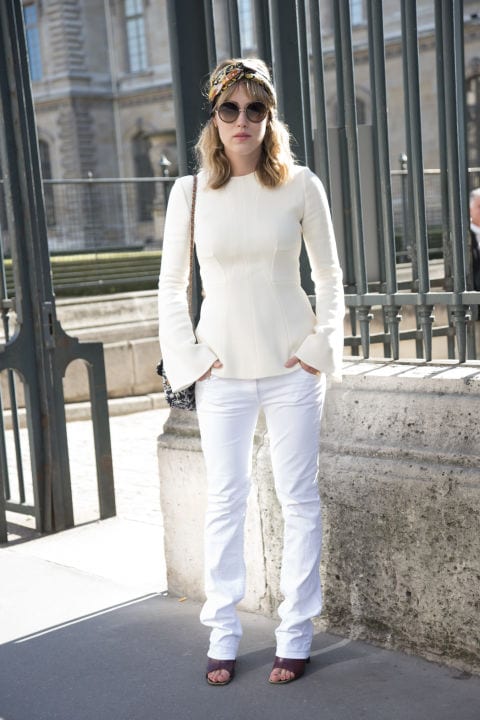 ↓ 14 – Funky Throwback Look
This very modern, funky look is sure to have your fellow fashionistas shaking in their boots! It has a throwback vibe to it that almost makes it seem retro, all while remaining very current. Let your jacket steal the show but rest assured, those slim, light-wash bootcut jeans won't be overlooked!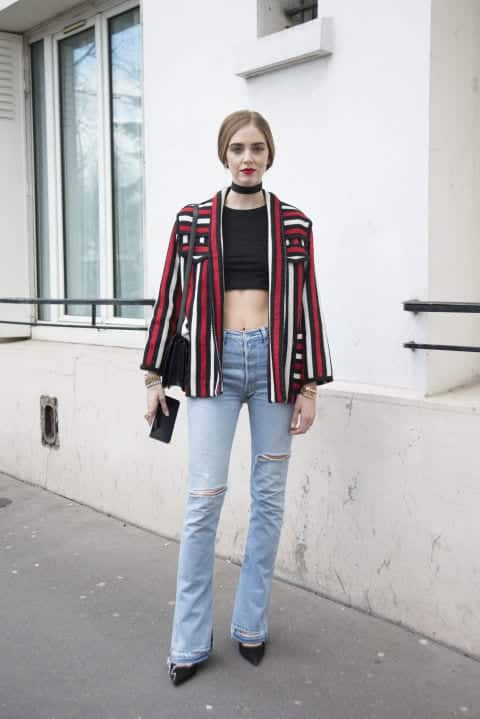 ↓ 13 – Hippie Style Top
Pair your slim-fitting jeans with a silky or flowing top and grab yourself a fun, unusual accessory like this purse. For formal wear, heels are always a good choice so you might wanna check out these Jeans Outfits in Heels: 20 Ways To Wear Jeans With Heels.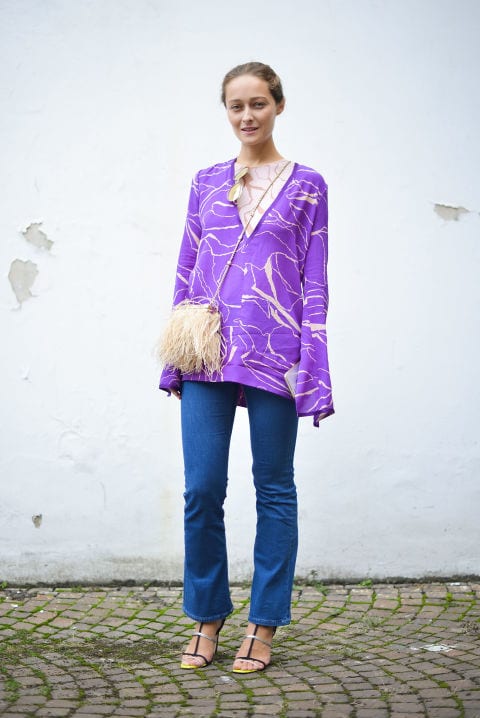 ↓ 12 – Celebrities Rocking the Bootcut Jeans
Do you still doubt whether or not it's possible to look totally glam in bootcut jeans? Check out these well-known celebrities. Here are four different ways you too can wear bootcut jeans without sacrificing style.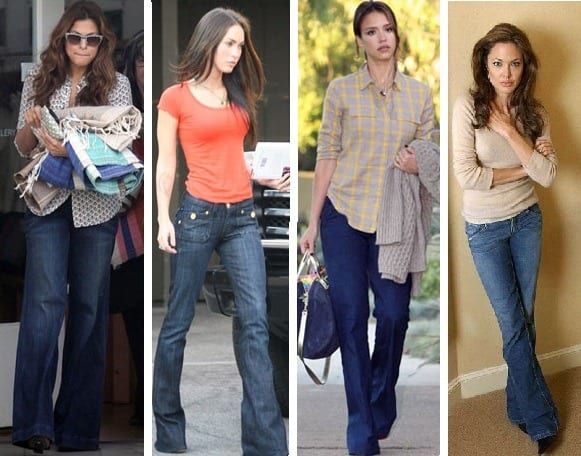 ↓ 11 – Crop Jacket and Bootcut Jeans
Go bold with a bubble gum pink cropped jacket for this look! The bootcut jeans are the perfect complement (skinny jeans would look less eye-catching with this ensemble) especially when paired with heels and a bold red lip.
And if you have cropped bootcut jeans, then you'll find inspiring ideas here: Women Cropped Pants Outfits.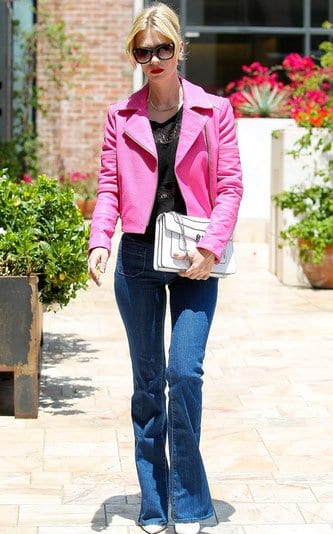 ↓ 10 – Contrasting Denim Top and Bootcut Bottoms
If Jessica Alba can do it you can too!
Opt for a chambray top or stretchy denim to pair with your jeans. A fun sneaker makes this a great, stylish and comfortable outfit for a mom running errands!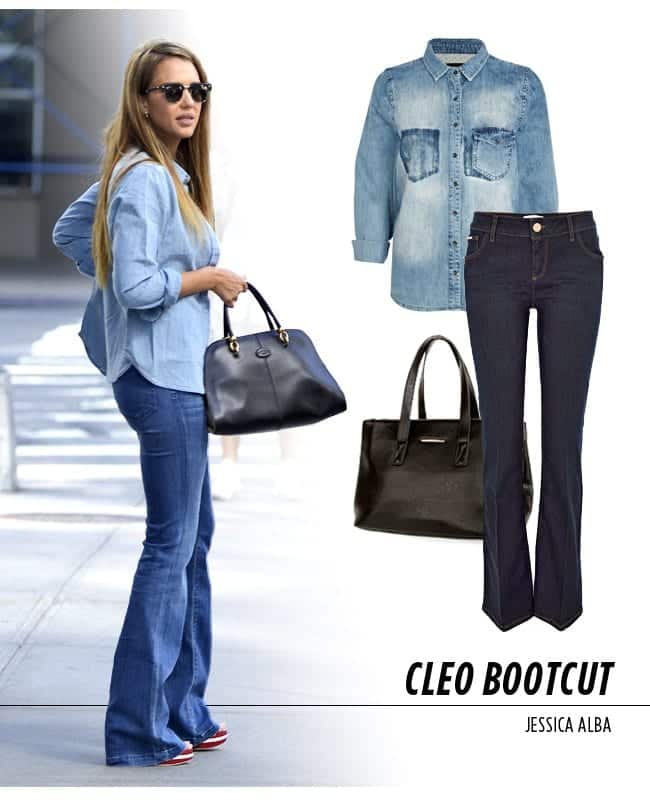 ↓ 9 – Edgy Leather Jacket and High-Waist Bootcut Jeans Look
Dear fashionistas, this one is for you. This is a look that means business!
Pair a black turtleneck with a fitted leather jacket and tuck into a pair of dark wash jeans. Accessorize with sunglasses, a pendant necklace, and a statement belt. And if you like brand-name pieces, now is the time to bust them out! These ankle boots and matching purse are expensive, but if you have them, use them. If not, no worries! Opt for a similar style boot and handbag and flaunt them.
↓ 8 – America Ferrara Inspiration Look
Not only is America beautiful but she definitely knows how to rock some gorgeous bootcut jeans! Take a page from her book and pair yours with an eye-catching top and peep-toe heels.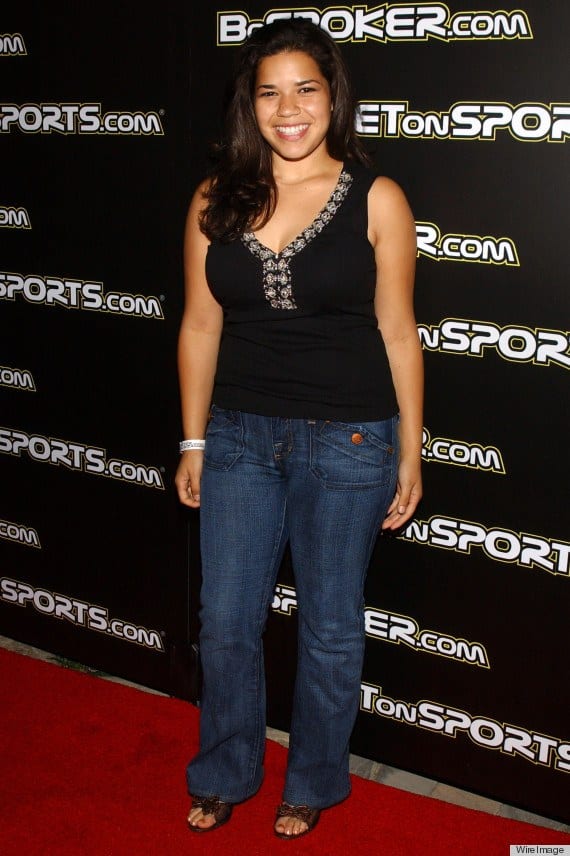 ↓ 7 – Wearing Bootcut Jeans in Fall
This lovely look conjures images of walks by the sea on some far-off English isle. But if you are like the rest of us, and just want a beautiful look to get dinner in, well, this works for that, too.
It's all about the colors with this ensemble. Sage green and soft, satin pink are paired beautifully with some medium wash jeans and tortoise sunglasses. Opt for a neutral-colored purse to finish it off.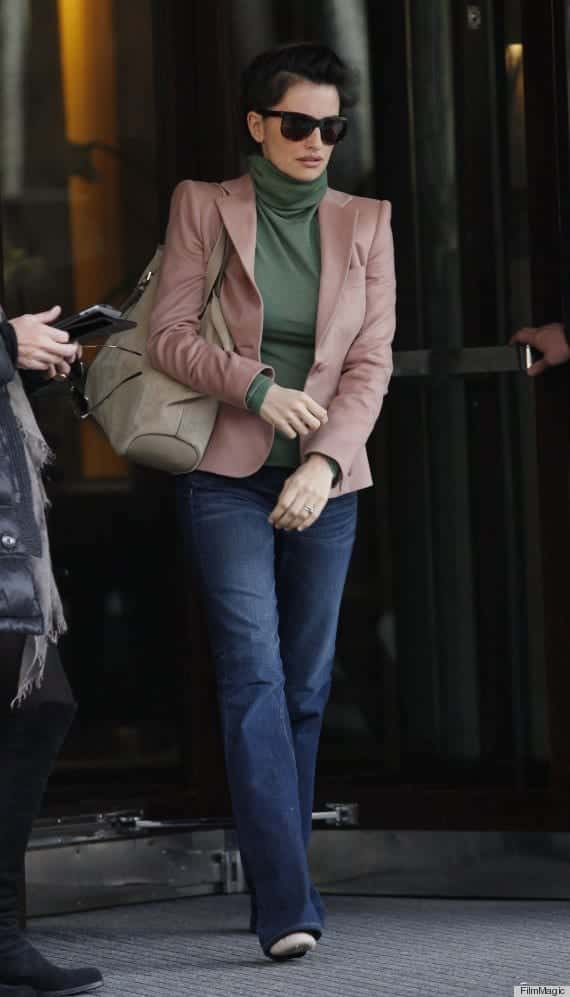 ↓ 6 – Party Girl Outfit with Tank Top and Bootcut Jeans
For a bit of a throwback to the early 00s, this look has you covered! Throw on a scrunchie and have fun! Here are some more Cute Outfits with Tank tops.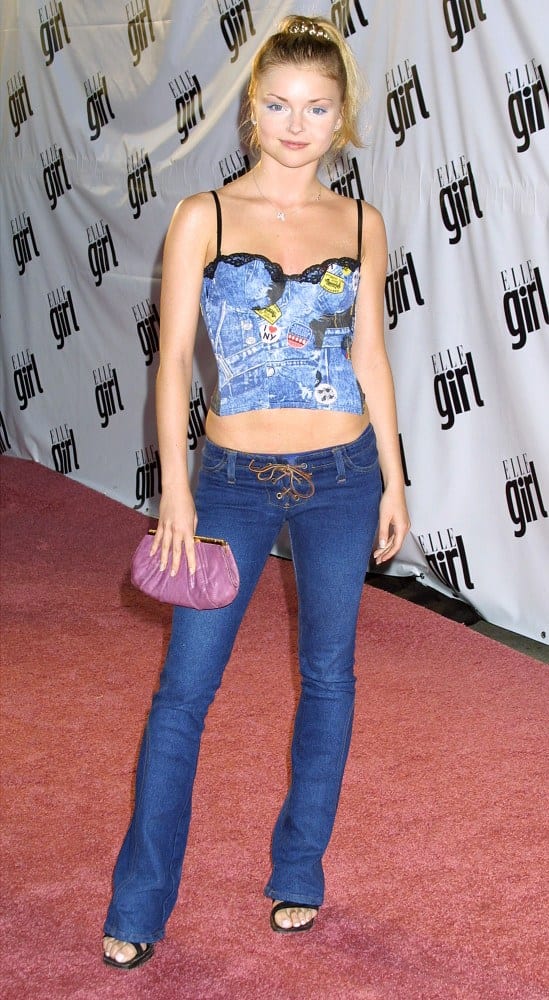 ↓ 5 – Embroidered Bootcut Jeans
For a dated but cute look, throw on some embroidered jeans! While this look isn't for everyone, we know for sure that bootcut jeans are a fun way to explore your inner creativity!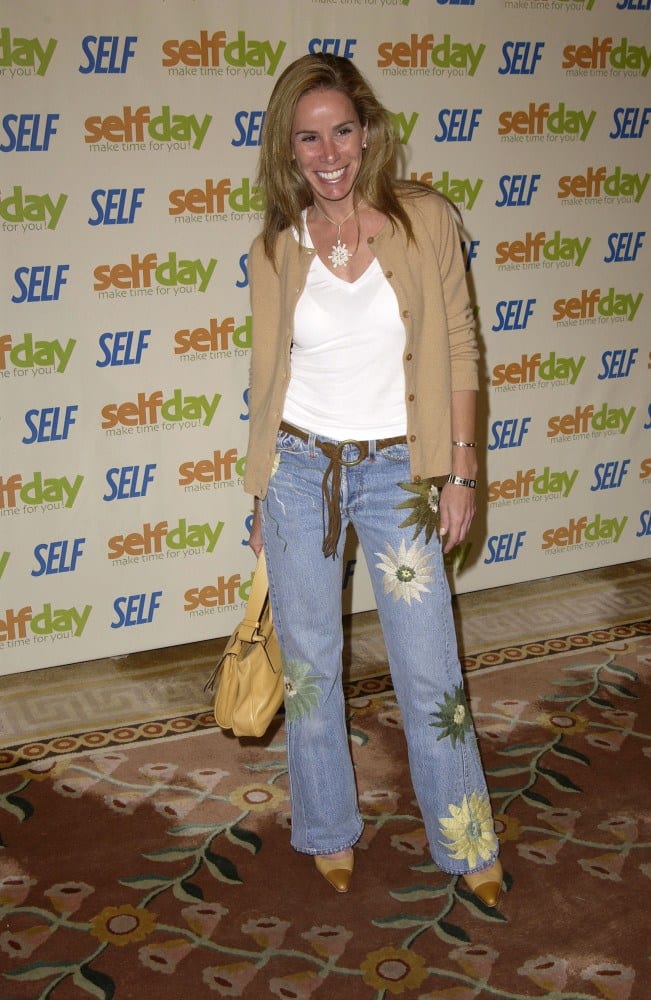 ↓ 4 – Shakira Inspired Look
Feeling like you want to do a throwback look? Check out Shakira's insane frayed jeans and denim jacket look!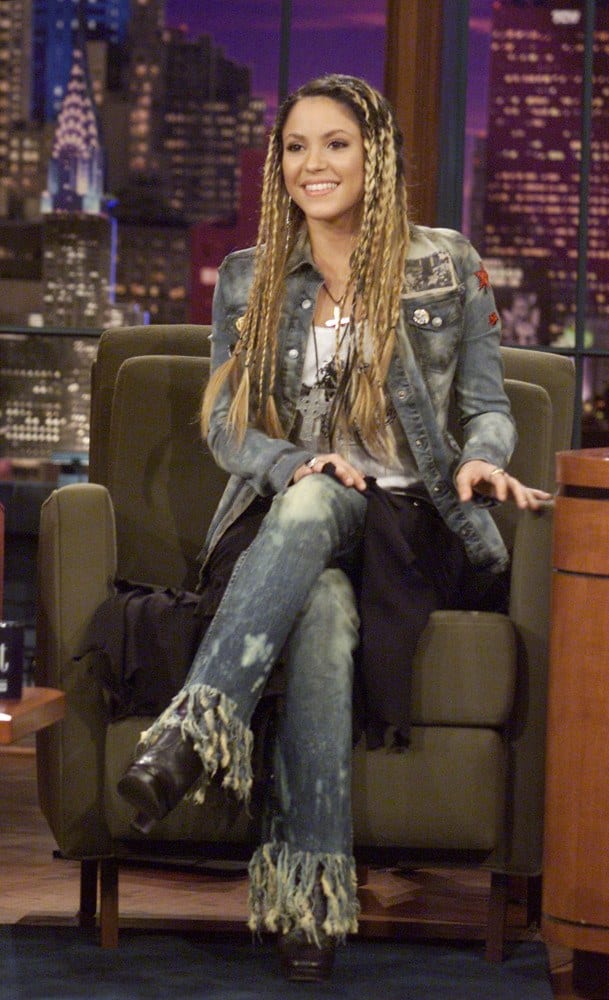 ↓ 3 – Boot Cut Jeans With High Heels
High top sneakers or regular canvas shoes can be worn with bootcut jeans. But you can also glam up your bootcut jeans with high heels, sandals or ankle boots.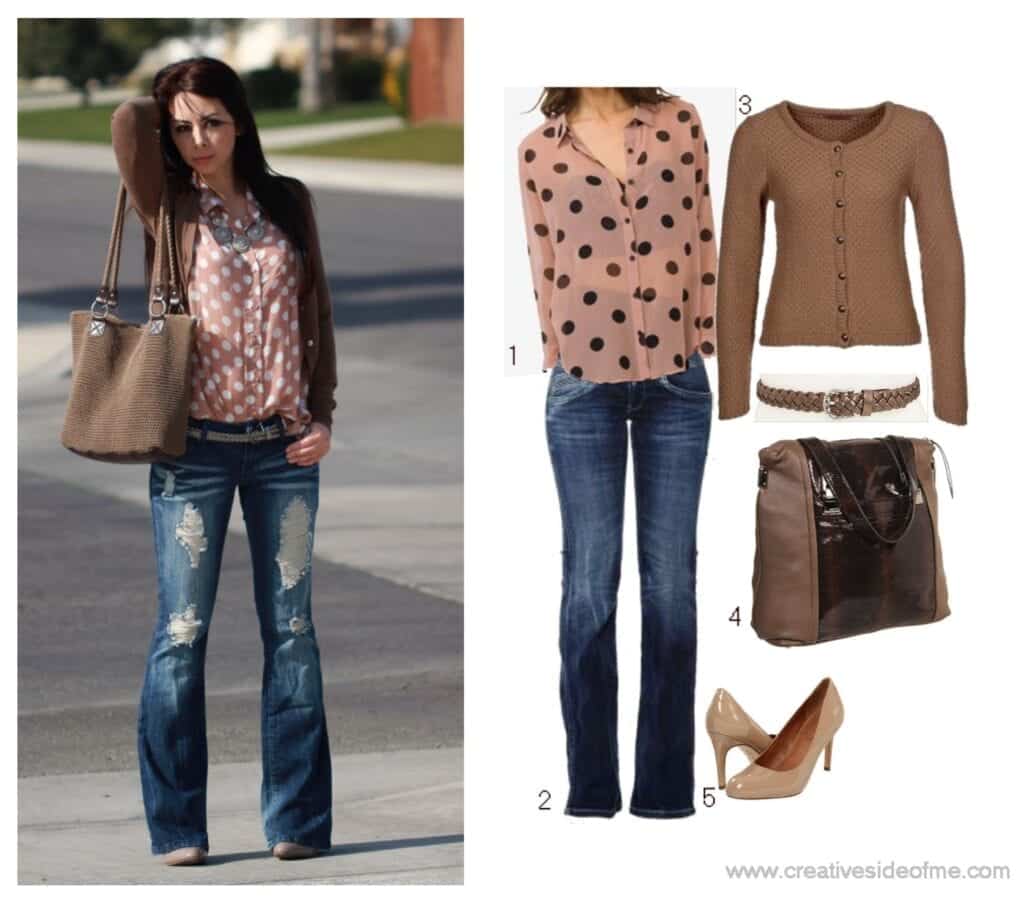 Source
↓ 2 – Bootcut Jeans With Winter Coats
During the winter season, you can flaunt your bootcut jeans with long stylish coats! You can wear trench coats or fleece coats with leather belts. You can wear hats or other winter accessories too.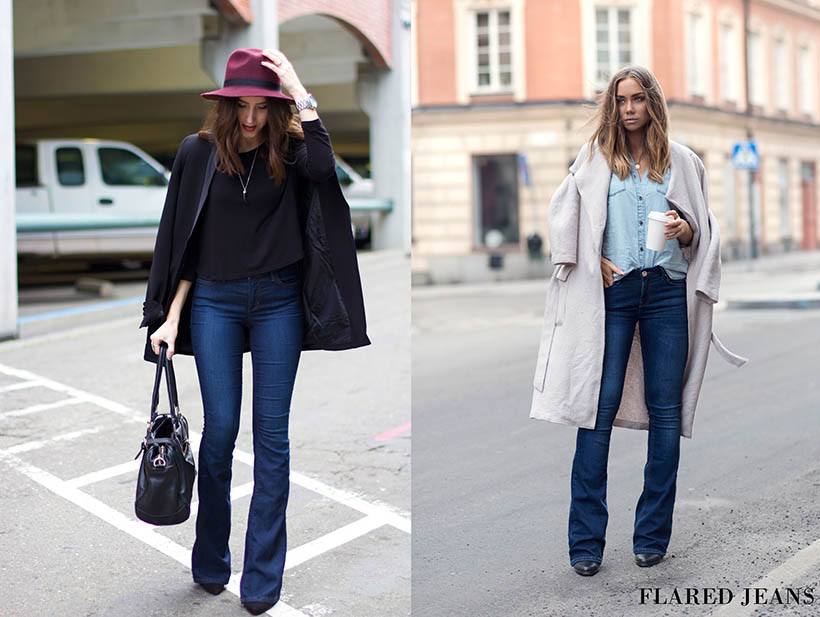 Source
↓ 1 – 3-in-1 Outfits with Bootcut Jeans
Last but not least, we have three looks for you featuring bootcut jeans, any of which you can try today! Whether you need a casual run-around-town look, a trend-setting party look, or even a business/casual or formal outfit, these three outfits are a great place to start!