Women Cropped Pants Outfits. Cropped jeans and cropped pants are everywhere this season. It is one of the hottest trends of summer 2017, and everywhere you go, you will see young and old wearing crop pants. The reason for cropped pants becoming so popular might be that they are so comfortable to wear and fit for both casual and formal wear.
So what exactly are crop pants? Crop jeans or crop pants are shorter than the normal pants. In crop pants the length comes above the ankles instead of going all the way down and touching the foot. Sometimes people use the term cropped pants and capris interchangeably but there is a technical difference between the two. Capris are shorter than the crop pants. In capris at least half of the calves are visible if not more but crop jeans are longer than the capris. In crop pants, the length is longer and calves are covered. The second difference is the season when you wear the capris or crop pants. Capris are the summer specialty and you can wear them in the hot weather, while crop pants are considered good to wear all through the year. Capris are more for casual wear and crop can be considered as both formal and casual depending upon what you are wearing with it.
What to Wear with Cropped Pants
Here are some ways in which outfits with cropped pants can be worn. And don't miss out these cute Outfits with Ruffle Tops- 15 Ideas How To Wear Ruffle Tops
↓17 – Crop Pants With Deconstructed T-shirts
As deconstructed shirts are very much in fashion this year, such shirts look really nice with a pair of crop pants. The deconstructed shirts are usually baggy and not regularly shaped so wearing skinny crop pants with such shirts not only bring out the shape of your legs nicely but also complement the effect of the deconstructed short make it stand out from the regular outfits.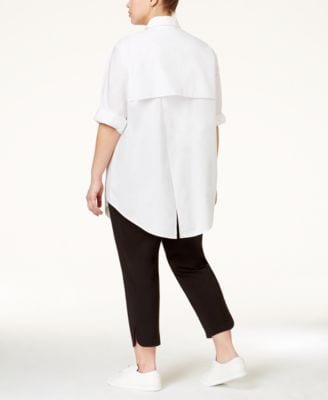 via
↓16 – Crop Pants Outfits for Work
Crop pants look great with coats that are long. However do not wear them with coats that are longer than knee length. Coats and blazers that are above your thighs pair up best with crop pants.

↓15 – How to Wear Cropped Pants if You are Petite
Wearing a tunic with crop pants is a great option to try out. Tunics look great to leggings or leg hugging lowers. Crop pants that are skinny fit will look great with Tunics. This is a great outfit for Petite and Slim girls, for some more amazing inspiration, also have a look at Petite Fashion Bloggers; Top 15 Petite Stylist to follow this Year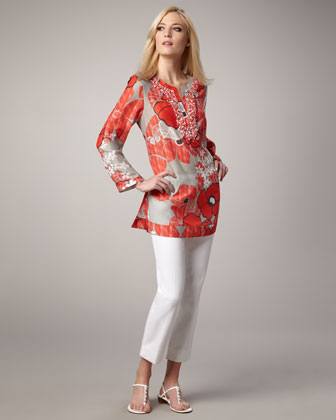 ↓14 – Cropped Pants in Winters
Crop Jackets also make a great pair with Crop Jeans or Crop pants. It will give you a very fashionable and trendy look. Try out crop leather or denim jackets with crop pants to make an outfit that is very stylish.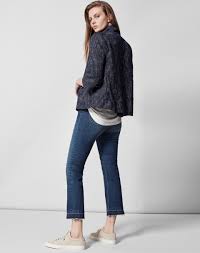 ↓13 – Crop Pants for Plus Size Women
Plus size women can enjoy the crop pants. They look good with a thigh length loose fitting top. You can try something in bold colors or flowery print with a plain or white crop pants. If you want to wear a plain single colored top you can wear patterned crop pants to give more style to your wardrobe.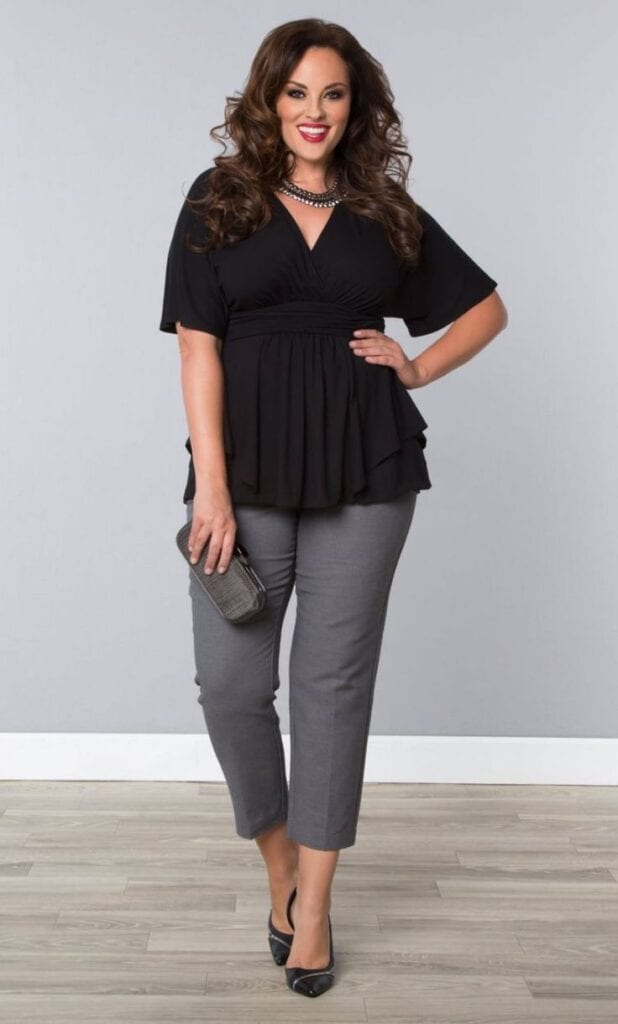 ↓12 – Celebrities wearing Crop Pants
Many celebrities are seen wearing crop pants these days. Because they are the trendiest outfit this summer you can check out the crop pant style of your favorite celebrity and match your style with it.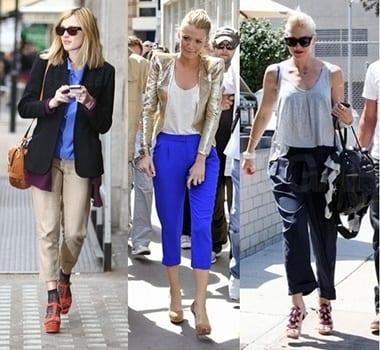 ↓11 – Crop with Spaghetti Straps for Night Out
Crop pants look with spaghetti straps tops will also be rocking. Spaghetti straps or camisole tops both will make great outfits with crop pants. RECOMMENDED: What to Wear for Girls Night Out?17 Girls Night Out Outfits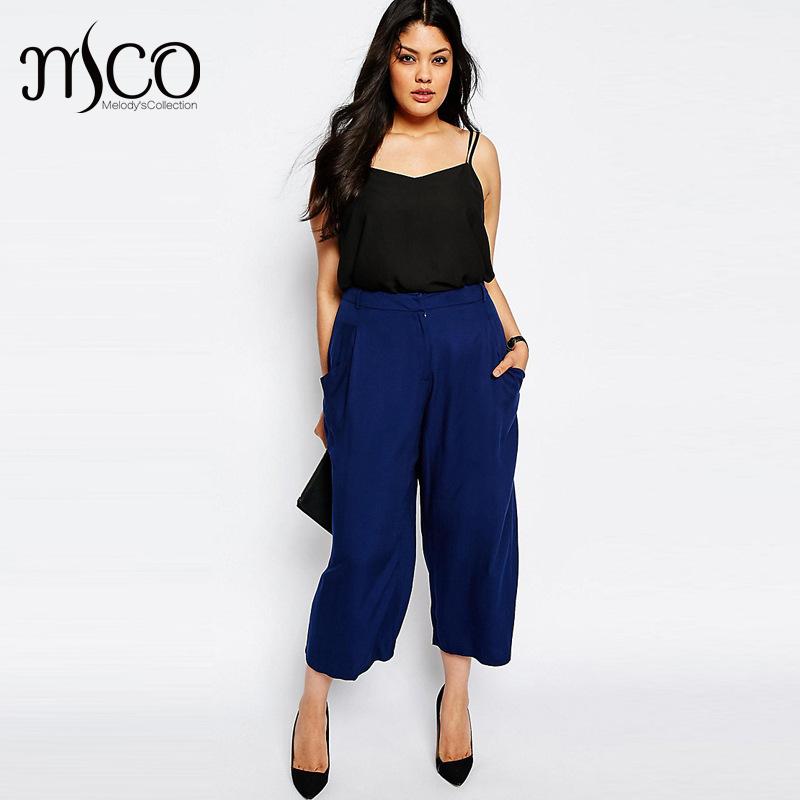 ↓10 – Ripped Crop Jeans
Ripped jeans are in vogue and you will see everyone wearing them. Ripped crop jeans will also look great once paired with a nice button down top.
↓9 – Formal Styled Outifts With Crop Pants
So contrary to a belief that some people hold, crop pants can be worn on formal occasion if it is properly paired with a formal top.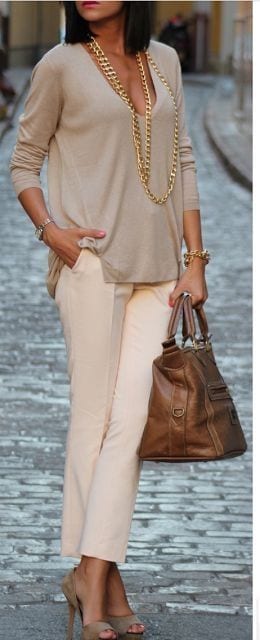 ↓8 – Hair and Makeup With Crop Pants
The good thing about crop pants is that you can wear almost any sort of hair style with them. Just make sure that the hair style is not that much over done because crop pants give off a vibe of comfort and ease. It can be a very simple tied hair pony tail or the windswept look, you can pull off all standard hair styles with crop pants. Makeup should be light with crop pants. The natural look lightens up the face with crop pants and the person looks elegant and soft.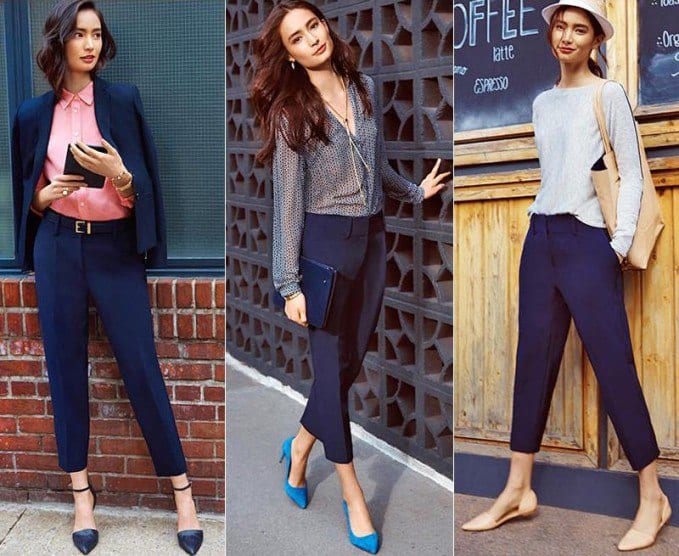 ↓7 – Strapless Top With Crop Pants for Parties
Strapless Tops look smart and sexy with crop pants although so not wear crop pants with flared up hems with strapless tops because they tend to make the dress look much broader than it actually is. Check out how hot Sarah Hyland looked in cropped trousers paired with a strapless top for the Emmys 2016.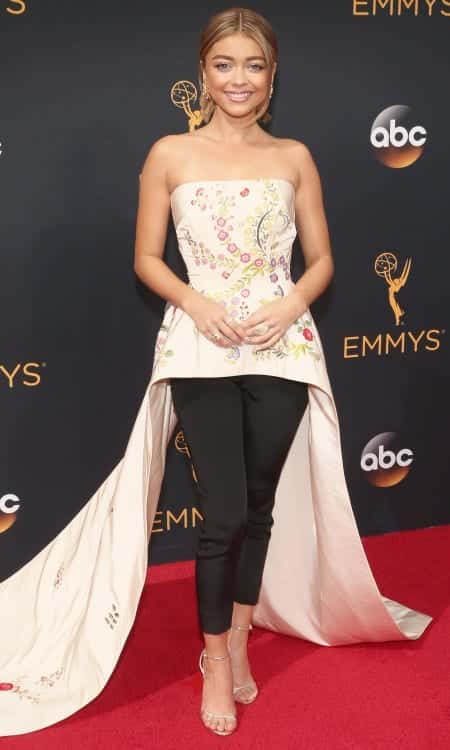 ↓6 – Embroidered Tops With Crop Pants
Beautiful tops with embroider and sequins look great with plain crop pants. If you think you top is too formal to be worn on the jeans and pants would look mismatched with them, a light colored crop pant can go with any formal top of long length. As you can see in the picture below.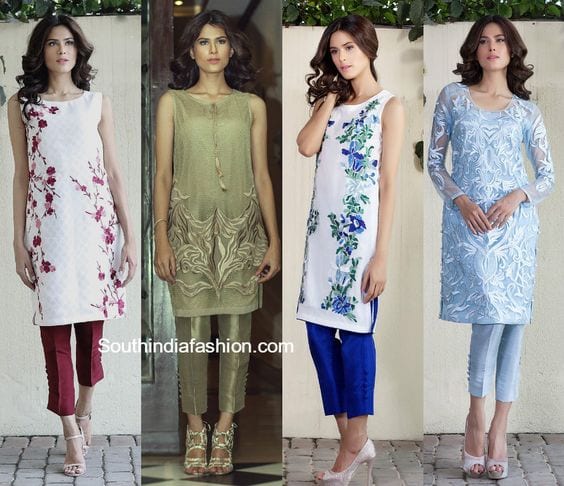 ↓5 – What Shoes to Wear with Cropped Pants in Winters
Another beautiful way to wear crop pants is to wear a broad and baggy sweater or a sweater based dress with crop pants. Skinny crop pant must be used with it, otherwise, the sweater will not look good. A sweater is usually broad so complement it with a slim fit crop pant. Boots are undoubtedly the best choice of shoes with cropped pants in winters. Our favorite, in particular, are combat boots so do check out Outfits with Combat Boots- 18 Ideas How to Wear Combat Shoes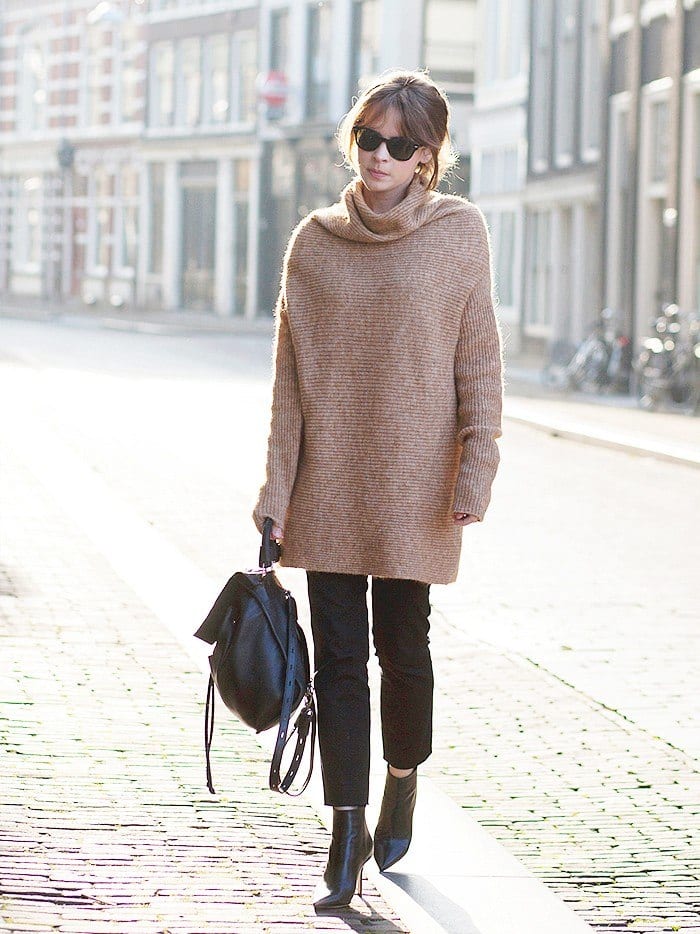 ↓4 – Office Styled Crop Pants Outfits
Crop pants can be worn in offices too. With a little stylish and formal looking tops, they go beautifully with office environment.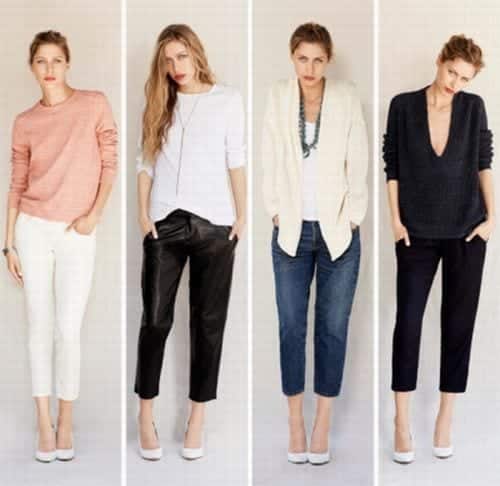 ↓3 – Off Shoulder Tops With Crop Pants Outfits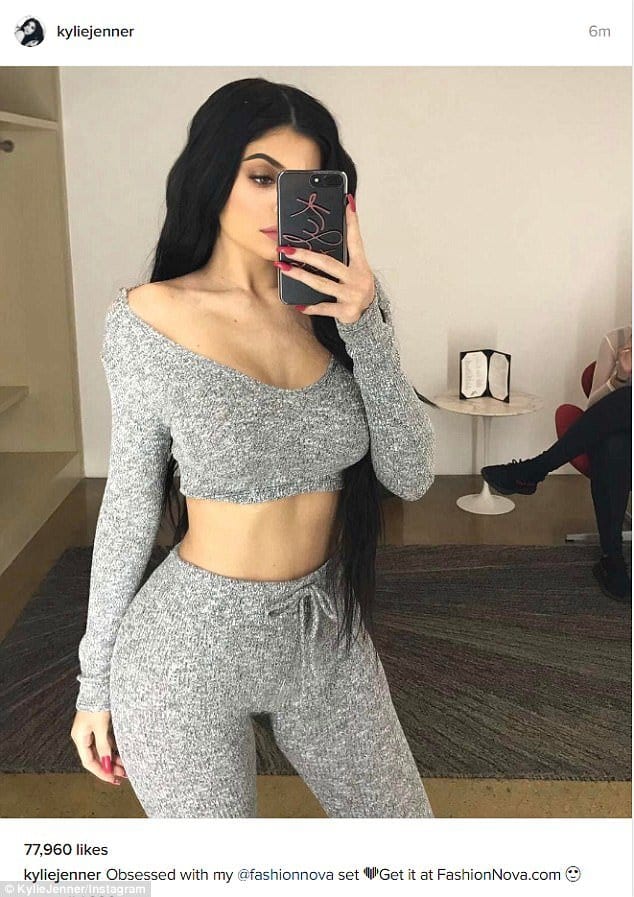 ↓2 – Accessories With Crop Pants
If you are sporting a crop pant with a tank top, a cap will go nicely with it. a tunic r dress with crop pants would look god with a chic necklace and dangling earring. With off shoulder tops wear nice earrings and bangles but avoid any heavy neck pieces.

↓1 – Shoes With Crop Pants
High heels and strappy sandals go nicely with crop pants. You can also wear them with boots and high top sneakers.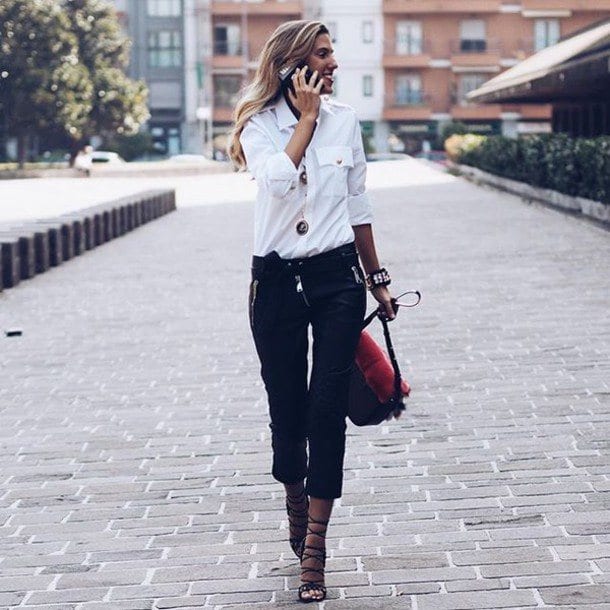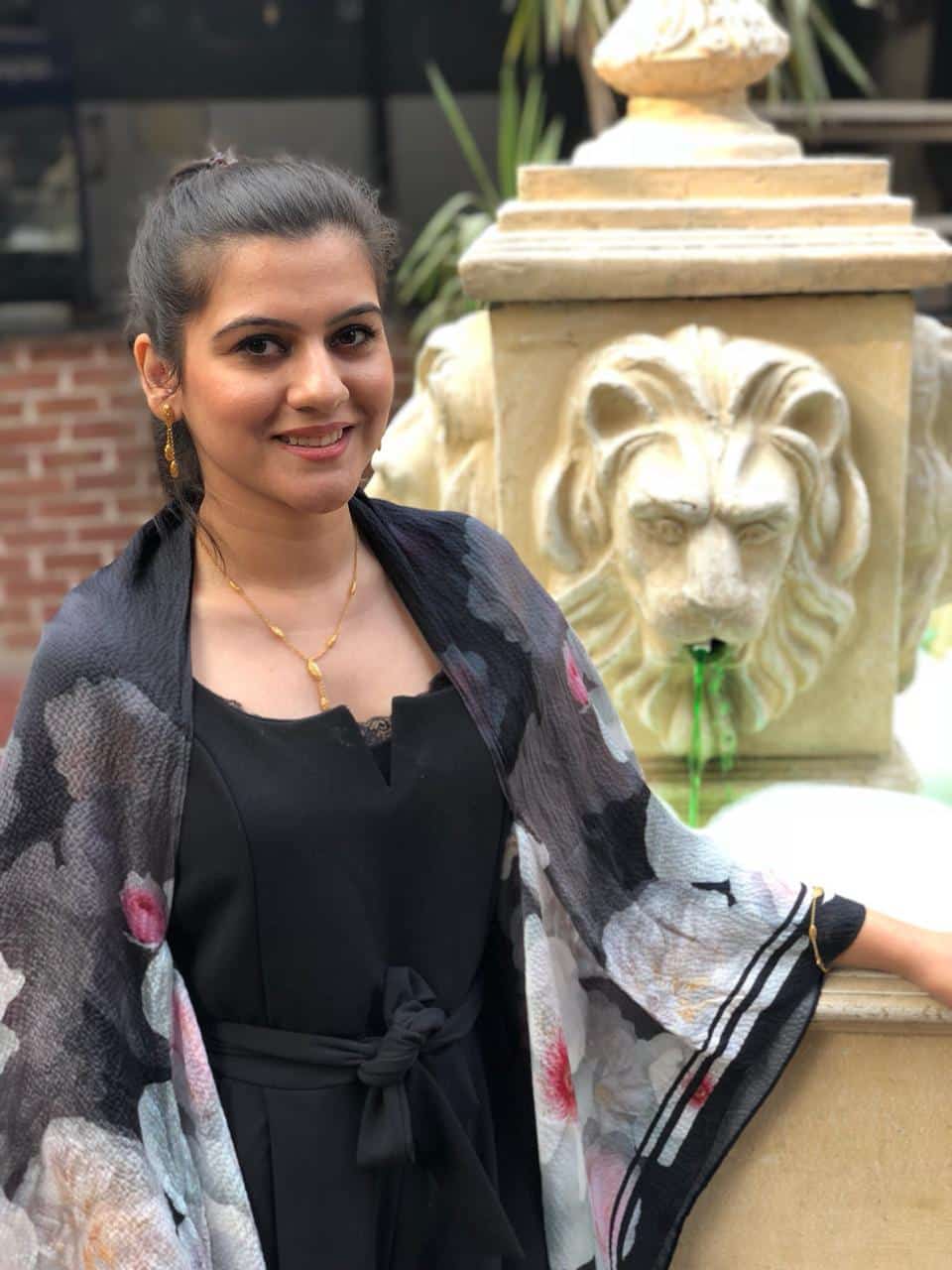 A content writer by the day and a reader by the night – two things that she loves the most. When Zoona isn't writing, she'll either be thinking of what to bake next or where to travel next. When it comes to writing, she has always been a storyteller and one of her short stories was published in 2014 in the Oxford University Press's anthology of contemporary Pakistani short stories, I'll Find My Way.  Her love for fiction writing also drove her to complete a short course on "How Writers Write Fiction," at The University of Iowa. Her other interests include binge-watching Netflix or online gaming.