Outfits with Striped Shirts. A striped shirt is an often overlooked piece that can actually prove to be quite versatile and a great addition to any wardrobe. While it is often thought of only in terms of nautical-themed outfits, this version of a top can work for pretty much any type of ensemble.
It can be dressed up or down according to the occasion and can look quite elegant when styled appropriately. In this article, we are going to be looking at 10 different ways you can style a striped shirt for women and even giving you some tips on how to best show off your stripey self. Let's get started.
How to Wear Striped Shirts For Girls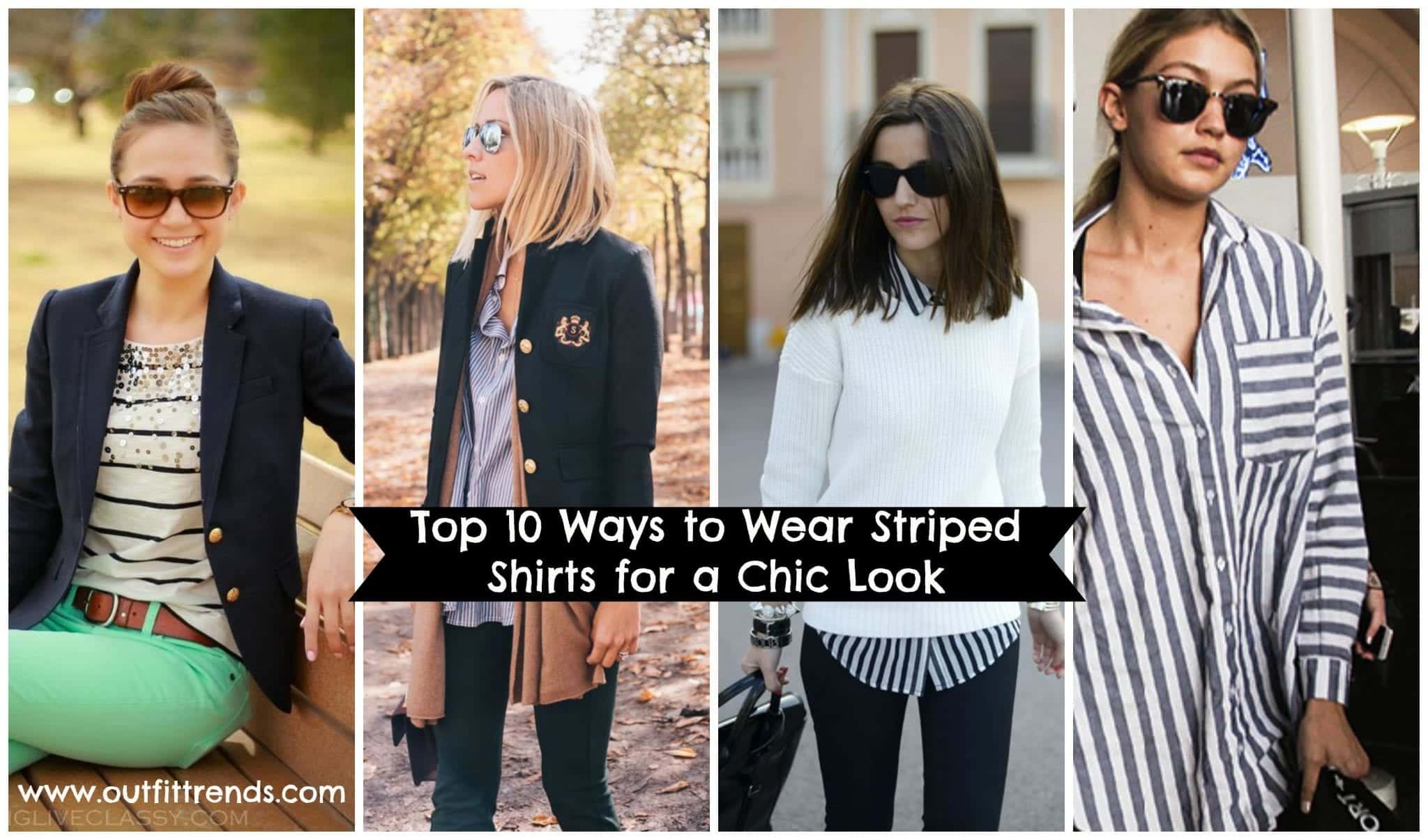 First things first, let's take a look at some go-tips and styling advice for how to wear a striped shirt for ladies:
Plus-size women are often told to avoid stripes at all costs if they want to look slimmer. We don't think that always has to be the case. If you are a wider-set woman, then sure, big ol' horizontal stripes may not be your best bet. However, vertical striped tops are a great option for a plus-size gal. It visually lengthens the body and draws the eye up and down instead of side to side. (If you love horizontal stripes, then no problem. You can still rock them. Just opt for a thinner stripe or, if you love a thick stripe, be strategic in where those thick stripes lay. Check out outfits #1 for more ideas on how to do this.)
If your goal is an elegant outfit based around a striped top, then mind your fabrics. Opt for a tailored shirt made of quality material and unless you are specifically looking to create a nautical-themed ensemble, avoid pairing blue stripes with red accents as this is the quintessential sailor's look.
You will often see black-and-white stripes or blue-and-white stripes as the primary choices when it comes to striped tops or dresses. These are foolproof options to try, of course, but we encourage you to think outside the box when it comes to choosing your striped top. For a refreshing summer look, yellow-and-white is a sunshiney combo that is sure to lift the mood. For a winter-approved combo, why not try white-and-gray or contrasting shades of brown and black?
Opt for pinstripes for business-wear, boyfriend shirts, and stylish semi-casual looks. A white-and-blue pinstriped button-down looks especially great when tailored. This will showcase your figure in the best way possible. Remember, cinching the waist is the easiest way to create a visual hourglass figure. A tailored blouse works similarly to fit the proportions of your body and bring your whole outfit up a level.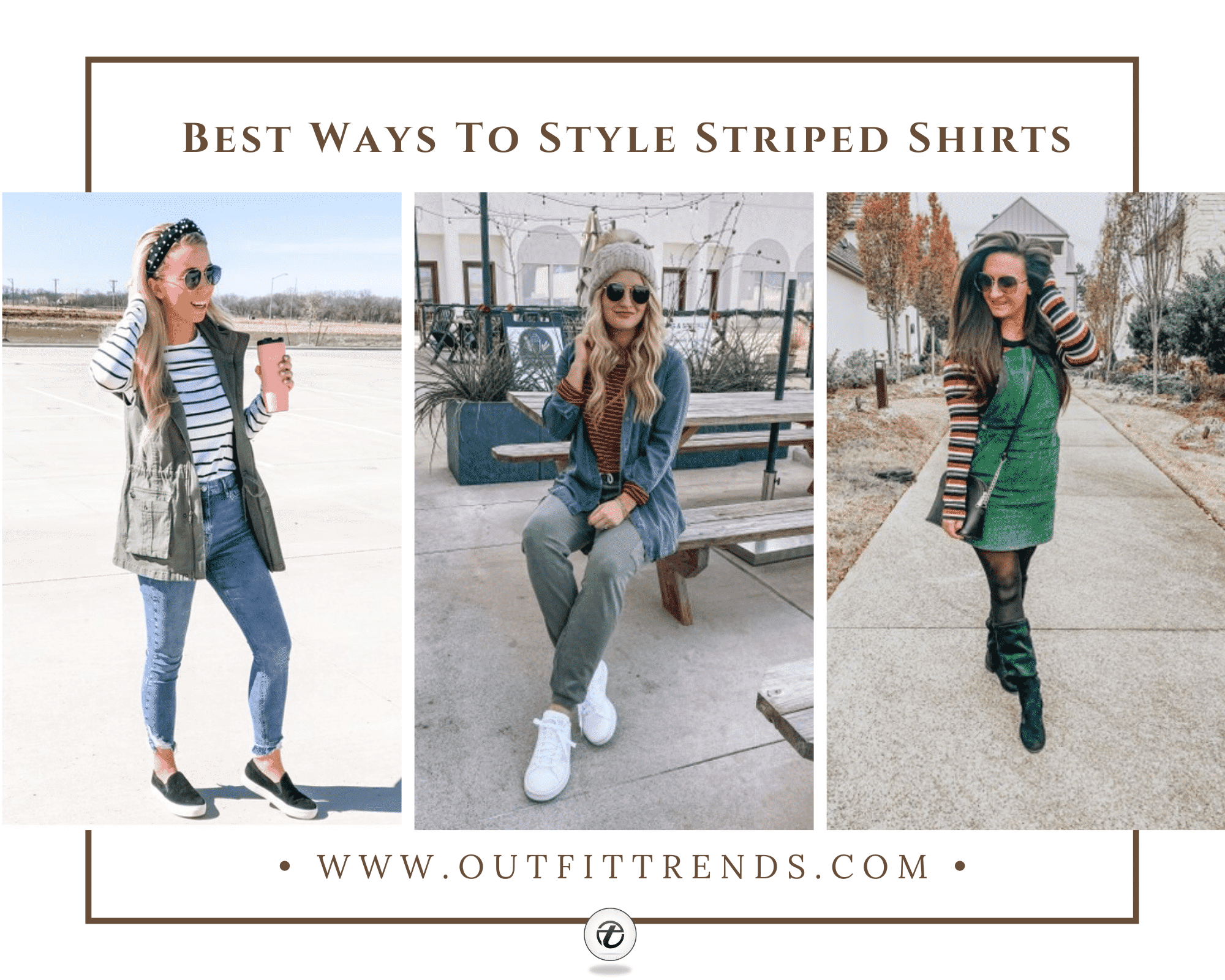 Now let's look at some outfits!
↓ 10. How to Wear Horizontal Stripes for Petite Women
When dressing a petite figure with stripes, it's important to keep a few things in mind. Because massive stripes may overwhelm your figure, employing a few go-to tricks are definitely necessary.
First, try separates. Rather than wear stripes from head-to-toe, opt for a balanced look that provides little visual breaks to keep the stripes from overtaking your body. Varying patterns of stripes is the best way to do this, whether that means thinner stripes up top and bigger on the bottom, or blocks of color paired with sections of stripes. Here's our complete guide on Latest Fashion Trends for Petite Women.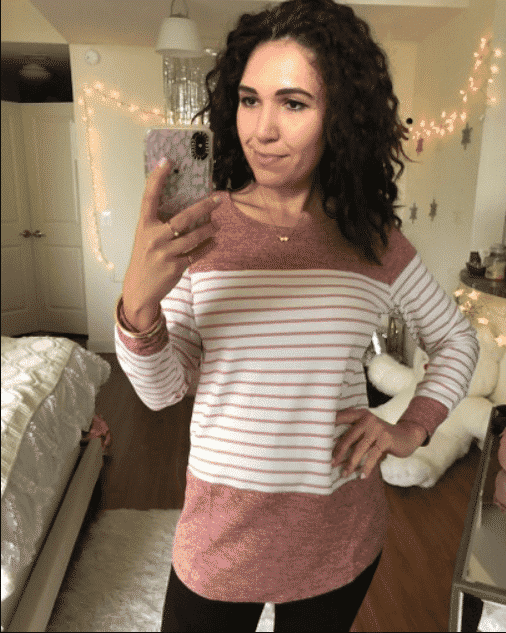 Another idea is to work in the stripes a little more subtly and pair it with a solid block of color that takes center-stage. This adorable striped long-sleeve top is a great example of this, paired with the cutest denim overalls dress.
Love the look? Shop it at the links below:
Target's Zip Front Square Neck Denim Pinafore Mini Dress $28
Target's Long-Sleeved Striped Crew Neck $15
Nordstrom Sam Edelman Winona Bootie $99.90
Opt for slim-fitting pieces that stay close to the figure. You don't want super baggy pieces where your body is hidden beneath billows of fabric.
We also recommend checking out and following these Petite Fashion Bloggers for more ideas on stylish outfits for petite ladies.
You can also try thinner stripes with more muted colors. Soft browns, pinks, and blues are quite subtle, and it's a refreshing take on stripes that are most often seen in shades of black and white or blue and white. We love this ultra-chic look that sticks to all-black pieces, excepting the close-fitting turtleneck top that really lets this petite gal's figure shine.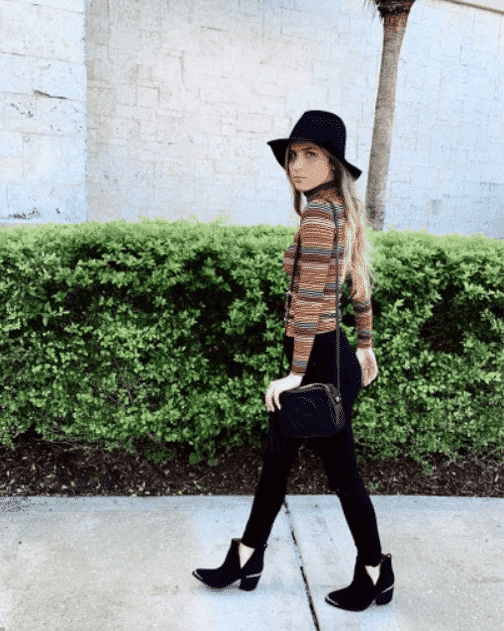 Snag this top for yourself here:
Nordstrom Billabong Let It Stand Striped Top
↓ 9. Cute Striped Shirt Outfits
It really doesn't take much to make a striped shirt look cute. So here are a roundup of adorable looks we think every gal should try.
First, try pairing your striped top with a cute skirt, tucking it in, of course. We love this double-stripe long-sleeved sweater and corduroy skirt combo. Some deep brown over-the-knee boots seal the deal on this adorable ensemble, making it the perfect fall-weather outfit.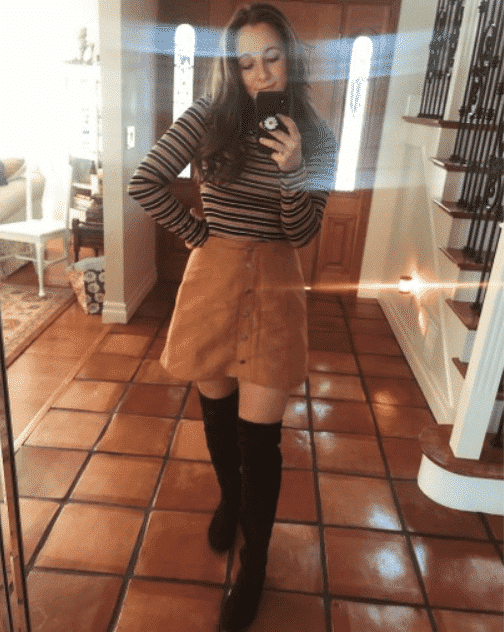 For a stylish winter look, check out this ensemble. Pair a long-sleeved striped top with your favorite skinny jeans and knee-high boots. Pop on a parka and grab a tote purse and you'll be looking and feeling like a bombshell.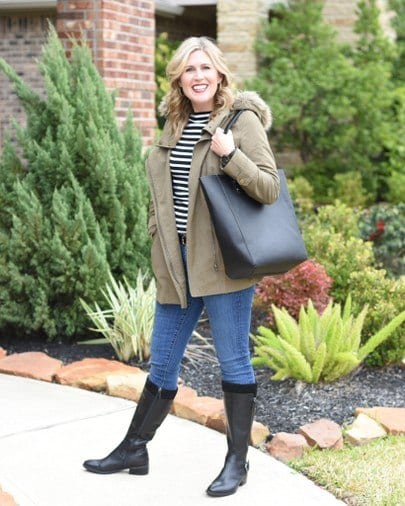 Pair an oversized striped top with some light-wash jeans and a leather jacket for a just-rolled-out-of-bed look that is as chic as it is comfortable.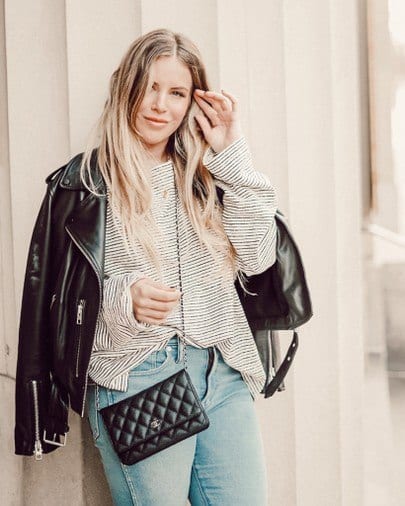 Shop the look at the links below:
ALLSAINTS Adelise Stripe Long Sleeve Cotton Tee $75
ALLSAINTS Balfern Leather Jacket
↓ 8. Summer Outfits with Striped Shirts
When it comes to summer fashion, a cute striped button-down top is as good as it gets. It adds an element of classiness to any basic look. We love the pairing of this white-and-blue shirt with white shorts and sandals. The added detail of a tie at the waist is doubly cute.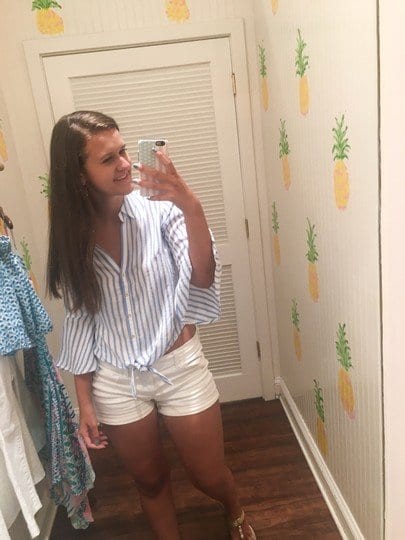 Another fantastic summer option is a cute stripey matching outfit. There's a lot to love with this look. The vertical stripes are all made of varying widths, which is a refreshing take on most stripes. The belted tie at the waist is fun and great for the figure. Plus, be sure to check out these 10 Cute Beach Outfit Ideas for Teen Girls for This Summer!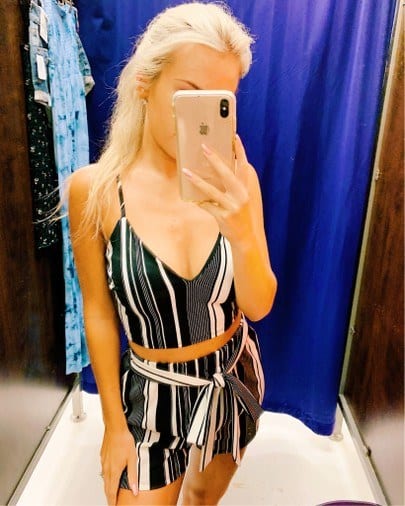 A jean skirt and striped top knotted at the waist is another classic summer look that is stylish and easy to throw together. Add some slip-on sandals and some oversized earrings to accessorize and you are ready to go.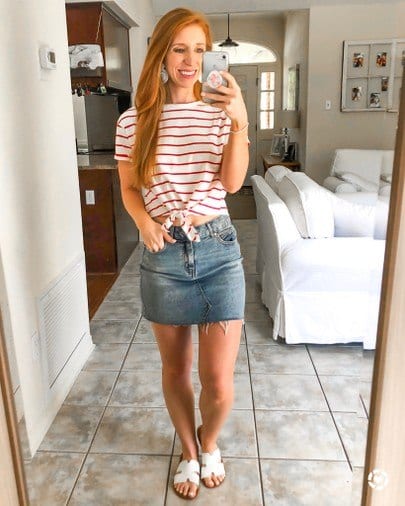 Shop the look at the links below:
Romwe Women's Knot Front Cuffed Sleeve Striped Crop Top Tee T-Shirt $11.99
Target's 5 Pocket Denim Mini Skirt $15
Wells Collection Women's Slip-On Slide Flat Sandal $11.99
↓ 7. Wear Your Striped Shirt as a Dress
You can wear an oversized striped shirt as a dress just like Taylor did. She chose to wear them with burgundy colored loafers by Micheal Kors. Here are some more beautiful Shirt Dress Outfits that you can wear on a daily basis.
While this picture shows a traditional striped dress, you can opt for shirt-dresses or just a long shirt paired with tights or leggings for a cute look you'll want to wear over and over. Have fun with the accessories. A contrasting colored purse is super chic and we love how Taylor added some berry-red lipstick as well.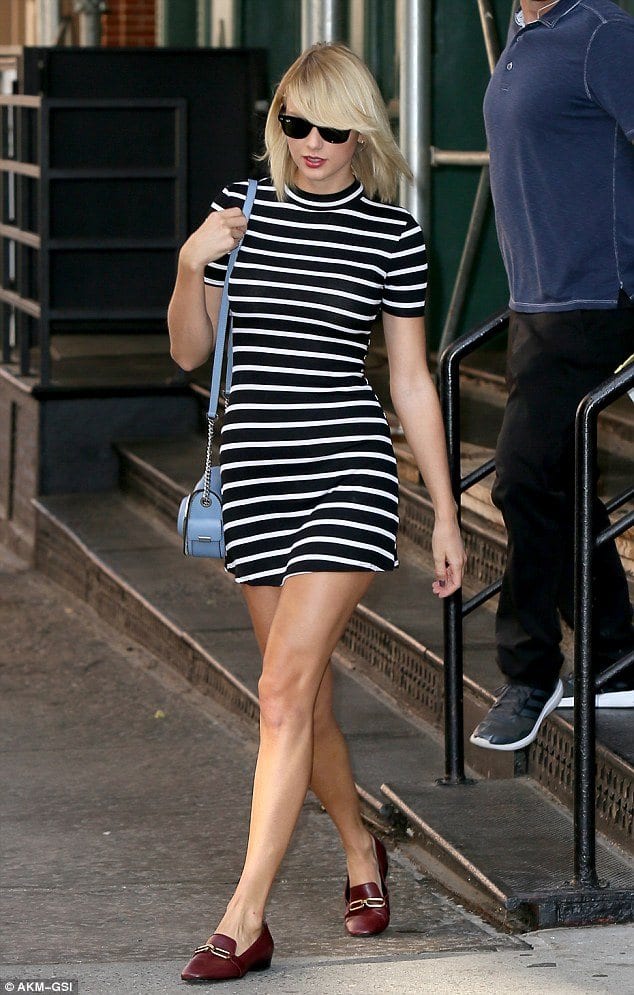 ↓ 6. Winter Outfits with Striped Shirts
Do you love adding stripes to your winter wardrobe? So do we! Here are a couple of stylish looks you can try this cold season using striped tops. For our first, we love the contrasting patterns of stripe and plaid. Add a long puffer jacket and a tasseled scarf. Pair with gray skinny jeans and checked booties!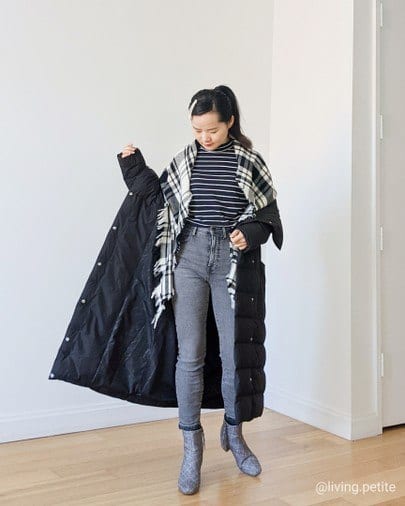 Your stripey shirt may take the backseat with this look, but it can hold its own. Pair a muted striped top with some black skinnies, your most stylish snow boots, and a furry teddy coat. Accessorize with a beanie.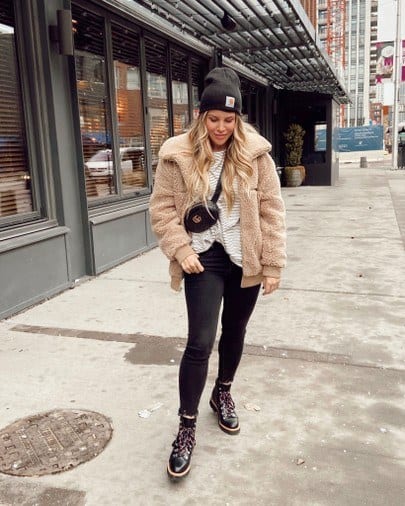 This outfit can double for both fall and winter wear. Its warm tones will be refreshing in the gray drabness of winter and it will fit right into the cozy autumn aesthetic. Coordinate a cream-and-brown striped top with an orange-brown teddy coat, black skinnies, and some Adidas Superstar shoes. Add a little crossbody bag. This outfit works for any semi-casual occasion!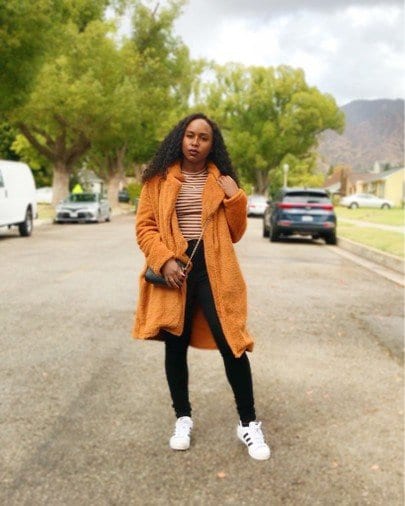 Shop the look at the links below:
SHEIN Lapel Open Collar Teddy Coat
Adidas Superstar Shoes $80
↓ 5. How to Wear a Striped Shirt to Work
For a chic and professional ensemble, look no further. A striped top is a lovely addition to any workwear outfit where you want to look young, fresh, and stylish!
We love the extra sequin detailing on this top which visually draws the eye and adds a little pizzazz to the overall outfit. Pair it up with a tailored blazer and some bright-colored pants. Accessorize with a belt and sunglasses and pop on some flats or closed-toe heels to tie the look together.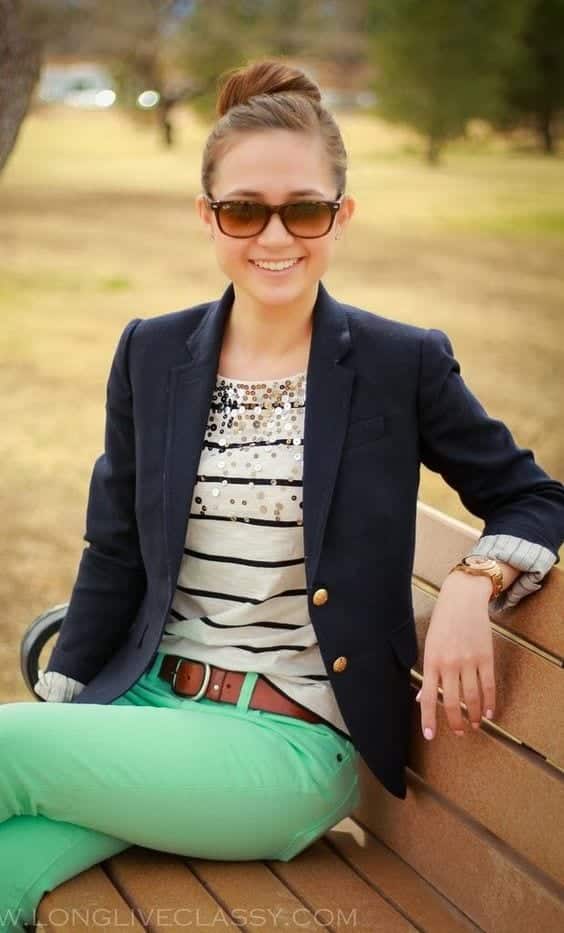 ↓ 4. Striped Shirt Outfits for School and College Girls
Here's your guide on layering striped shirts for school. For a black and white shirt, pairing it with a white sweater can create a very chic look. Simple sweaters like these can add style to any outfit. For more help in wearing sweaters the right way, here are some great Sweater Wearing Ideas.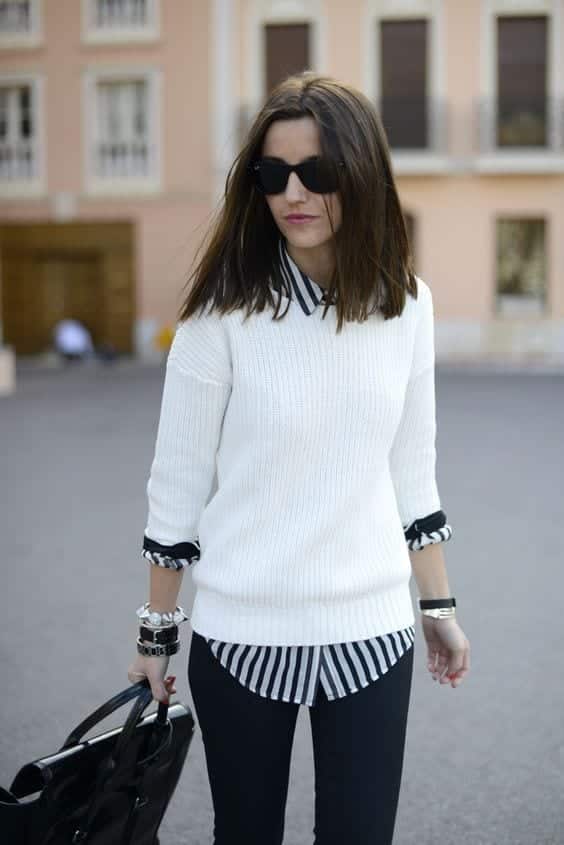 For a more casual look, try a pair of ripped jeans and a gray beanie hat with an oversized sweater. We like how relaxed this hipster-approved look is yet it still manages to be trendy. The striped top underneath the sweater provides a great bit of structure and pattern to this otherwise super casual ensemble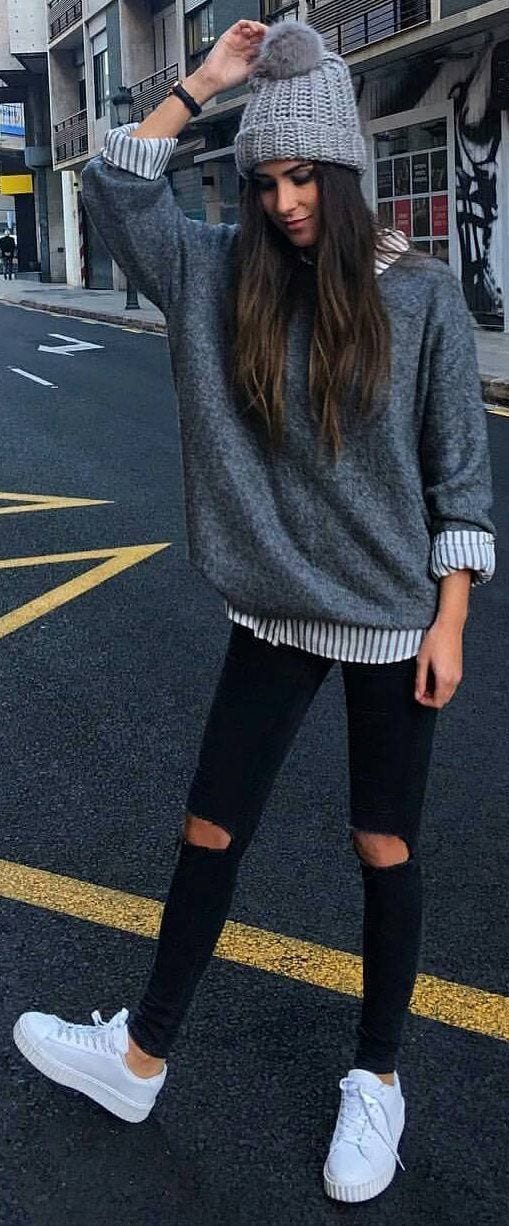 For the fall season, instead of layering with a sweater, opt for a nice puffy vest. We love the elements of this look, which include some gorgeous jeans (folded at the hem: this is a neat trick that instantly ups the style quality of your look), beautiful flats, and a bag that gives us major purse envy.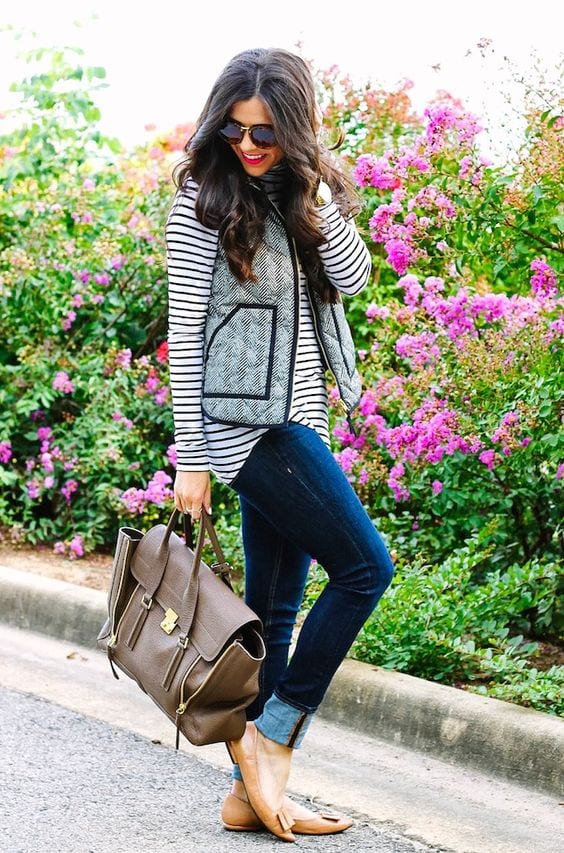 For a semi-casual preppy look, a blazer looks super chic when paired with a pinstriped button-down and layered with a cozy scarf. Check out this article on how to style your hair to best suit this look: Preppy Hairstyles for Women.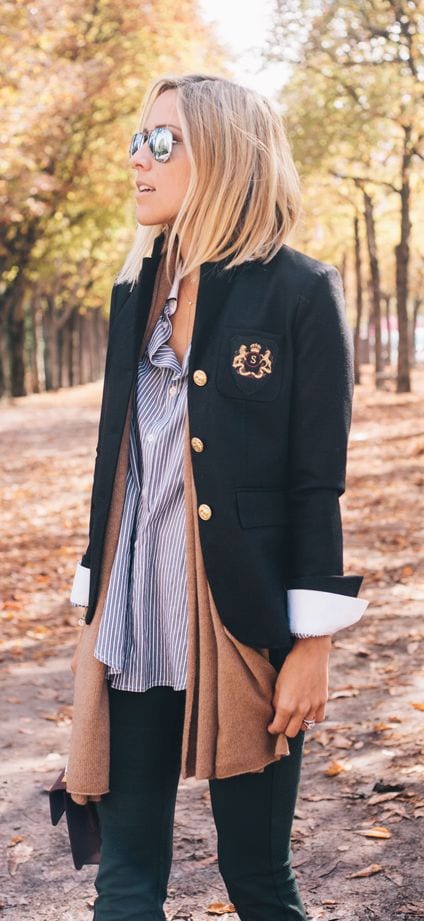 ↓ 3. Styling a Striped Top for a Date Night Look
With a look like this, you'll have that special someone giving you all the heart eyes. We love the girlish simplicity of this look which is flirty and fun and great for walks on the beach, dinners on verandas, and walks on the pier. Pair a striped tee with a white skater skirt and cinch the waist with a thin brown belt. Accessorize with sunglasses, a bracelet, and pop on a pair of white pumps to tie the whole outfit together.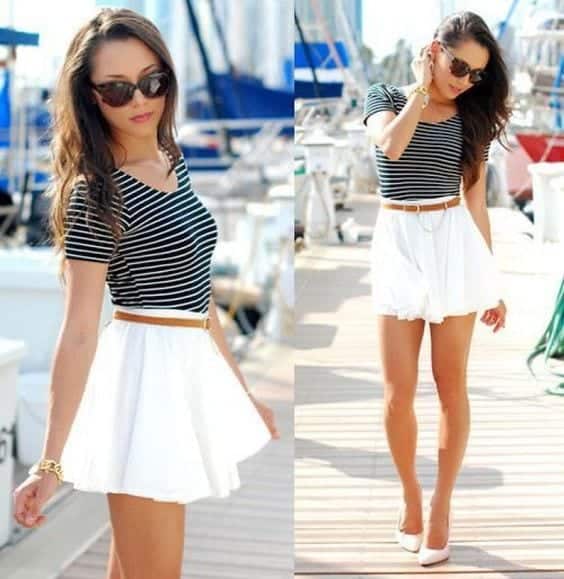 ↓ 2. Oversized Boyfriend Shirt with Stripes for the Airport
An airport outfit should be all about comfort but it can also be trendy when styled the right way. Take a page from the supermodel Gigi Hadid who was seen in an oversized boyfriend shirt with gray and white vertical stripes. She paired it with skinny black leggings and slip-on sneakers. Here are some of the best Women's Outfits for Airport.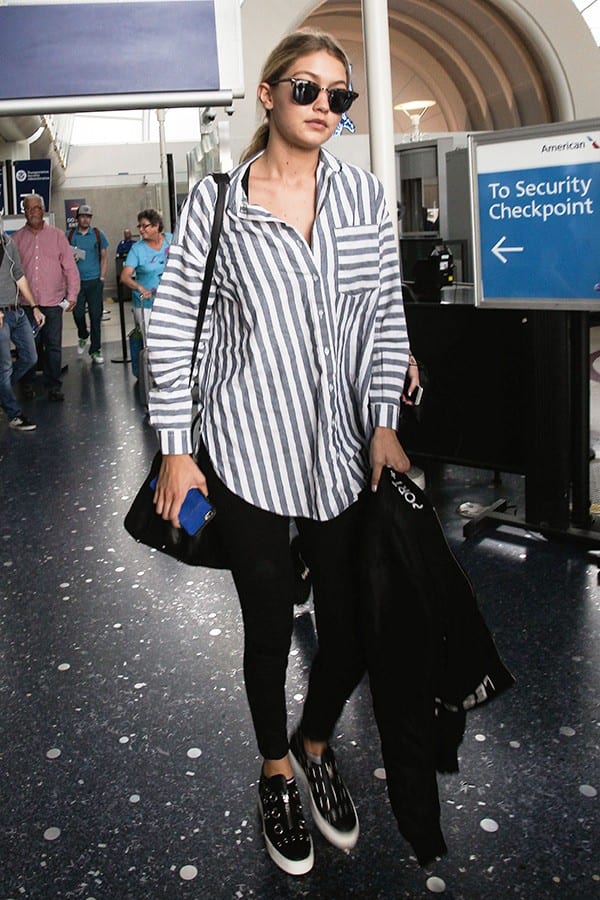 Via
↓ 1. Striped Shirt Outfit for Curvy Girls
Like Adele, you can opt for shirts with only a few stripes and those too in areas that you're okay defining such as the neckline. You can avoid stripes around the bust and waist if you don't want to draw attention to them.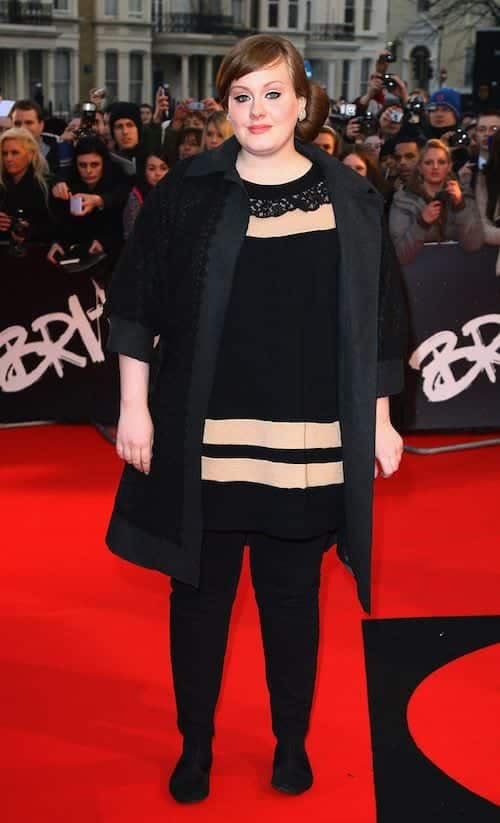 Our last collection of outfits is this super gorgeous gal who shows us the various ways you can style a striped shirt-dress and red knit turtleneck poncho. Whether you add a denim jacket as an extra layer or even an animal-print infinity scarf, this is a great fall and winter option for you. Add black leggings and knee-high boots to finish off the look.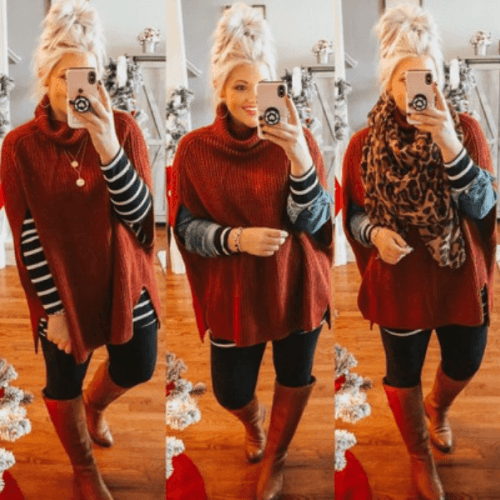 So what's your favorite type of top? Do you love stripes as much as we do? Let us know in the comments below!
R.H. Elias is a freelance writer, aspiring author, and freelance transcriptionist. She is a homebody all the way and loves curling up on a cold, rainy day with a good book and a warm cup of tea. Her favourite pastimes include reading, writing, and watching period films. She currently lives in Puerto Rico.