How to create cute outfits from simple clothing. Ok, every woman has had that moment where you find yourself stood in front of your entire wardrobe absolutely adament that you have nothing stylish to wear.
But jazzing up your otherwise 'boring' clothing has never been easier! Whether it's tweaking a shirt, or adding some sparkle, you can create stunning looks just by experimentation alone. So how exactly can you jazz up your outfit? Well this post has 20 great ways that are easy to follow and will definately liven up your wardrobe. Why not even check out how the celebs up the tempo with their plain clothing? Fashionistas such as Victoria Beckham, Olivia Palermo, Kendal Jenner and Vanessa Hudgens always look amazing even if they are only out shopping in a printed t-shirt and distressed jeans. The trick is HOW you wear them. Any item of clothing can look stunning if accessorised correctly, fitted correctly and even worn in the right season!

RECOMMENDED: Grunge Style Clothes-20 Outfit Ideas for Perfect Grunge Look
Ideas How to Look Expensive on a Budget
For all the mums who want to look fabulous why not also have a look at our post on 28 Fashionable Outfits For Mothers This Year? I can fully relate to the dilemma of juggling looking good and motherhood so any simple tips and tricks on jazzing up the wardrobe can be a lifesaver!
Simple items such as bracelets, necklaces, handbags and sunglasses are easy ways to liven up your wardrobe. The same goes for tying up a shirt rather than buttoning it. Different belts give different images and are great for creating style and shape. Have a look at the following 20 styles which are quick and easy to copy. These quick ideas for outfits can be useful for all occassions, whether it be partying on a Friday night, going to a wedding or engagement party or even just a stylish outfit for the mums out there that is quick and easy to put together.
Why not also check out our post on 5 Simple Tips on How To Make Your Outfit Look Expensive? Another few great ideas on how to make your clothing look stunning in the simplest ways possible.
#20 – Plain Dress. Up-style a simple plain dress with a chunky bracelet, matching handbag and nude tone pointed pumps. Quick and easy ways to style a dress.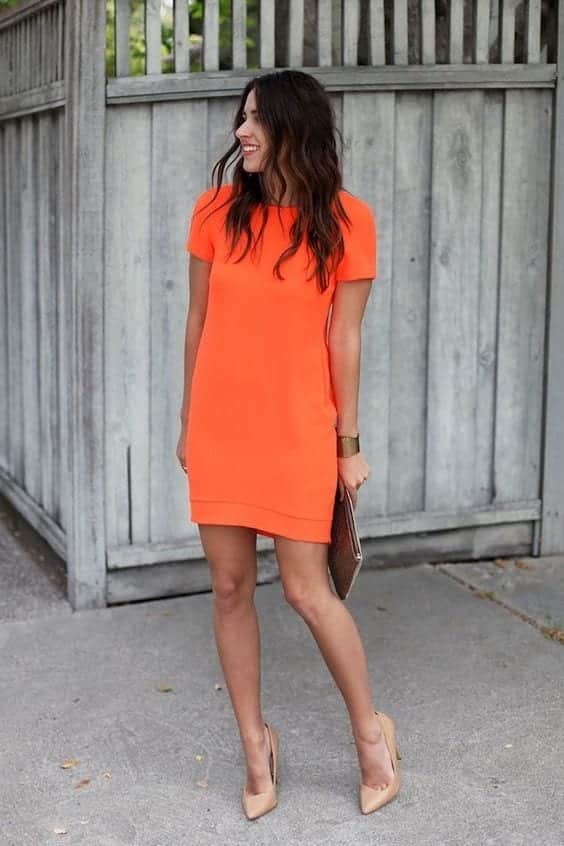 via
#19 – Belts and Maxi Dress. Spice up a patterned maxi dress with a contrasting belt. An easy way to add shape and sass. Why not top it off with a quirky fedora hat? The nude tone flat shoes make the outfit stand out more.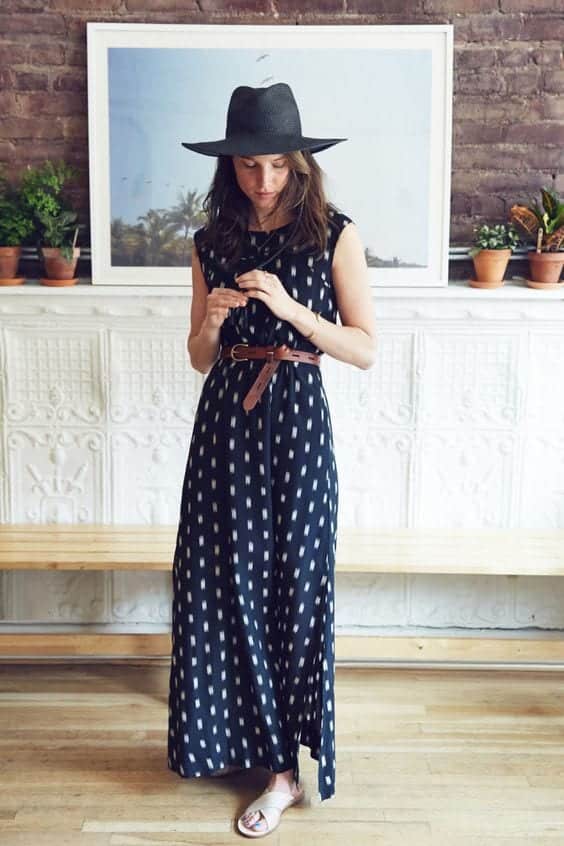 via
#18 – Cropped Jeans. These high waisted cropped jeans look amazing with a plain 3/4 sleeve top. Add a bit of zing with a simple scarf, sandals and matching handbag.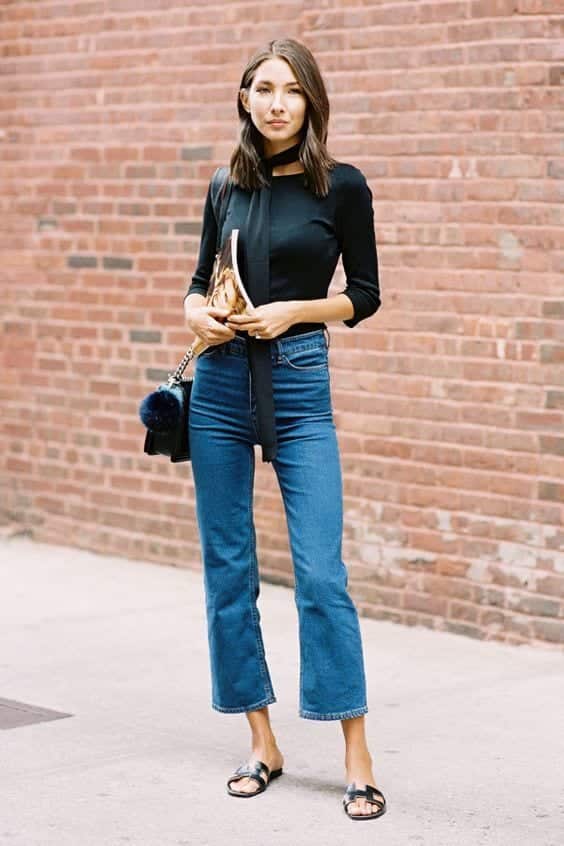 via
#17 – White T and Denim. A plain V-Neck top with a button up denim skirt is a simple combination which is easier spiced up with a headband, sunglasses and a statement bag. Simple twerks for a great look!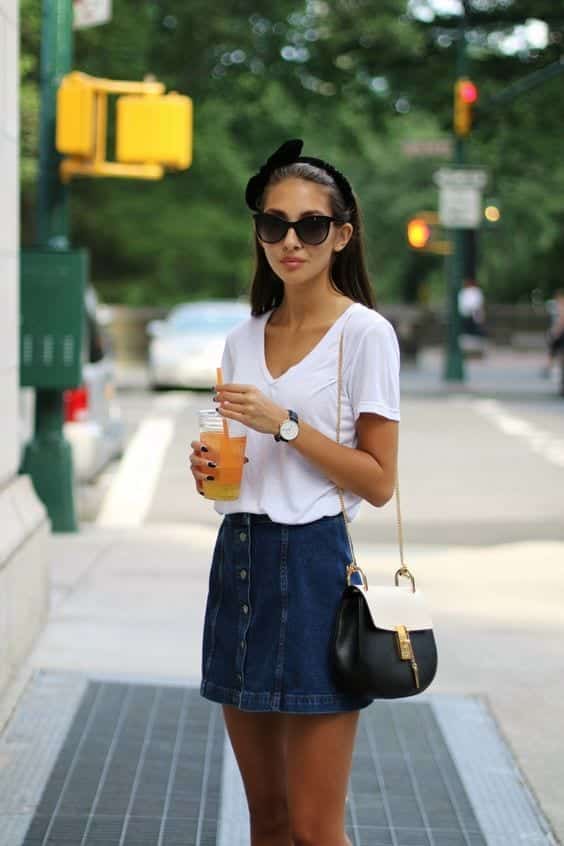 via
#16 – Blue and White. White crops with a blue top are complemented beautifully by gold jewellery, striped cardigan, flip flops and tasselled bag.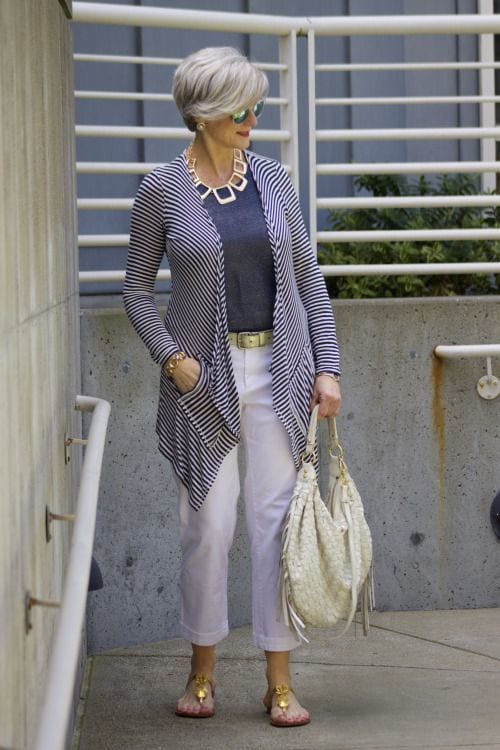 via
Also check out [highlight]Spring Outfits with Leather Jackets-24 Latest Trends This Year[/highlight]
#15 – Quick Grunge Style. A plaid dress with a leather jacket. Make this look stand out by adding tights, chunky boots, sunglasses and striking red lipstick! A great style for the alternatives out there.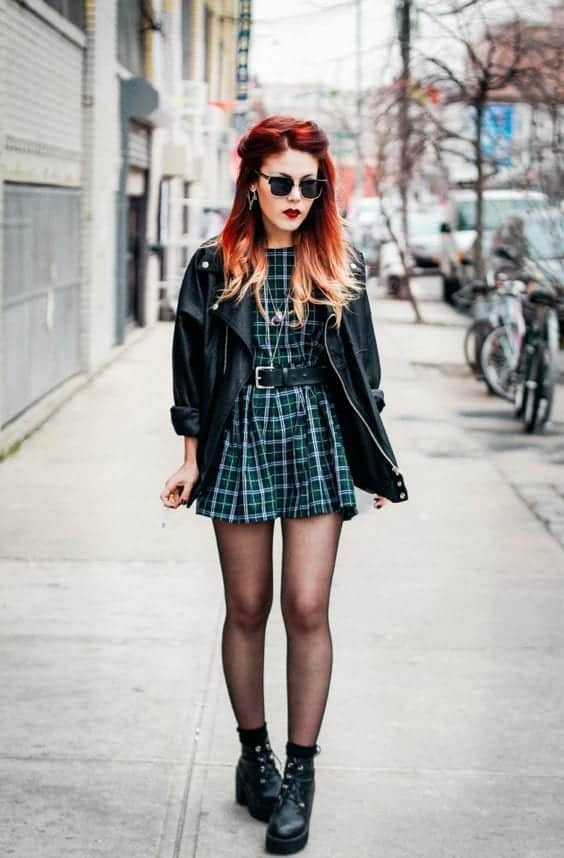 via
#14 – Skinny Jeans. These are one of the most common items found in the wardrobe. Glam these up with a silver jumper under a leather jacket. Add sunglasses, studded ankle boots and tote bag for a quick and easy style.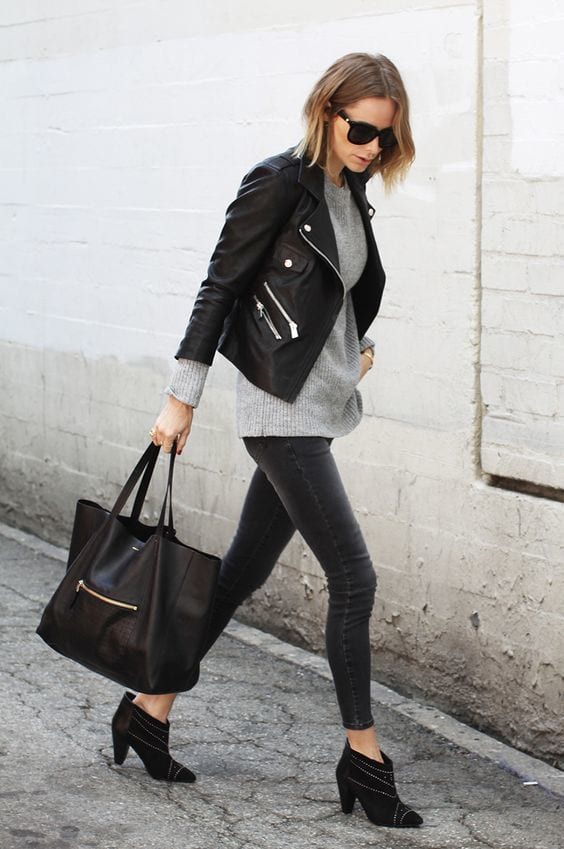 via
#13 – Olivia Palermo. Olivia Palermo shows us how you can glam up a simple trench coat by pairing it with white skinnies, a silver top and white heels. A quick and easy style women can copy.
#12 – Jumper Dresses. They may look plain and boring but you can spice these up with a chunky belt and a super sexy pair of knee high or thigh high suede boots. Add a clutch bag and necklace for added class.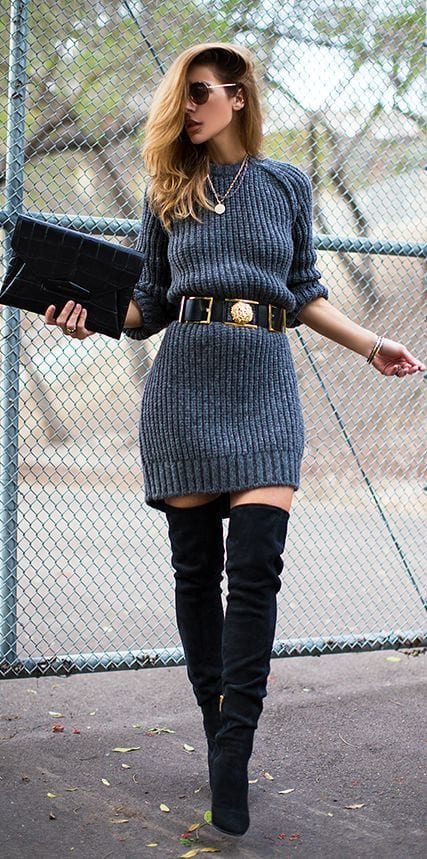 via
#11 – Casual Cute Style. A simple combination easily up-styled by adding a tassel bag, ankle boots and shocking pink lipstick. This combo is perfect for daily wear as it is casual yet still oozes style and fashion.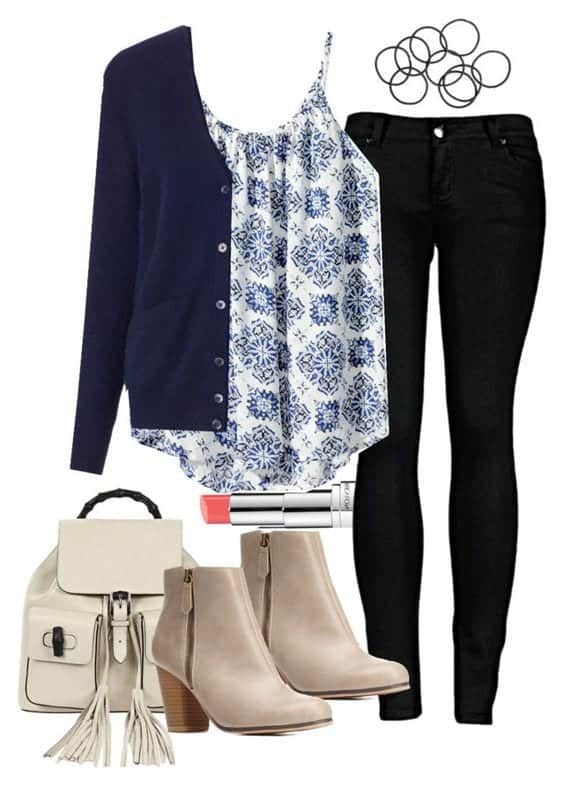 via
#10 – Distressed Jeans. Even with a plain top these jeans are easily jazzed up by adding a chunky necklace and bracelet, a leopard print clutch bag and lattice or gladiator heels.

via
#9 – Vanessa Hudgens. Here Vanessa Hudgens shows us how a simple white printed top and a bronze suede skirt can look amazing with suede boots and tote bag. Such a simple outfit to copy and look amazing.
#8 – Jumper and Jeans. A great way to liven up an autumn outfit. Match a knitted jumper with jeans and knee high boots. Spice this look up with a chunky scarf, bracelets and pendant necklace.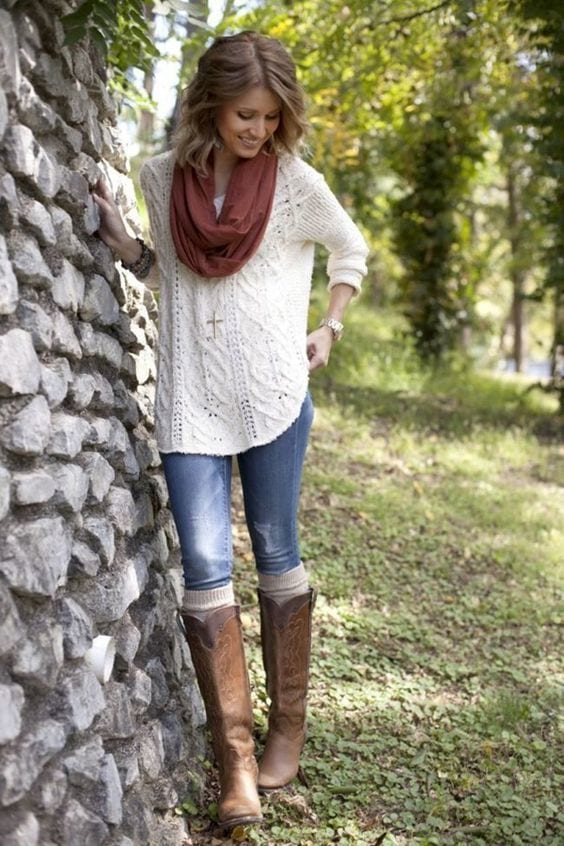 via
#7 – Plain Combination. A super easy combination livened up with cropped jeans, gladiator sandals and pendant necklace.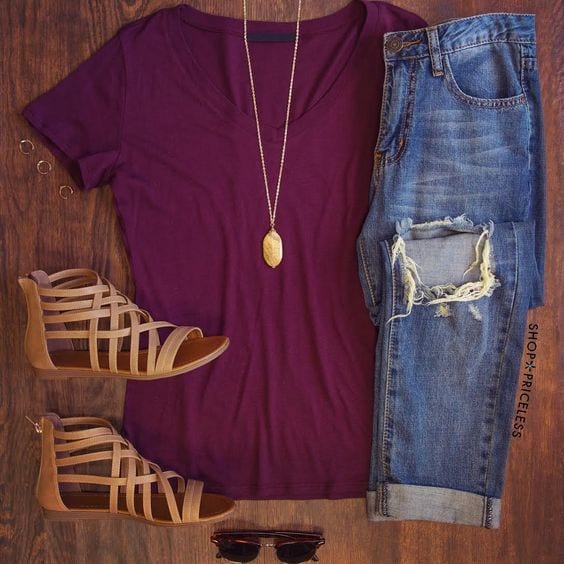 via
#6 – Maxi Skirt Combination. Printed crop top with maxi skirt easily accessorised with bracelets, handbag and plain flip flops.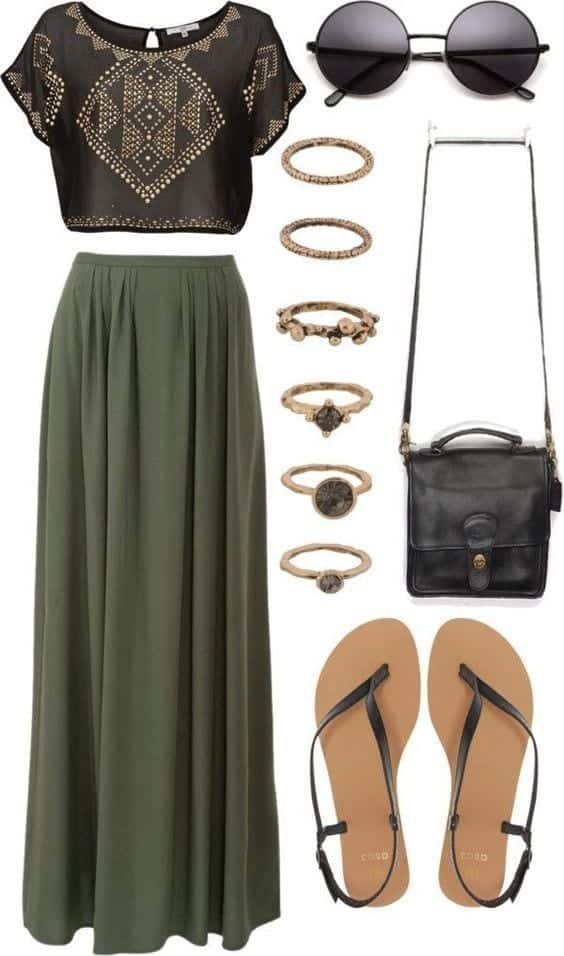 via
#5 – Easy Cardigan Style. Jeans, top and cardigan combination with a chunky scarf, contrasting bag and nude toned peep toes is a great look for autumn.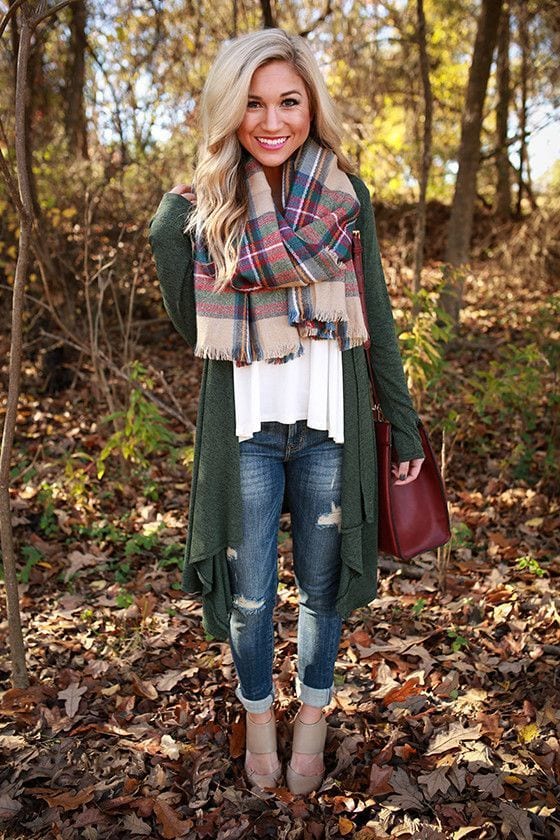 via
#4 – Shirt and Skirt. Leather skirts look amazing with a simple shirt. Match this style with a heavy bead necklace and nude tone pumps and bag for a simple and sleek look.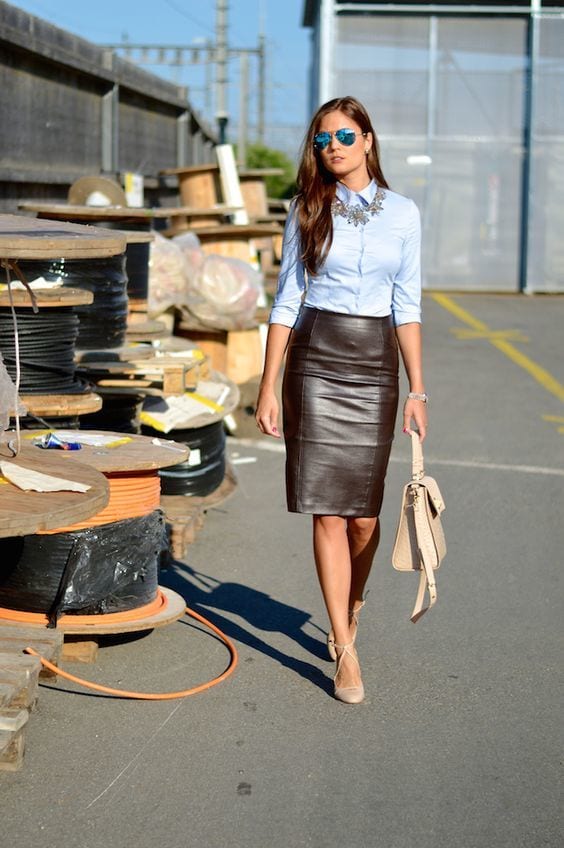 via
#3 – Jumper and Denim. A simple jumper with a plain denim skirt looks amazing when paired with leather or suede knee high boots.
#2 – Tie Up Shirt. Why not change the shape of a plain shirt and tie it instead of buttoning it? Use this over a plain dress and accessorise with handbag and flat shoes for a contempory look.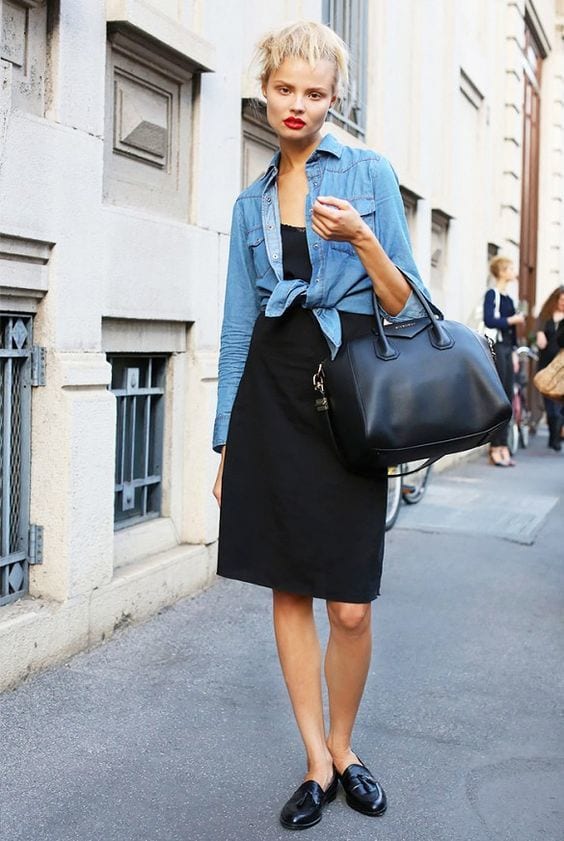 via
#1 – Olivia Palermo Summer Look. Olivia Palermo rocks a printed mini-dress and uses simple accessories to add the glam. A contrasting yellow shoulder bag and soft sequined ballet pumps. Quick and easy style.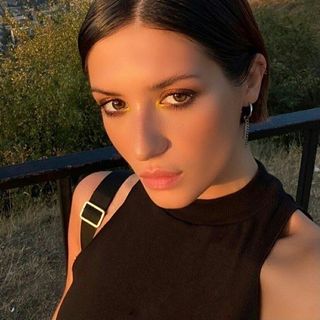 Avid reader and Fashionista. London Based freelance lifestyle editor