Orange Skirt Outfits. We, women, know how an incredible outfit can lift up our moods. Vibrant and eye-catchy hues paired with bold prints can make our day a hundred times better. And in that same vein, no color is more vibrant or eye-catching than orange.
This standout color isn't just for summer but for spring, autumn, and winter as well. It comes in several shades ranging from tangerine to rust orange. Orange skirts also come in a range of styles, with chic and vintage being the most popular. Women have always loved colorful attires.
How to Style An Orange Skirt
To start with, here are a few basic tips:
For first-timers, wear an orange skirt with either a white or a black shirt. As orange can be tricky to pull off due to its vibrancy, you should stay away from ultra-funky combos
The bright shades of the color look best in summer while the duller tones make for perfect winter outfits
Don't overpower the look by pairing the orange skirt with other striking hues like that of red
Lastly, make sure your footwear is of the right choice. Avoid black sneakers.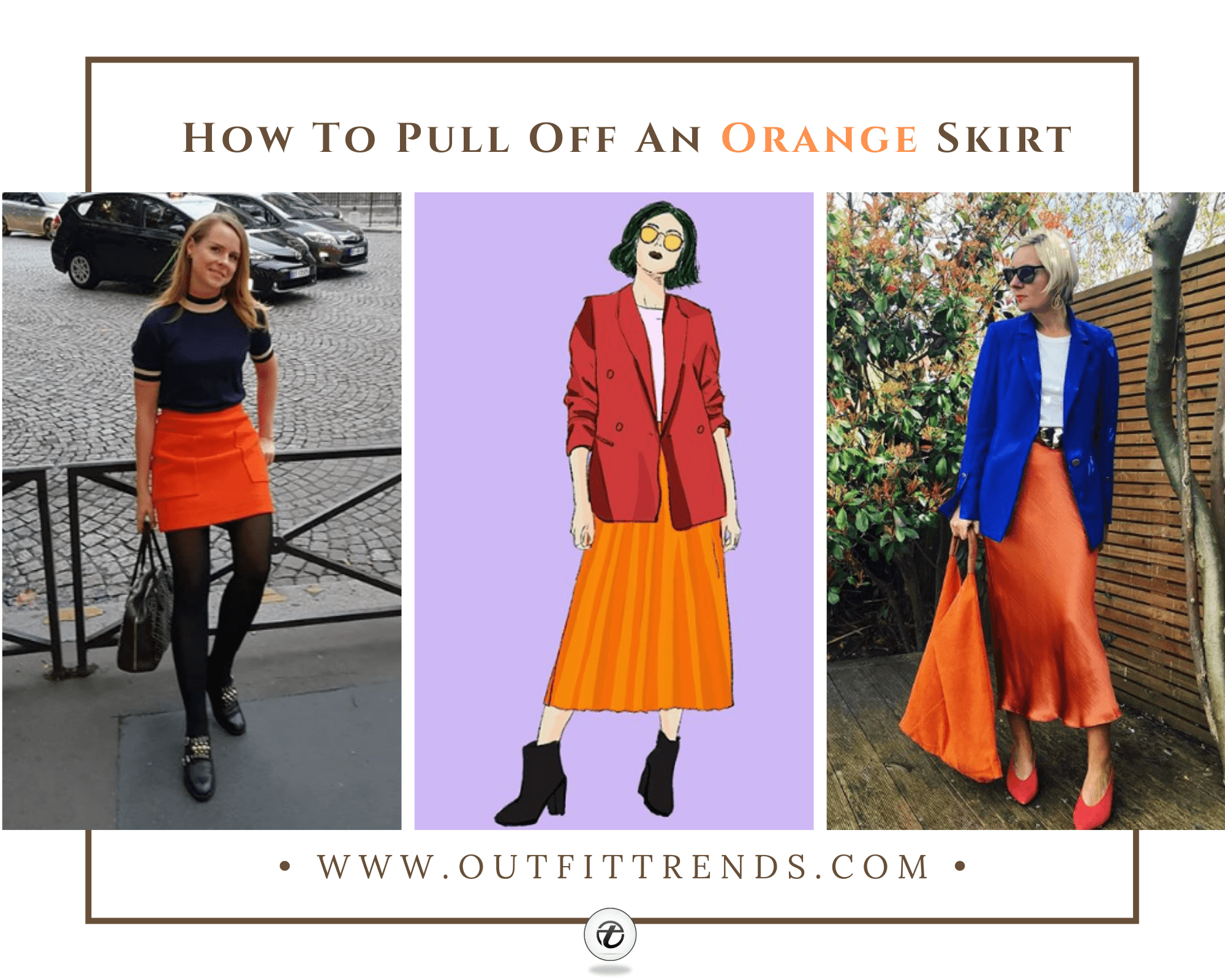 ↓ 30 – Ultra-Stylish Fall Weekend Look
Are you looking for a transition outfit that could work in those chilly fall months or in those winter-going-into-spring days? Well, this outfit covers all the bases. Not only does it feature a gorgeous button-up orange skirt but it also incorporates a turtleneck sweater, cozy shawl coat, and white booties. What's not to love? Don't forget the accessories! Some statement sunglasses and hoop earrings go a long way.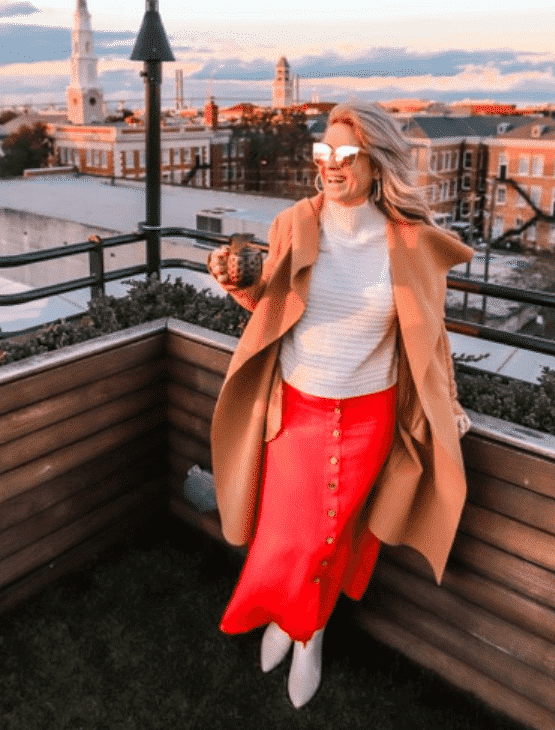 Love the look? Shop it at the links below:
SHEIN Neon Orange Button Front Skirt $14
SHEIN High Neck Drop Shoulder Sweater $15
SHEIN Shawl Collar Pocket Detail Outerwear $23
Nordstrom Chinese Laundry Davinna Bootie $79.95
↓ 29 – Colorful Maxi Skirt
Who doesn't love a flowy maxi skirt?! Get yourself one with an array of sunshiney colors and it just might be your favorite maxi skirt EVER. This skirt features not just orange but also yellow, white, and magenta pink. With a skirt like this, keep your top understated. A black, long-sleeved scoop-neck does the job nicely. Add some reflective bronze Aviators and a pair of black or nude heels and you've got a look as unforgettable as it is stylish.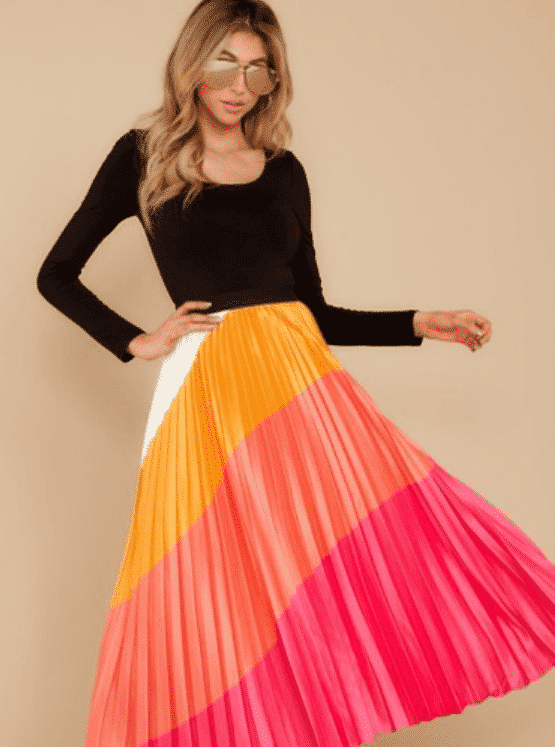 Love the skirt? Get it here:
Red Dress Good Mood Orange Multi Maxi Skirt $44
↓ 28 – Cute Fall Look with Orange Mini Skirt
Need a cute fall look to show off an orange miniskirt? This is the one to do it! Pair this muted orange bad boy with a cutesy, cozy sweater and some white knee-high boots. This is a fall look you'll want to wear over and over!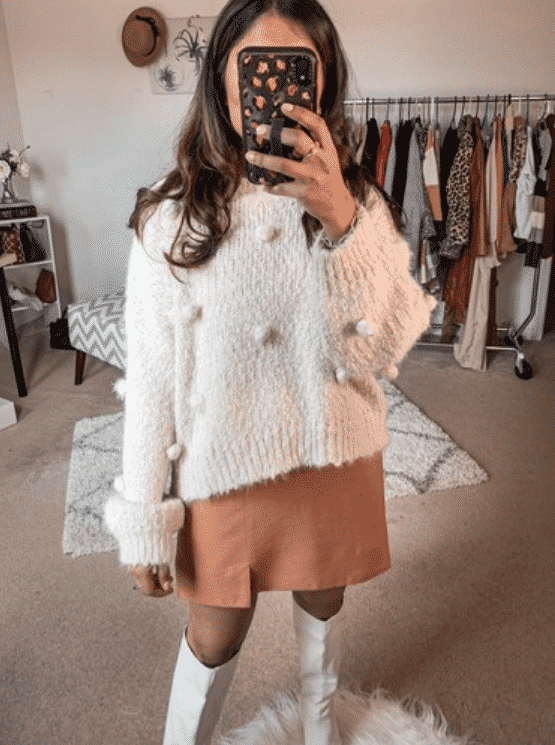 ↓ 27 – What to Wear with an Orange Skirt for Casual Wear
You can sport an orange skirt in a wide array of styles. You can wear a white top with an orange skirt or a dull yellow one with your rustic orange skirt. You can go for a midi skirt for the everyday look, a skater orange skirt for the girly look and a long orange skirt outfit for the sophisticated look. The look you wish to go for entirely depends on the way you pair your outfit. Loving the vibrant colors? Then should also have a look at these awesome Yellow Skirt Outfits.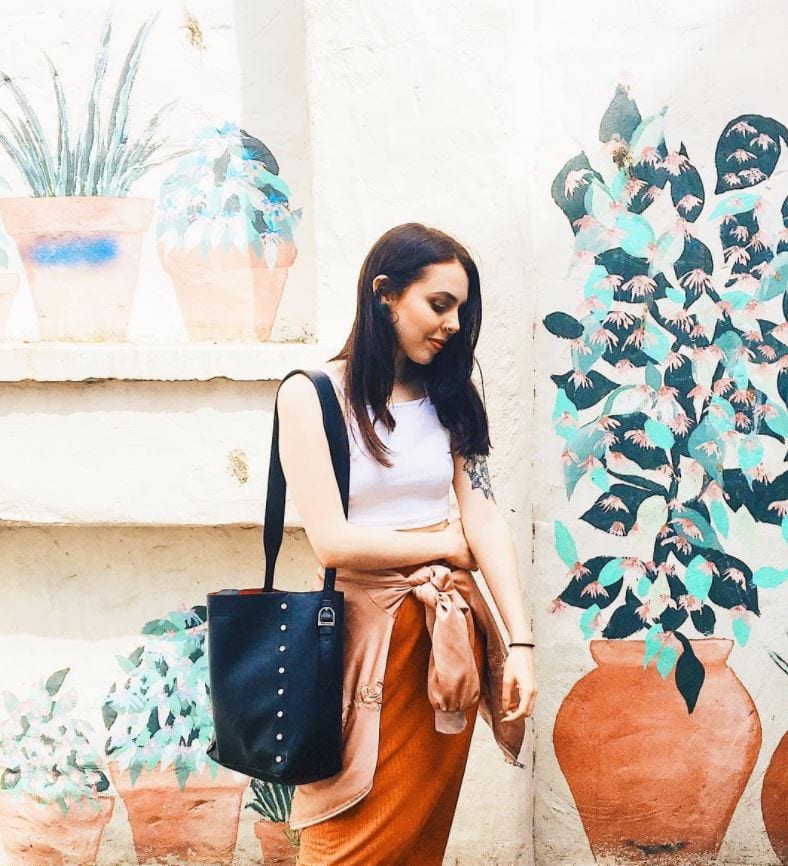 ↓ 26 – Semi-Casual Street-Style Look
Another way you can style an orange midi skirt (this shade is an enticing orange-red shade) is by pairing it with a black crop top and your choice of wedge sandals. This is a great semi-casual street-style look.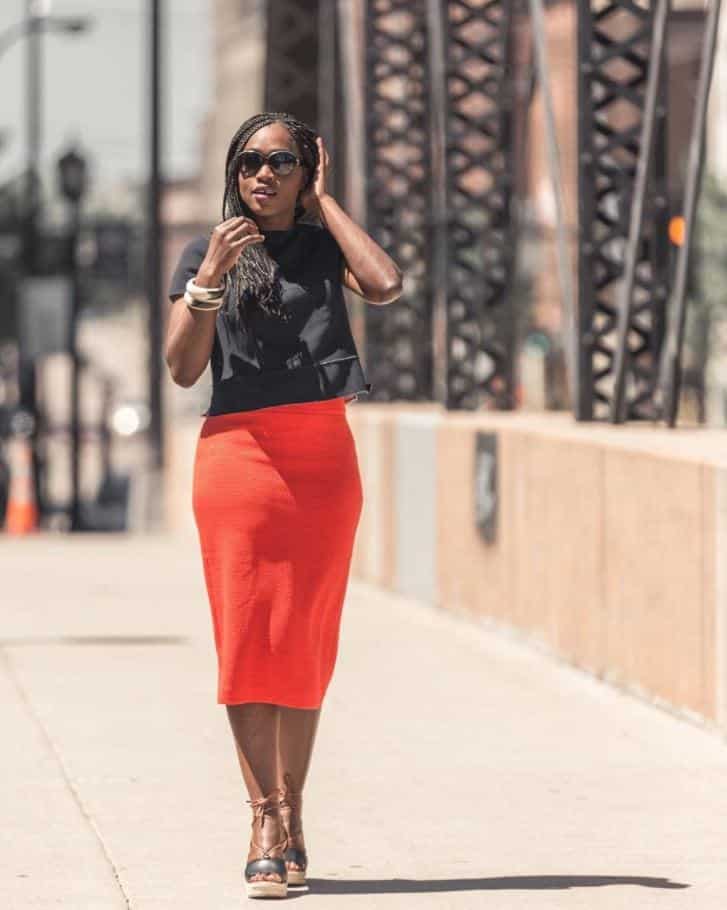 ↓ 25 – Orange Skirt and White Top for Fall
Orange skirts can be worn with many different types of shirts. For the sporty or hip look go for a graphic shirt with an orange skirt. If you aren't a fan of graphic tees, choose to pair the skirt with a plain top. Throw on a pullover or jacket for boosting the overall style. You can also wear stockings beneath the skirt to make your look all the more fun! Here are 18 Ideal Girls Outfits with White Shirts for Glamorous look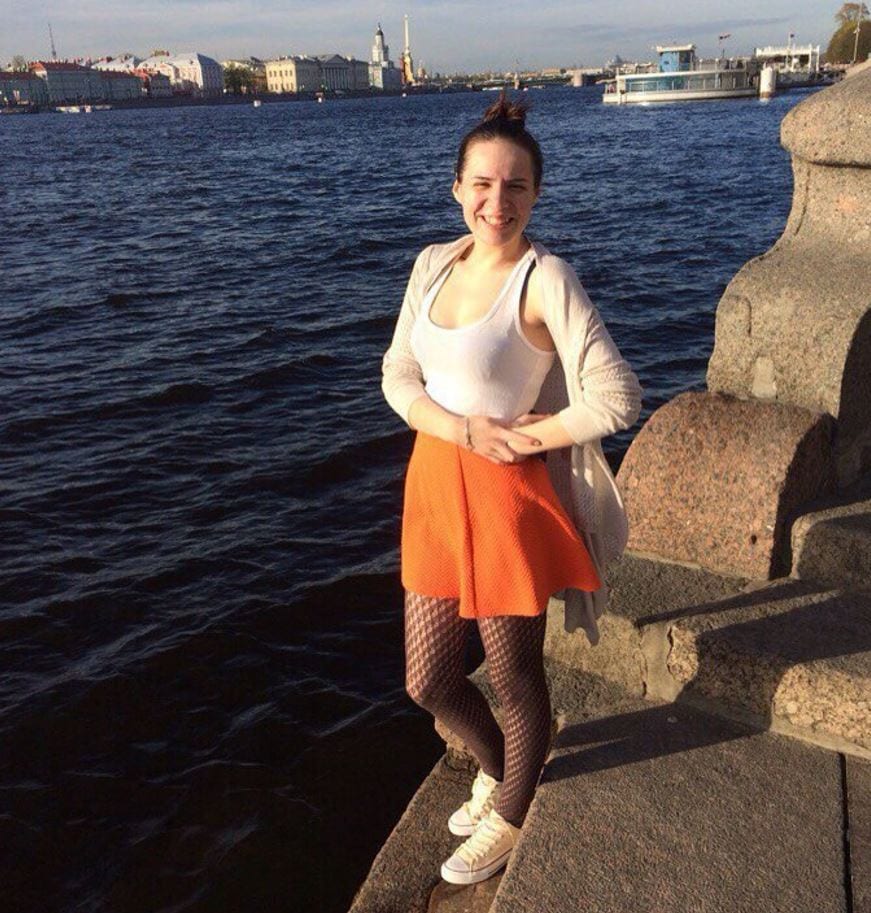 ↓ 24 – Orange Skirt Party Outfit
Depending on the shade of the orange skirt you are sporting, you can pair the skirt with different hues. Normally orange goes pretty well with black, white, yellow, grey, pink, peach and navy blue.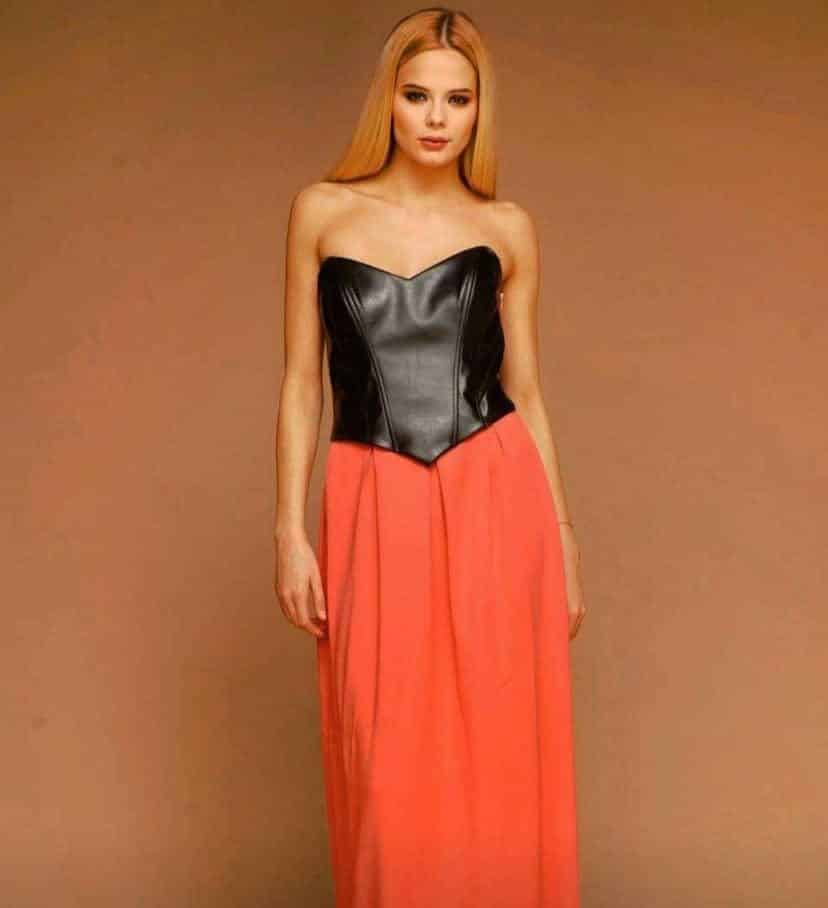 ↓ 23 – Orange High Waisted Skirt
A high waisted orange skirt is bound to make you look amazing. Style an orange floral skirt with a strapless top or one with spaghetti straps and have the limelight to yourself. If you're into high waisted outfits, you wouldn't want to miss out on these Cute Outfits With High Waisted Shorts For A Chic Look.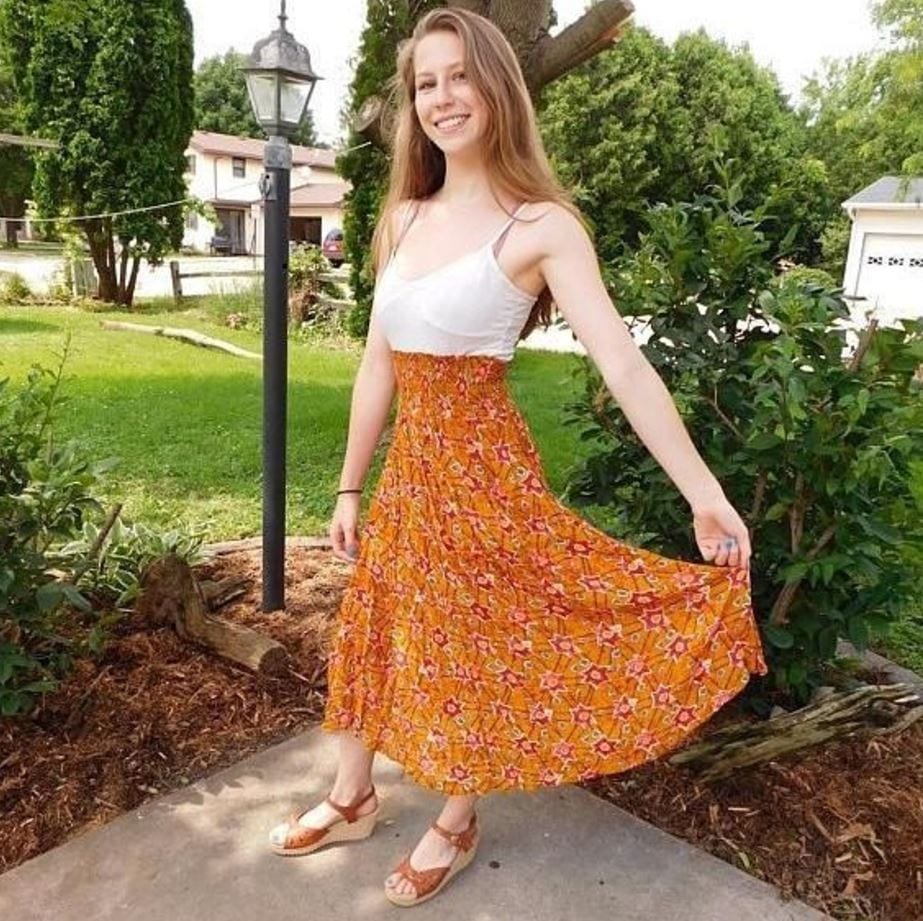 ↓ 22 – Chic Winter Look with Leather Skirt
For an outfit that even the fashion bloggers and fashionistas will covet, try out this super chic winter ensemble featuring an orange leather skirt. You can wear a round neck tee plus a sporty blue jacket thrown on for the cutesy look. Here are some more awesome Ways to Wear Leather Skirts.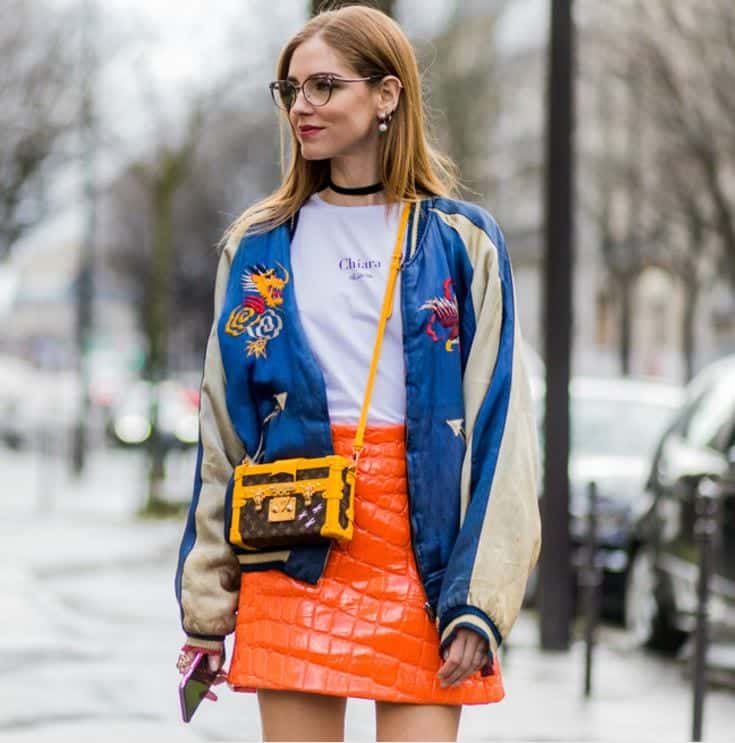 ↓ 21 – Summer Look for Plus Size Girls
Wear an orange skirt and look stunningly beautiful like this lovely plus-sized gal who knows how to rock a long skirt. Pair with an off-the-shoulder black top and a statement piece of jewelry (featuring a pop of orange, of course). For shoes, opt for sandals. Stay cool and fresh-looking all summer long.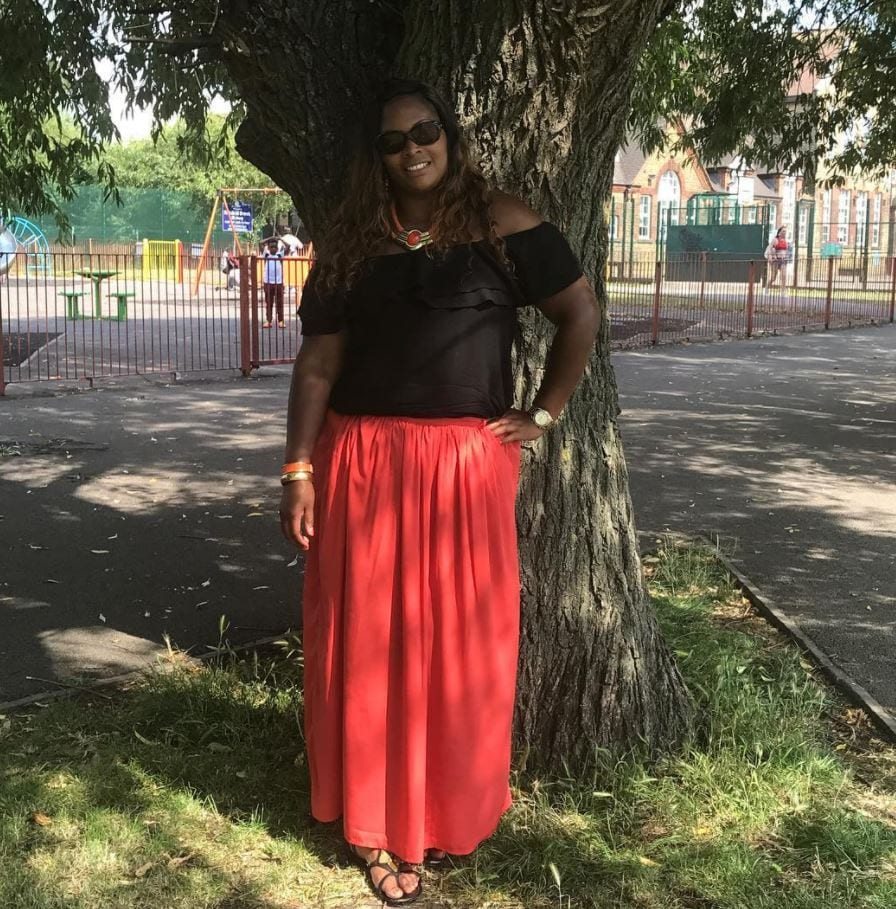 ↓ 20 – How to Style an Orange Skirt for Work Outfit
For a classy office look, choose to wear an orange pencil with a peacock printed loose blouse. You can also wear a fitted plain button-down top. Paired with high heels, the look is elegance at its best. Have a look at these 25 Ways to Wear Pencil Skirts.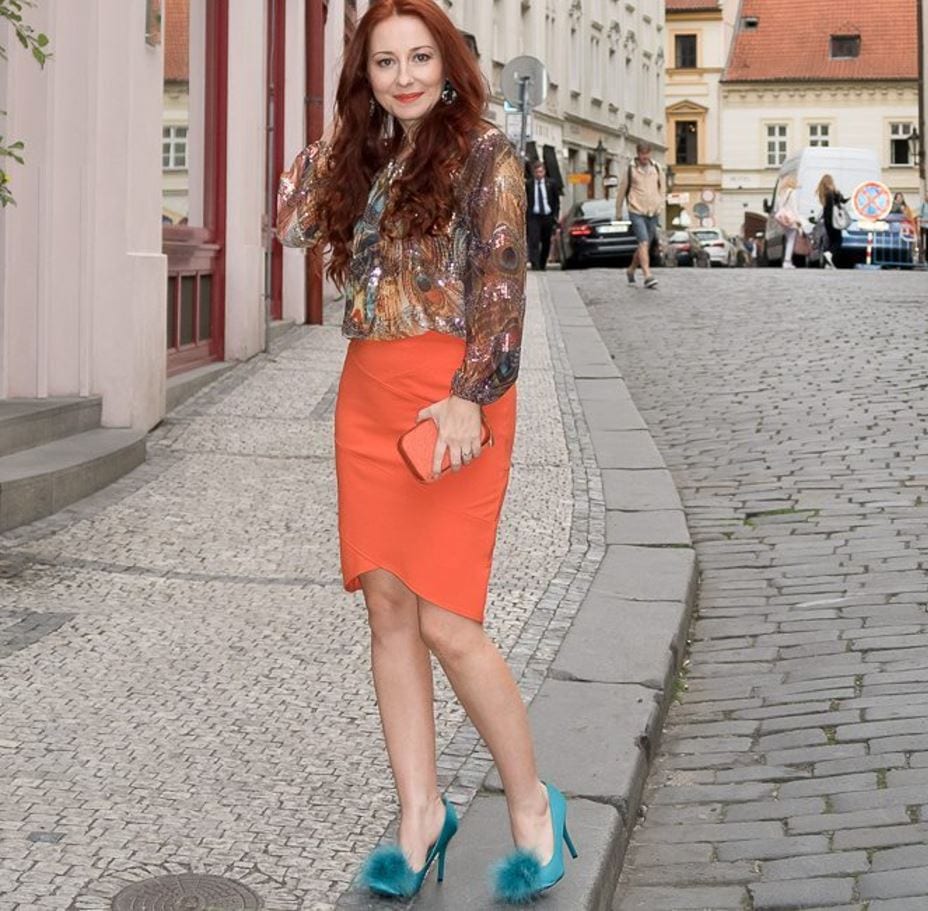 ↓ 19 – Teen Girl Summer Outfit
Catch the summer fashion crowd by storm with an adorable ruffled accordion skirt. You can pair this high-waisted skirt with a little white tank (tucked in, of course) and some chunky wedge sandals. You can also top off this look with a super light sweater. With this perfectly summery vibe, you are sure to capture attention!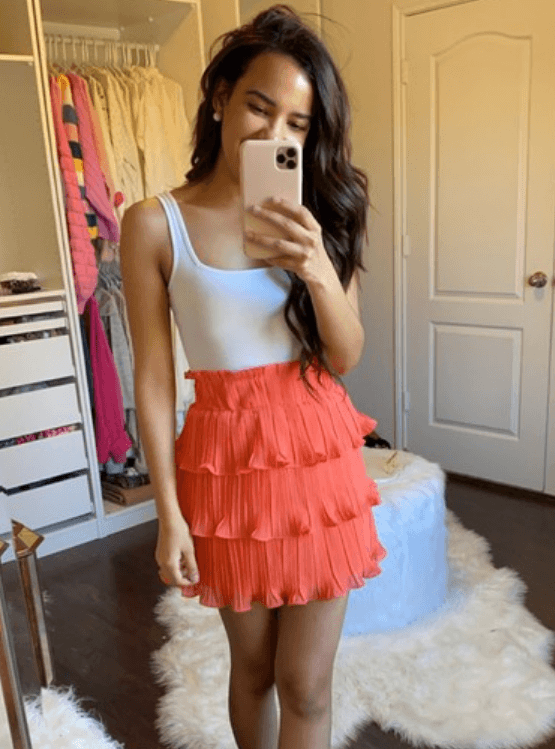 Love the look? Shop it at the links below:
Pink Lily Last Chance to Die Orange Skirt $38
Pink Lily Focused on You White Sweater $44
↓ 18 – Orange Wrap Skirt Outfit
Wrap skirts are a blend of modern and vintage. Wear an orange one with a white fitted top and a white pullover jacket. Do check out these Stylish Wrap Skirt Outfits.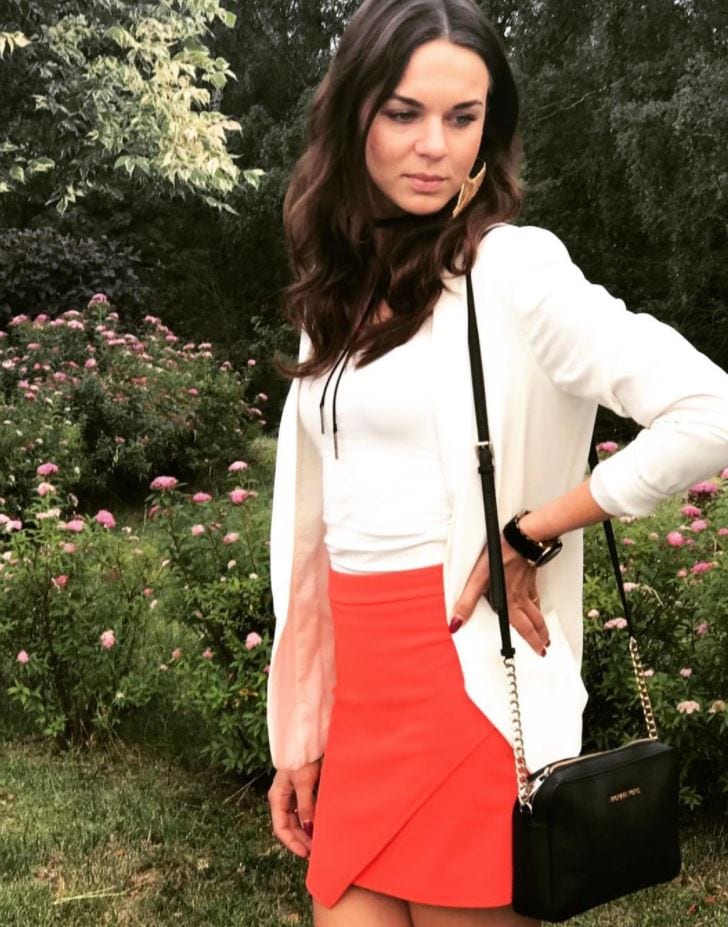 ↓ 17 – Orange Mini Skirt for the Park
For a girly look, wear an orange mini skirt with a graphic tee. Accessorize with some giant hoop earrings, a cute baseball hat, and a long necklace. Pair with strappy black heels.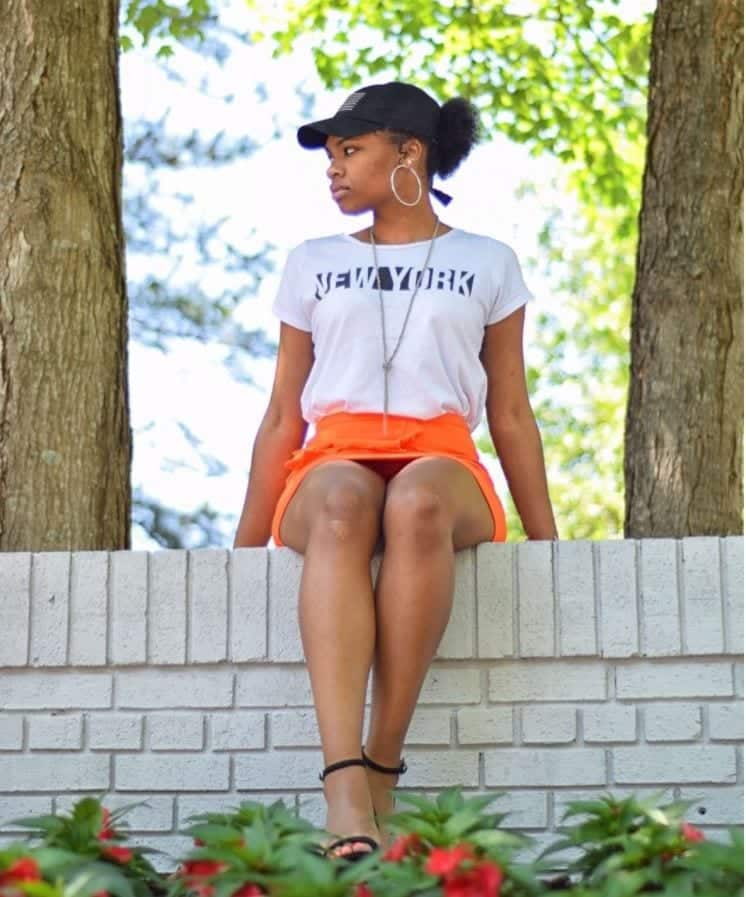 ↓ 16 – Vintage Ruffle Skirt for Fashionista
This iconic look is unforgettable so give it a try next time you have a momentous event to attend (or are even the subject of a photoshoot). This vintage ruffled skirt incorporates a burnt orange shade as well as some mild yellow and pink hues. Pair it with a long-sleeved black top and be sure to look for a top that features extra detailing like this one. Lacy boots tie the look together. Also, have a look at these cutest Outfits with Ruffle Tops.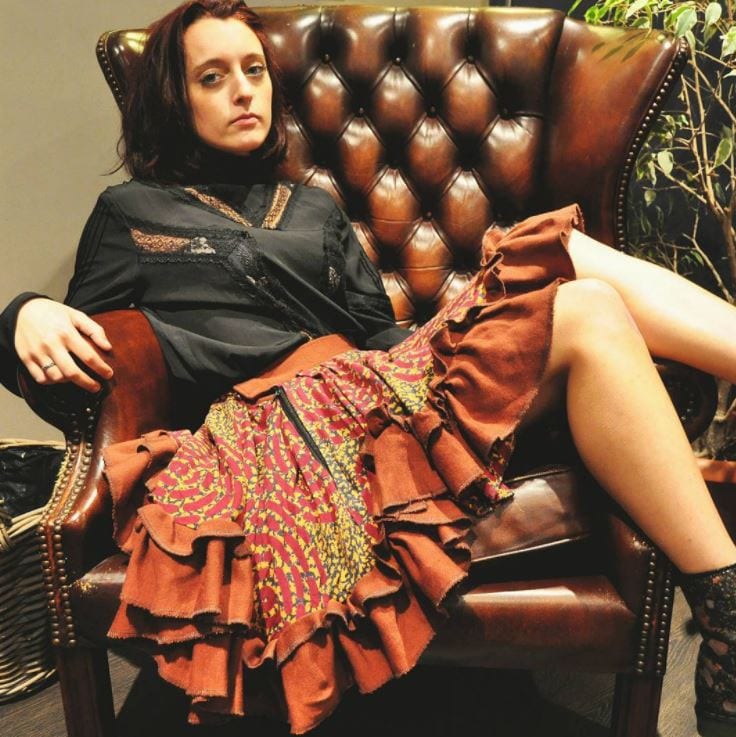 ↓ 15 – Darling A-Line Skirt
A-line skirts are innately sweet and girly. We especially love the pleats on this one and the row of buttons. Pair a skirt like this with a plain or printed tee and add a little pair of sneakers to tie it together. Don't forget the accessories. Sunglasses and a simple necklace are all you really need.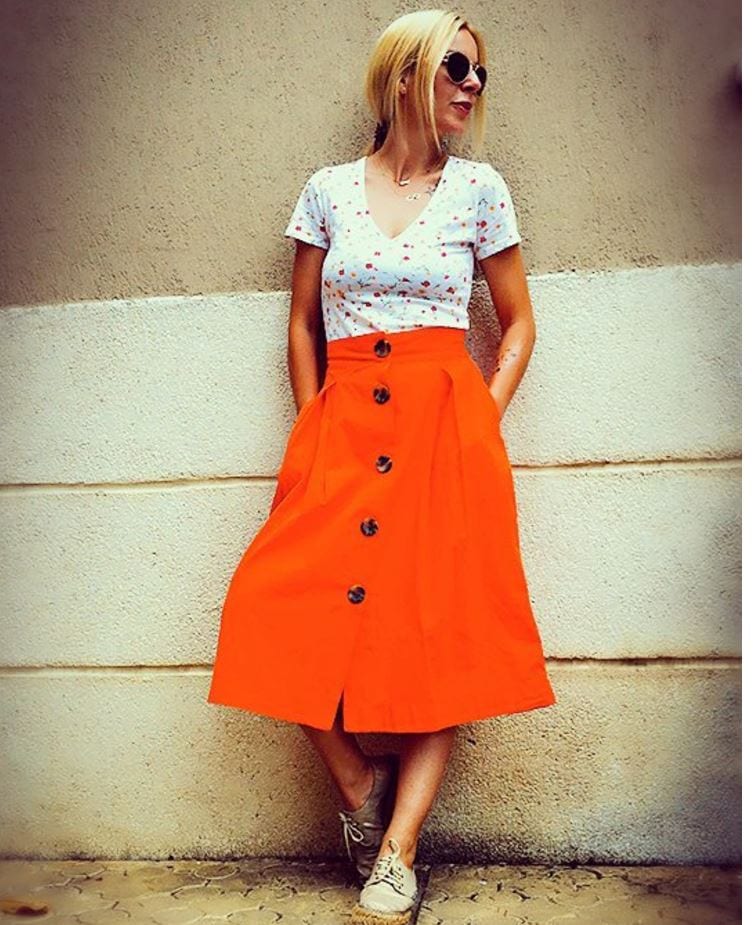 ↓ 14 – How to Wear an Orange Sheer Skirt
If you are aiming for a serene look, wear a sheer orange skirt with a loose white top. Pro tip: this would make for the perfect travel outfit. Go sheer like a pro with these 30 Ideas on How to Wear Sheer Outfits.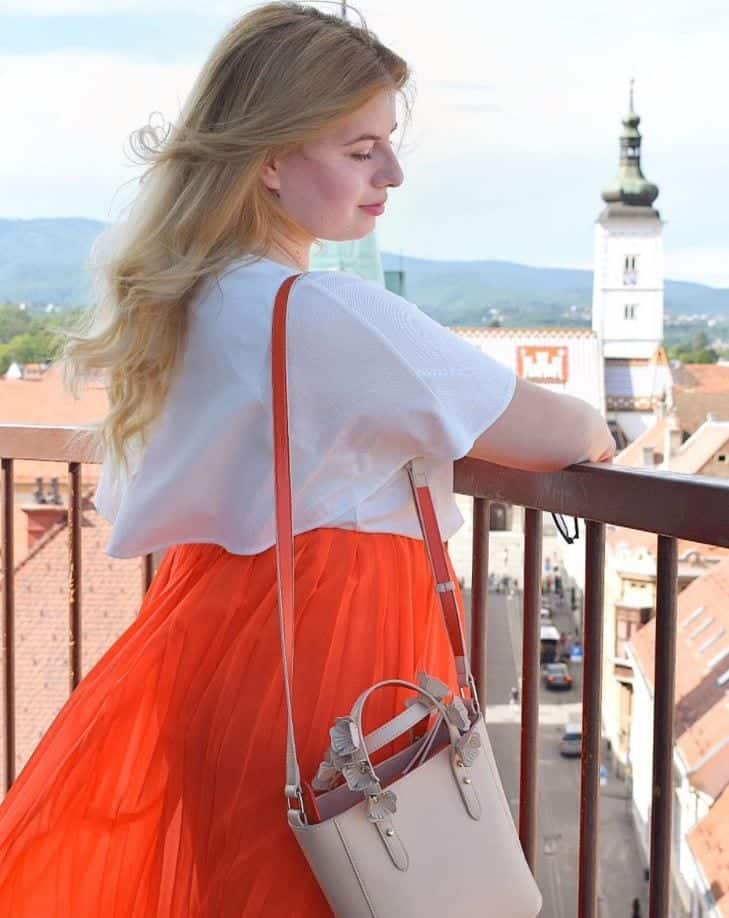 ↓ 13 – Flowy Asymmetrical Skirt
There's something whimsical and eye-catching about a long flowing skirt with an asymmetrical hem. Wear an orange one with a simple crop top and flats for footwear.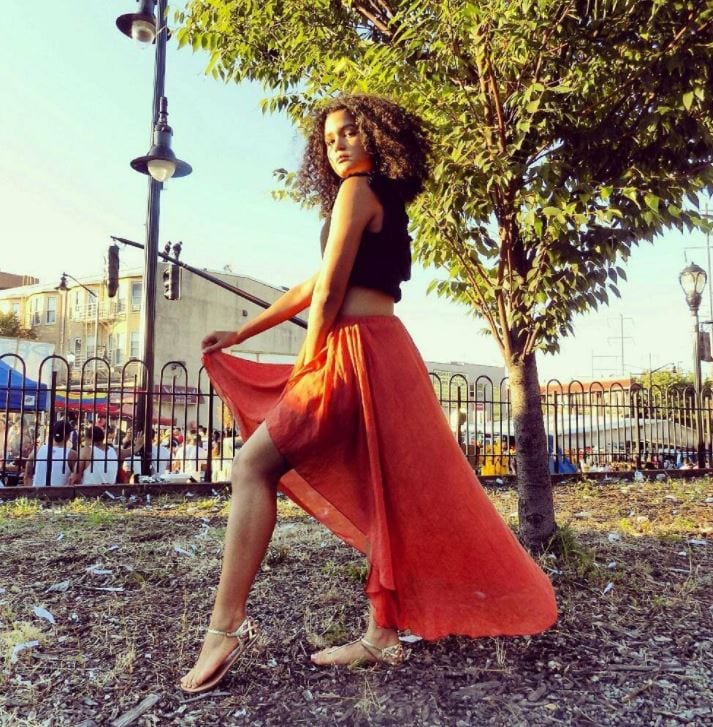 ↓ 12 – Cute Weekend Look
Heading to church? Having a picnic? This sweetly simple outfit will cover all the bases. We love how this orange top brings out the undertones of orange in the purple lace blouse and is perfectly complemented by a pair of little white peep-toe heels.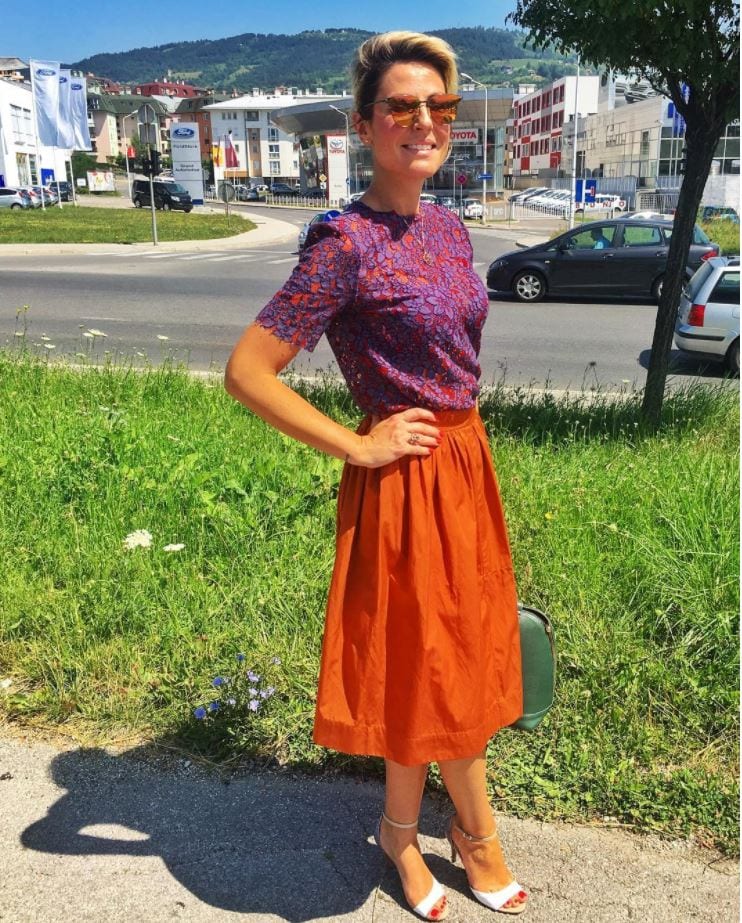 ↓ 11 – Orange Skater Skirt
For the chic look, wear an orange skater skirt with a white sheer blouse with embroidered detailing. Here are 35 Ideas To Wear Skirts To School.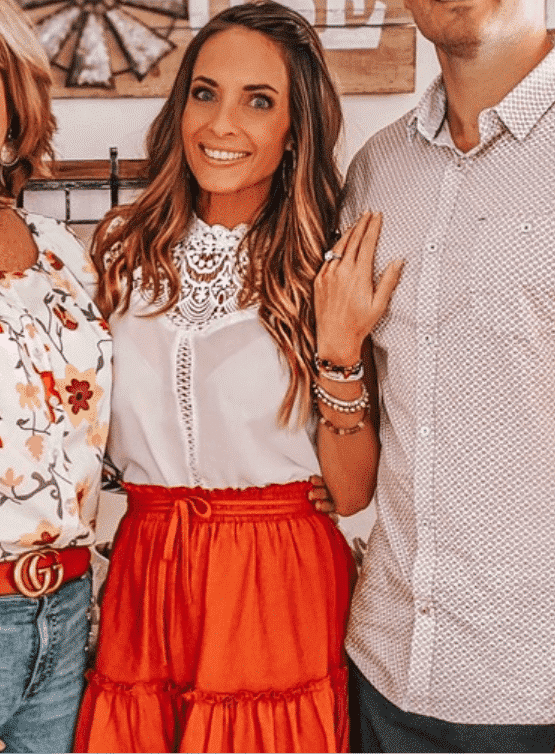 ↓ 10 – Orange Bandage Skirt
Wear a bandage type skirt with a dress shirt for a semi-professional look you could easily don for a client meeting or a more casual workday.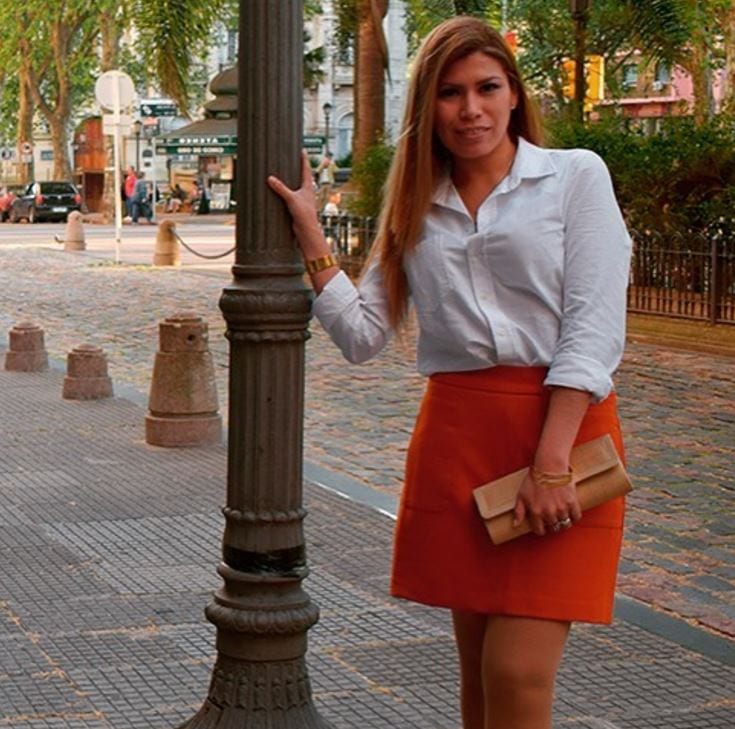 ↓ 9 – Orange Lace Skirt
Lace looks gorgeous and delicate. Wear a lace orange skirt with a black tight top for a vacation-ready look you'll want to wear over and over again.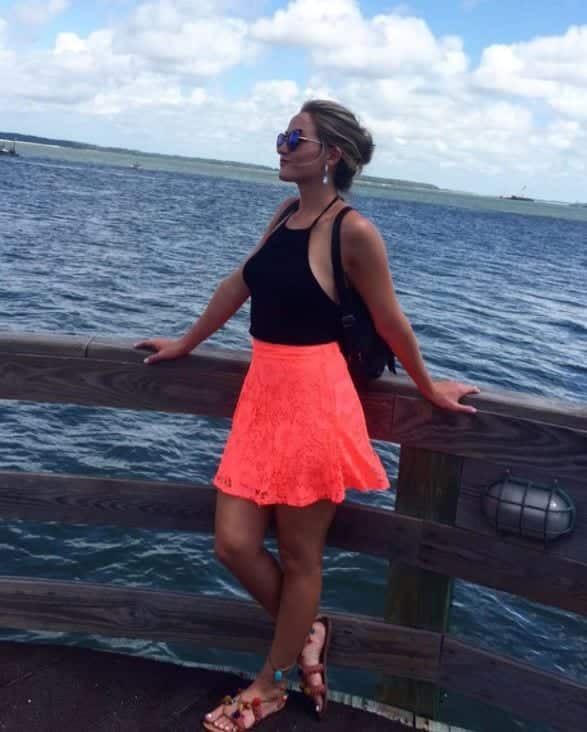 ↓ 8 – Chic Pleated Skirt and V-Neck Top
For the modern look, wear a pleated orange skirt with a deep blue v-neck top. We love the extra detailing of the belt which cinches the waist, creating a more streamlined figure. Other things to note about this iconic look? Those va-va-voom heels and cork-bottle round sunglasses. Plus, you can't forget that bold lip! Here are 23 Ideas How to Wear Pleated Skirts.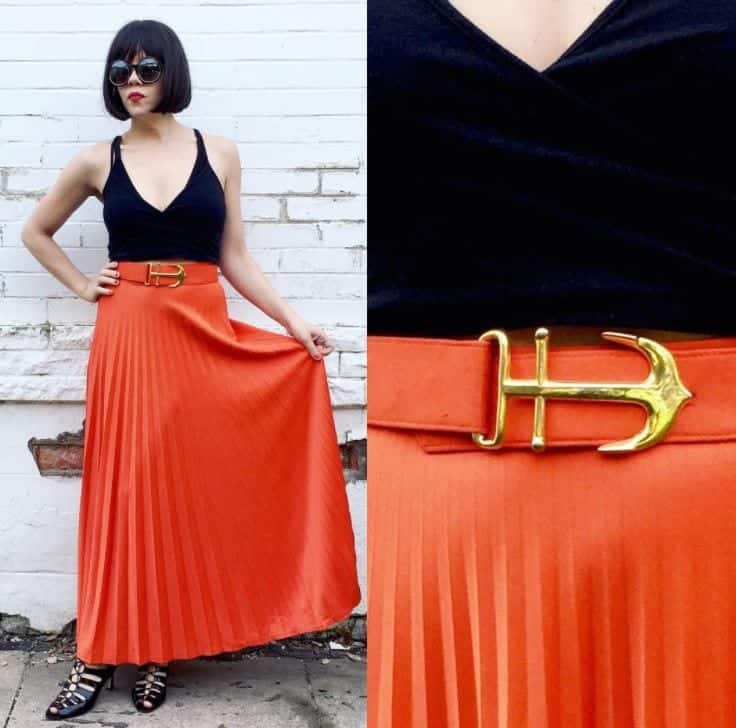 ↓ 7 – Colorful Outfit for Semi-Dressy Event
Orange and blue are a popular combo you will definitely want to try next time you have a semi-dressy event to attend. This outfit is bold and colorful and will draw every eye in the room.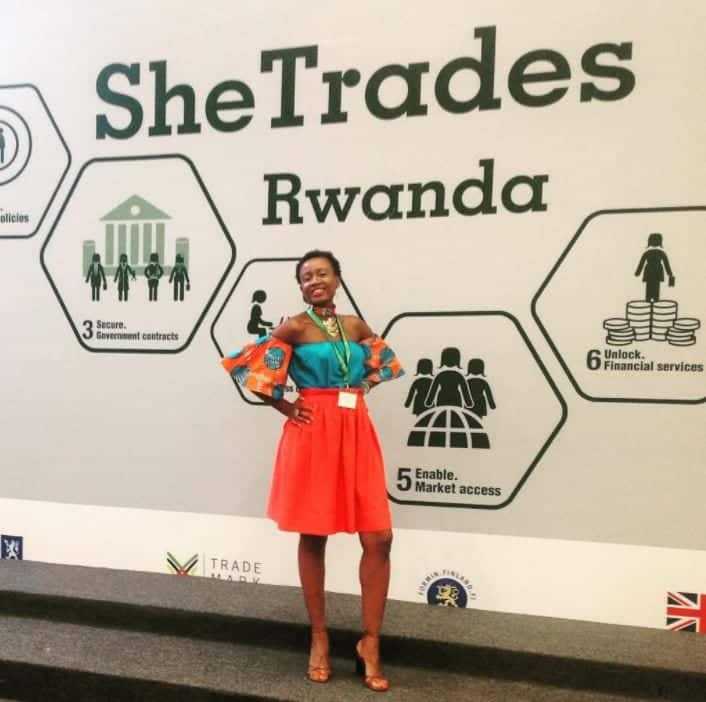 ↓ 6 – Burnt Orange Skirt for Work Attire
You can't go wrong with a pencil skirt for work attire. Spice it up by opting for a skirt in a burnt orange shade. Pair with a deep navy blue blouse and be sure to tuck it in to accentuate your figure. Opt for a pair of muted orange heels and a designer bag to tie the look together.
↓ 5 – Bohemian Style Summer Ensemble
For a gypsy look, wear a rust orange skirt with a lace top. This pairing wouldn't work unless you also accessorize with a boho-esque necklace, a patterned shawl or cardigan, and by also making sure you've chosen a long, flowing skirt to really bring the whole look home.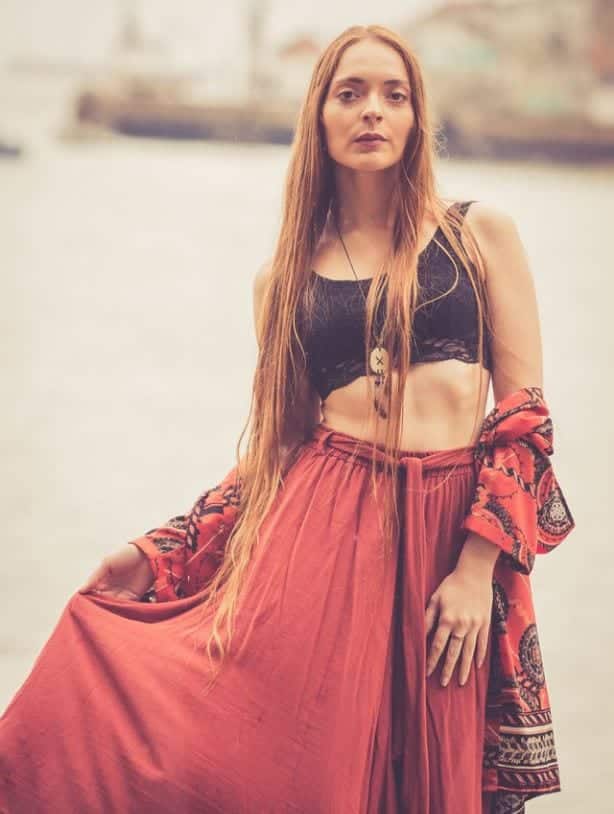 ↓ 4 – Stunning Pencil Skirt and Cozy Sweater Combo
For a look as stunning as the lady wearing it, give this ensemble a try. Opt for a super pale orange pencil skirt that falls past your knees and pair it with a neutral-colored sweater, tucked in. We love the bold red lip, giant hoop earrings, and the addition of muted patent heels.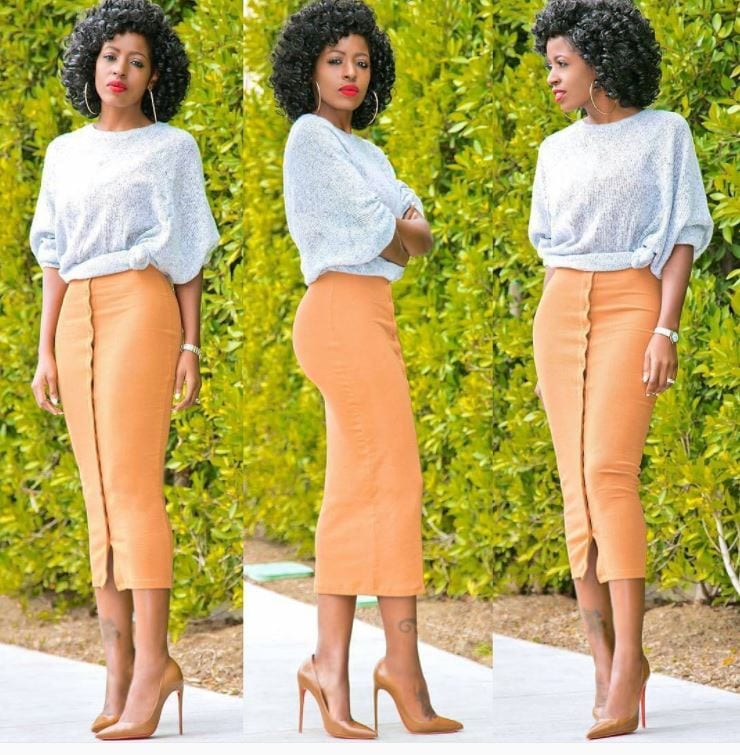 ↓ 3 – Bright Skirt & Crop Top for Vacations
For warm day adventures, this colorful and stylish look is wonderful. Pair a flowy orange skirt with a black crop top and strappy heels. Perfect for touring new places and taking pictures that you can tout for the rest of the year! Here are 20 Cute Summer Travelling Outfits for Women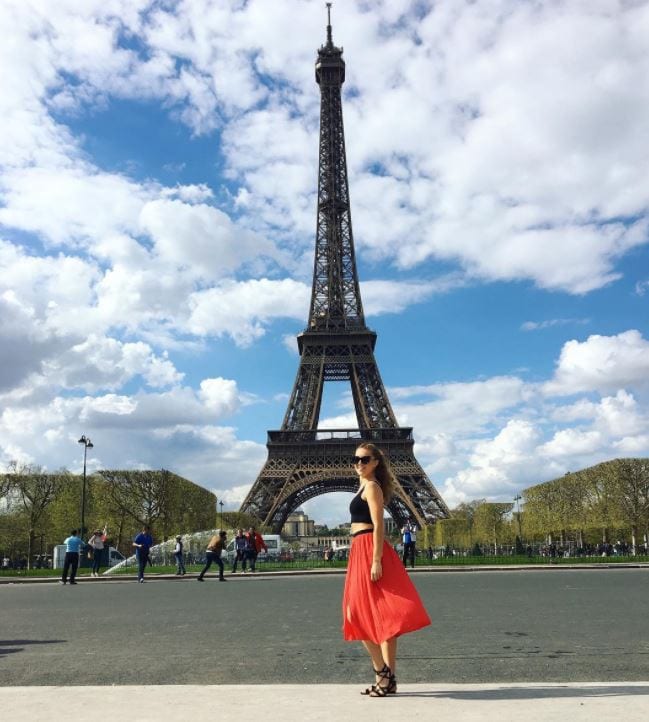 ↓ 2 – Cute and Stylish Party Outfit
We love a party outfit that shows off more style-savvy than skin. And this look does just that! Pair a muted orange-red skirt with a fuzzy black top and top it off with a leather jacket. A choker necklace and over-the-knee boots tie the ensemble together.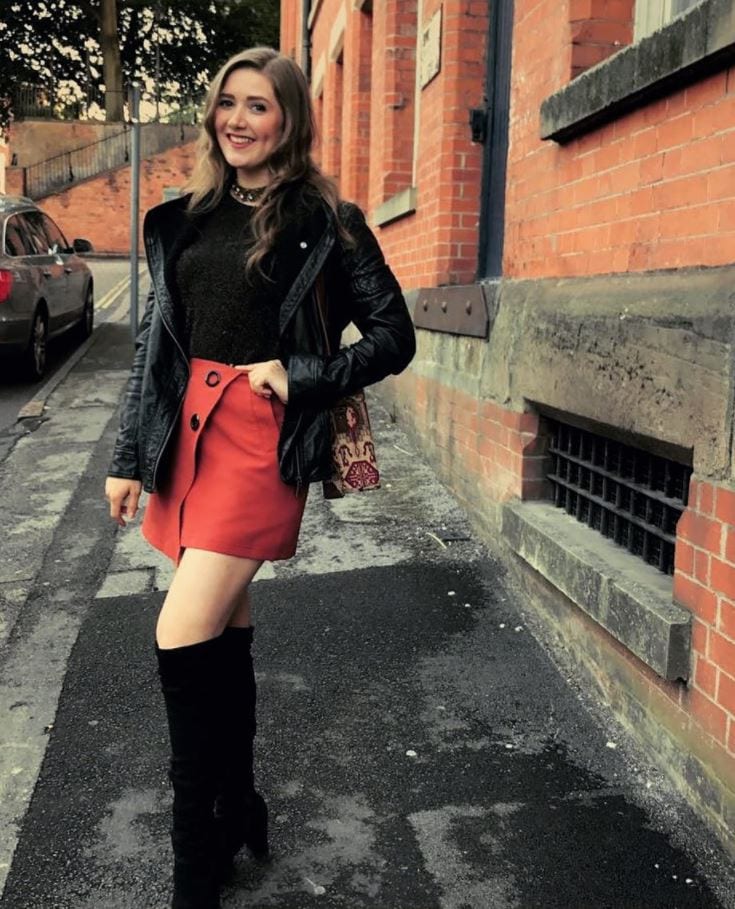 ↓ 1 – Simple, Girly Spring Look
For a spring look as refreshing as it is sweet, try this one out. A pleated, orange-red skirt looks lovely when worn with a tucked-in black spaghetti-strap top and black heels. You can keep your accessories very simple or try some beaded pearl jewelry or even a light cardigan.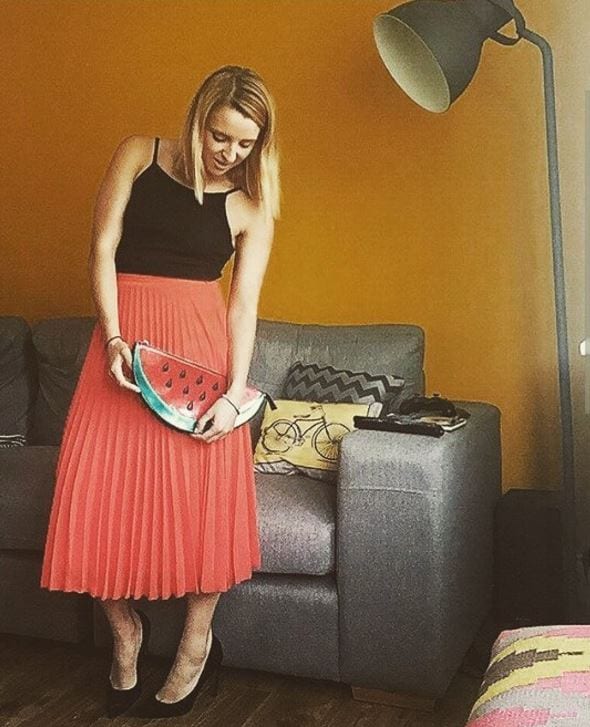 R.H. Elias is a freelance writer, aspiring author, and freelance transcriptionist. She is a homebody all the way and loves curling up on a cold, rainy day with a good book and a warm cup of tea. Her favourite pastimes include reading, writing, and watching period films. She currently lives in Puerto Rico.