Outfits To Wear With Peasant Blouses – Summers are here! Which means it's time for comfortable and breathable clothes. It's that time of the year you wish to dress up quickly and do not want to want to sweat in hot weather. Hence, it's time to wear a peasant top. Such blouses make the perfect summer wardrobe because they are made of lightweight material. They are casual, feminine, and blousy – not to mention the whole top feels easy-breezy, even the sleeves. 
Although the peasant blouses are inspired by Romanian and Hungarian garments, they have evolved and are much more sophisticated now. These tops come in a range of different styles, hence, they are flattering for every body type. Whether you choose a plain top or a busy pattern top, the possibilities of styling them are endless. 
How To Style Peasant Tops?
The main thing to remember about peasant blouses is that they are casual but you can give them a formal look by adding a blazer and formal pants. They are perfect for daily wear, dates, shopping trips, brunches, and for some formal events too if styled correctly. And sometimes they look even better than cowl neck tops or bristol tops!
In this article, I will be sharing what to wear with a peasant blouse and how to accessorize them. But before that, let's get started with some tips to make a peasant blouse look flattering.
Tips And Tricks On Styling Peasant Shirts
Pair your peasant blouse with a corset for a vintage vibe but remember to add a plain top. A plain white top is ideal here, of course, you can wear them in any style. Scroll down to see one such outfit. 

Choose a nice neckline for your blouse. Square or sweetheart neck look chic and elegant and a plunging neckline is for bolder women.

Pair your peasant top with shorts for a casual look – you can wear them with denim, white, black, or any kind of shorts. 

When you're going out, consider adding flared jeans with a bold print top. 

If you have a flowy top then add a black leather belt to make them look sophisticated.
20 – With Faded Skinny Jeans, Metallic Flat Shoes, And A Net Top
For a look that is elegant and charming, wear an off-white net top with faded jeans that are skinny, and shiny metallic shoes. This is extremely feminine and looks great on petite girls.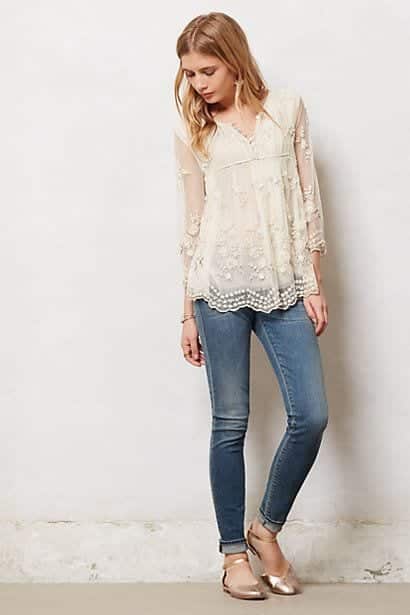 19 – Yellow Printed Peasant Blouse With An Underbust Corset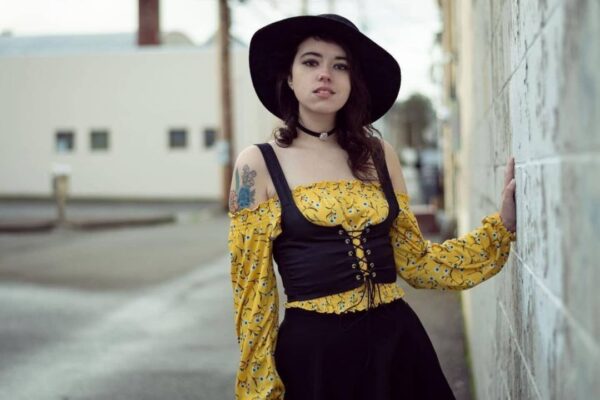 Printed Yellow Off-shoulder Blouse (similar) $20.99
18 – With Mint Denim Shorts And Embroidered Blouse 
To add some ethnic style to your clothes, choose an embroidered peasant top and wear it with pale denim shorts and a metal bracelet. This look is perfect for the beach or for surfing.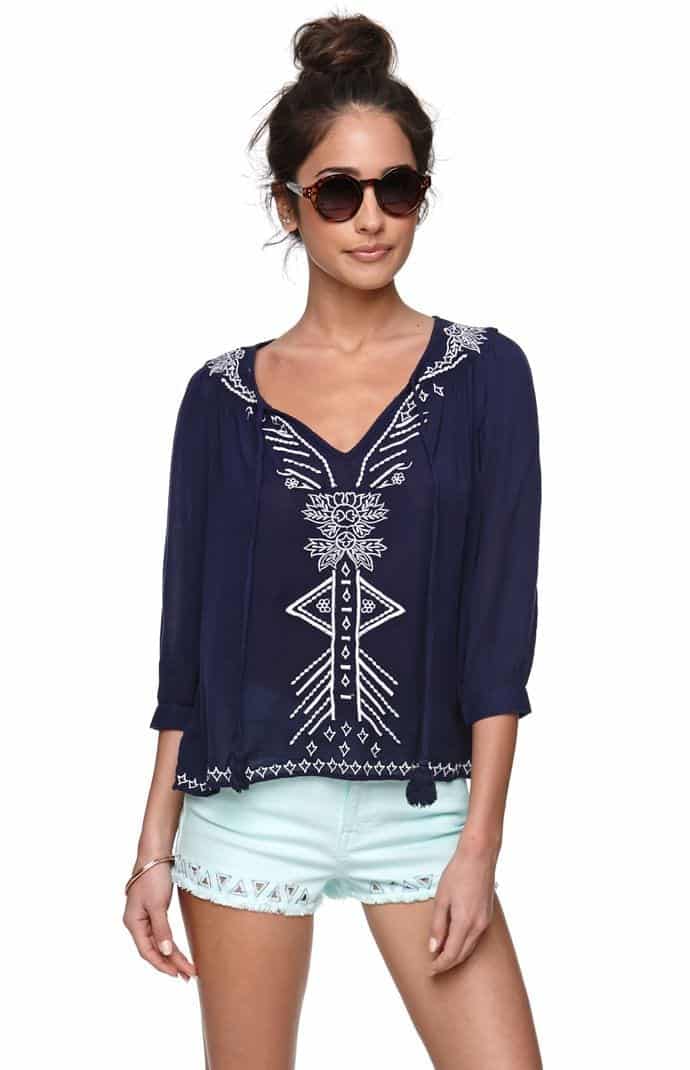 Casual Boho Embroidered Top (similar) $25.88
17 – With Ripped Jeans And Beige Mesh Top
For a quick shopping trip or a movie plan, wear your beige mesh top with ripped jeans and you will have an easy-going outfit. This look is casual, lightweight, and perfect for summer.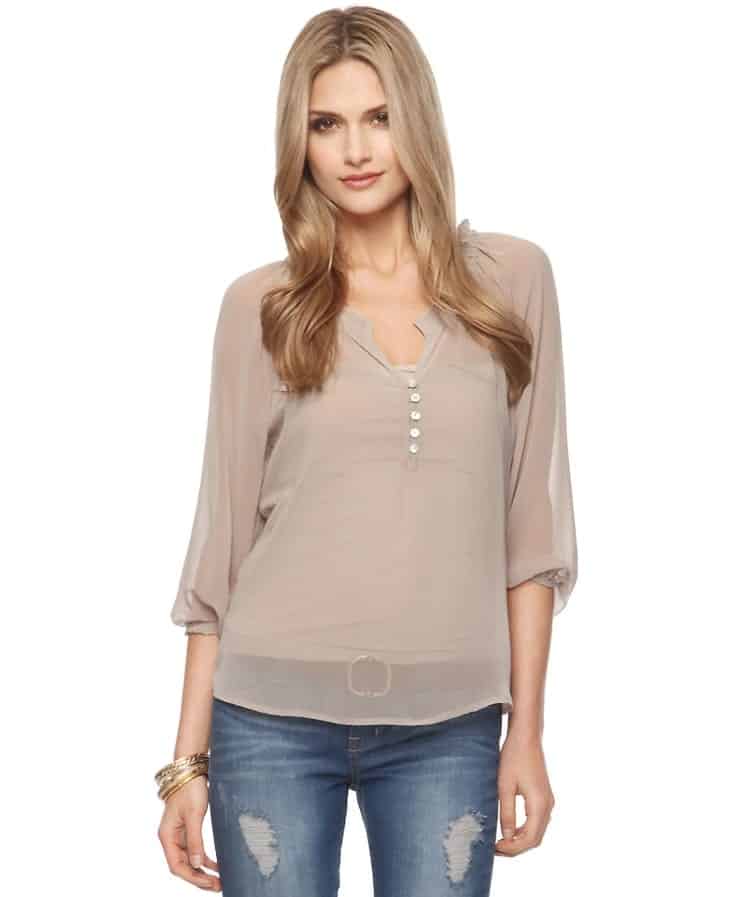 16 – Wear Your Embroidered Top With Denim Shorts
Get yourself an off-shoulder peasant top and pair it with denim shorts to create a breezy beach day outfit. This outfit is for days when you wish to stay away from water. Hence, create a casual outfit like this one. Moreover, add a straw hat, wear tassels, and complete the look with flat sandals.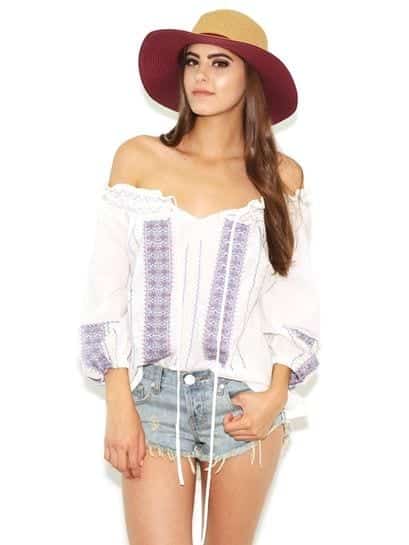 15 – Peasant Hippie Dress With Chunky Jewelry 
A peasant shirt can be converted into a short, mini dress by keeping your legs bare. To add some hippie, gypsy style, simply add lots of long necklaces.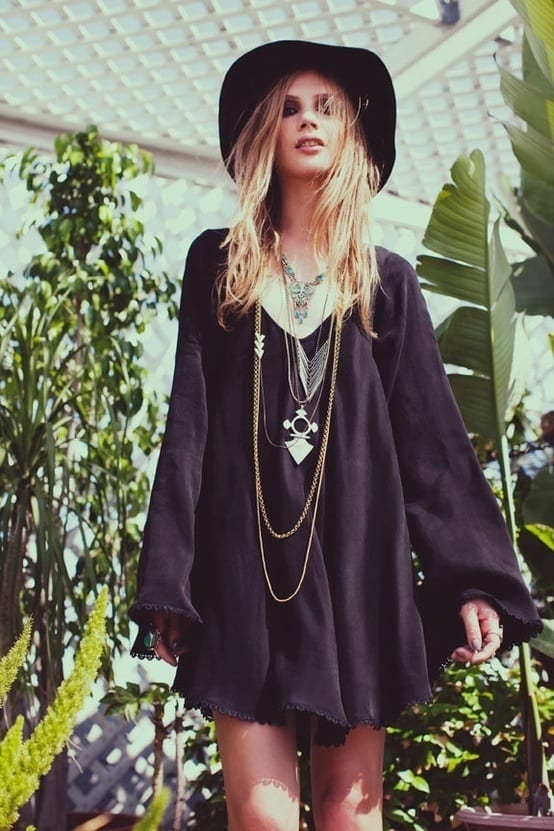 14 – White And Rainbow Colored Embroidery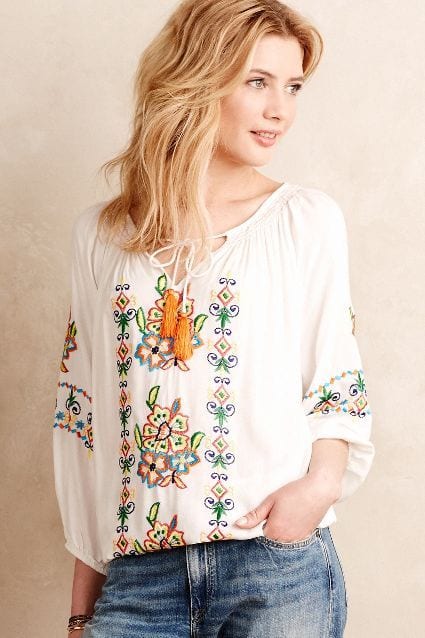 Embroidered Top (similar) $42.99
13 – Printed Maxi Dress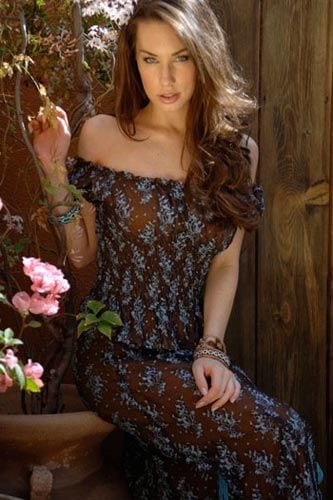 12 – With A Black Blazer And Cowboy Boots
A fun top can be transformed into chic fashion by pairing the white shirt with a black blazer and brown leather cowboy boots. That's it and you will have stunning spring wear.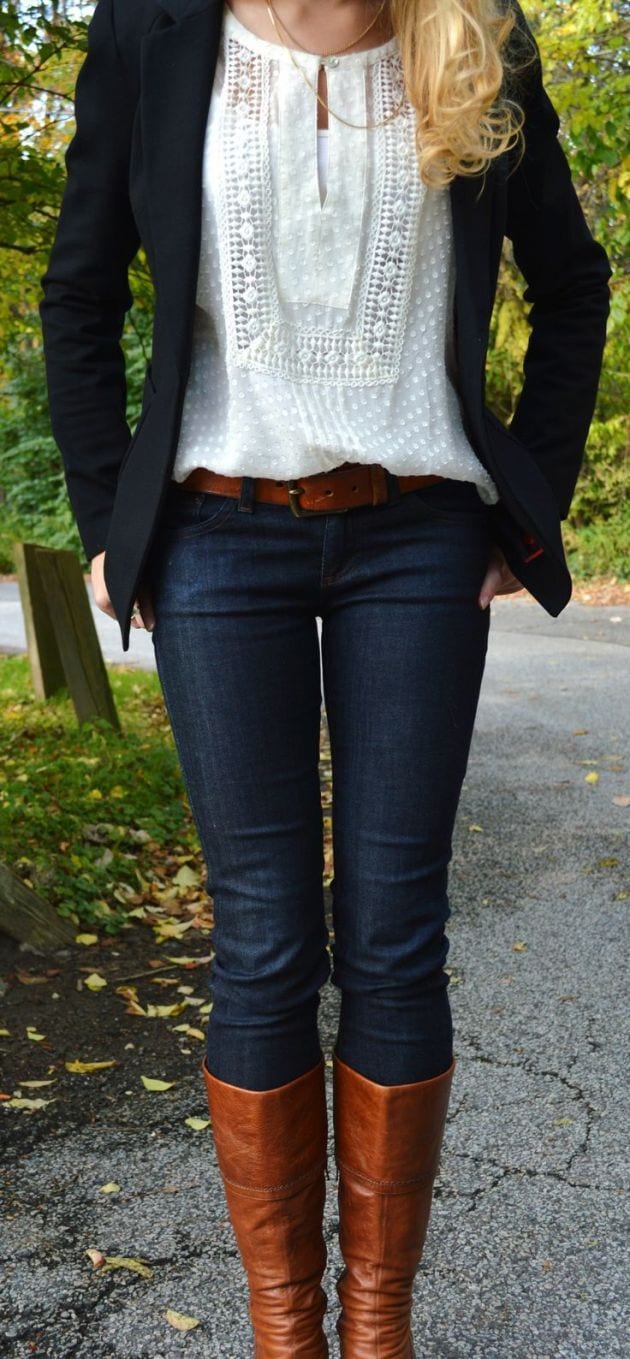 White Peasant Top (similar) $42.99
11 – As A Grey Maternity Top With Denim Shorts
Pregnant women are always in search of flowy blouses. Well, you have a loose peasant top that moms-to-be can wear and look great. Since they are breezy and stylish, you can wear them anywhere. 
10 – Short Sky Blue Peasant Dress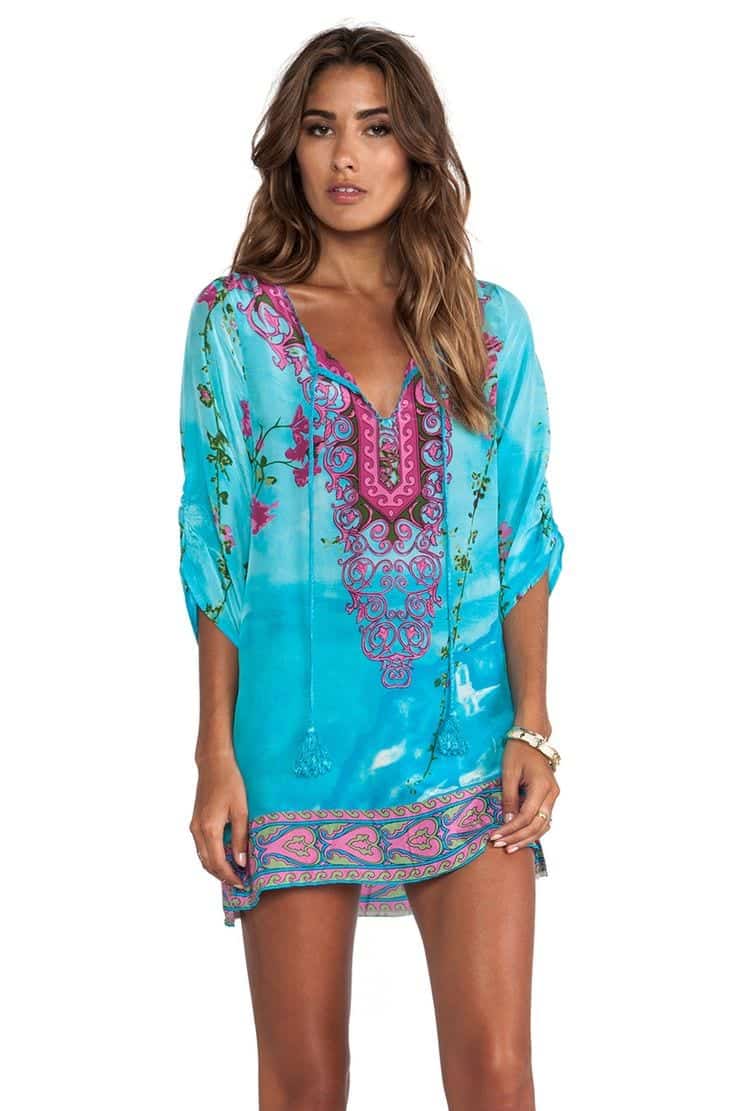 9 – Printed Peasant Top With Skinny Jeans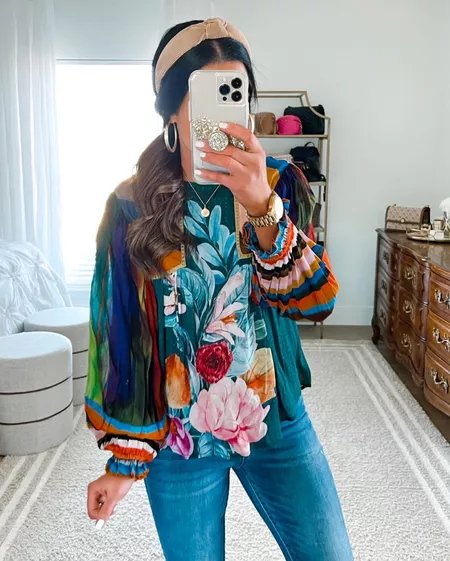 8 – Printed Peasant Blouse With Mom Jeans And Sneakers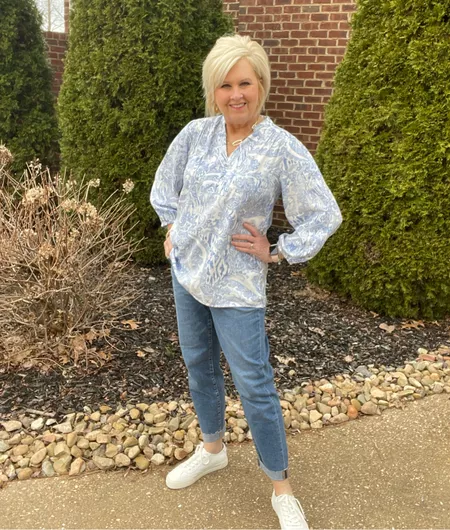 7 – Red Velvet Blouse With High Waisted Jeans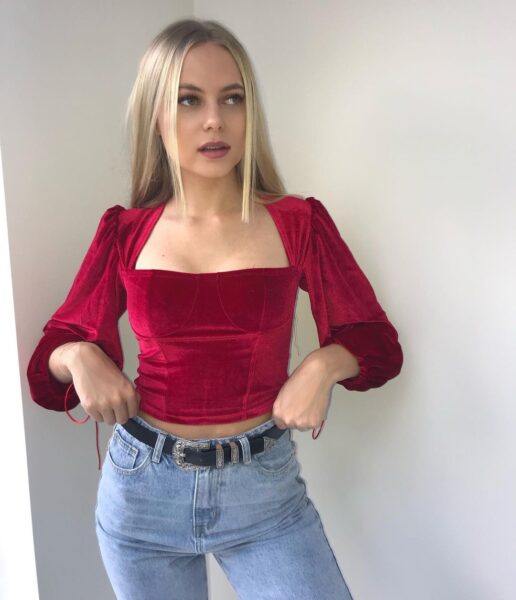 Sleeve Square Neck Slim Fit Crop Tops $24.99
6 – Suspender Skirt With White Peasant Top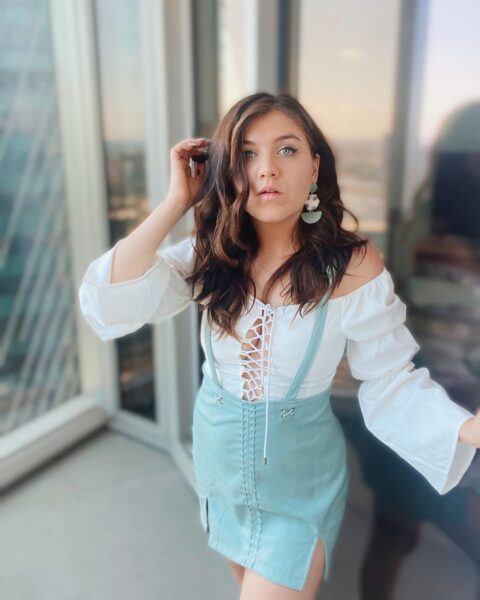 5 – White Peasant Dress
If you own a peasant dress then wear it this summer. Here's how you can style it. Wear a peasant dress and if it's too flowy then add a black belt. Moreover, wear some jewelry like a pendant, small pearl earrings, rings, and a watch. Complete the look with flat sandals.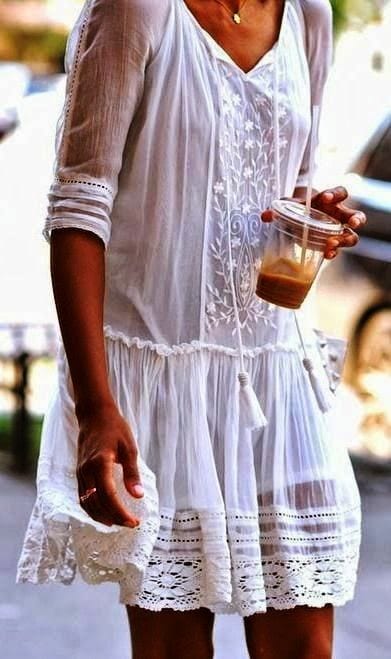 4 – Mint Green Top With White Shorts And A Sun Hat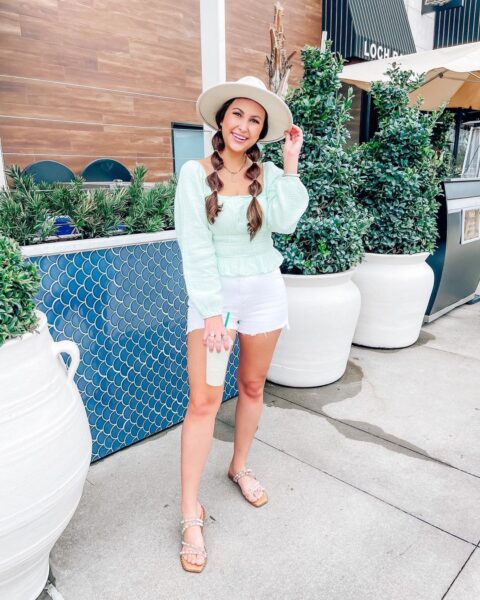 3 – White Top With Black Leather Pencil Skirt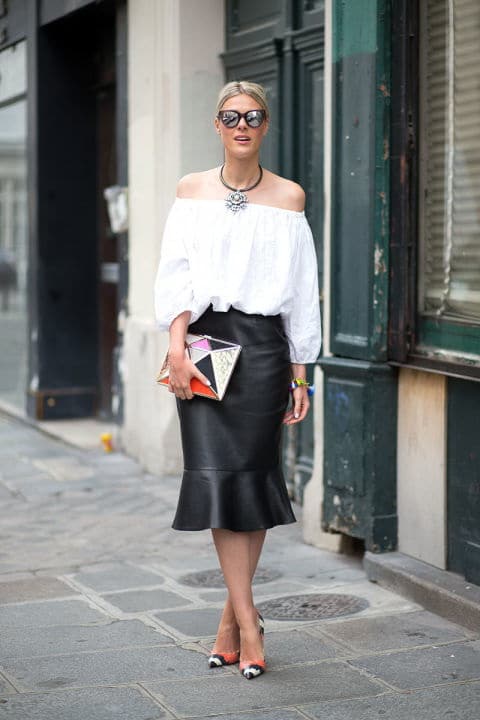 Women Pencil Skirt With Ruffles $27.99
2 – Plain White Top With Printed Floral Pants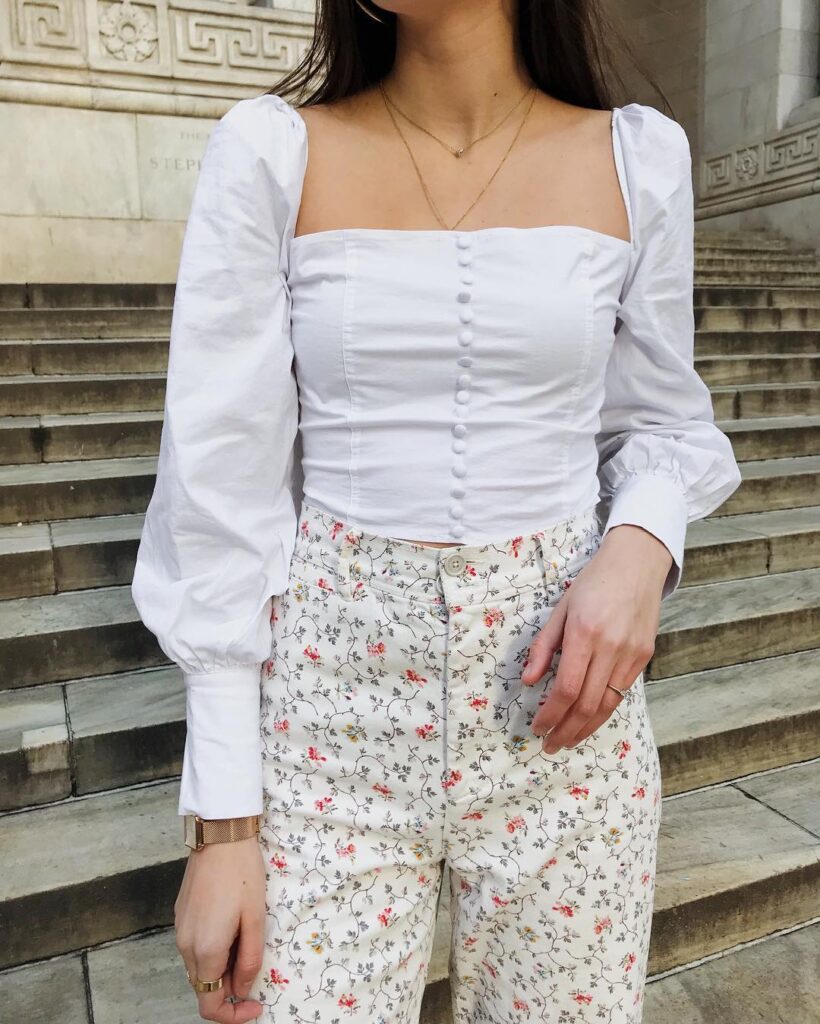 White Square Neck Top (similar) $24.89
1 – Leather Mini Skirt With A Printed Blouse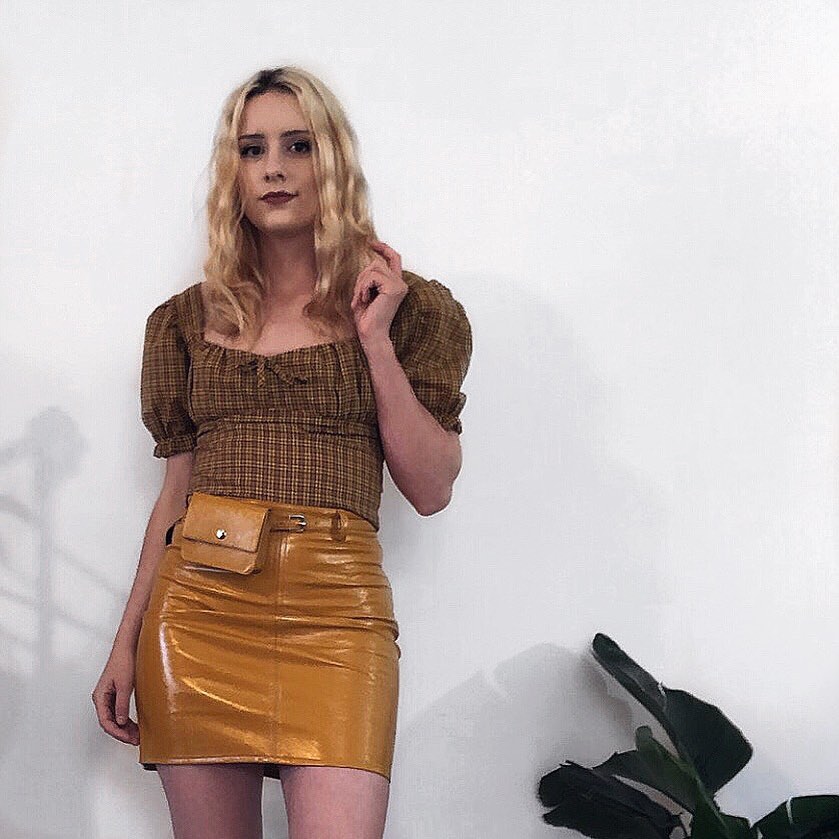 via
Frequently Asked Questions
Q. Are pleasant blouses flattering?
Ans. Yes, you just need to know how to style them. I would suggest buying peasant tops in off-shoulder, square, or sweetheart necks; they look extremely beautiful. Buy them in colors and prints that look good on you. Moreover, add a skirt, shorts, jeans, or any stunning bottoms to create a stunning outfit. Lastly, accessorize, accessorize, and accessorize! Add a pendant or two-layered necklace, rings, or a waist bag.
Q. What shoes go with a peasant blouse?
Ans. Women mostly wear flat sandals with a peasant blouse. However, it depends on your whole outfit. For instance, if you are wearing a peasant top with shorts or jeans then wear flat sandals or sneakers. But, consider adding pump heels or block heel sandals when wearing a skirt.
That's it for today guys! I hope you guys liked the outfit ideas. Let me know in the comment section below which was your favorite outfit from the list?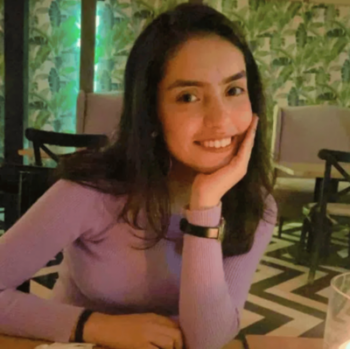 Lover of books and mountains, Monishka is a freelance writer working in various genres like fashion, beauty, and travel. She enjoys her own company and likes to keep herself busy.